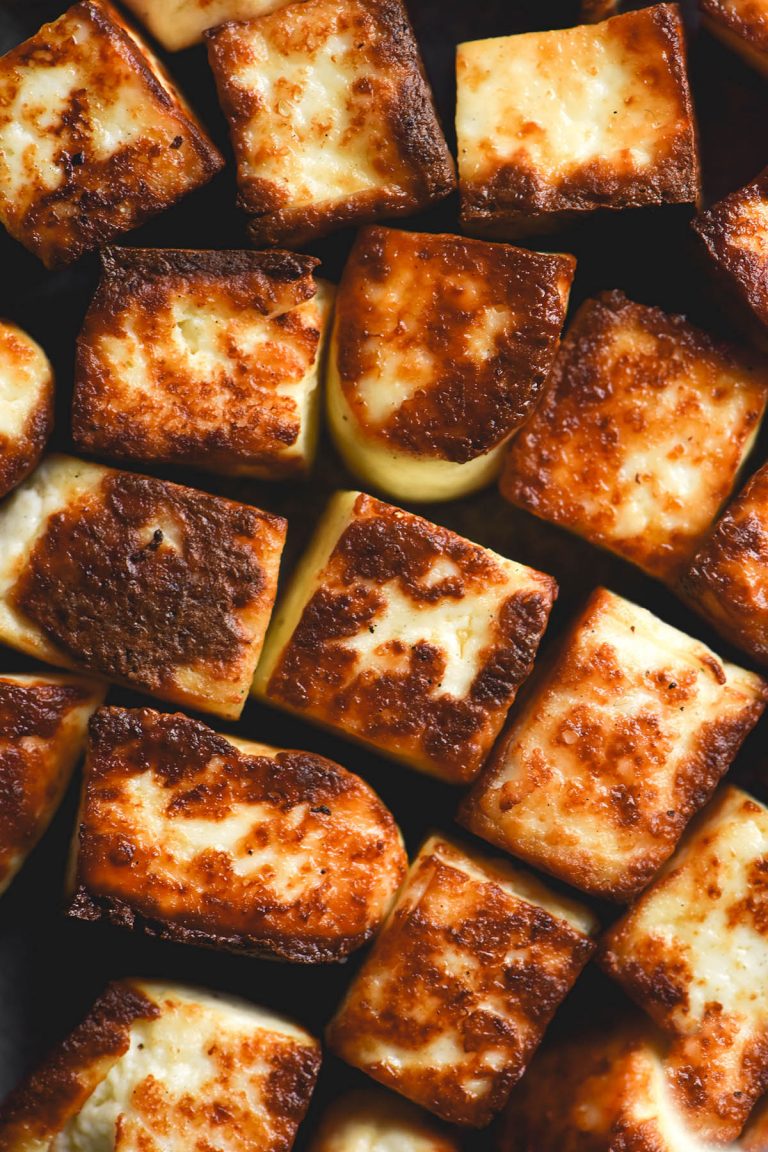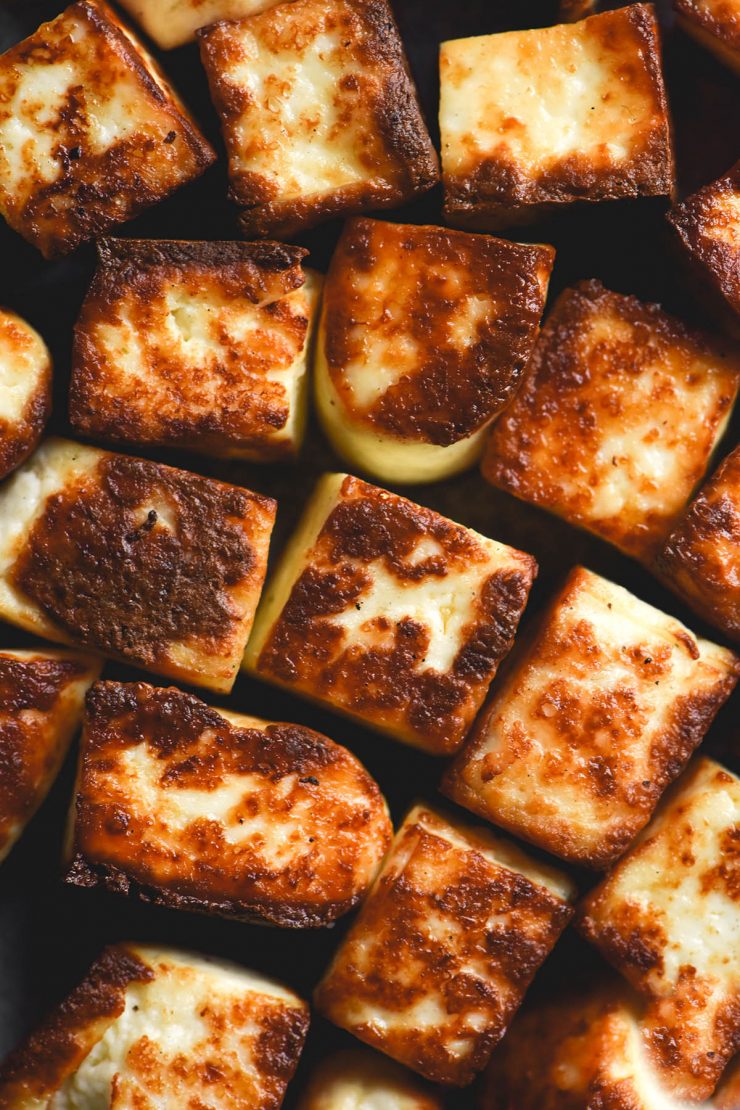 I was at the supermarket recently shopping for the paneer component of a FODMAP friendly Malai Kofta. It struck me that A) Many Australian supermarkets only have one brand of paneer and B) that it's EXPENSIVE. $8 for 200g of paneer expensive. Standing in front of the paneer, I googled how to make it. And what do you know? Lactose free paneer is as easy as lactose free ricotta. That is: very easy.
Lactose free paneer
Paneer making is essentially the same as making lactose free ricotta. It involves cooking a lactose free milk and adding an acid to coagulate the milk. This separates the solids from the liquids, or curd from the whey. The 'whey' is then drained off the curd, leaving a soft, milky cheese.
Ricotta is simply drained as is, whereas paneer is pressed into a solid shape. Both are easy to make at home, and handy for recipes like this FODMAP friendly Malai kofta.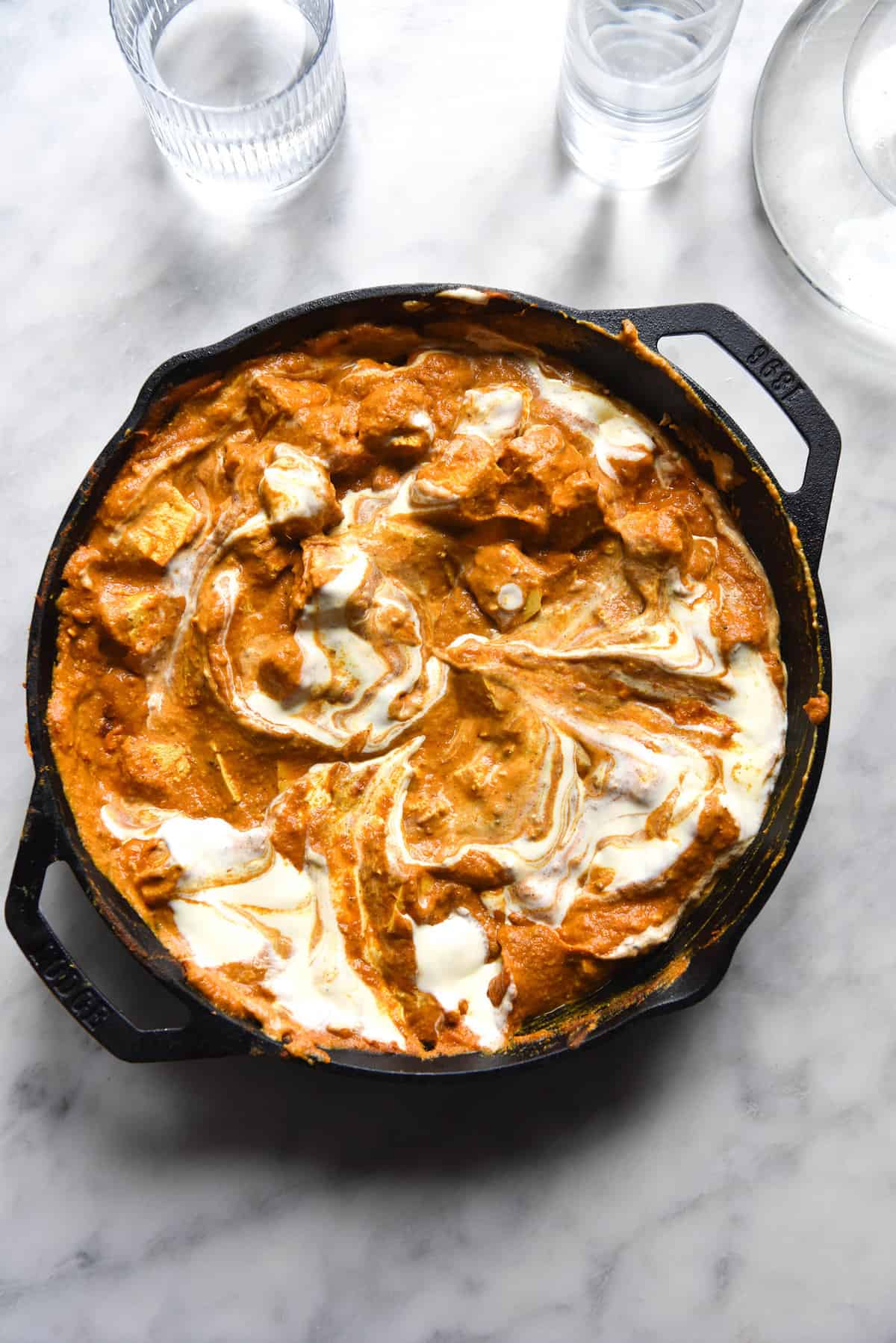 Recipe notes for your lactose free paneer
Lactose free is different from dairy free. Lactose free products use dairy with lactase (a lactose digesting enzyme) so that minimal lactose remains. Dairy free does not use dairy at all, and encompasses things like coconut milk. This lactose free paneer is a good substitute for people who malabsorb lactose. It is not suitable for a dairy allergy.
With that in mind, you will need to buy lactose free milk, or use milk that you have added lactase to. See more in the section below.
Further: it needs to be full cream milk, not light milk. Light milk won't work in the same way.
You can use lemon juice or white vinegar for the acid component.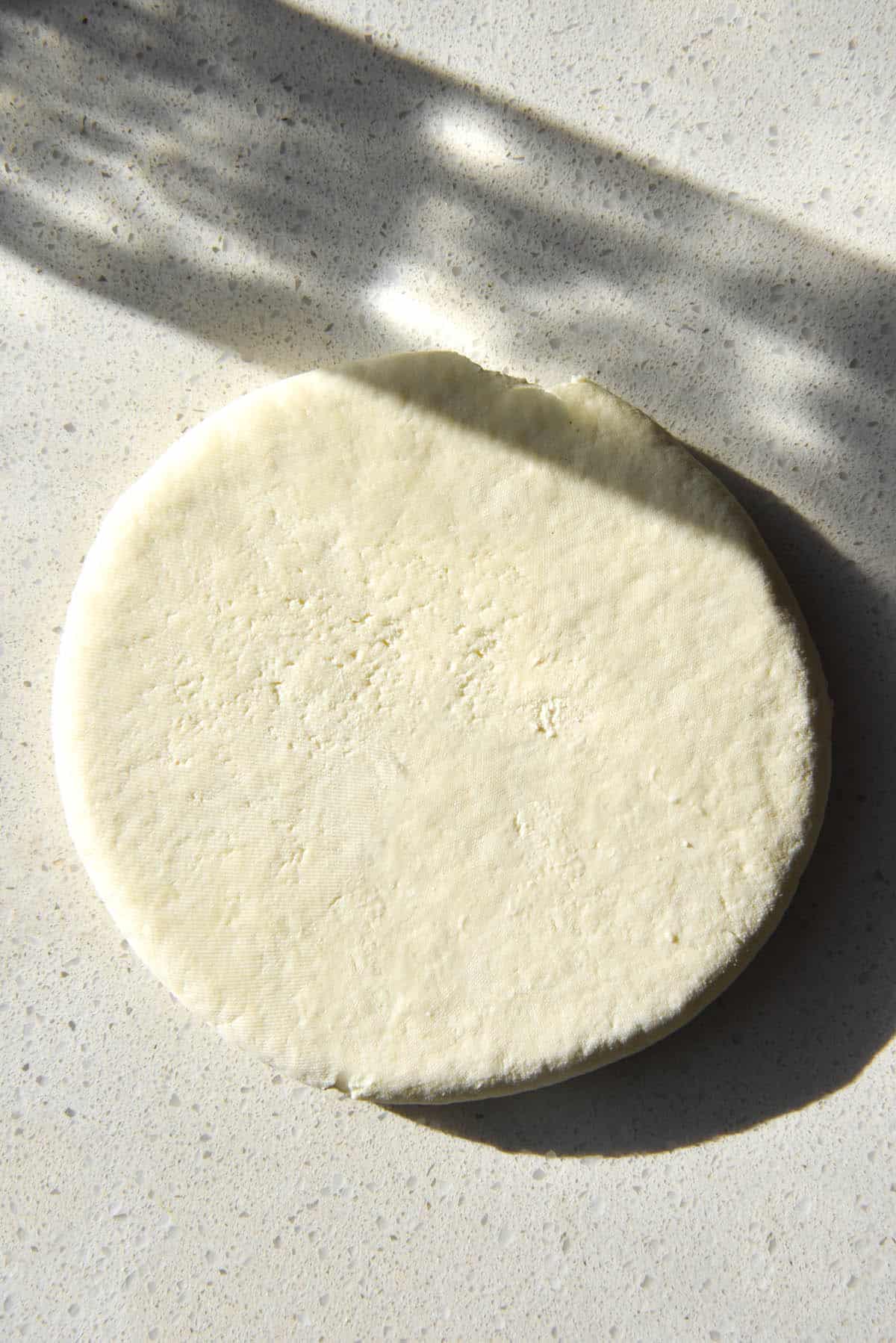 Notes on lactose free milk
Lactose free milk is easily purchased at most Australian supermarkets. It is simply milk that has had lactase, a lactose digesting enzyme, added to it. Other than that, it is exactly the same as regular milk. As we've discussed, it's not vegan or dairy free. Sometimes the two can be confused. This is a dairy based paneer that has had the lactase removed, which significantly reduces the lactose content.
Interestingly, the technique used to make lactose free dairy milk is a bit opaque. As this article goes into, they don't have to specify how much enzyme they added, which enzyme, how they tested the milk, etc. That said, it's all about how it makes you feel after eating it.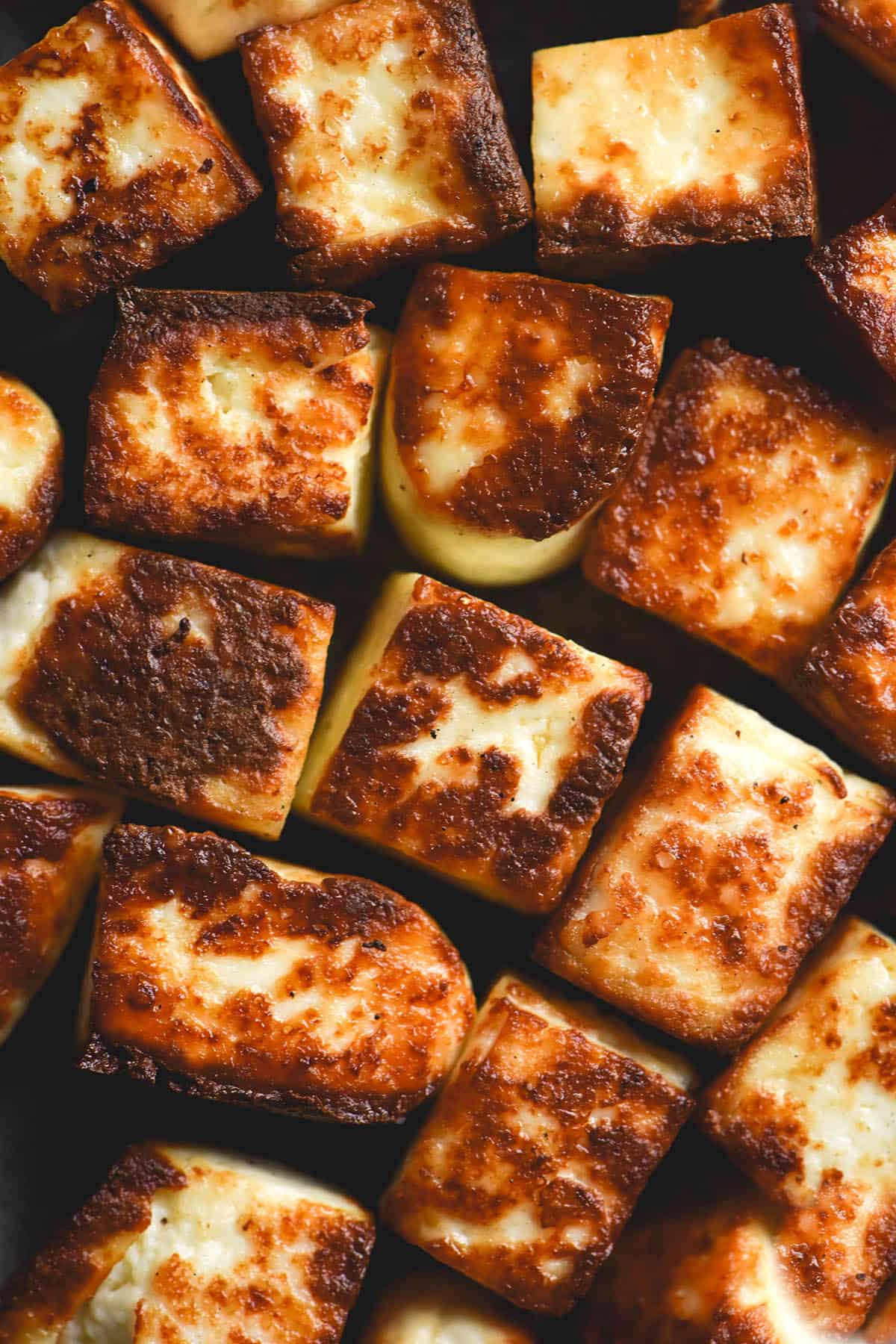 Making your own lactose free milk
in Australia, Zymil is a widely available lactose free milk. If you don't have access to lactose free milk, you can make your own. Lacteeze makes lactase drops that can be added to regular dairy products to reduce their lactose content.
The Lacteeze website says to use 4 drops per litre of milk, then refrigerate for 24 hours. They say that this will convert 70-80% of the lactose. Whether adding more converts lactose, the website does not say. Best bet is to determine what works for you and adjust if necessary. I have a full recipe here, if you need it.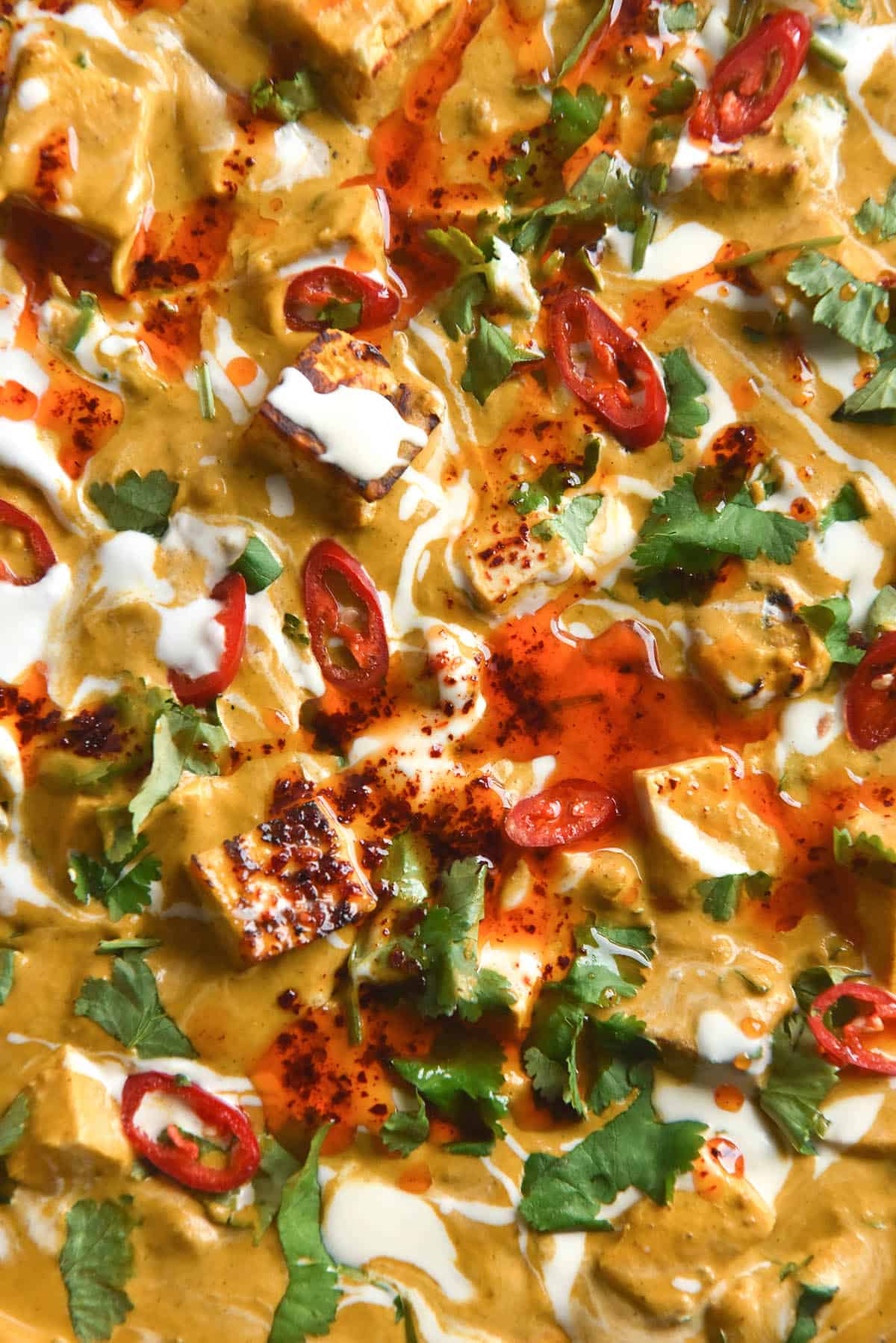 Tips and tricks
Some websites specify that you need to use a thermometer for this sort of cheese making. I find it's relatively easy to make lactose free paneer (and ricotta) without a thermometer.
The milk needs to be heated slowly and thoroughly and should have a slightly foamy surface and a steamy appearance before adding the vinegar. There is a bit of wiggle room, though: you can continue to heat the mixture if it doesn't separate.
Once the vinegar is added, gently stir the mixture. It should separate into white curds and a yellow, translucent liquid fairly quickly. If the liquid is still milky in colour or no separation occurs, continue cooking on a low heat until it does.
Pressing the paneer into a solid shape and draining it until firm is what separates paneer from ricotta. We're also not salting the paneer as we would ricotta (although you could if you wanted to).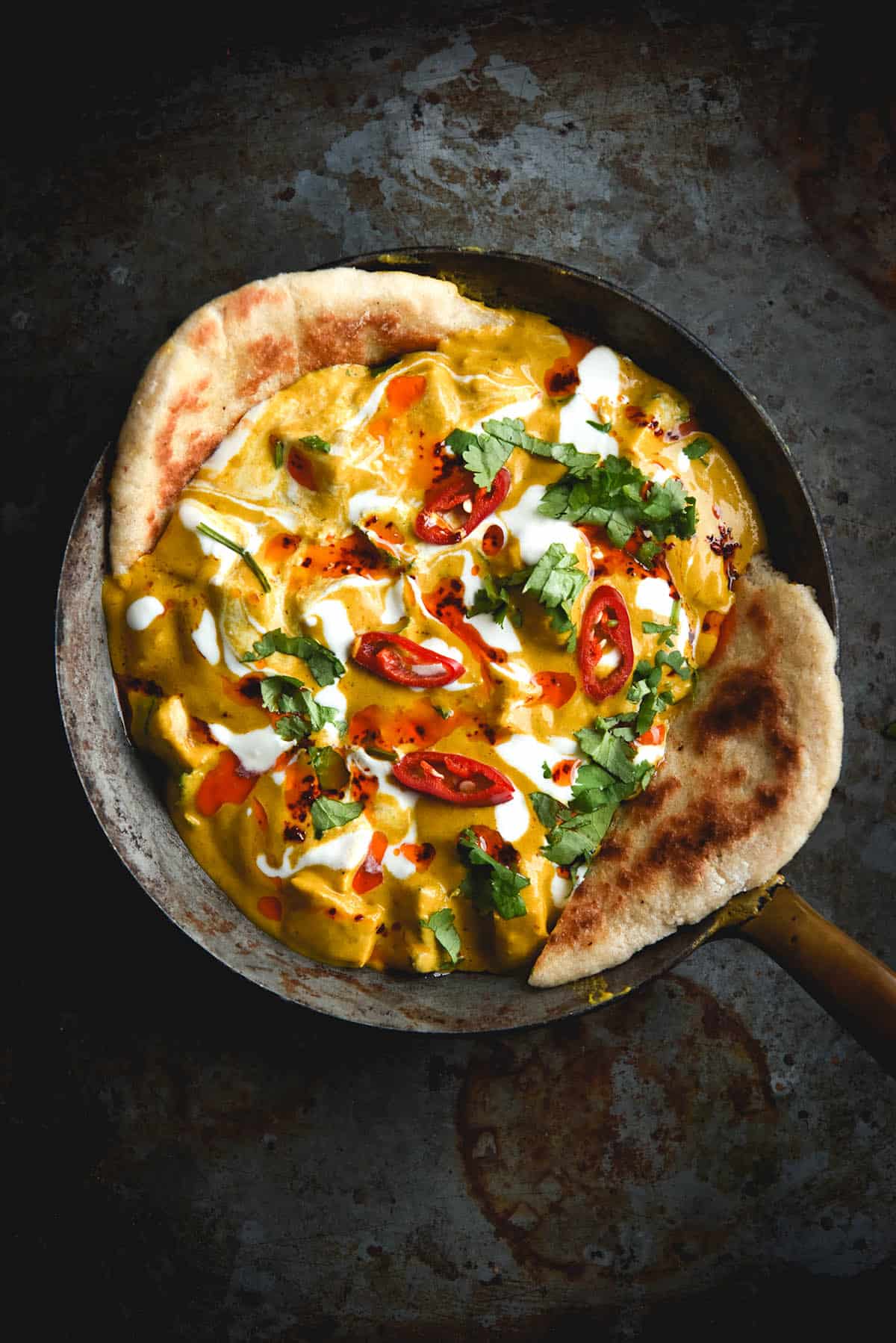 Where to use your lactose free paneer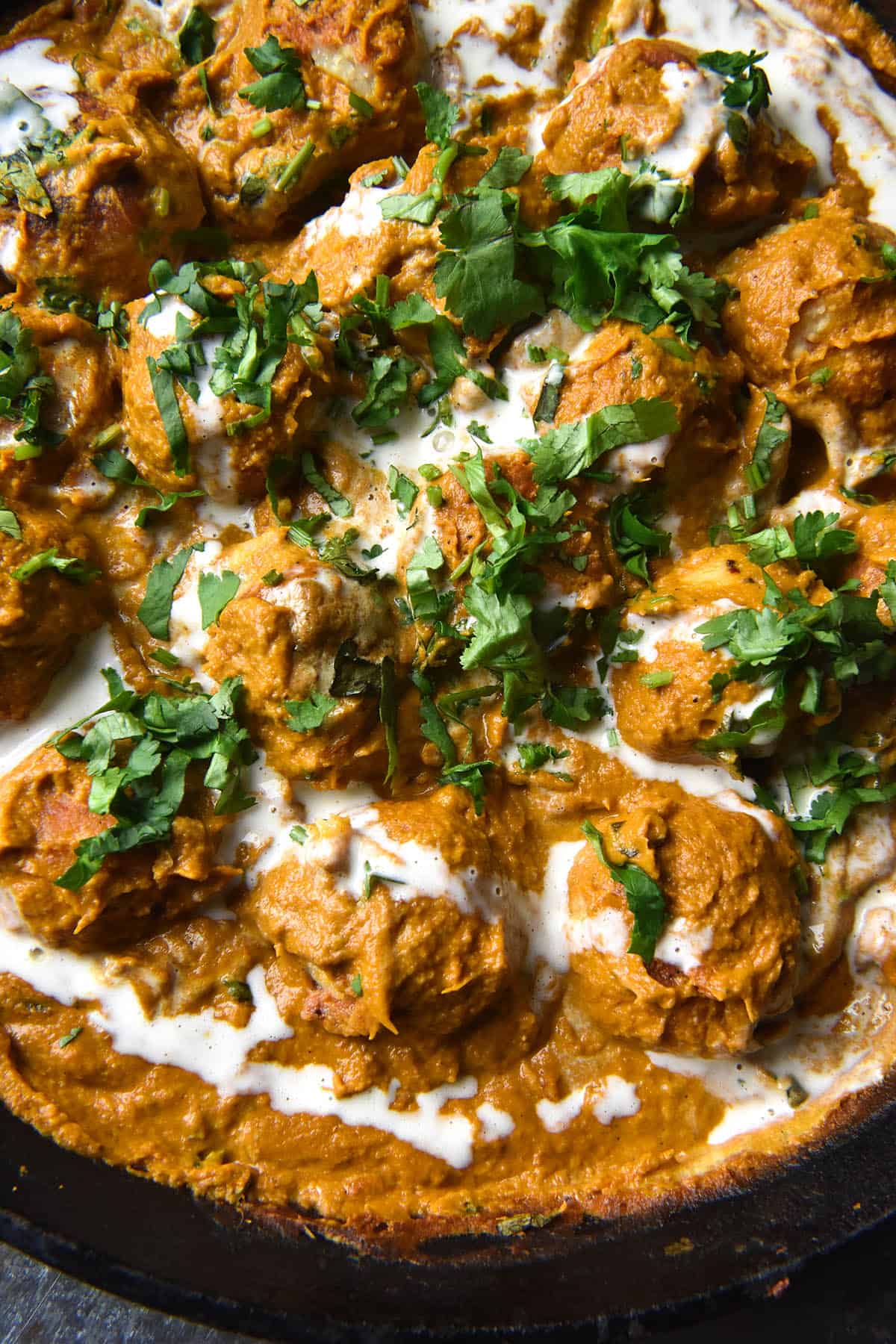 All of my lactose free dairy recipes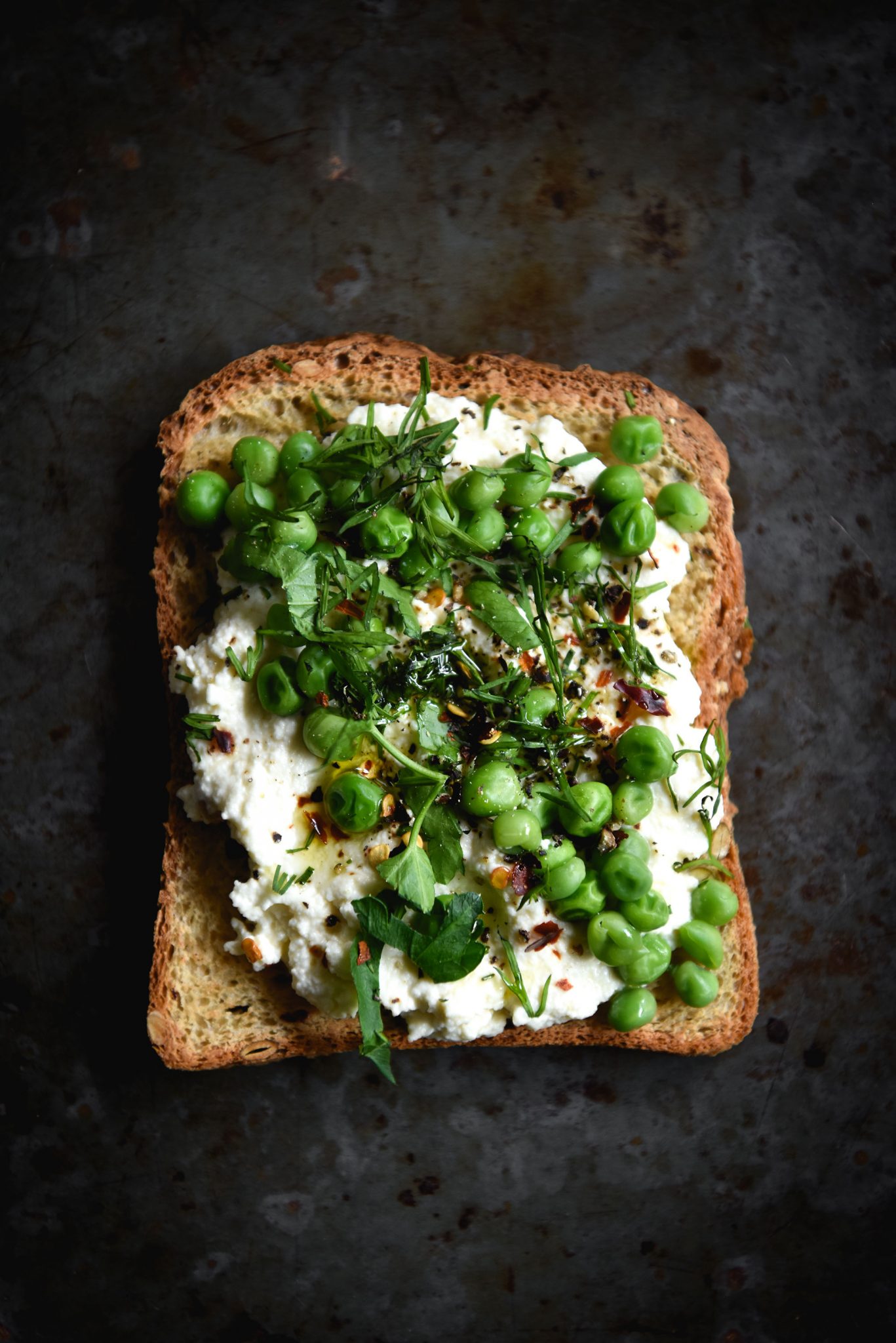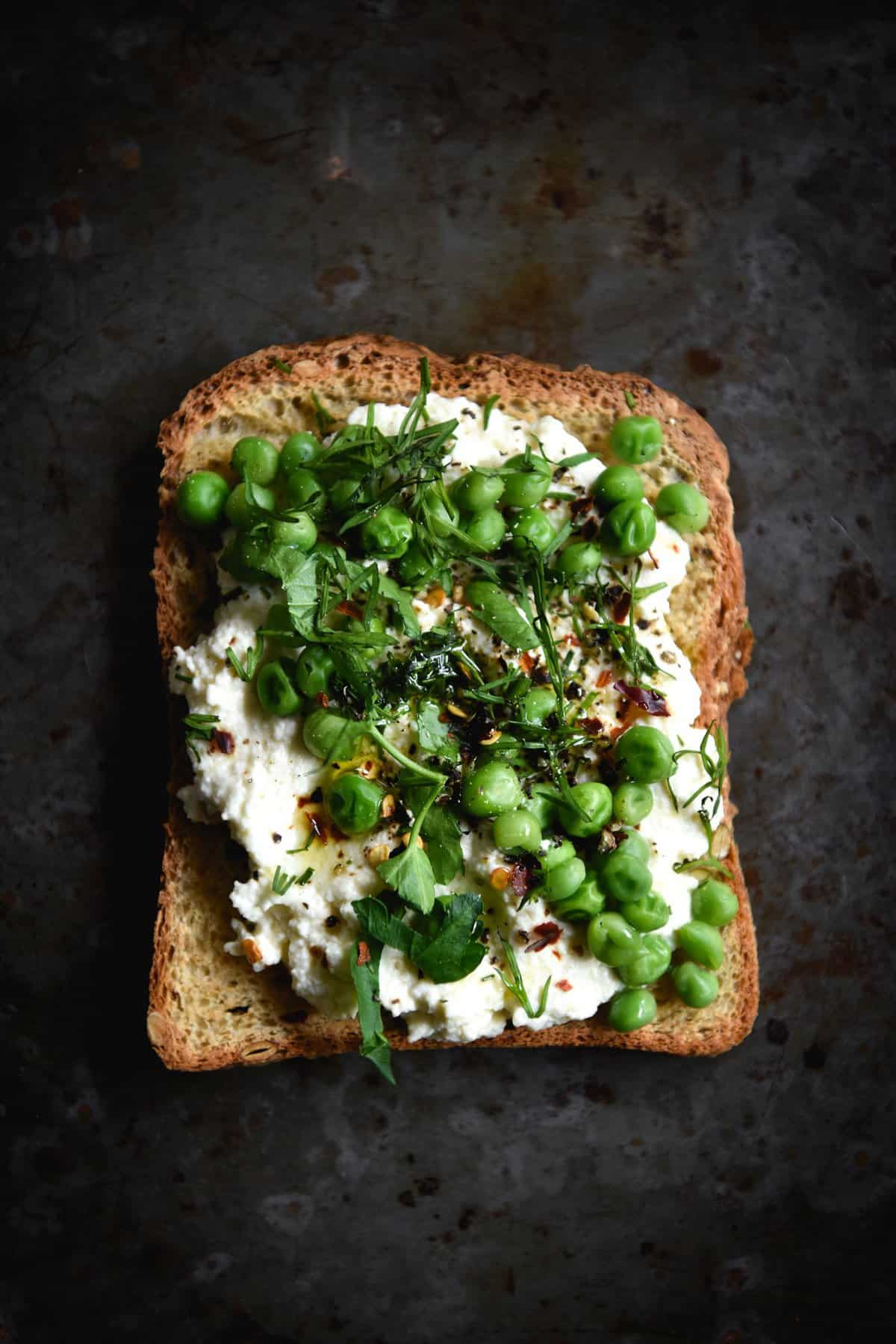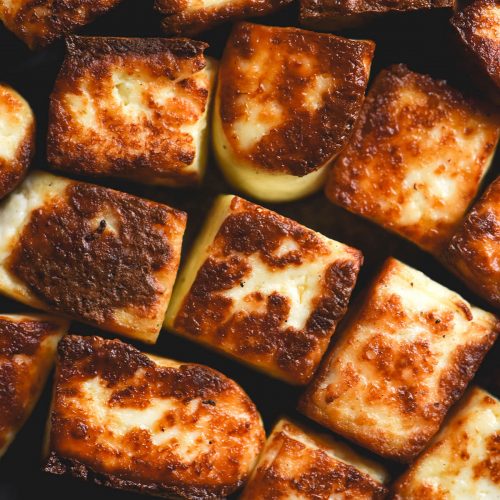 Lactose free paneer
Lactose free, FODMAP friendly
Makes 250-300g paneer
Ingredients
2

litres

(2000ml) full cream lactose free milk

1/2

cup

(125ml) fresh lemon juice or white vinegar
Instructions
Pour the milk into a large pot and place it over a low heat. Allow the milk to heat slowly but thoroughly (around 5-10 minutes) until it reaches a simmering point. It should be just lightly bubbling away, with plenty of steam coming off the surface.

Add the lemon juice or vinegar and stir just to combine. The mixture should separate into curds and whey – white cottage cheese like solids and a lemon opaque liquid. If this doesn't happen, continue cooking the mixture (without stirring too much) until the mixture separates. Do the same if the liquid is milky and not opaque. When the mixture separates, take it off the heat and allow to sit for 10 minutes.

Pour the mixture (curds and whey) through a nut milk bag in a sieve. Gather up the bag and rinse the curds thoroughly. This will help eliminate some of the tang from the lemon juice or vinegar.

Gently but thoroughly squeeze the remaining liquid out of the paneer. It's easy to break a nut milk bag by squeezing too hard (speaking from experience) so go slowly.

Shape the paneer into a tight disk while still in the nut milk bag. Place it on a flat plate that you can easily pop something heavy on, to help press the paneer of the final liquid. I used my skillet and eventually put my Dutch oven on top too.

Press for 2-3 hours or up to overnight. When you remove the paneer from the nut milk bag it should be solid and relatively dry.

The paneer keeps well in the fridge for a week.