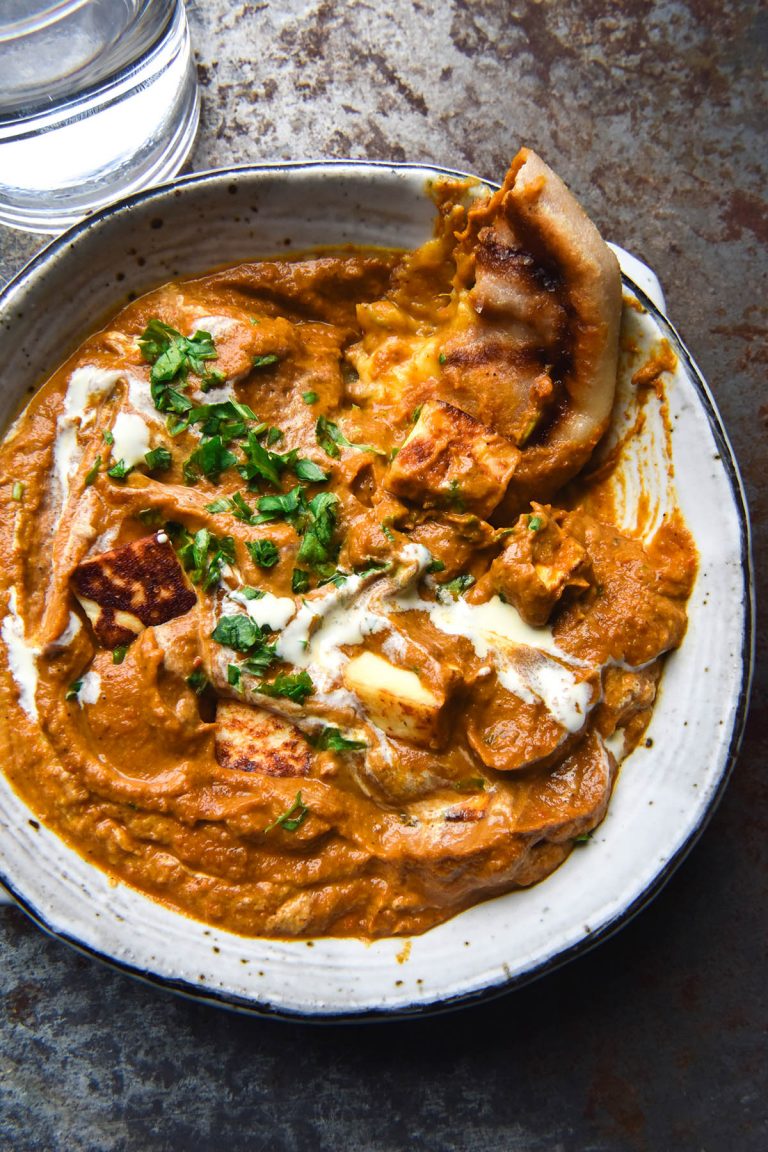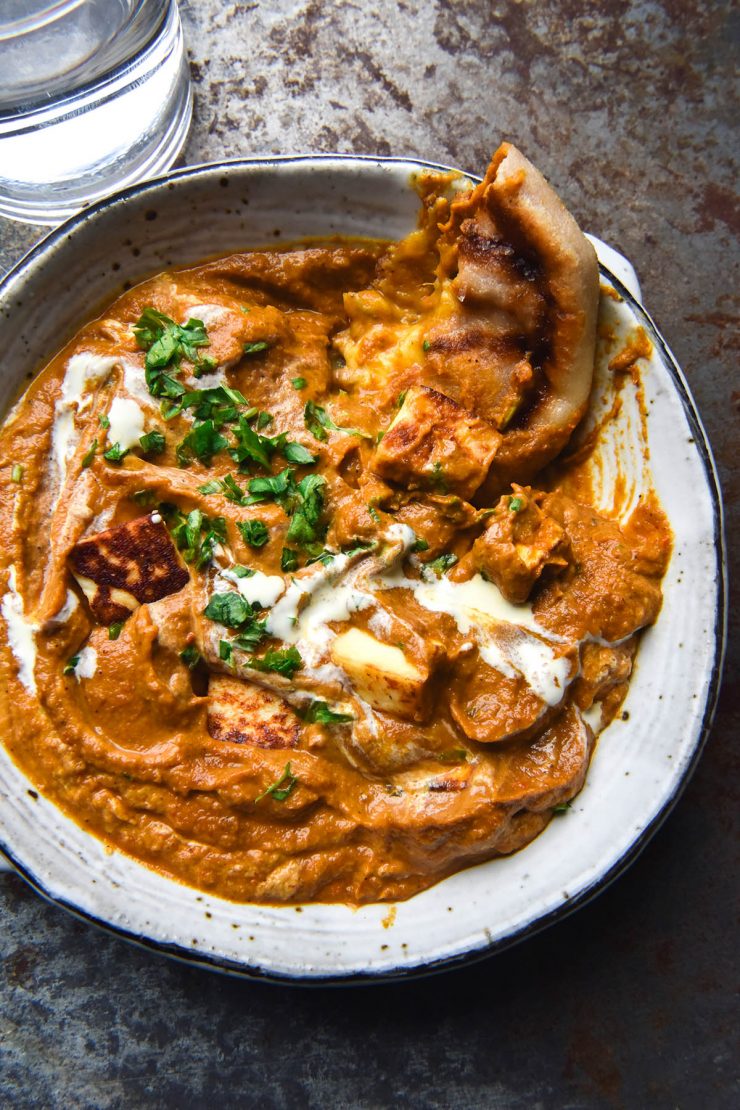 Jump to Recipe
This FODMAP friendly paneer curry is a product of two things. Firstly, I wanted to use the lactose free paneer recipe that I posted on TikTok recently in something practical and delicious. Secondly, I decided to play around with the vegetables in my FODMAP friendly curry base recipe. I figured I could simplify the vegetables used and make it even more FODMAP friendly.
This FODMAP friendly paneer curry is made without onion or garlic, obviously. It is nut free and easily made vegan (with tofu instead of the paneer, among other things). It is incredibly delicious – potentially one of the nicest things I think I have ever made.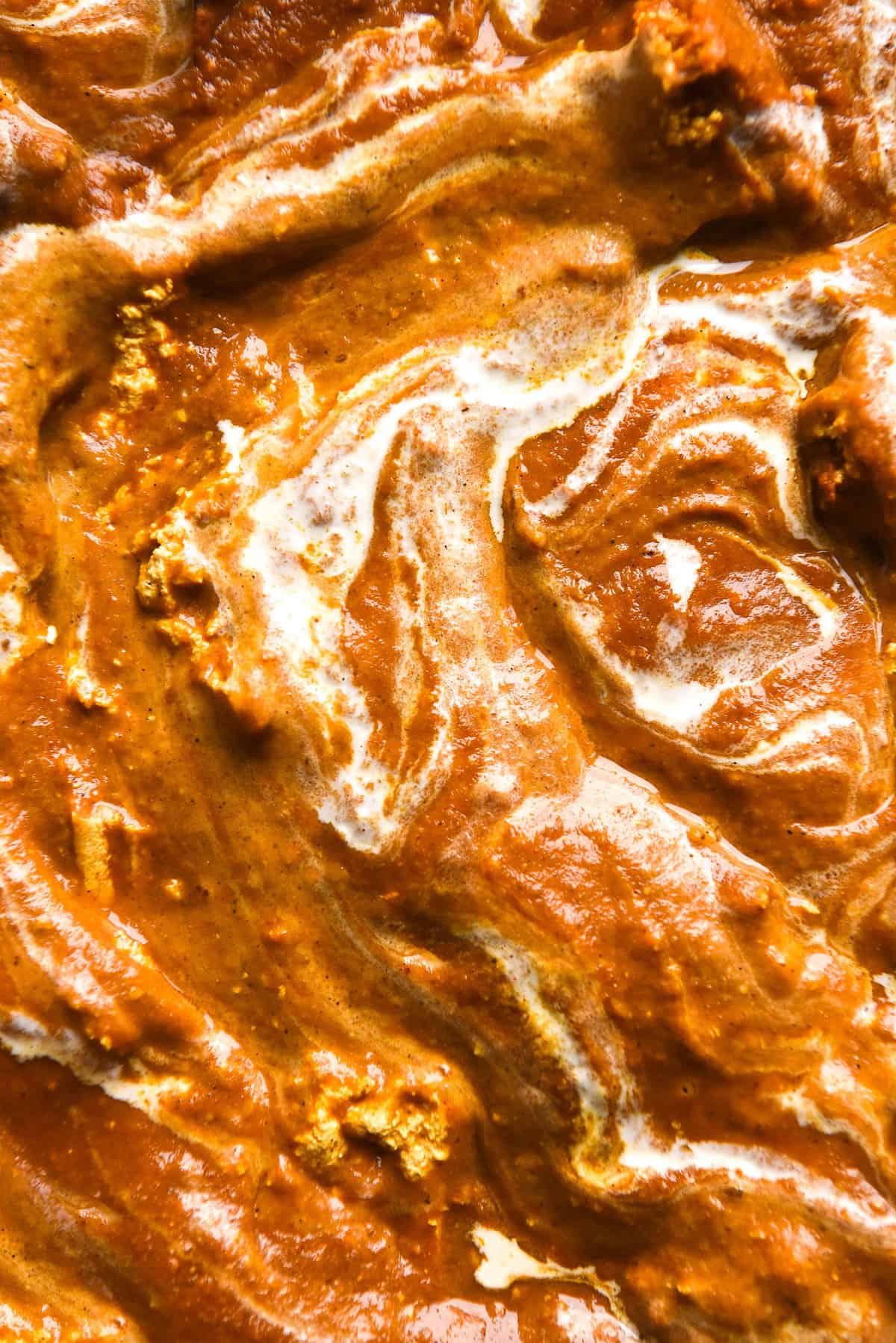 FODMAP NOTES
I have switched up the vegetables for this curry to ensure that the only moderate FODMAP veg are the capsicums and tinned tomatoes. Red capsicum is FODMAP friendly in 43g or 1/3 cup servings. Green capsicum is FODMAP friendly in 75g serves, but a moderate serve is 250g, which suggests there's plenty of wiggle room there.
Tinned tomatoes are friendly in 100g serves and moderate for fructose in 138g serves.
In terms of dairy, I have used homemade lactose free paneer and lactose free full cream to keep this lactose friendly.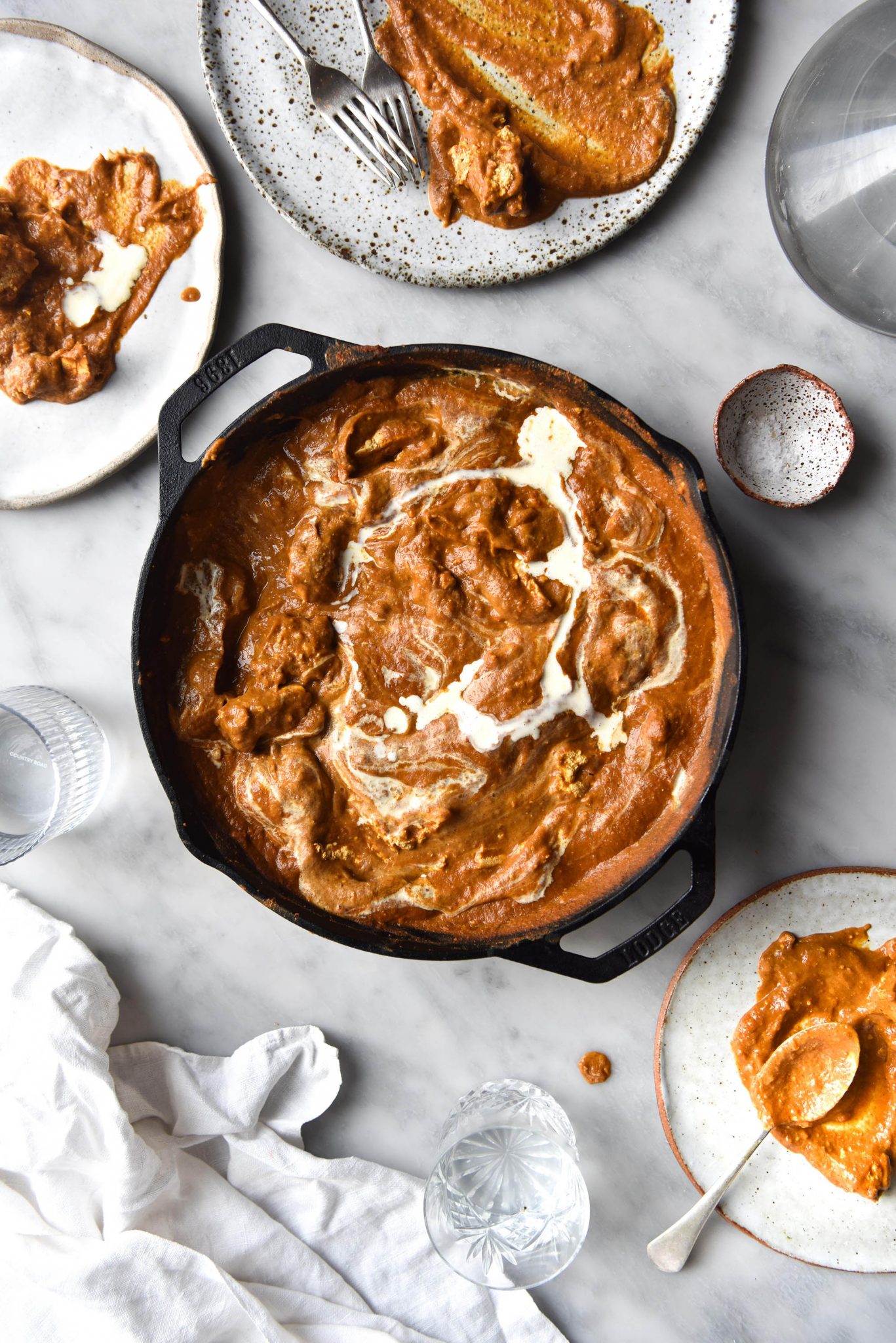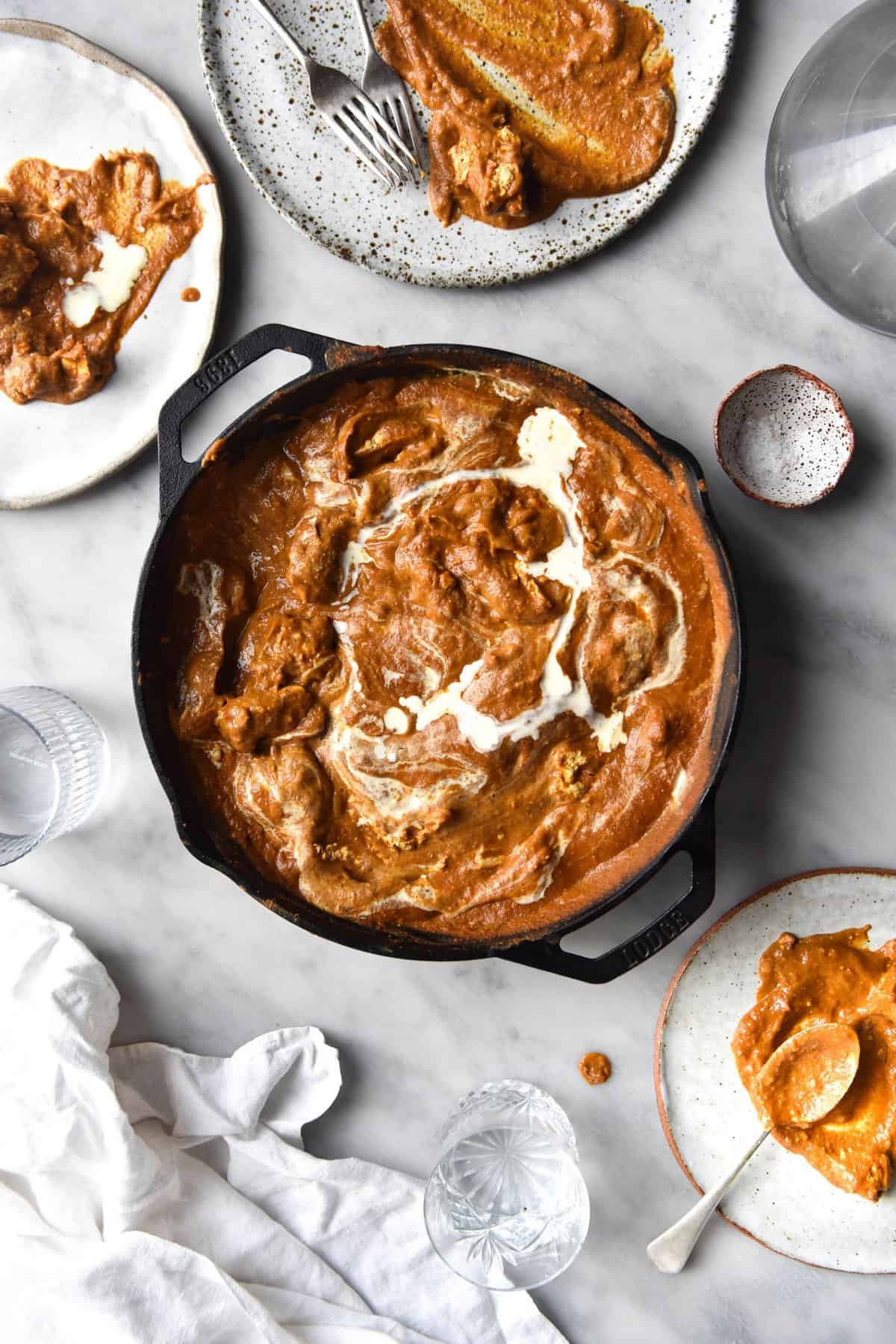 The FODMAP friendly curry sauce base
This sauce base is made up of spring onion greens, leek greens, ginger, capsicum and carrot. These vegetables are cooked down with a few spices before tinned tomatoes are added and the whole thing gets blended. I chose to use tinned tomatoes because they are easy and their FODMAP content stayed the same in the recent Monash tomato update debacle. They are inexpensive to buy year round and most houses have a tin lurking somewhere.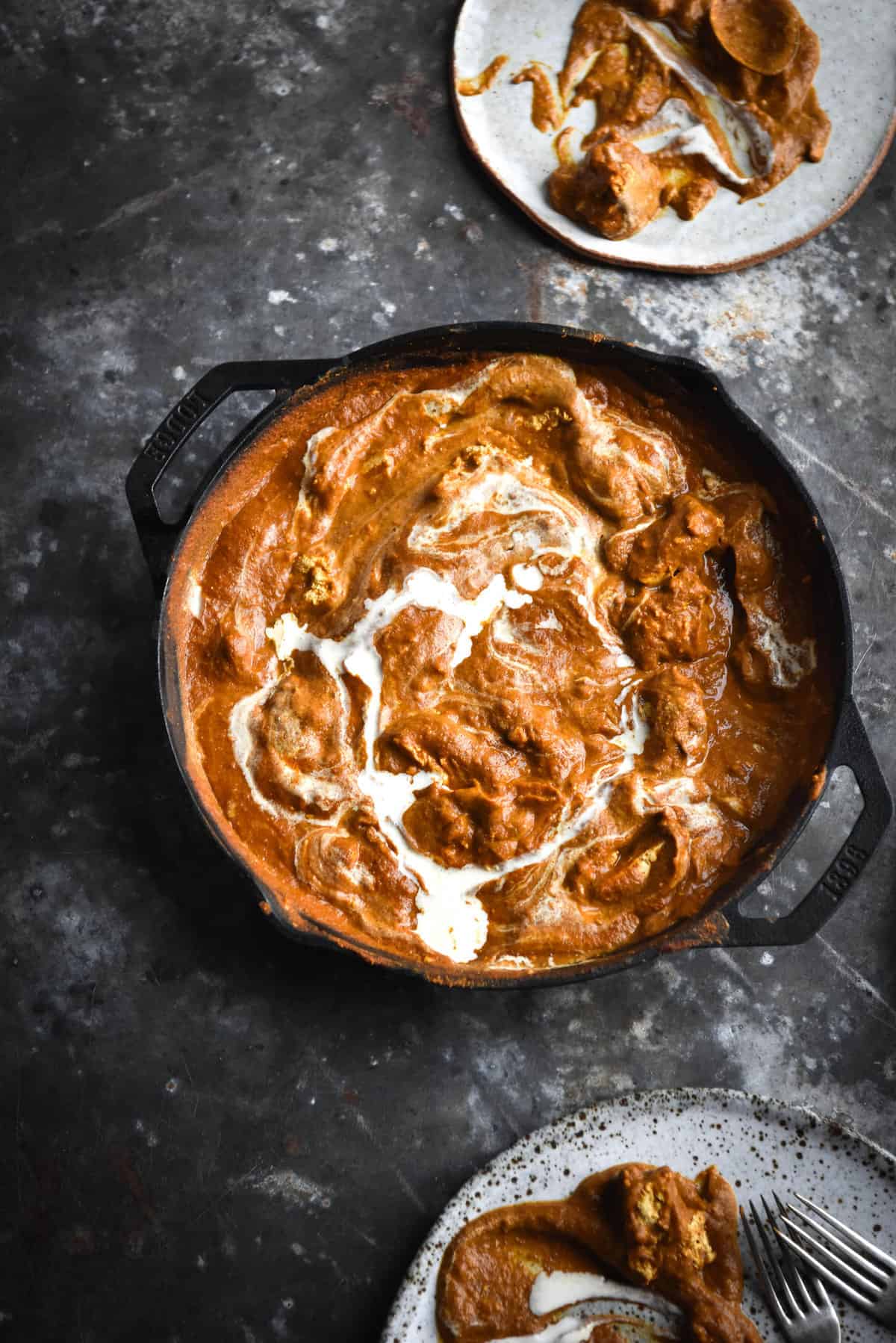 The curry paste
The curry paste is made up of generous quantities of spices. I think there are a lot of recipes online that are way too conservative with the spices. A good amount of spice is critical for that delicious, full bodied flavour without onion or garlic.
Fresh cardamom seeds (and by this I mean, not powder) garam masala, cumin and turmeric are the critical spices here. Paprika is added for the beautiful rich colour. Fenugreek and coriander can be omitted. If you're topping the FODMAP friendly paneer curry with coriander, though, wash, chop and add the roots and stems to the curry sauce base.
The curry paste is finished with the juice of a lemon and tomato paste. You can thin it out with water or some of the curry sauce base until it is a paste like consistency. Once we've cooked the cardamom pods, the curry paste is ready to cook down. Too easy.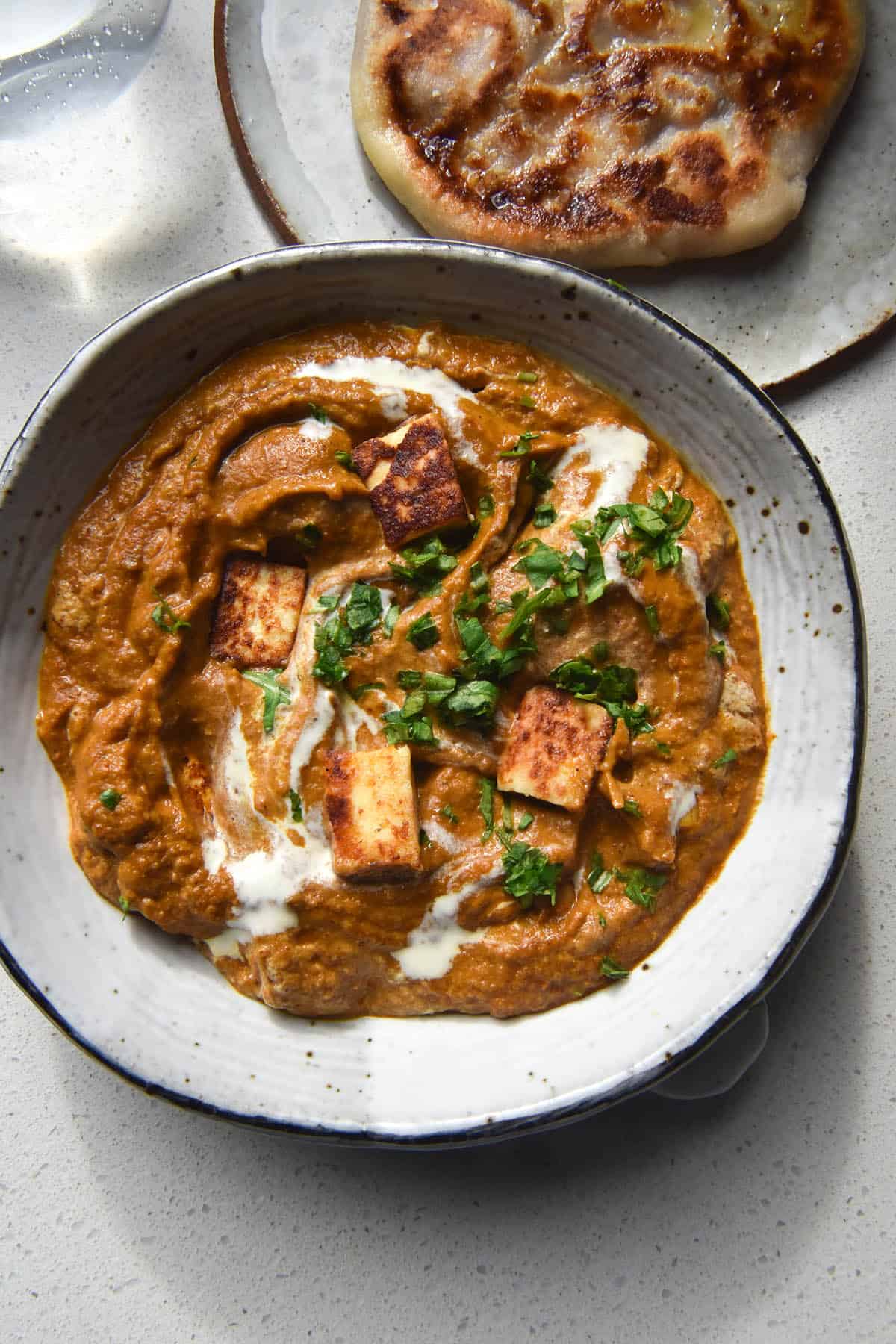 The paneer
I have chosen to use homemade paneer made with lactose free milk in this recipe. I recently realised that paneer is incredibly easy to make, better than store bought and nearly half the price, too.
Swaps and substitutions
To make this FODMAP friendly paneer curry vegan, use tofu in place of paneer and a plant based milk/cream/yoghurt in place of the cream. This also applies if you are dairy free.
Some of the spices are less critical than others. The fenugreek, paprika and coriander powder can be omitted.
If you'd prefer, you can use regular chilli powder or fresh chilli to taste. Add it according to your chilli preferences, keeping in mind that regular chilli powder is spicier than Kashmiri chilli powder.
If you have fresh tomatoes to use up, use 2-3 and add a bit of water.
Red capsicum can be a source of fructose, while green capsicum can be a source of fructan. You could try choosing one or the other to cater to your specific requirements. I would suggest maybe adding a little sugar if you use all green capsicum. The red capsicum adds a bit of balanced sweetness to the curry sauce base.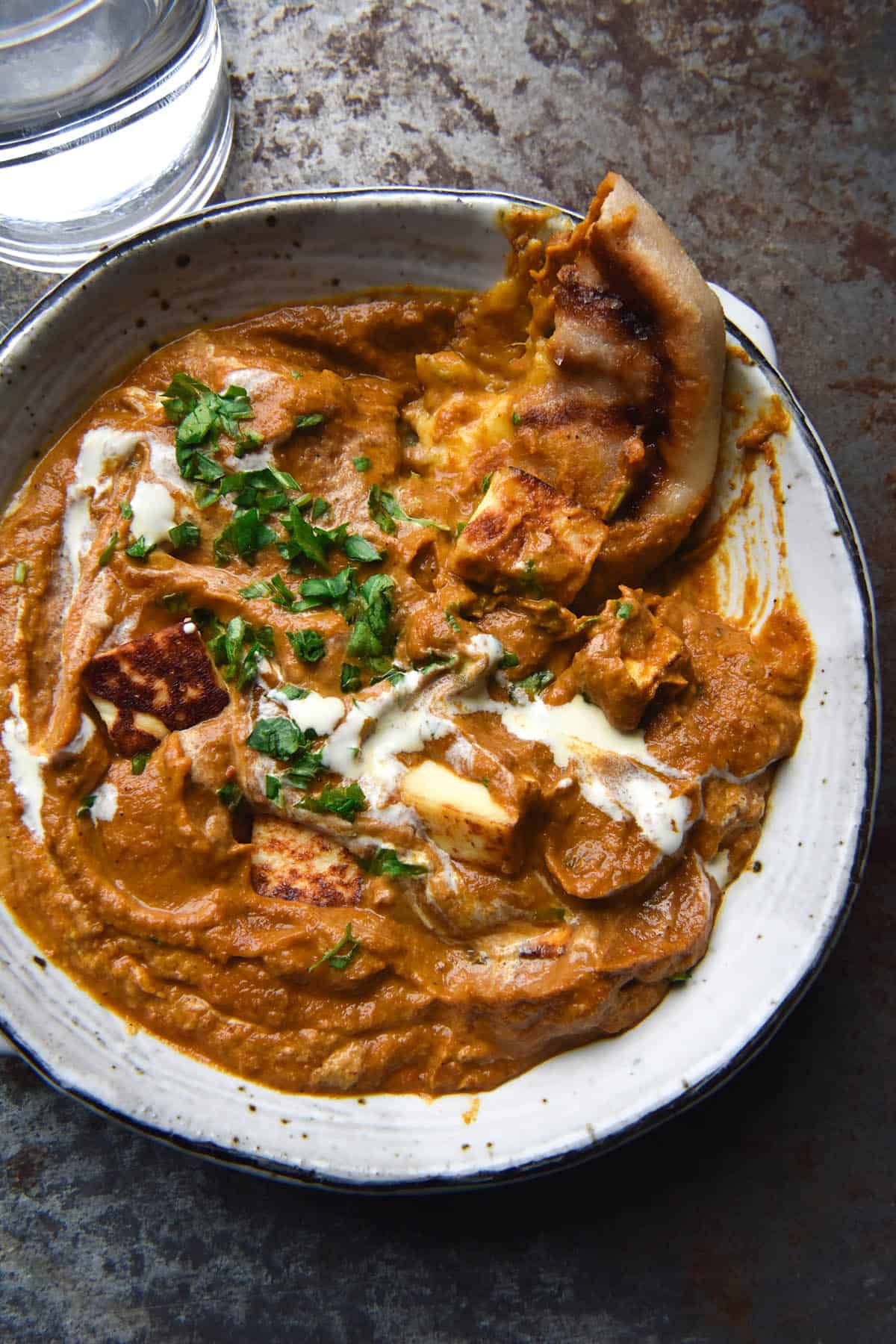 To serve with your FODMAP friendly paneer curry
Some gluten free flatbreads or cheesy garlic naan. Actual heaven.
Garlic infused ghee, for topping the naan. No naan is complete without garlic butter, and infusing ghee brings the garlic without the FODMAPs.
Some rice. It's always a good idea to pad things out with some rice to ensure you remain under the threshold for FODMAP. I like to make this curry serve 6 people.
The hottest of hot tips: if you make the cheesy naan to serve with the FODMAP friendly paneer curry, add a spoonful of curry gravy to each flatbread when you add the cheese. Topped with some garlic infused ghee? Life changing stuff.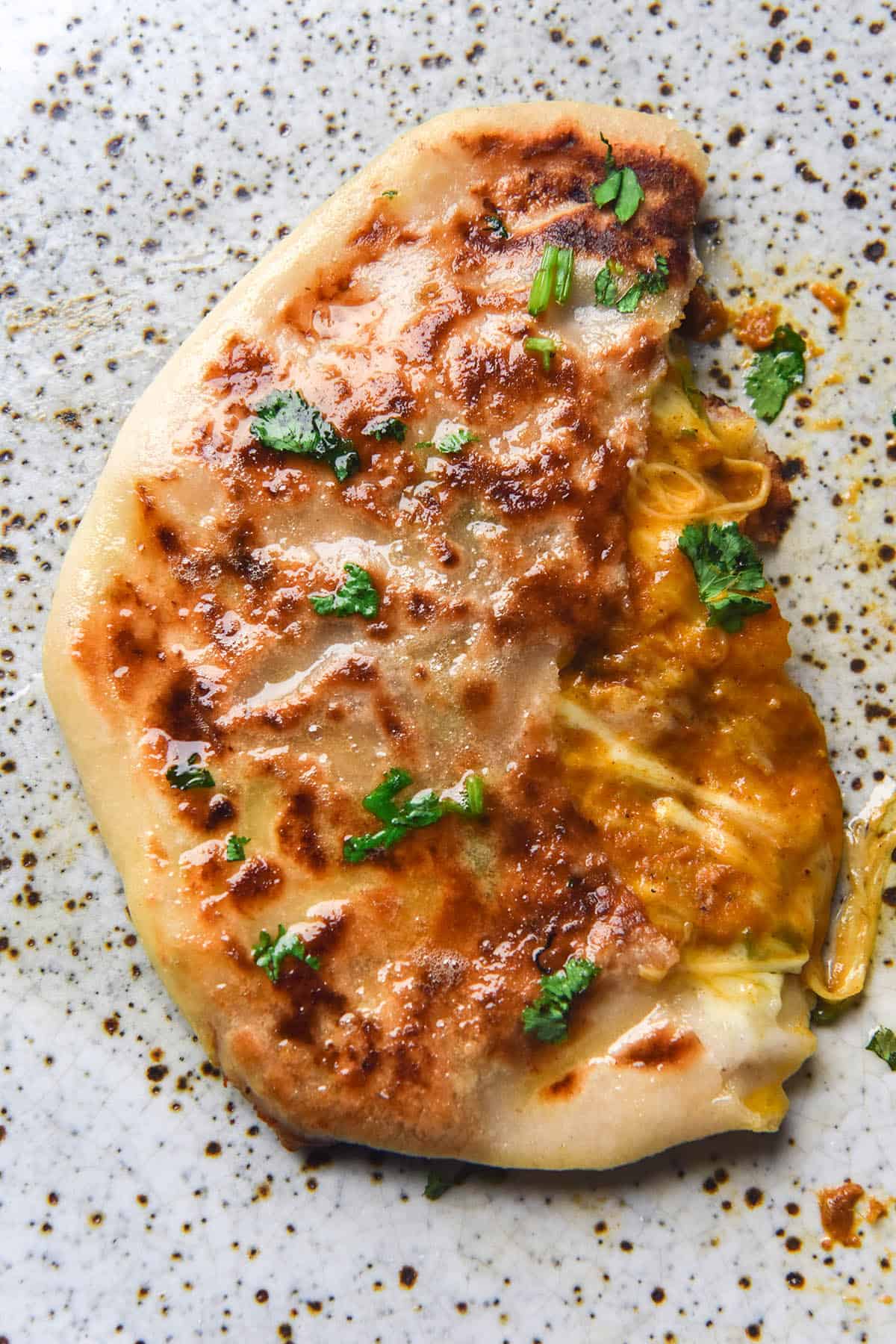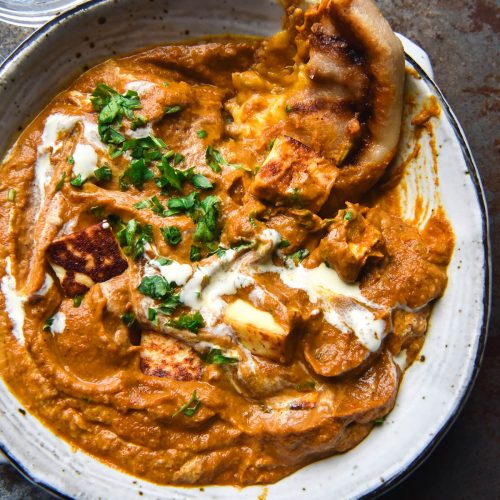 FODMAP friendly paneer curry
Gluten free, nut free, vegan option
Ingredients
For the curry sauce base:
3

tablespoons

neutral oil or ghee

1

bunch spring onion greens

chopped

1-2

leek greens

thoroughly washed and chopped

1

small red capsicum chopped

1

small green capsicum chopped

2-3

large carrots

reasonably finely chopped

50

g

ginger chopped

1

x 400g tin of plain tomatoes

any sort are fine as long as they are unflavoured

2

teaspoons

ground garam masala

1

teaspoon

ground cumin

1

teaspoon

ground coriander

1

teaspoon

sweet paprika

1/4-1/2

teaspoon

Asfoetida

hing powder, optional (see notes)

1-2

cups

water

250-500ml
For the curry paste:
1

tablespoon

paprika

any sort – smoked or sweet – is fine

1

tablespoon

cumin powder

2

tablespoons

garam masala

1

tablespoon

fenugreek seeds (optional)

1

tablespoon

coriander powder

1

teaspoon

turmeric powder

1

teaspoon

Kashmiri chilli

see notes

2

tablespoons

tomato paste

Juice of 1 smaller lemon
To finish the curry:
Seeds of 10-20 cardamom pods

discard the pods and keep the small black seeds

1

quantity of homemade lactose free paneer

see notes

125-250

ml

lactose free full cream (you could also use yoghurt milk or a plant based substitute

see notes

Seasoning to taste

Pinch of sugar, if necessary
Instructions
To make the curry sauce base:
Place the ghee in a very large cast iron skillet, pan or wok over a low-medium heat. Add the spring onion and leek greens, and cook for 2-3 minutes or until verdant green and fragrant. Add the ginger, capsicums and carrot and cook until soft – an additional 10 or so minutes. Add water whenever the vegetables are sticking and you sense they need it.

Add the tinned tomatoes and spices and stir to combine. Top with the 1-2 cups of water, stir and place a lid on. Allow to cook for 15-20 minutes until you can pierce the carrot easily with a knife.

Once the vegetables are completely soft and the mixture is fragrant, set aside to cool. Once sufficiently cool, place the mixture in a high-speed food processor and blend until you have a smooth curry gravy.
To make the curry paste:
Combine all the spices (except for the cardamom seeds) for the curry paste in a bowl. Add the lemon juice and tomato paste and stir to form a paste. Add some water or some of the curry sauce base if it's feeling thick or dry.
To finish the curry:
While you're waiting for the curry base to cool, wash and reheat the large skillet or wok and return it to the heat. Preheat really well, then add a scant amount of oil and fry your cubes of paneer until golden on all sides. Remove from the skillet and set aside.

Add 1-2 tablespoons more oil or ghee to the skillet and place over a medium heat. Add the cardamom seeds to the hot oil and cook for a few minutes until fragrant. Add the spice paste and fry off for a minute or two until fragrant.

Once the mixture is fragrant, add all the curry base and stir thoroughly to combine.

Add the cream or milk as you see fit, then finish with the paneer cubes. Taste the curry for seasoning, then cook for a few minutes longer until the paneer is warmed through before serving.