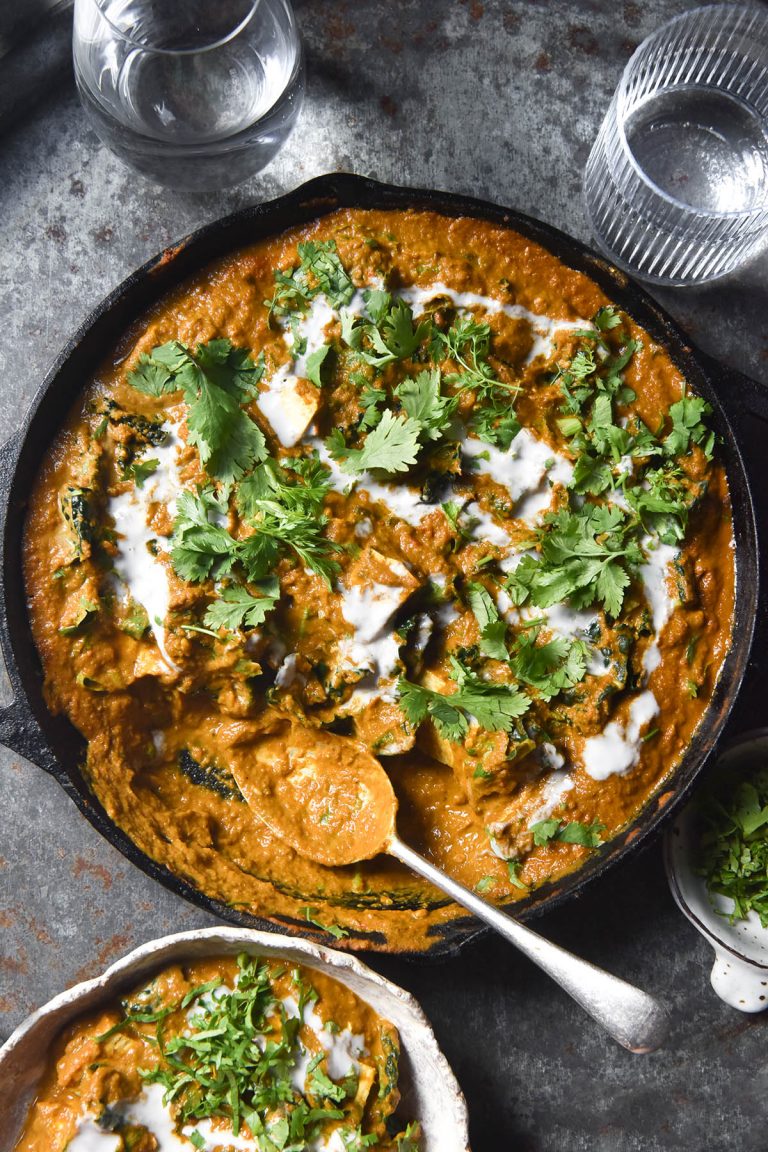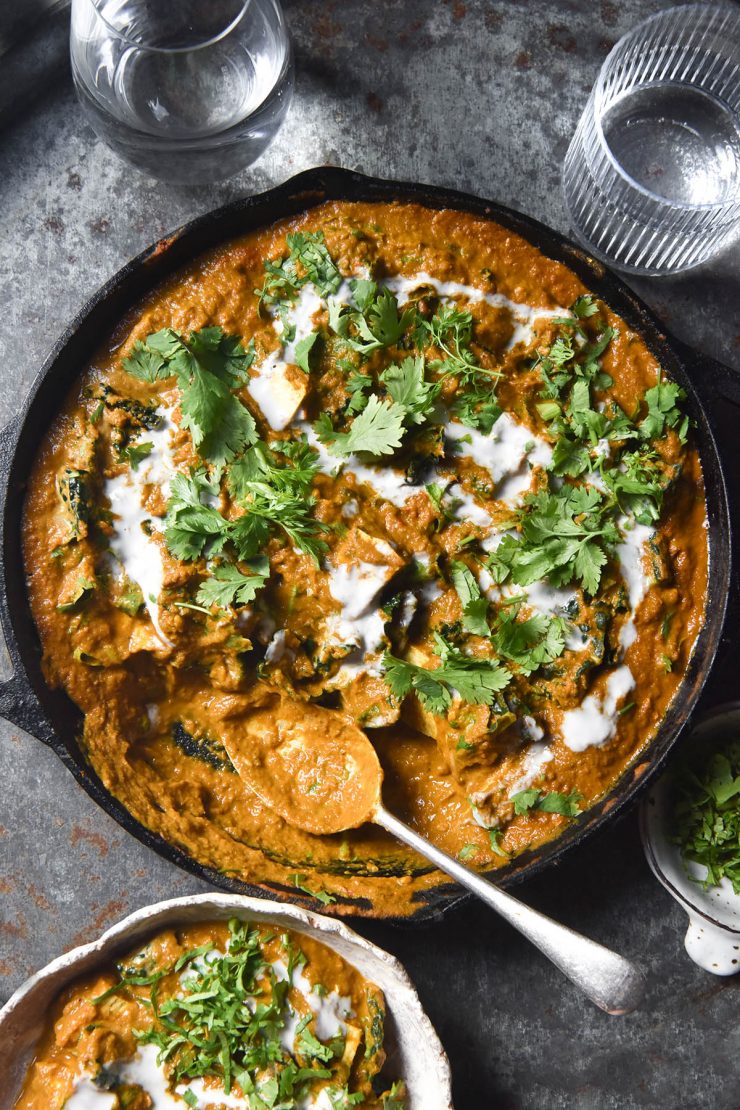 Today's recipe for SIBO friendly vegan curry is sponsored by: new year, same issues with SIBO. After a big year of developing and writing Intolerance Friendly Kitchen plus trips to Thailand and The USA, my SIBO is back in a big way. I have been feeling so incredibly average and unwell that I started the SIBO bi-phasic diet on Boxing Day on a whim.
I love developing recipes for all sorts of dietary issues, but it can be really difficult to cater to other requirements and still address your own. For too long now, I have been eating things that don't agree with me (sugar and grains) for the sake of recipe development. So, the next little while I'll be developing things that I can eat: SIBO friendly recipes.
I am currently on stage 1 (reduce and repair) of the SIBO bi-phasic diet. I have completed this diet before with the help of a doctor. In 2019 I successfully treated SIBO with 11 days on the elemental diet and a full 12 weeks on the SIBO bi-phasic diet. I know that the diet works for me, so I'm excited to complete it again and hopefully get my digestive system back under (some semblance of) control.
This link will take you to the PDF of the SIBO bi-phasic diet list.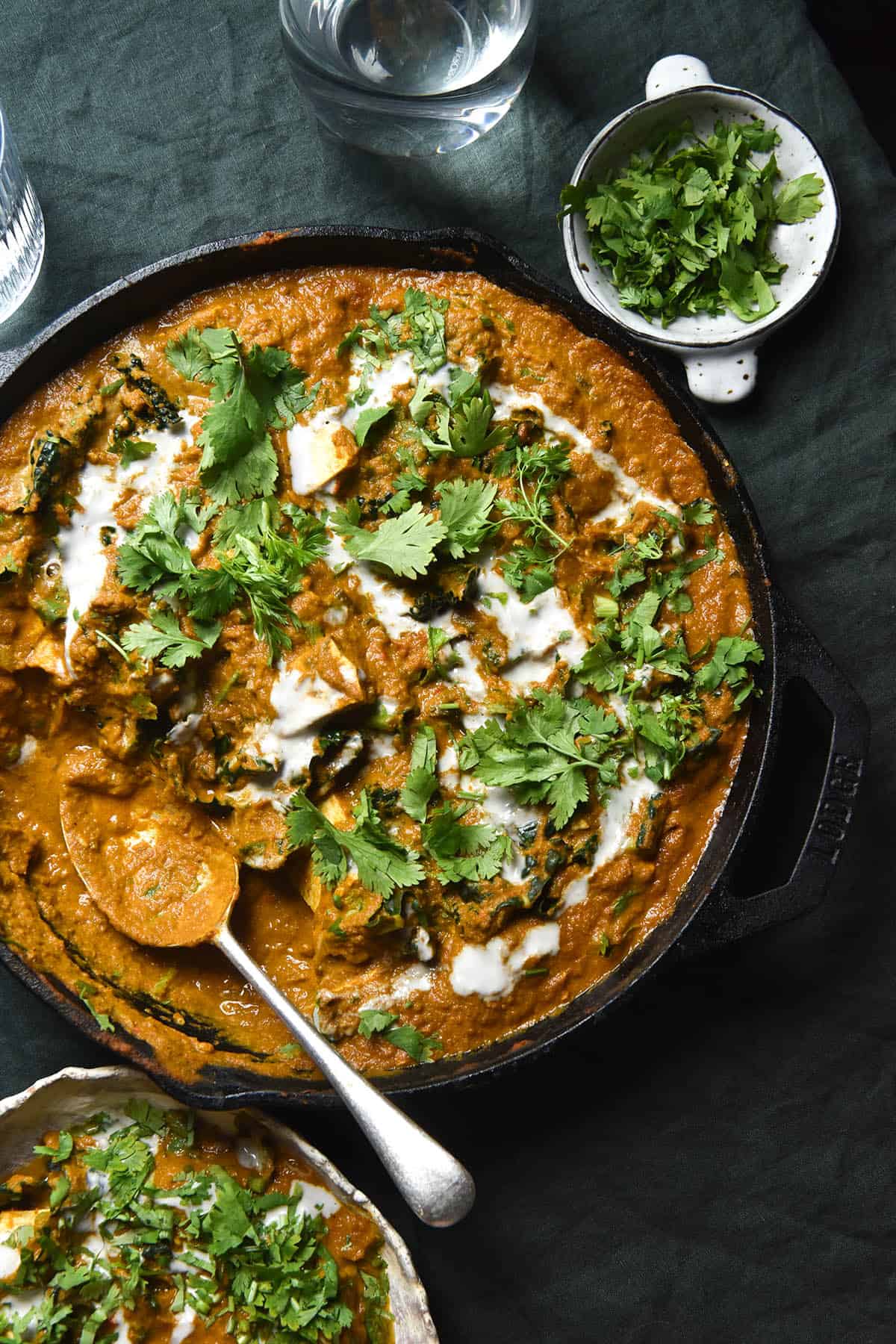 SIBO friendly vegan curry
This SIBO friendly curry is suitable for stage 1 of the bi-phasic diet. I use this PDF from SIBO doctor to determine what I can use in my SIBO recipes. There is also a special vegetarian PDF, but you will need to sign up to an email list to receive it (through the SIBO doctor website).
Although I have read that the diet has wiggle room, I am not a doctor or nutritionist. As such, I keep the recipes within the specified guidelines. If you are working with a doctor and have some extra ingredients or ratios you'd like to add in, go for it.
This SIBO friendly vegan curry uses spring onion greens, leek greens, carrots, capsicums and tomatoes as the curry base. I have used tinned tomatoes and a little bit of tomato paste in this curry. Although neither are listed on the PDF, tomatoes and sun dried tomatoes are in the 'unlimited' category of the SIBO bi-phasic diet. So I am assuming that, provided they have no other ingredients (like garlic) they are also allowed on the diet.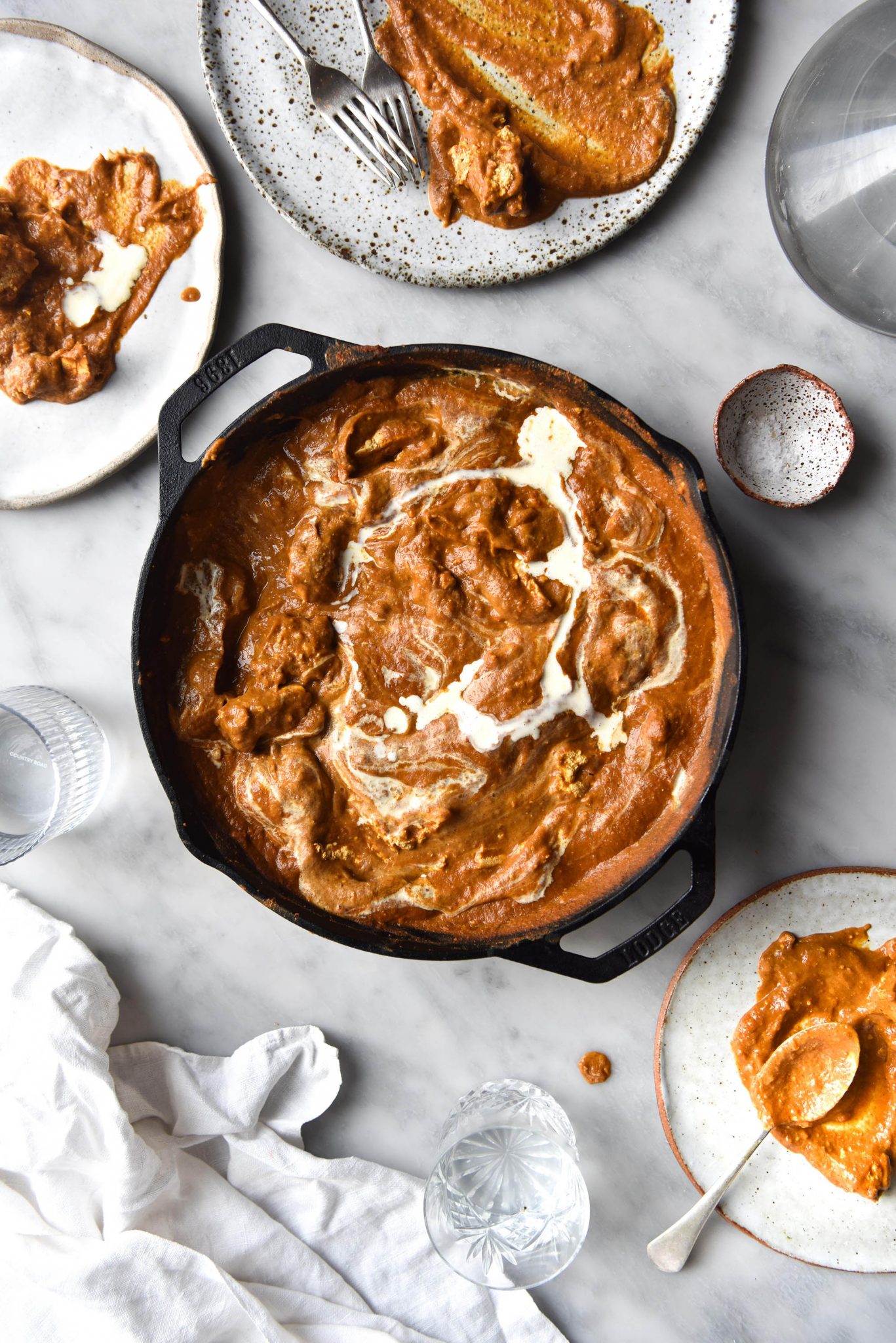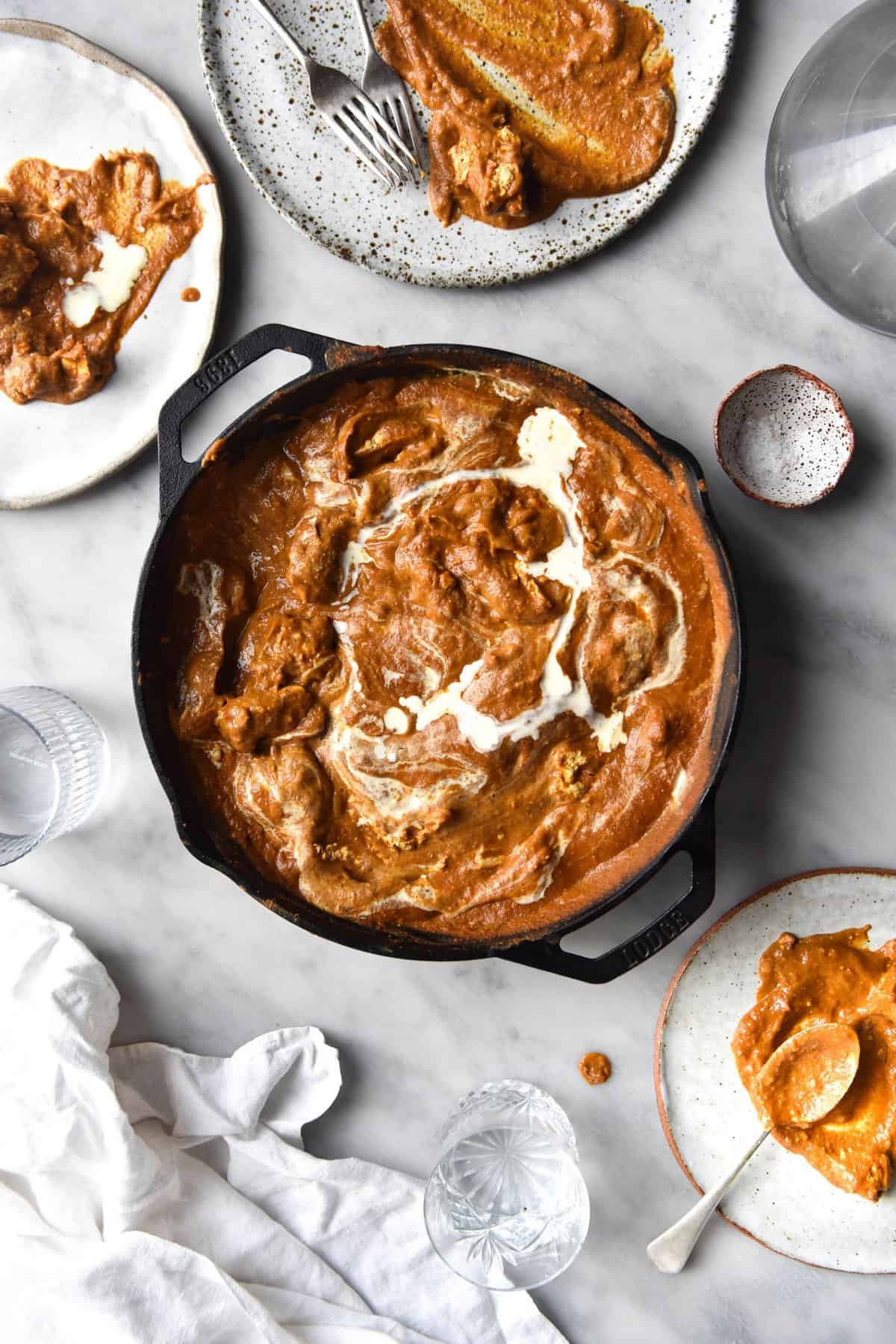 Recipe notes for your SIBO friendly vegan curry
Tofu is SIBO bi-phasic stage 1 and 2 friendly in 100g servings. If you intend for this curry to serve 4, use 400g tofu. You can also use 100g tofu.
For a soy free option, you could experiment with using 1/2-1 cup of red lentils that have been soaked overnight. I daresay you will need to adjust the liquid volume to suit.
Another option is to use hardboiled eggs in the curry (this is not vegan). Eggs are an unlimited protein, so you can use however many you would like.
Spring onion greens, leek greens, carrots, capsicums, ginger and tomatoes are all in the unlimited category.
Spices are also in the unlimited category, as are fresh herbs and lemons or limes.
1/4 cup (60ml) coconut cream is an accepted quantity per meal. The recipe uses 1 cup (250ml) which means the curry can serve 4. Make sure whatever you choose does not contain any fillers or binders.
If you are on stage 2 or adding in rice in stage 1, you can serve the curry with 1/2 cup cooked rice.
If you are not vegan or vegetarian, feel free to add the protein of your choice instead of tofu. Meats and fish are all unlimited on the SIBO diet.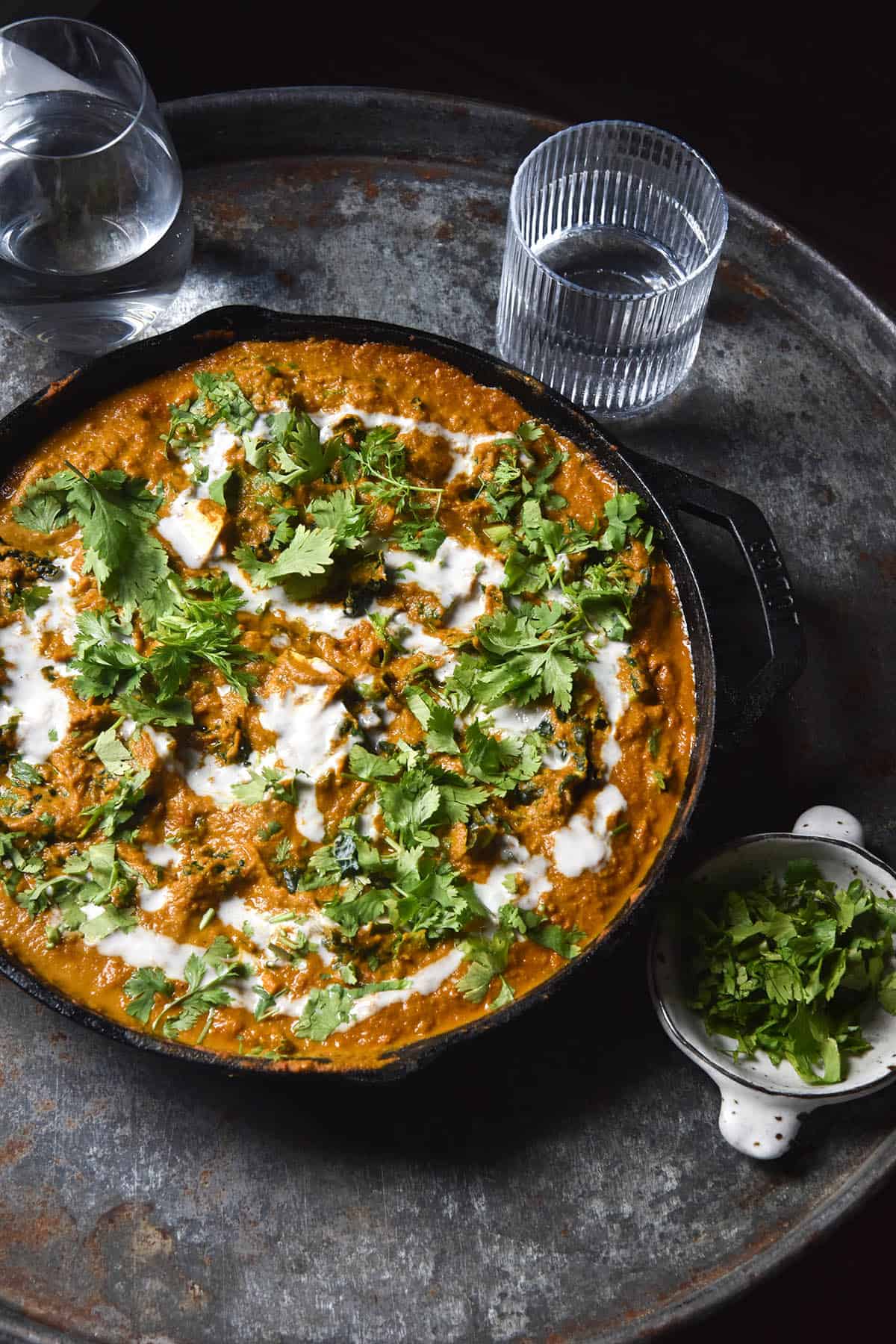 SIBO friendly vegetables to add to your curry
To bulk this curry out, I like to add a hefty amount of SIBO friendly vegetables to make the curry serve 6 without rice. This way, I get to use coconut cream, which is thicker, richer and sweeter. Some suitable vegetables include:
Carrots
Eggplants
Kale
Asian greens
More capsicum
You could also add 1/4 – 1/2 cup pumpkin per person, but we have already used leek in the curry base. You can omit the leek and add pumpkin, or add the lower quantity (1 leek and 1 pumpkin) of both. The serving size, when divided by 6, will be well under the serving limit for SIBO, but because I am not a dietician I like to err on the side of caution.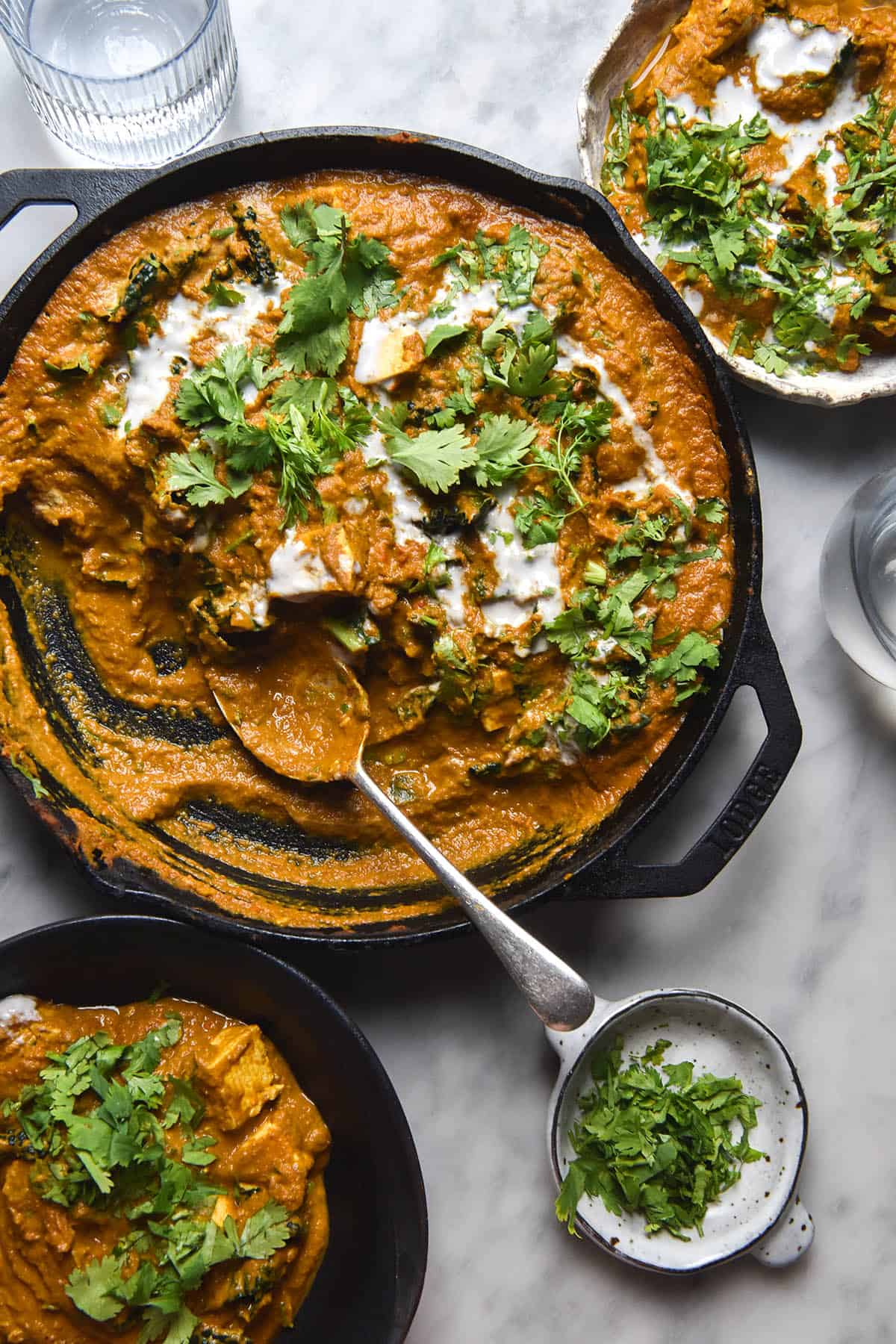 More SIBO bi-phasic friendly recipes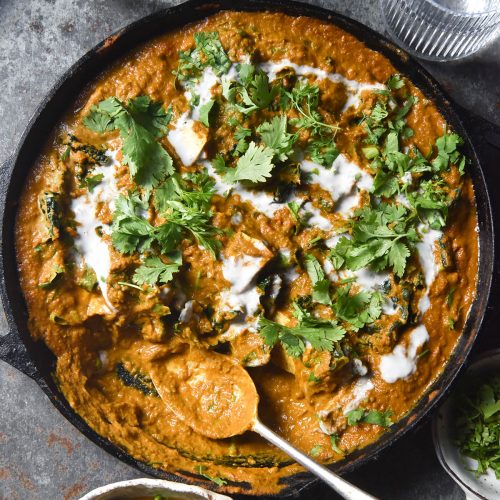 SIBO friendly vegan curry
Serves 4-6
Tablespoon and teaspoon measures are in Australian measures.
Use lightly heaped teaspoons for American or Canadian measurements
1 Australian tablespoon = 4 British, US and NZ teaspoons
Ingredients
For the curry gravy:
3

tablespoons

60ml neutral oil

1

bunch spring onion greens chopped

1-2

leek greens thoroughly washed and chopped

1

small red capsicum chopped

1

small green capsicum chopped

2-3

large carrots reasonably finely chopped

50

g

ginger chopped

1

x 400g tin of plain tomatoes

any sort are fine as long as they are unflavoured

2

teaspoons

ground garam masala

1

teaspoon

ground cumin

1

teaspoon

ground coriander

1

teaspoon

sweet paprika

1-2

cups

water 250-500ml
For the curry paste:
1

tablespoon

paprika any sort – smoked or sweet – is fine

1

tablespoon

cumin powder

2

tablespoons

garam masala

1

tablespoon

fenugreek seeds

optional

1

tablespoon

coriander powder

1

teaspoon

turmeric powder

1

teaspoon

Kashmiri chilli see notes

2

tablespoons

tomato paste

Juice of 1 smaller lemon
To finish the curry:
Seeds of 10-20 cardamom pods discard the pods and keep the small black seeds

400-500

g

tofu

cubed

1

cup

250ml coconut milk or cream (see notes)

Seasoning to taste

1-2

cups

chopped SIBO friendly vegetables

see notes
Instructions
To make the curry sauce base:
Place the ghee in a very large cast iron skillet, pan or wok over a low-medium heat. Add the spring onion and leek greens, and cook for 2-3 minutes or until verdant green and fragrant. Add the ginger, capsicums and carrot and cook until soft – an additional 10 or so minutes. Add water whenever the vegetables are sticking and you sense they need it.

Add the tinned tomatoes and spices and stir to combine. Top with the 1-2 cups of water, stir and place a lid on. Allow to cook for 15-20 minutes until you can pierce the carrot easily with a knife.

Once the vegetables are completely soft and the mixture is fragrant, set aside to cool. Once sufficiently cool, place the mixture in a high-speed food processor and blend until you have a smooth curry gravy.
To make the curry paste:
Combine all the spices (except for the cardamom seeds) for the curry paste in a bowl. Add the lemon juice and tomato paste and stir to form a paste. Add some water or some of the curry sauce base if it's feeling thick or dry.
To finish the curry:
While you're waiting for the curry base to cool, wash and reheat the large skillet or wok and return it to the heat. Preheat really well, then add a scant amount of oil and fry your cubes of paneer until golden on all sides. Remove from the skillet and set aside.

Add 1-2 tablespoons more oil or ghee to the skillet and place over a medium heat. Add the cardamom seeds to the hot oil and cook for a few minutes until fragrant. Add the spice paste and fry off for a minute or two until fragrant.

Once the mixture is fragrant, add all the curry base and stir thoroughly to combine.

Add the coconut cream or milk as you see fit, then add the tofu cubes and vegetables. Taste the curry for seasoning, then cook for 5-10 minutes longer or until the vegetables are cooked to your liking. Top with the coriander leaves and serve as is or with 1/2 cup cooked white rice, if you are allowed rice or on stage 2.
Notes
1/4 cup (60ml) coconut milk is allowed on the SIBO diet (make sure you check there are no fillers). 2 tablespoons of coconut cream is permitted per serving. To use 1 cup of coconut milk, this curry needs to serve 4. To use 1 cup of coconut cream, this curry needs to serve 6. Personally, I think the coconut cream version gives a richer flavour and mouthfeel.
I like to bulk the curry out with SIBO friendly vegetables to ensure it serves 6. Some SIBO friendly vegetables include carrots, kale, Asian greens and eggplant. You could also add in a some pumpkin (1/4 cup per serve for stage 1 and 1/2 cup per serve for stage 2) or 10 green beans per serve.