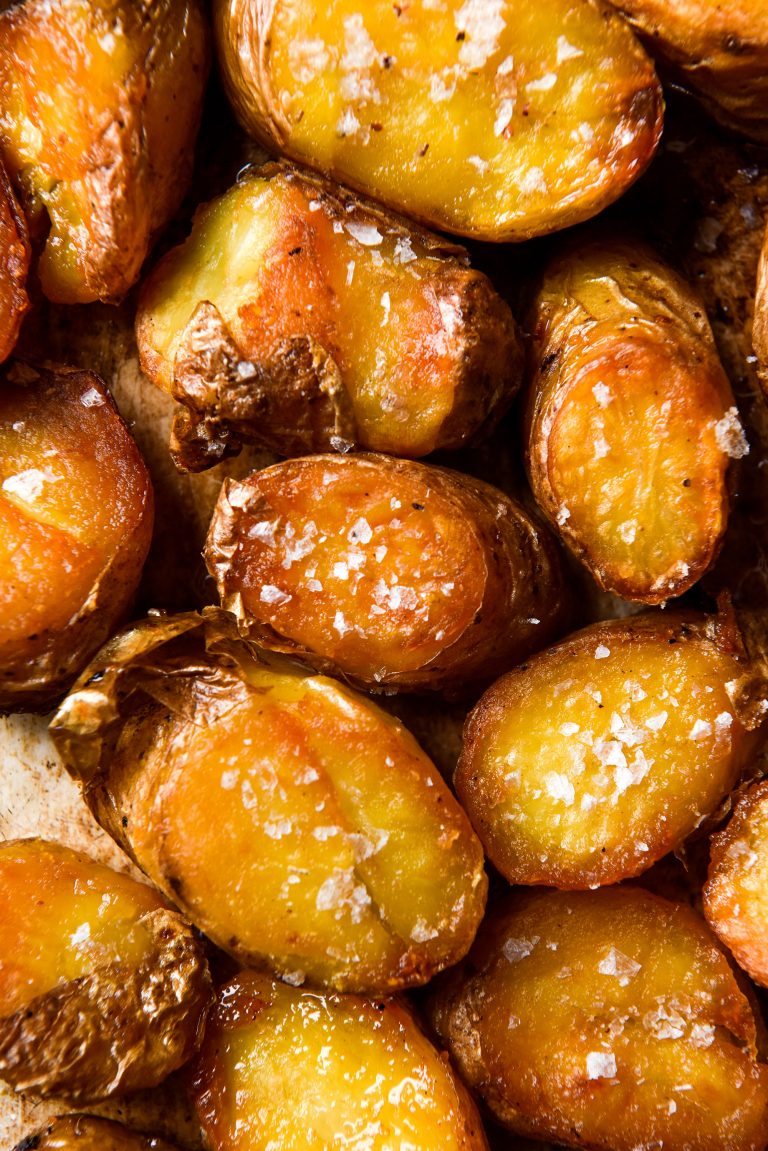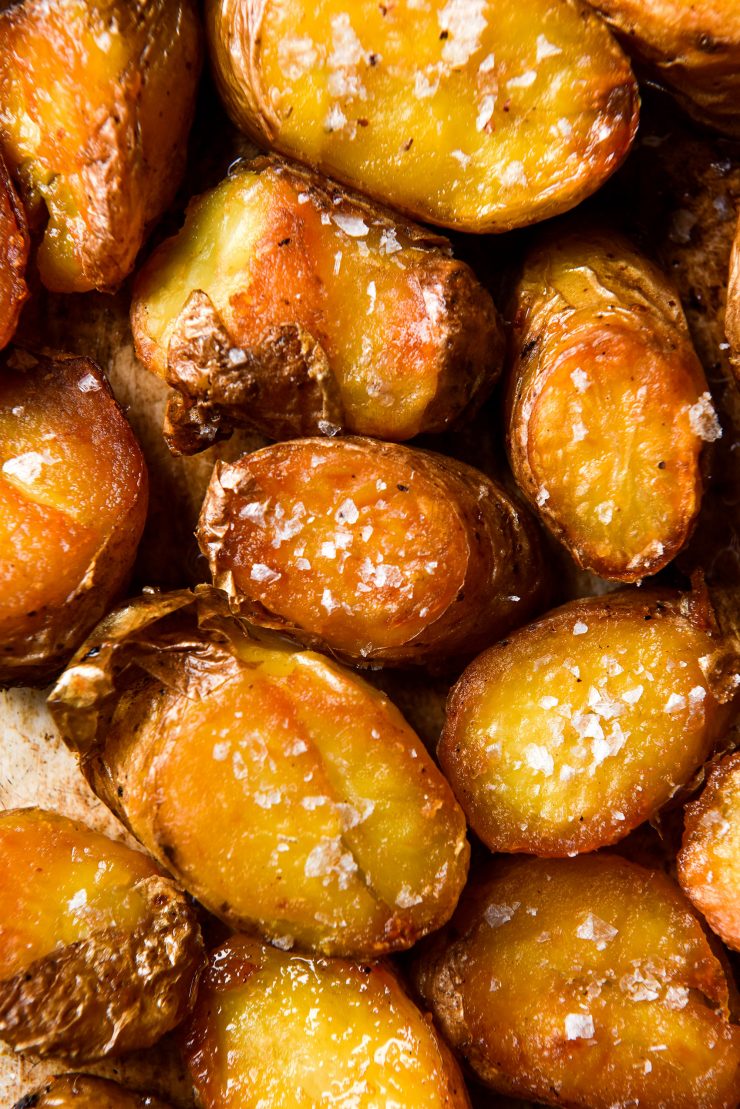 The humble potato is one of the most versatile and exciting vegetables to exist, in my biased opinion. As a result, it's only natural to worry about their FODMAP status when you first begin a low FODMAP diet. Which, in turn, begs the question: are potatoes low FODMAP?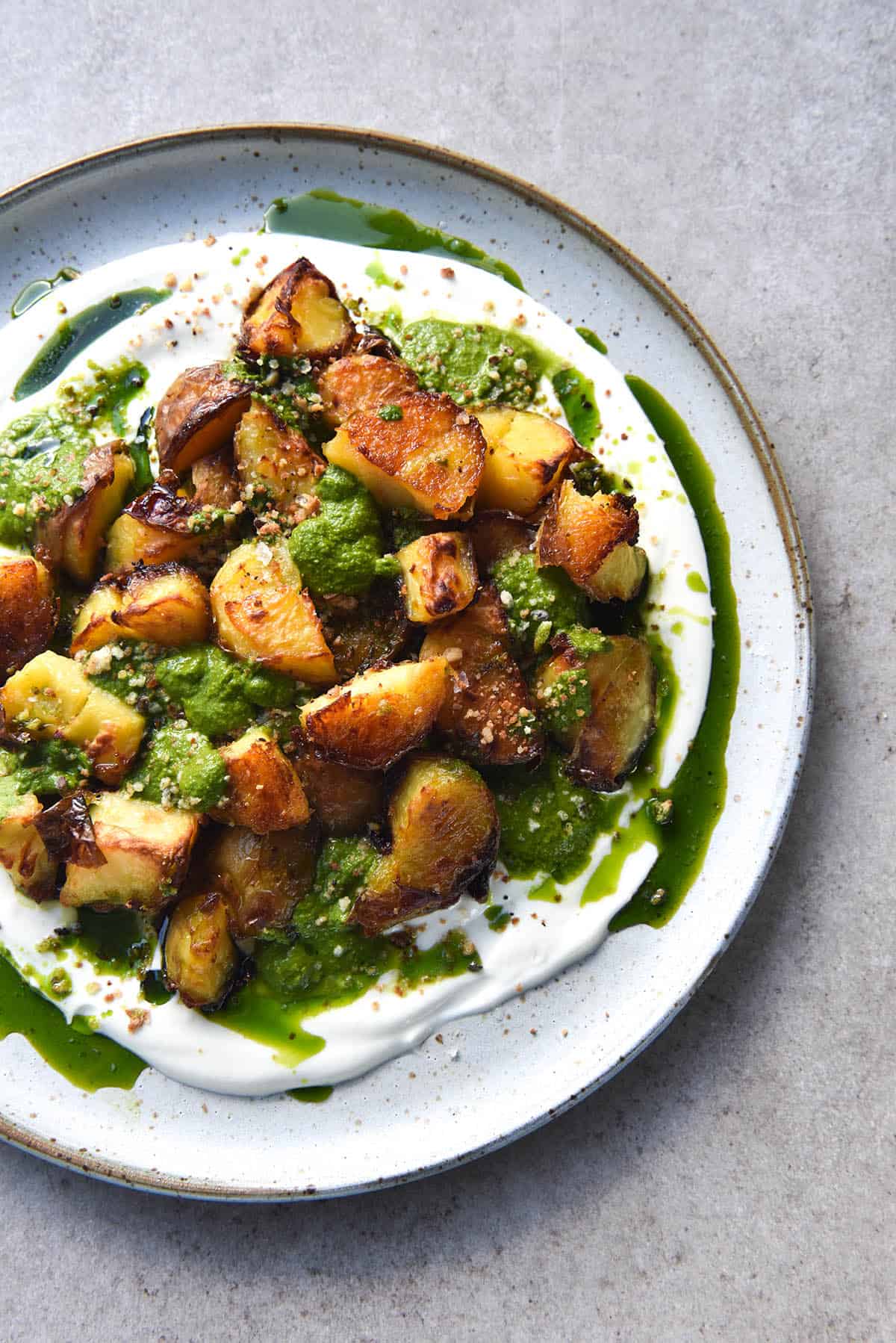 Are potatoes low FODMAP?
Yes! Potatoes are low FODMAP. Monash has listed white and purple unpeeled potatoes as being low FODMAP in serves of up to 500g per person. However, there is no moderate threshold specified and other websites suggest that white fleshed potatoes are FODMAP free.
Given that there are no entries for different varieties of potatoes (such as Russett or Sebago) one would have to assume that these quantities apply to all of the white fleshed potato varietals. Excellent news for the potato lovers amongst us.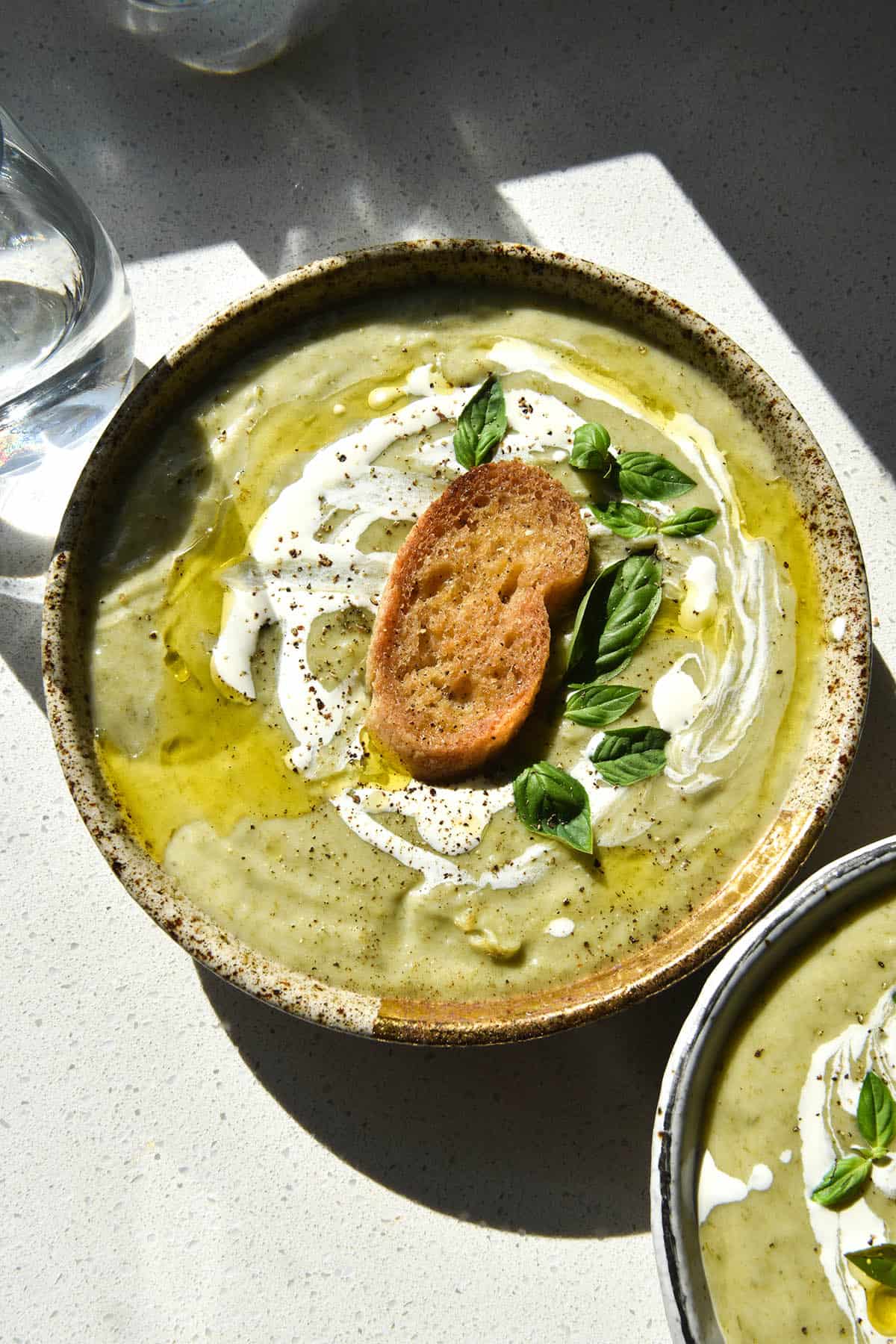 Are sweet potatoes low FODMAP?
Sweet potatoes have a low FODMAP threshold of 75g or approximately 1/2 cup per serving. At 100g, they contain moderate amounts of mannitol.
More low FODMAP recipes
On the market for more vegetable forward low FODMAP recipes? Look no further!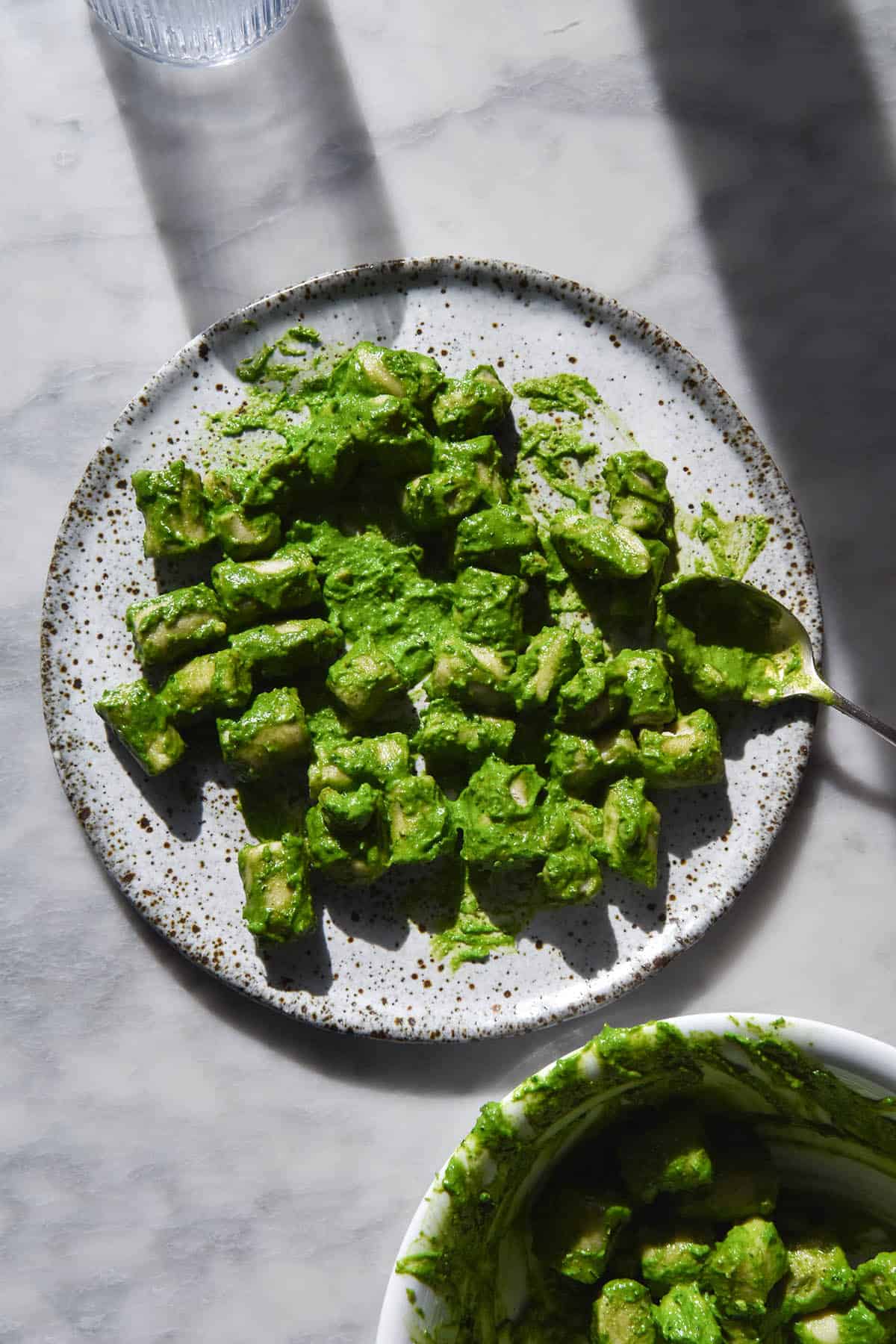 Low FODMAP potato recipes
Any excuse to chat about my favourite FODMAP potato recipes, to be quite honest. This collection of recipes is all gluten free and vegetarian or vegan. We've got everything from crispy potatoes and gluten free Varenyky to low FODMAP potato mash and gluten free Aloo Paratha.
Most, if not all of the recipes are xanthan gum free and nut free (or have a nut free option). They are also mostly egg free and there are lots of corn free recipes too. There is a low FODMAP potato for every dietary requirement.
Crispy potatoes with baking soda
Baking soda is my new must have ingredient for roast potatoes. It alkanises the water, softening the potato flesh and creating a slurry of potato starch around each spud. This slurry crisps up like nothing else in the oven, and makes the crispy potatoes of your dreams.
Better yet? I've found that using baking soda helps keeps your potato innards fluffy and fresh for far longer. Even potatoes from the night before don't have dry innards.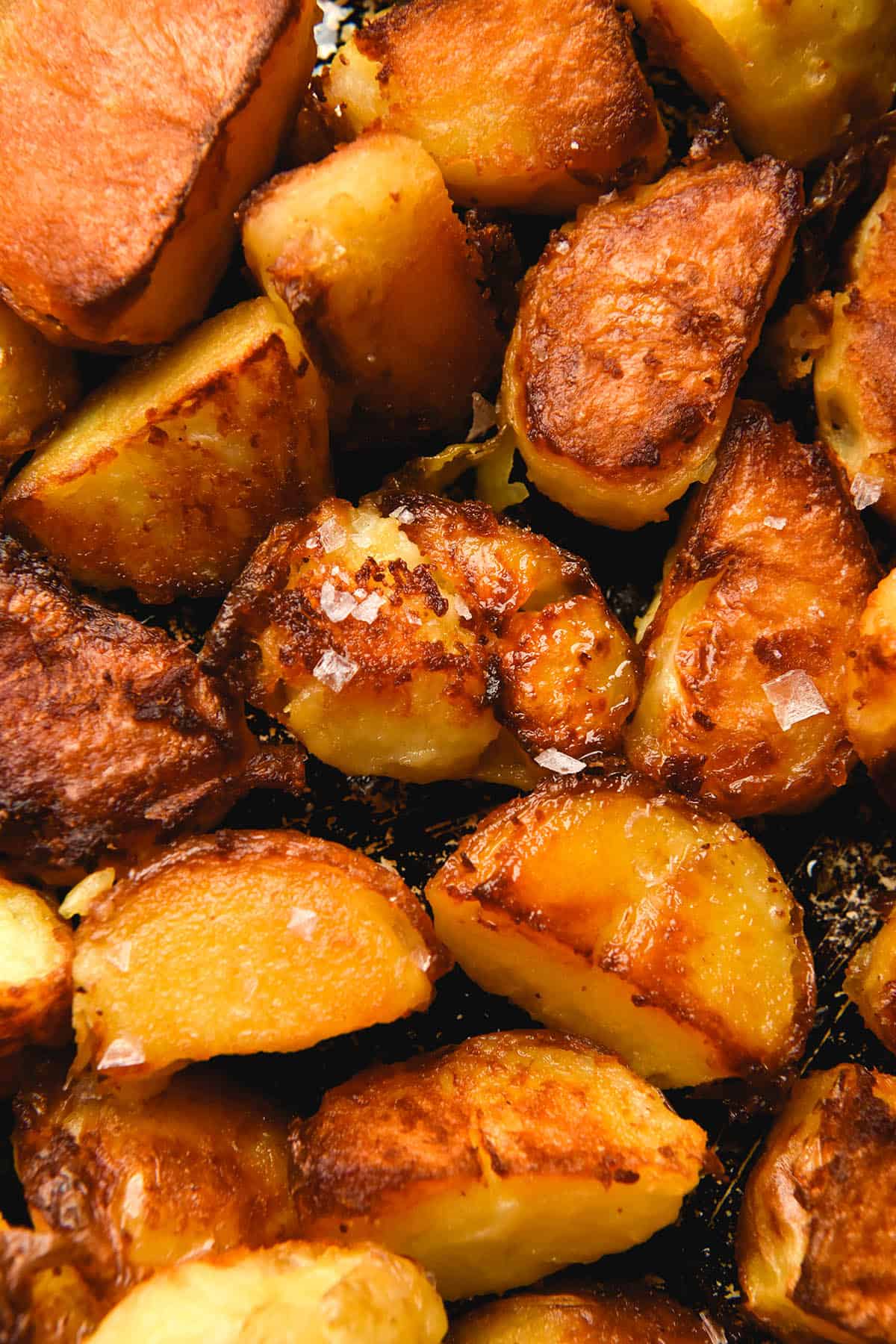 Low FODMAP shepherd's pie with potato mash or tater tots
This Low FODMAP Shepherd's pie is vegetarian or vegan, and comes with two topping options. The first is an easy tater tot topping (they're gluten free in Australia) and the second is a cheesy mash topping. Either way, it's low FODMAP potato bliss.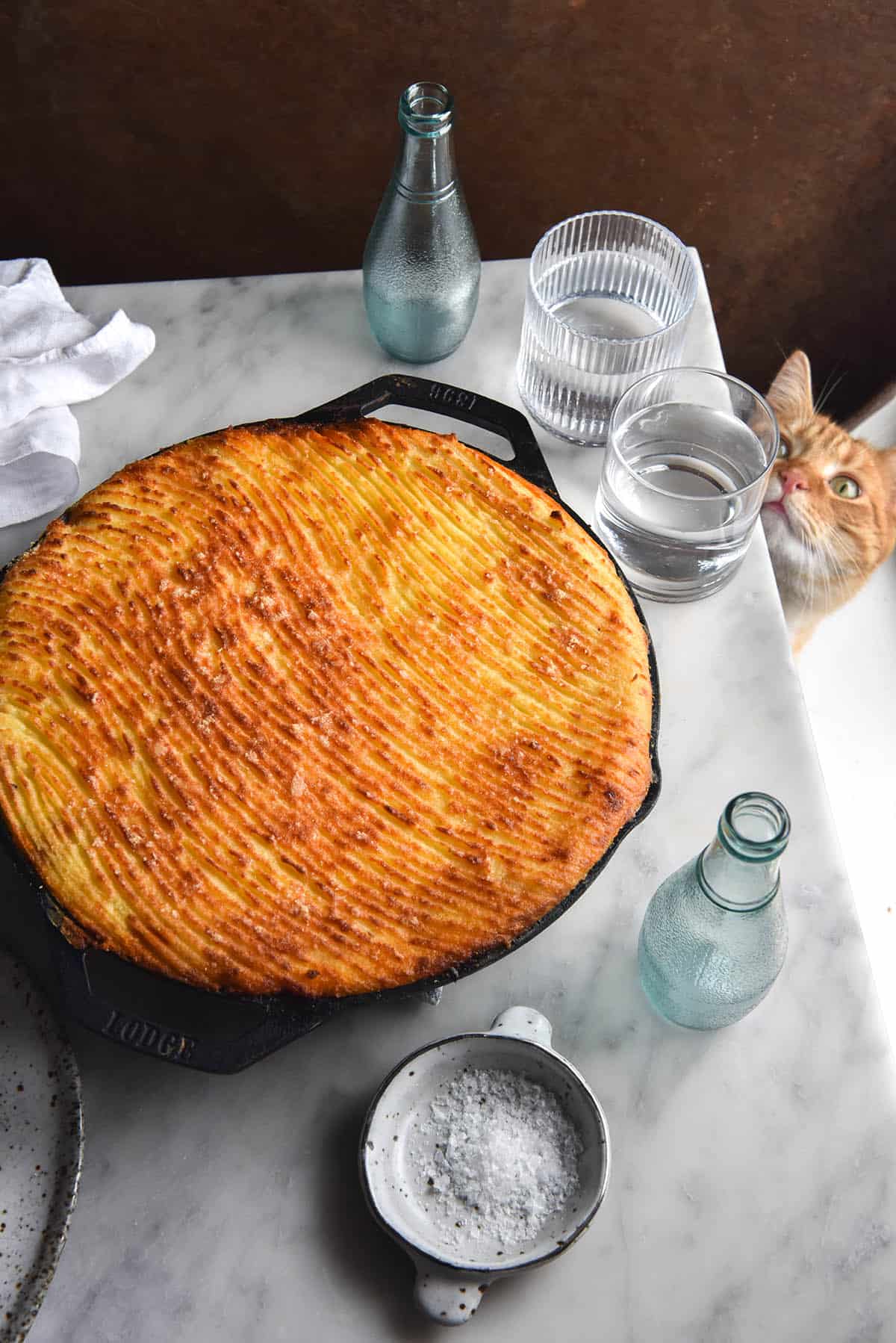 Low FODMAP leek and potato soup
This low FODMAP leek and potato soup might look a little different (read: green) but it tastes every bit as good as the original. Using leek greens and spring onion greens keeps the FODMAP content down while retaining all the flavour.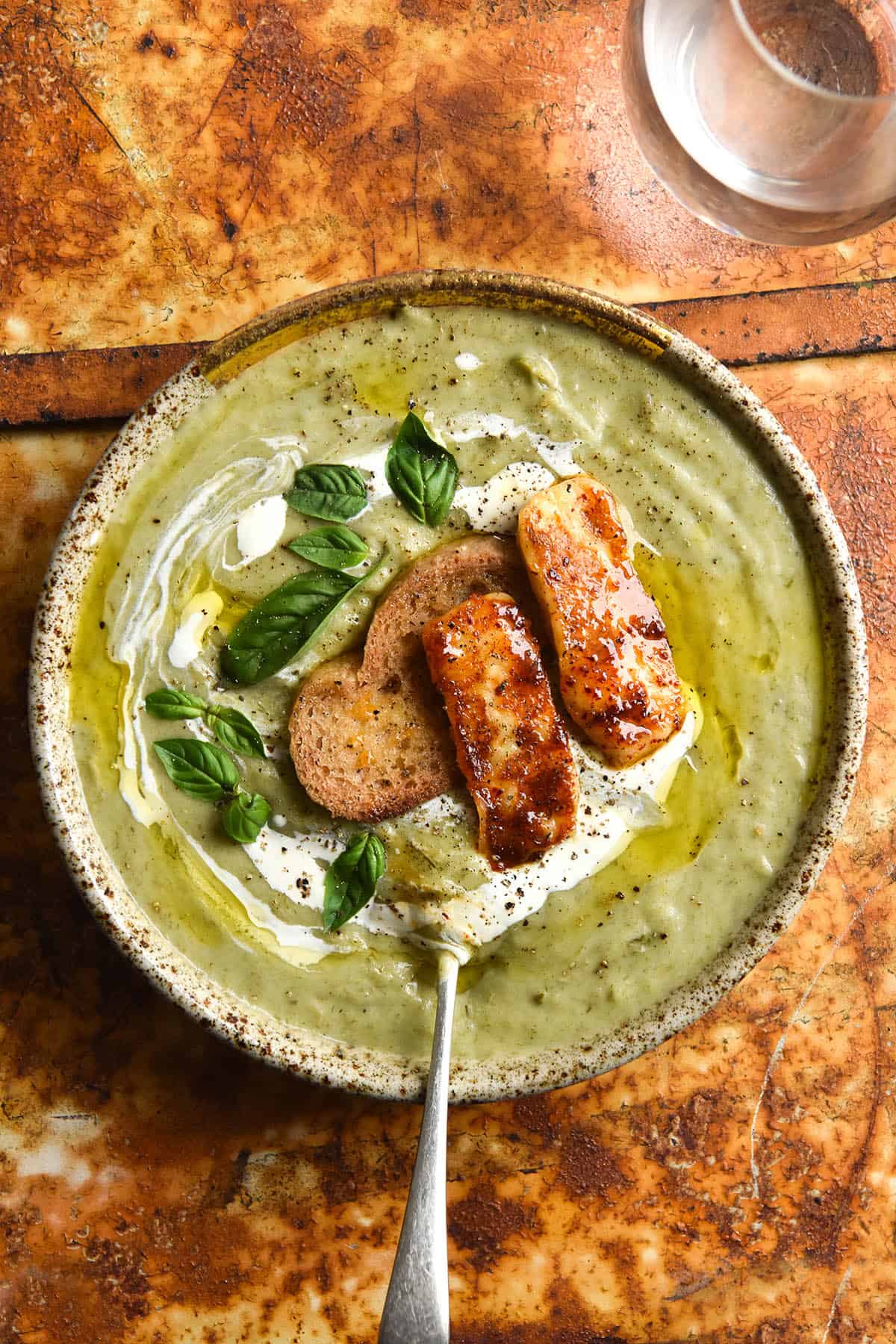 Gluten free Aloo Paratha
This delicious Aloo Paratha is gluten free, xanthan gum free and FODMAP friendly. It's also egg free and easily made vegan. Bonus points for topping it with the cheat's tamarind chutney from Intolerance Friendly Kitchen.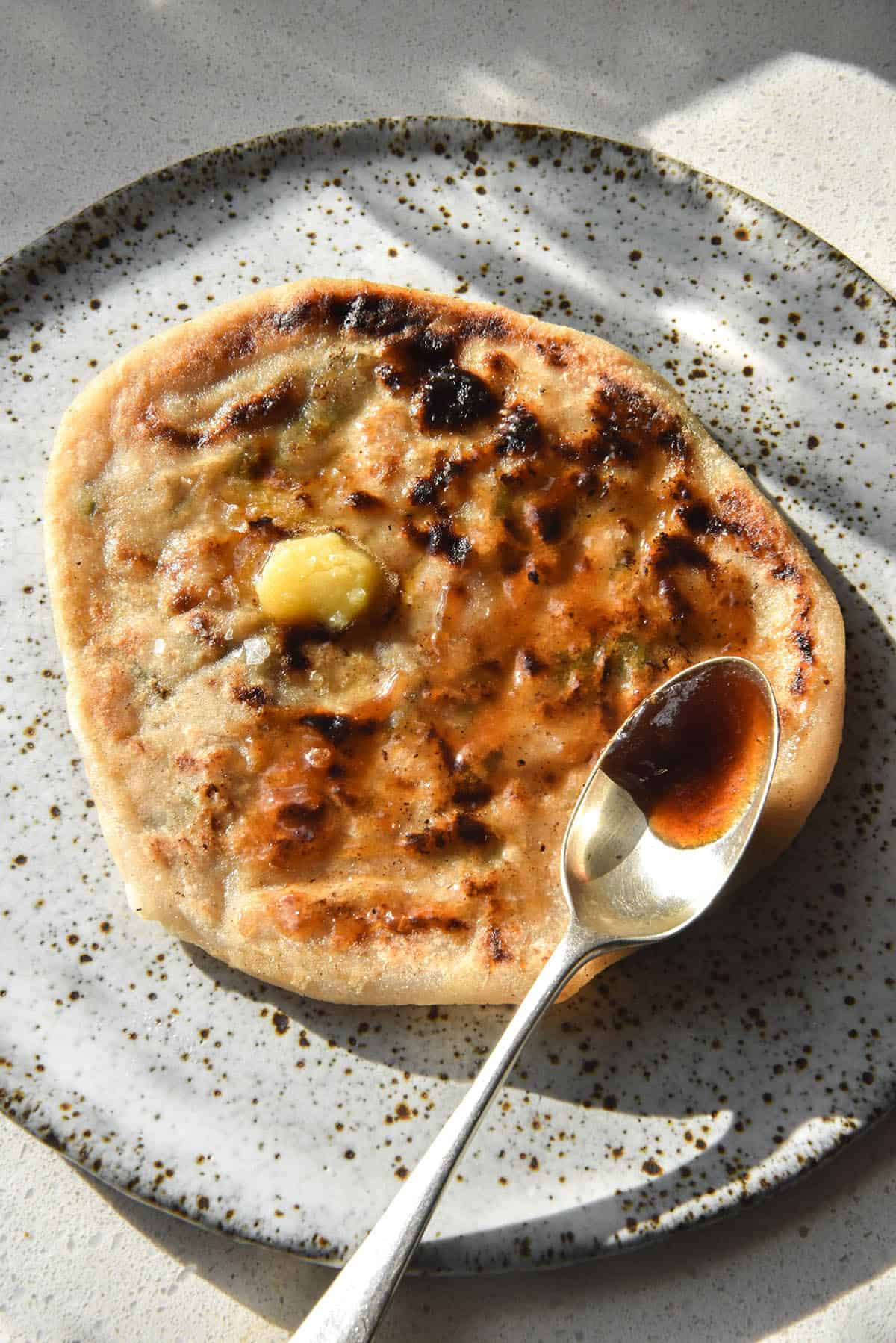 Low FODMAP potato salad
This easy vegan potato salad is low in FODMAPs but high in flavour. A great dietary friendly option for a picnic or just a side dish.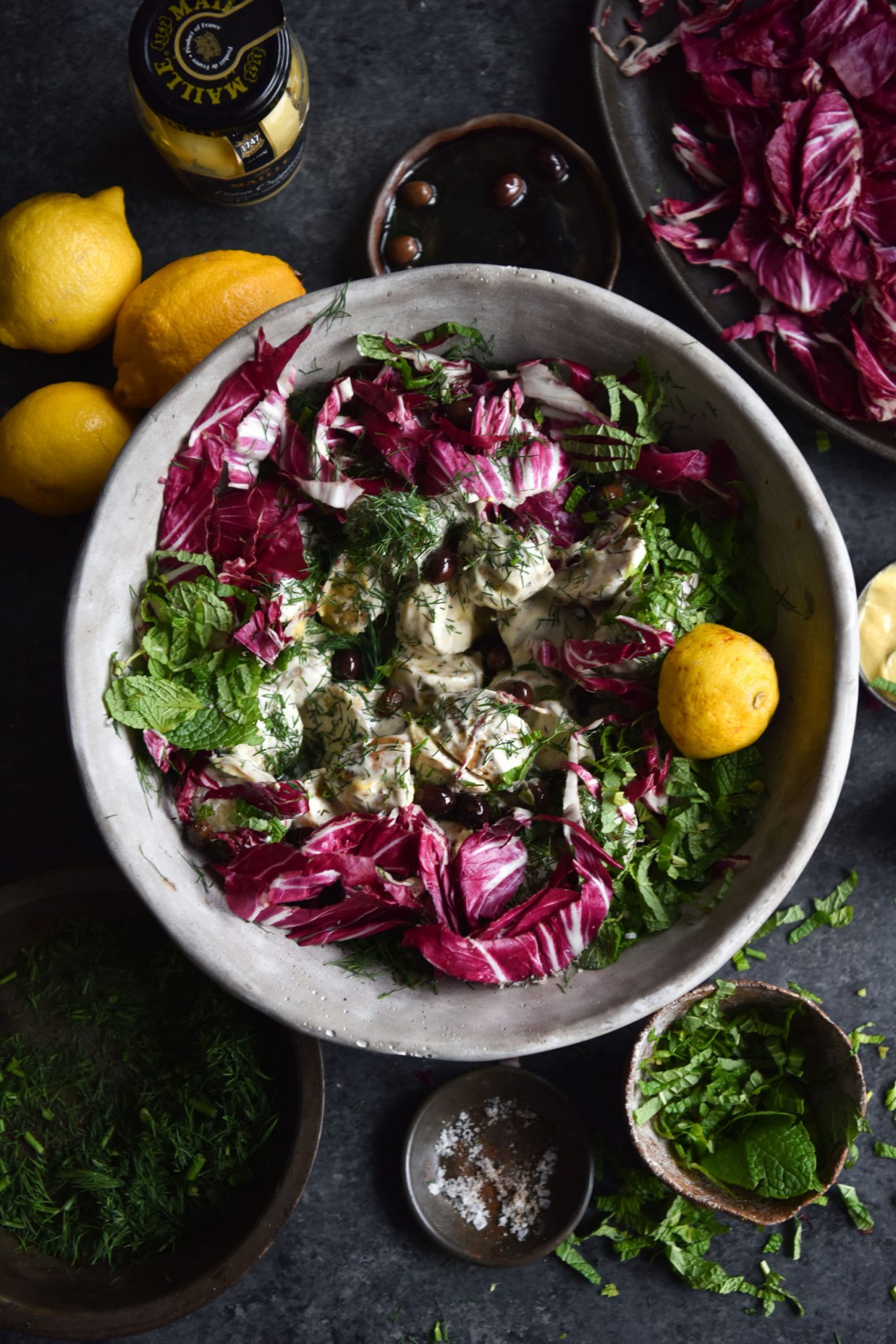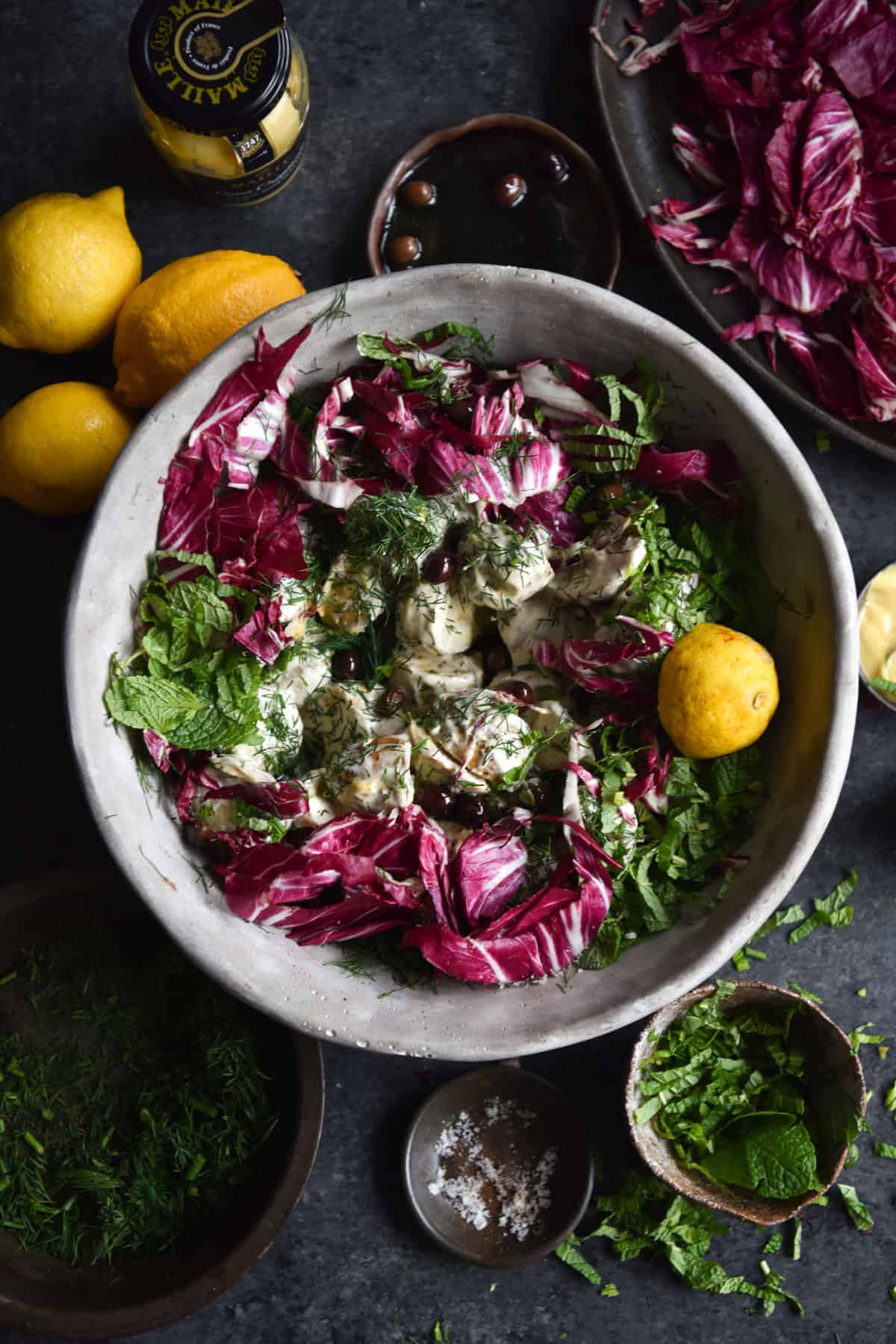 Cacio e pepe potatoes
An incredibly crispy take on cacio e pepe, these potatoes are cheesy, peppery and absolutely addictive.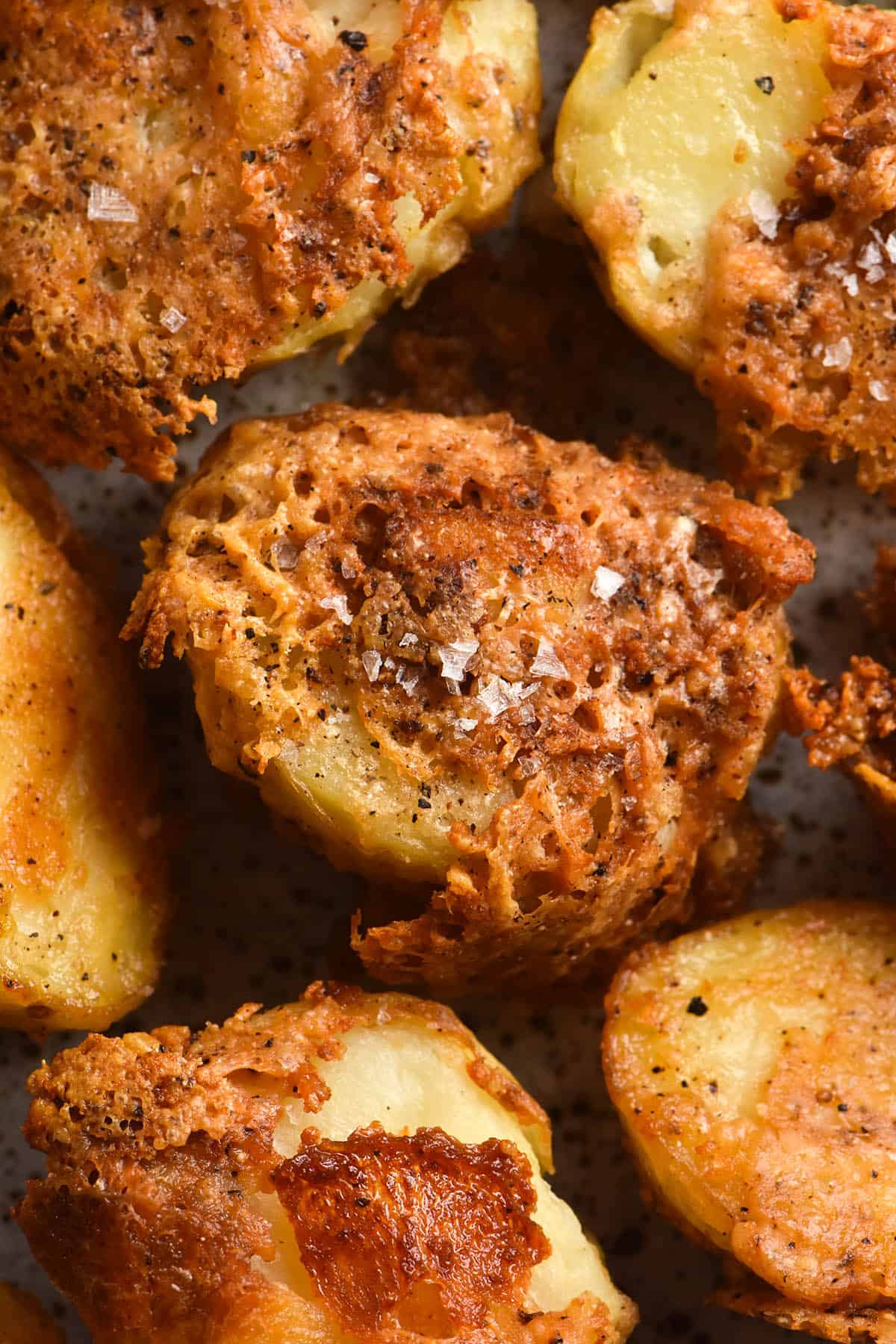 Gluten free low FODMAP potato and pea samosas
These gluten free samosas are a xanthan gum free and vegan recipe from my cookbook, Intolerance Friendly Kitchen. They're filled with a low FODMAP spiced potato and pea filling, and they can be baked or fried.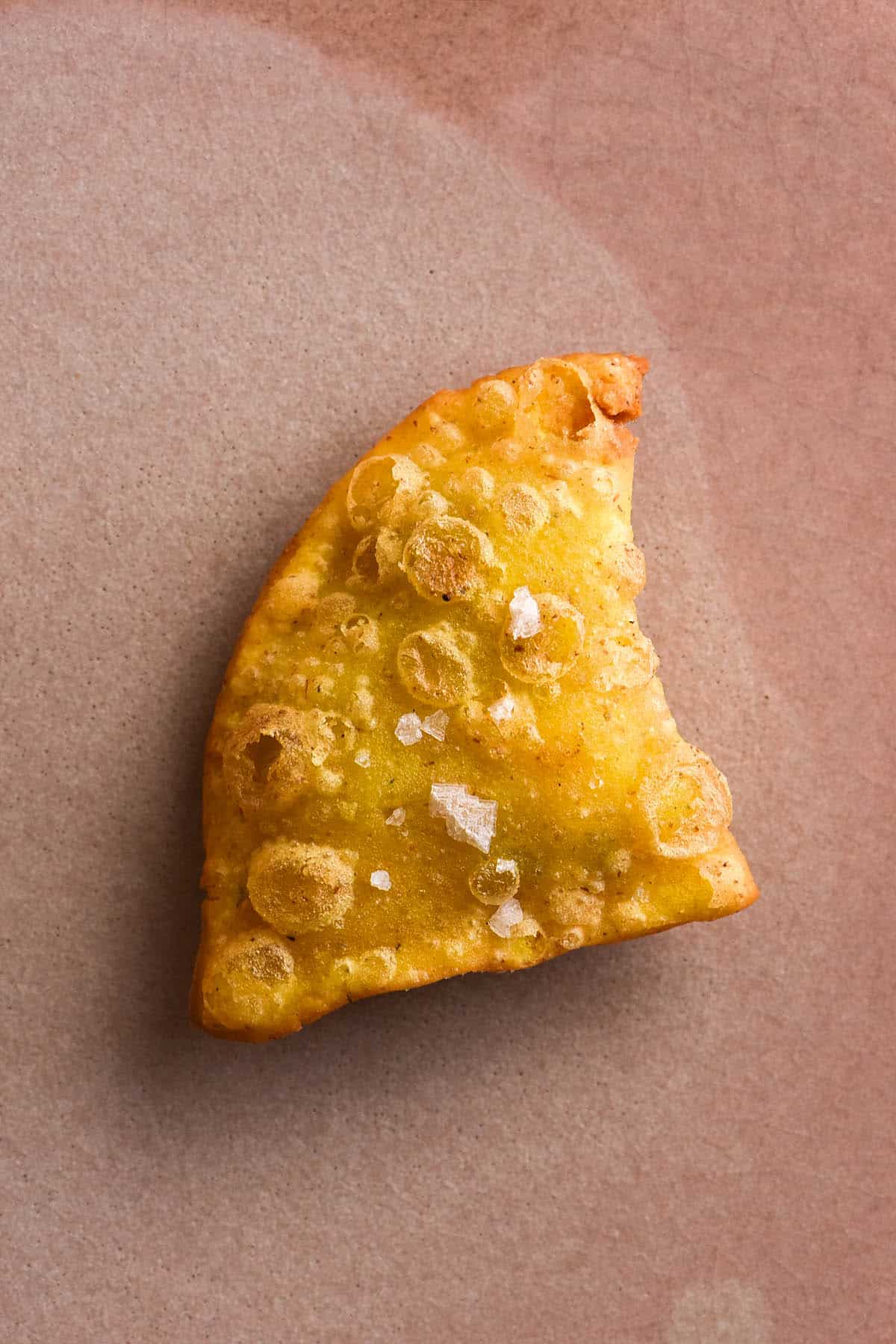 Gluten free potato gnocchi without xanthan gum
These gluten free potato gnocchi isn't a speedy recipe, but it is a rewarding and delicious one. It makes lots of gnocchi that can be frozen, so it's a great meal prep recipe and a FODMAP potato gem.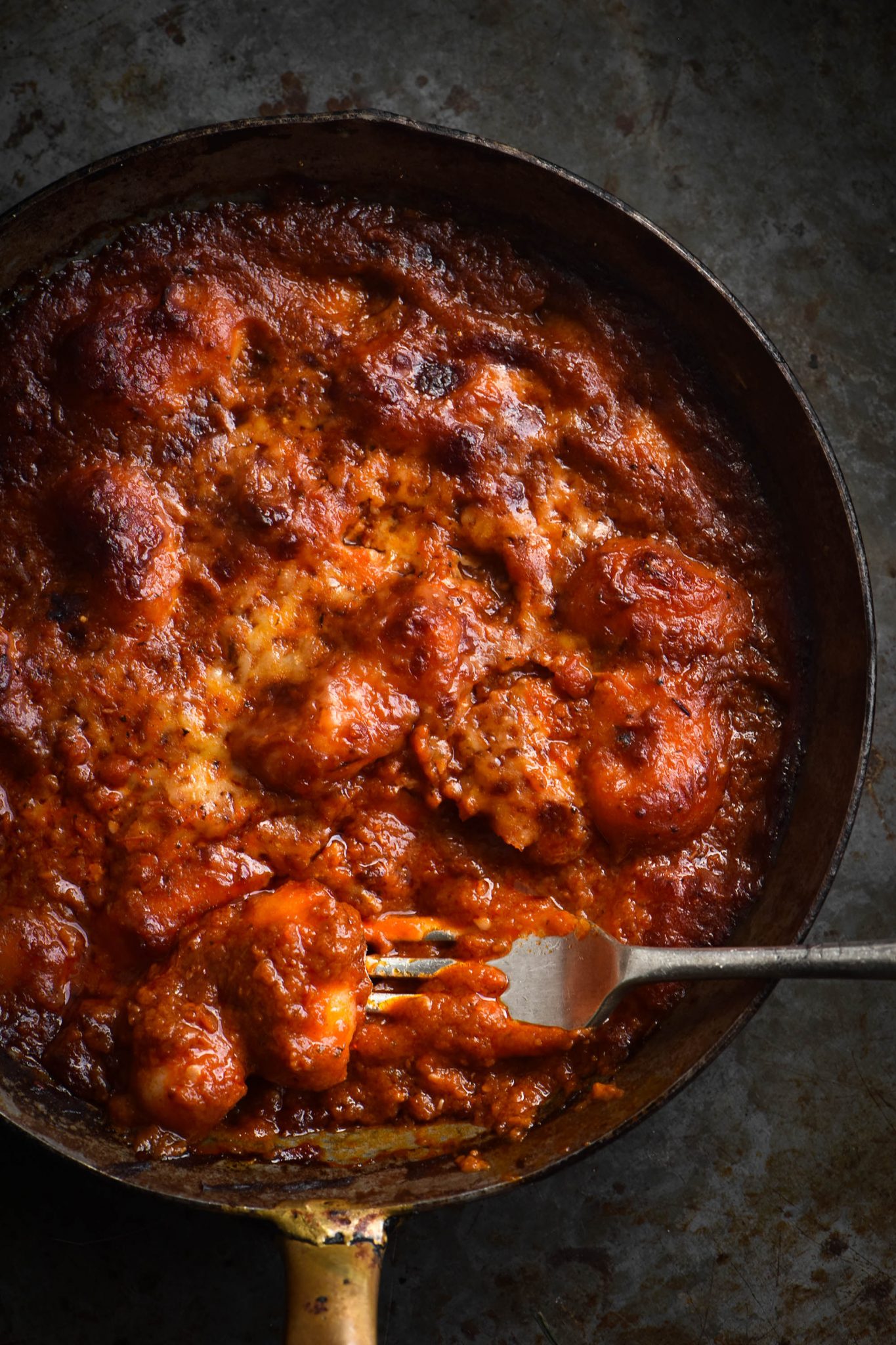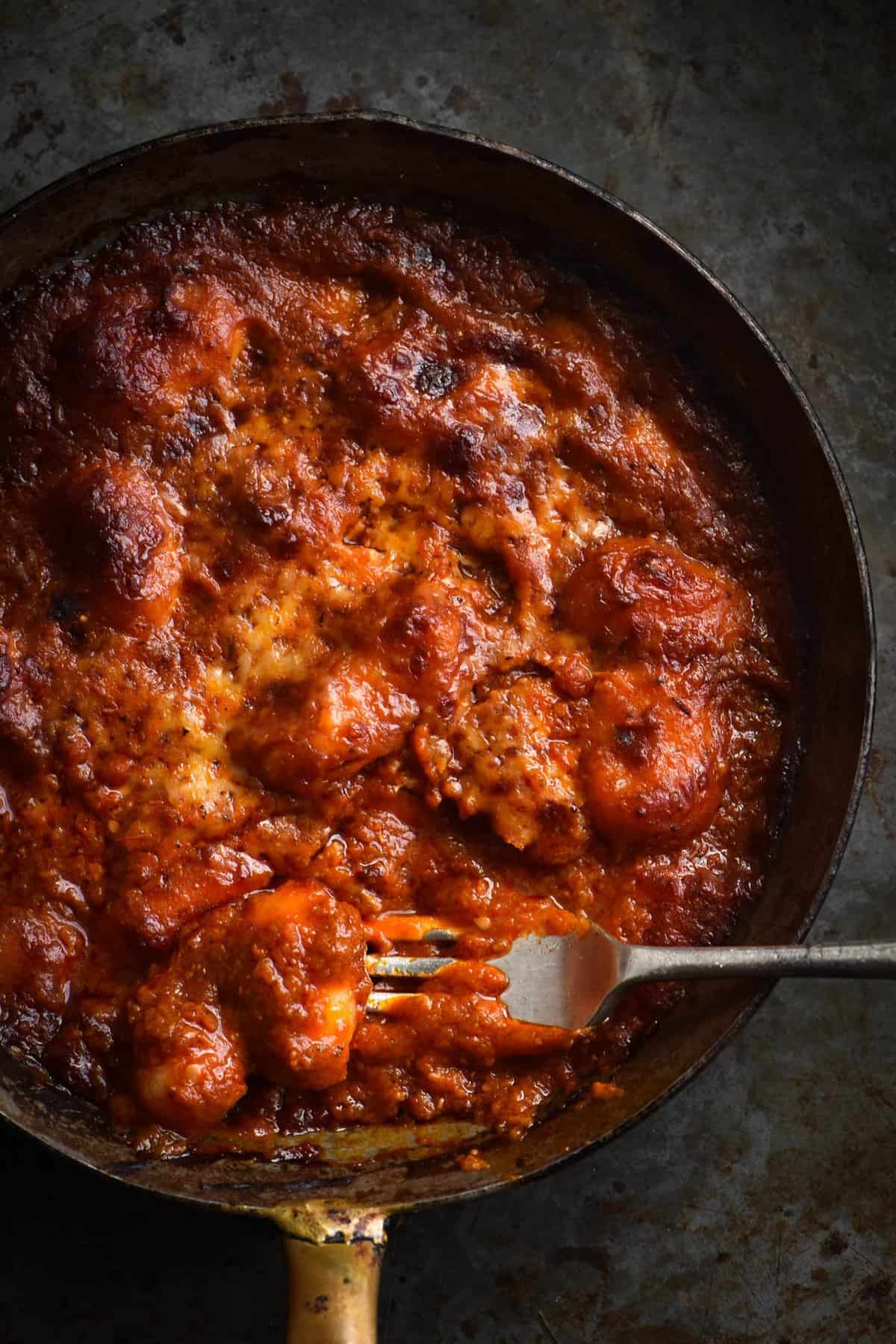 Garlic oil potatoes with a zingy yoghurt sauce and herb salsa
These crispy roasted potatoes smothered in low FODMAP garlic chilli oil are one of my favourite low FODMAP potato recipes. Garlic infused oil retains all of the flavour without the FODMAP content. The dish sits on a bed of zingy yoghurt and is topped with a herb salsa for maximum flavour.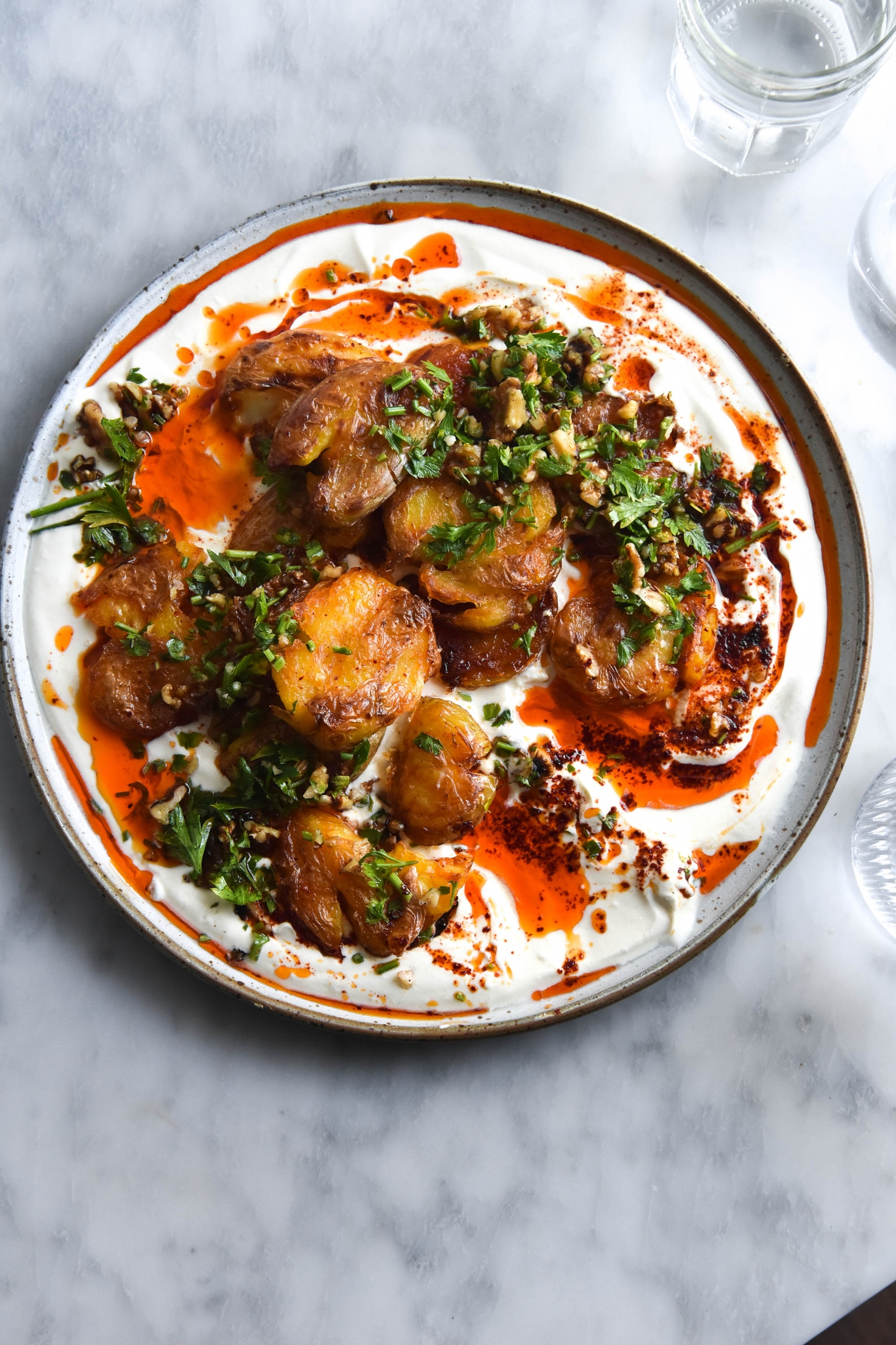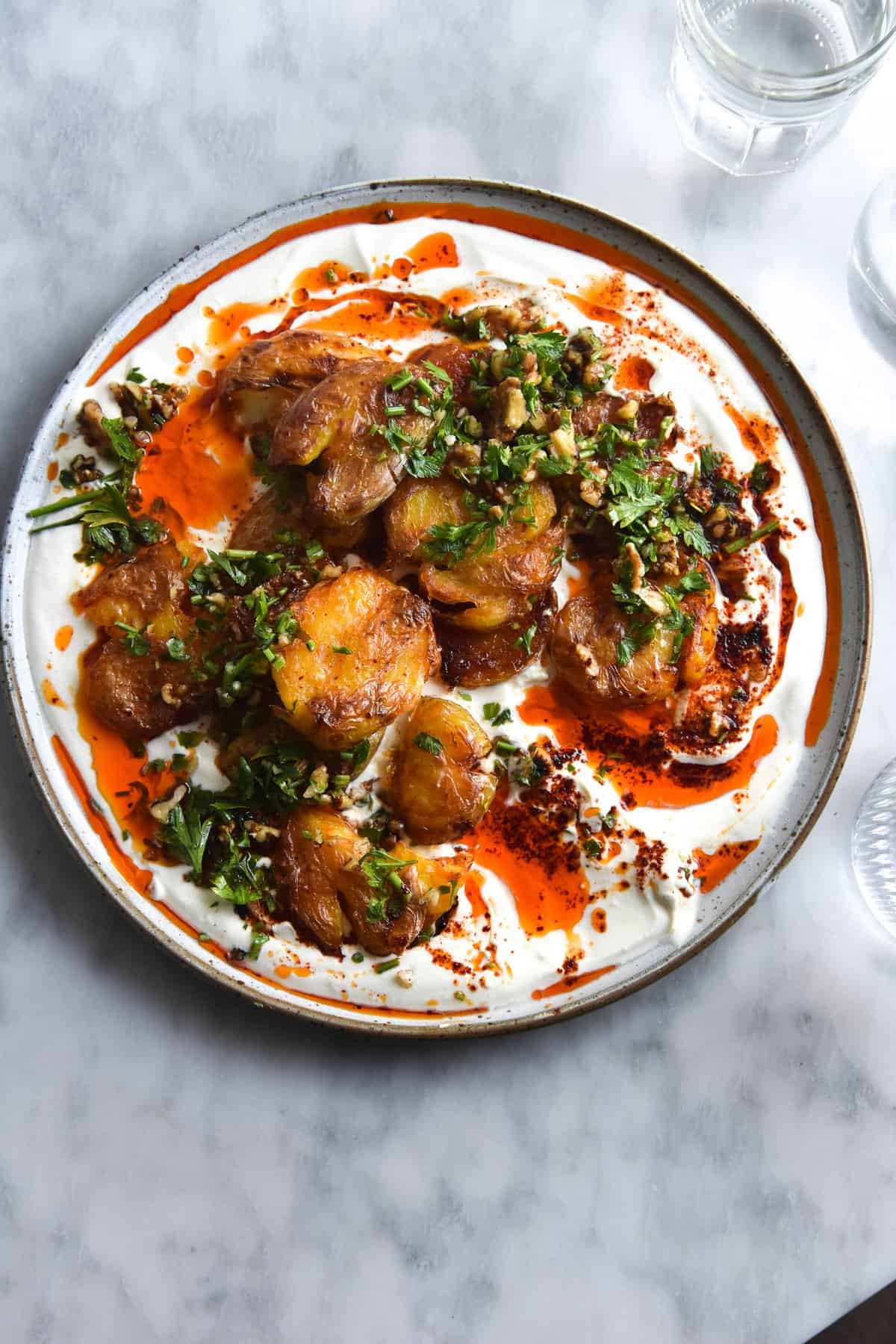 Parmesan and herb kipfler potatoes
These parmesan and herb kipflers bring everything I've learned about crispy potatoes together. They're boiled in baking soda and coated in a cheese and rice flour mix for maximum crunch. To me, they taste like stuffing wrapped around a potato, which I'm very much here for.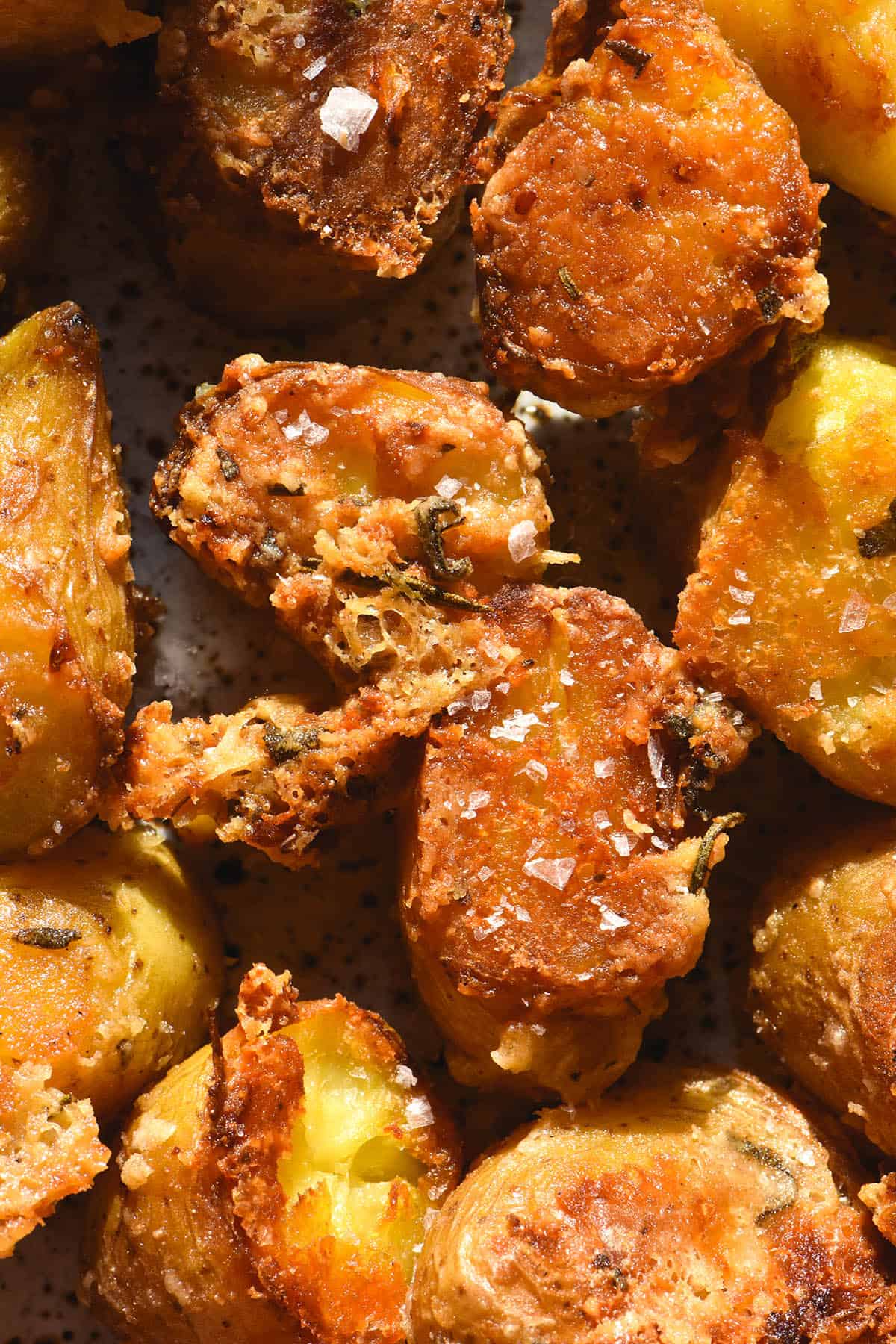 Gluten free, low FODMAP potato and cheese Varenyky
Varenyky are Ukrainian dumplings, and these ones are filled with potato, sharp cheddar cheese, leek greens and spring onion greens. They're comfort food at it's absolute finest, and make a great freezer prep meal.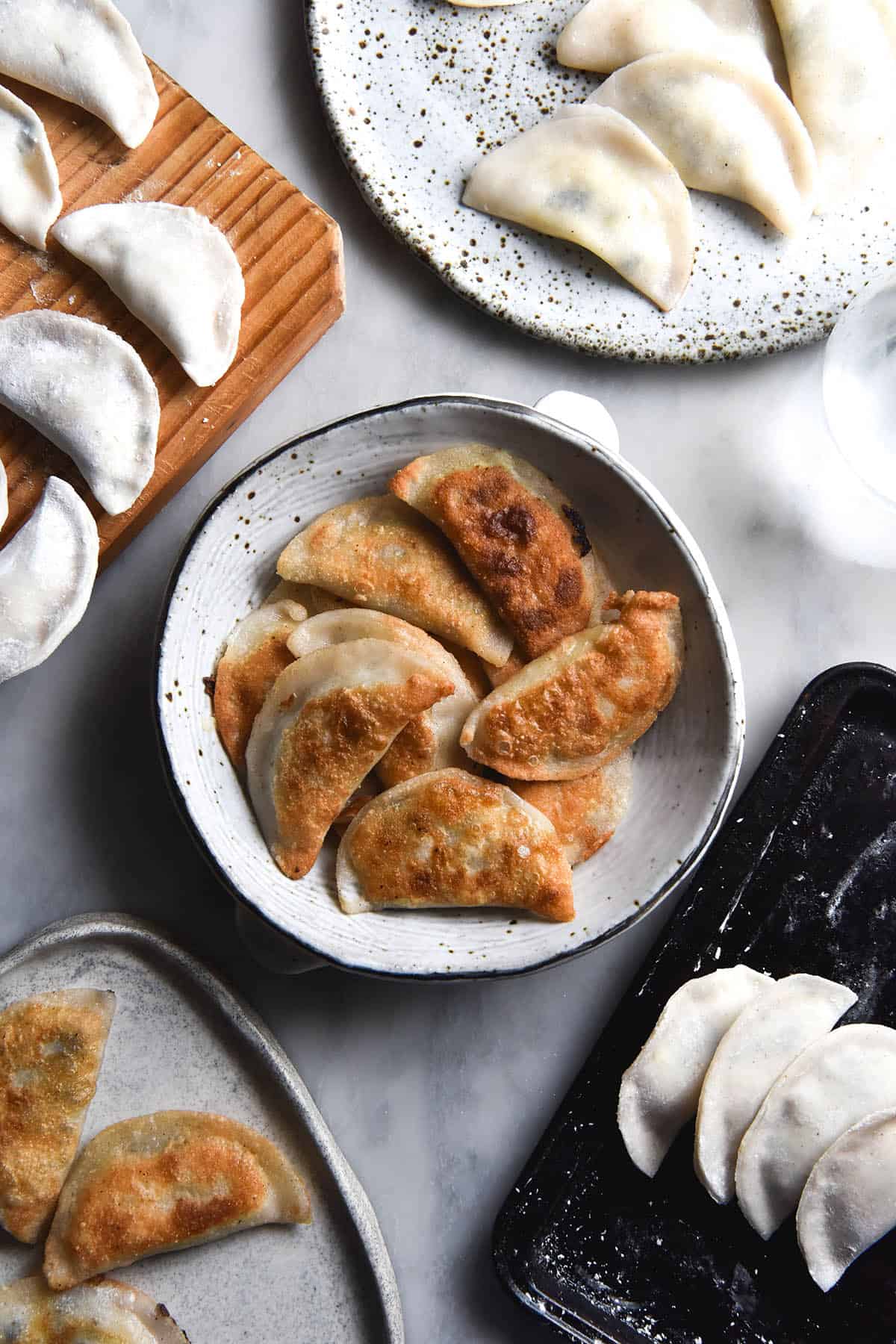 Lemon roasted potatoes
These lemon roasted potatoes are an easy low FODMAP potato dish that is inspired by Greek potatoes. They're bright, flavourful and really simple to make.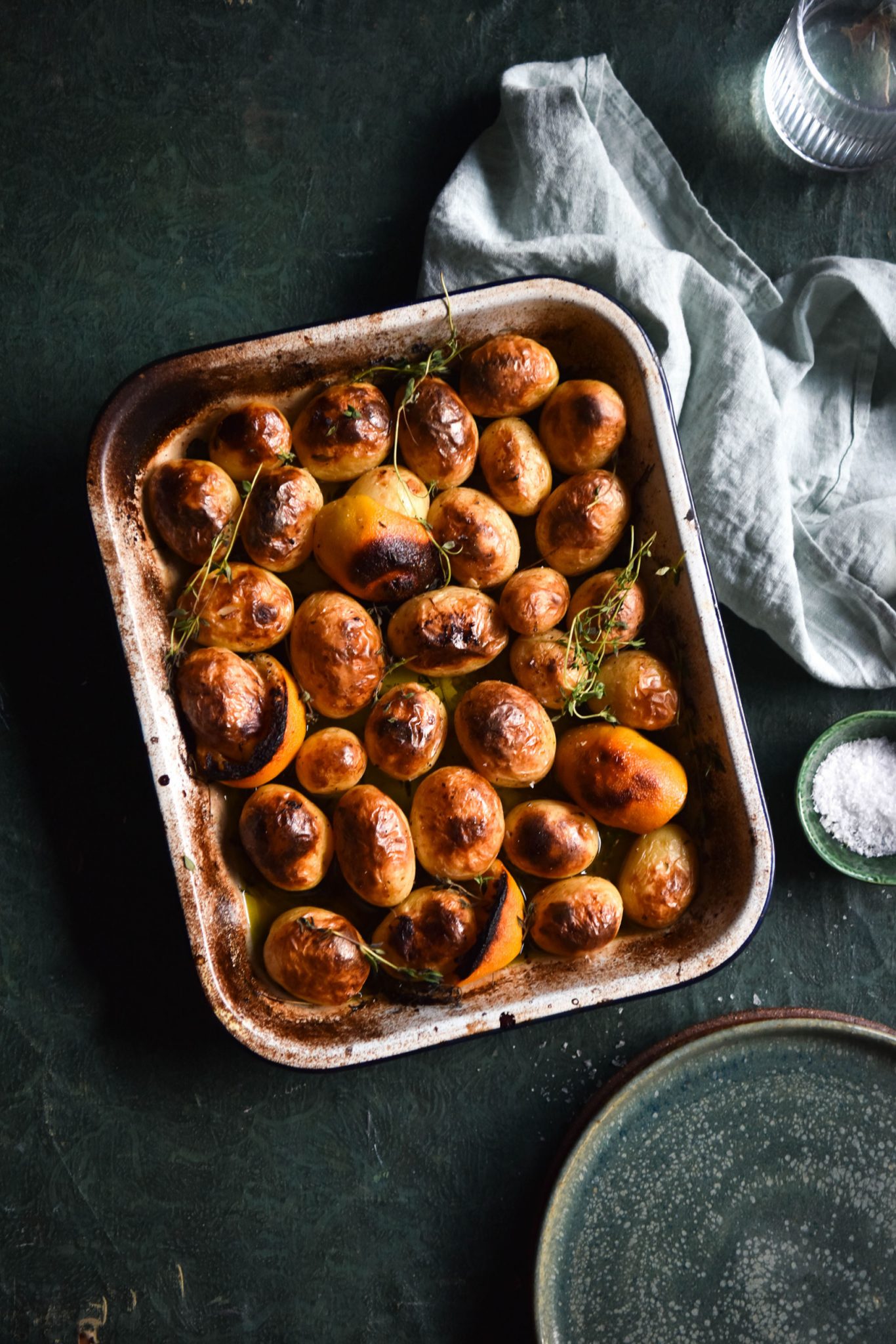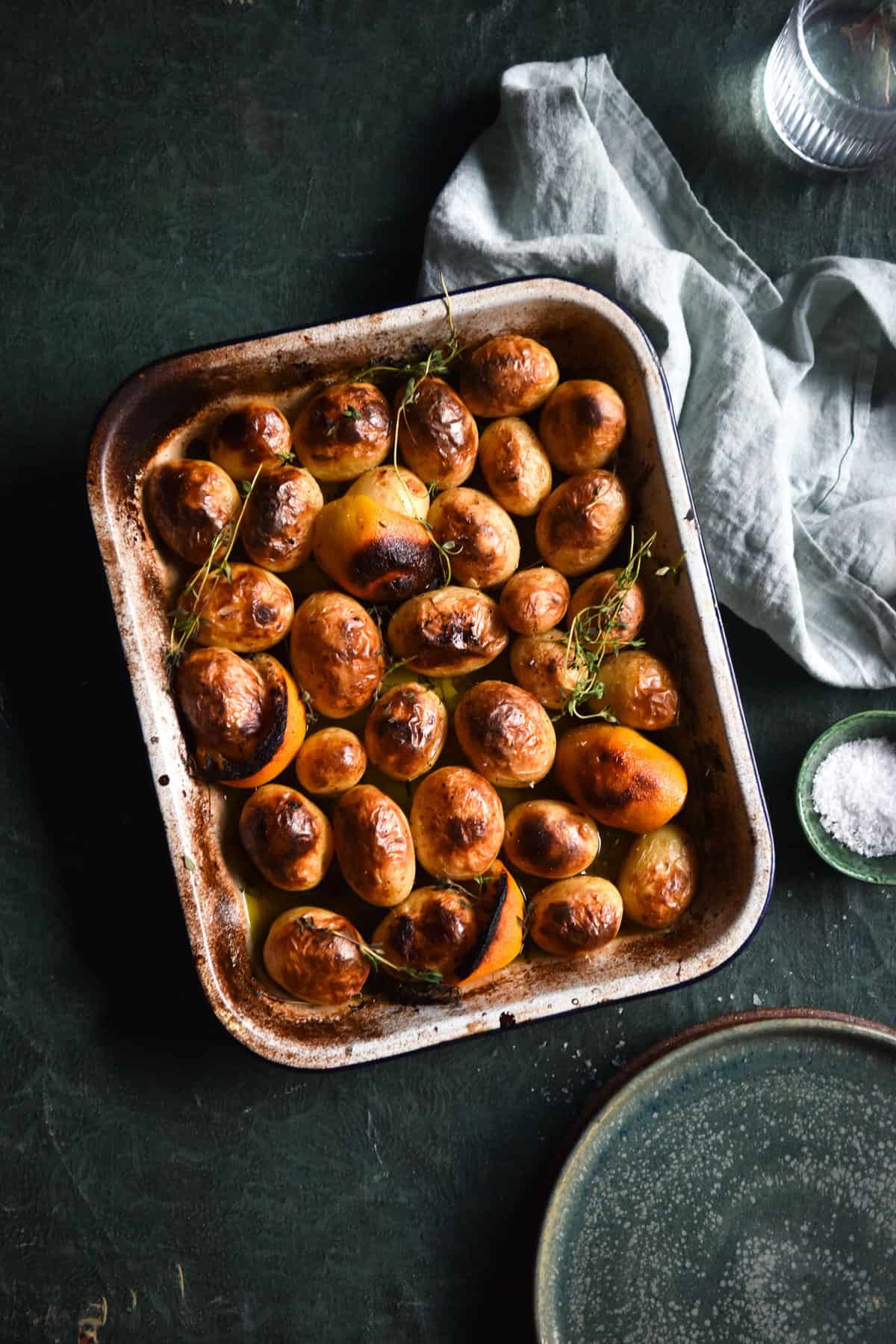 Low FODMAP vegetarian moussaka
This low FODMAP vegetarian moussaka is a labour of love, but one that is well worth it. Layers of roasted vegetables are piled with low FODMAP vegan mince and creamy bechamel. Bonus points, as always, for smoked mozzarella on top.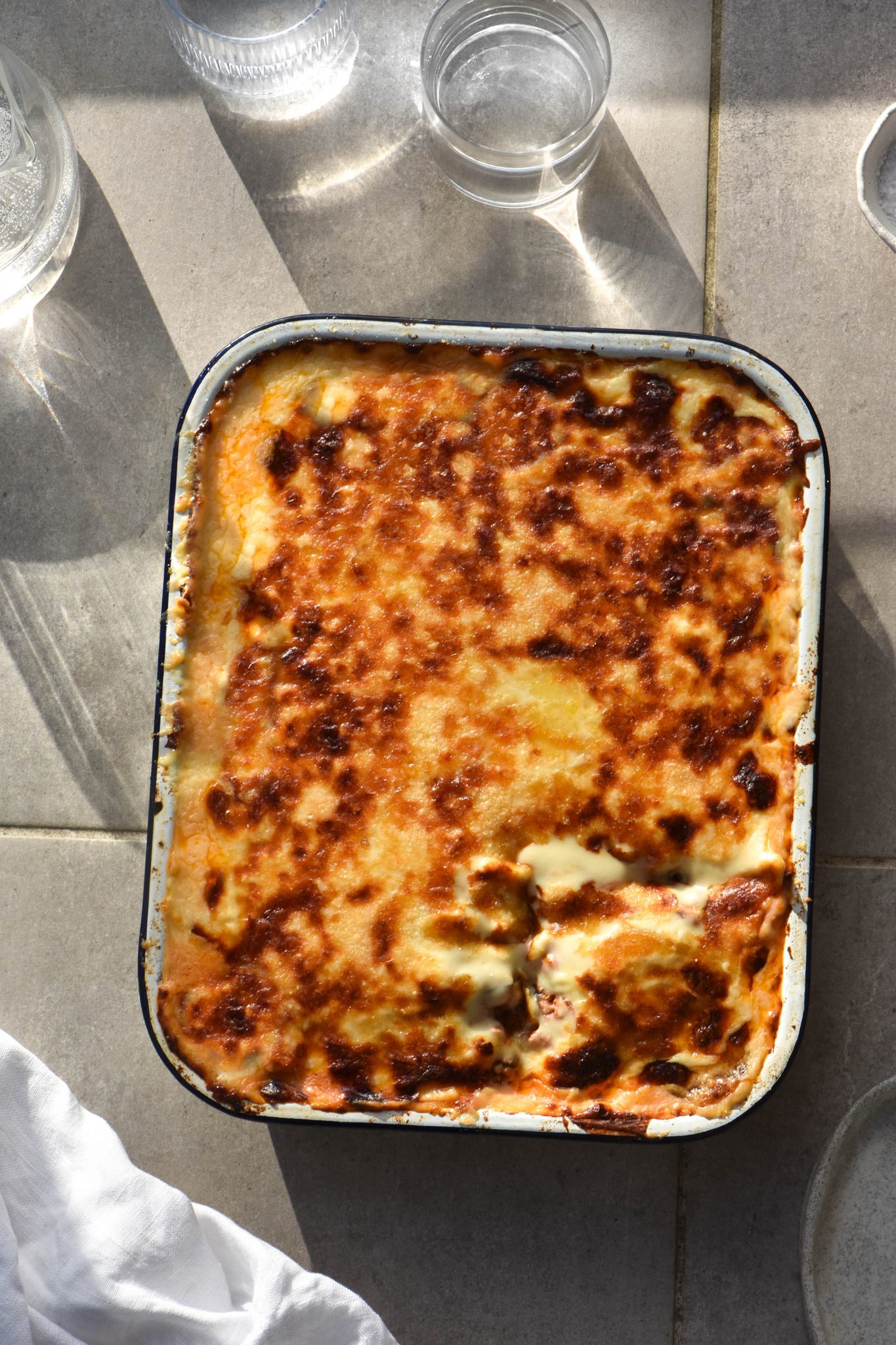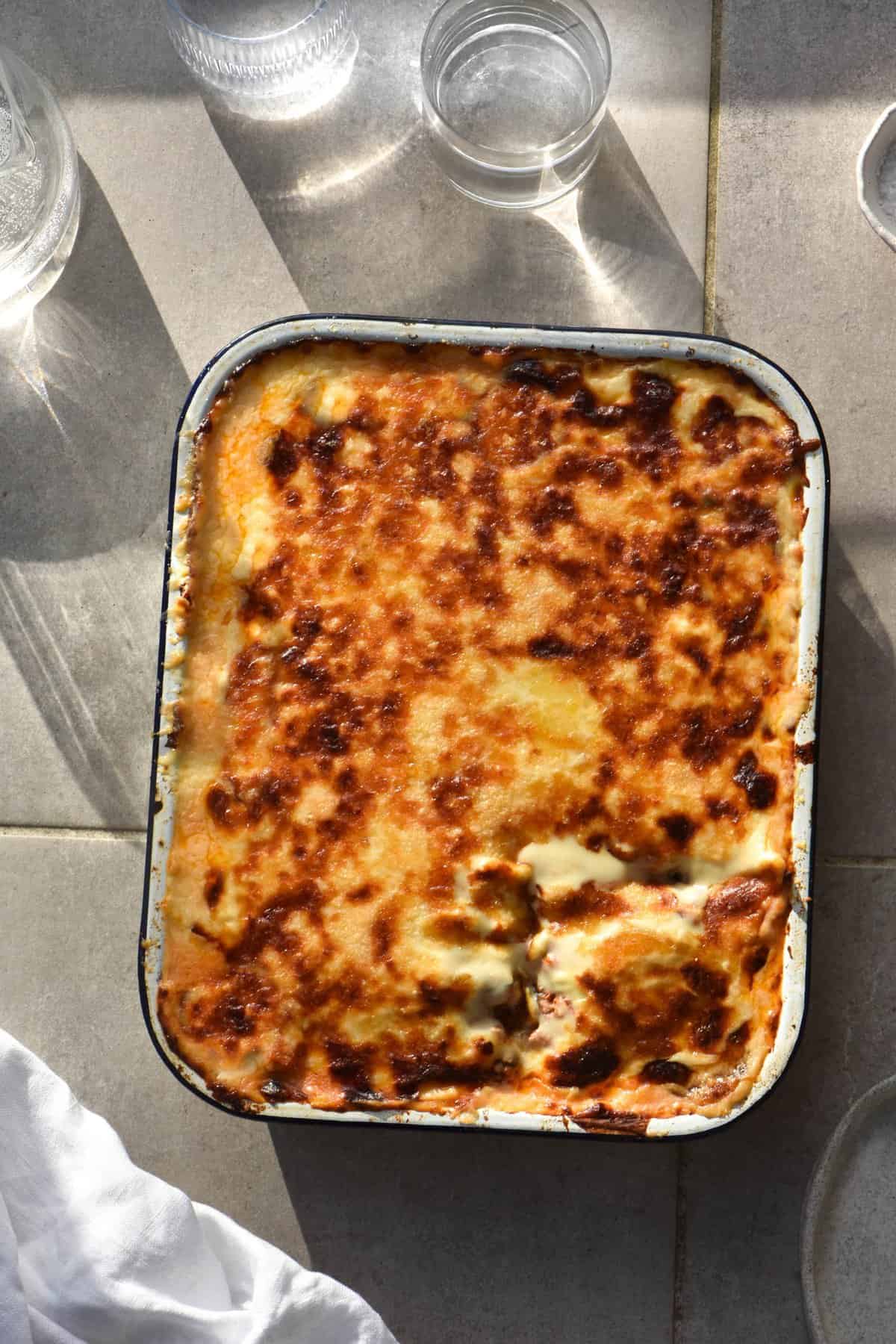 Salt and vinegar roast potatoes
Do you like salt and vinegar chips? If so, I guarantee you'll love salt and vinegar roasted potatoes. The potatoes are boiled in vinegar to flavour the flesh, then crisped up in the oven for the ultimate salt and vinegar experience.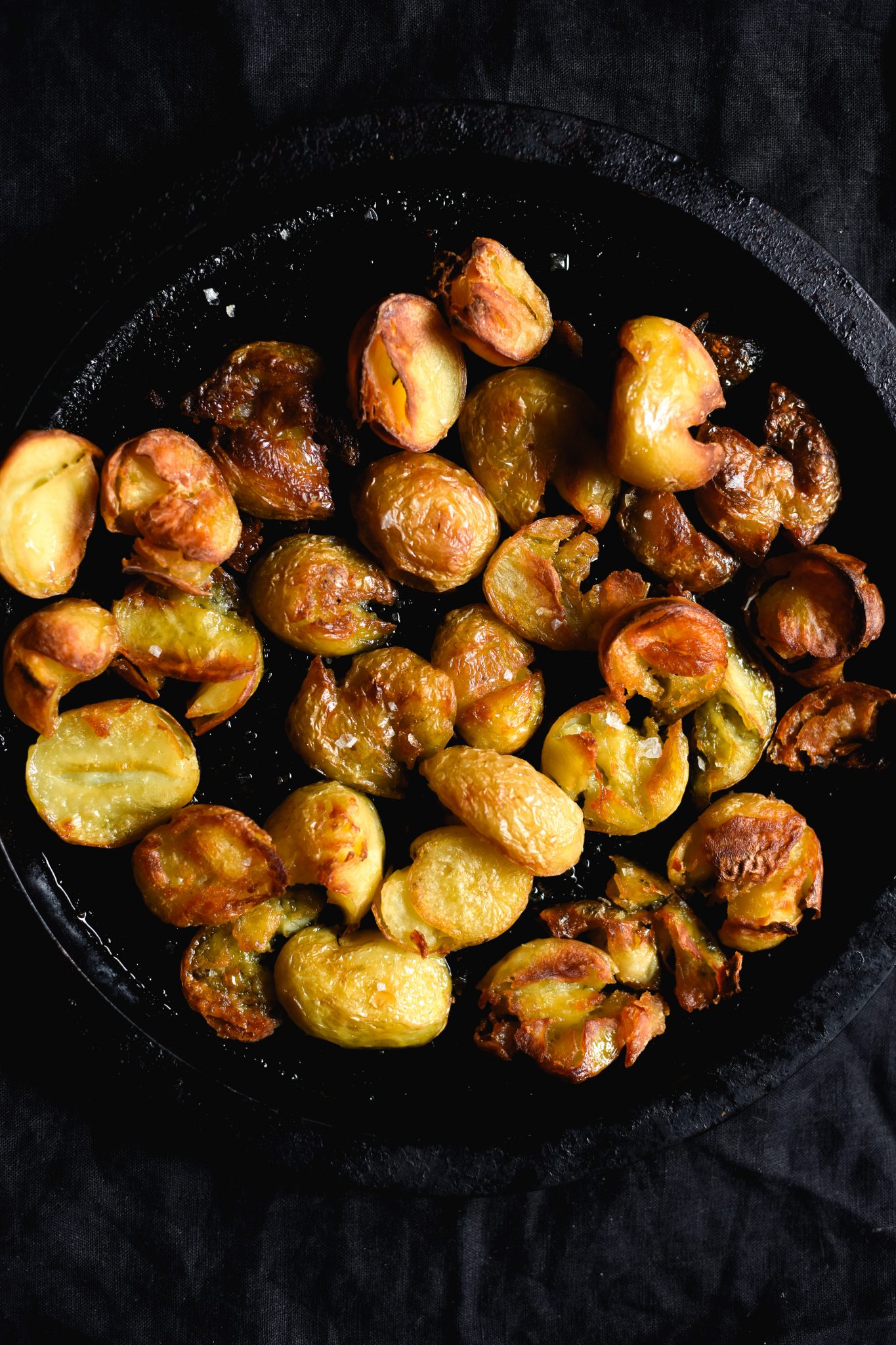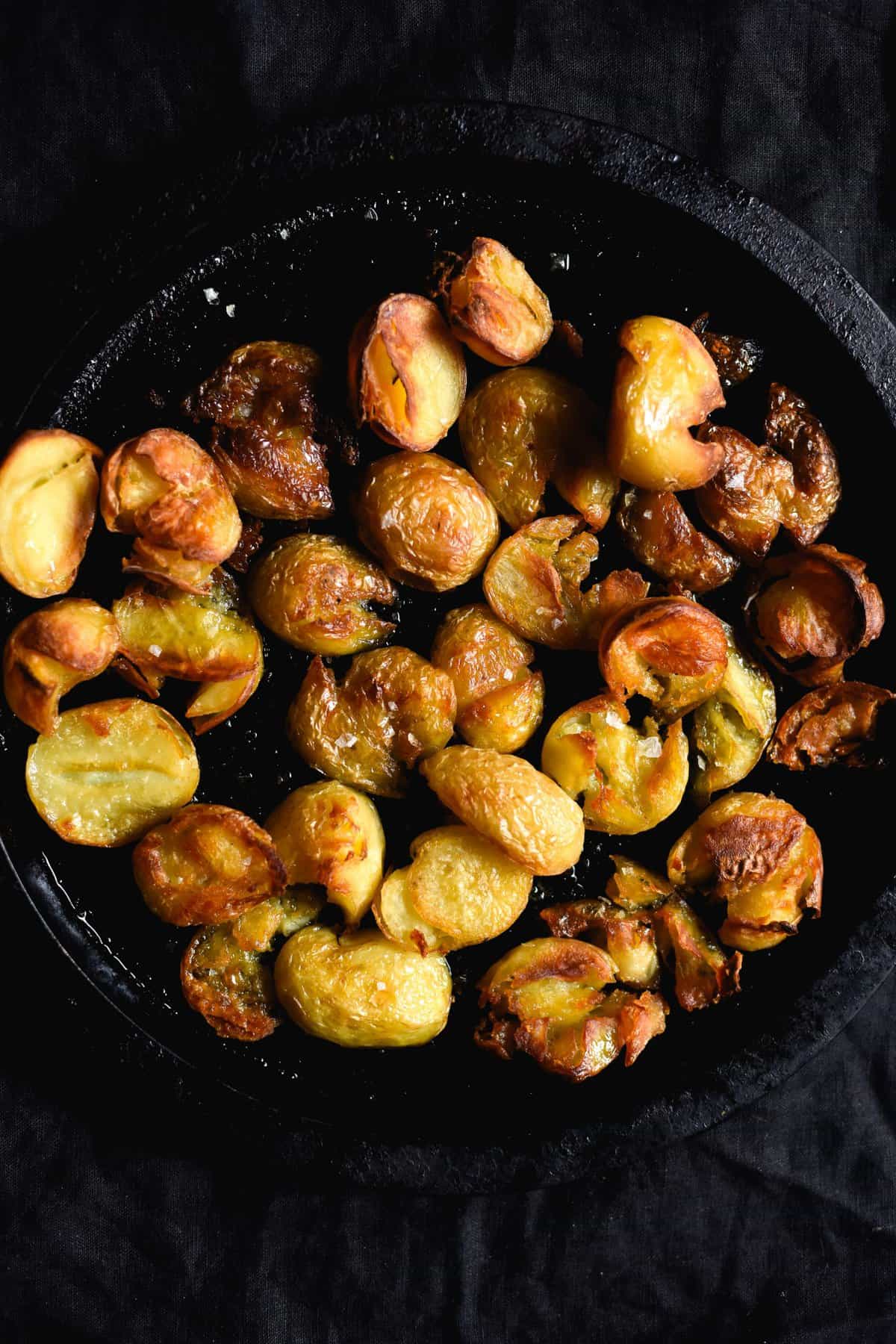 Vegan, gluten free and LOW FODMAP bangers and mash
My all time favourite vegan tofu sausages make an appearance with my vegan gluten free gravy for this low FODMAP bangers and mash. A delicious wintery comfort food that is perfect with a low FODMAP serve of frozen peas and leek greens, cooked down to delicious onion like side dish.
Low FODMAP Malai kofta
Heavenly balls of potato and lactose free paneer in a low FODMAP curry gravy? That's my idea of a good time. This is a rich and comforting vegetarian dish that everyone will love.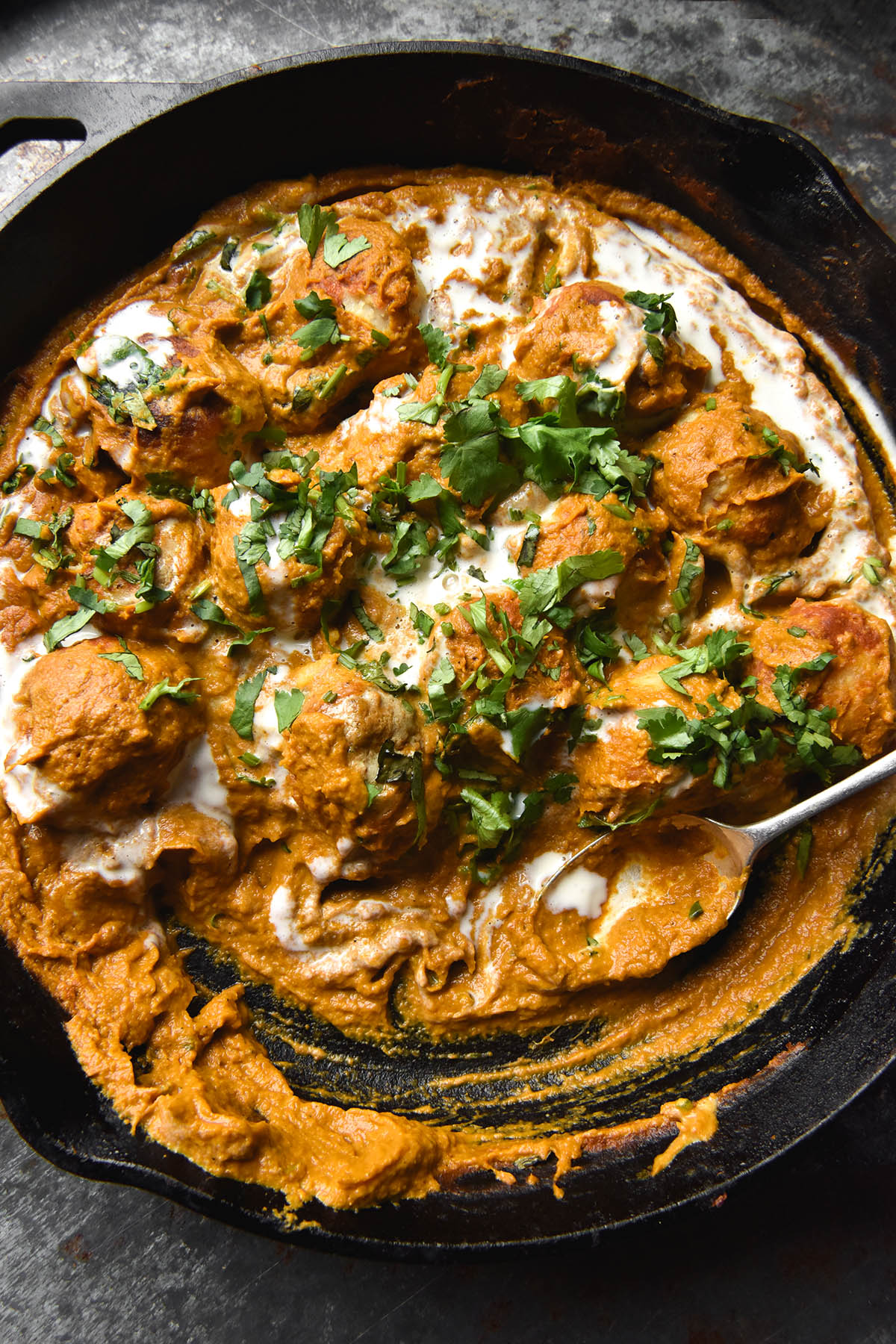 Vegetable, chickpea and feta sausage rolls
These easy vegetable rolls remind me of Cornish pasties. They're full of easy to prepare veg and some protein from the chickpeas (which are canned, to keep the FODMAP content down). I like to make them using the gluten free puff pastry from Intolerance Friendly Kitchen.