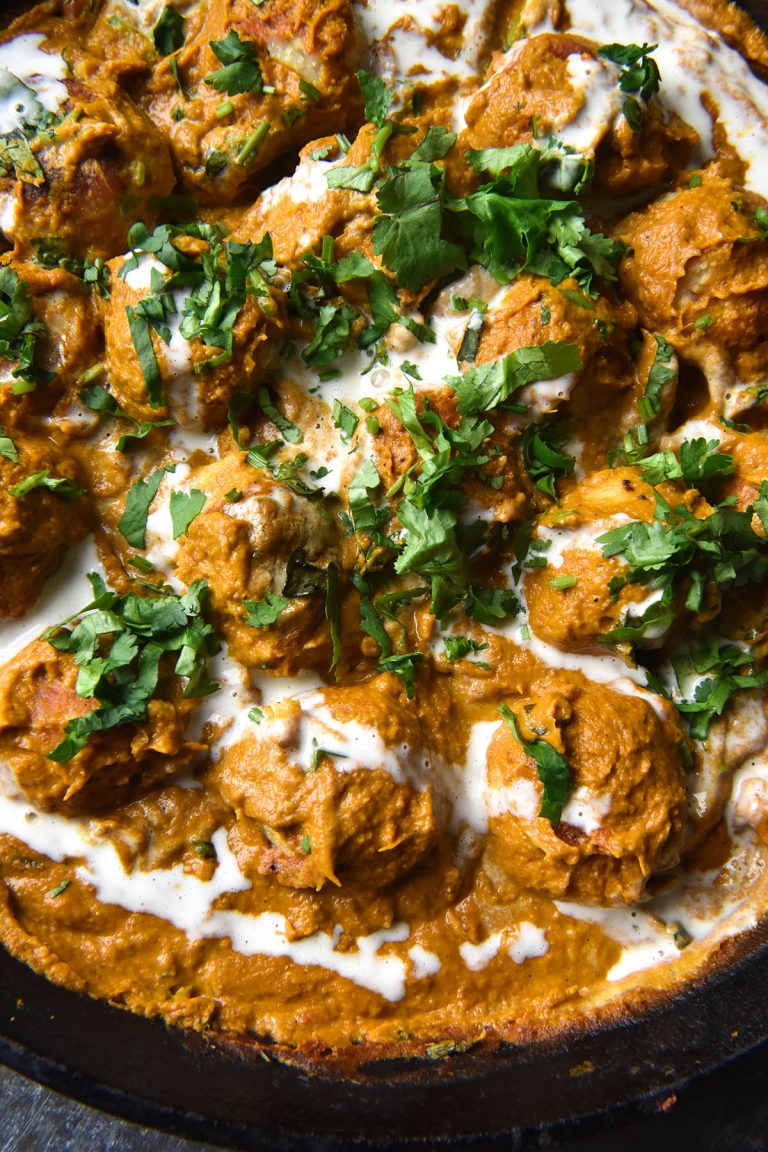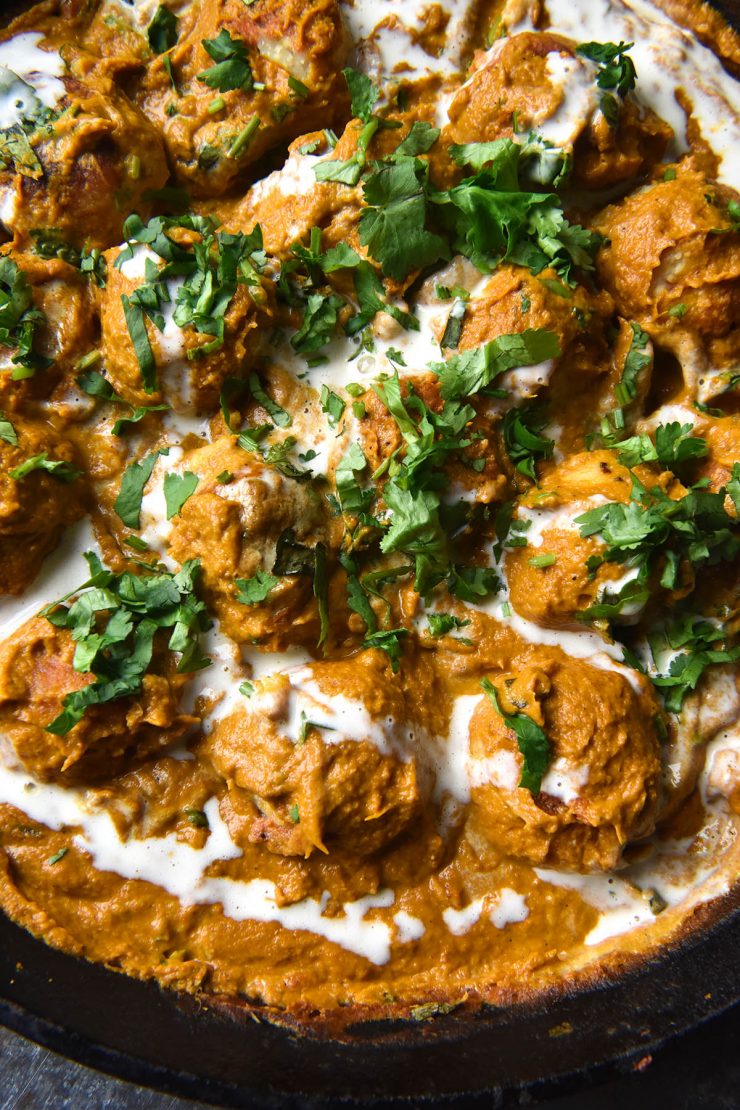 This FODMAP friendly Malai Kofta is part of my suite of FODMAP friendly vegetarian Indian recipes. I love Indian cuisine and it pains me that I can't eat it without onion and garlic ruining my day afterwards. So! I developed this low FODMAP Malai Kofta recipe that is gluten free, low lactose and easily made vegan.
Malai Kofta is a creamy vegetarian curry that is filled with paneer kofta. Paneer kofta are fried balls of paneer and potato and are added to the curry base at the end. This recipe pan fries the kofta – this is not traditional, but I find it a lot easier and less stressful. This FODMAP friendly Malai Kofta is a comforting and delicious dish, all without onion and garlic.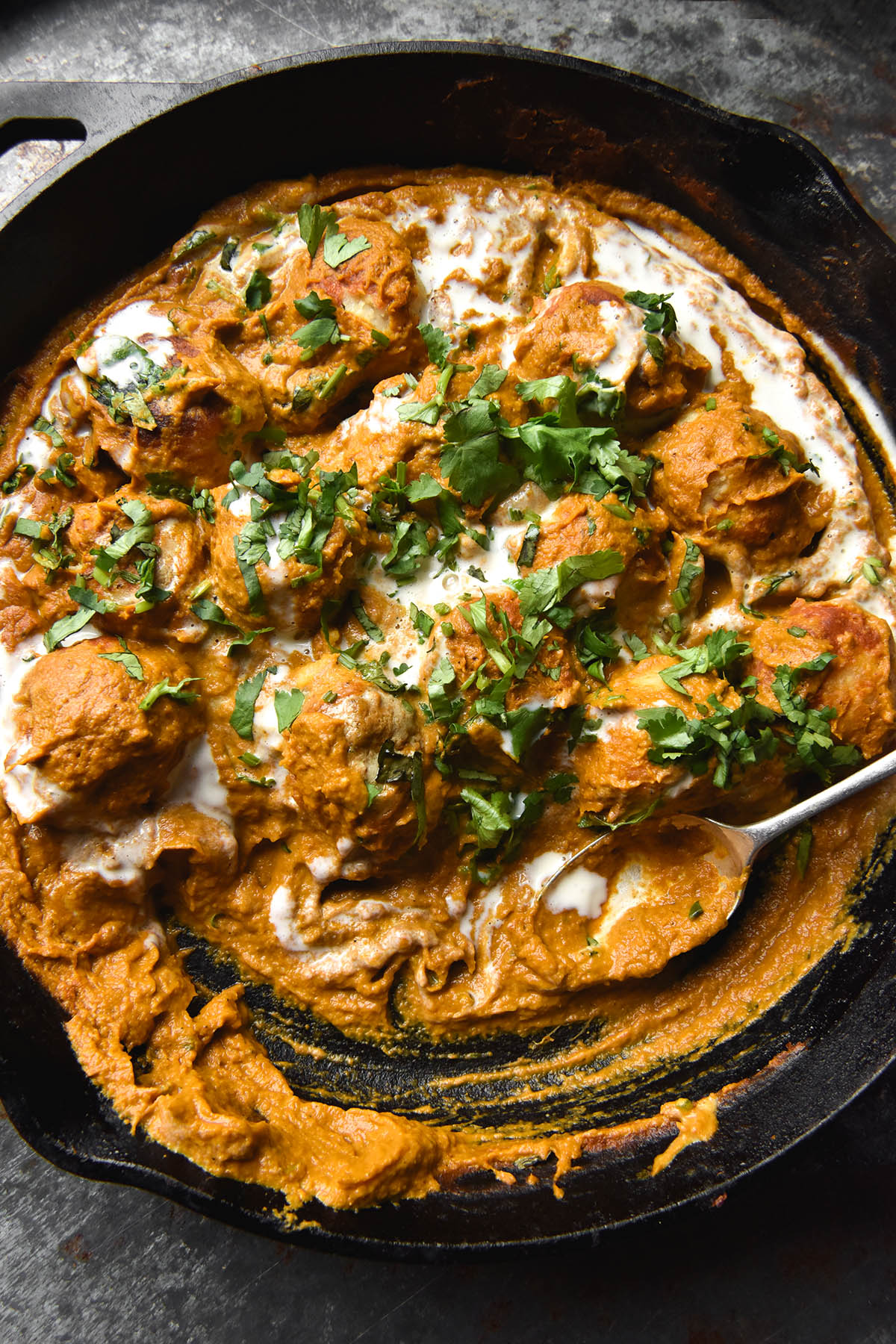 FODMAP friendly Malai Kofta
There are a few tricks we're using to make this Malai Kofta without onion and garlic. Firstly, spring onion and leek greens replace the onion in the curry base. Carrots help to replace the bulk that adding onion provides, and tinned tomatoes keep the fructose content down.
To ensure the curry is FODMAP friendly, we omit the cashews from the kofta and the curry base. Lactose free cream (or coconut milk) replaces the cream, and homemade lactose free paneer is used in the kofta.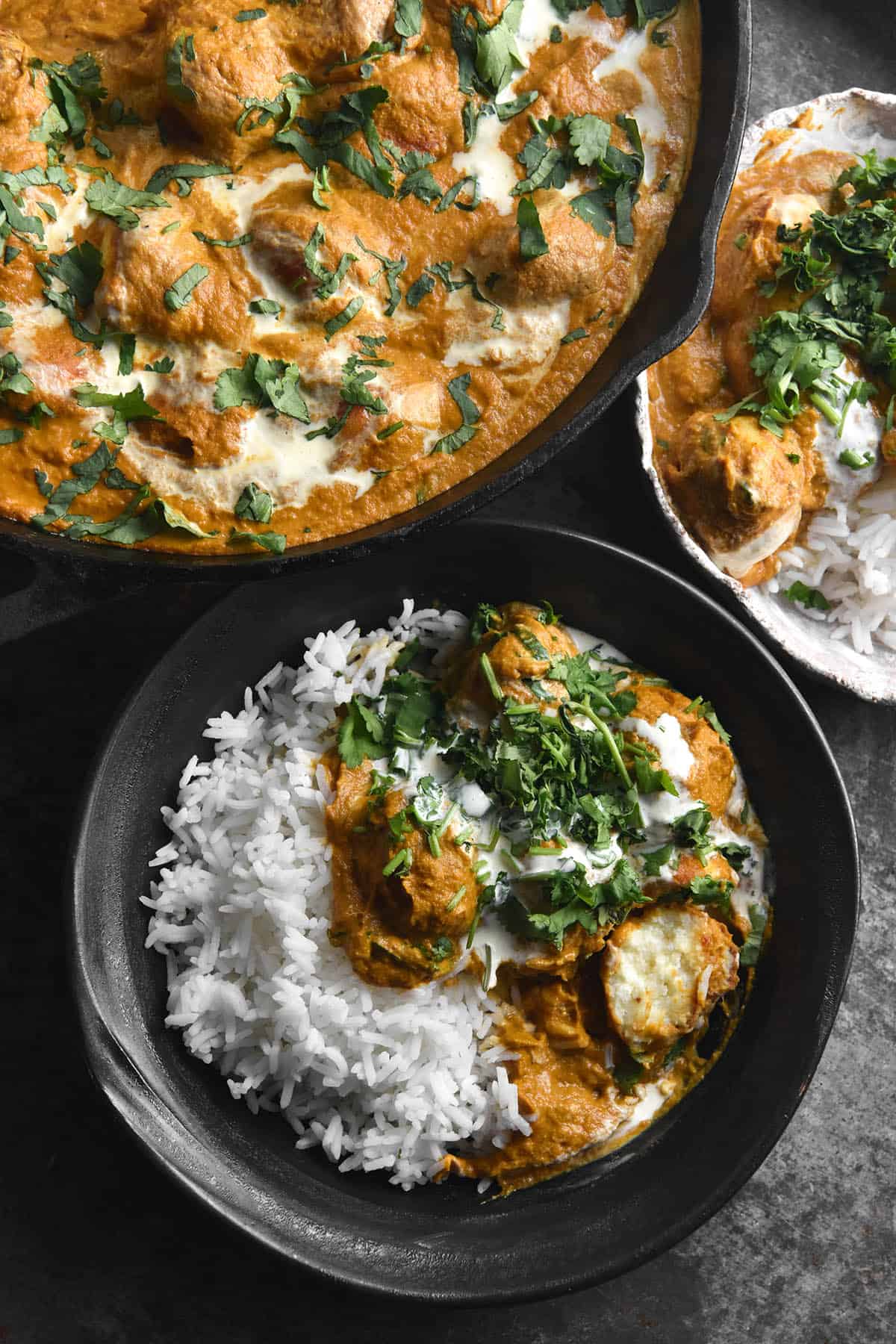 How to make a curry base without onion and garlic
I have developed a few curry recipes without onion and garlic now. I would say, though, that this recipe is probably the easiest. It uses spring onion greens, leek greens, carrots and tinned tomatoes to replace the flavour and bulk of onions in a traditional curry sauce.
Utilising different spices also helps create flavour without onion and garlic. I use a fair amount of cardamom pods in this recipe, but it really gives the low FODMAP curry base a good hit of flavour.
Another way of adding flavour to curry base without onion and garlic is to use asafoetida powder. Asafoetida has a cooked onion and garlic adjacent taste. It is very pungent, so you only need a tiny bit of the powder to reap the rewards. Generally speaking, asafoetida powder is cut with flour to make it less potent, so check to ensure it is gluten free. You can read more tips for adding flavour without onion and garlic here.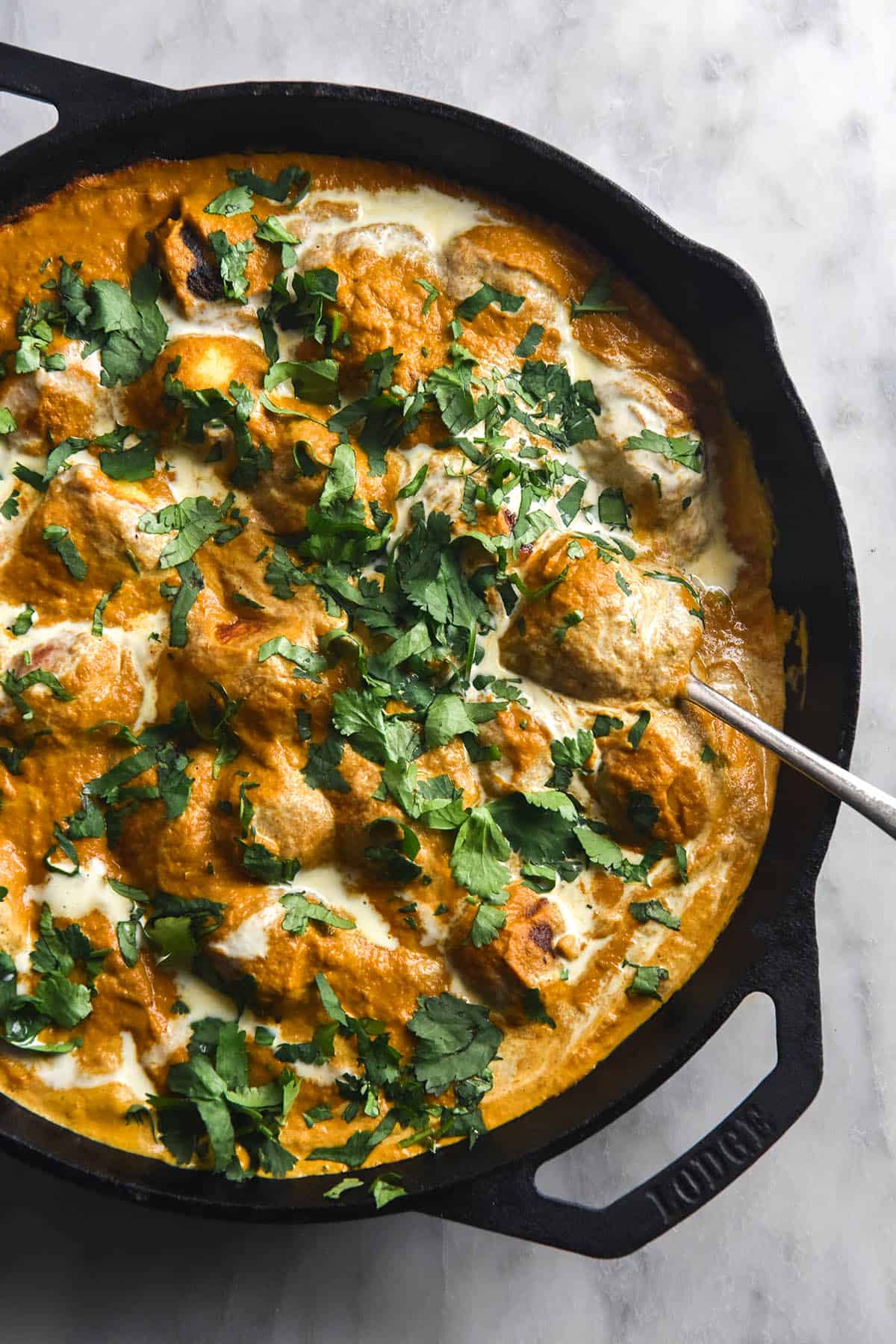 FODMAP notes for your Malai Kofta
This curry sauce is made without onion and garlic, but it also FODMAP friendly more broadly. Tinned tomatoes are quick and easy, but they also help keep the FODMAP content down. Per gram, they are interestingly more FODMAP friendly than fresh tomatoes. 100g of tinned tomato is a FODMAP friendly serve, whereas 65g of a common tomato is currently a green serving.
I have chosen to omit the traditional cashew paste from this FODMAP friendly Malai Kofta. Cashews aren't FODMAP friendly, even in small serves. Instead, I use lactose free milk and/or cream to add creaminess to the Malai Kofta.
On the topic of dairy: use lactose free cream and milk to keep this lactose friendly. Lactose free cream often uses gelatin, so you will need to make your own lactose free cream if you are vegetarian. This involves adding lactase to cream the night before use.
I use my own recipe for lactose free paneer here. It's easy to make, tastes delicious and is a whole lot cheaper than the store bought variety here in Australia. I use 3 litres of lactose free full cream milk and 1/2 cup (125ml) white vinegar.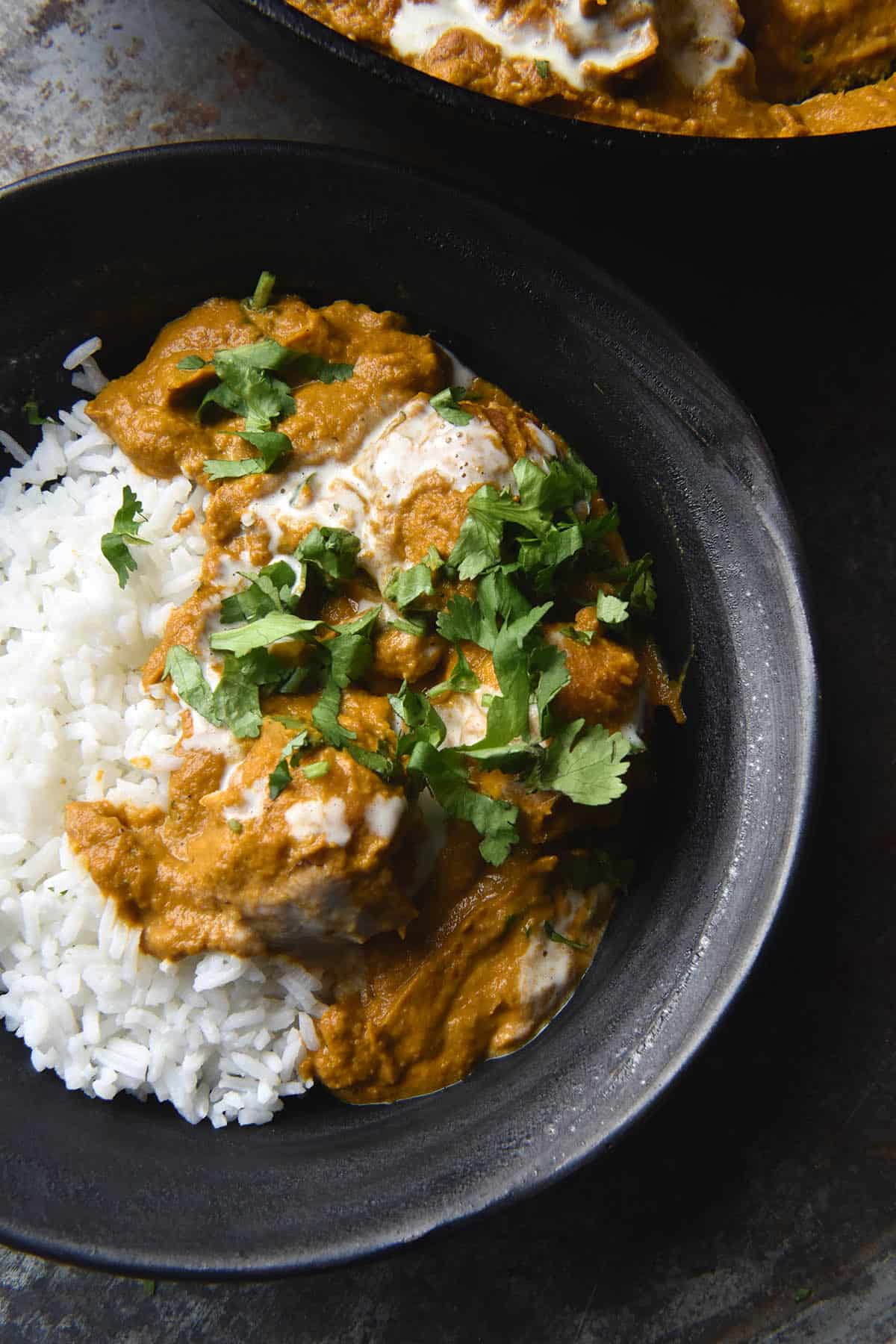 Tips for making FODMAP friendly kofta
Choose all rounder variety of potato to make the kofta. Waxy potatoes don't make for great mash, so they won't work well here. In Australia, the white potatoes at the supermarket are an all rounder variety.
Both cornstarch and potato starch work equally well here. Choose what works best for you.
You can add some spices or coriander to the kofta, is you like. I quite like them plain with a bit of chilli, but you can add a bit of garam masala if you wish.
Make sure your pan and oil are both extremely well preheated. Because the kofta are made with cheese, they will very easily stick to the pan, which is a nightmare. A thoroughly preheated pan and oil combination will avoid this. I cook my kofta in my skillet.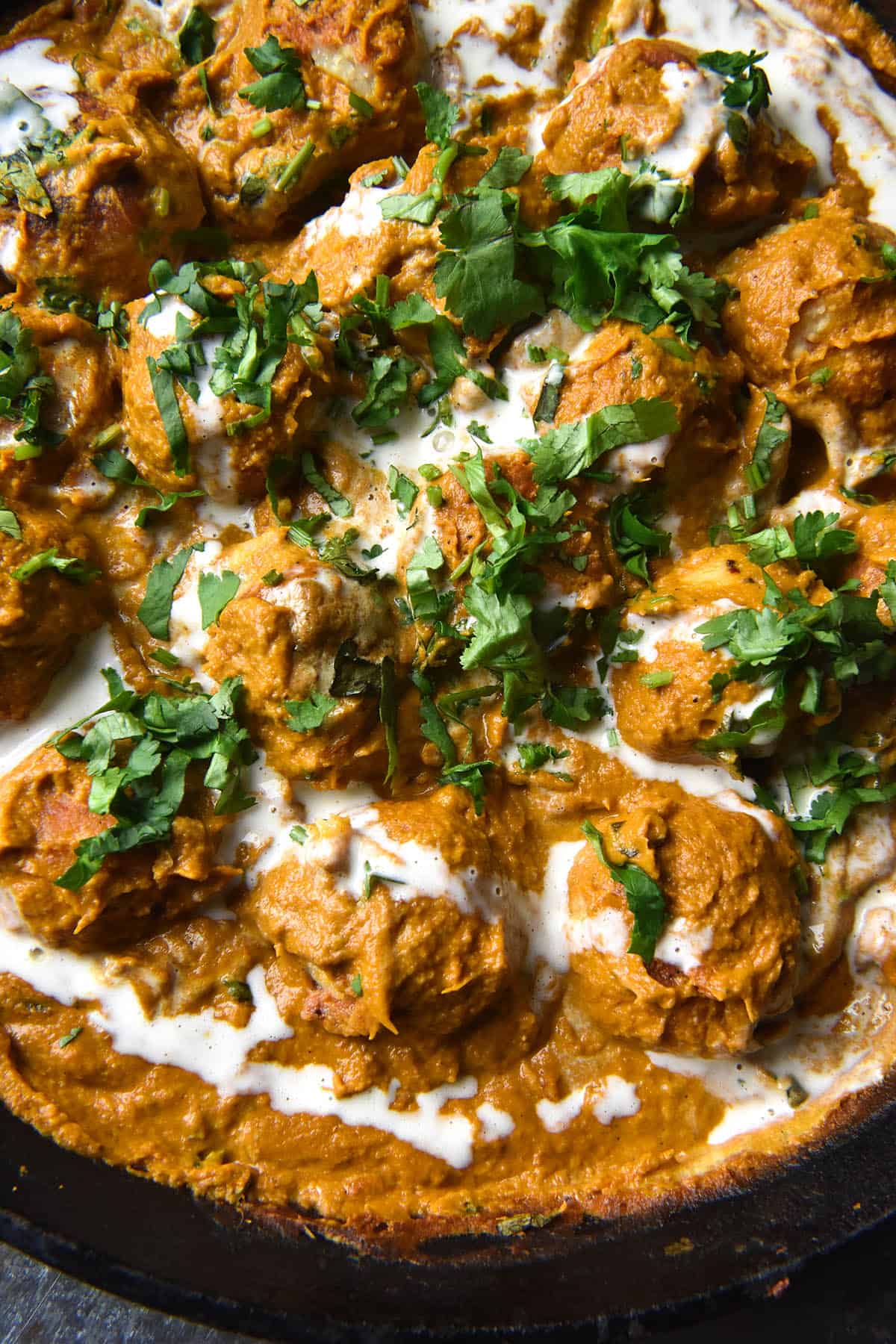 Can I make this low FODMAP Malai kofta vegan?
I have not tried to make this Malai Kofta vegan. The deliciously cheesy kofta are all part of the experience. I will test a tofu version at some point. If you'd like to make the curry base dairy free, though, simply use oil and dairy free milk or coconut cream. The taste will be a little different with the coconut cream, but it will be delicious nonetheless.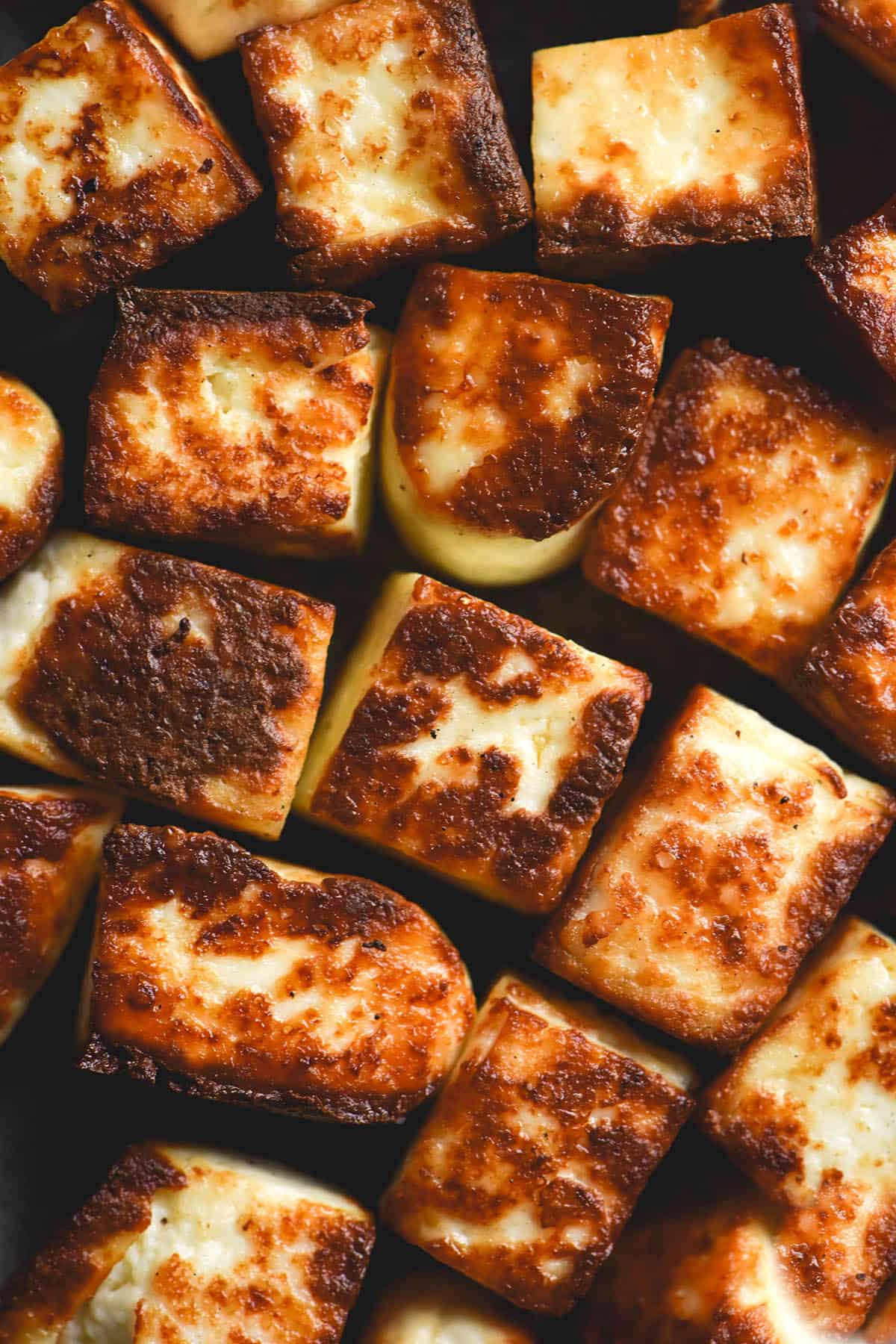 More FODMAP friendly vegetarian Indian recipes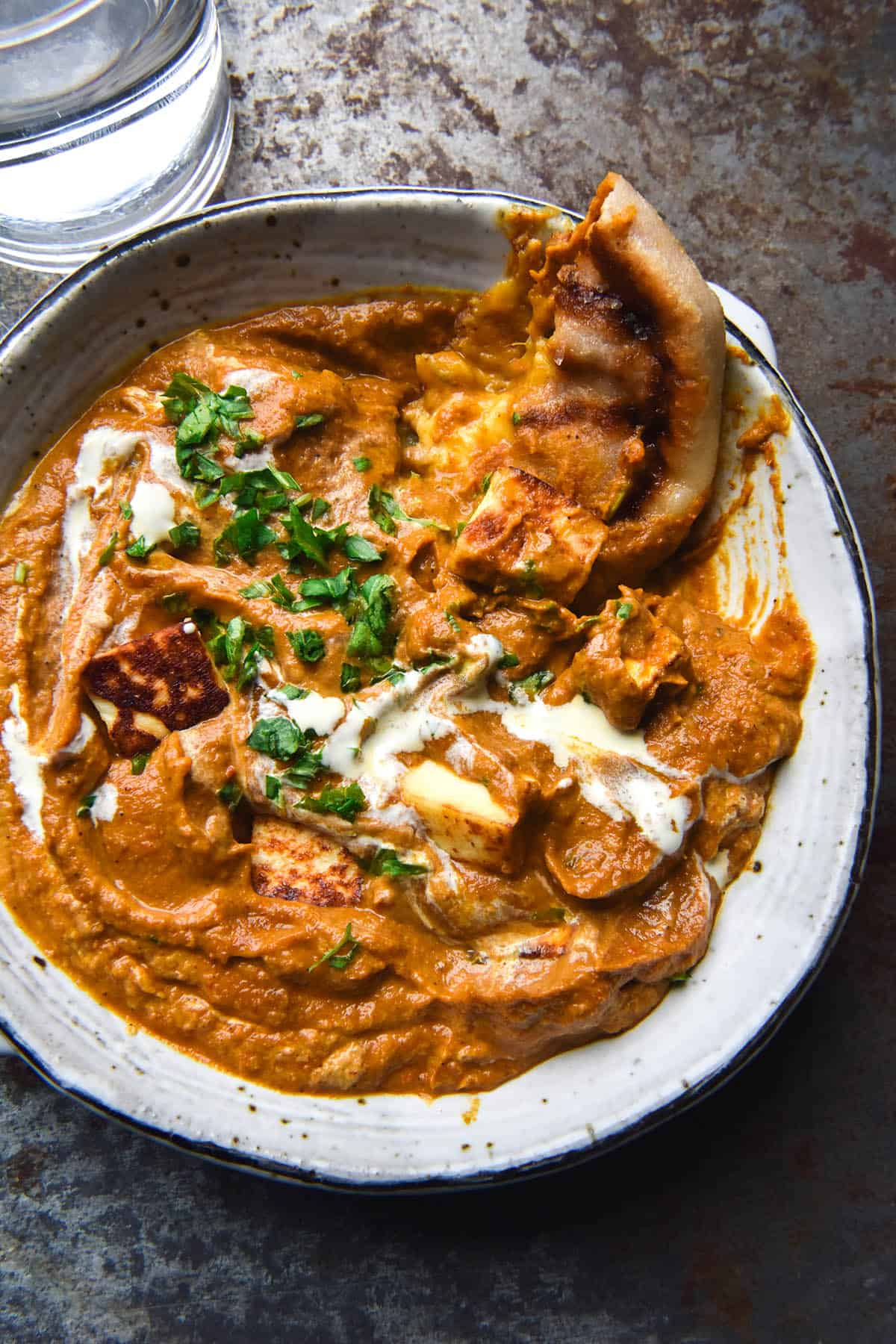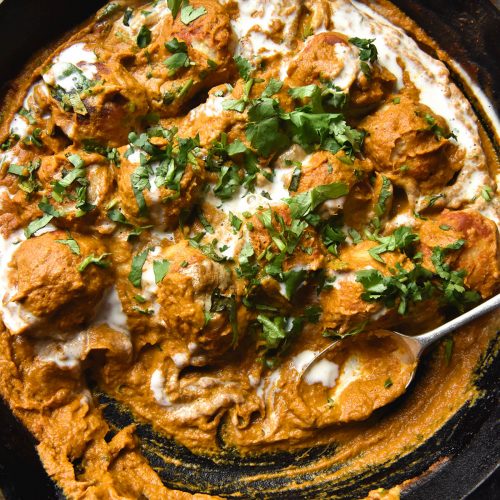 FODMAP friendly Malai kofta
FODMAP friendly, no onion or garlic, gluten free
Ingredients
For the curry base:
3

tablespoons

butter or oil

1

bunch spring onion greens

chopped

1

large or 2 medium leek greens

thoroughly washed and sliced

50

g

ginger

grated

1

bunch coriander roots

thoroughly washed and chopped (save the leaves for garnish)

1

teaspoon

cumin powder

1/2

teaspoon

garam masala

1/2

teaspoon

turmeric powder

1

teaspoon

paprika

optional, for colour

chilli powder

I used Kashmiri to taste

15-20

cardamom pods

seeds kept and husks discarded

2

teaspoons dried fenugreek leaves (optional)

2

large carrots

chopped

1

X 400g tin of plain tomatoes (see notes)

Salt and pepper

to taste

1

cup

(250ml) water
For the kofta:
400

g

steamed potato

about 2-3 large

400

g

paneer

I use homemade lactose free, see notes for the recipe

2

tablespoons

cornflour or potato starch

(make sure the cornstarch is gluten free if it needs to be)

Seasoning

to taste

1/2 – 1

green chilli

Oil

for frying
To finish:
1/4 – 1/2

cup

(60-125ml) lactose free milk, to your tastes

1/4- 1/2

cup

(60-125ml) lactose free cream, to finish the curry

Coriander leaves, to top the curry
Instructions
To make the curry base:
Heat a large skillet with the butter or oil over a medium heat. Once warmed, add the spring onion greens, leek greens, ginger and coriander roots. Cook for 2-3 minutes or until softened and fragrant. Add a splash of water whenever you need to.

Add the spices, and cook for a minute until fragrant. Add another splash of water, then the remaining ingredients. Stir well to combine and cook for 10-15 minutes until the carrot is soft. Remove from the heat and allow to cool.
To make the kofta:
Use a potato ricer or masher to mash the potatoes. Crumble or grate the paneer into the potatoes. Add the remaining ingredients and use your hands to combine into a smooth mixture. Taste and adjust for seasoning before forming into about 14 balls, roughly 1 tablespoon worth of mixture each.

Preheat a large frypan extremely thoroughly over a medium high heat. Paneer will cause the kofta to stick easily, so make sure the pan is nice and hot.

Add a splash of vegetable oil and pan fry the first batch of kofta. Keep them moving and fry them on each side until golden. Repeat with the remaining kofta.
To finish:
Blend the curry sauce base until smooth.

Add 1-2 tablespoons oil to the skillet, then return the sauce base to the skillet over a medium heat. Once warmed, add the milk or cream to achieve your desired thickeness and creaminess. Taste and adjust for seasoning and spices. Just before serving, add the kofta into the curry sauce. Drizzle with extra cream and finish with coriander. Serve with rice.
Notes
You can also use my low FODMAP Nomato sauce recipe to replace some or all of the tinned tomato. One batch of Nomato sauce makes approximately 1.2kg, which is equivalent to 3 x 400g cans of tinned tomato.