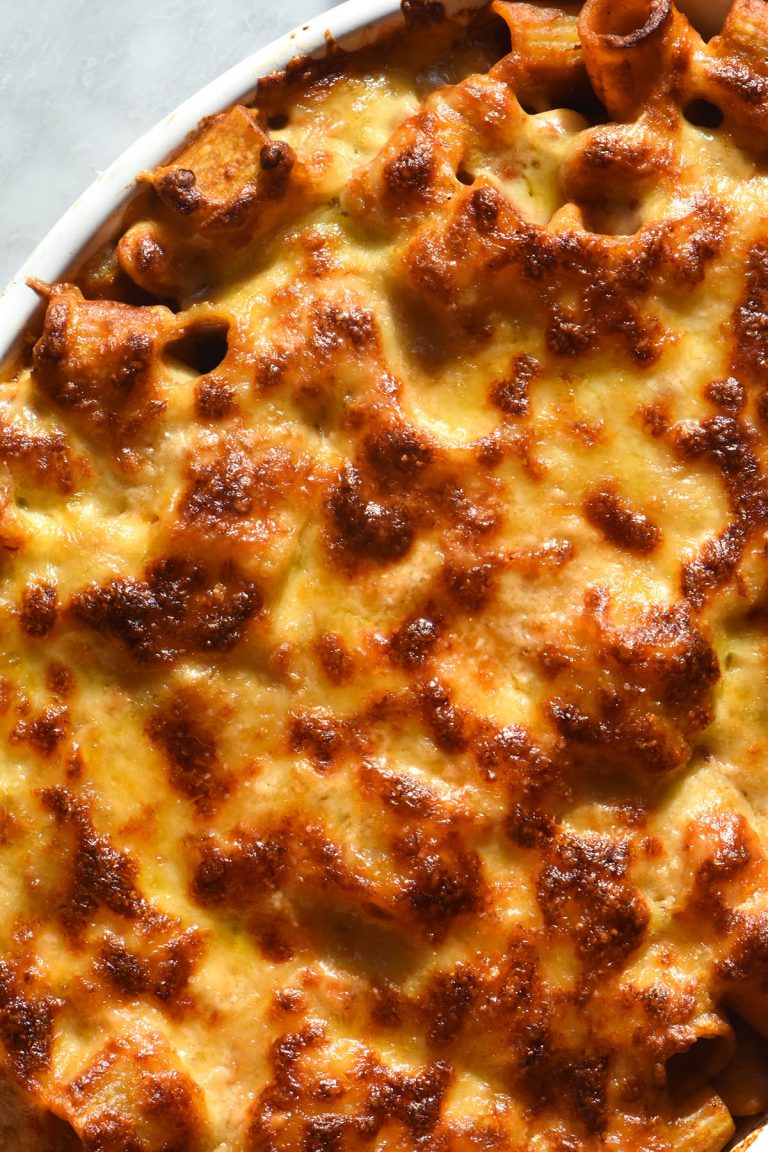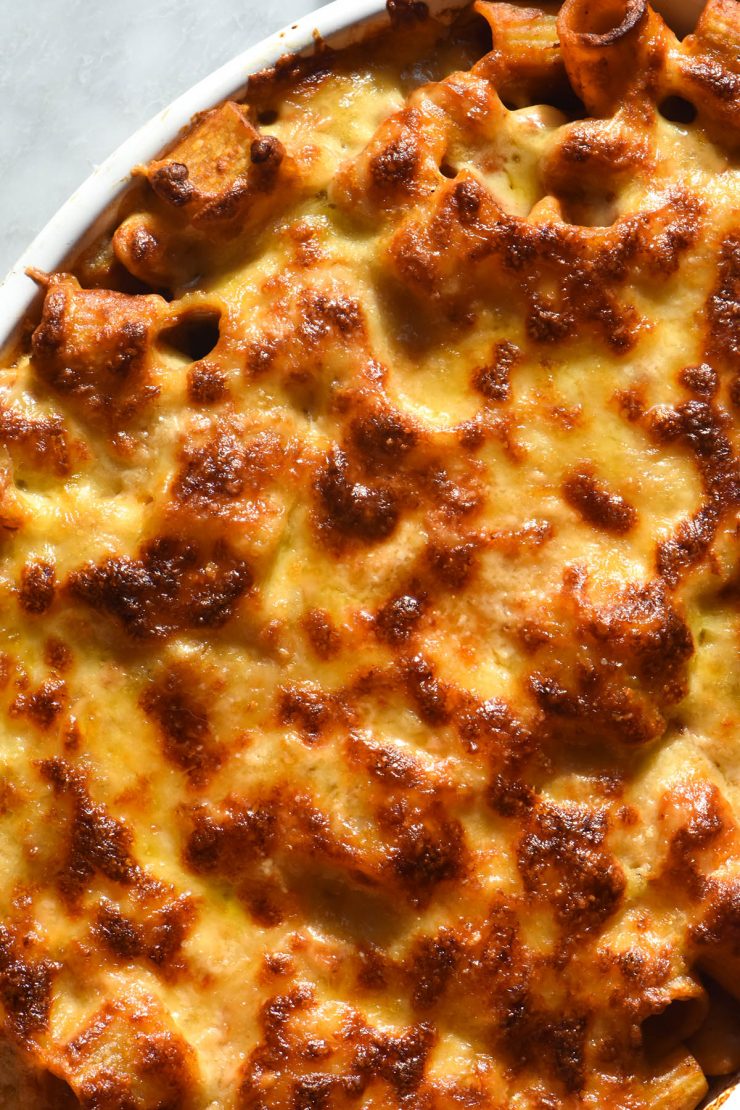 I am always and forever a cheese girl. I love it and it loves my fragile digestive system in return. So today I wanted to dive into the question: is mozzarella low FODMAP?
Before we begin, an important note: no article on the internet should ever substitute for appropriate medical advice. This is solely intended to help you on your day to day FODMAP journey, not to replace the expertise of a doctor or dietician. You should always consult a medical professional before embarking on any sort of elimination diet.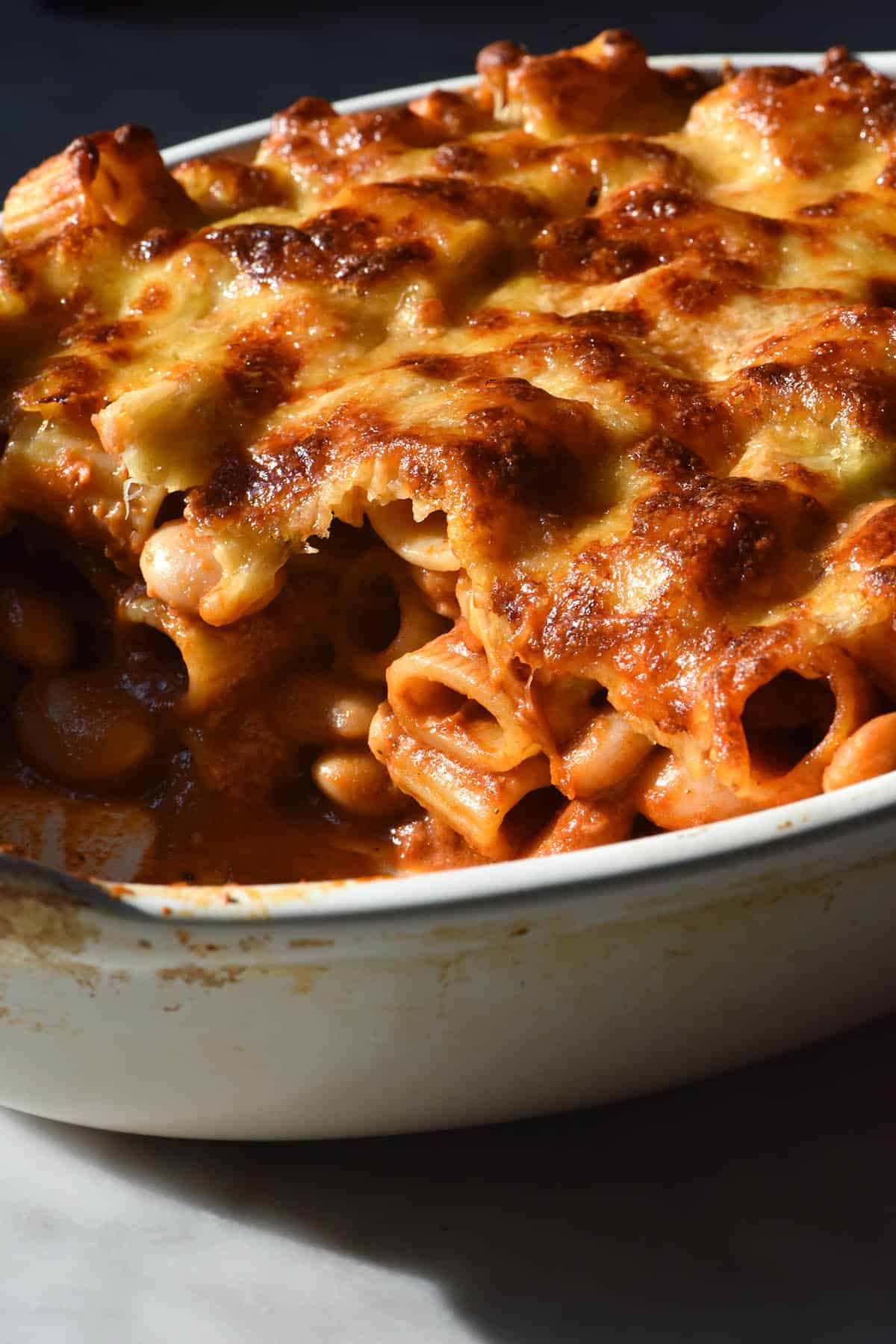 Is mozzarella low FODMAP?
Yes, mozzarella is low FODMAP. Monash lists mozzarella as low FODMAP in 40g serves, or around 1/4 cup. However, they state that mozzarella remains low FODMAP in servings of up to 630g or around 4 cups. In this serving size, mozzarella contains moderate amounts of lactose.
So! Mozzarella is a great low FODMAP and low lactose cheese that is suitable for the low FODMAP diet.
Is Buffalo mozzarella low FODMAP?
I couldn't find much information as to whether Buffalo mozzarella is lower in lactose than regular mozzarella. I did, however, find this research that shows Buffalo milk is lower lactose than cow's milk. Another piece of information I found is this chart with the lactose content of a variety of cheeses. The chart suggests Buffalo mozzarella is a lower lactose option than regular mozzarella. It states that Buffalo mozzarella has around 354mg of lactose per 100g serve, while commercial mozzarella has around 743mg per 100g serve.
Of course, this isn't a peer reviewed resource and I'm sure it depends on the brand and the method of production. However, it is likely that Buffalo mozzarella is also low FODMAP, and perhaps even lower FODMAP than regular mozzarella.
Is smoked mozzarella low FODMAP?
While there is no entry for smoked mozzarella on the Monash app, it is assumed that it has the same lactose content as the non smoked version. Smoked mozzarella is made by placing the mozzarella in a smoke chamber to infuse the mozzarella with the flavour of the smoke. This process is unlikely to alter the lactose content of the mozzarella, and it doesn't add a high FODMAP ingredient.
Is mozzarella low lactose?
Yes, mozzarella is a naturally low lactose cheese. This is because some of the lactose is removed during the cheesemaking process. Although mozzarella is higher in lactose than hard cheeses such as cheddar or parmesan, it is still lower in lactose than milk.
Is mozzarella vegetarian?
Not all brands of mozzarella are vegetarian. Some contain rennet, which is an enzyme found in the stomach lining of calves. Rennet cannot be extracted from a live animal, hence it's vegetarian designation. If you're vegetarian, it's worth reading the label to determine whether the ingredient list includes rennet.
It is worth keeping in mind, though, that some products use 'microbial rennet' or plant rennet. These are both vegetarian options – microbial rennet is cultured from molds, and plant rennet is derived from plants like thistle or artichoke. The word rennet on packaging does not automatically mean your mozzarella isn't vegetarian, but it does need one of these qualifiers (microbial or plant).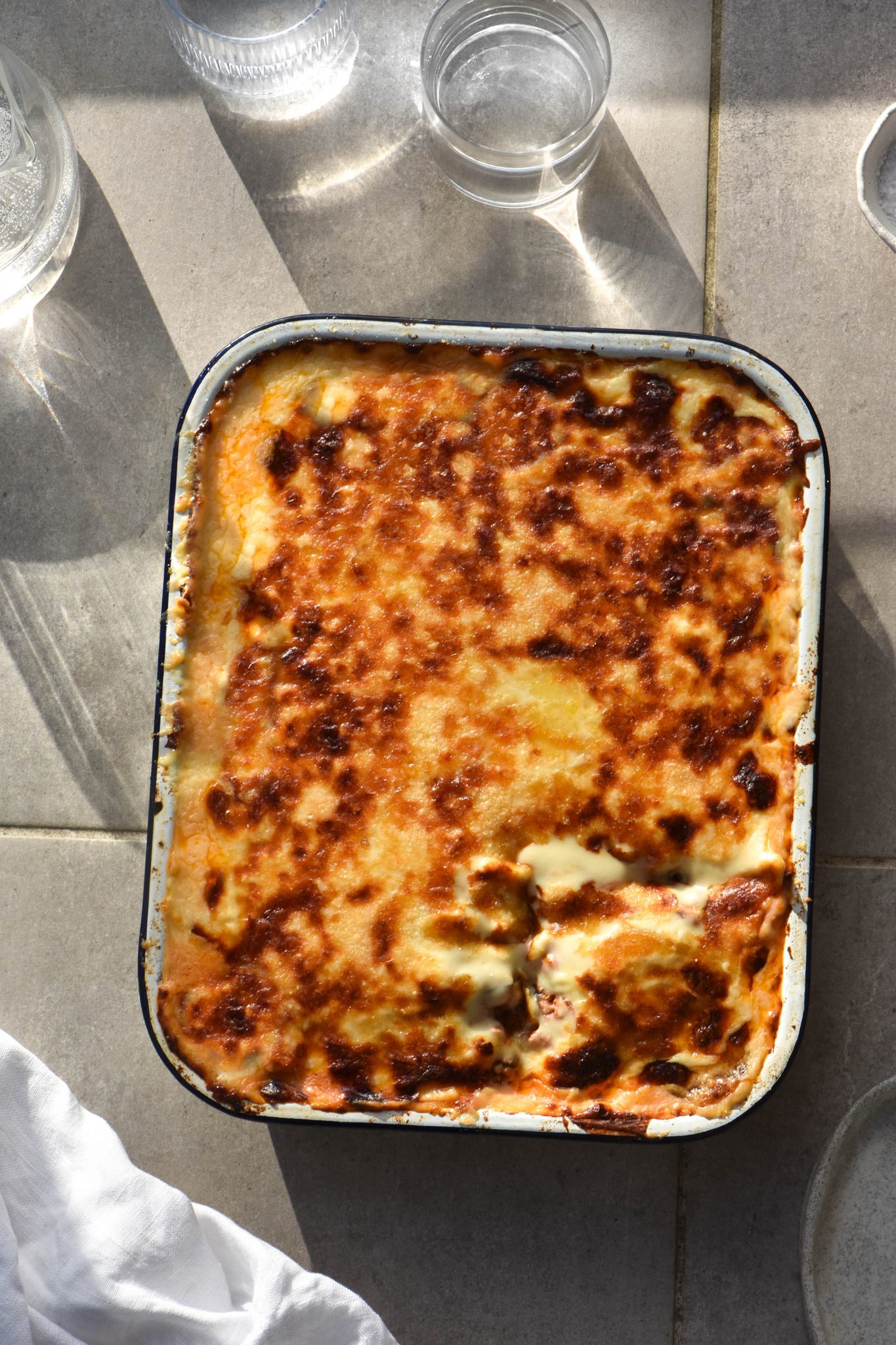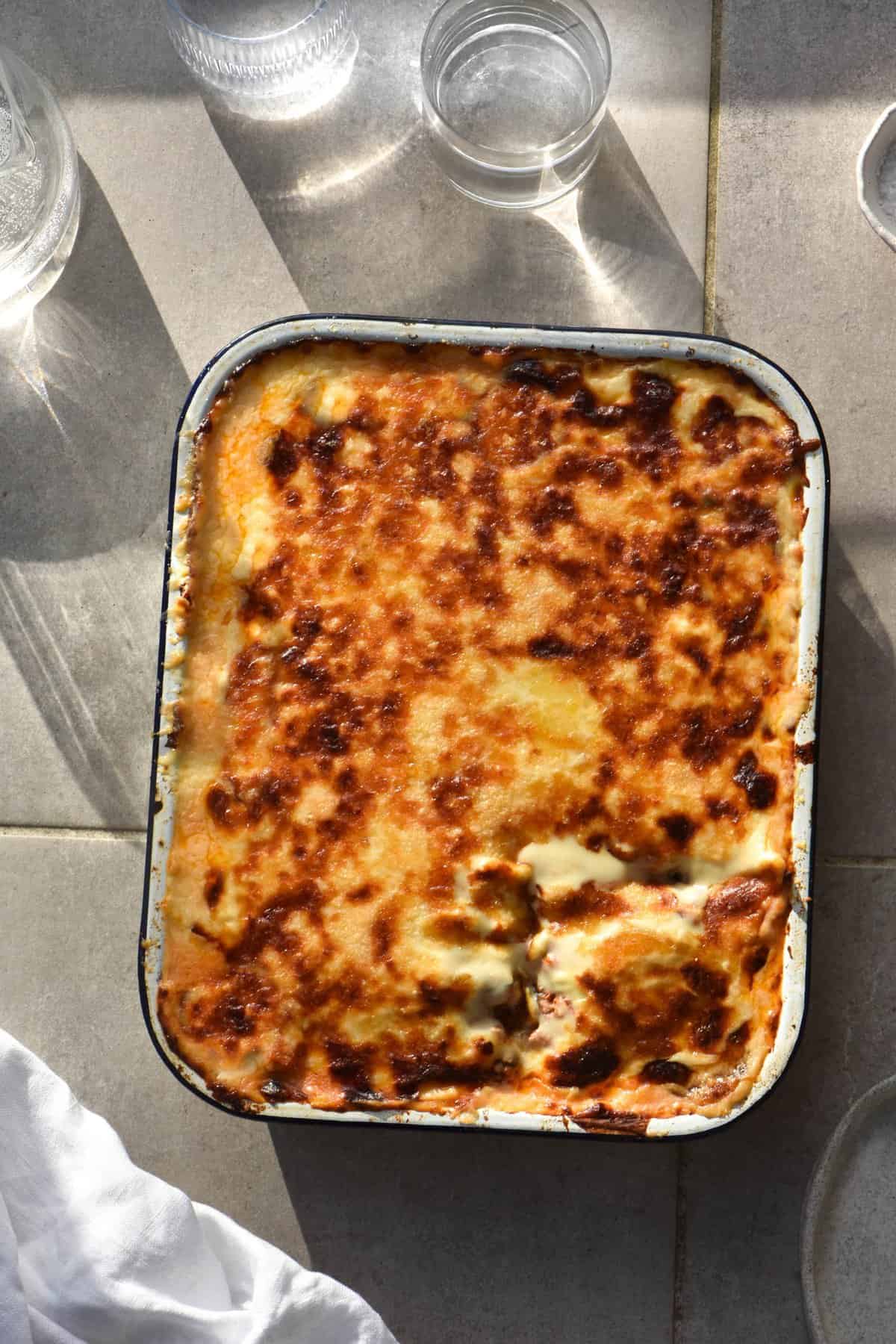 Vegetarian mozzarella brands in Australia
The following is a list that I have researched to the best of my ability. This is subject to change, depending on manufacturing processes. I should also note that burrata is not strictly vegetarian, as there is gelatin in the creamy centre.
That's Amore (firm and in water) – this is my favourite if you can find it
La Casa Del Formaggio (firm and in water)
Coles mozzarella pear (firm)
Woolworths mozzarella pear (firm)
Devondale mozzarella block
La Stella Buffalo mozzarella (in water)
Tips for using mozzarella
Use mozzarella in water or brine for salads or fresh applications.
The firm variety of mozzarella is good for pizzas, as it doesn't add any liquid and make the pizza soggy.
In making my low FODMAP pizzas, I found that cutting the mozzarella into small cubes produced the best melting pattern. This is compared to grated mozzarella.
It can also help to cover a lasagne or moussaka with foil first to melt the mozzarella properly. Afterwards, you can remove the foil to achieve a golden brown top.
Low FODMAP recipes that use mozzarella
These recipes are all gluten free, low FODMAP and vegetarian. Where possible, I endeavour to make my recipes xanthan gum free, egg free and nut free.
Low FODMAP vegetarian moussaka
This moussaka is a delicious meal prep kind of dish that will keep you eating well for days. It uses a low FODMAP vegetarian mince to keep the protein high, and plenty of delicious roasted vegetables. I love using smoked mozzarella here to add a meaty depth of flavour.
FODMAP friendly vegetarian moussaka
A delicious vegetarian, low FODMAP and gluten free dish.
Check out this recipe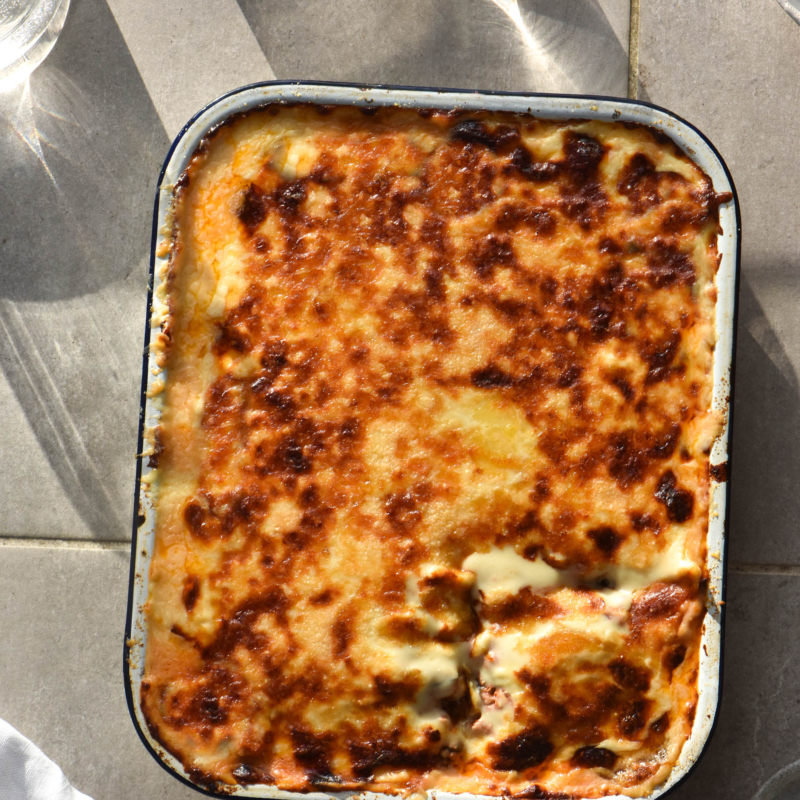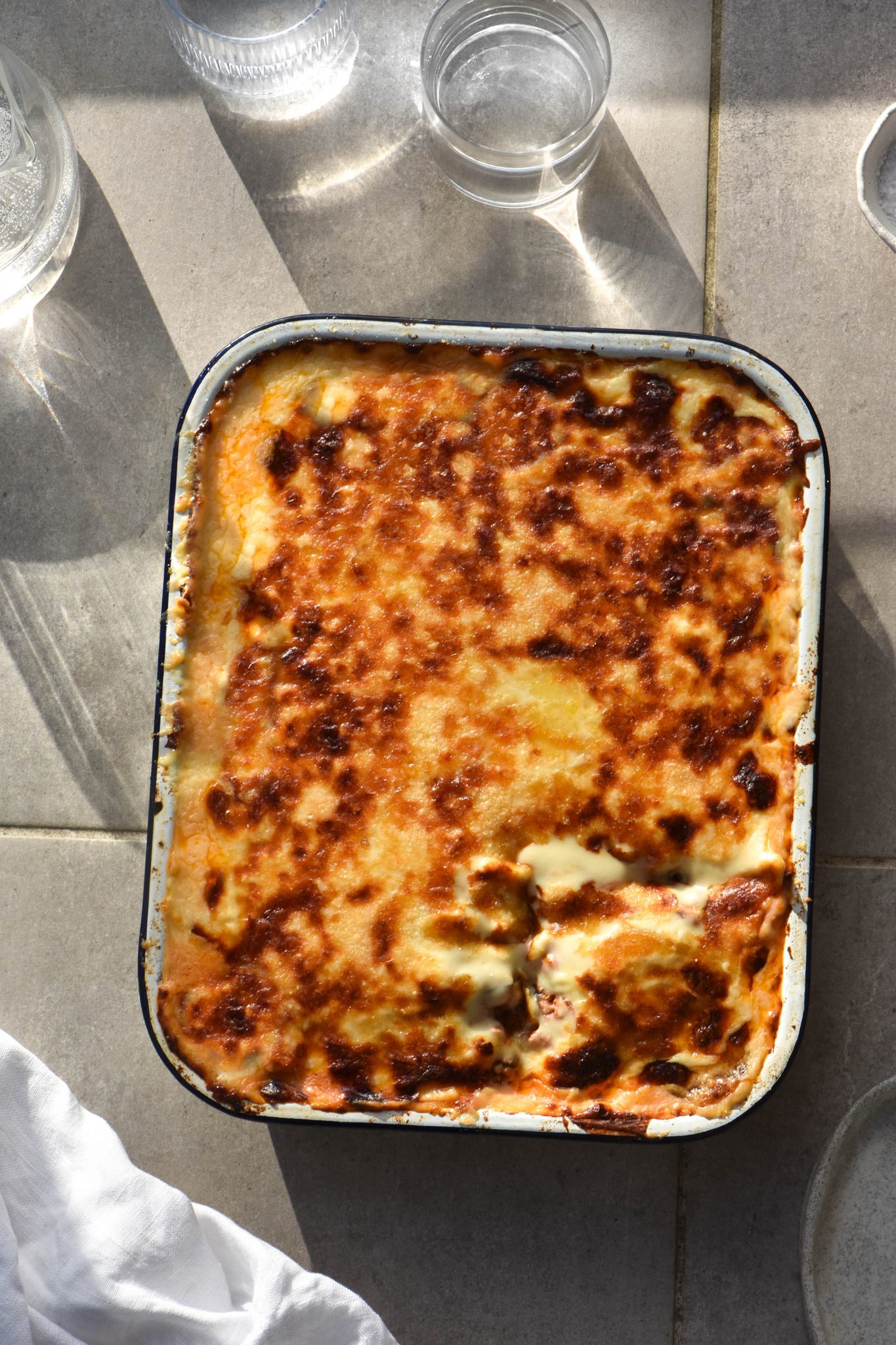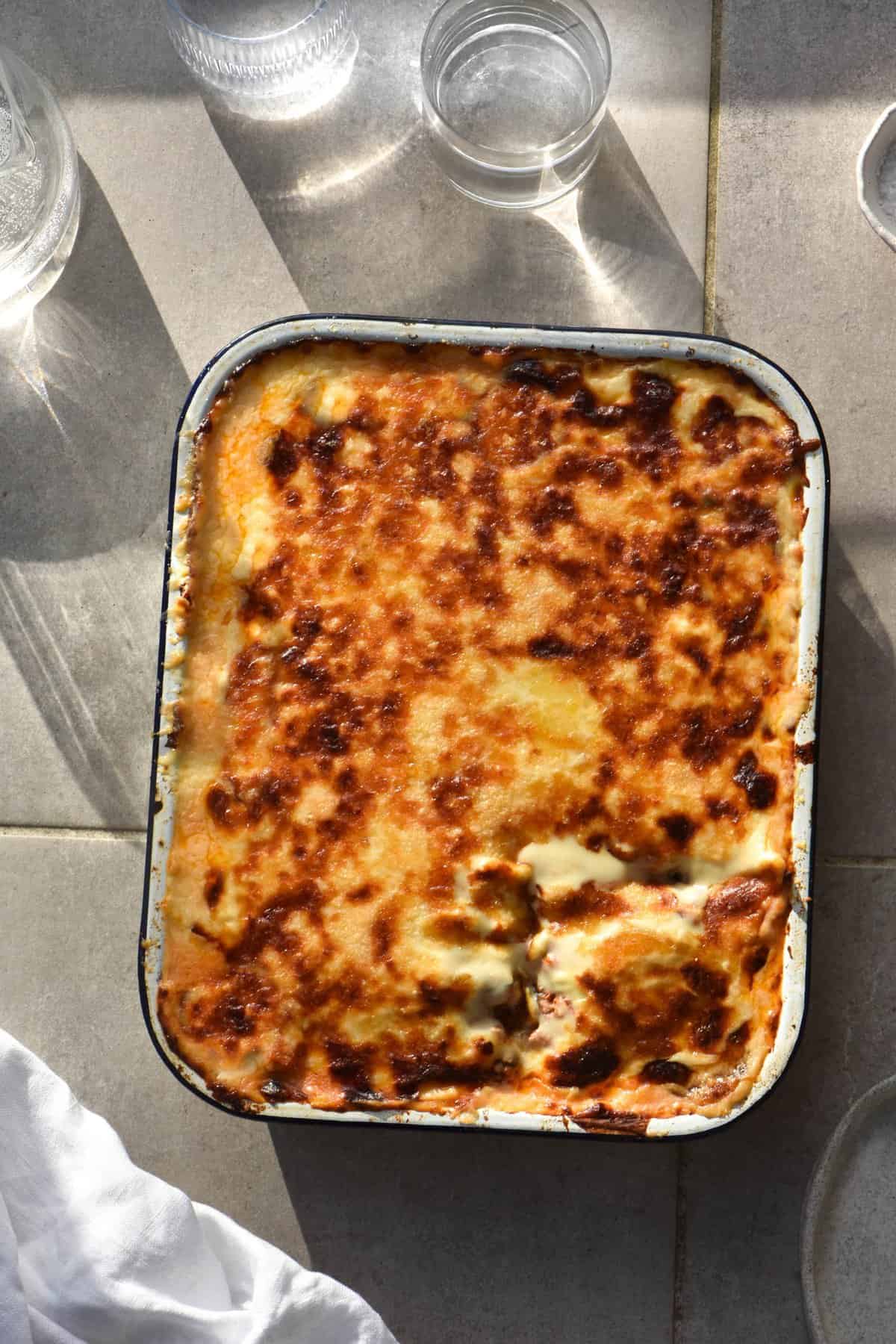 Gluten free, low FODMAP pizzas
These pizzas are a combination of my gluten free pizza bases (sourdough or regular) and my low FODMAP pizza sauce. The FODMAP contents of popular pizza toppings are all listed, so you can make the perfect pizza for you.
Low FODMAP pizza
Everything you need to make the perfect low FODMAP, gluten free pizza.
Check out this recipe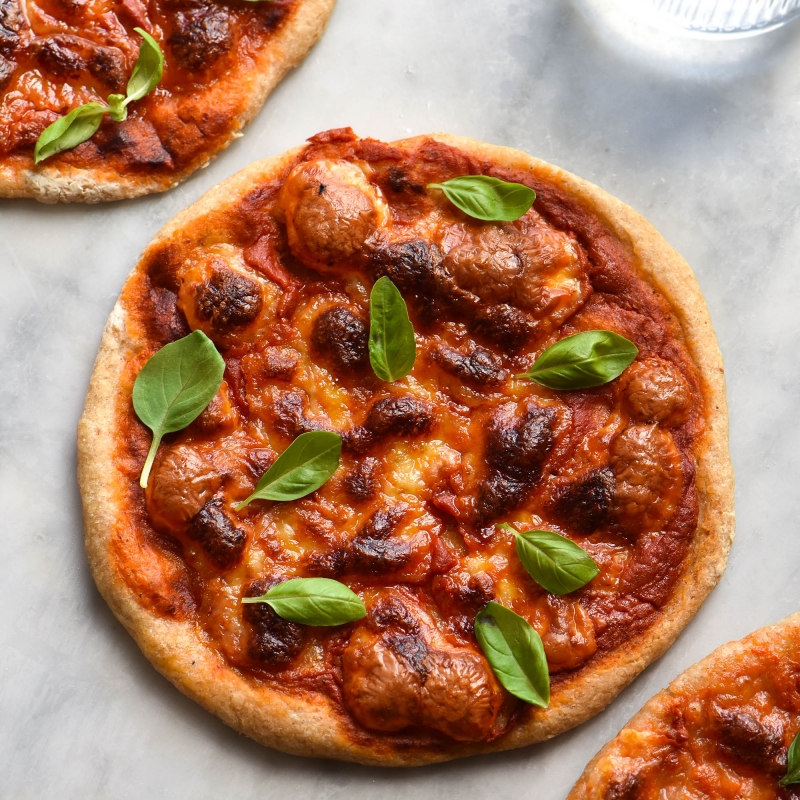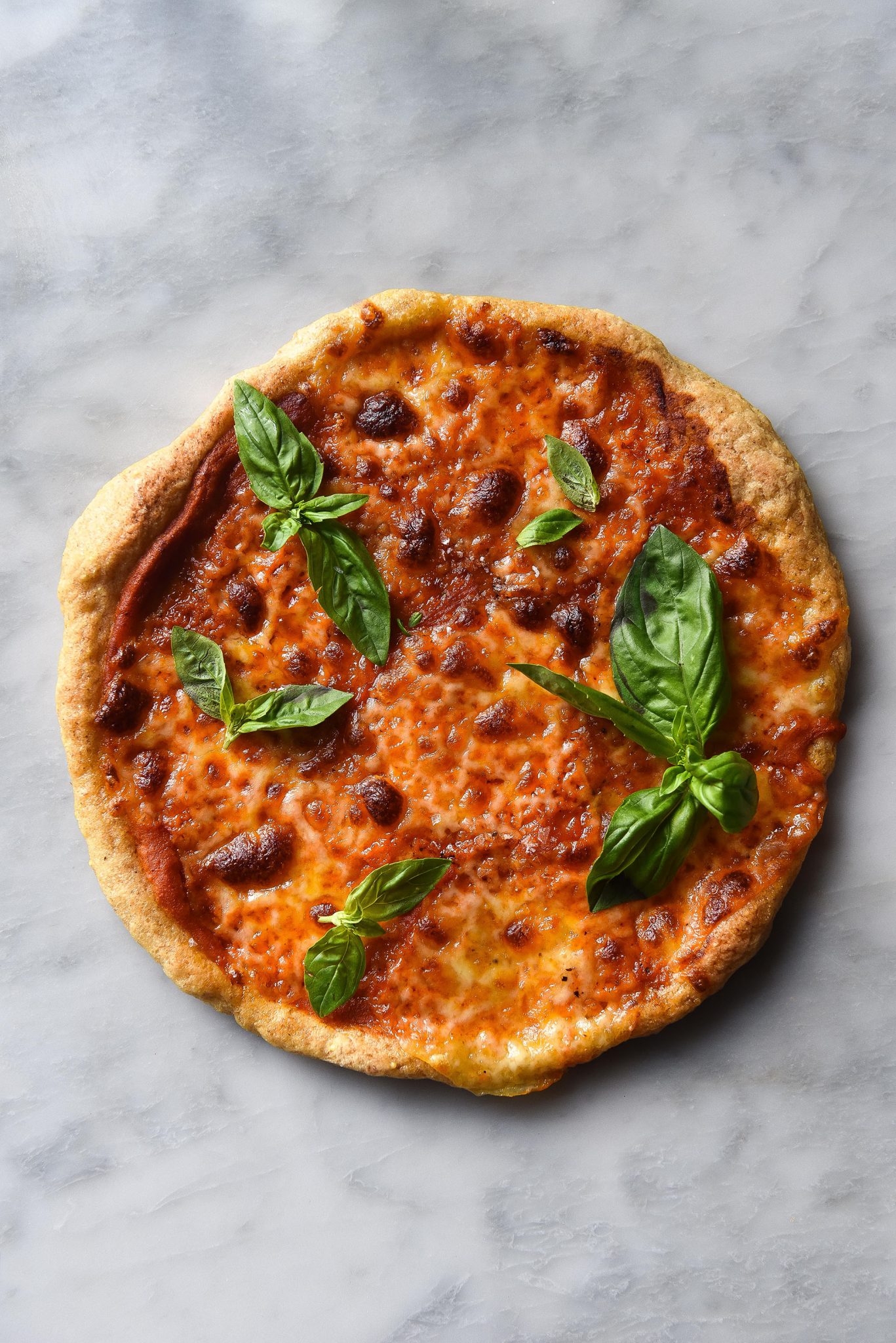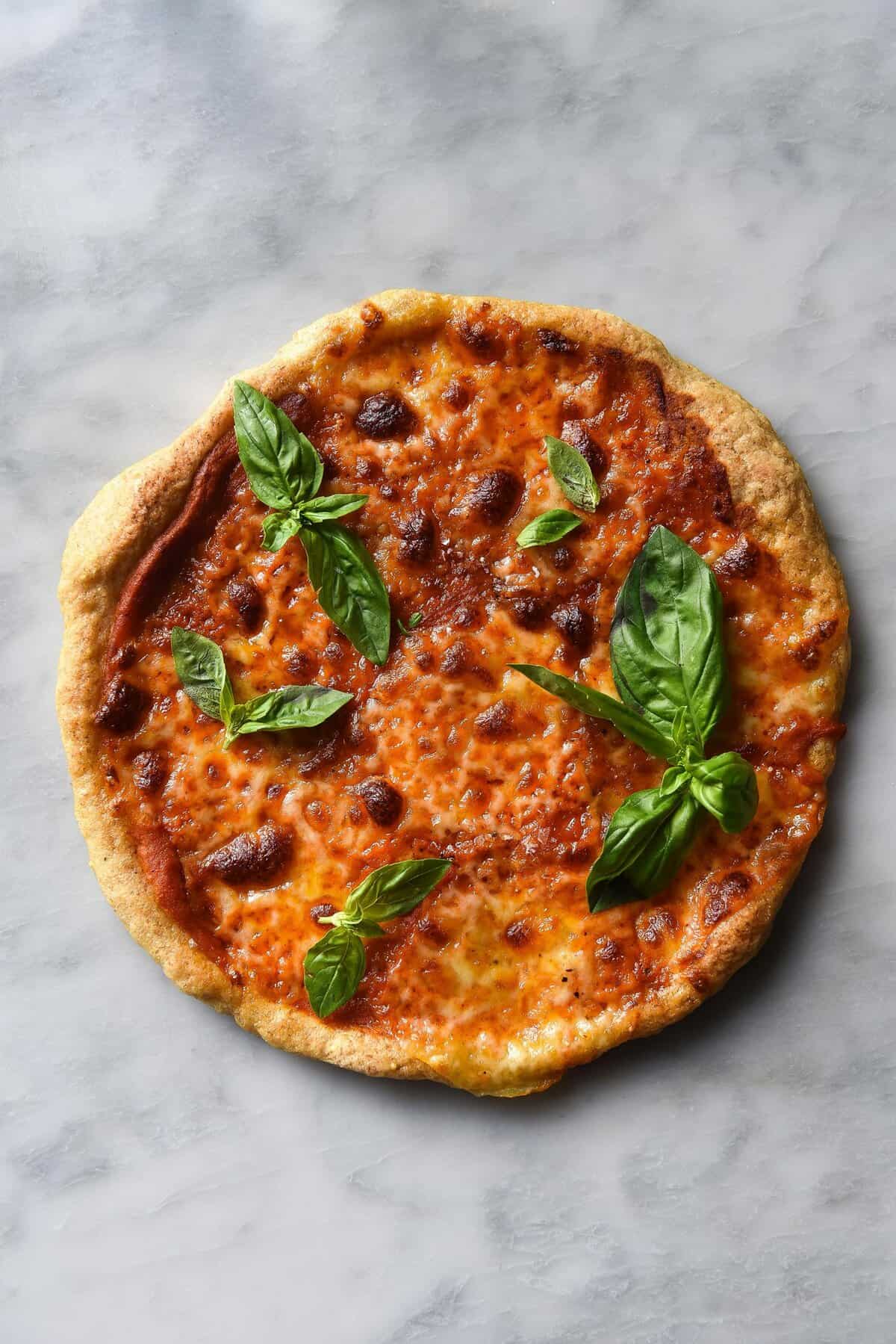 Gluten free cheesy naan
This easy gluten free flatbread dough is stuffed with seasoned mozzarella and coriander for a perfectly cheesy and fragrant bite. Top them with some garlic infused ghee and you're in low FODMAP heaven.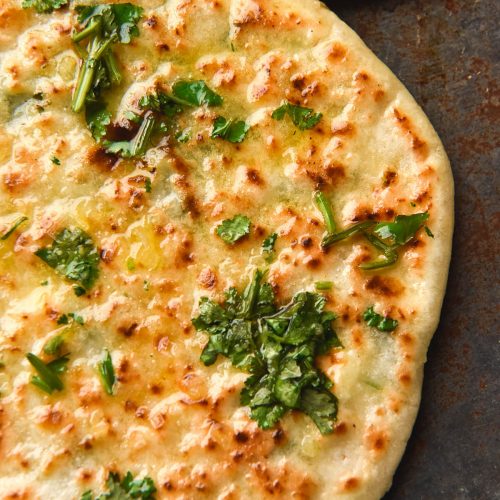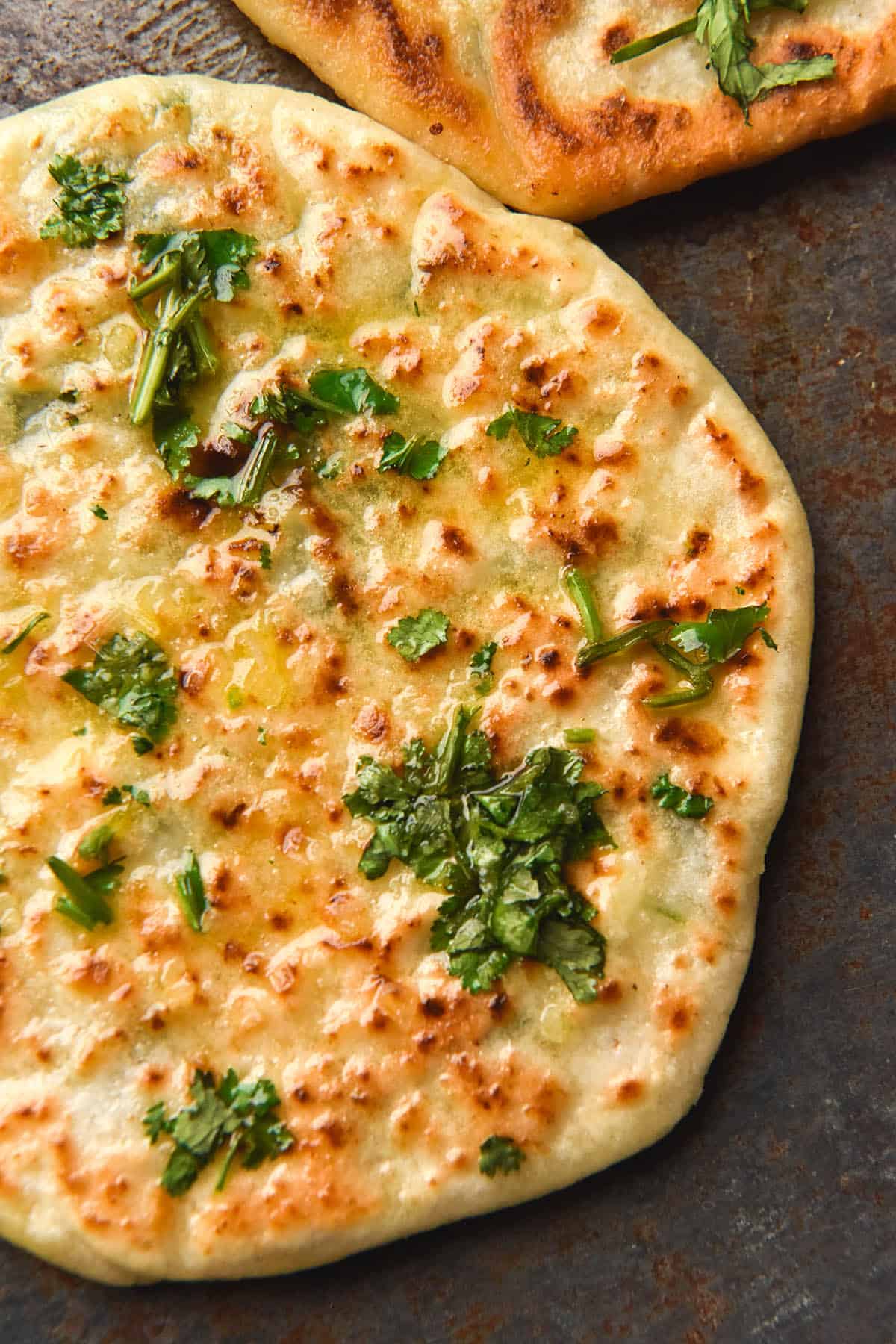 Low FODMAP vegetarian lasagne
This lasagne is gluten free and jam packed with all the good stuff. My favourite low FODMAP vegan mince, plenty of roasted vegetables and a creamy bechamel. Finish it off some melty mozzarella for the ultimate comfort food dish.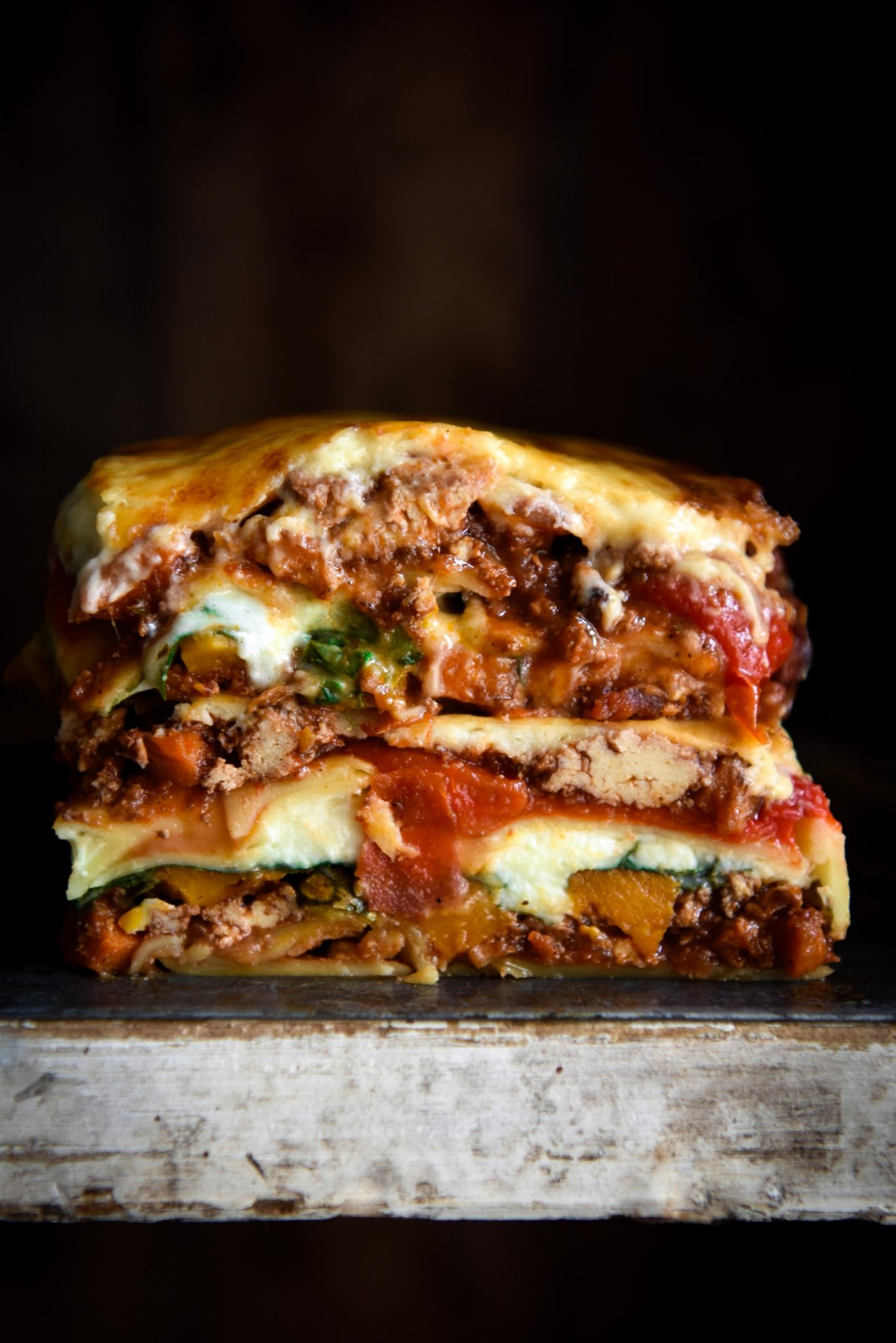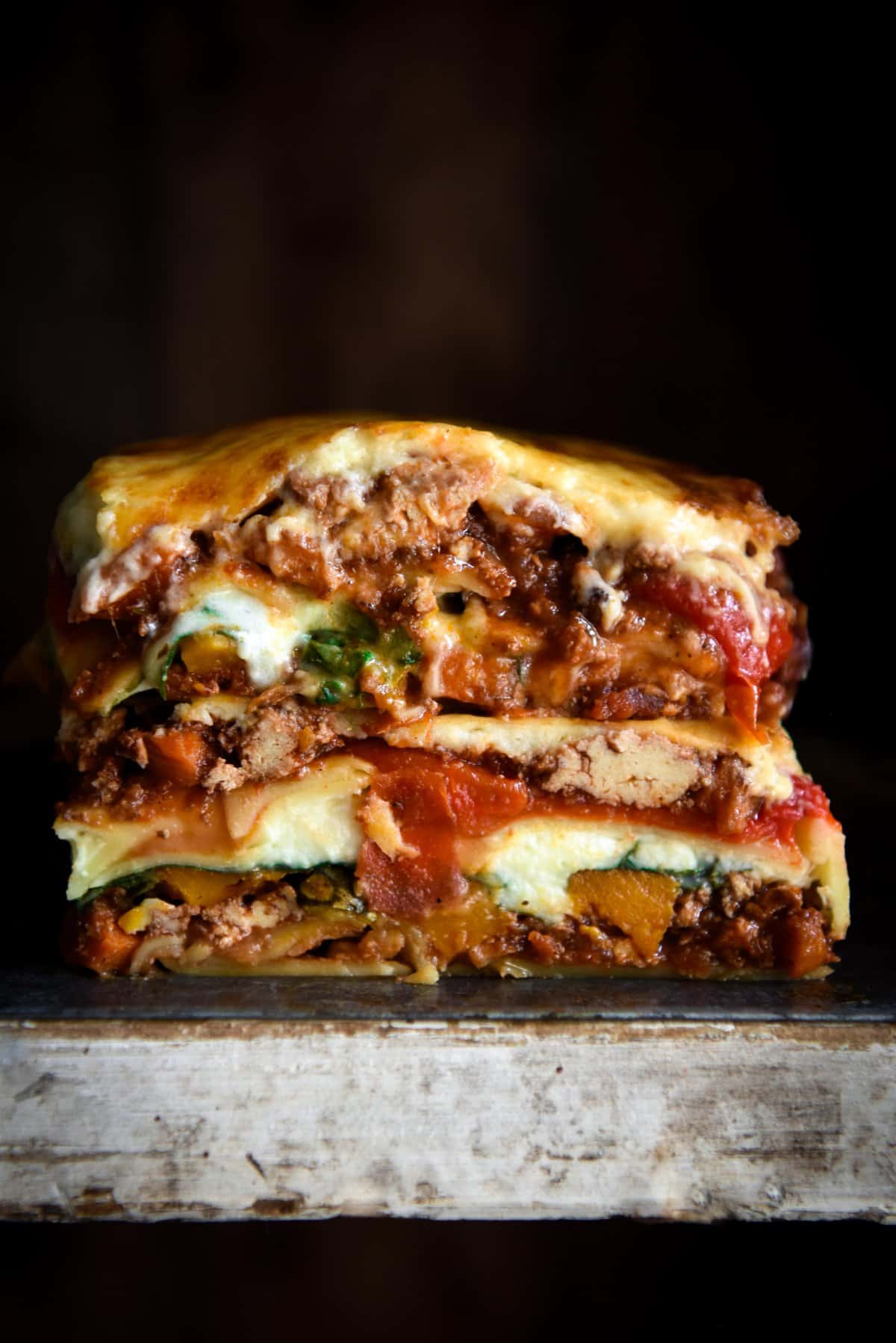 Vegetarian, low FODMAP 'sausage' and 'caramelised onion' pizzas
This low FODMAP vegan 'sausage' pizza with 'caramelised onion' (made from fennel) is a recipe from my cookbook, Intolerance Friendly Kitchen. It is absolutely perfect with smoked mozzarella, which meats the pizza taste delightfully meaty (and pairs perfectly with the sweetness of the 'onion').