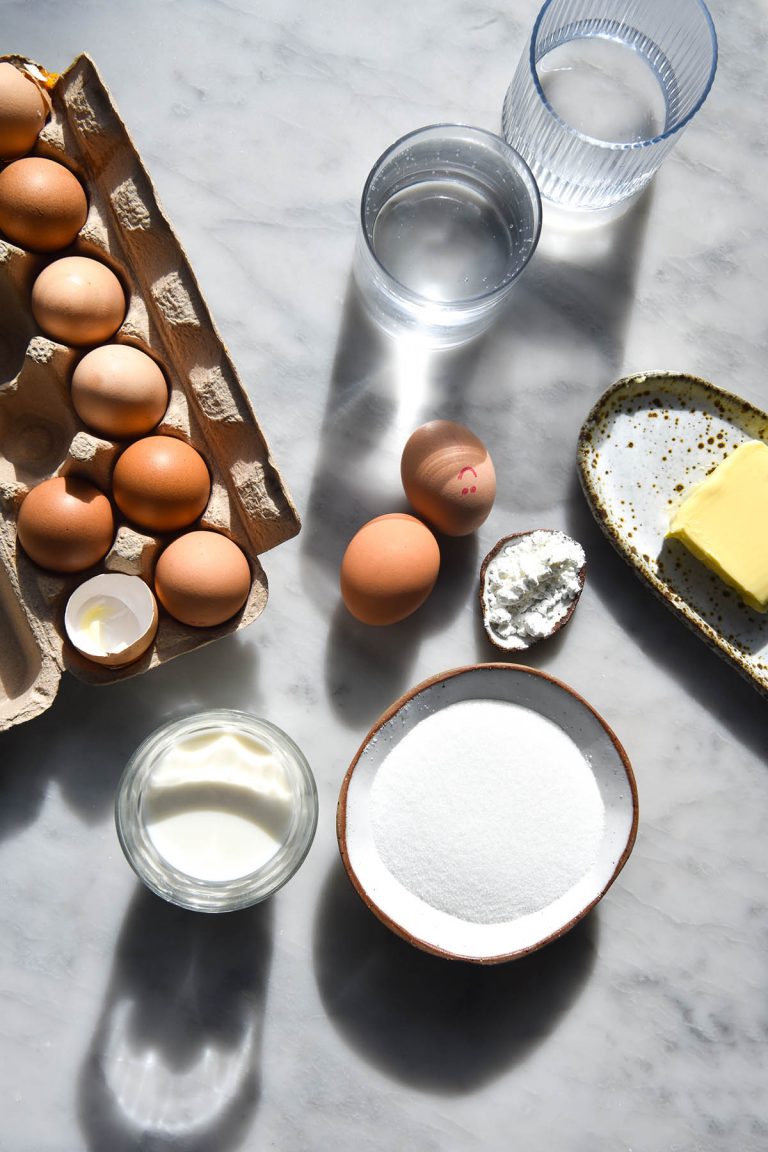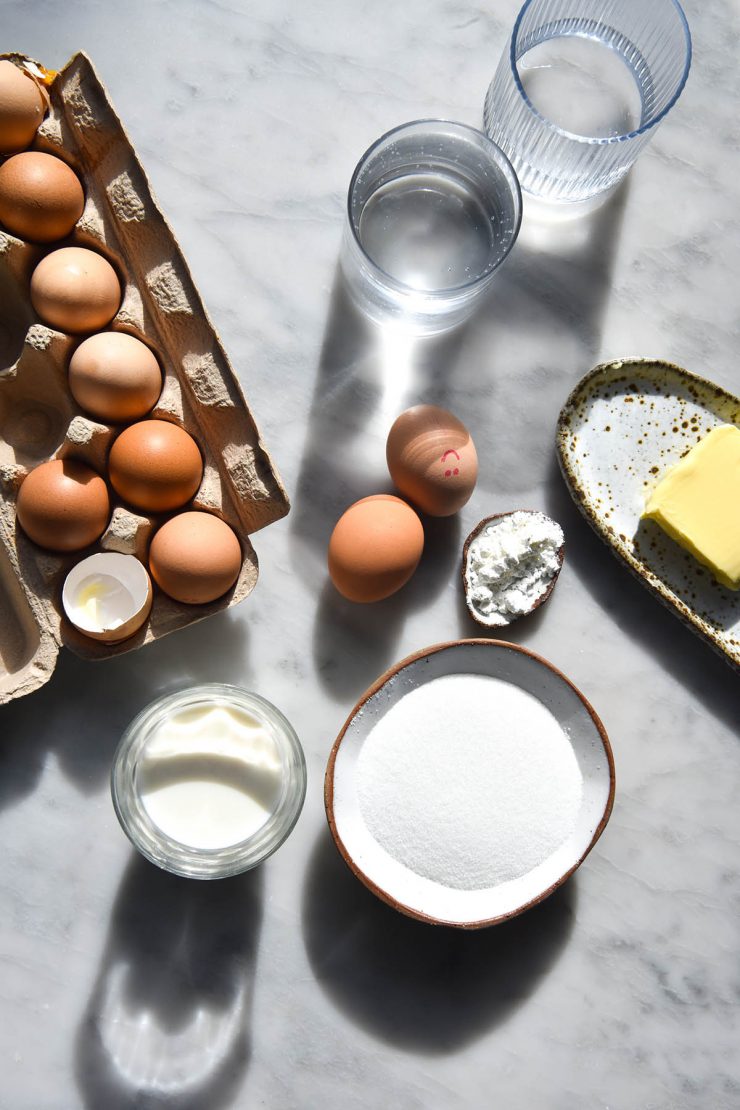 As a low FODMAP (fussy) pescatarian, I need every low FODMAP protein source I can get. Which is why we're asking the question: are eggs low FODMAP?
Are eggs low FODMAP?
Excellent news! Eggs are a FODMAP free food. Because they don't contain carbohydrates, they do not contain FODMAPs. This makes them an excellent protein choice for anyone on the low FODMAP diet.
That said, eggs can often be prepared with high FODMAP ingredients such an onion or garlic. To ensure eggs are FODMAP free, any dish they contain should also use low FODMAP ingredients.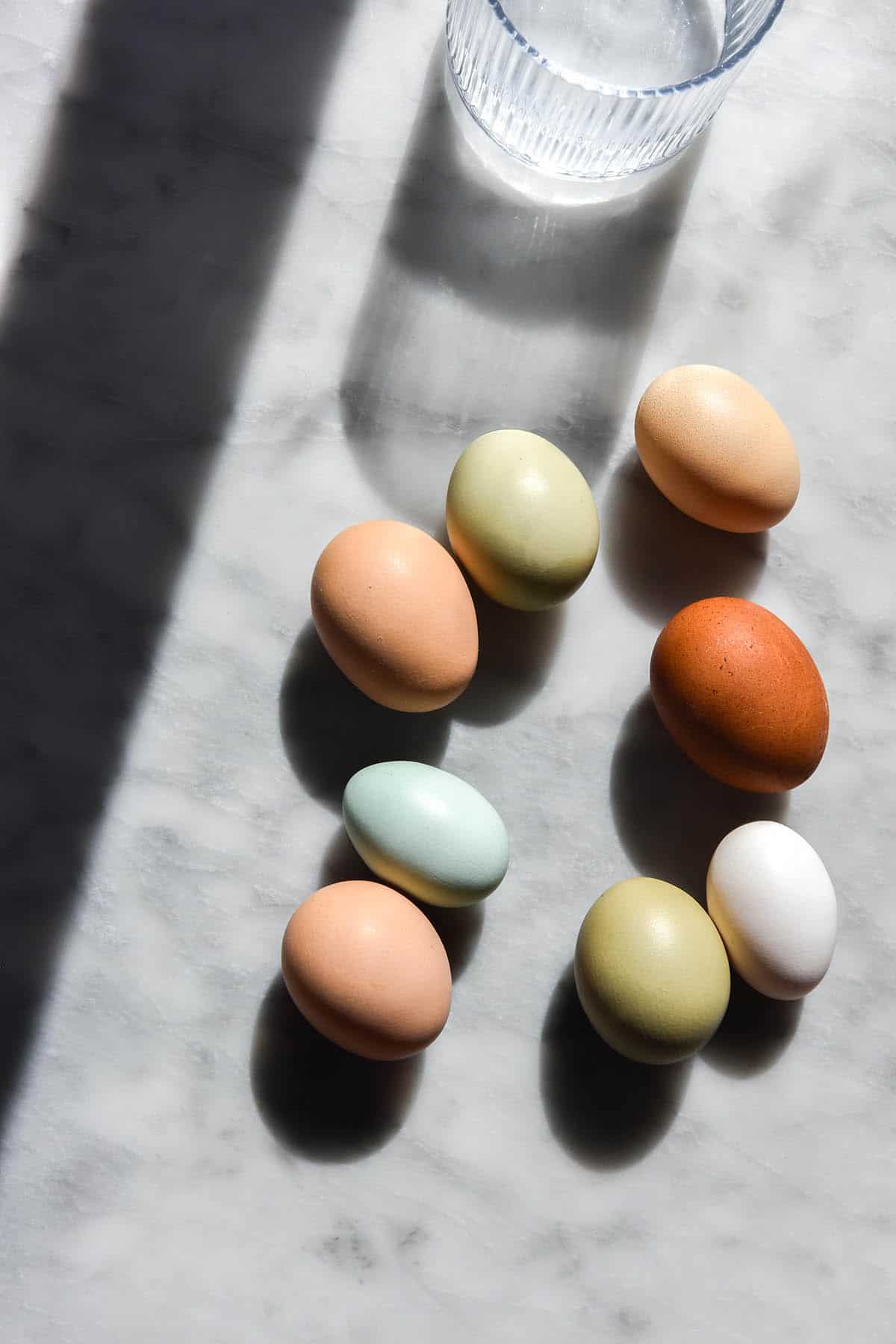 Are eggs vegetarian?
Vegetarian foods are defined as those that do not contain animal flesh. Under this definition, eggs are considered vegetarian. However, this is really up to the individual to decide.
I am a very fussy pescatarian who is mostly vegetarian. Before I included fish in my diet, I still ate eggs. This is my own personal decision, and yours might be different. I have a roundup of 50+ vegan low FODMAP recipes on my site, as well as 80+ low FODMAP vegetarian recipes (many of which are egg free).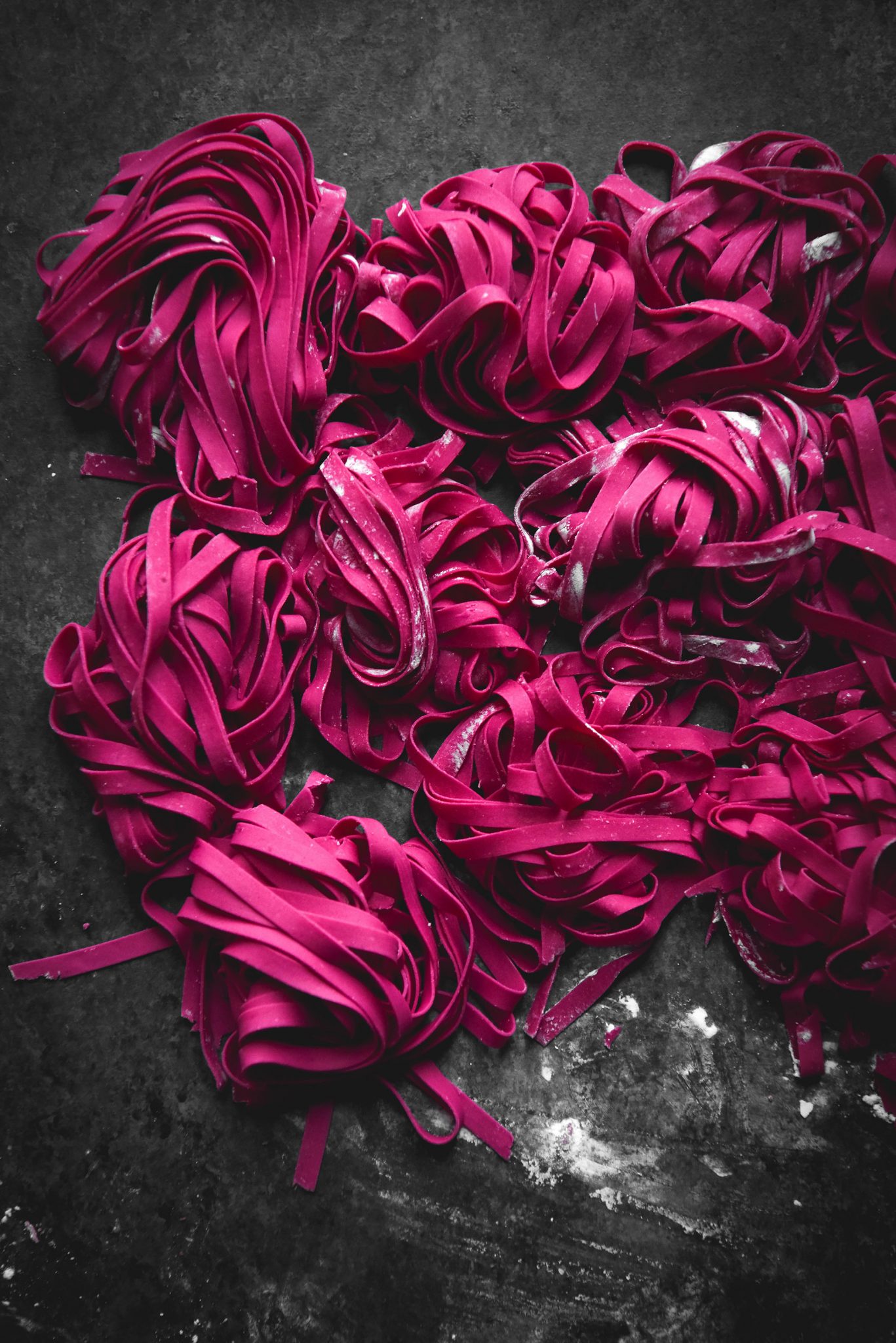 Low FODMAP recipes that use eggs
The following is a list of my favourite low FODMAP egg recipes on my website and in my book. They are all gluten free and vegetarian (if your own personal definition of vegetarian includes eggs). I have grouped the recipes into both sweet and savoury, because there are too many to choose from!
Savoury low FODMAP egg recipes
Gluten free egg noodles
This is one of my favourite recipes from my cookbook, Intolerance Friendly Kitchen. These egg noodles are so delicious with a simple coating of tamari and toasted sesame oil. They are also very good in my low FODMAP chilli oil noodle recipe, too.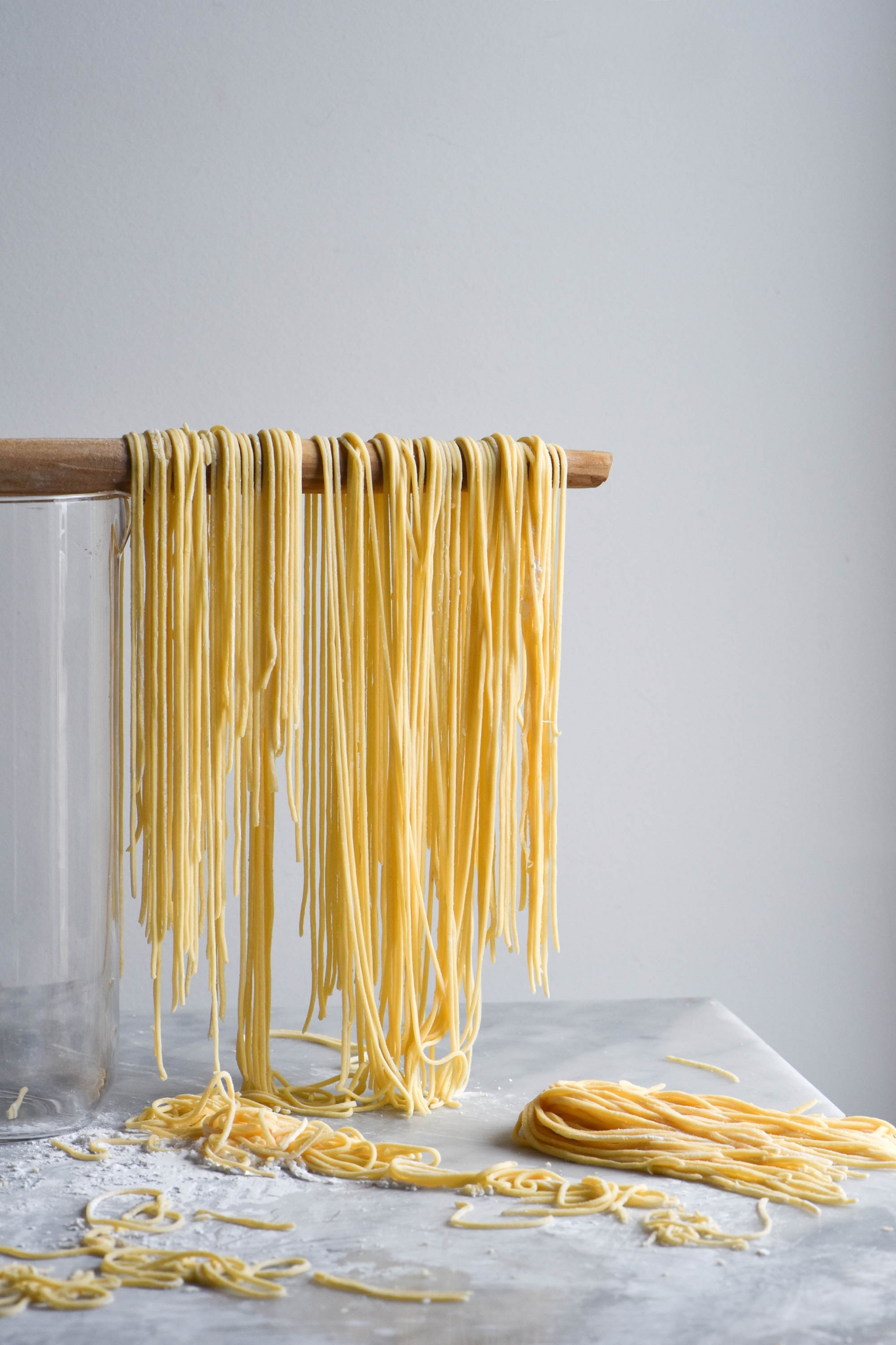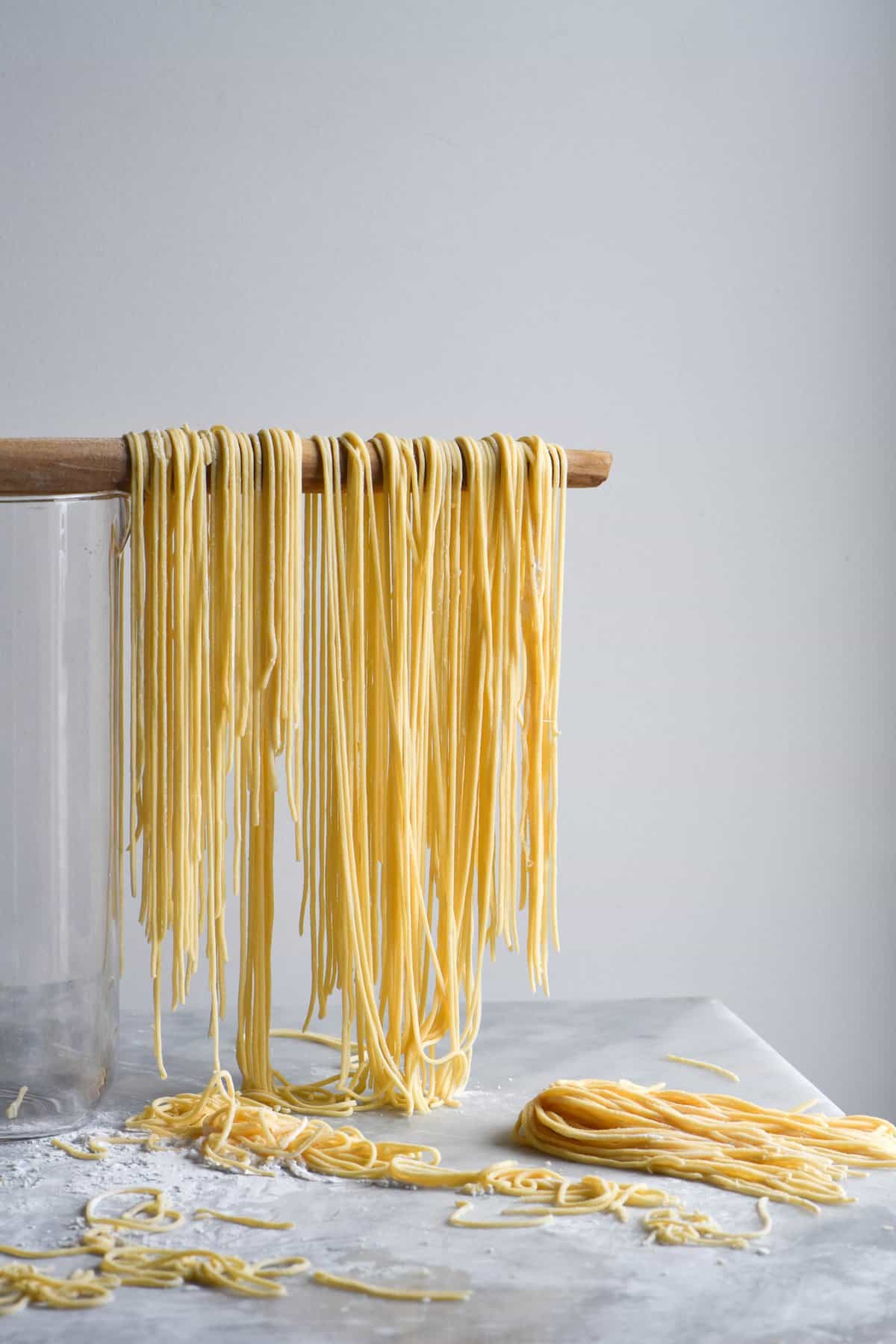 Low FODMAP gluten free potato gnocchi
This gluten free gnocchi uses an incredibly simple mix of potatoes, eggs, rice flour and tapioca flour. It freezes well and makes lots of gnocchi, so you'll have freezer meals for weeks to come.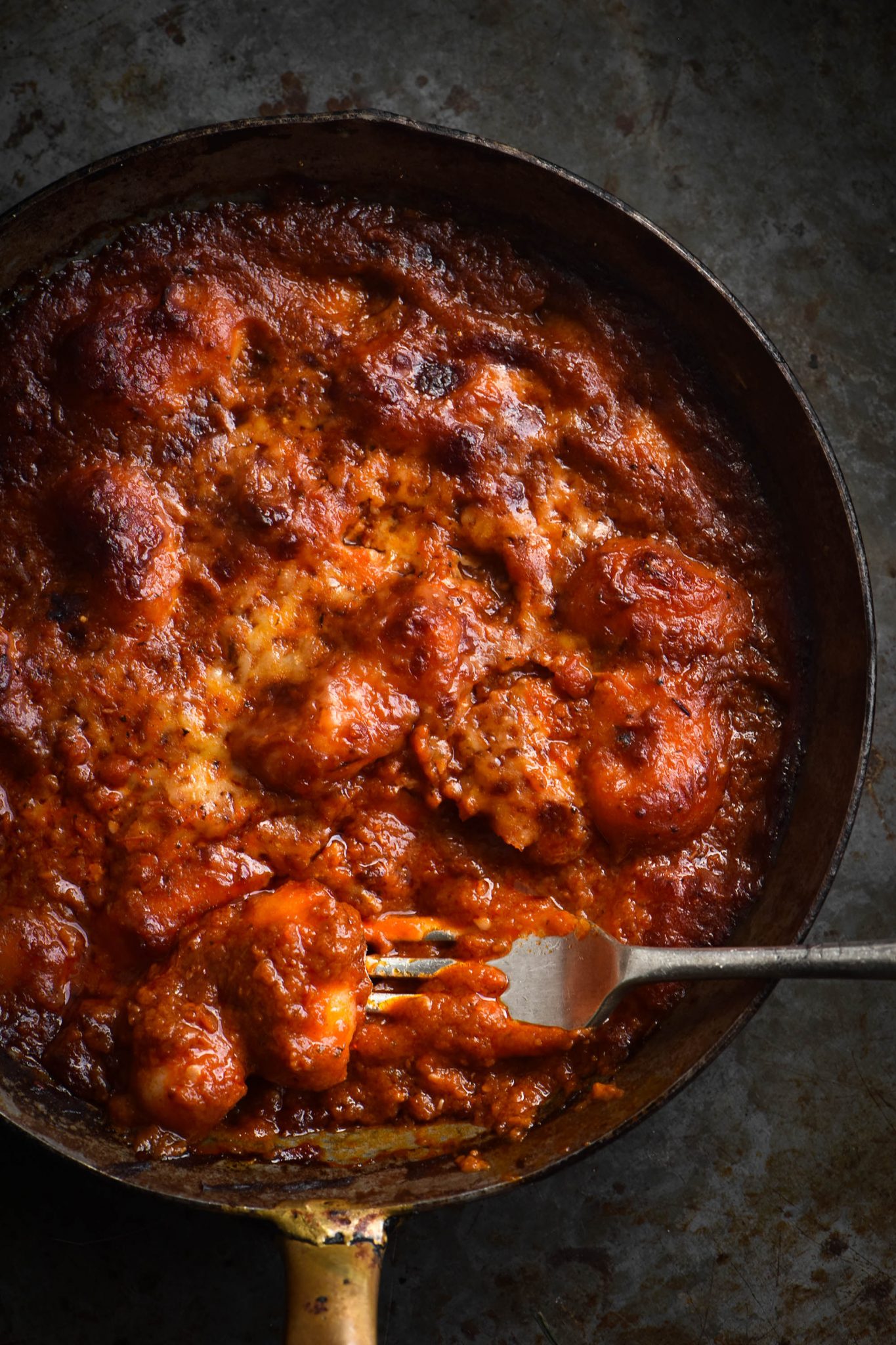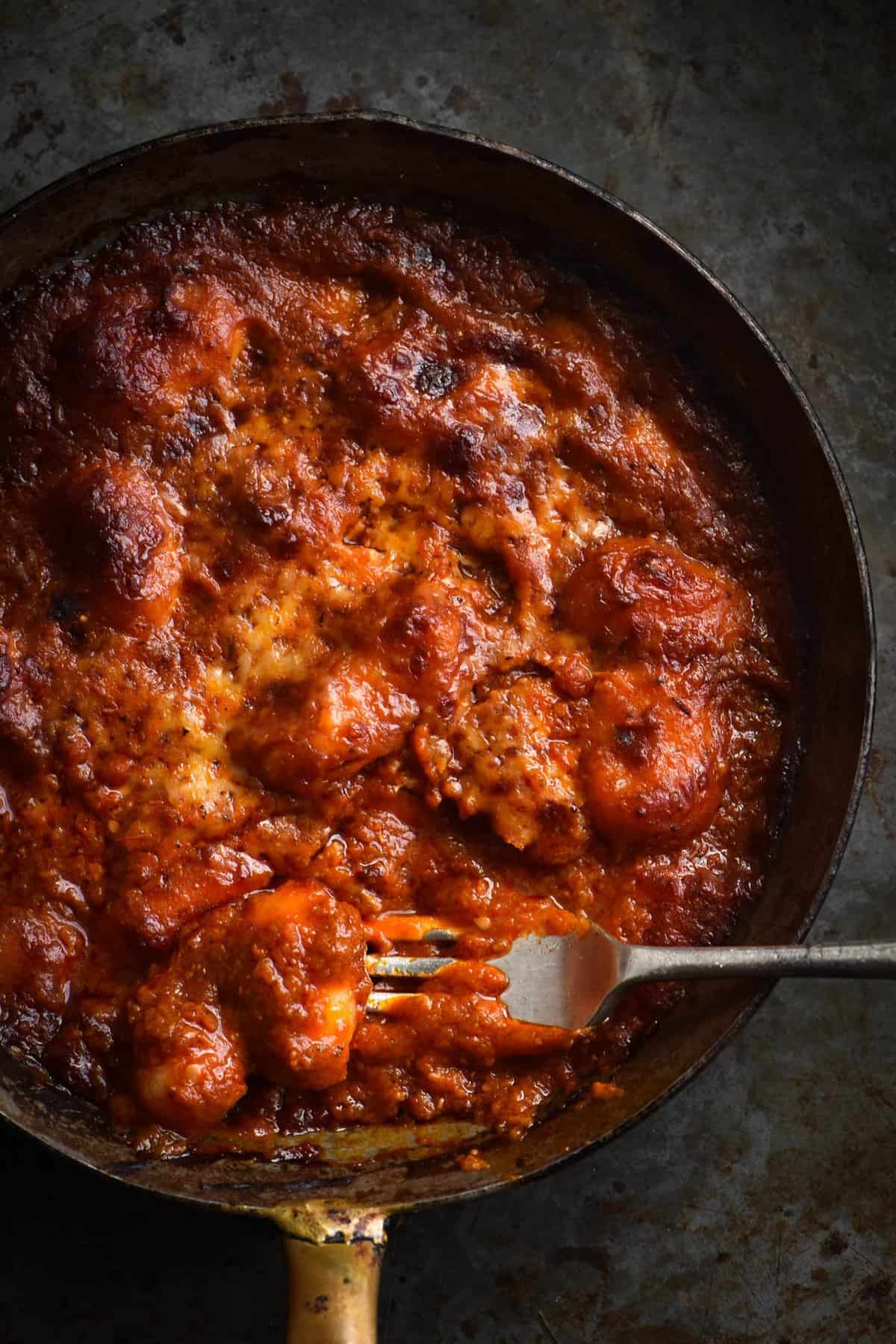 Gluten free corn fritters
Would you believe that corn has a low FODMAP threshold?! It does, and we're making good use of that in these corn fritters. Although there's a grain free option, use the buckwheat option for a lower FODMAP fritter.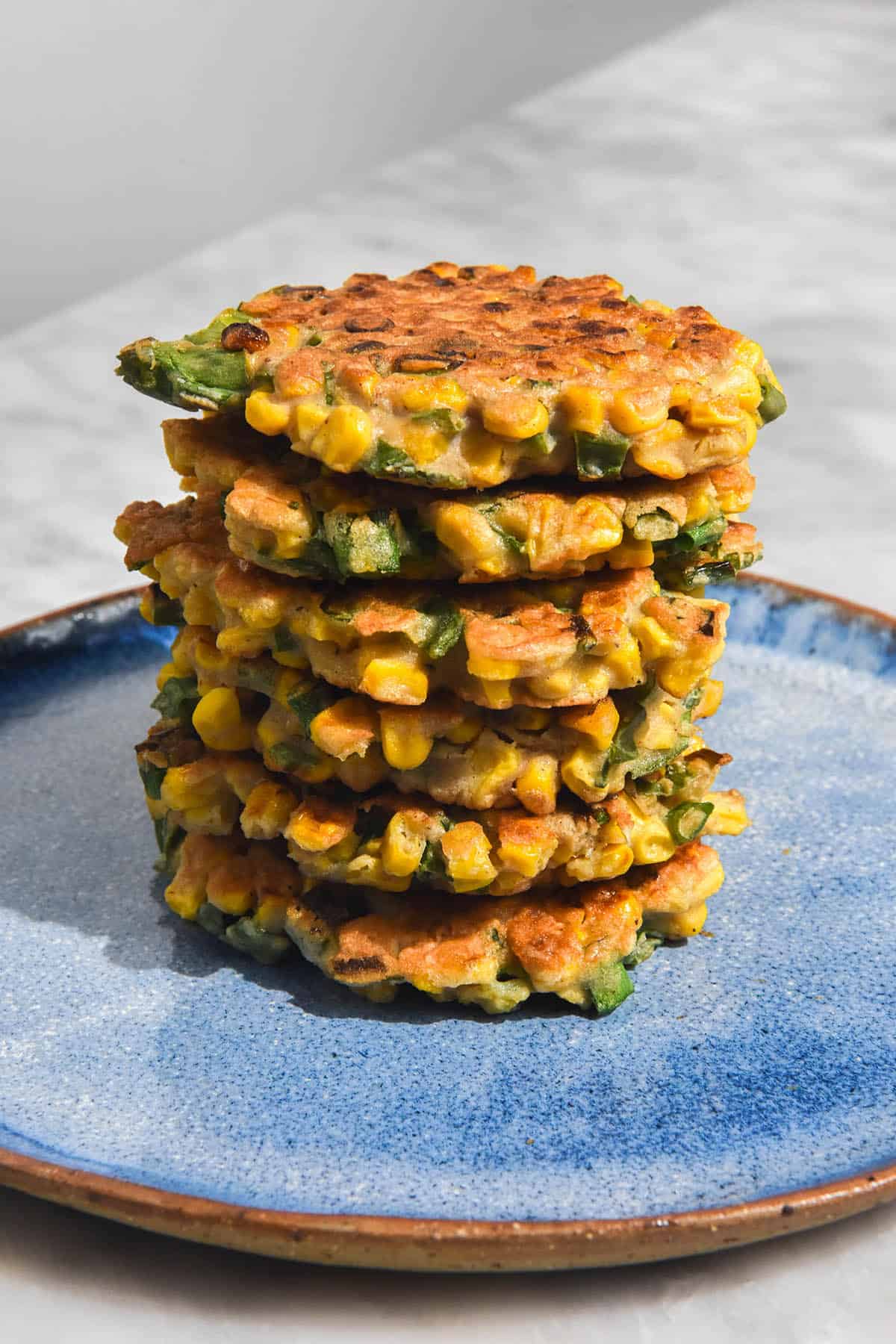 Low FODMAP vegetarian Caesar salad
This Caesar salad is a little different in that it uses salt and pepper tofu instead of croutons. It has a delicious low FODMAP caesar dressing and is perfection with a few jammy eggs.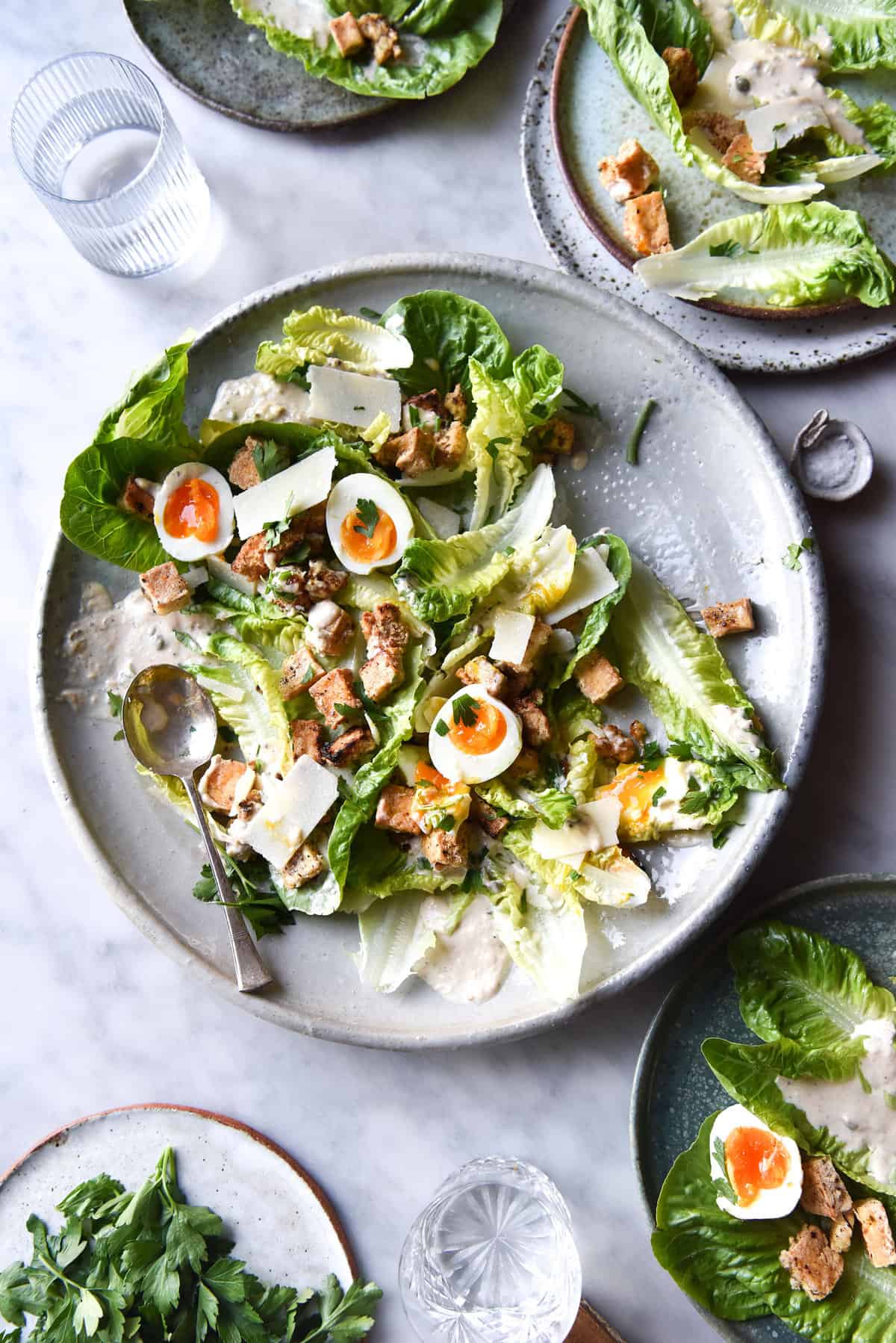 Low FODMAP Pad Thai
I love Pad Thai SO MUCH that I make this low FODMAP version weekly. It's vegetarian and uses eggs for protein and to bind everything together.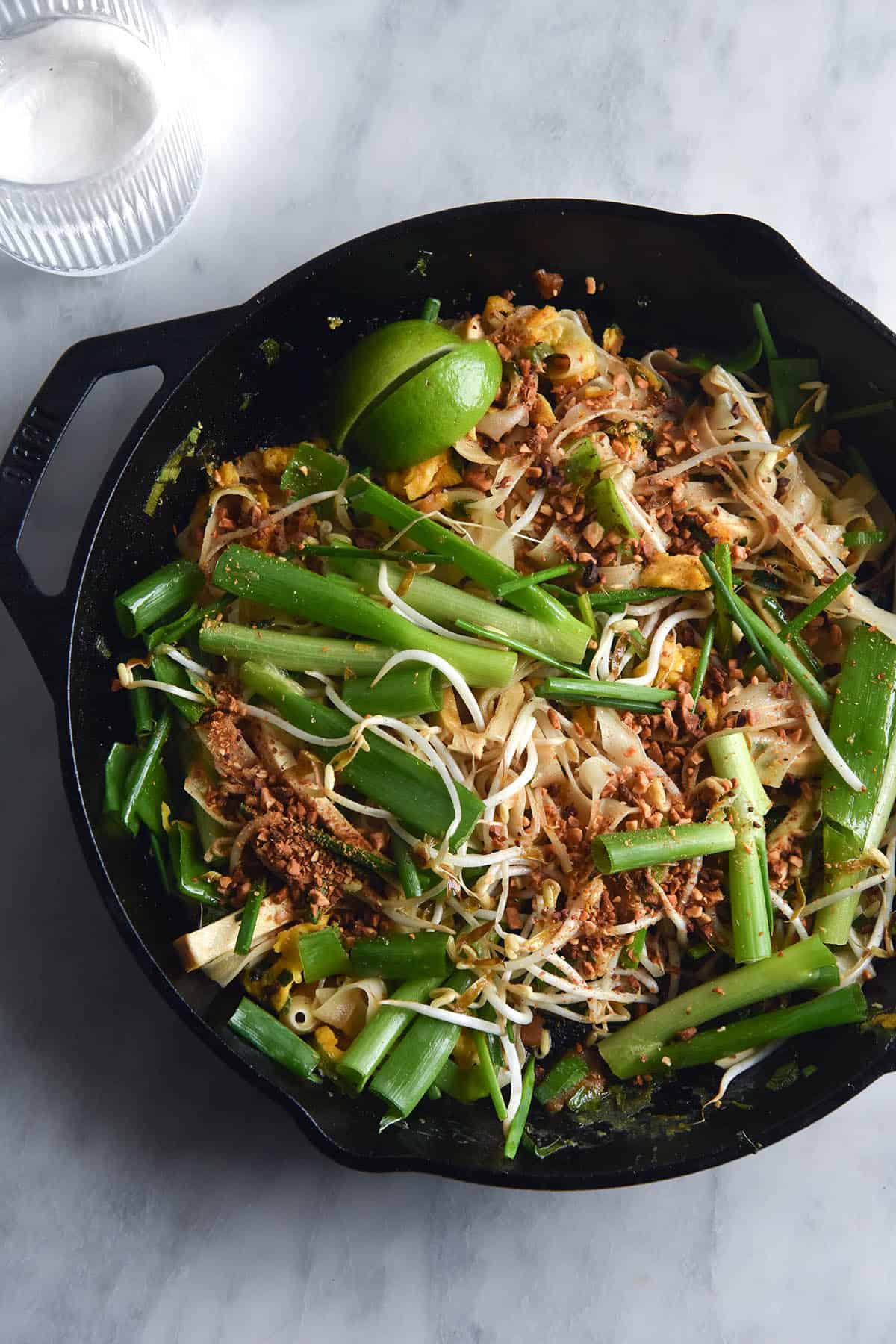 Gluten free yeasted flatbread
This yeasted flatbread is flexible, fluffy and delicious, all without xanthan gum. It's the perfect accompaniment to a low FODMAP vegetarian curry.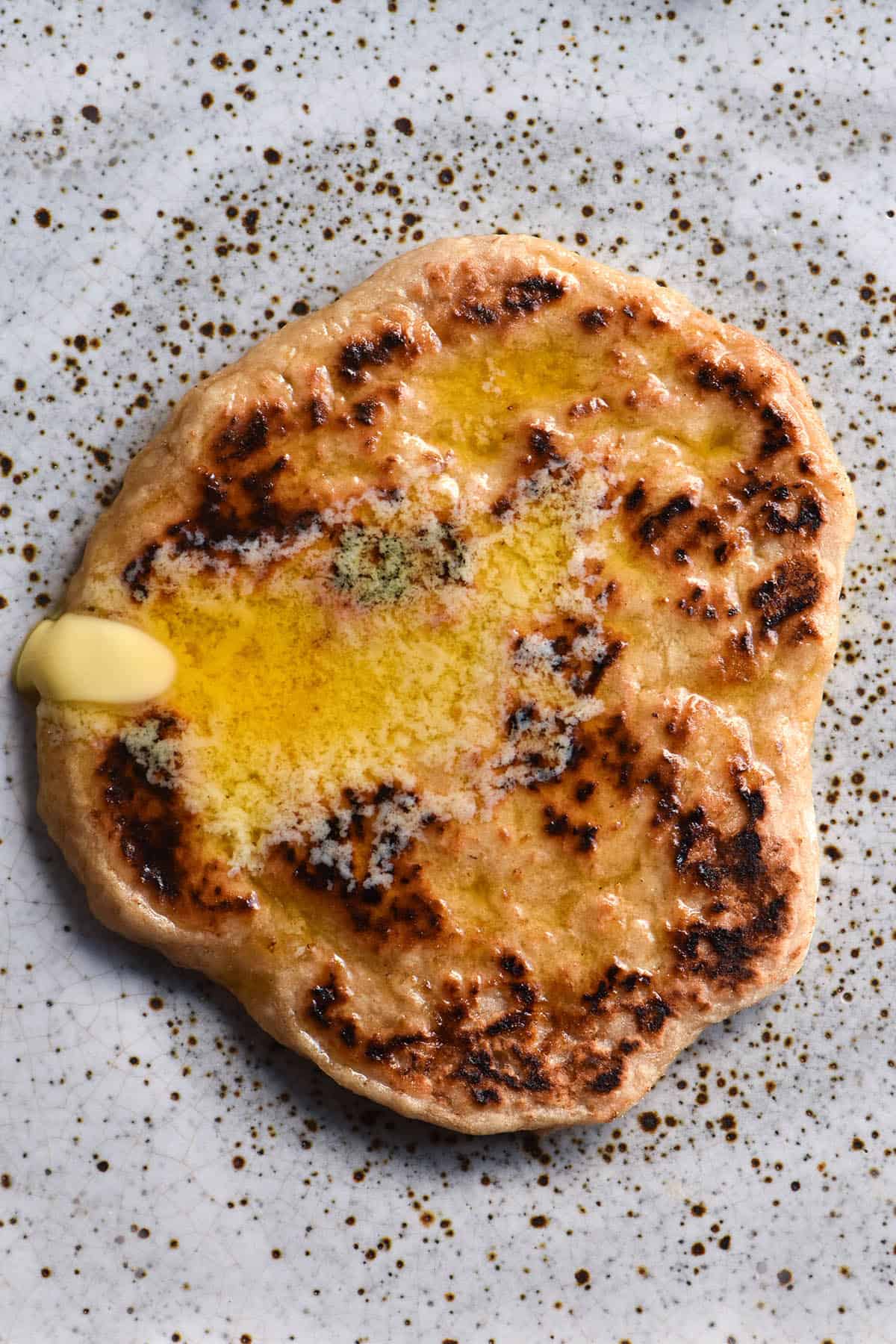 Low FODMAP spanakopita pie
This delicious low FODMAP spanakopita pie is both gluten free and vegetarian. It uses an easy homemade gluten free yoghurt pastry and a spinach feta filling that is full of flavour.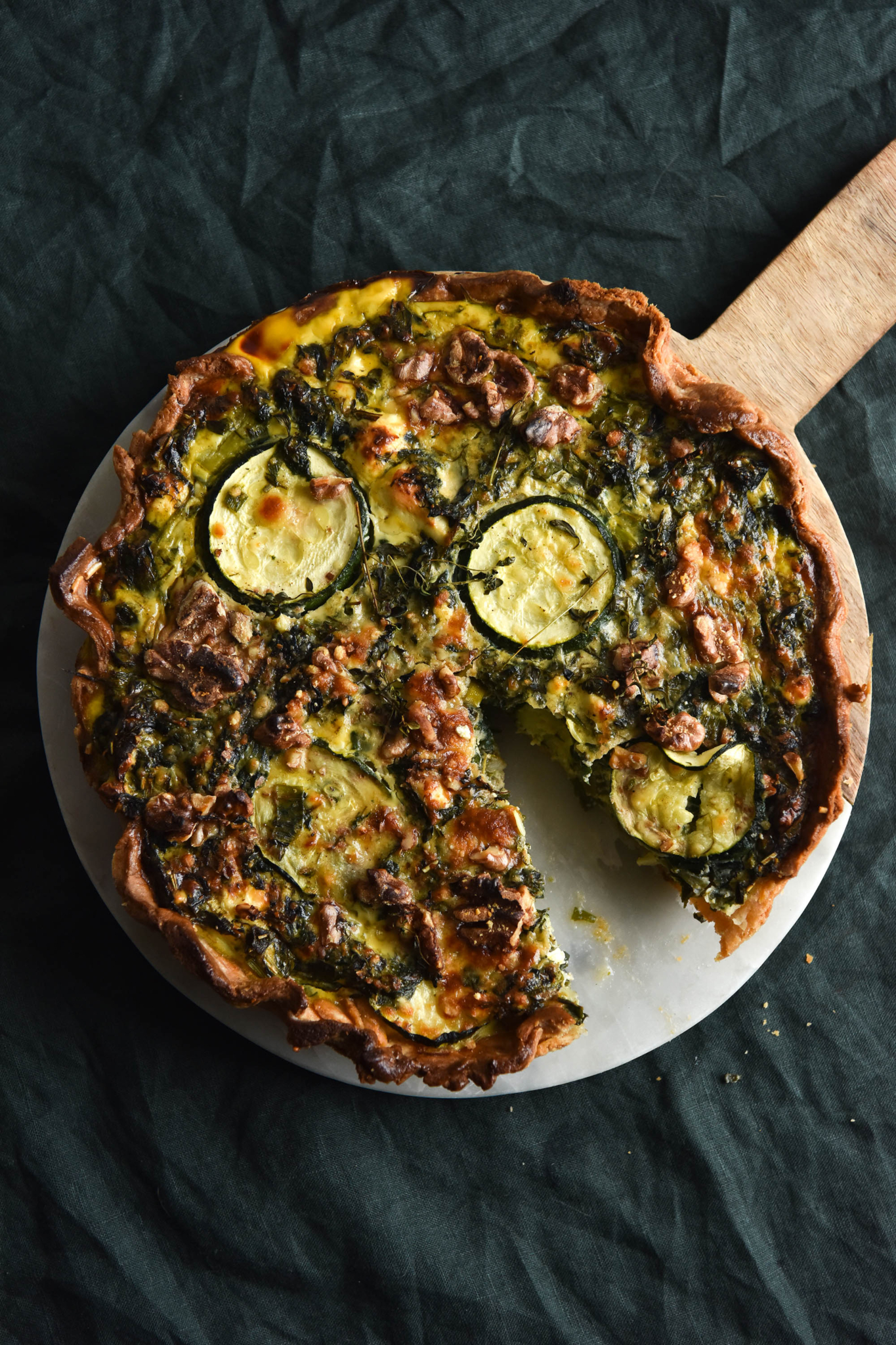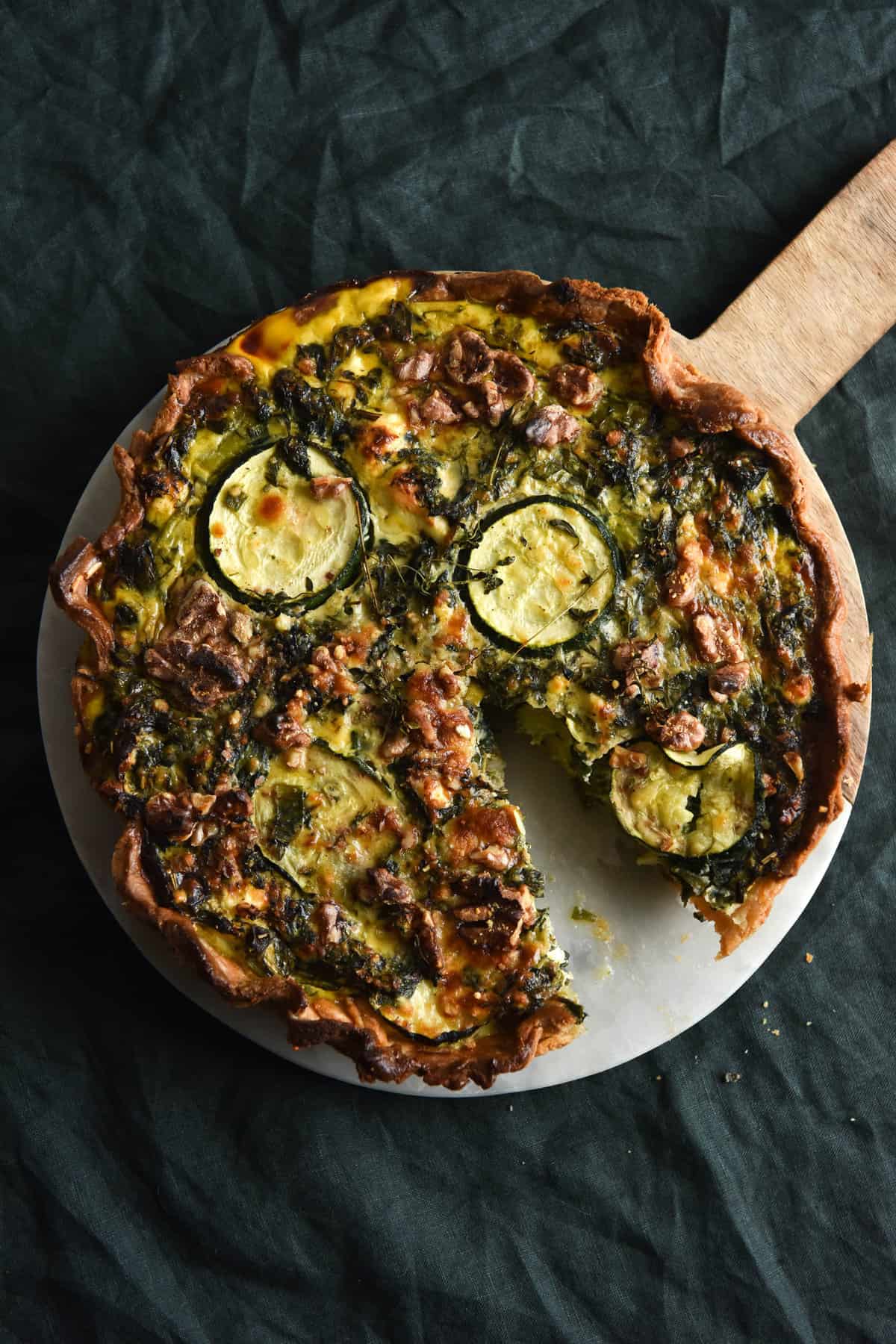 Gluten free, low FODMAP vegetarian sausage rolls
These gluten free sausage rolls are low FODMAP and vegetarian. You can use any gluten free pastry you like (or not, if you don't need them to be gluten free). Personally, I like using the gluten free puff pastry from Intolerance Friendly Kitchen.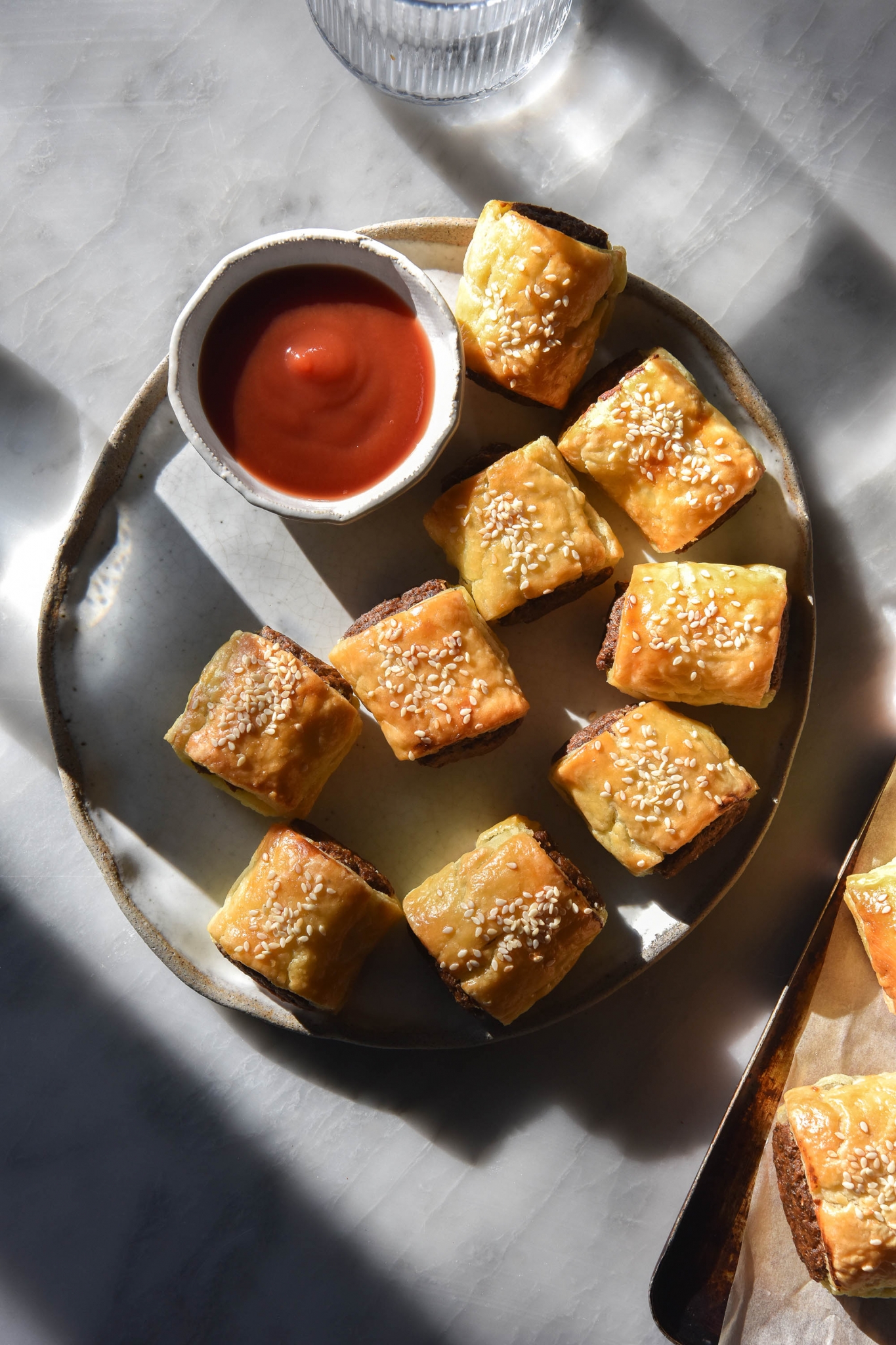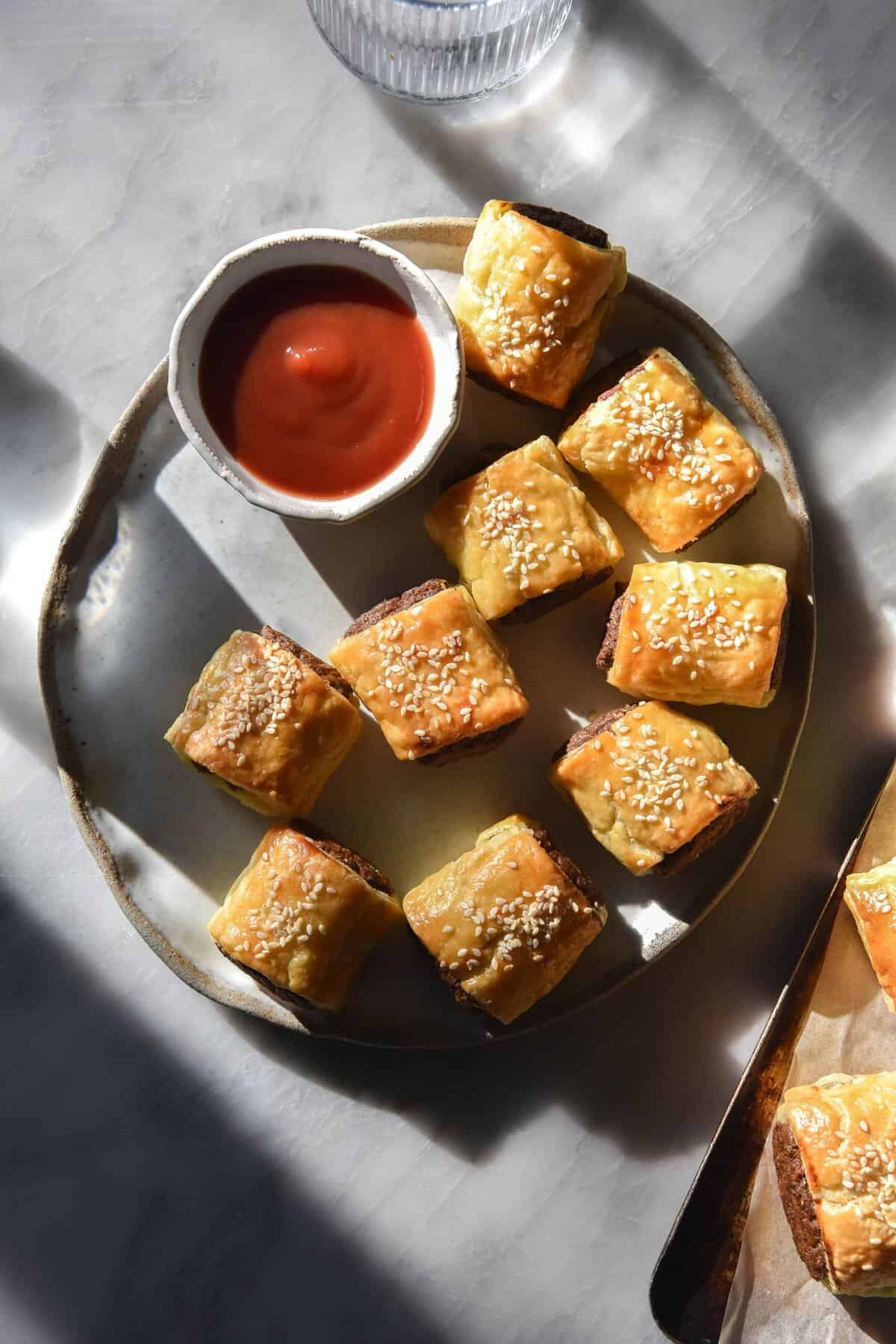 Sweet low FODMAP recipes that use eggs
Dairy free lemon curd
This dairy free lemon curd is my absolute go-to for all things curd. I actually prefer this version to curd using butter! You can use it for lemon or lime curd, or even berry curds (recipe below).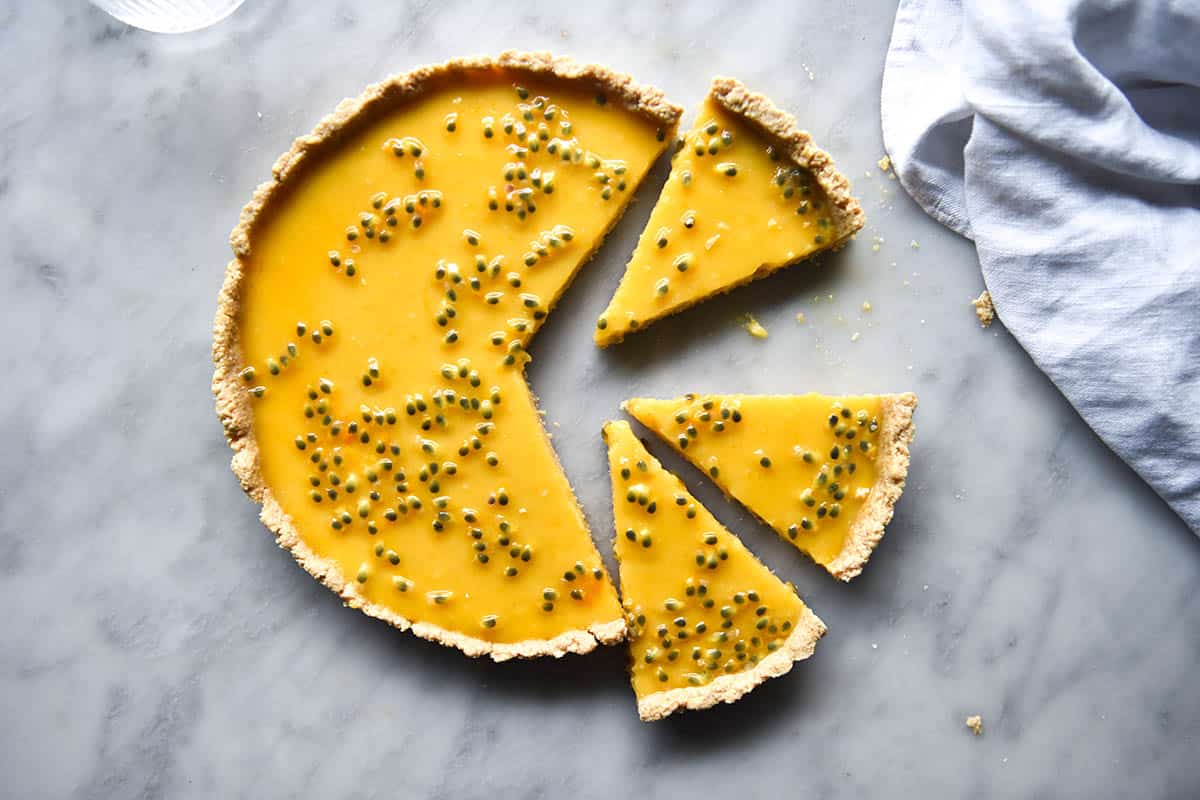 Gluten free olive oil cake
This gluten free olive oil cake is one of my favourite simple gluten free cakes. It is xanthan gum free and uses eggs for a moist and delicious crumb. Omit the optional pistachio topping for a low FODMAP choice.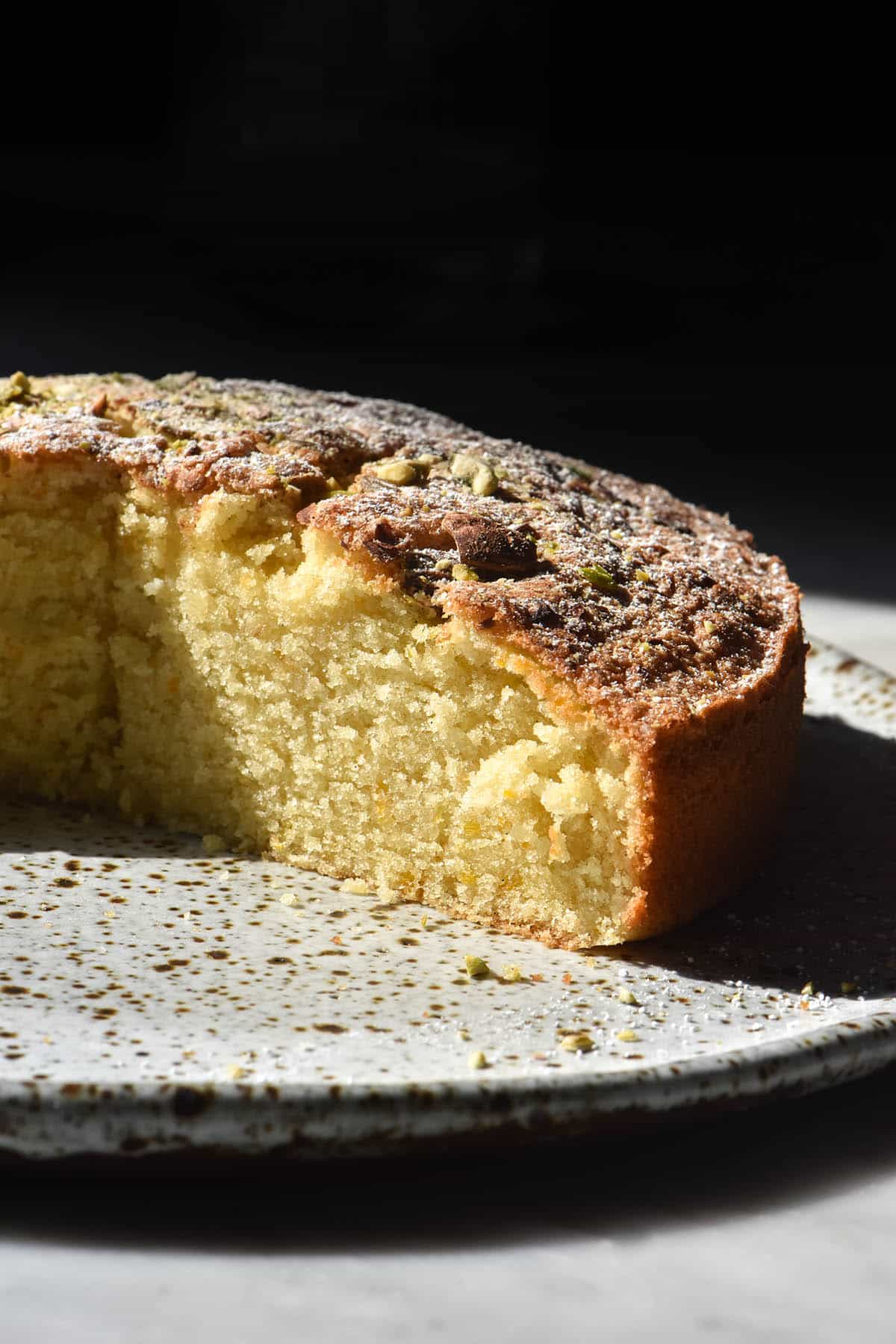 Low FODMAP, SIBO friendly protein mug cake
While on the SIBO diet, I got very into protein powder. It kept me full and was a sweet little treat I could enjoy, particularly in the early stages of the diet. This protein powder mug cake uses protein, banana, nut butter and an egg for a super filling protein treat that is ready in 5 minutes. I have developed a vegan version and a whey protein version, too.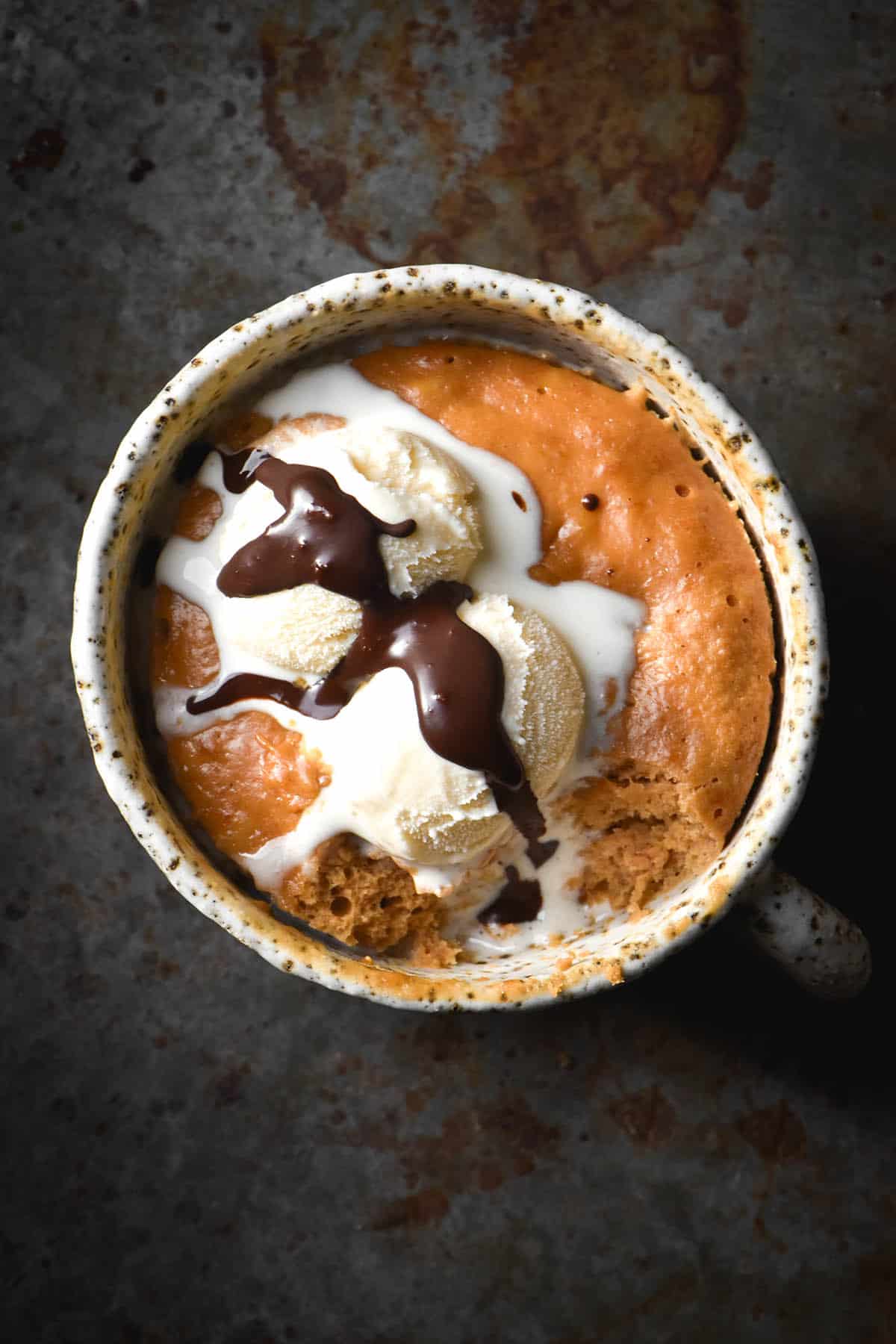 Banana protein pancakes
These banana protein pancakes are another easy SIBO friendly, low FODMAP recipe. They're filling and a bit of fun. I have also developed a vegan version.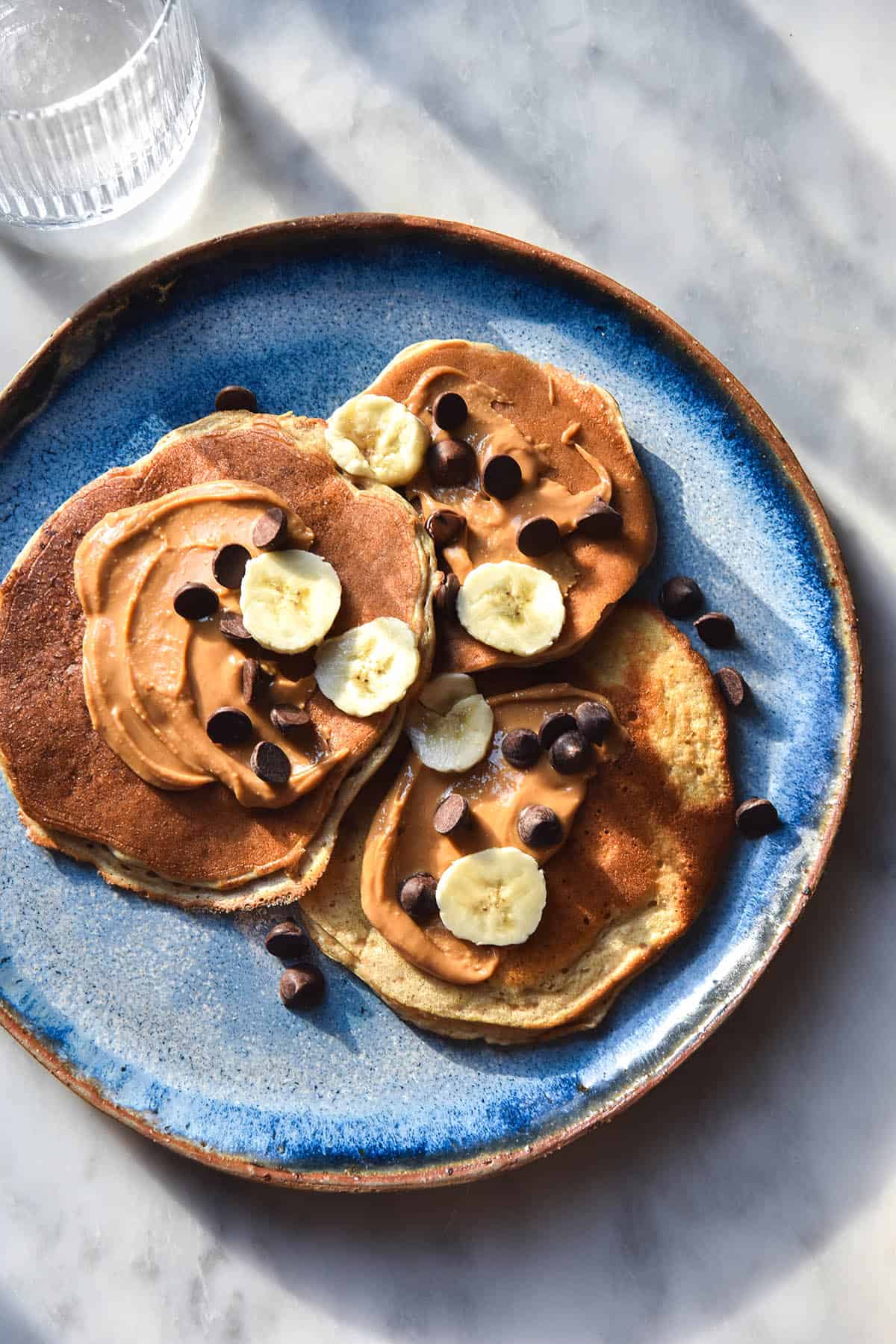 Gluten free cinnamon rolls
There is nothing better than a plush and delicious cinnamon roll. These babies are xanthan gum free and nut free, and can be topped with a vegan icing or a thick cream cheese icing.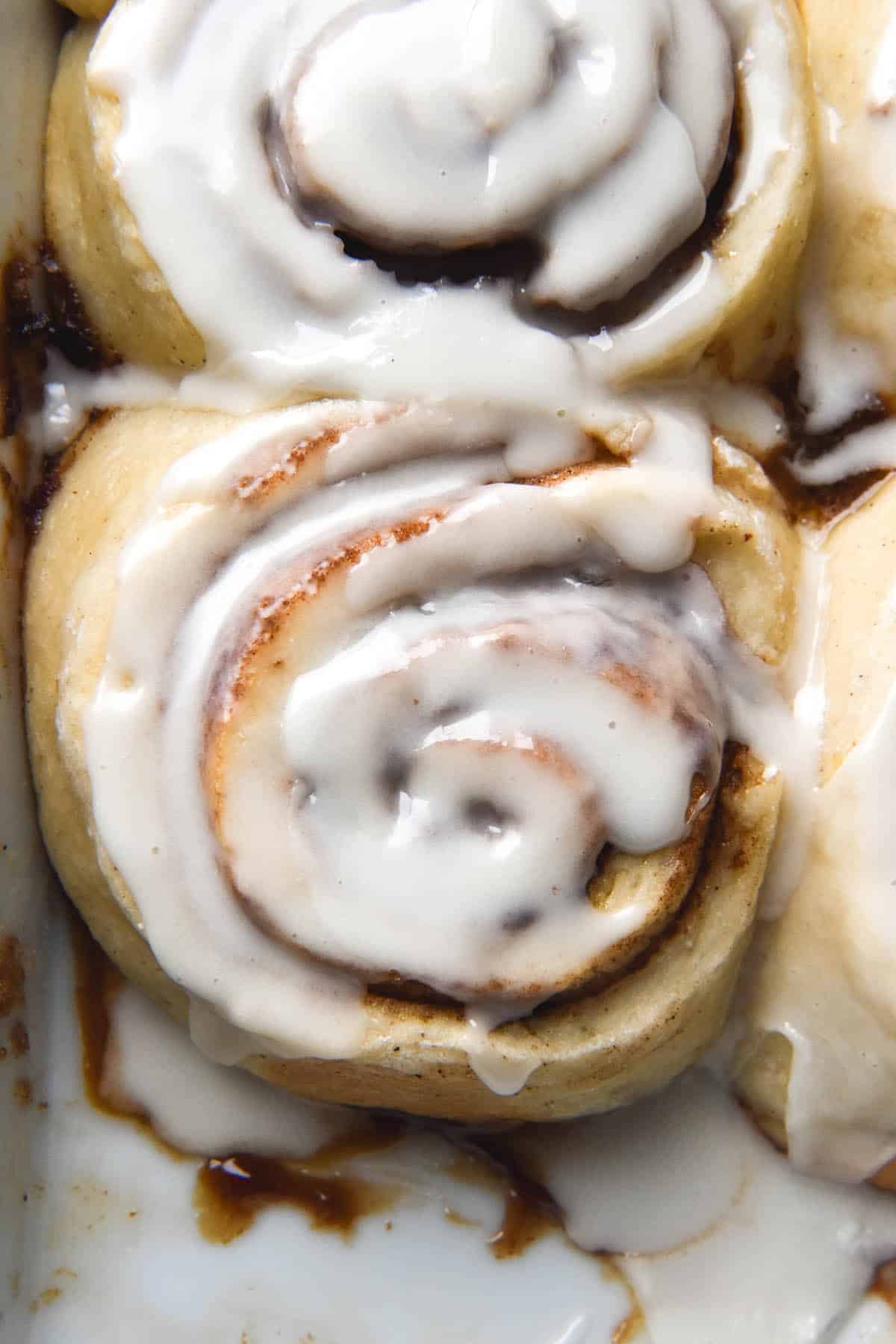 Gluten free lemon drizzle cake
This lemon drizzle cake uses no xanthan gum and no flour blends. A single flour (white rice flour) forms the backbone of this deliciously buttery cake. Eggs hold everything together and make for a perfectly rich crumb.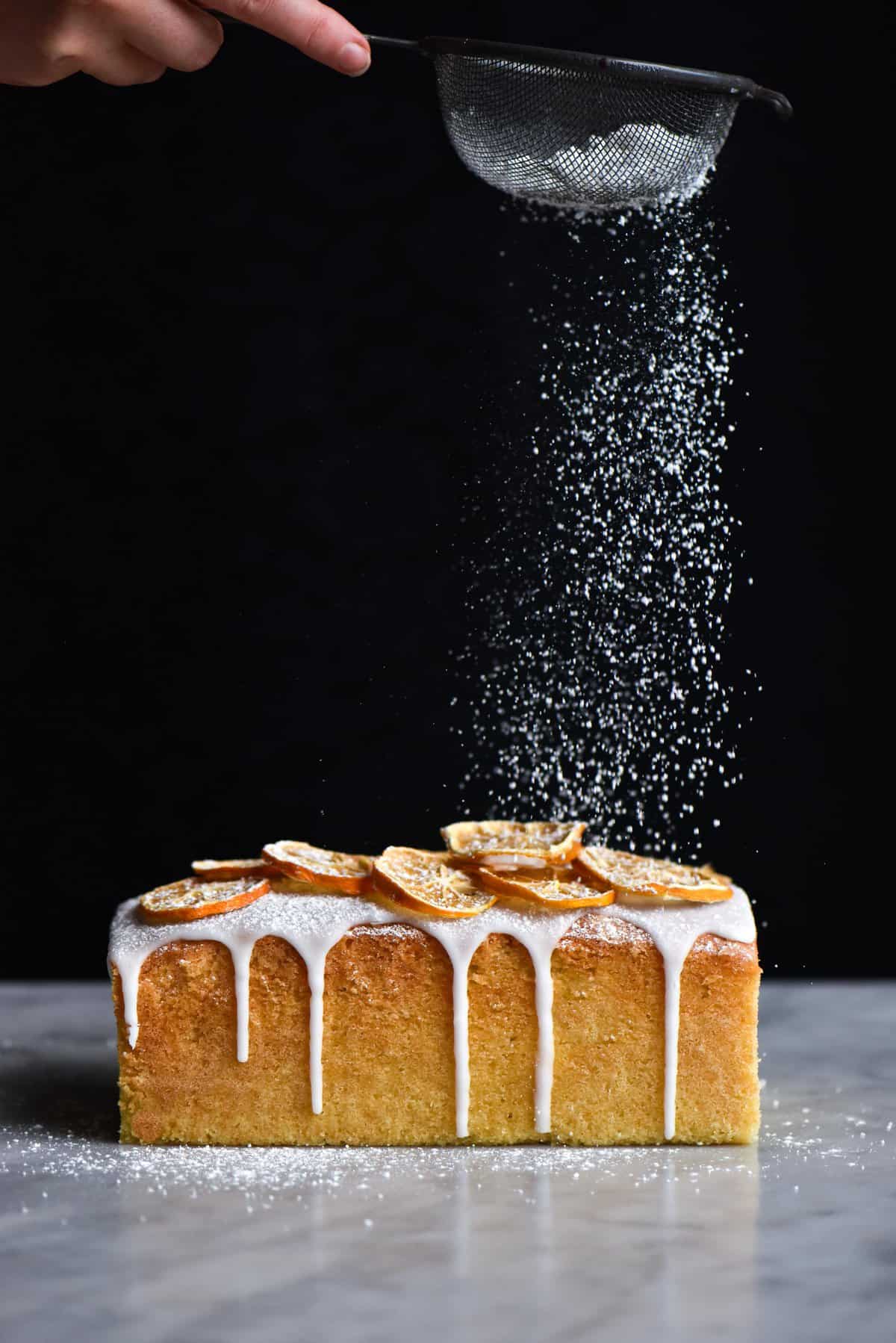 Pavlova with dairy free raspberry curd
As promised, the dairy free berry curd. This pavlova is a no waste pavlova – it uses the egg whites in the pav, and the egg yolks in the dairy free curd.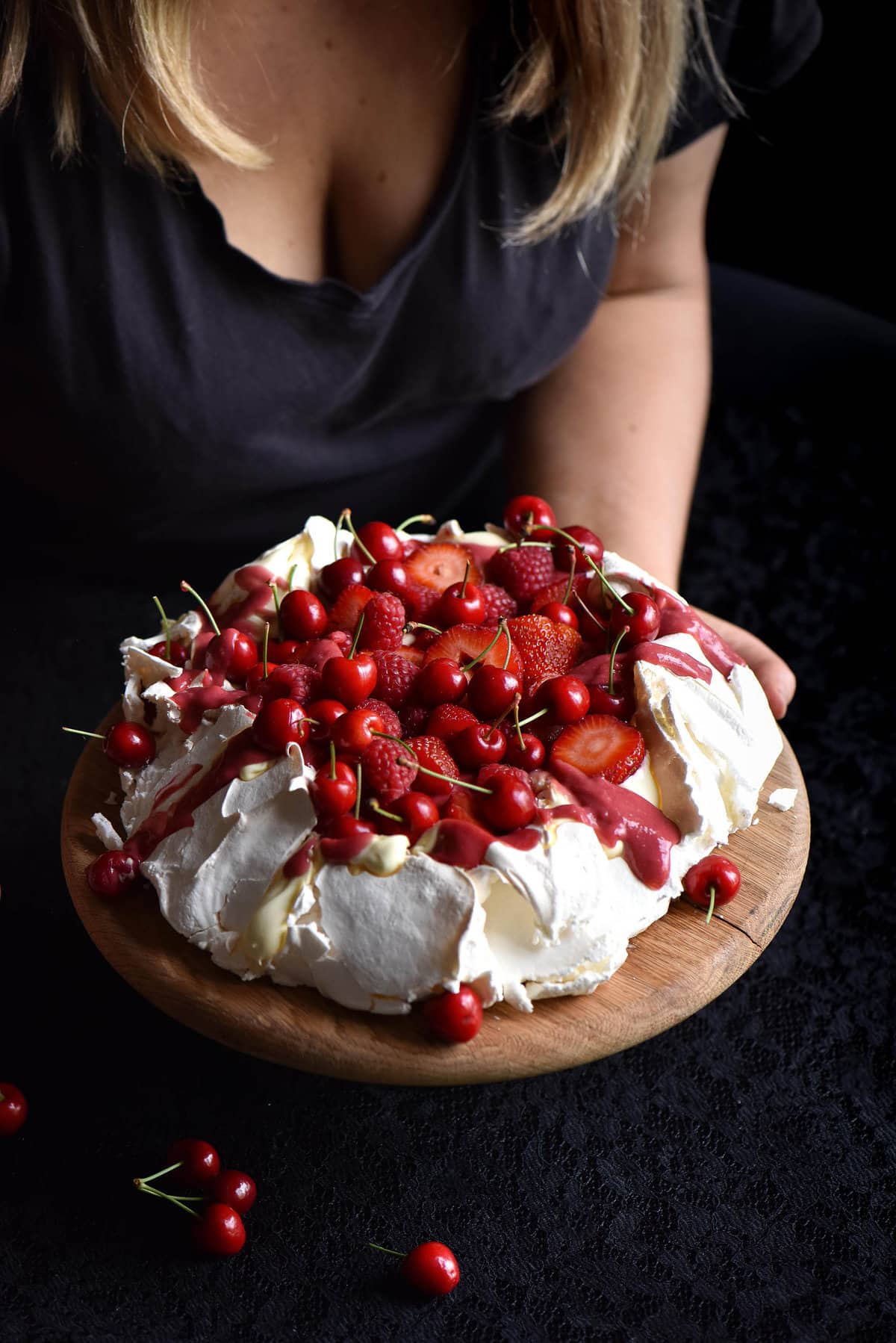 Lactose free creme caramel
This beautiful creme caramel uses lactose free milk, sugar and eggs to form a perfectly set custard with a caramelised sugar sauce. It is as delicious as it is visually arresting.