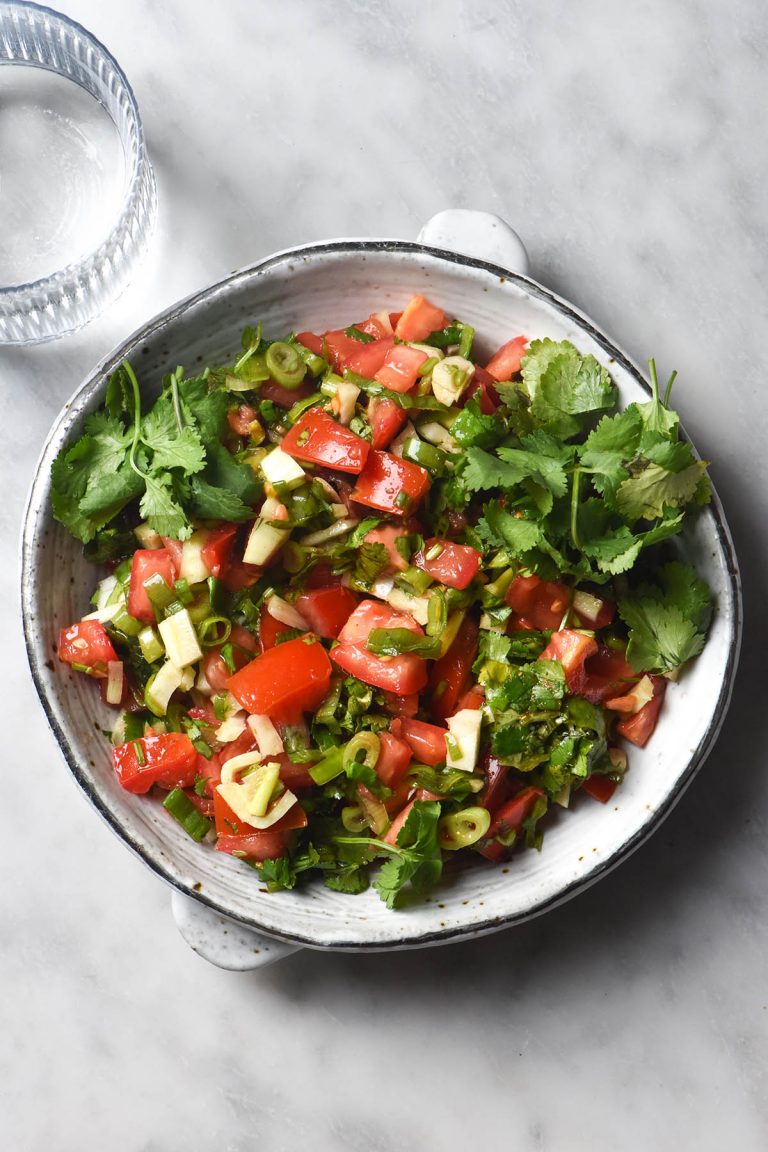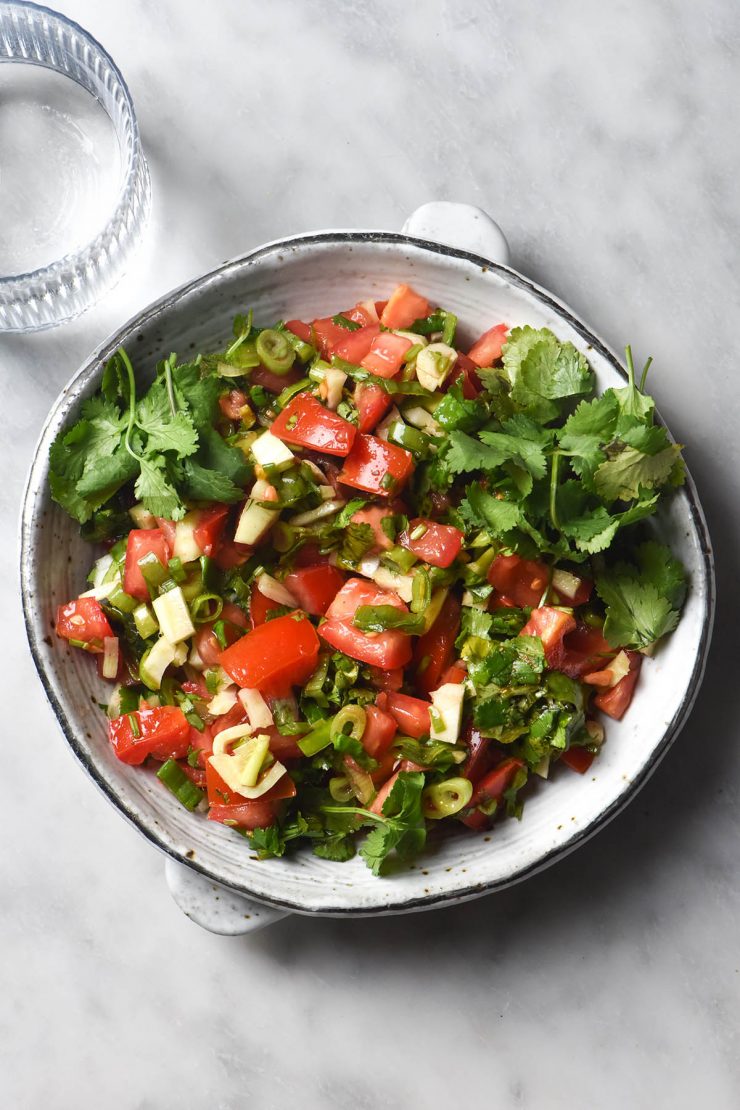 Pico de gallo is just one those things you need to able to eat. It's fresh, zingy, full of flavour and makes everything taste better. So today we're making low FODMAP pico de gallo.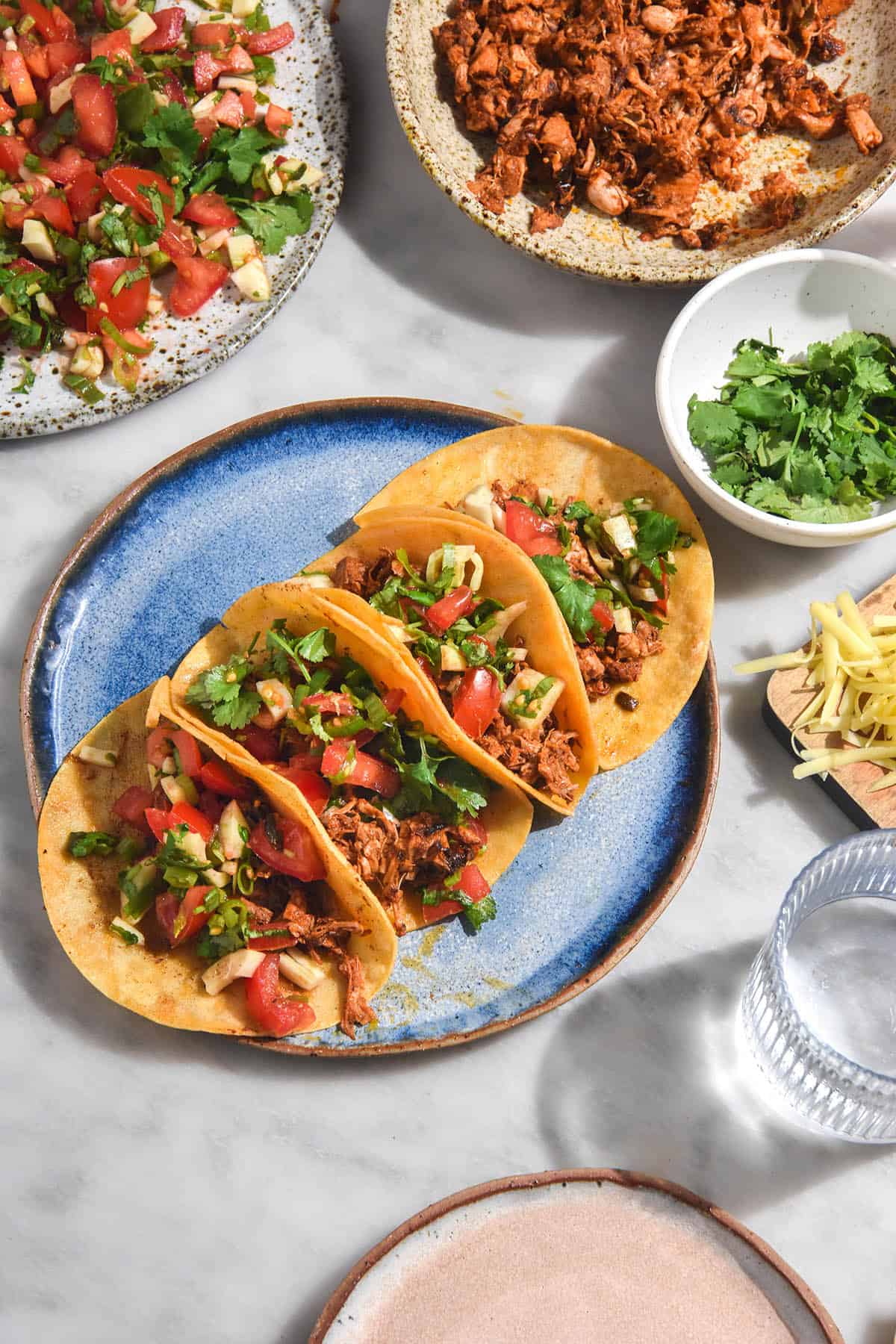 Low FODMAP pico de gallo
This low FODMAP pico de gallo is made with some of the usual suspects: tomatoes, coriander/cilantro and lime juice. However, it also makes use of two more novel FODMAP friendly ingredients: spring onion greens and a small amount of finely chopped fennel.
The spring onion greens replace the flavour of the onion, and the fennel replaces the texture, crunch and aesthetic. It also helps bulk out the pico de gallo, as tomatoes have a relatively low threshold for fructose.
With these ingredients we can make a pico de gallo without onion that still tastes just as delicious.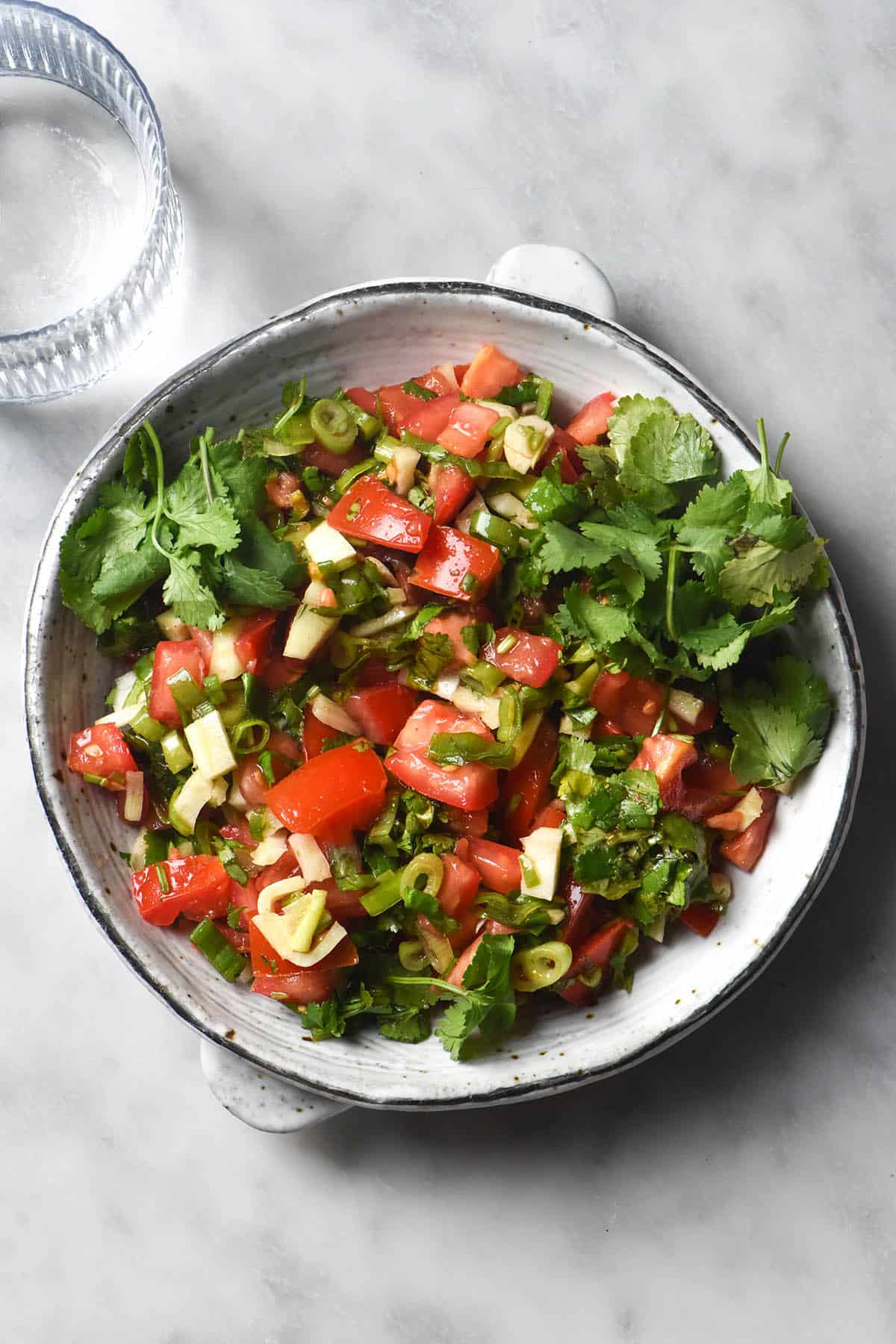 Are tomatoes low FODMAP?
Tomatoes do have a low FODMAP threshold. This recipe uses common tomatoes, which are considered by Monash to be low FODMAP in 65g servings, or around 1/2 a tomato. This isn't a huge amount, so we need to bulk the pico de gallo out and focus on smaller portions.
If you're using a different sort of tomato, I've written an article on the FODMAP contents of different tomato varieties here.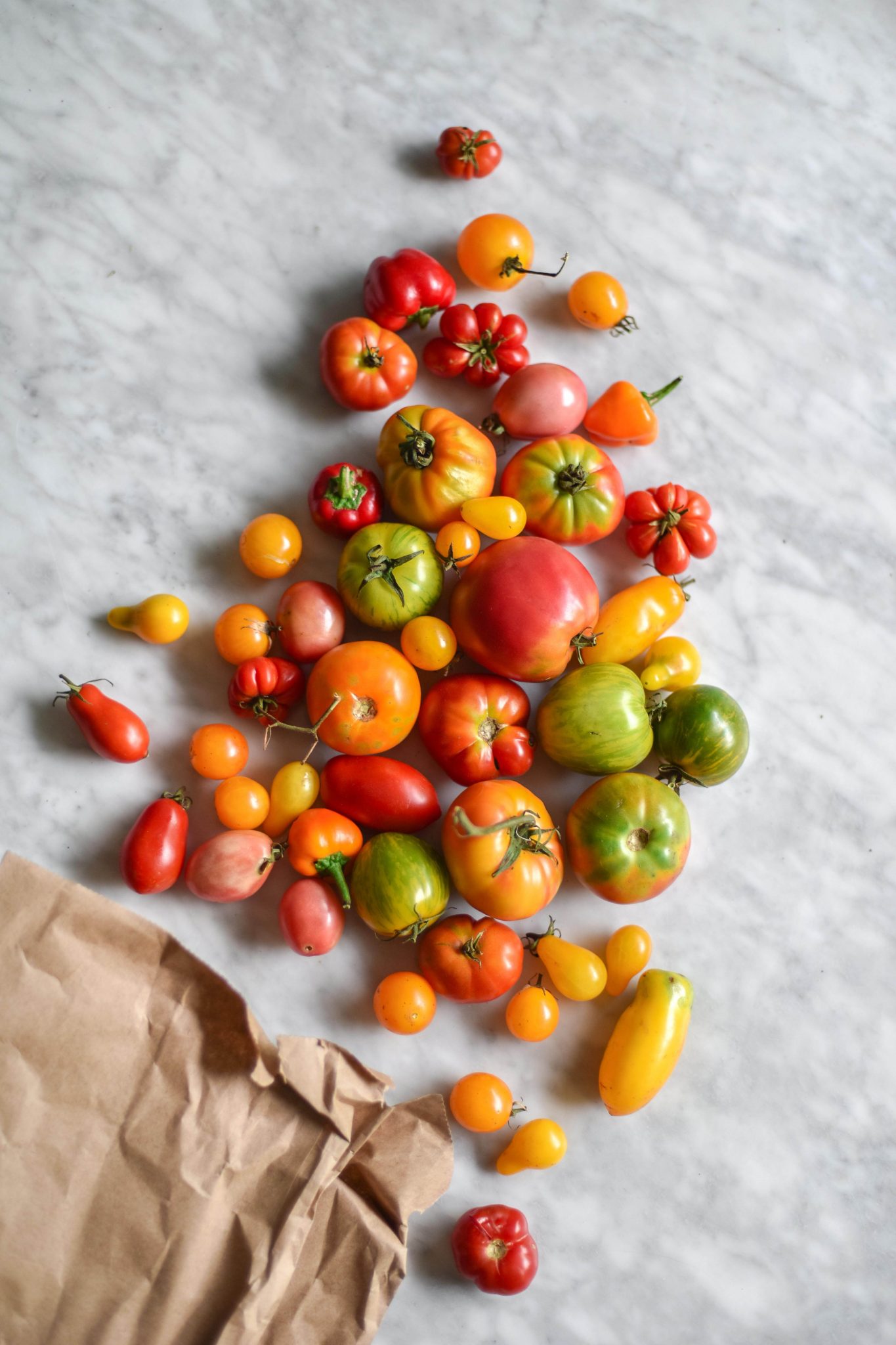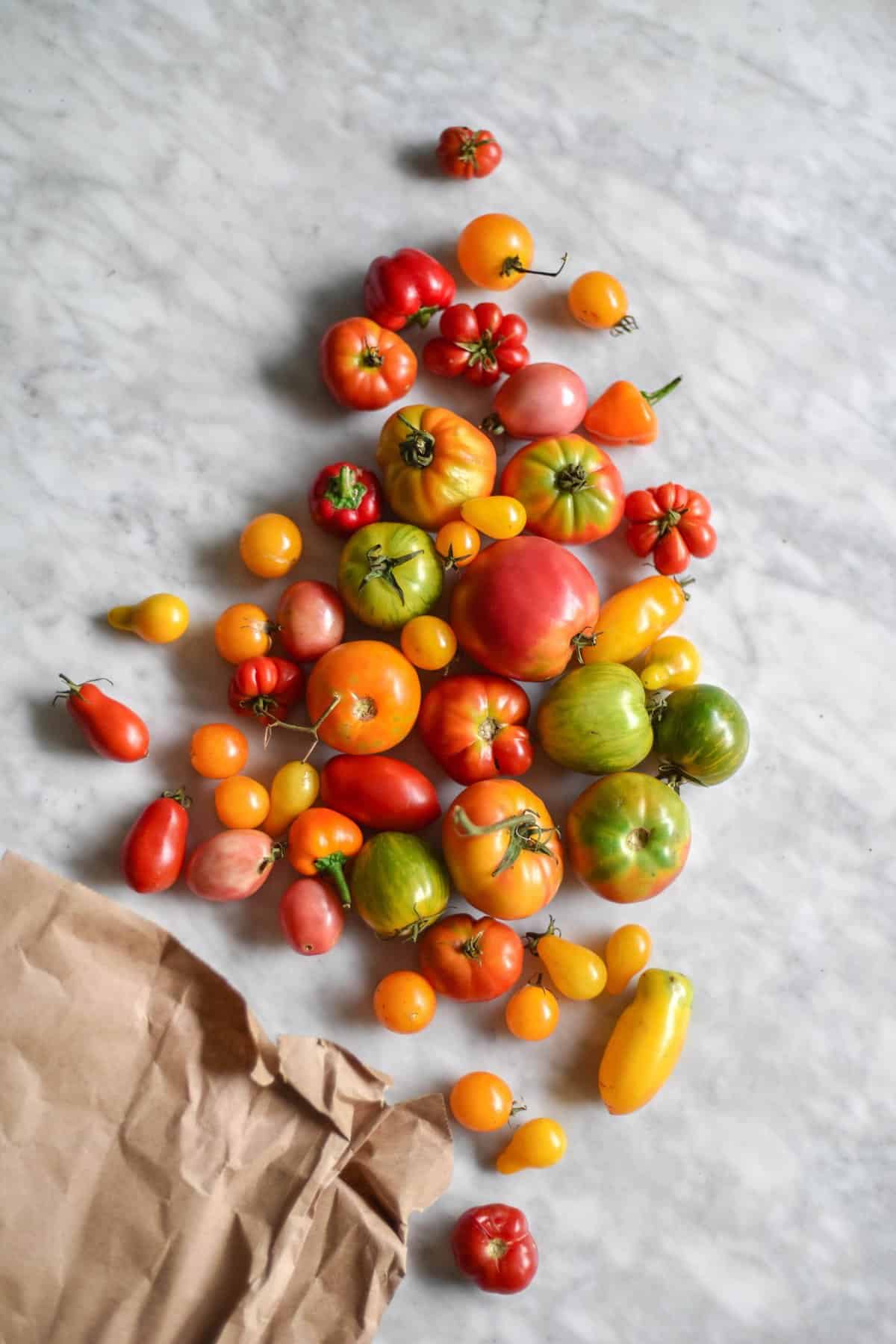 Tips for adding flavour to pico de gallo without onion
We have already discussed the use of spring onion greens to add flavour to our pico de gallo. However, there are a few other tricks we can use for maximum taste.
Firstly, I like to add a little low FODMAP taco seasoning to my pico de gallo. Just a pinch is enough to add the key flavours without going overboard. My low FODMAP taco seasoning uses asafoetida powder to add an onion and garlic like flavour. Generally speaking, I'm making this seasoning when I'm making pico de gallo, so it works nicely.
If you don't want to make or use seasoning, I recommend a pinch of cumin and a pinch of asafoetida, if you have it. The cumin adds another layer of flavour, and the asafoetida will give you a bit of an onion like flavour.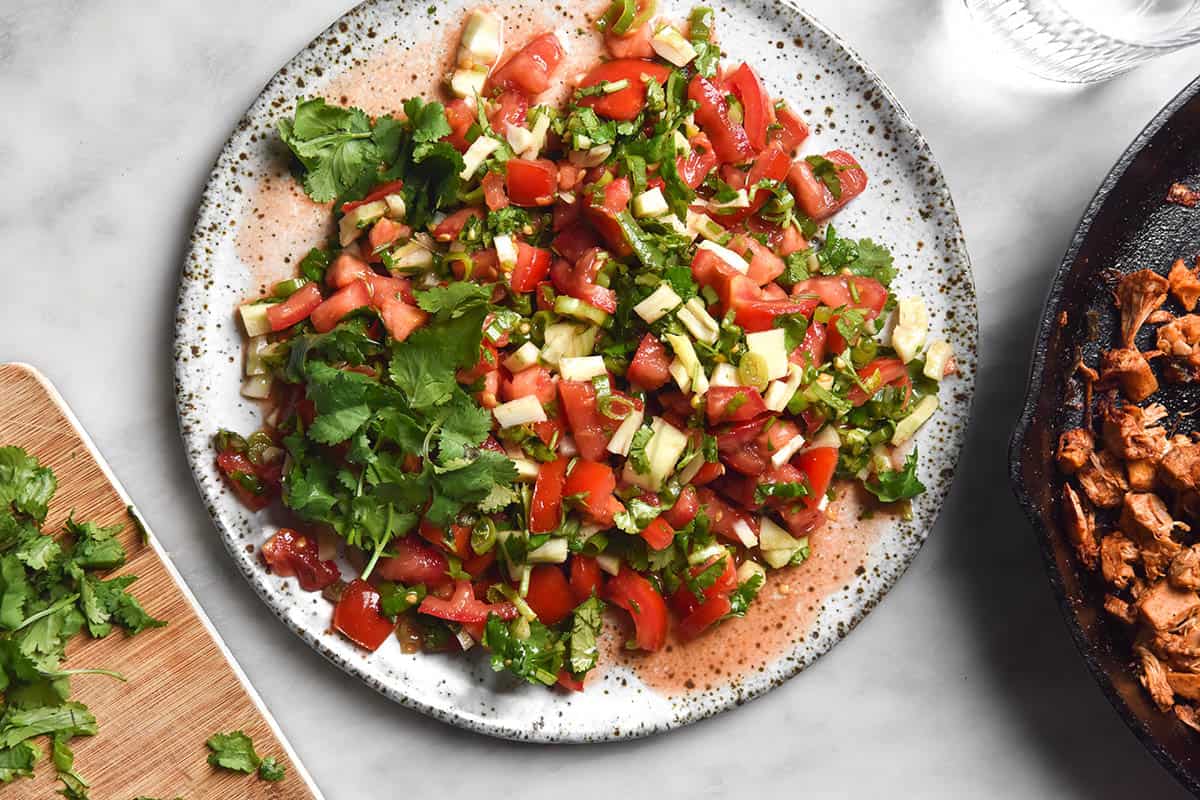 Is fennel low FODMAP?
Fennel is low FODMAP in 48g serves, which is around 1/2 cup or 1/5th of a bulb. We're using around 1/4 of a bulb here, which will be divided among 6-8 servings.
The fennel is optional in this low FODMAP pico de gallo, but I really think it adds a little something. It replaces the bulk, texture and crunch of onion in a regular pico de gallo.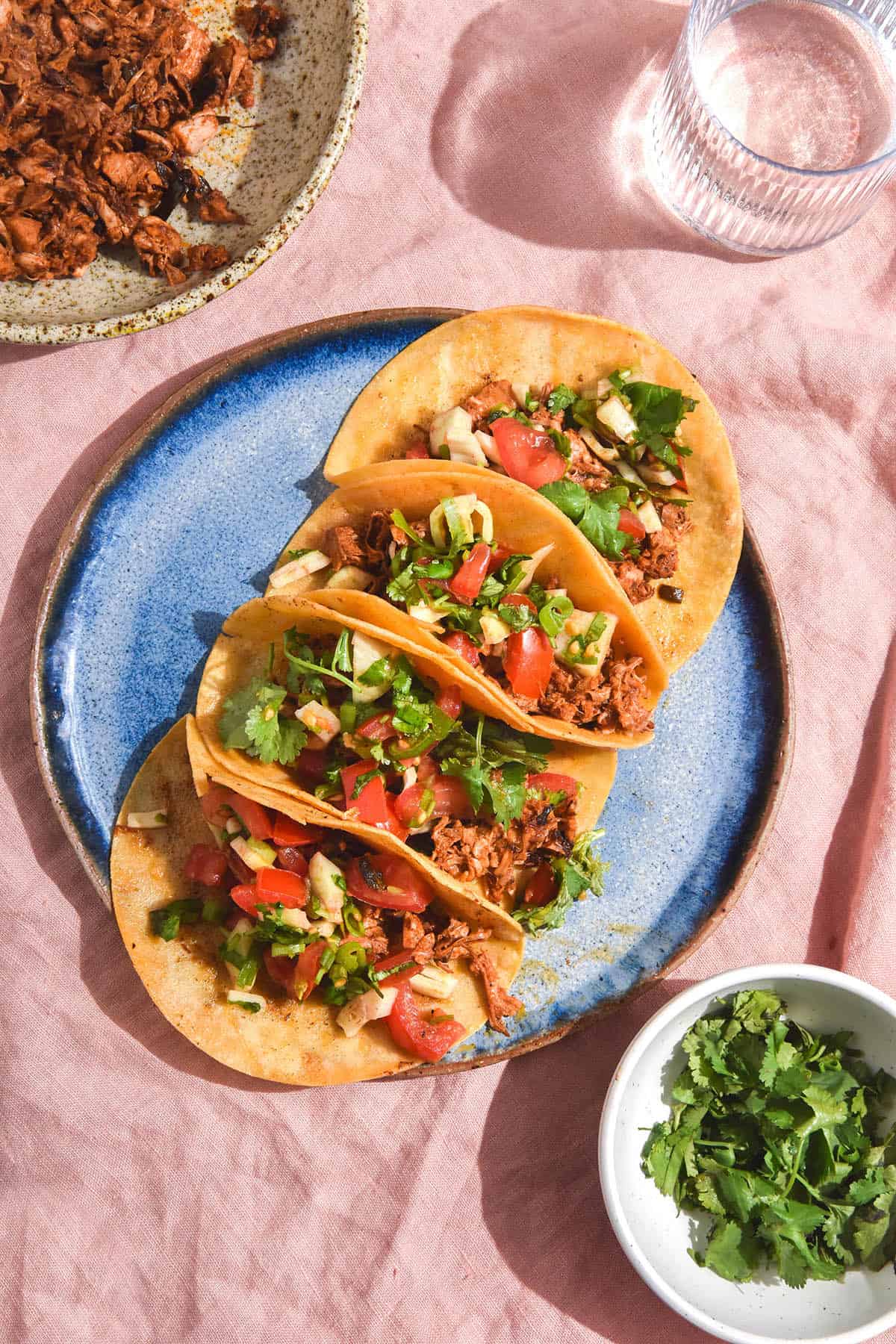 Are jalapeños low FODMAP?
Fresh jalapeños are low FODMAP in 29g serves per person, or roughly 1 small chilli. In serves of 39g or more, they contain moderate amounts of fructose.
Pickled jalapeños are low FODMAP in 15g serves, or 1 around tablespoon drained. However, Monash says that only trace amounts of FODMAPs were detected, so pickled jalapenos can be eaten freely and according to appetite.
If you really struggle with fructose, you can eat more pickled jalapeno than you can fresh. This might make it a better choice for you when paired with tomatoes, which are also high fructose. As always, assess your own tolerance to find what works for you.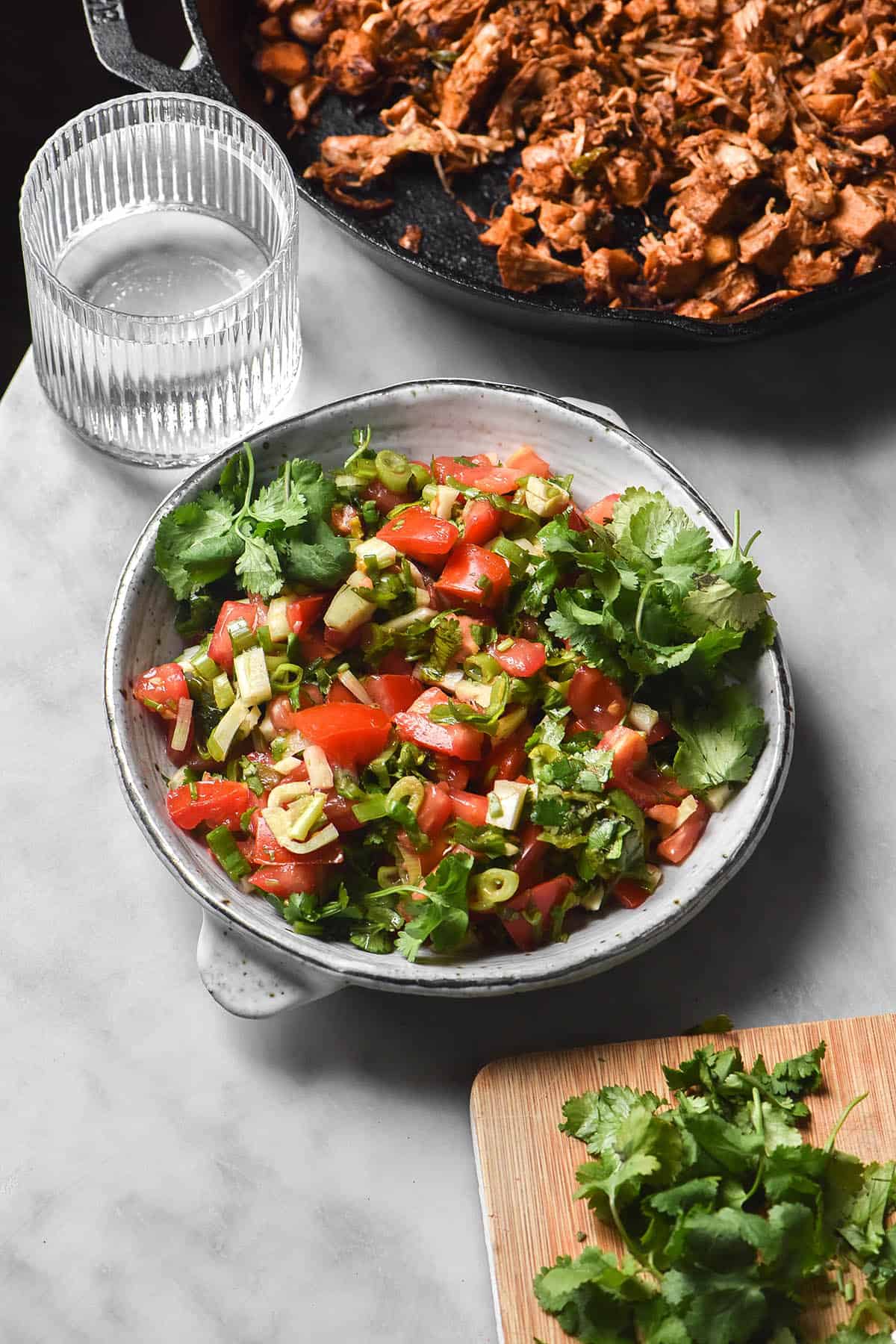 An important note on serving sizes
This pico de gallo is designed to serve 8. This is to ensure that the fructose content of the tomatoes does not exceed a moderate level of fructose. However, if you don't have any issues with fructose, you don't need to limit your intake of this pico de gallo. Similarly, your partner or housemates don't have to eat a small dainty serve.
This recipe is also good for people who simply can't eat/don't want to eat onion or garlic. The recipe only needs to serve 8 if you malabsorb fructose.
One other point to make: really keep an eye on your portions if you malabsorb fructose and are serving this with another high fructose ingredient. Tomato paste and tinned tomatoes are high fructose, so some more stewy Tex Mex style dishes could become quite high fructose when combined with pico de gallo.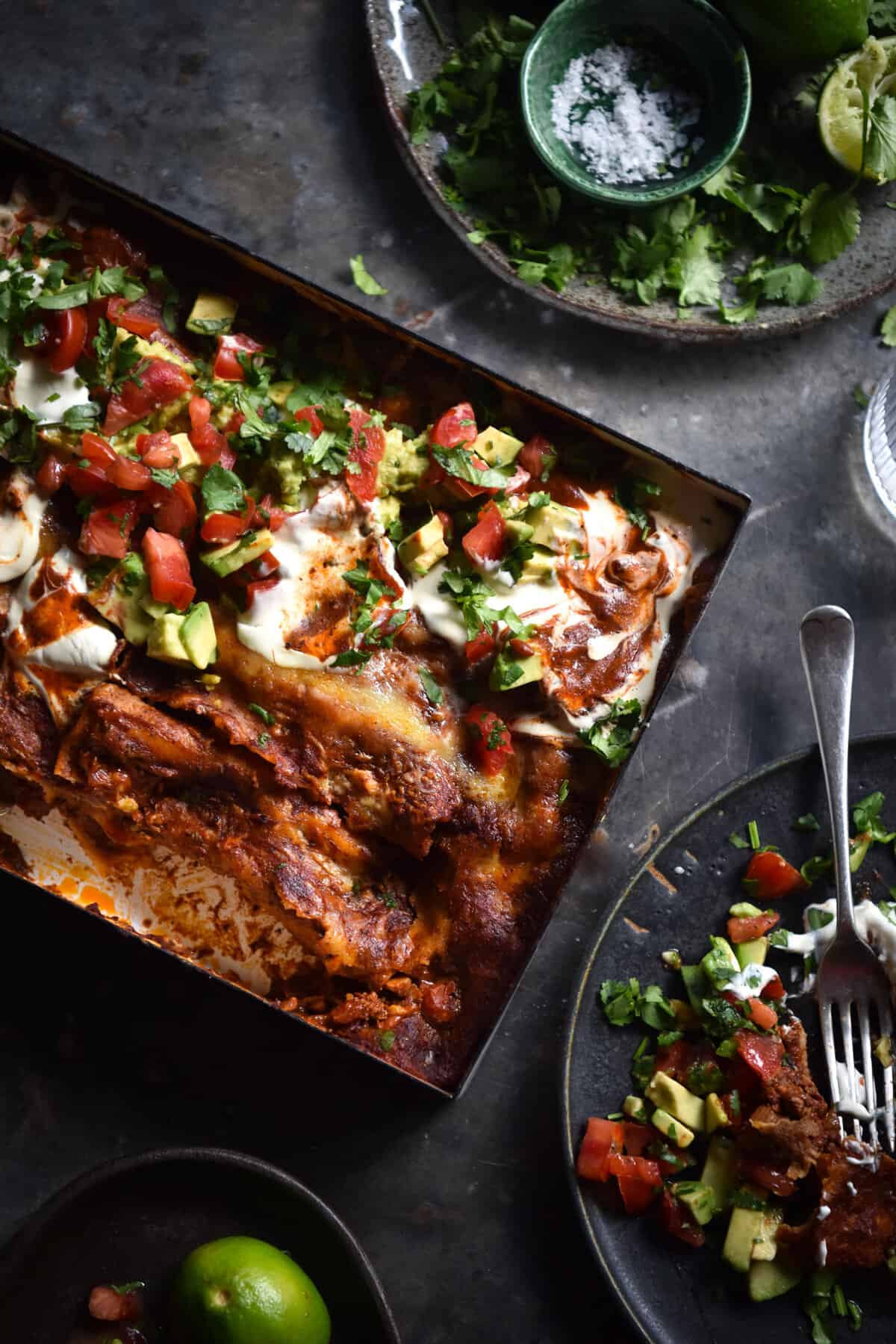 More low FODMAP Mexican and Tex Mex inspired recipes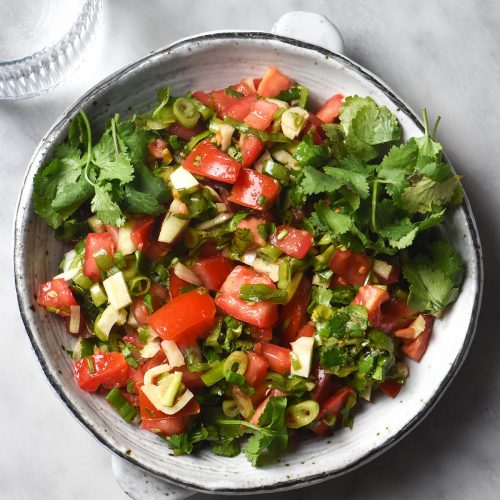 Low FODMAP pico de gallo
Ingredients
4

medium

common tomatoes, chopped (around 500g after chopping)

1

bunch

coriander/cilantro, washed and finely chopped

1/2

bunch

(50-75g) spring onion greens, finely chopped

1/4

small

fennel bulb, finely chopped (optional, see notes)

1/4 – 1/2

tsp

fine salt, to taste

pinch of low FODMAP taco seasoning, to taste (optional, see notes)

1

lime, juiced (to taste)

1/4 – 1 chopped jalapeno, fresh or pickled, to your taste (see body of post)
Instructions
Combine all the ingredients in a large bowl and mix. Taste and adjust for seasoning before serving. If you can, make it 15 minutes ahead to allow the flavours to meld. Don't make it too far in advance, though, as tomatoes tend to become soggy when salted.
Notes
The fennel is optional, but replaces the crunch, texture and aesthetic of onion. It also helps bulk out the pico de gallo. 
You can find my recipe for low FODMAP taco seasoning here. I use only 1 teaspoon of chilli powder when I make it for dishes that already have chilli in them. That way I can control the heat.