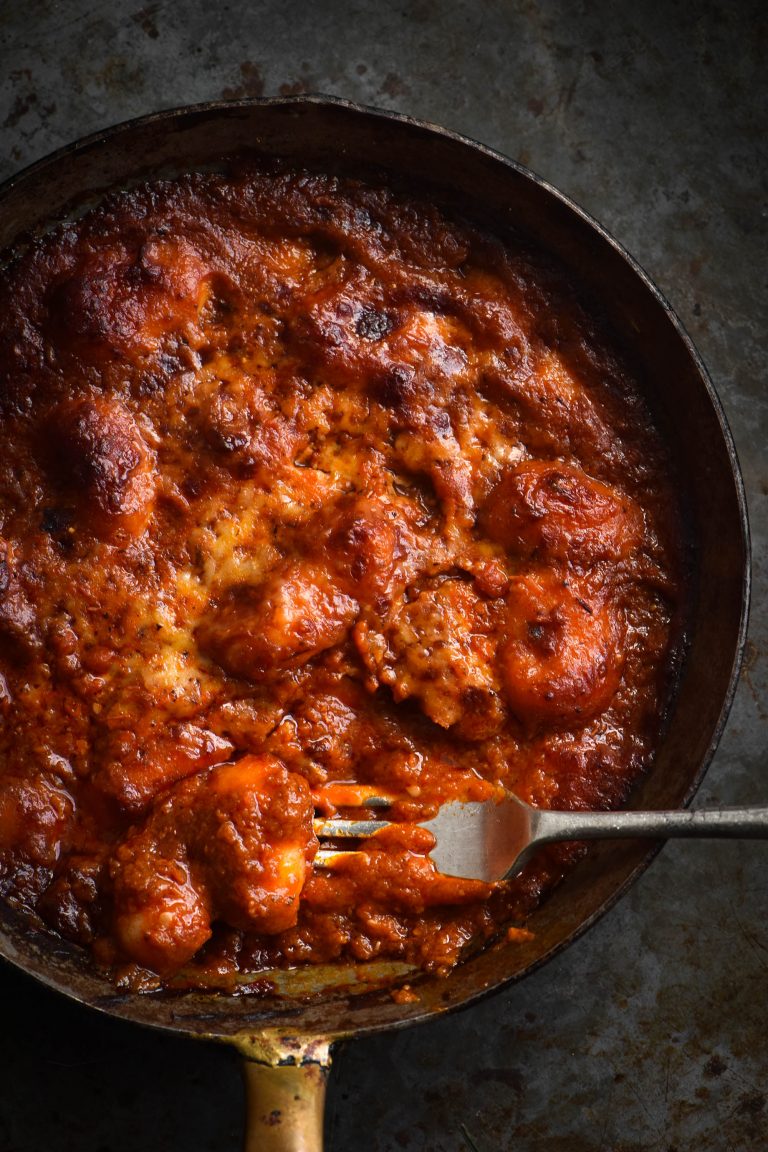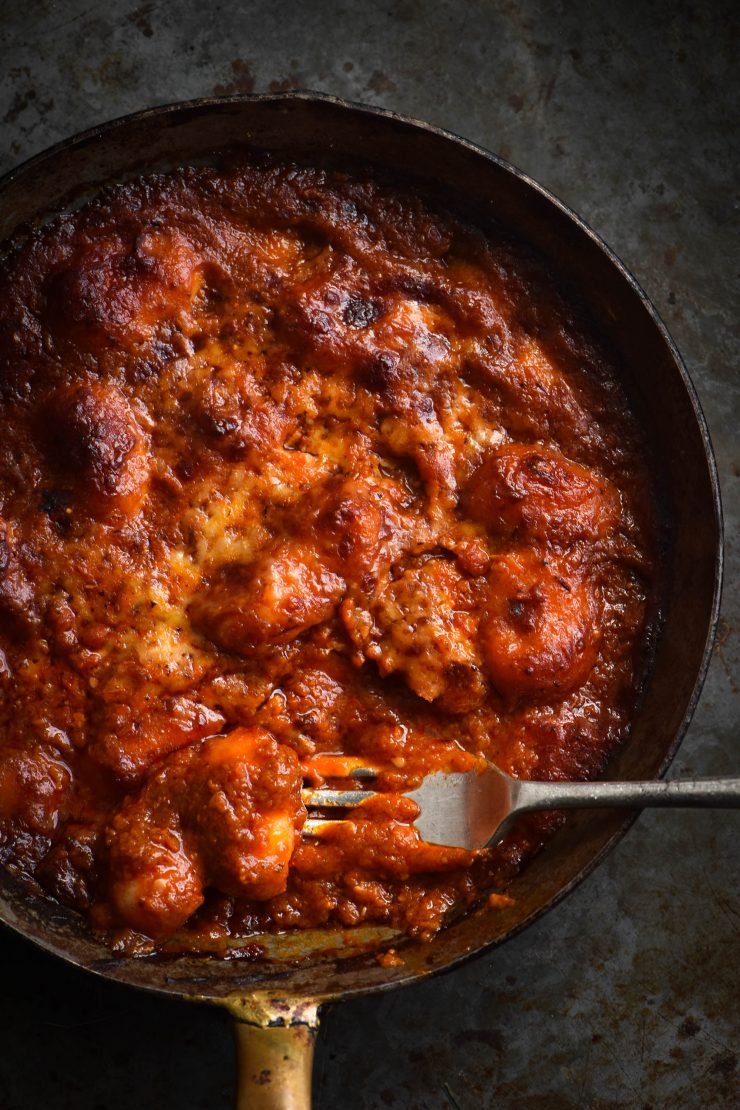 The gluten free industry gets some things right: store bought gluten free gnocchi is not one of them. The store bought variety are often dry hockey pucks with a list of ingredients one cannot pronounce. This homemade gluten free potato gnocchi isn't a 30 minute dinner or the quickest recipe you'll ever make. It is, however, light and fluffy, gum free and has a starch free option. It contains 4 simple ingredients.
Gluten free potato gnocchi without xanthan gum
This gluten free potato gnocchi uses two simple flours: white rice flour and tapioca flour. It is xanthan gum free and weird ingredient free. By roasting the potatoes, the gnocchi has a controlled amount of liquid introduced which makes for lighter gnocchi with less flour. Making gnocchi is not a speedy process, but it is very satisfying. Plus, you end up with a freezer full of excess gnocchi.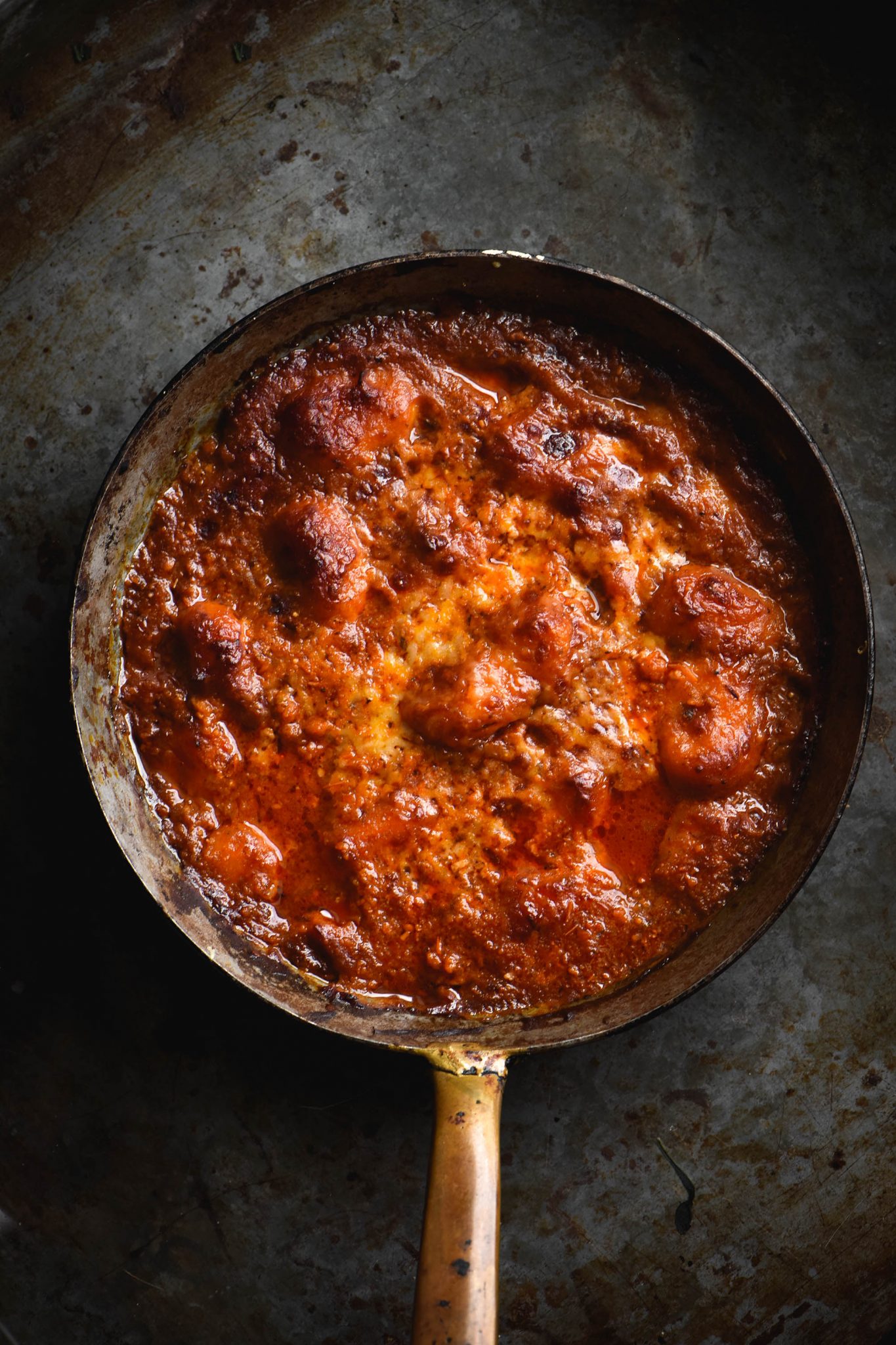 Recipe notes for your gluten free gnocchi
Roasting the potatoes isn't an option in this case. It serves a purpose – thoroughly cooking the potatoes without waterlogging them. Boiled potatoes absorb liquid, meaning they'll need more flour when it comes time to make them into gnocchi. We're not talking 1/4 cup extra flour – we're talking cups. It makes such a huge difference to the end result – it's unpredictable and often floury or gummy. Roasting the potatoes takes more time, but it is hands off labour and the end result is so much better.
Not all potatoes are created equal! Despite the appalling lack of variety and labelling at Australian supermarkets, potatoes are on the spectrum of starchy to waxy. If you buy a nondescript no-name potato from the supermarket, this recipe may not work for you. Consider yourself warned. More in the potato section below.
I highly recommend a potato ricer for this recipe, if you have one. It makes SUCH a difference to the fluffiness of the gnocchi and makes super smooth mash. They're only a small appliance but highly worth it, in my opinion.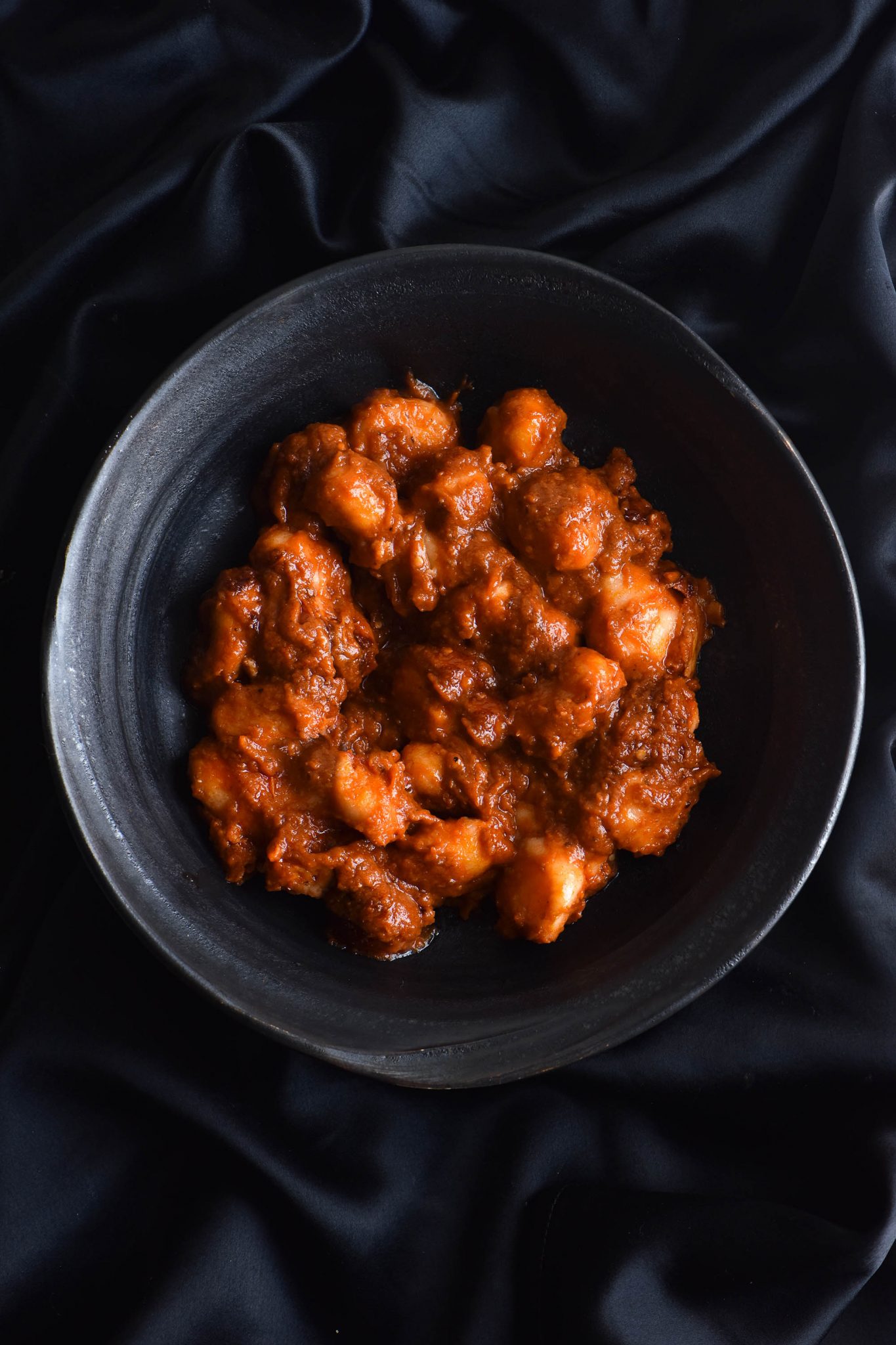 Ingredients notes
I have used two flours in this recipe. My old faithfuls, fine white rice flour and tapioca flour. I have chosen them because they are accessible, bland and, when combined, work to provide bulk (white rice flour) and binding/chewiness (tapioca flour). I'll talk more about the flour and the starch free option in the flour notes below.
This recipe uses two extra large eggs. I always call for extra large in all of my recipes to make it as easy as possible. Two extra large eggs generally weigh approximately 100g out of shell. You can use whatever size eggs you have if you crack and weigh them to reach 100g.
I've tried varied sorts of potatoes for this recipe, and BY FAR my favourite were Russett Burbank. The gnocchi were elastic and easy to form, and they didn't fall apart even a little during cooking. I also tried sebago, but I found they did experience some falling apart in the cooking process. Don't get me wrong, they work in a pinch, but I would highly highly recommend sourcing some Russett Burbank potatoes if you can. The potato you choose is honestly quite critical to success here.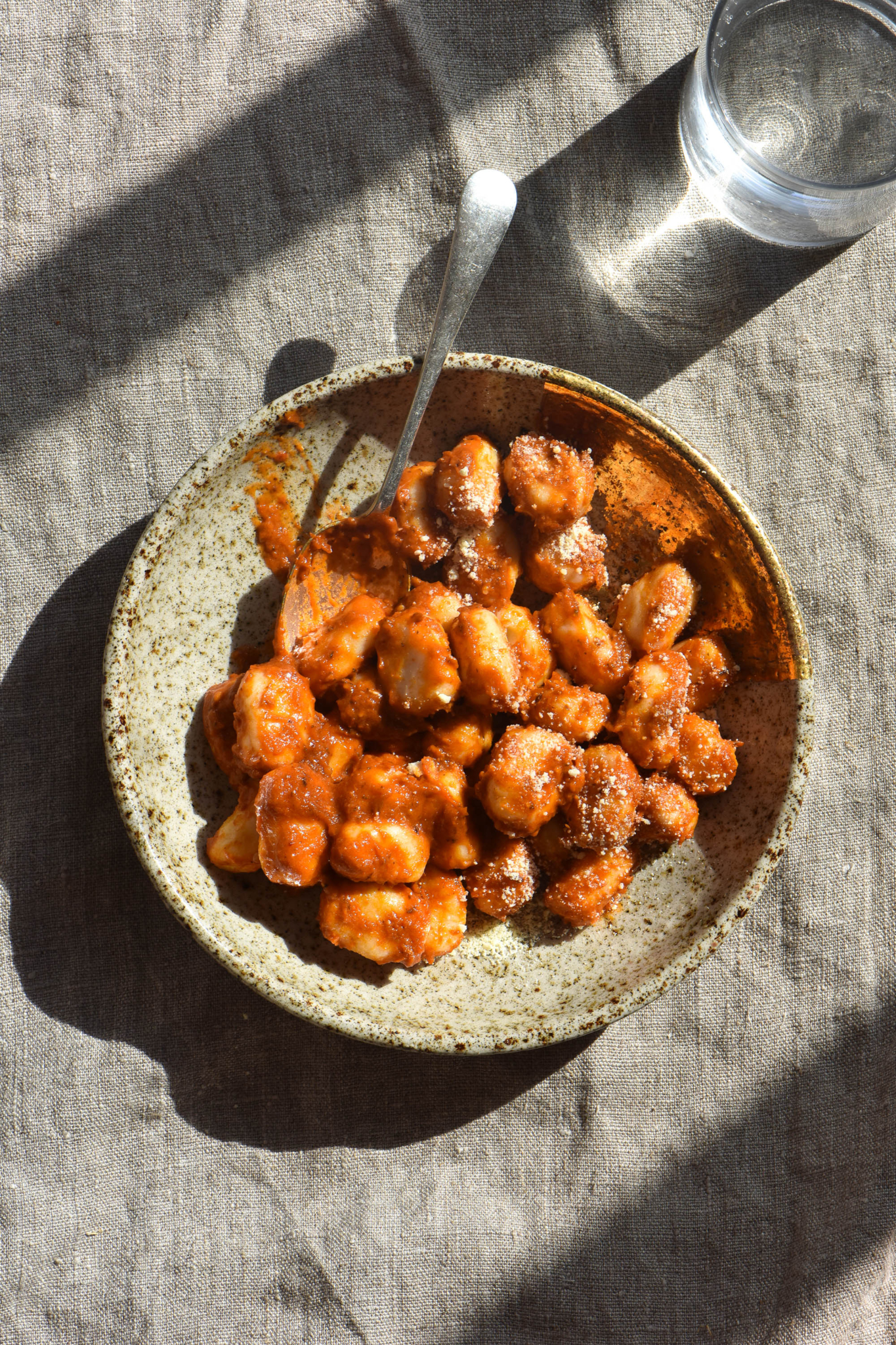 Which potatoes to choose?
Firstly, I totally acknowledge that (for my Australian audience) potatoes are slim pickings. Personally, I find it offensive that supermarkets don't even bother to NAME them. White, purple, brushed – those are not names, nor are they descriptive enough for one to make an educated decision.
At the end of the day, though, not all potatoes are suited to gnocchi. If you pick up any old spud and hope for the best, chances are the results will be less than impressive. There's every chance that the gnocchi will break up in the water, too, so I really recommend you find a gnocchi suitable potato.
Below are some links with information on the best potatoes for gnocchi in Australia. If you're not from Australia, google the best variety where you live.
If you're not into links, here's the rundown. Everywhere, the best potatoes for gnocchi are starchy potatoes. They're starchy (obviously) and low in moisture. The less moisture in your potatoes, the less flour you will need to add to your gnocchi, and the lighter they will be.
In Australia, the best potatoes for gnocchi are Yukon gold, Russet Burbank, Desiree, Nicola, or Pontiac. Don't use a waxy potato like a Kipfler or a Dutch Cream. Waxy potatoes contain a higher liquid content, so you'll need to add more flour. This risks a floury or dense end result.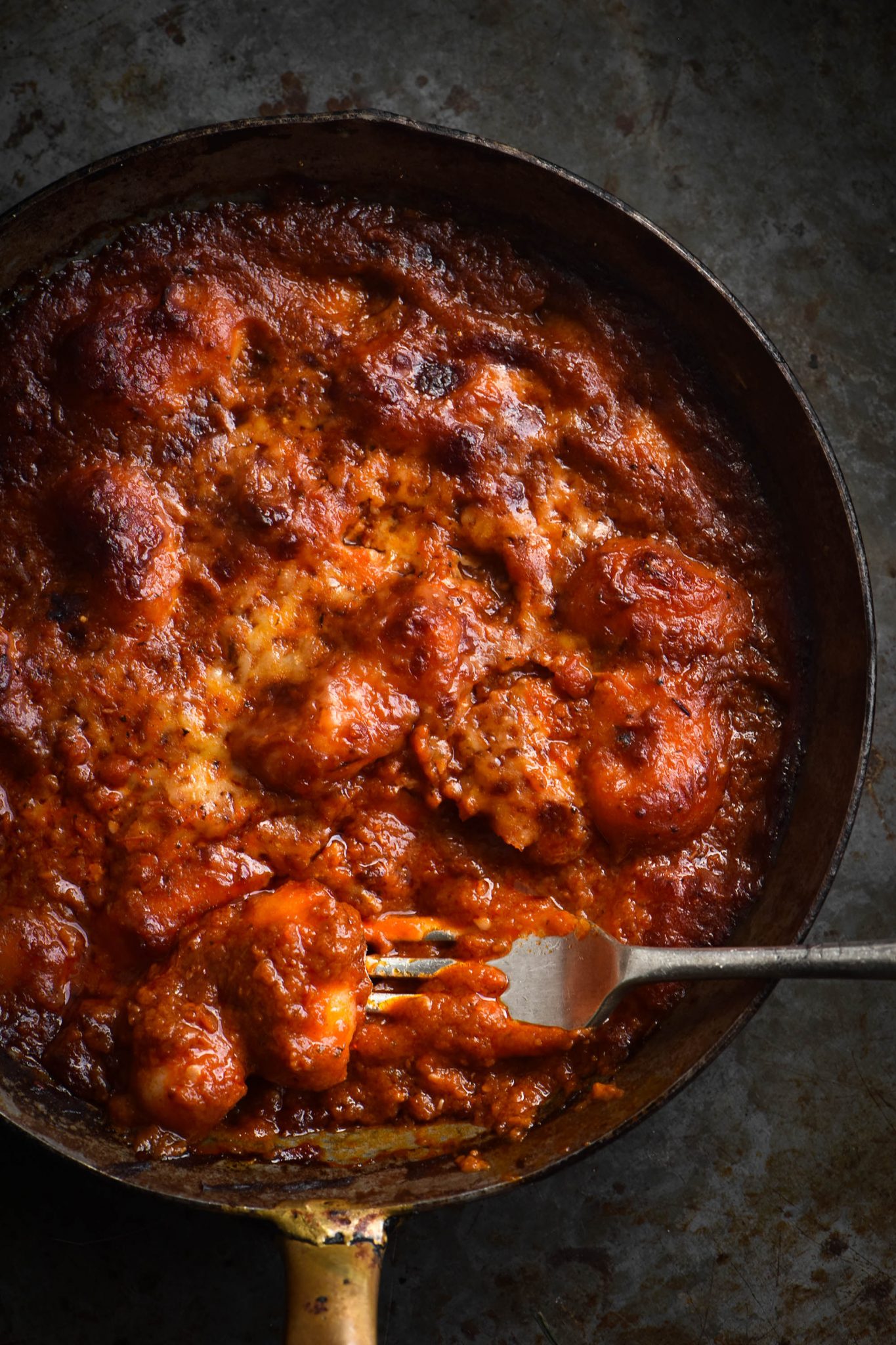 Gluten free potato gnocchi cheatsheet
Using a potato ricer will create a fluffier result when compared to a masher. This is because a ricer incorporates air.
Gnocchi will take a varied amount of flour depending on the weather, the individual potatoes you use, the humidity, the individual bags of flour you use, etc. Use your intuition and be prepared to add less or more flour if necessary. If in doubt, roll a few gnocchi, cook them and go from there. If they disintegrate, they need a bit more flour. If they're floury, cook them a little longer (and maybe cut back the flour next time).
On that note, it's always better to add less to begin with. You can add more flour but you can't subtract it.
Starchy potatoes are king here. Yukon Gold or Russett Burbank seem to be the gold standard. Don't use any old potato and expect a glorious result – try to source some starchy potatoes, or at least some good all rounder potatoes.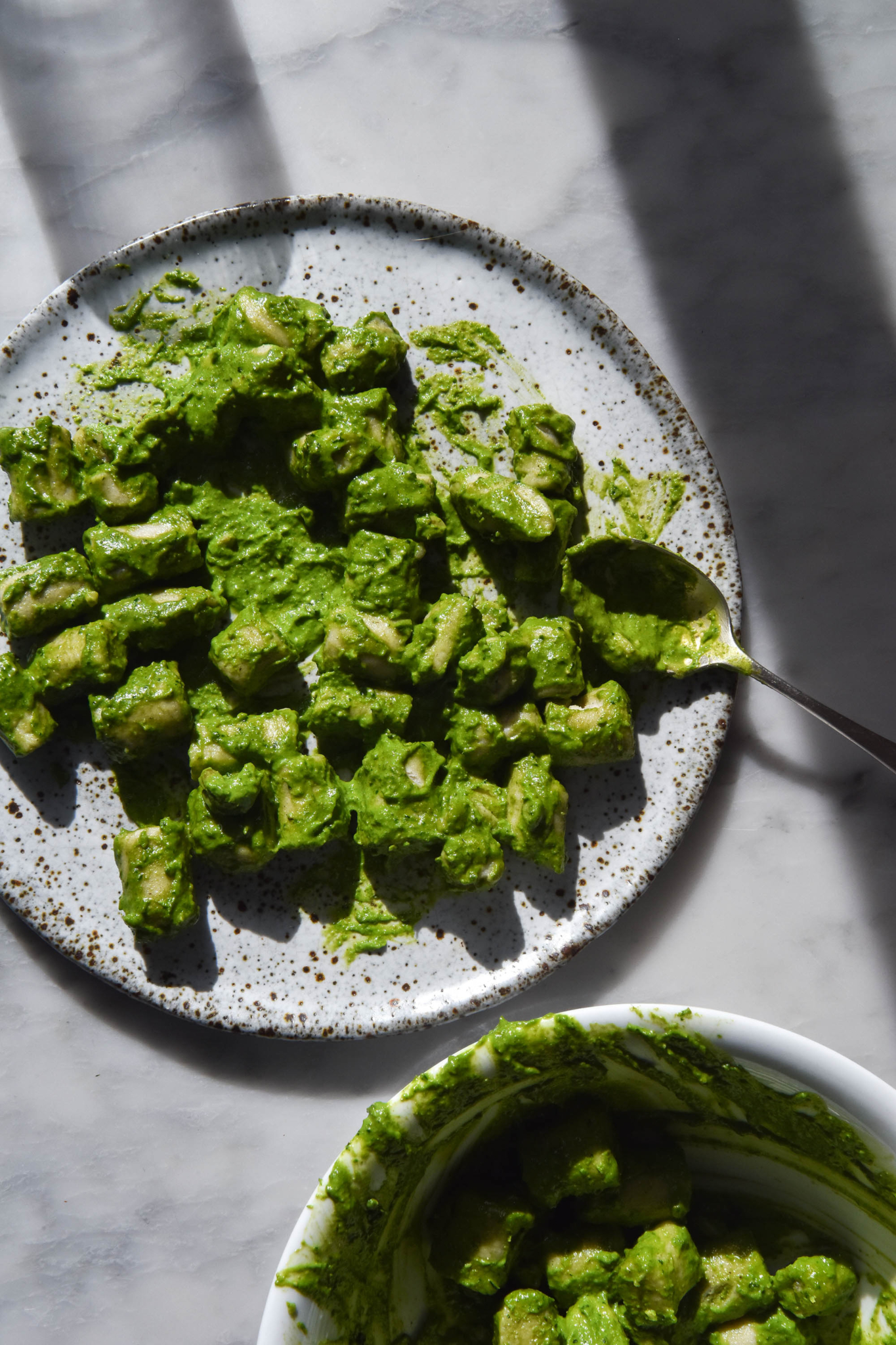 Notes on a starch free option
I have successfully made this gnocchi without any additional starches, but I do have some thoughts on the idea.
I've used 200g of white rice flour in one trial, which worked by was a little floury. In another, I successfully replaced the tapioca flour with light buckwheat flour. I chose buckwheat flour specifically for it's chewier quality. It had a little more chew and was less floury than the rice flour only version. That said, my favourite was still the version with tapioca flour. You could also experiment with using cassava flour in place of the tapioca flour.
What I would suggest for a starch free version is to try using all rounder potato like a Sebago. My theory is that the higher liquid content and waxier characteristics would balance out the lack of starch.
That all said, the versions without tapioca flour were still pleasant, so you can choose one that works for you.
More gluten free pasta dishes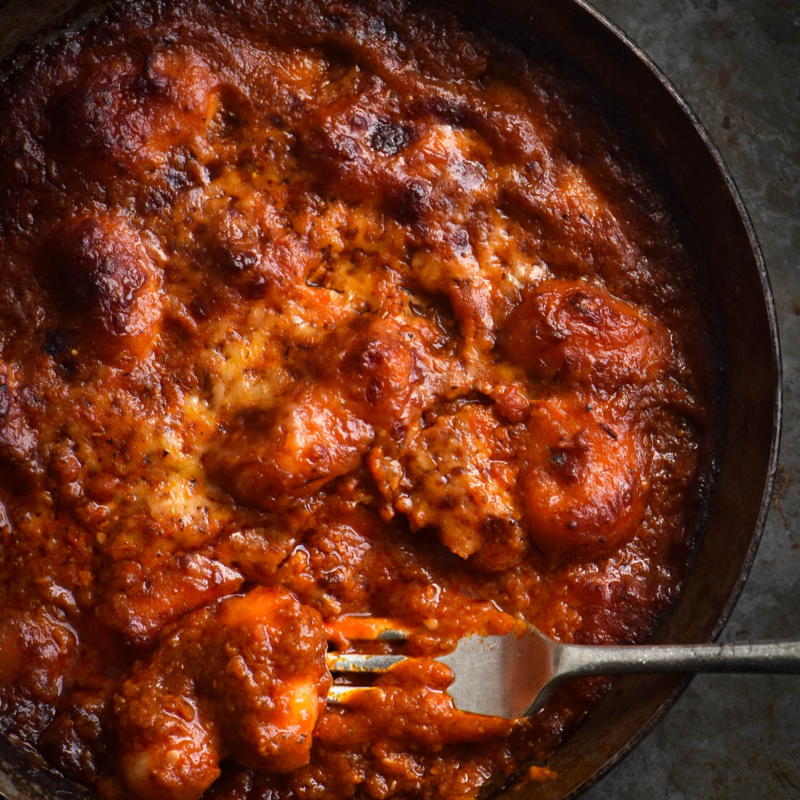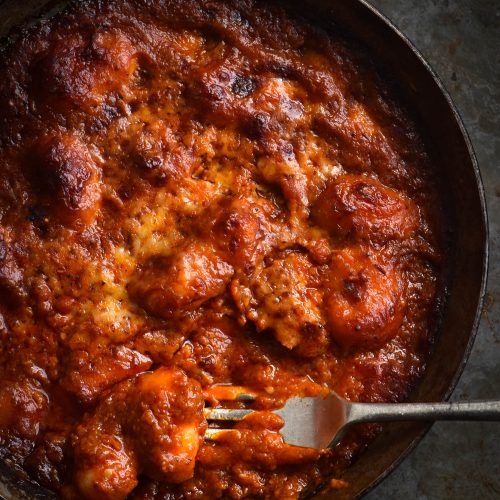 Gluten free potato gnocchi
Ingredients
1kg

starchy potatoes (see notes, preferably Russett Burbank)

olive oil, for the potatoes

2

extra large eggs

160g

(1 cup)

fine white rice flour

60g

(1/2 cup)

tapioca flour (see notes)

water, as necessary
Instructions
To make the gnocchi:
Preheat the oven to 180C/356F. Rub oil over the potatoes, group them together and tuck them in with a piece of foil. Bake for one hour or until a knife easily slides through the biggest potato.

Once cooked, remove the potatoes from the oven. Use a fork to hold them steady (they will still be hot) and a knife to peel the skin off each potato. Weigh the peeled potatoes – you should have 750-800g.

Use a potato ricer or masher to break up the potatoes while they're still hot. Set them aside and allow them to cool to a hand comfortable temperature (and one that won't cook the eggs).

Add the remaining ingredients and stir to combine. Get your hands into the mixture and squish it through your fingers to bring it into a ball. Take a small piece and roll it into a small gnocchi with your fingers. If it breaks apart into floury bits in your palm, it needs more liquid. Add 1 tablespoon of water at a time until you reach a consistency whereby you can form individual gnocchi easily.

You can form each gnocchi individually or roll a larger piece into a log and cut it into gnocchi pieces. Each gnocchi should be about a teaspoon or two of dough in size.
To cook the gnocchi:
Fill a medium saucepan with well salted water and bring it to a low boil. Aggressive boiling is no good here – keep it to a simmer. Add about 10-15 gnocchi to the pot and allow them to rise to the surface. Cook them for an additional 2-3 minutes before promptly removing from the liquid with a slotted spoon. Repeat until you have cooked all the gnocchi.

Spoon a sauce of your choosing over the gnocchi and serve. Leftovers keep well in the fridge for 2-3 days.
Notes
This gnocchi can be baked from raw in a sauce with no issue. I recommend my FODMAP friendly tomato sauce with some cheese on top.
The gnocchi can be cooked from frozen, although I found it to be a little more mushy than fresh. I recommend cooking the fresh pasta and keeping leftovers in the fridge for lunches. 
The longer you cook gnocchi, the mushier it will become. It is important to cook the gnocchi only for the allotted time.
On that note, it's also important to ensure each gnocchi is small – 1-2 teaspoons of dough per gnocchi. The gnocchi swells during cooking. Larger gnocchi take longer to cook, so you are more likely to end up with mushy edges and raw innards for your gnocchi.