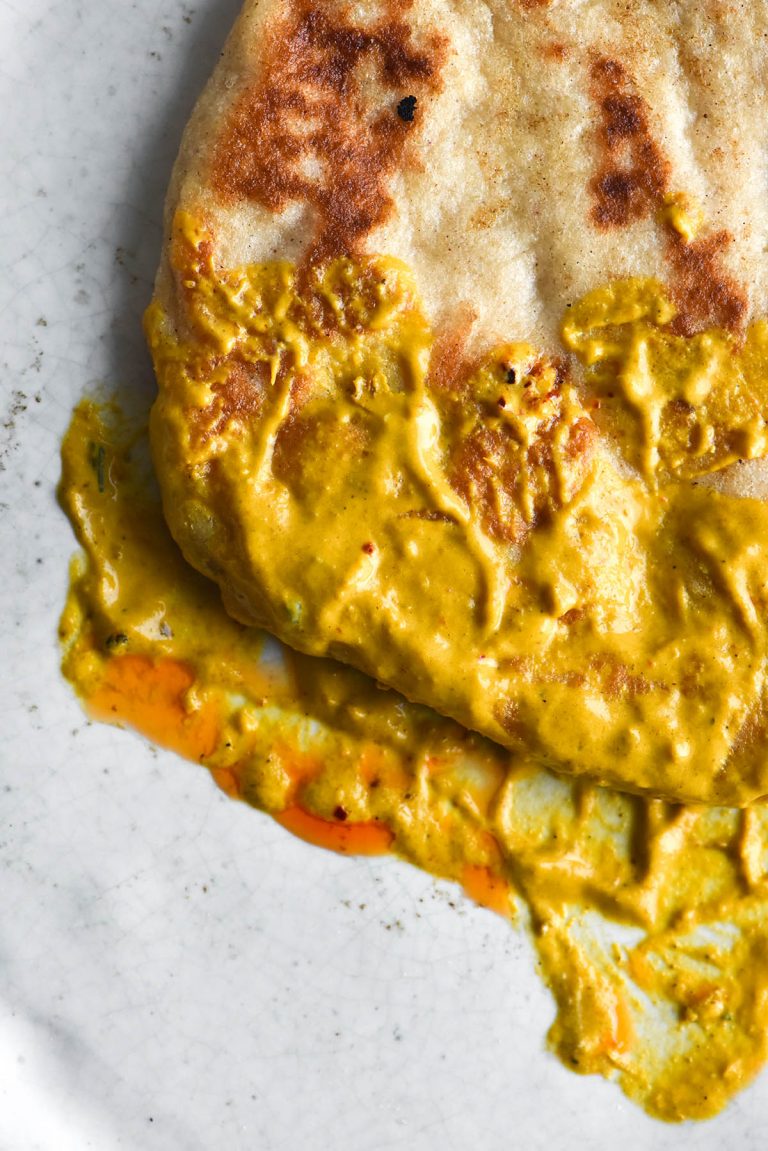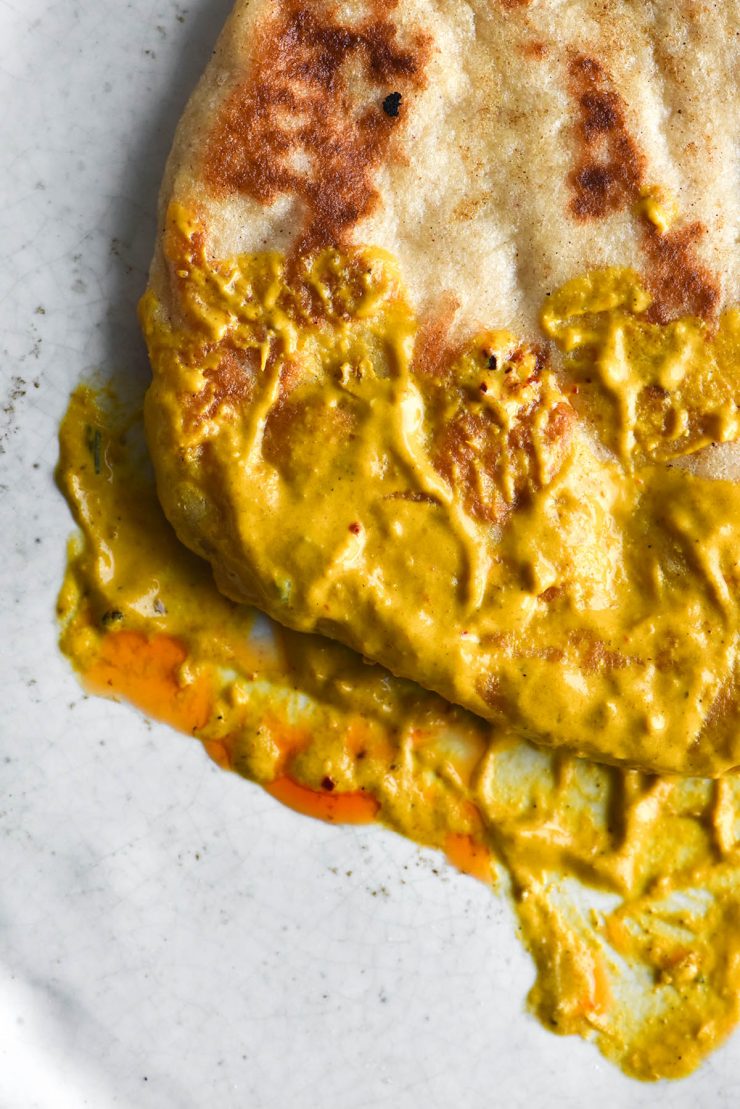 Gluten free yeasted flatbread are an essential recipe to have in your back pocket. They can do so many things – dip into curry or soup, become a pizza style oven flatbread, get doused in garlic infused ghee as an appetiser – the list is endless. I originally developed this recipe as bonus content for pre-sale purchases of my latest book, Intolerance Friendly Kitchen. Now that the book is out in the world, though, I wanted it to have a permanent home.
Gluten free yeasted flatbread
These gluten free yeasted flatbread are nut free, FODMAP friendly, xanthan gum free and very adaptable. I haven't yet converted them to being vegan, but I promise I will work on that. I have developed this gluten free, yeast free flatbread recipe, though. Those flatbreads are made without eggs or xanthan gum and can easily be made vegan.

Tips for your gluten free flatbread
You can make a half batch of this recipe if you only need 4 flatbreads. Using half a packet of yeast is a bit annoying, but everything else divides easily.
I like to experiment a little with the wholegrain flours I use. The white rice flour version tends to make for the most 'traditional' tasting flatbread, but there is room for experimentation. Gluten free yeasted flatbreads don't need much structure (unlike, say, sourdough) so experimentation is reasonably low risk. We can go into the substitutions I have tried in the section below.
If your dough feels too dry, add a little water to reach a soft but pliable consistency. On the flip side, if your dough is too soft to handle once proofed, simply knead in some extra rice and tapioca flour until the dough becomes a workable consistency. It should be soft but easy to roll. You should be able to pick up each flatbread without too much stress.
You can roll these flatbreads as thick or as thin as you like. A thinner flatbread works really well as a wrap. A thicker flatbread works really well for dipping in a curry or soup (or drizzling with the garlic infused ghee).

Flour substitutions I have tried
In a half batch of gluten free yeasted flatbreads, I have used half brown rice flour and half sorghum flour as the wholegrain component. I kept the tapioca flour content the same.
That's it! I will update this section as I try more flour combinations. If you successfully try any, please let me know in the comments.
Ingredient notes
Psyllium husk powder is more absorbent than the flakes. I recommend the powder for these wraps, as it's finer and has less of an impact on the appearance. I grind flakes into a powder using my spice grinder.
How much water you need for this recipe depends on how absorbent your flours are and how thick your yoghurt is. If in doubt, add less as you can always add more later.
I have only tested with recipe with thick, full fat, lactose free Greek Yoghurt from Jalna. You can experiment with a dairy free yoghurt, but you might need to adjust the water content to suit (as dairy free yoghurt is generally thinner).
I have no substitute for the eggs in this recipe, but there is a recipe for vegan, sourdough flatbread in the cookbook.
The sugar is for taste and a little extra food for the yeast. It's not much, so I don't recommend omitting it.
Recipes to accompany your gluten free yeasted flatbread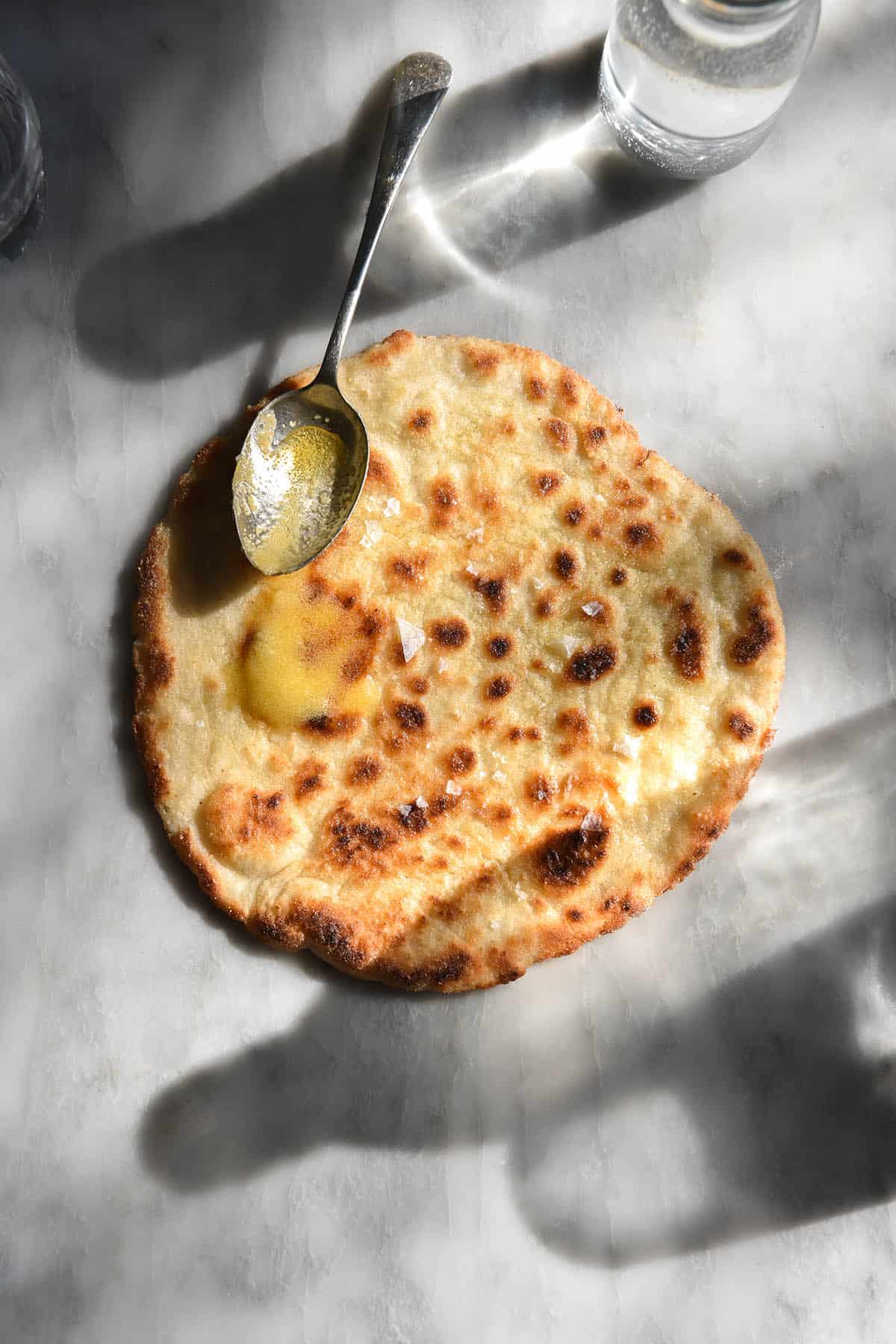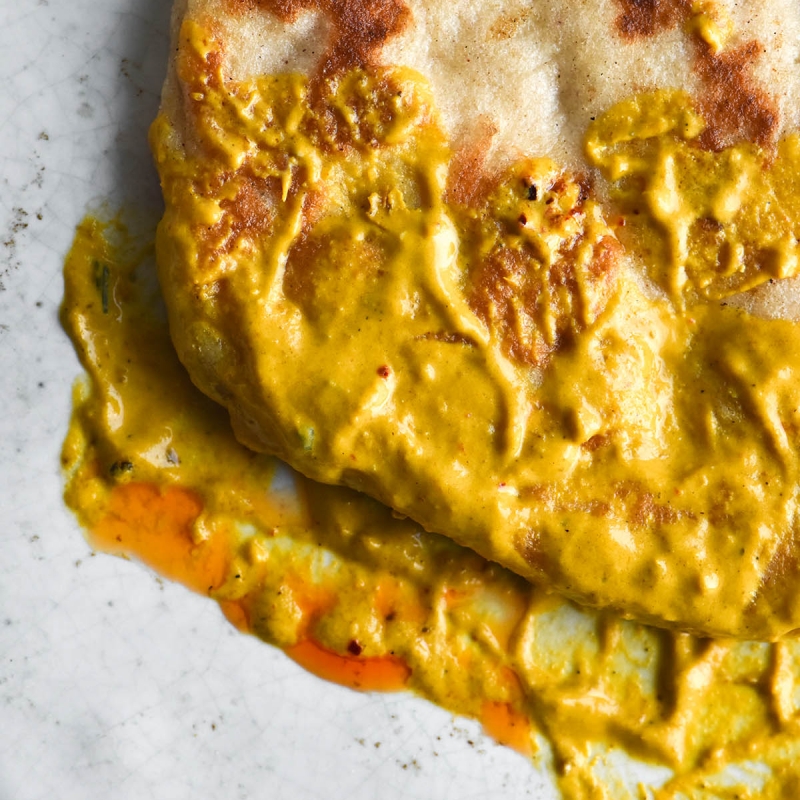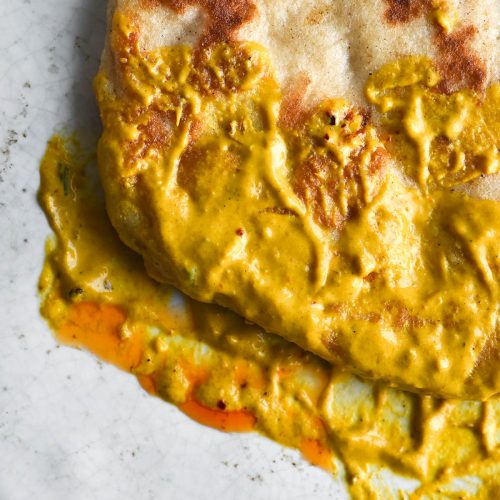 Gluten free yeasted flatbread
Nut free, gum free, FODMAP friendly
Ingredients
320

g

(2 cups) fine white rice flour

see body of post

120

g

(1 cup) tapioca flour

15

g

psyllium husk powder

7.5

g

(1 sachet) instant yeast

6.5

g

(1 1/4 teaspoons) salt

2

teaspoons

caster sugar

2

extra large eggs

3-4

tablespoons

(60-80ml) melted butter or oil

I use vegetable oil

200

g

(2/3 cup) full fat lactose free plain yoghurt

185-250

ml

(3/4 – 1 cup) water

Extra oil

for portioning out the dough and for cooking

Tapioca flour

for rolling out
Instructions
Combine all ingredients in a large mixing bowl and whisk until completely combined. The mixture might look too runny, but will thicken as you whisk and as it rests. Cover the bowl and allow to rise for one hour.

Once the dough has risen, use lightly oiled hands to punch the dough down and divide it into 8 balls of dough. If it's feeling too thin to roll, add some extra flours (equal parts of each). If it's feeling dry, add a little extra water.

Preheat a large skillet or frying pan over a medium high heat. You can use a little oil for each flatbread or fry them without any oil.

Flour a clean, dry bench with tapioca flour and roll out the dough one ball at a time. I like to cook the flatbreads as I go because they start to stick to the bench if they sit for too long. The flatbreads can be rolled as thick or thin as you'd like. Keep in mind that they puff up a little during cooking.

Cook each flatbread for a couple of minutes on either side until golden brown and cooked through. Store the cooked flatbreads under a tea towel as you work – the steam will keep them nice and flexible. Repeat with the remaining ball of dough, until you have 8 flatbreads.

Serve warm or microwave leftovers to restore them to their former flexible and fluffy glory.
Notes
See the body of the post for flour substitutions as I test them.
You can make a half batch if you only need four flatbreads
I haven't tested a vegan or yeast free version – I will update the post when I do. There is a recipe for vegan sourdough flatbread in my cookbook, Intolerance Friendly Kitchen.