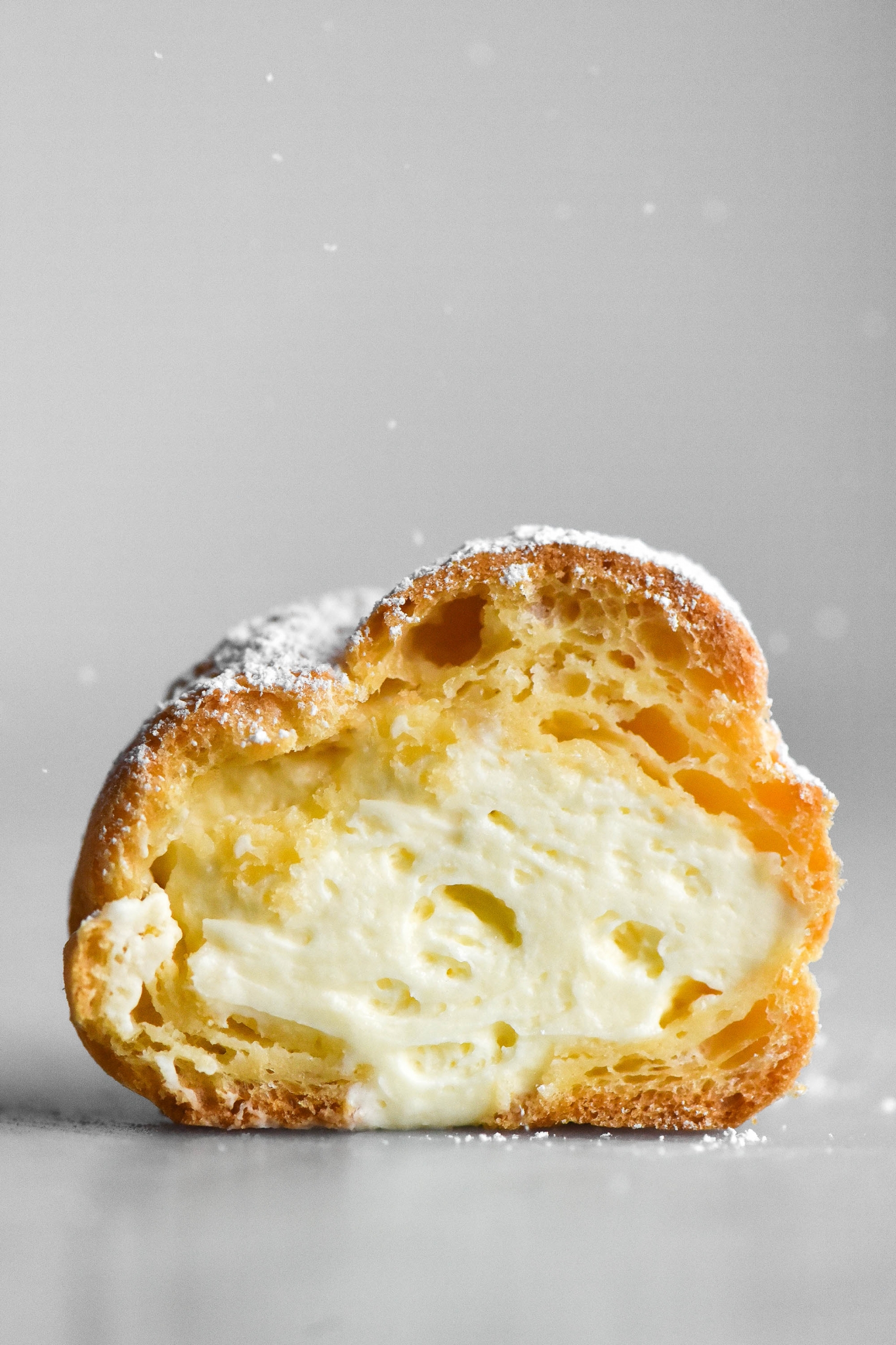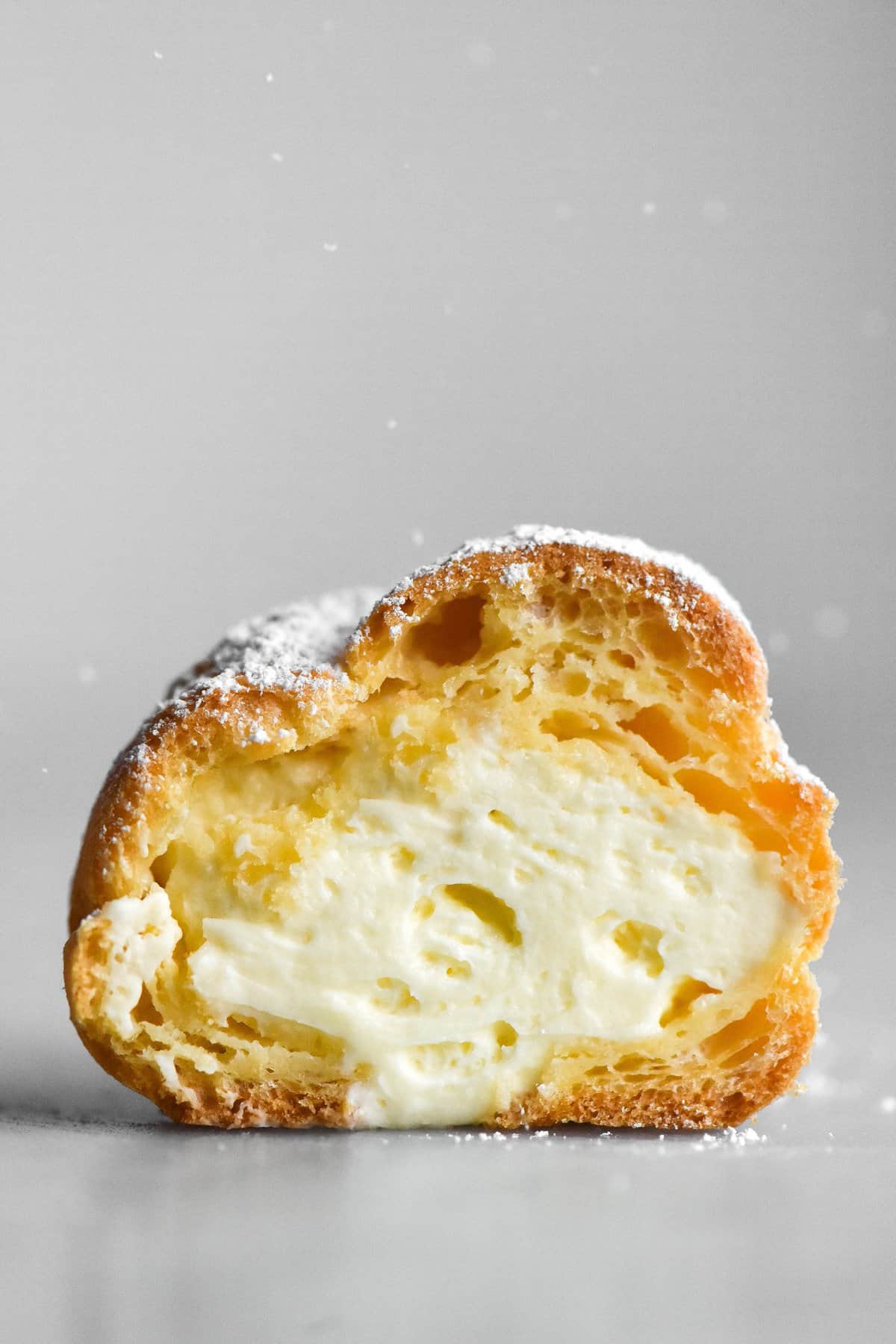 Xanthan gum and gluten free baking are generally always interlinked. Essentially all gluten free flour blends at the supermarket contain xanthan gum. Practically every gluten free recipe online specifies the use of xanthan gum. It is fairly ubiquitous in the world of gluten free baking.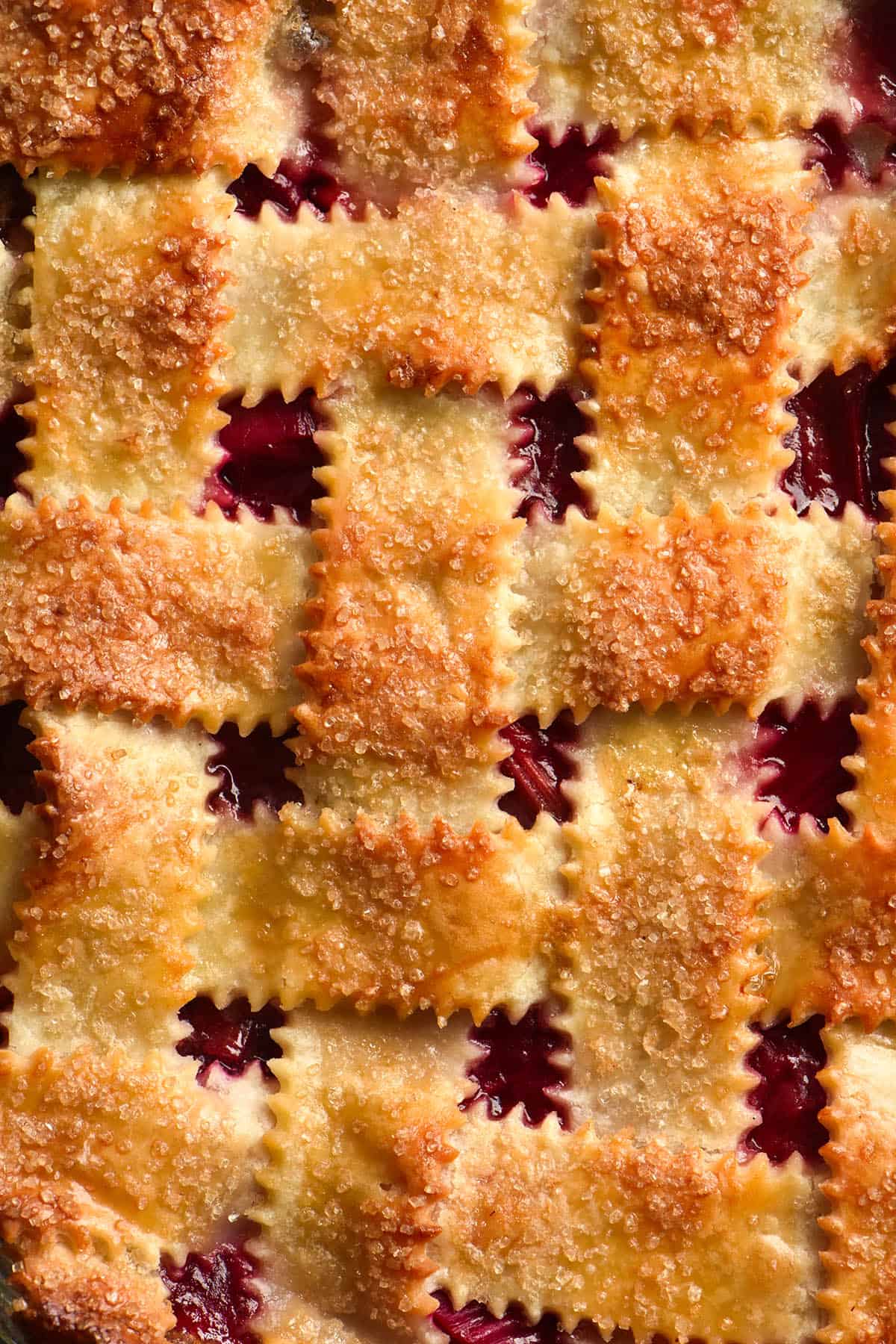 Xanthan gum and gluten free baking
Firstly, I'd like to make it clear that I'm a not a doctor or a nutritionist. I am approaching this topic from the perspective of baking science. This article is not a substitute for dietary advice and I am not here to demonise any food groups.
I have been gluten free for over a decade now. I have gastroparesis, ongoing SIBO issues and have constant digestive issues. Because my digestive system is compromised and generally very finicky, I try to include the minimum number of ingredients necessary to achieve a great result. This includes xanthan gum.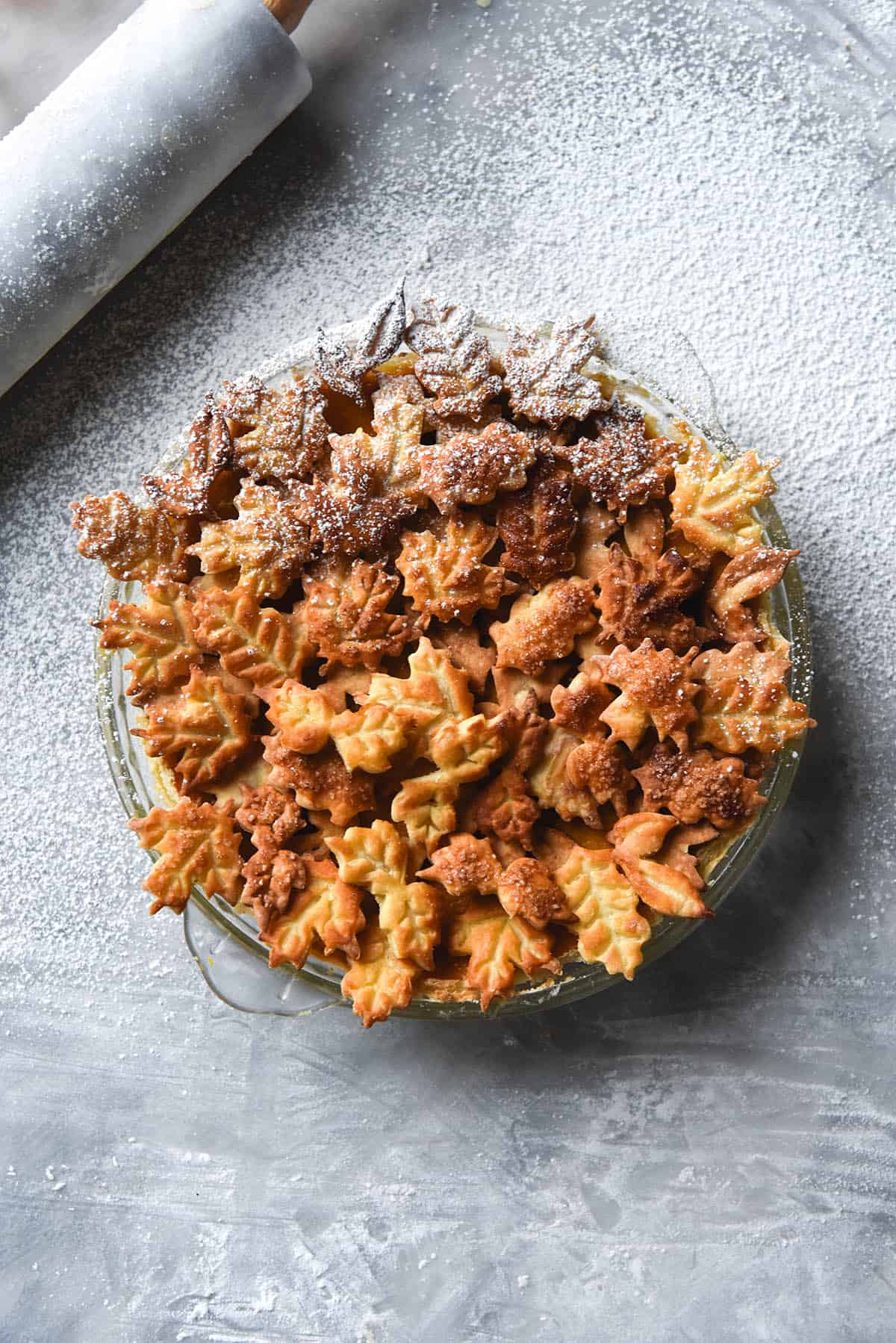 What is xanthan gum?
Xanthan gum is made by a certain bacteria that, when fed a sugary solution, ferments said solution to form a sticky protective coat. The product is then dried and powdered and sold in a white, odourless powder form.
The sugary solution fed to the bacteria is often derived from corn, soy, wheat or dairy, so people with allergies need to read the labels and call the manufacturer if in doubt.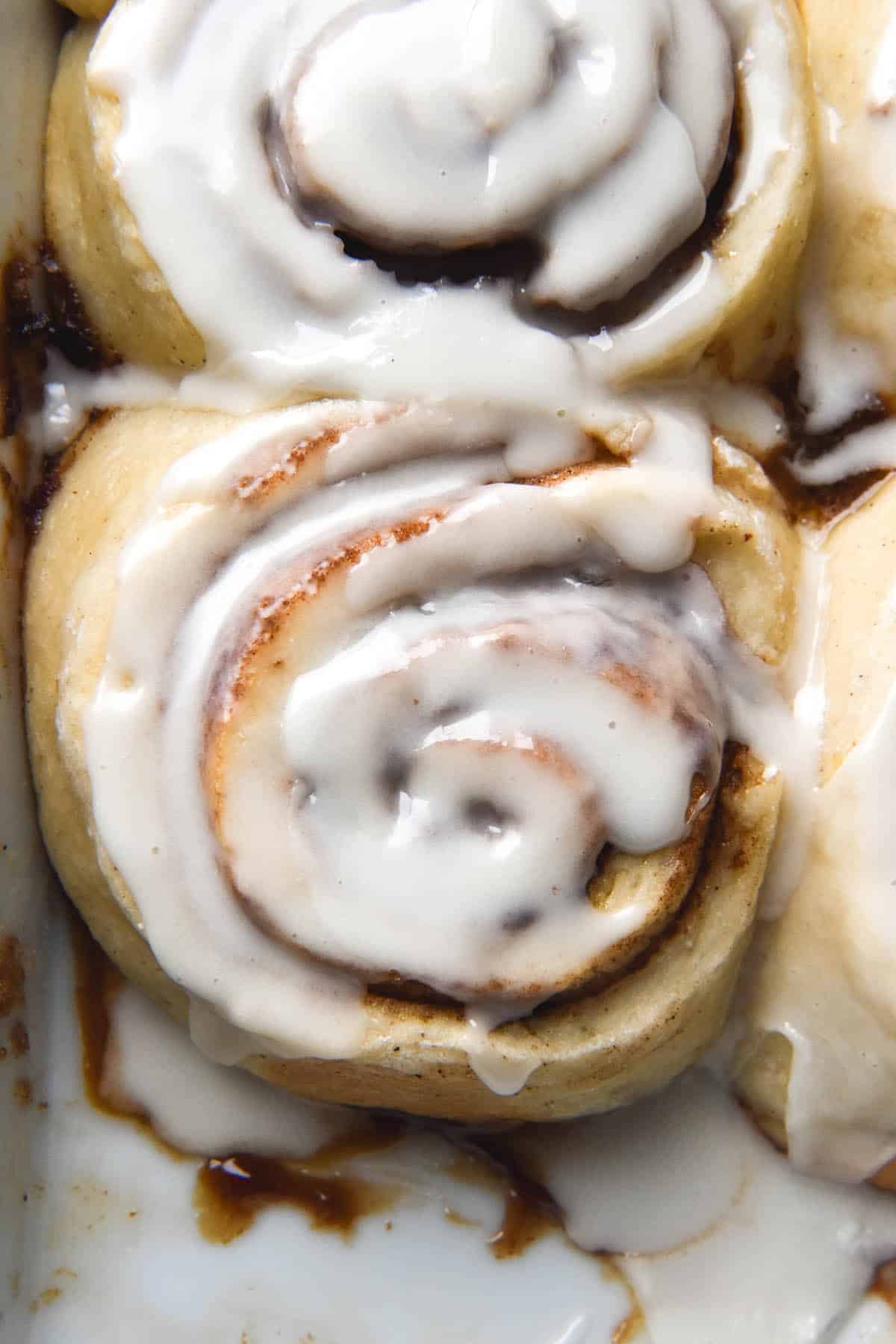 Is xanthan gum bad for you?
There is no evidence to say that xanthan gum is inherently bad for you. It has been classified as food safe. Interestingly, a new study has identified that large amounts of xanthan gum (over 15g per day) can alter your microbiome. They are yet to establish whether that is a positive or negative change.
There is evidence that xanthan gum worsens digestive symptoms in some people. It can cause gas and bloating and is considered a laxative, so it can worsen diarrhoea. As discussed, it is often derived from corn, soy, wheat or dairy, so this needs to be factored into the decision making process for people with allergies.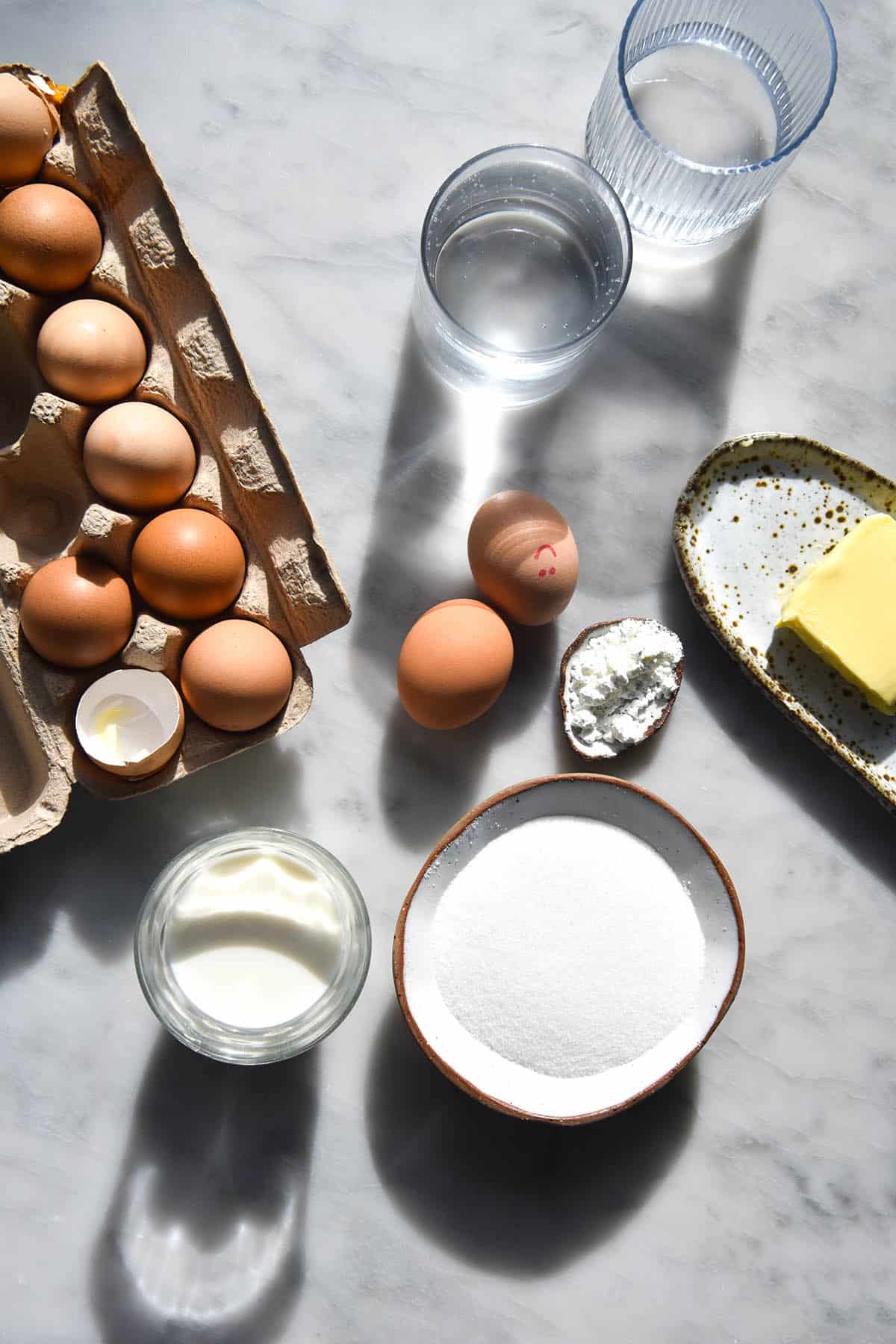 Why does gluten free baking use xanthan gum?
Gluten free flours, inherently, have no structure. Gluten is the protein in wheat flour (among other things) that gives dough elasticity and structure. Alternative flours do not have that. Without some sort of binder, gluten free baked goods can:
Be super crumbly or dry
Be excessively wet and gummy even after baking
'Melt' as they bake in the oven, resulting in a single sheet of dough (when you wanted bread rolls)
Fall apart once they are removed from the oven or a cake tin
Stale very quickly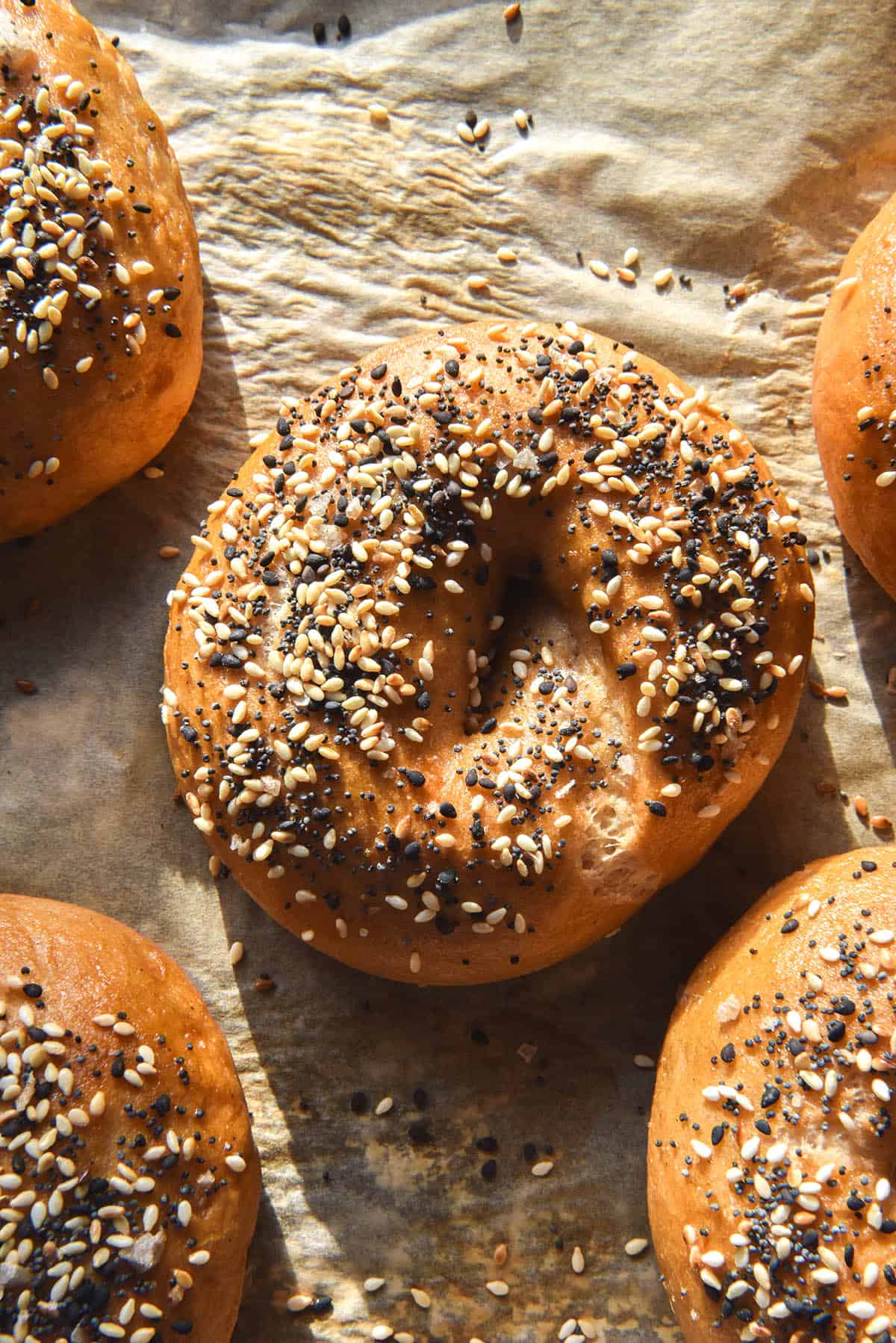 What are the downsides and upsides to using xanthan gum?
Downsides
Aside from the potential for adverse digestive issues, xanthan gum has quite a specific mouthfeel. Personally, I find that it leaves baked goods with a slightly slimy texture. This is particularly evident when a recipe calls for too much of it. The baked good will have a slimy texture.
My other pet hate when using xanthan gum is just how hard it is too wash off utensils and bowls. It leaves a slimy, annoying residue that takes ages to scrub off and sticks to your washcloth, too.
Upsides
There are, of course, upsides to using xanthan gum. The binding and structure that it provides are unparalleled to my knowledge, and sometimes (like in gluten free croissants) it's industrial strength is the only thing that helps.
Xanthan gum also seems to slow down the staling of gluten free baked goods. This means that they will last a little bit longer than those without (sourdough is an exception to this rule, though).
In my experience of testing recipes side by side, dough with xanthan gum is often 'wetter' than dough without, even if they use the same amount of liquid. This can be helpful when making things like gluten free scones, where the dough needs to be moistened but firm.
Finally, xanthan gum is really helpful in things like homemade pasta and noodles. It really aids the noodles in holding firm during the cooking process. I find noodles made with psyllium husk are far more fragile and tend to break more easily when stirred.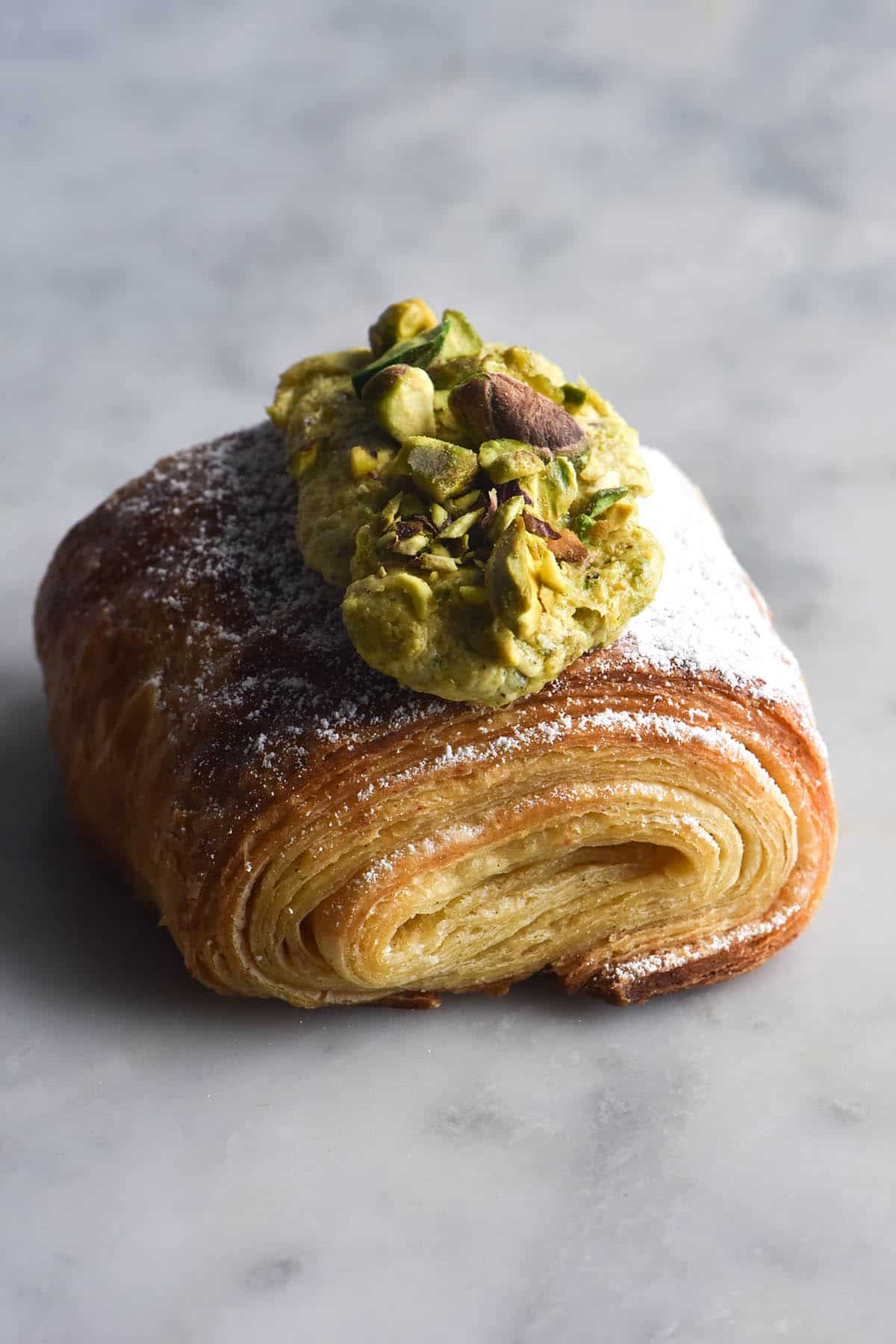 Why I choose to minimise my xanthan gum intake
My ongoing digestive issues dictate what I eat and what makes me feel good. I don't eat wheat because it makes me unwell, which is what spurred on my interest in gluten free baking.
Unfortunately, I find xanthan gum gives me gas, bloating and another really weird but very unpleasant digestive issue. As such, I try to develop most of my gluten free recipes without xanthan gum. I find that I tolerate these baked goods much better than those with xanthan gum.
I also find that a lot of gluten free baked goods don't actually need xanthan gum. Things like brownies, sourdough bread and flatbread work perfectly well without it. Hell, even chocolate cake doesn't need it!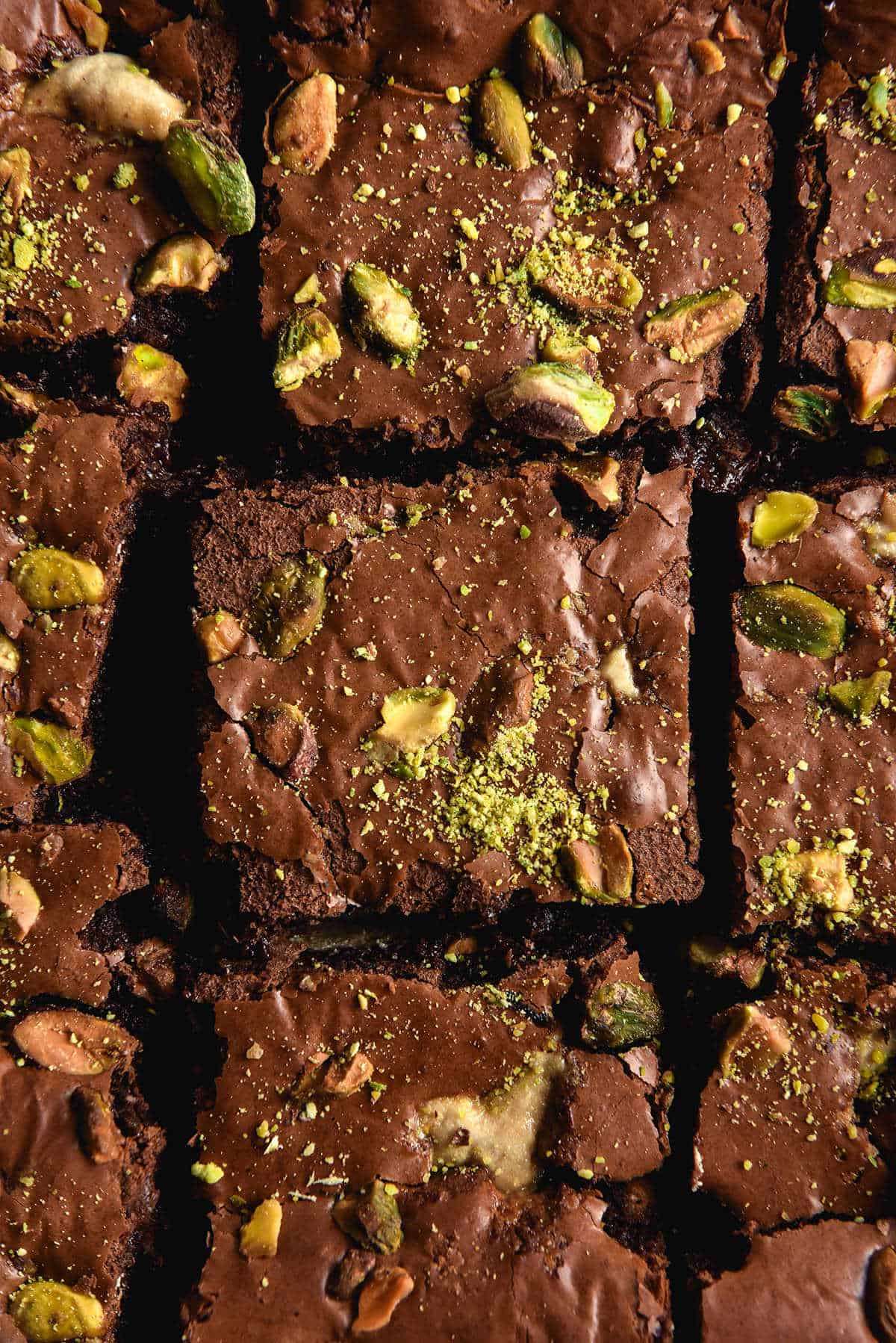 Can I bake gluten free foods without xanthan gum?
Yes! Although xanthan gum is everywhere, it's entirely possible to bake gluten free foods without it. Firstly, I highly recommend buying individual flours as opposed to flour blends. This gives you absolute control over the texture and taste of a baked good, but also the xanthan gum content. A lot of gluten free flour blends have a high starch content as well as a high xanthan gum content, which might not be appropriate for a sensitive digestive system.
Secondly: choose what you are making wisely, and make sure to incorporate an alternative binder where necessary. Some things, like gluten free scones, are best made with xanthan gum to achieve flaky layers and structure. Other things, like cream puffs, are best made without xanthan gum to ensure the dough is workable.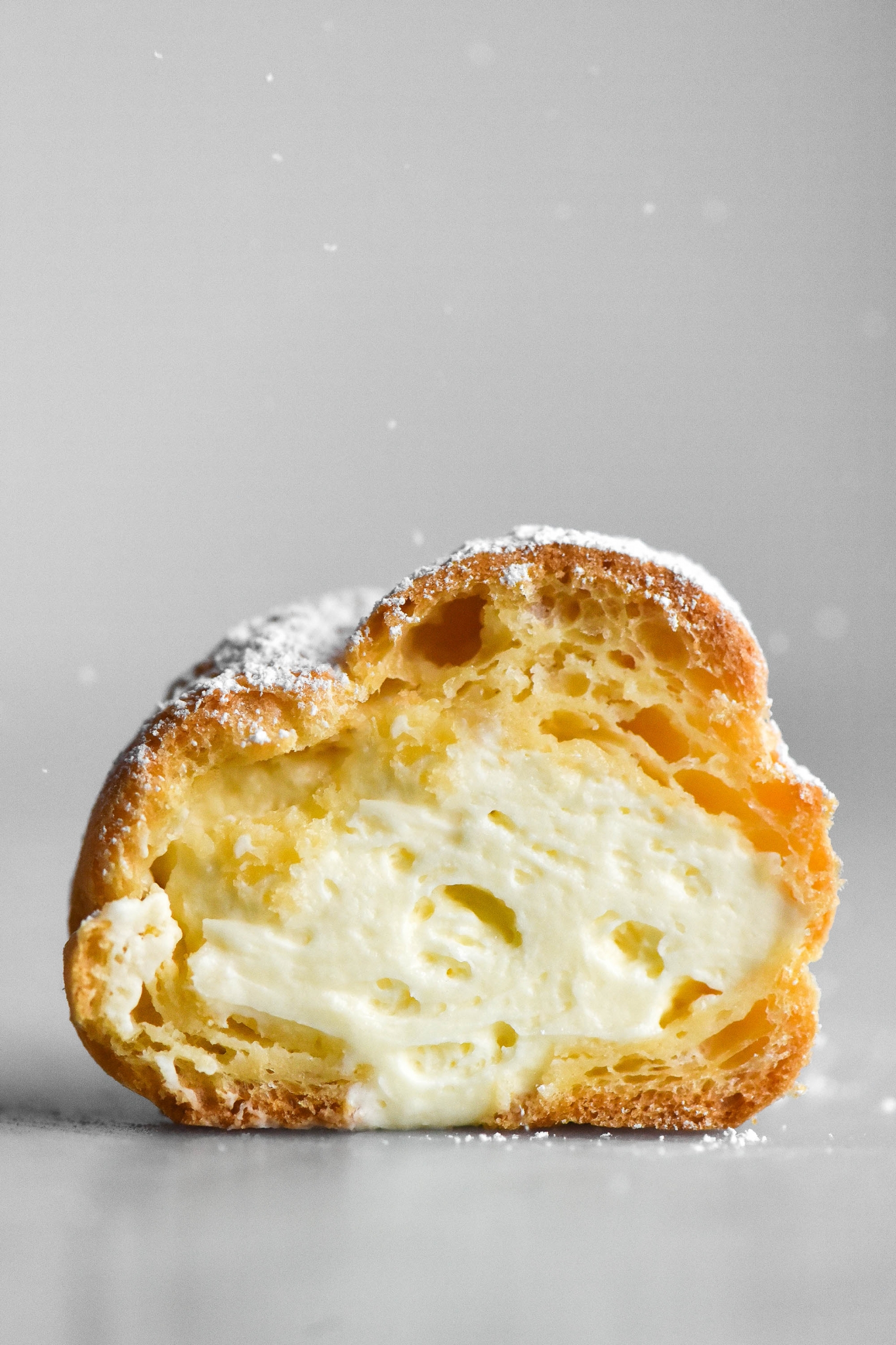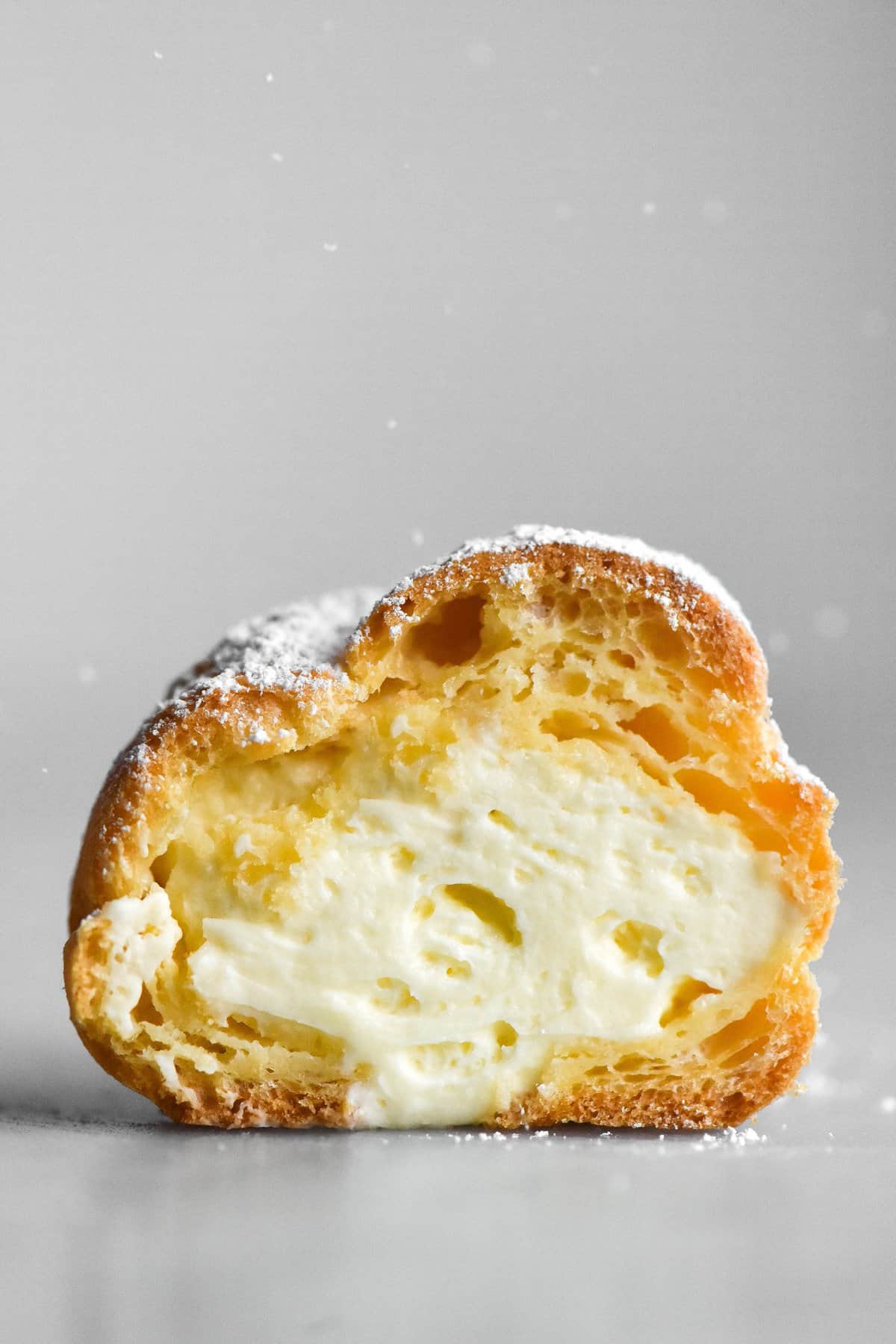 Gluten free binding ingredients that are an alternative to xanthan gum
Binders sounds like a technical and fancy term, but it is very simple. Binders act to hold your baked good together and include ingredients such as:
Eggs
Mashed pumpkin or banana
Psyllium husk or psyllium husk powder
Chia seeds, flaxseeds or chia/flax meal
Chocolate
Yoghurt, cream or thick dairy products
Starches like tapioca flour, potato starch and glutinous rice flour
Wholegrain flours like buckwheat or cassava flour
Konjac powder, guar gum and other gums
Sourdough starter (I don't know how, but it works)
To put this idea into practice: if you are making a gluten free banana bread that includes some starch, xanthan gum is likely overkill. You have banana, tapioca and potentially eggs that are working to bind the bread together.
Another example: if you wanted to make a gluten free cake, you could combine the use of tapioca flour, eggs and a dairy based product (like yoghurt or sour cream) to help bind the cake ingredients together without xanthan gum.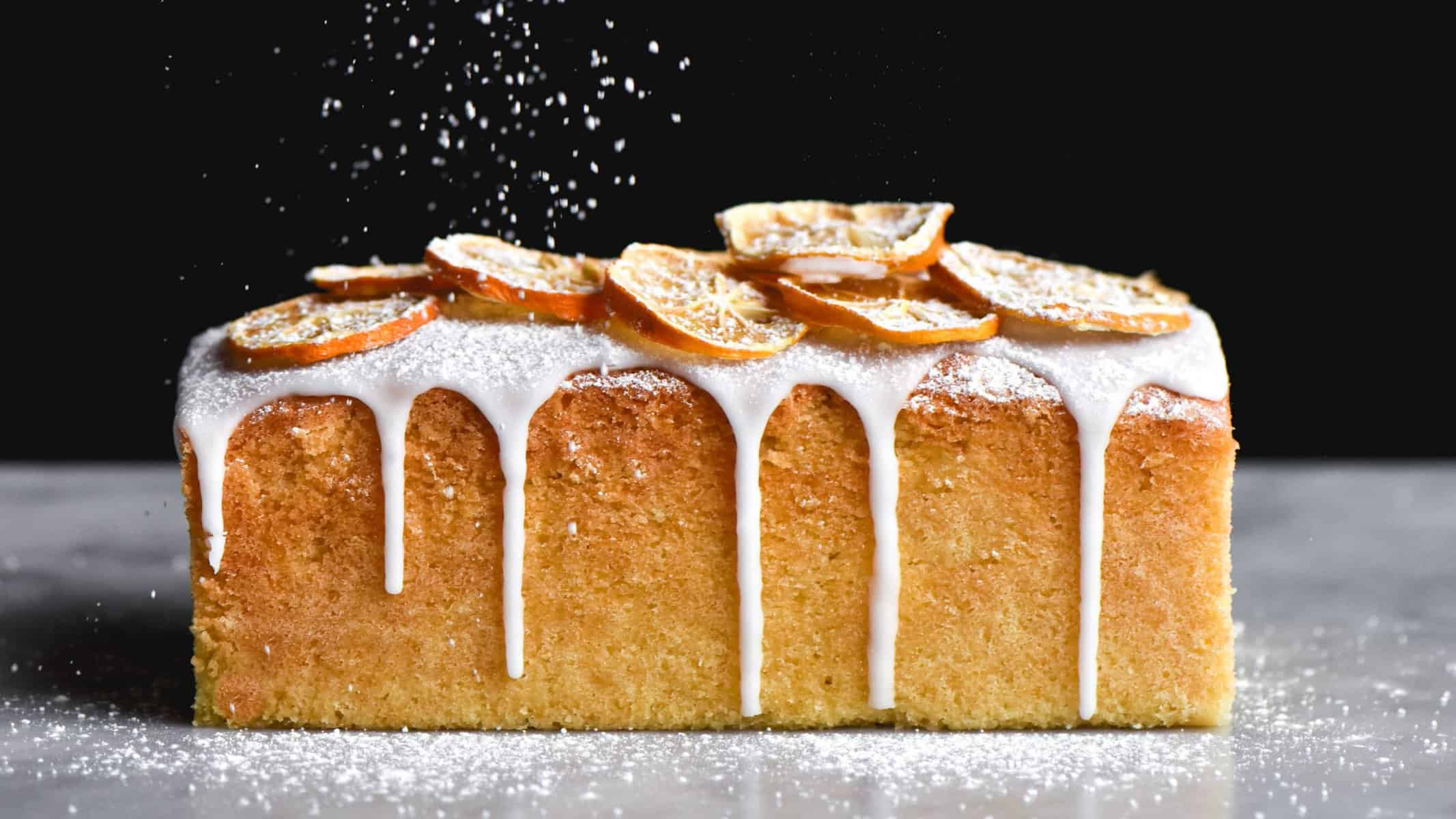 When do I need to use xanthan gum?
There are times when I think xanthan gum is definitely necessary. These include:
Laminated baked goods (although there are exceptions). Good lamination (layers of butter carefully folded into dough) requires a dough that doesn't snap or crack when rolled. Xanthan gum helps keep gluten free pastry dough together and pliable so that butter can be rolled into the dough.
Lattice work in pastry. Xanthan gum will provide enough elasticity so that the pastry can be fiddled with in the process of cutting and assembling the lattice.
Gluten free scones. Because scones are a laminated baked good, of sorts, they benefit from the structure that xanthan gum provides. They also need to hold their shape without a tin to hold them up.
Noodles or egg pasta. While you can sometimes get away with a gum free version, I find xanthan gum is a game changer for noodle making. Not only does it make the dough easier to roll and shape, it helps the noodles hold firm while they boil. Noodles made with xanthan gum tend to hold up better after stirring a sauce in, too.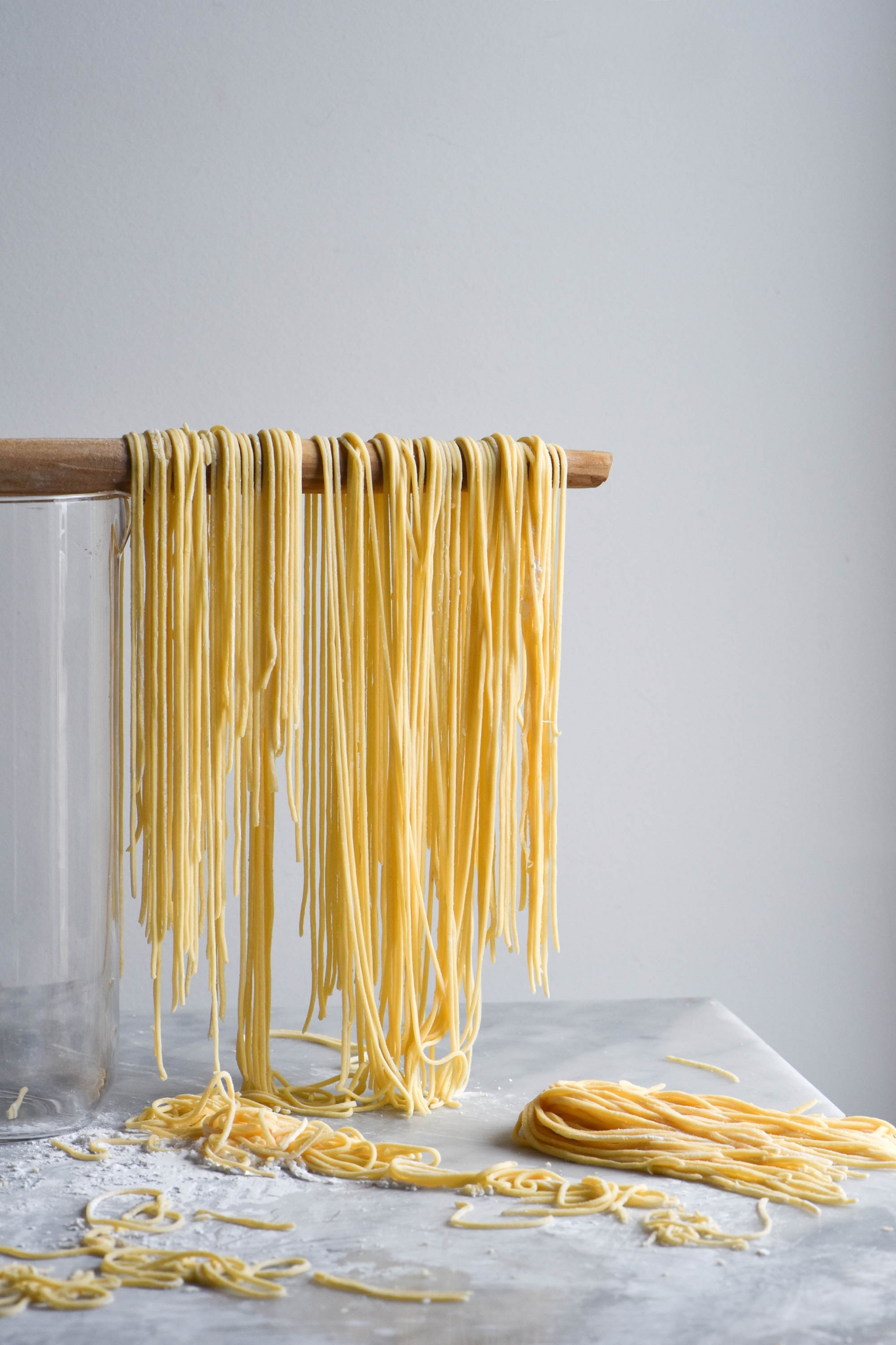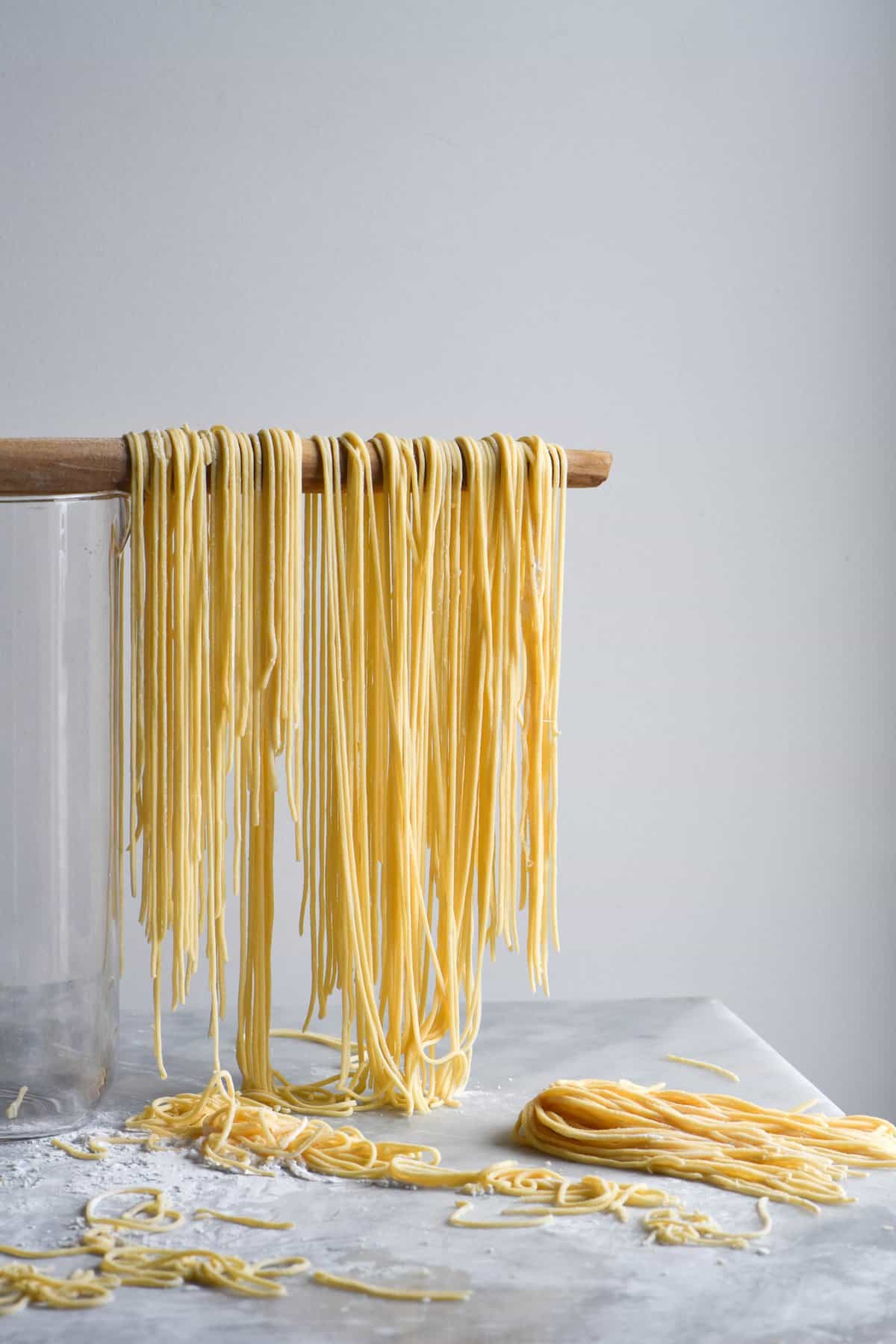 When do I not need to use xanthan gum?
The majority of gluten free baked goods can be made without xanthan gum.
Any baked good where structure is not important. This includes brownies and things that already have multiple binders.
Most baked goods that already have a good variety of binders in them
Sourdough baked goods (including sourdough croissants!)
In most recipes that already contain psyllium husk
Gluten free baking recipes without xanthan gum
1. Bagels
These gluten free bagels are vegan with an alternative egg wash. They use a combination of tapioca flour, psyllium husk and a flour scald to bind the dough together.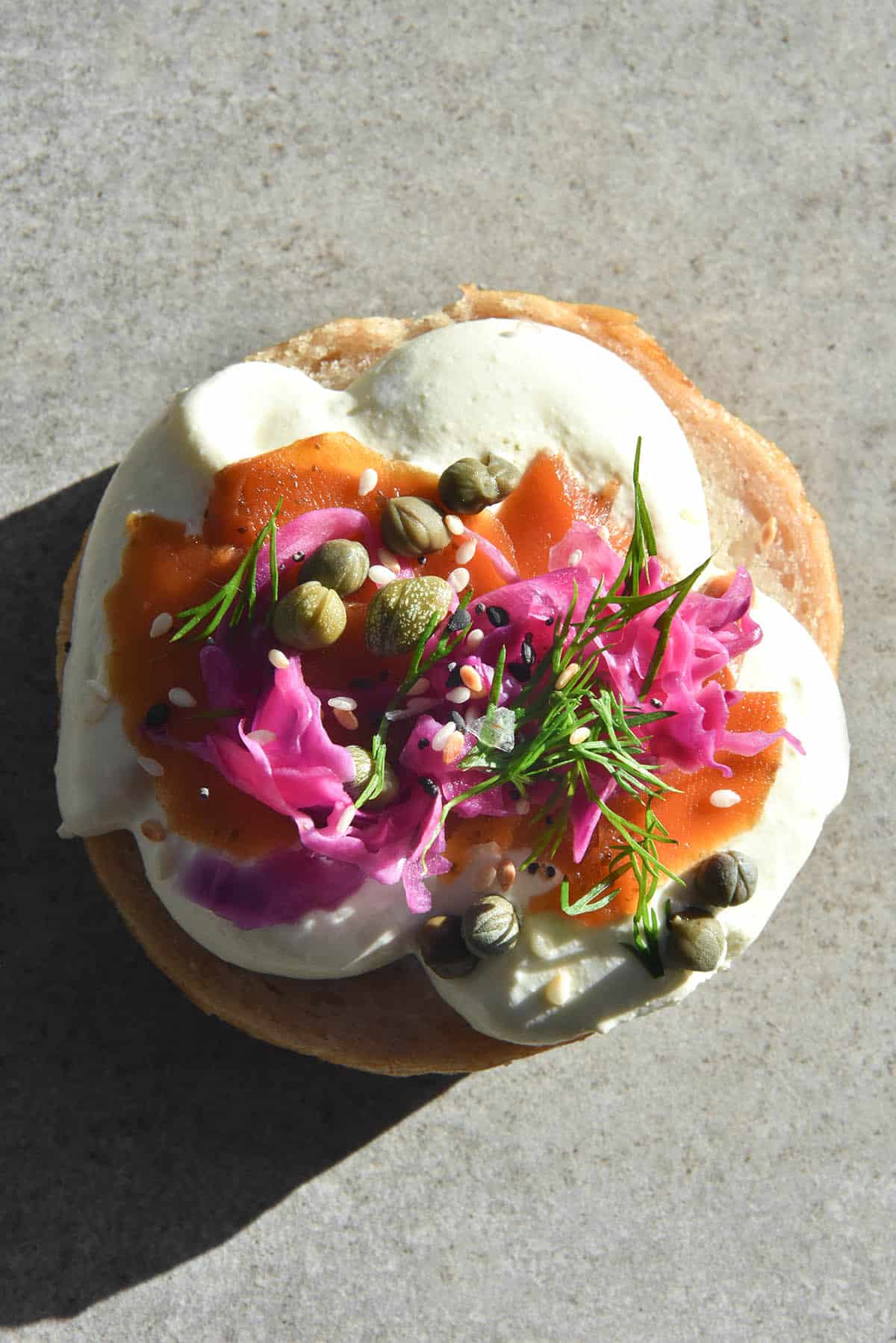 2. Bread rolls
The (very close) cousin to the gluten free bagels, these bread rolls use a scald to ensure they keep their shape and have lovely shiny tops.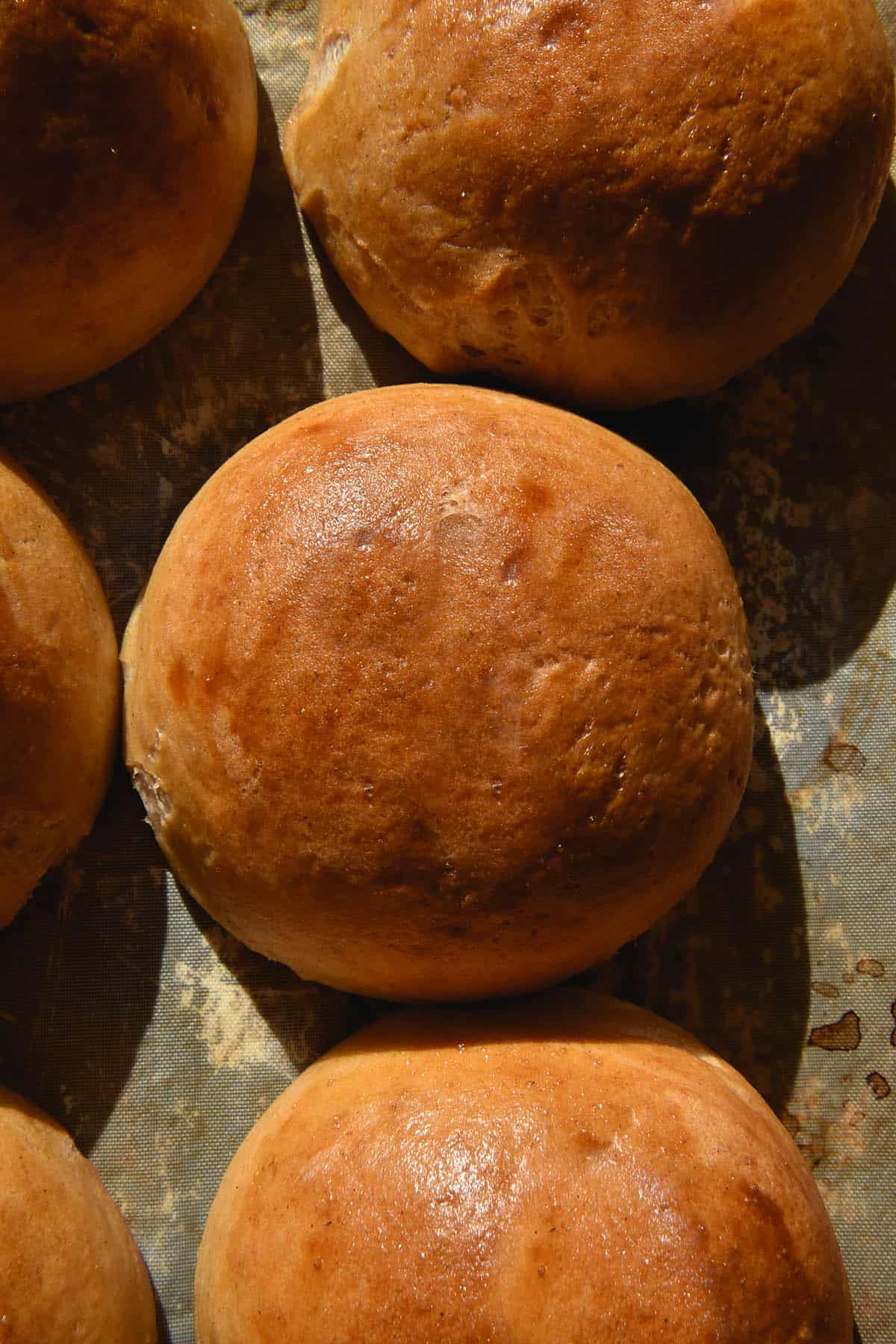 3. Sourdough
Gluten free sourdough has a magic ability to bind itself together without the need for xanthan gum.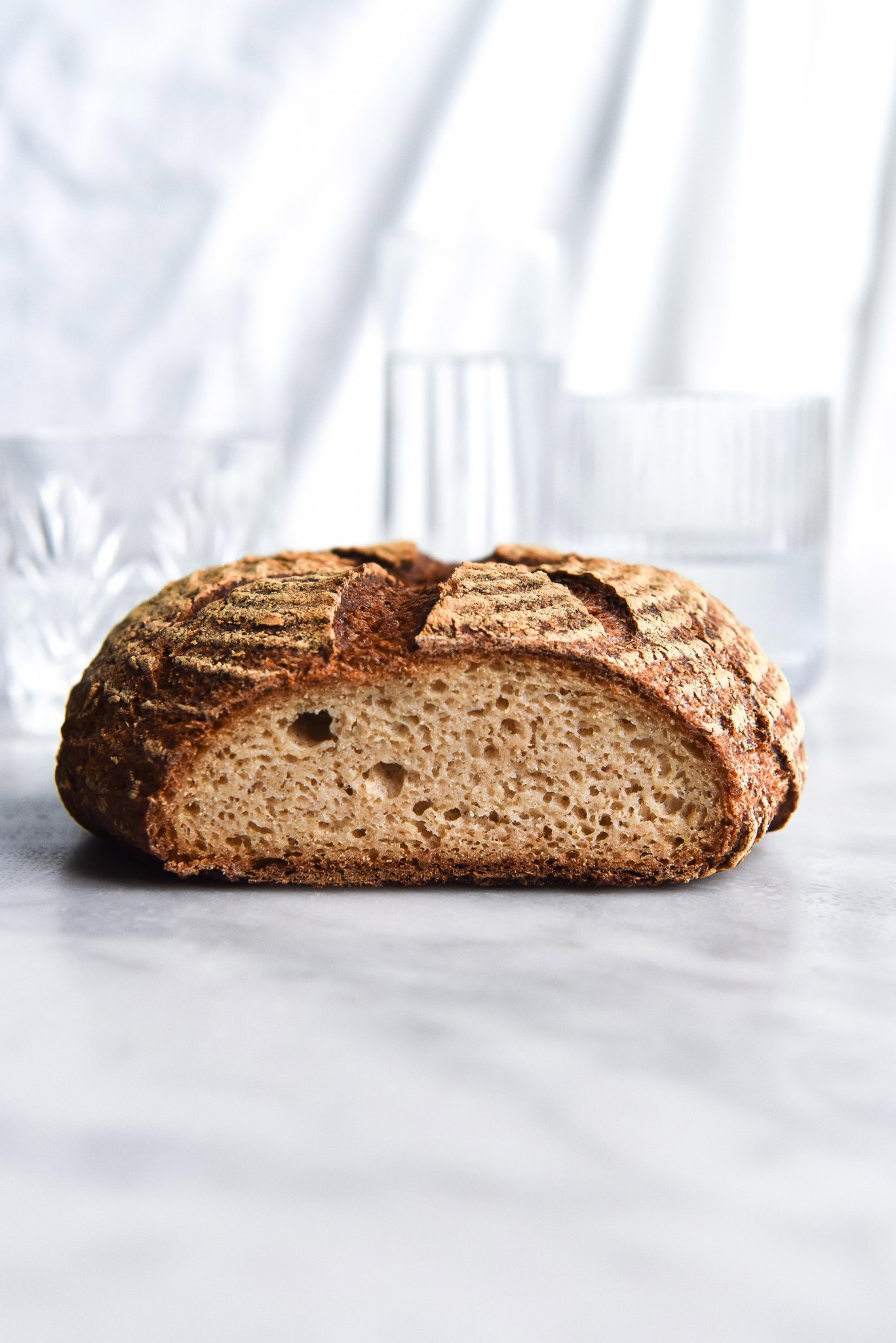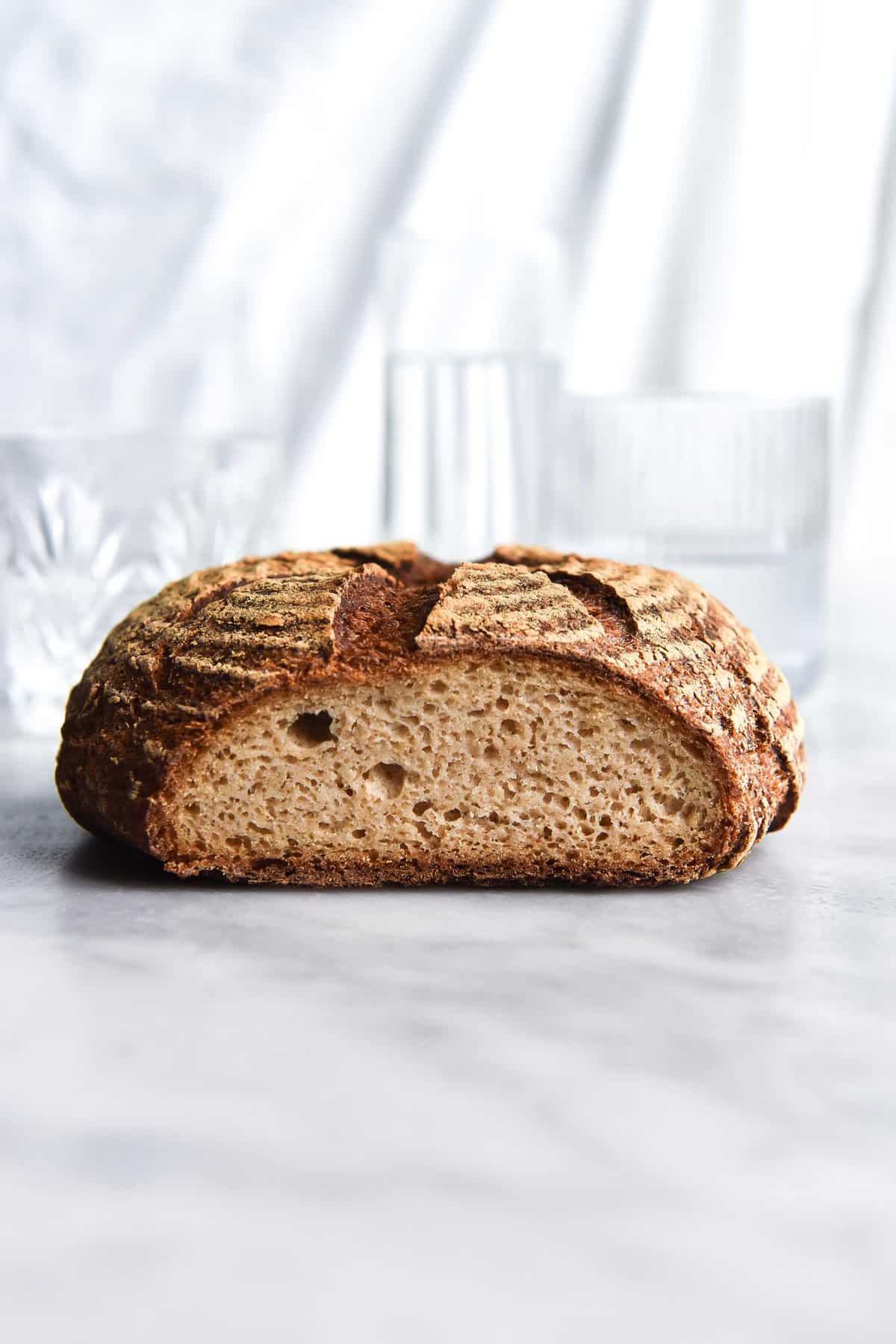 4. Cheesy naan
These cheesy naan (cousin to my Aloo Paratha) are gluten free and made without xanthan gum or eggs. They are an easy and delicious side dish to a FODMAP friendly curry, too.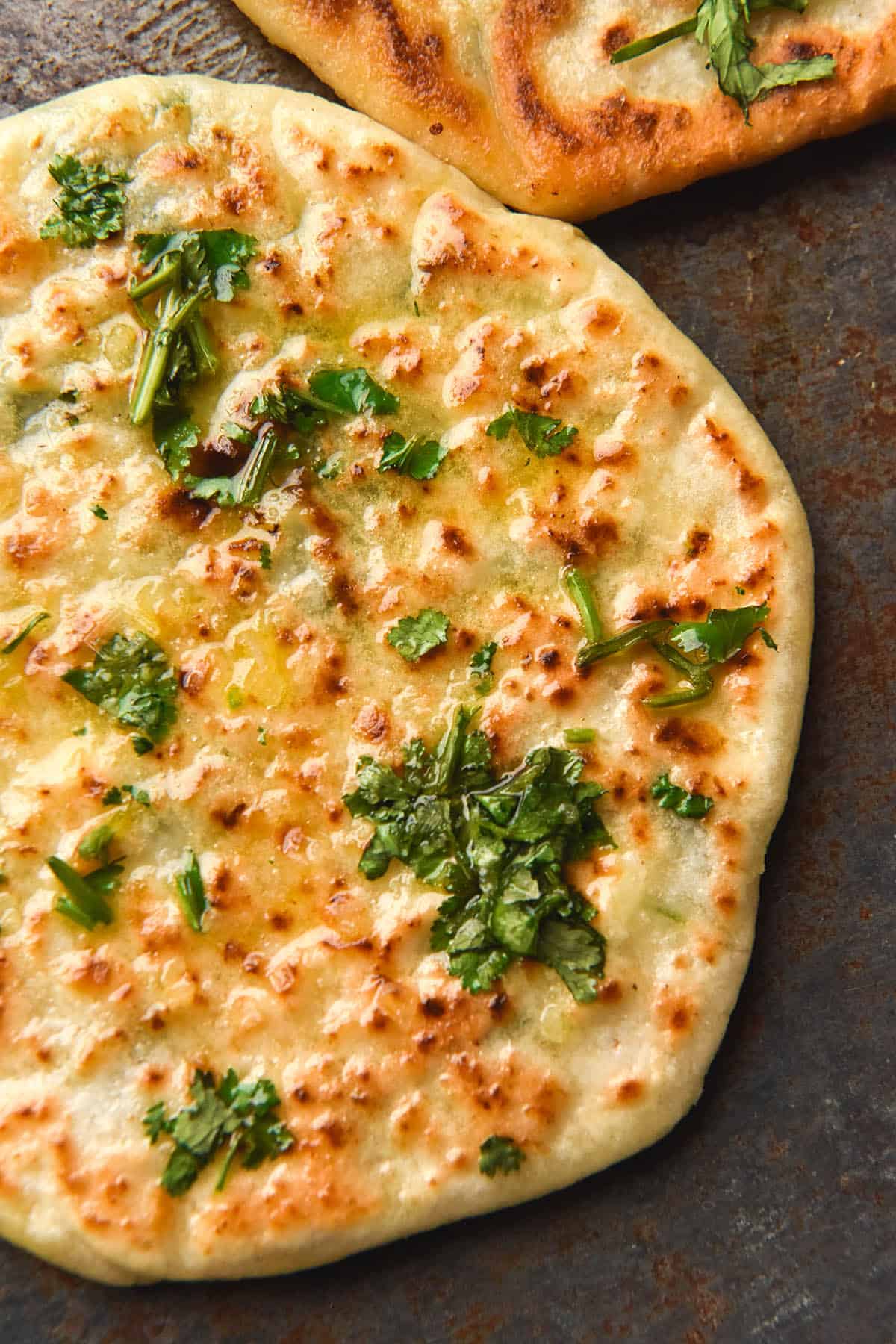 5. White bread sourdough
The white bread take on my original gluten free sourdough, this loaf is a fluffy treat that works brilliantly as a toastie. Made without xanthan gum, egg free and vegan.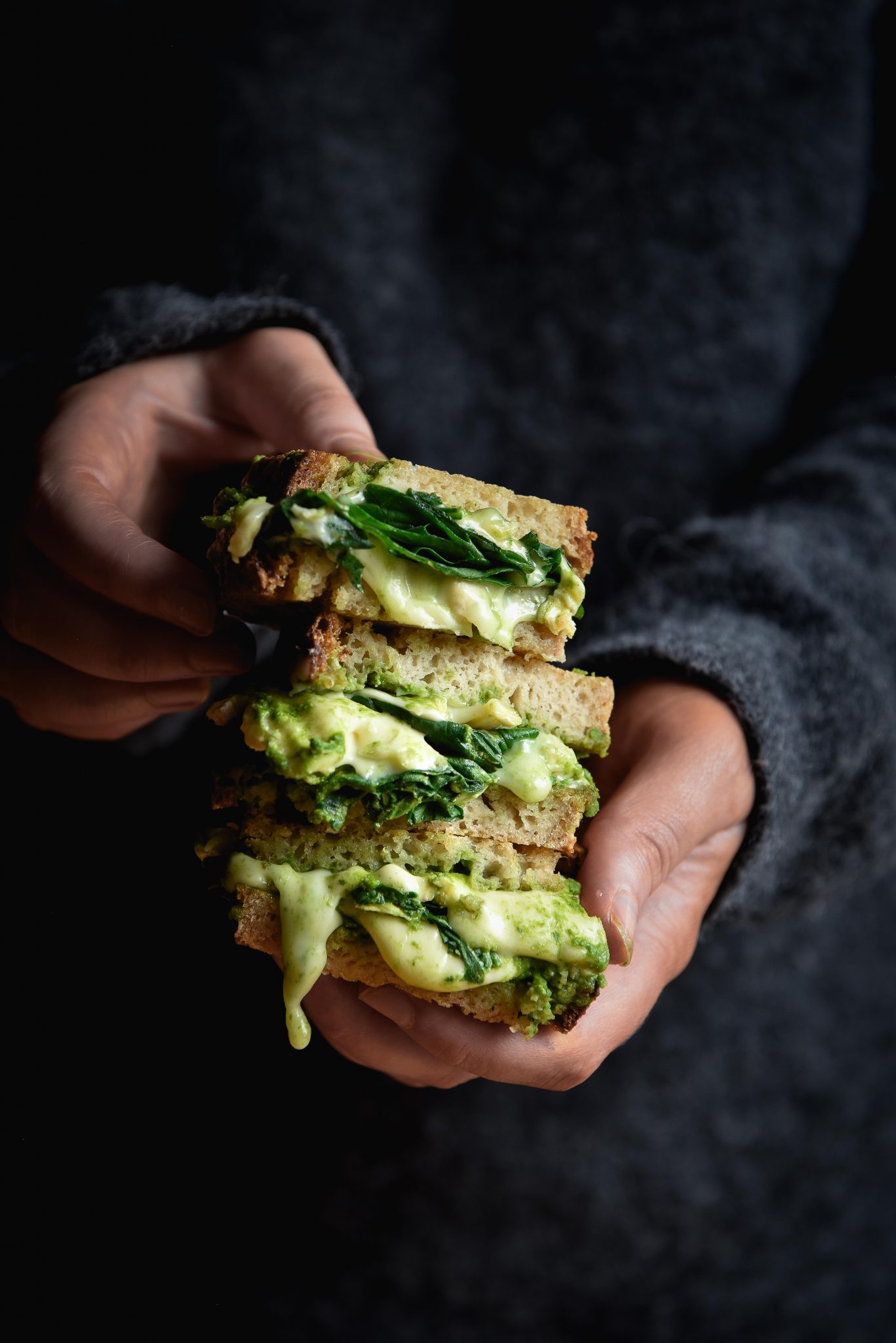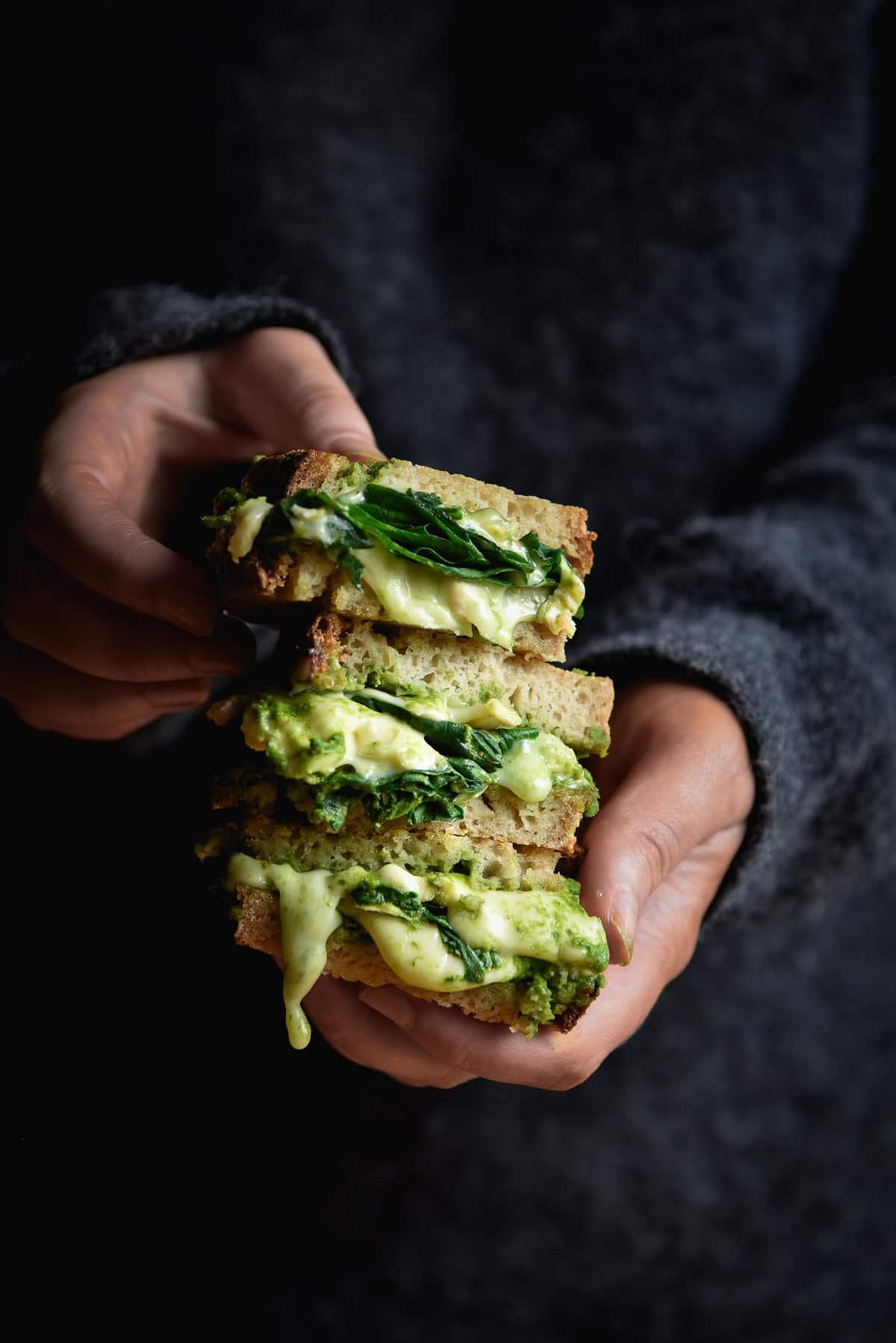 6. Vegan, gluten free cinnamon rolls without yeast
This cinnamon scented sugary and delicious gluten free vegan cinnamon rolls are yeast free and xanthan gum free. Quick, easy and every bit as good as the original.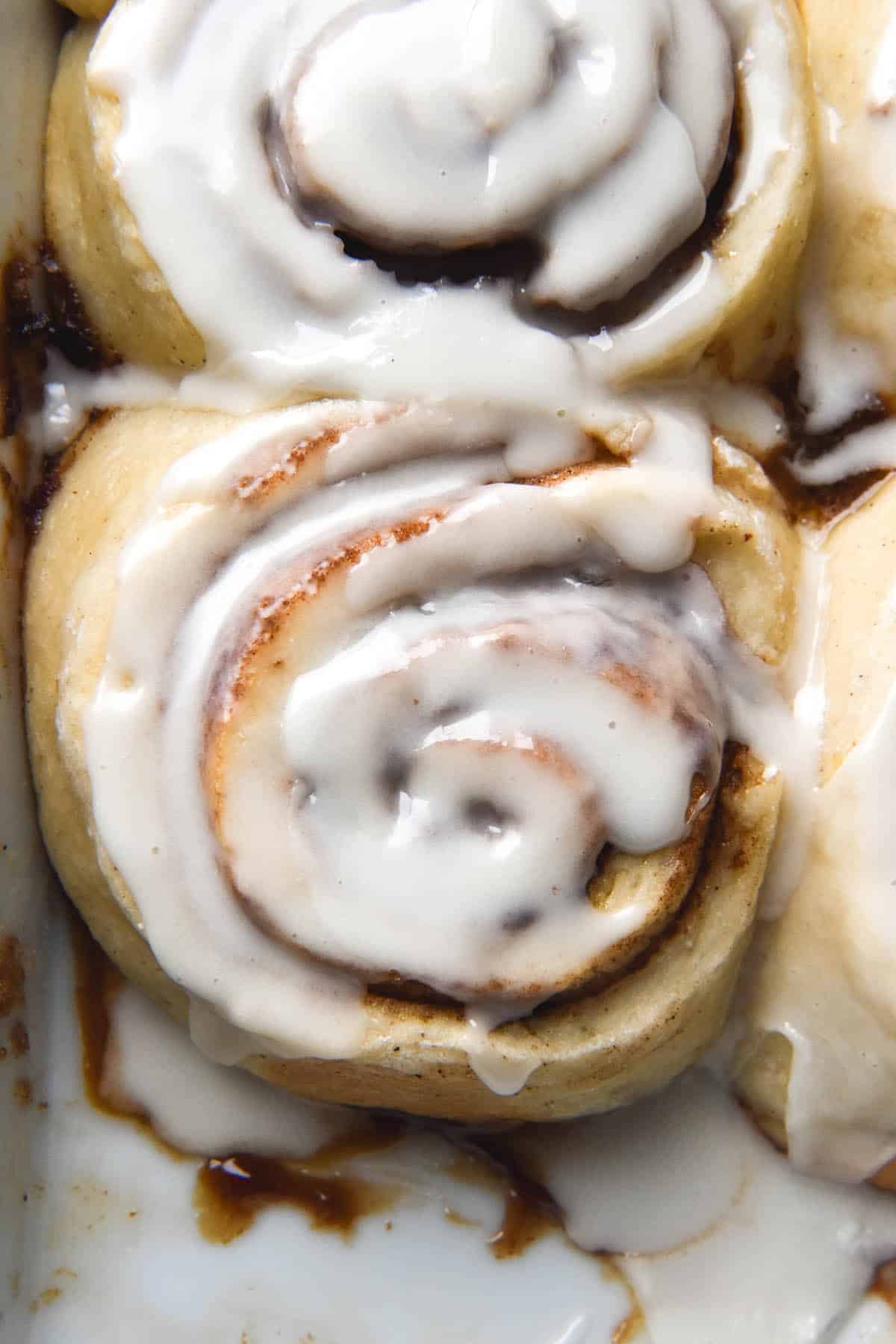 7. Lemon drizzle cake
A delightfully fluffy and buttery gluten free cake made without xanthan gum or nuts. This gluten free lemon drizzle uses only rice flour to achieve a buttery yet light crumb. This cake can also be used in any pound cake applications.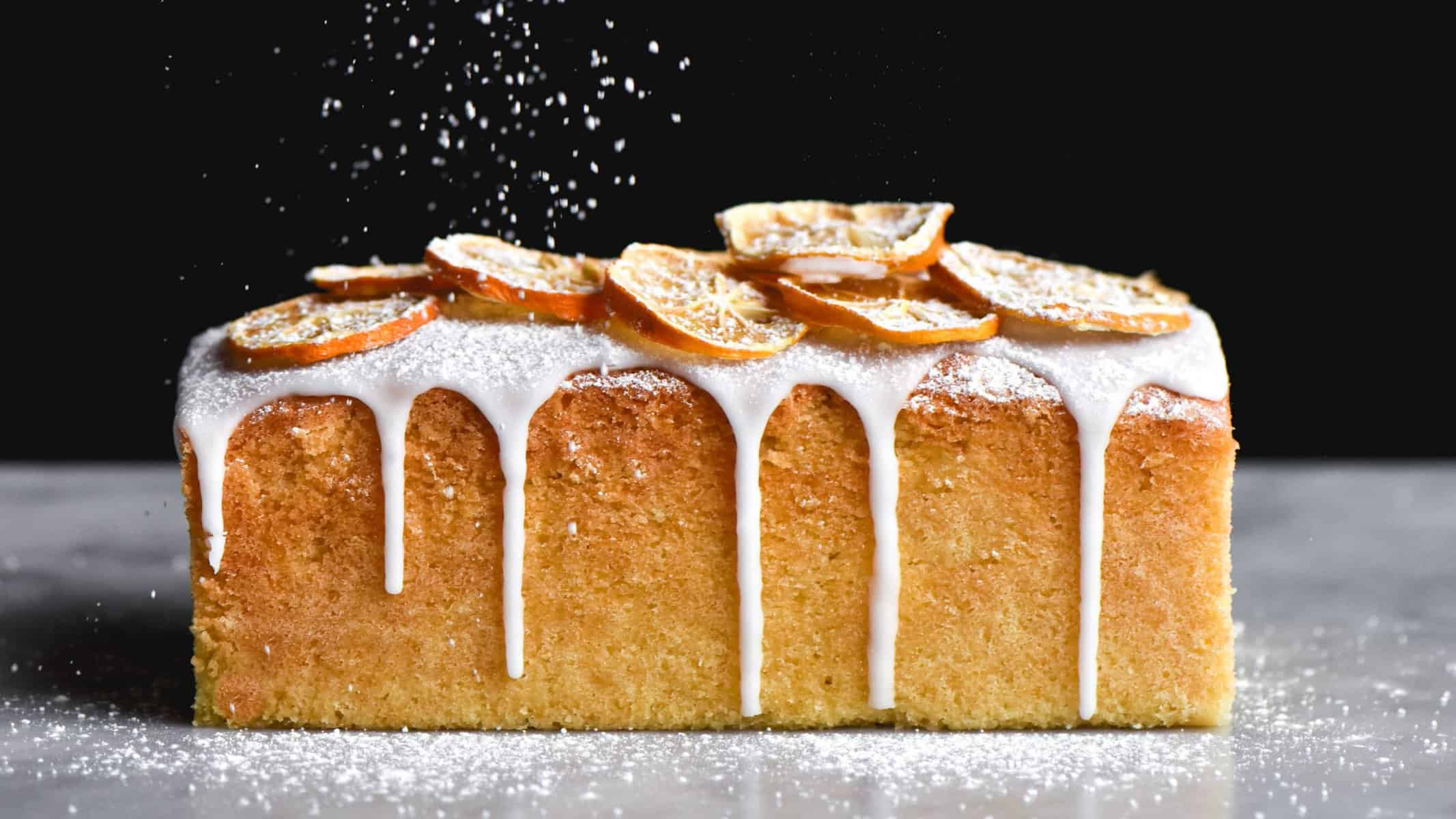 8. Sourdough croissants
The gluten free sourdough croissants in my cookbook, Intolerance Friendly Kitchen, contain no xanthan gum at all. They use sourdough and psyllium husk magic to bind the lamination together.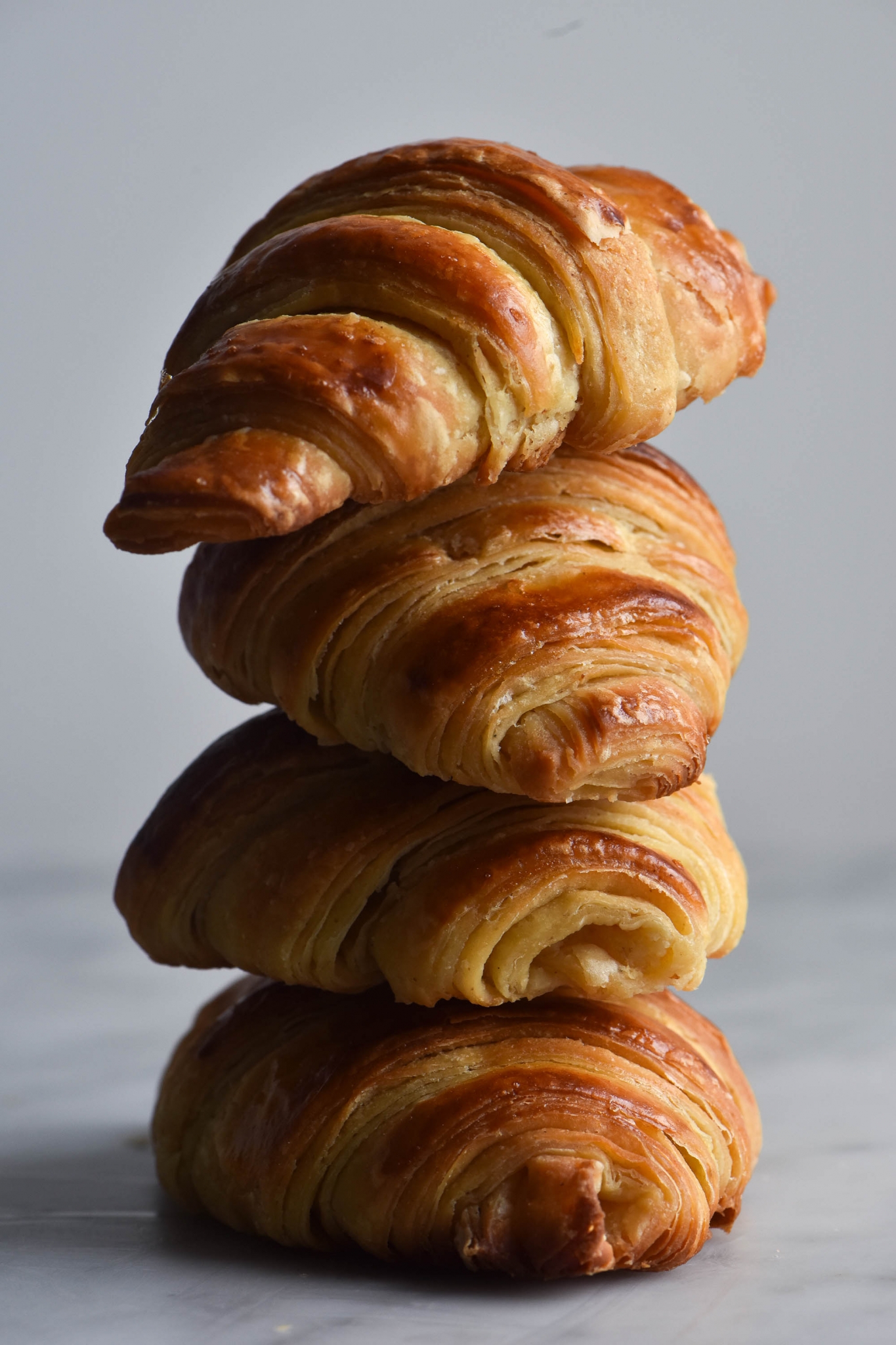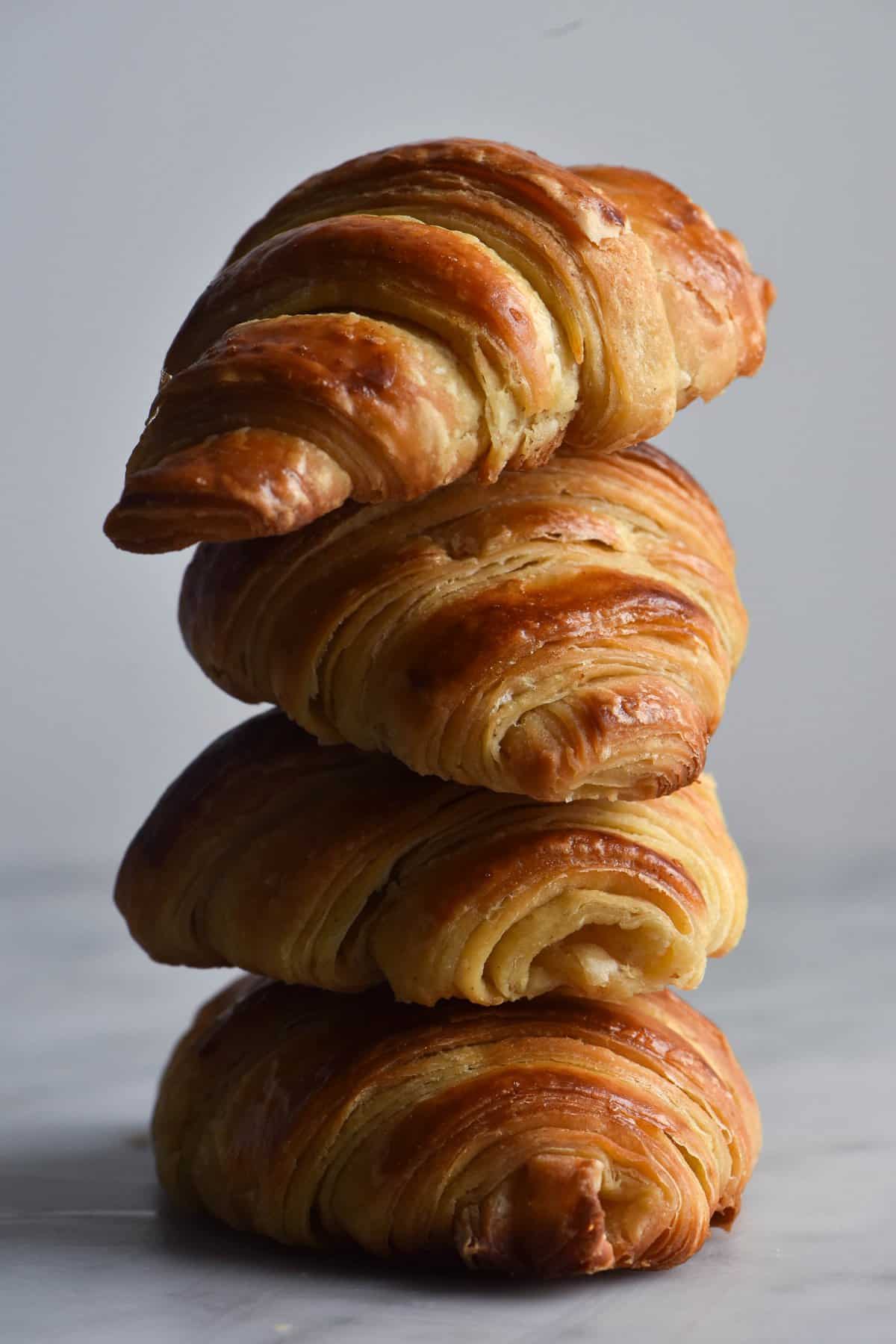 9. Chocolate cake
An easy gluten free chocolate cake that is made without xanthan gum or nuts. This cake uses only white rice flour to achieve a light and fluffy crumb.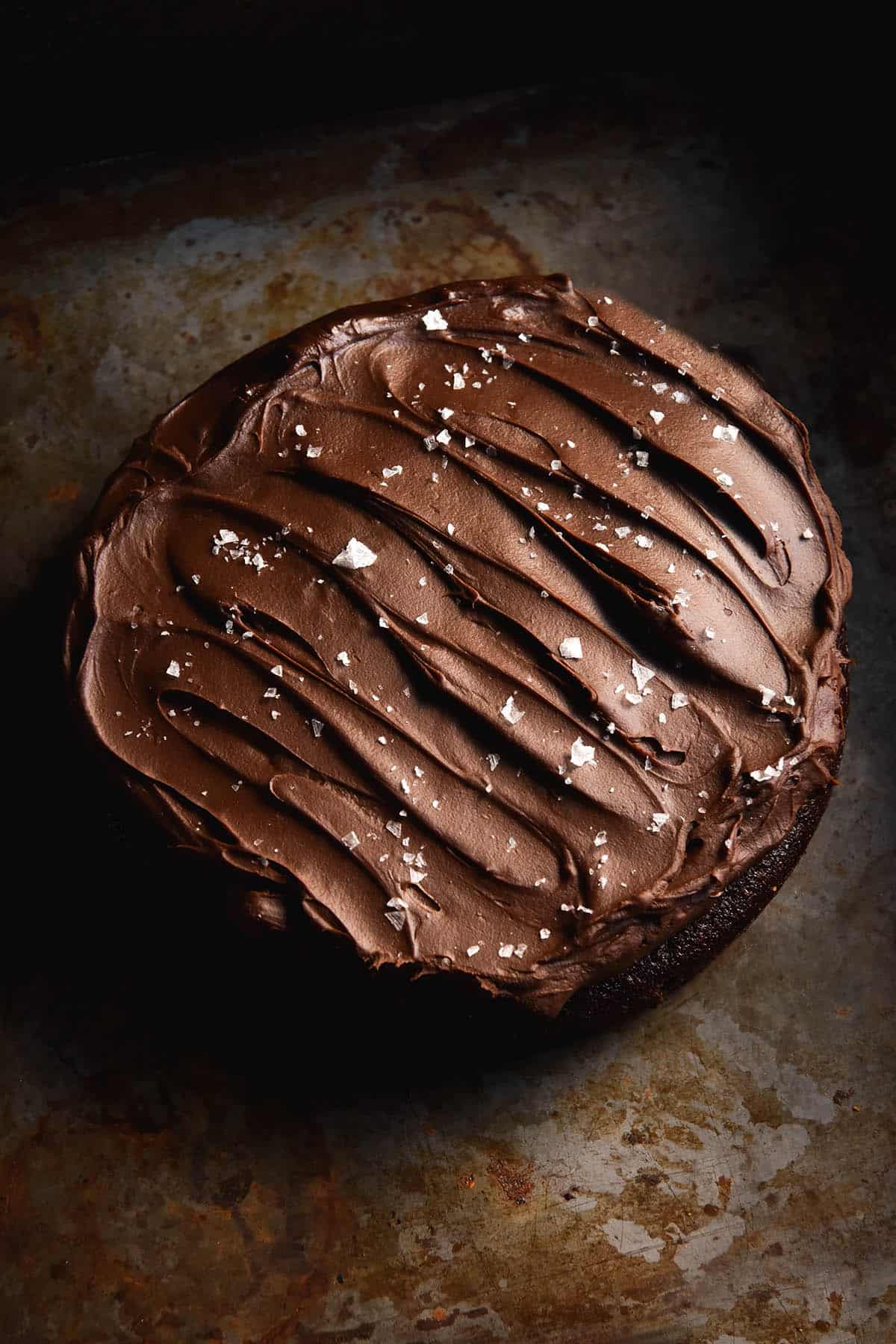 10. Brownie cookies
Easy gluten free brownie cookies that have many options: the original (linked below) a vegan version, a flourless version and a sourdough discard version.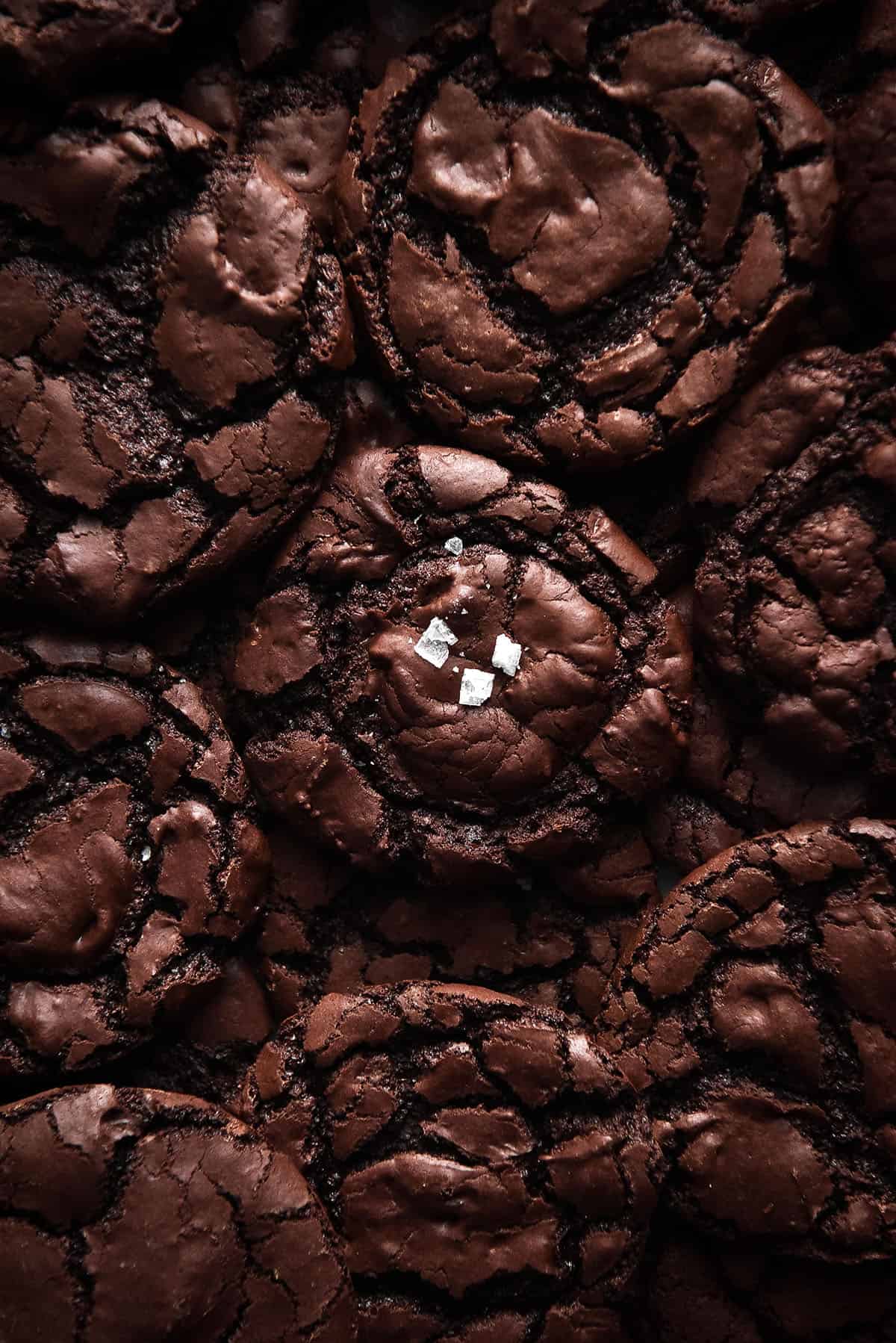 More gluten free baking recipes: