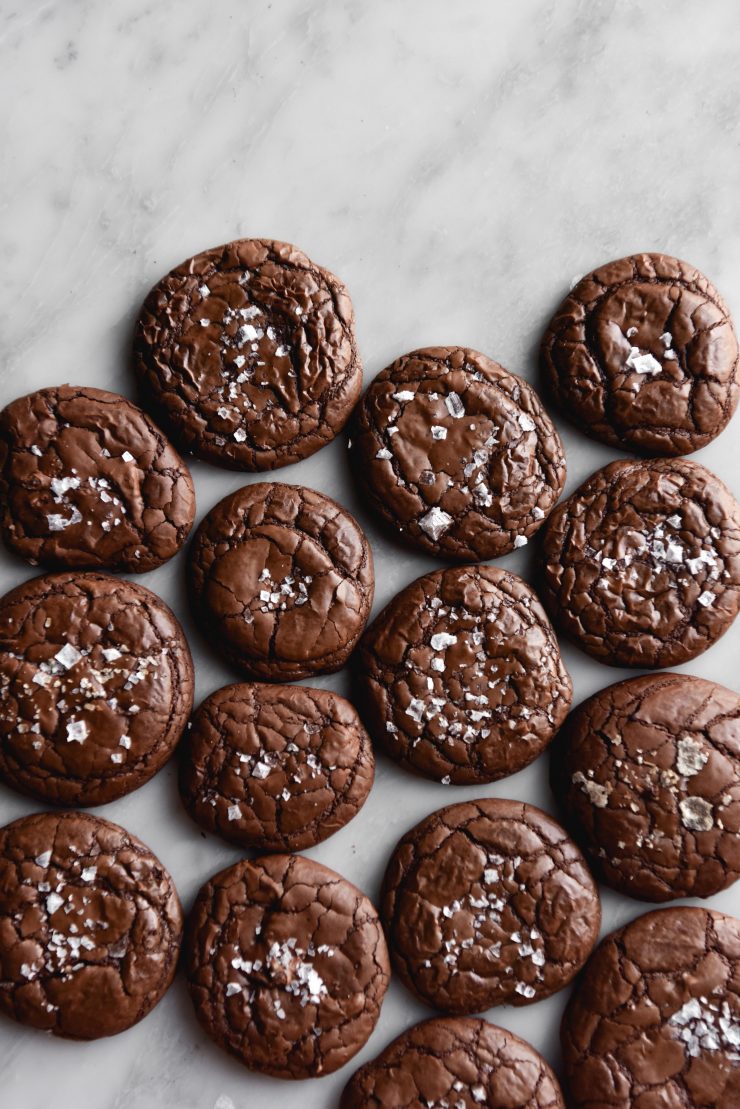 I often talk about 'not playing recipe favourites' and then proceed to do the opposite in these introductions. This is generally because I have nothing original to say and I'm writing the post on a time crunch. That said, I would never lie about my favourites and this post is no exception. Because today, we're talking gluten-free sourdough brownie cookies. Also known as: a hybrid of two of my Instagram/IRL favourites – brownie cookies and gluten free sourdough.
The more I work with gluten free sourdough starter, the more I realise what an excellent ingredient it really is. It adds moisture, bulk, flavour, a bit of leavening (depending on how much you use) and complexity.
Gluten free sourdough brownie cookies
So, while my original brown butter brownie cookies are good, these gluten-free sourdough brownie cookies might just be my favourite. They're nut free, low lactose, FODMAP friendly and generally easy to make.
The cookies are soft, not chewy or crunchy. They have a lovely complex chocolate flavour, without being tangibly sour.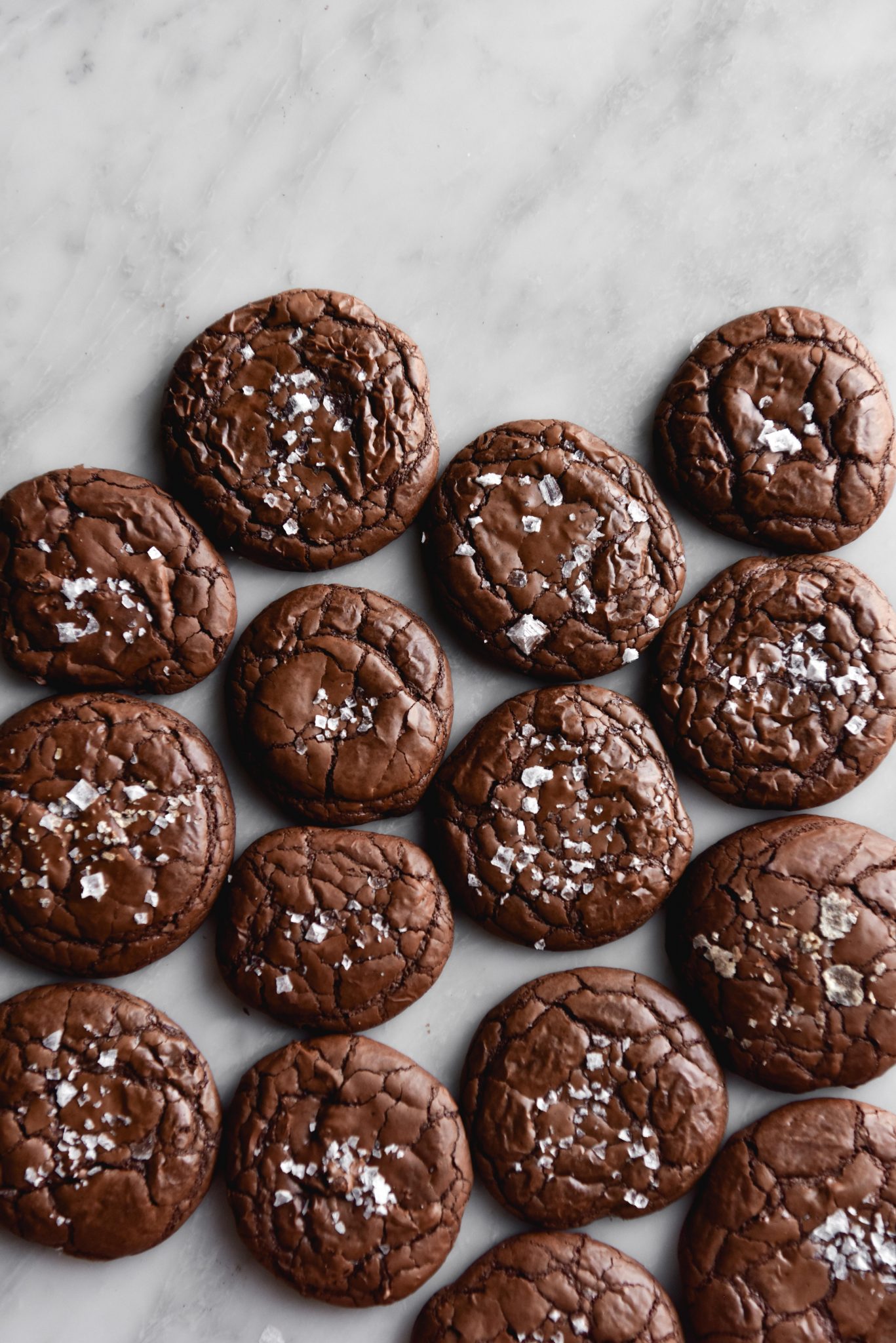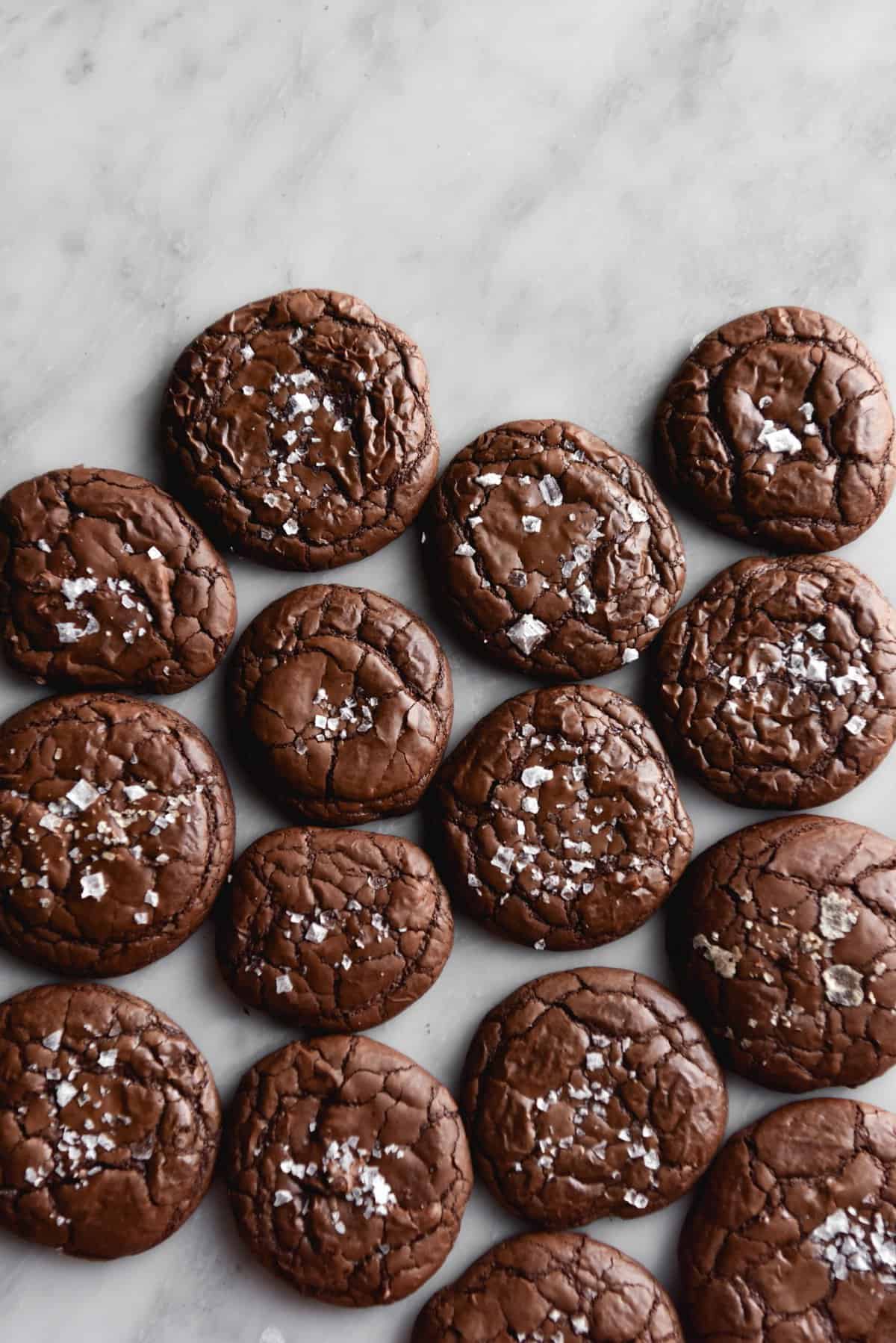 The basics for these gluten free sourdough brownie cookies
For these gluten-free sourdough brownie cookies you will need an active gluten free sourdough starter. You can use discard or fresh starter, but it should be thick enough to stay on a spoon. I daresay you could use a thinner starter, but you'd need to tinker with adding a little extra flour or cocoa powder to compensate for that.
You'll also need to brown some butter. Browning butter serves multiple purposes here: it drives off extra liquid (which is helpful when using a variable ingredient like sourdough starter). It also clarifies the butter, rendering it very nearly lactose free. Finally, it adds flavour!
I haven't developed a vegan sourdough brownie cookie yet, but I have a recipe for gluten free vegan brownie cookies. A sourdough rendition is on the horizon.
Substitution notes
You can use regular butter (ie not browned) if you absolutely must. Use 40g instead of 50g.
If you don't have a sourdough starter, use the original recipe found here.
I personally like Dutch processed cocoa, but the sort you use doesn't matter in this instance.
70% cooking chocolate is what I always use for these cookies – at least in part because it's accessible to everyone. You can try using a dairy free chocolate, but I do not recommend any coconut oil based ones at all. Use Lindt 70% – it's basically just regular chocolate but without any milk solids or products.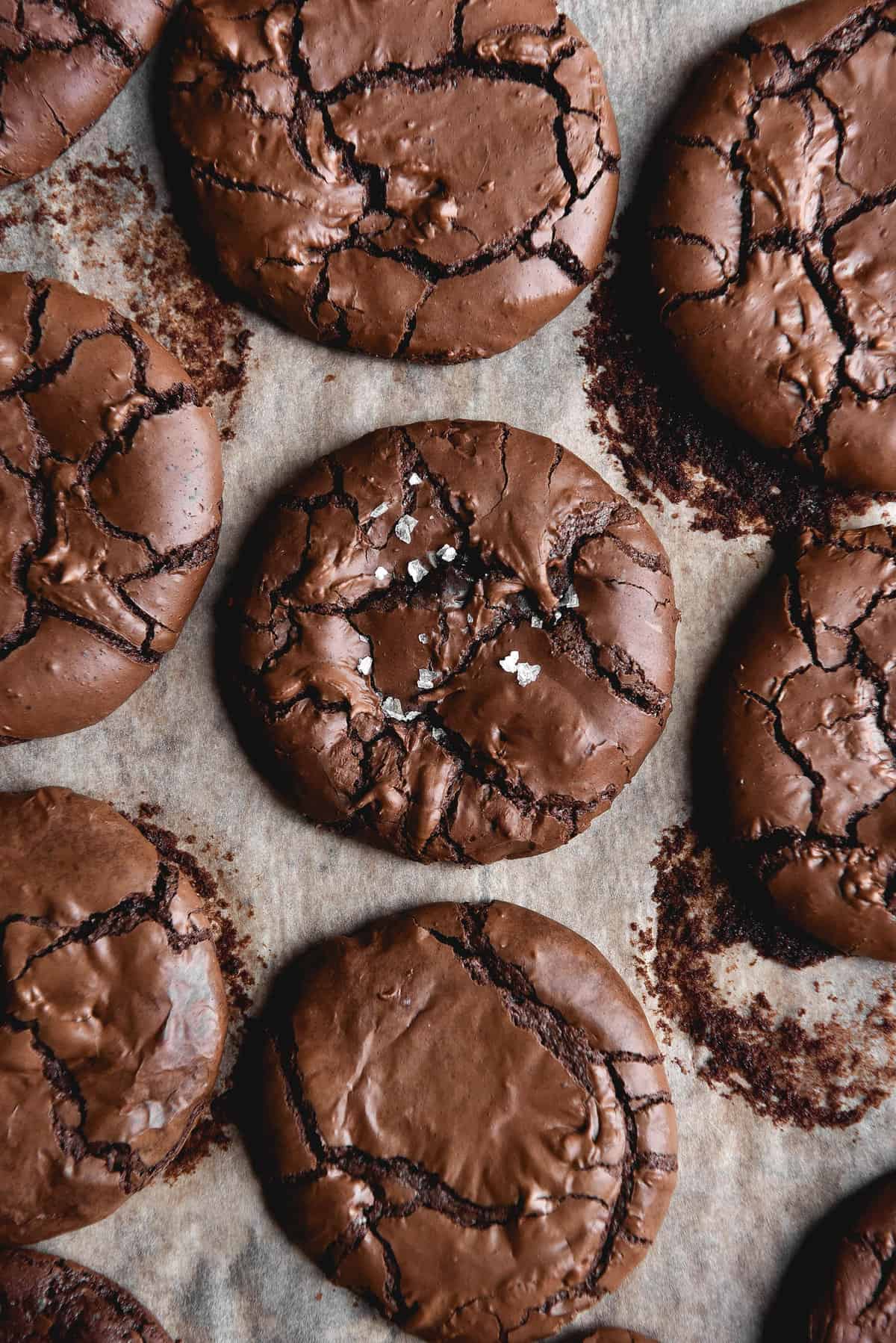 Notes on the gluten free sourdough starter
I used sourdough discard in my tests. My discard is about the consistency of those Aero puddings you buy at the shops. It's light and bubbly (despite not being fed overnight) and stays put if I spoon it up.
If yours is runnier than that, consider either adding less starter or more cocoa. If it's very runny, maybe make these another day. That said, if you're determined to make them, you can try adding a bit of extra tapioca flour to compensate – start with 1/2 tablespoon and assess the batter from there.
When you've mixed everything into the batter, it should run off the whisk attachment in a smooth but thick-ish ribbon. It should look viscous. If it runs right off the whisk with no resistance, add 1/2 teaspoon extra cocoa powder, whisk on low to blend, and then assess again.
The cookies do spread a little in the oven, so make them reasonably thick to allow for that.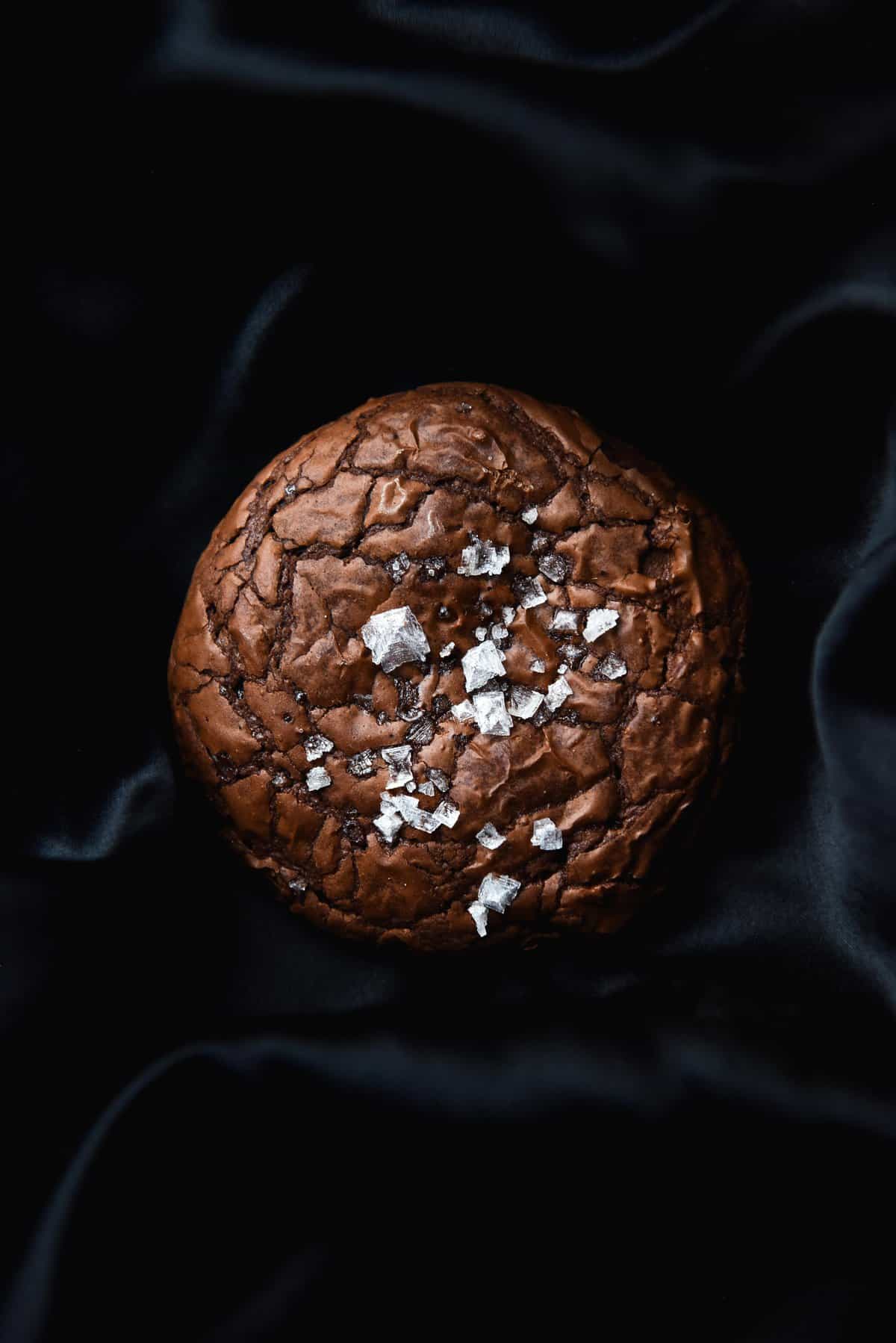 More gluten free cookie recipes
I do love to develop a cookie recipe! If you are also a cookie fiend, please enjoy: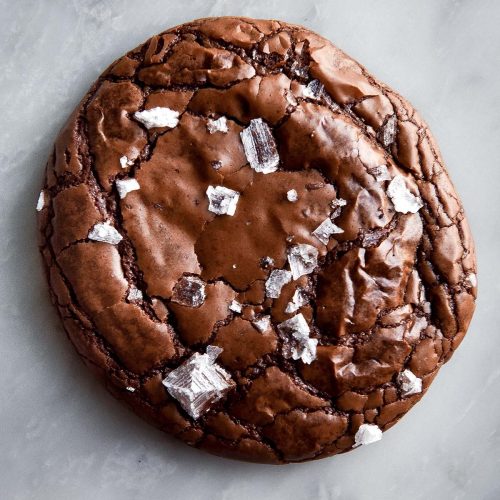 Gluten-free sourdough brownie cookies
Gluten free, nut free, FODMAP friendly
*Cups and measures are Australian cups and measures. Use gram weights for international accuracy.
Ingredients
50

g

butter

200

g

dark chocolate (I used 70% sweetened cooking chocolate)

150g

caster sugar

1

extra large egg (45-55g, weighed out of shell)

110

g

sourdough starter

discard or on a rise

20g

(2 tablespoons)*

cocoa powder

both Dutch processed and regular are fine

20g

(2 tablespoons)*

(20g) tapioca flour

1/4

teaspoon

baking powder

1/4-1/2

teaspoon

fine salt, according to your taste for salt in desserts

1

teaspoon

vanilla bean paste (optional)

Sea salt flakes to finish
Instructions
Preheat the oven to 180 degrees Celsius or 320 Fahrenheit.

Brown the butter in a small saucepan until it reaches a deep golden colour and has a very nutty fragrance. It should weigh 40g or close to that number after browning.

Half fill the small saucepan you used for the brown butter with water and place it on a medium heat. Pour the browned butter into a metal or heatproof bowl and place it on top of the saucepan, ensuring the water doesn't touch the bottom of the bowl.

Add the chocolate to the saucepan and stir intermittently until it is completely melted. Remove from the heat and set aside.

While the chocolate is melting, add the caster sugar and egg to the bowl of the kitchen mixer. Using the whisk attachment, beat for 7-10 minutes on a medium-high speed until light and kind of fluffy. This helps create lift and a shiny meringue-like top.

While this is happening, whisk together the cocoa, tapioca flour, baking powder and salt in a small bowl.

Once the egg mixture is sufficiently lightened in colour, lower the speed of the mixer and pour in the sourdough starter. Once incorporated, add the melted chocolate. Use a spatula to get every last bit, and allow to continue processing on low until combined.

Spoon in the flour mixture, letting each spoon mix in before adding more. Stop and scrape down the sides of the bowl with a spatula as necessary.

Once the flour has been incorporated, turn the mixer off briefly to add the (optional) vanilla bean paste. If you don't turn it off, the vanilla paste tends to get tangled in the whisk attachment. Continue mixing until combined.

The batter should fall off the whisk attachment in relatively thick ribbons. It is thick, but still slightly thinner than a traditional cookie dough – you'll need to use spoons to assemble.
TO BAKE:
Very lightly grease or moisten two large baking trays and line them with baking paper. The grease will stop the paper slipping around while you're scooping the cookie batter onto the tray.

Using two spoons, scoop roughly 1 1/2 tablespoons of batter per cookie onto a lined baking tray, leaving a little space for spread. Use less for smaller cookies. I like to spoon six medium – large cookies per sheet. Try to keep them in smooth-ish round blobs as this is how they'll look once baked.

Sprinkle each cookie with a little sea salt and place both trays into the oven. Cook for 6-7 minutes or until the tops are crackly but the cookies are still soft. Swap the trays, and continue to cook for an additional 6 minutes. All up, the cookies should be in the oven around 13-20 minutes, depending on how done you like them. You can judge this by how done you like traditional brownies.

Once cooked to your liking, remove from the oven and allow to cool and firm up on the baking tray. For best, chewiest results, allow the cookies to cool completely before eating. Sugar draws moisture from the air, so for best results store uneaten cookies in an airtight container in the fridge.