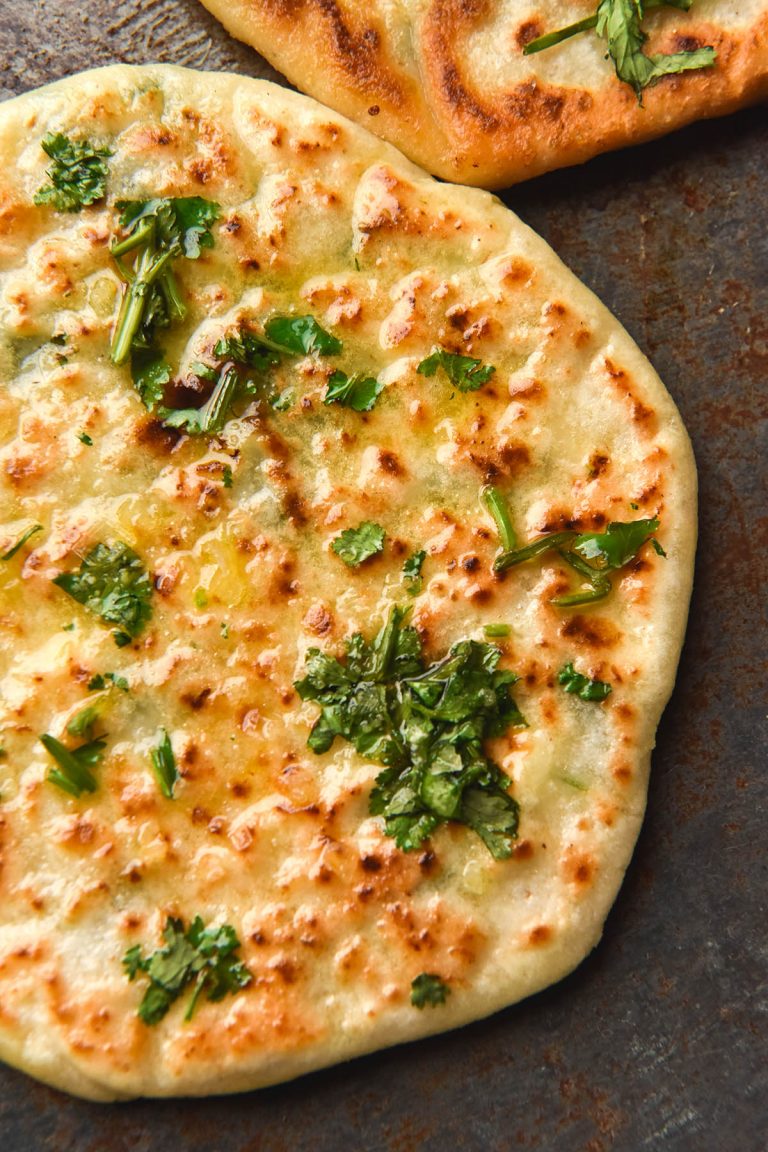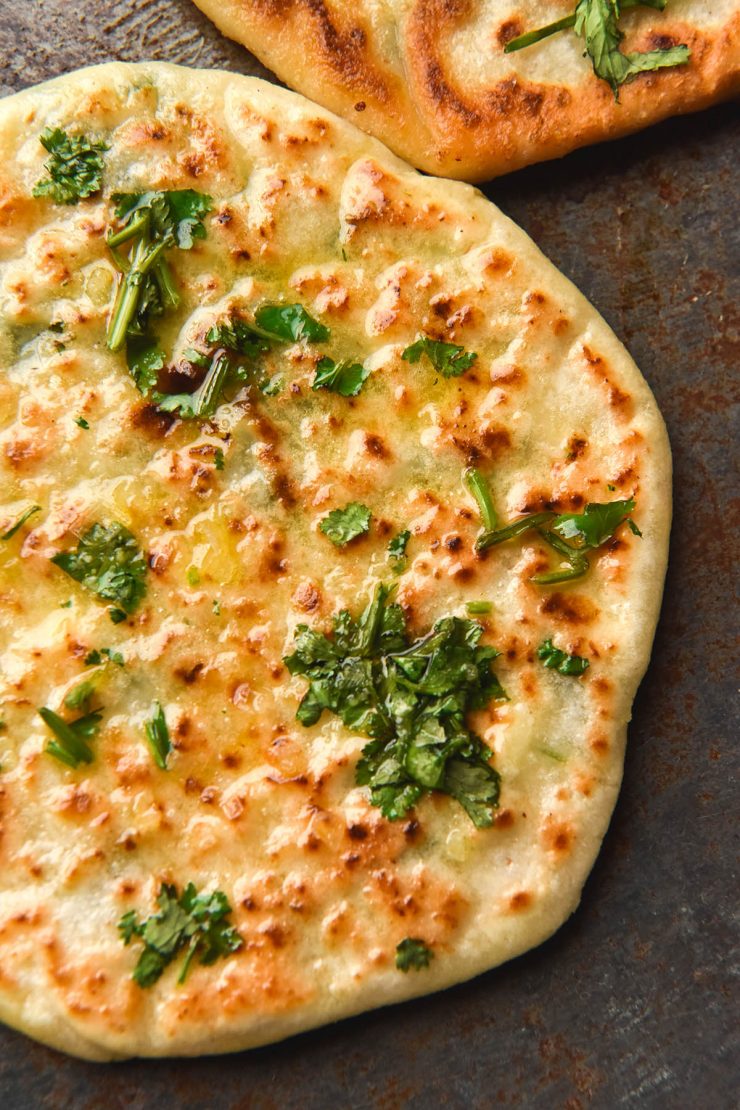 This gluten free cheesy naan came about after I posted my Aloo Paratha recipe recently. It got me thinking about other things I could easily stuff into my gluten free flatbread. Cheese was my first thought and probably my only thought, so today's recipe is this gluten free cheese filled deliciousness.
The recipe for the flatbread is made without xanthan gum. It is also nut free and easily made vegan. That said, I am yet to find a vegan cheese that I find melty enough to make a gluten free cheesy naan. If you know of any, please let me know!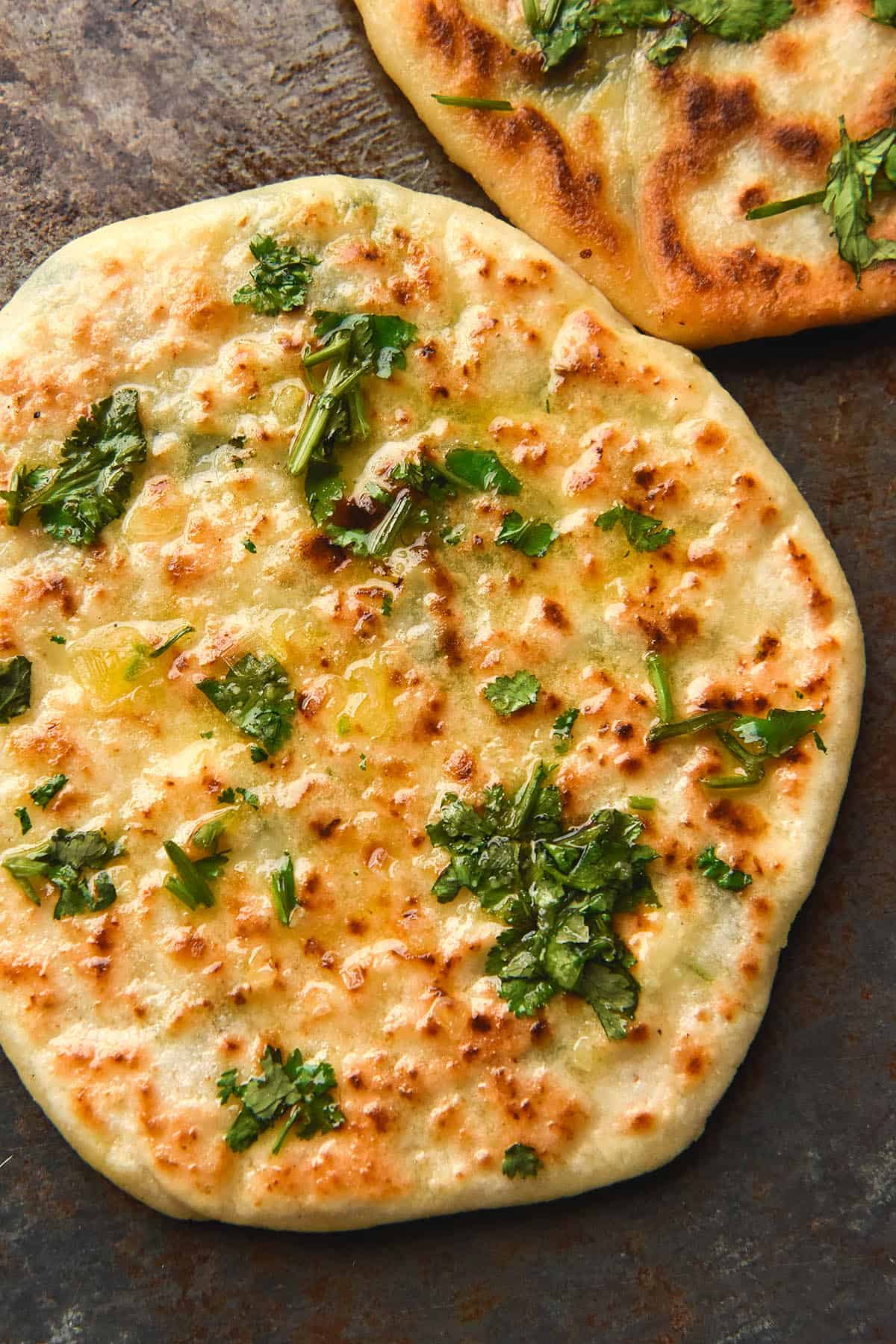 gluten free cheesy naan tips
This naan is 200% better when drizzled with garlic infused ghee. This is not just a reason to link another recipe; I am deadly serious. It takes the recipe from a cheesy flatbread to a garlicky, delicious cheesy naan. I 300% recommend it – it's easy and quick and you don't have to wait for the ghee to solidify to use it.
The other thing that's super important is the mozzarella. The better the quality, the better the result. If you use a cheap, nondescript brand, the result will be stringy and boring naan innards. In Australia, I like That's Amore brand. It's vegetarian, too, which is a bonus.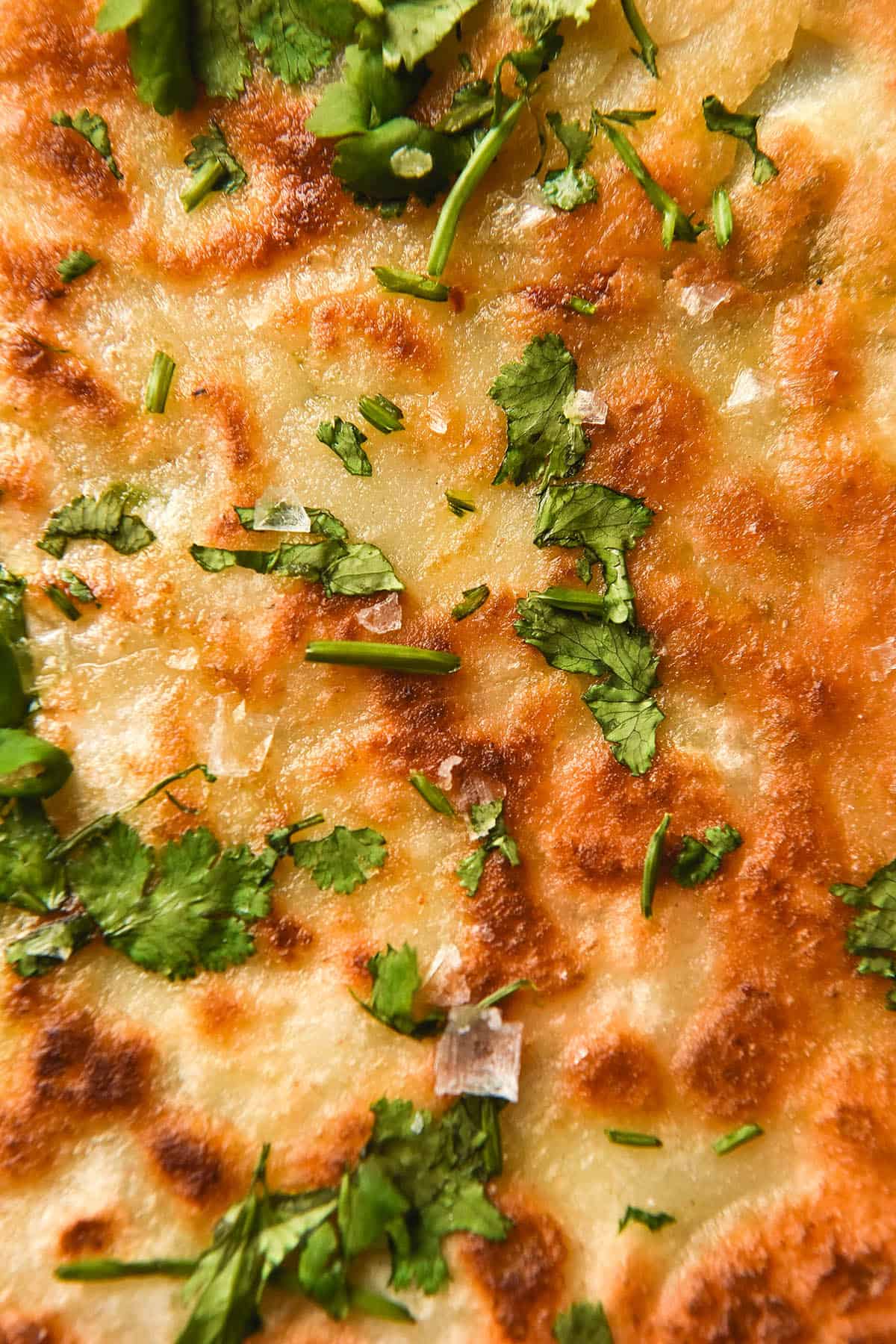 Notes for the gluten free naan bread
Psyllium husk powder is more absorbent than the flakes. I recommend the powder for these wraps, as it's finer and has less of an impact on the appearance. I grind flakes into a powder using my spice grinder.
How much water you need for this recipe depends on how absorbent your flours are and how thick your yoghurt is. If in doubt, add the lesser amount of water as you can always add more.
I have tested with recipe with thick, full fat, lactose free Greek Yoghurt from Jalna and Nakula coconut yoghurt, which is nice and thick. You can experiment with your preferred dairy free yoghurt, but you might need to adjust the water content to suit (as dairy free yoghurt is generally thinner). Keep in mind that vegan yoghurt often contains gums or nuts (Nakula uses guar gum).
The sugar is for taste and browning. It's not much, so I don't recommend omitting it.
Your dough, after being in the fridge, should be plump and moist, not cracking or dry. Add more water if you need to.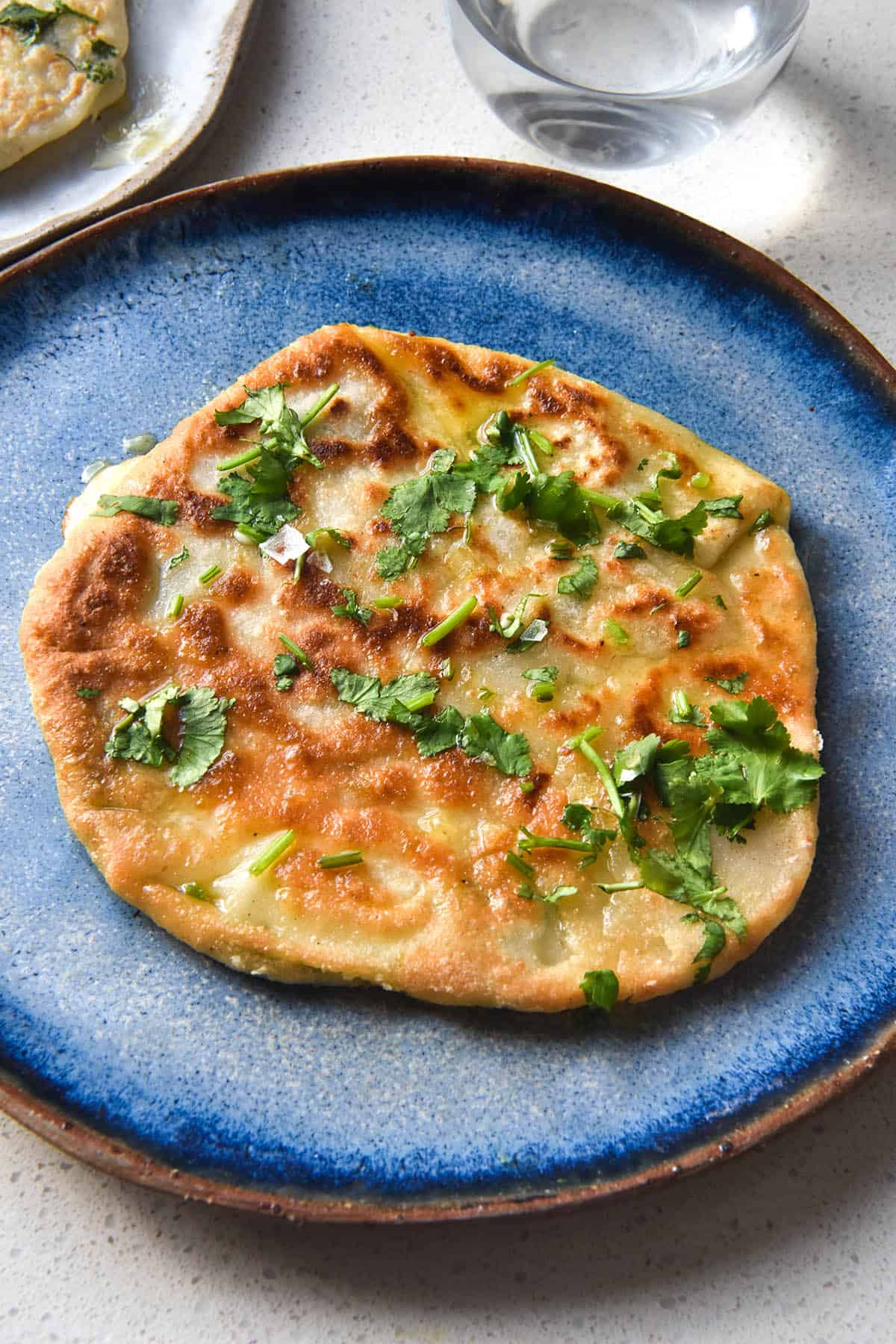 Tips and tricks for good gluten free naan
Make sure you have extra tapioca flour on hand for rolling out the flatbread. The idea is to get the flatbread nice and thin. This ensures there is a good ratio of flatbread to potato filling. Thickly rolled flatbread means you will taste less of the potato and the flatbread is more likely to be gummy.
When folding the edges of the flatbread up over the disk of potato, I like to wrap very loosely (while still completely encasing the potato). Wrapping it loosely means that the potato is less likely to strain out through the flatbread as you roll it out. This isn't the end of the world, but it does make these gluten free aloo paratha harder to pick up and move.
On that note: roll very gently. The flatbread are delicate without gluten or gums. Take it slowly and gently for best results.
These flatbread don't take kindly to being rolled too thinly. I recommend making them roughly a hand span or the size of a side plate.
Stop rolling if/when the filling starts to strain out of the flatbread, or proceed very gently.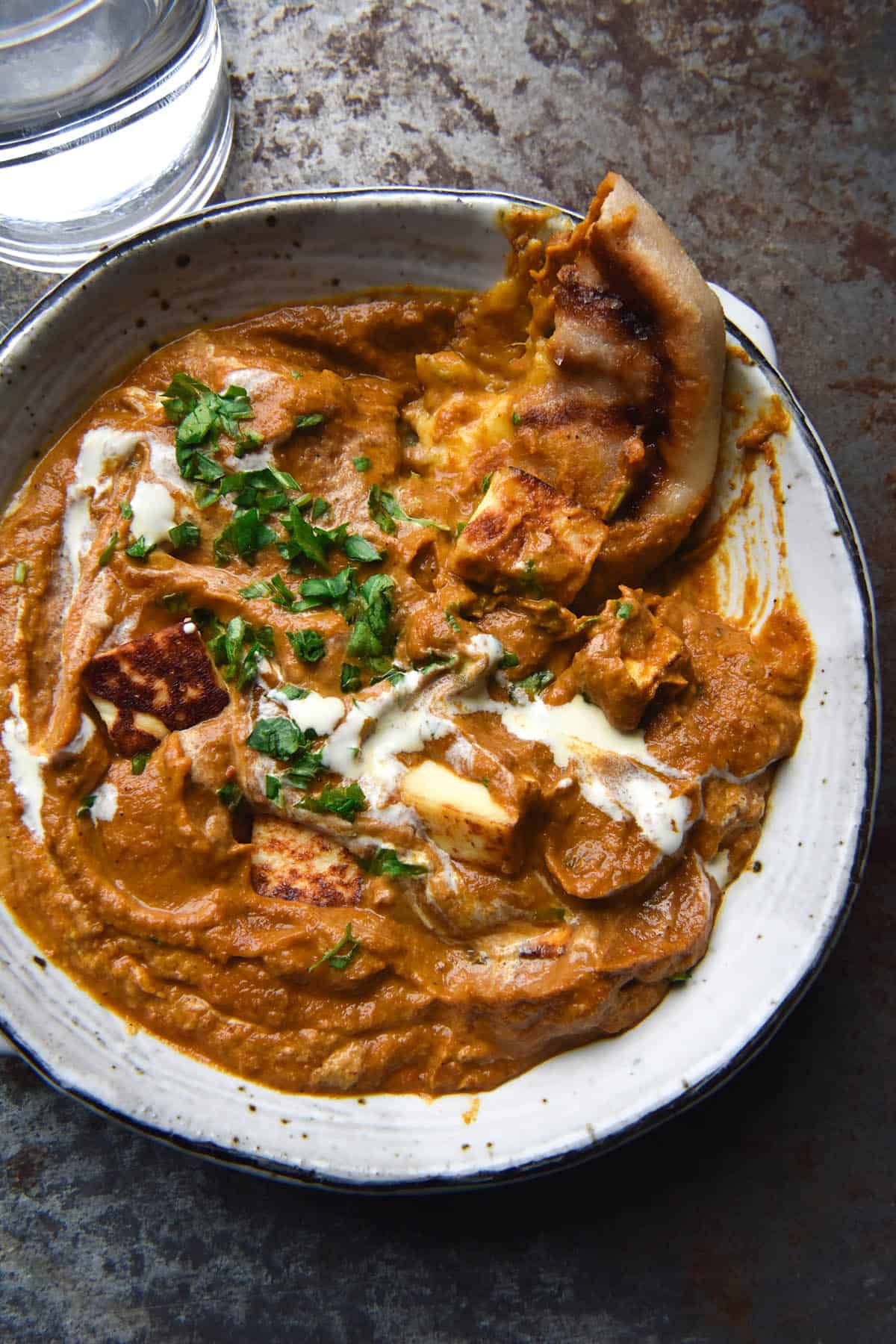 Things to serve with your gluten free cheesy naan
As we have discussed, the garlic infused ghee is critical for a FODMAP version of cheesy garlic naan.
These naan pair very well with the FODMAP friendly curry or the FODMAP friendly paneer curry.
Both curry gravies make an excellent filling for this naan in addition to the cheese. Simply dollop 1/2 – 1 tablespoon of curry gravy over the grated mozzarella and proceed (gently) with the recipe.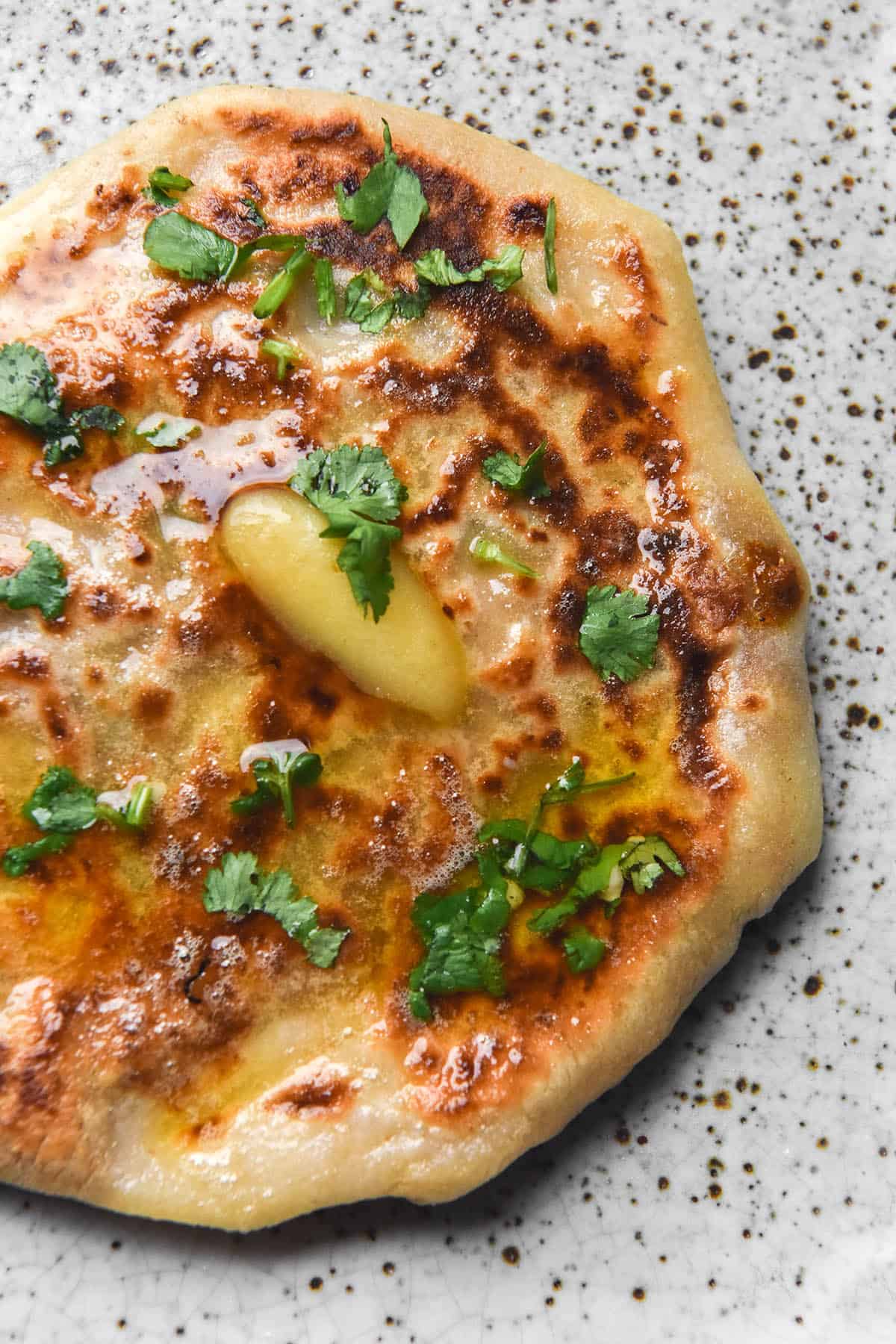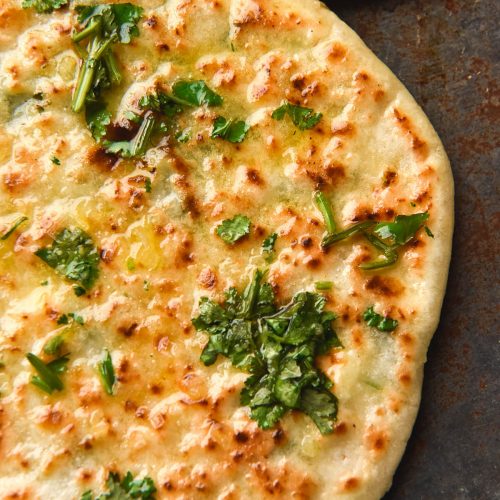 Gluten free cheesy naan
Ingredients
For the flatbreads:
320

g

(2 cups) white rice flour

120

g

(1 cup) tapioca flour

15

g

psyllium husk

1 1/2 – 2

teaspoons fine salt

2

teaspoons

sugar

200

g

thick yoghurt

see notes

3

teaspoons

(15ml) oil

see notes

1

cup

(250ml) water
For the filling:
400

g

good quality firm mozzarella

grated

Salt and pepper

to taste

1/2

bunch coriander chopped
To finish:
Remaining 1/2 bunch coriander

chopped

Garlic infused ghee

for drizzling over the flatbread

Sea salt flakes

to finish

Vegetable oil

for cooking the flatbread
Instructions
To make the flatbread:
Combine the dry ingredients in a large bowl, then add in the wet. Whisk or mix to thoroughly combine. The dough should form a ball but perhaps feel a little wet. Place in the fridge for 30 minutes to firm up.
To make the cheese filling:
Combine all the ingredients in a bowl and stir to combine.
To assemble:
Divide the dough into 8 even sized balls, and mentally divide the cheese mixture in 8 even sized balls.

Generously flour a clean, dry work surface with tapioca flour, and begin rolling out the first ball. Roll the flatbread thinly. Add 1/8th of the cheese mixture into the centre, ensuring the flatbread has been rolled big enough to loosely encase the cheese completely. Begin folding the edges of flatbread loosely up over the cheese in the same way you fold pastry up to form a galette. Gently pinch any edges together to lightly seal. The cheese should be completely encased.

Flip the naan over so the smooth side faces up. Ensure again that the bench has been well floured to prevent any sticking. Carefully begin pressing or rolling out the naan to about 2cm thick and the size of a handspan or a side plate. Press or roll slowly to ensure the cheese filling doesn't start spilling out. Repeat with the remaining naan.

Preheat a skillet or saucepan over a medium high heat. You can fry the naan with or without oil or some ghee.

Cook each naan for about 2-3 minutes on each side (heat dependent) or until it is no longer translucent and has lots of lovely brown spots. Repeat with the remaining naan.

Serve each naan drizzled with garlic infused ghee, the remaining coriander and a sprinkle of sea salt flakes. Ensure you serve them warm so the cheese is nice and melty.

Serve warm or store in an airtight container in the fridge. Leftovers keep for 2-3 days and are best microwaved or steam baked to restore them to their former glory.