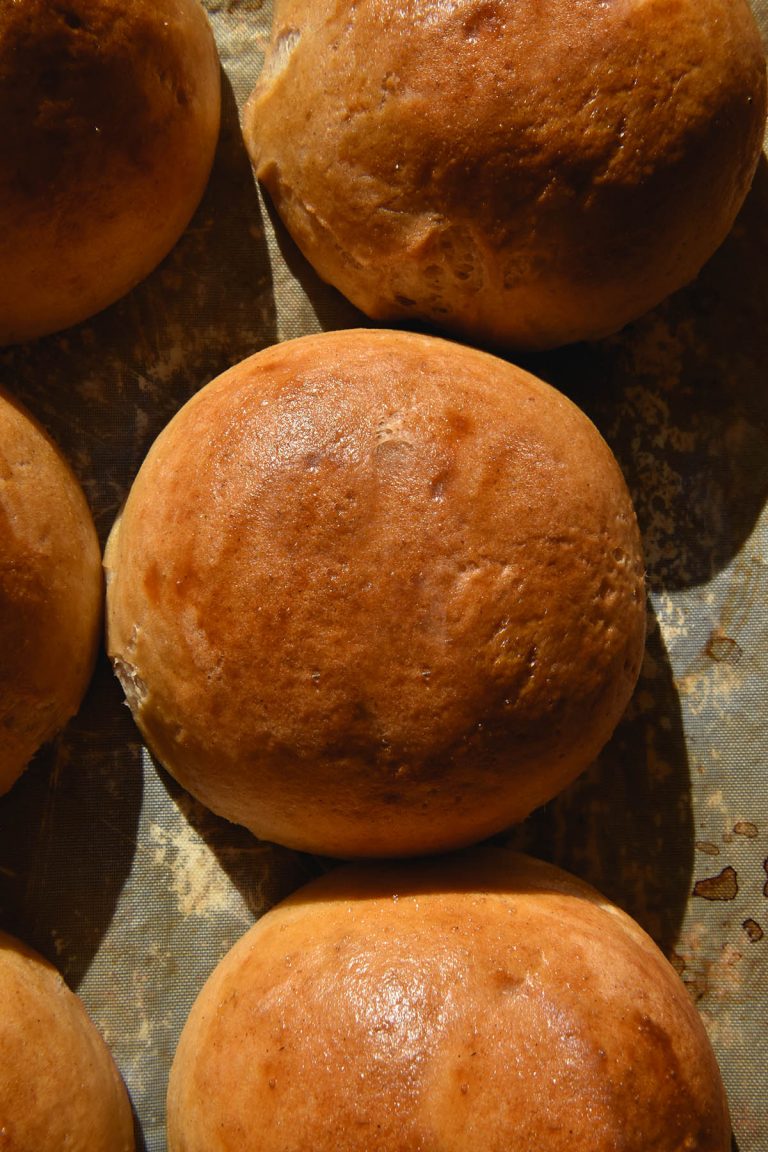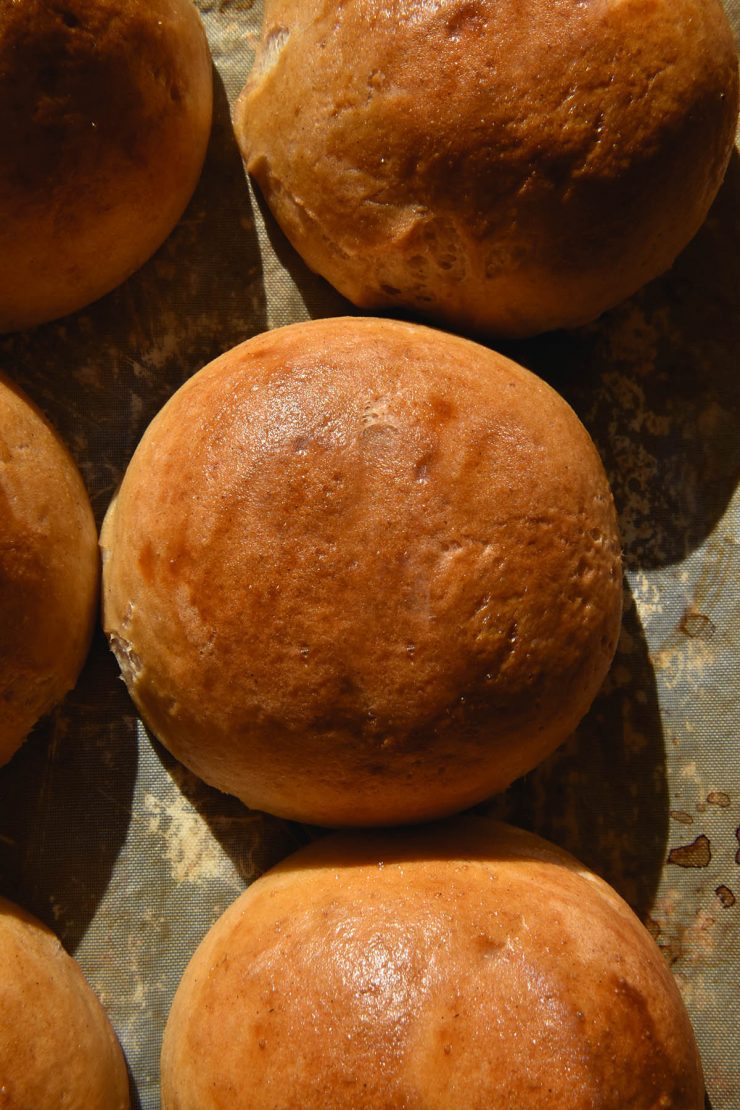 It has always irritated me that my attempts at gluten free bread rolls were not shiny like regular ones. Not glossy, not gorgeous, and not beautifully sleek. After I nailed my recent gluten free bagel recipe, though, I realised what the ticket was: a scald and a boil.
Gluten free bread rolls without xanthan gum
These gluten free bread rolls can be made without xanthan gum because of the technique used. Firstly, the bread rolls utilise a flour scald to bring elasticity to the dough. Secondly, the rolls undergo a second scald (the same method as boiling bagels) to set their shape and gelatinise the crust. The result? Perky, shiny and smooth gluten free bread rolls without the need for xanthan gum or eggs.
In terms of dietaries, these gluten free bread rolls are nut free, FODMAP friendly and vegan with an alternate egg wash. I'm so happy with them and I hope you love them as much as I do.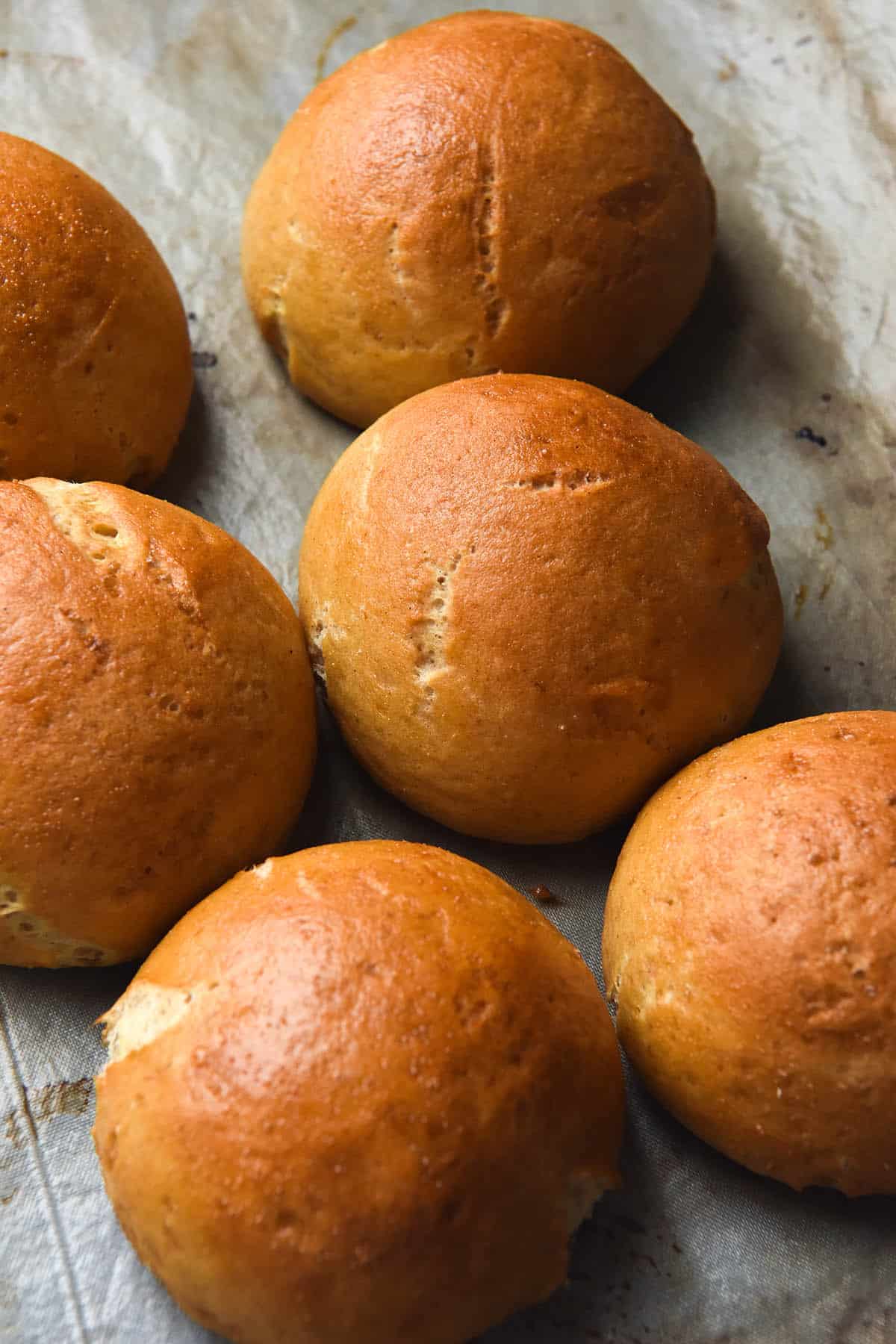 What is a Scald?
Scalding flour (in this case) is a deceptively simple process of pouring boiling water over flour. In this case, I find that it's best to scald only wholegrain flours. Starches can ball up (think of tapioca pearls) and create an uneven result. They also have elasticity as it is, so they don't need more.
Why scald? Scalding flour gelatinises the starches in the flour. It gives them extra binding capabilities and elasticity. Basically, it makes gluten free flour perform more like gluten containing flour. If you have made the gluten and gum free free tortillas or dumpling wrappers from Intolerance Friendly Kitchen, you will have seen how magical a scald can be.
Scalding also allows the flour being scalded to absorb significantly more water than regular flour. This means we can achieve a moist end product without having a sloppy and hard to manage dough. This is particularly important when said dough needs to hold it's shape, as in the case of gluten free bread rolls.
Scalding also seems to make the dough rise a lot quicker than regular yeasted dough. This is great because the recipe relies on oven spring and a short stint in the fridge, rather than a dedicated rising time.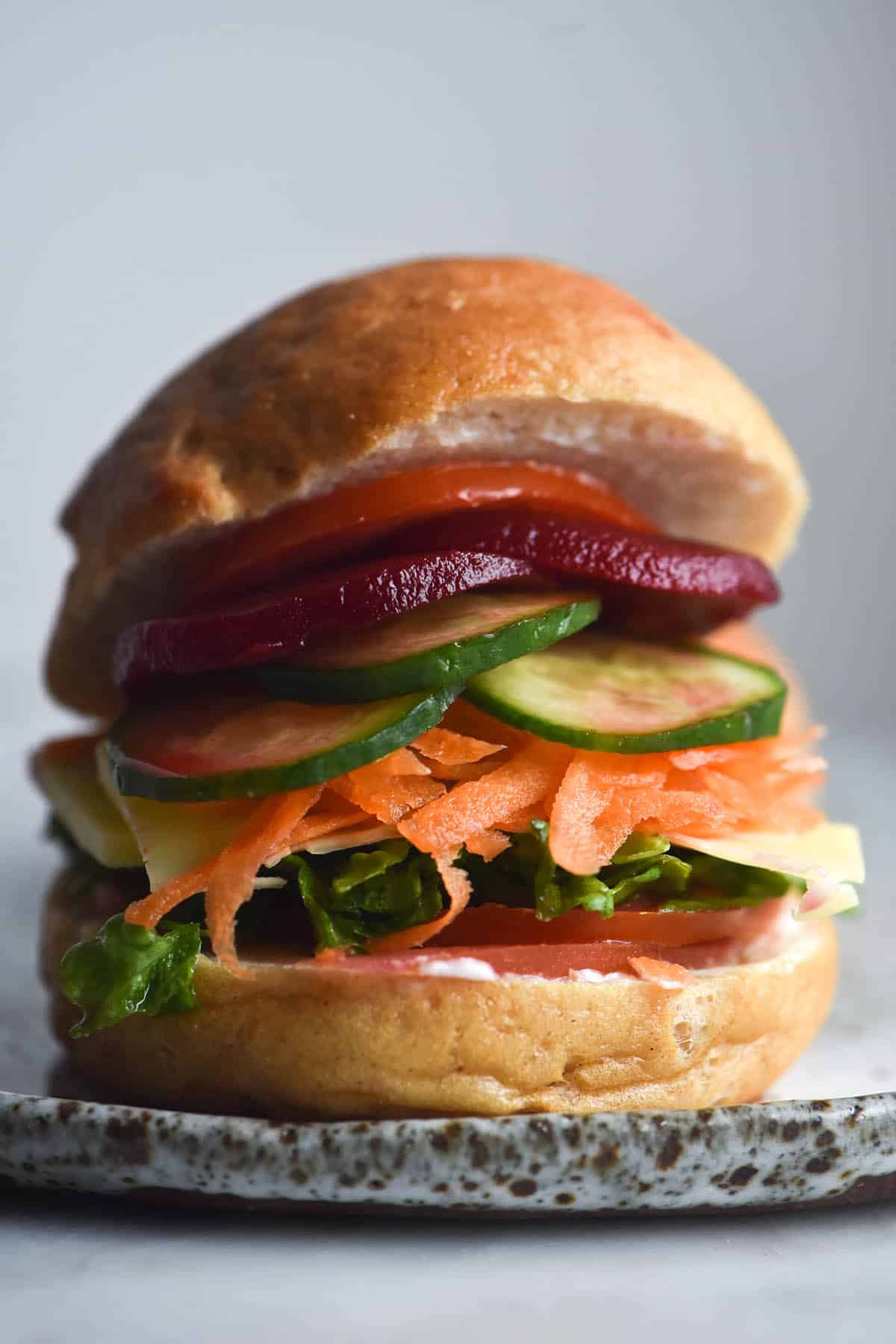 Why do we need to boil the gluten free bread rolls?
As with the bagel recipe, we're boiling these gluten free bread rolls for so many reasons. Firstly, boiling creates a shiny, glossy bread roll. Boiling is also a form of scald – gelatinising the flours on the outside of the bagel. This helps in appearance, browning and chewiness. There is no option to not boil these bread rolls – it's not tricky and we don't have a rising time, so no excuses.
The boiling time for bread rolls depends on a variety of factors. Of note- boiling a bagel 'sets' the starches and kills off some of the yeast. If you boil your bread rolls for 5 minutes, they likely won't grow in the oven. So ideally, we want to gelatinise the outside without setting it too much or killing off all the yeast. 30-45 seconds per bread roll is a good benchmark. You can play around with boiling time depending on how much you want the bagels to grow, how many you add to the water at once, what size you made them, etc. The best sort of experimentation.
You can boil the bread rolls in well salted water, or add in some additional flavour at this point. I tried baking soda for browning, and didn't notice much difference.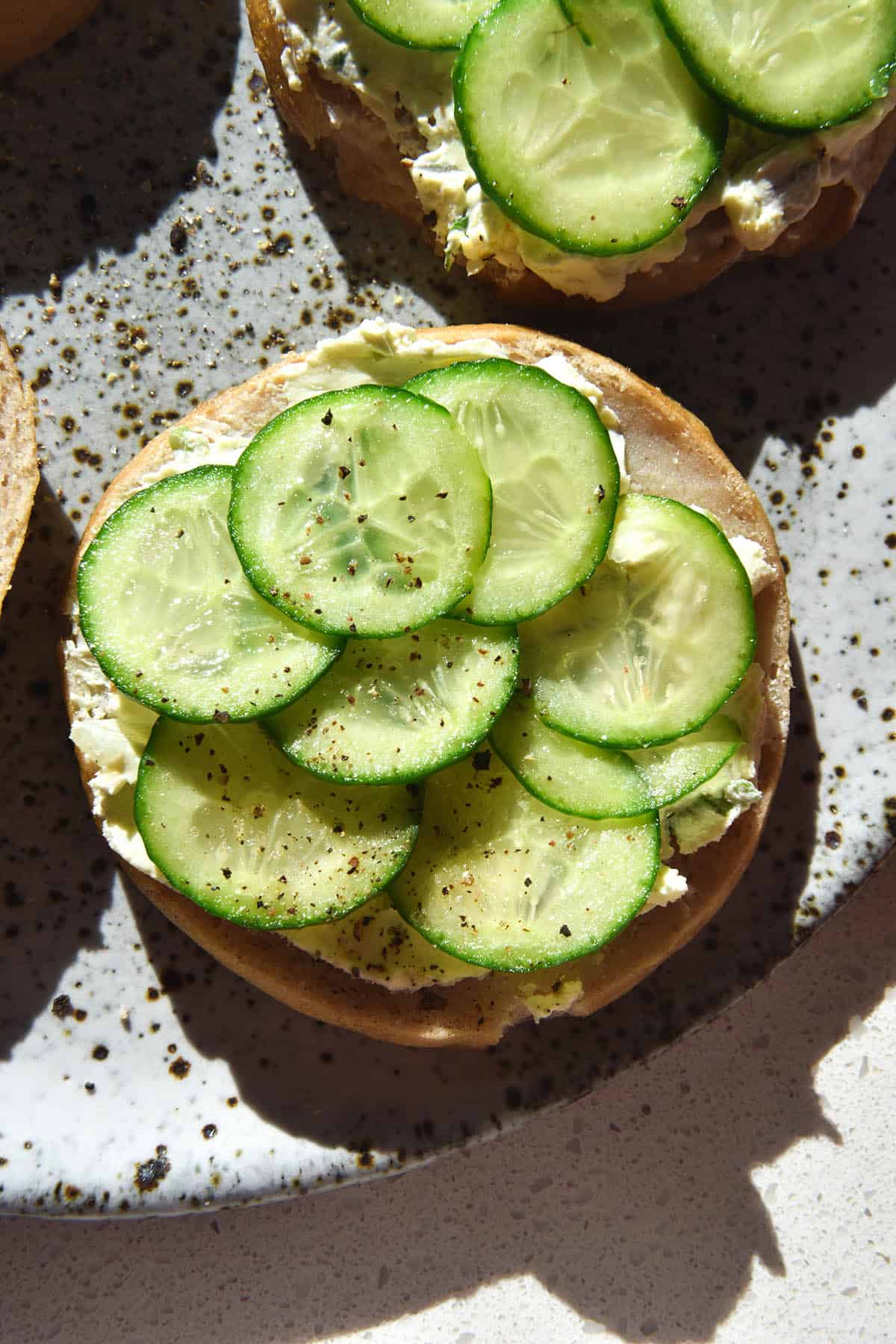 Ingredient notes for the gluten free bread rolls 
The scald is not optional in this recipe.
I have not tested any flour combinations other than the one in the recipe card. If you'd like to do some experimenting, you are welcome to!
There is always confusion around yeast (I'm still confused). In Australia, the most common form of yeast is instant dried yeast, which is sold in 7.5g sachets. It would seem that yeast can be sold in canisters elsewhere (and here, too). Simply use 7.5g of yeast. If you are using sachets and they are 7g and opposed to 7.5g, just use one. .5g less yeast will not ruin your bagels.
The sugar is added for flavour, browning and as food for the yeast. It's a modest amount.
I use psyllium husk powder, not the whole flakes, for this recipe. Please use powder for best results – I grind my own from the flakes. The powder is more absorbent than the flakes, so it is not a direct substitution.
Butter or any plain flavoured oil works here. The fat provides moisture and browning, extends the shelf life, and makes for a chewier crumb. I prefer butter in this instance, as it helps give the gluten free bread rolls some of that sweet, almost cake like 'white breadiness.'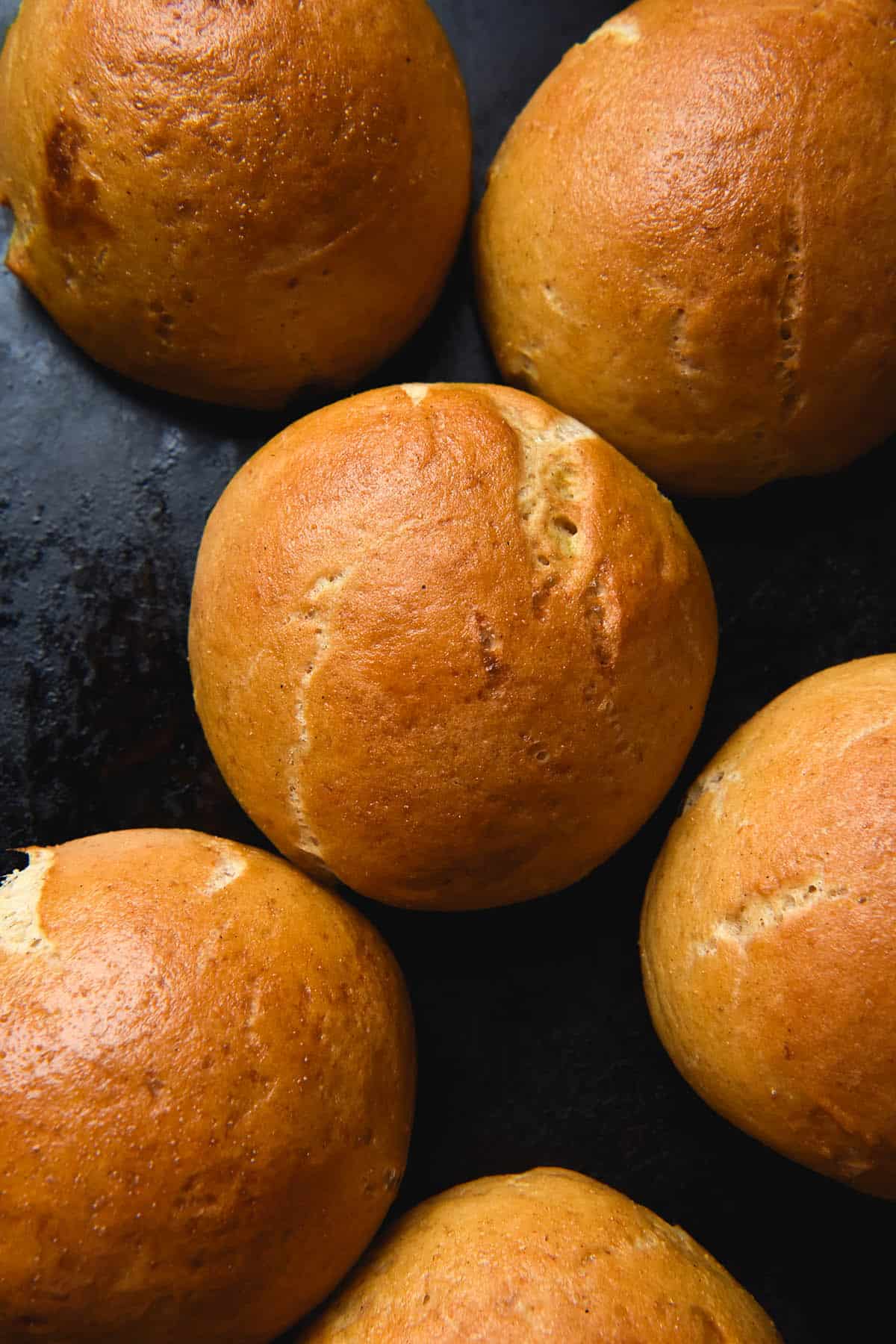 Proofing options for your gluten free bread rolls
There are a million and one proofing options for these bagels, depending on how light and airy you prefer them and how much time you have. The scald creates an easy food source for the yeast, so the dough proofs nicely every which way.
Simply allow the dough to proof for 30 minutes in the fridge while it chills. It will continue to proof as you shape, boil and bake the buns. This buns will be the least fluffy inside.
Allow the dough to proof for another 30 minutes in the fridge or on the bench after chilling.
Shape the buns, cover the surfaces with water (it helps stop cracking as the dough expands) and cover thoroughly (I use a floppy light plastic bag with a glass in the middle so it doesn't touch them). Proof for one hour, then boil and bake. These buns will be the most fluffy inside. This is the default option in the recipe card, but you can choose what works best for you.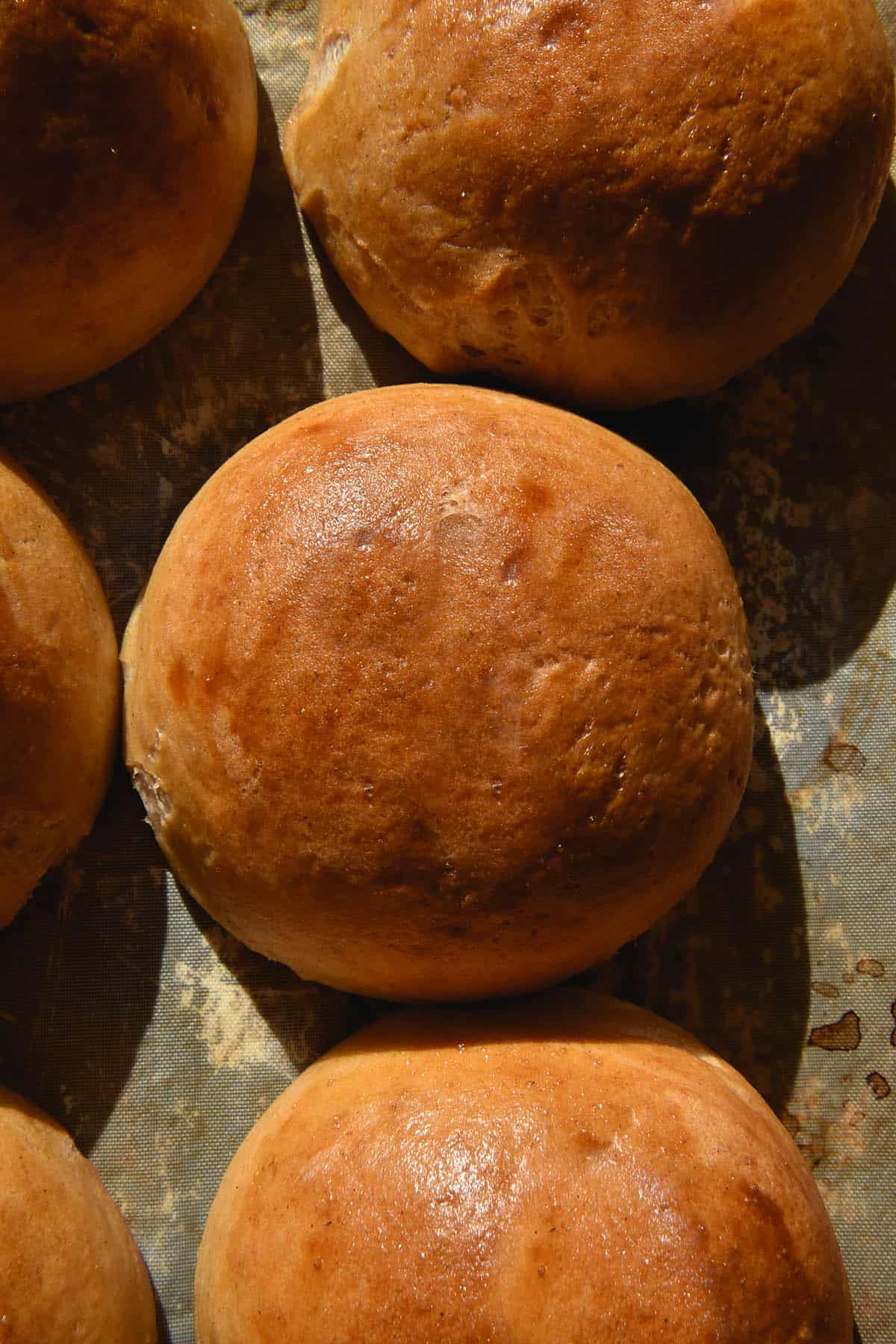 More gluten free bread recipes without xanthan gum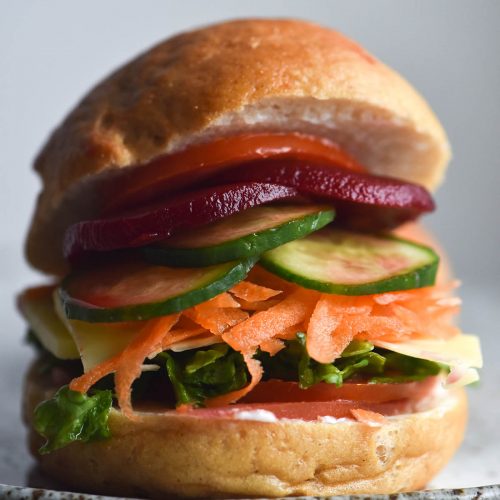 Gluten free bread rolls
Gum free, nut free, dairy free option, vegan option
Ingredients
For the buns:
220

g

(1 1/2 cups) white rice flour

80

g

(1/2 cup) sorghum flour

150-165

g

boiling water

120

g

(1 cup) tapioca flour

15

g

psyllium husk powder

7.5

g

(1 sachet) yeast

1 – 1 1/2

teaspoons

fine salt

to your taste

1/2

tablespoon

sugar

75

g

melted butter or 1/4 cup (60ml) vegetable or plain oil

250-310ml

(1 – 1 1/4 cups) warm water
To finish:
1

tablespoon

molasses for water bath

you can use whatever sort of water bath you like

Salt

Egg wash to wash the buns

use a vegan alternative to keep these egg free/vegan

1

tablespoon

sesame seeds

for sprinkling (optional)
Instructions
Weigh the sorghum and rice flour in a medium sized mixing bowl and stir to combine. Measure 100g of that flour into another small bowl and set aside. This small bowl will form our scald.

Pour 150-165g of boiling water evenly over the flour in the smaller bowl to make the scald. Have a whisk at the ready and vigorously whisk until a jelly like dough forms. It shouldn't take more than 5-10 seconds. Set aside to cool a little.

Add the tapioca flour, psyllium husk powder, yeast, salt and sugar to the larger, original bowl of flour. Whisk and set aside.

Pour the contents of both bowls into your kitchen mixer with the paddle attachment.

Process the dough on a low speed for 2-3 minutes until the scald has broken up completely in the dough. Drizzle in the butter or oil, followed by the water, until a soft and pliable dough has formed. It can be on the sticky side, but it shouldn't be a batter. The higher hydration, the more open the crumb, but it can come at the expense of a gummy bread roll. Add the water by sight and add the lesser amount if it's your first time baking these rolls.

Cover the dough and place into the fridge for 30 minutes to firm up and proof a little.

Once firm, divide the dough into 6 balls. You may or may not need to lightly flour the bench for this. Try to get the balls as smooth as possible – I like to slap each one down on the bench a few times to smooth out any lines. A smooth dough will result in a smoother roll once baked.

Once the balls are all formed, place them on a lined baking tray and brush each one with water. This will help prevent the surface cracking too much as they proof. Tent with plastic. Make sure they're not exposed to air, but not being compressed. Proof for one hour or until super round and fluffy. See proofing section in body of post for more options.

While you wait, thoroughly preheat the oven. I like to preheat mine at 220C/430F to ensure it is at the right temperature for good oven spring.

Fill a medium pot 3/4 of the way with water, and add the molasses and salt. Set it over a medium heat and bring to a boil.

When the water has boiled, place each bun into the water for 30-45 seconds. They don't automatically float, so have a spatula on hand to very gently encourage it off the bottom if necessary. Place each bun on a cake rack to drain the excess water while you boil the next one.

Once you have boiled all the buns, place them on a lined baking tray. Brush each bagel with egg wash or an alternative, and then sprinkle with some sesame seeds, if you like. Place into the oven, adjust the heat to 200C/400F, then bake for 25-35 minutes or until golden, puffy and firm.

If you are using a high hydration, wait until the crumb sets to eat one or else your bagel will be gummy. This means allowing them to cool almost completely. Leftovers keep really well for a number of days and can be frozen (I like to slice them prior to freezing).