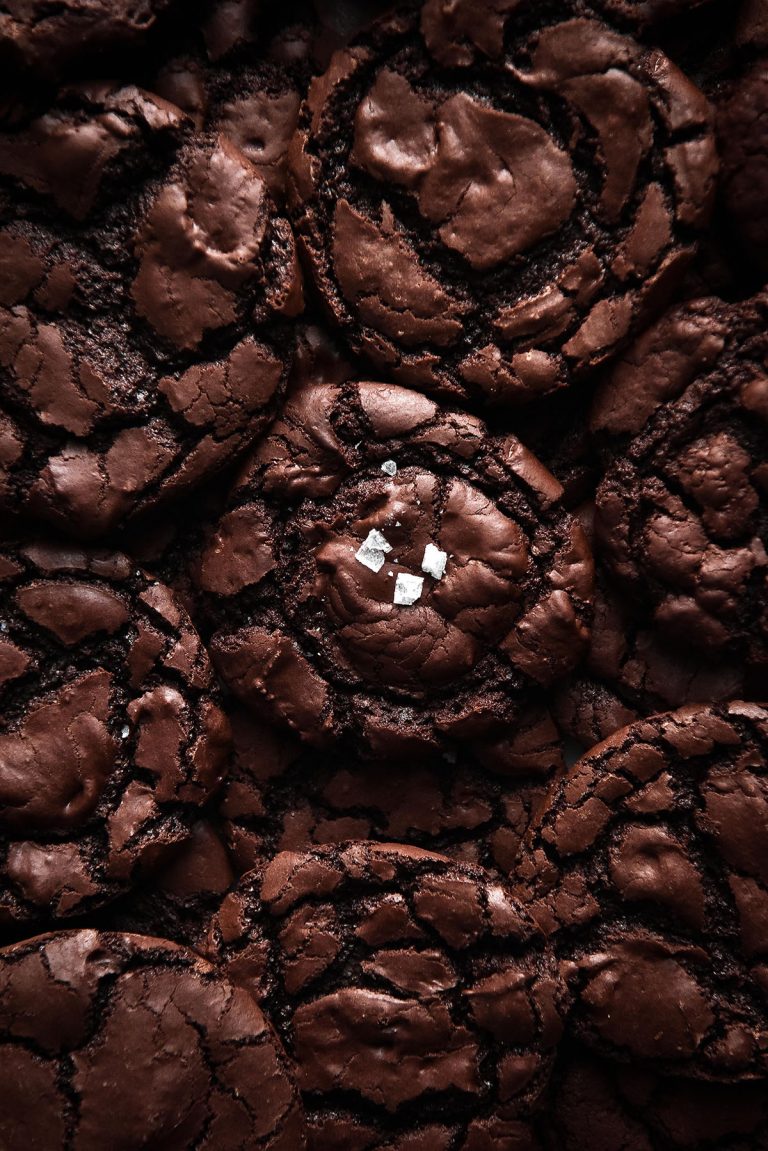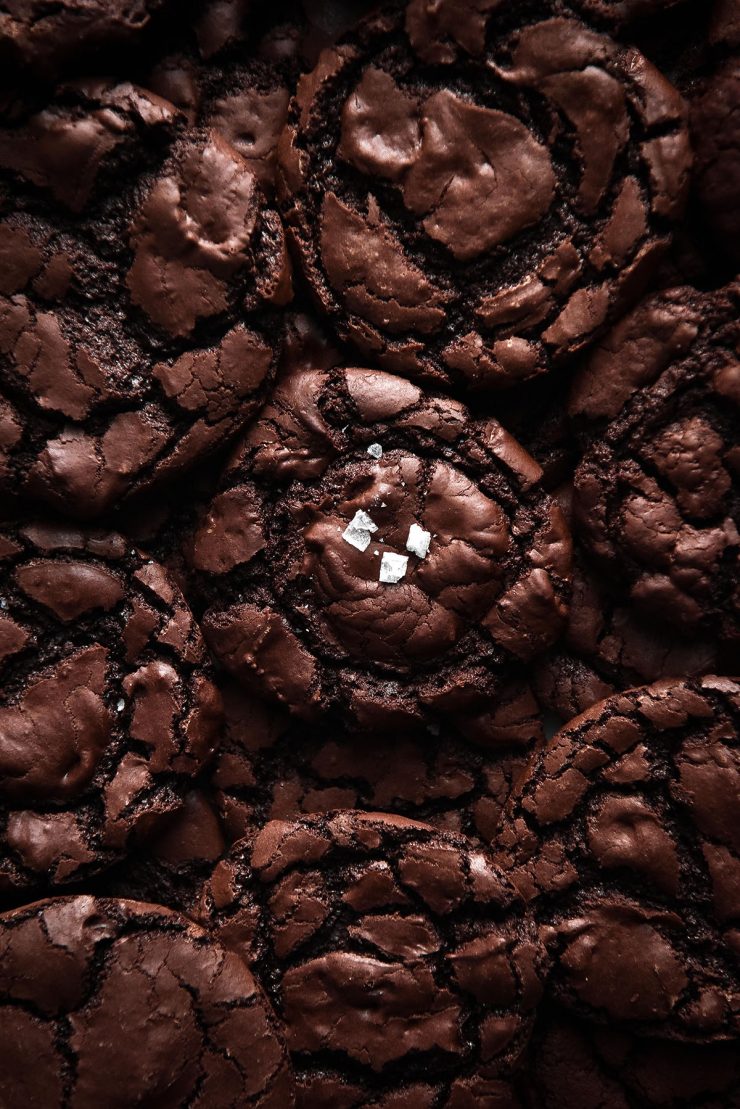 Cookies. Who doesn't love them? For some of us, though, our digestive systems love them a lot less than we do. For those people like me, I bringing my latest recipe roundup: low FODMAP cookies.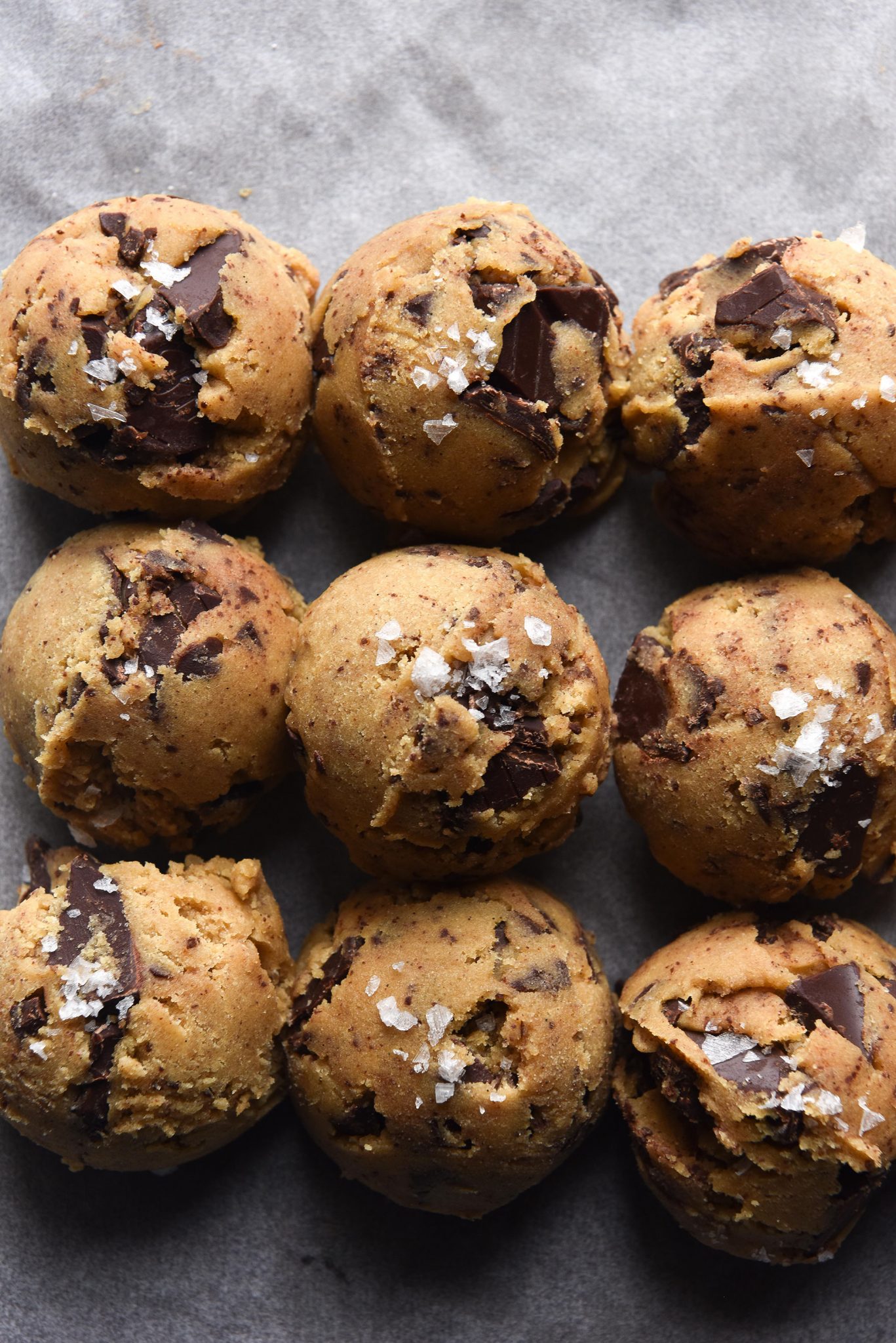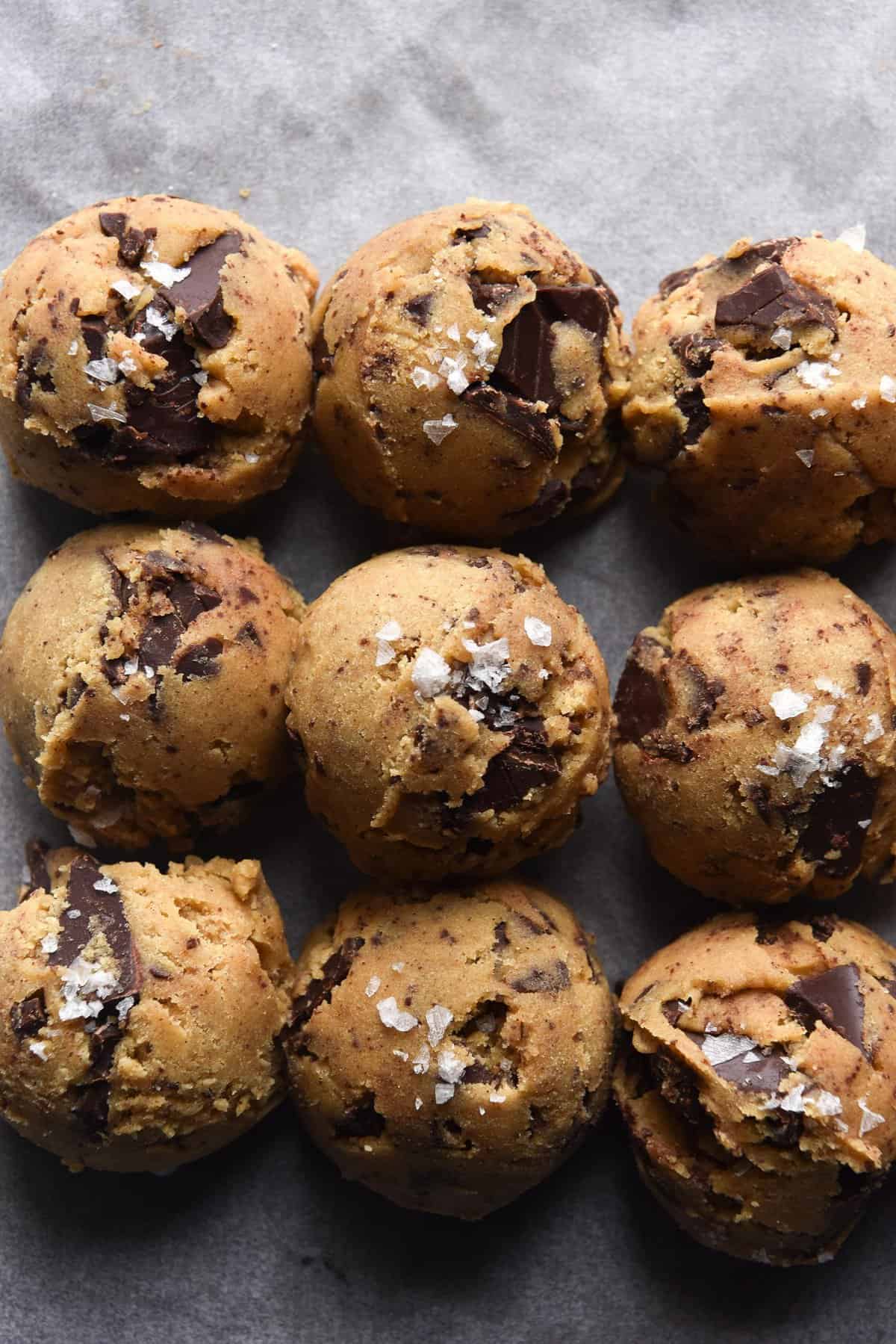 Low FODMAP cookies (gluten free)
These cookies are all low FODMAP and gluten free, which are two distinct concepts we will go into below. As often as possible, they are xanthan gum free and nut free, too. There are also lots of vegan options, which will be clearly marked. Vegan, of course, means egg free, so there plenty of options for people with egg intolerances or allergies as well.
If you're after more low FODMAP recipes, see: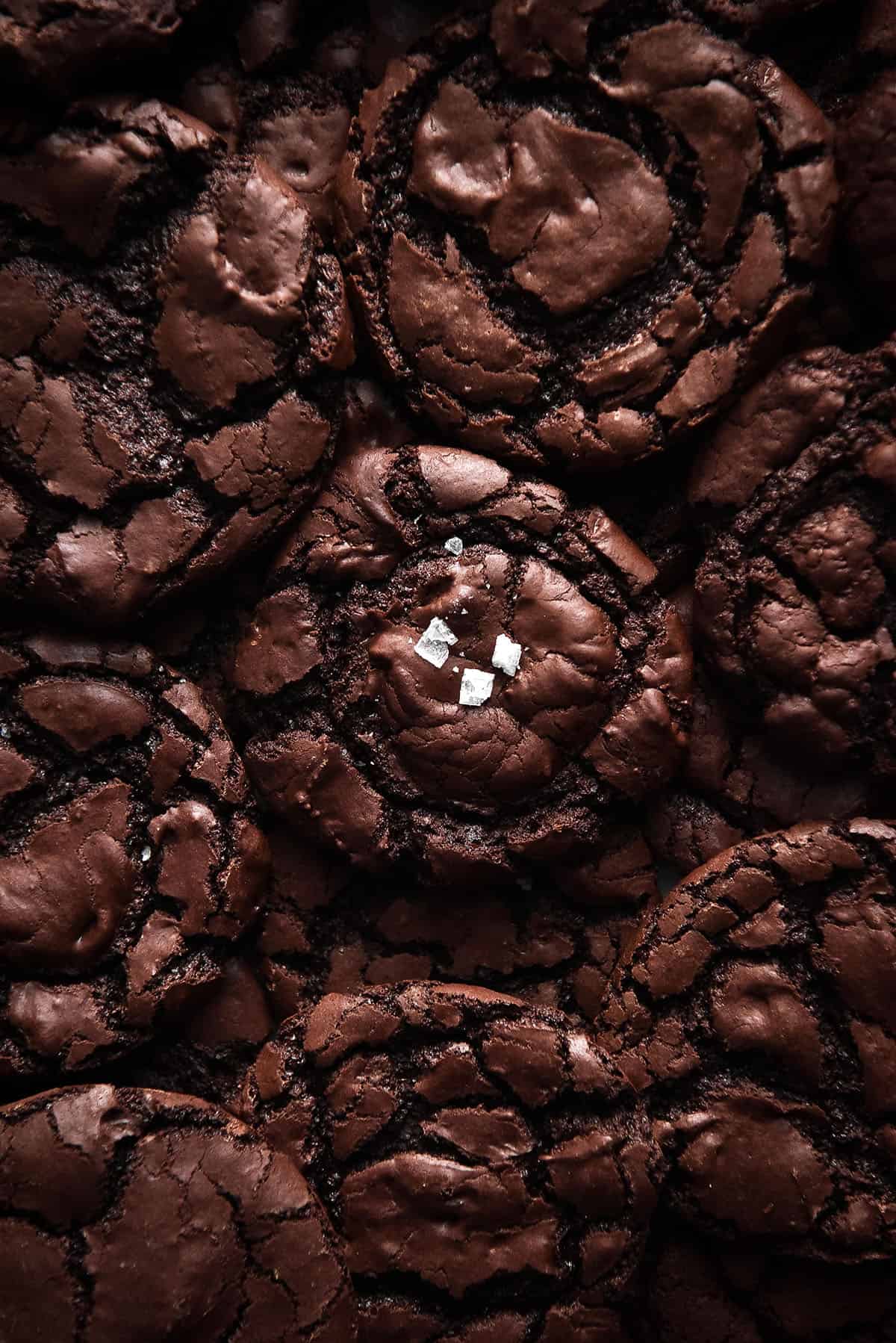 What is the difference between low FODMAP and gluten free?
Low FODMAP and gluten free are two different dietary requirements. While the FODMAP diet is lower in gluten due to the high fructan and GOS content of wheat and gluten containing grains, it need not be 100% gluten free.
There are low FODMAP thresholds of wheat and gluten products. For example, a slice of wheat bread (depending on the country) can be considered low FODMAP. For more information on bread and FODMAPs, I recommend downloading the Monash app.
On the other hand, some gluten free products are not low FODMAP. This could be a dessert that uses high fructose fruits or coconut sugar, or a bread that uses a bean flour.
My recipes are all gluten free. This is because I don't tolerate fructans well, and because I try to cater to as many dietary requirements as possible.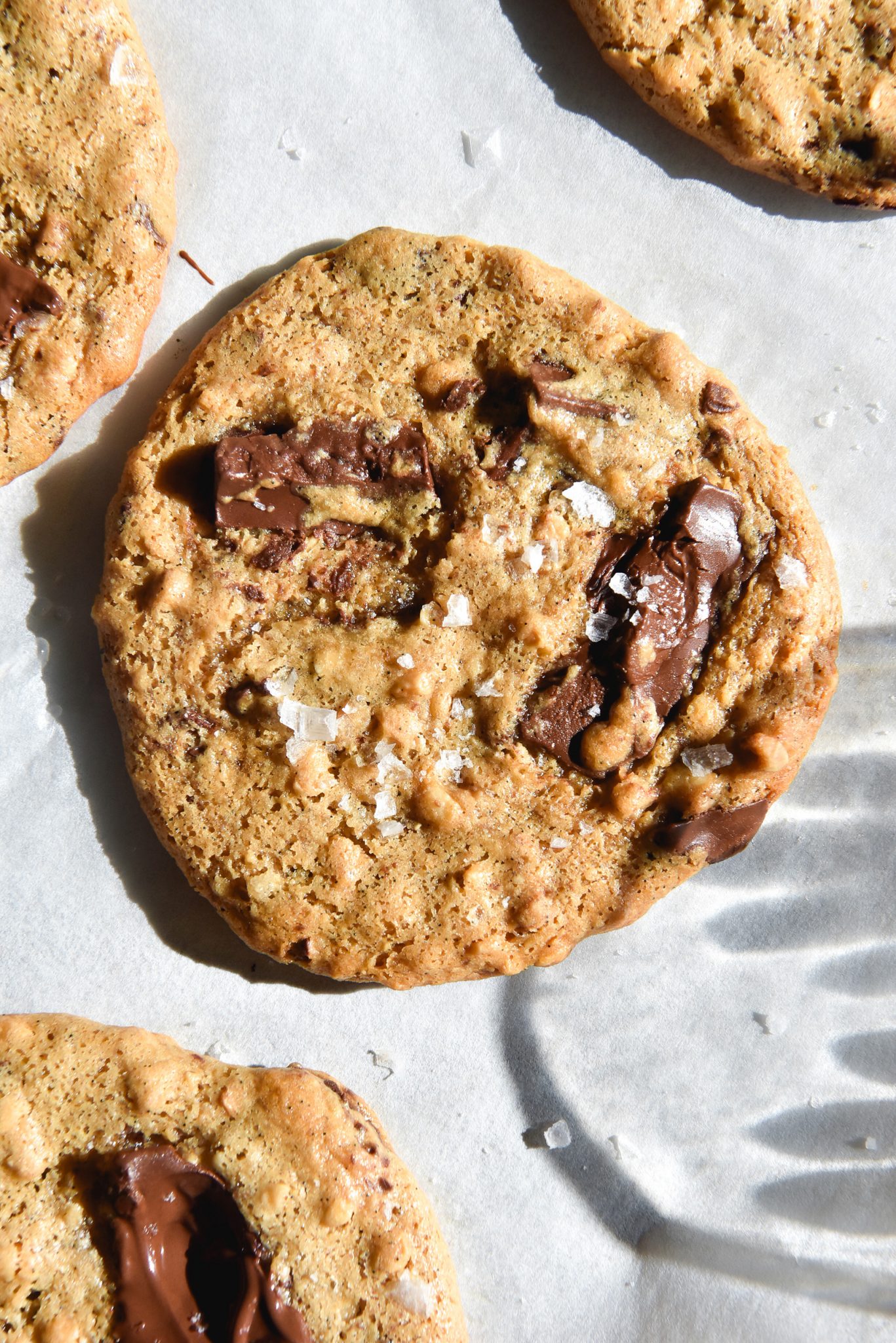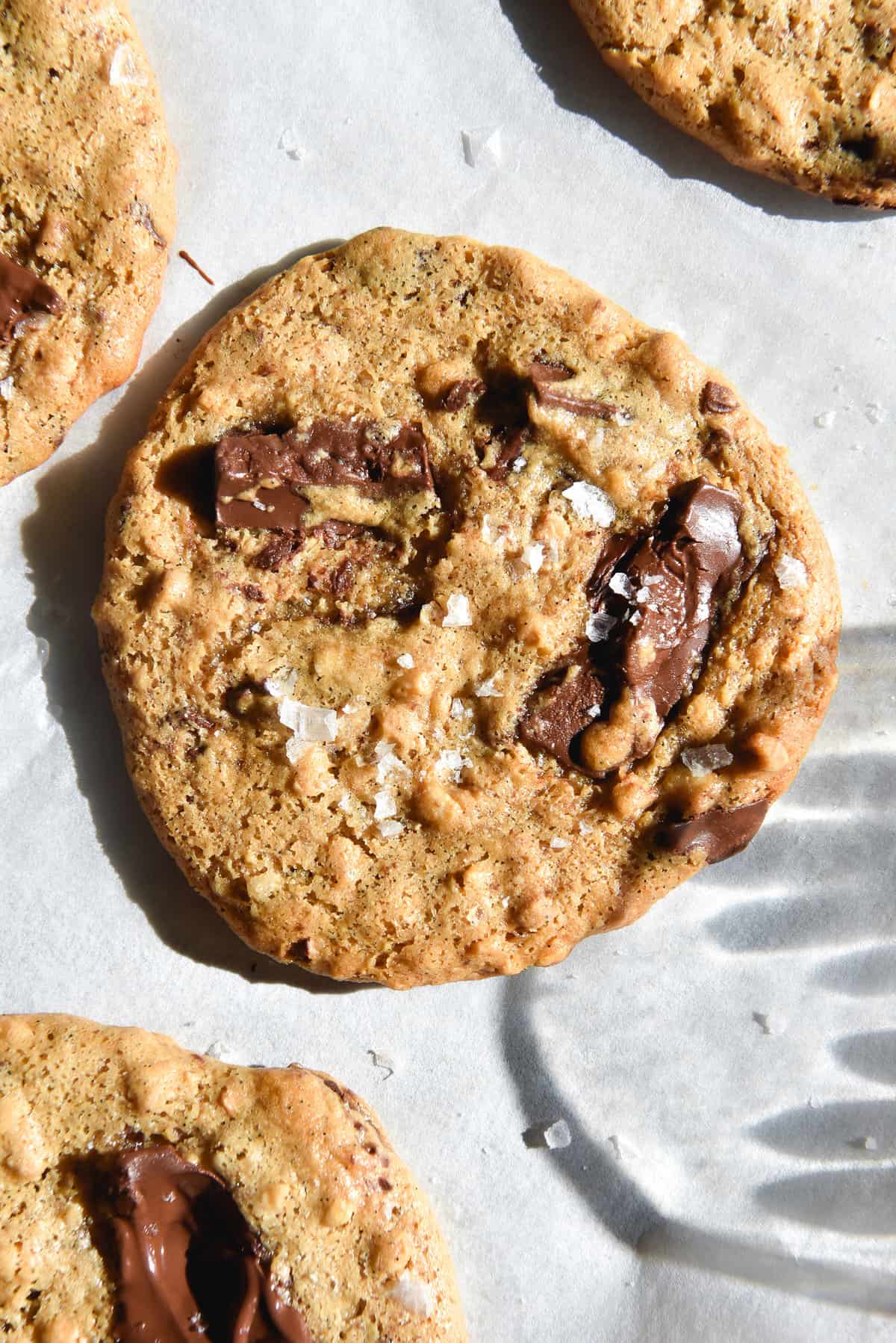 Low FODMAP cookies
Vegan brownie cookies
One of my favourite low FODMAP cookies to date, these are incredibly easy to make with simple ingredients. Nobody can tell they are gluten free and vegan, either.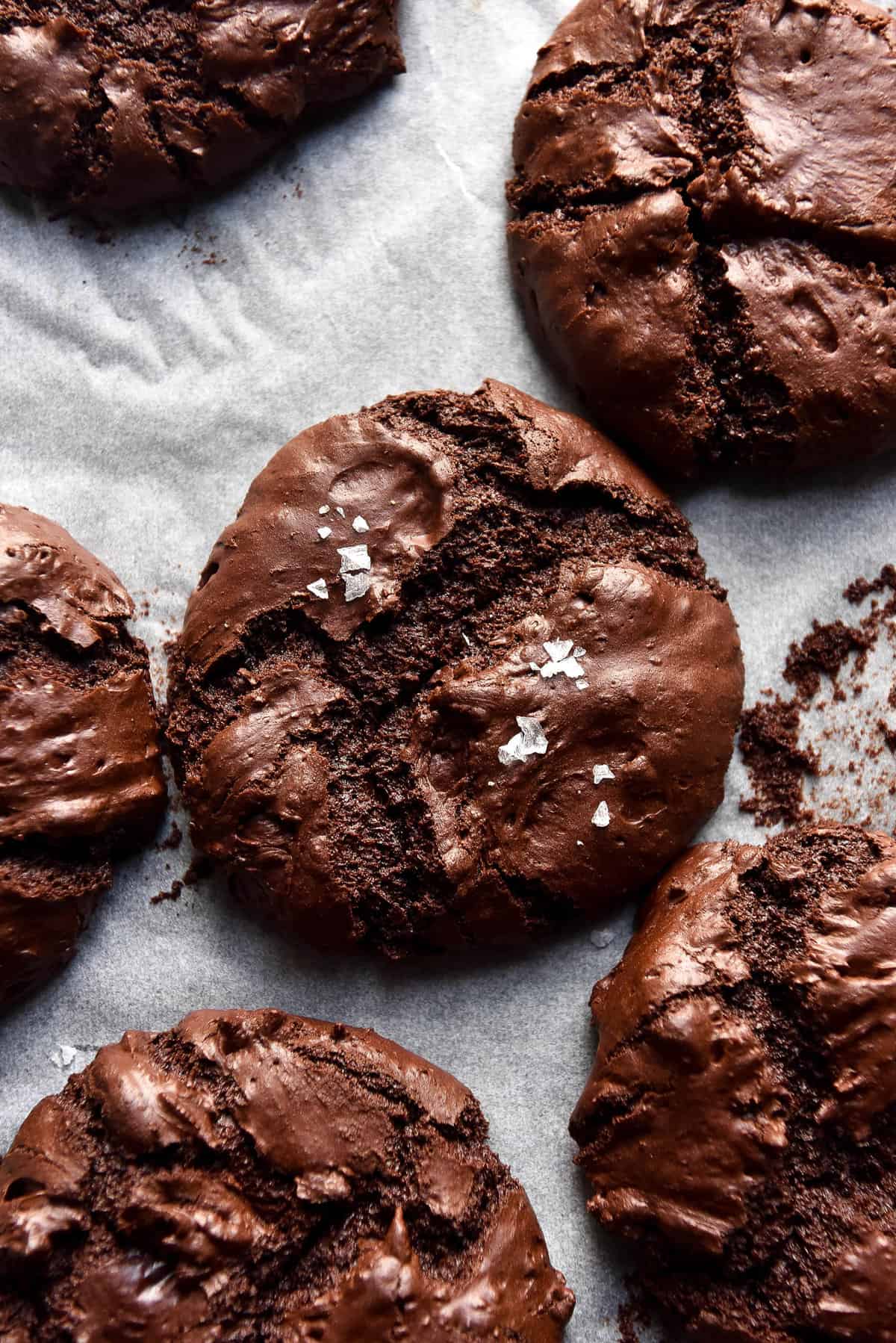 Brown butter brownie cookies
The original brownie cookie that kicked things off, these are easy and satisfying to make. They're also gorgeous, which is an added bonus.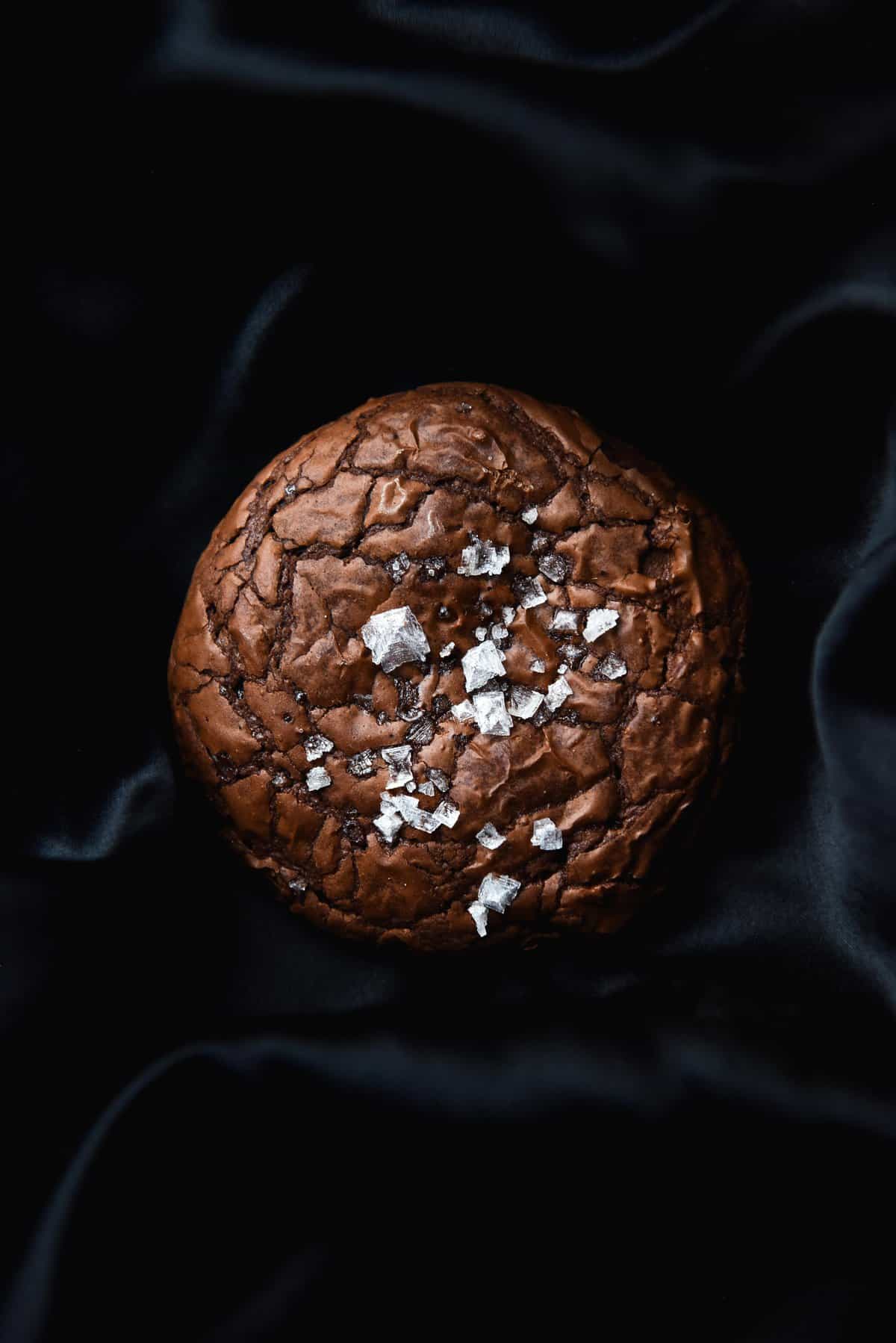 Buckwheat choc chip cookies
These gluten free choc chip cookies are made entirely with buckwheat flour. They contain no xanthan gum or starches, so the buckwheat does all the work. One of the delicious low FODMAP cookies in my cookbook, Intolerance Friendly Kitchen.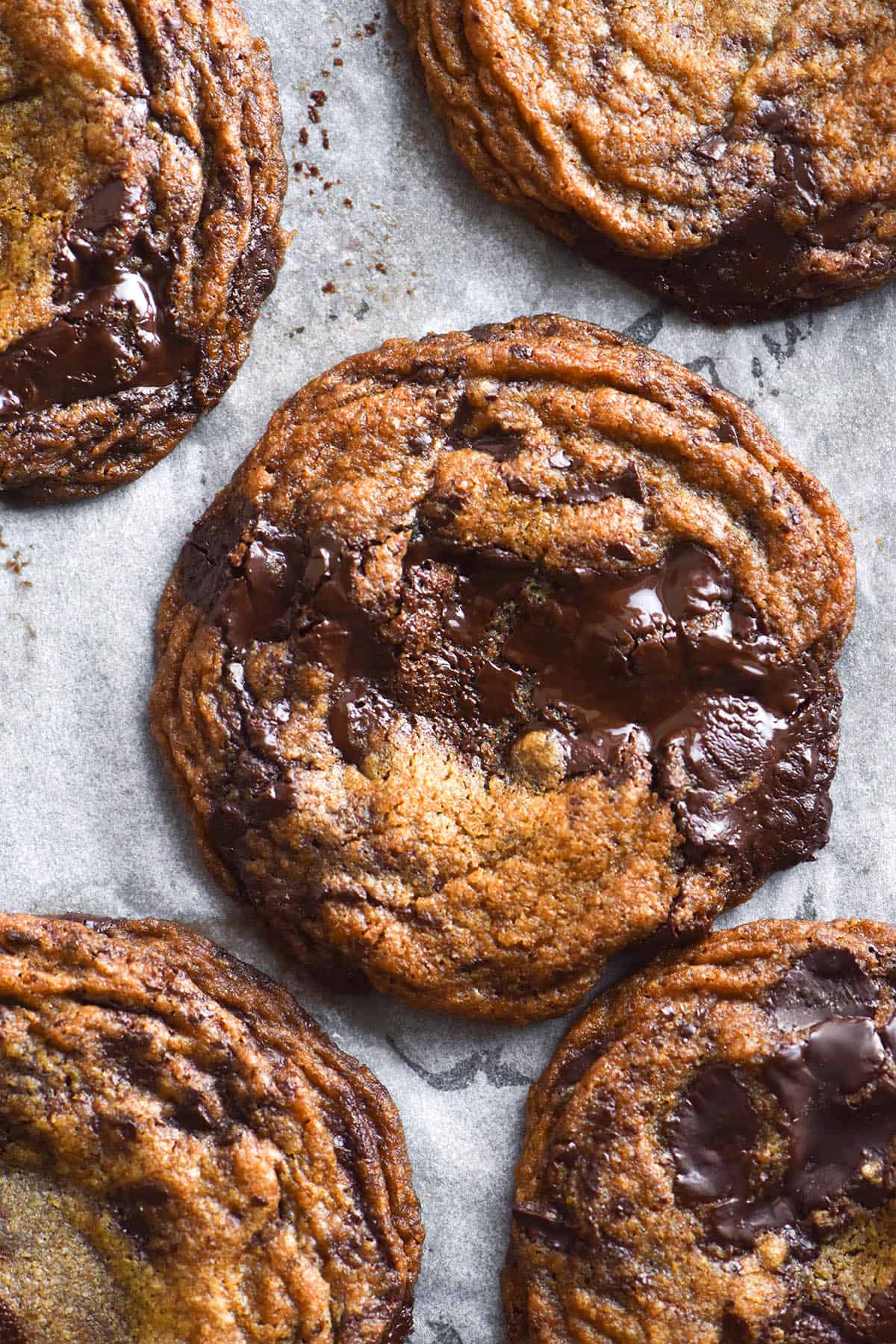 Flourless brownie cookies
This recipe was born when I forgot to add the flour to my brownie cookie recipe, and realised they were fine without it. Completely flourless, grain free and nut free, these are the cookies to make for multiple dietaries at once.
Gluten free sourdough brownie cookies
Need to use up some gluten free sourdough discard? Look no further. These sourdough brownie cookies are the sweetest way to keep your sourdough healthy and waste free.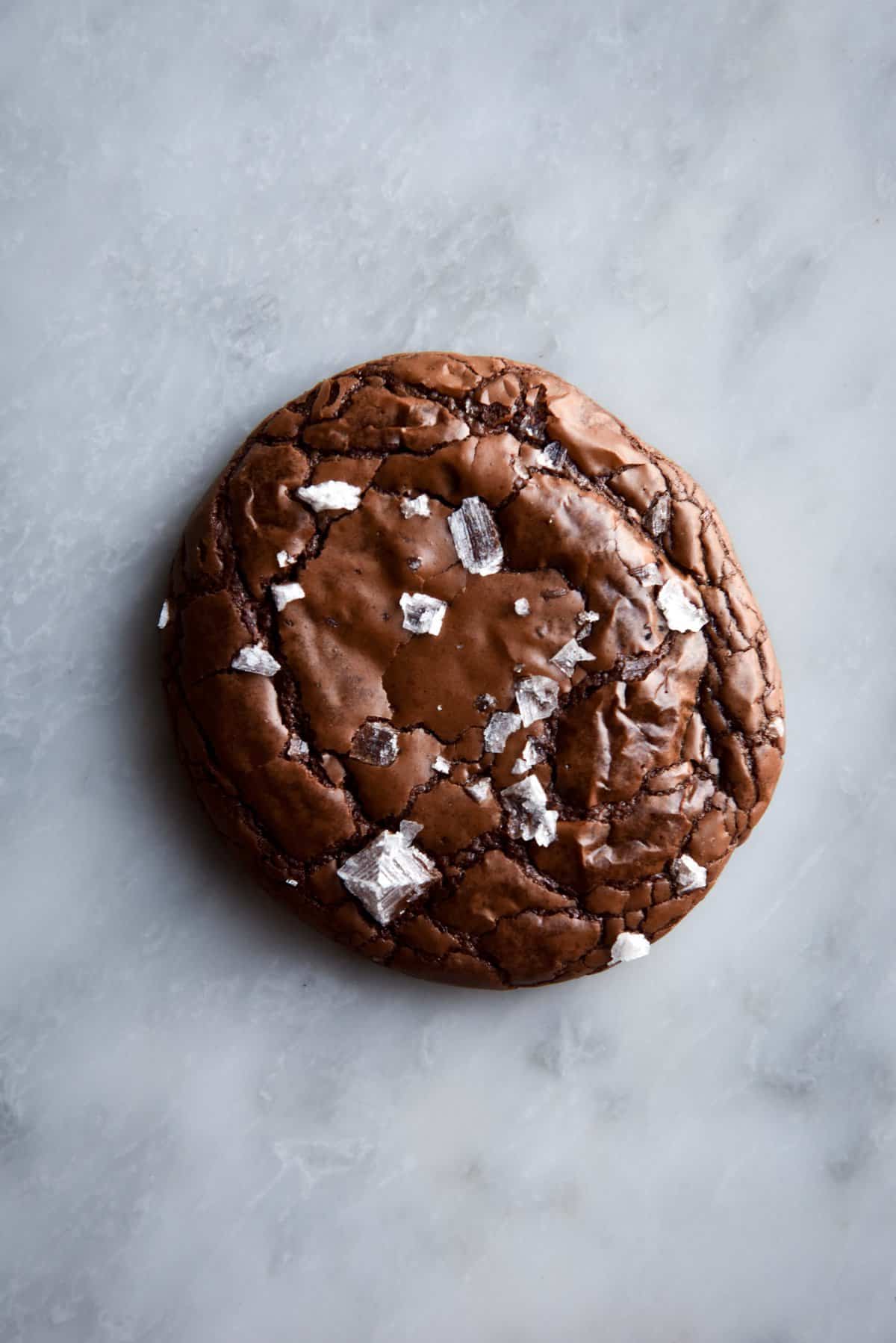 Vegan choc chip cookies
These vegan and gluten free choc chip cookies are gluten free, vegan, nut free and xanthan gum free. A great choice for the low FODMAP vegan, or those who can't have eggs or dairy.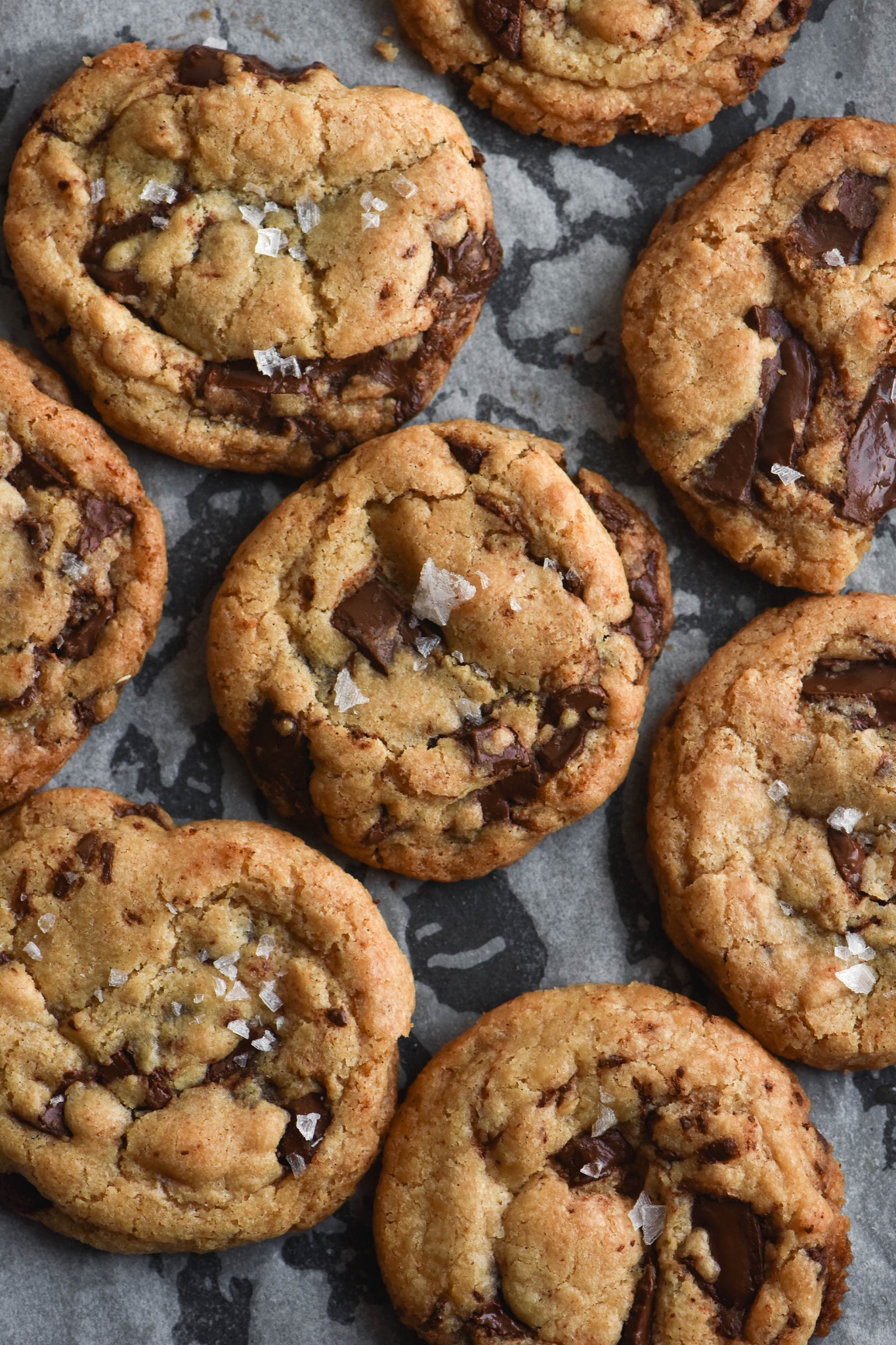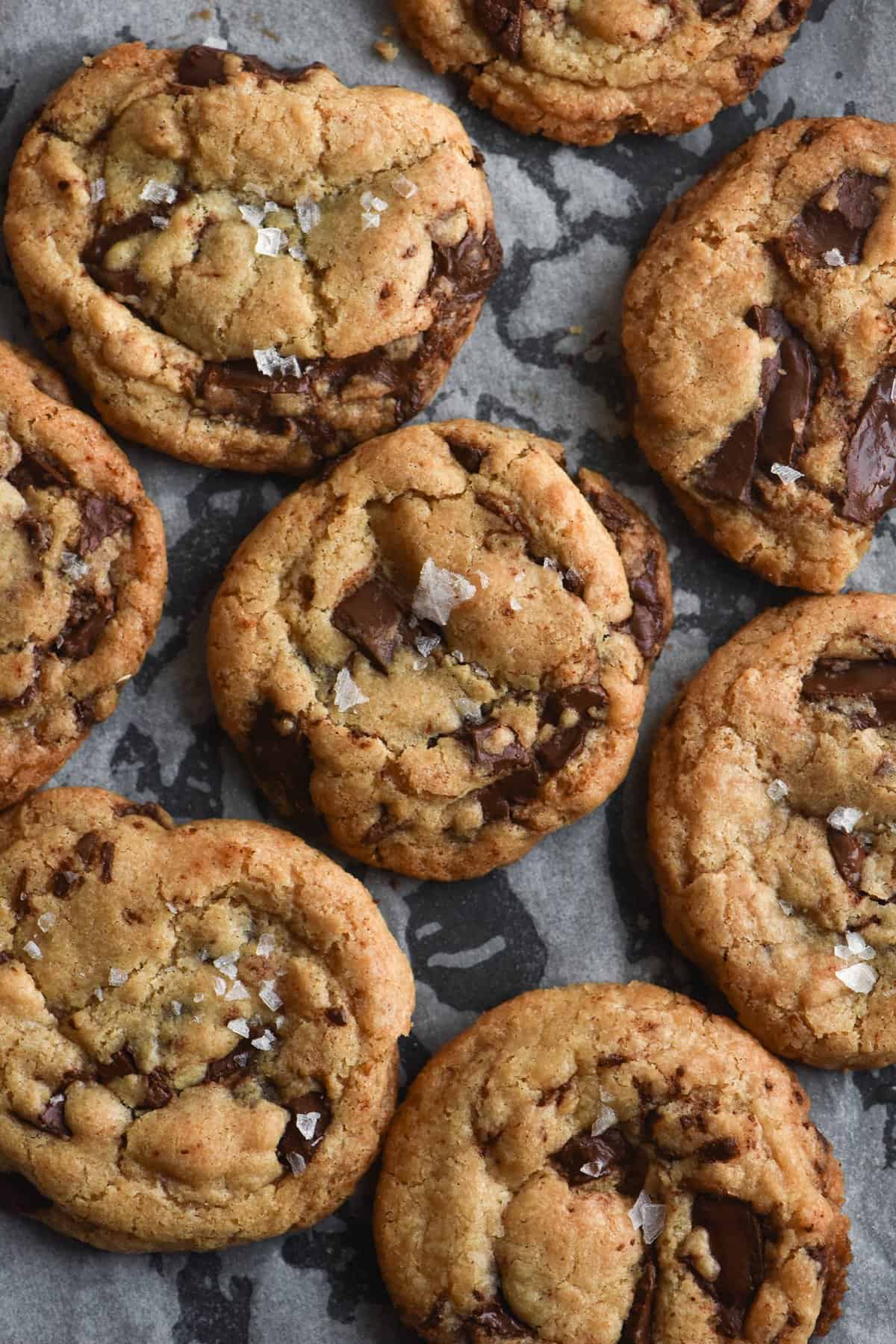 Dark chocolate sandwich biscuits
Have you heard of a Tim Tam? Yes, well these are similar. Wink. This is a recipe from my cookbook, Intolerance Friendly Kitchen.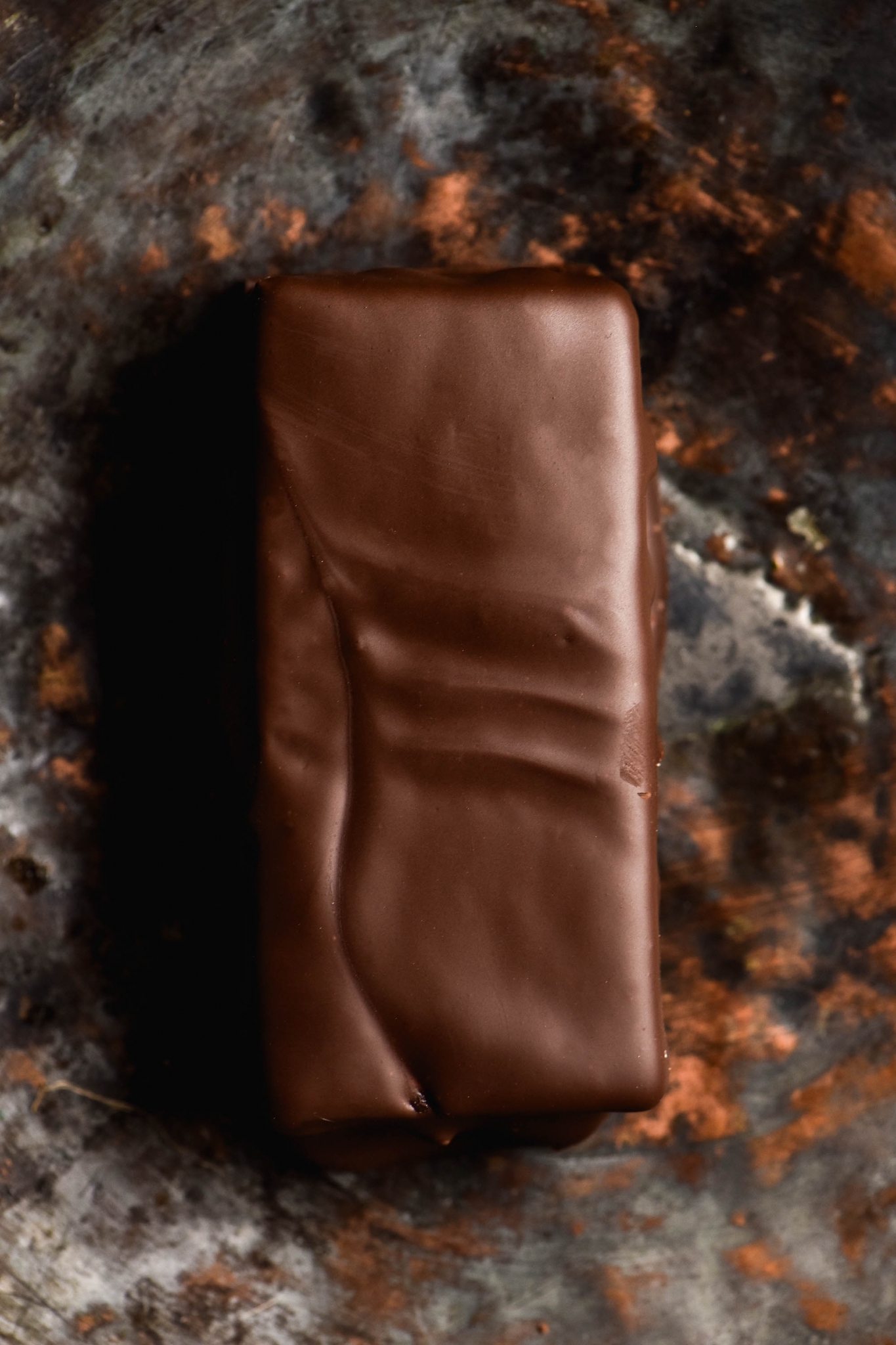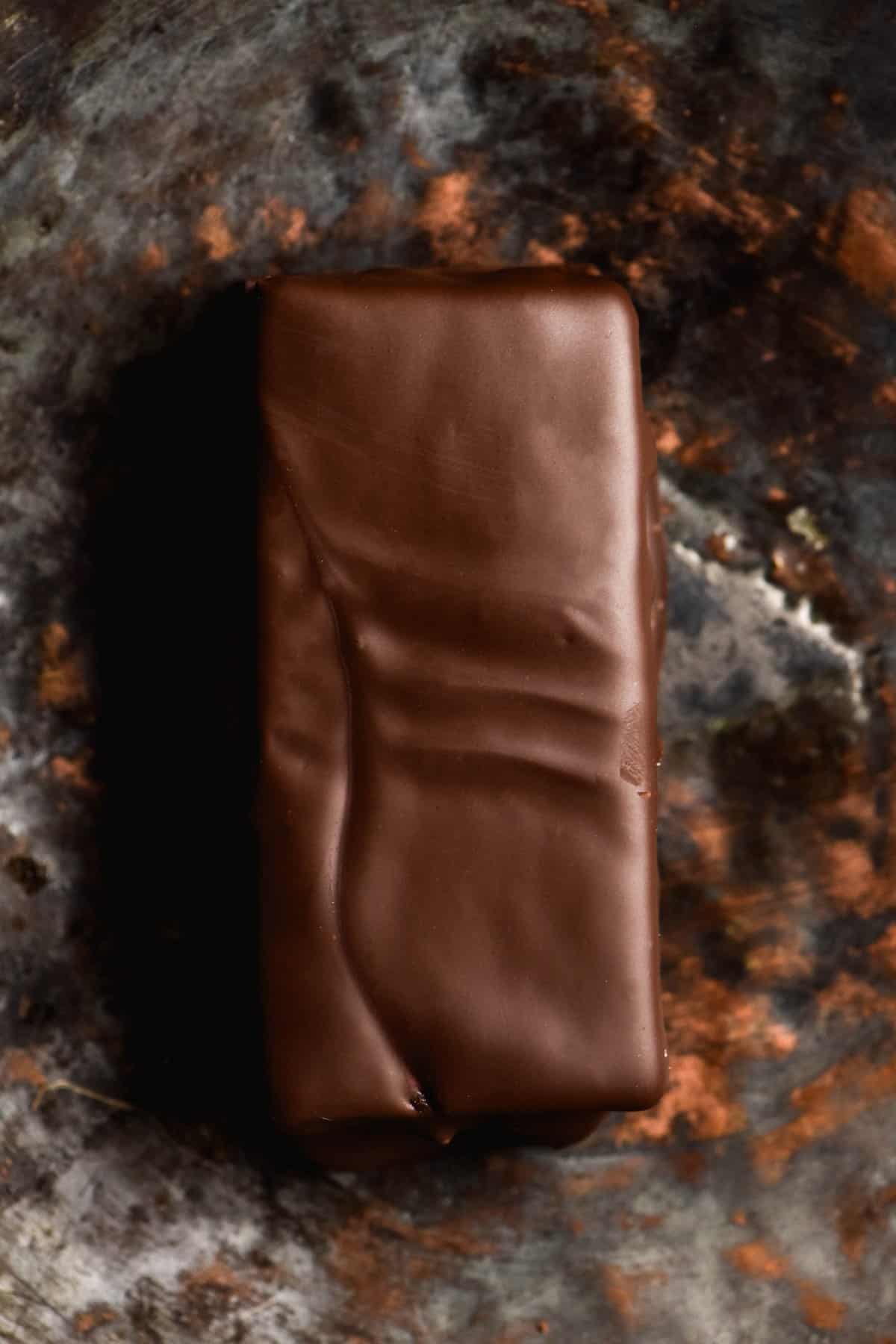 Choc chip cookies without eggs
If you can enjoy brown butter but can't have eggs, this is the recipe for you.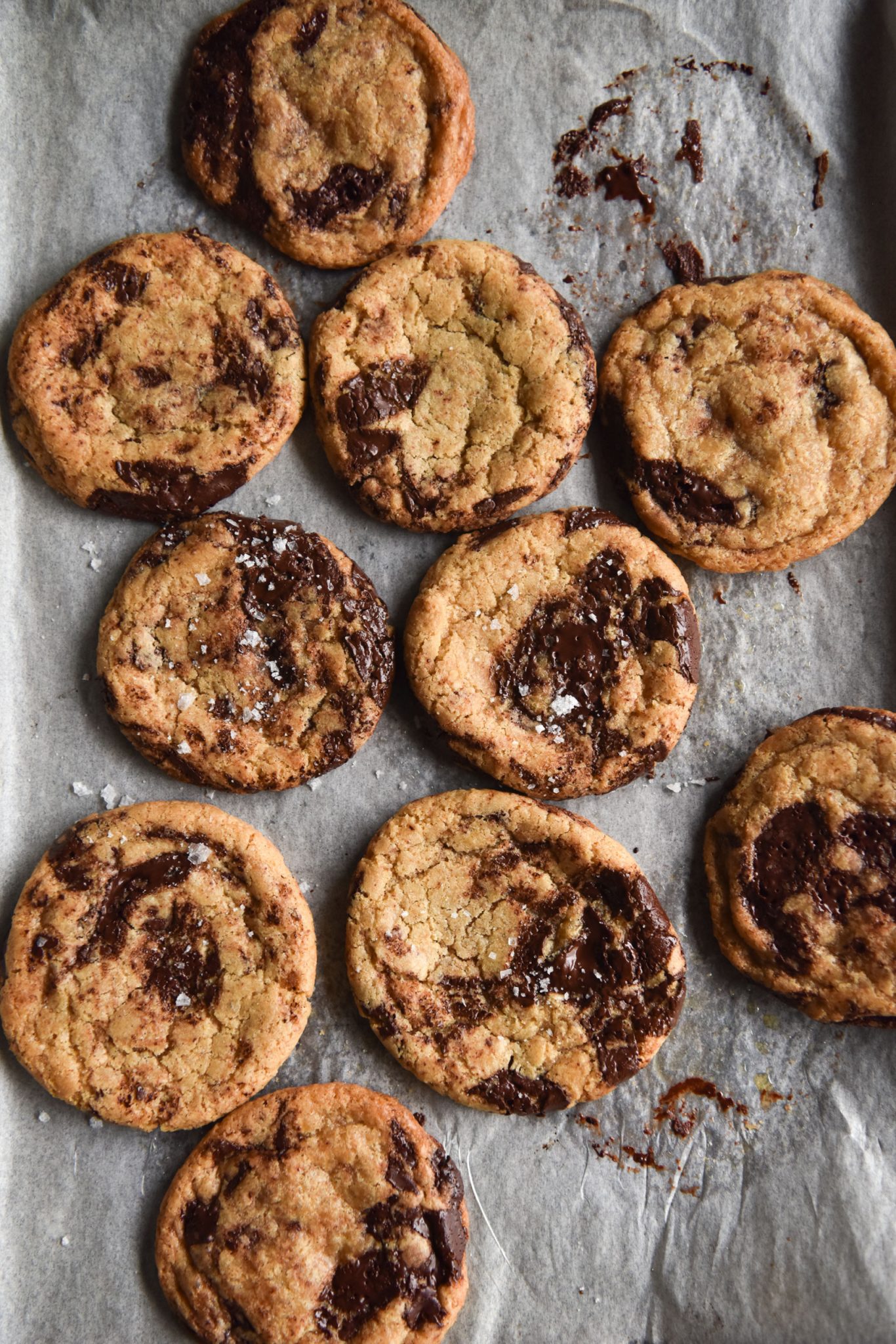 Choc chip cookies with brown butter
And if you enjoy brown butter AND eggs, THIS is the recipe for you.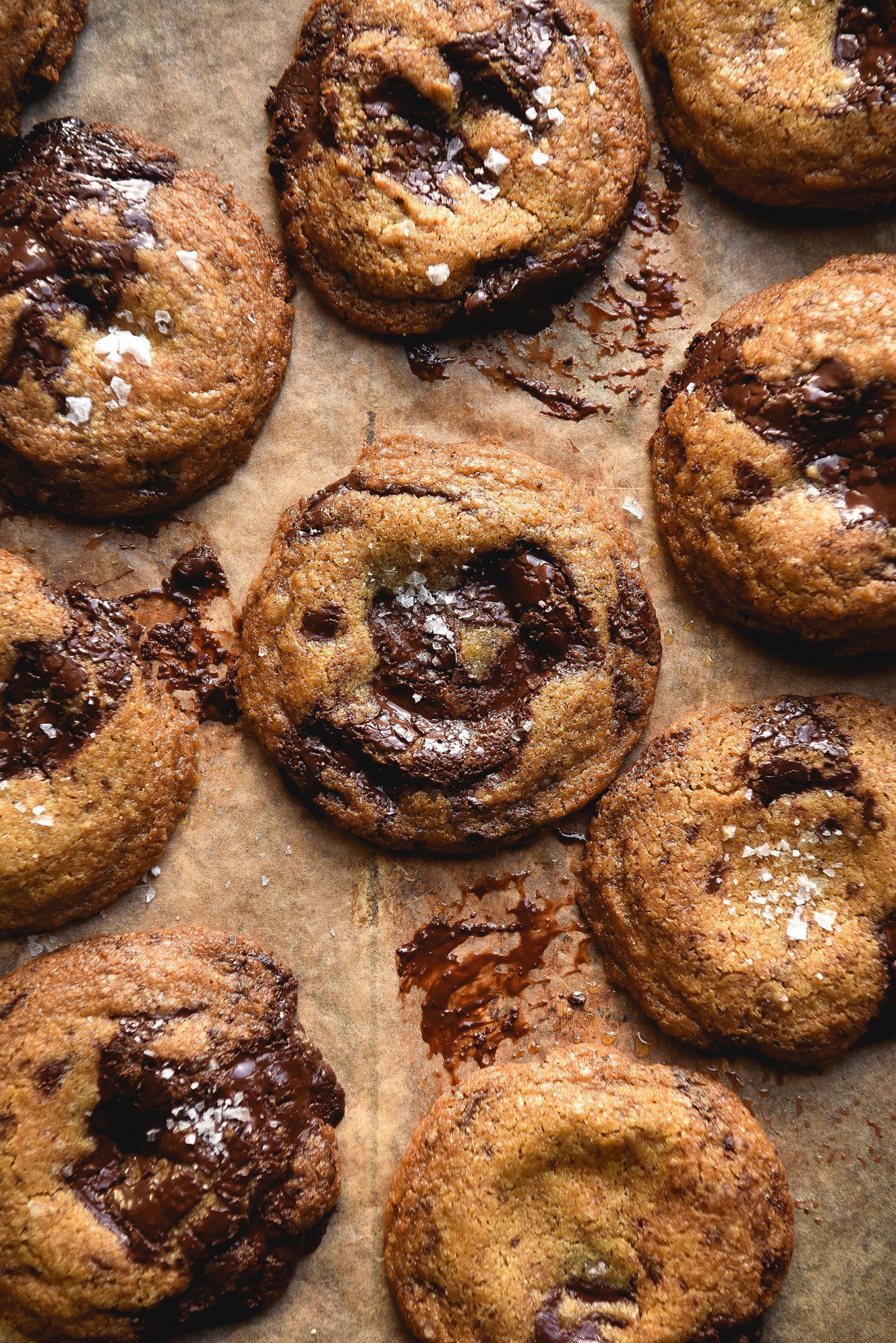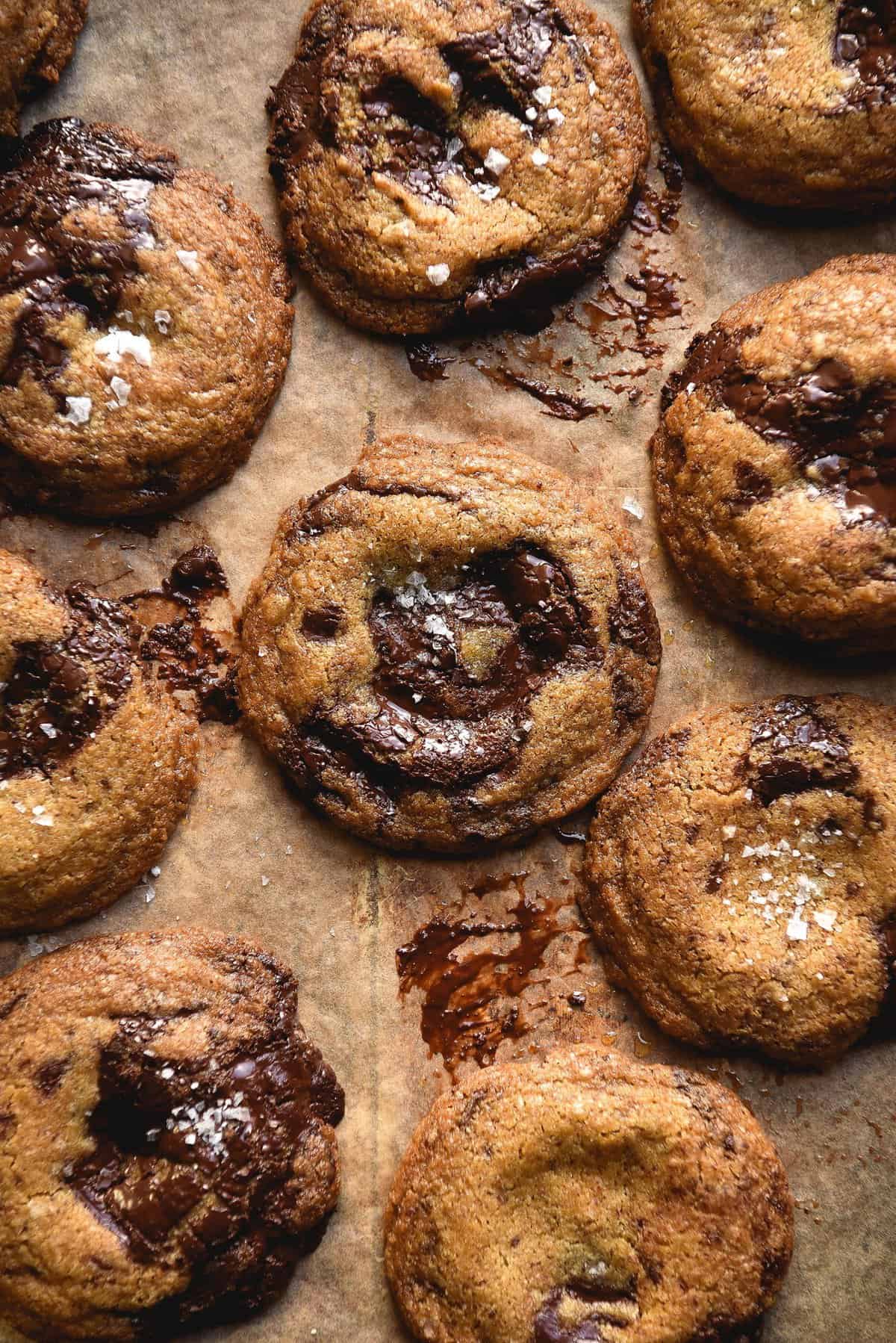 Peanut cookies
These peanut cookies are so incredibly simple that it should almost be illegal. Peanut butter, maple syrup and a bit of baking powder are mixed together to create a batter that bakes up to the crunchy cookie of your dreams.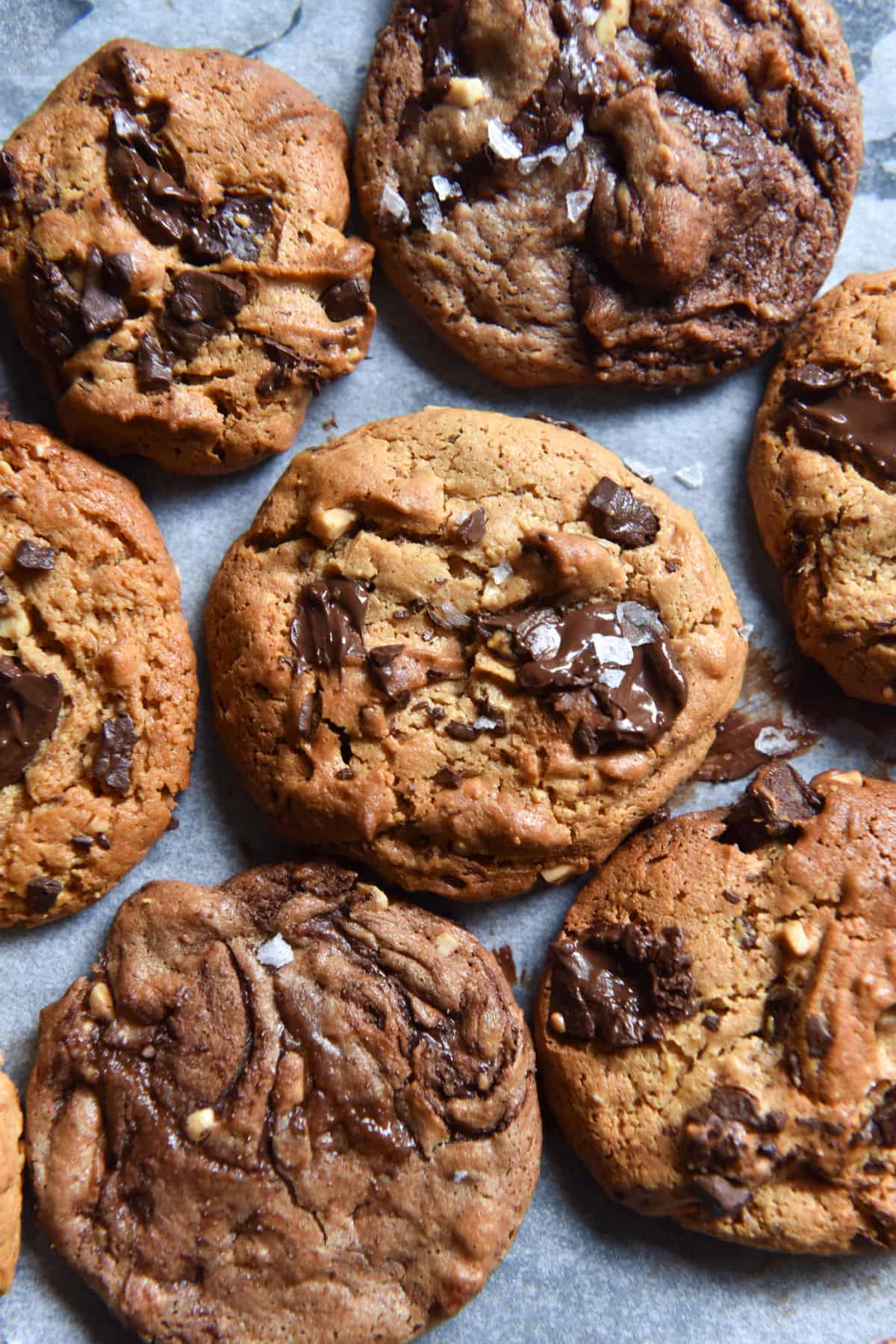 Tahini cookies
A natural spin off from my peanut cookies, these tahini cookies are arguably even better? They're chewy and rich with that classic tahini taste. They also bake up beautifully.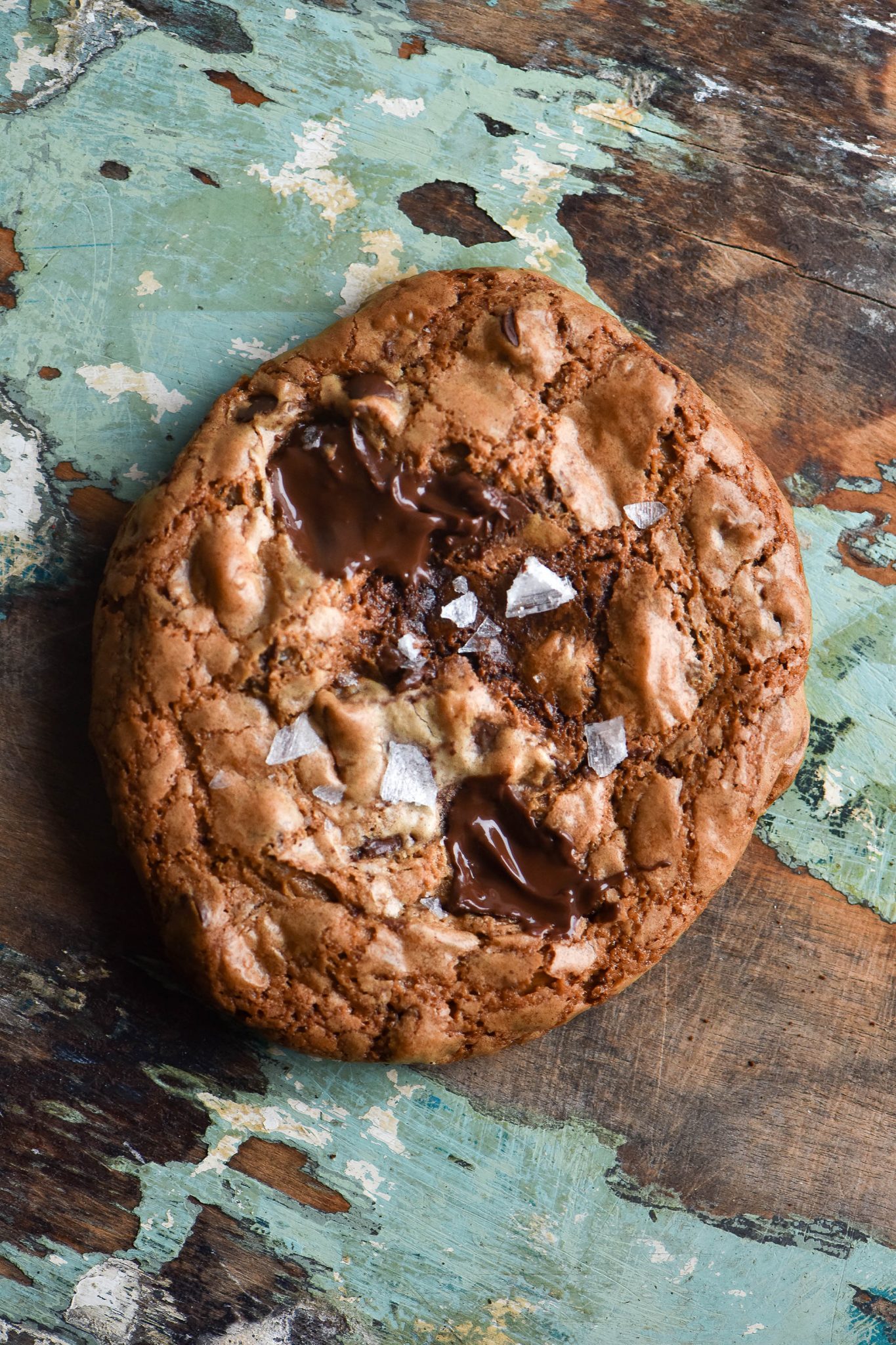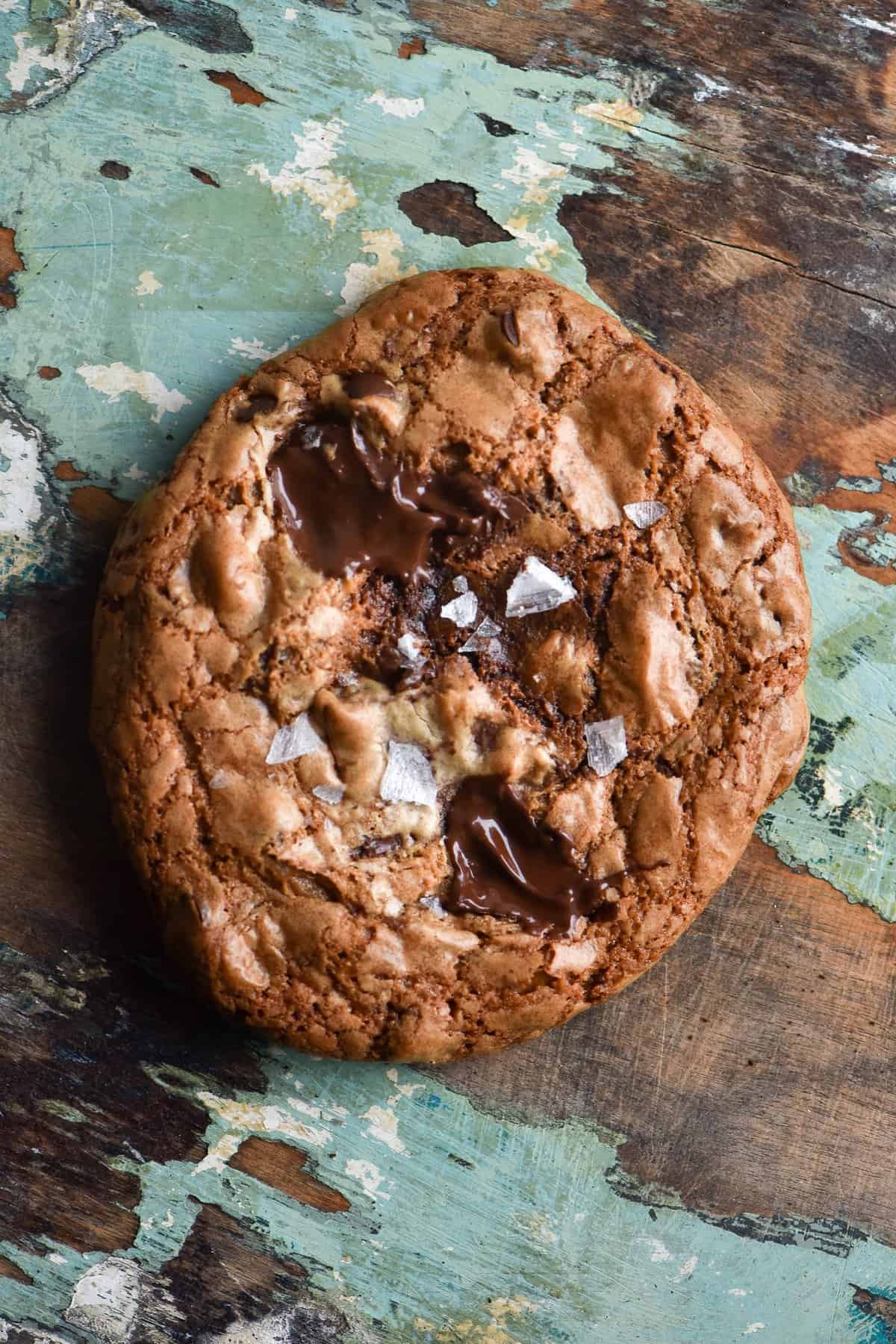 Grain free choc chip cookies
One of my favourite recipes from Intolerance Friendly Kitchen, these grain free choc chip cookies are both grain and nut free thanks to tigernut flour. Although it sounds like a nut, tigernuts are actually tubers, and thus nut free.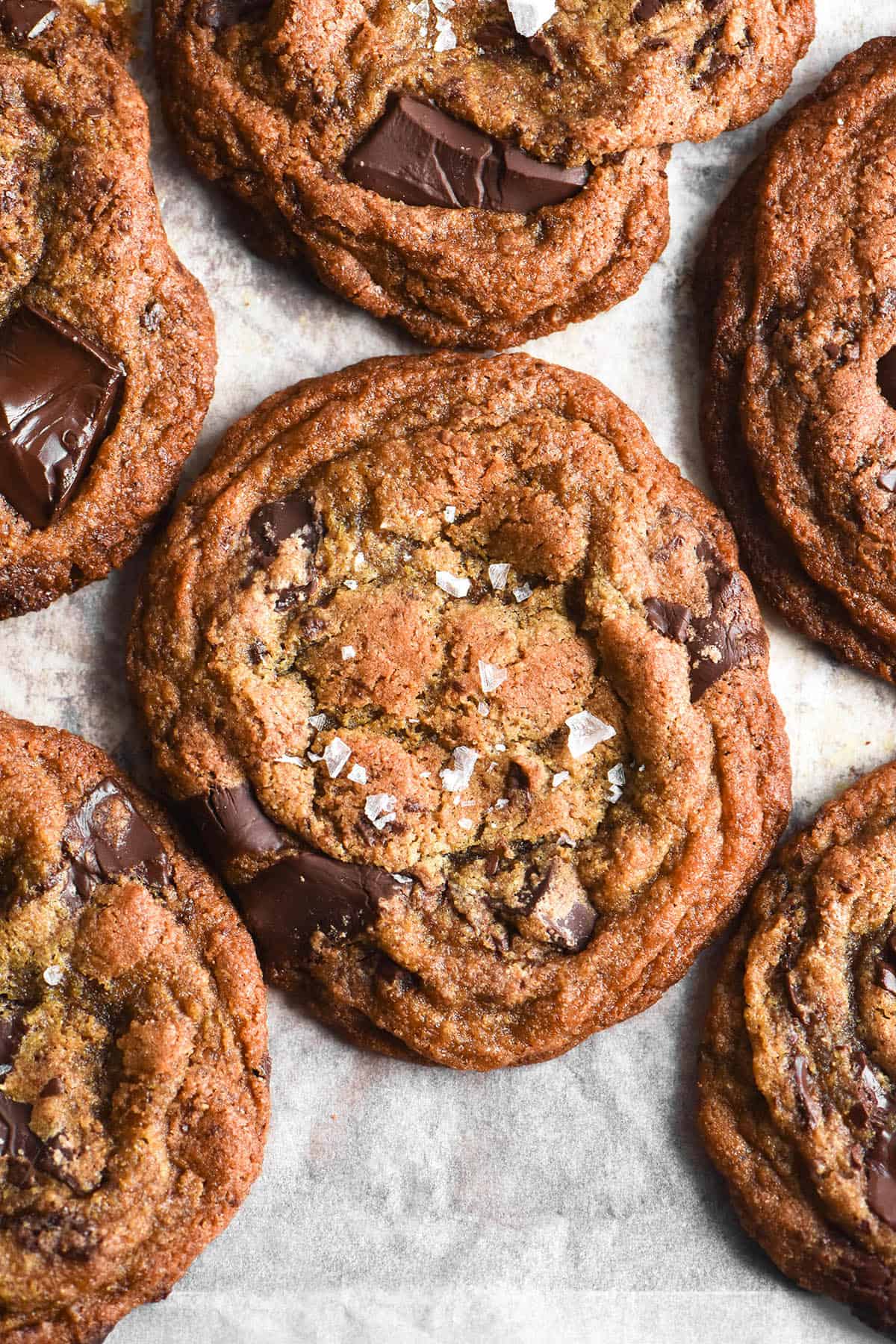 Linzer cookies
A festive and beautiful treat that looks as good as it tastes.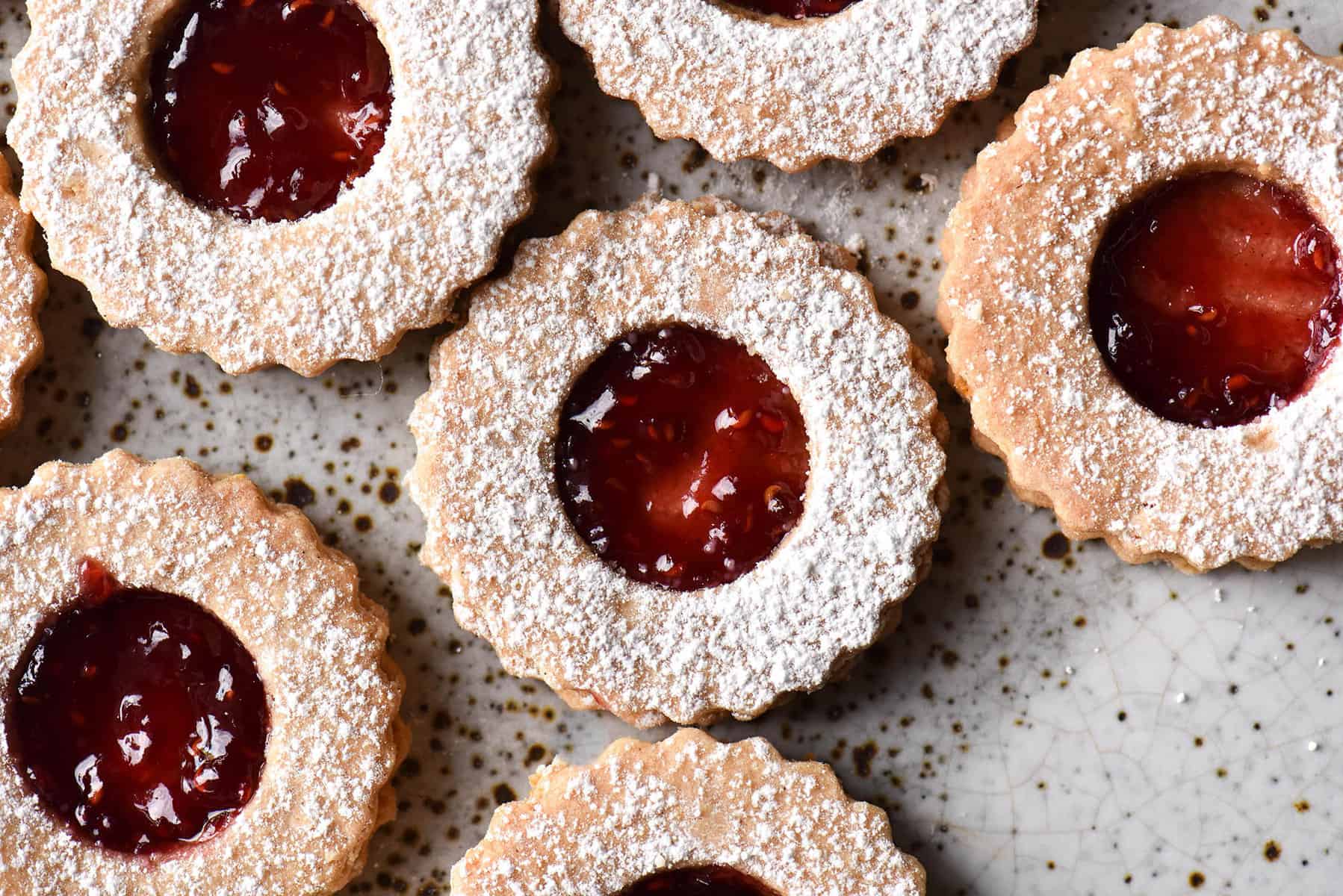 Shortbread cookies
One of my favourite recipes to date, these shortbreads are every bit as buttery and melt in the mouth as I remember. There are plenty of options for the starch component of the shortbread to fit every dietary. I love using cassava flour, but I've tested cornstarch, tapioca and potato starch too.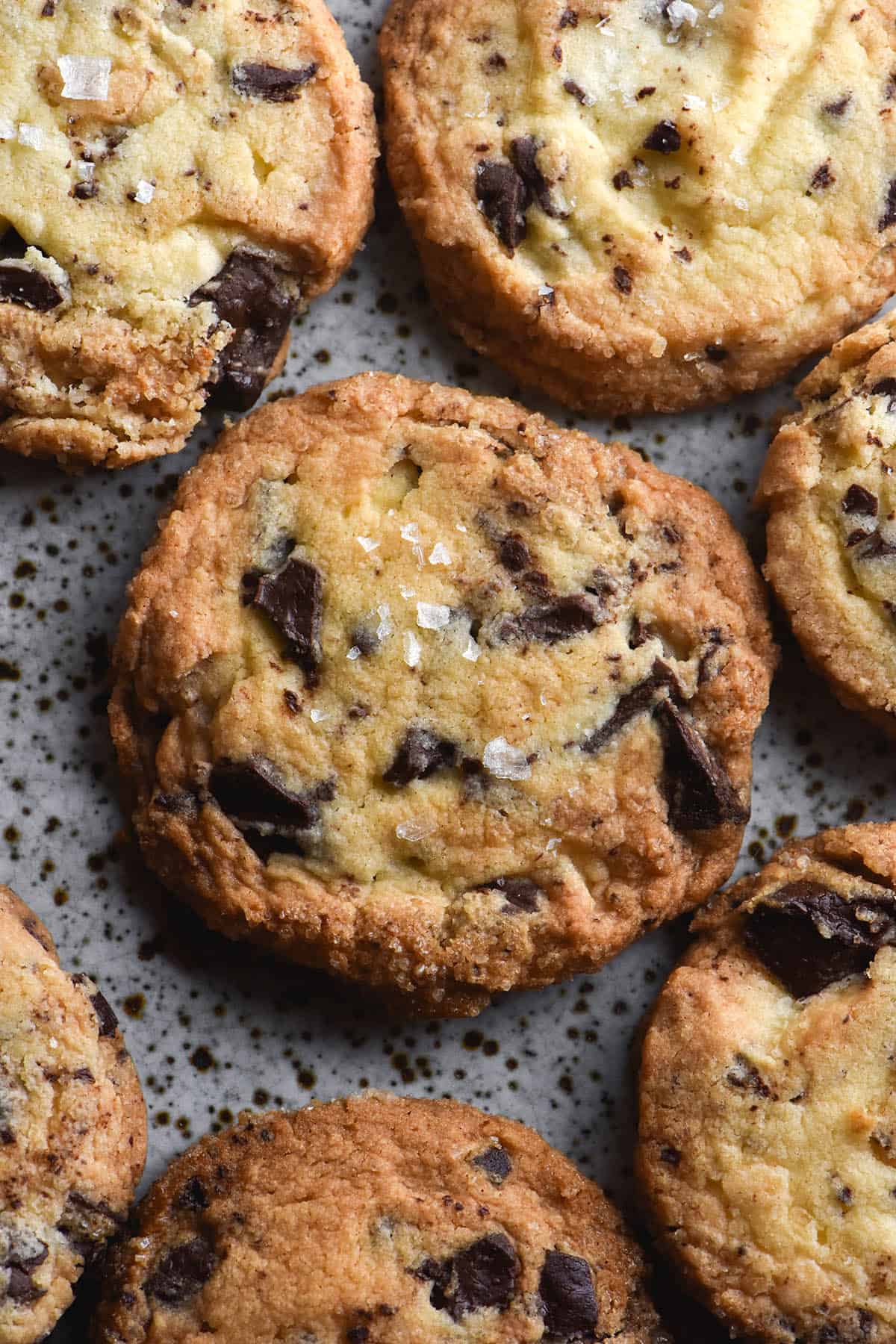 Gingerbread
Speaking of cassava flour, these gluten free gingerbreads make use of it for an incredibly easy dough. Cassava flour has a FODMAP threshold, but unless you eat a whole batch it should be no issue. I have also tested molasses, maple syrup and rice malt syrup to account for preferences and FODMAP concerns.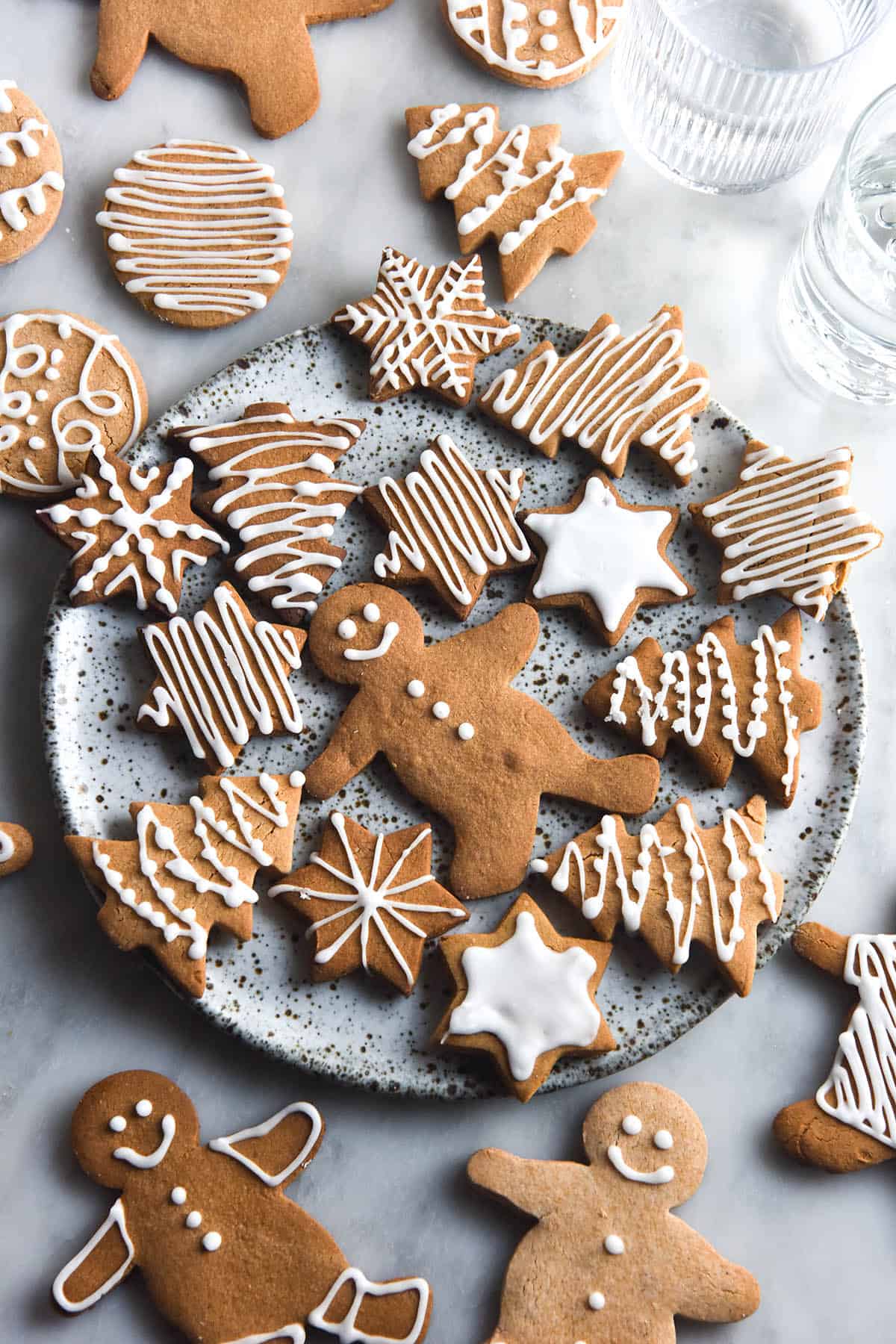 Yoyo cookies with passionfruit and lime filling
I'm not sure if Yoyo cookies are just an Australian thing, but they should definitely be global if they are. Buttery and melt in your mouth, they are heaven with this passionfruit and lime filling. This is a recipe from my cookbook, Intolerance Friendly Kitchen.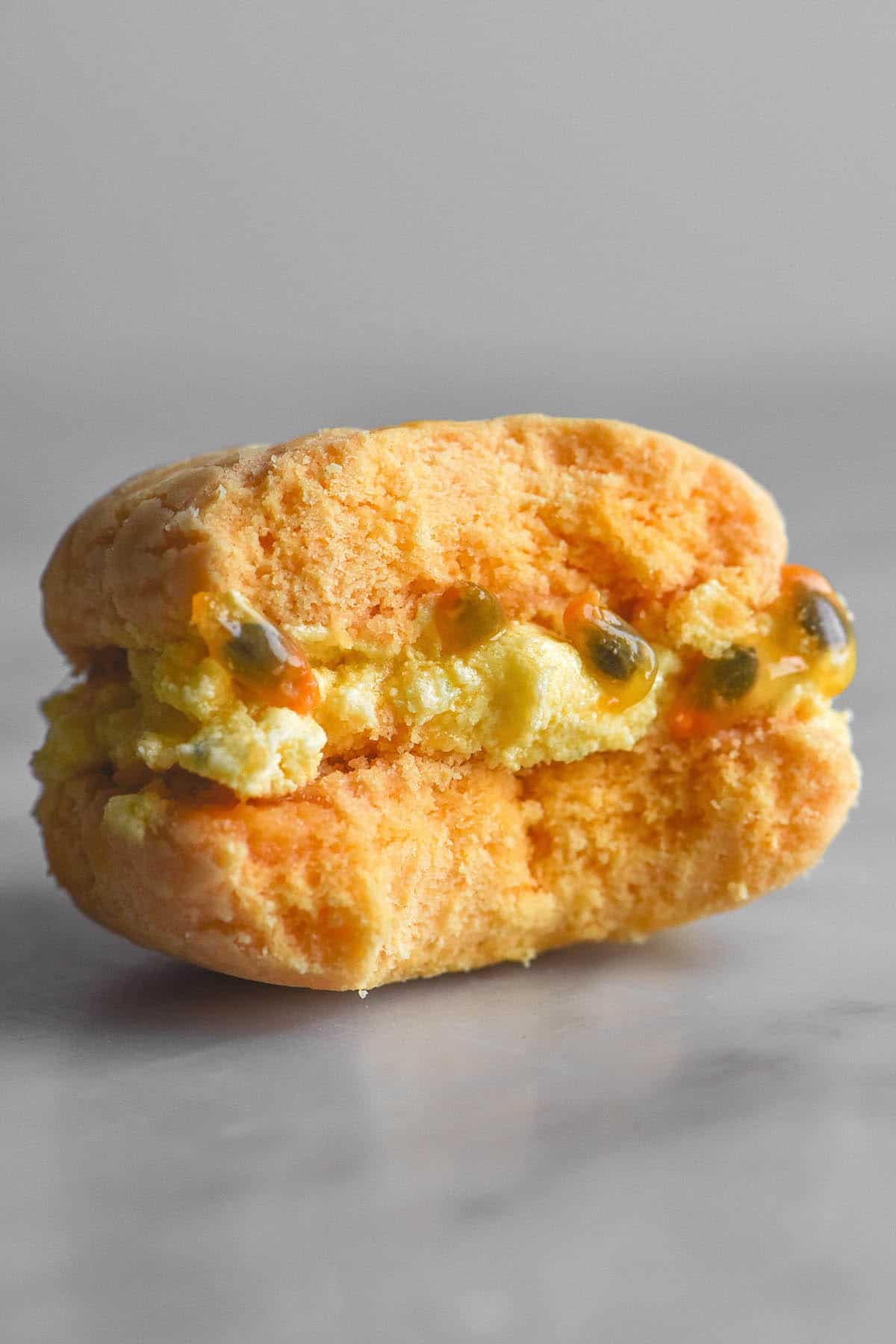 ANZAC style biscuits
These ANZAC style cookies use quinoa flakes and rice malt syrup to make a low FODMAP and gluten free version of the classic ANZAC biscuit.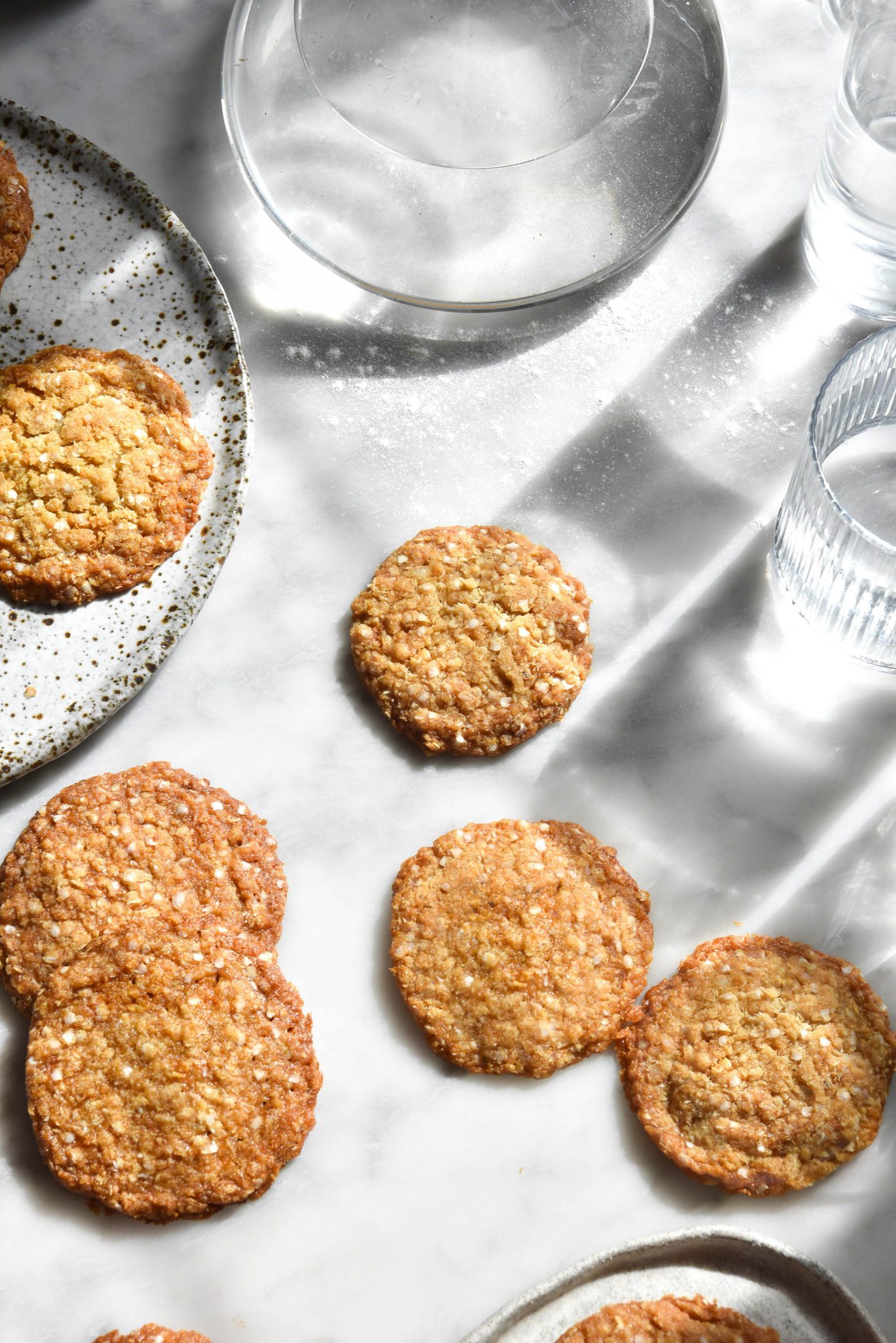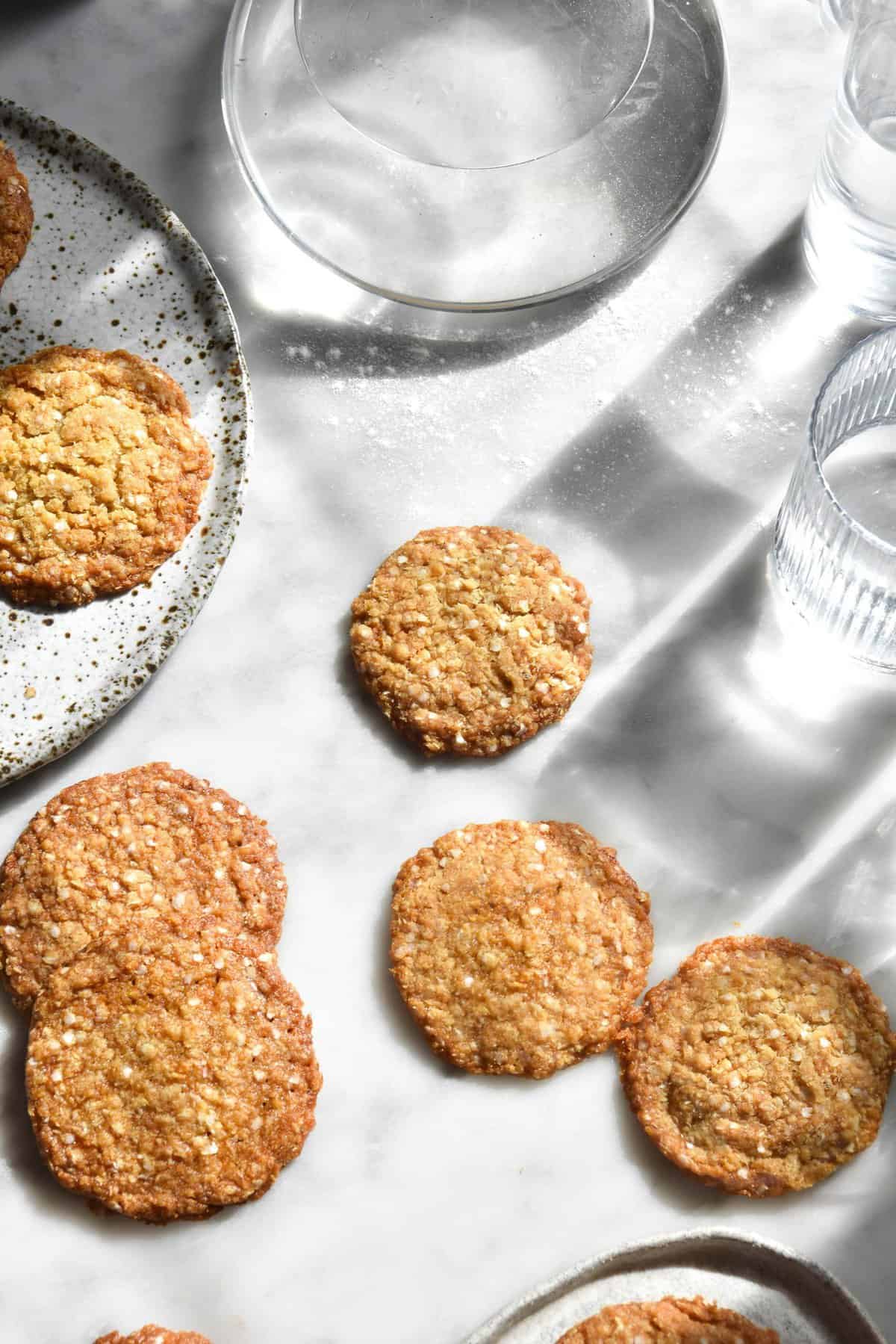 Almond cookies
Shocker: an almond butter version of the aforementioned peanut butter cookie I can't get enough of.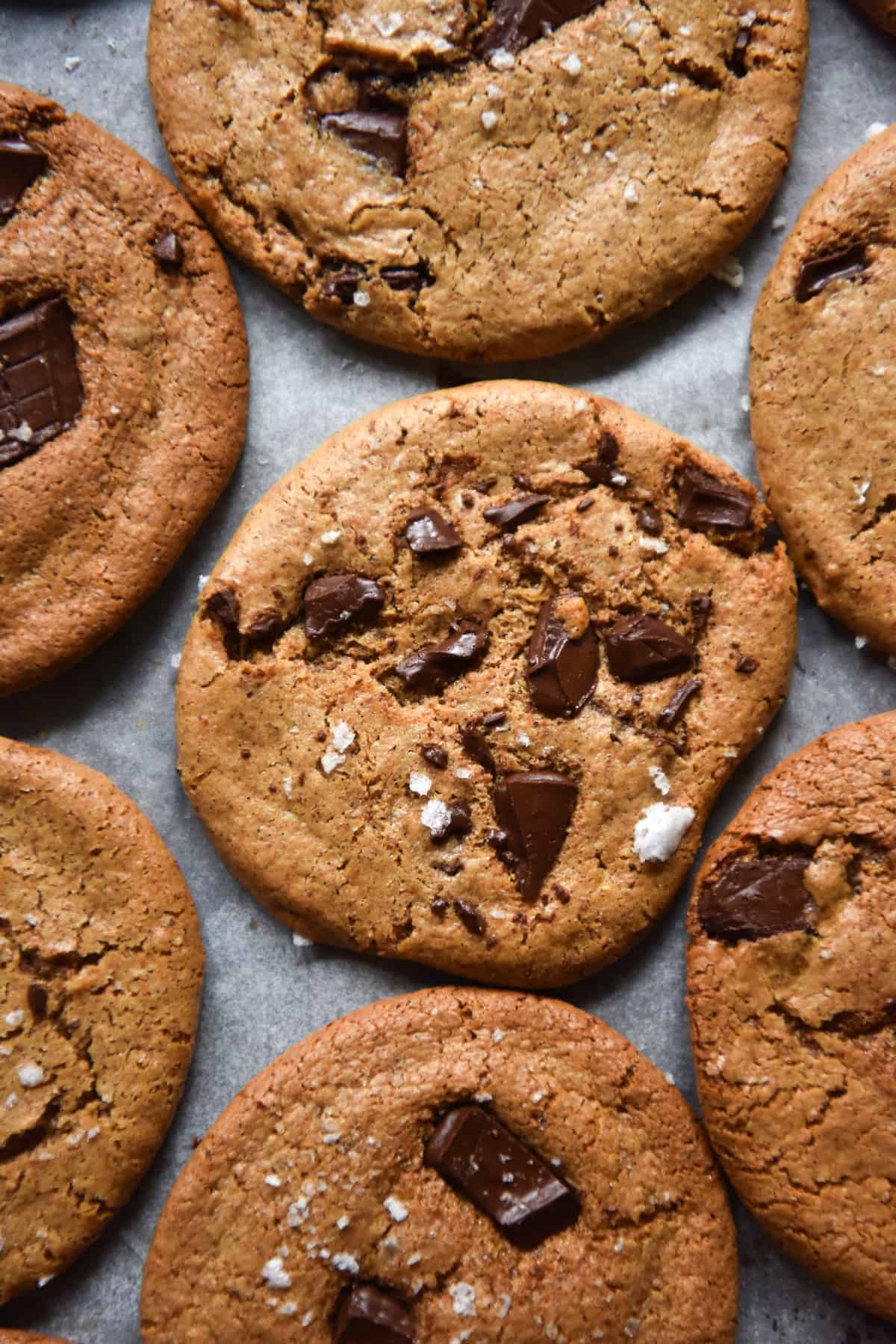 Small batch brownie cookies with a peanut and brown butter buttercream
Sometimes you just don't need a whole batch of brownie cookies. But what you do need is to sandwich them with a peanut, brown butter buttercream.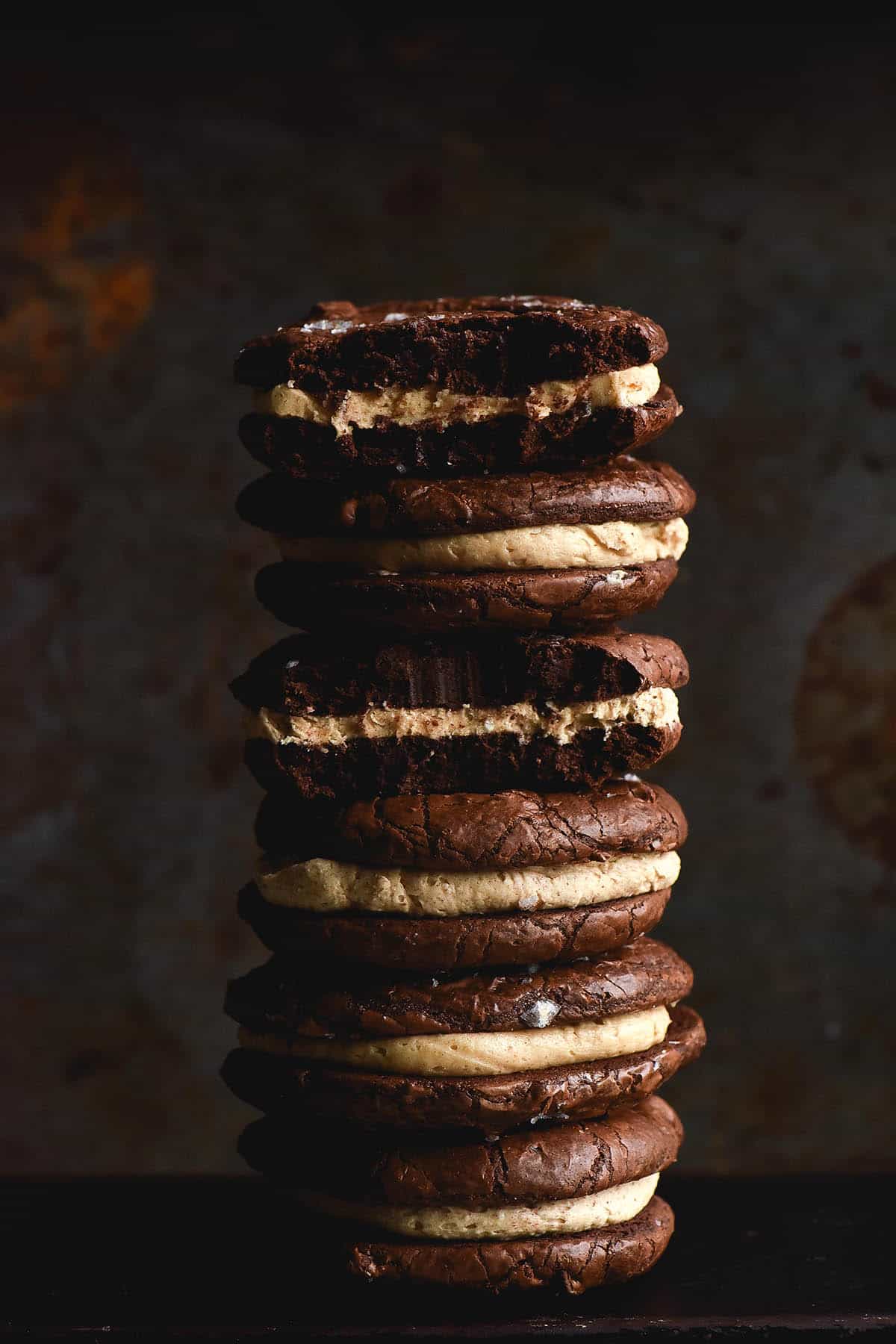 Gluten free Graham crackers
It can be tricky to find gluten free Graham crackers out there in the wild, so I developed my own version.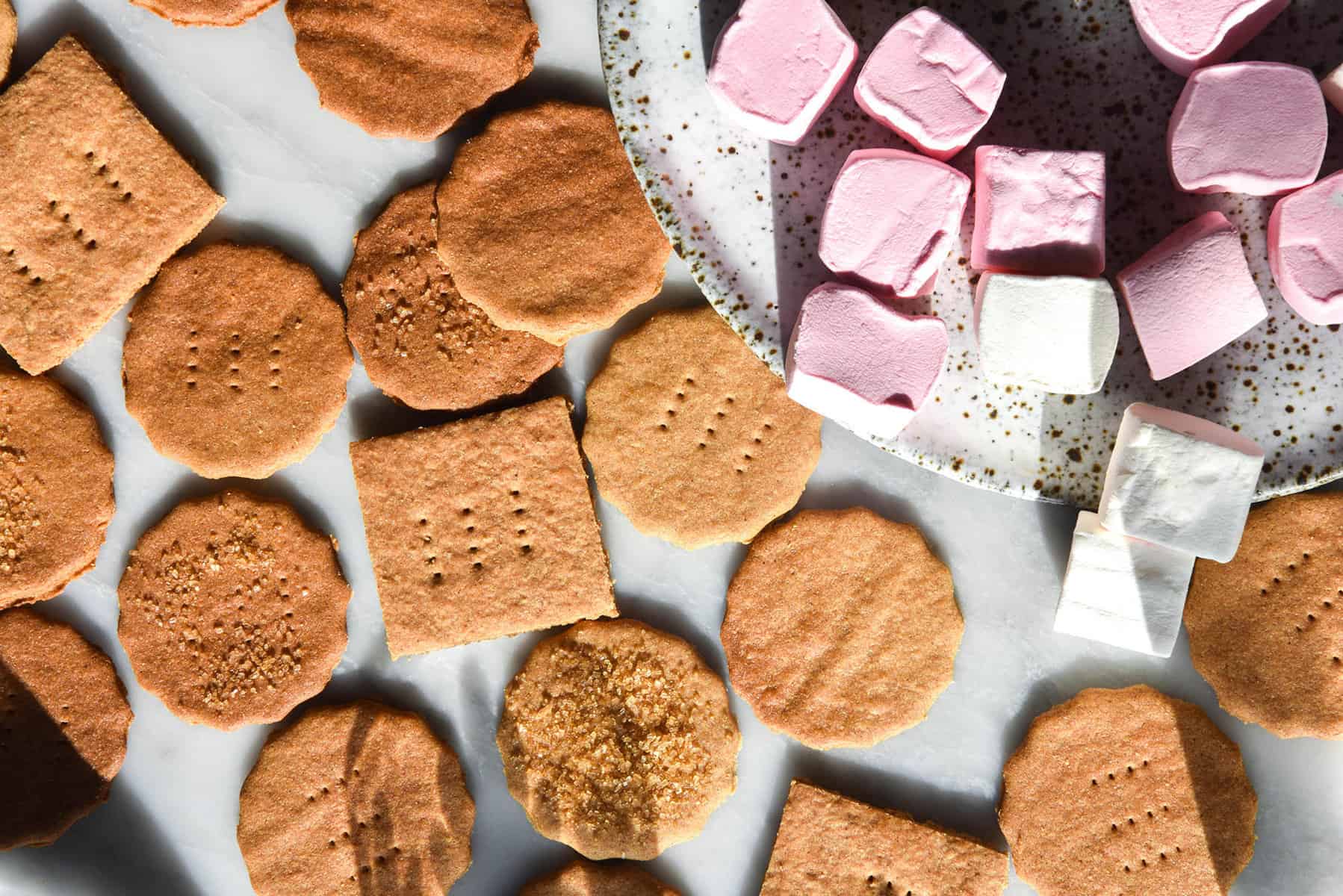 Vegan, gluten free Graham crackers
Of course, it can be trickier again to find a gluten free and vegan version, so here we are!