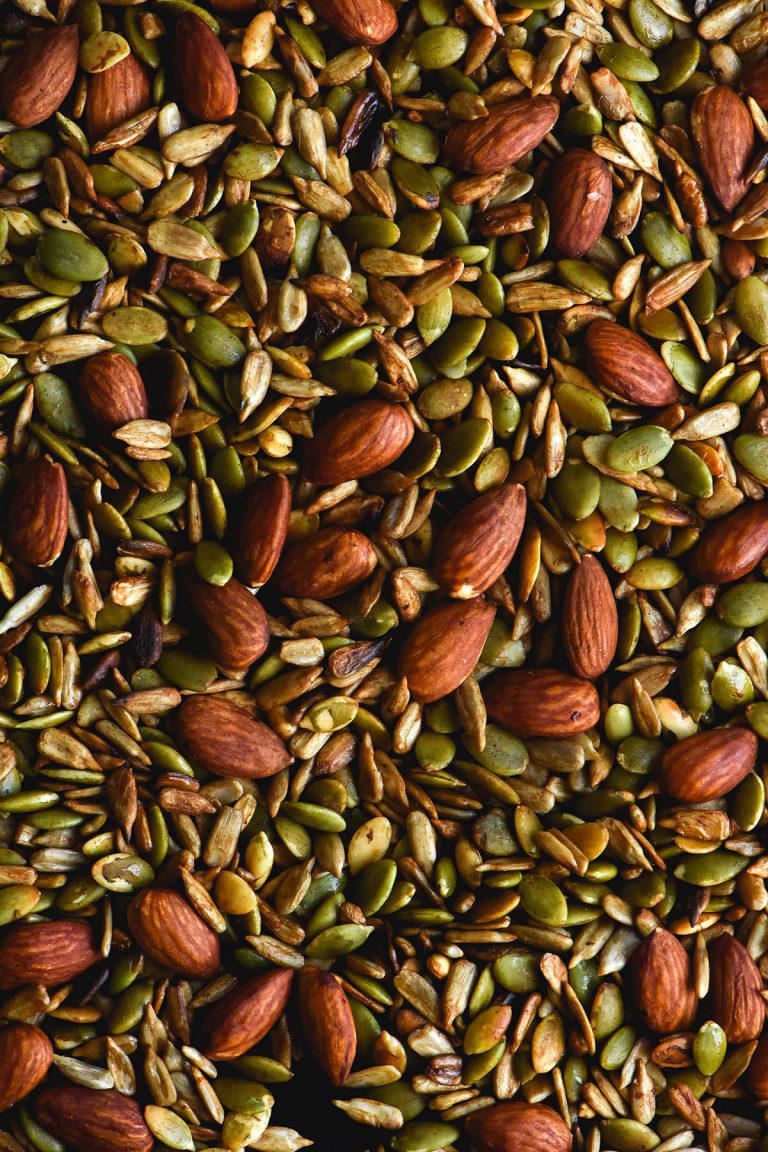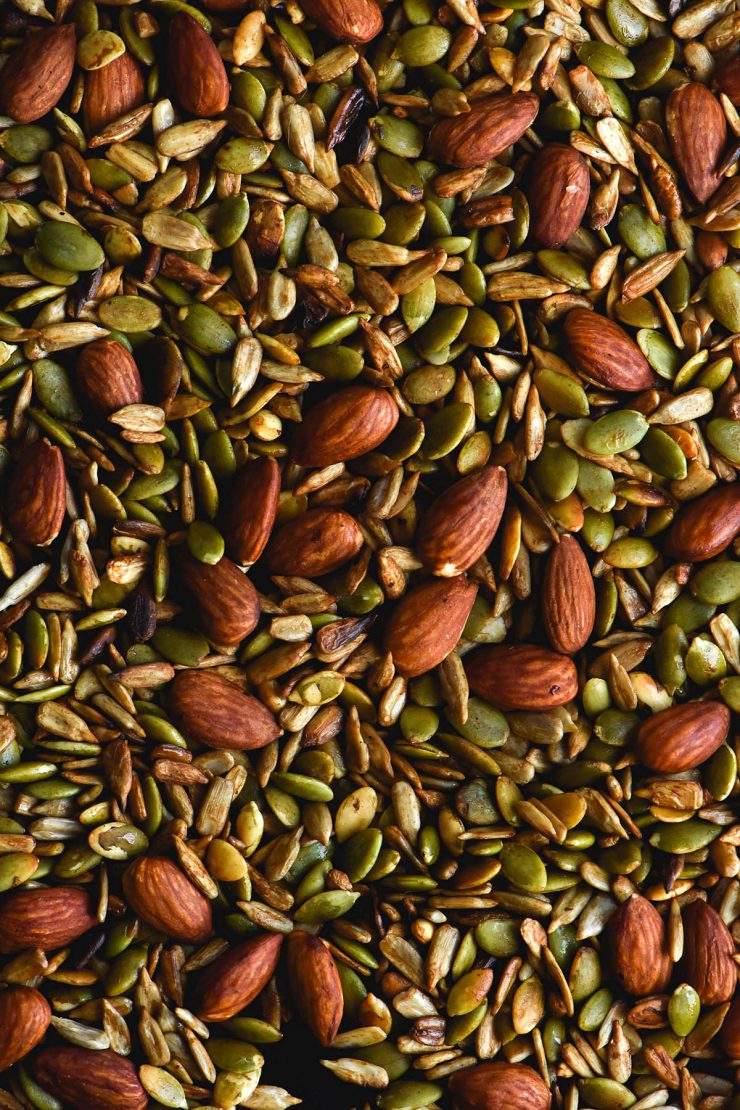 This tamari nut mix has been part of entertaining at my family home since I can remember. My mum got the recipe at a vegetarian cooking class in the Blue Mountains and that was that. It's so simple I can barely justify writing up a recipe, but so good that I can't not. I've seen tamari almonds in the shops these days, but this freshly made mix of nuts and seeds is just a cut above anything store bought.
Gluten free nut mix (vegan)
This nut mix is made from a simple combination of almonds, pepitas, sunflower seeds and Tamari. It's a very straightforward but satisfying snack.
I have to say, I pay no attention to the FODMAP content when I make this nut mix. Generally speaking (entertaining aside) it gets packed for holidays and times where I may not have access to any suitable foods. I packed some for my recent trip to Thailand, and it was a lifesaver in those hangry moments.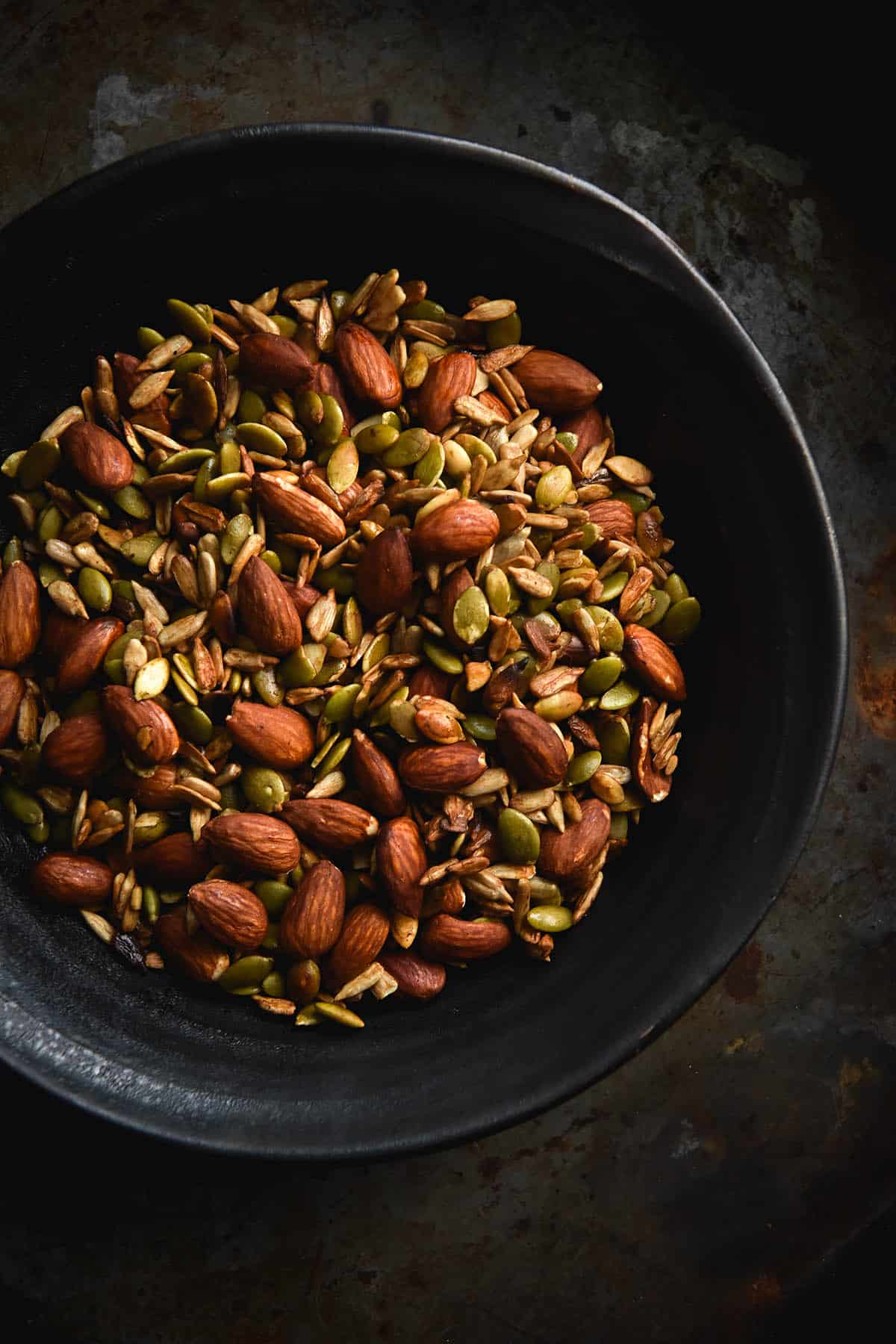 Tips for your gluten free nut mix
I highly recommend using pre-roasted almonds for this recipe. It gives the tamari nut mix an extra flavour boost. It's also just really easy to buy toasted (whole) almonds these days. It still tastes delicious with raw ones, though.
Toasting the seeds and almonds raw gives a lovely nuanced flavour and some textural variety. The pumpkin seeds start to pop, so some of them are crunchy. The sunflower seeds take on colour and add a hint of smokiness to the mix.
I use tamari for this tamari nut mix (shocker) because it's gluten free and what I always have on hand. You can also use soy sauce, but it will no longer be strictly gluten free.
Adding some toasted sesame oil at the end is an optional but delicious way to add extra flavour to this nut mix. I highly recommend toasted sesame oil, as opposed to the regular stuff. Sesame oil in Australia seems to be most often 'raw', but the toasted variety is so much more flavourful.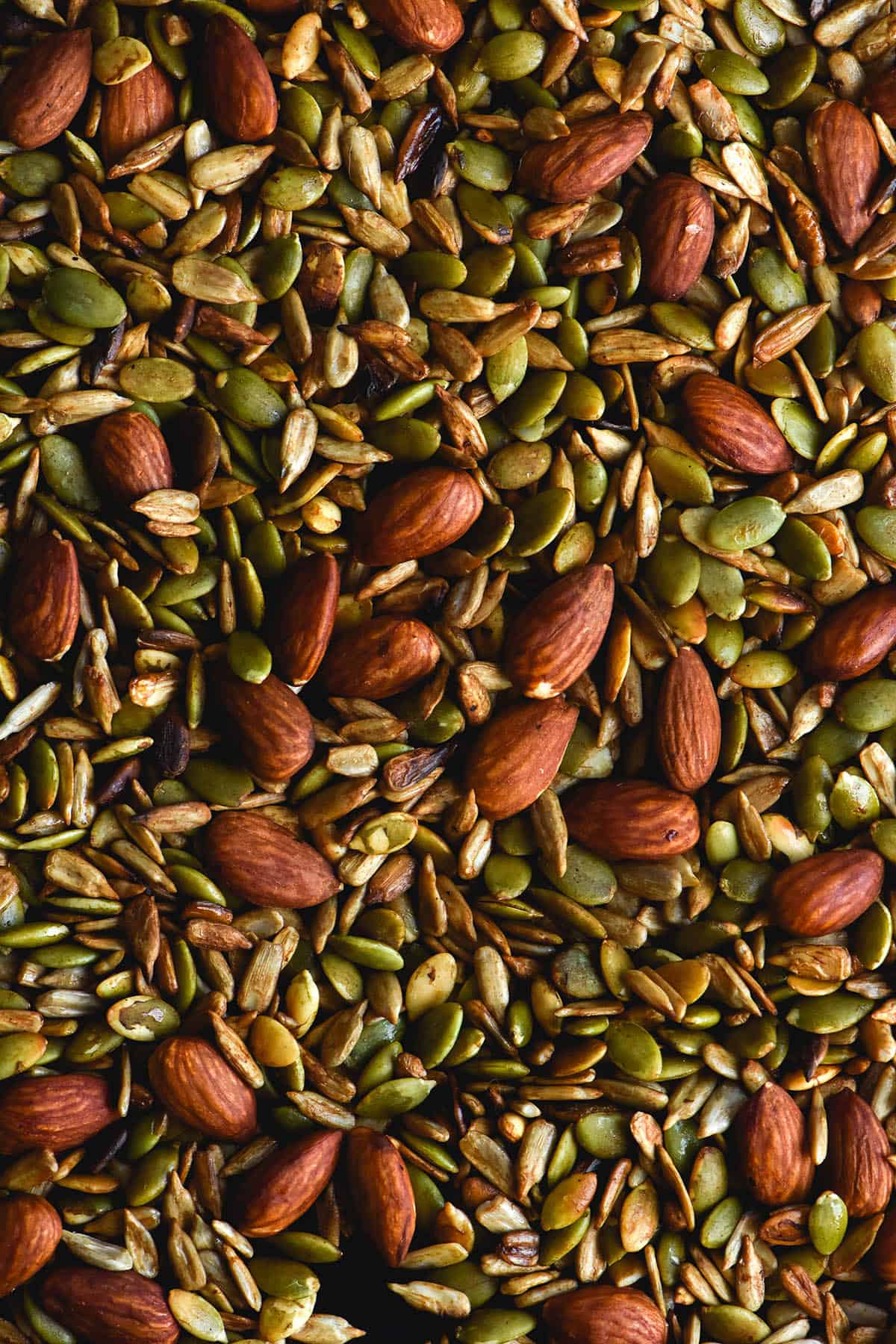 FODMAP notes
This is not explicitly a FODMAP friendly recipe. Indeed, it's quite tricky to make FODMAP. It's a recipe I have been using for years, irrespective of the FODMAP diet. I pack it for trips (like I did recently for Thailand) as a filling emergency snack when I might not have food I can eat. I also just love having a container of it on hand for hangry moments.
I am moving away from developing solely FODMAP recipes. Personally, the FODMAP diet doesn't quite fit my needs, and I feel like there are others in the same boat. I want to help people on different special diets bring variety to the dinner table, hence this decision. I will always provide FODMAP friendly options where possible.
These FODMAP notes are based on the nuts and seeds outlined in the recipe. If you mix it up, you will need to work out the ratios yourself.
1 cup (150g) dry toasted almonds is 13 FODMAP friendly serves. Almonds are high in galacto-oligosaccharides in larger servings. Consider whether this is right for you.
1 cup (150g) pepitas is just over 7 FODMAP friendly serves.
1 cup (140g) sunflower seeds is 25 FODMAP friendly serves.
Realistically, you could really only have a small handful if you're planning to eat this on the FODMAP diet. See below for some suggestions.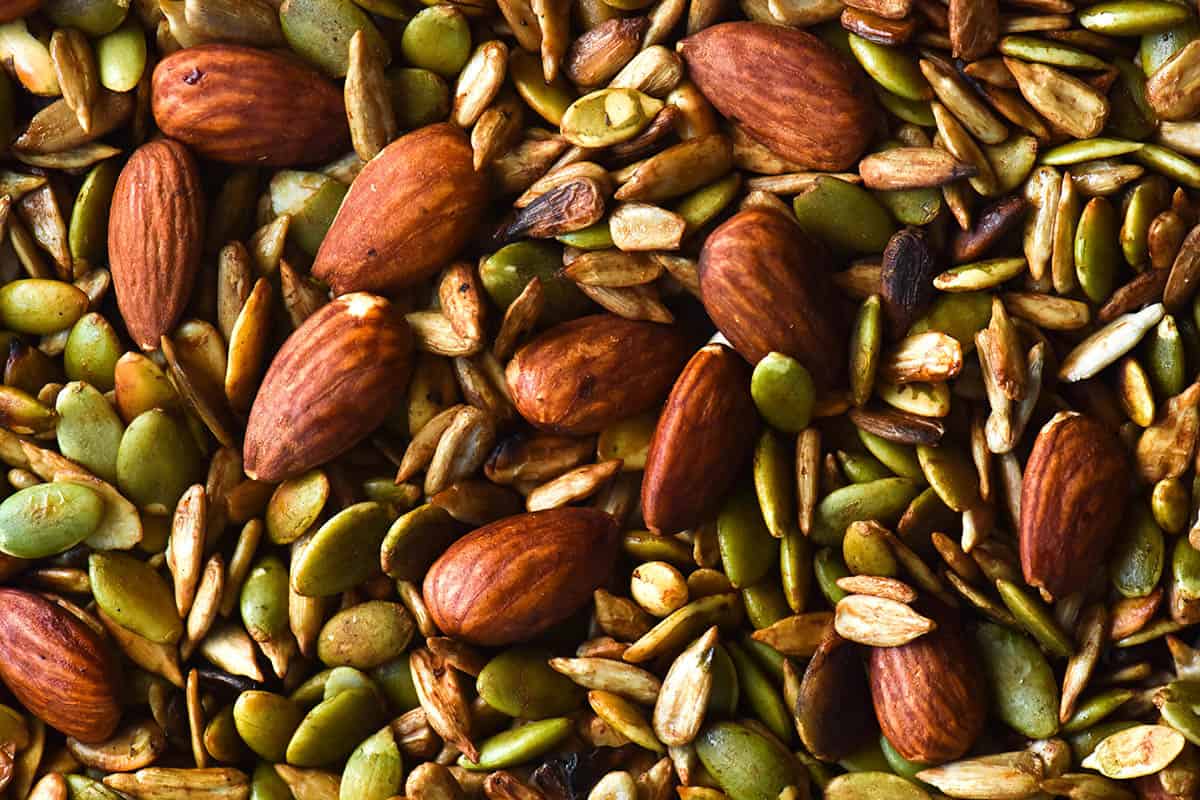 More gluten free snack recipes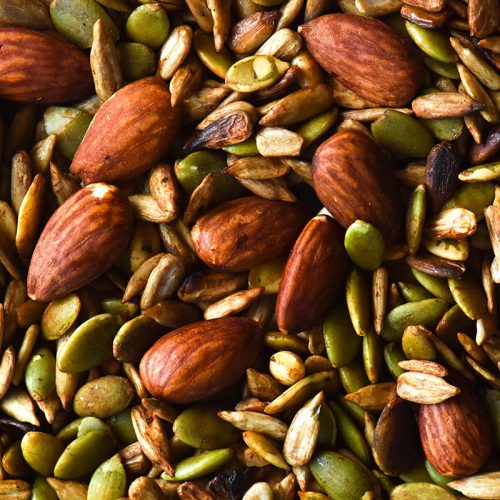 Gluten free nut mix
Cups and measures are in Australian measures. Use gram weights for international accuracy
Ingredients
1

cup

(150g) dry toasted almonds

1

cup

(150g) pepitas

1

cup

(140g) sunflower seeds

Tamari

to your taste

Drizzle of sesame oil

to finish, to your taste
Instructions
Combine the nuts in a large saucepan or skillet over a medium heat. Toast, stirring intermittently, until the seeds start to pop and everything is toasted. Turn the heat off and drizzle over the Tamari until all the nuts are a golden colour. It will sizzle as you pour.

The only trick to this nut mix is the amount of Tamari you add. It depends on how toasted your nuts are, how high the heat is, etc. You want the nuts to be well flavoured and salted, but not too salty. It helps to have extra nuts on hand in case you overdo the Tamari. Taste and adjust as you go.

Once you're happy, add the toasted sesame oil if you're using it. Decant into a large bowl and serve. If you are making it for snacks, allow the mix to cool completely before you divide into reusable containers.
Notes
This nut mix is not particularly FODMAP friendly. See the notes above and the links for more FODMAP friendly snack options.