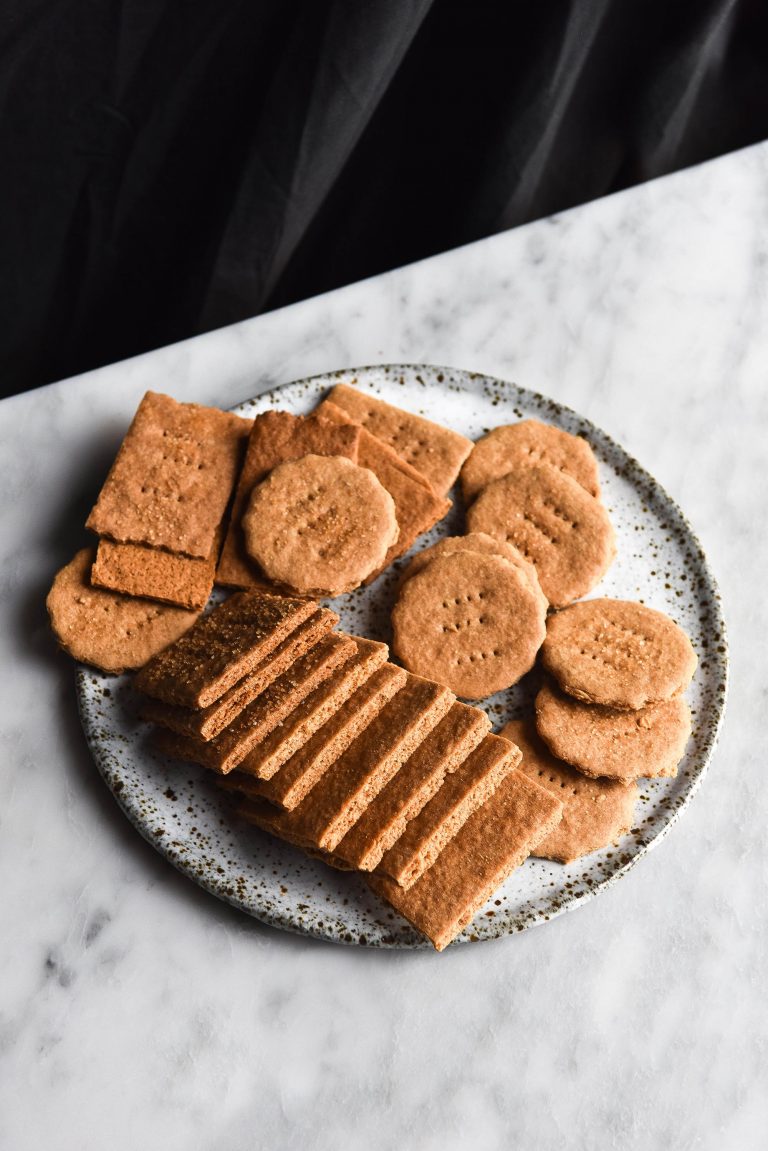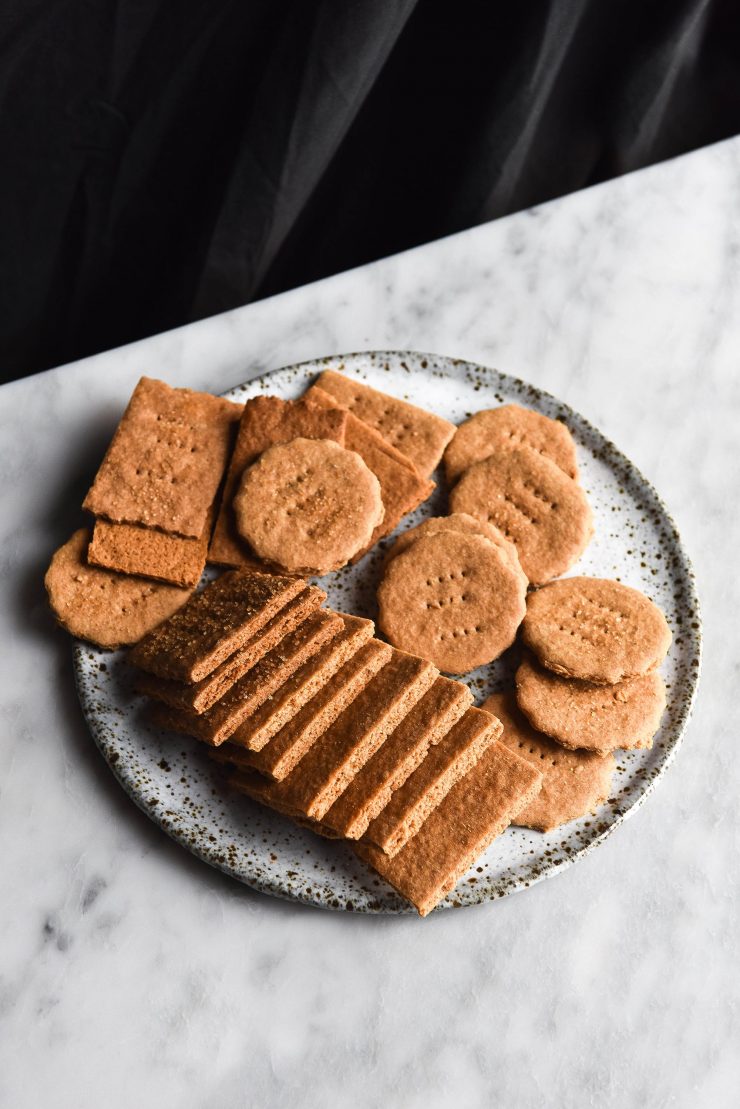 Did you see my recent Instagram stories pertaining to gluten free graham crackers? To the subsequent gluten free Hedgehog Slice? Well today we're back on the topic with these vegan, gluten-free Graham crackers. After the success of the non-vegan gluten free graham cracker recipe, I thought it was only fair. There are so many applications for a graham cracker – solo, as a s'more, as a tart crust, or, dare I hint, as a vegan, gluten-free Hedgehog slice. Plus, creating a vegan, gluten-free graham cracker just involved a few simple tweaks to the original recipe – tweaks that we'll delve into below.
Vegan gluten-free Graham crackers
These Graham crackers are vegan, gluten free, nut free and FODMAP friendly. I don't need to tell you that they're dairy free, because, you know, they're vegan.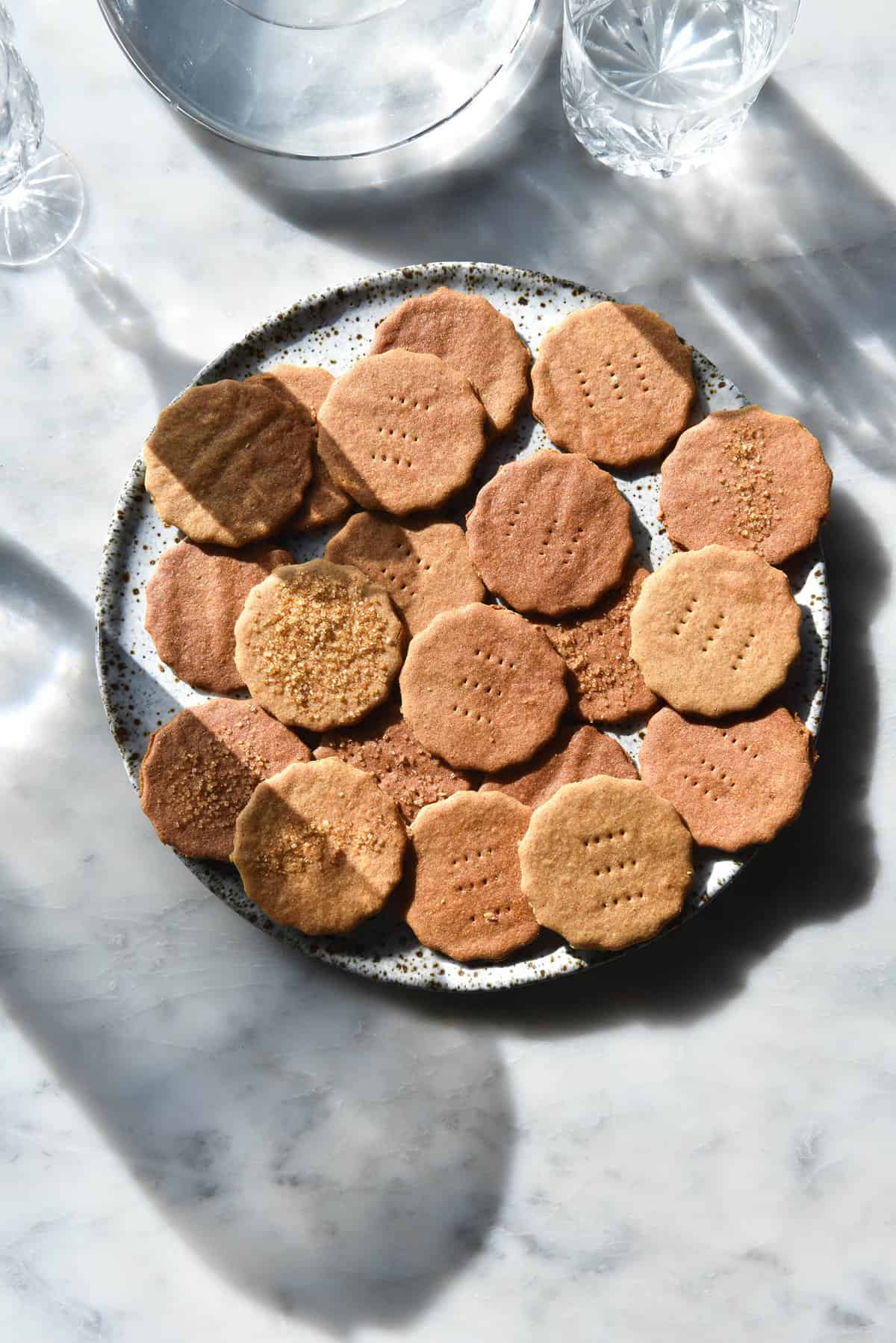 Ingredient notes for these vegan gluten free Graham crackers
These graham crackers use vegan butter in place of regular butter. I used Nuttelex buttery, which is the most commonly available butter substitute for me. Because 'butter' is one of the core ingredients of these crackers, the brand you choose will have a big impact on the final flavour. It might also impact the cooking time a little – different vegan butters have different fat contents. Nuttelex buttery has around 60g fat per 100g.
I don't have a substitute for toasted quinoa flour. It's an important contributor to the nutty, toasty taste.
Personally, vanilla bean paste is my lord, saviour and best pal in gluten free baking. I highly recommend it for the intense flavour it provides. In this case, it is especially useful in disguising the taste of the vegan butter.
Same goes for the cinnamon. It is super helpful in masking any artificial butter taste. If you have a particularly strong vegan butter, consider using a little extra cinnamon.
I haven't tried these vegan, gluten-free graham crackers without xanthan gum. Because they don't contain egg, the gum really helps bind them together. If you'd like to try, see my notes on using psyllium husk on the regular gluten free graham cracker post. Note that you'll be doing your own experimenting here.
Rice malt syrup is not an interchangeable ingredient in this recipe. It is used because of it's viscous, binding qualities and it's very mild sweetness. I daresay if you tried to use another liquid sweetener, you would end up with crumbly, overly sweet graham crackers. In Australia, rice malt syrup is easily purchased in the health food aisle of the supermarket, or at a health food shop.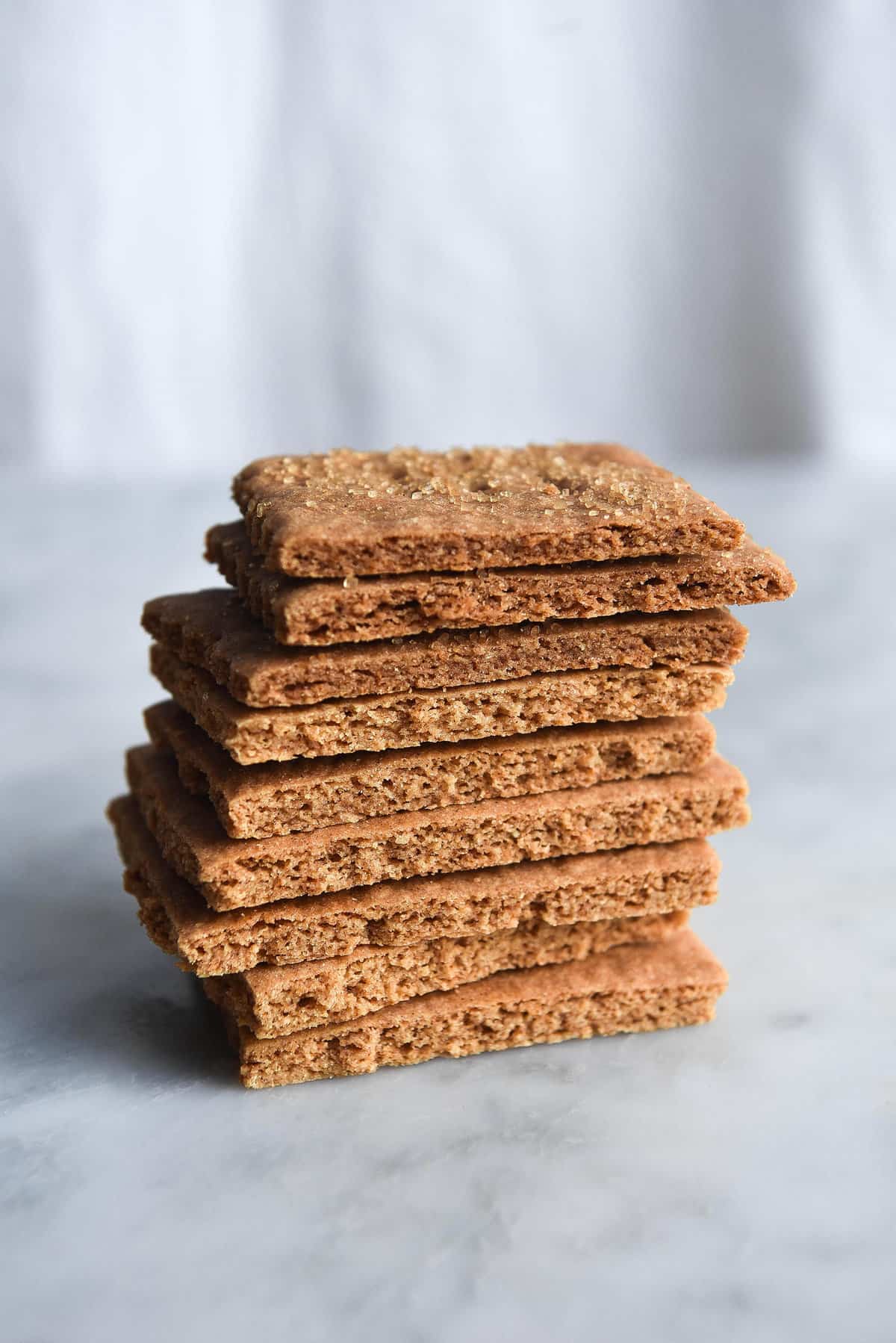 Substitution notes for your Graham crackers
You can use either brown rice flour or white rice flour for this recipe. I personally find the white rice flour ones are a little crispier, but work with what you can find or have on hand.
If you want to use vanilla extract (liquid) as opposed to paste, you might need to add a little less water as a result. That's totally fine – just add only as much as you need to create a crumbly ball of dough.
Everything else is pretty integral to the success of the cracker, sorry!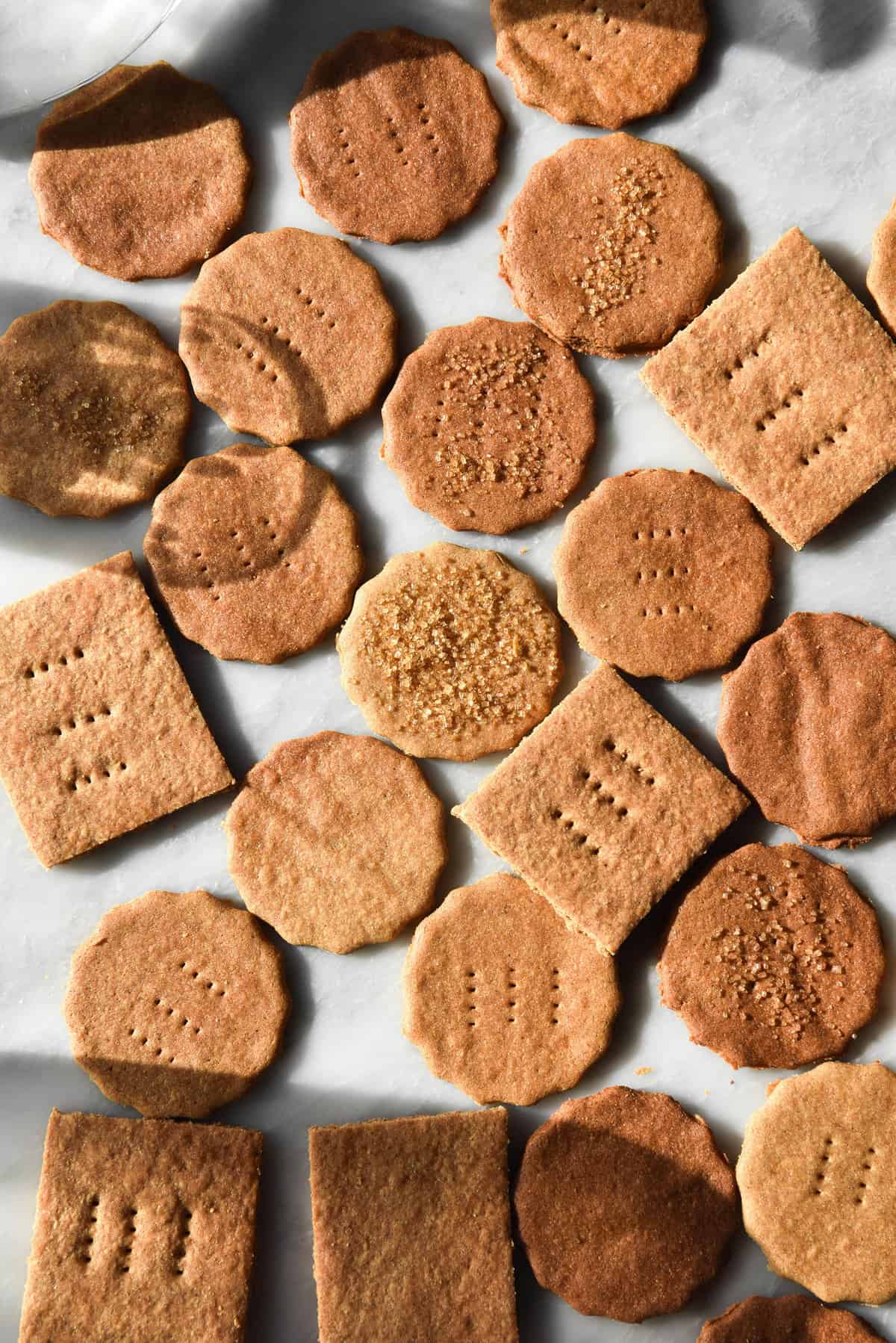 Recipe tips and tricks for your vegan gluten free Graham crackers
Adding too much liquid here is to the detriment of the cracker. Add it 1 teaspoon at a time, and really knead the dough until you're confident it will not come together without more liquid. If you give a few paltry kneads and add too much water, you're only cheating yourself. Nobody wants soggy graham crackers without any snap.
In that vein – the dough should just come together, and feel like you could crush it into chunks if you slammed your fist into it. Not crumbly, but not supple.
I have a guide on making and toasting your own quinoa flour right here. Cliff notes version: if you can't find quinoa flour, you can buy the whole white grains and grind it yourself in a food processor. Toasting is not optional – it adds to the nutty flavour and changes the absorbency of the quinoa flour. If you can't be bothered toasting it in the oven, you can dry toast in a pan over a low heat. It burns quickly, so keep an eye on it.
Interestingly, I have found that grinding your own quinoa flour results in a much better quality taste. In the few experiments where I've used store bought quinoa flour, I found the results had a bitter and unpleasant aftertaste. Not sure if I was unlucky with the packet/s I got, but worth thinking about.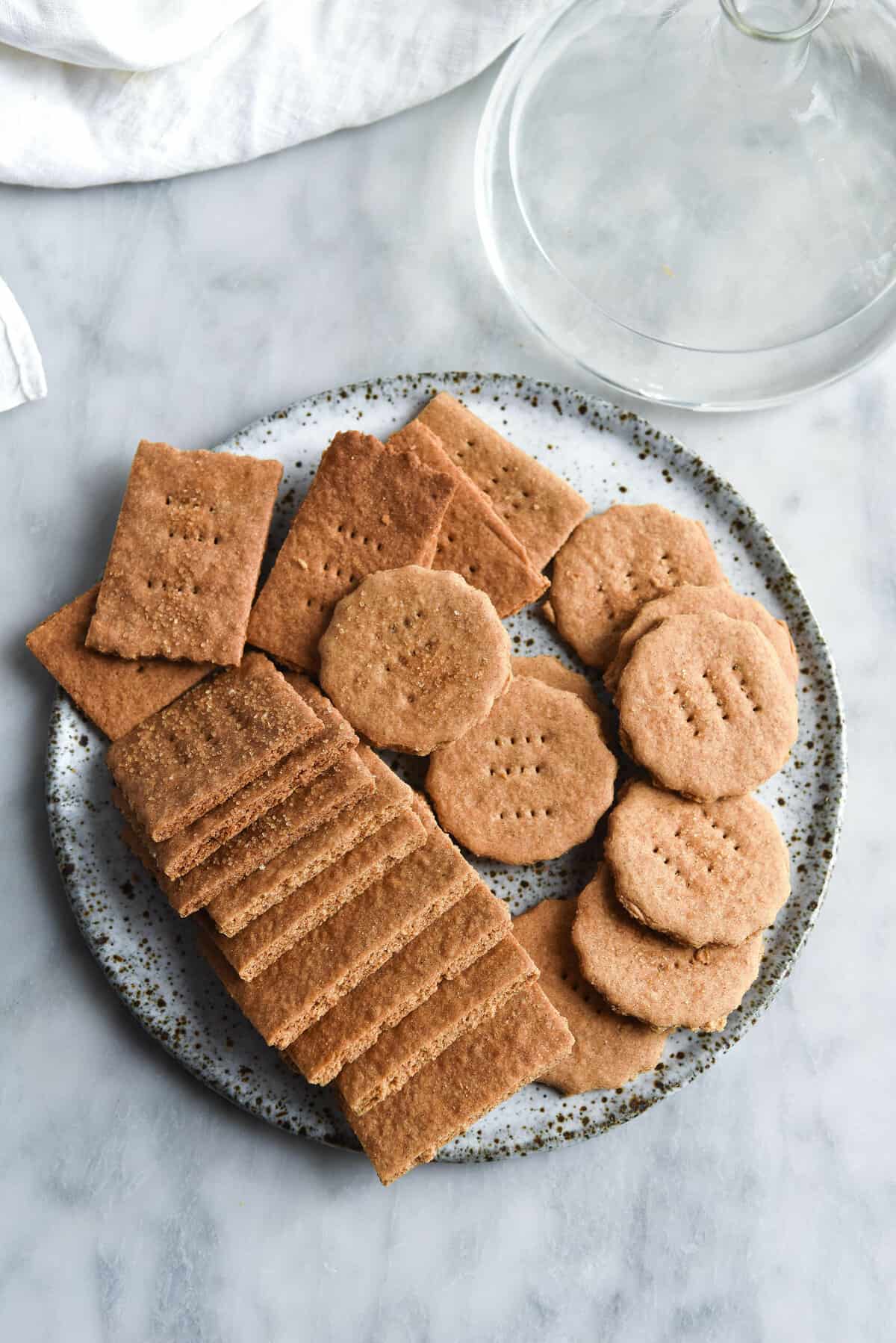 More gluten free vegan dessert recipes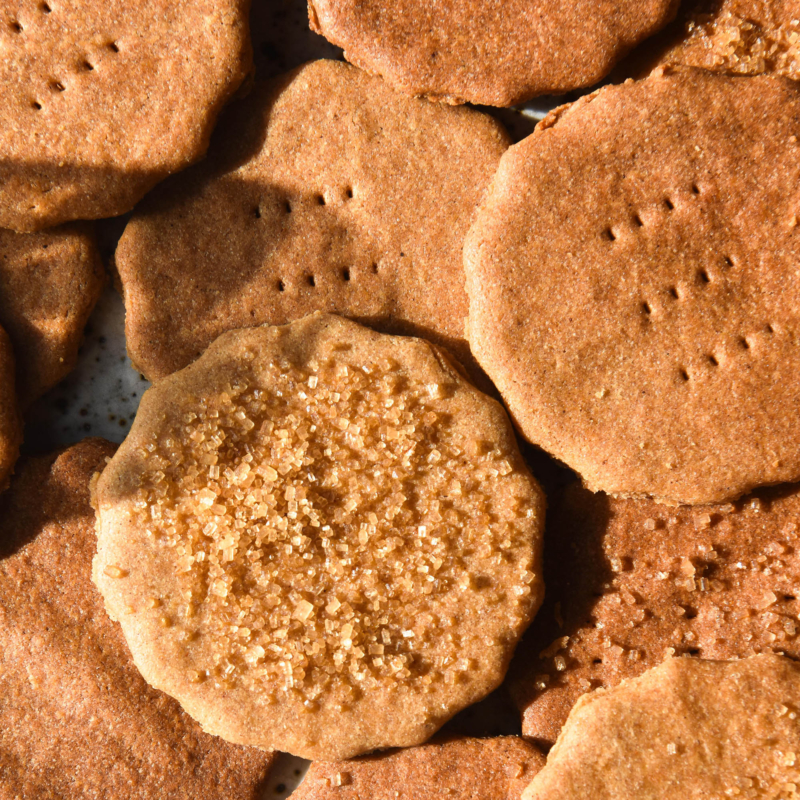 Vegan, gluten free Graham crackers
Gluten free, FODMAP friendly, nut free
Makes 14-24 crackers depending on size and thickness
Ingredients
100

g

tapioca flour

60

g

toasted quinoa

60

g

white rice flour

100

g

light brown sugar

1/4

teaspoon

xanthan gum

2 1/2

teaspoons

cinnamon

1 1/2-2

teaspoons

baking powder

1/4

teaspoon

salt

100

g

vegan butter (I used Nuttelex Buttery for all my tests)

2

tablespoons

rice malt syrup

1

teaspoon

vanilla bean paste (you can also use vanilla extract but adjust the liquid content to suit)

3

teaspoons

water
Instructions
Preheat the oven to 160C or 320F.

In a large mixing bowl, whisk together all of the dry ingredients and set aside.

Melt the vegan butter in a small saucepan over a low heat. Once melted, whisk in the rice malt syrup until combined, before pouring the mixture over the dry ingredients.

Add the vanilla bean paste and stir to combine. Add only as much water as necessary to bring the dough together into a crumbly ball – the mixture will still look borderline crumbly at 3 teaspoons, but knead it for a couple of minutes to bring it together. I promise it will get there!

Place the dough onto a piece of baking paper, and place another sheet on top. Use a French rolling pin (or a wine bottle) to roll it out into a big rectangle.

How thick you want to roll it is up to you – but note that it will vary the cooking time. Note that these vegan ones don't rise as much as the version containing egg, so roll them on the thicker side if you prefer a thick graham cracker.

Once rolled to your preferred thinness, peel the top sheet of baking paper off. From here, you can slice the dough as you see fit – with a pizza cutter or cookie cutters. The amount of crackers you get from a batch will vary wildly depending on how you cut them, how thick you roll them, etc. You can get anywhere from 14-24 crackers from a batch of dough.

If you'd like to, use a fork to poke 3 sets of holes underneath each other on each cracker. This is for aesthetic purposes only so it's optional. You can also sprinkle over a little granulated/finishing sugar for crunch and glitter.

Whichever way you've chosen to score them, place them on a flat baking surface – for me, this is the back of a baking tray (so the sides don't interfere with the crackers). Bake them for 15-20 minutes, checking and turning the tray at the 10 minute mark. If you've rolled thick crackers, you might need to cook them for longer.

Once golden brown, remove from the oven and allow to cool completely before gently snapping into individual crackers. I advise placing your hands under the sheet of crackers and gently snapping upwards.

They keep well in an airtight container.