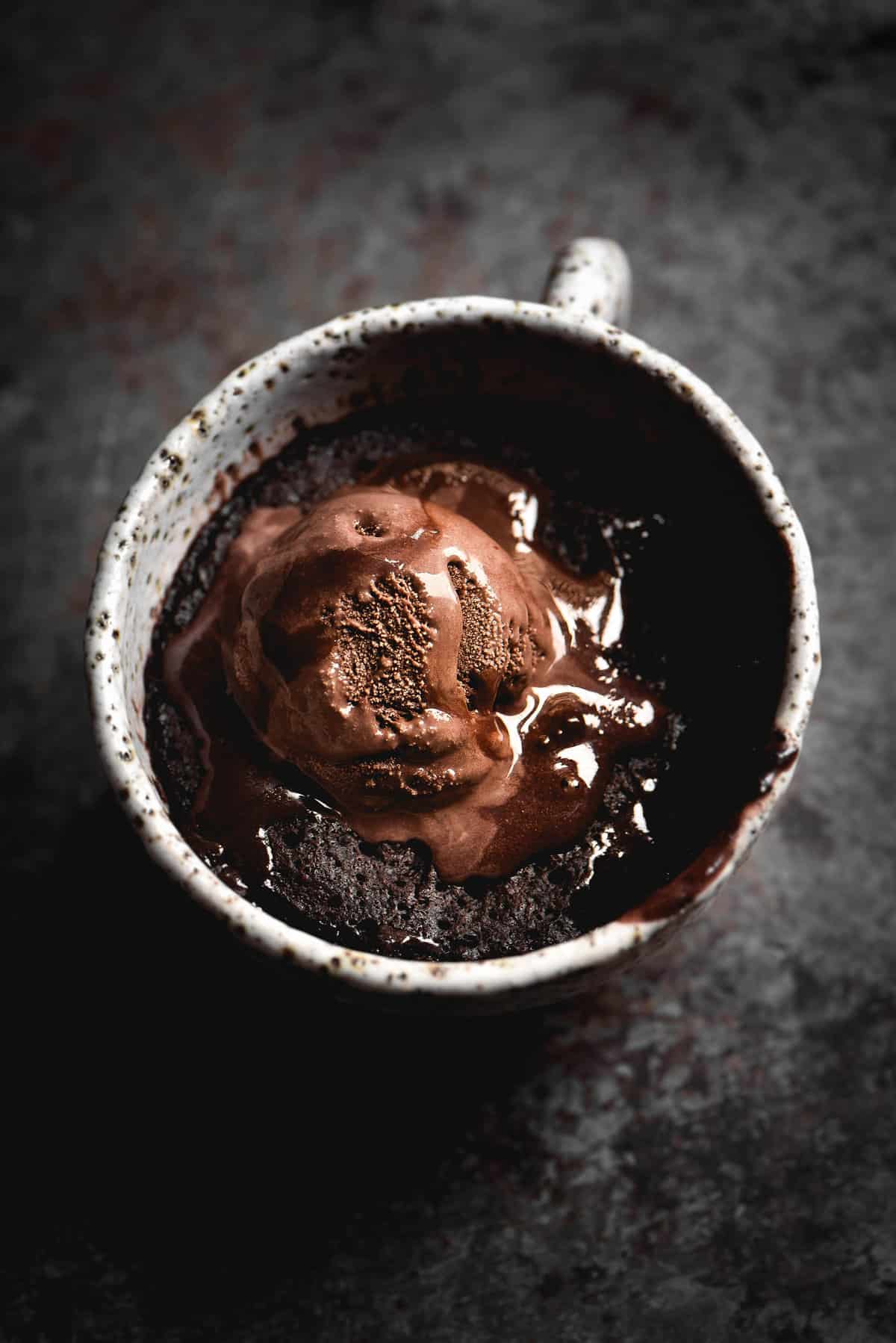 The older I get, the more I see the merit of a mug cake. They're quick and easy, can be made on a whim, and don't leave a whole leftover cake sitting on the bench. Because if there's a leftover cake on the bench, I absolutely will be eating it for breakfast. Today I'm publishing this roundup of my gluten free mug cake recipes, in the hope that you'll become as much of a mug cake fiend as I am.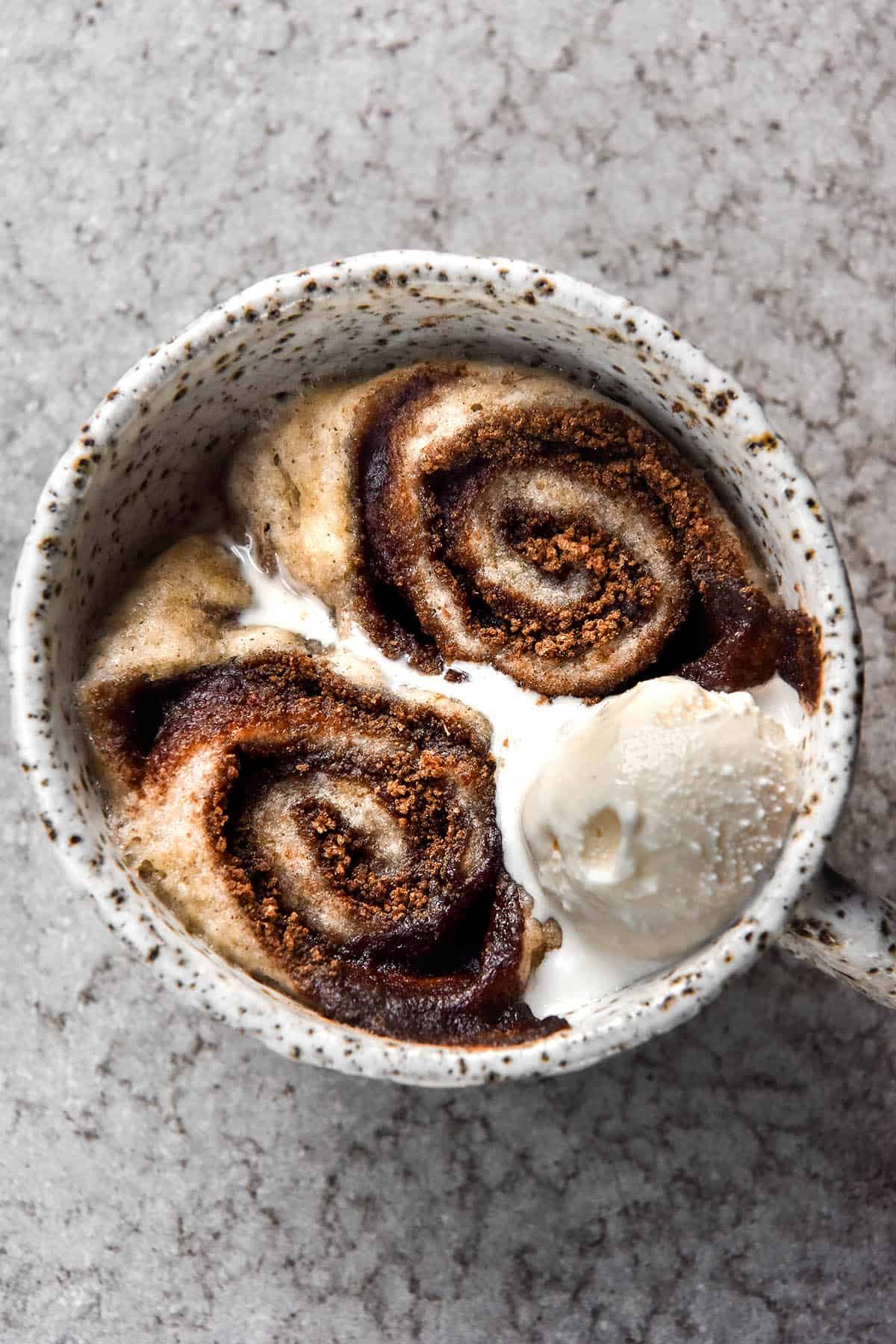 Gluten free mug cake recipes
These gluten free mug cake recipes cover a whole host of different dietary requirements. They are all nut free and xanthan gum free. Most of the recipes are egg free and vegan or easily made vegan. Better yet, though? They are all incredibly easy and delicious and come together in 5-10 minutes. The dream dessert.
Another important thing to note is that most of the recipes (except the protein ones) have been tested in the oven, too. This means that you can still make these delicious gluten free mug cake recipes even if you don't have a microwave.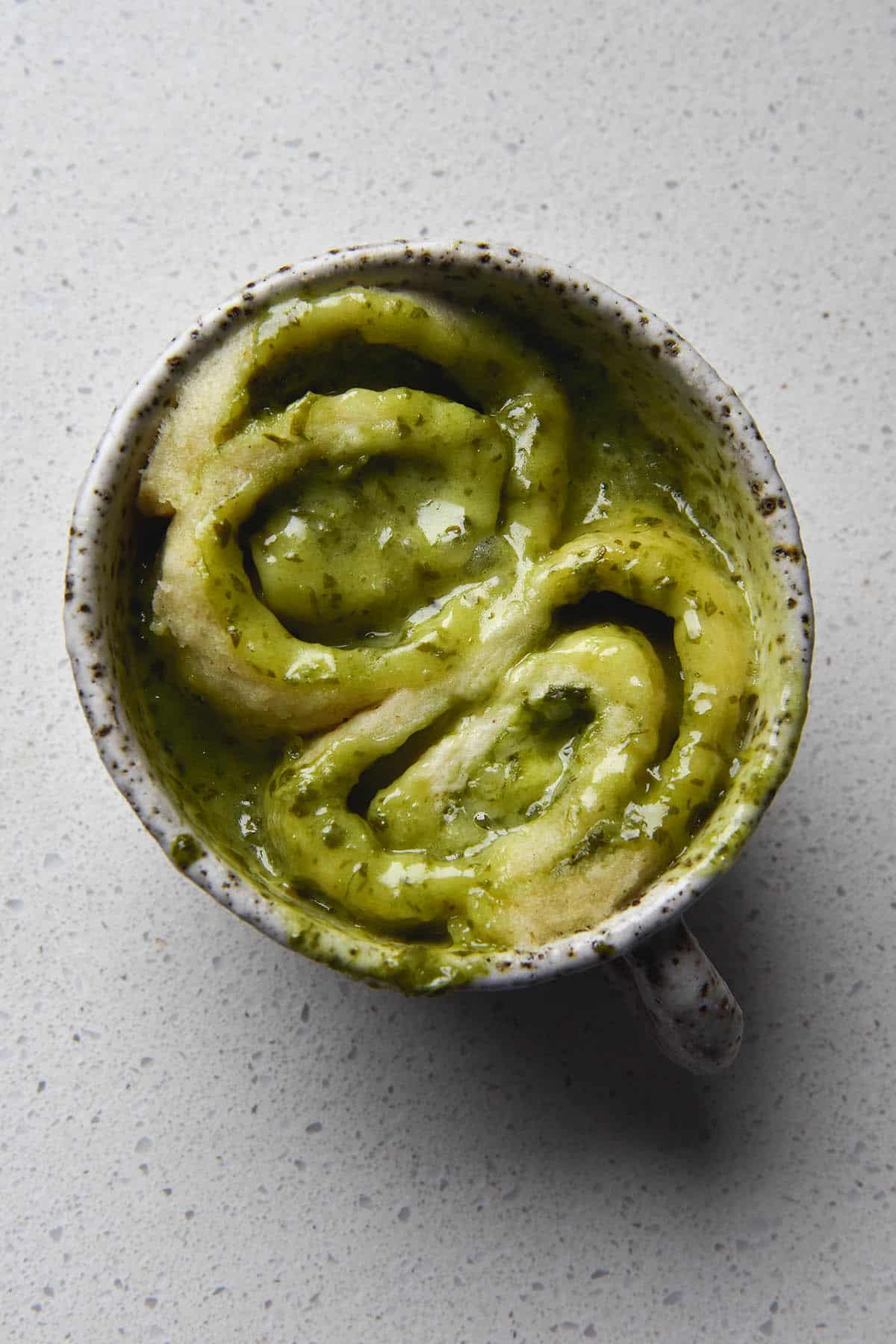 Vegan, gluten free chocolate mug cake
The mug cake recipe that started it all: my gluten free vegan chocolate mug cake. It's fluffy and deeply chocolatey in flavour without any dairy, eggs, xanthan gum or nuts.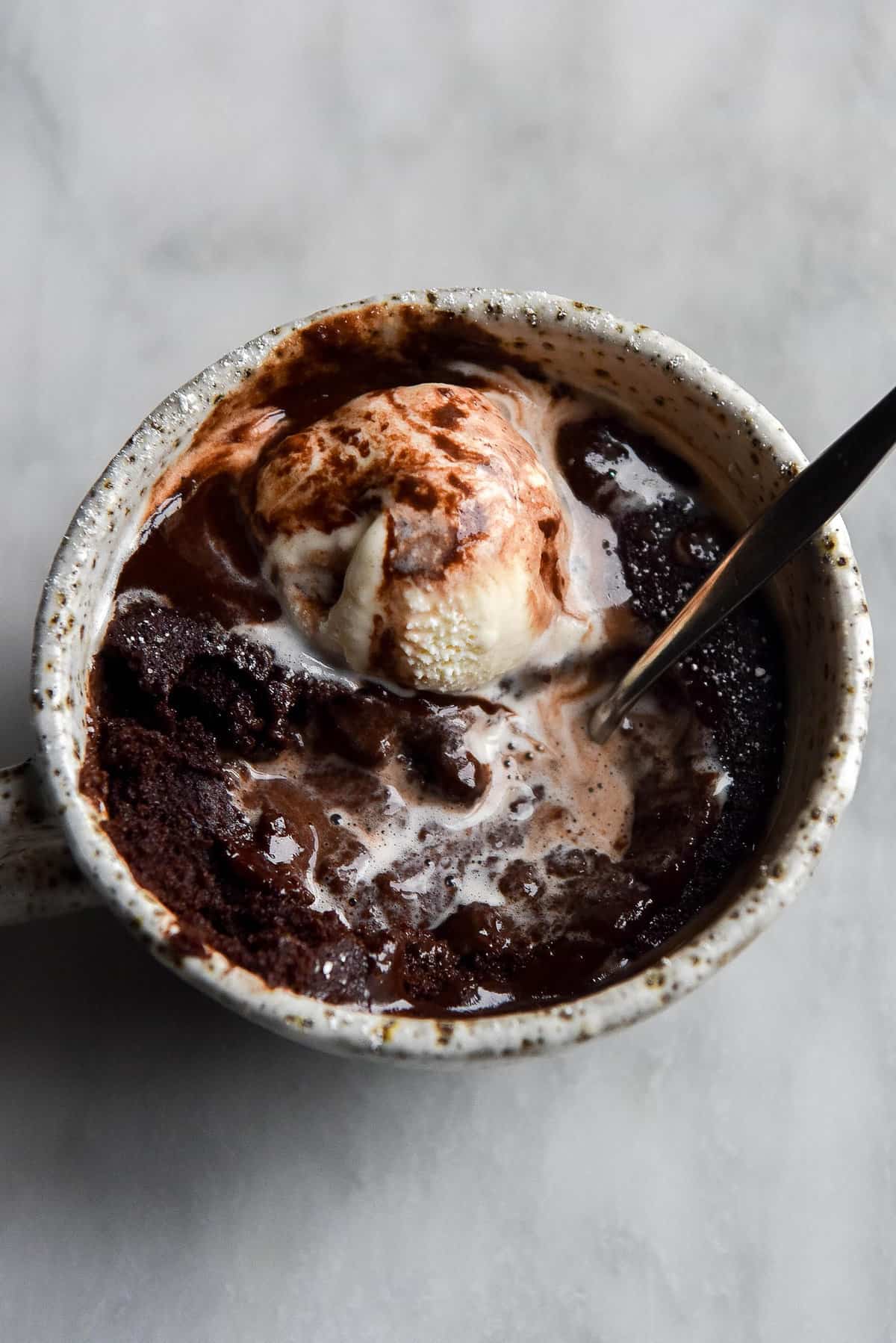 Refined sugar free, vegan and gluten free chocolate mug cake
A number of people asked me for a refined sugar free version of my chocolate mug cake when I posted it. So, here it is! This version uses a liquid sugar (namely maple syrup or rice malt syrup) as an alternative to the granulated sugar in the original recipe.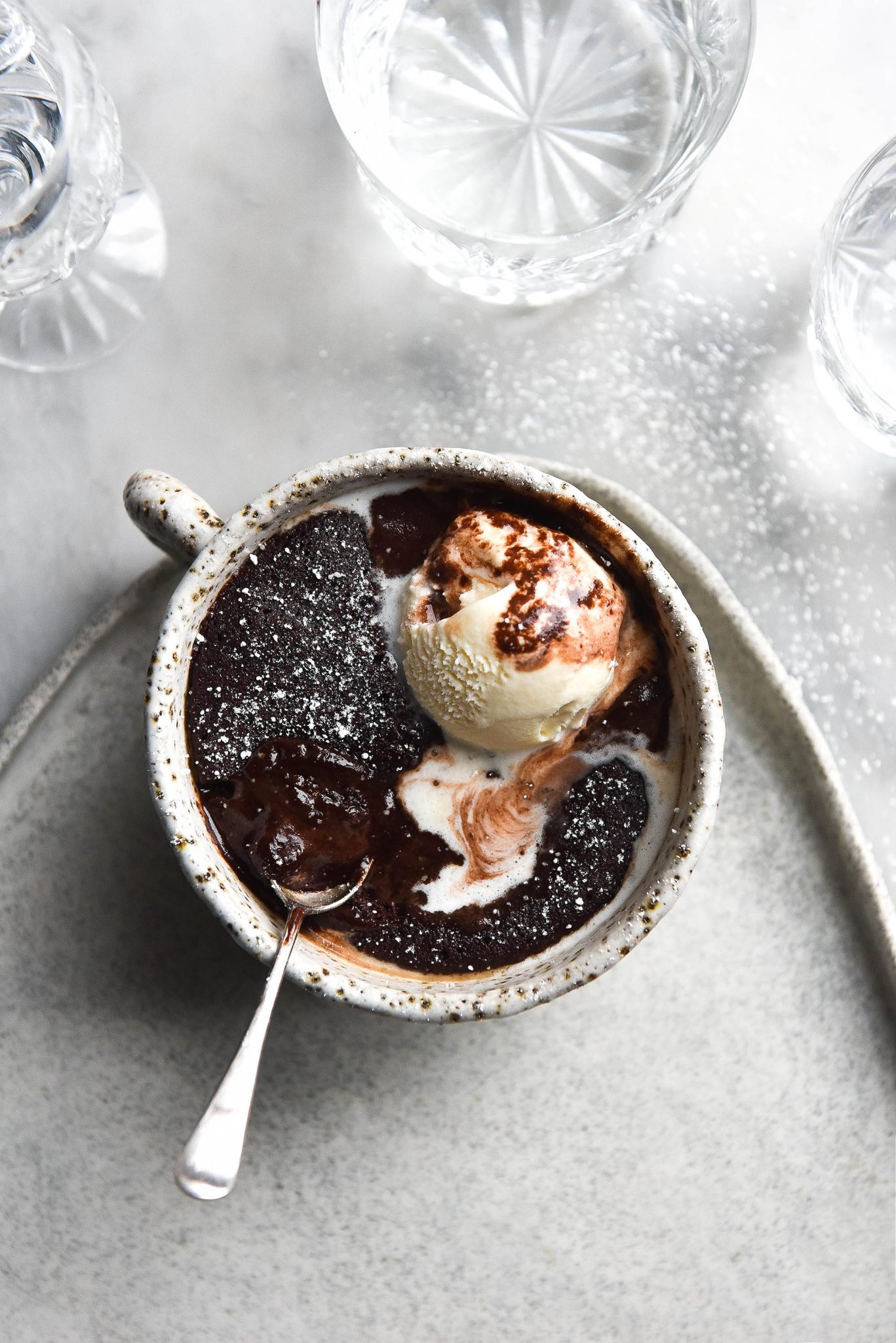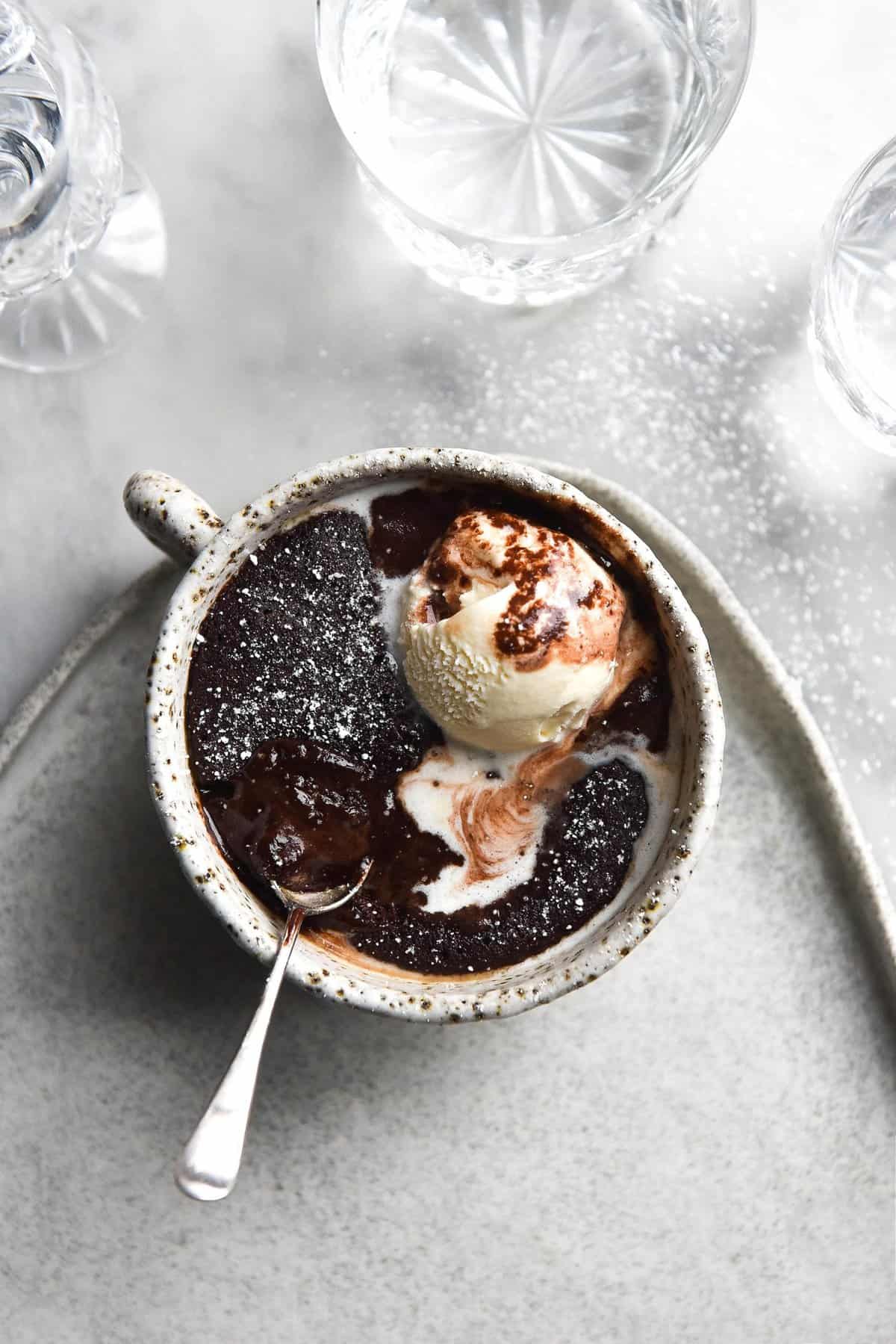 Gluten free 'vanilla' mug cake
The newest addition to my mug cake collection, this vanilla mug cake uses baking soda and vinegar for a super fluffy and light crumb. It's egg free, nut free and can easily be dairy free and therefore vegan.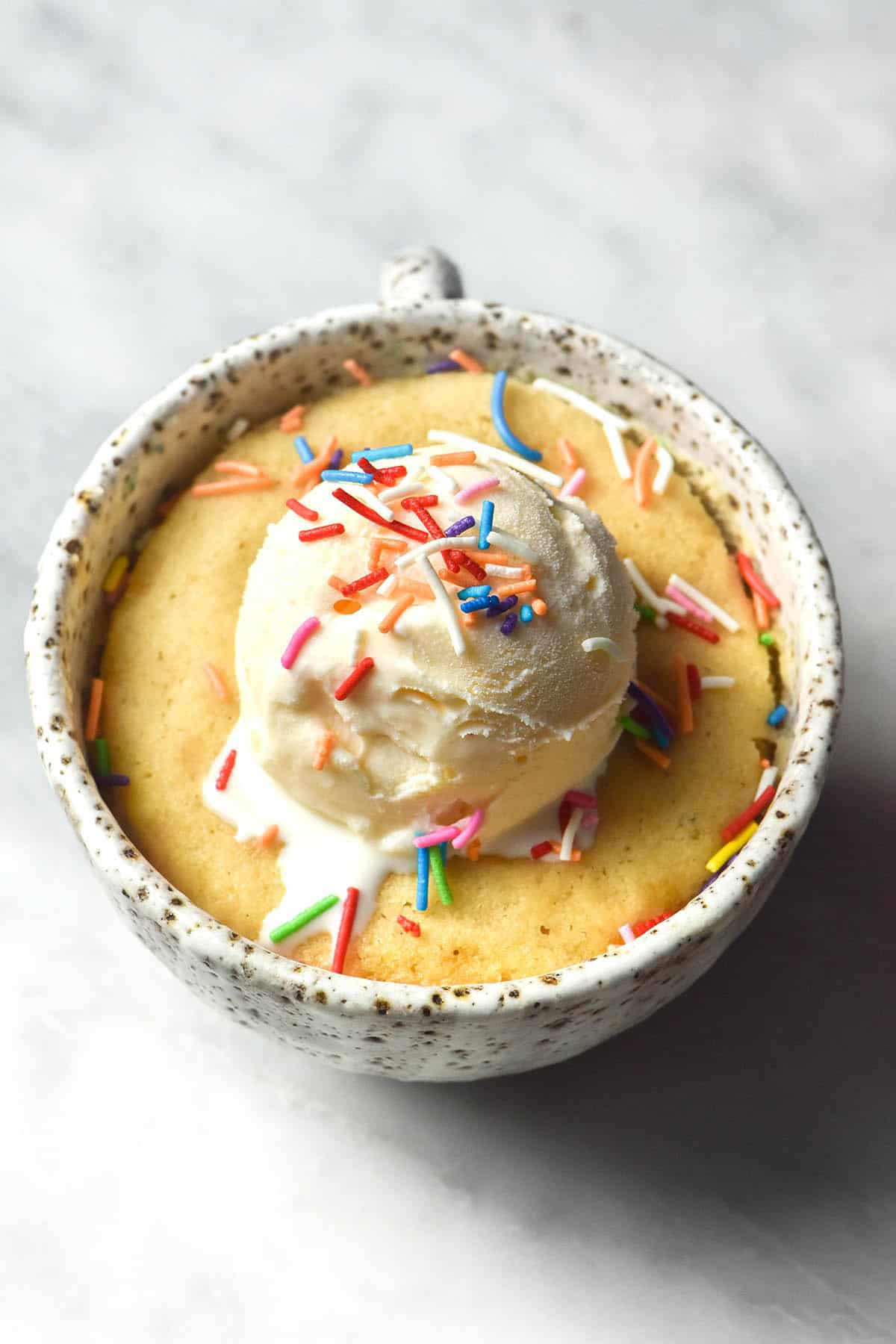 Buckwheat flour vegan chocolate mug cake
This vegan, gluten free chocolate mug cake is made from 100% buckwheat flour. It's rich, fudgy and moist and I love the complexity that the buckwheat brings. This is a recipe in my buckwheat flour e-book.
Gluten free vegan spiced pumpkin mug cake
This gluten free spiced pumpkin mug cake is a deliciously spiced cake that is the perfect Autumnal treat. The fact that it's also dairy free and egg free, vegan and nut free is a mere bonus.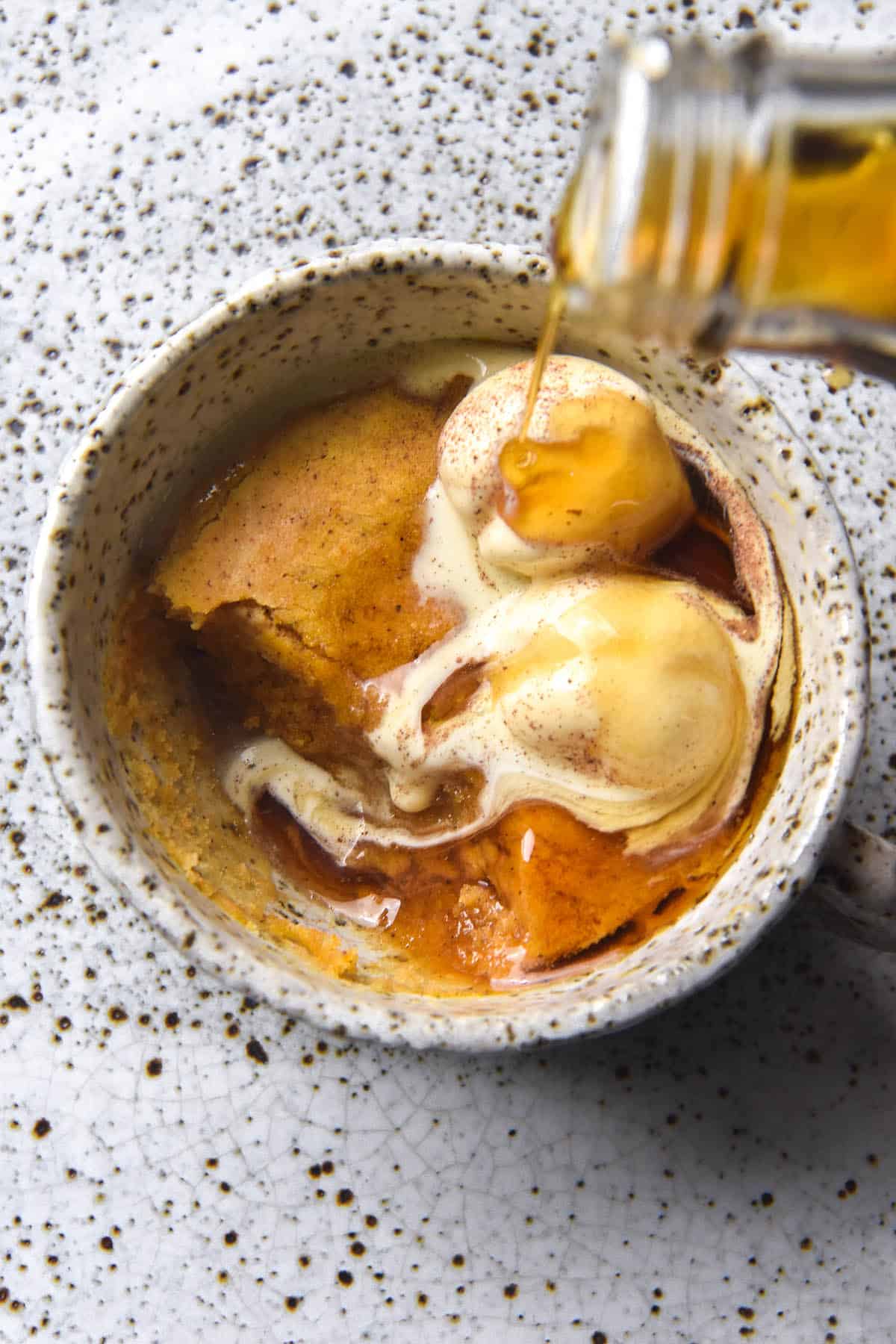 Vegan, gluten free protein mug cake
While I was on the SIBO diet, I got right into protein based desserts that were low sugar and would keep me full. This gluten free vegan protein mug cake fits that bill, using only banana for sweetness. I have tested a number of different vegan proteins so you can use one you prefer, too.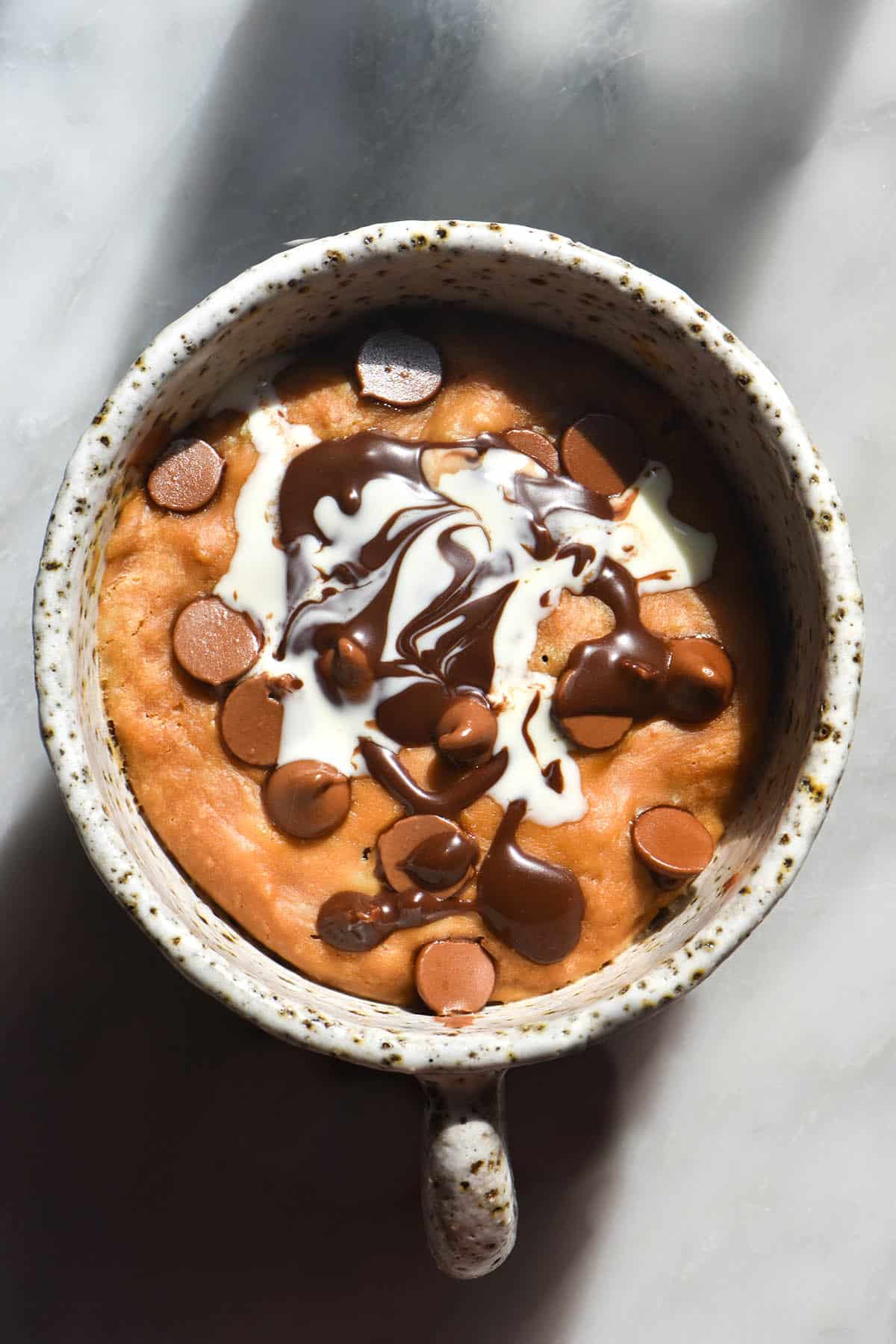 Dairy free, gluten free protein mug cake
We love a bit of variety, so I developed this dairy free protein mug cake using an egg. A delicious gluten free and dairy free high protein snack or dessert that is super customisable and quick to make.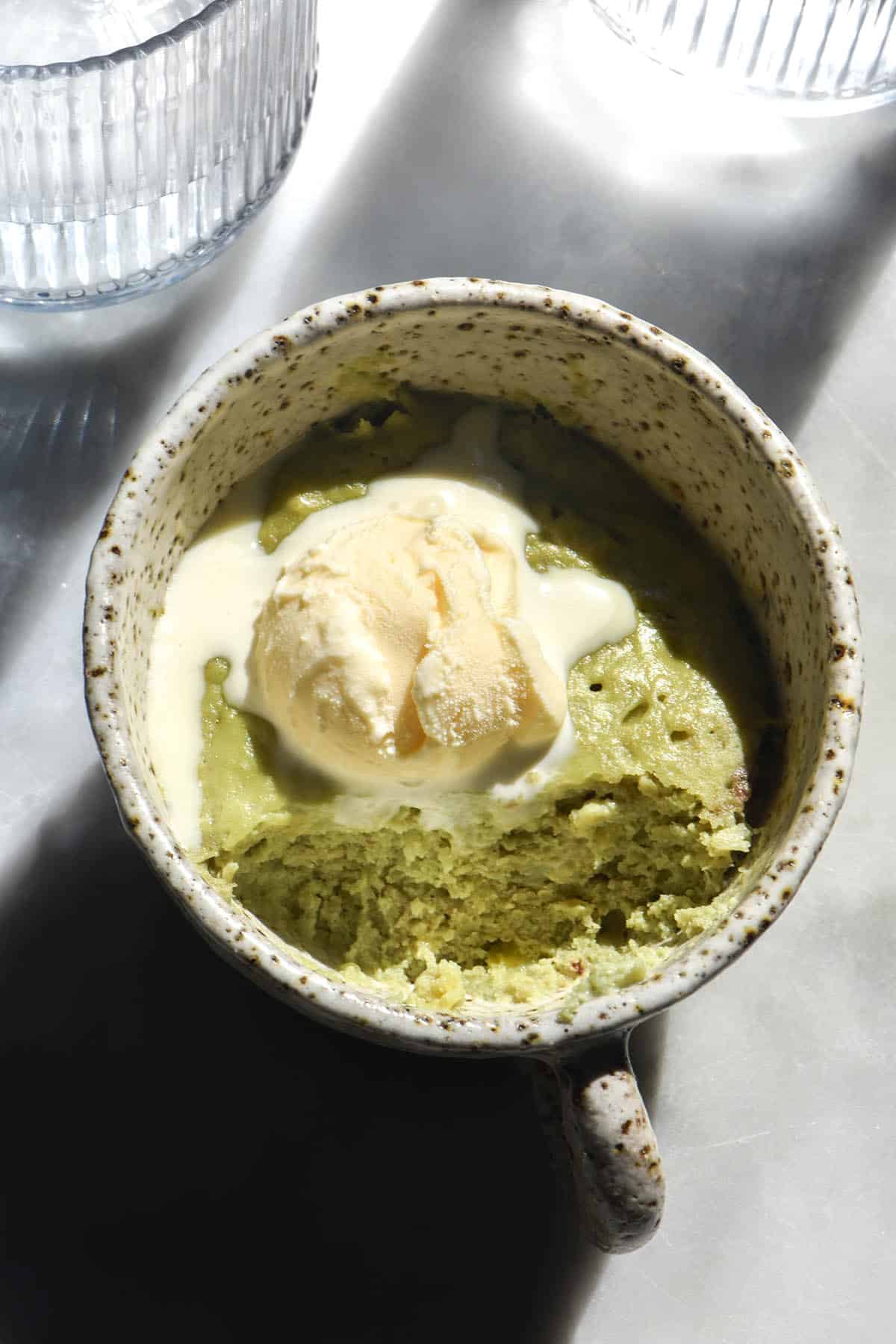 Whey protein gluten free mug cake
One last protein mug cake recipe: this whey protein based mug cake that uses an egg. Packed full of protein and without added sugar or xanthan gum, this mug cake is a delicious and filling lil snack. Use whey protein isolate for a low FODMAP and low lactose option.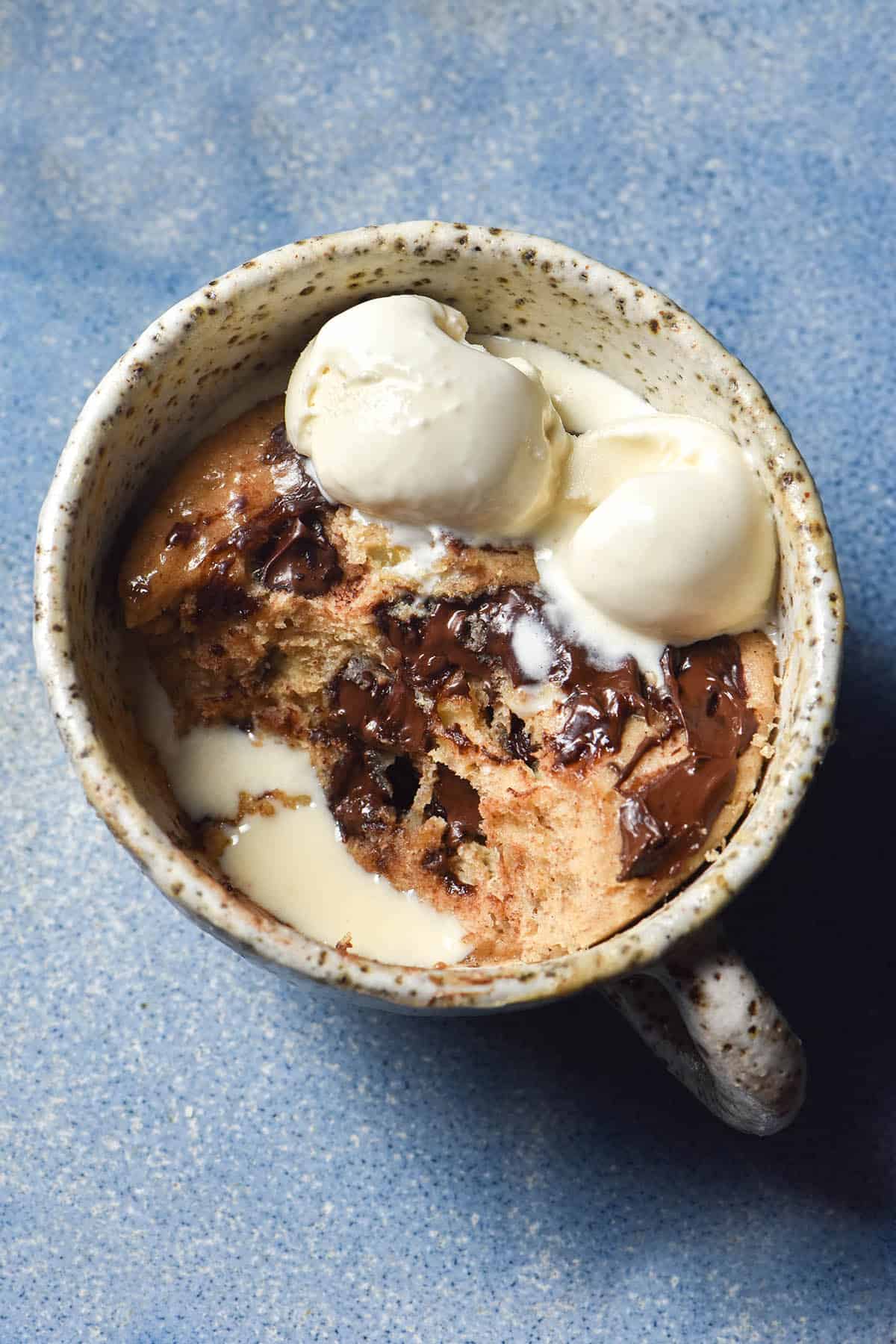 Gluten free microwave Vegemite scroll
The Vegemite scroll is an Australian icon, so I had to develop a gluten free microwave version now that gluten free Vegemite is available. For those who are not team Vegemite, fear not: you can also use pizza sauce or pesto to make a delicious savoury scroll without the delicacy.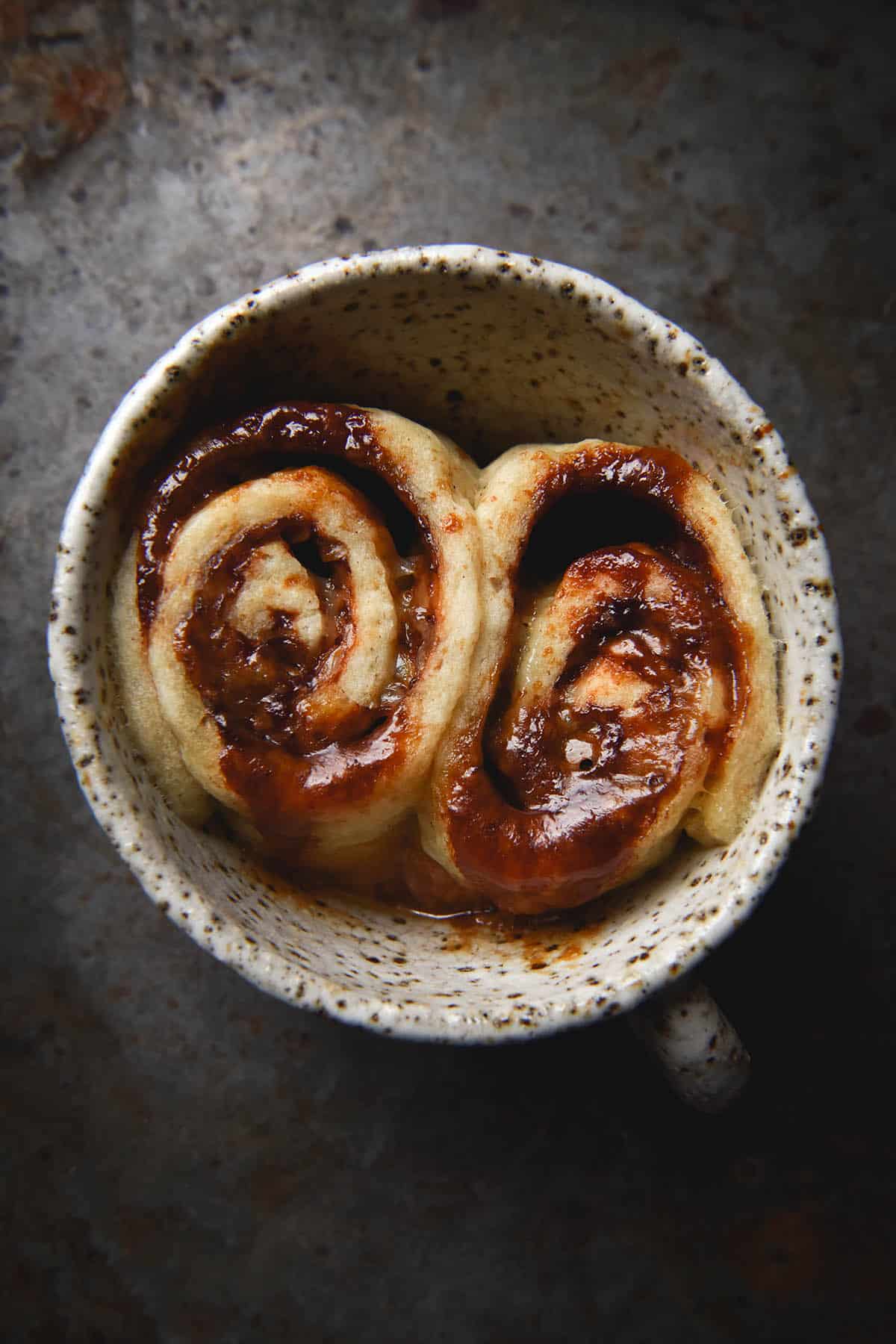 Gluten free microwave cinnamon scroll
For a lil sweet treat that looks just as good as it tastes, try this gluten free vegan cinnamon scroll. It is made without yeast, eggs, dairy or xanthan gum and can also be made in the oven if you don't have a microwave.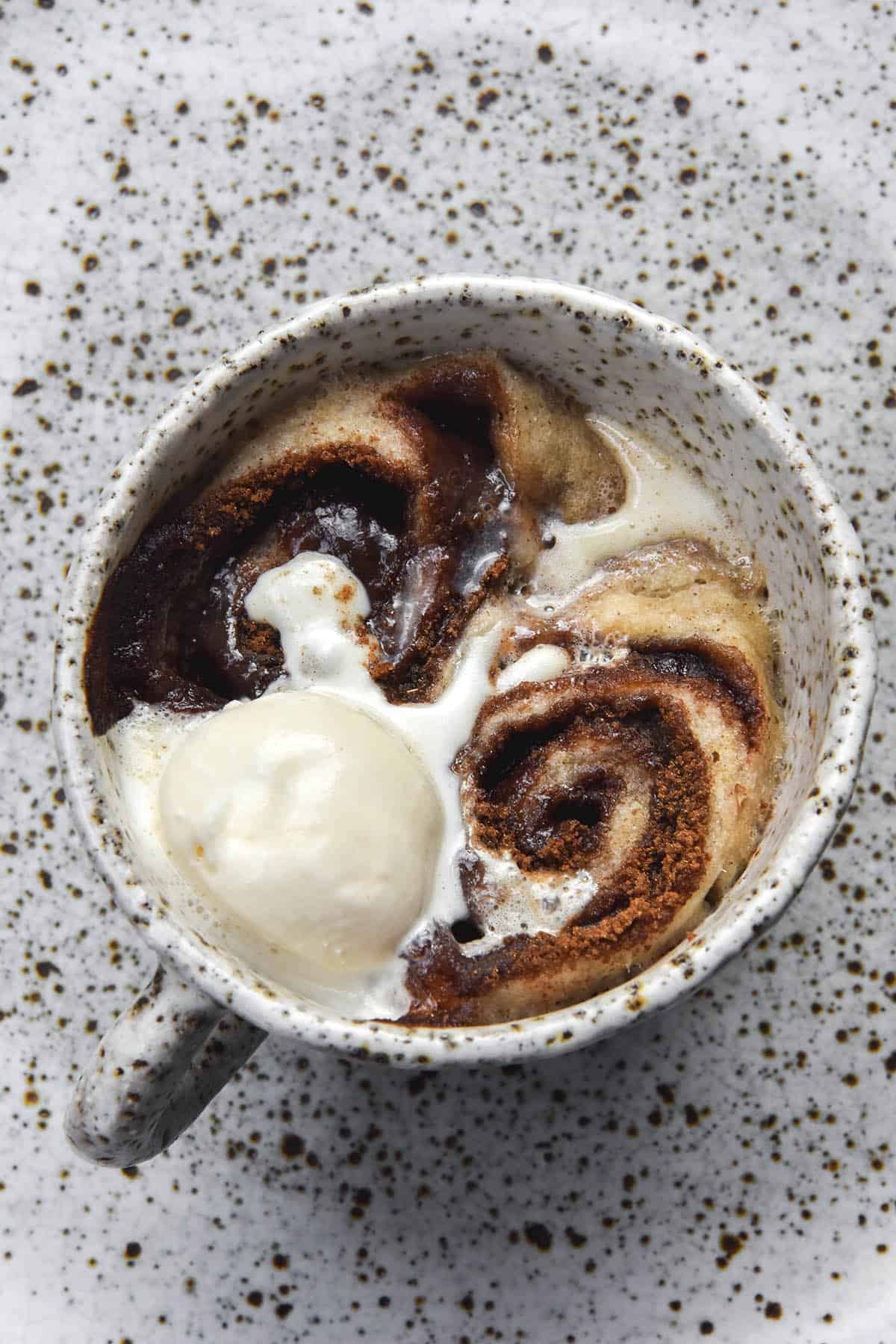 More gluten free dessert recipes