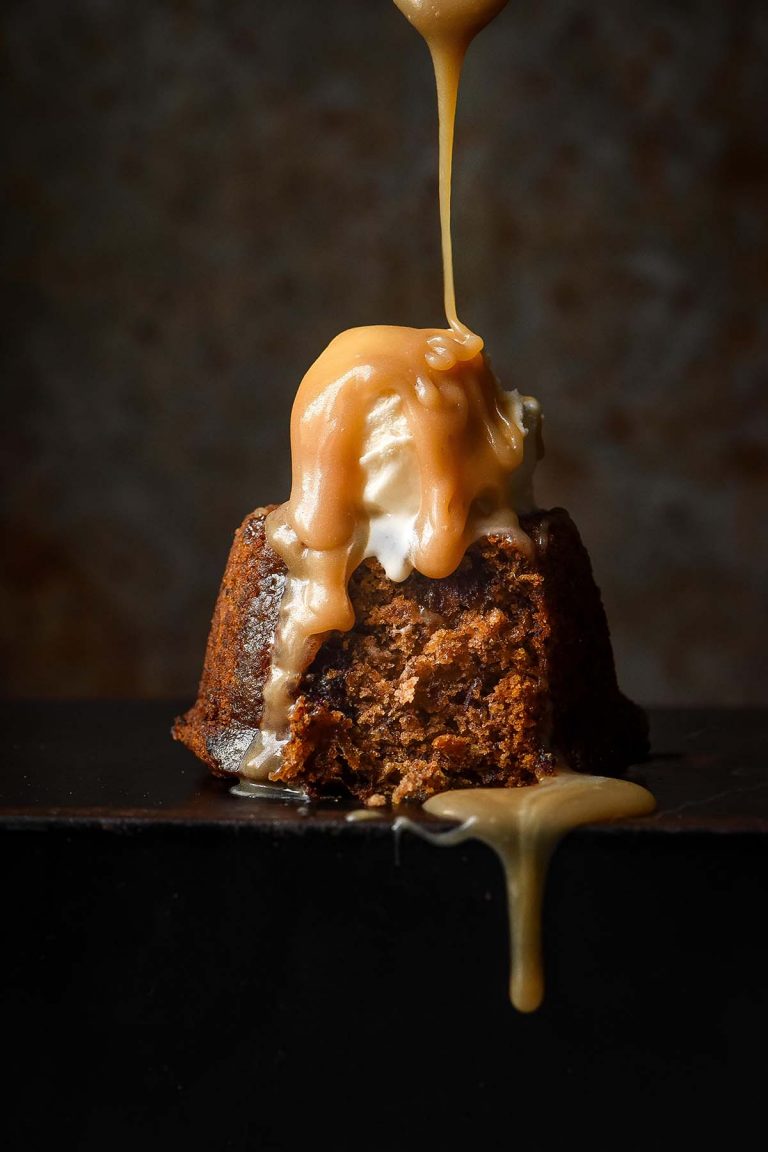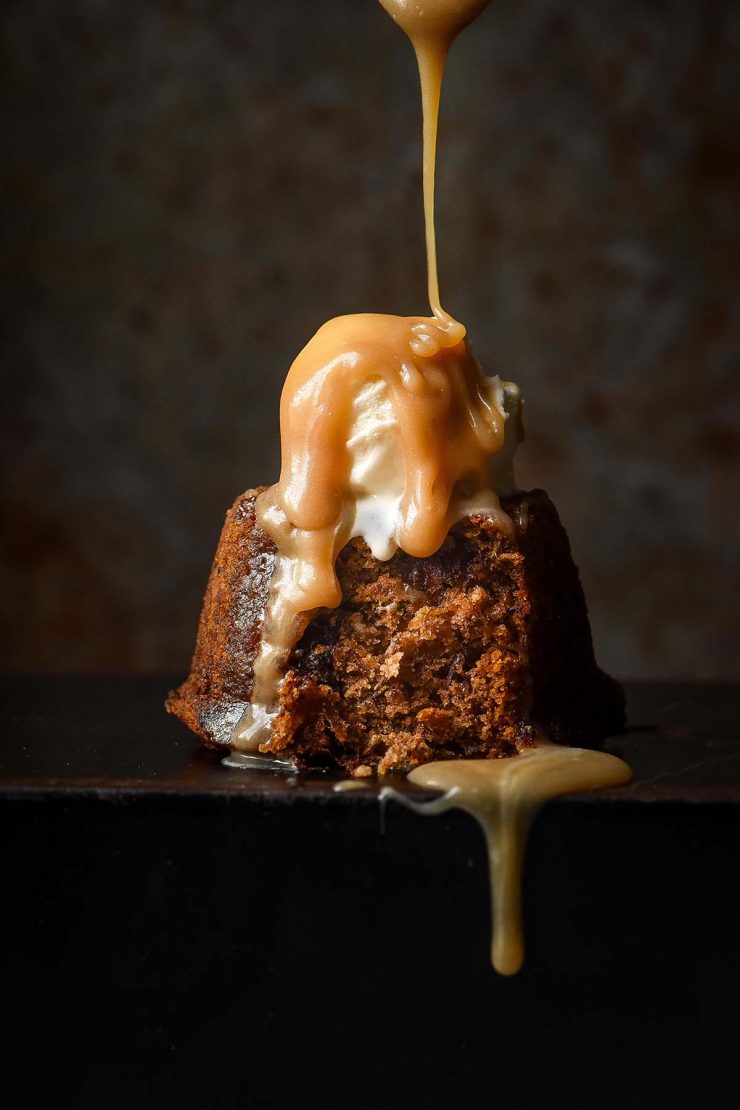 It's winter here in Australia, which means it's time for comfort food abound. One of my favourite comfort foods as a kid was sticky date pudding, so today we're making this gluten free sticky date pudding. With a brown butter salted butterscotch, just for good measure.
Sticky date pudding is also known as sticky toffee pudding in other parts of the world. So, whether you're looking for a gluten free sticky date pudding or a gluten free sticky toffee pudding, you're in luck!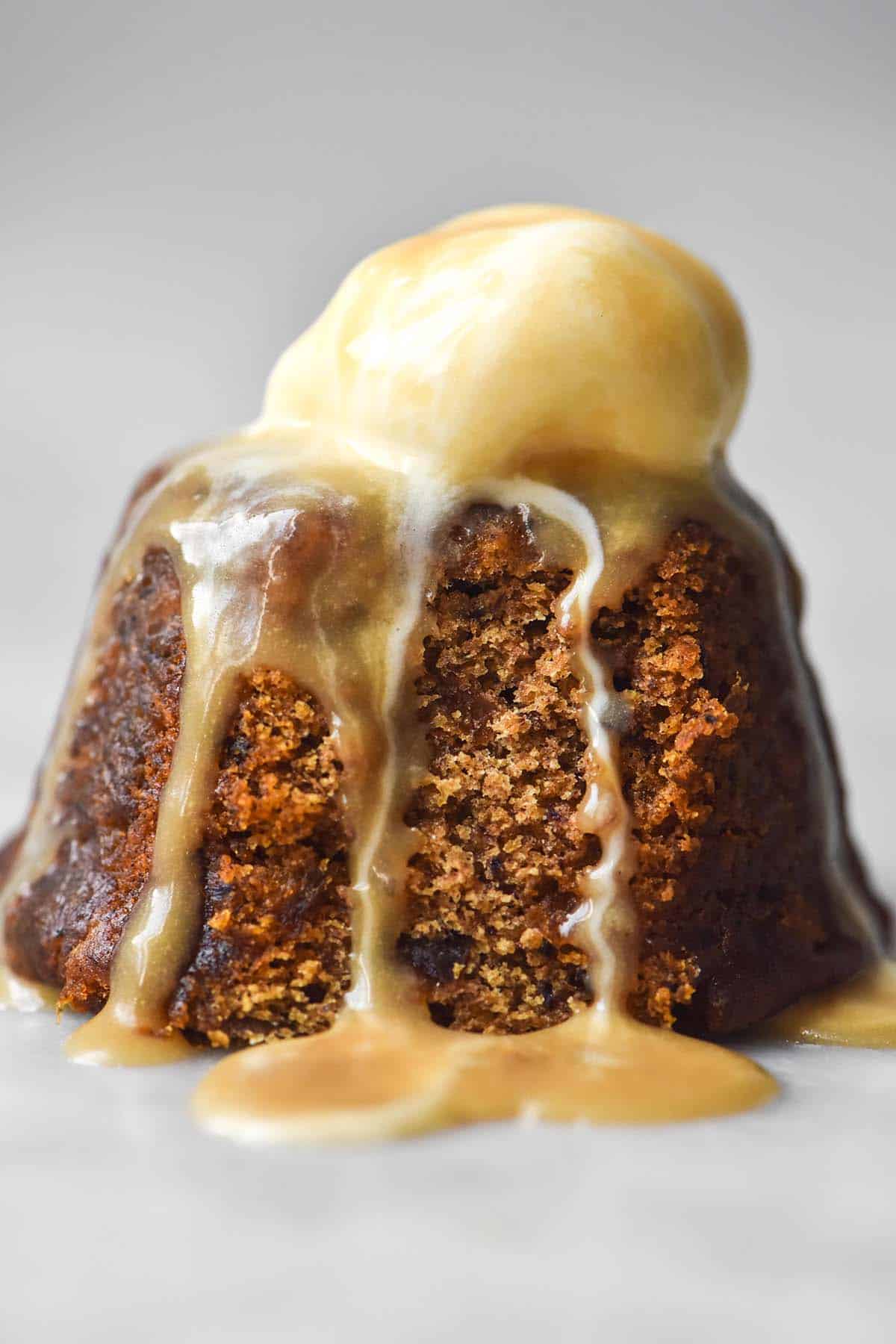 Gluten free sticky date pudding (no eggs)
This sticky date pudding is gluten free, xanthan gum free and nut free. It contains no eggs, which makes it suitable for people with egg allergies or those who choose not to eat eggs. It is an incredibly simple recipe that uses melted butter instead of creamed butter for a speedy and delicious dessert.
The pudding is made with lots of chopped dates soaked in liquid as the base. White rice flour and tapioca form the flour mixture, along with baking powder for leavening. Light brown sugar adds sweetness and butter adds richness.
Finally, a delicious brown butter butterscotch sauce is poured over the top for the ultimate decadent treat. The butterscotch sauce uses a simple mix of browned butter, light brown sugar and pouring cream for a delicious end result.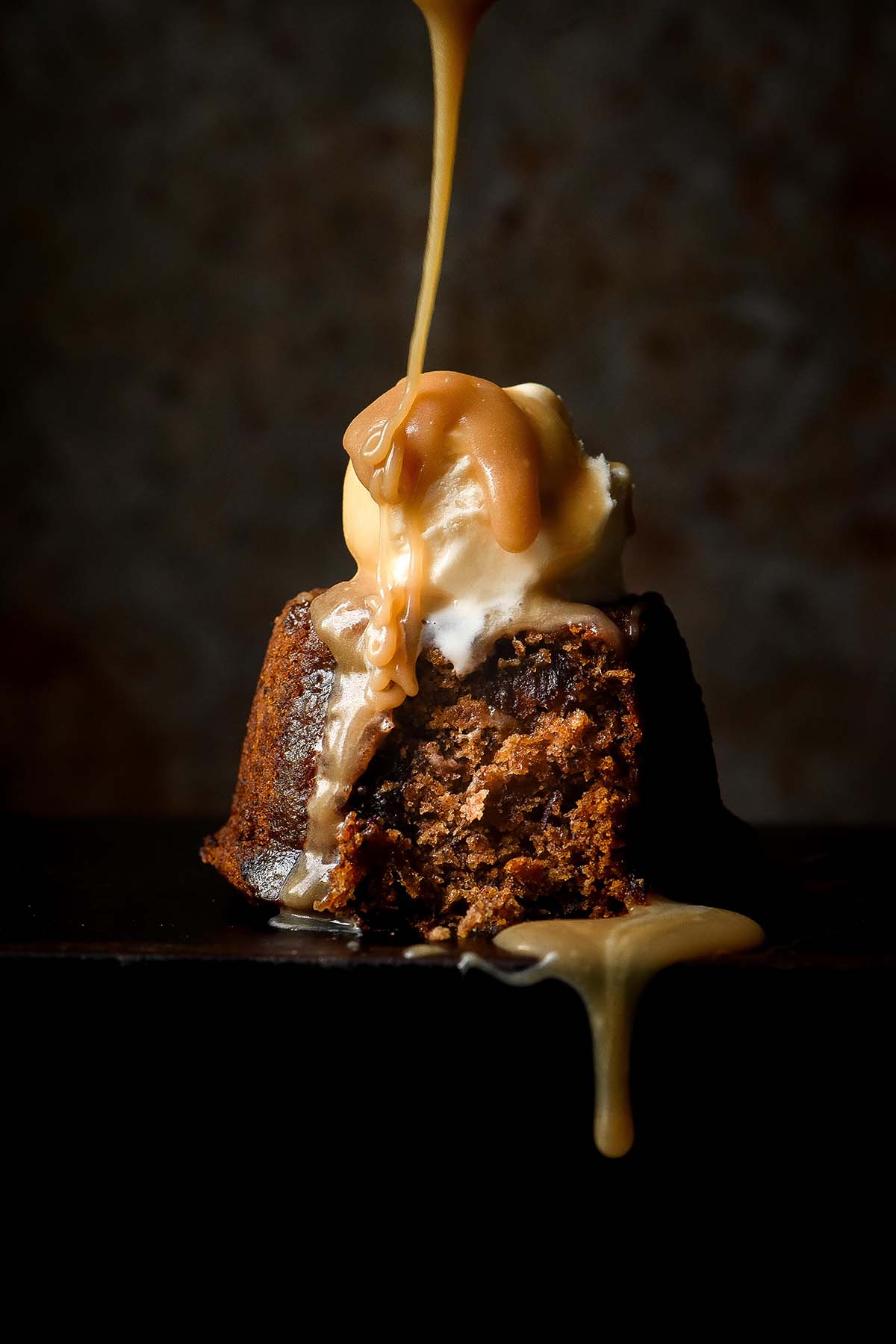 What does the baking soda do in sticky date pudding?
The baking soda, when combined with boiling water, helps tenderise the dates. By the time they've soaked in the liquid for 10 minutes, they're almost mashed in consistency.
Some people say that adding baking soda to dates can also help remove bitterness or astringency, but the reason for adding baking soda to dates is likely the former, in this case.
Baking soda also helps contribute to the brown crust of a sticky date pudding. The baking soda is offset by light brown sugar (and perhaps to some extent the dates) creating a maillard reaction (or browning) without any baking soda taste.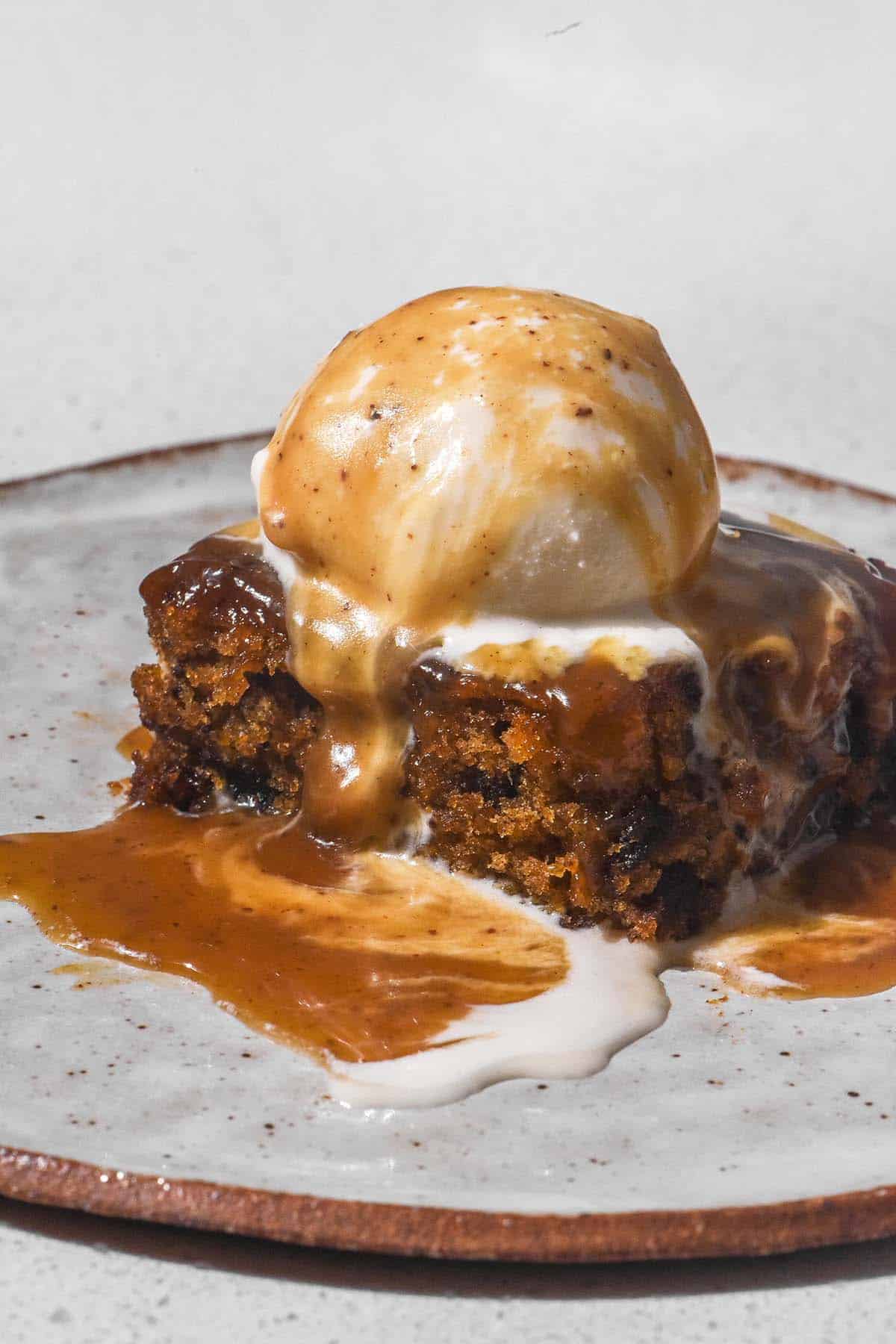 Why does your recipe use melted butter when other recipes use creamed butter?
I wanted to chat about this briefly because this stumped me for a while. I found that a lot of recipes used creamed butter, but often not fully creamed. This led me to wonder if creaming was necessary, as lots of recipes used the method halfheartedly.
I tested fully creamed butter and melted butter. While the creamed butter version made for a slightly taller and less dense pudding, I didn't feel the effort was warranted. Creaming butter and sugar is a nightmare in winter, when butter is colder and takes longer to cream. Pudding is generally a winter dessert, so it makes sense to avoid creaming butter here.
Eliminating this step shaves about 10-20 minutes off the preparation time and still results in a delicious pudding. Isn't pudding a little dense by definition?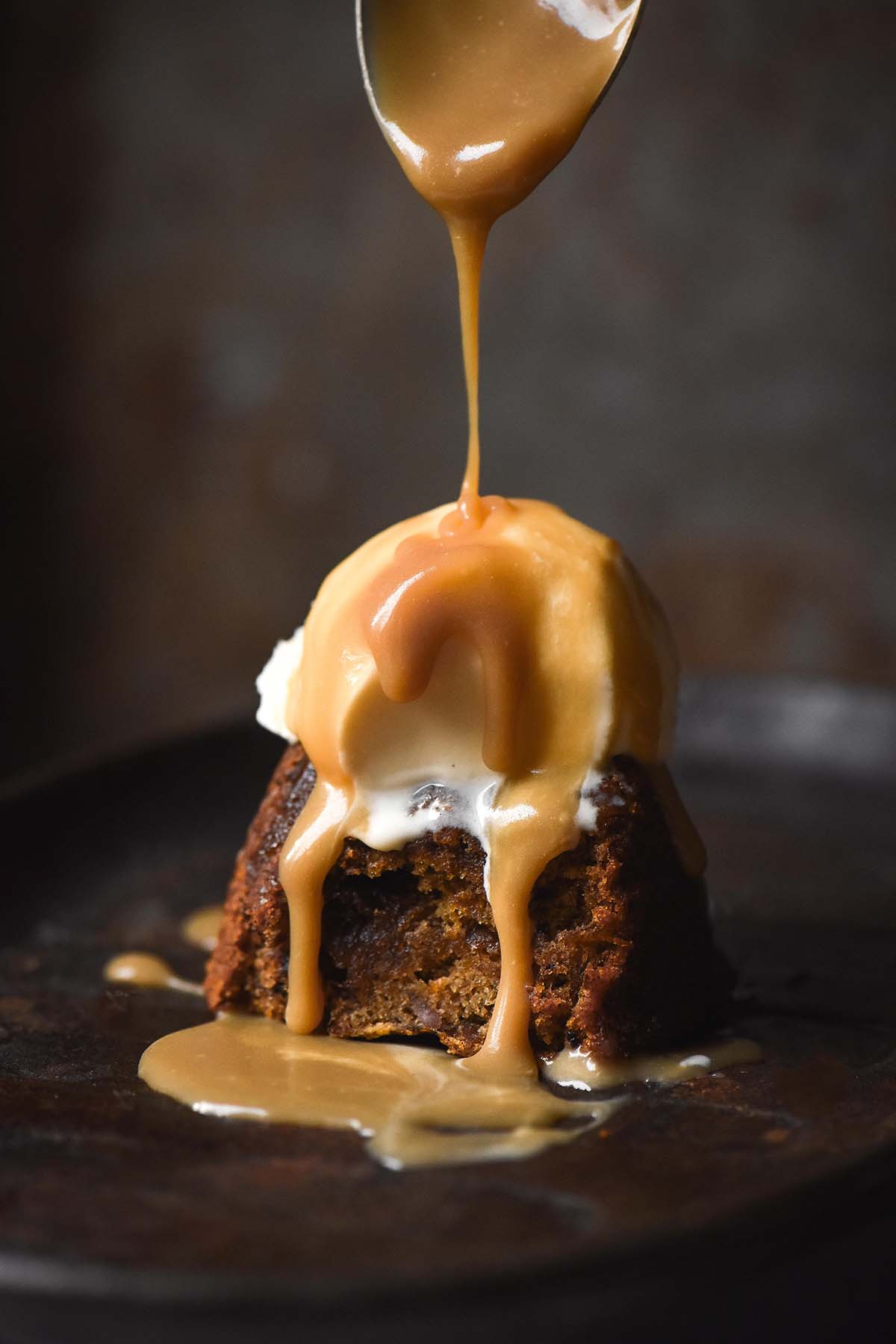 Can I make this gluten free sticky date pudding vegan?
Yes, you can! Although the pudding recipe itself is very similar to this recipe, the butterscotch recipe differs. As such, I have written up a vegan version here.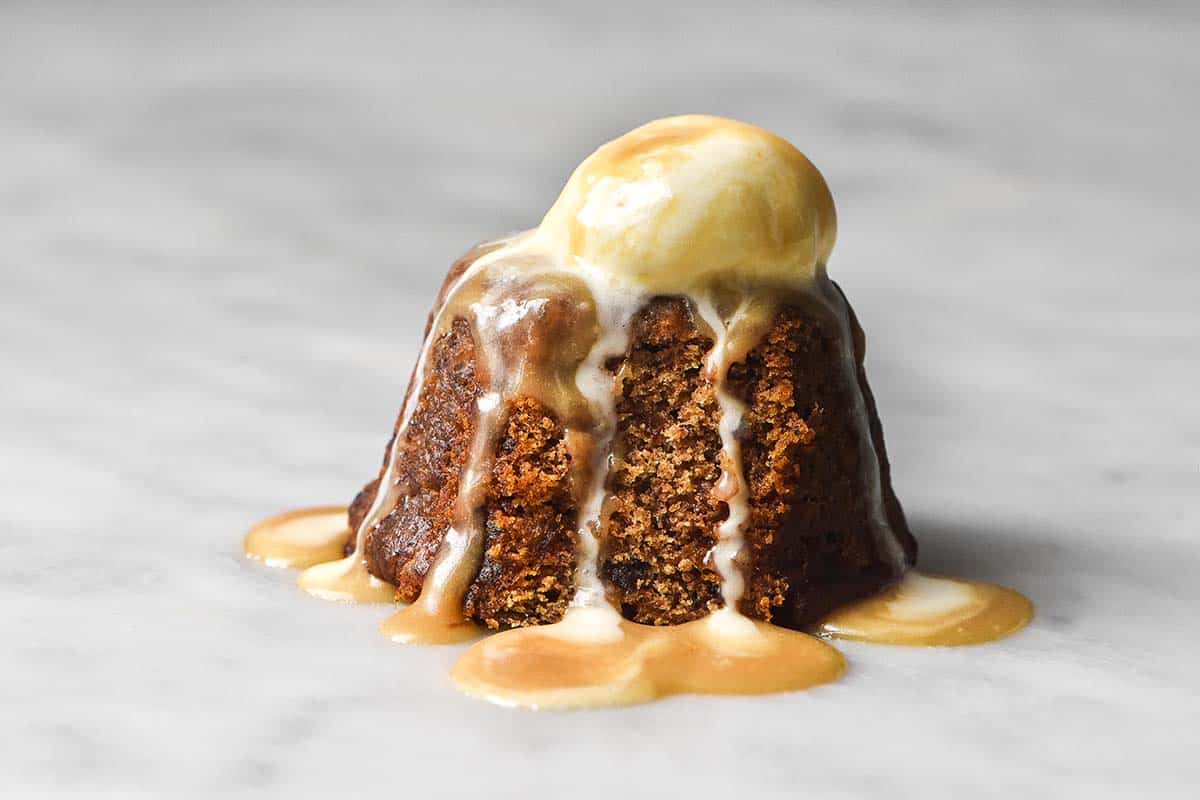 Can I make these into individual puddings?
Yes, you can. To make individual puddings, grease 8 or 9 1/3 cup (80ml) muffin holes. I used a steel muffin tin and got them out with no issues, but you can use silicon if you like.
I recommend just slightly under-filling them so they don't come out with a muffin lip. This is purely for aesthetics and to hide the fact that it is an upside down muffin, so totally optional.
Bake the puddings for 18-20 minutes or until golden brown on top and firm to the touch. You can poke 3-5 skewer holes in the puddings and drizzle the butterscotch sauce on top (about 2-3 teaspoons per pudding). Alternatively, you can allow them to cool and invert the puddings before poking the holes and drizzling over the caramel.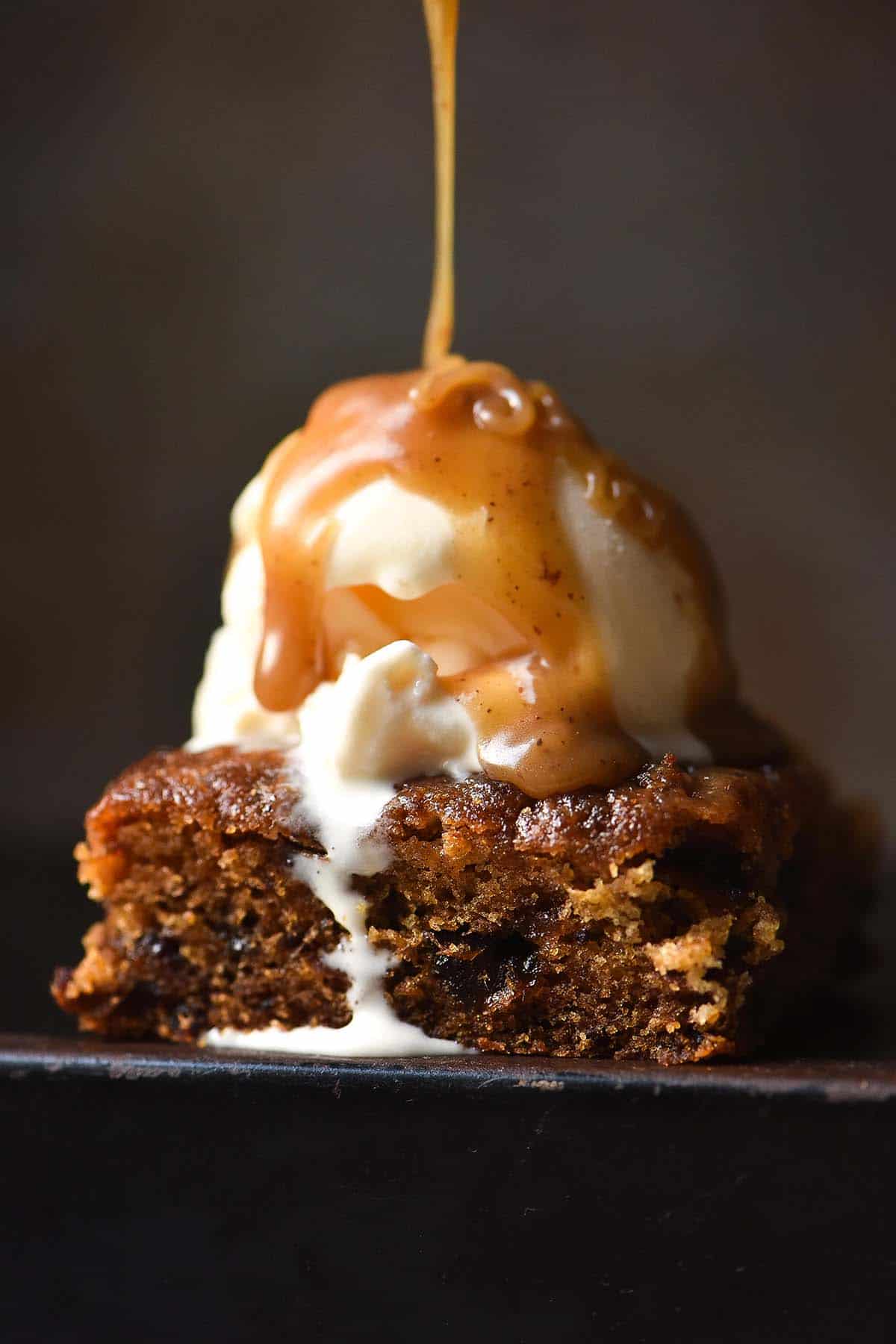 FODMAP notes
This gluten free sticky date pudding recipe was not developed to be overtly FODMAP friendly. However, it can fit within Monash's thresholds per serve.
This pudding uses 250g of dates (regular ones, not Medjool) and serves 9. Monash writes that a low FODMAP serve of dates is 30g and a moderate serve is 46g. The pudding contains 27.7g of dates per serving, which is just under the low threshold.
The only other ingredient of note in FODMAP terms is the cream. Use full fat lactose free cream in place of regular cream to keep the lactose content down. Serve the pudding with a good quality lactose free vanilla ice cream.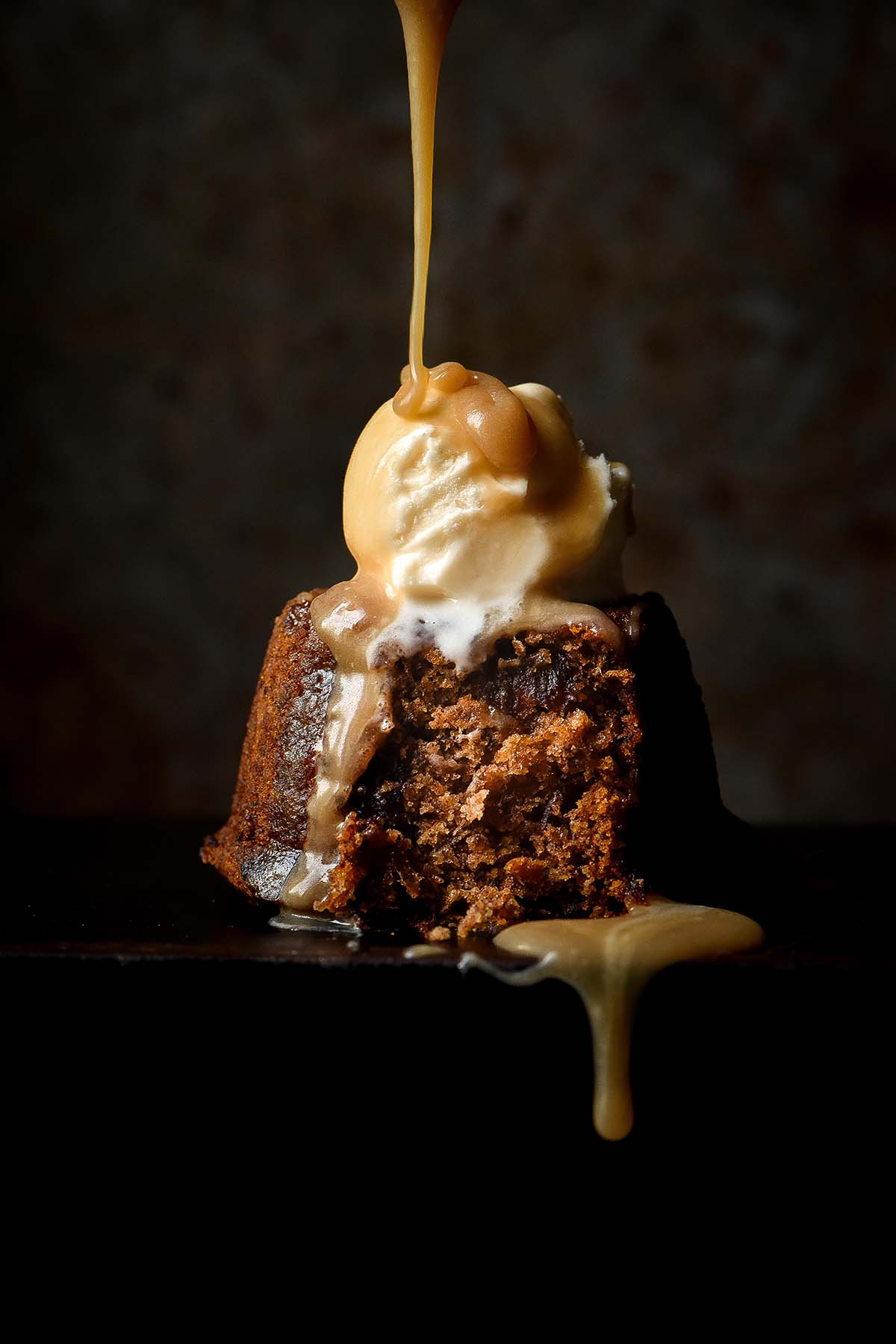 More gluten free winter desserts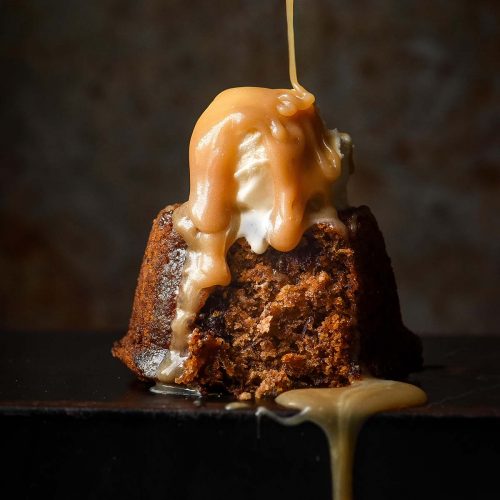 Gluten free sticky date pudding
Egg free, nut free, xanthan gum free
This recipe uses Australian cups and measures. Use gram weights for international accuracy.
Equipment
1 20cm X 20cm square brownie/cake tin

or 8 to 9 1/3 cup (80ml) capacity muffin holes
Ingredients
For the dates:
250

g

regular pitted dates

1

teaspoon

baking soda (also called bicarb soda)

180ml

(3/4 cup)* boiling water

80ml

(1/3 cup)* ginger lemon kombucha or extra boiling water
To finish the pudding:
120-140

g

fine white rice flour (see notes)

75

g

tapioca flour

1

teaspoon

baking powder

100

g

light brown sugar

100

g

butter

melted (salted or unsalted)
For the butterscotch sauce
100

g

butter

salted or unsalted

150

g

light brown sugar

250

ml

(1 cup) pouring cream
Instructions
Preheat the oven to 180C/356F. Grease and line a 20cm X 20cm square cake tin/brownie pan.

Finely chop the dates and add them to a large mixing bowl. Sprinkle over the baking soda, then pour over the boiling water. Stir to combine, then set aside for 10 minutes. Once the 10 minutes is up, stir in the kombucha.

Add the remaining pudding ingredients to the bowl of dates and stir thoroughly to combine. The batter should lighten and become slightly fluffy looking. Pour it into your greased cake tin and bake for 25-30 minutes (see notes).

While the cake is baking, make the butterscotch sauce. Place the butter in the saucepan over a medium heat. Cook until it browns and becomes fragrant and nutty. Add the brown sugar and cream and whisk thoroughly to combine. Cook for 3-5 minutes until the sauce comes together. It should be smooth looking, slightly thicker in texture and viscous. Remove from the heat and add a pinch of salt to taste.

Once the pudding has cooked, use a skewer to poke holes across the top of the pudding. These will allow the sauce to seep into the cake, so do about 30-50.

Pour about half of the sauce over the pudding and allow it to seep into the pudding for 5-10 minutes.

Slice and serve with a scoop of vanilla ice cream and extra butterscotch sauce.
Notes
I find it better to err on the side of over-baking this pudding. The top might look thoroughly cooked, but it contains lots of dates and liquid. I generally cook it for the full 30 minutes, but every oven is different.
If you prefer a dense and fudgy pudding, use less rice flour. If you prefer a slightly taller and cakier pudding, use more rice rice flour. 
See notes in body of post for making individual puddings.