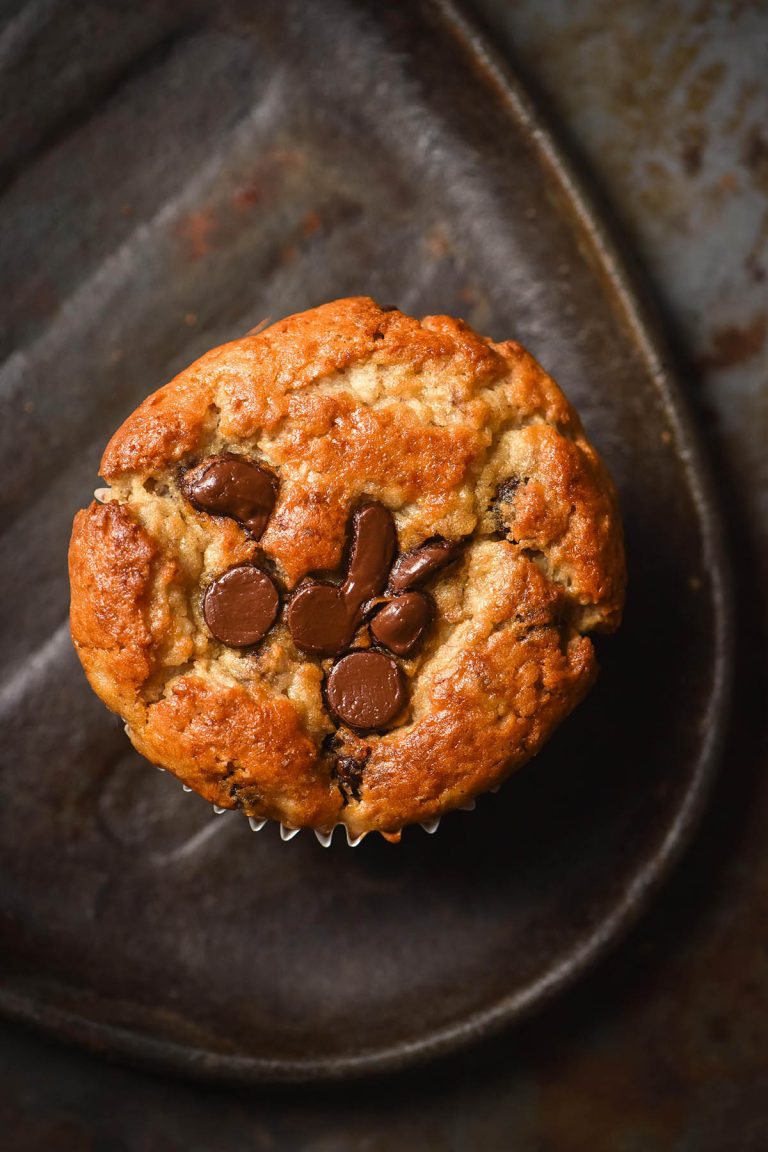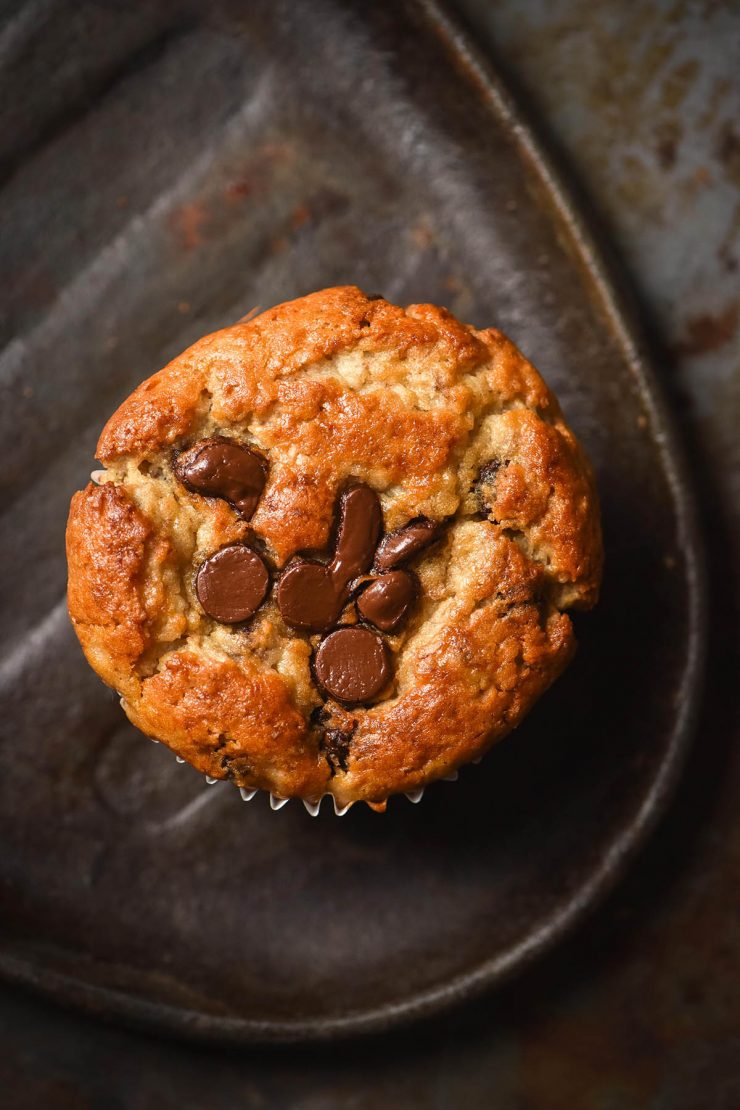 I've been getting into single serve gluten free desserts recently. I have posted this single serve blueberry muffin, this vanilla mug cake and this banana mug cake. Today I am adding to the collection with this gluten free banana choc chip muffin.
Technically speaking, this muffin serves two. In the development process I found that it was making either 1 large and one tiny muffin, or two smaller muffins. I wanted a big, beautiful muffin top, so two serves it is!
This recipe is incredibly quick and easy and tastes way better than it reasonably should. If you're thinking: why would I turn on the oven for two muffins? I've got you: make this gluten free banana mug cake instead (it's a similar recipe, cooked in a microwave).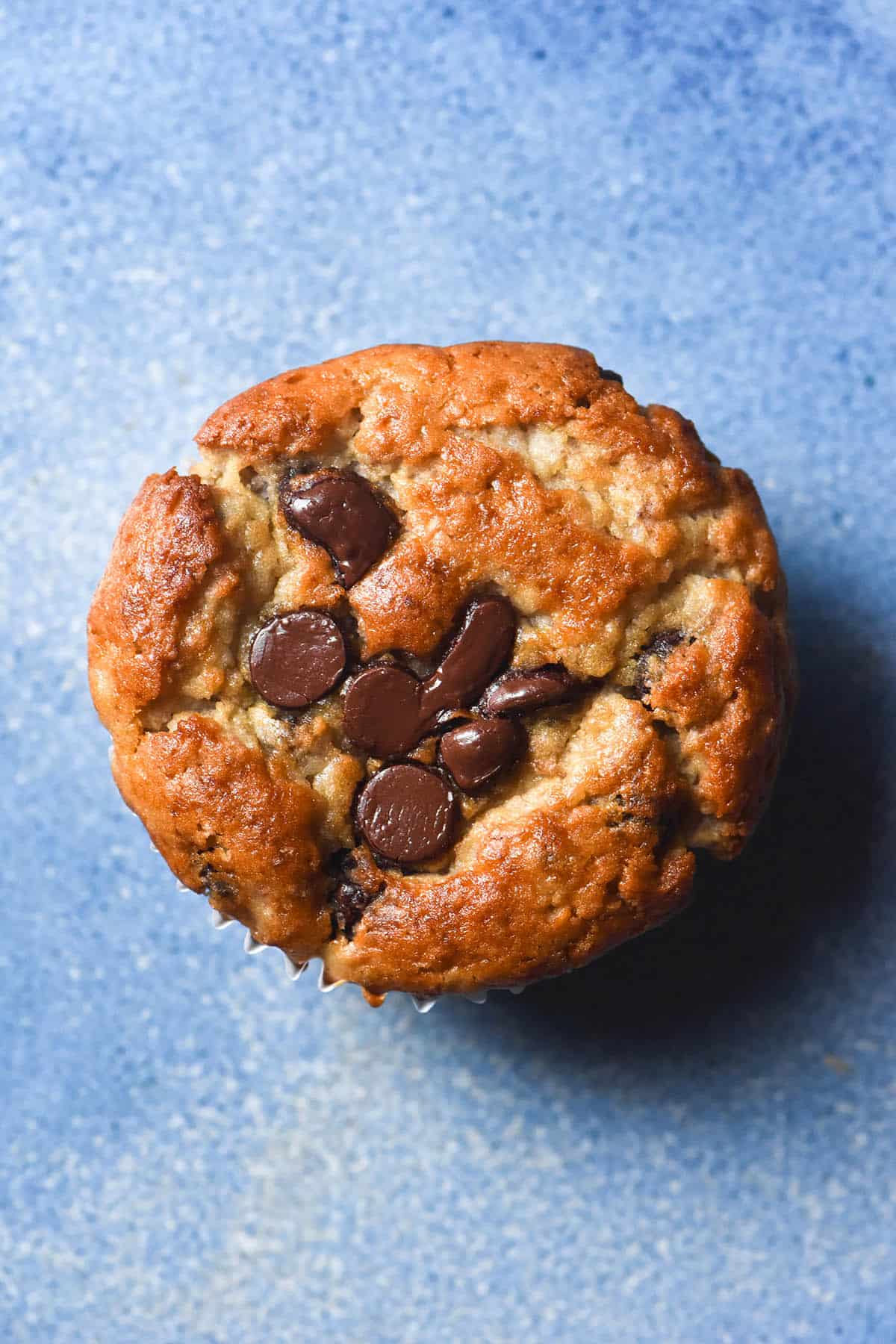 Gluten free banana choc chip muffin (small batch)
This muffin is nut free, xanthan gum free, egg free and is easily made vegan with plant based milk. It doesn't use any starch based flours, either – just a good quality, fresh white rice flour.
Light brown sugar and banana add sweetness and binding, and also help with browning. A small amount of a neutral oil makes a soft crumb, and a milk of your choosing brings the batter together. Finally, the leavening agent: a small amount of baking soda and vinegar create the bubbles, browning and fluffy crumb.
Although they're not strictly necessary, I love using chocolate chips in this muffin. They really bring that classic banana muffin flavour. Is there anything better than the combination of banana and chocolate?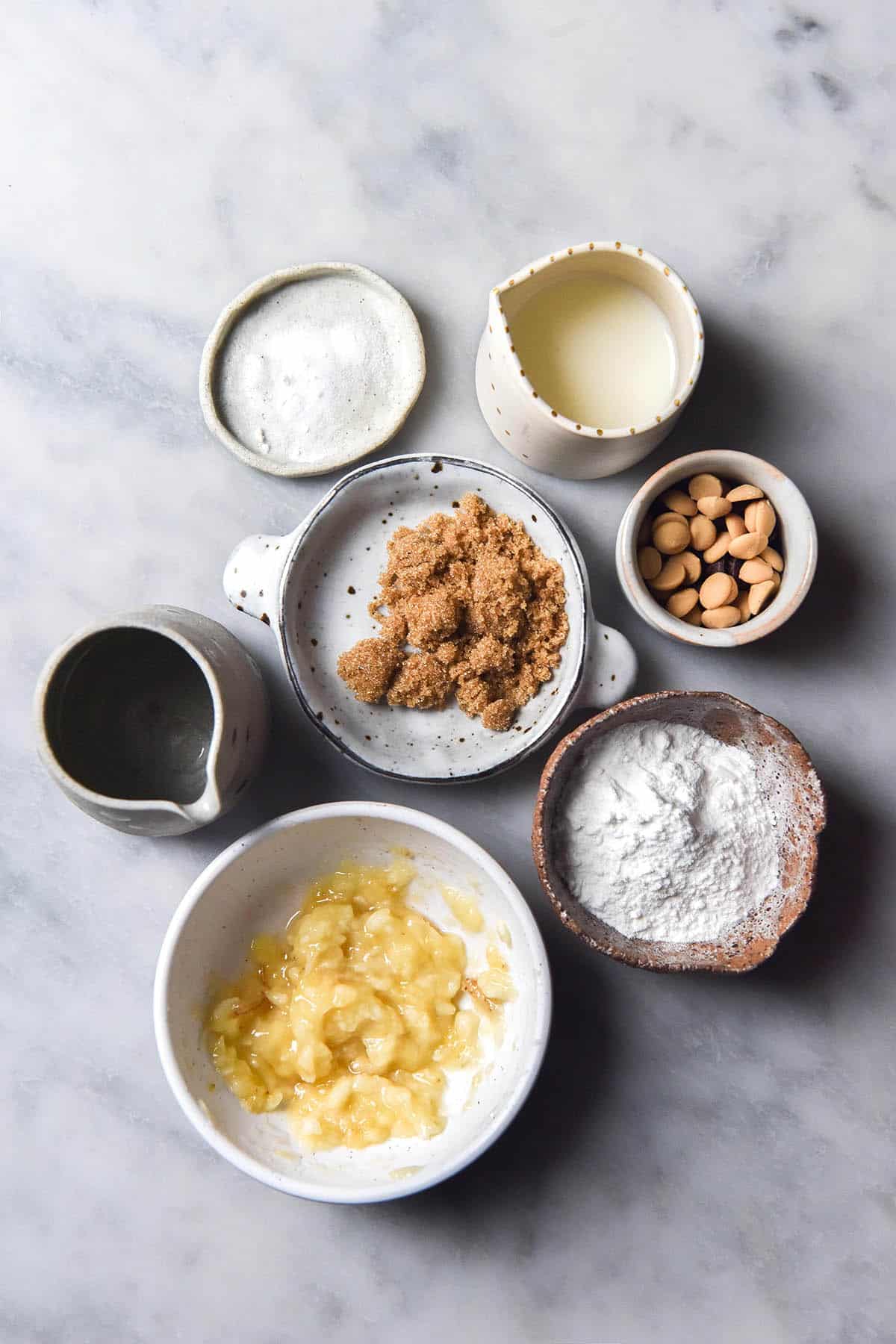 Tips for your gluten free banana choc chip muffin
There are only a few elements to this muffin that require attention. Firstly, make sure you choose a fresh and fine white rice flour. There is nowhere to hide in this mug cake – you will easily taste a stale or gritty white rice flour.
Secondly, make sure you weigh the baking soda. Too much baking soda will turn your muffin into a metallic tasting nightmare. Too little and it won't rise or brown as it should. The vinegar or lemon juice in the recipe is the acid that will A) start the chemical reaction to create bubbles and B) neutralise the baking soda flavour. Do not omit it, or you will end up with a nasty muffin.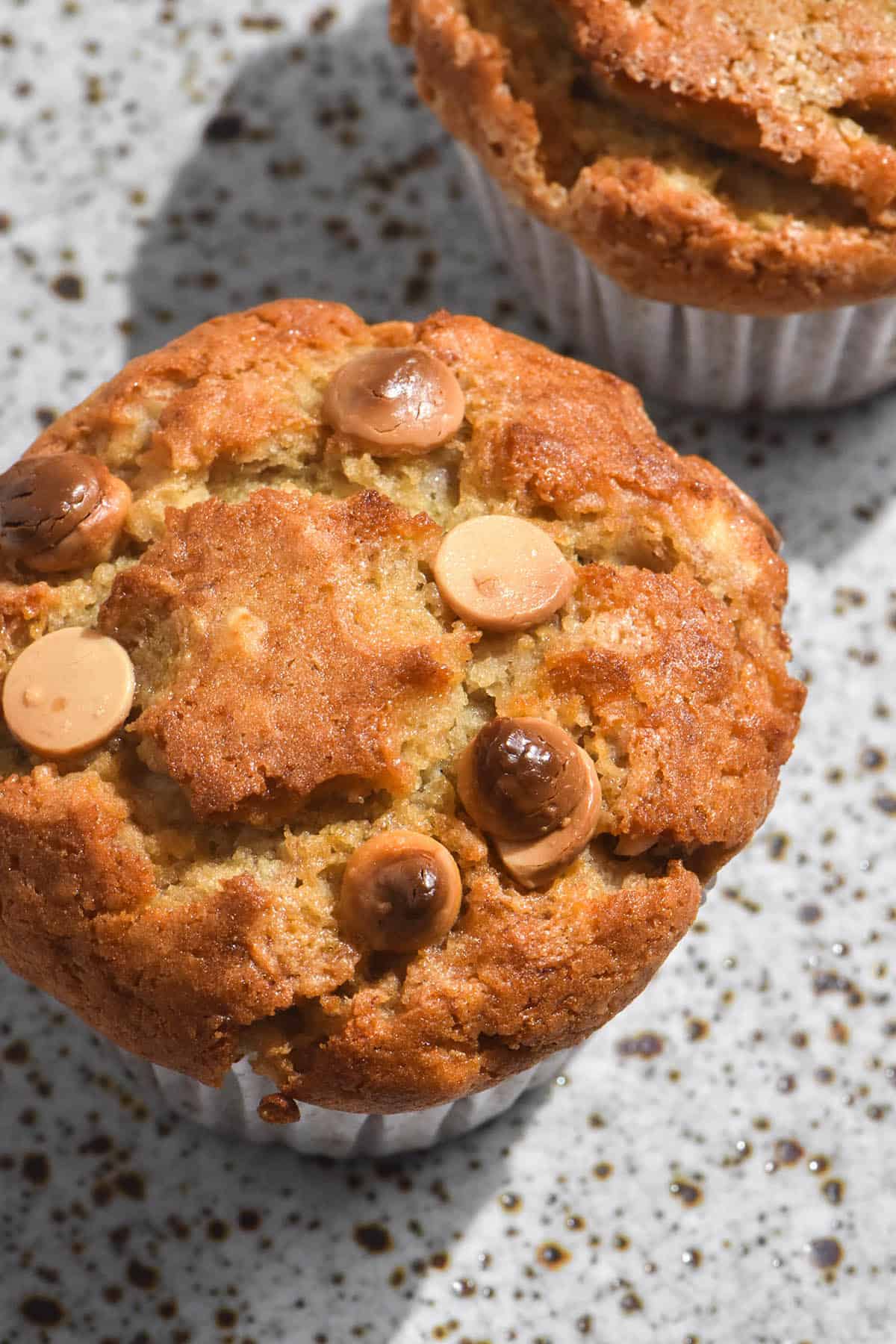 FODMAP notes
This gluten free banana muffin uses 75g of ripe banana. The recipe does make two muffins, which means that each muffin is 2g over a low FODMAP serve. With that said, Monash says that a moderate serve of ripe banana is 45g, so that leaves a bit of wiggle room to determine what works for you.
However, there is another option. Sugar bananas, sometimes called Ladyfinger bananas, are low FODMAP in 110g serves when ripe. If you use sugar bananas in this recipe, you can both muffins yourself. Problem solved.
The only other ingredient of note in terms of FODMAPs is the milk. Use a low FODMAP milk like lactose free whole/full fat milk for a dairy option. For a non-dairy option, use rice milk, macadamia milk or soy milk made with soy protein instead of whole soy beans.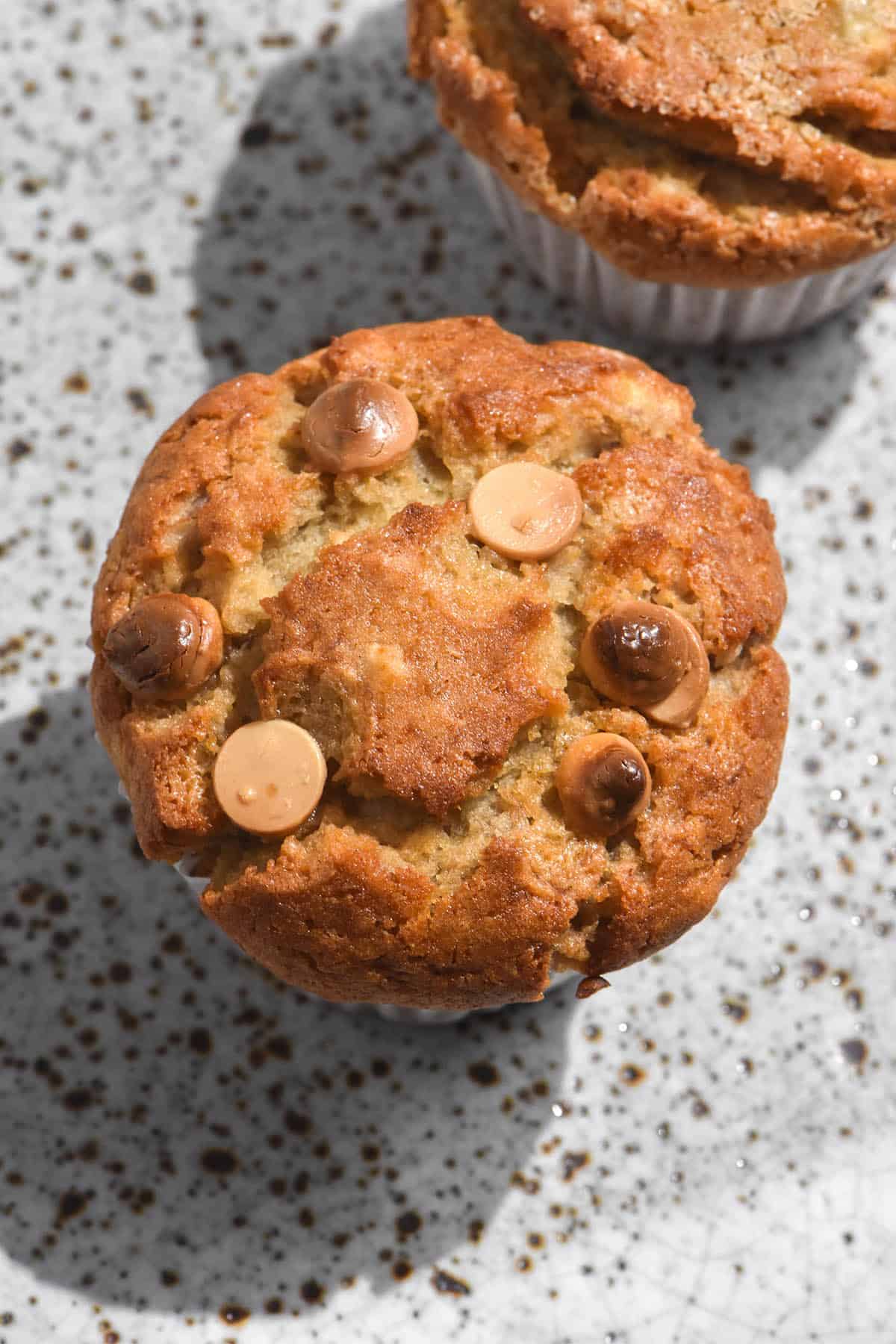 More small batch gluten free desserts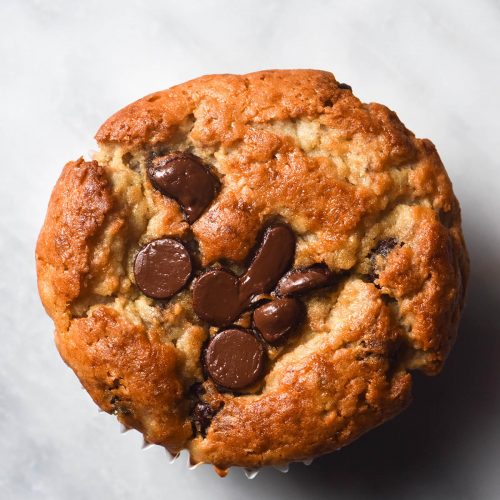 Gluten free banana choc chip muffins
Xanthan gum free, nut free, egg free, dairy free option, vegan option
Ingredients
60

g

white rice flour

35-40

g

white or light brown sugar

depending on the ripeness of the banana and your sweet tooth

1.5

g

(1/4 teaspoon) baking soda

75

g

mashed ripe banana

60

ml-80ml milk of choice

I have tested lactose free full cream/whole milk and soy milk

15

ml

(3 teaspoons) oil

15

ml

(3 teaspoons) vinegar

30-40

g

choc chips

vegan if needed
Instructions
Preheat the oven to 180C/356F. Grease or line 2 80ml (1/3 cup) capacity muffin holes. You can also use a jumbo/Texas muffin tin if you're adding lots of chocolate chips.

Whisk together the dry ingredients in a small mixing bowl, then add the banana, 60ml of milk and the oil and vinegar. Whisk until a bubbly, smooth batter forms. If it looks dry, add 20ml extra milk for a total of 80ml milk.

Add 3/4 of the chocolate chips, reserving a few for the tops of the muffins. Divide the mixture between the two muffin holes and top each muffin with the remaining chocolate chips. Bake for 15-25 minutes – they should be firm and golden brown on top.