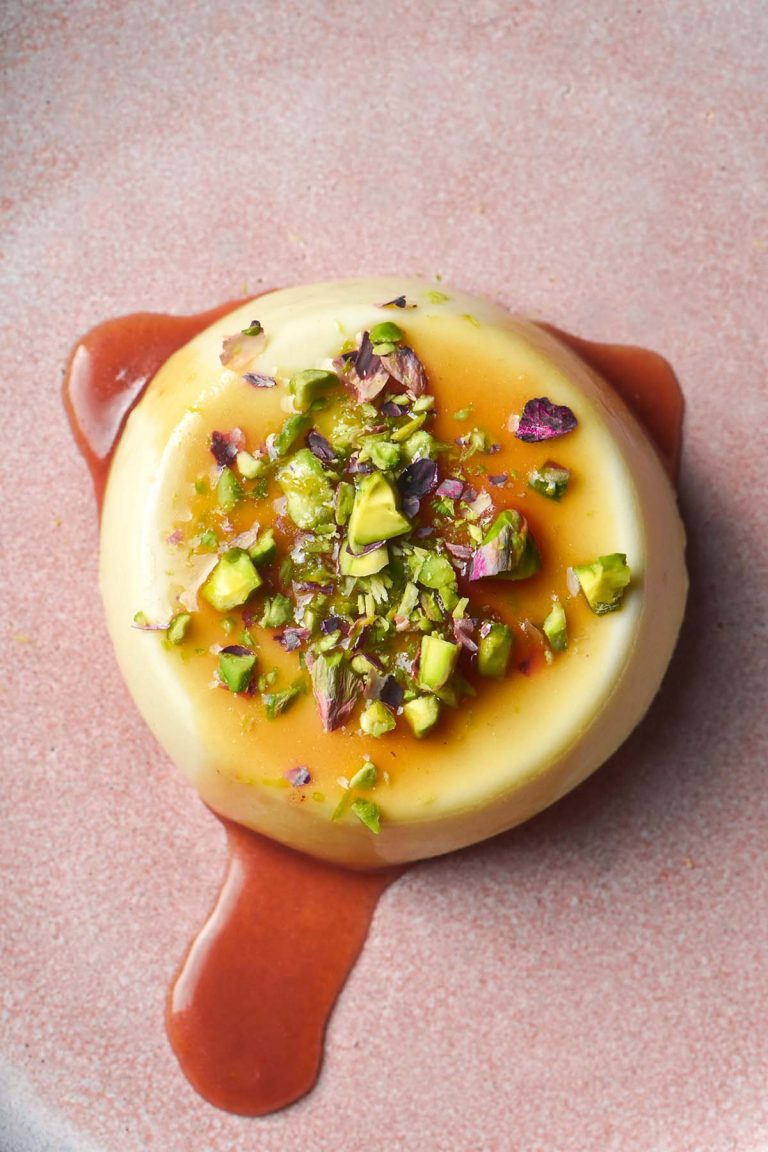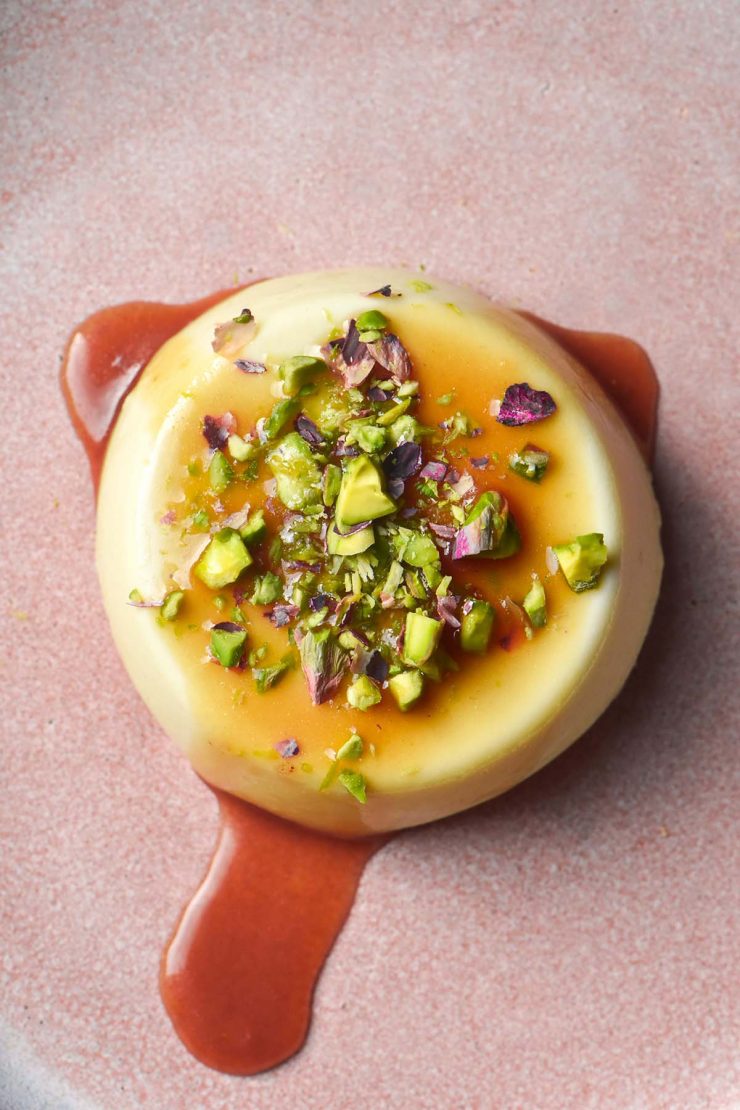 I love panna cotta. Adore it, really. But as a pescetarian, gelatin is off the menu. As such, I decided to develop this recipe for panna cotta with agar agar. It is every bit as delicious as the original but completely vegetarian. A wobbly, creamy, gorgeous dessert that is easy yet impressive.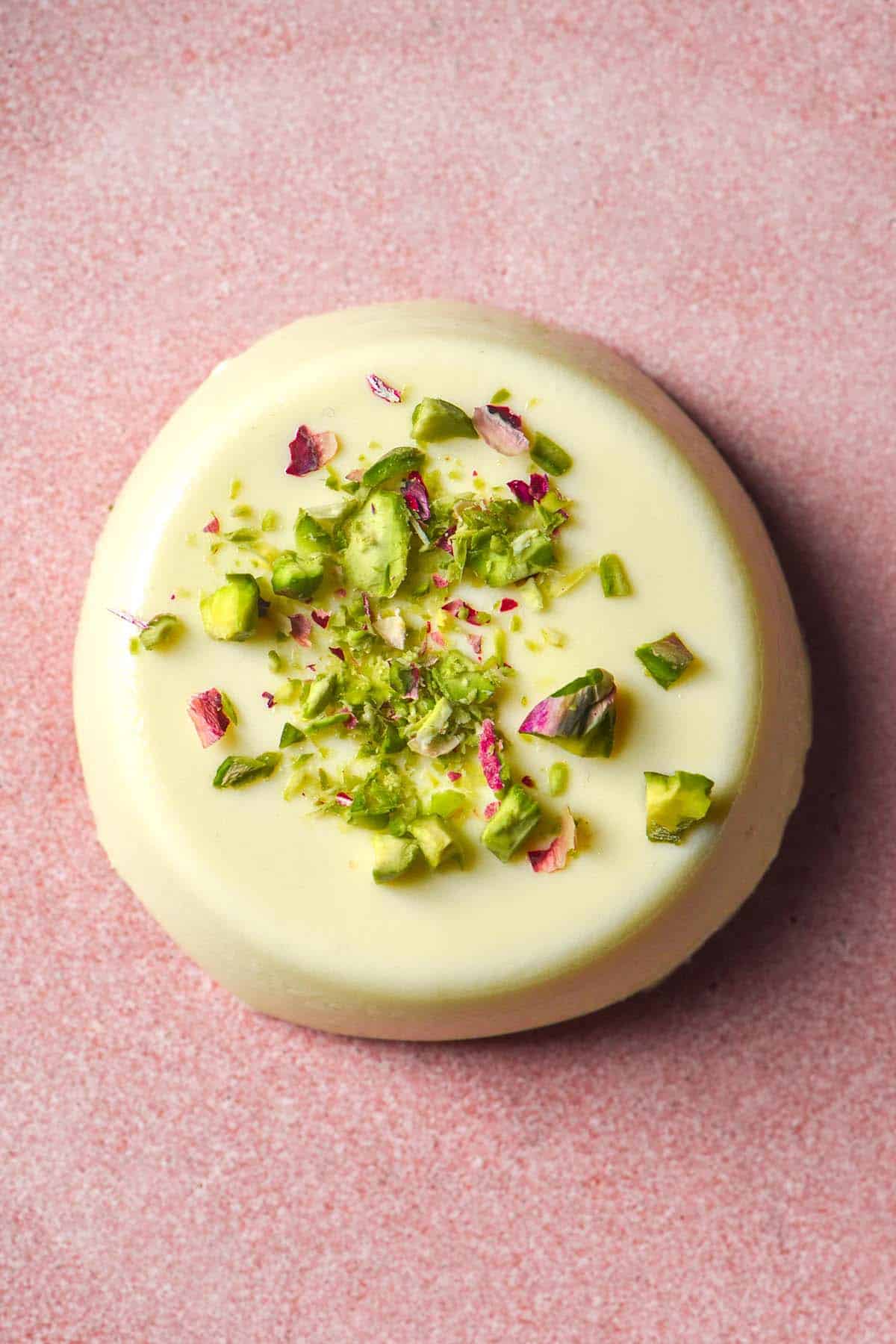 Panna cotta with agar agar
This panna cotta with agar agar is really easy to make. Even easier to eat, honesty, but that's a given. It uses cream and milk (full fat, please) combined with sugar and vanilla extract. Agar agar powder is the glue that holds everything together to create a wobbly and delicious panna cotta.
This dessert can easily be made low FODMAP by utilising lactose free cream and milk. Although I haven't developed a completely vegan version it, rest assured it is on the to-do list.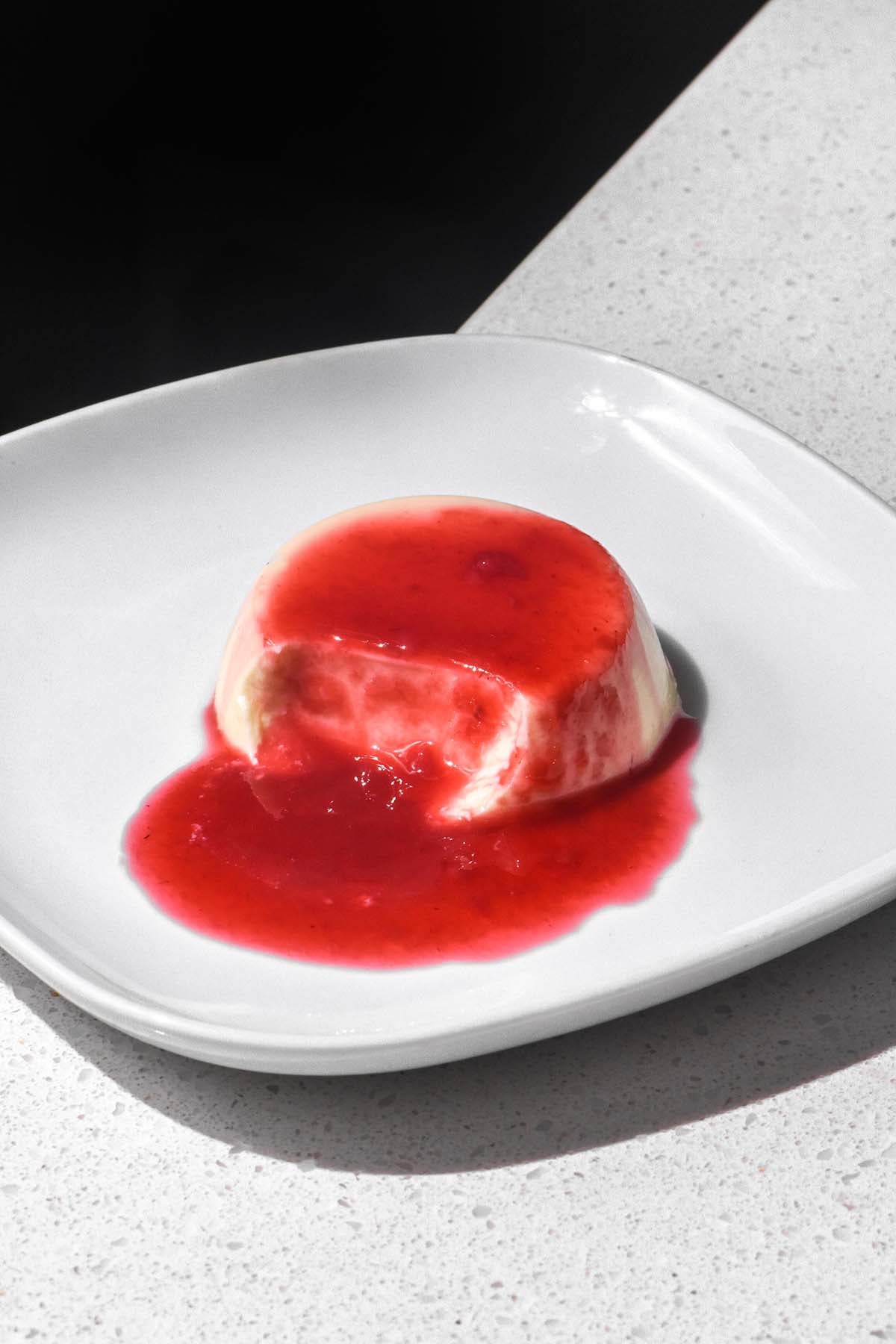 What is agar agar?
Agar agar is a plant based gelatin derived from seaweed or algae. It performs in a similar way as gelatin, helping to set the panna cotta. It is mostly odourless and 100% tasteless in the finished product. There is no substitute – agar is a critical ingredient in this recipe.
Agar agar comes in powder, flakes or in strip form. I have never used the strips, so I cannot advise on how to use them here. I know they are not directly interchangeable in recipes, so I recommend buying the powder form. You can use it in a number of things, including my vegan low FODMAP mozzarella.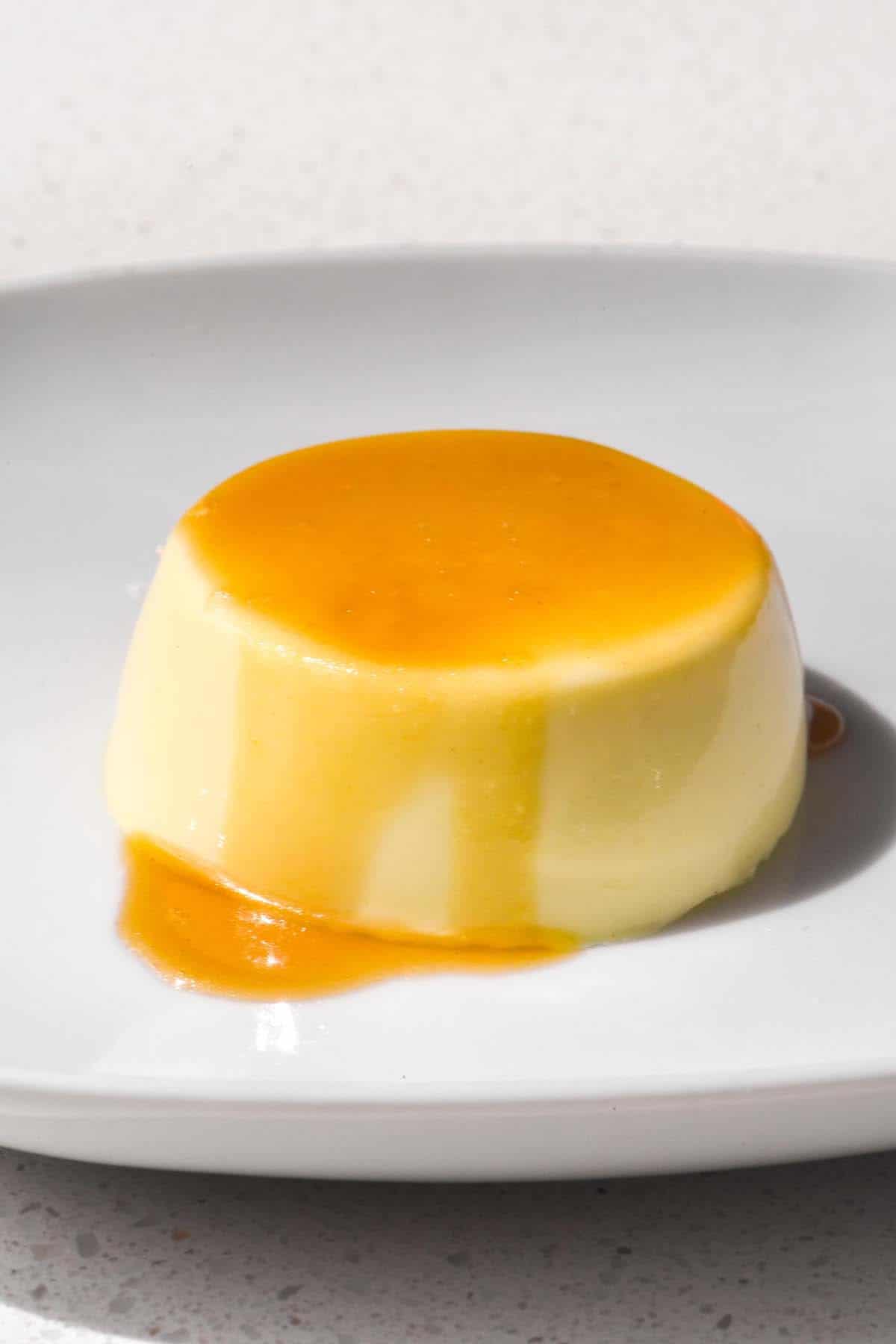 Working with agar agar powder
I have tested recipes with agar agar many times now, so I have a lot to say about working with it. It is fairly straightforward, but it does have some quirks.
Agar agar powder needs to be added to cold ingredients so it doesn't clump up when it hits the liquid. Whisk it in thoroughly before turning the heat on.
It is really beneficial to allow the agar sufficient time to gel up on the heat. I found that allowing this panna cotta mixture to come to the boil over a low-medium heat was the best method to get it to gel.
Agar that has not had enough liquid added tends to taste a bit gritty.
Lots of recipes online tend to use quite a bit of agar agar compared to my recipe. I find that less is more when it comes to agar agar. Using more results in quite a firm set panna cotta that doesn't melt in your mouth like the original does.
Because we're using less agar agar, we need to be patient. Allow it to cook over a low medium heat until boiling for best results.
The tricky part about using agar agar is that there aren't too many obvious signs that the mixture is ready to set. My best advice is to slowly get it to boiling point and then keep it there for a minute or so.
The best part about agar agar is that you can boil it again if something is amiss. In one test, my panna cotta had not set in the fridge after 3 hours. I simply reboiled the liquid and returned it to the silicon muffin tin and it set up almost instantly.
Why does this recipe use so little agar agar?
My recipe for panna cotta with agar agar uses less than other recipes out there. Panna cotta sets differently to gelatin, with more of a firm set than a wobbly set. Using too much agar agar results in a panna cotta that is too firm and not melt in your mouth like regular panna cotta.
So, this recipe uses 1.5-2.5g agar agar powder. This results in a panna cotta that is set without being too firm. Because we're using less agar agar, though, we need to cook our mixture for longer.
I cooked my mixture on the smallest hob over a low-medium heat. It took 20 minutes to reach a boiling point, after which I cooked the mixture for an additional few minutes.
My advice would be to turn the heat up at the 10 minute mark if there's no evidence of the mixture boiling. In my experience with agar agar, getting it to boiling point, slowly and steadily, is what ensures it will set.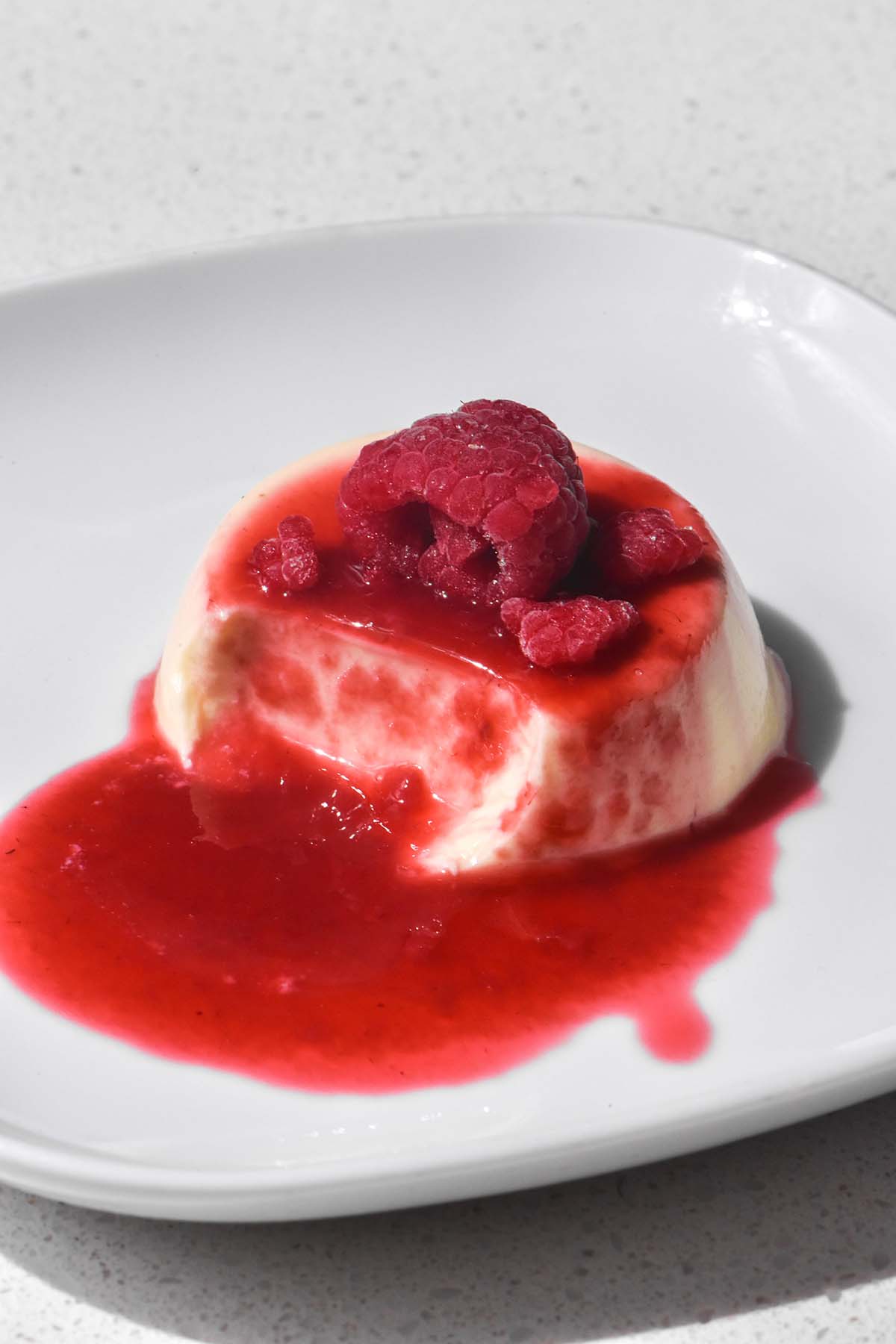 What sort of mould should I use for this panna cotta with agar agar?
This recipe is flexible and can really be made in any mould you have. If you plan to flip them out and serve them on plates, I highly recommend silicon muffin tins. They are SO easy to pop out without damaging the edges, so it makes for a nice fuss free dessert that can be made ahead.
However, you can also serve this panna cotta in a glass vessel for a simple yet visual dessert. This removes the (perceived or real) stress of removing them from their moulds.
Finally, making one big panna cotta is also an option. You could use a silicon loaf tin and slice off pieces of the panna cotta like a cake, or a round tin for a flan adjacent aesthetic.
The silicon muffin tins I have are 1/3 cup (80ml) capacity and this makes 7-8 panna cotta. Keep this in mind if you use a different sized vessel.
Tips for your panna cotta with agar agar
Use agar agar powder for this recipe. Other forms of agar agar are not interchangeable. You can't substitute in the same weight of flakes and except the same result.
Cook the mixture low and slow until it reaches boiling point. This will ensure the agar agar is going to set nicely.
If your panna cotta have not set within a few hours, decant the mixture back into the pot and cook it again. Agar agar is very receptive to being re-cooked, so you can address any errors with ease.
This also goes for any panna cotta with gritty agar agar inside. This is a sign you have not cooked it properly, so simply return it to the stove, cook it again and pour it back into the moulds.
If you're making this for a dinner party, I recommend making it the day before. That way you can address any issues well ahead of time to ensure your dessert is perfect.
Vanilla extract (or vanilla beans) and a pinch of salt really bring this panna cotta to life. I highly recommend using them for a full flavoured dessert.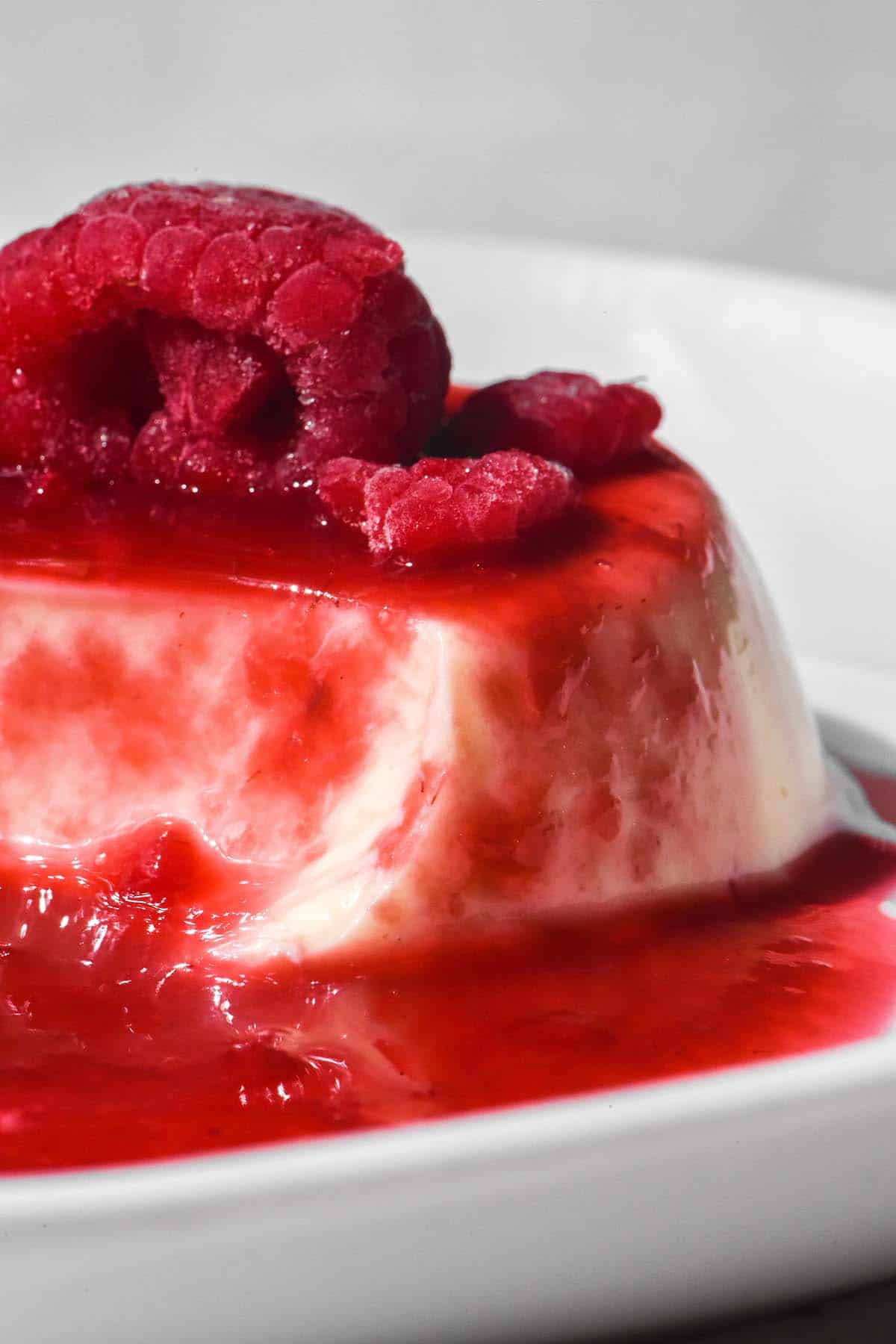 What sort of cream should I use for this panna cotta with agar agar?
Lots of types of cream (namely, thickened cream/heavy cream) use gelatin. Because this is a vegetarian panna cotta, we want to avoid buying cream with added gelatin. Lots of panna cotta recipes use thickened cream/heavy cream, but the dish can realistically be made with any sort of dairy cream. The following brands in Australia are gelatin free:
Dairy Farmer's thickened cream (uses guar gum instead of gelatin, so this is a great option if you need to whip it)
Coles brand generic thickened cream
According to this website, Woolworths generic thickened cream is vegetarian in states except for Victoria (where I live, boo). Make sure to check the label to be certain.
Pauls pure cream
Barambah Organics pure cream
Most pure and pouring cream varieties
Unfortunately, Zymil (the lactose free cream brand in Australia) uses gelatin. They used to sell a non-thickened variety, but I don't see it much anymore. I'm working on my own low lactose thickened cream recipe though, so stay tuned for that.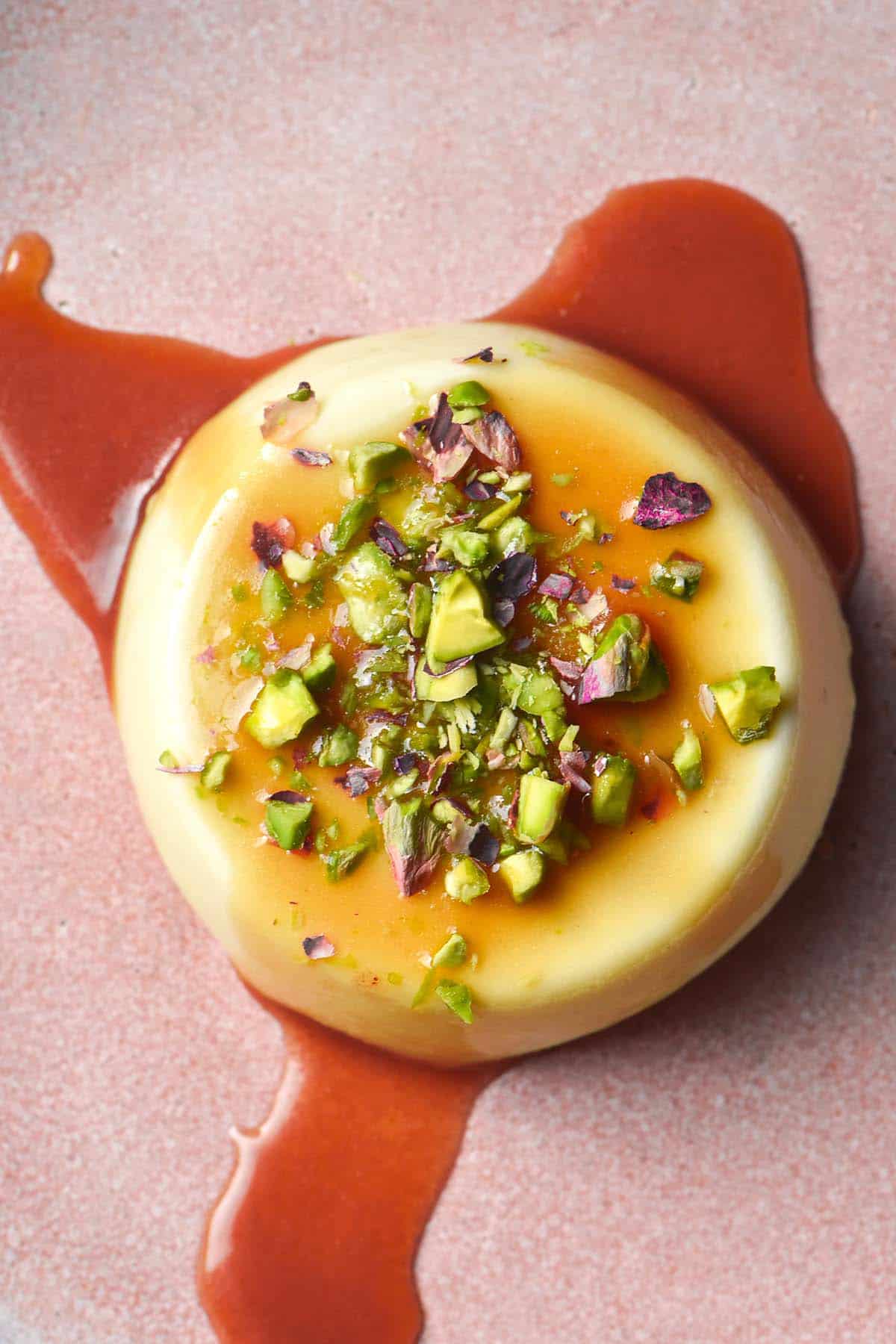 What should I top my panna cotta with?
I haven't included a recipe for coulis or anything here, because this is all about the panna cotta. Honestly, I love panna cotta alone, without topping. However, there are plenty of ways to top this panna cotta with agar agar.
In some of the photos, I used a homemade raspberry coulis. I didn't follow a recipe – just a handful of frozen raspberries, some white sugar to taste and a splash of water. I cooked it down and sieved the seeds out of the coulis.
Another option is to use the brown butter butterscotch sauce from my sticky date pudding recipe. It is incredible with a little bit of sea salt sprinkled on top. And if you're out of cream? Use the vegan version. You can use plant based or regular milk.
Other options include fresh fruit, chopped nuts, melted chocolate, stewed rhubarb – anything you have and enjoy!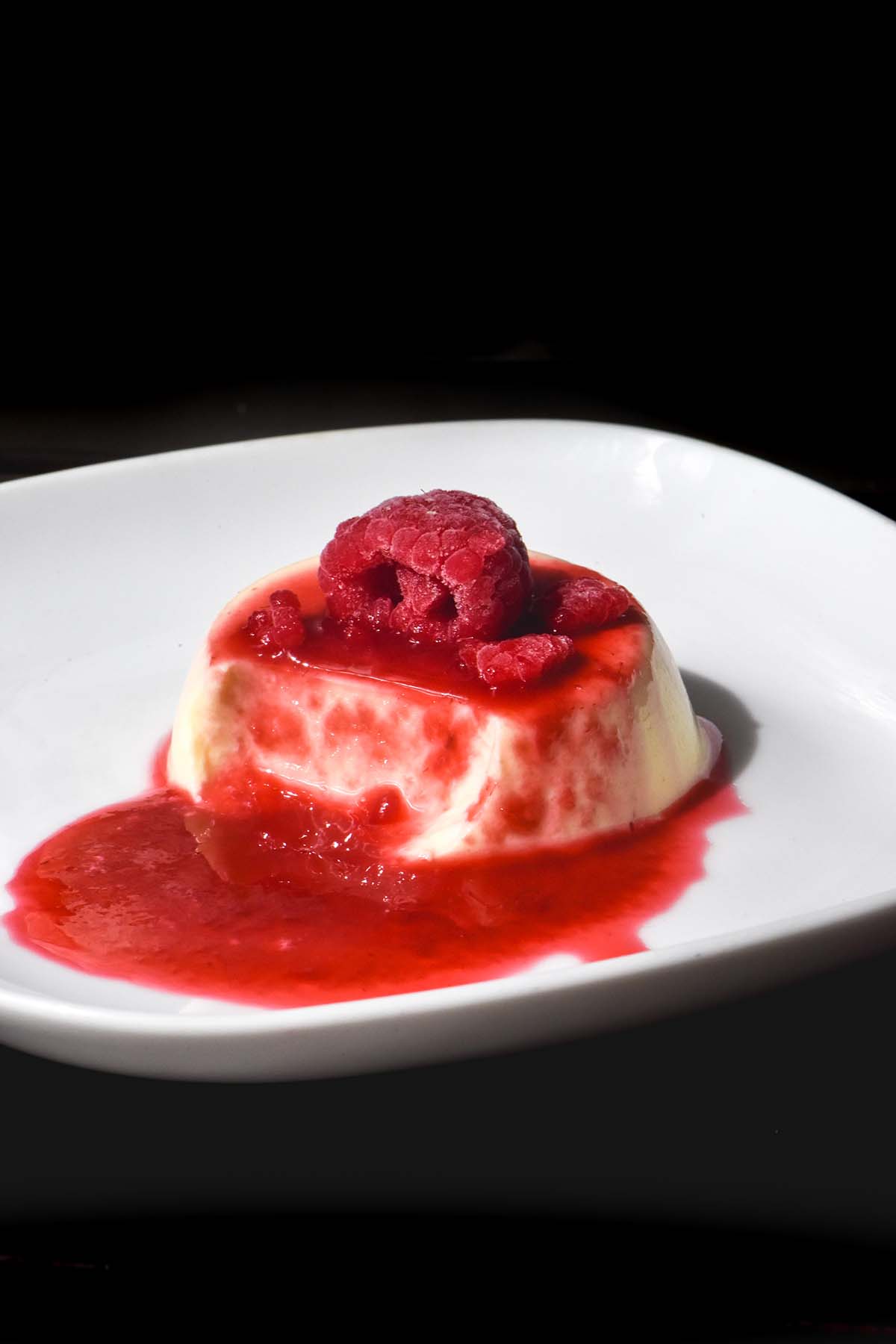 More dairy based dessert recipes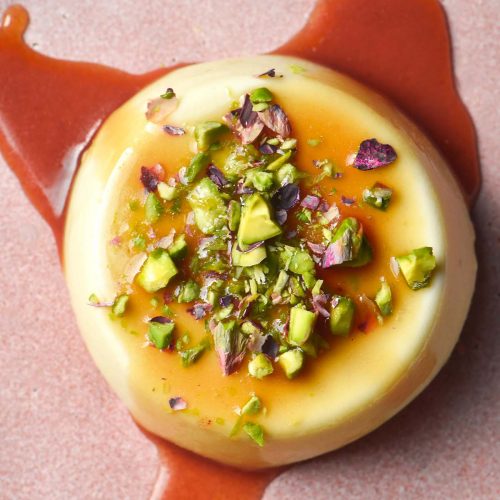 Panna cotta with agar agar
Vegetarian, gluten free, low FODMAP option
*This recipe uses Australian cups and measurements. Use ml for international accuracy.
Makes 7-9 small panna cotta, mould dependent
Ingredients
500

ml

(2 cups)* vegetarian thickened cream (see notes)

250

ml

(1 cup)* full fat milk (regular or lactose free)

50-65

g

caster sugar

according to your sweet tooth, see notes

1.5-2.5

g

agar agar powder

not flakes, see notes

1

teaspoon

vanilla bean paste or extract

pinch

of salt
Instructions
Very lightly grease the moulds you'll be using for your panna cotta.

Combine all the ingredients except for the vanilla and salt in a medium/large pot. Whisk to combine, then place on the smallest hob/burner over a medium-lot heat.

Stir intermittently and continue to cook your cream mixture. You want it to reach a boiling point (vigorous small bubbles on the surface) without burning the mixture or heating it too quickly.

If the mixture has not reached this point after 10 minutes, turn the heat up a little.

Once the mixture reaches this point, keep it there for another minute or two.

Add the vanilla and salt and stir to combine.

Remove the mixture from the heat and carefully decant into a pouring jug. You can pass it through a sieve if any milk skins have formed.

Pour the mixture into your prepared moulds and allow them to cool for 10 or so minutes before transferring them to the fridge. Every batch is different, but allow 2-4 hours to cool and set. I recommend making them the night before so you can correct any issues that come up (see the notes below).

Serve with a sauce of your choosing or plain. Best eaten within a few days.
Notes
Most thickened creams use gelatin, but I am starting to see more vegetarian varieties available. If you can't find one, use pouring cream or any cream without thickener. I would recommend using the 2.5g of agar agar if you go this route, to compensate for the lack of other thickeners. 
Add sugar according to your sweet tooth and what you're topping the panna cotta with. Note that lactose free milk and cream are sweeter than normal versions, so you might add less sugar if you're using these.
Agar agar comes in a variety of different forms that are not interchangeable. This recipe uses powder and I have not tested other versions.
See the body of the post for tips on working with agar agar.
 If your panna cottas have not set after 4 hours in the fridge (or if they have gritty agar agar bits in the bottom) decant them back into the pot and bring to the boil again. Agar agar is very receptive to being re-cooked if needed. It is likely that you didn't sufficiently boil the mixture in the beginning.