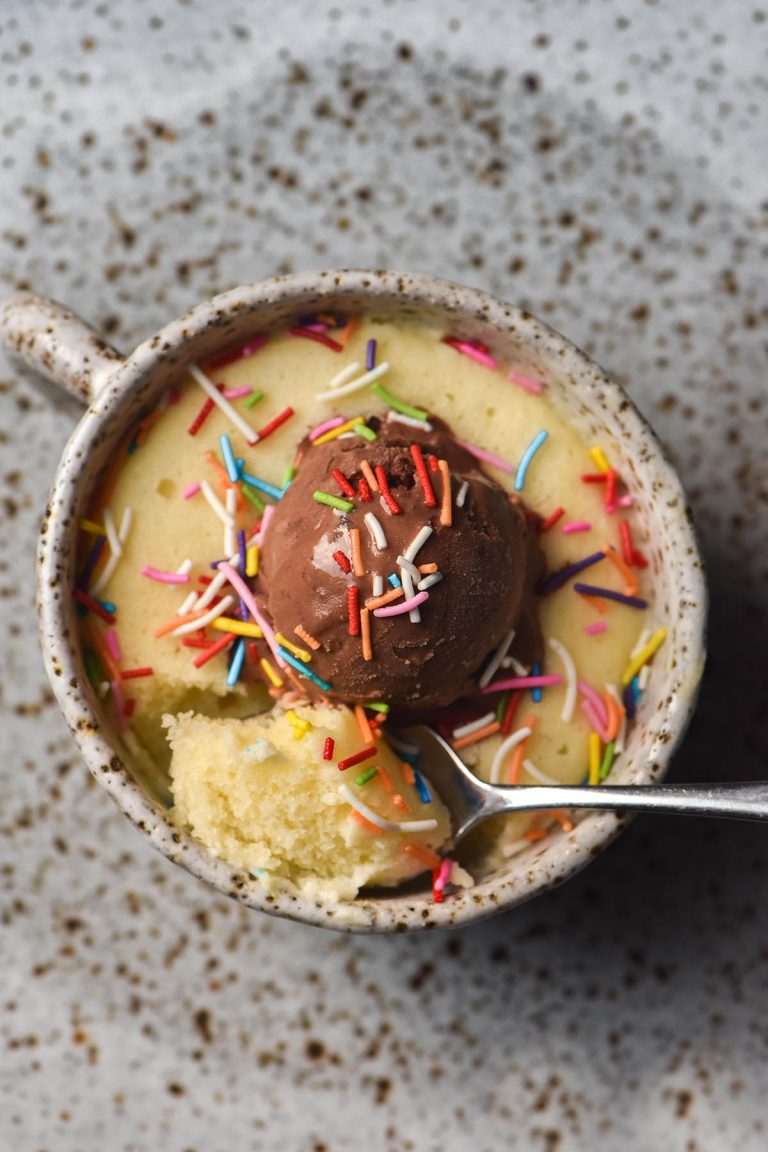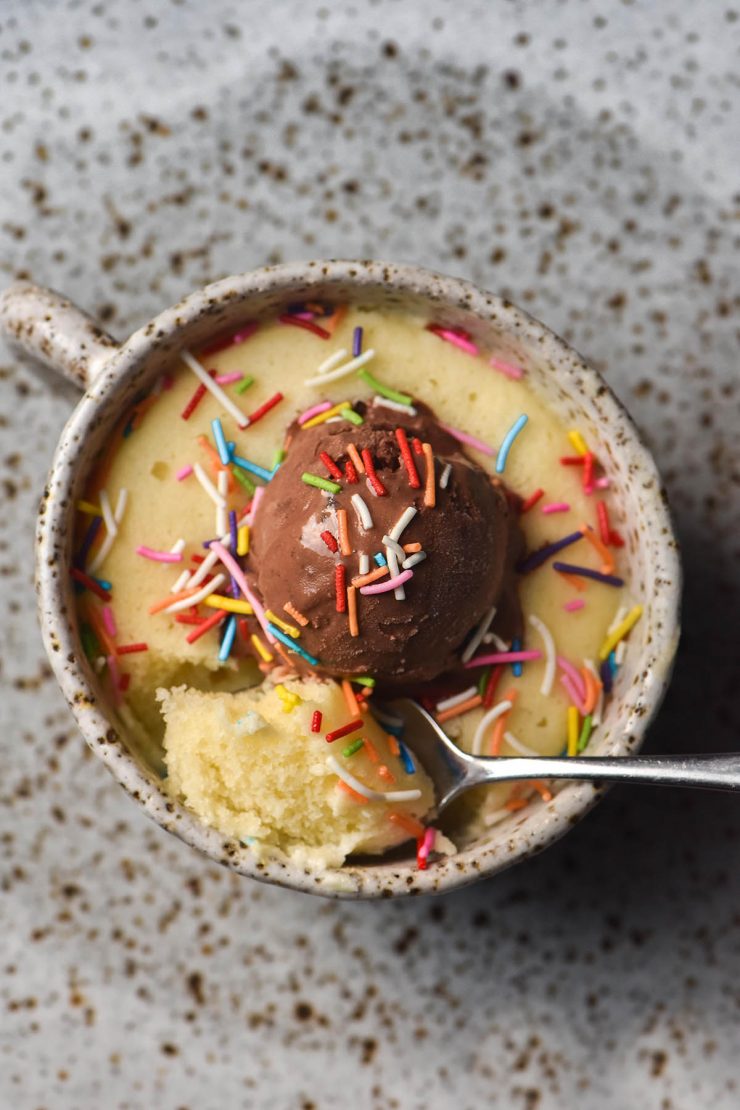 A good vanilla flavoured gluten free mug cake has taken me years to perfect. I wanted it to be egg free and xanthan gum free, with a perfectly cake-like fluffy crumb. Chocolate flavour has a little bit to hide behind, whereas vanilla needs to stand up on it's own. I think this mug cake recipe nails that brief.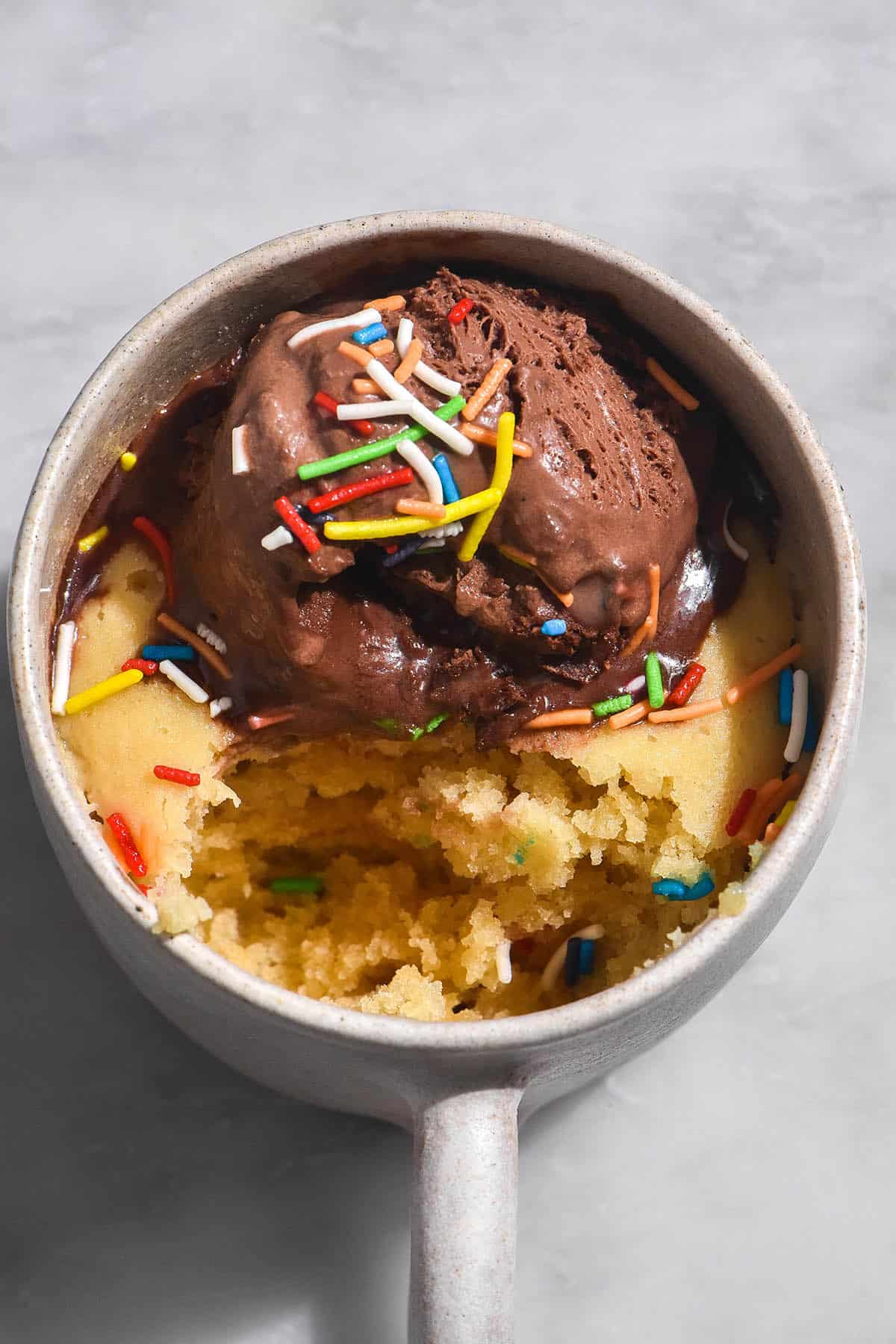 Gluten free mug cake (egg free, vegan option)
This cake is the perfect little treat that is easily made vegan. It is naturally egg free, xanthan gum free and nut free. It can also be made dairy free with a few simple swaps. I love making this mug cake with blueberries for a blueberry muffin kind of vibe. However, it also works perfectly well with chocolate chips or even gluten free sprinkles for a birthday cake flavour.
This mug cake uses white sugar, fine and fresh white rice flour, a small amount of yoghurt, milk, butter or oil, baking soda and vinegar. You can use regular dairy or plant based dairy for a dairy free/vegan option.
During my testing, I found that baking soda (sometimes called bicarb soda) makes for an infinitely lighter and better crumb. Versions I tested with baking powder were a lot more dense, almost like pudding. Further, I found that they tasted very 'rice flour' like, whereas the baking soda option did not.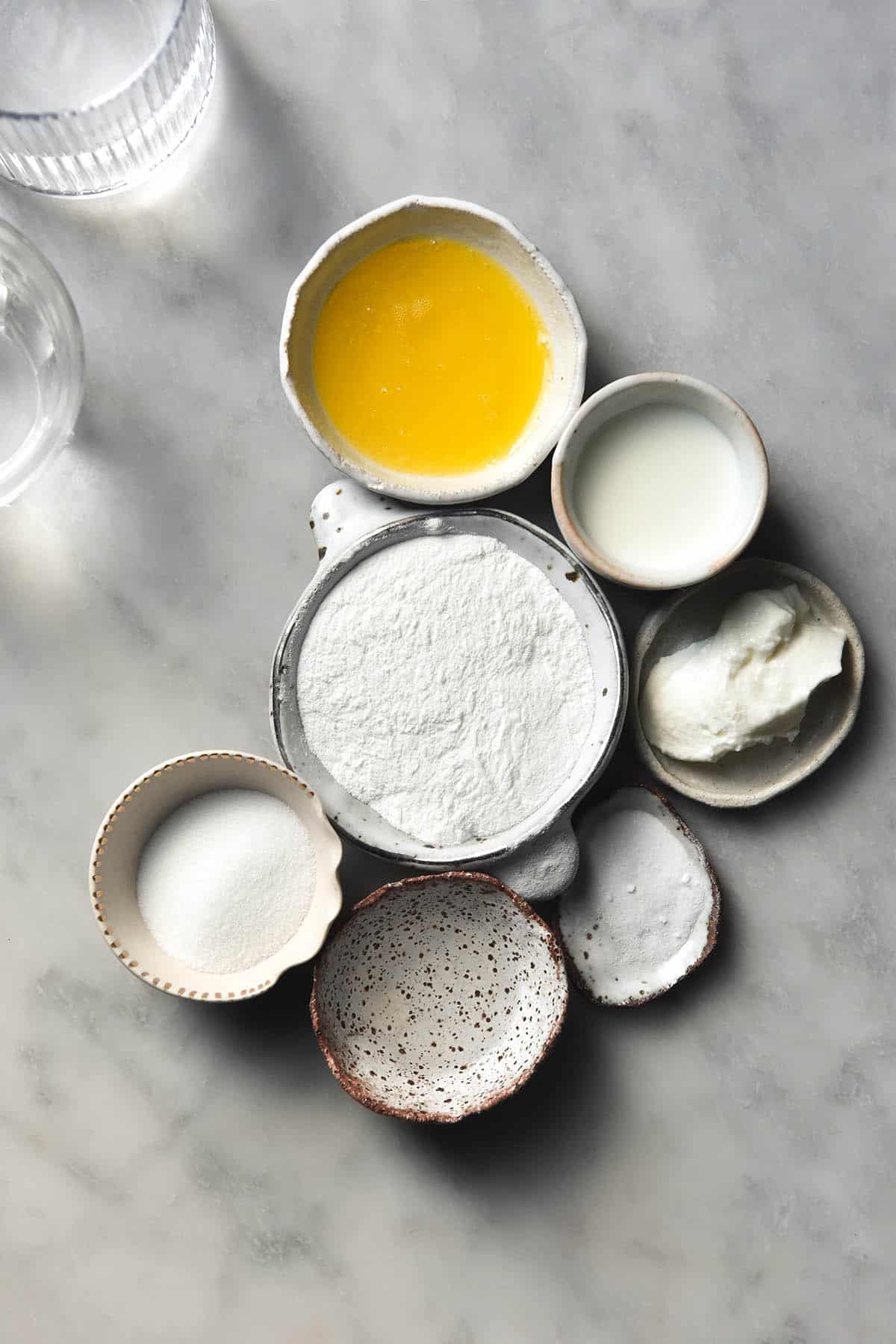 Tips for your gluten free mug cake
This mug cake is a little different from my chocolate version. It uses plain yoghurt for binding, bulk and a lovely moist crumb. Another difference is that is uses baking soda.
I have tested A LOT of vanilla mug cakes now, and I have found that baking soda makes for a much more cake-like crumb when cooked in the microwave. Don't ask me why, but it has a definite edge over baking powder here. The crumb is super light and fluffy, just like a good oven based cake.
Because we're using baking soda, we need acidic ingredients. Baking soda is an alkali and it reacts with acidic ingredients to create bubbles. The bubbles are what make our mug cake fluffy and light.
Furthermore, acid neutralises the baking soda flavour, so it's important not to swap or skip any acidic ingredients here. The acids we're using are yoghurt and vinegar or lemon juice. Make sure you use all these ingredients for the best gluten free mug cake possible.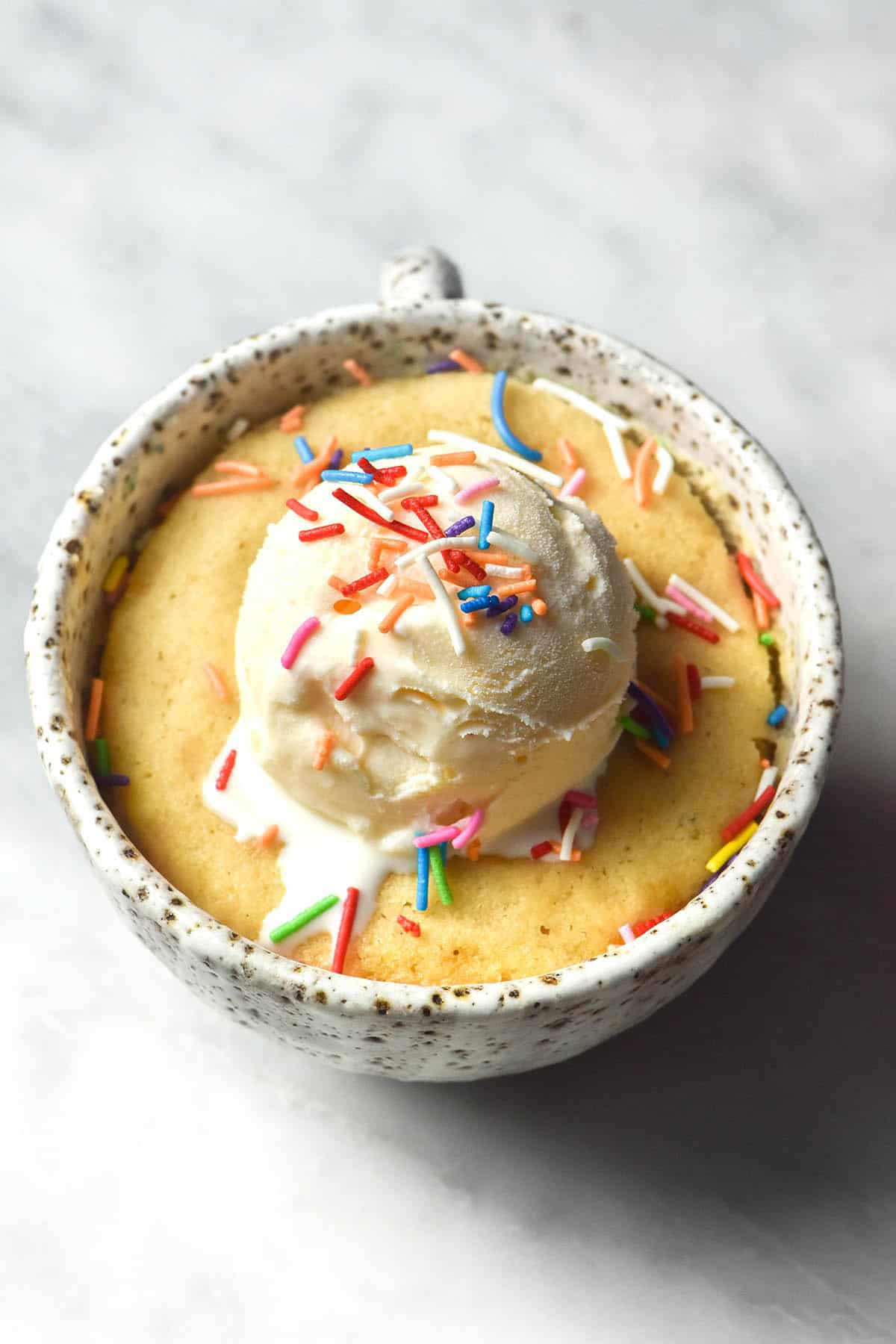 How long do I need to cook this mug cake for?
Every microwave is different, so you will need to adjust your cooking time based on your own microwave. Some are more powerful and some are less powerful, so keep an eye on your mug cake and allow it to cook through completely. My microwave takes exactly one minute to cook this mug cake perfectly.
I should also say that the cooking time will depend on the ingredients you add to your mug cake. If you use frozen blueberries, as with my gluten free blueberry mug cake, you might need to cook it a little longer.
Another thing to consider is that this mug cake contains no eggs. As such, it's ok if the top is a little under-cooked. It doesn't make a delicious sauce like the chocolate version does, but it poses no food safety risk.
Can I cook this mug cake in the oven?
Yes, you can. If you don't have a microwave, simply preheat your oven to 180C/356F. Grease or line an 80ml (1/3 cup) capacity muffin hole and add your batter. Bake for 20-25 minutes or until golden brown.
This is essentially the same as my recipe for a single serve gluten free blueberry muffin, so visit this page for more in depth information.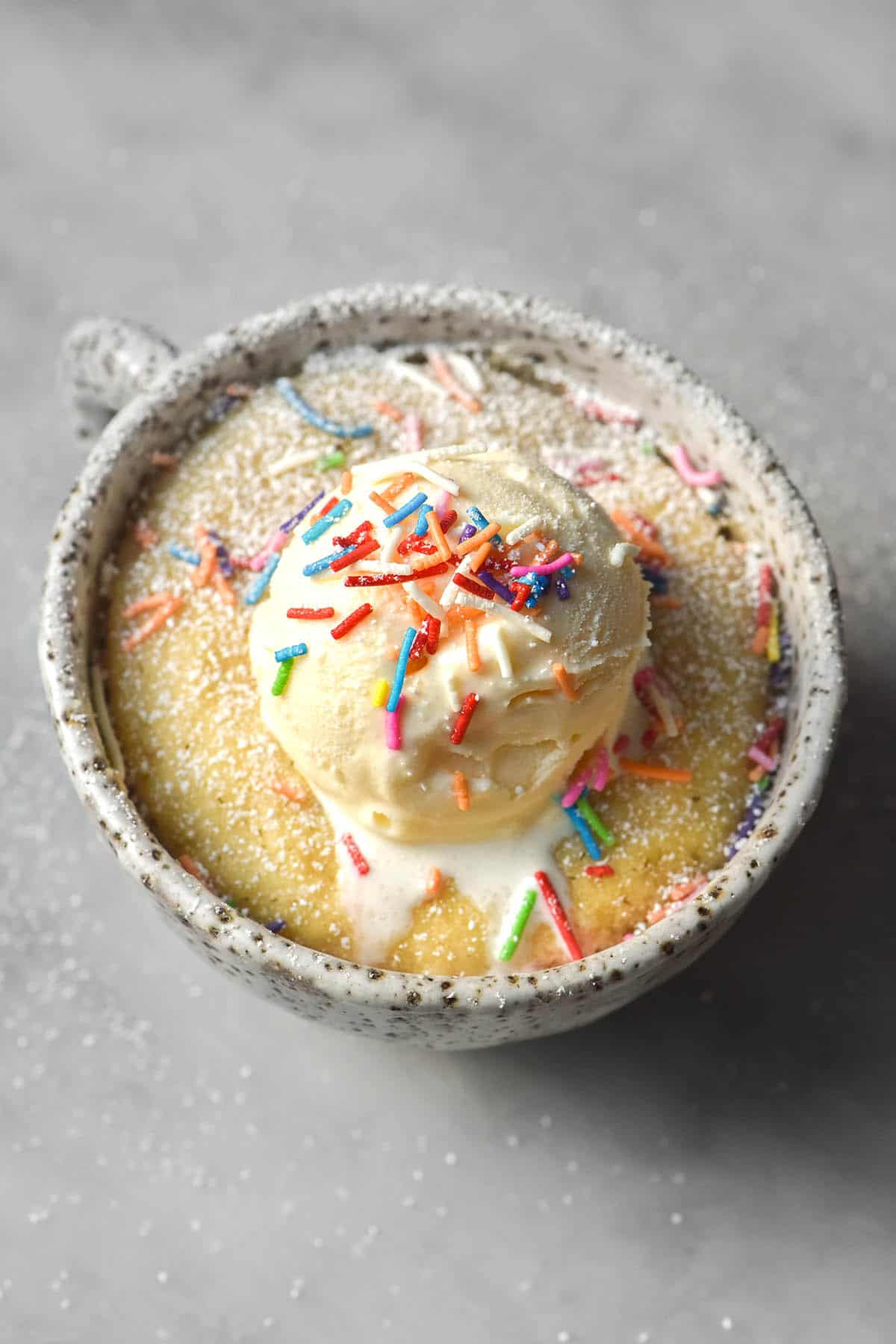 More gluten free mug cake recipes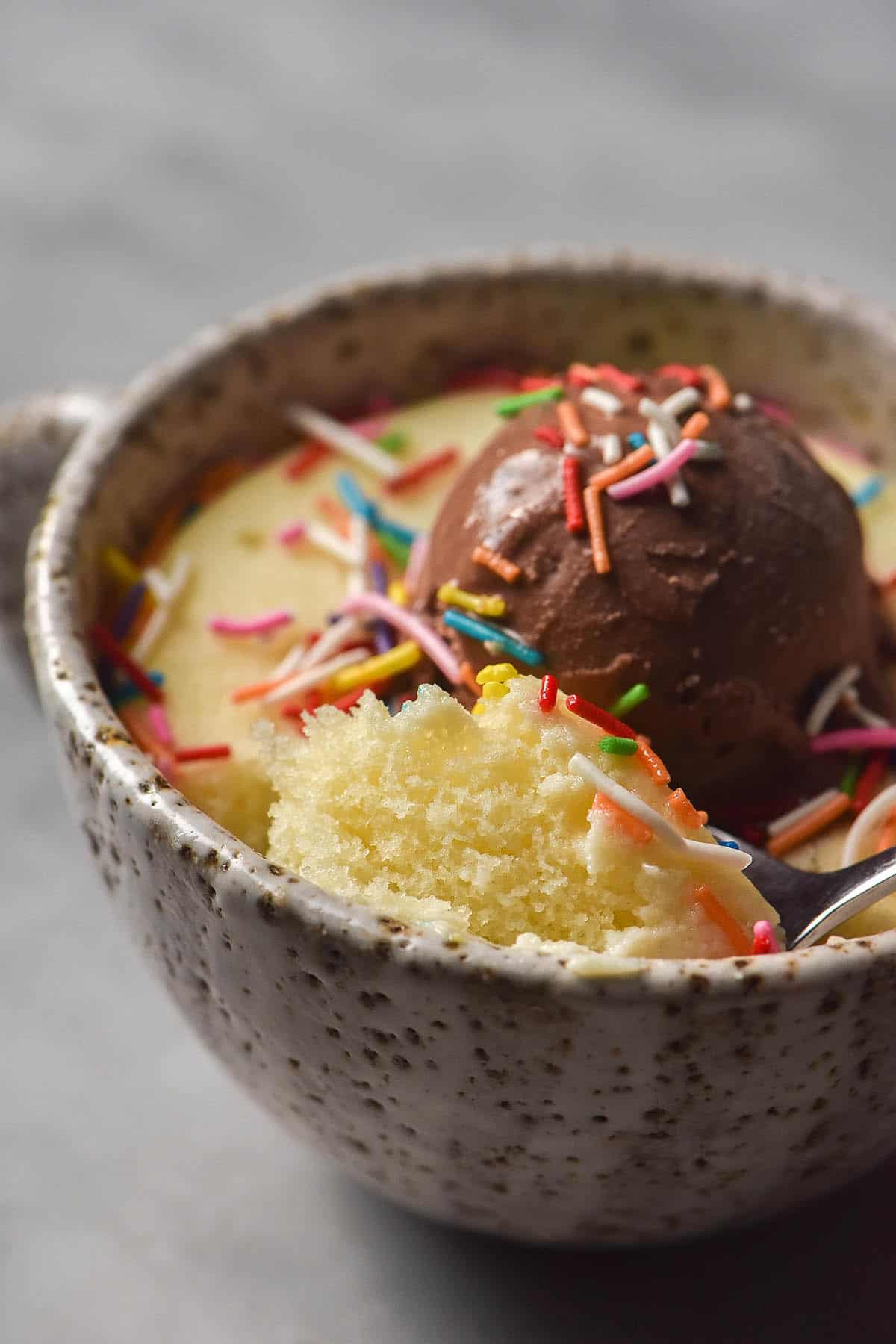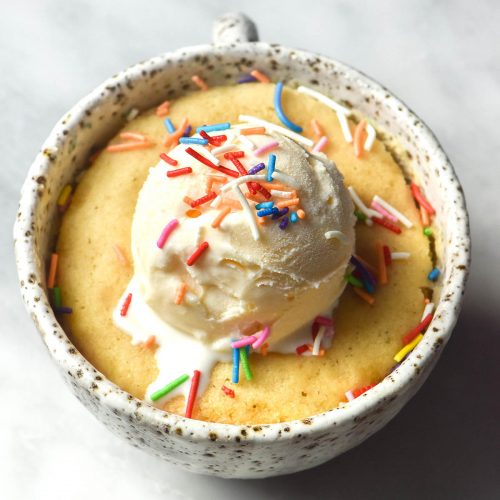 Gluten free mug cake
Nut free, xanthan gum free, dairy free option, vegan option
Ingredients
40g

fine, fresh white rice flour

20-25g

caster sugar (depending on your sweet tooth)

1.5g

(scant 1/2 teaspoon)

baking soda (not baking powder)

see notes

25g

thick plain yoghurt (I used Jalna Lactose free Greek)

40ml

(2 tablespoons)*

milk of choice (I used lactose free full cream)

USA, NZ and Canadian users: 40ml is roughly 2 1/2 tablespoons in your measurements

25g

butter, melted

10ml

(2 teaspoons)

vinegar or lemon juice

1/2

teaspoon

vanilla bean paste or extract (optional)
Instructions
Whisk together the dry ingredients in a small bowl. Whisk in the wet ingredients until a batter forms. Once it has, whisk for an additional 10-15 seconds until the batter thins slightly.

Decant the mixture into a large heatproof mug. Cook for 1 minute or until the mug cake is firm yet springy to the touch. The timing will depend on your individual microwave.

Allow to cool for a minute or two before serving. I like to top mine with some ice cream and sprinkles, but anything goes.
Notes
It is super important to be precise with your baking soda measurement. Adding too much will result in a salty metallic taste to your mug cake.
Use unsweetened plant based yoghurt, milk and butter for a dairy free/vegan version.