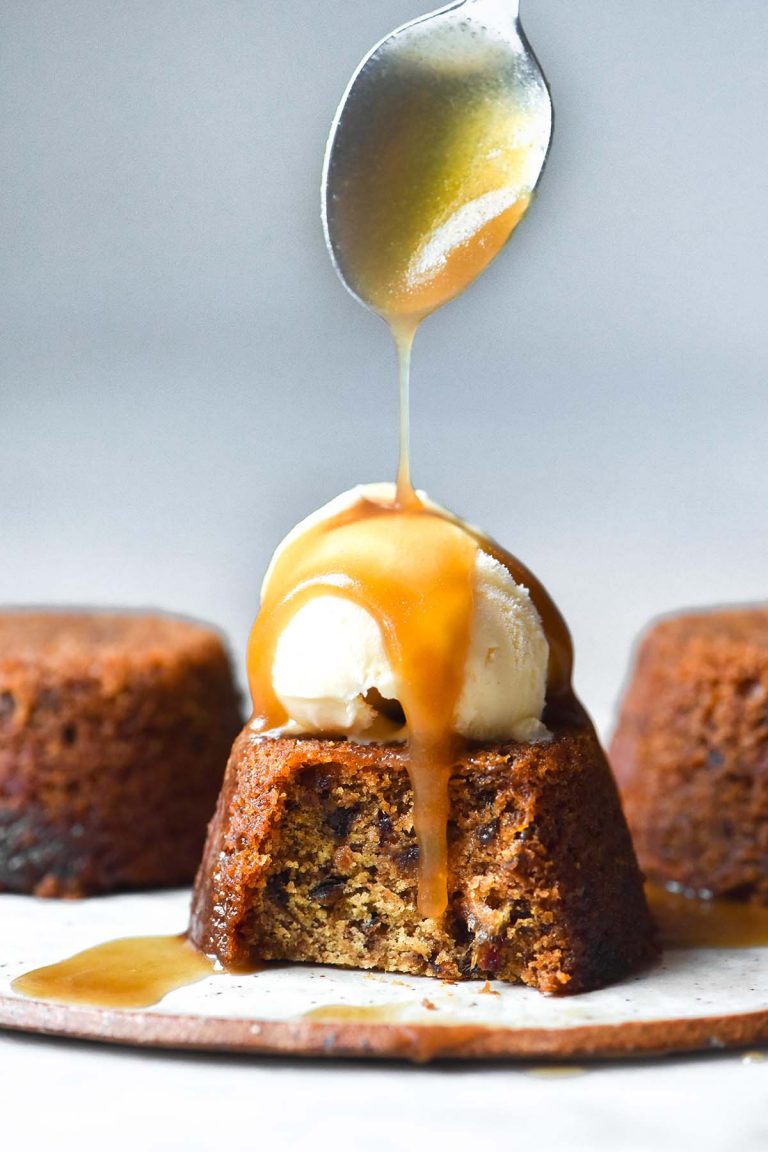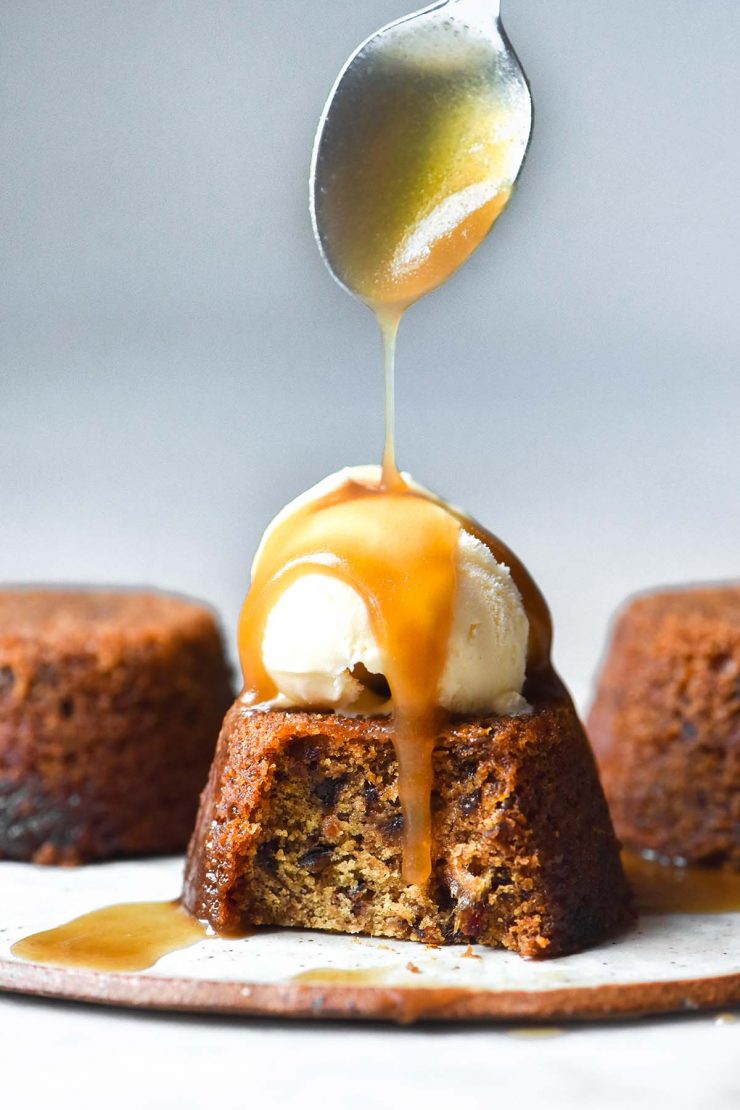 I promised this gluten free vegan sticky toffee pudding after posting my gluten free sticky date pudding recipe recently. Sticky toffee pudding is the British name for Australia and New Zealand's sticky date pudding. AKA: they are the same thing, although some British takes don't contain any dates. What is definitively different about this version is that it's vegan. A delicious gluten-free vegan sticky toffee pudding that everyone can enjoy.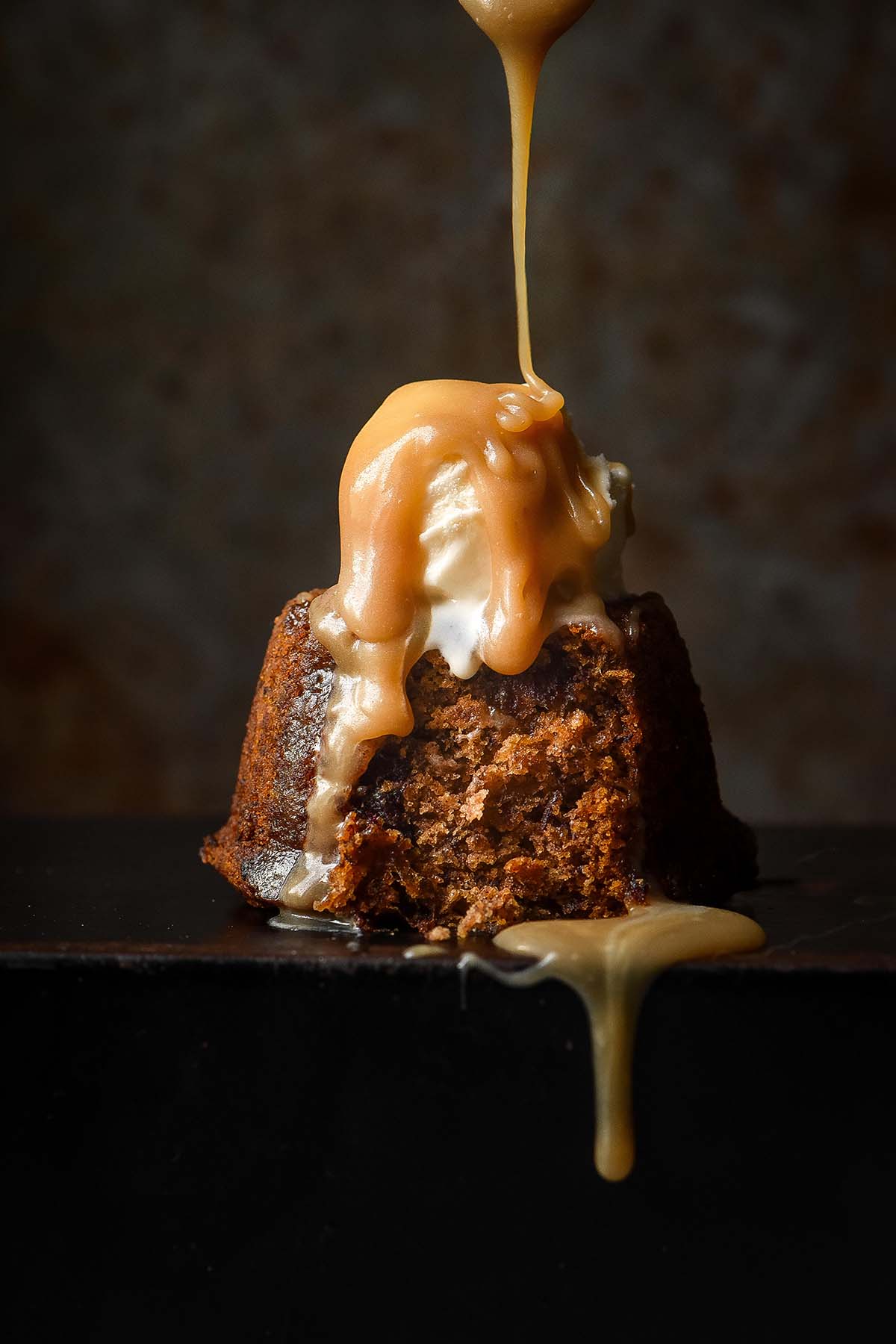 Gluten-free vegan sticky toffee pudding
These sticky toffee puddings are gluten free, vegan (and thus egg free/dairy free) and nut free. They are also made without xanthan gum.
I decided to make this recipe simpler by melting the butter as opposed to beating it with the sugar. That means that the most labour intensive part of the whole dessert is chopping the dates, which can easily be done in a food processor.
Better yet, this gluten free vegan sticky toffee pudding is low FODMAP in single serves. It's a great dessert that everyone, irrespective of dietaries, can enjoy.
So, what is this pudding made of, if not dairy or gluten? Firstly, the pudding uses a simple mix of white rice flour and tapioca flour. White rice flour forms the neutral backbone of the pudding, while tapioca helps bind everything together in the absence of eggs.
Regular dates are chopped and softened with baking soda and boiling water. They form the bulk of the dessert. Light brown sugar adds a bit of extra sweetness and caramel flavour, while vegan butter adds richness.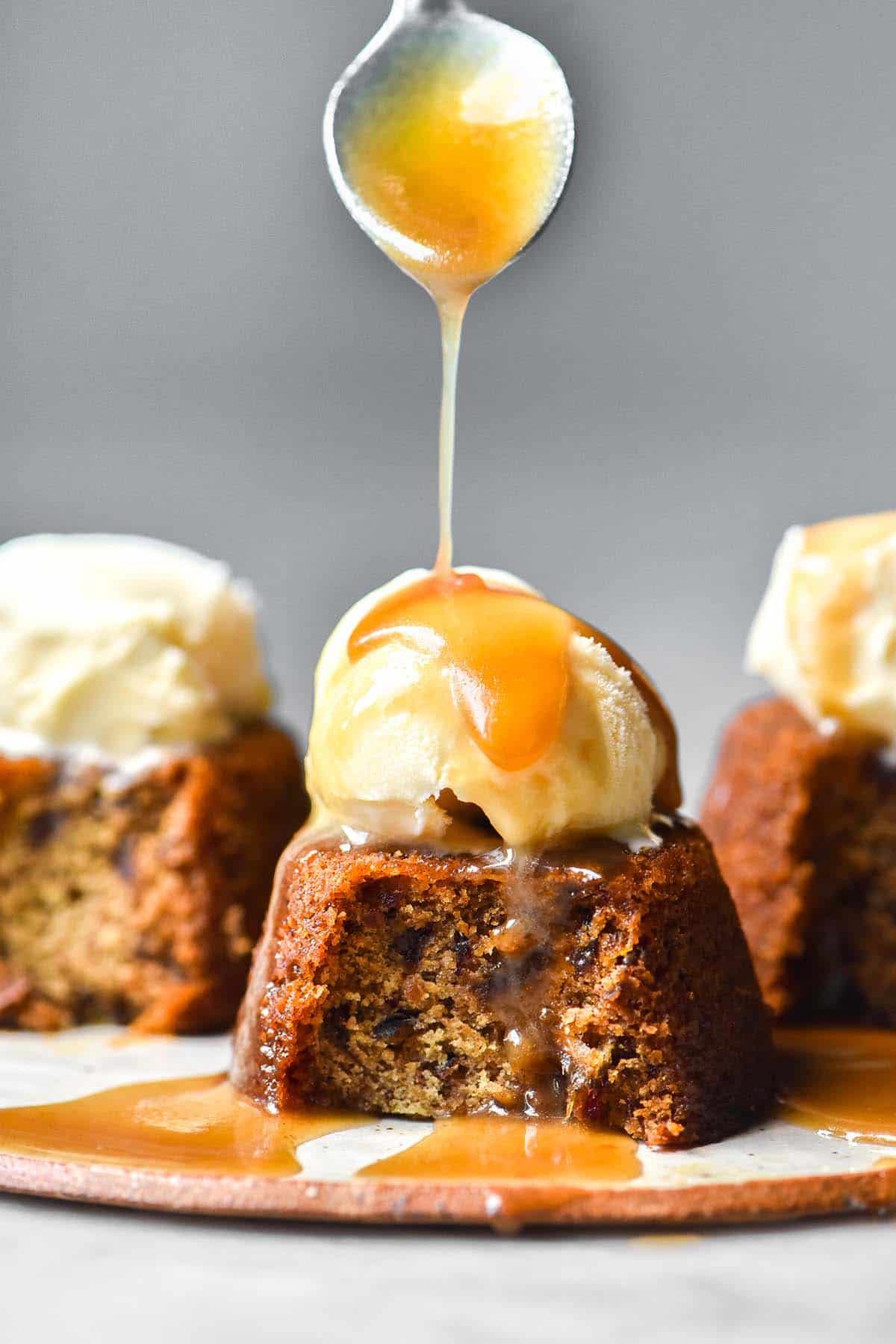 Recipe notes for your gluten-free vegan sticky toffee puddings
I have not tested any other combinations of gluten free flours.
Make sure you use both baking soda and baking powder for a perfectly risen pudding.
I use Nuttelex buttery for my vegan butter. It's relatively inexpensive and easy to find in Australia. If you are lucky enough to have better stick varieties of gluten free butter where you live, feel free to use those instead.
Use regular pitted dates, not Medjool dates here. The weight in the recipe card is for pitted dates.
You can also make this sticky toffee pudding in a 20cm square cake tin, if you prefer. It will still serve 9 people.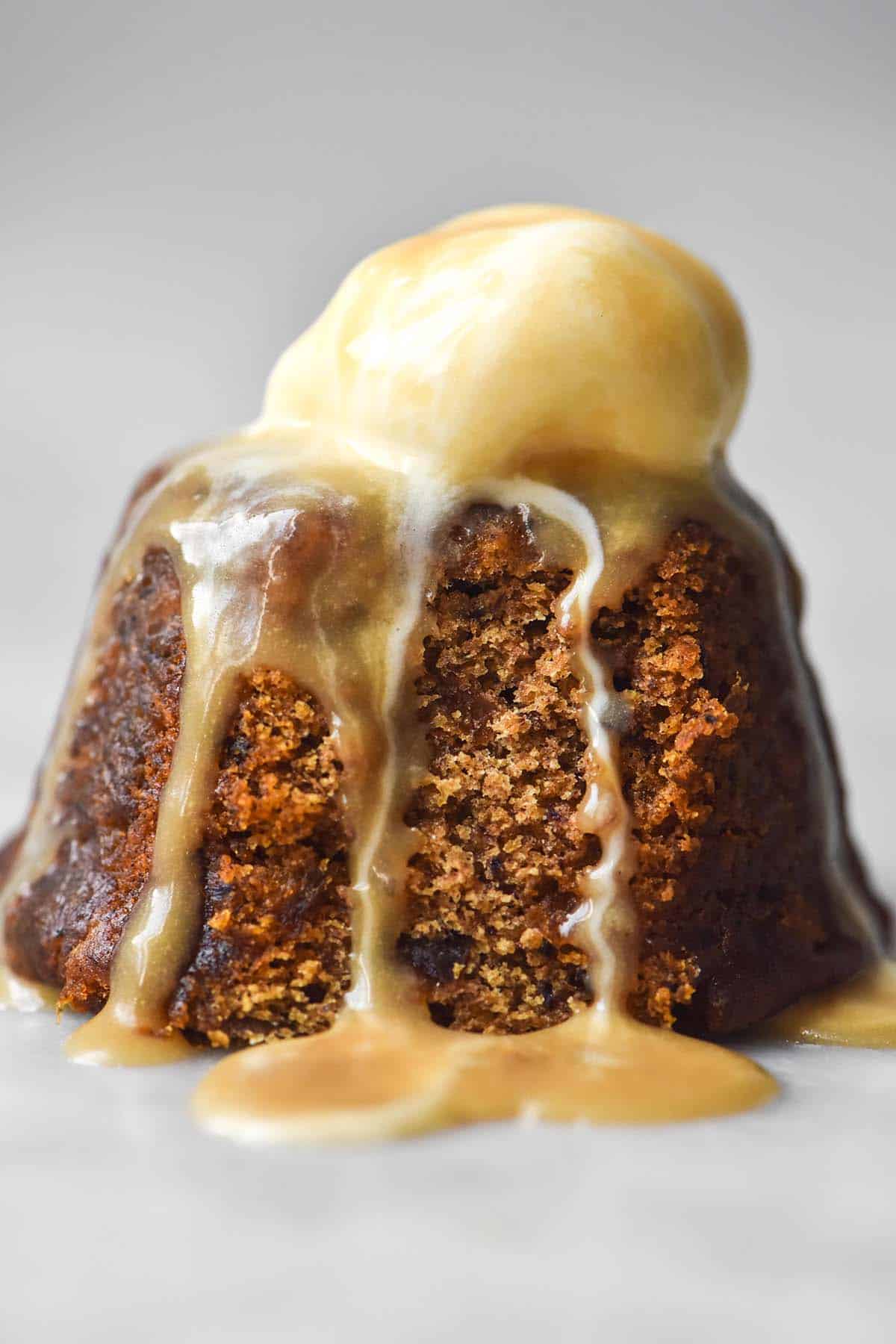 What does the baking soda do in sticky toffee pudding?
The baking soda, when combined with boiling water, helps tenderise the dates. By the time they've soaked in the liquid for 10 minutes, they're almost mashed in consistency.
Some people say that adding baking soda to dates can also help remove bitterness or astringency, but the reason for adding baking soda to dates is likely the former, in this case.
Baking soda also helps contribute to the brown crust of a sticky date pudding. The baking soda is offset by light brown sugar (and perhaps to some extent the dates) creating a maillard reaction (or browning) without any baking soda taste.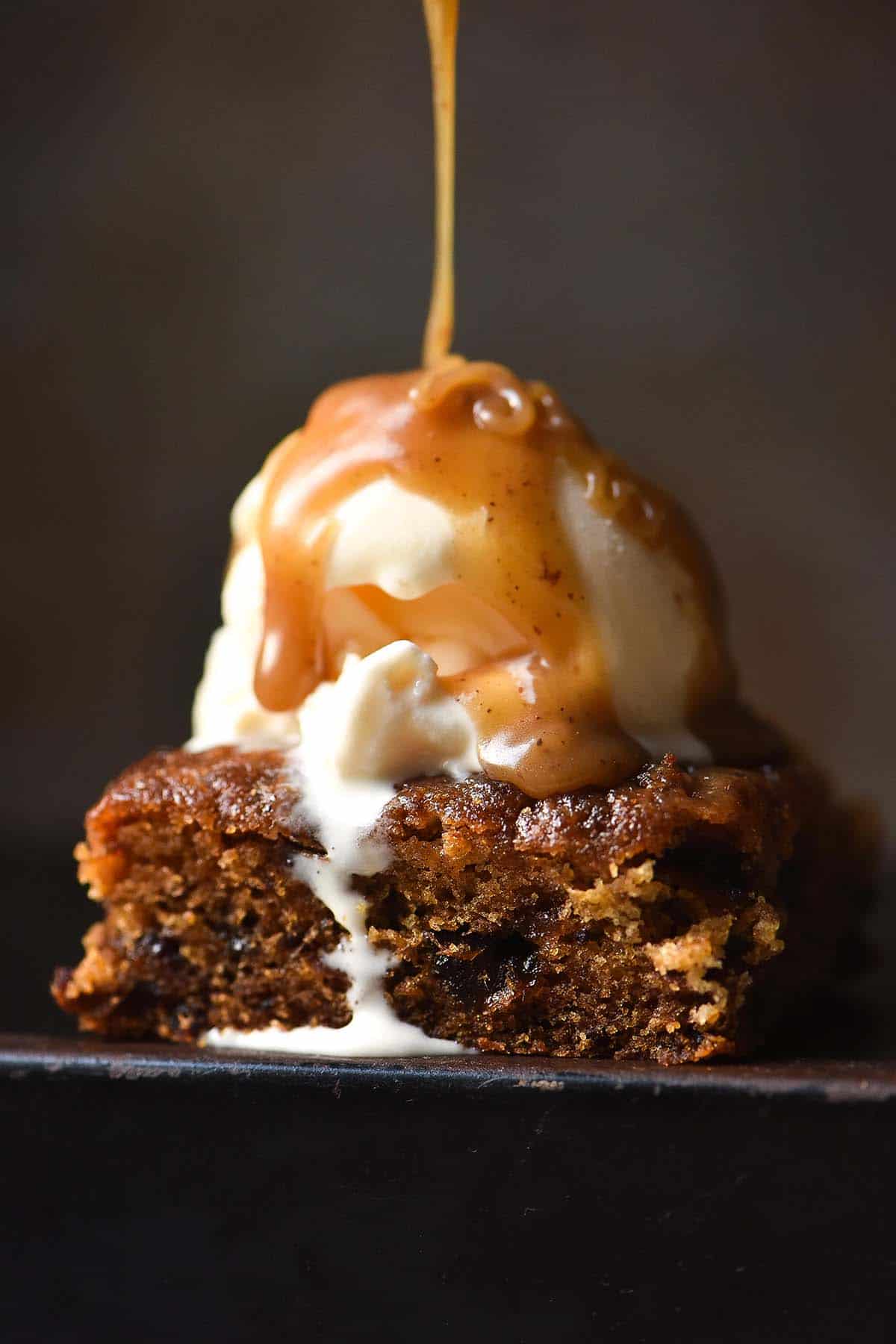 Notes on the vegan butterscotch sauce
Vegan butterscotch sauce differs from regular because I use vegan milk instead of vegan cream. Vegan milk is easier to come by and often tastes more subtle. Because of this, the sauce is thinner and won't thicken on the heat like a regular butterscotch sauce does.
To help it thicken as best as possible, it's important to bring it up a boil and allow it to cook for 3-5 minutes. Ensure you are whisking it and watching it so it doesn't burn. The sauce should then thicken off the heat once it begins to cool. Patience is key here.
Depending on the milk and butter you choose, your sauce might become a bit gloopy once cooled. Not to worry: simply reheat it (or just pour it over hot pudding) and nobody will notice.
Finally, a flavour tip: where I don't generally add vanilla to my regular butterscotch, I find it SO HELPFUL here. It masks the vegan butter flavour really well, so I recommend adding it along with a pinch of salt.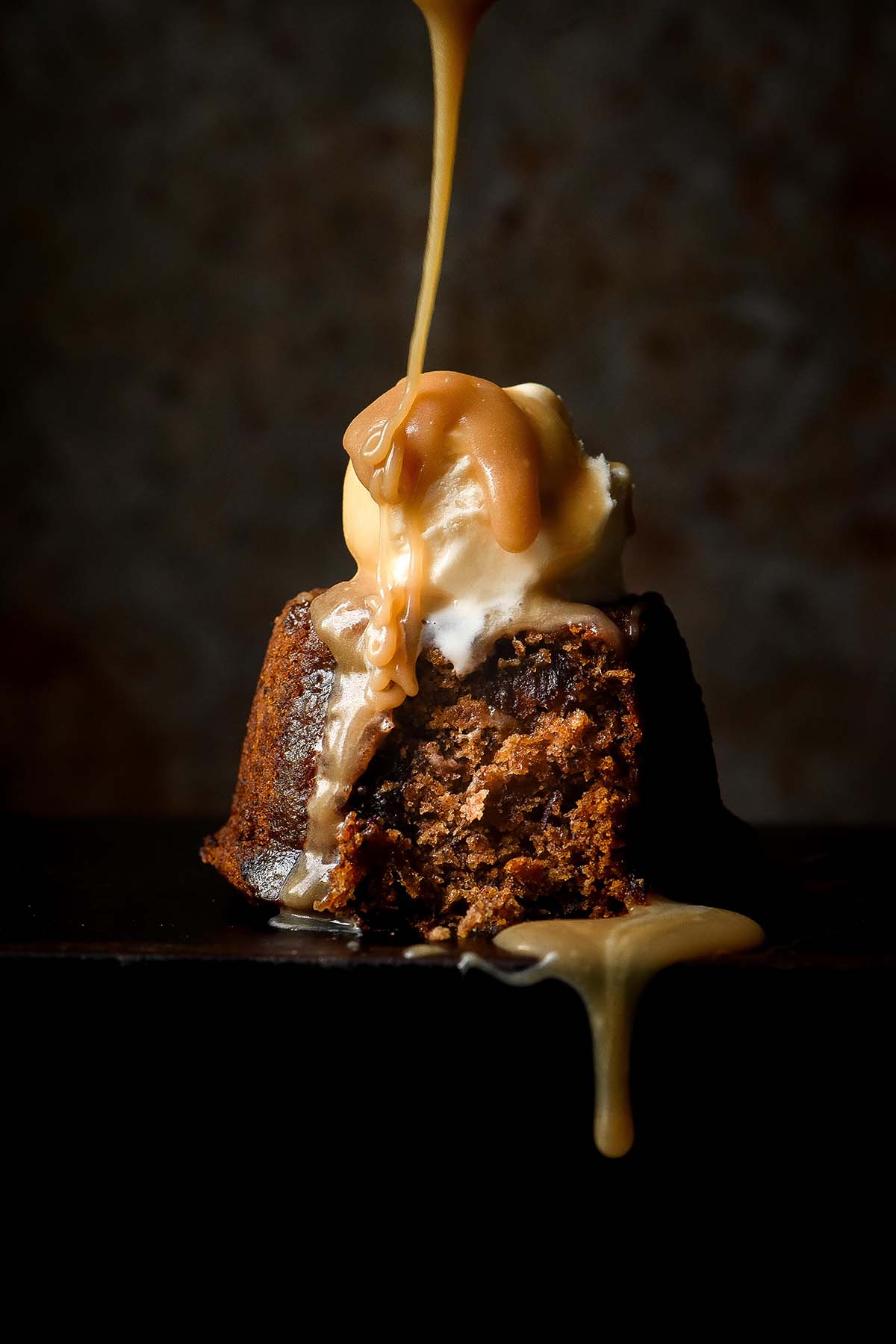 More gluten free pudding recipes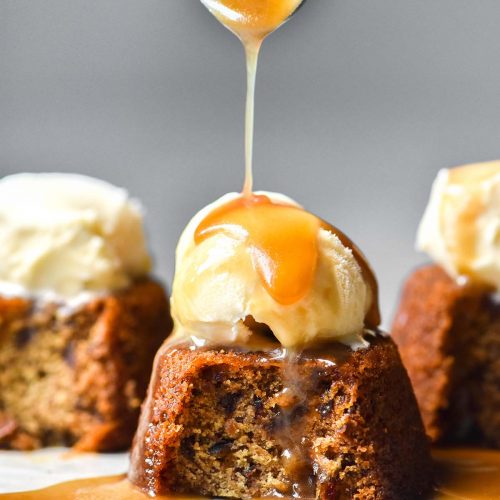 Gluten free vegan sticky toffee pudding
Egg free, vegan, nut free, xanthan gum free
*Cups are in Australian cups. Use gram and ml for international accuracy.
Equipment
8-9 80ml (1/3 cup) muffin holes
Ingredients
For the dates:
250

g

regular pitted dates

1

teaspoon

baking soda

250

ml

(1 cup)* boiling water
To finish the pudding:
140

g

fine white rice flour

75

g

tapioca flour

1

teaspoon

baking powder

pinch of salt

100

g

light brown sugar

100

g

vegan butter

melted (I used Nuttelex Buttery)
For the butterscotch sauce:
100

g

vegan butter

salted or unsalted

150

g

light brown sugar

125

ml

(1/2 cup)* vegan milk of choice (I used Not Milk)

1 teaspoon vanilla bean paste or extract

pinch of salt
Instructions
To make the pudding:
Preheat the oven to 180C/356F. Grease 8-9 1/3 cup (80ml) capacity muffin holes.

Finely chop the dates and add them to a large mixing bowl. Sprinkle over the baking soda, then pour over the boiling water. Stir to combine, then set aside for 10 minutes.

Add the remaining pudding ingredients to the bowl of dates and stir thoroughly to combine. The batter should lighten and become slightly fluffy looking. Pour it into your greased muffin holes and bake for 20 minutes or until golden and firm. I recommend just slightly under-filling them so they don't come out with a muffin lip.
To make the butterscotch sauce:
Melt the vegan butter in the saucepan over a medium heat. Add the brown sugar and milk and whisk thoroughly to combine. Cook until the sauce reaches a bubbling boil, then continue to cook, whisking, for 3-5 minutes. It should be smooth looking, slightly thicker in texture and viscous. It will thicken slightly as it cools. Remove from the heat and add vanilla and a pinch of salt to taste.

Once the puddings have cooked, use a skewer to poke a few holes in each pudding.

Pour some of the sauce over the pudding and allow it to seep into the pudding for 5-10 minutes.

Slice and serve with a scoop of vanilla ice cream and extra butterscotch sauce.
Notes
To keep this pudding nut free if you need it to be, make sure you use a vegan butter and milk variety that does not contain nuts.