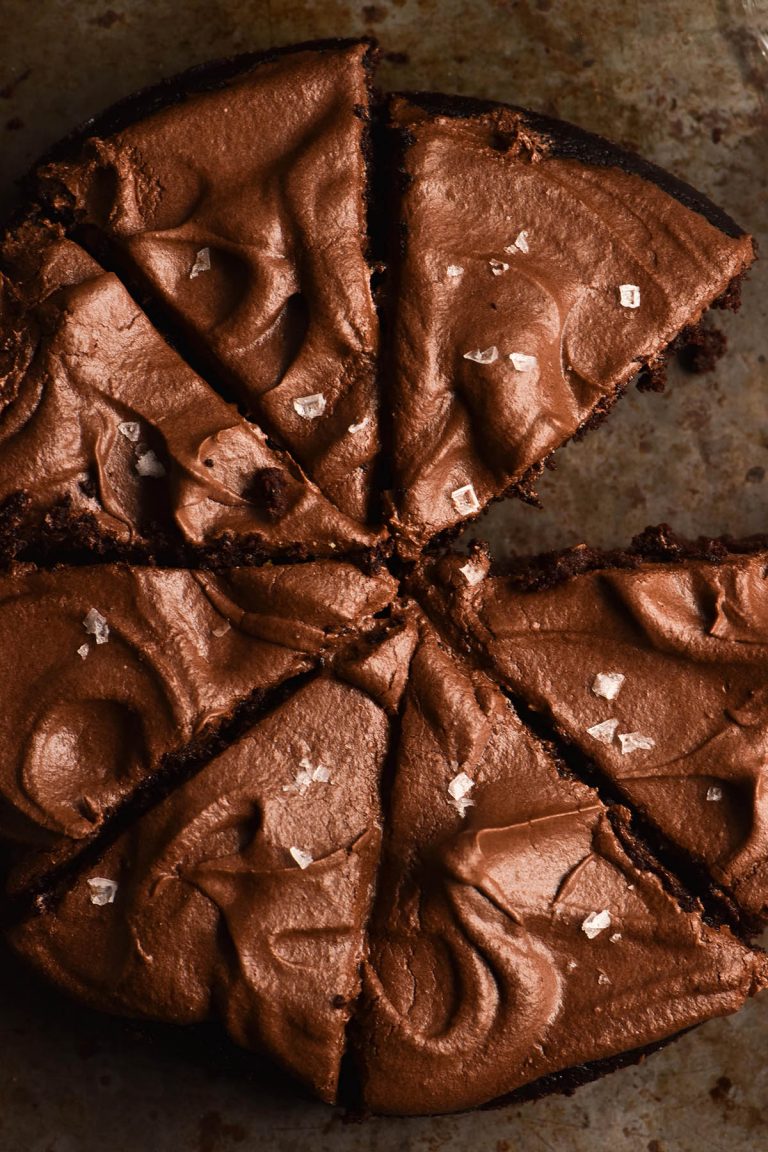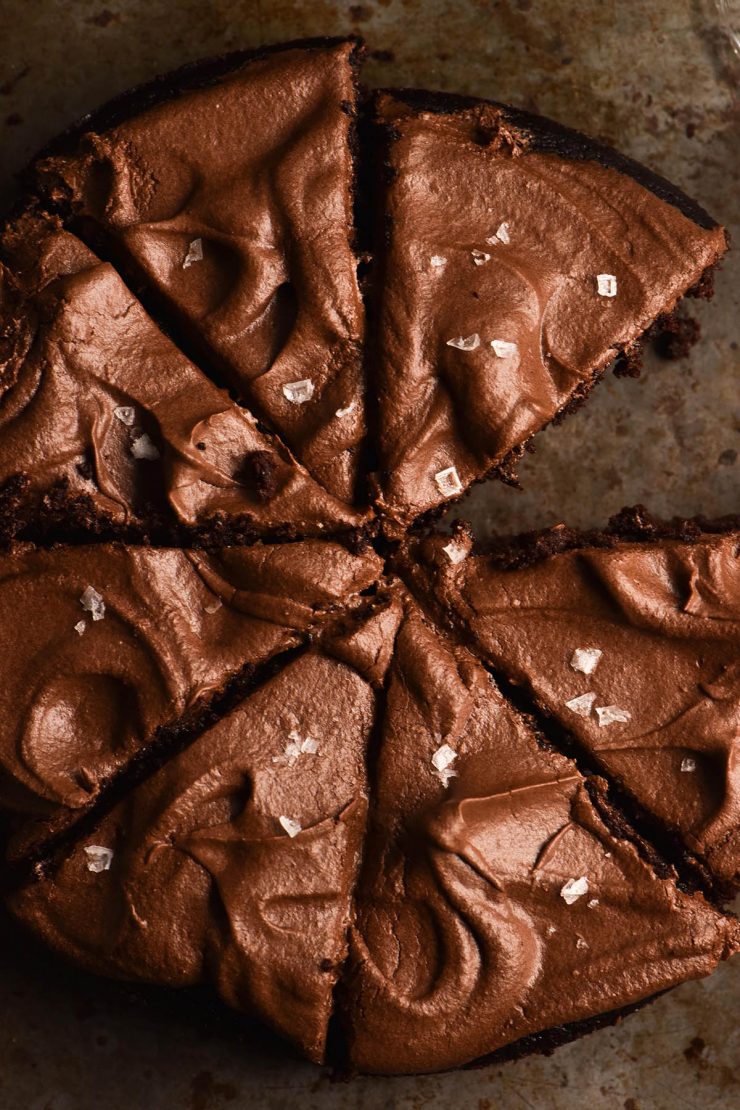 I have published a lot of gluten free chocolate recipes in my time. My easy gluten free chocolate cake, these vegan brownie cookies and even these chocolate sandwich biscuits. What I haven't shared online, though, is a vegan gluten free chocolate cake. Today I rectify that with this delicious chocolate cake recipe, originally in my cookbook Intolerance Friendly Kitchen.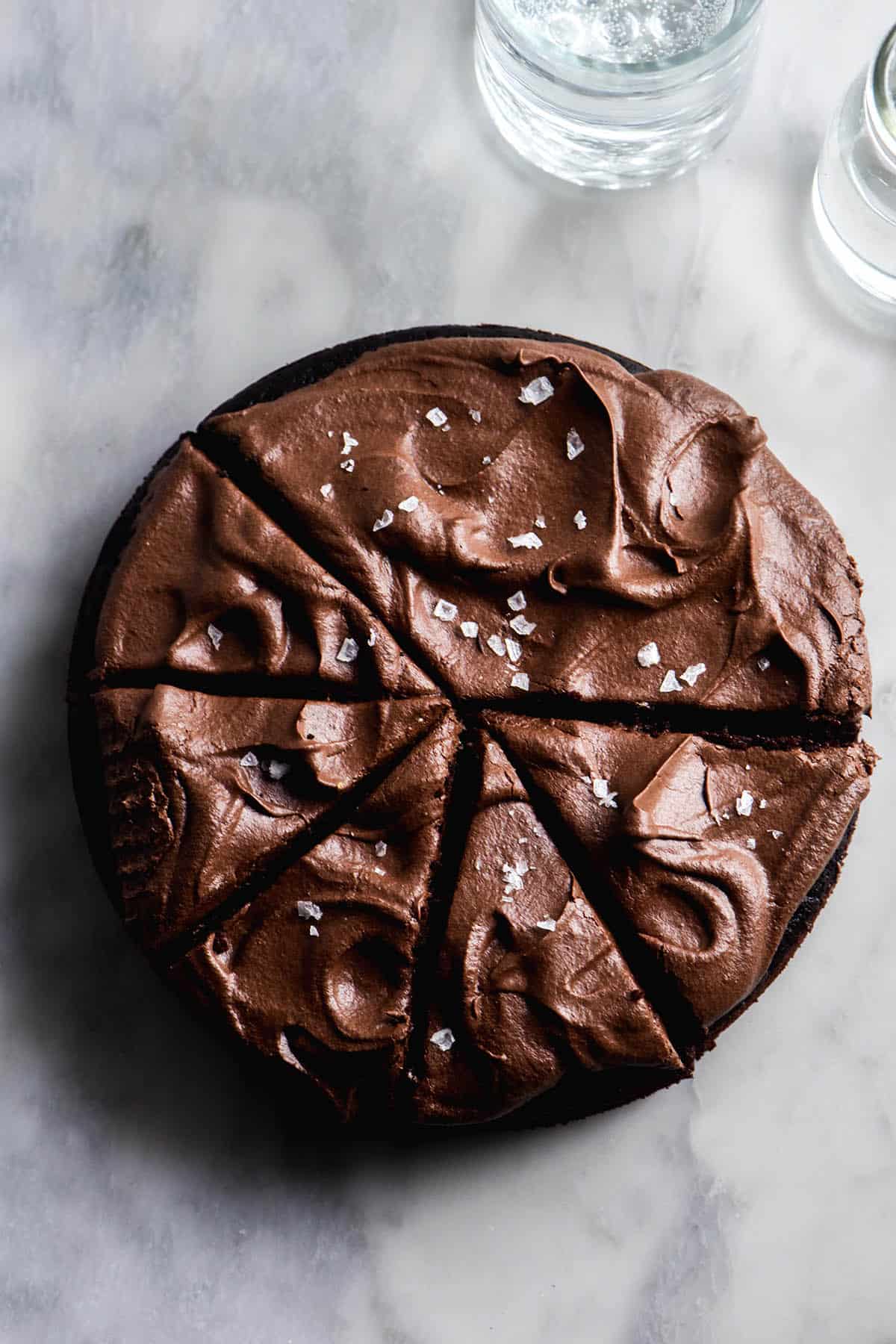 Vegan gluten free chocolate cake
This chocolate cake is, by virtue of it's vegan nature, egg free and dairy free. It is also nut free and xanthan gum free. The cake uses a simple mix of flours (white rice flour and tapioca or cassava flour) to create a soft crumb with the perfect amount of bite.
The cocoa is bloomed with boiling water and (optional) coffee to deepen the rich chocolate flavour. This is an oil based cake, which I find allows for chocolate flavour to really shine. Vegan butters often have a vegan taste about them, so I find oil a great way to create a cake that is undetectably vegan.
The cake is held together with the help of our friend, psyllium husk. This allows the cake to retain structure even in the absence of eggs or dairy.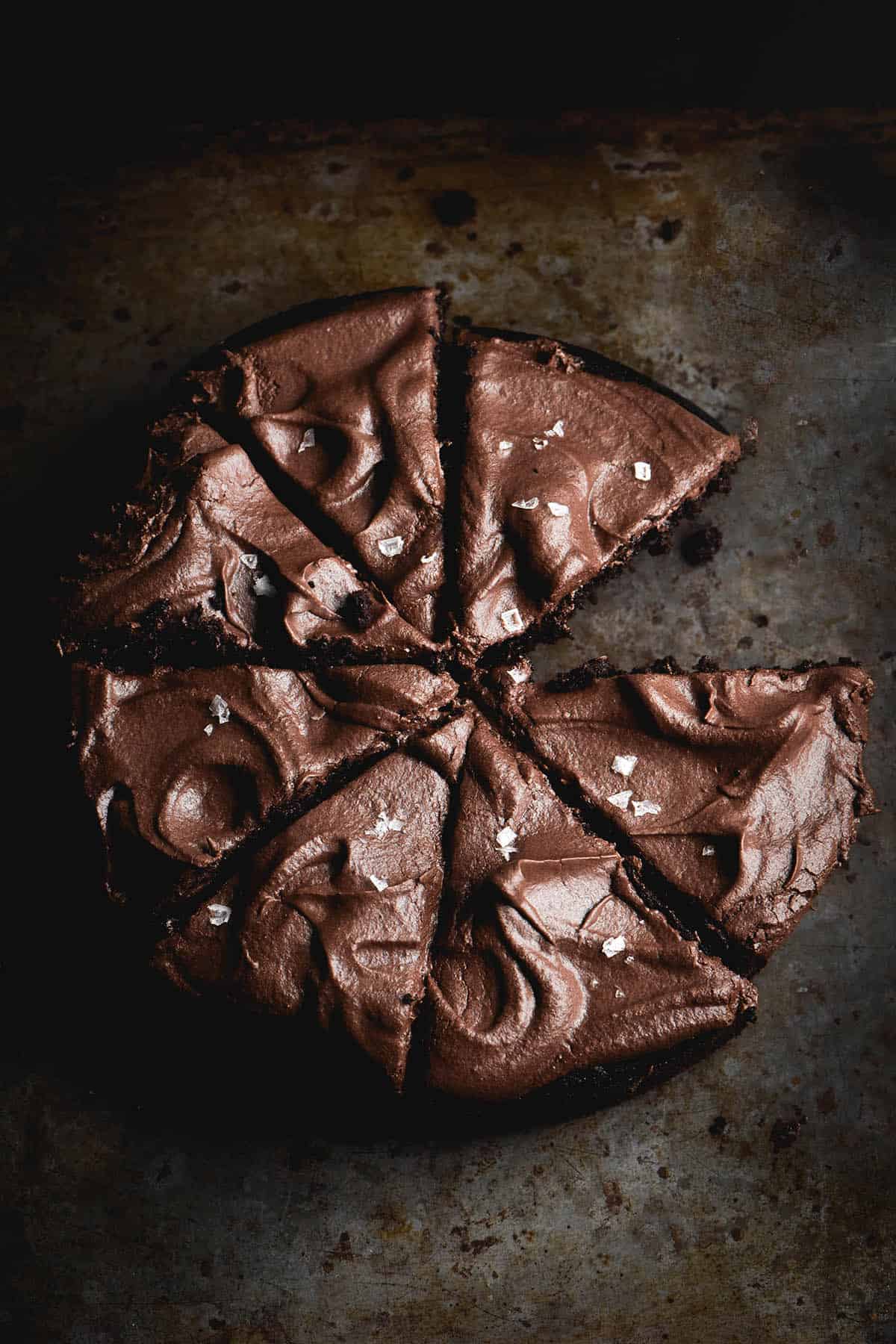 Tips for your cake
Although the batter might look perfectly moist before you add the boiling water, please trust me! The boiling water does three things in this cake and is a non-negotiable ingredient. Firstly, it blooms the cocoa, which means the cake will have a deeper, better chocolate flavour.
Secondly, it scalds the flour. Scalding flour is a process of adding boiling water to flour. It gelatinises the starches in the flour, giving them additional elasticity. What this means in practical terms is that it gives gluten free flour stretch. This will help the cake hold together without eggs.
Finally, it activates the psyllium husk's absorption. Although psyllium husk absorbs water either way, it does so a lot quicker when hot water is used. In my experience, psyllium husk takes longer to bind when it is pre-mixed with other ingredients (as opposed to combining just water and psyllium husk) so this speeds up the process.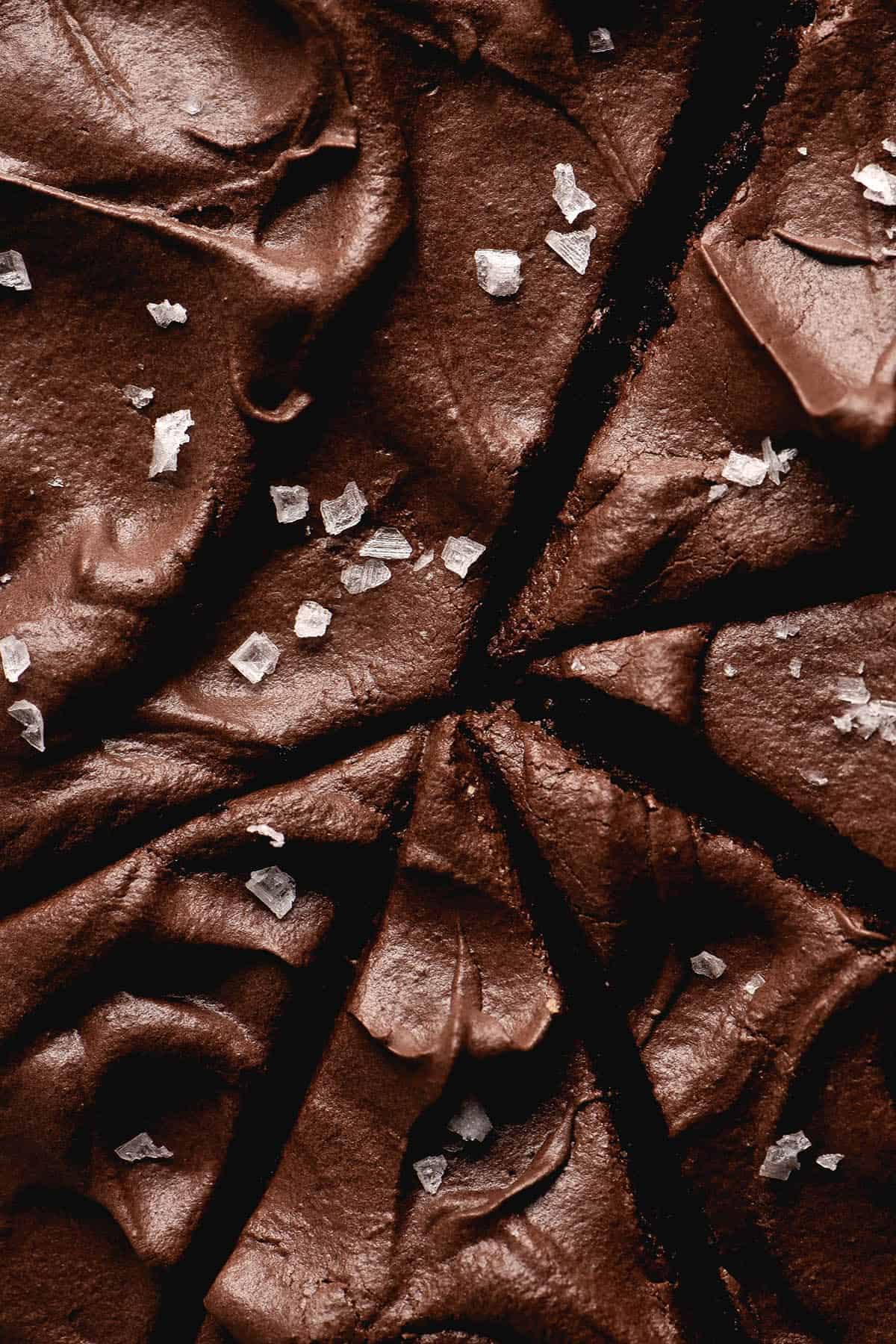 Tips for the vegan chocolate buttercream
Australia isn't renowned for their plant based butter options. Quality brands like Earth Balance or Miyokos aren't widely available, which makes it hard for me to recommend them in recipes. I try to make my recommendations as accessible as possible, which is why I use Nuttelex Buttery as my vegan butter of choice. It's available in all big supermarkets in Australia and is relatively inexpensive.
If you can access Earth Balance or Miyokos, go for it! I wish I could. Until then, Nuttelex Buttery it is.
This vegan chocolate buttercream is easy to make, but I do have a few (standard) tips. Firstly, make sure the butter is cold. Unlike traditional butter, vegan butter will whip up when cold. In fact, it comes to temperature a lot more quickly. Vegan butter that is too warm will not whip and as such will be unable to hold air bubbles. Air bubbles are what make buttercream light and fluffy, so the butter needs to be firm.
Secondly, make sure you sieve your icing sugar and cocoa. Lumpy icing is not cute and not that pleasant to eat. I am loathe to recommend sieving unless it is truly necessary, so please trust me here.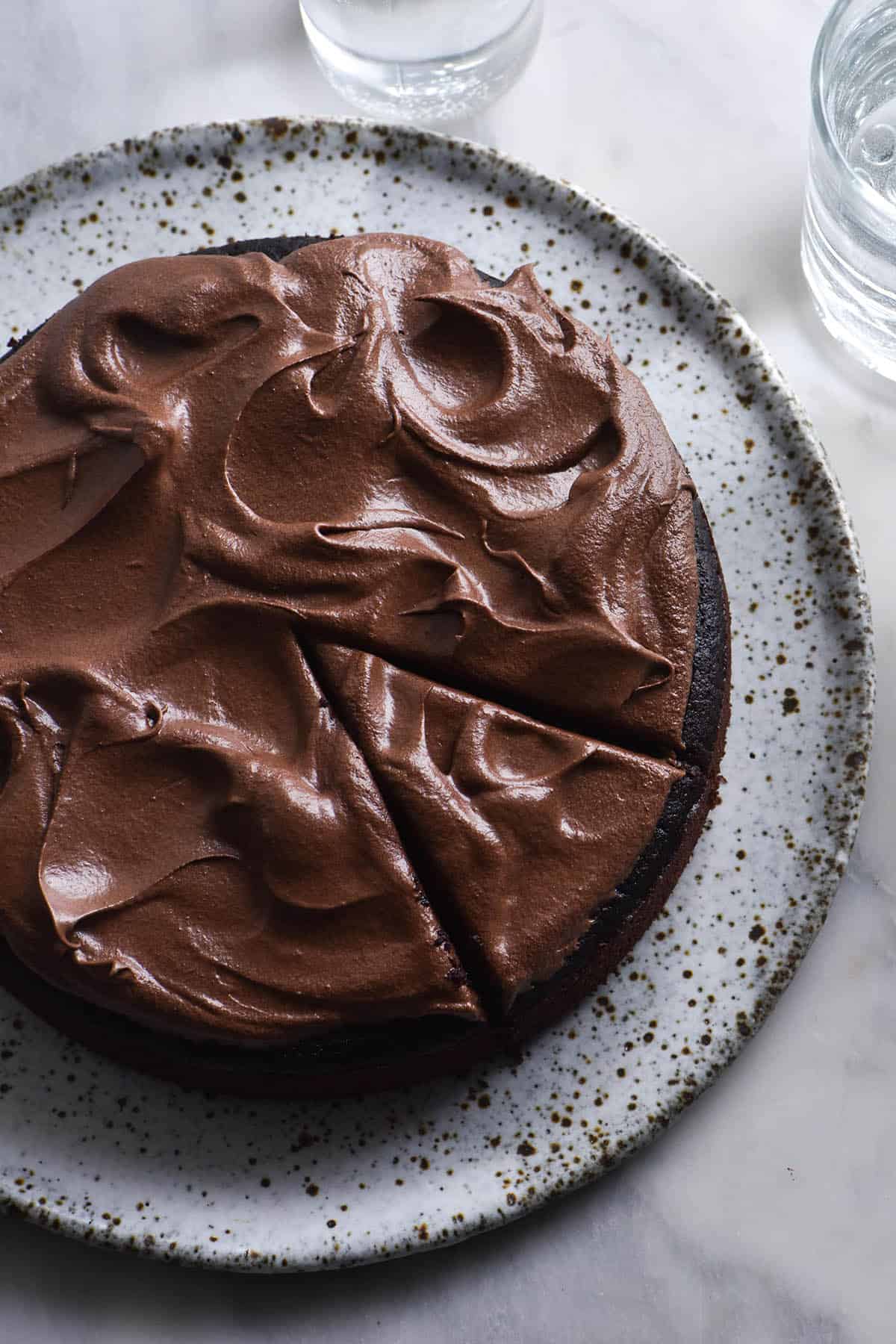 What sort of oil can I use for this vegan gluten free chocolate cake?
Although I used vegetable oil for this cake, you could use any neutral flavoured oil. Avocado, olive oil or canola would all be suitable here.
Why Dutch processed cocoa?
I like to use Dutch processed cocoa powder in my cakes because I find it produces a subtle, deep chocolate flavour. In my experience, cakes made with Dutch processed cocoa powder have a darker crumb that I associate with a good chocolate cake. I find that regular cocoa powder is more of a fruity type of chocolate flavour and creates a reddy, light brown cake crumb. I prefer Dutch processed cocoa powder in cakes for these reasons.
Dutch processed cocoa is less acidic than regular cocoa powder, which is why this recipe uses vinegar or acid. In some chocolate cake recipes, the acidity of the regular cocoa power activates the baking soda. This creates the chemical reaction that makes the cake rise, and also neutralises the baking soda flavour.
Because we are using Dutch processed cocoa which is less acidic, we need to add some extra acid to create that reaction. The interplay between cocoa powder and baking soda is why you can't simply use whatever cocoa powder you like in chocolate cake recipes. Generally, the recipe has been designed around the cocoa powder in question.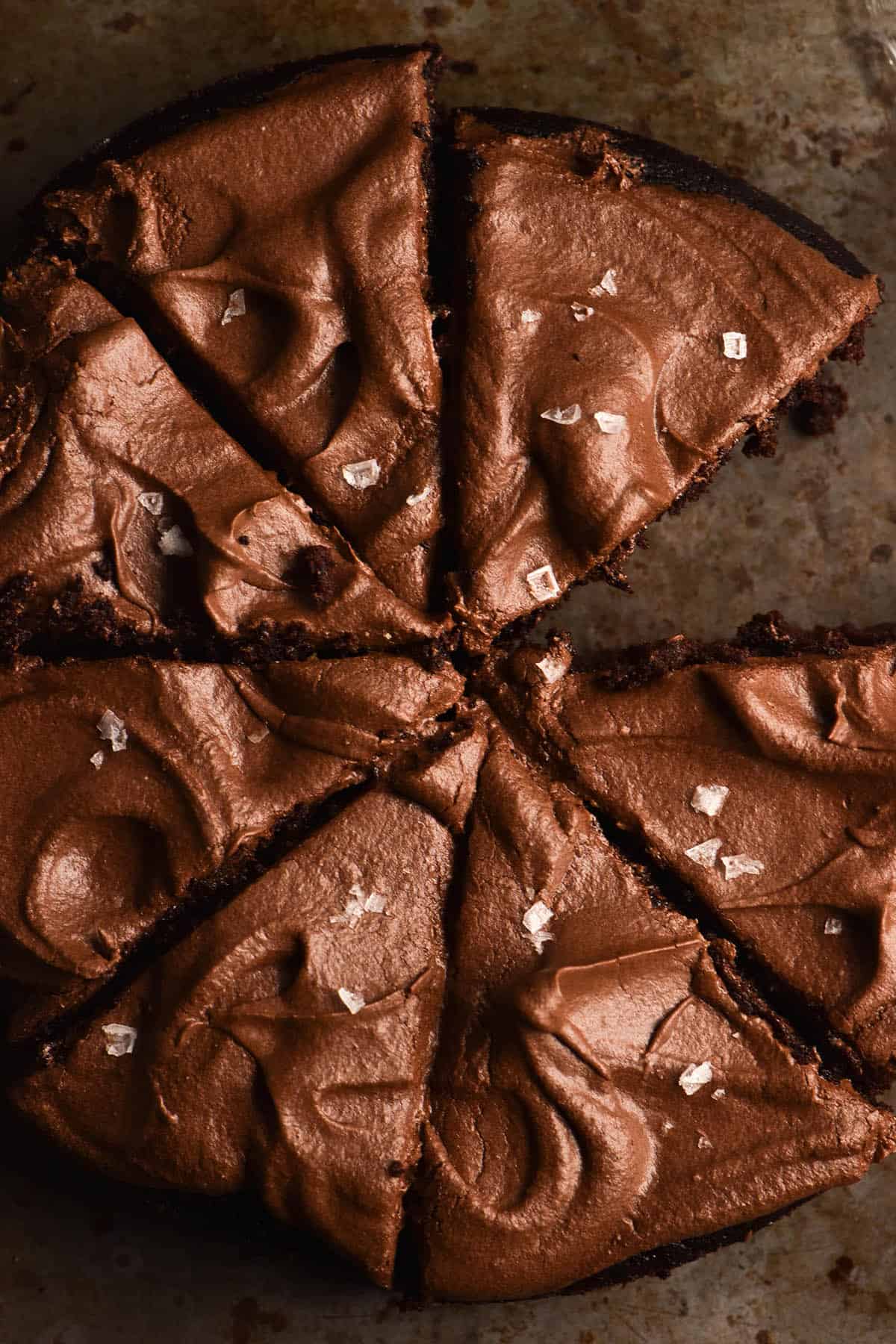 More gluten free vegan desserts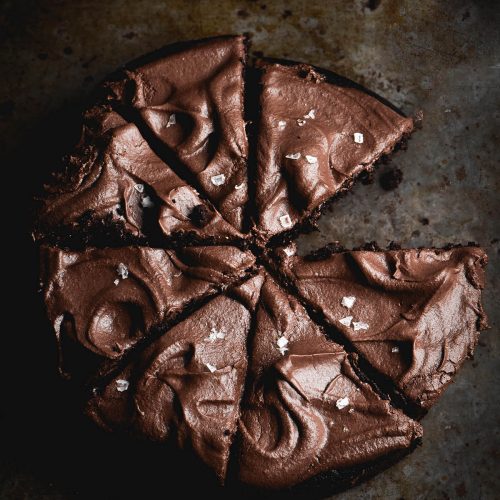 Vegan gluten free chocolate cake
Nut free, egg/dairy free, xanthan gum free
*Cups and measures are in Australian cups and measures and are included only for the purpose of eyeballing if you have enough of each ingredient. Use gram and ml weight for accuracy, particularly for international readers.
Ingredients
Dry:
120

g

(3/4 cup)* white rice flour

30

g

(1/4 cup)* tapioca flour

1/3

cup

(45g)* Dutch processed cocoa

4

g

(1 teaspoon) baking powder

3

g

(1/2 teaspoon) baking soda (bicarb soda)

4

teaspoons

psyllium husk
Wet:
125

ml

(1/2 cup)* plant based milk of choice (I used soy)

10

ml

2 teaspoons acid (white vinegar, apple cider vinegar or lemon juice)

150

g

(2/3 cup)* light brown sugar

125

ml

(1/2 cup)* oil (I used vegetable)

40

ml

(2 tablespoons)* fresh espresso (or extra boiling water)

180

ml

(3/4 cup)* boiling water
Icing:
100

g

plant based butter

chilled

160

g

(1 cup)* pure icing sugar, sieved

45g Dutch processed cocoa

1-2

tablespoons

plant based milk of choice

to reach your desired icing consistency
Instructions
To make the chocolate cake
Preheat the oven to 180C. Grease a 20cm cake pan. Because the batter is quite liquid a springform pan isn't suitable here.

In a large mixing bowl, whisk together the dry ingredients.

In another mixing bowl, combine the milk and acid and leave it for a few minutes to curdle. Add all the remaining wet ingredients except for the boiling water and whisk to combine.

Add the dry ingredients to the wet and whisk until the batter is smooth. It should feel lightly aerated under the whisk.

Pour in the boiling water and whisk to combine. This will bloom the cocoa and gelatinize the starches in the flours, helping hold the cake together.

Once the batter is smooth and the water is totally incorporated, pour the batter into the greased pan and place In the oven for 30-35 minutes. Allow it to cool in the pan for 15-20 minutes before gently tipping it out onto a cooling rack.

Because this is an oil based cake, it keeps well on the counter for a few days. The cake can also be frozen. Allow to cool completely before icing.
To make the chocolate buttercream
Combine the plant based butter and icing sugar in a large bowl or your stand mixer. Using hand beaters or whisk attachment to beat until light and fluffy. Once fluffy, add the cocoa and milk and beat until a smooth buttercream forms. Vegan butter melts faster than traditional butter, so place the icing in the fridge if it begins to melt.

Ice the cake and add any toppings of your choice.