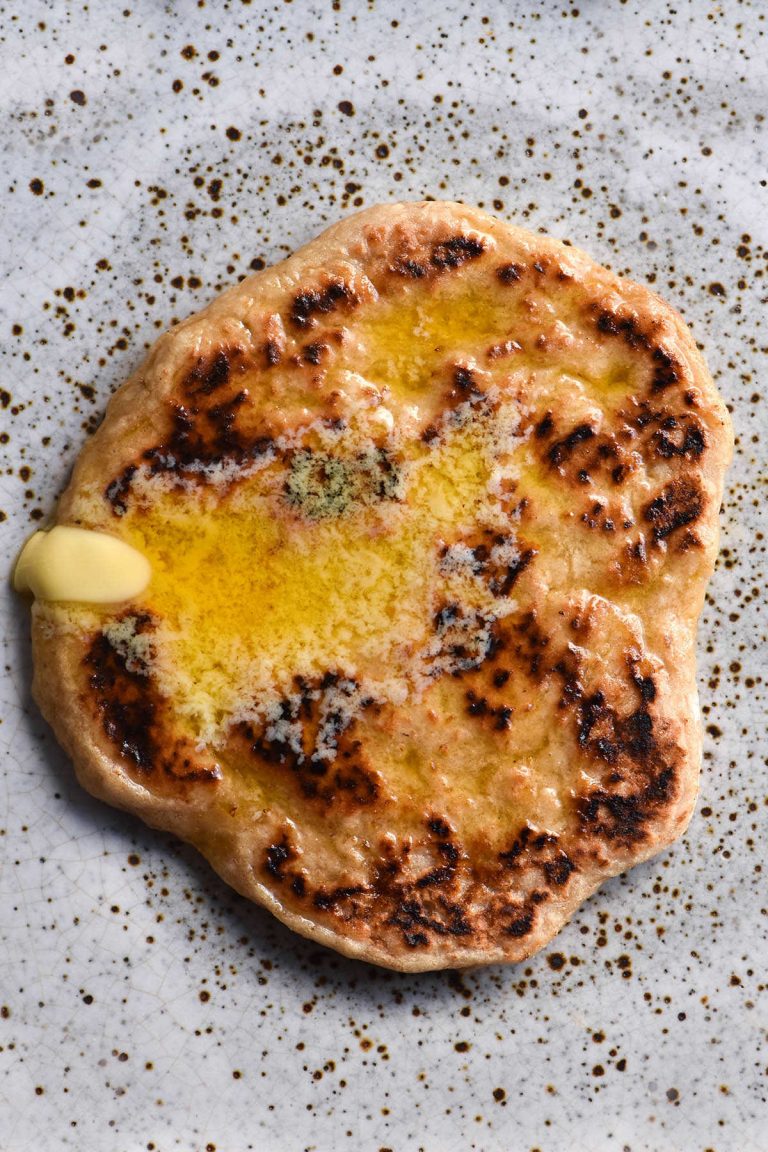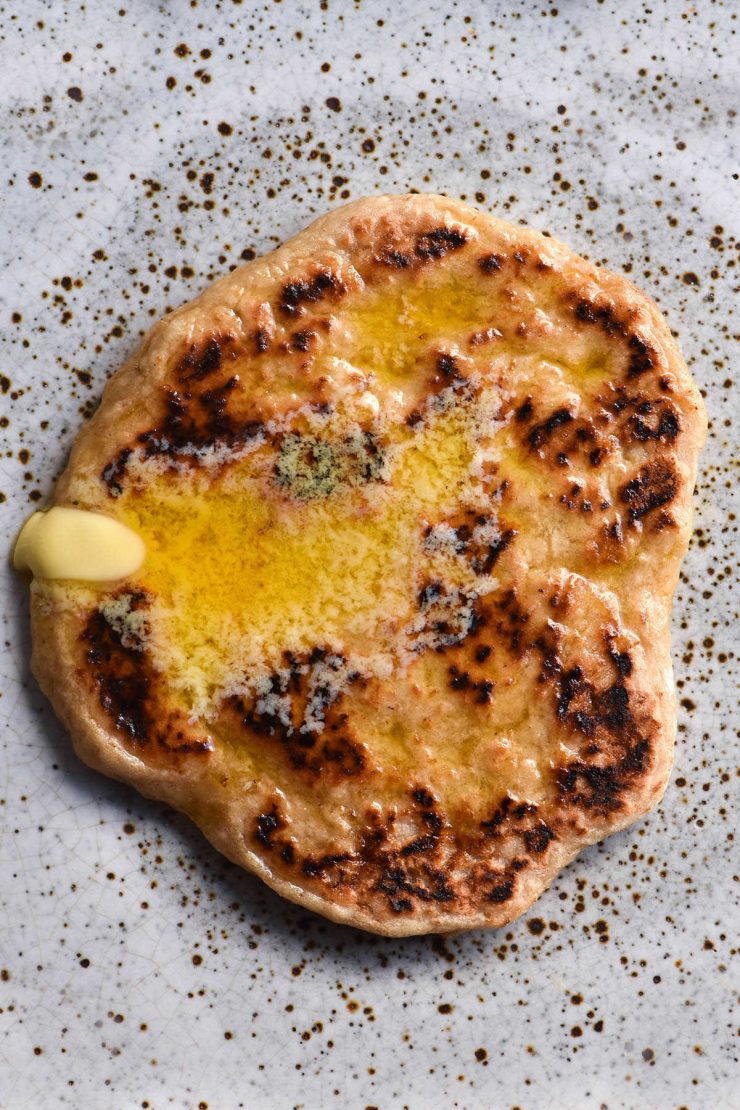 Inspired by my gluten free yeasted flatbread and a main component of an upcoming gluten free aloo paratha, this recipe for gluten free flatbread is a goodie. It's easy to make, in addition to being yeast free, gum free and egg free. With the right yoghurt, these flatbreads can also be dairy free/ vegan.
Gluten free flatbread without yeast or xanthan gum
These flatbreads are made without yeast, xanthan gum or eggs. They use a simple mix of white rice flour and tapioca flour to form the dough, held together by psyllium husk. Yoghurt, oil and water are used to form a dough, when is then pan fried to gluten free perfection.
You can use regular yoghurt, lactose free yoghurt or plant based yoghurt, depending on you needs. Because the flatbread contain no eggs, they are vegan if you choose a plant based yoghurt.
Making this flatbread is as as simple as mixing up the ingredients and leaving the dough to firm up in the fridge for 30 minutes. In that time, the psyllium husk works in conjunction with the yoghurt and oil to create a smooth, pliable dough.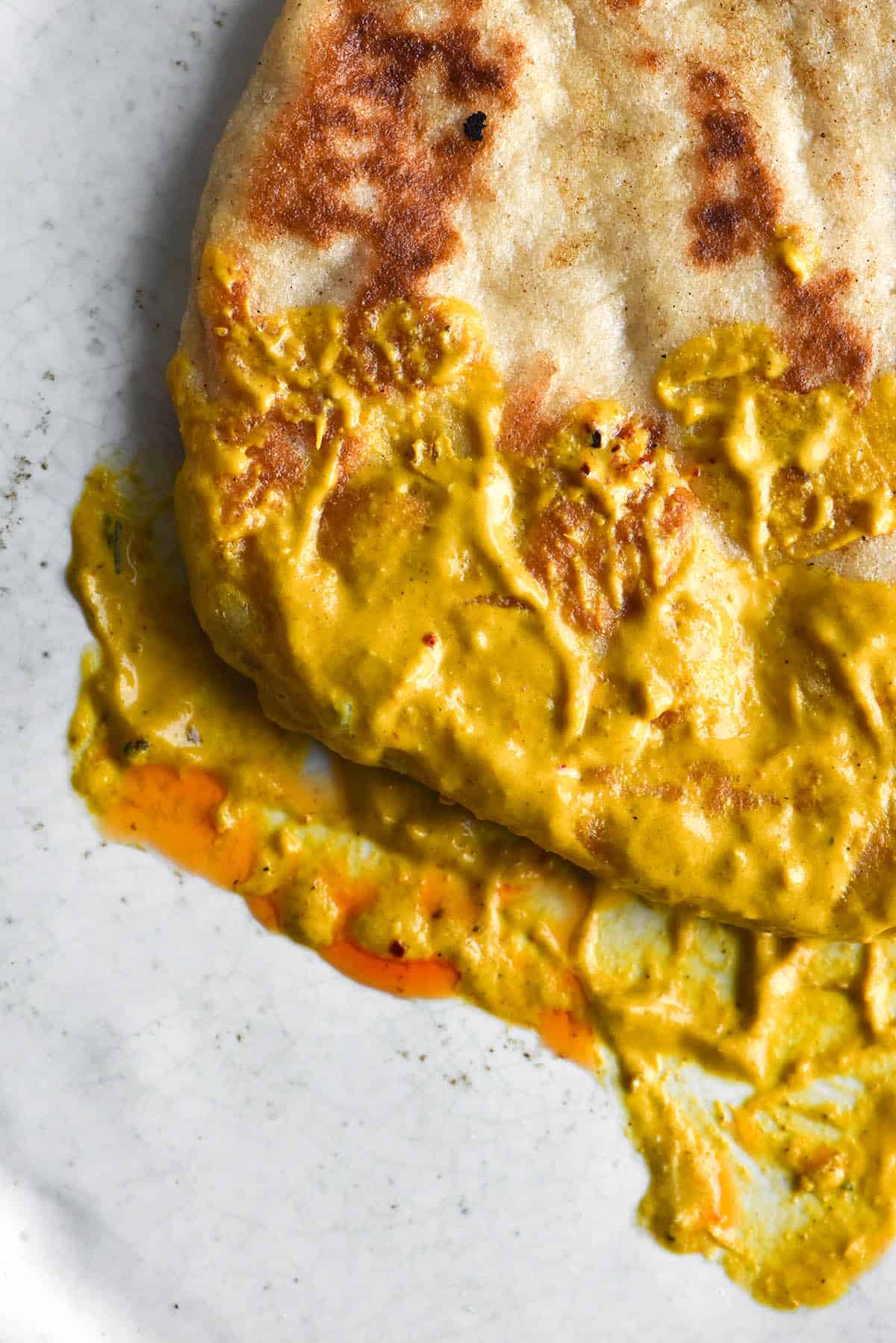 Tips for your gluten free flatbread
If your dough feels too dry, add a little water to reach a soft but pliable consistency. On the flip side, if your dough is too soft to handle, simply knead in some extra rice and tapioca flour until the dough becomes a workable consistency. It should be soft but easy to roll. You should be able to pick up each flatbread without too much stress.
This recipe divides easily if you only need four flatbreads.
You can roll these flatbreads as thick or as thin as you like. A thinner flatbread works really well as a wrap. A thicker flatbread works really well for dipping in a curry or soup (or drizzling with the garlic infused ghee).
I like to experiment a little with the wholegrain flours I use. The white rice flour version tends to make for the most 'traditional' tasting flatbread, but there is room for experimentation. Gluten free yeasted flatbreads don't need much structure (unlike, say, sourdough) so experimentation is reasonably low risk. We can go into the substitutions I have tried in the section below.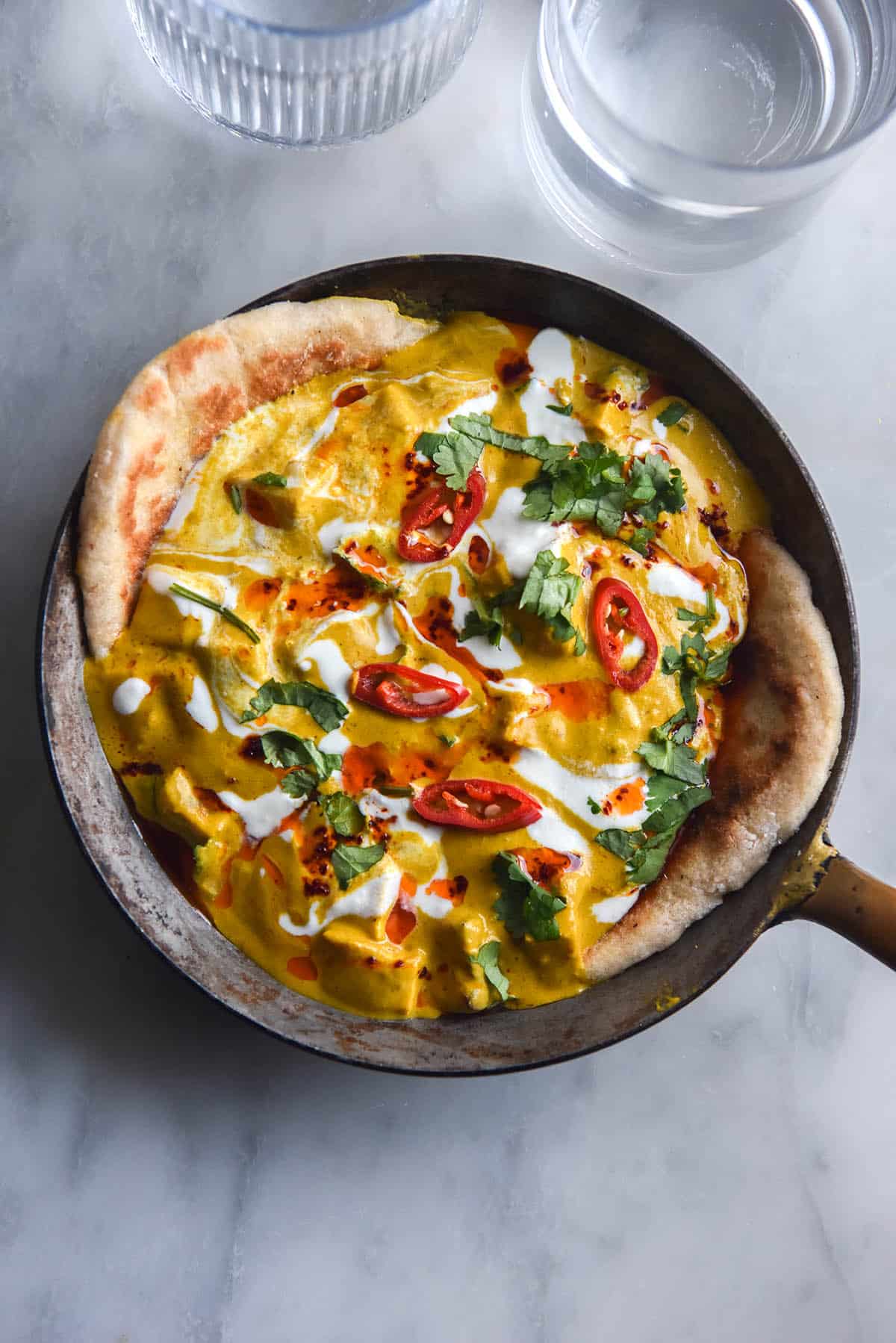 Ingredient notes
Psyllium husk powder is more absorbent than the flakes. I recommend the powder for these wraps, as it's finer and has less of an impact on the appearance. I grind flakes into a powder using my spice grinder.
How much water you need for this recipe depends on how absorbent your flours are and how thick your yoghurt is. If in doubt, add less as you can always add more later.
I have only tested with recipe with thick, full fat, lactose free Greek Yoghurt from Jalna. You can experiment with a dairy free yoghurt, but you might need to adjust the water content to suit (as dairy free yoghurt is generally thinner).
The sugar is for taste and browning. It's not much, so I don't recommend omitting it.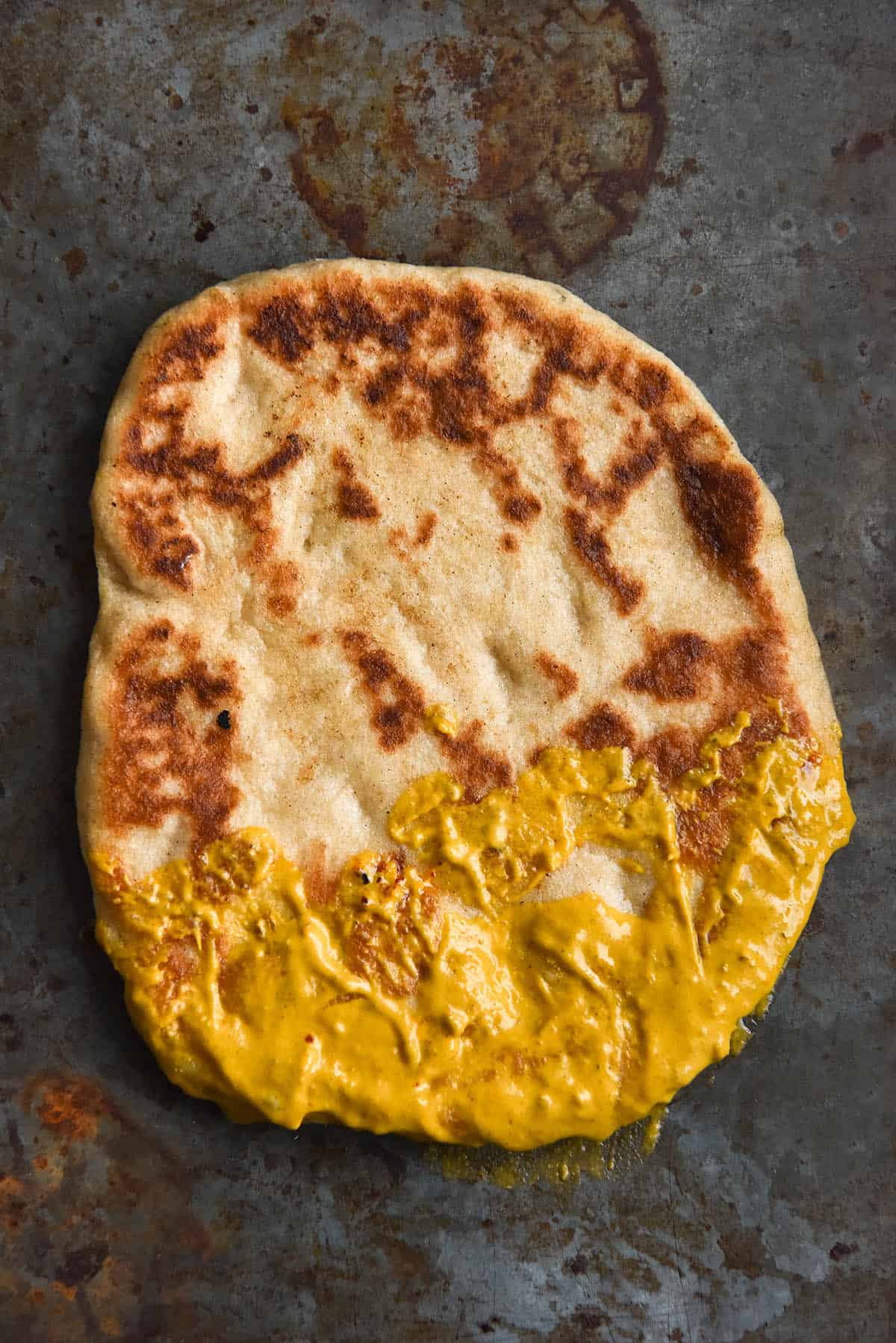 FODMAP friendly dishes to serve with your gluten free flatbread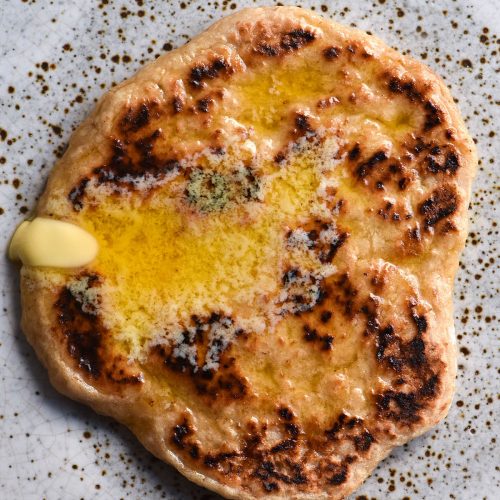 Gluten free flatbreads without yeast or eggs
Nut free, gum free, vegan option
Ingredients
320

g

(2 cups) fine white rice flour

120

g

(1 cup) tapioca flour

15

g

psyllium husk

1 – 1 1/2

teaspoons

salt

2

teaspoons

sugar

1

teaspoon

baking powder

200

g

yoghurt

see notes and body of post

1-3

tablespoons

(20-60ml) oil (see notes)

I used vegetable

1

cup

(250ml) water
Instructions
Combine the dry ingredients in a large bowl and whisk. Add the wet ingredients to the dry and whisk or mix thoroughly to combine. Ensure there are no lumps of flour remaining. The dough should be sticky but firm.

Transfer the bowl to the fridge for 30 minutes to firm up further.

Divide the dough into 8 evenly sized balls. If it's feeling too thin to roll, add some extra flours (equal parts of each). If it's feeling dry, add a little extra water.

Preheat a large skillet or frying pan over a medium high heat. You can use a little oil for each flatbread or fry them without any oil.

Flour a clean, dry bench with tapioca flour and roll out the dough one ball at a time. I like to cook the flatbreads as I go because they start to stick to the bench if they sit for too long. The flatbreads can be rolled as thick or thin as you'd like. Keep in mind that they puff up a little during cooking.

Cook each flatbread for a couple of minutes on either side until golden brown and cooked through. Store the cooked flatbreads under a tea towel as you work – the steam will keep them nice and flexible. Repeat with the remaining ball of dough, until you have 8 flatbreads.

Serve warm or microwave leftovers to restore them to their former flexible and fluffy glory.
Notes
I have tested Jalna lactose free full cream yoghurt and Nakula plain vegan coconut yoghurt in this recipe.
Ensure your yoghurt is nice and thick for best results. If your yoghurt is runny, you might need to add less water to suit.
Keep in mind that plant based yoghurts often contain gums and nuts. If you need these flatbreads to be gum or nut free as well as vegan, choose your yoghurt wisely and read all the labels.
For whatever reason, I have found that different yoghurts need differing amounts of oil. Plant based ones seem to need less oil than dairy based ones. Add oil at your discretion.