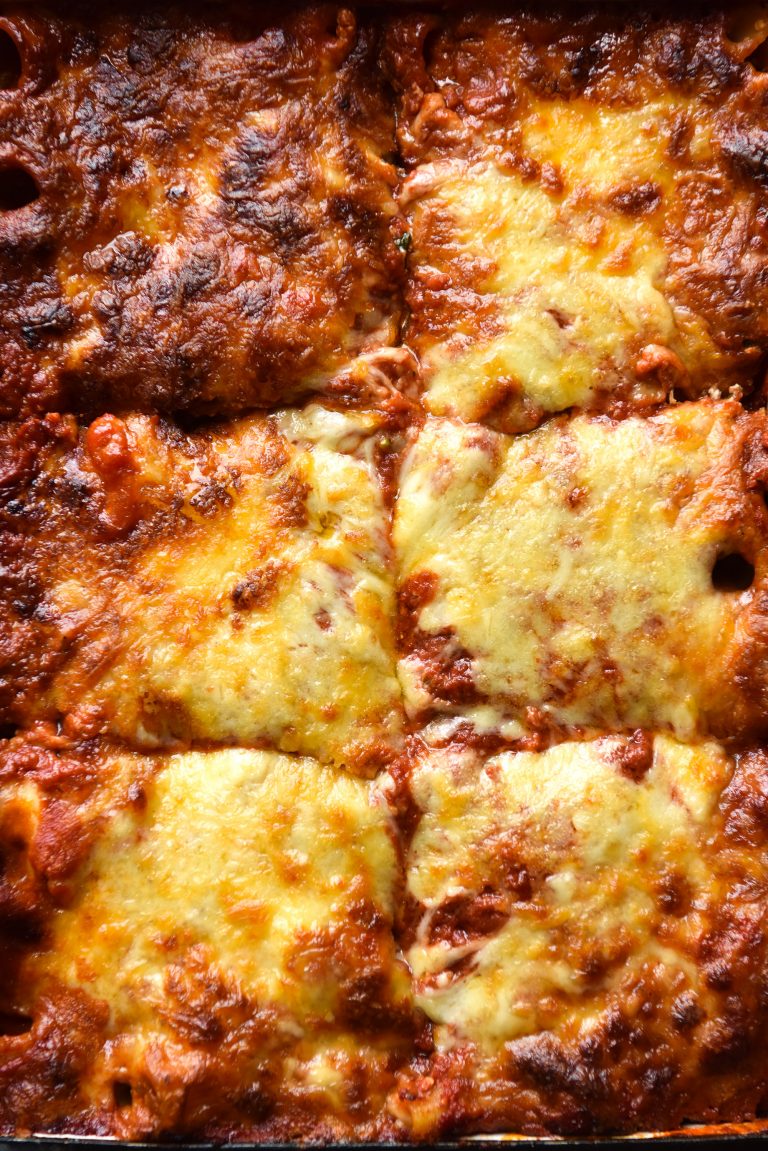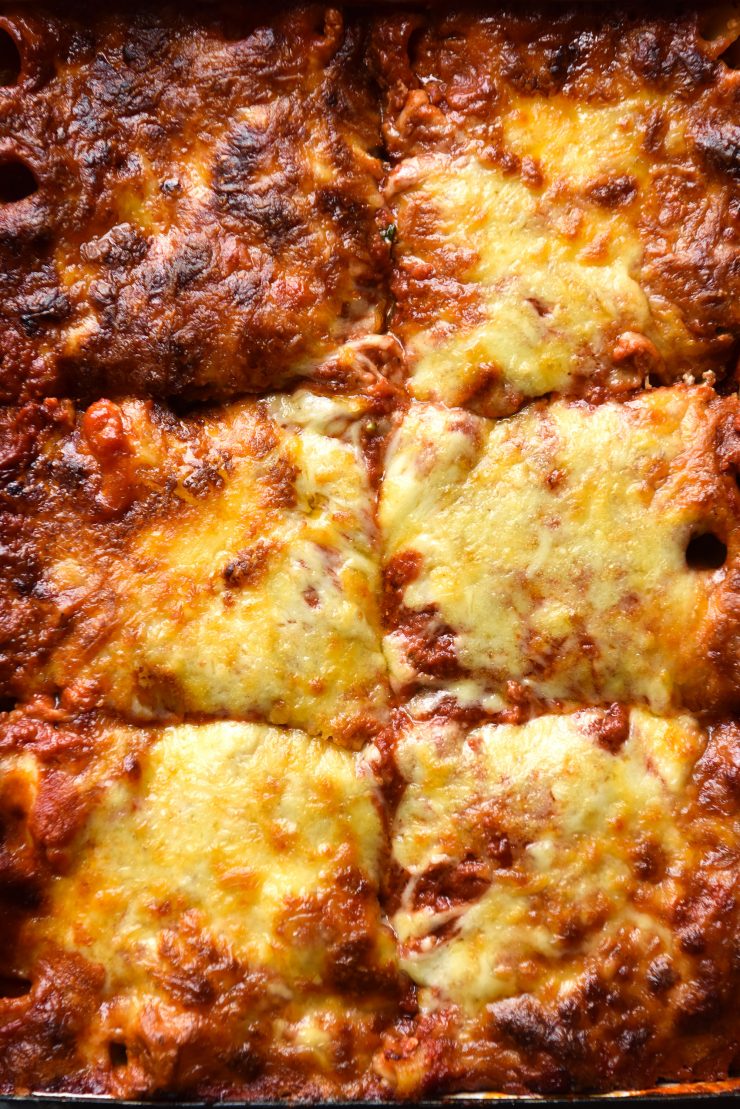 Adulthood is realising what a blessing a fridge full of meal prep is. Now that I am an 'adult' I have decided to perfect my freezer meal game, starting with this gluten free pasta bake.
Having recently made lactose free ricotta, a meal like this seemed a logical freezer filler. This bake is vegetable packed while still being indulgent and creamy. It's FODMAP friendly, gluten free and low in lactose (lactose free if you use a specialty cheese for the top.) Another thing? It's also endlessly customisable and a dish you could defrost for a friend. So many wins, so little time.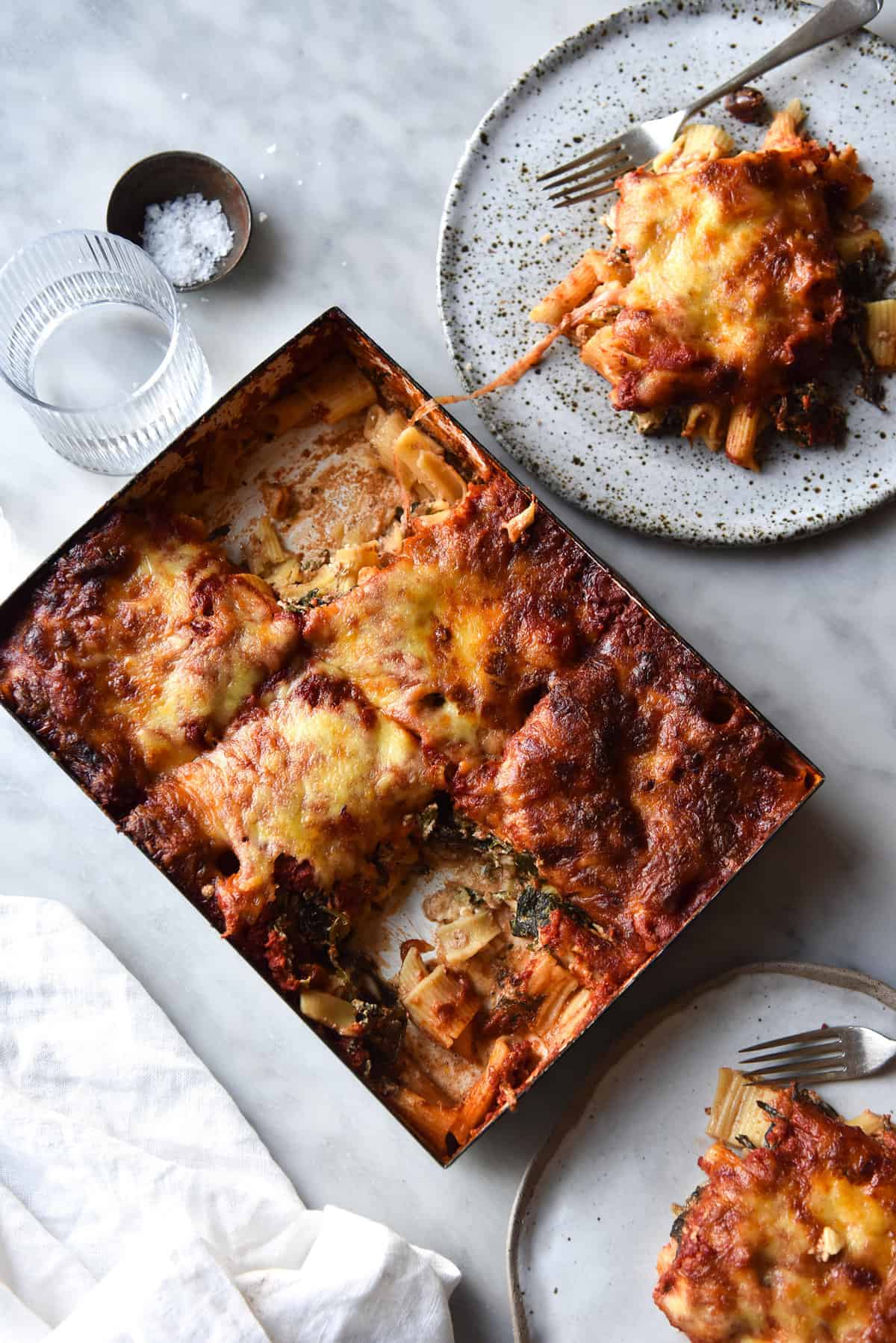 Gluten free pasta bake notes
I like a round pasta shape for this dish. I used gluten free rigatoni by Rummo, a brand that I've enjoyed using recently. They make shapes that I haven't seen in gluten free varieties before, which is nice.
You could probably get away with a shell shape or any larger pasta, though. In my most recent test of this dish I had to use 3/4 rigatoni and 1/4 penne because the shops have sold out of even gluten free pasta.
If you don't need the ricotta to be lactose free, you can just buy regular ricotta! No point going through an extra step unnecessarily.
You could add basically any Italian flavour to the ricotta mixture if you're in the mood. Mustard, balsamic vinegar, dried oregano or thyme – anything you fancy.
Same goes for the passata – you can add some chopped herbs, extra balsamic, or a bit of red wine.
I have used 500g of fresh English spinach here, roots and stems. While you could probably use frozen spinach, there's no shortage of fresh and delicious spinach right now. Plus, it saves you some precious freezer room.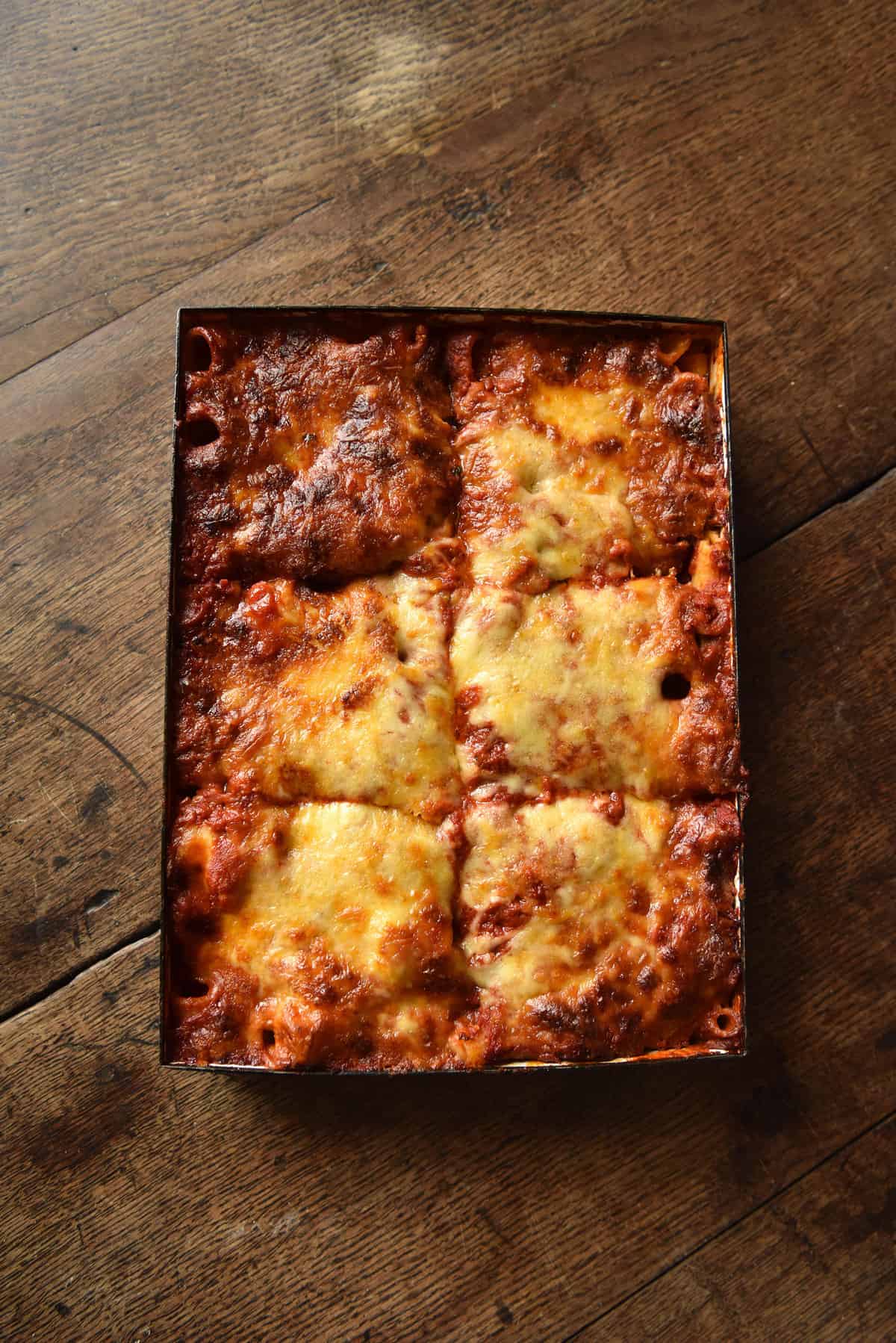 Flavouring suggestions and substitutions
If you don't have capers? Use olives! No olives? Use whatever other (flavour appropriate) jar in the back of the fridge you can find.
You could probably also use a different green (wilted kale, rocket) in place of the spinach. Potentially even some roasted vegetables of the non-green variety.
Work with the spices you have on hand. Dried oregano, rosemary or tarragon would probably all work. Any type of chilli is suitable, as long as you know your tolerance and add it accordingly.
Smoked mozzarella adds so much flavour to vegetarian dishes, if you can find it.
If you want to add a bit of protein, add a low FODMAP serving of canned beans.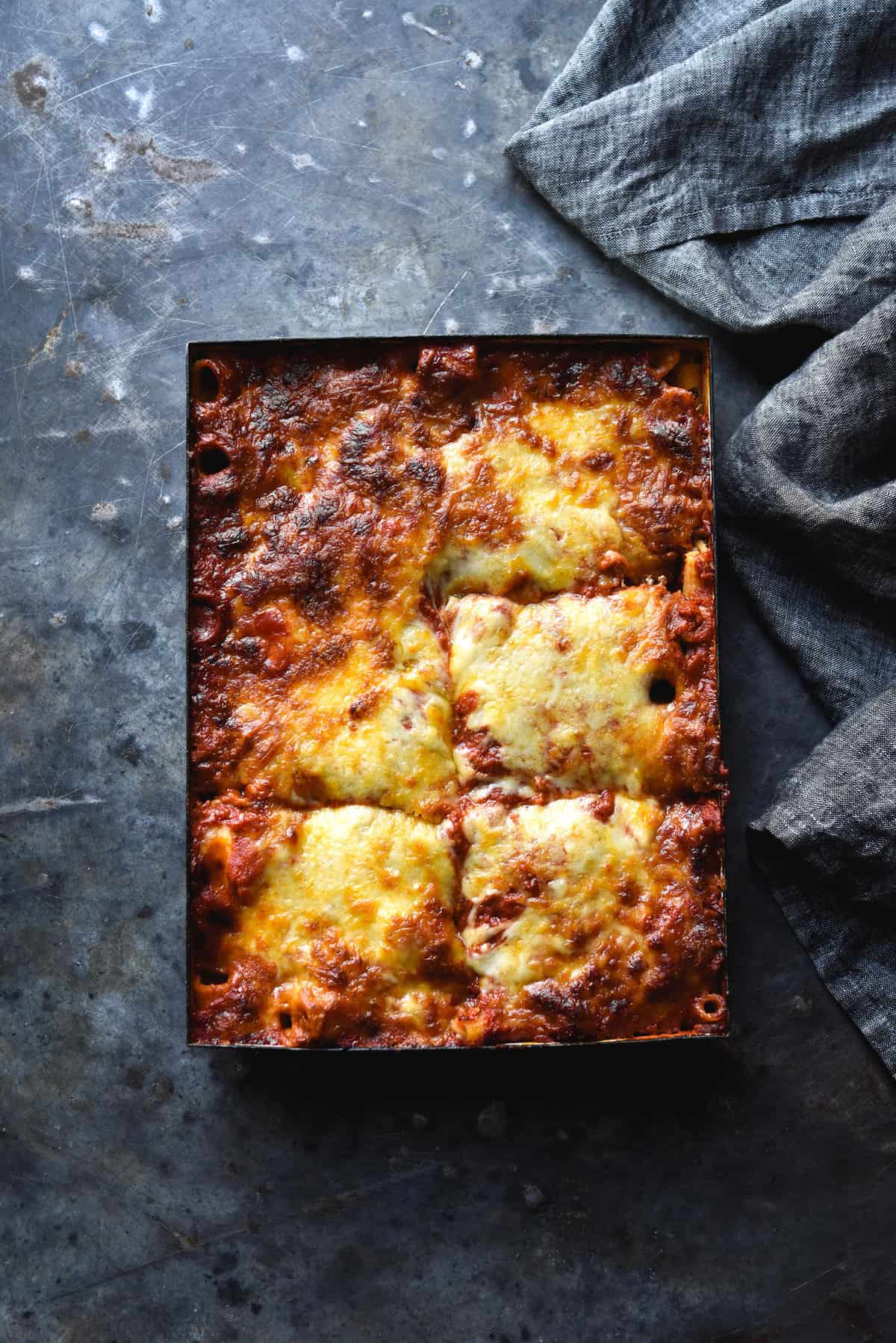 Notes for making lactose free ricotta
You can use fresh or long life milk for ricotta making, but make sure it's full fat. I like to use fresh where possible because it comes in 2 litre packs so I'm minimising my environmental impact as best I can when using dairy.
I think it's helpful to use 2 medium saucepans and divide the milk between them. Personally, I noticed it created a better quality ricotta.
The recipe makes anywhere from 400-450g ricotta, which is enough for our bake. If you have less than that number, pad it out with some extra milk, parmesan or even spinach. It will be a more spinach heavy dish, but delicious nonetheless.
This is a pretty 'fly by the seat of your pants' ricotta recipe. More serious versions include using a food thermometer to accurately measure the milk temperature before adding the acid. I'm working on the assumption that most people don't have a food thermometer in their arsenal (I certainly don't) which is why this is fast and loose.
I find the thickest clumps of curd occur when I let the milk get to the point where the surface is covered in tiny bubbles and it's at the threat of starting to rise up and spill over.
If you'd prefer, you can omit the salt from the ricotta preparation and then salt the spinach ricotta mixture to taste.
Here are some handy links for professional ricotta making – this Gourmet Traveller article and good ol' Brad from Bon Appetit.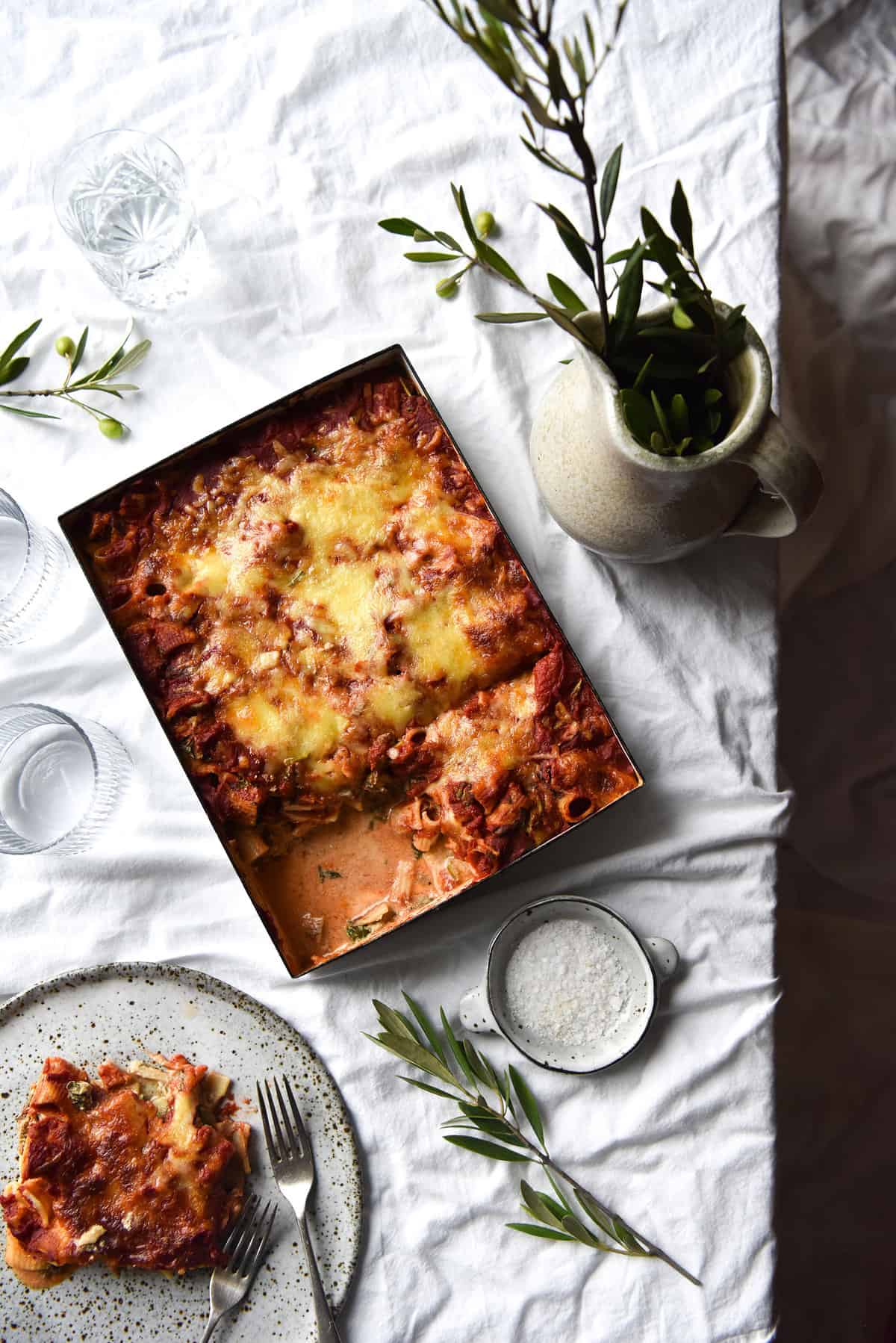 More gluten free pasta recipes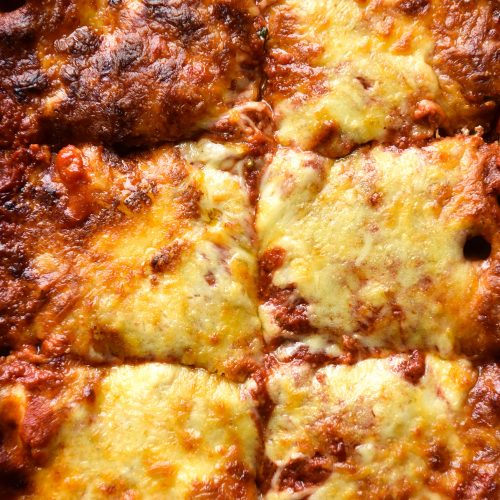 Gluten free Spinach and ricotta pasta bake (FODMAP friendly)
Ingredients
For the lactose free ricotta:
2000ml

(2 litres)

litres lactose free full cream milk

(can be fresh or long life)

80-125ml

(1/3 – 1/2 cup)

lemon juice

or vinegar

salt, to taste

to taste
For the ricotta spinach pasta mixture:
400

g

gluten free pasta of choice

(I used rigatoni)

1

X 400g batch of ricotta (see above)

125-250ml

(1/2 – 1 cup)

milk of choice (only if you need it)

to loosen the ricotta (I used soy because I ran out of lactose free)

Squeeze of lemon juice

100

g

freshly grated parmesan

no pre-grated stuff pls

80m

(4 tablespoons)

olive oil

Pinch of nutmeg, to taste

pinch of cinnamon, to taste

Aleppo pepper or chilli flakes, to taste

2

tablespoons

chopped capers or a handful of pitted olives

Generously cracked pepper

fine salt, to taste

to taste

1

large bunch spinach

(mine was 500g well rinsed and chopped)

1

bunch basil
For the passata mixture:
1 x 700

g

jar of passata

2-3

tablespoons

tomato paste

Balsamic vinegar, to taste

Generous salt and cracked pepper

1-2

teaspoons

oregano

optional
To finish:
100-200

g+ fresh mozzarella

Freshly and finely grated parmesan

for sprinkling

Salt and pepper

to finish
Instructions
To make the ricotta:
Divide the milk into 2 medium saucepans and place them over medium heat. Allow the milk to get to the point where the top of it is covered in tiny little bubbles, and it looks like it might start bubbling over. How long this takes depends on your stove and the heat you've place the milk on – anywhere from 5-10 minutes.

Once the milk is gently bubbling, turn the heat off and add the lemon juice. Stir gently, only just to distribute the acid in the milk. Allow to sit for 15 minutes – the mixture should have curdled and become obvious 'curds and whey.' There should be ricotta like lumps of milk and a semi-transparent lemon coloured liquid.

If the liquid is still milky and completely opaque, return the ricotta to a gentle heat until it begins to separate, and then take it off the heat again. You can add a little extra acid (a teaspoon at a time) as an insurance policy, although this might affect the taste of the final product.

Once you have left the mixture to sit for 15 minutes, the mixture should have obviously separated into the two distinct elements. Gently pour the ricotta through a sieve lined with muslin cloth or a nut milk bag. You can discard the whey or use it in smoothies or baking – see notes for a few more ideas.

Strain the ricotta for around 5 minutes – just enough to get a bit of liquid off. This quantity should make around 400g+ ricotta. Once it's drained, place it in a large bowl.
To make the ricotta spinach pasta mixture:
Bring a large pot of well salted water to the boil. Once ready, add the pasta and cook for 1/2 the time the packet suggests. Take some pasta water and set it aside for use later, and then strain the pasta.

While the pasta is cooking, mix together the ricotta with the remaining ingredients for the mixture, except for the spinach and basil. Season and adjust according to your taste before adding the spinach, basil and drained pasta. Stir well to combine.

Pour the mixture into a lightly greased 31cmL x 23cmW x 5cmH rectangular baking dish atop a rimmed baking sheet and set aside. Preheat the oven to 180 degrees Celsius or 350 Fahrenheit.
To make the passata mixture:
Mix all the ingredients for the pasta together and adjust for taste.
To assemble:
Layer the passata over the spinach ricotta mixture and top it with the grated mozzarella. Place the dish on a rimmed baking sheet (to catch any drizzles) and cover (without touching) with foil. Cook for 20-30 minutes covered, and then an additional 10-20 uncovered. Once the cheese is browned to your liking, remove from the oven and serve.