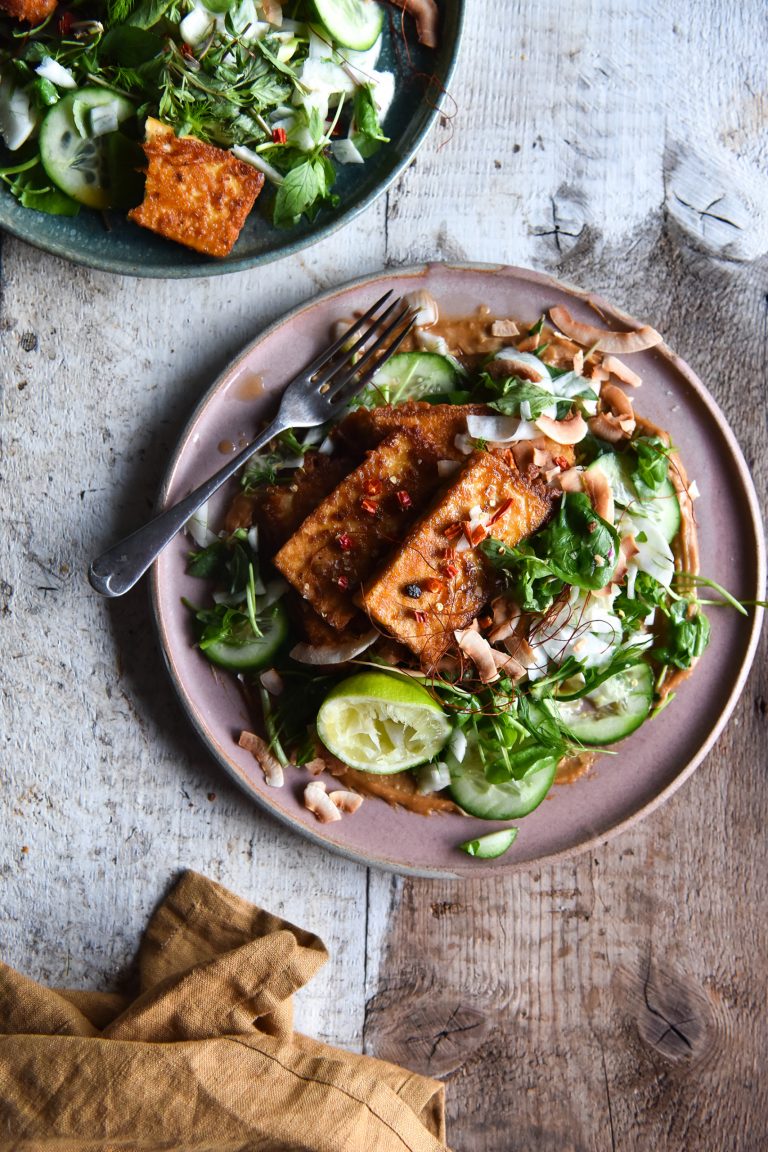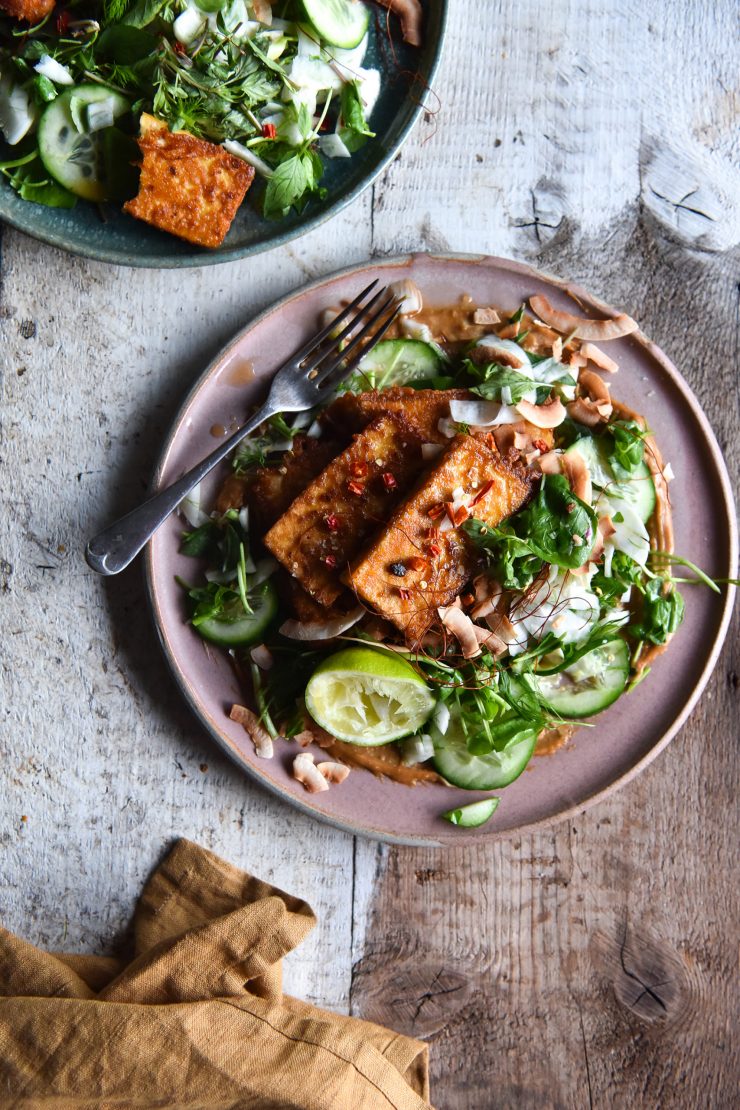 Let's chat crispy oven baked tofu. Although somewhat more difficult to achieve than the crispy shallow variety, crispy oven baked tofu is entirely achievable. It takes a little draining time (as the fried variety does) but makes up for that with it's relative ease and general deliciousness.
Before we begin, it should be noted that if you're after the crispiest tofu of your life, oven baked tofu is not the answer. It might potentially come close, but I maintain that shallow fried is crispiest. Now that we've got that out of the way, let's dive into it.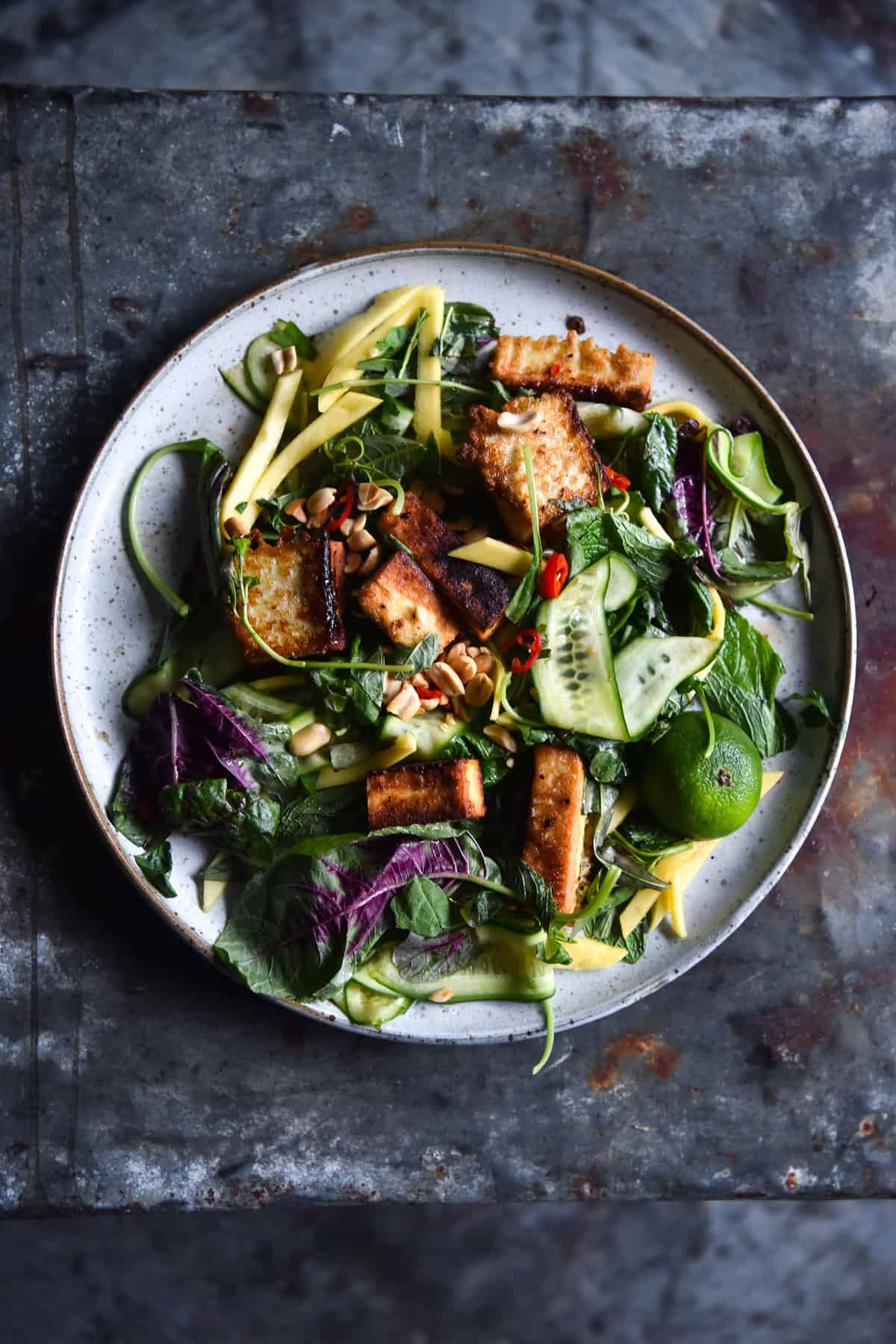 Crispy oven baked tofu tips
You must start with firm tofu. No exceptions. The firmest you can find.
Draining tofu is an important part of creating crispiness. Tofu presses exist, but I drain mine by slicing the block lengthways, placing it on paper towel and placing a weight on top. Generally my weight is a large saucepan filled with miscellaneous tins from the cupboard.
The longer the better in terms of draining, because water is the enemy of crispiness. If you are PRESSED for time, however (get it get it) then press the tofu for as long as possible.
Because there is not a long of oil on oven baked tofu, I like to include salt in the batter. Shallow fried tofu grabs up salt very nicely at the end of cooking, because the surface is 'wet' or oily. Baked tofu does not.
In this instance, I use table salt. I know table salt is frowned upon in the culinary world, but a fine, dispersible salt is important for even flavouring of the tofu.
As with shallow fried tofu, don't crowd the oven tray when baking tofu. Make sure all the pieces are evenly spaced and separate. Don't cook too much at once. If the pan is very crowded, the resultant steam will inhibit crispiness.
Cornflour is Queen in this instance. Make sure it's gluten free (many are not) if it needs to be. If you're desperate, you could try tapioca as a replacement, although I have heard it doesn't do quite as good a job.
Don't overcook it – it can very easily become tough. It should also be noted that once cooled, it is a little tough. Just to manage your expectations.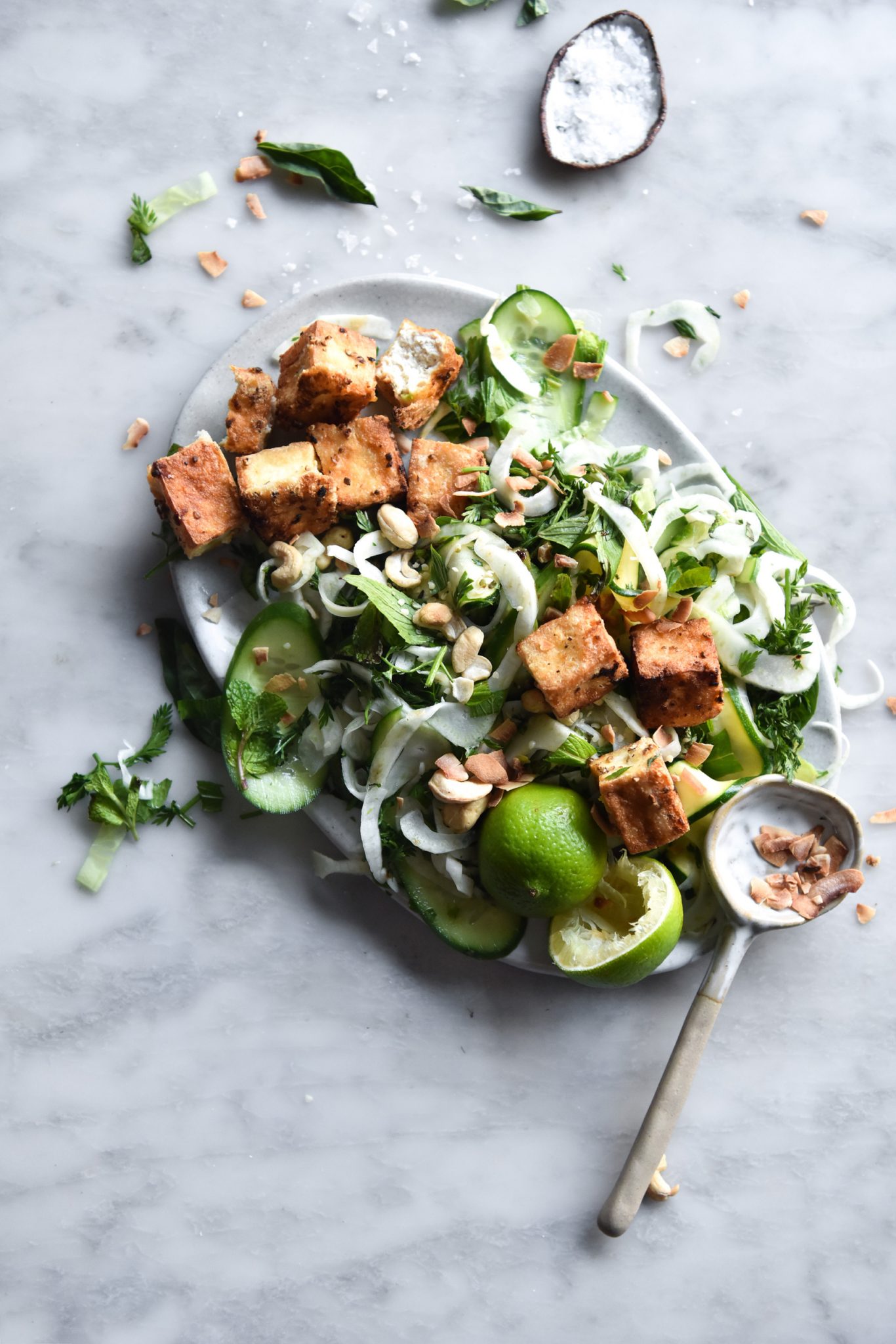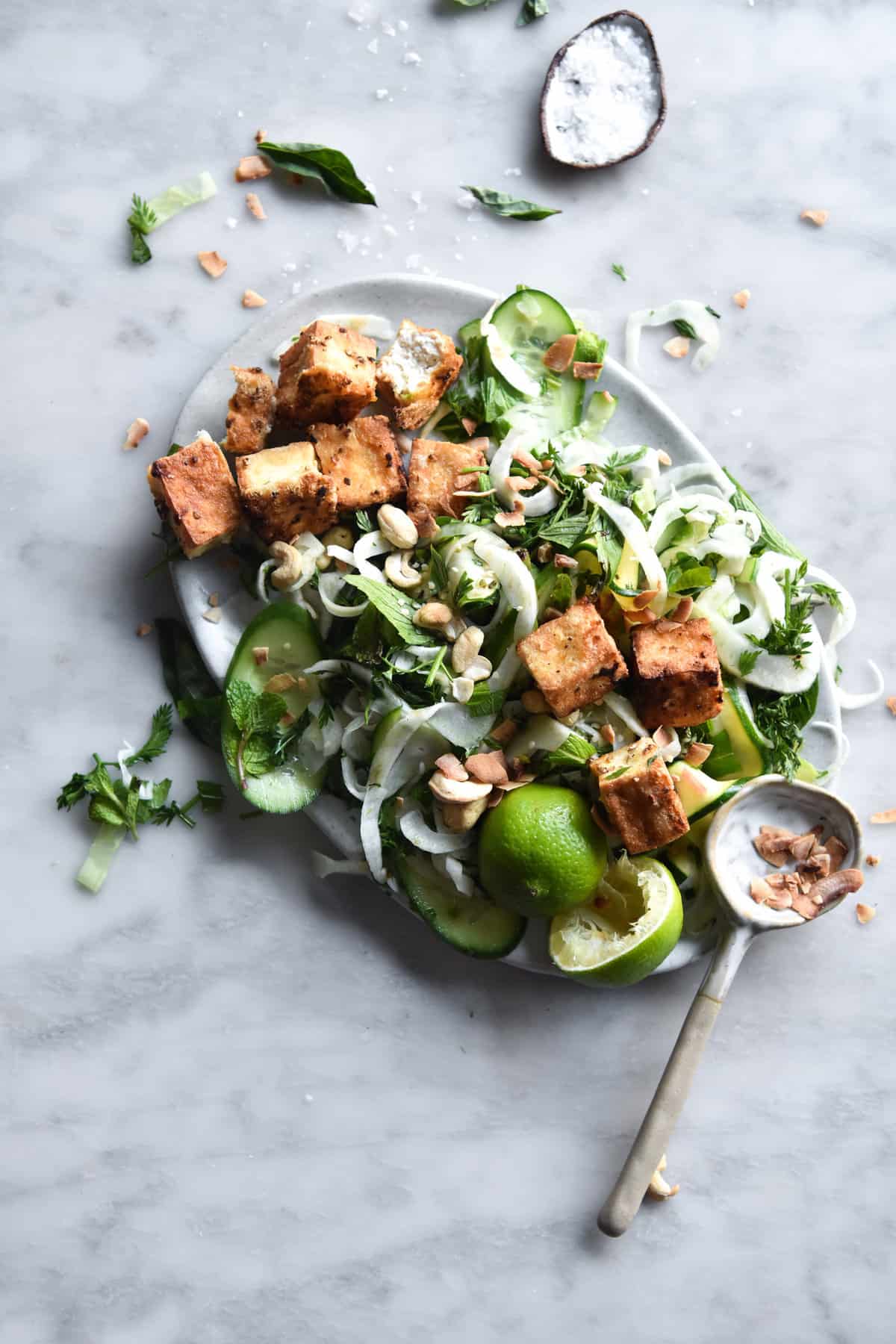 Flavouring your oven baked crispy tofu
The best bit! Flavourings! Salt is absolutely a given, lest you're interested in bland cubes or nothing. What you do beyond that, however, is up to you. Here are some tips and suggestions for converting tofu haters and lovers alike.
Salt and pepper tofu – add 1 teaspoon of ground white pepper to the cornflour salt mix. Delicious, a little spicy and a little exotic. Don't skip the white pepper, it makes all the difference.
Spices – experiment with different spices in addition to the salt. A teaspoon of garam masala and cumin would go down a treat.
Oils – use a different oil to flavour the tofu. Sesame is the first that comes to mind, but mustard seed oil would also add an interesting twist.
Nutritional yeast and smoked paprika – for a cheesy, Tex-Mex twist.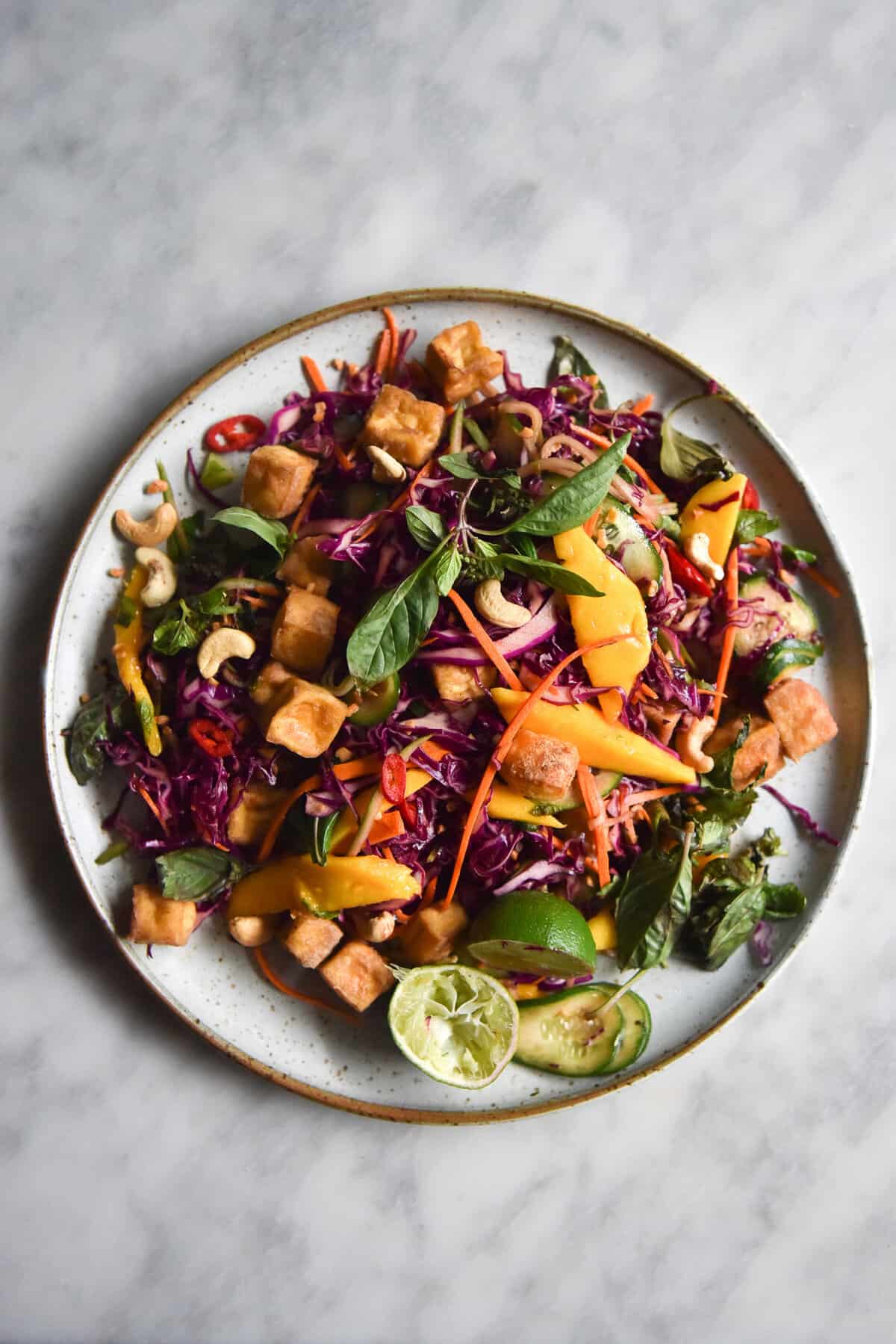 A note on wet batters
So you have plans for a wet batter. You want to add some Tamari, some tamarind, or some satay. My method is a little different from the one you'd expect, and I'll explain why.
As we've discussed, liquid is generally the enemy of crispiness. The exception to that rule is vodka or a spirit, which is outlined in my recipe for super crispy shallow fried salt and pepper tofu. Because vodka (and alcohol in general) is volatile when cooked, it evaporates in an unpredictable and rapid manner, creating a crispy crust.
Regular liquids, however, are not so volatile. They also need to effectively burn off in order to create a crispy tofu shell. So, as you can imagine, baking tofu in a marinade is not exactly a recipe for a crispy tofu. Which is why I bake my tofu in cornflour, and douse it in the batter once cooked.
Unlike meats, tofu doesn't actually absorb marinades particularly well. Pressing the tofu helps, but because it already has a high water content, it is difficult for tofu to absorb much. By baking the tofu without marinade, you develop the unique spongy texture inside and the crispy exterior. You can then add flavouring, without needing to burn it all off, or leave it burnt on the oven tray. The best of both worlds.
If you're curious, here's a recipe for a miso glazed tofu that is shallow fried and then flavoured. This same method applies to baked tofu, and I guarantee it will change up your tofu game.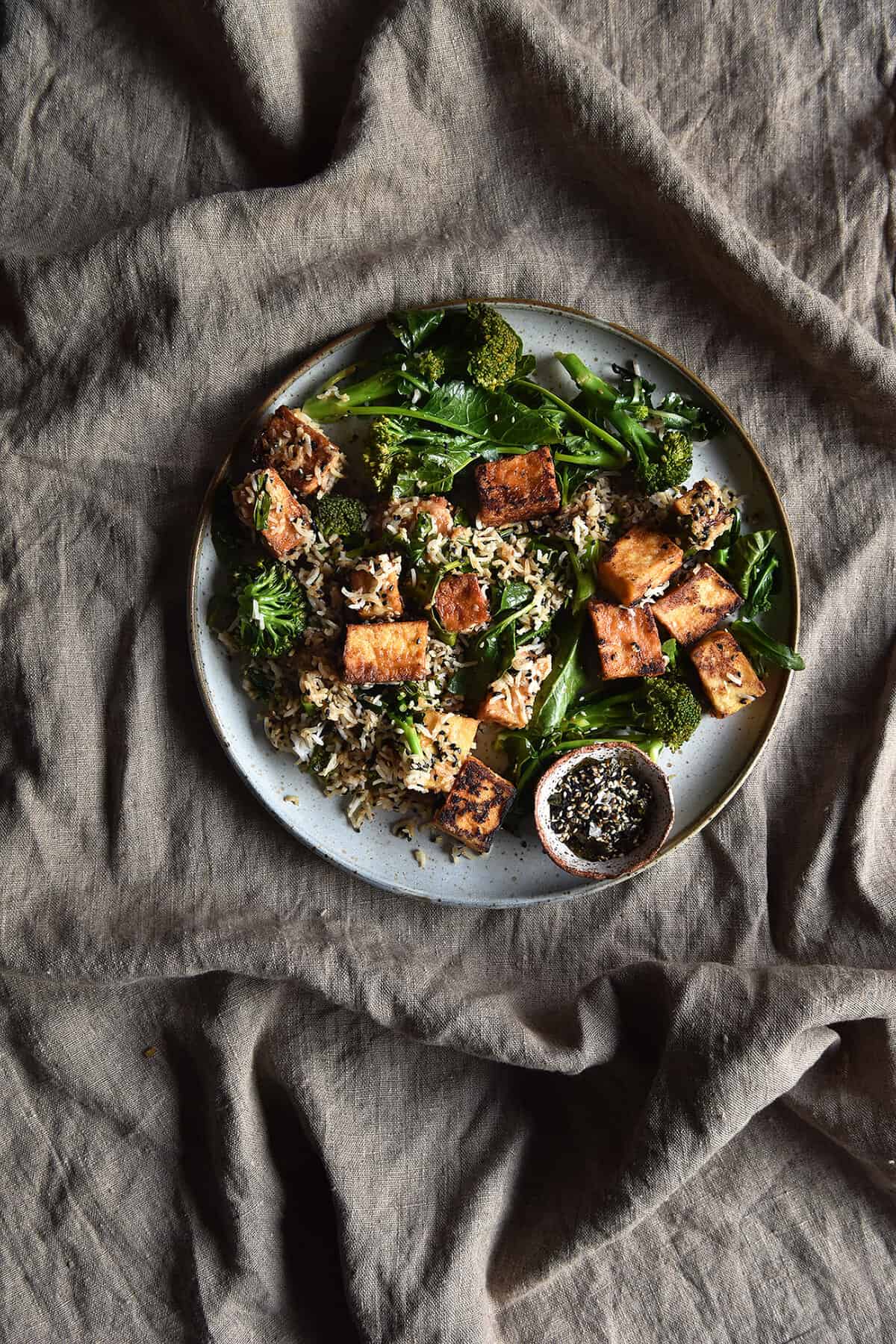 More low FODMAP tofu recipes
I am no stranger to tofu, or a tofu recipe. Here are a collection of my favourite tofu recipes on the site:
Oven baked crispy tofu
Gluten free, FODMAP friendly, vegan
Ingredients
400-500g

firm tofu (depending on the pack size)

1-2

tbsp

cornstarch (make sure it's gluten free if it needs to be)

1

tsp

fine salt

1+

tbsp

high smoke point plain oil (I use peanut or vegetable)
Instructions
Slice the tofu lengthways, and wrap it in some kitchen towel. Place in on a chopping board or something that you don't mind getting a little wet. Place a saucepan on top, and fill it with cans or something heavy. Allow to drain for at least 20-30 minutes, changing the paper as necessary. The drier, the crispier.

Once the tofu has drained, remove it from the paper towel, and preheat the oven to 180 degrees Celsius, or 356 degrees Fahrenheit. Line a large oven tray with baking paper.

Chop the tofu into medium pieces of your desired size. Keep in mind that tiny pieces will end up tough, and super large pieces might not have a great crunch to tofu innards ratio. Medium is best.

Place the tofu pieces in a large mixing bowl. In a smaller bowl, combine the cornflour, salt, and the dry flavourings you'd like to use.

Pour the tablespoon of oil onto the tofu pieces, and use your hands to make sure they are evenly coated with oil. Add the cornflour mixture, and continue gently massaging the mixture until the pieces are coated.

Place the tofu pieces evenly on the lined tray, leaving room between them. Place them in the oven for 15 minutes.

Once the timer goes off, use tongs to flip the tofu pieces, and move them around on the tray. Ovens distribute heat unevenly, so by moving them around, you accomodate hotspots, and ensure no pieces are burnt. Continue to cook for 10-15 minutes. You can grill the pieces at the end for some extra colour, but too long and the tofu will end up tough.

If you have decided to use a wet batter, now is the time to do it. Stir it quick through the tofu pieces and serve immediately. The longer the tofu sits in wet batter, the soggier and gummier it will become, so it is best served immediately.