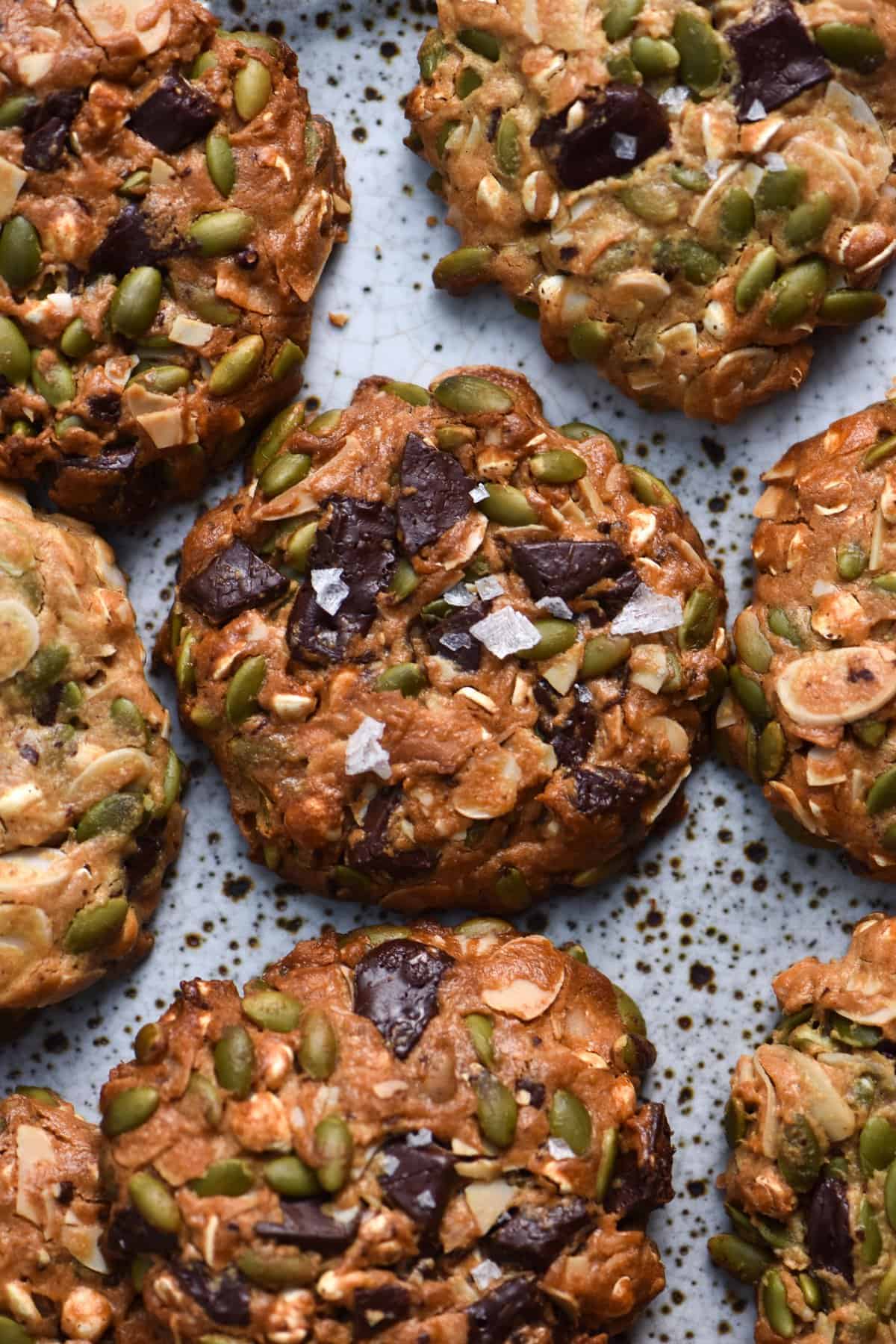 I'm sure the title has given you a small clue, but today we're asking: is peanut butter low FODMAP? The answer (with a little nuance) is yes!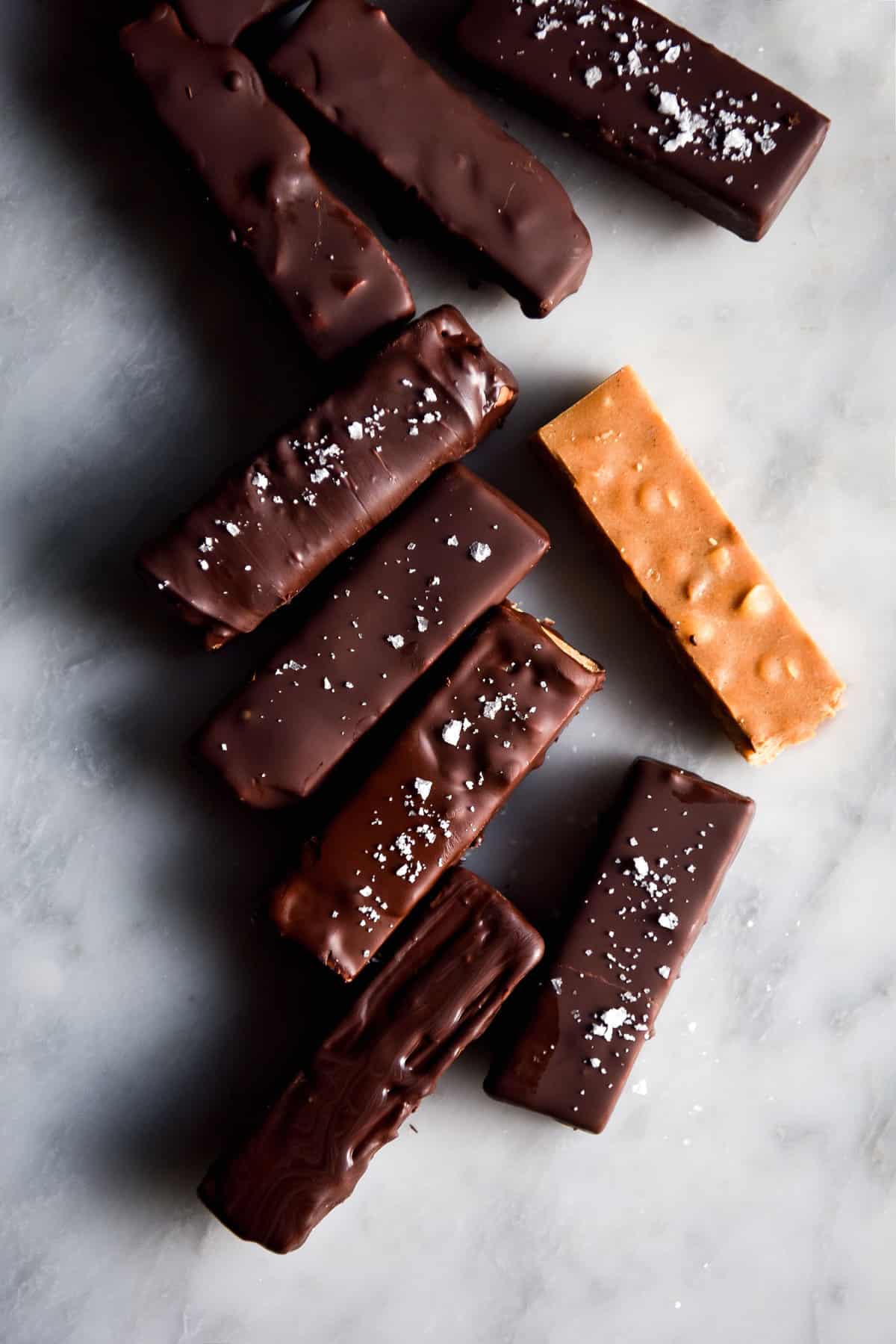 Is peanut butter low FODMAP?
Yes. Peanut butter has a low FODMAP threshold of 50g or 2 tablespoons per serve. Interestingly, Monash lists 140g of peanut butter as having moderate amounts of excess threshold. This suggests that there is some room for movement with what constitutes a FODMAP friendly serve of peanut butter.
Another interesting fact is that the Monash app lists American peanut butter as having a lower FODMAP threshold of 32g per serving. A larger serving (75g or more) is high in oligos – fructans and GOS.
Monash doesn't explain the discrepancy between the two sorts of peanut butter. Whether it's due to processing, the peanuts themselves or something else altogether – it's hard to say.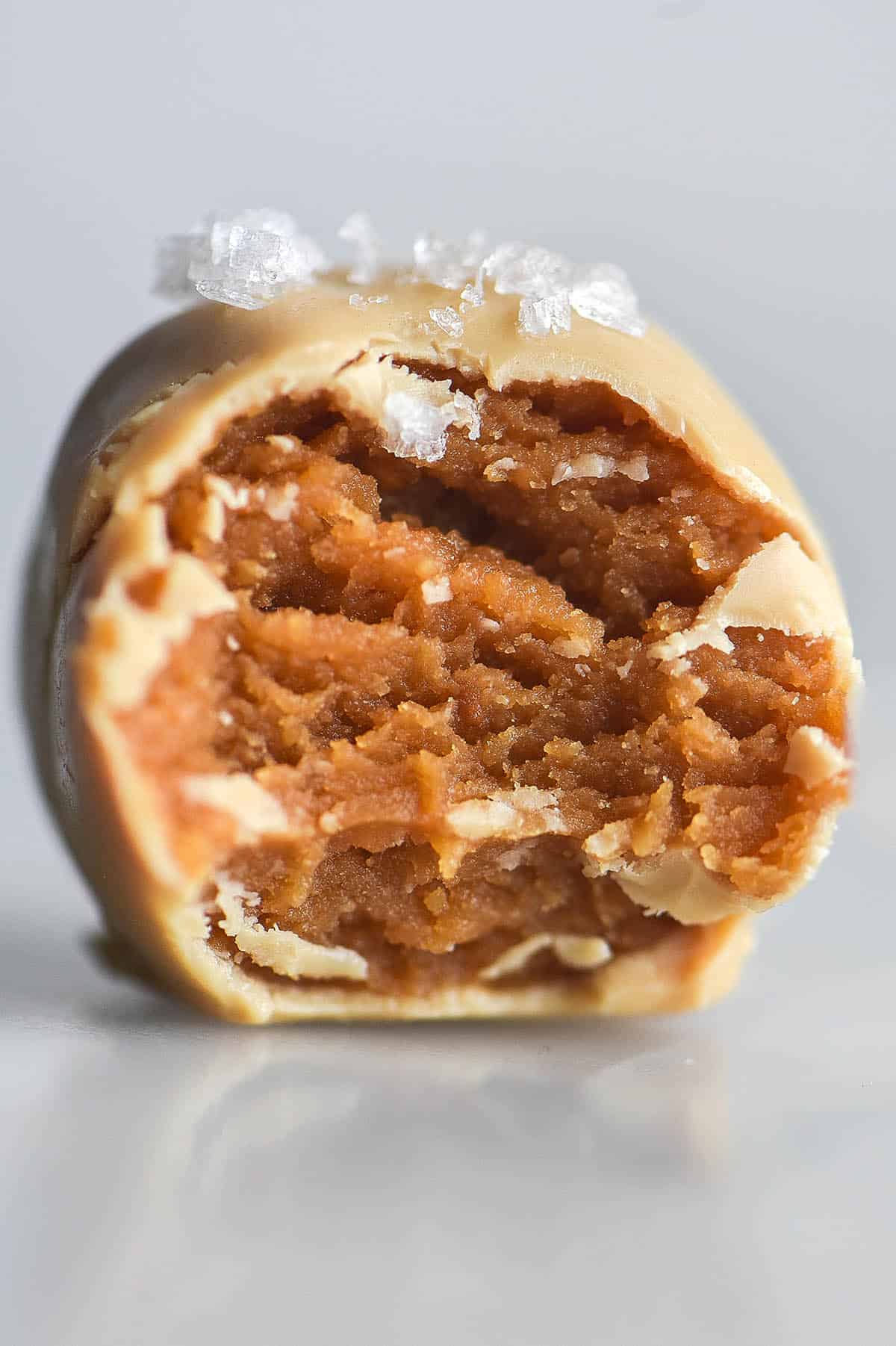 Are peanuts low FODMAP?
Yes, peanuts have a low FODMAP threshold. They are low FODMAP in 28g serves, which is approximately 32 nuts. This makes them a great low FODMAP accompaniment to recipes like low FODMAP Pad Thai.
Peanut oil, as a fat, does not contain FODMAPs. However, Monash writes that fats can affect gut motility when consumed in excess, and this can be a symptom trigger for some people.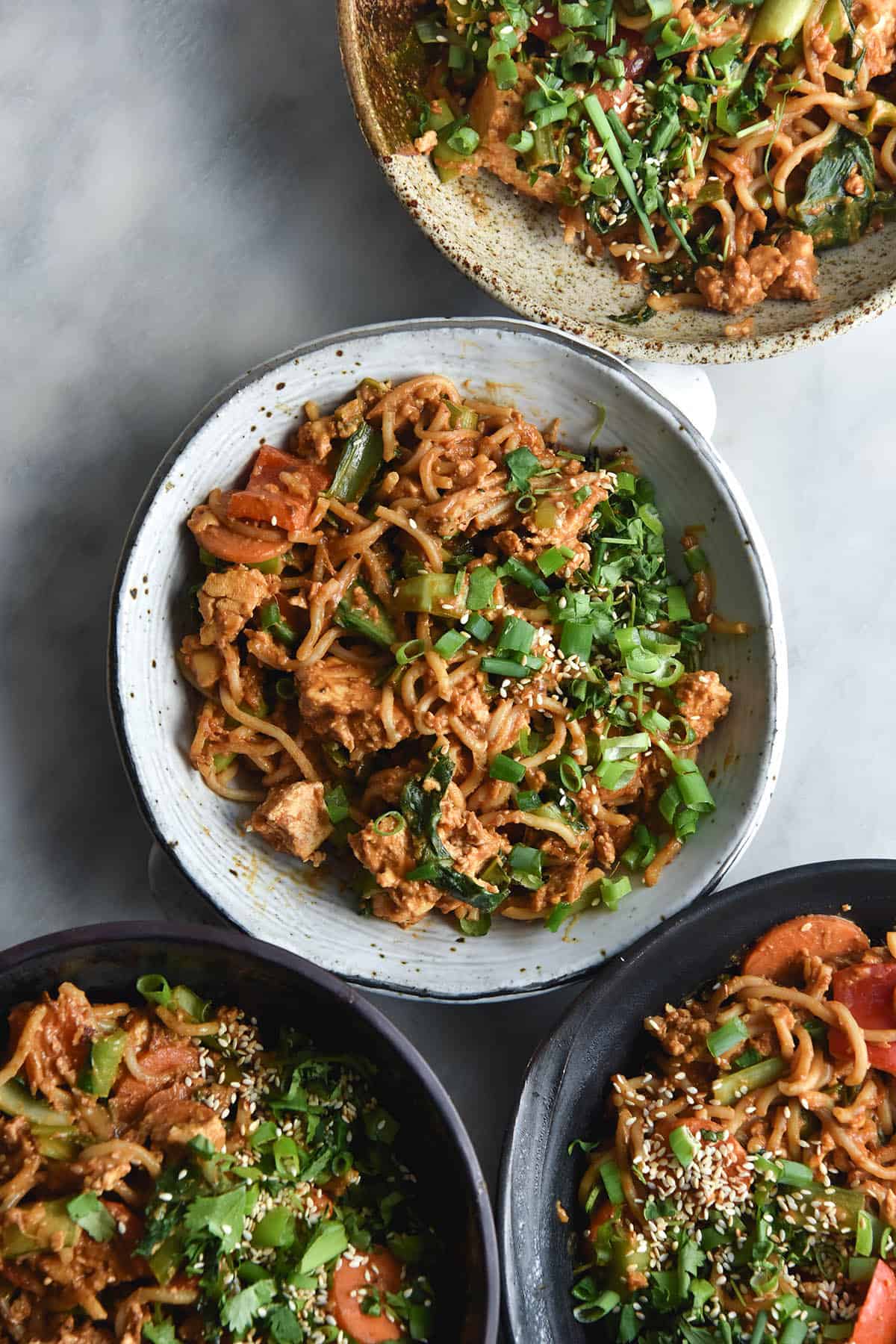 Choosing a low FODMAP peanut butter
While peanut butter has a low FODMAP threshold, some brands add more than just peanuts and salt to their offering.
A lot of brands add sugar and hydrogenated vegetable oil. These are not high FODMAP ingredients, but I personally don't think that they really need to be in peanut butter.
A couple of Australian brands I looked at contained a stabiliser, but they don't specify what that is specifically.
My recommendation is to choose a peanut butter that is made from nothing but peanuts and salt. This way there's no unexpected high FODMAP ingredients to catch you by surprise.
In Australia, my recommendations are Mayvers, Pics Peanut butter and Ridiculously Delicious peanut butter. If you're not Australian, Google natural peanut butter brands in your country.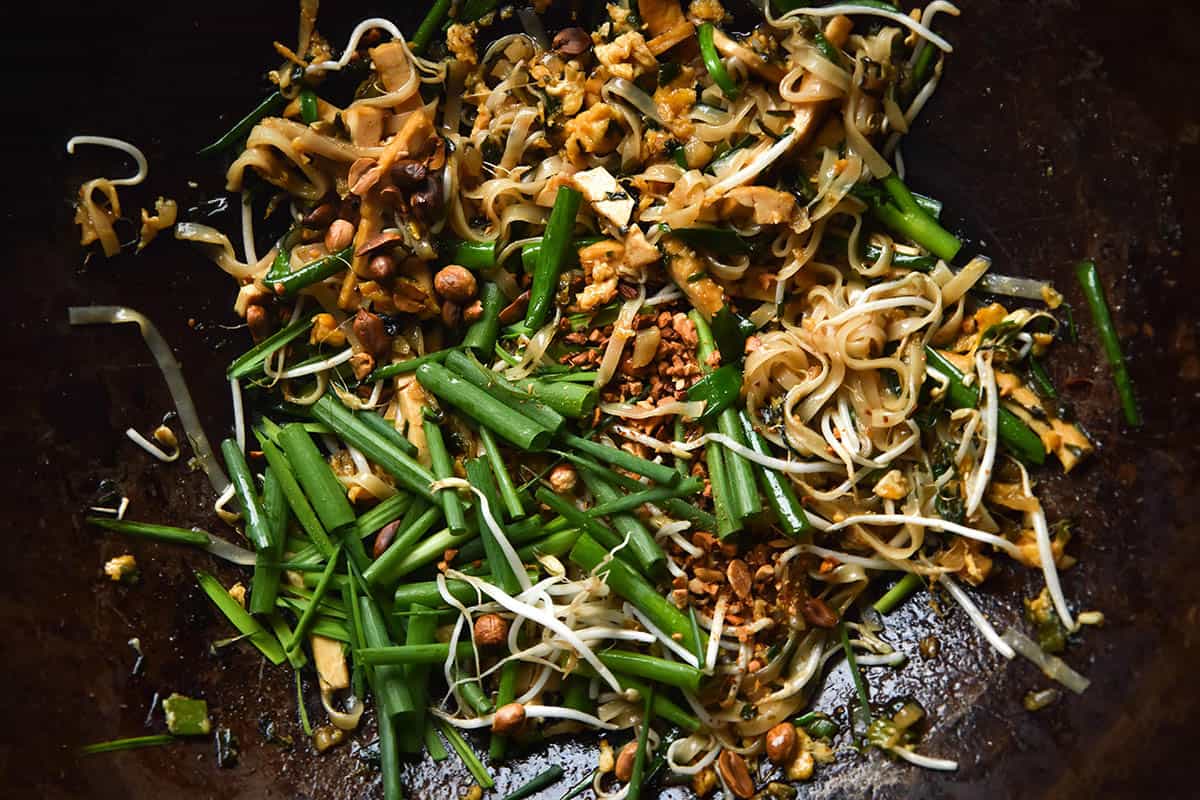 More low FODMAP recipes
If you're on the market for low FODMAP vegetarian and vegan recipes, look no further: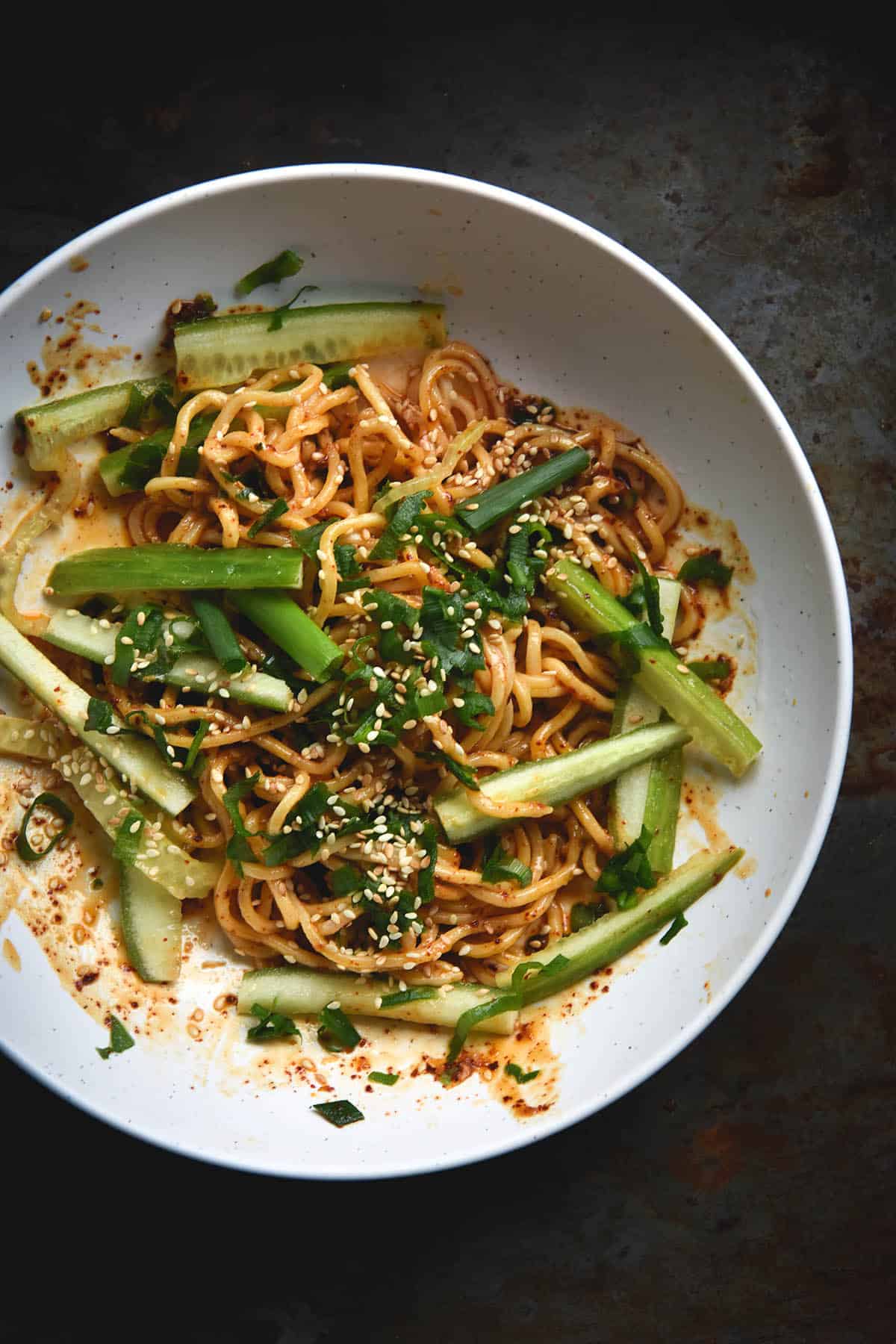 Low FODMAP peanut recipes
With all this mind, I thought I'd do a roundup of my low FODMAP peanut and peanut butter recipes. They are all gluten free and vegetarian or vegan, which means there are some egg free options, too.
Low FODMAP Pad Thai
Ok, so this low FODMAP vegetarian or vegan Pad Thai uses fresh peanuts, not peanut butter. BUT! It's one of my favourite recipes, so it had to go first! This Pad Thai uses spring onion greens and (optional) garlic chives (which are low FODMAP) for an onion and garlic free take. It tastes every bit as good as Pad Thai should.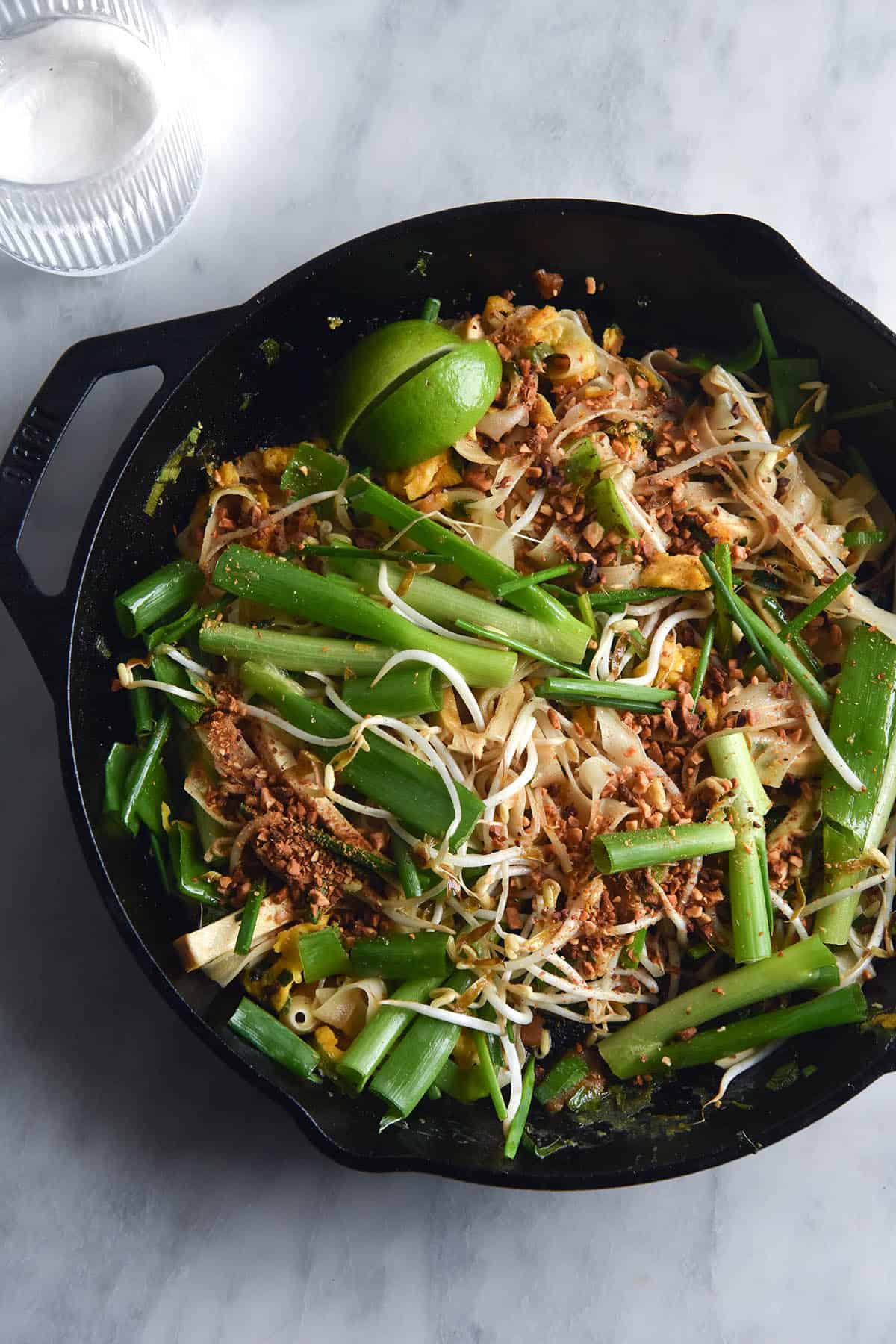 Peanut butter cookies
These peanut butter cookies are vegan, grain free and made with maple syrup or rice malt syrup. They're incredibly easy to whip up and incredibly delicious, too. A low FODMAP peanut butter win.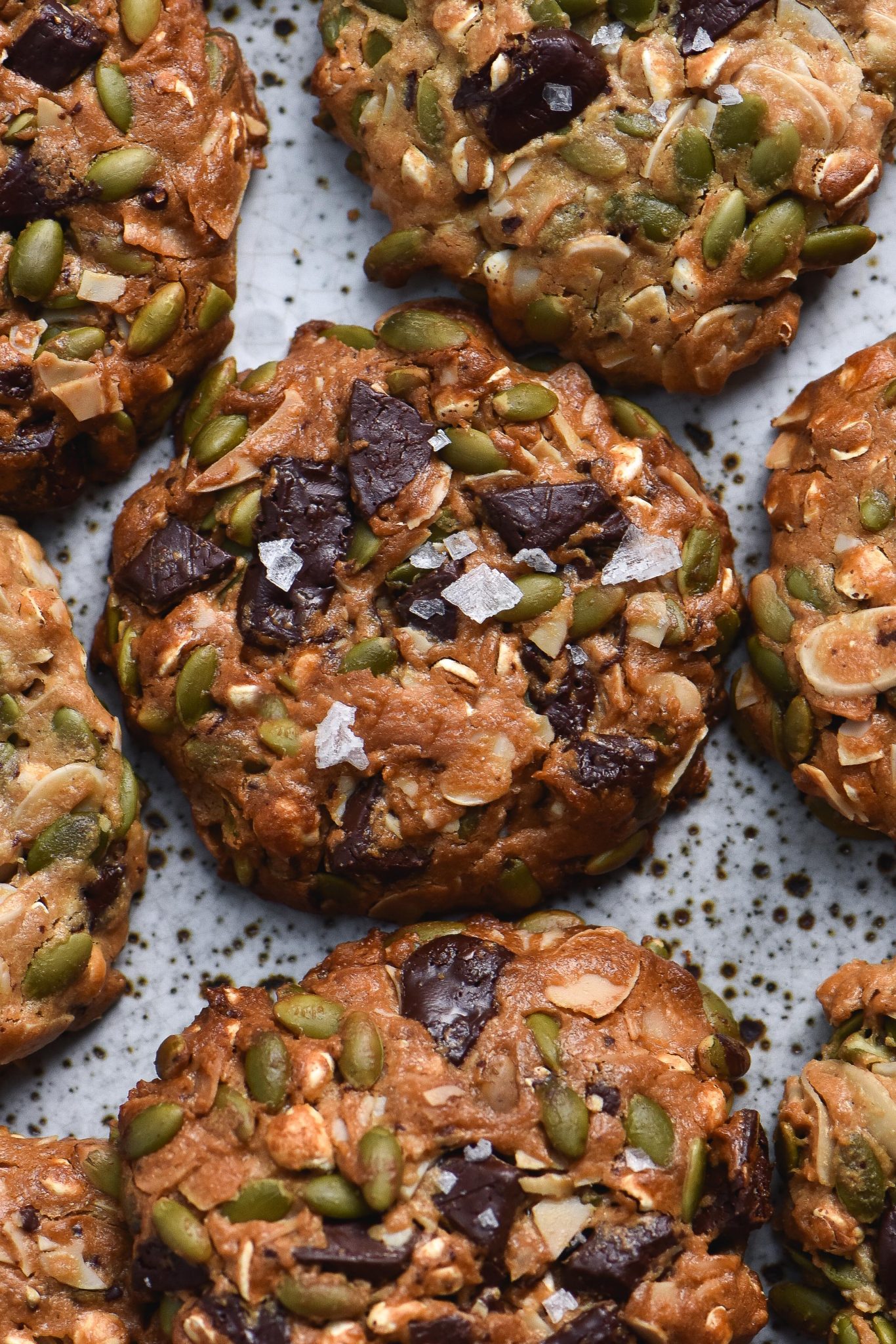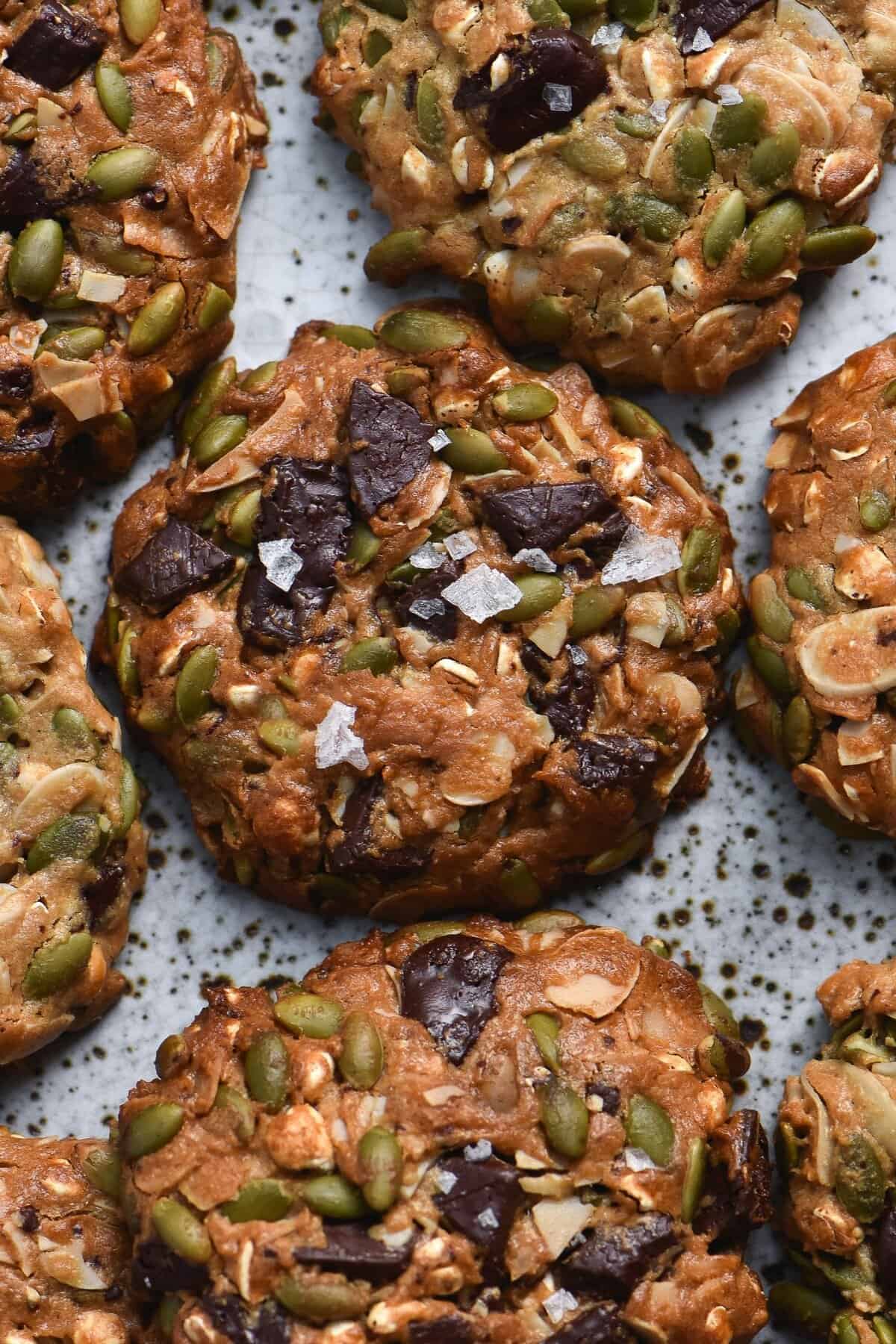 Peanut butter truffles
These easy and delicious peanut butter truffles are one of my favourite ways to eat peanut butter. They have a vegan option and a white chocolate coating option, too.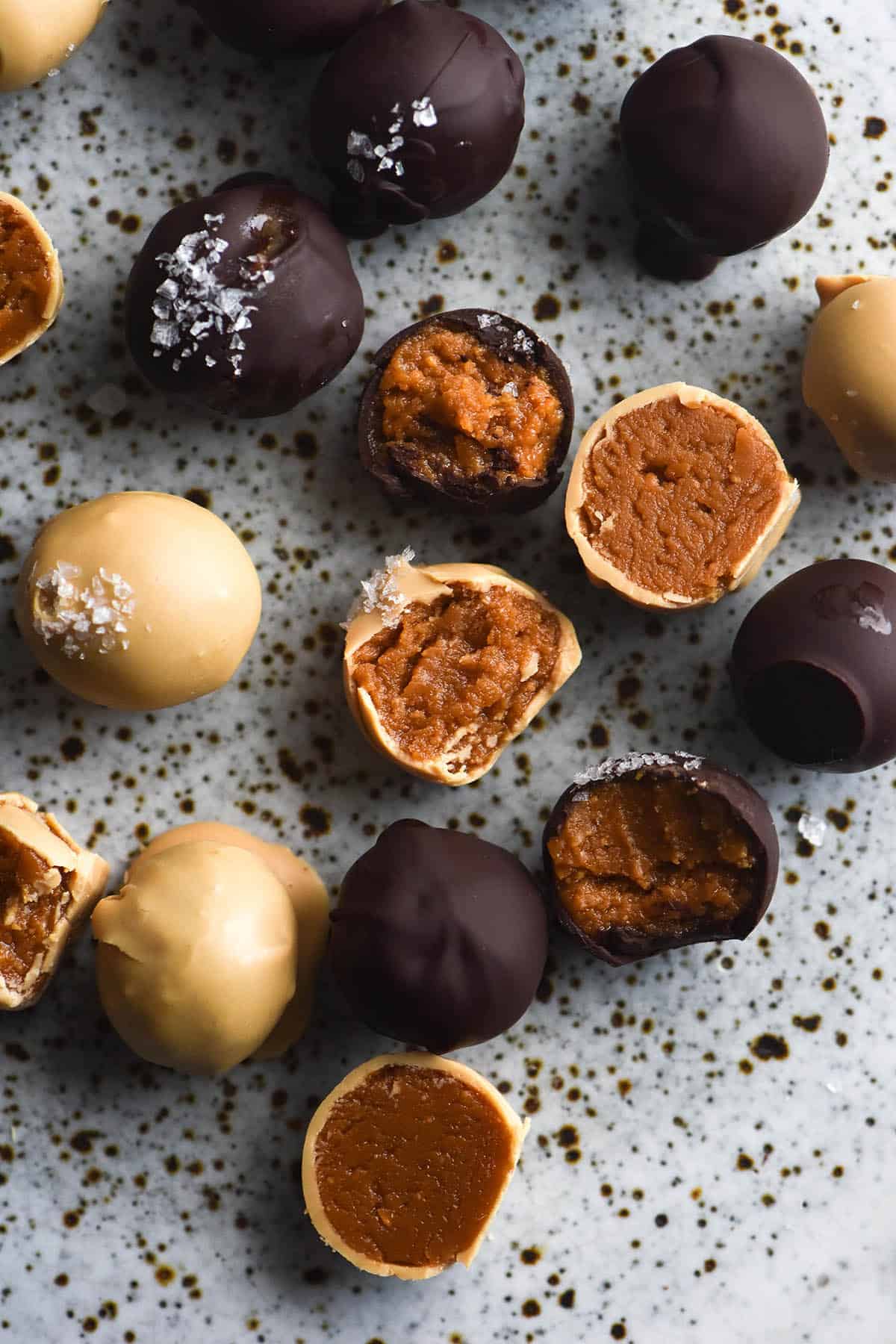 Seedy no bake breakfast bars
These seedy no bake breakfast bars are a super simple recipe from my cookbook Intolerance Friendly Kitchen. They're a low FODMAP breakfast made with peanut butter, low FODMAP seeds and puffed buckwheat or quinoa. A quick and easy make ahead breakfast that is delicious and nutritious.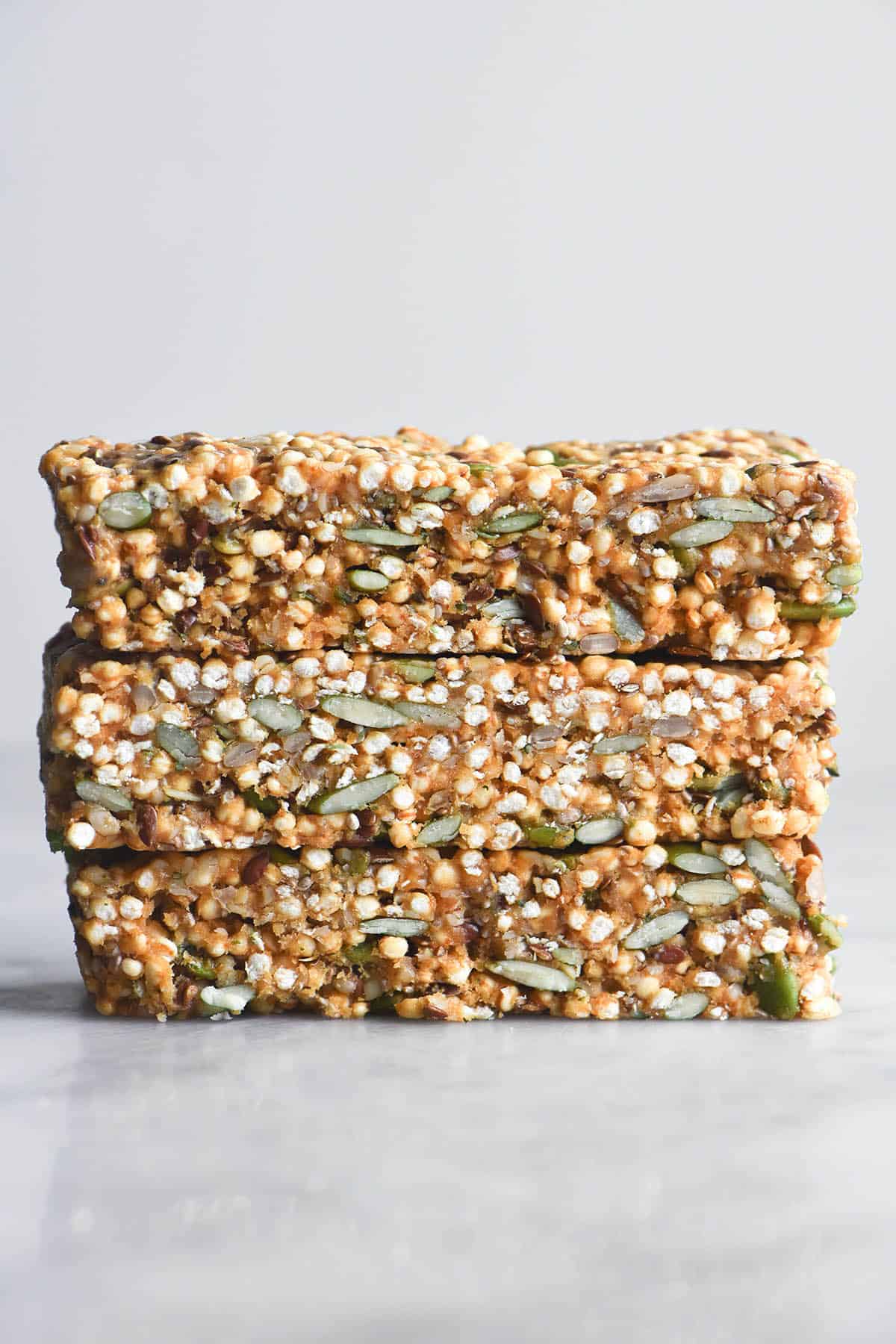 Vegan peanut stir fry
Because sometimes stir fry just needs peanut butter, you know? This one is low FODMAP, vegan and gluten free, and chock full of delicious peanut butter.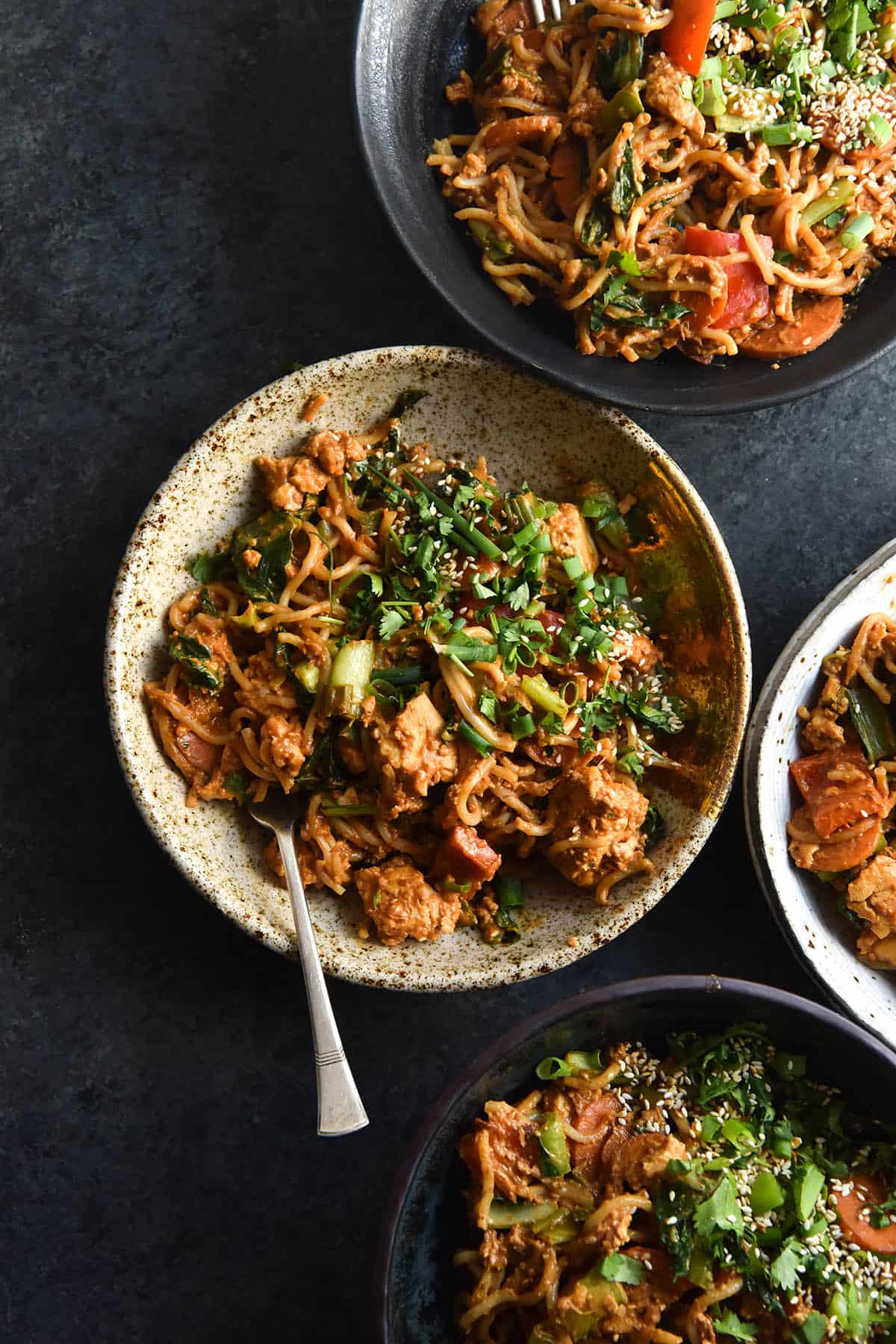 FODMAP friendly peanut sauce
This low FODMAP peanut sauce is inspired by my time in Bali and all the incredible satay I ate while I was there. This version uses peanut butter for a shortcut, and makes for a delicious low FODMAP gado gado.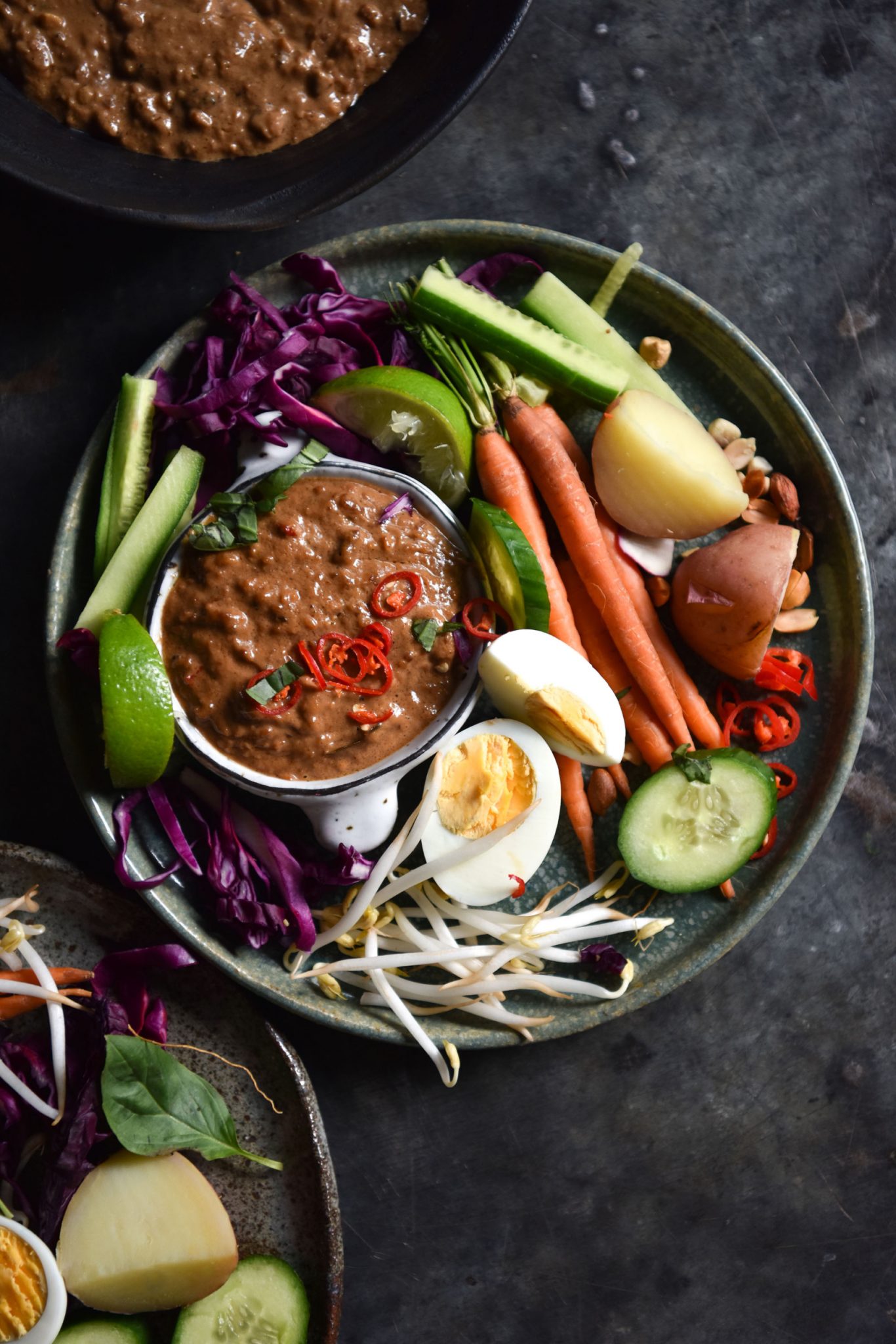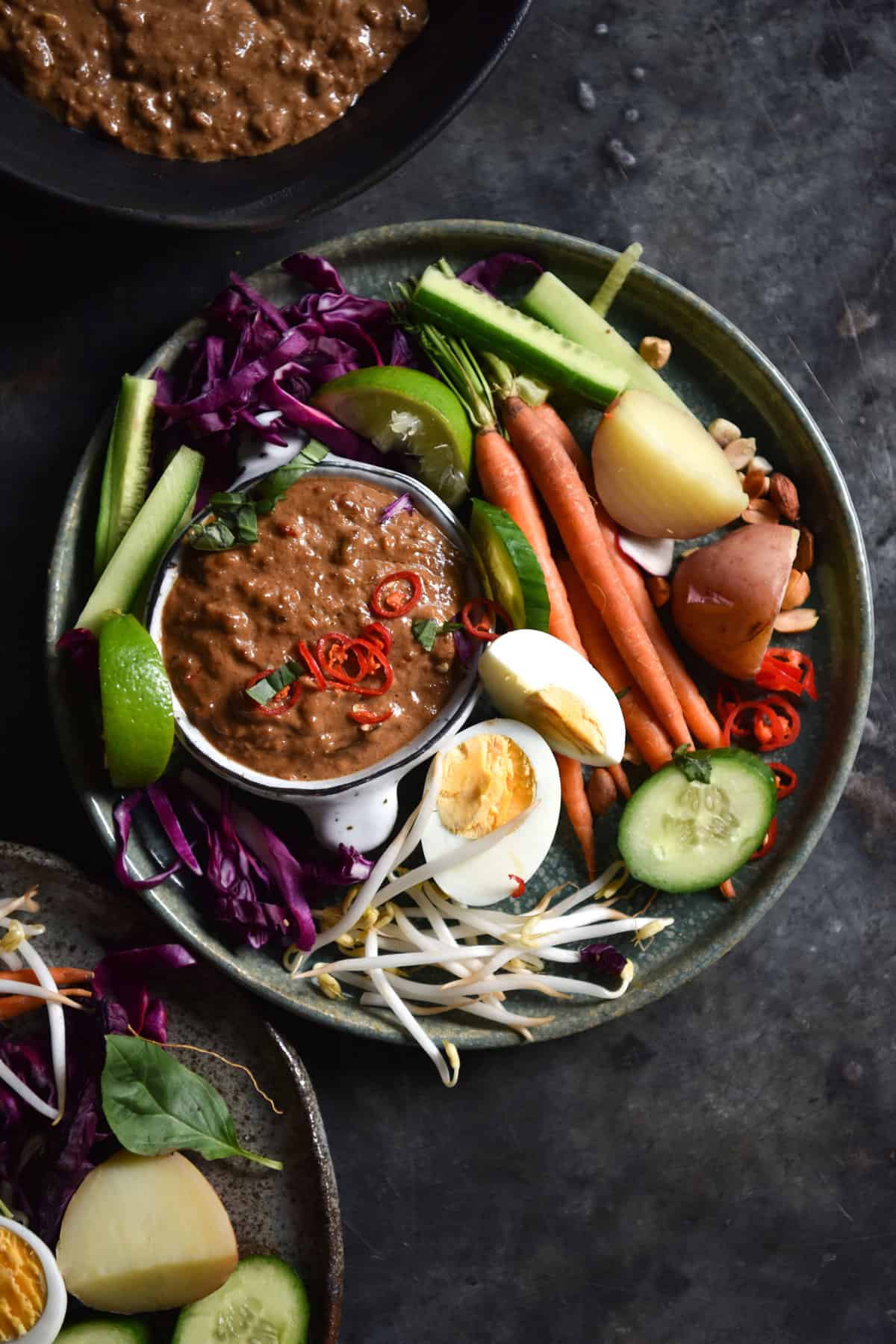 Lactose free peanut butter cheesecake
This chocolate and peanut butter cheesecake uses lactose free cream cheese and a low FODMAP quantity of peanut butter to keep the FODMAPs right down. It's creamy, rich and delicious.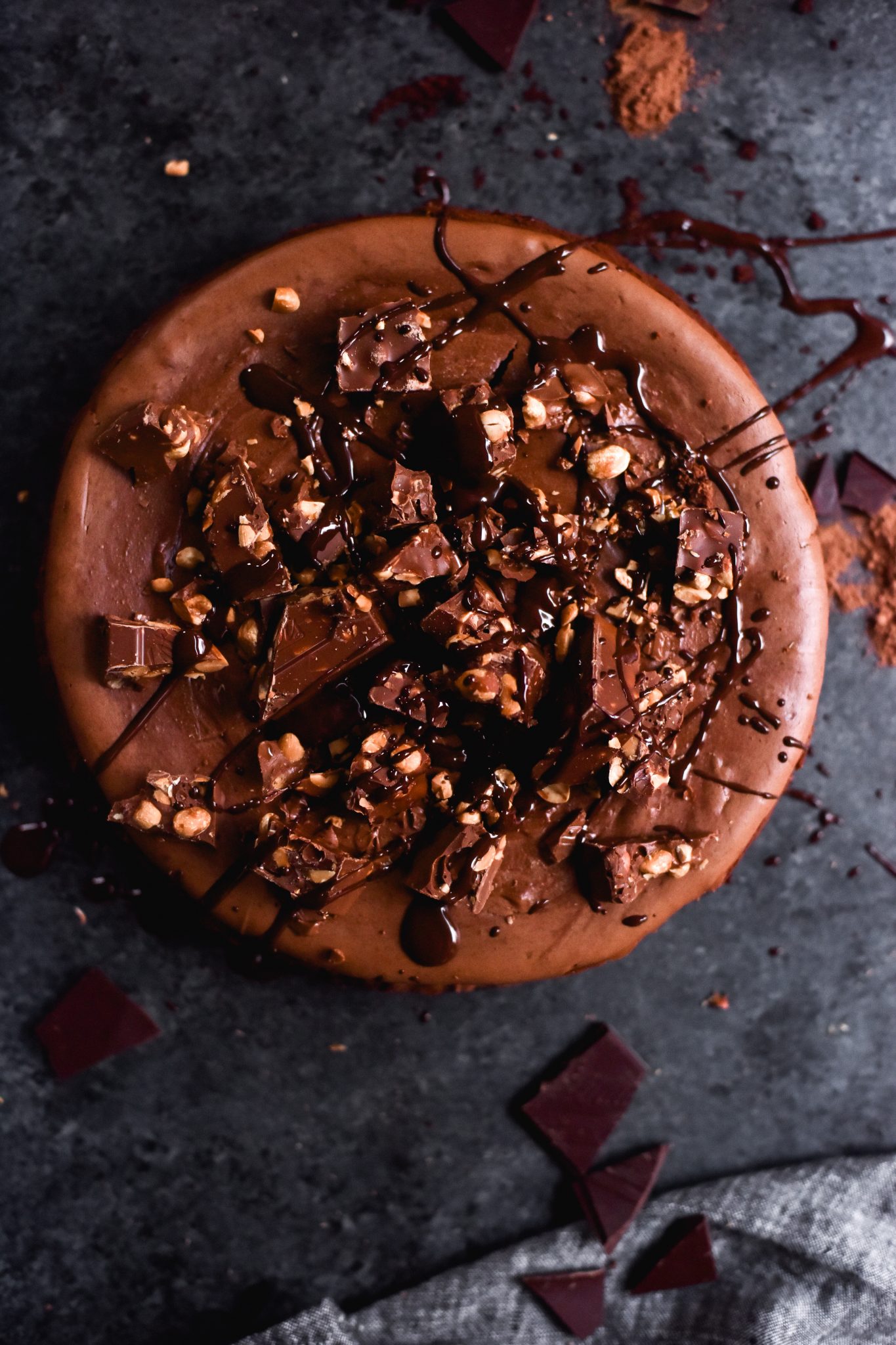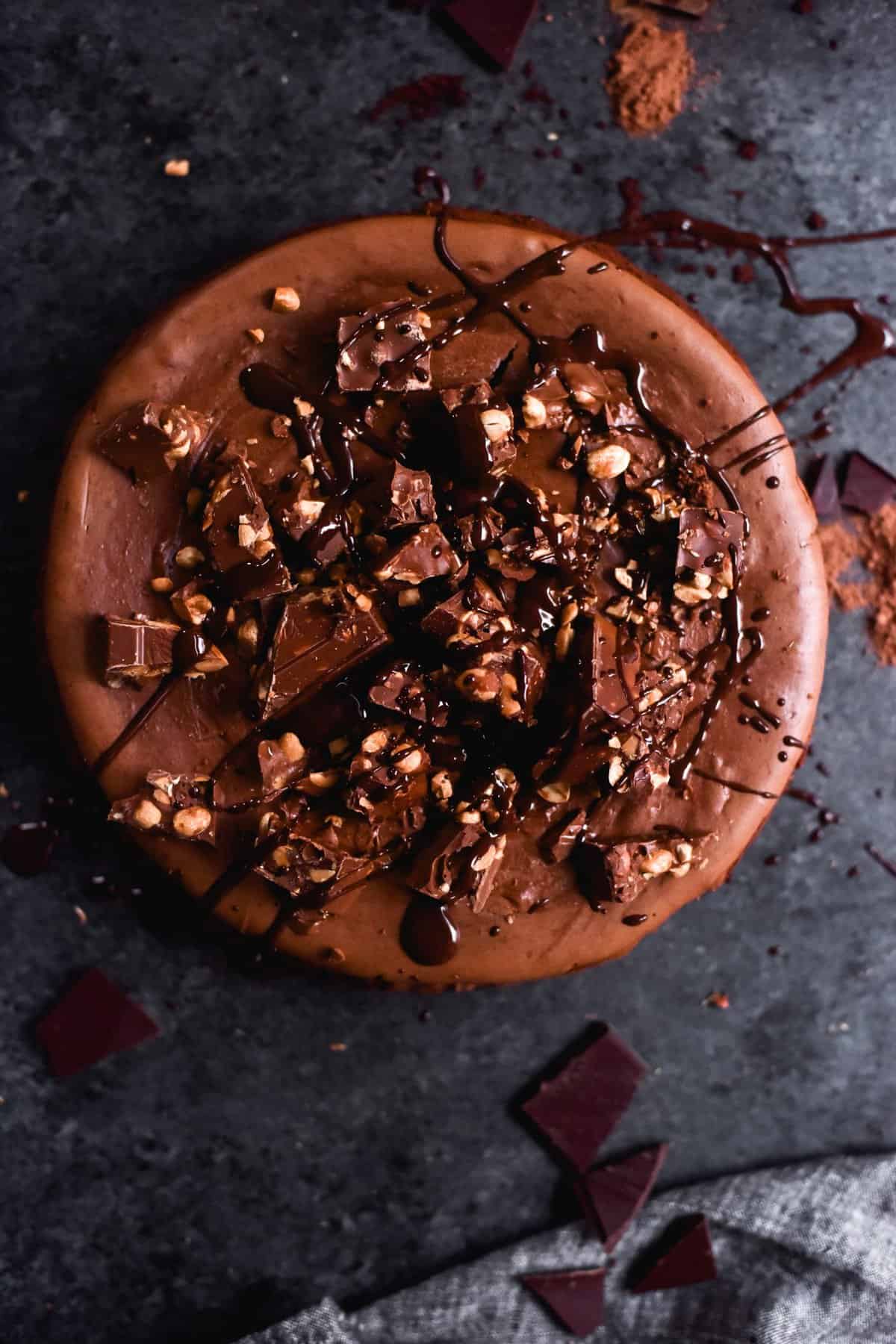 Low FODMAP chilli oil noodles
These low FODMAP chilli oil noodles are a 15 minute dinner for those of us who are digestively challenged. I like to use peanut butter to add creaminess and richness to this easy, vegan low FODMAP dish.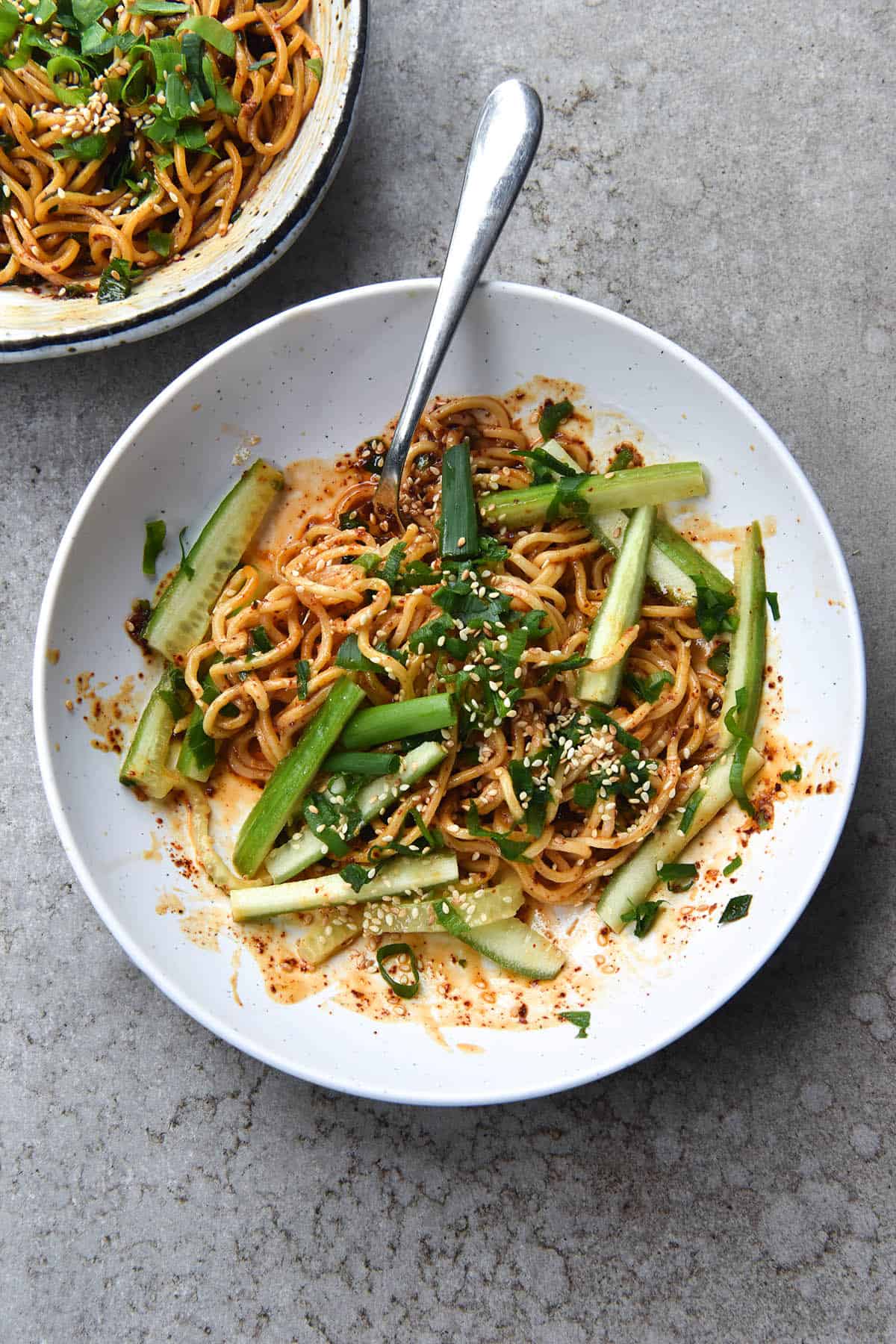 Gluten free brownie cookie sandwiches with peanut and brown butter buttercream
Deliciously fudgy brownies filled with a brown butter and peanut butter buttercream. I don't know if there has ever been a more perfect sentence uttered.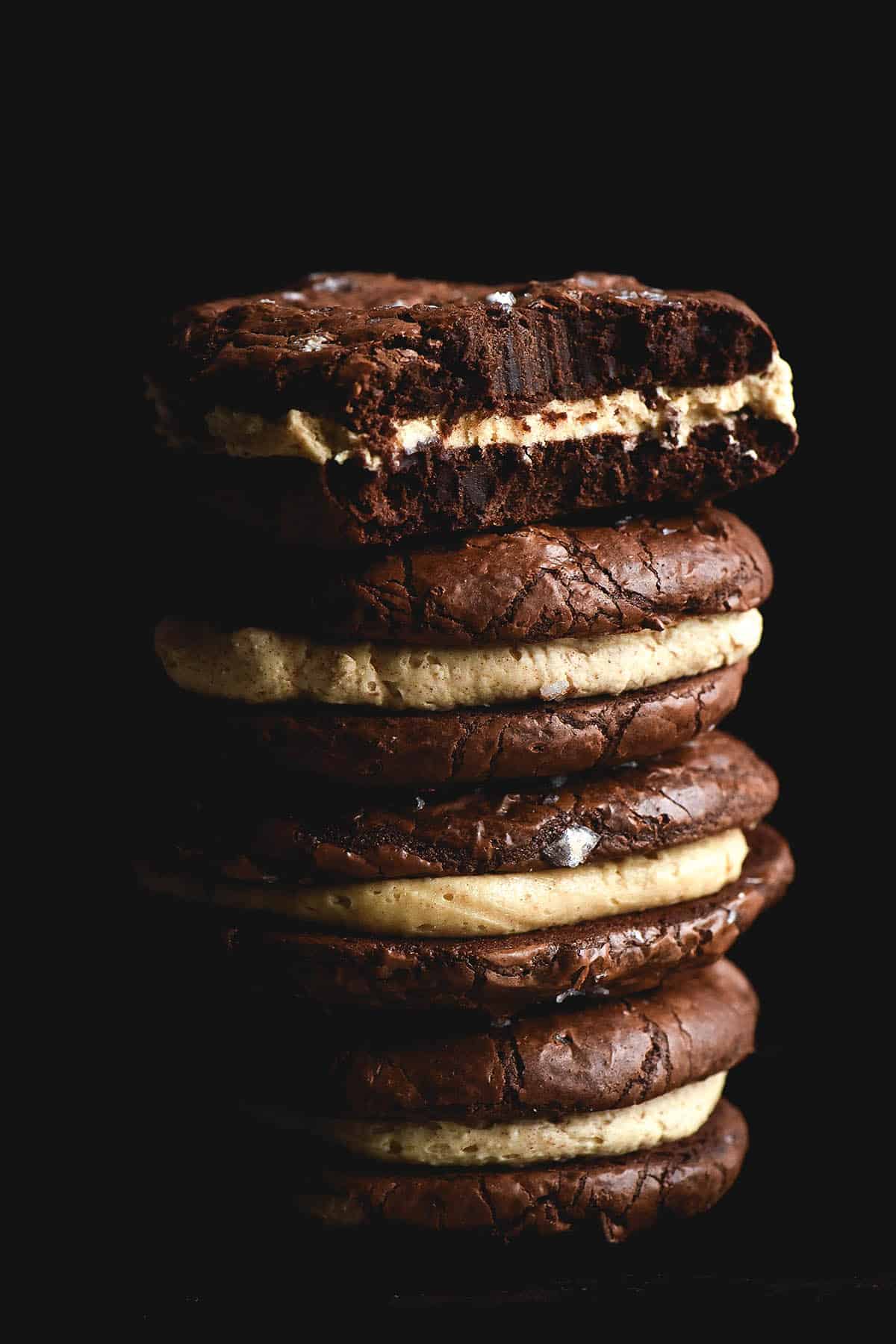 Low FODMAP tofu larb
This tofu larb is a low FODMAP take on the delicacy from Laos and Northern Thailand. It uses tofu and low FODMAP ingredients for a vegan dish that is full of flavour. Although there's no peanut butter, there's plenty of freshly toasted peanuts.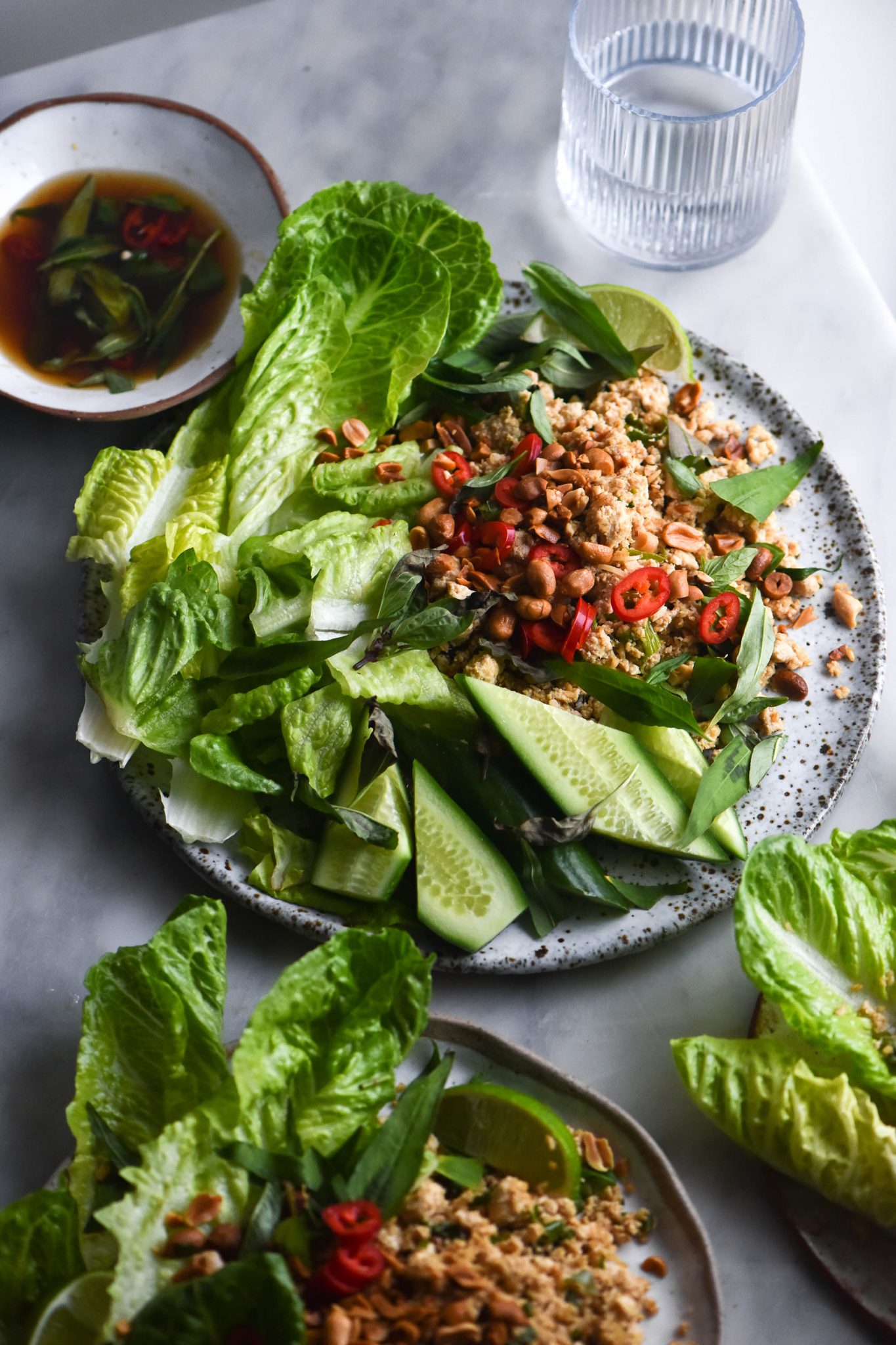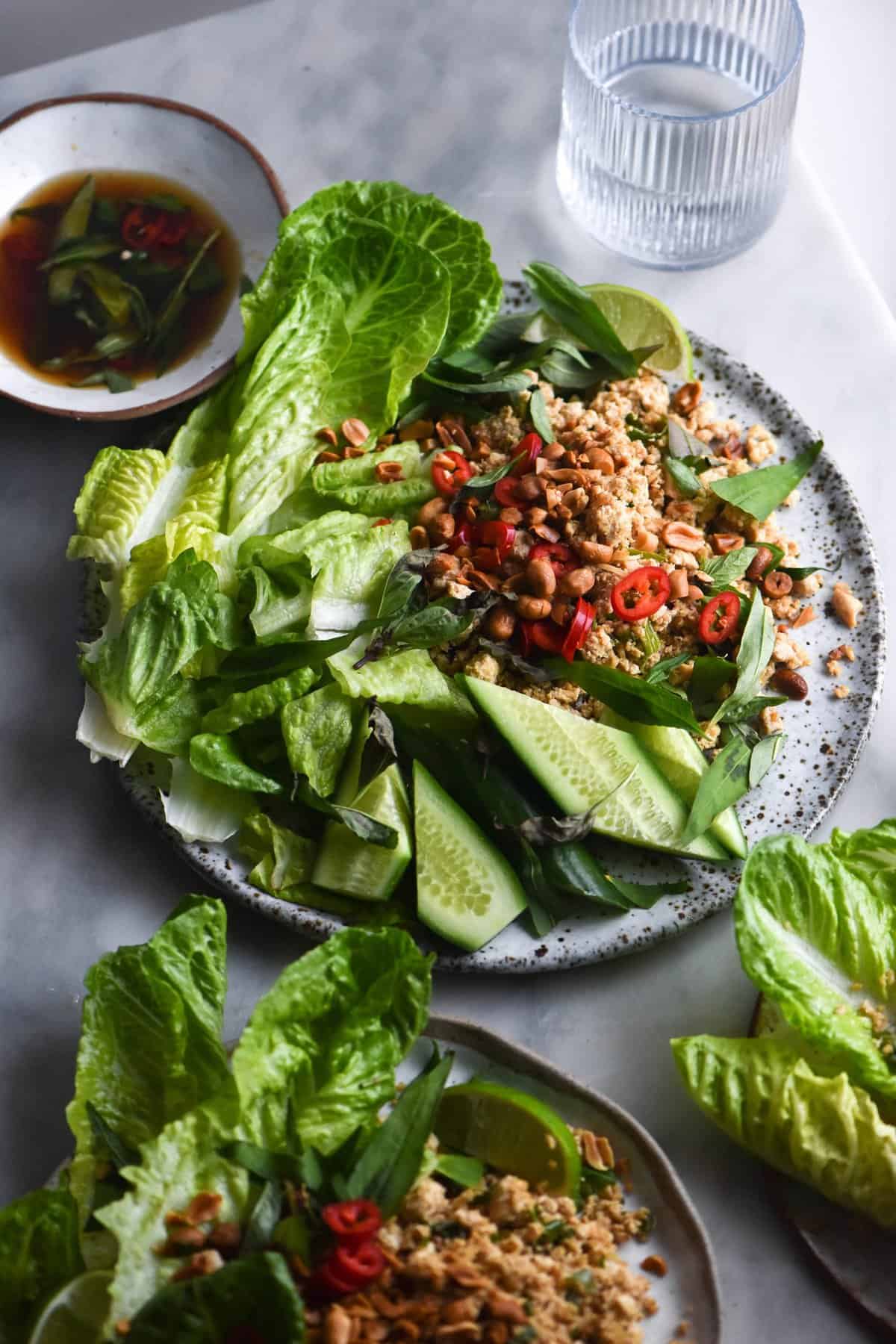 Chewy chocolate coated peanut butter bars
These chewy peanut butter bars are the ultimate low FODMAP peanut butter treat. They're low in sugar, vegan, yet have that nostalgic and delicious peanut butter chocolate flavour combination.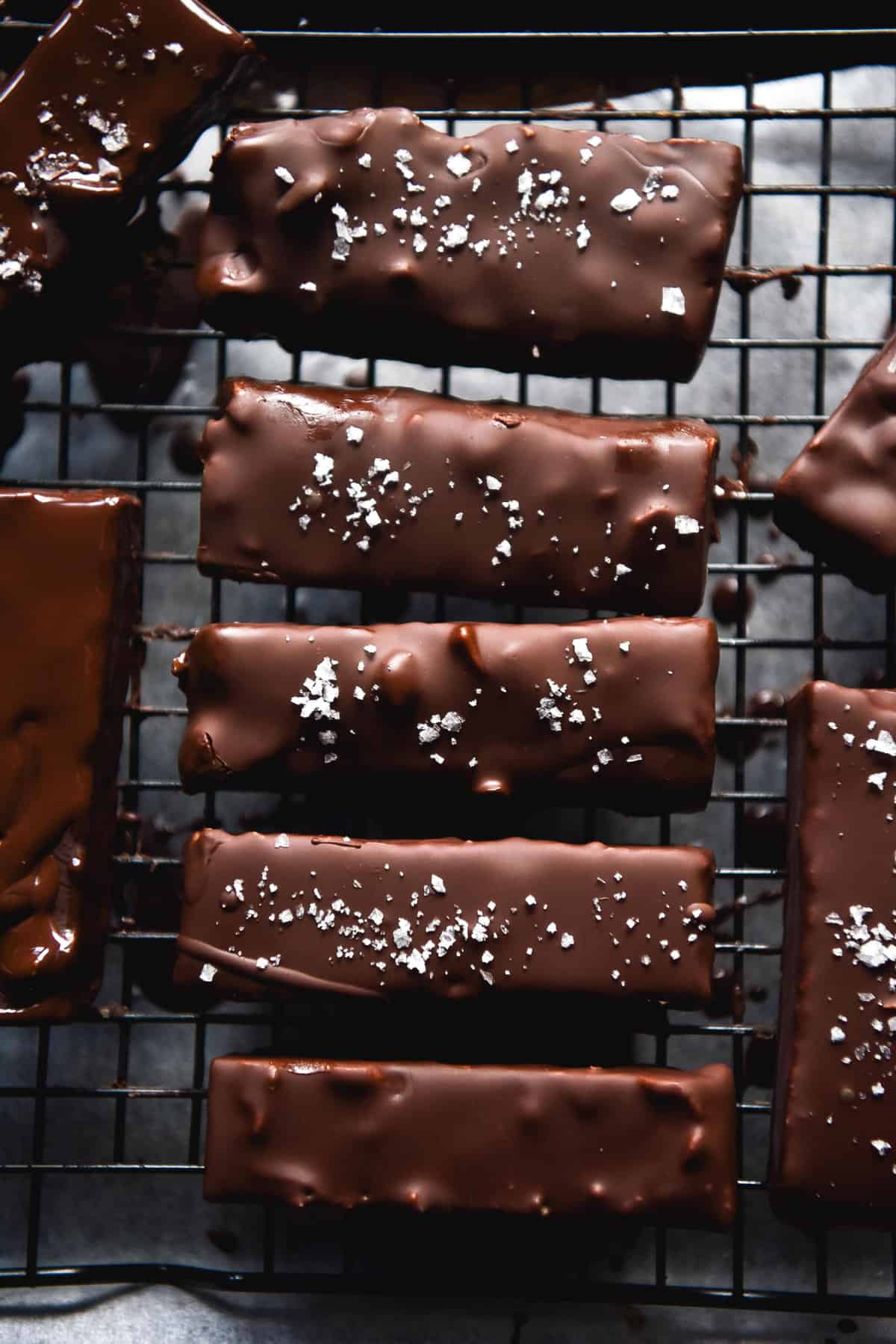 Low FODMAP chilli oil tofu
If you're looking for a quick low FODMAP vegan dinner with a hint of peanut butter, look no further. This recipe takes my low FODMAP chilli oil noodle concept and applies it to tofu with A+ results.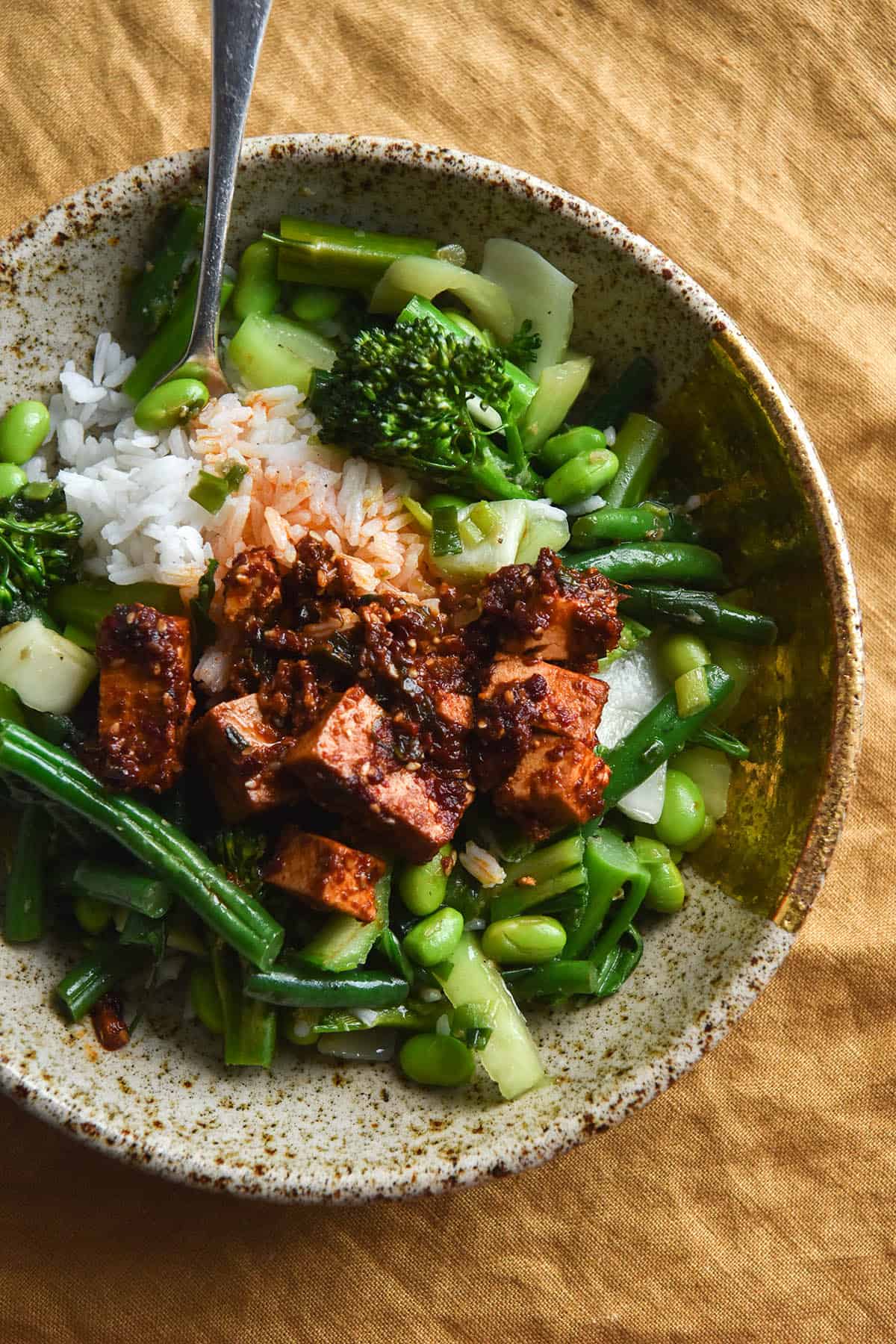 Banana protein pancakes
These banana protein pancakes use any nut butter you like, but my preference is always for peanut butter. A smothering of it on top as well? If you insist.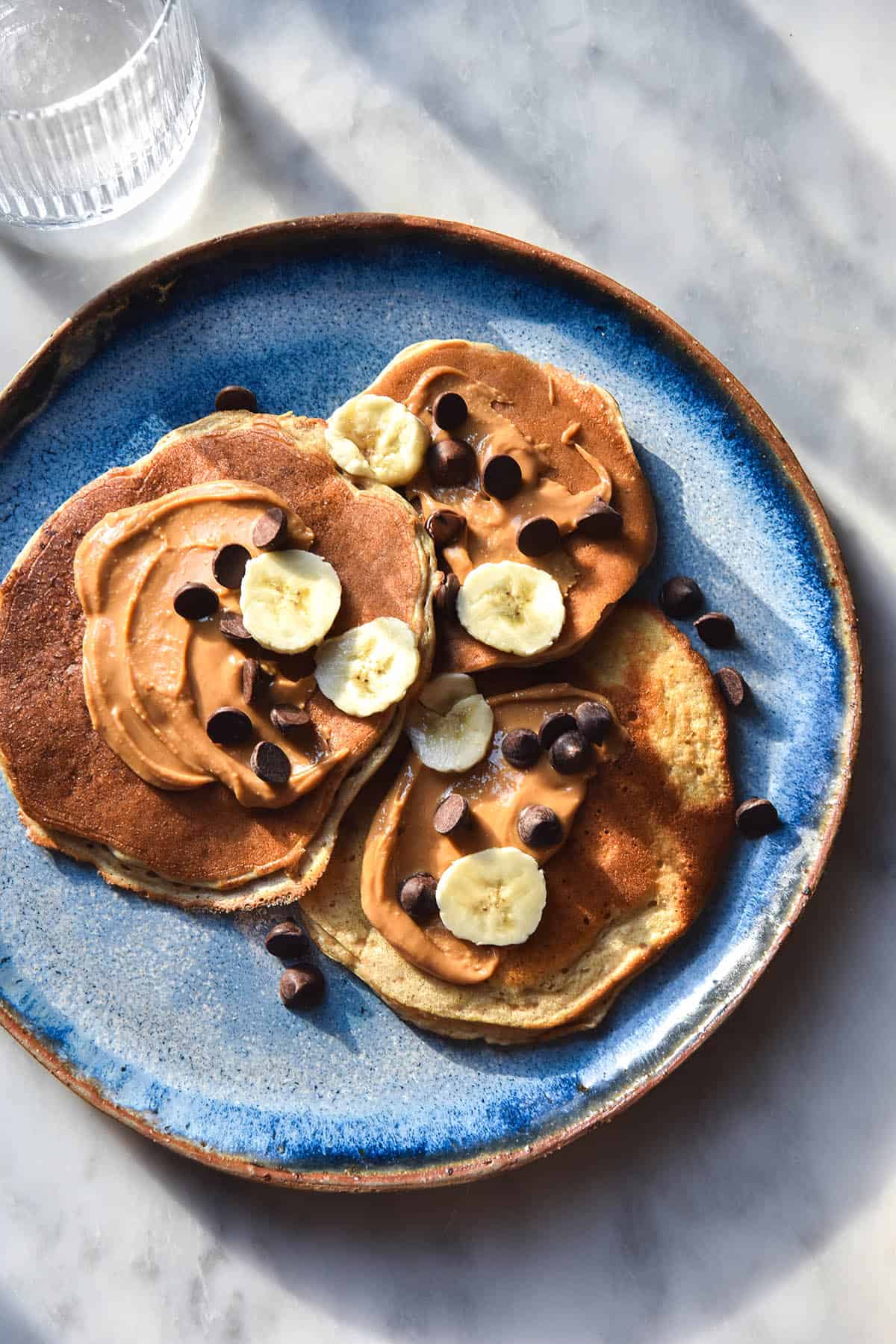 Vegan Vietnamese coleslaw with freshly toasted peanuts
This salad is one of my favourite things to eat on a hot summer night. The Low FODMAP vegan nuoc mam is a delight, but the freshly toasted peanuts are what brings everything together.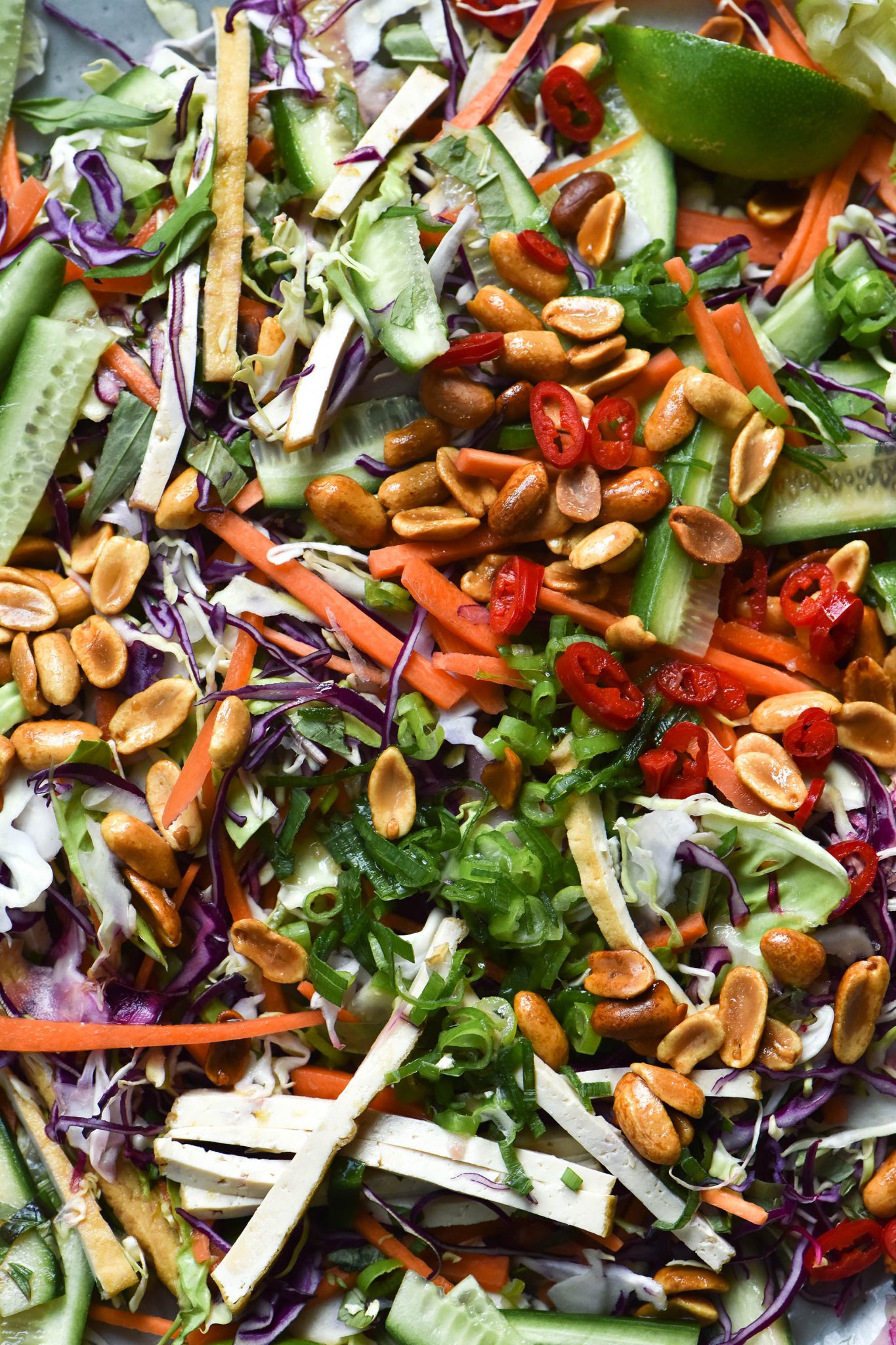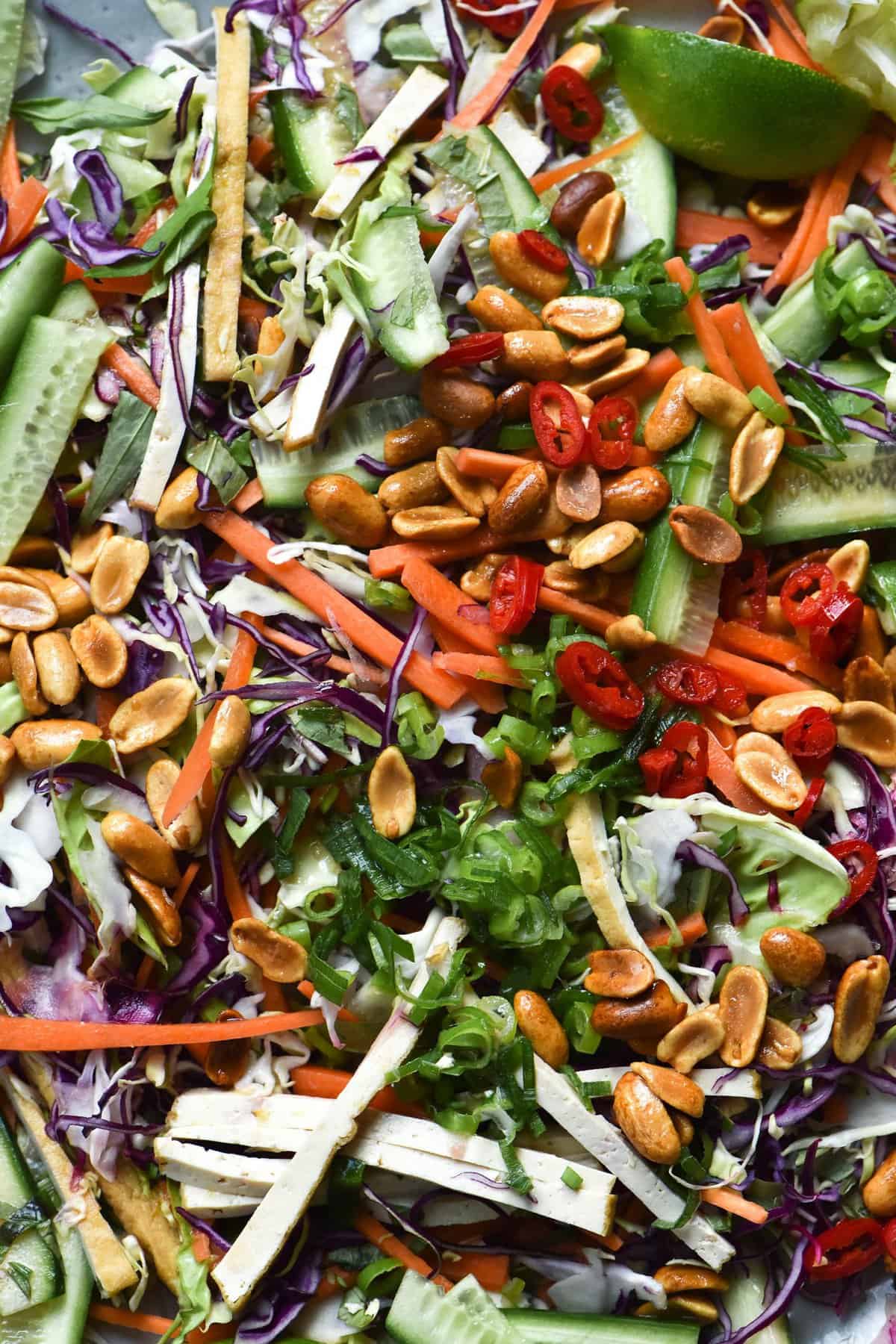 Atop gluten free porridge
This gluten free porridge uses rice flakes to replace oats (which are only considered wheat free in Australia). It's creamy, rich and delicious, and a big spoonful of peanut butter would be right at home on top.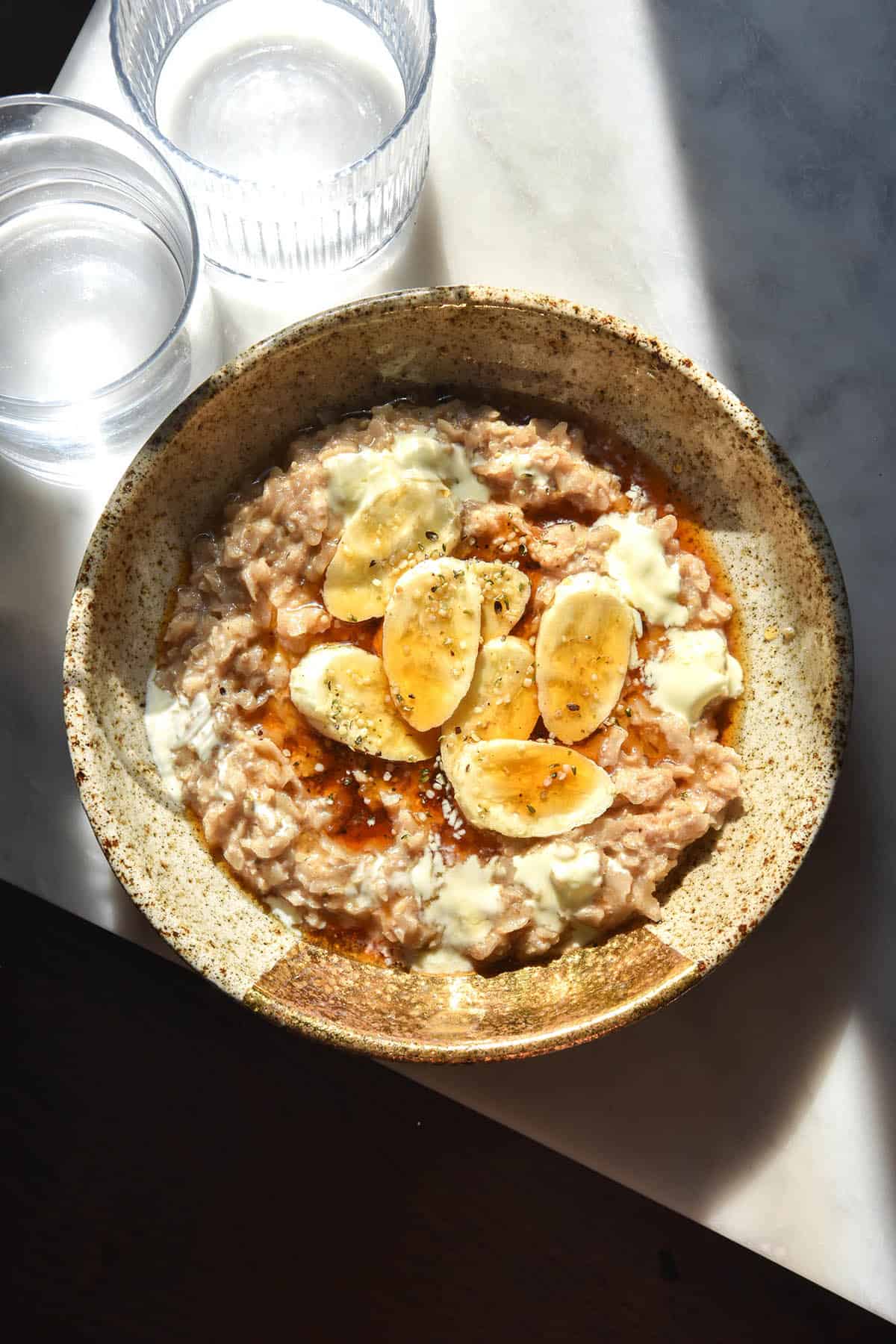 Not quite Dan Dan noodles
These not quite Dan Dan noodles are a low FODMAP vegetarian or vegan recipe from my cookbook, Intolerance Friendly Kitchen. They deviate from the traditional recipe due to their low FODMAP and vego/vegan nature, but they are a delicious dietary restriction friendly alternative.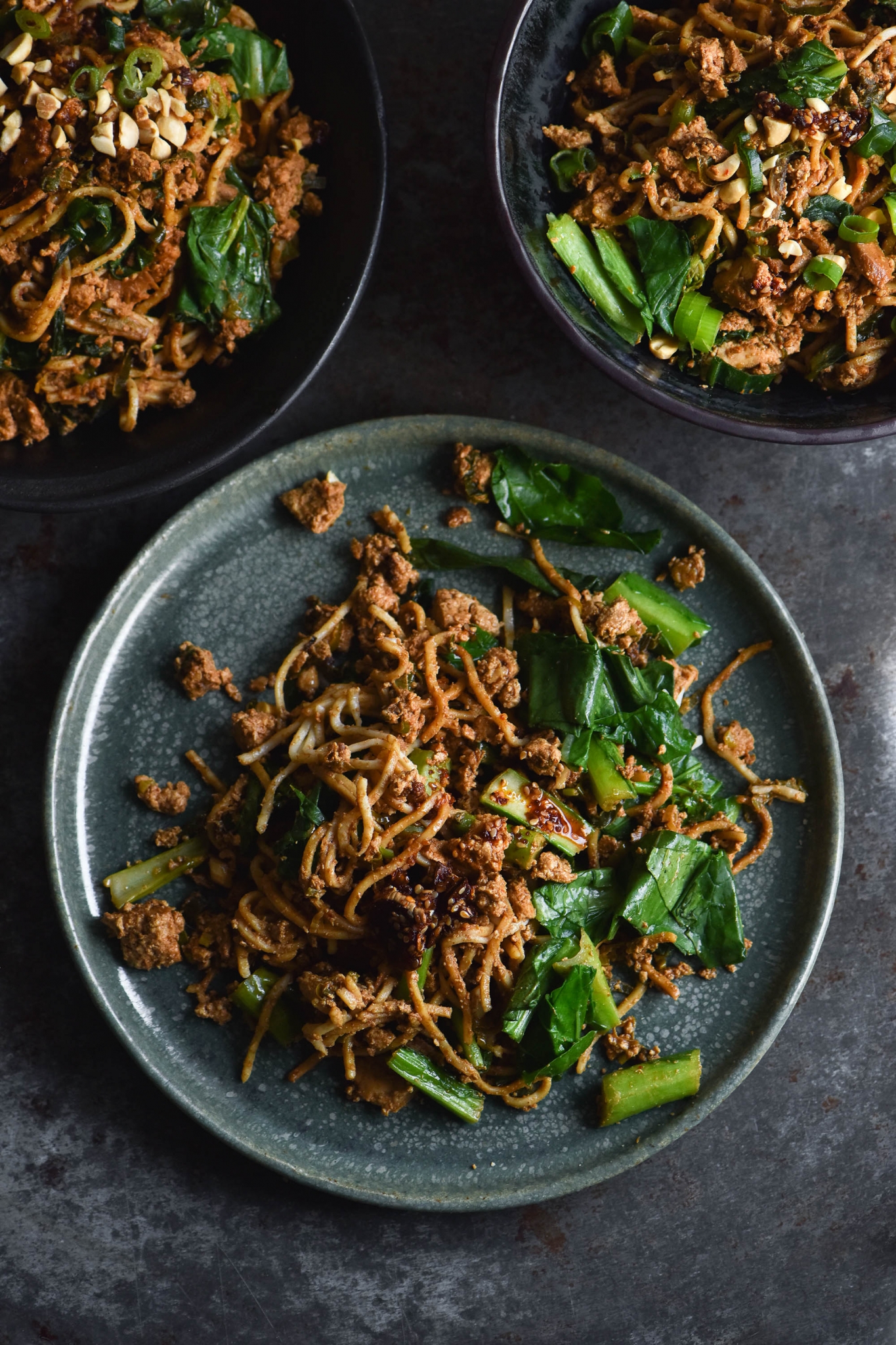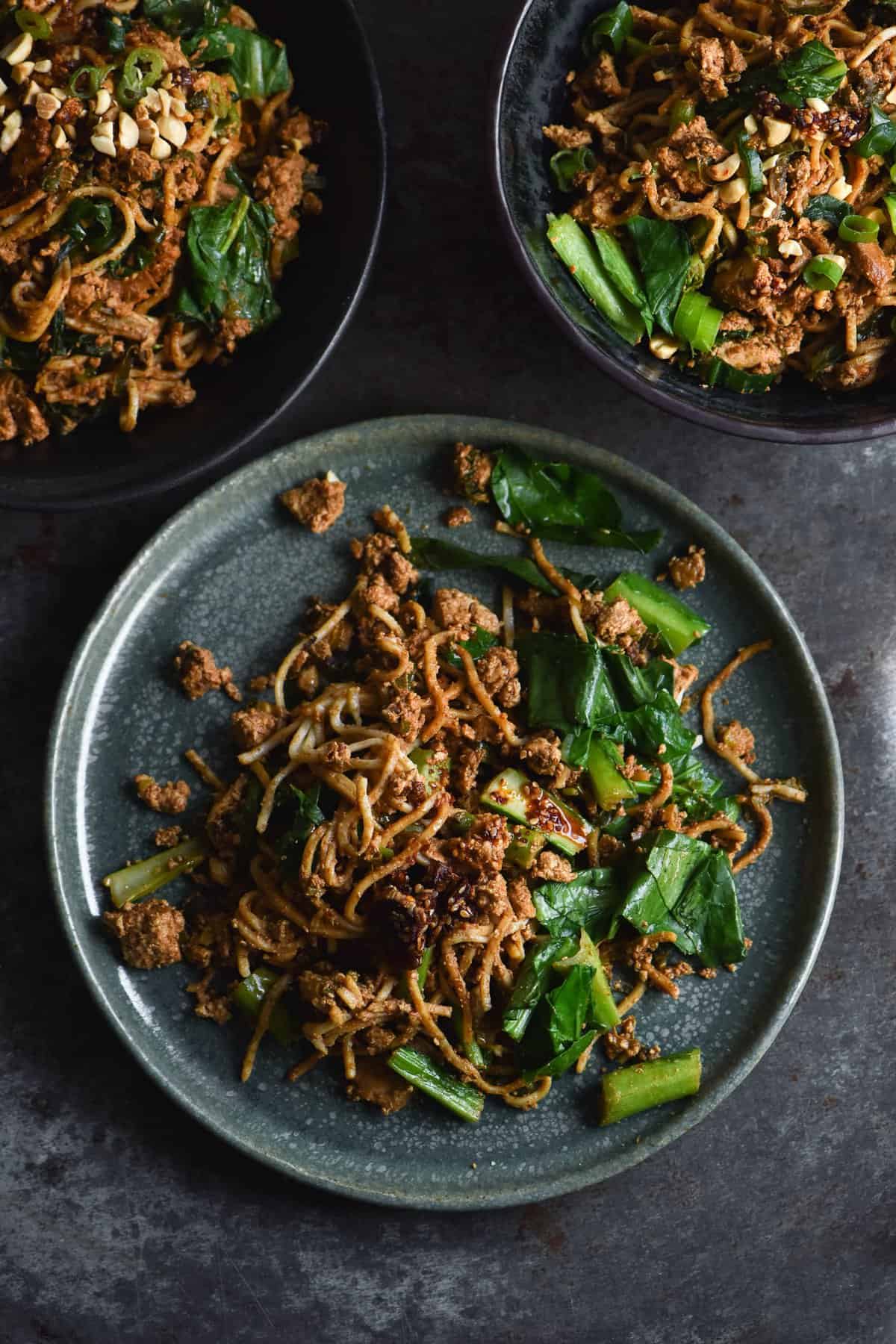 Mixed into low FODMAP overnight oats
A big spoon of peanut butter would be pefectly at home in these creamy low FODMAP overnight oats. There's a low FODMAP gluten free version using rice flakes, too.