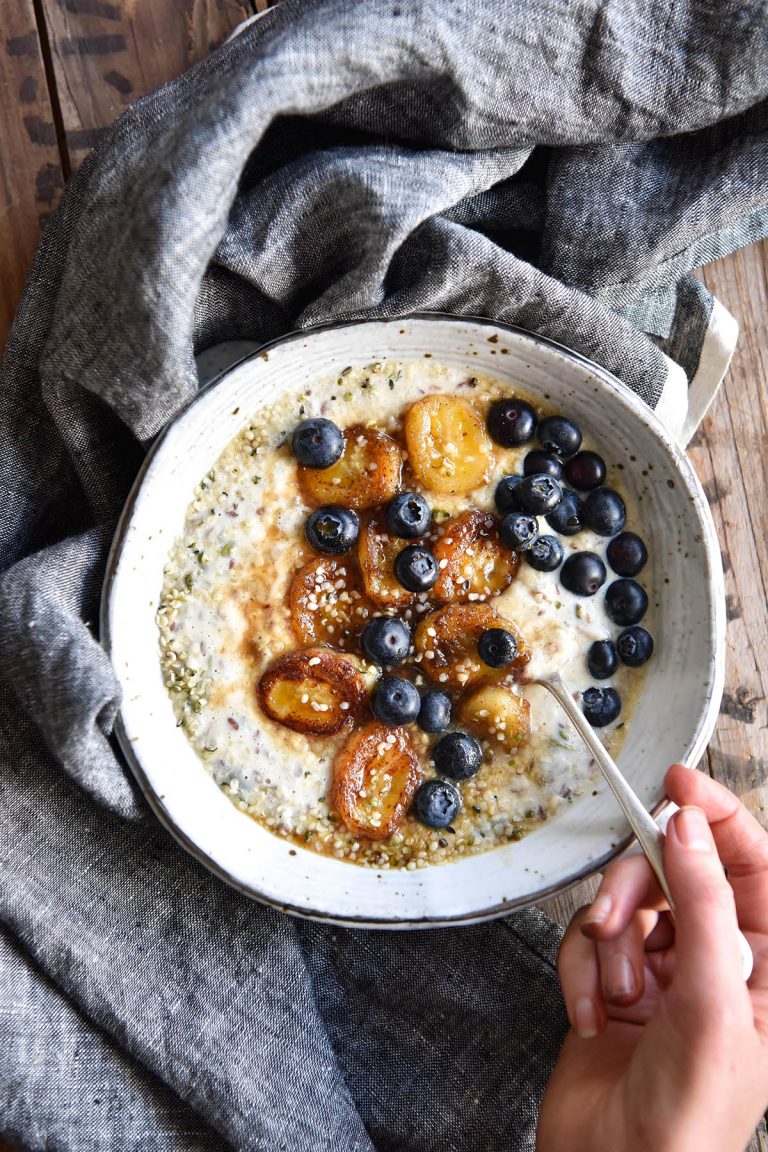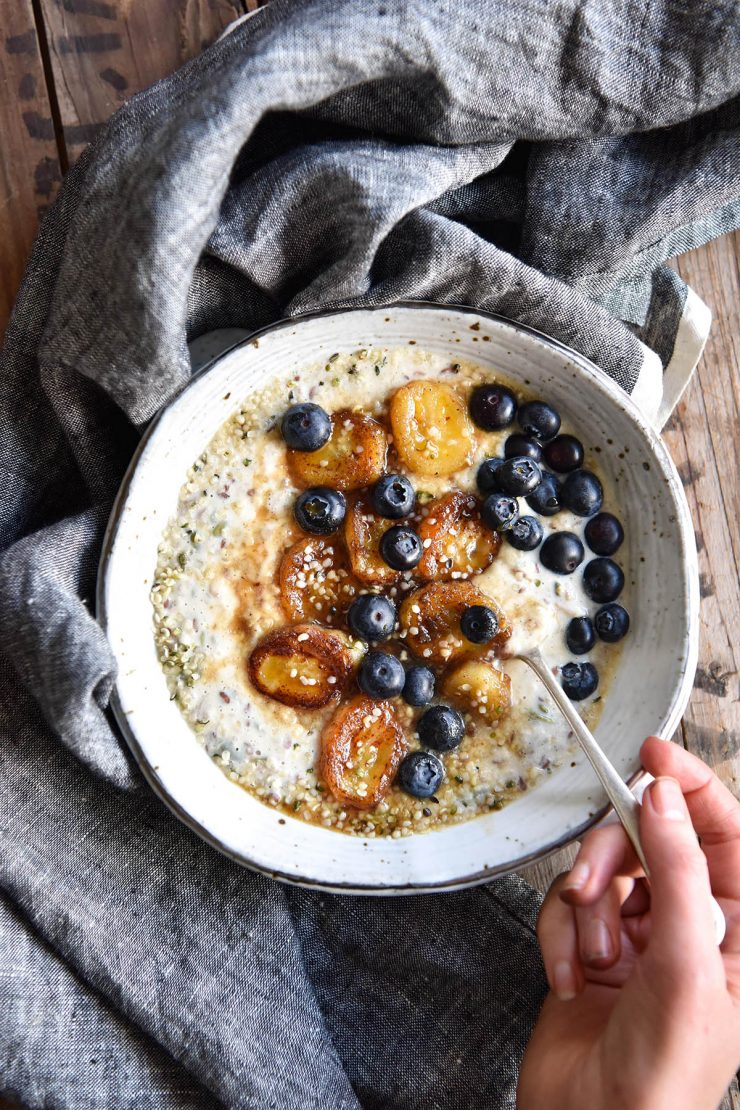 I don't have enough low FODMAP breakfast recipes on my website. I'm working on changing that, starting with these low FODMAP overnight oats. They are packed with protein, filling and delicious. There's a dairy free/vegan option, as well as an oat free option.
Low FODMAP overnight oats
This recipe uses wheat free oats or rice flakes to form the base of the dish. As we'll go into below, oats aren't considered gluten free in Australia, which is why I have provided the rice flake option.
The oats are sweetened with maple syrup, and thickened with chia seeds. They use milk and yoghurt for a creamy base, and optional protein powder for a protein hit.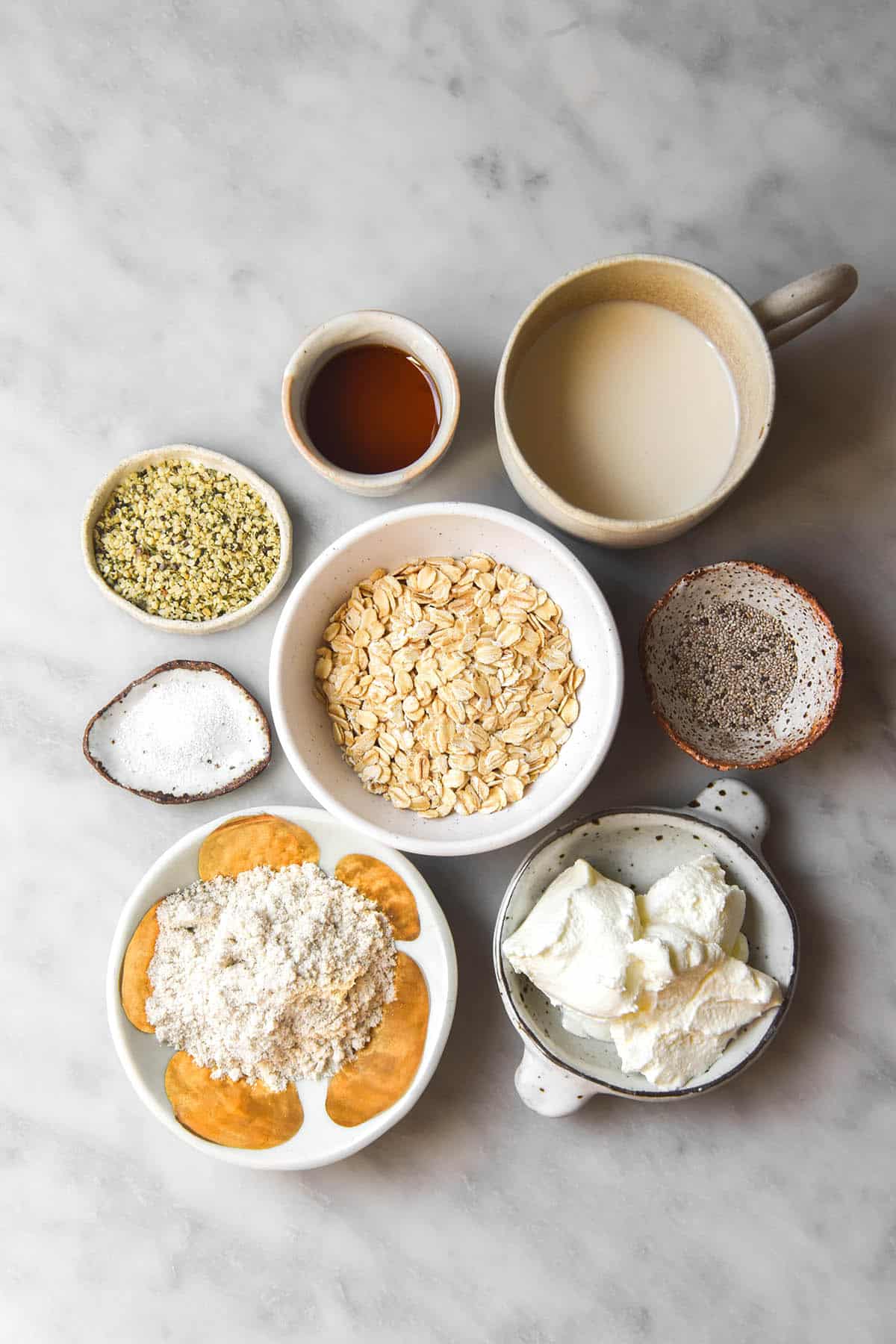 Are oats gluten free?
Oats that have been grown and produced under special conditions are considered gluten free in some countries, but not Australia. Oats contain a protein called avenin, which is similar to gluten. Coeliac Australia writes that there have not been enough tests to confirm that avenin does not elicit the same immune response as gluten for coeliacs. As such, oats are not considered gluten free in Australia. Some coeliacs are able to tolerate oats, but some are not.
There are, however, certified wheat free oats, which are the same as those designated gluten free in other countries like the USA and Europe. These oats are grown on land that doesn't grow or cycle wheat, barley or any gluten containing grains. They are also produced in certified gluten free factories.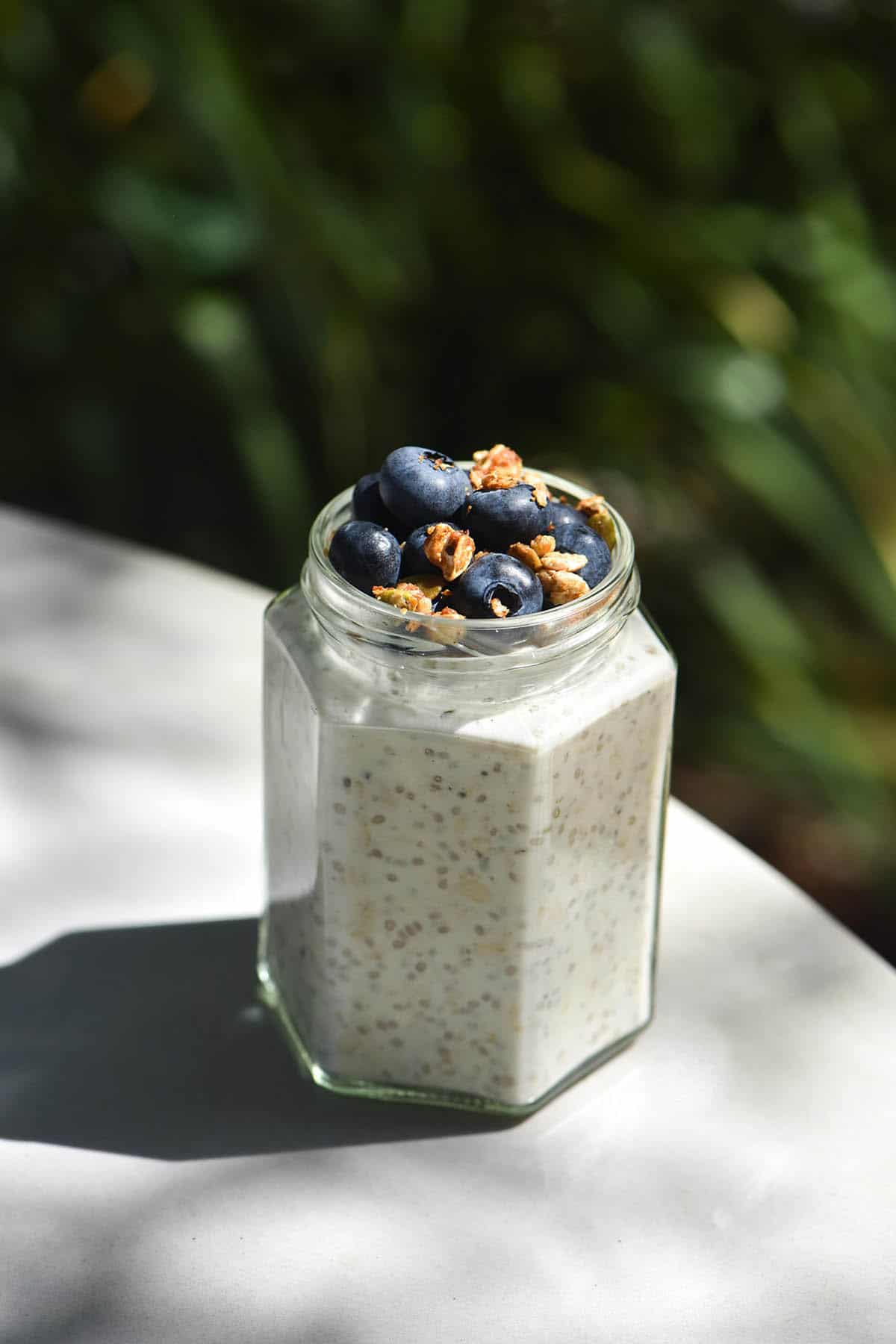 Are oats low FODMAP?
At the time of writing, uncooked oats are deemed low FODMAP in 52g serves (or 1/2 cup) per person by Monash. Interestingly, Quaker oats (USA) have a lower FODMAP threshold of 34g for old fashioned oats and 40g for steel cut oats. Monash doesn't explicitly state the reason for the discrepancy.
On the other end of the scale, British oats are low FODMAP in 60g of uncooked oats. Oats from South Africa are considered low FODMAP in 60g cooked servings.
Low FODMAP and gluten free are two separate entities, so you do not need to buy gluten free oats for a low FODMAP diet. This is unless you have coeliac or gluten sensitivity, of course.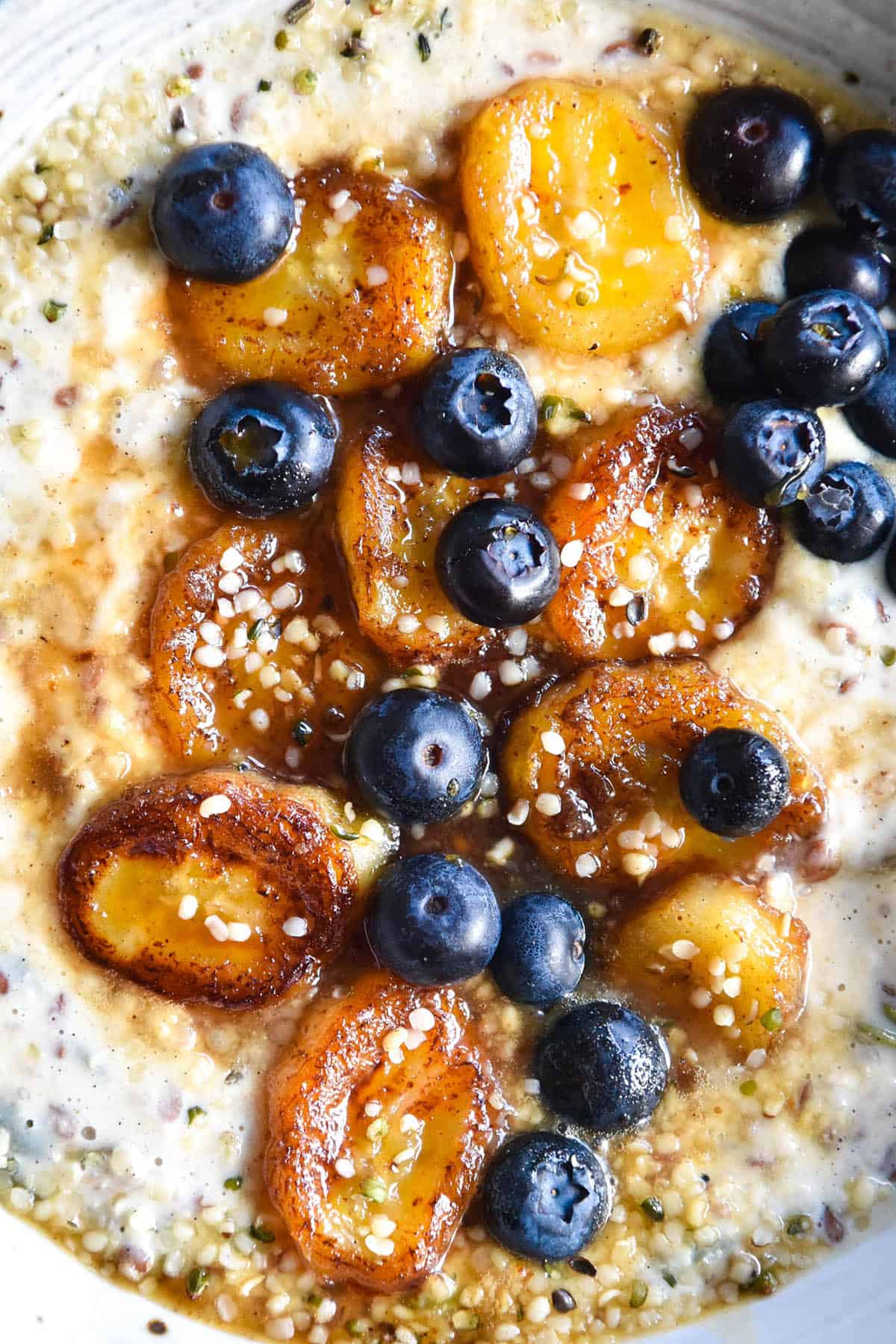 Are chia seeds low FODMAP?
Chia seeds are low FODMAP in 24g or 2 tablespoon serves per person, at the time of writing. This applies to both white and black chia seeds. Chia seeds are a great addition to low FODMAP overnight oats because they help thicken the mixture, meaning you can add enough milk to ensure the pudding is well hydrated.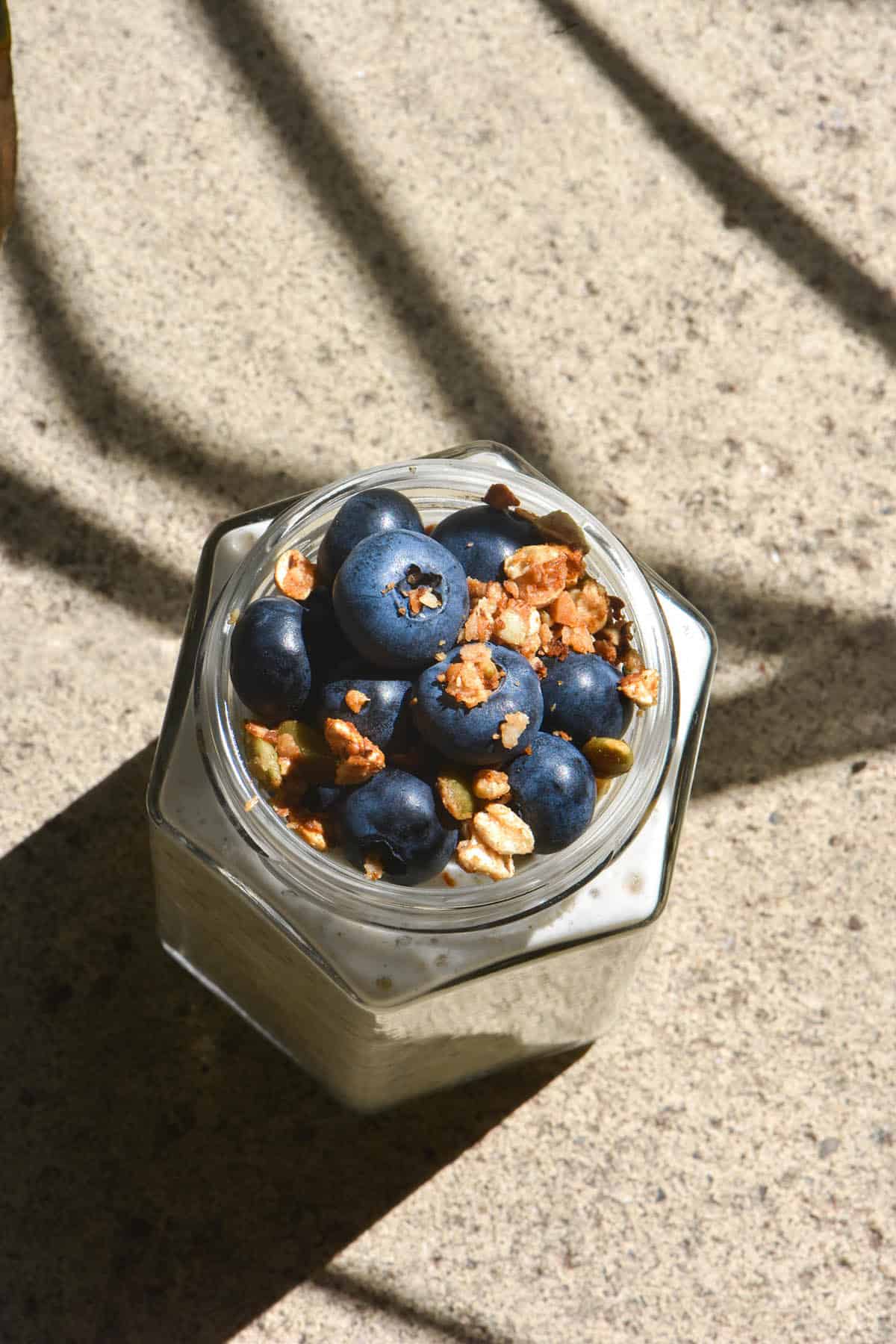 Is there a substitute for oats in this recipe?
Yes, there is. You can make an oat free version of overnight oats by using rice flakes. In Australia, I purchased brown rice flakes in the health food aisle of the supermarket. They are very crunchy fresh out of the packet, but soften up really nicely overnight. The taste of rice flakes is very subtle – like a mild rice pudding. The texture of them, once softened, is very similar to oats. These are what I use on a day to day basis for my overnight 'oats' as I don't tolerate oats particularly well.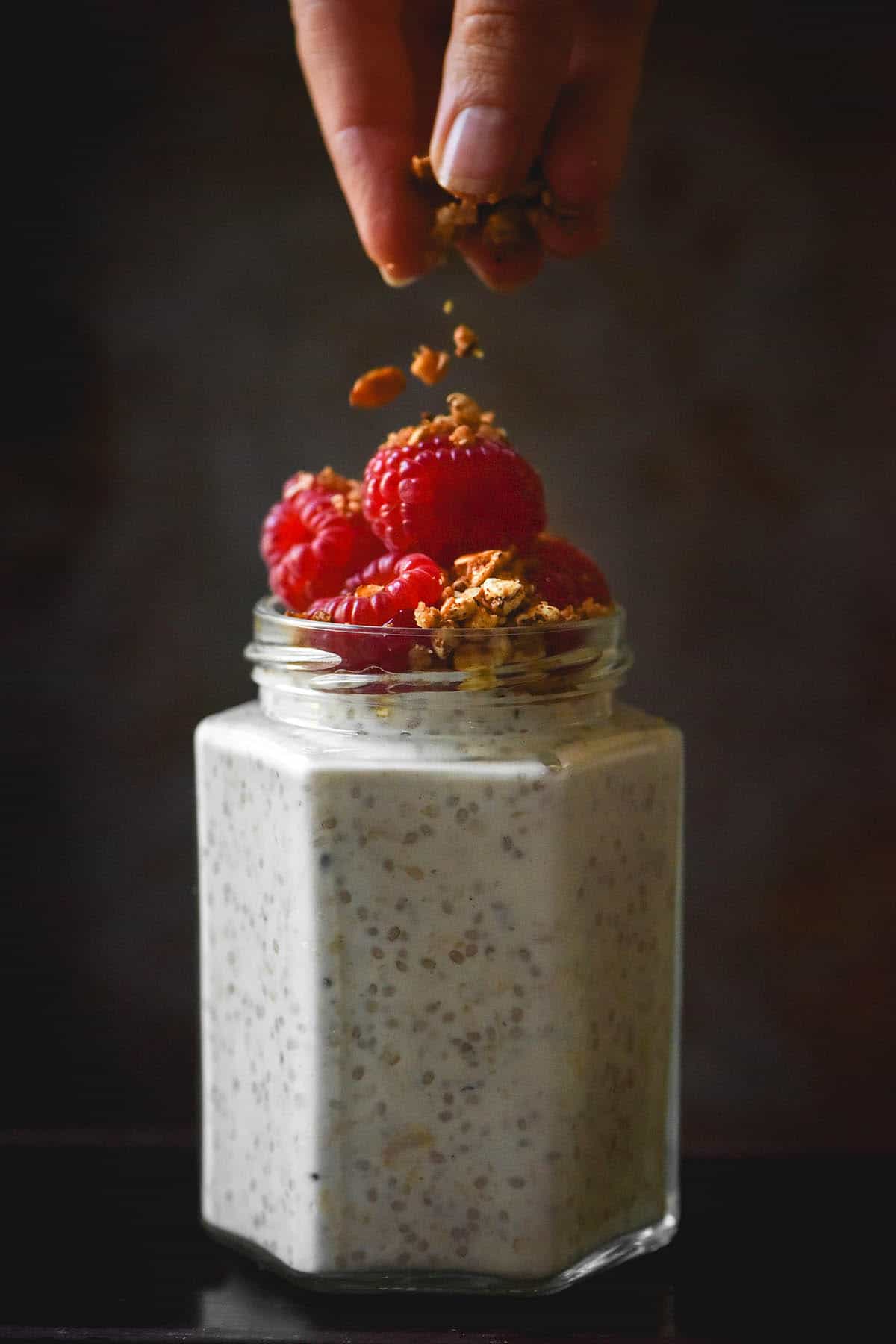 Low FODMAP protein powder
I like to use protein powder in these low FODMAP overnight oats to add some protein. However, I use whey protein isolate, which is very neutral in flavour and essentially dissolves into the milk and yoghurt. Other proteins, such as dairy free versions, will alter the taste of the pudding.
There are a few different varieties of low FODMAP protein powder, so we'll go into them briefly below. Before we do, however, a big caveat: the ultimate FODMAP content of a protein powder depends on what is added to it. Things like inulin, chicory, fruit juices, fructose and sugar alcohols are often added to protein powders. Make sure you choose a powder with minimal ingredients for ease of mind.
Whey protein isolate
Whey protein isolate is a low FODMAP whey based protein. It is filtered more than whey protein concentrate, which means the majority of the lactose is removed. Choose whey protein isolate (WPI) for a low FODMAP dairy based option. I love Bare Blends Vanilla WPI (it's what I used in this recipe).
Egg white protein
This is new to me and not something I imagine I would enjoy. However, eggs are carbohydrate free, meaning this is a low FODMAP option. As with any protein, read the labels to ensure no high FODMAP ingredients have been added.
Rice protein
Rice is a low FODMAP grain and is also a dairy free/vegan protein. It contains no FODMAPs, making it a good vegan choice.
Hemp protein
Hemp protein hasn't been tested by Monash at the time of writing. However, hemp seeds have been tested, and are considered low FODMAP in 20g (2 tablespoon) serves. I use a tablespoon of hemp seeds in these low FODMAP overnight oats for a bit of texture and protein. If you use hemp protein, simply omit the hemp seeds.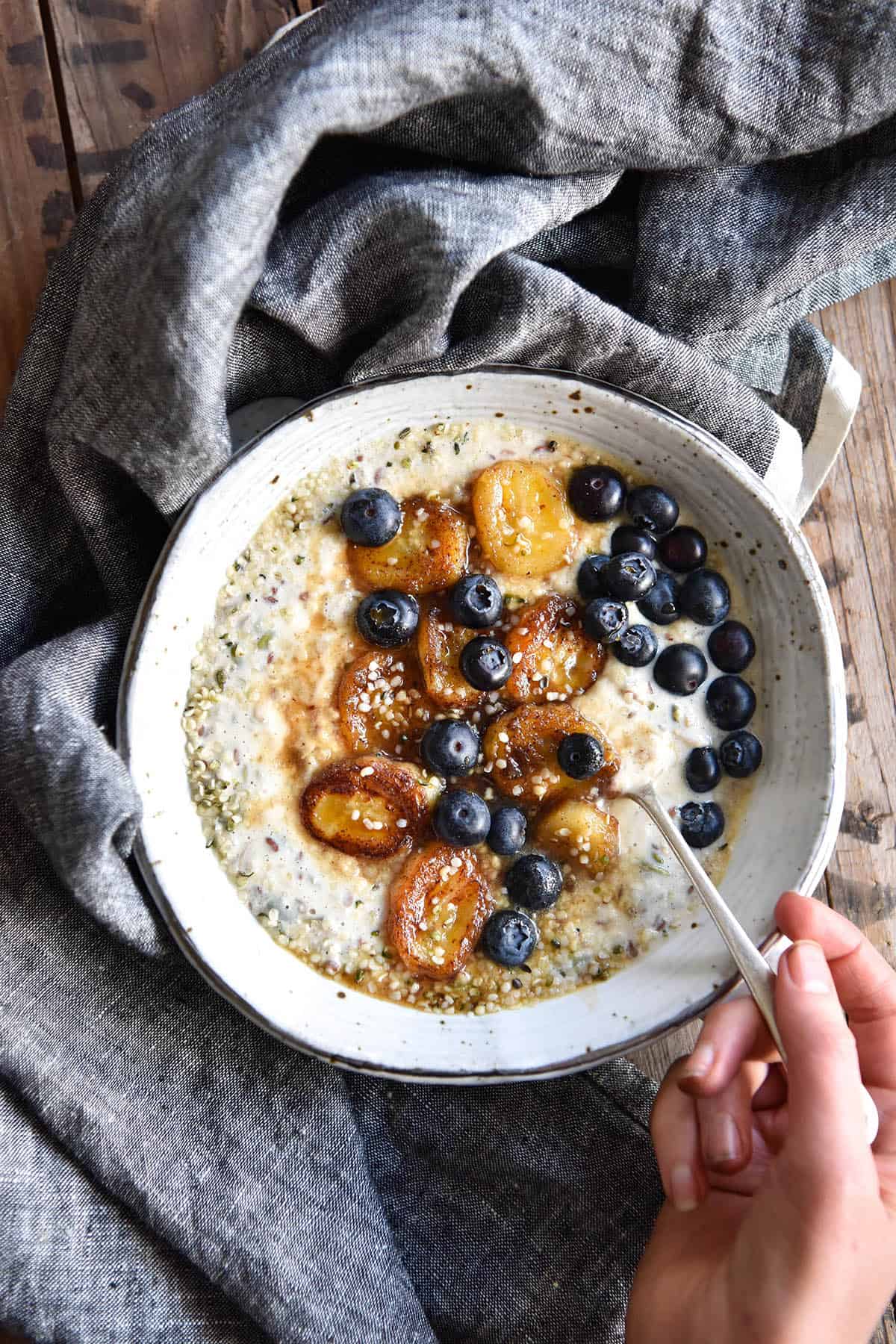 Low FODMAP yogurt options for your low FODMAP overnight oats
Like protein powder, the FODMAP content of yogurt depends on what's added. Oftentimes vegan yoghurts contain thickeners and fruit juices which make them less suitable for a FODMAP diet.
My personal obsession is Jalna lactose free Greek yoghurt, here in Australia. It is low FODMAP, pot set and is essentially just Greek yoghurt with lactase added. I love how thick it is and I use it everywhere I use yoghurt in recipes.
Whatever you choose, make sure you read the labels to ensure the yoghurt you're using is low FODMAP.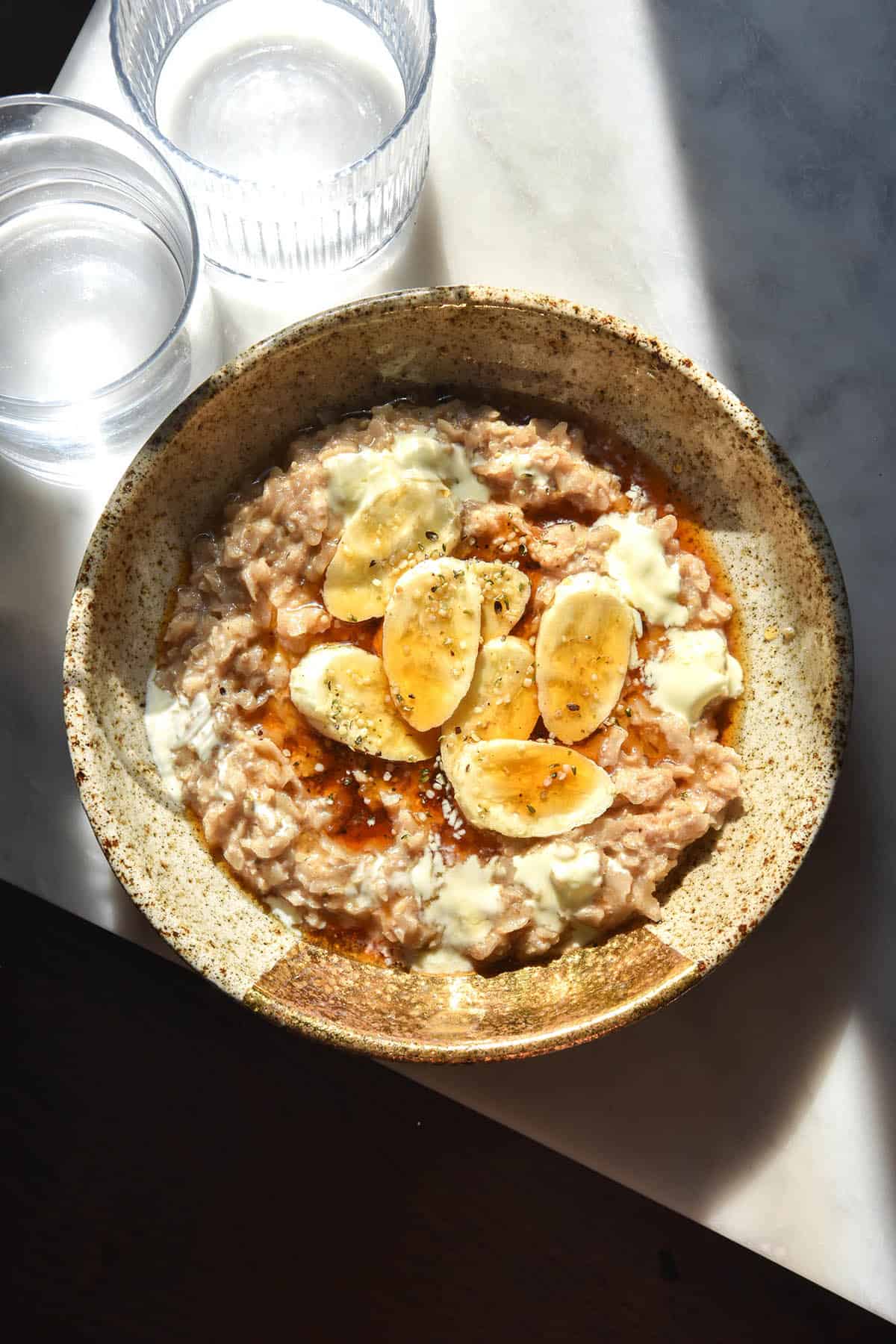 More low FODMAP breakfast recipes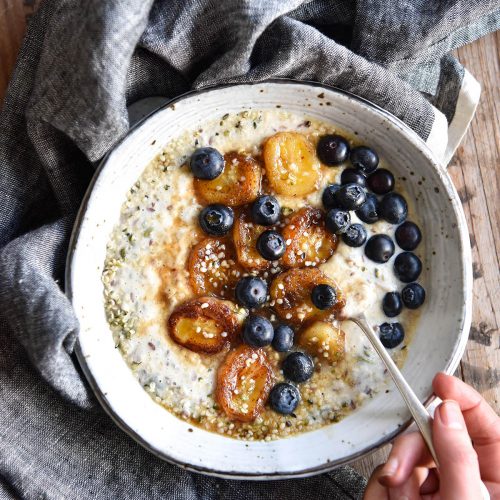 Low FODMAP overnight oats
Low FODMAP, gluten free option, vegan option
Ingredients
50g

(1/2 cup)*

rolled oats or rice flakes

20g

(1 tablespoon)

hemp seeds (optional, see notes)

10g

(1 tablespoon)

chia seeds

20g

low FODMAP protein powder (optional, see notes)

pinch of salt (optional, for taste)

100g

Lactose free Greek yoghurt, or low FODMAP yoghurt of choice

60-125ml

(1/4 – 1/2 cup)*

low FODMAP milk of choice (I used full fat lactose free, see notes)

2-3

tsp

maple syrup (according to your tastes, see notes)
Instructions
Whisk the dry ingredients together in a small bowl, then add the wet ingredients and whisk to combine. Adjust for taste, then decant into a clean glass jar and place in the fridge overnight.

Enjoy straight from the fridge or topped with some low FODMAP fruit.
Notes
Hemp seeds are optional, but add a hit of vegan protein. Hemp seeds are low FODMAP in 2 tablespoon (20g) serves. If you use hemp protein powder, omit the hemp seeds.
Rice flakes are less absorbent than oats, so they will produce a slightly thinner result if you use the full amount of milk. I prefer this to drier overnight oats, but you can use less milk (60ml or 1/4 cup) if you prefer this texture.
Similarly, different varieties of yoghurt vary in consistency. I use Jalna lactose free Greek yoghurt, which is very thick. It holds on a spoon if you scoop some out of the container. If you are using a thinner variety, you might experiment with using less milk to suit. 
I use Bare Blends vanilla WPI in my overnight oats, which is very neutral and only lightly sweetened. If you use a different brand, the taste might be more obvious. 
Further, lots of protein powders are quite sweet. If yours is, omit the maple syrup or add to taste.