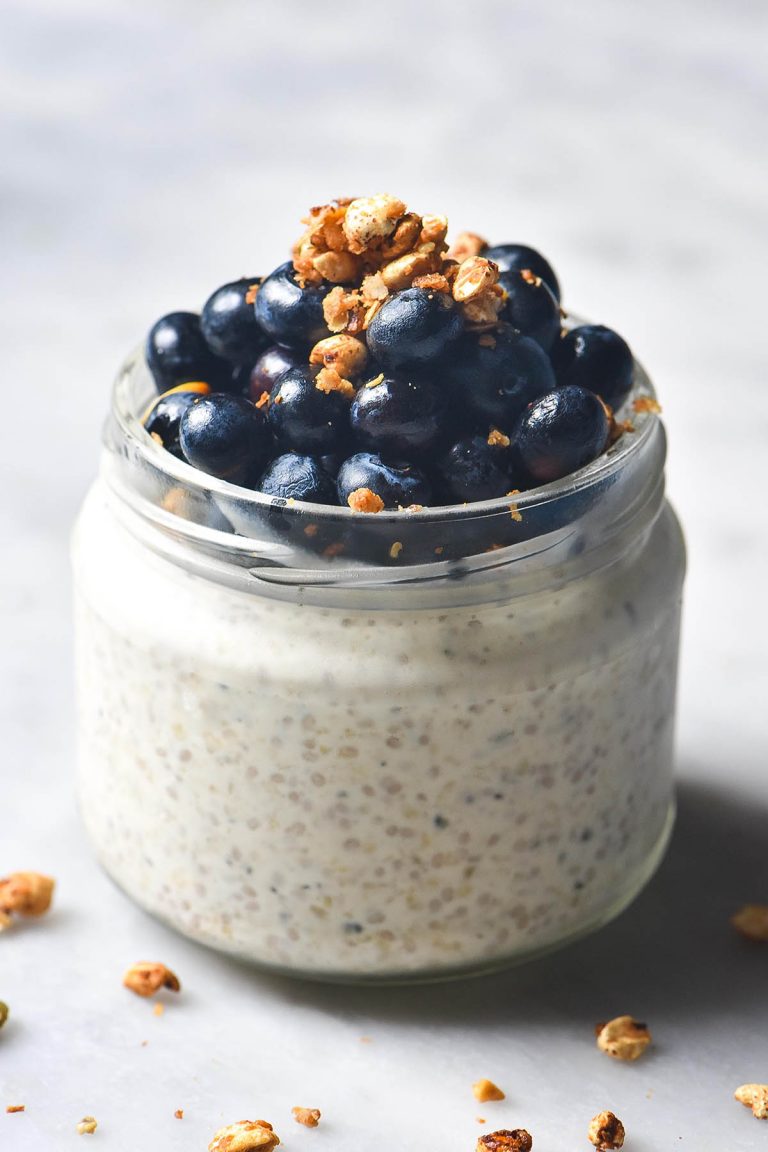 Also known as: gluten free overnight oats, but make them with rice flakes. These easy and delicious overnight oats are the perfect make ahead breakfast for a busy week, or for someone (like me) who isn't awake enough in the morning to prep breakfast.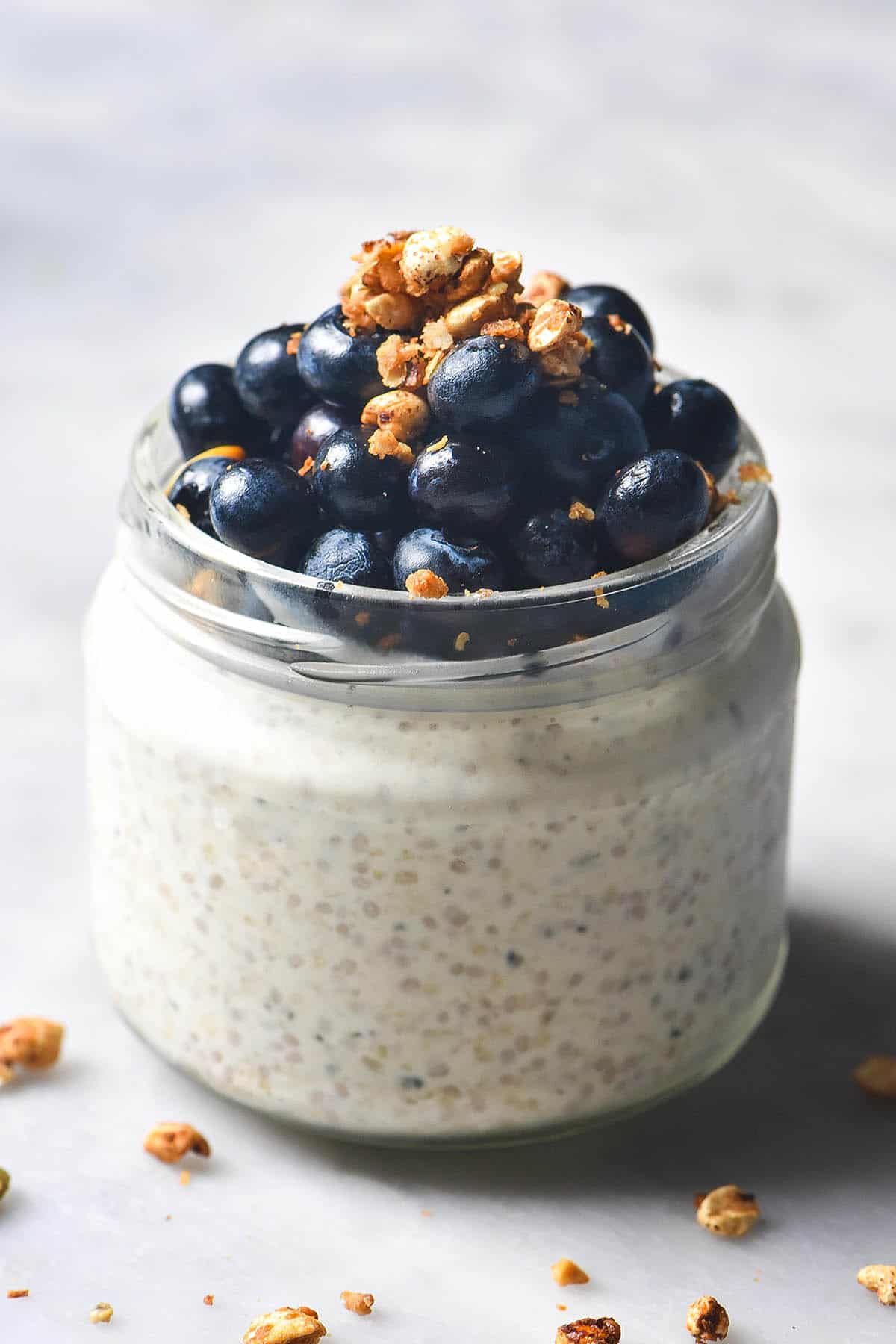 Gluten free overnight oats
These overnight 'oats' use rice flakes or gluten free oats, depending on where you live and what works for you. They are padded out with a milk and yoghurt of your choice, for creamy richness and protein. The 'oats' are thickened with some (optional) protein powder and chia seeds. Then, they're sweetened with a touch of maple syrup. Although they are delicious as is, you can experiment with mixing through some nut butter, fruit or whatever else you fancy.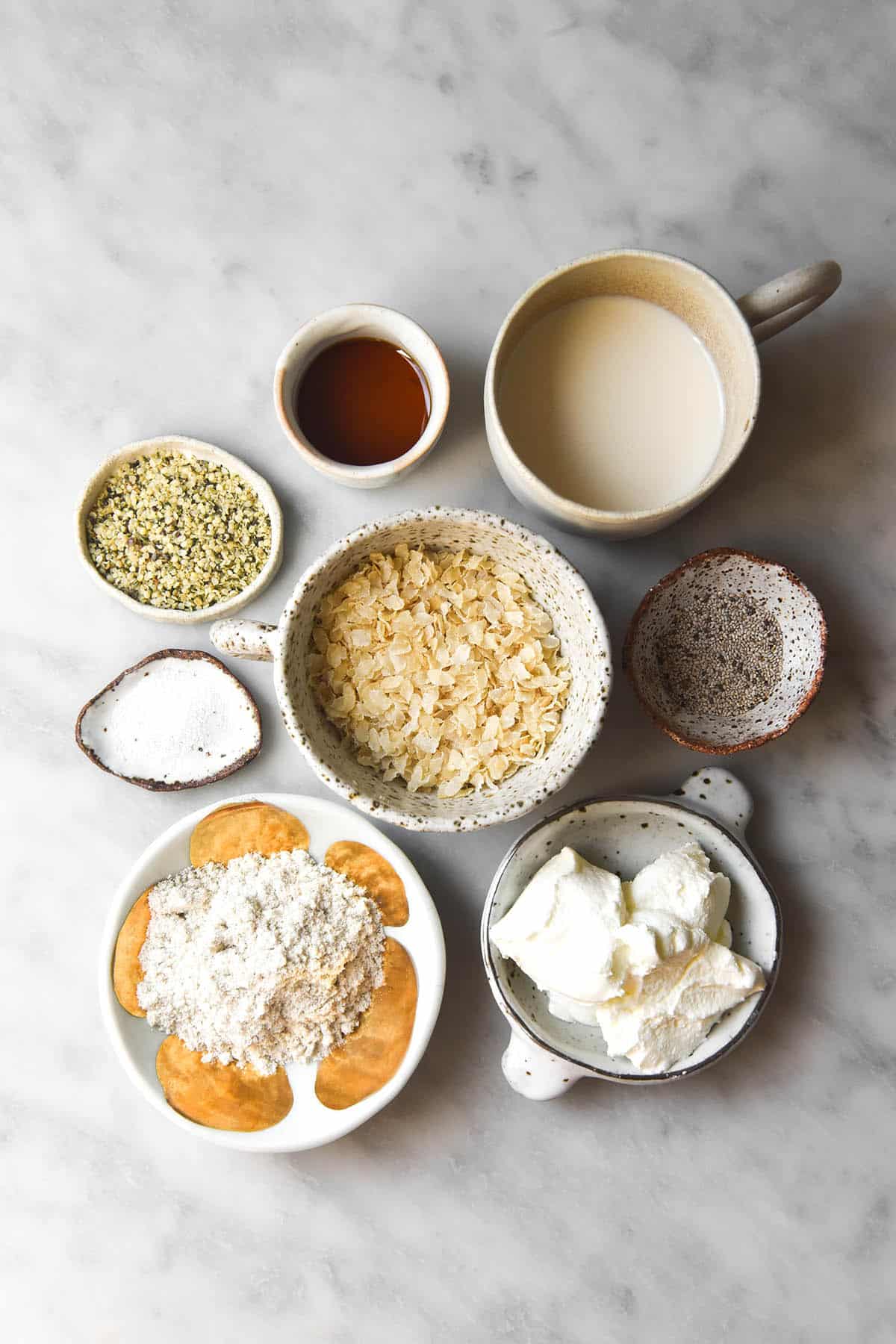 Are oats gluten free?
I live in Australia, and oats aren't considered to be gluten free here. Wheat free, yes, gluten free, no. Why? Oats, even gluten free ones, contain a protein called avenin, which is very similar to gluten. According to coeliac Australia, there has not been enough research conducted into whether this protein creates the same immune response in coeliacs as gluten free. As such, they are not considered gluten free in Australia.
Of course, oats might agree perfectly well with you. That's great! If they do, you can use oats in this recipe, or my low FODMAP overnight oats recipe.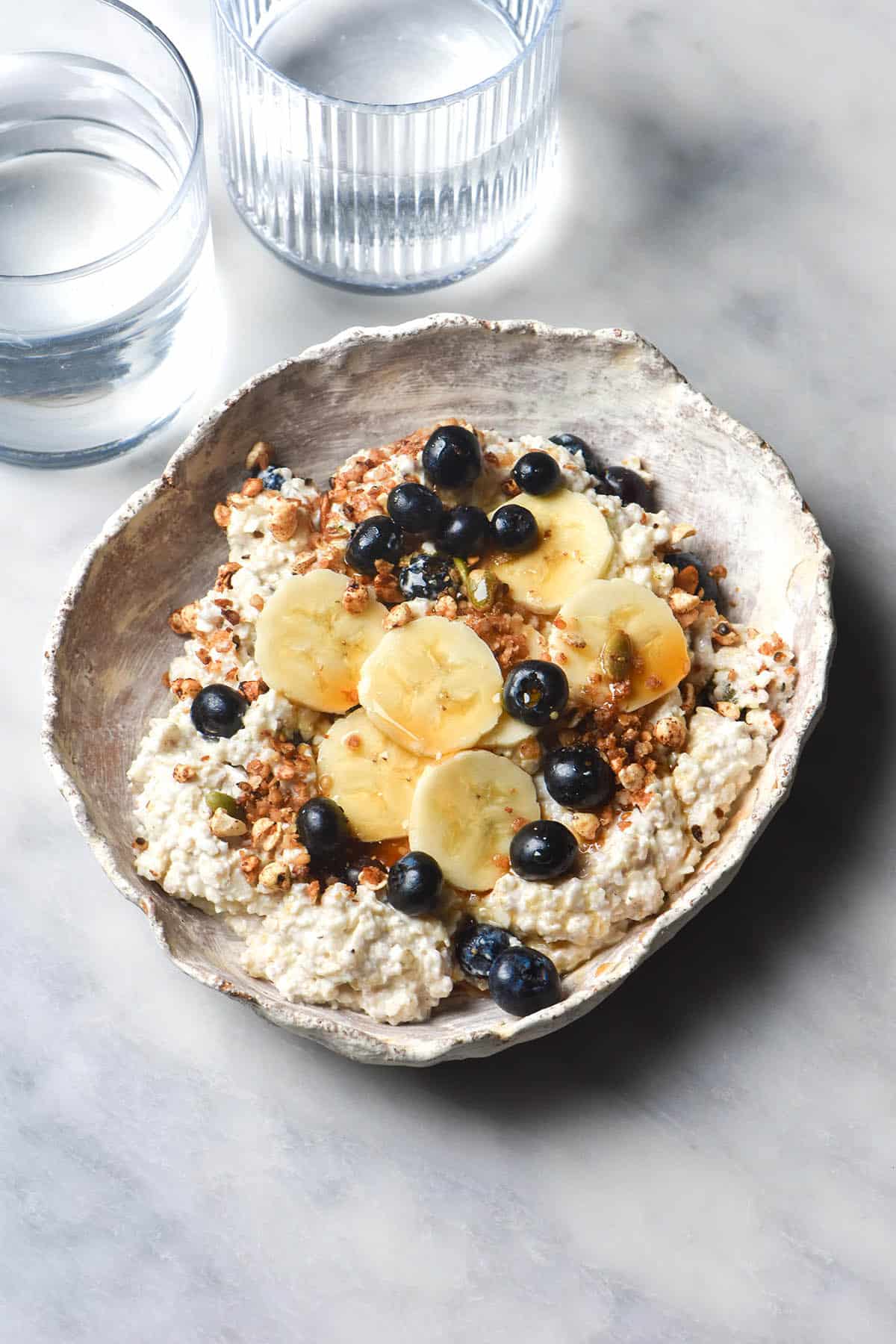 Can I make these as gluten free vegan overnight oats?
Yes! You can easily make these overnight oats vegan as well as gluten free. Simply use your preferred plant based milk and yoghurt in place of the dairy in this recipe. You can also add some vegan protein powder, if you have one that you enjoy. There are, however, a few things to keep in mind when veganising this recipe.
Notes
Vegan yoghurts are generally thinner than dairy ones. I would recommend using less milk (or adding an extra tablespoon of chia seeds) if your yoghurt is particularly runny.
I found that rice flakes were less absorbent than oats, so this is important if you are using the rice flake option. However, they do soak up more liquid after the second day, if you're making them in batches.
Vegan protein powders can be quite pungent in taste and also quite sweet. If your vegan protein powder is sweetened, make sure you add the maple syrup to taste.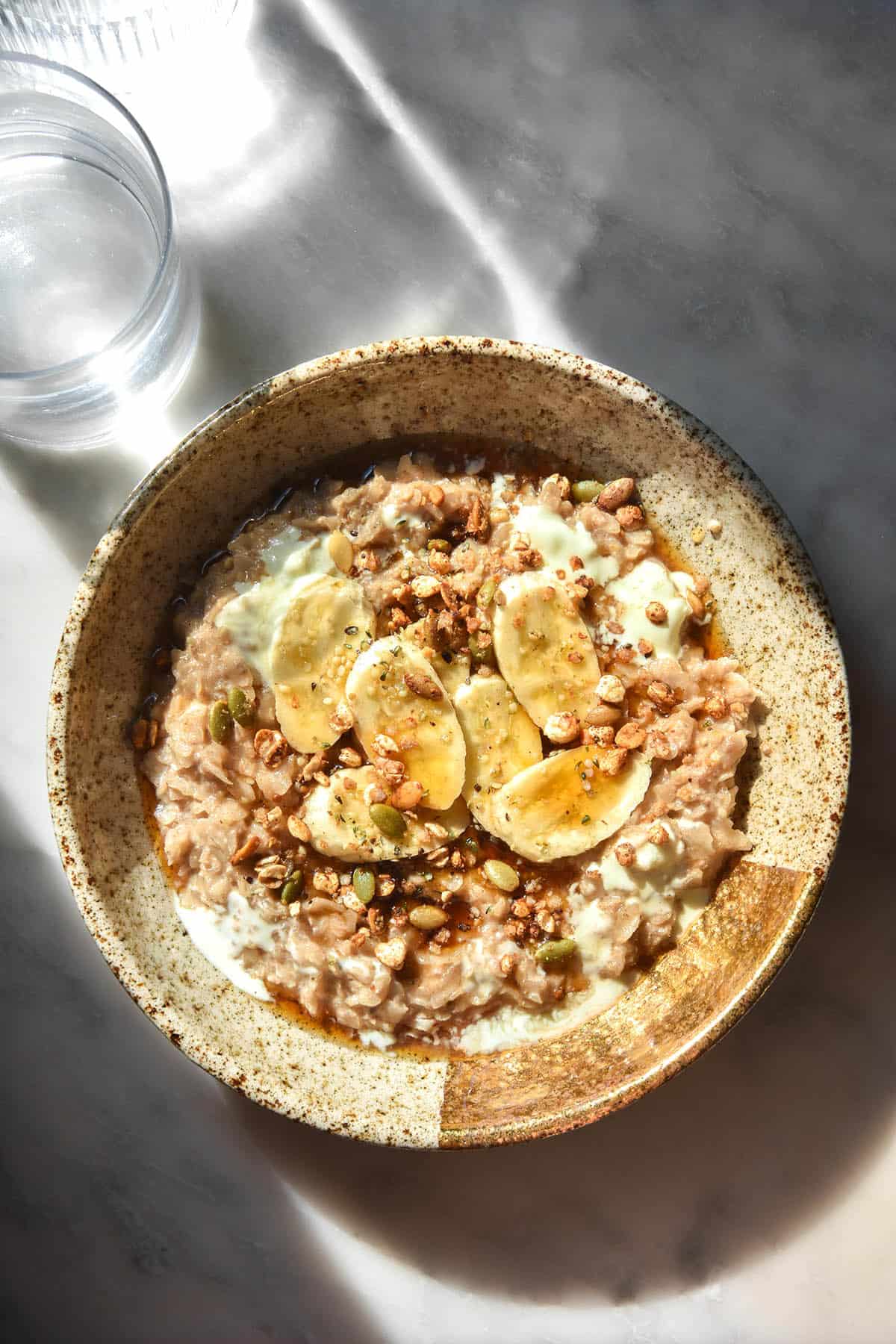 More gluten free breakfast recipes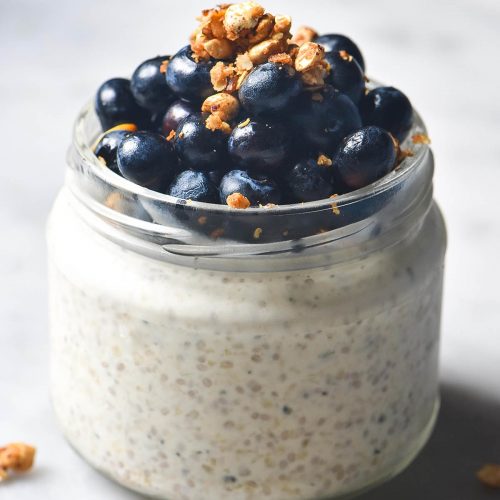 Gluten free overnight oats
Oat free, vegan option
*Cups and tablespoons are in Australian measures. Use gram weights for international accuracy.
Ingredients
60

g

(1/2 cup)* rice flakes (see notes)

20

g

(1 tablespoon)* hemp seeds (optional, see notes)

10

g

(1 tablespoon)* chia seeds

20

g

low FODMAP protein powder

optional, see notes

pinch

of salt

optional, for taste

100

g

Lactose free Greek yoghurt

or low FODMAP yoghurt of choice

60-125

ml

(1/4 – 1/2 cup)* low FODMAP milk of choice (I used full fat lactose free, see notes)

2-3

tsp

maple syrup

according to your tastes, see notes
Instructions
Whisk the dry ingredients together in a small bowl, then add the wet ingredients and whisk to combine. Adjust for taste, then decant into a clean glass jar and place in the fridge overnight.

Enjoy straight from the fridge or topped with some low FODMAP fruit.
Notes
As discussed in the body of the post, Australia doesn't consider oats to be gluten free in any capacity – only wheat free, hence the rice flakes. If oats work for you, you can use oats in place of the rice flakes.
Hemp seeds are optional, but add a hit of vegan protein. Hemp seeds are low FODMAP in 2 tablespoon (20g) serves. If you use hemp protein powder, omit the hemp seeds.
Different varieties of yoghurt vary in consistency. I use Jalna lactose free Greek yoghurt, which is very thick. It holds on a spoon if you scoop some out of the container. If you are using a thinner variety, you might experiment with using less milk to suit.
I use Bare Blends vanilla WPI in my overnight oats, which is very neutral and only lightly sweetened. If you use a different brand, the taste might be more obvious.
Further, lots of protein powders are quite sweet. If yours is, omit the maple syrup or add to taste