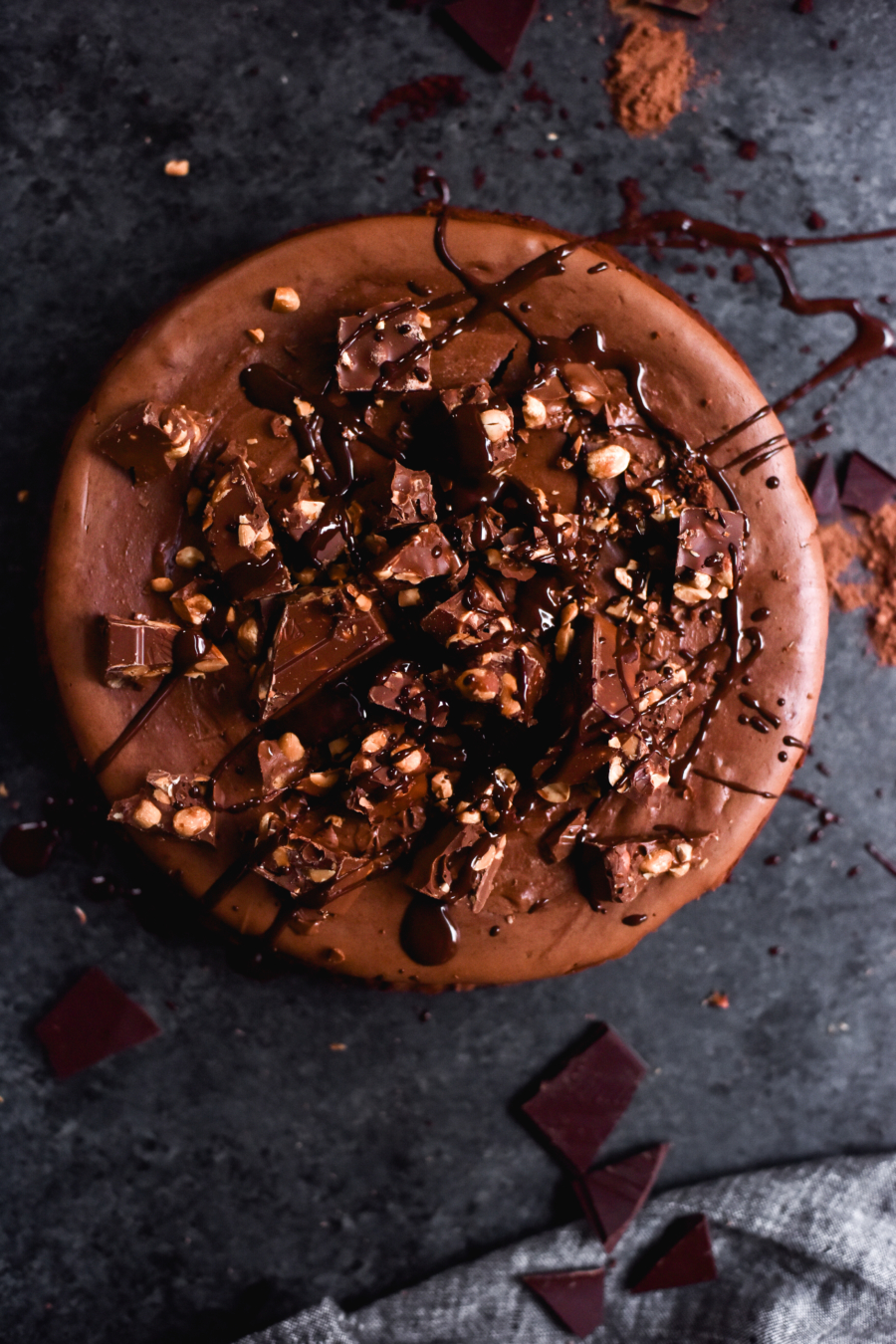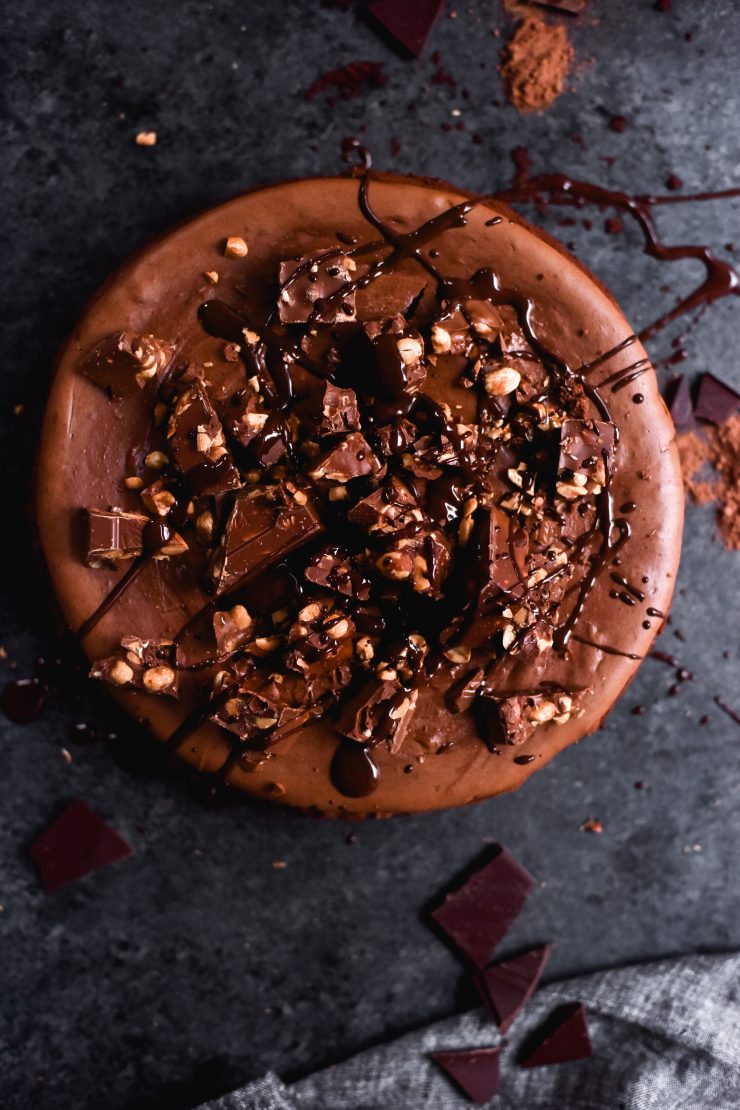 Each birthday, I make my Dad a variation on a cheesecake. One year it was Nigella, one year it was Jamie, one year it was Nigella but with that sour cream top. The past few years, however, things have been getting a little inventive. Last year it was my own recipe for a cheesecake, topped with Whittakers peanut butter chocolate, which was a hit. Buoyed by my success, I struck out again this year, and made a chocolate peanut butter cheesecake, topped with Whittakers (because it is the icing, if you will, on the cake).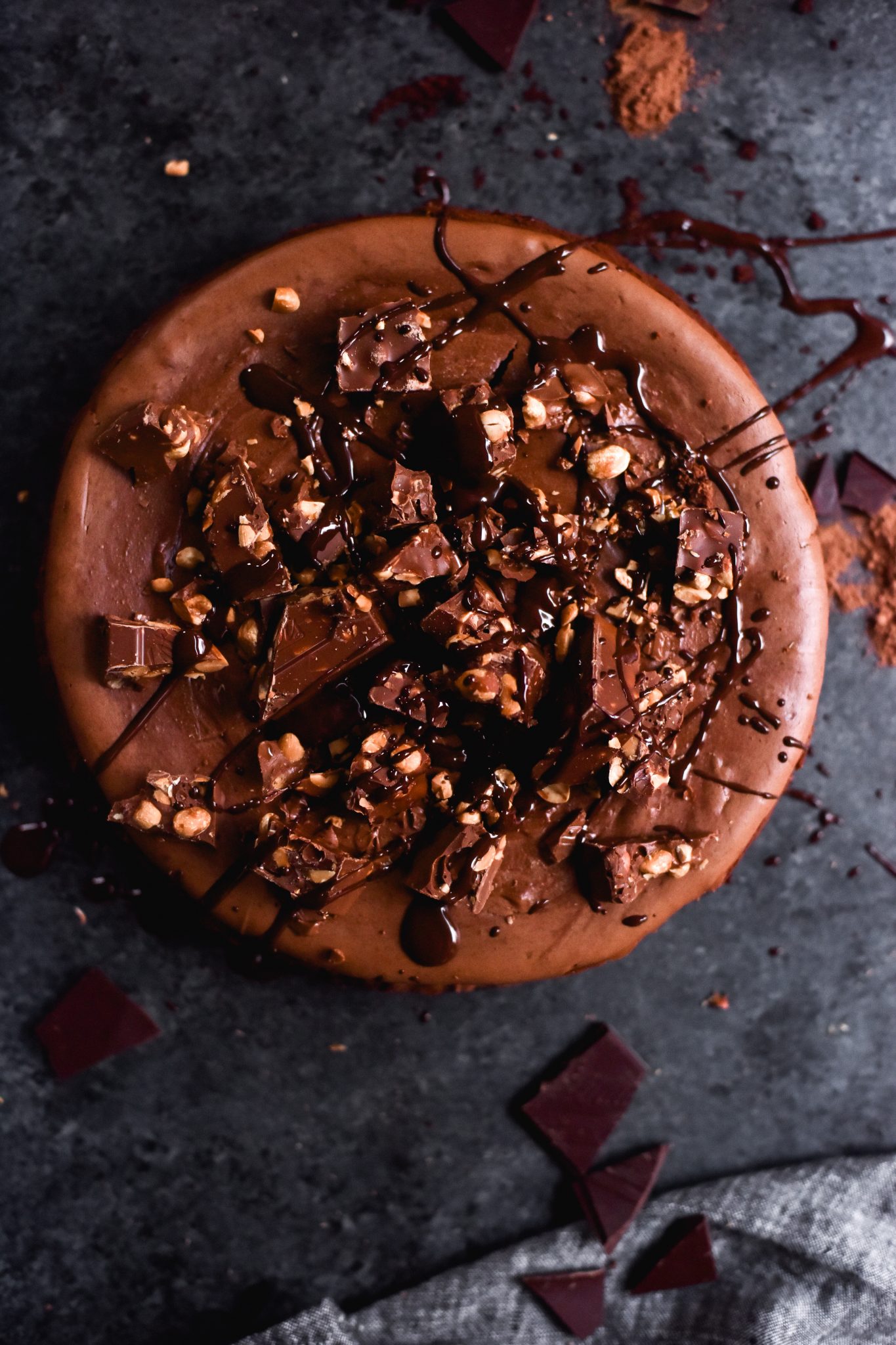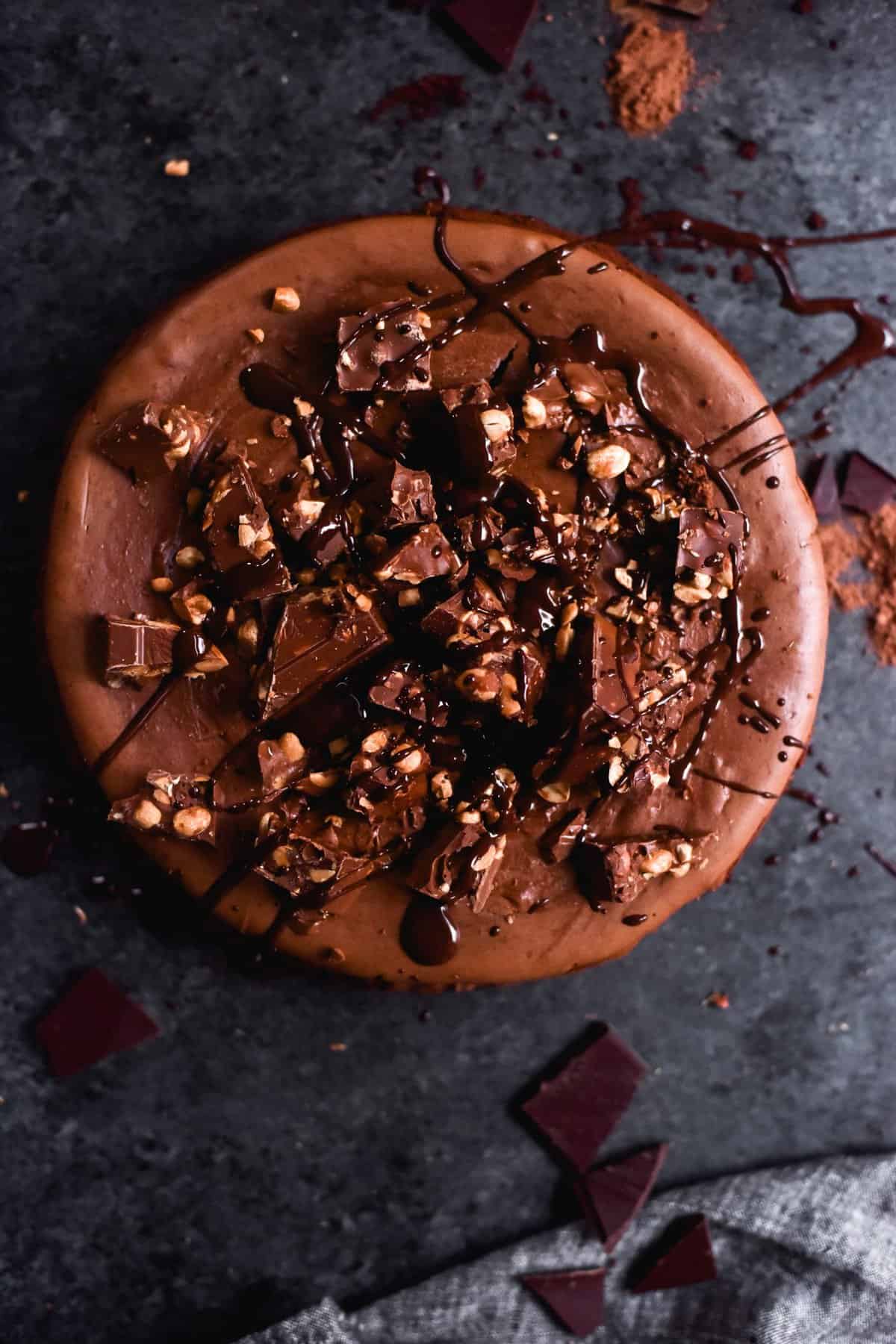 Gluten free chocolate peanut butter cheesecake
The base for this cheesecake is gluten free and grain free, and I use lactose free cream cheese, which is increasingly available in Australian supermarkets. With all these revisions, it becomes FODMAP friendlier, too. Talk about having your (cheese)cake and eating it too. I know I'll regret that. Although I've cut the sugar down compared to regular cheesecakes, this is by no means a 'healthier option', merely because the labels gluten free and FODMAP friendly are being bandied about. Lotta sugar, lotta fat, lotta love. Make it for your Dad's birthday.
In the mood for more chocolate? Try the flourless chocolate cake, or the Coles mudcake reminiscent gluten free chocolate cake.
Gluten free chocolate peanut butter cheesecake tips
Please don't try and use cold cream cheese, straight from the fridge. The cheesecake will be lumpy and just generally a waste of the thousands of dollars they charge for cream cheese. If you haven't managed to get the cream cheese out early, you can pop the (fully sealed) silver packet of cream cheese into warm water. This will soften it quickly.
By all accounts, cheesecake should really be made the night before. This allows it to cool completely and helps eliminate the sticky knife business. I know this isn't always possible, but make sure it has at least a few hours of fridge time.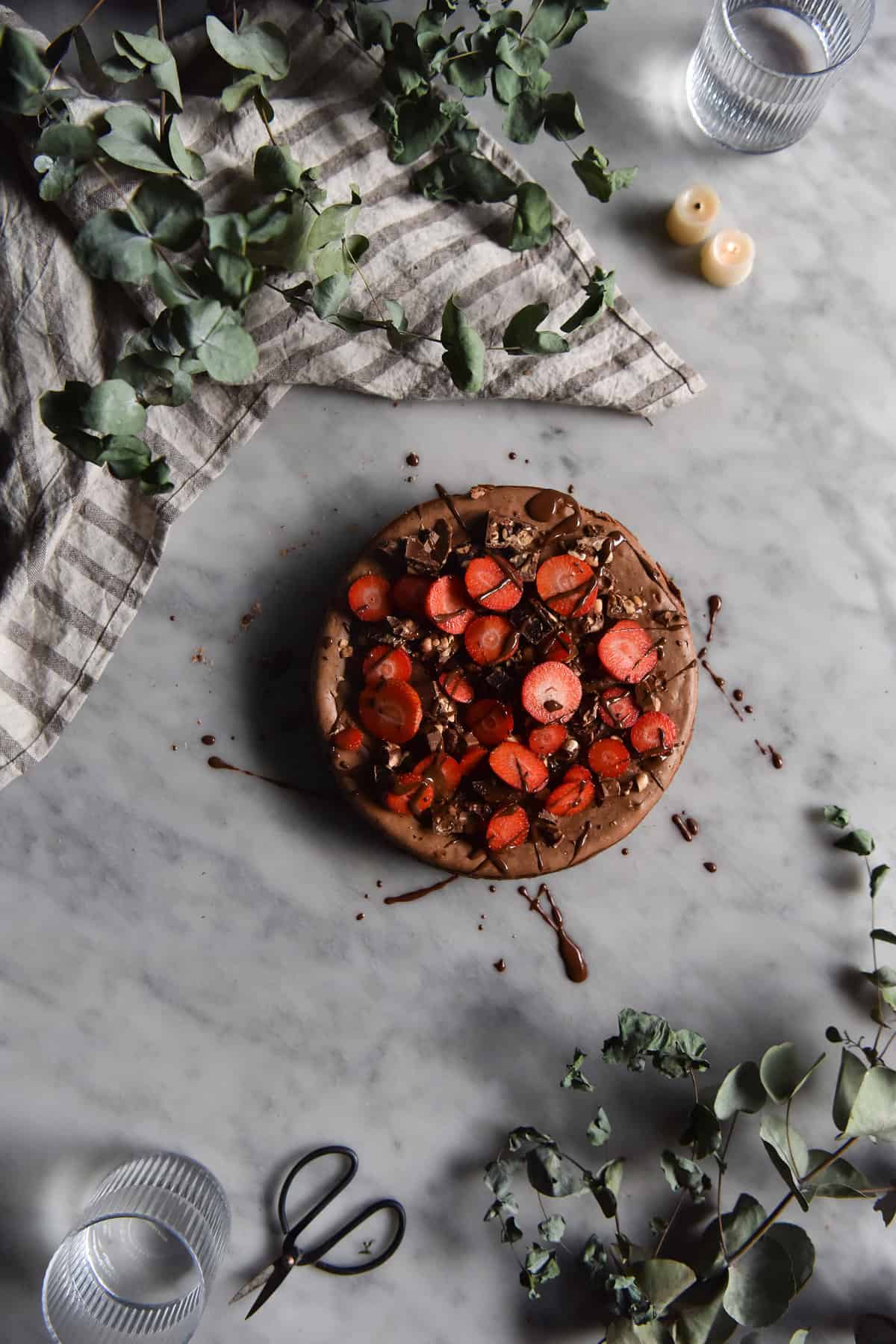 More gluten free cake recipes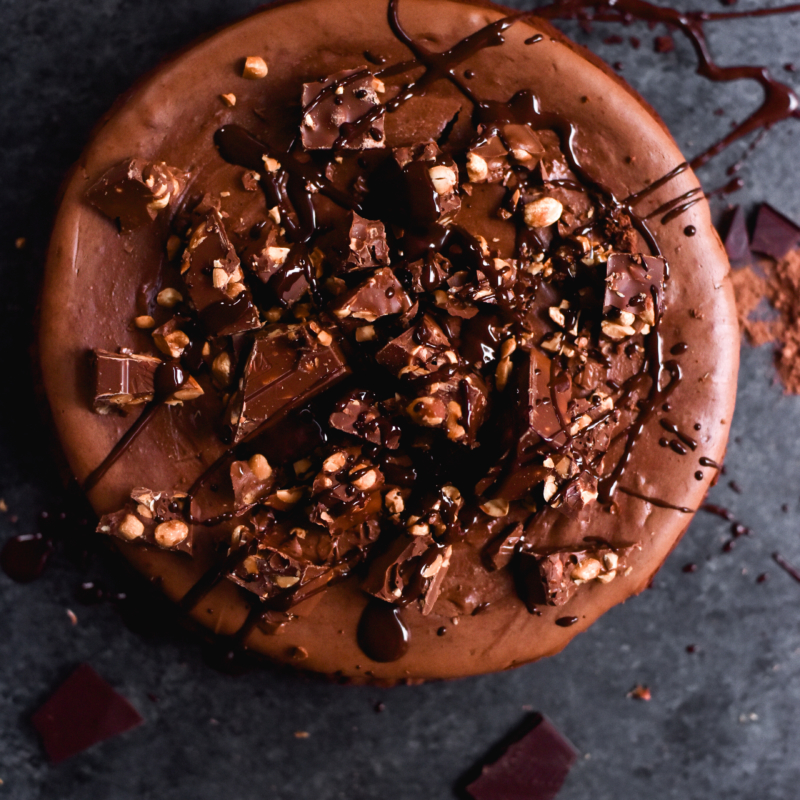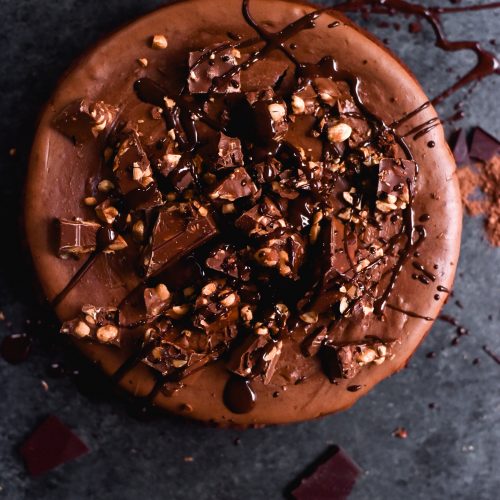 Gluten free chocolate peanut butter cheesecake
Ingredients
For the cheesecake:
750

g

lactose free cream cheese

room temperature

1/2

cup

(110g) caster sugar

150

g

dark cooking chocolate

melted

3

tablespoons

natural smooth peanut butter

pinch of fine salt

deepens the chocolate flavour, I promise

3

extra large eggs (45-55g per egg, weighed out of shell)
For the base:
1

cup

(100g) almond meal

1

cup

(120g) tapioca flour

1

tablespoon

good quality cocoa

80-100

g

butter

3

tablespoons

light brown sugar
Optional toppings:
3

Whittakers peanut butter slabs

roughly chopped (Whittakers don't guarantee their products don't contain gluten, if you're cooking for a coeliac)

The remaining 50g of cooking chocolate

melted
Instructions
METHOD:
Preheat the oven to 180C/350F. Line and grease a springform tin (mine is 24cm)

Make sure your cream cheese is room temperature! If it isn't, you'll end up with a lumpy cheesecake.

Place all the ingredients for the base in your food processor, and combine until it forms a ball. If it doesn't, add a little extra butter, or a teaspoon of ice cold water. Once it comes together decant it into the lined tin. Use your hands to press it out evenly into the tin, and then poke a few air holes in it with a fork. Cook for around 10 minutes, or until it has puffed up slightly and has coloured. Set it aside to cool.

Place a small saucepan half filled with water, over a medium heat. On top of that, place a metal bowl ensuring the bowl doesn't touch the water. Place the chocolate in the bowl and allow to melt completely. Keep an eye on it – too long over the heat can ruin it. Once it has melted, add the peanut butter and salt and stir to combine. Turn the heat off and take the chocolate off the saucepan.

In a stand mixer (or using beaters, if you're brave) beat together the room temperature cream cheese and the sugar until it is completely combined. This should take around 5 minutes. Slowly pour the chocolate and peanut butter mixture into the cream cheese (it shouldn't be too hot by now) stopping to scrape down the sides when necessary. Once the mixture is smooth and incorporated, add the eggs, one at a time, and continue to beat until the mixture is runny and completely smooth.

Pour the cheesecake mixture onto the chocolate base, and jiggle the pan to distribute evenly. Place into the oven for 30-40 minutes. Don't worry about cracks on the top, because it will be completely covered in chocolate anyway.

Once the cheesecake is done, remove it from the oven, and run a knife gently around the edge. This will discourage any more splits in the top. Allow to cool completely before topping with whatever you fancy – Whittakers and excessive chocolate drizzle totally optional.