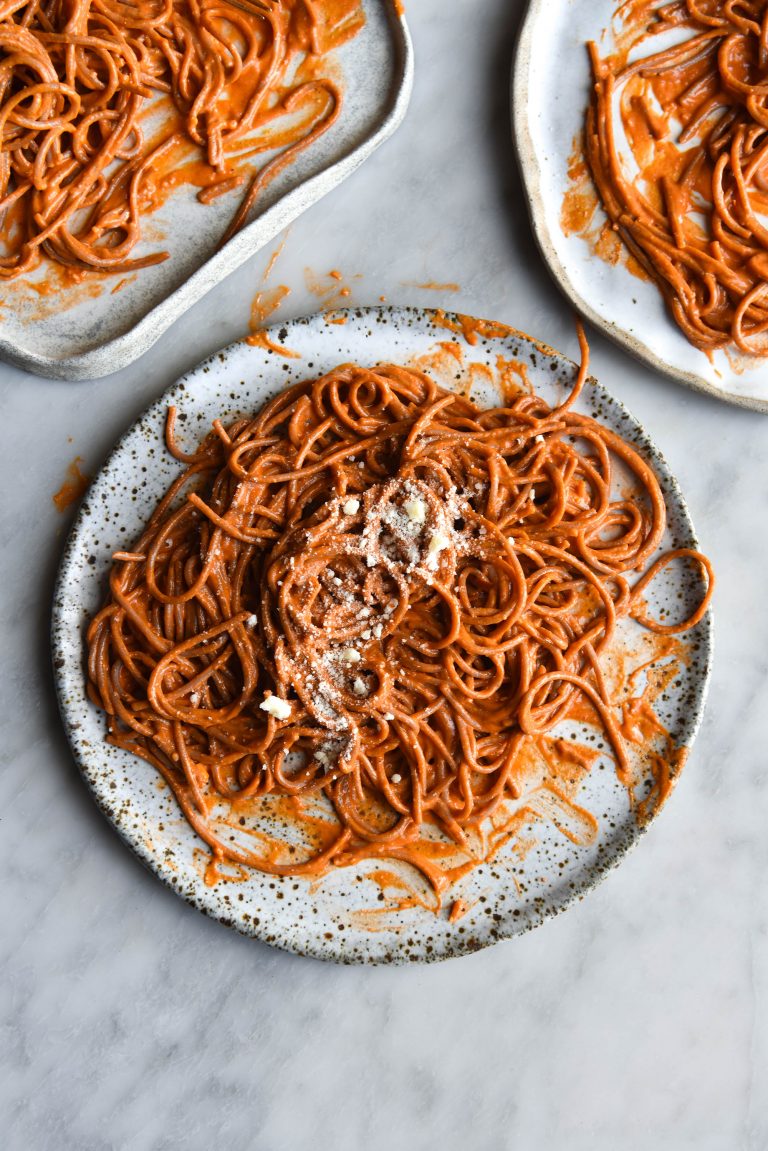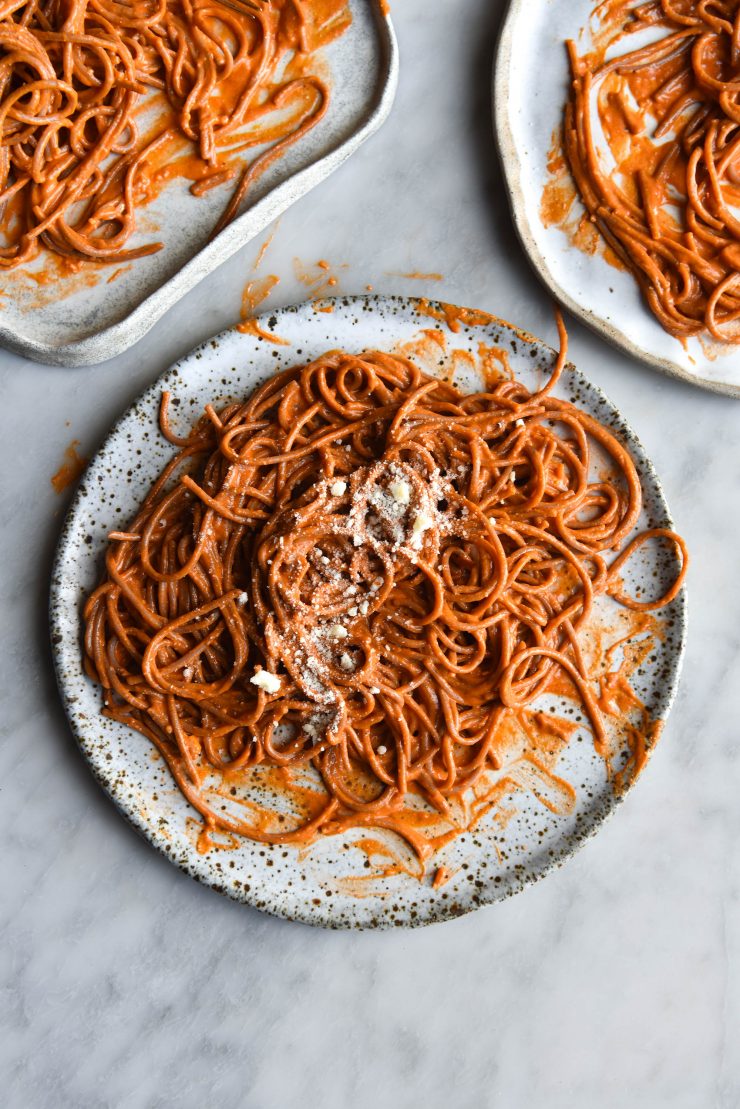 Pasta is one of life's great joys. Oftentimes it is not overtly low FODMAP, though, so today I am sharing a recipe for FODMAP-friendly pasta alla vodka. This is a gluten free, vegetarian and onion/garlic free dish that uses vodka to amplify the tomato flavour. It really is an exceptionally tomato flavoured pasta, in the best sort of way.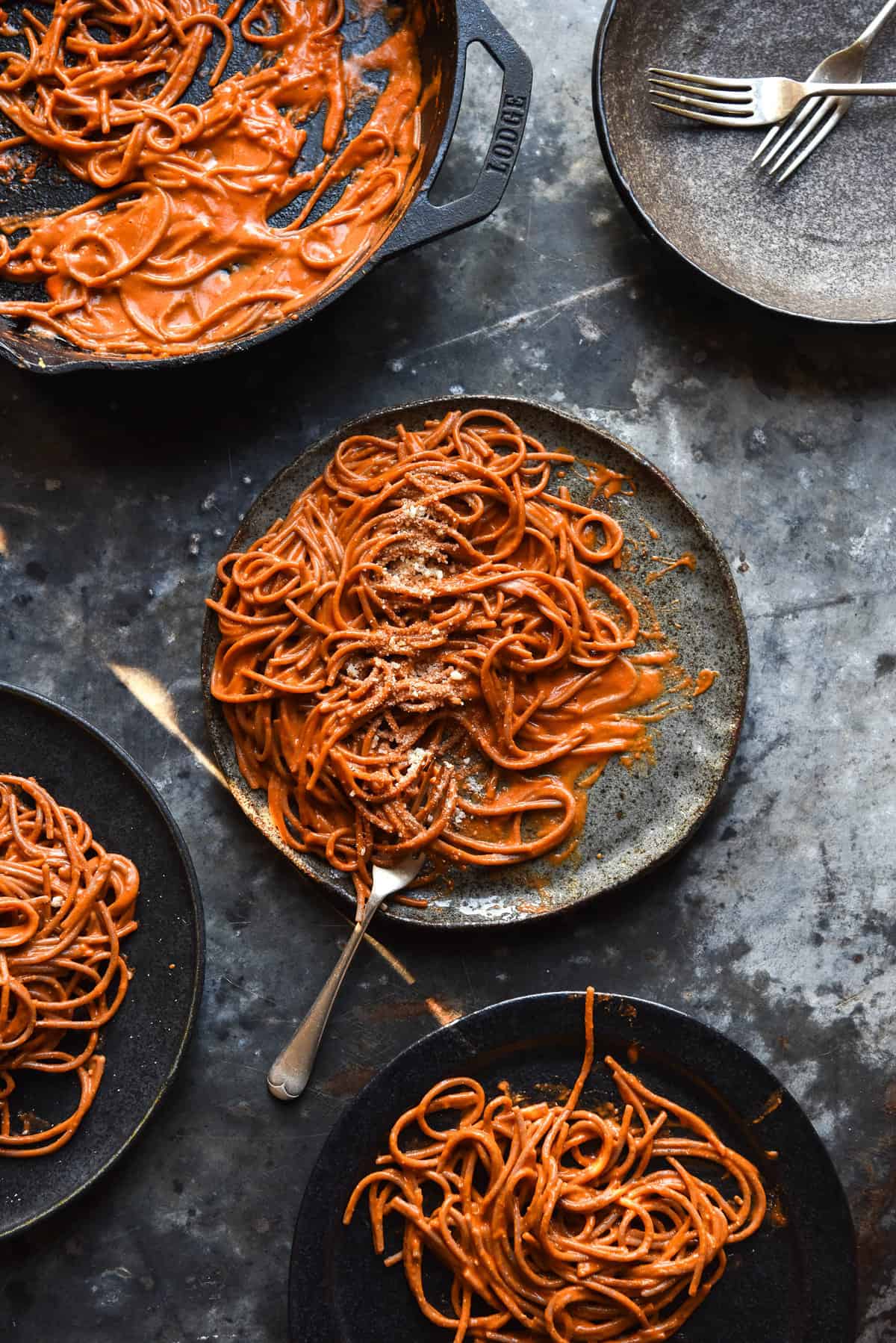 Why vodka in pasta, you may ask? Chowhound explains it better than I could. However, put simply; vodka allows the flavour molecules in the sauce to travel further. It essentially uses it's vodka-ness to heighten the flavours of a sauce. Let it be known that the alcohol content cooks out of the sauce, so it's really just the heightened sensation that remains. You can, if you have to, leave out the vodka, but you deserve the best aka vodka in your pasta!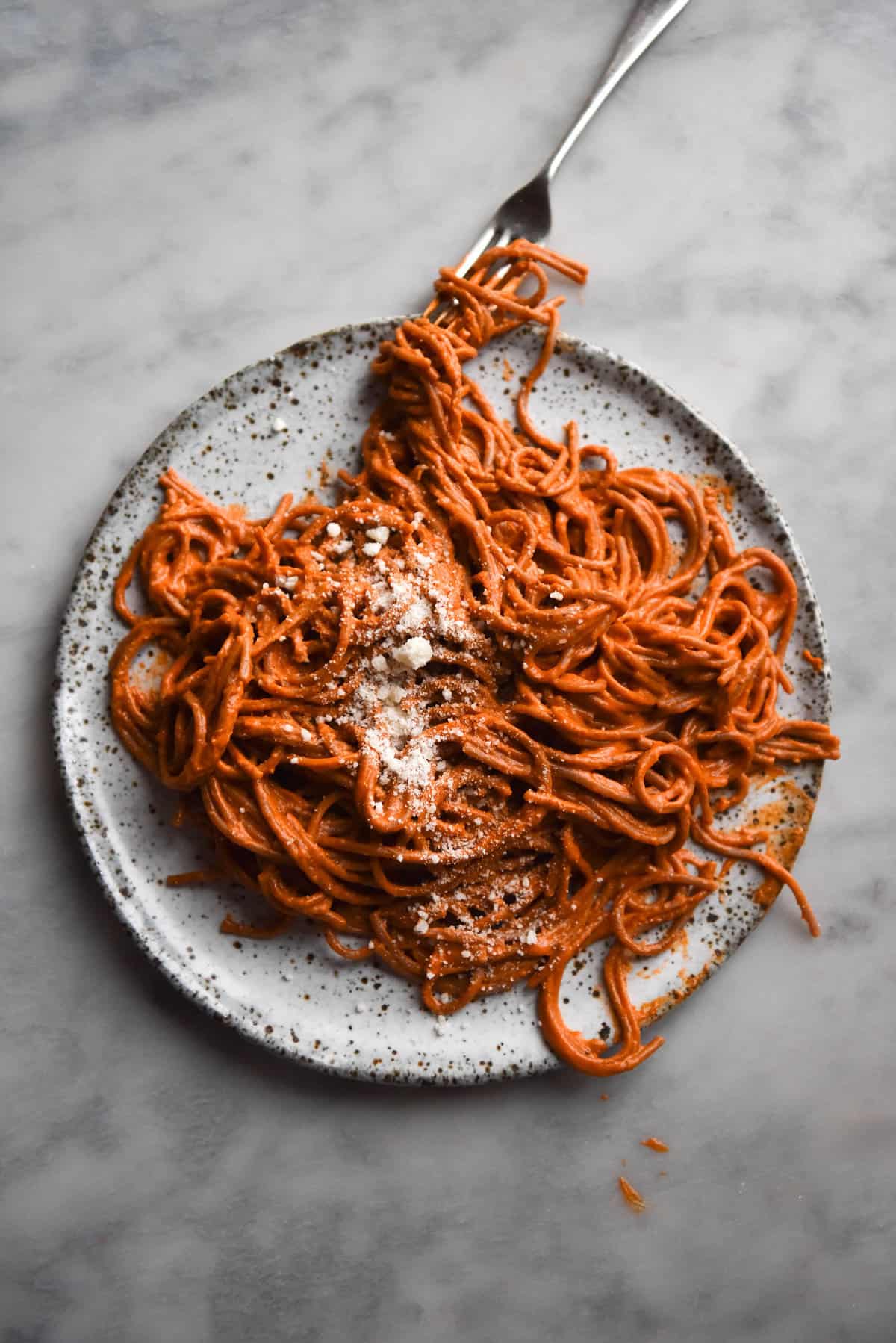 Recipe tips
Don't use pre-grated packet parmesan for this dish (or ever!) The parmesan will never fully incorporate. The irony of pre-grated parmesan is that is contains fillers that prevent it from really melting, so I would never advise it. Once exception to this rule is if you buy very finely and freshly grated parmesan from a deli. This contains no fillers – it's just a block of parmesan that has been grated for you.
On that note, I highly recommend super finely grated parmesan. This will emulsify into your sauce so much better than chunky grated parmesan. My life was changed when I discovered I could grate parmesan by chopping it into smallish chunks and using my Nutribullet to blend it up. The motor doesn't sound particularly impressed, but it creates beautiful fine restaurant style sprinkling parmesan. It emulsifies beautifully into the sauce.
I have read that you can potentially use other liquors for this method of cooking. The thing is that they'll impart a flavour, whereas vodka is mostly flavourless.
Because this sauce kind of relies on a science-y magic trick type reaction, it's best eaten immediately. I can attest that the flavour is not quite as intense if you let it cool before eating.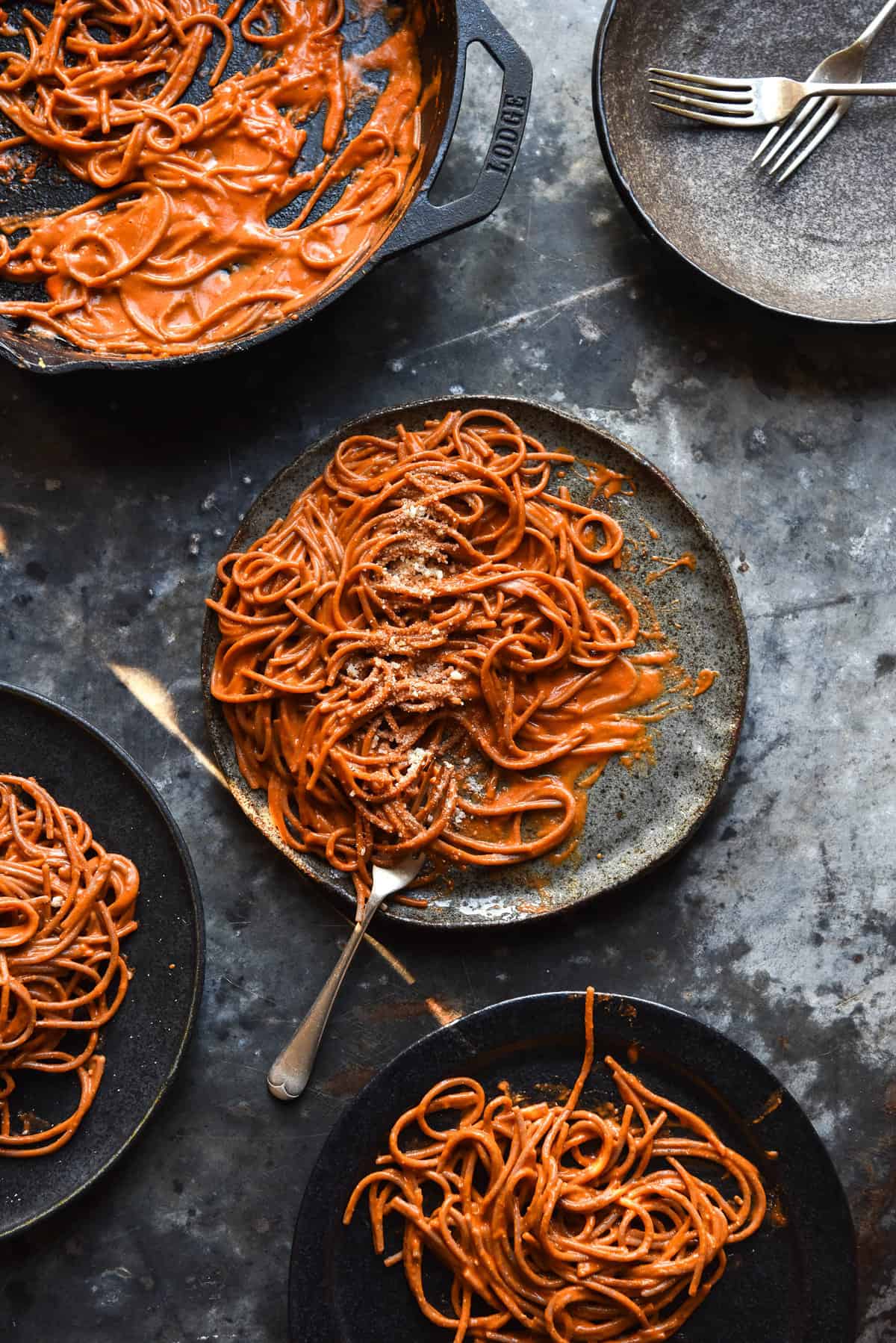 FODMAP friendly pasta alla vodka notes
Tomato paste is FODMAP friendly in 2 tablespoon serves. If you're cooking this dish for two (it can serves 2-4) consider adding a tablespoon less tomato paste if it's an issue for you.
I have used lactose free cream to keep the lactose content down. You can use regular if thats what suits you.
Maybe I went a little rogue with the browned butter, lemon juice, light brown sugar and balsamic. But because we're not using onion or garlic, we need to add flavour elsewhere, and these all help making it a cracking dish.
I have also experimented with adding a little asafoetida (hing) powder to reintroduce an onion and garlic flavour. Absolutely optional but quite delicious if you're missing those tastes and you have some on hand.
Vegetarian parmesan exists. I have seen it with my own eyes, many times. Look for the cheaper brands at the supermarket.
As I've mentioned, you can leave the vodka out if you really want to. What's left is a simple but lovely cream and tomato pasta sauce. Add extra pasta water if you're not using vodka.
I used Ceres Organics quinoa flour spaghetti and sorghum spaghetti for this dish. The sorghum comes out of the packet very dark but lightens up as it cooks. It's delicious but it doesn't ever get as light in colour as traditional spaghetti, just so you know. It also takes around 13-15 minutes to cook.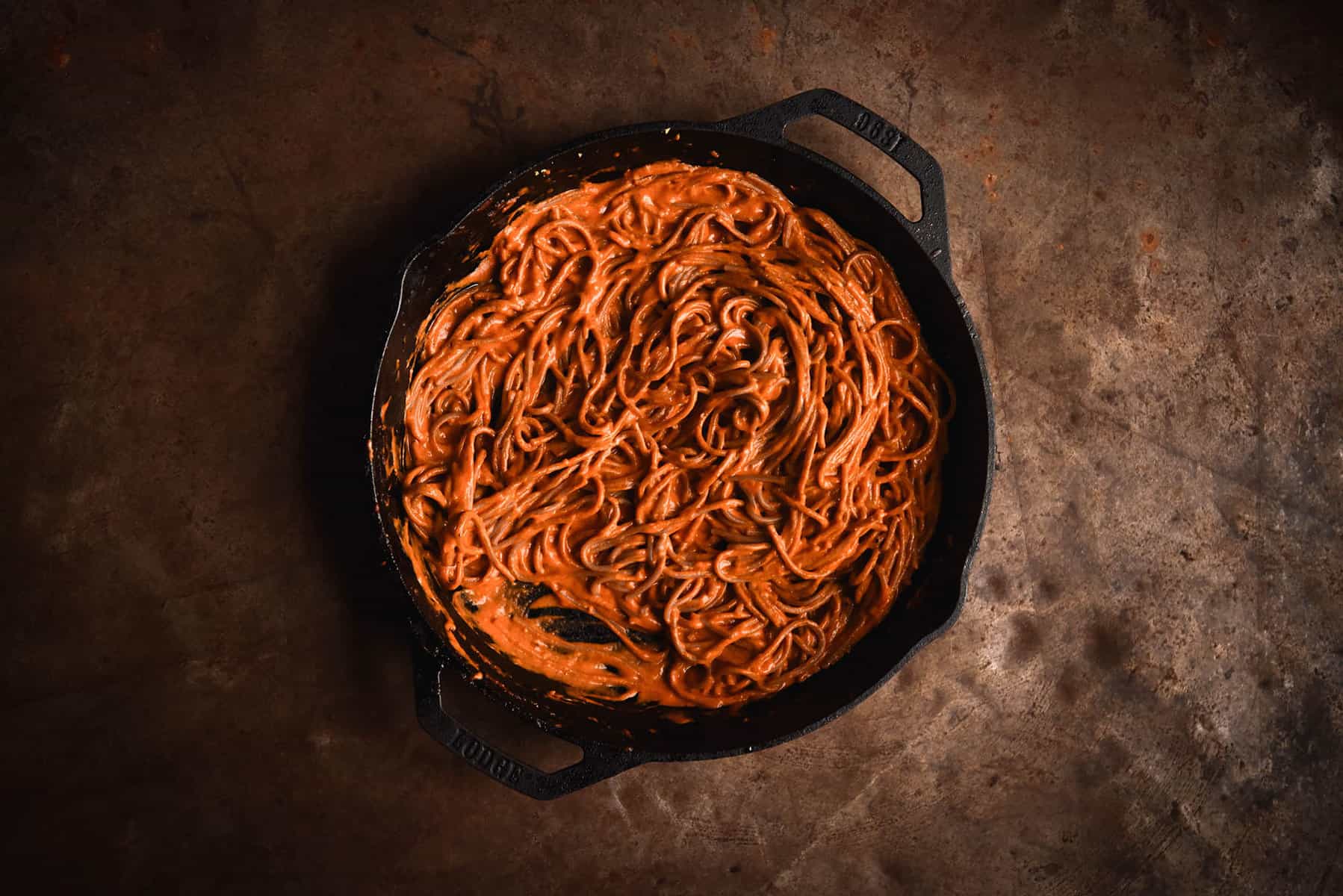 More FODMAP friendly vegetarian pasta recipes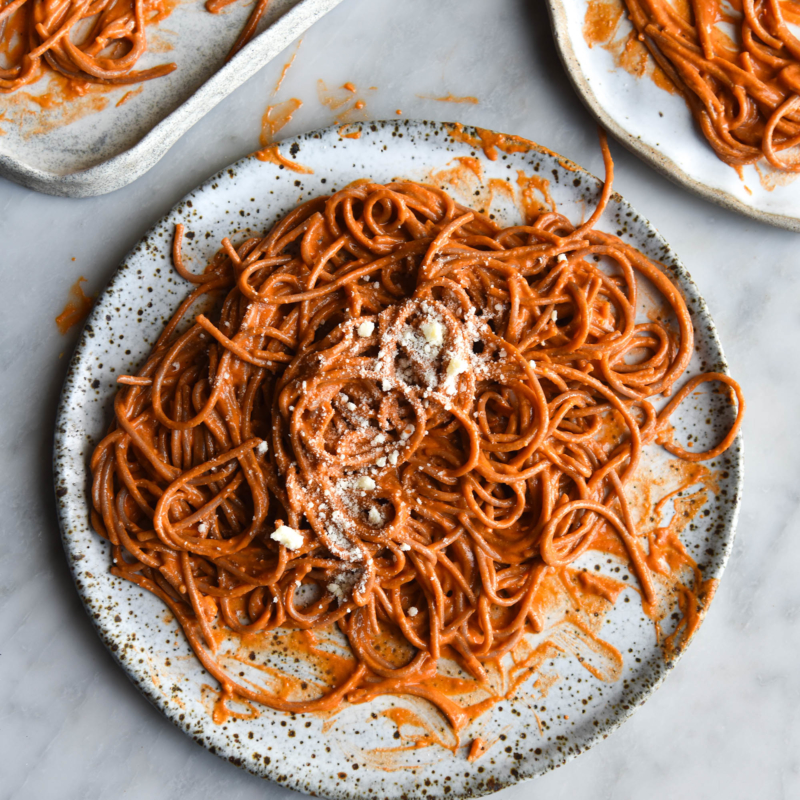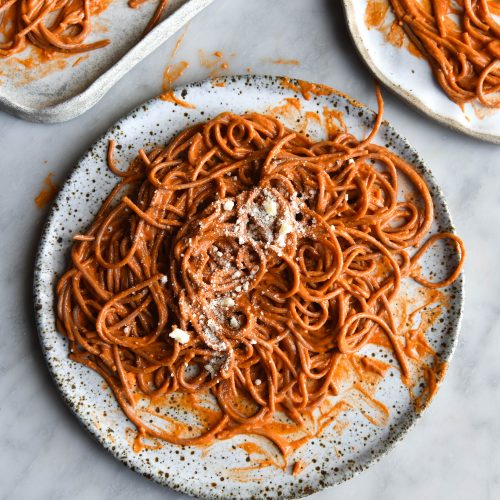 FODMAP friendly pasta alla vodka
Vegetarian, gluten free, FODMAP friendly, nut free
Ingredients
250

g

gluten free pasta

50

g

butter

dark browned

5

tablespoons

tomato paste

1

tablespoon

lemon juice

lemon zest

to your taste (I use 1/2 a lemon)

1

teaspoon

light brown sugar

1

teaspoon

balsamic vinegar

1/4 – 1/2

teaspoon

chilli flakes

freshly cracked pepper

to taste

1/4

cup

(60ml) vodka

1/4 – 1/2

teaspoon asafoetida

also called hing powder (see notes)

1/2

cup

(125ml) lactose free cream

1/2

cup

(125ml) starchy pasta water

or as much as necessary to create a smooth and glossy sauce

75

g

finely and freshly grated parmesan

see notes

Fine salt

to taste
Instructions
Heat a large wok/pot half filled with well salted water over a high heat. I like to use a wok for spaghetti because it fits in the liquid without me having to stand there and push it down while it softens, but you can use a pot if you prefer. Whatever you do, keep the water to a minimum (just enough to cover and cook the pasta) – this will make the pasta water extra starchy, so it has extra ability to emulsify the sauce.

Once the water is boiling, add your pasta and stir to make sure it separates. Stir it intermittently while you work on the sauce.

In a very large skillet or pan, heat the butter over a medium heat. Continue, stirring intermittently, until it becomes a deep brown. It should smell nutty and delicious.

Add the tomato paste and use a silicon spatula to push it around and cook it in the brown butter. It will probably sizzle up considerably before settling down. Cook for 2-3 minutes or until some of the butter has been absorbed by the tomato paste.

Add the lemon juice and zest, light brown sugar, balsamic, chilli flakes and freshly cracked pepper. Stir to combine.

Add the vodka to deglaze the pan and stir to pick up all the little browned bits on the bottom. Add the asafoetida while the sauce is liquidy to disperse it evenly, if you're using it.

At any time if the sauce is sticking, add 1/4 cup of what should now be starchy pasta water.

Take the sauce off the heat and add the cream a bit at a time, stirring to combine between each addition.

The pasta should hopefully be al dente, so take it off the heat. I prefer to use tongs to drop it into the sauce, so that some extra pasta water piggybacks into it. Use your spatula to incorporate the sauce and pasta until it is completely coated.

Add the parmesan bit by bit, and work quickly to agitate the pasta and incorporate the parmesan into the sauce. Add 1/4 cup pasta water as necessary to create a smooth and glossy sauce. Season it to your taste.

Sprinkle with a little extra parmesan or basil and serve immediately.