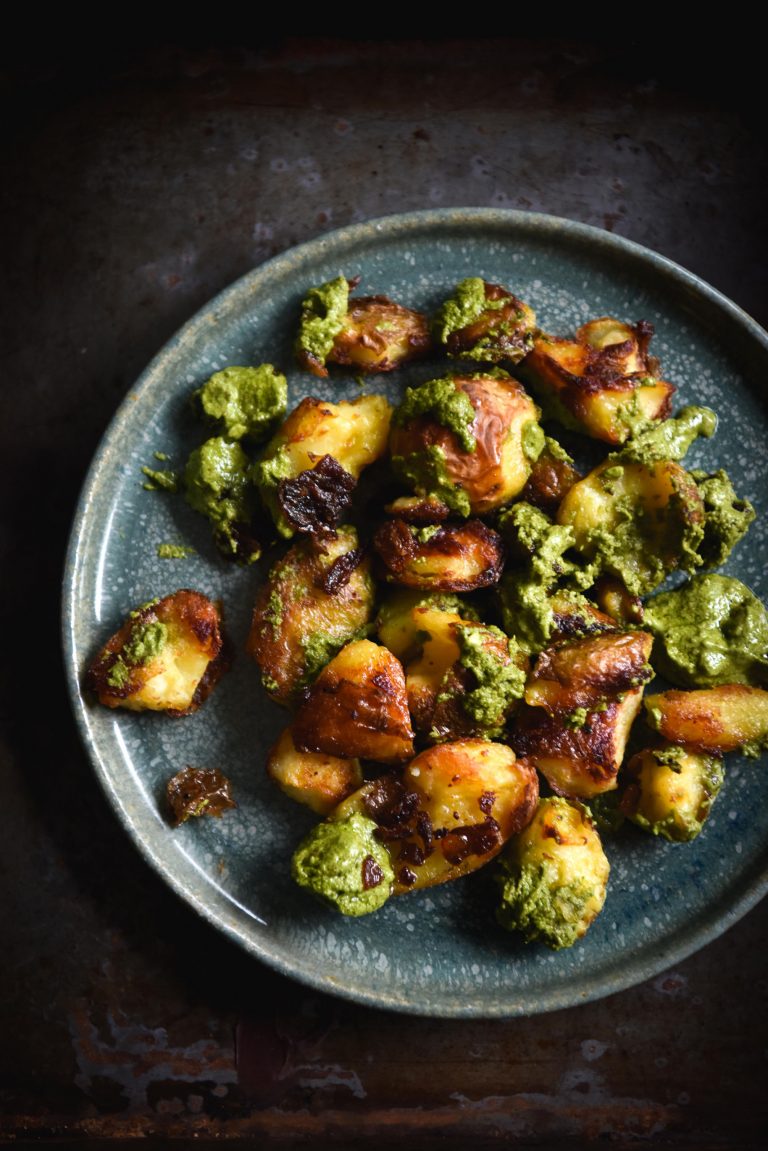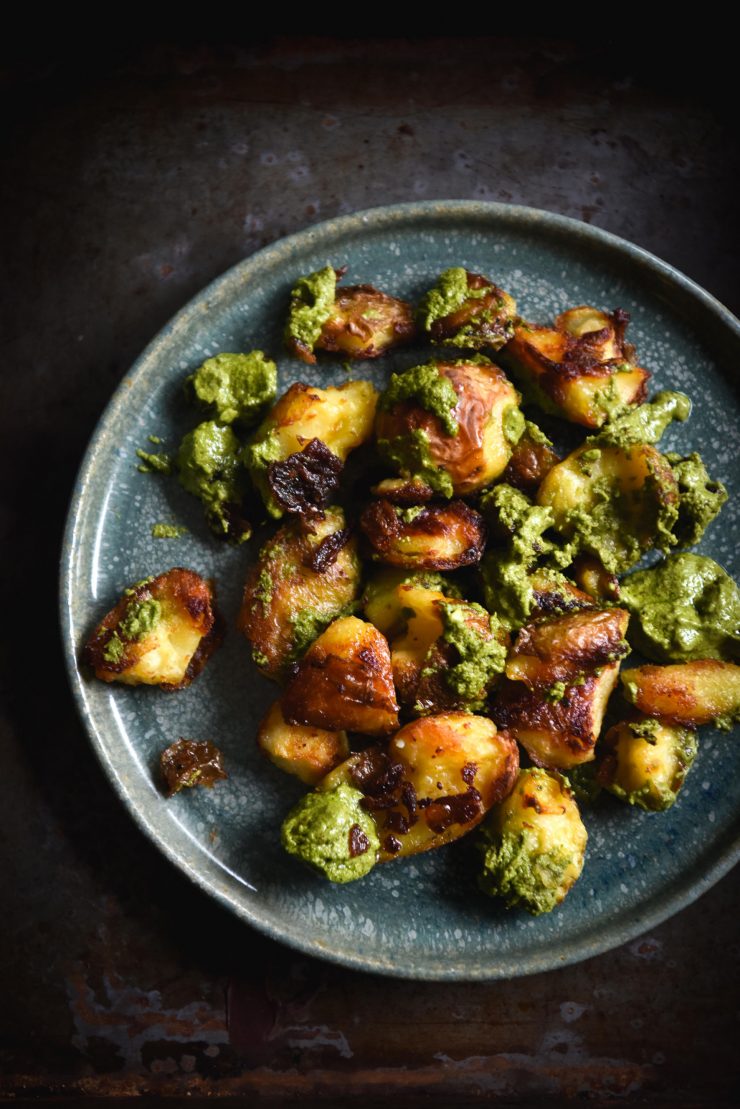 Crispy smashed potatoes. In my eyes, there is probably no more beautiful sentence in the English language. Top them with pesto? Even better. Belinda Carlisle was correct, heaven is a place on earth.
Over the years, I've learnt a couple of tricks to achieving a super crispy potato. Namely, choosing the right variety. There are a huge variety of different potatoes available – some floury, some waxy, some in between. For our crispy smashed potatoes, we need a floury or a all rounder variety. We'll go into why below.
Crispy smashed potatoes
Choose the variety for your purpose. To achieve a fluffy roasted potato, floury or all rounder varieties are generally best. I actually like an all rounder here – floury enough to have a fluffy, delightful interior, waxy enough to hold their shape a little after you crush them up. Some super floury varieties can just fall apart when you smash them.
Australia has a lot less variety in the potato department than other countries, so it is worth Googling the best varieties for roasting purposes where you like. In Australia, I recommend Sebago, King Edward,
Boil your potatoes first. Cooking the potatoes through before putting them in the oven ensures that the inside will be cooked and the outside brown and crispy. If you put them straight in the oven, you run the risk of a burnt outer potato and undercooked potato innards. This is not a fun time.
Preheat your oven, your potato cooking tray and your oil. The last one is extremely important in achieving a super crispy potato, because the crisping starts as soon as the potato hits hot oil.
Salt well, and salt while the potatoes are still hot. The salt will cling to the hot oil and flavour the potatoes perfectly.
That said, I recommend salting the potato boiling water too. If you'd like to add even more flavour, consider adding vinegar to the boiling water a la my salt and vinegar potato recipe.
You can prepare the pesto ahead, but the potatoes are best served fresh and hot.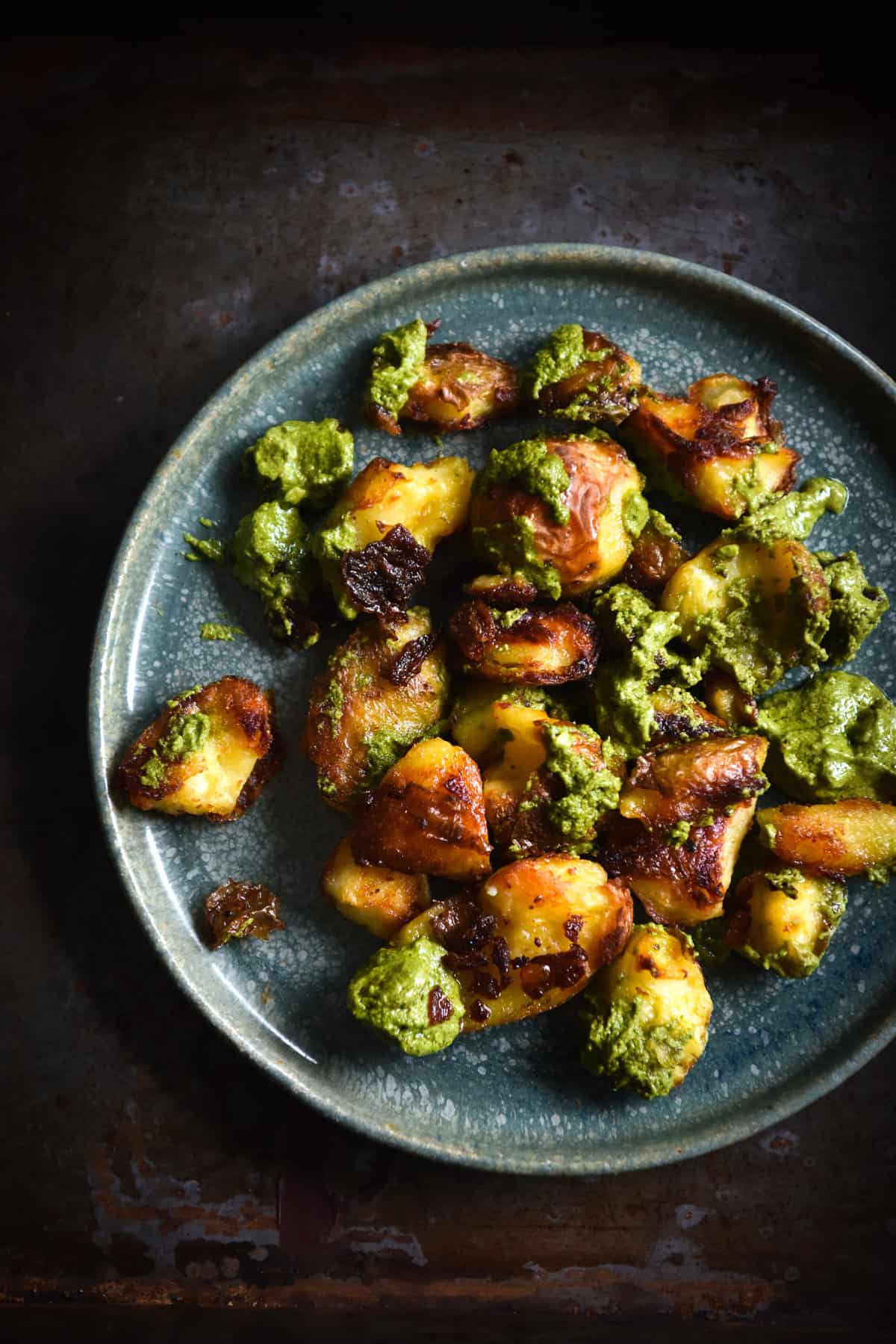 Helpful potato links
Honestly, picking the right potato for the right purpose is something I have always found tricky. Here are some links to help you on your way to potato glory.
FODMAP notes for your vegan rocket pesto
I chose to make this pesto with toasted almonds because I like the slightly different taste and texture it gives. Almonds aren't the FODMAP friendliest of nuts, so if they're no good for you, I would recommend using this recipe. You can use all pine nuts, if you'd prefer. Keep in mind though that you only use around half a batch of the pesto for the potatoes.
Rocket is a cheap and easy way to make pesto, given the quantity needed to make it delicious. You can use basil if you'd prefer – here is a recipe for a basic vegan FODMAP friendly pesto (just use all pine nuts if you don't have/want hemp seeds)
If you don't need a vegan recipe, here is one I prepared months earlier – FODMAP friendly hemp and pine nut with broccolini and ricotta. Sit tight for a lactose free ricotta recipe, coming v soon.
This recipe is vegan, gluten free, FODMAP friendly and easy to make. It also looks like a very impressive starter when you serve it at a party.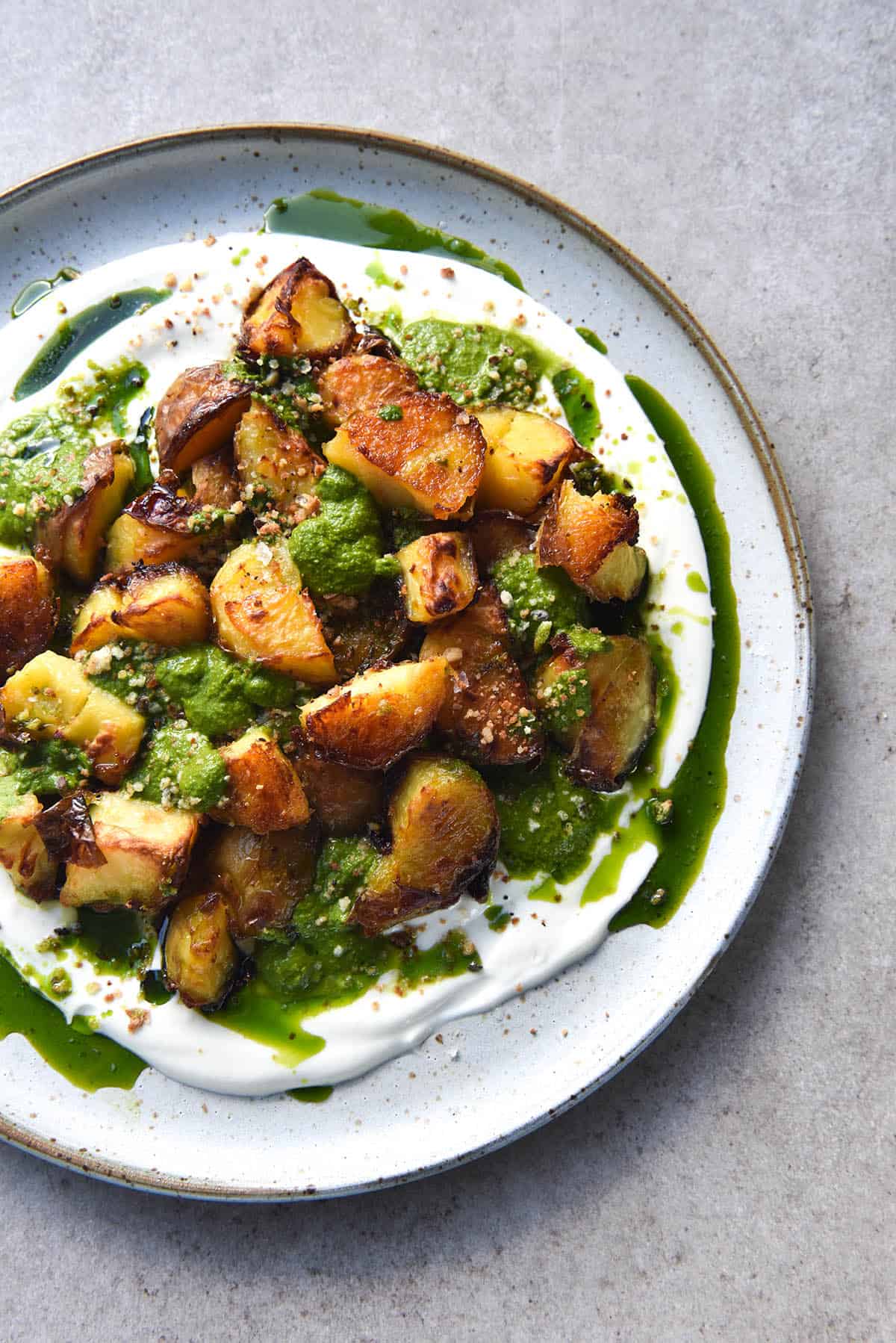 More potato recipes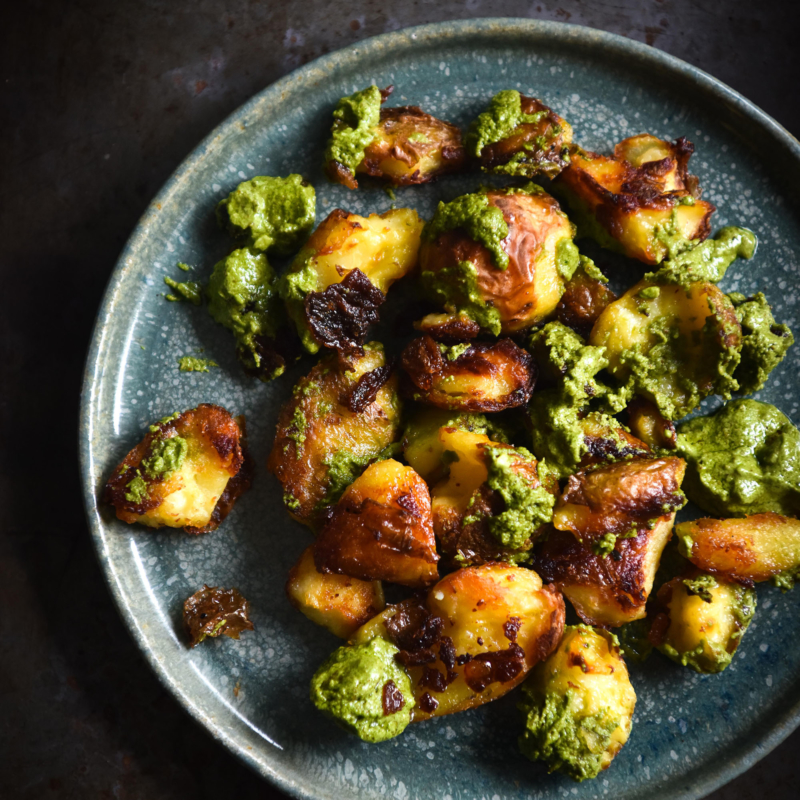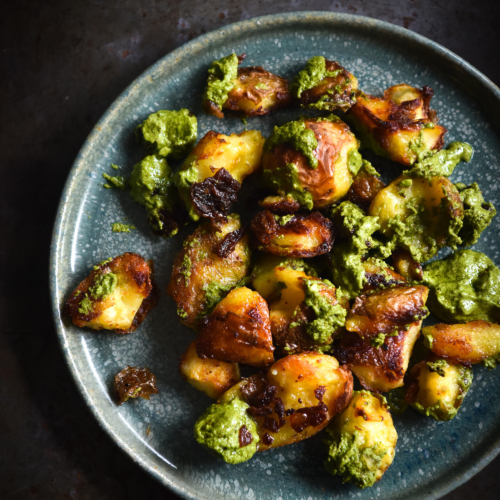 Super crunchy smashed potatoes with vegan rocket and almond pesto
Gluten free, vegan, dairy free, FODMAP friendly
Ingredients
FOR THE 'PESTO:'
100

g

rocket

Juice of 1 lemon

1

cup

of toasted almonds

I toasted the almonds for 10 minutes in an 180 degree oven

1

cup

(250ml) olive oil
FOR THE CRISPY SMASHED POTATOES
1.5

kg

all rounder potatoes

tending towards the floury side (I used Sebago, but see notes or Google a suitable varietal in your country)

Oil for baking

I used olive, but vegetable would also work

Fine salt

for sprinkling
Instructions
TO MAKE THE PESTO:
Place all the ingredients in a high speed blender. If you're using a Nutribullet (like I do) make sure the nuts are cooled first, and layer the ingredients. Layering them (nuts, rocket, nuts, rocket) makes the blending time a lot quicker. Set aside.
TO MAKE THE CRISPY POTATOES:
Cover the potatoes (wash them first if necessary) in salted water and place over a medium high heat until cooked through. This will depend on the size of potato you buy – mine were quite large and took around 20 minutes. Once the potatoes are cooked through, allow them to slightly – enough that you can smash them up and get your hands involved if necessary.

Preheat the oven to 200 degrees Celsius. Once the oven is heated, place a thin, just covering the bottom layer of oil in the bottom of your baking tray. Allow the oil to heat through for around 10-15 minutes. For extra crispy results, use two trays. For EXTRA crispy results, you'd cook half a batch at a time, but that's illogical and ridiculous so here we are.

While the oil is heating, smash the cooled potatoes into bite sized chunks. Some size variation is ok, but for even cooking make sure they're roughly the same size.

Place the potatoes in the oven for 30 minutes before checking on them and carefully turning them and moving them around for even heat distribution. Allow to continue cooking for another 30 or so minutes (again, heavily dependent on your potato size) until super crunchy and golden brown. Remove from the oven when ready, and drain on paper towel or however you like to do it. You can save the oil for general cooking or more baked potatoes.

Generously sprinkle the potatoes with fine salt (it clings best to potatoes) and pepper if you fancy. Dollop over as much pesto as you fancy (I used roughly half the batch) and serve immediately. You can add whatever you like to these – some herbs, greens, olives and/or capers would all be delicious.