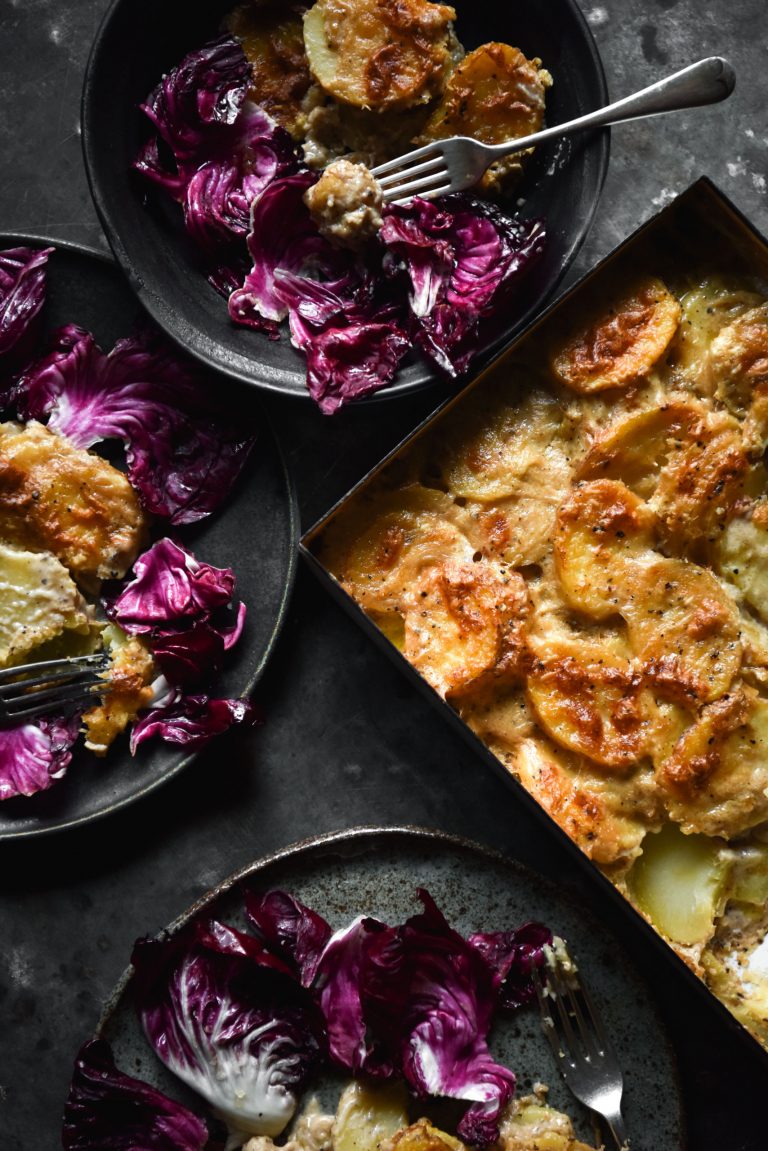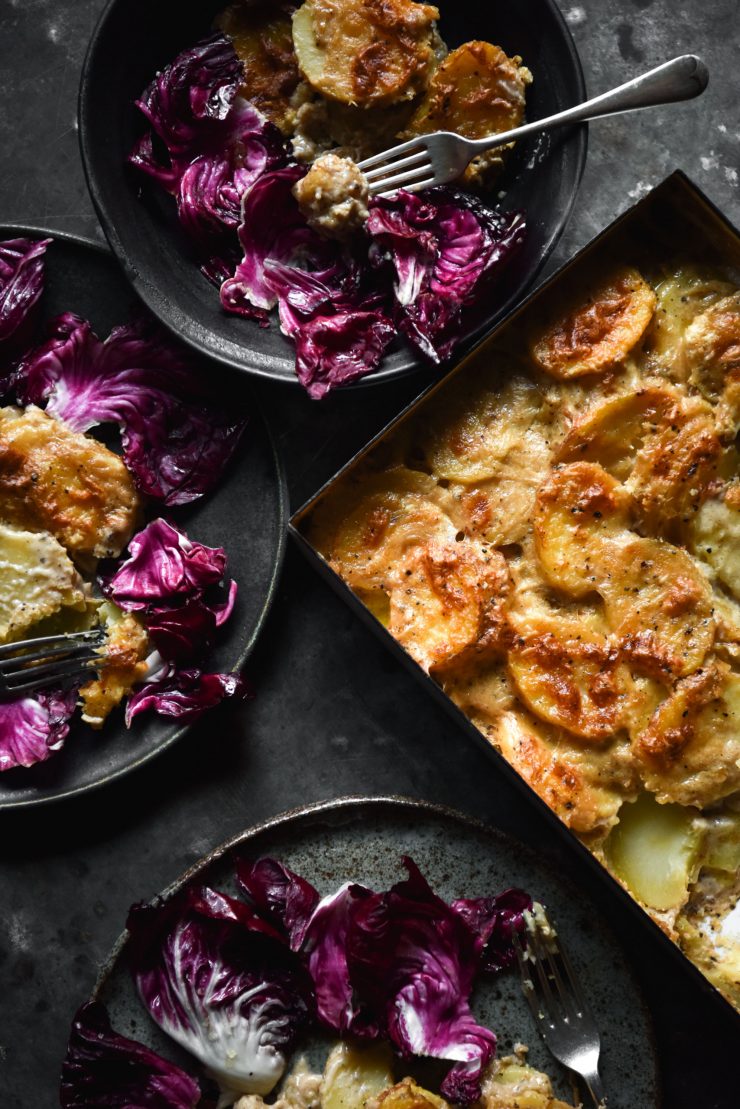 At this point, you'd have to be living under a rock if you haven't heard of cacio pepe. A name that will never not sound awkward when uttered by anyone who isn't Italian, cacio pepe is, at it's simplest, a pecorino and pepper pasta. Under the surface, however, cacio pepe sauce is deceivingly difficult to master. Emulsifying starchy pasta water and hard cheese to a perfect sauce is not very facile, if my experience (and my University Italian) serves me correctly.
Cacio e pepe potato bake
Enter, cacio pepe potato bake. A creamy roux like sauce is made with butter, an offensive amount of pepper, and your choice of milk. To that we add freshly grated pecorino, a sheep milk cheese that is naturally low in lactose. Et voila! Cacio pepe potato bake that is as offensively simple as deciding whether you feel like potatoes (the answer is always a simple yes, for those playing at home)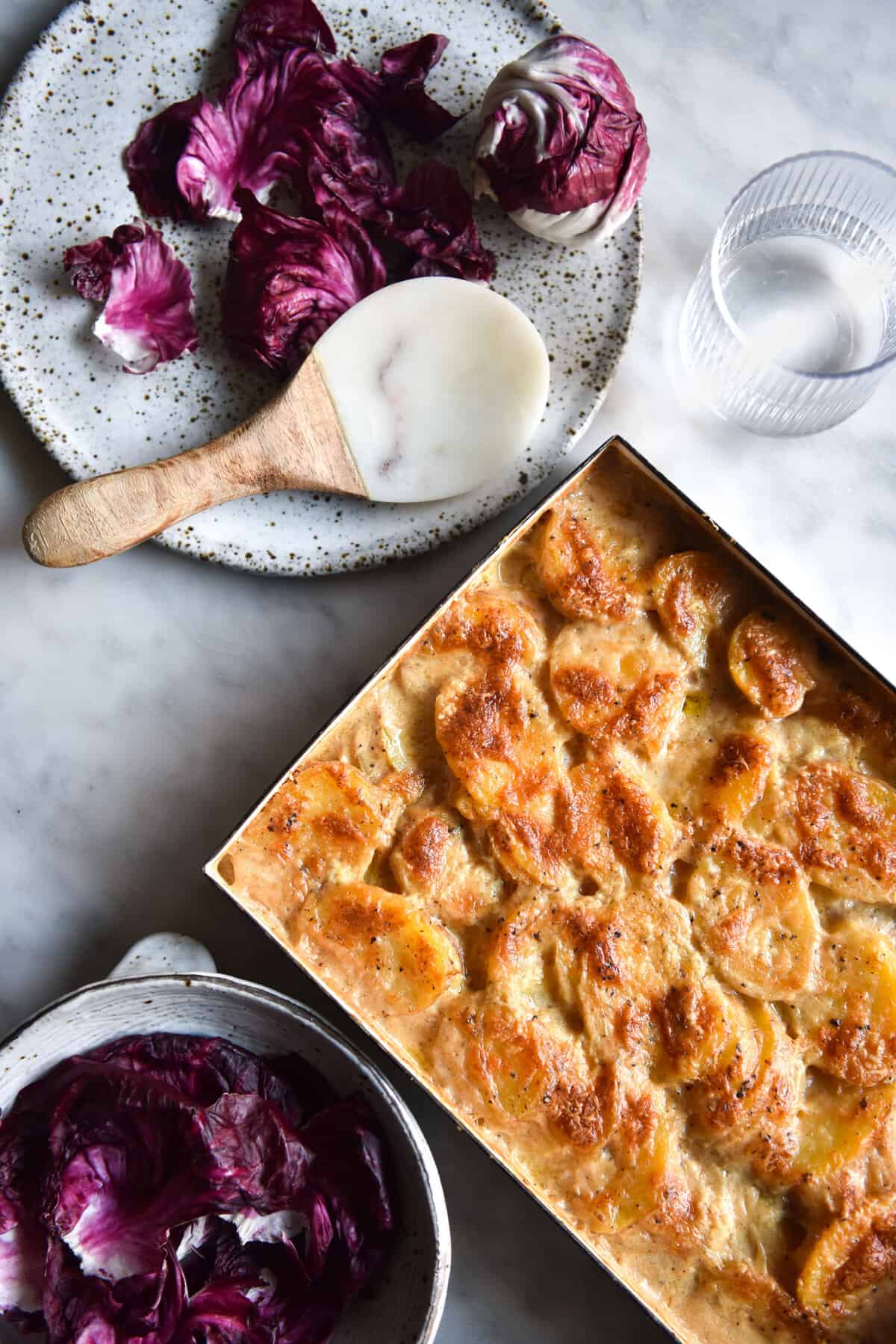 Tips and tricks for your cacio e pepe potato bake
Firstly, use a waxy potato. I have previously used Sebago, which is more of all rounder, but Dutch Cream work like a dream. Here's a list of some options in Australia.
Don't skimp on the pepper! Pepper is what gives this potato bake practically all it's flavour and oomph. I know the quantity of pepper sounds like a lot, but trust me – it is both necessary and worth it.
That said on the pepper – if you truly are a pepper newbie, and/or have the 'spice' tolerance of -10, maybe use 1 1/2 tablespoons, instead of 2.
If you really can't find pecorino, you can substitute with parmesan.
NEVER EVER use pre-grated packets of cheese. They contain fillers that make it hard for the cheese to melt properly and evenly, which are exactly the results we need here.
Make sure your cornflour is gluten free if you need it to be.
I serve this with radicchio tossed in lemon, sea salt and olive oil. It is the perfect burst of colour, but also a welcome hit of clean, fresh, bitterness. My aspirational brand but also the perfect balancer for a plate of creamy potatoes. You could use rocket or endive, or even just some mixed greens.
I like to use almond milk to make the roux. It's subtle flavour sinks nicely into the background, to let the cacio pepe sauce shine. You could use soy, lactose free, or even regular, if that works for you.
FODMAP notes for your cacio e pepe potato bake
The cacio pepe potato bake is pretty much a FODMAP home run. Pecorino is moderate in lactose at a serving of 4 cups of grated cheese per person, per serve. I mean, I enjoy cheese as much as the next person, but I reckon this will be fine.
Potatoes have no FODMAPs detected, according to the Monash FODMAP app. Sweet sweet music to my ears, I say!
Finally, lactose free milk and butter are considered low FODMAP too. Butter seems to get a bad rap as a high lactose product, when it is actually very low in lactose. However, if you're dead set on avoiding it, you could use a butter substitute, or potentially even olive oil. I haven't tried an olive oil based roux for this particular dish, but I have for my vegan mac and cheese. It worked well there, so I don't foresee any issues here.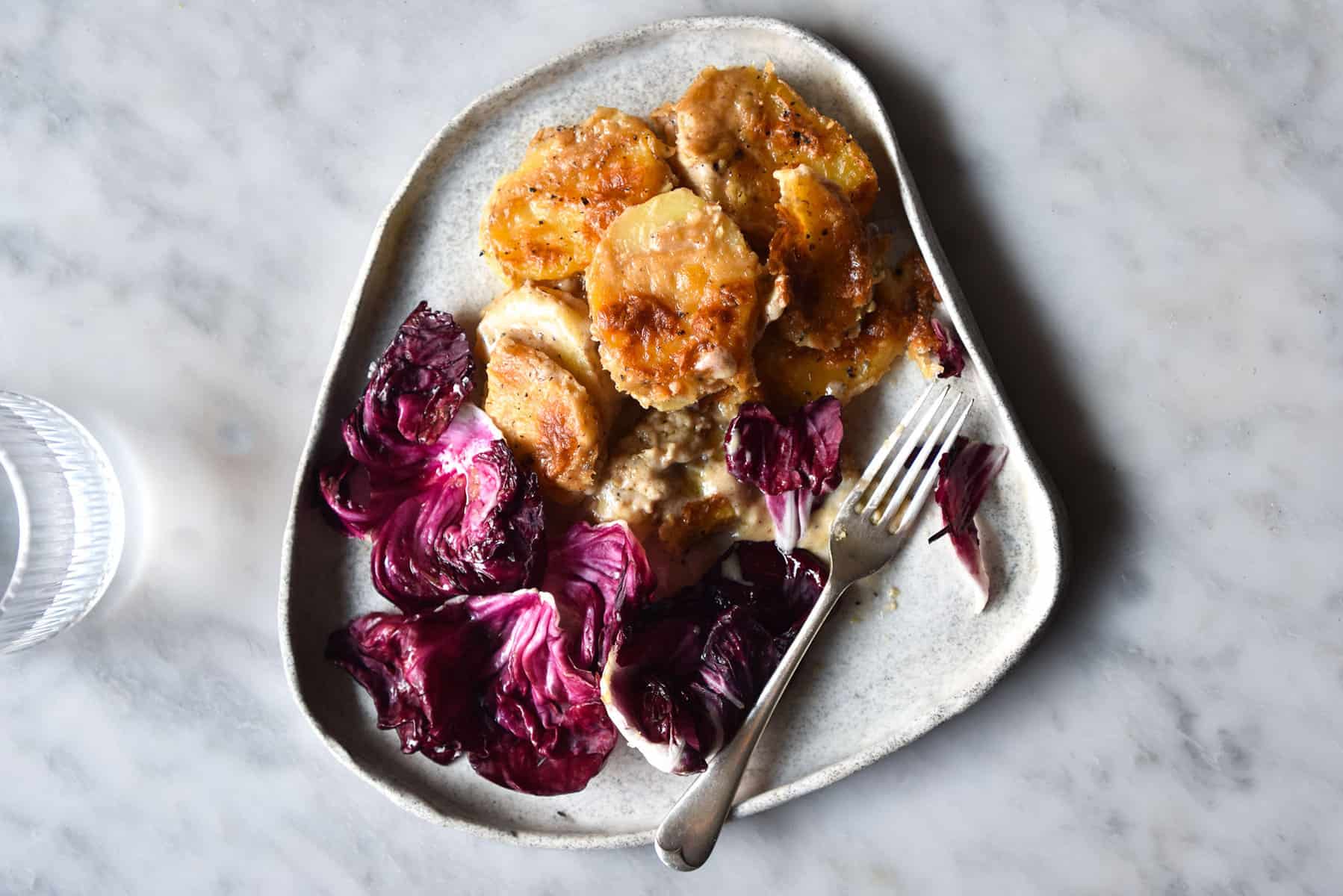 A note on potato skins
Potato skins. Generally speaking, they're a total non-issue. Of course I'm going to cook them in their skins, because I am inherently lazy. However, in this case, you have two choices. Skin on, or skin off. Why the choice? Once the potatoes are cooked and cooled, the skins get a little flap-like (sorry) and superfluous when trying to finely slice the potato. For me personally, it is not a deal breaker and makes no difference to the final product. I just thought I'd give you the option now, so you are not potentially irritated with me later. If you'd like to take the skins off, weigh the potatoes after doing so, to make sure you have enough. I'd hate you to miss out on potato.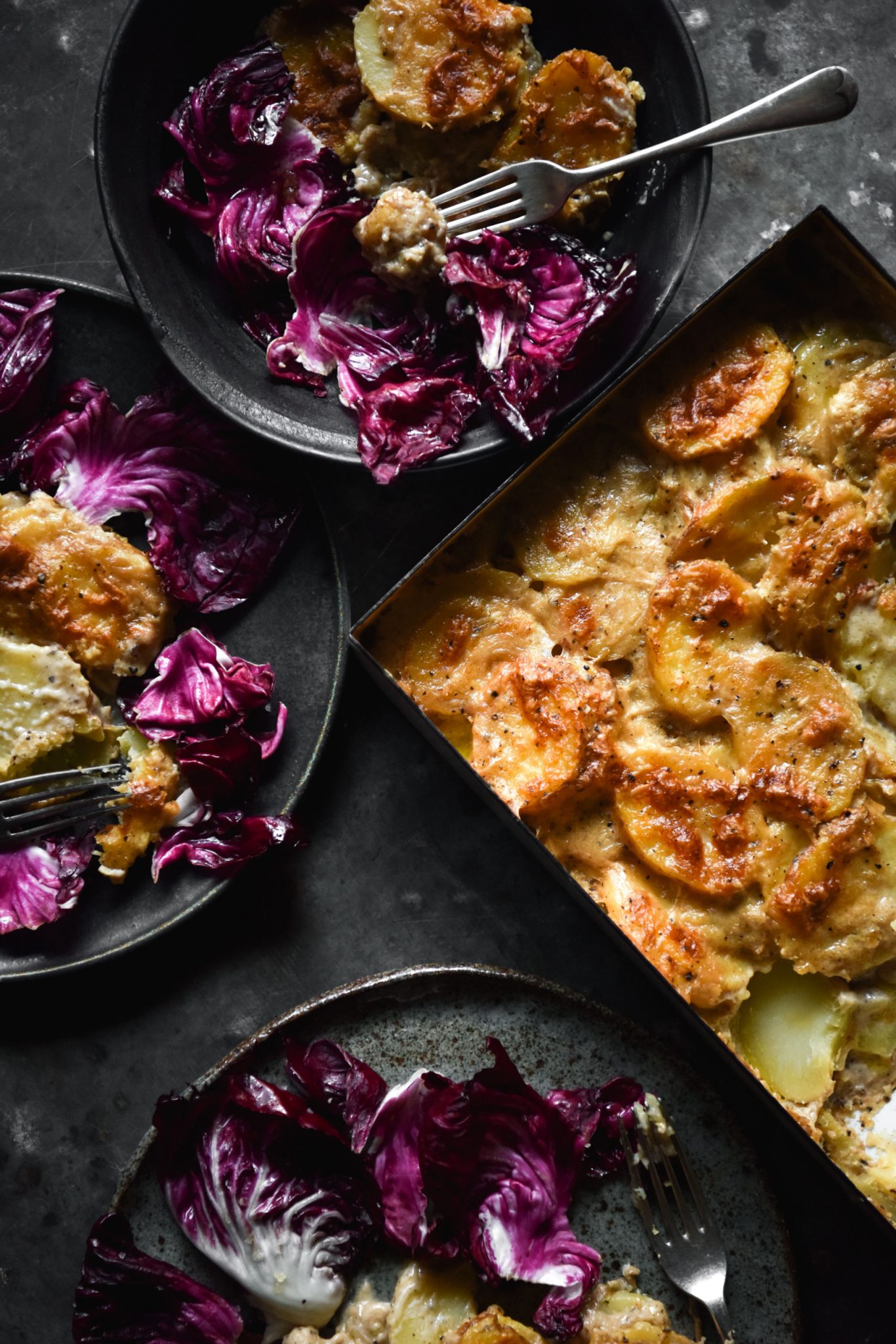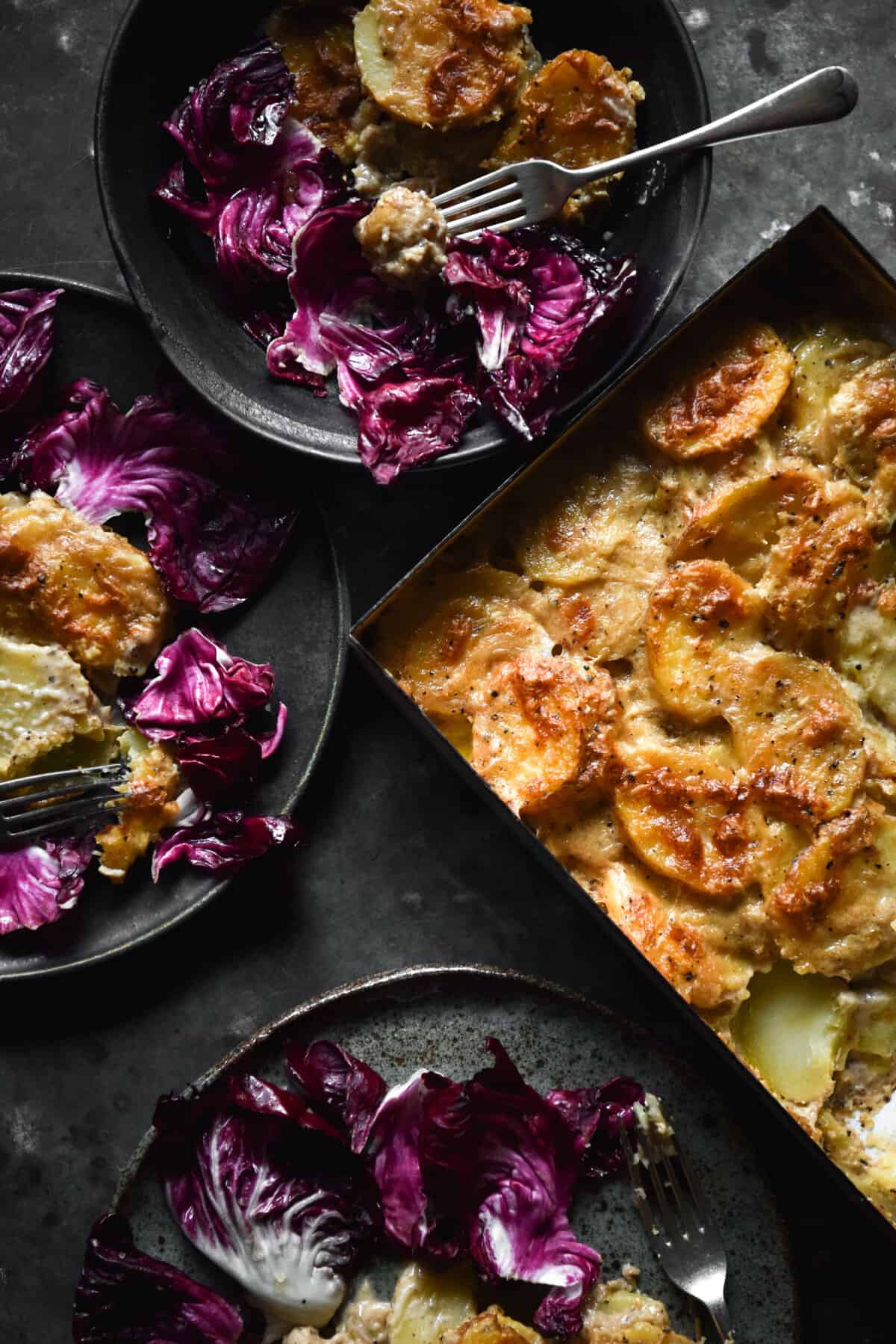 More potato recipes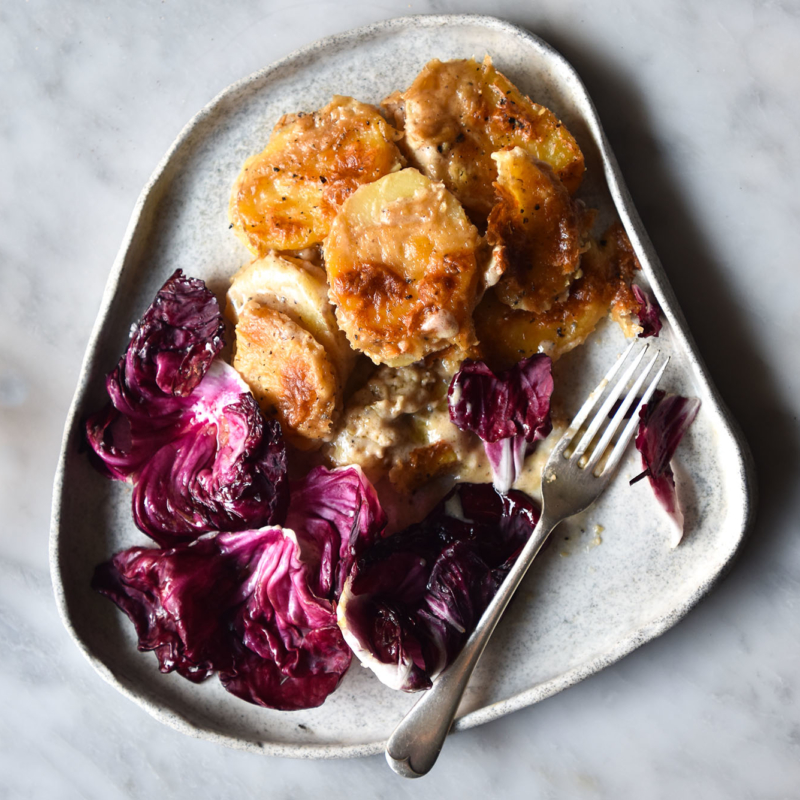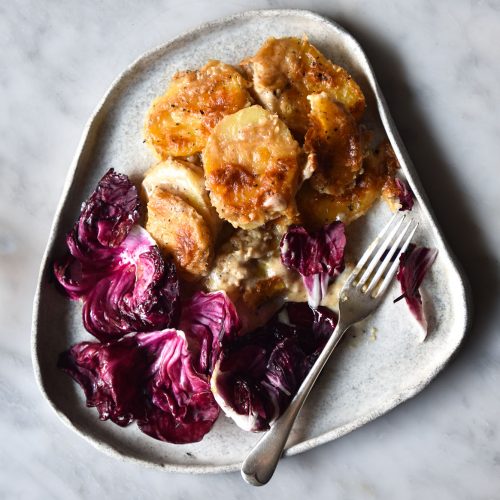 Cacio pepe potato bake
Gluten free, vegetarian, FODMAP friendly, low lactose
I used a 31 x 23cm baking dish that is 5cm deep
Ingredients
1.5

kg

waxy potatoes

I recommend Dutch Cream, see note above about skins

1-2

tablespoons

freshly cracked pepper

3

tablespoons

(60g) butter

3

tablespoons

cornflour

make sure it's gluten free if it needs to be

1

litre

(1000ml) milk of choice

200

g

Pecorino

finely and freshly grated

50

g

extra Pecorino or Parmesan

for the top
Instructions
Cover your scrubbed (and potentially peelepotatoes with enough water to boil them, in a large soup sized pot (so you can use it throughout the entire process.) Cook them for 20-30 minutes, until they are cooked all the way through, but still firm. Dutch Creams were a dream for this.

Remove the potatoes from the water, and allow them to steam dry. Ideally (if you have timallow them to cool – it will make slicing them much easier.

When your potatoes are ready, cut them into reasonably thin slices – as you would for scalloped potatoes. Set aside, and preheat the oven to 180 degrees Celsius.

Crack your pepper. Unless you're bougie (which I fully supporand have a powered pepper grinder, this will take a while. Worth it, trust me.

Have all your other ingredients ready to go – grate the pecorino, weigh the butter, measure out the cornflour, and grab your whisk. You could also measure out the milk, but I like to have one cup measure filled and ready, and just use that to add the remaining 3 cups. Saves on dishes.

Place the soup pot on a medium heat, emptying it if it's filled with water. Allow the bottom of it to dry completely, before adding the cracked pepper. Allow it to cook just until it becomes fragrant, and then add the butter.

Once the butter has melted and mingled with the pepper, add the cornflour, and quickly whisk it until they're combined and beginning to bubble. Once they are, add the milk, and whisk to remove any lumps.

Cook this mixture for about 10 minutes, until it is reasonably thick and could easily coat the back of a spoon. A thin custard type thickness is ideal. Once it is ready, add the finely grated pecorino, and stir intermittently until it has completely melted.

Take the roux off the heat, and add the sliced potatoes. It helps if you separate the slices with your hands beforehand, so they get evenly coated in the sauce.

Stir the potatoes and sauce gently until the potatoes are completely covered. I like to use a spatula to do this, so I can scrape all the sauce out at the end.

Carefully pour the mixture into a large baking dish. Mine is 31cm x 23cm, and 5cm deep. If the mixture is cool enough, I like to use my hands to flatten all the slices down. This helps squeeze up some sauce from the bottom, and ensures all the potatoes cook evenly. If you're not a grub like I am, you could use the spatula.

Sprinkle the remaining grated cheese over the bake, and then pop in the oven for 30-50 minutes. Once the top is beautifully browned you can remove it from the oven and serve.

As I mentioned, I serve mine with a lightly dressed radicchio salad, but you do you.