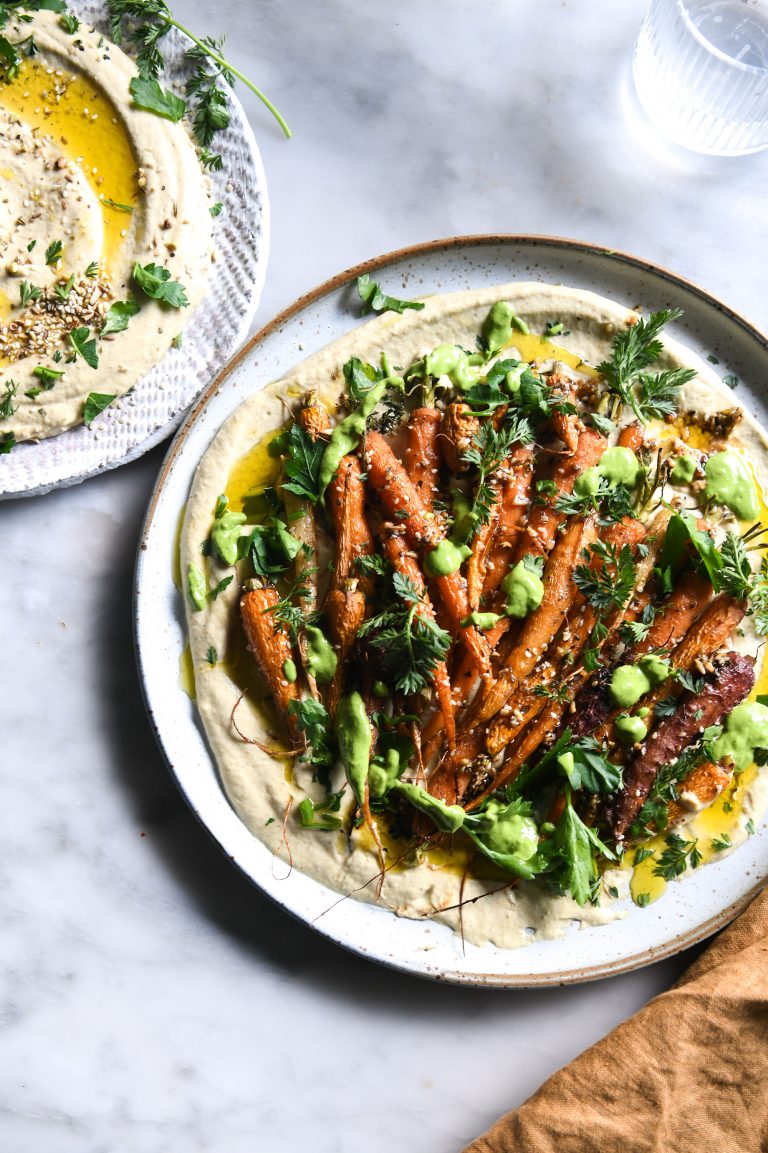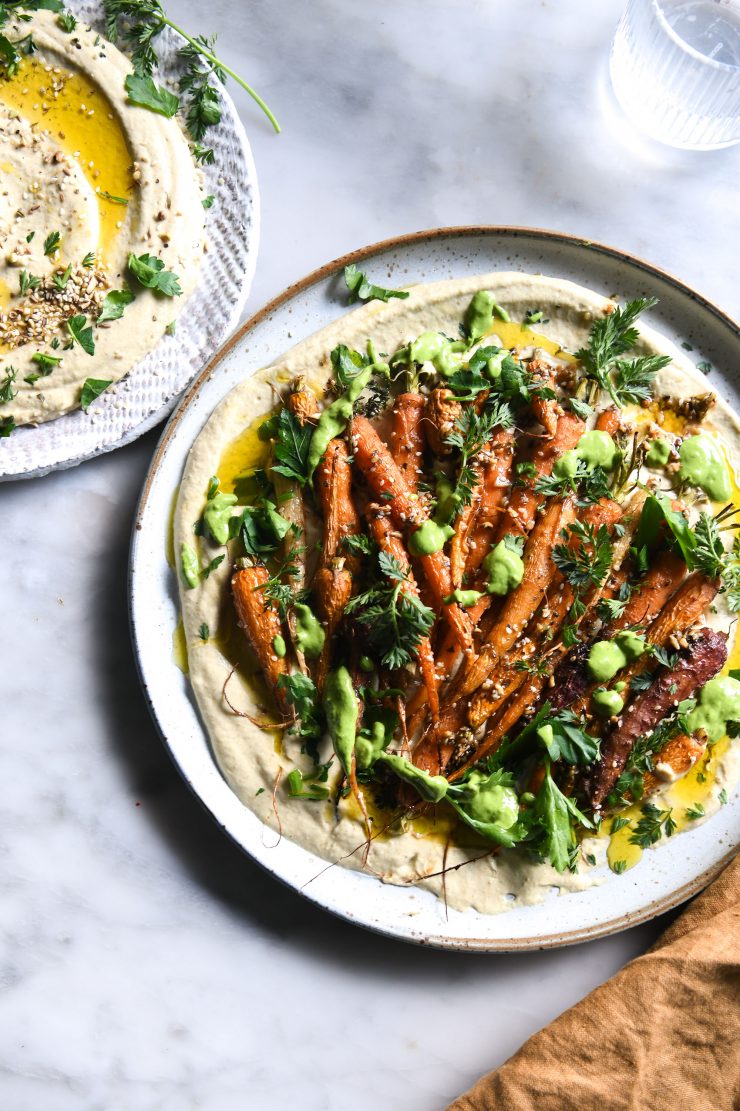 Without onion or garlic, it's important to pack as much flavour into dishes with low FODMAP herbs, spices and condiments.Tahini, which is sesame seed paste or butter, is a creamy and delicious way to inject flavour into your low FODMAP cooking. It's top priority that we ask, then: is tahini low FODMAP?
An important note, before we begin: this article is not a substitute for medical advice. My intention is merely to help you in your day to day FODMAP journey with Monash thresholds and recipes that use them. Always consult a doctor or dietician before you commence any sort of elimination diet.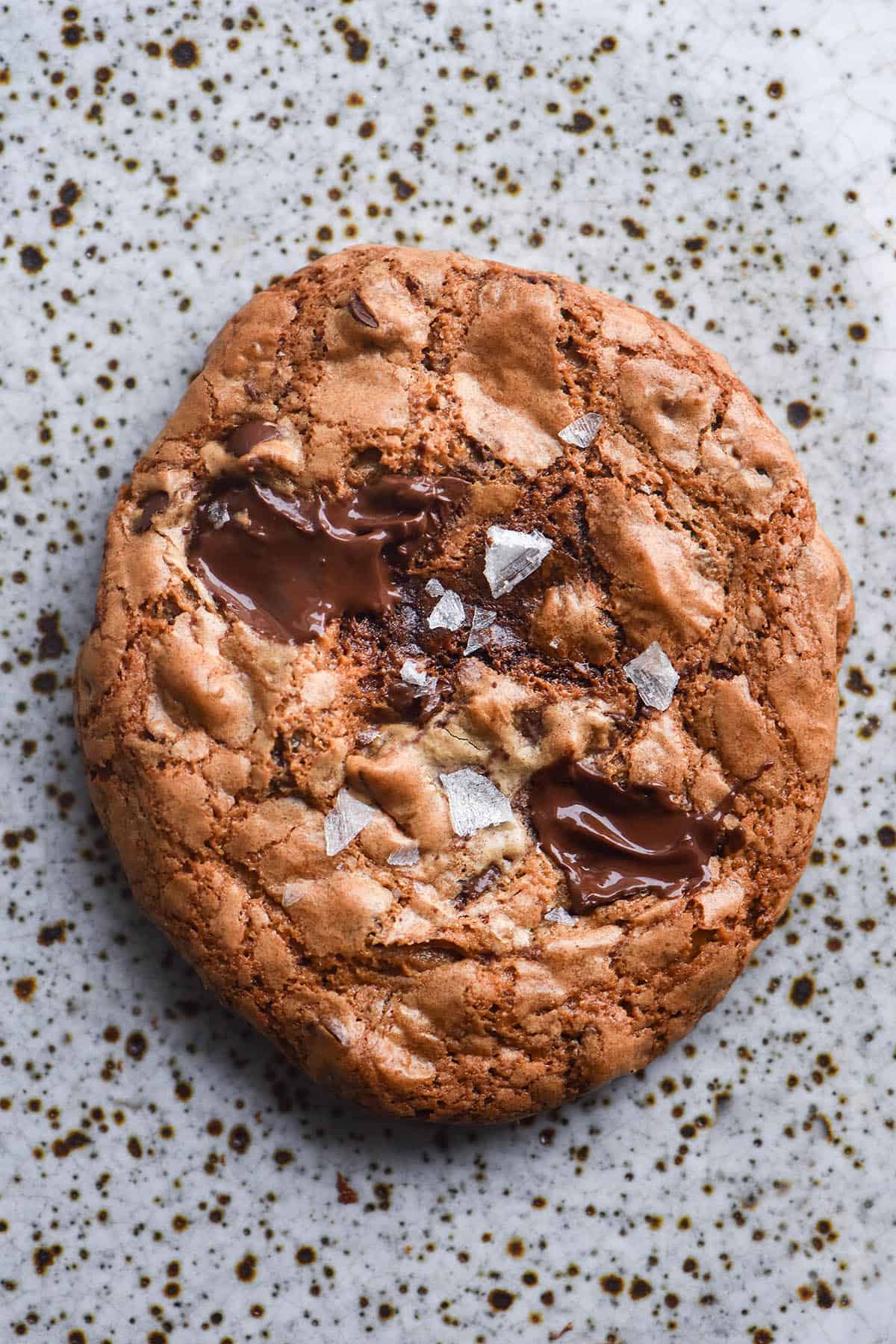 Is tahini low FODMAP?
Yes, tahini is low FODMAP. Tahini has a low FODMAP threshold of 30g per serving, which is approximately 2 tablespoons. This is the same whether the tahini is hulled or unhulled. However, the two have different moderate and high thresholds, so it's worth discussing them individually.
What is the difference between hulled and unhulled tahini?
Hulled tahini is tahini that has had the outer shell (or husk) removed before grinding the paste. It is generally paler, often creamier, and people can sometimes prefer it because it is slightly less bitter.
Unhulled tahini uses the whole sesame seed, including the outer shell or husk. It is generally a little darker in colour and slightly more bitter.
Nutritionally speaking, unhulled tahini retains more nutrients and fibre than unhulled tahini. However, both sorts are nutrient dense (and delicious).
Is hulled tahini low FODMAP?
Hulled tahini is low FODMAP in 30g serves which is approximately 2 tablespoons. In servings of 185g or approximately 3/4 cup, tahini contains moderate amounts of GOS. In 220g or 1 cup servings, it contains high amounts of GOS.
The discrepancy between a low and moderate FODMAP serve suggests a low FODMAP serve is higher than 30g. Assess your own tolerance and see what works for you.
Is unhulled tahini low FODMAP?
Unhulled tahini is low FODMAP in 30g serves, which is approximately 2 tablespoons. In serves of 110g or around 2/5th of a cup, it contains moderate amounts of fructans. In serves of 125g or around 1/2 cup, it contains high amounts of fructans.
The discrepancy between a low and moderate FODMAP serve suggests that there is some wiggle room as to what constitutes a low FODMAP serve of unhulled tahini. Assess your own tolerance and find out what works for you.
Is hulled or unhulled tahini the lower FODMAP choice?
Both sorts of tahini have low FODMAP thresholds. However, if you intend to eat more than 30g per serving, hulled tahini is a lower FODMAP choice. The moderate threshold for a serve or hulled tahini is 185g, while it is 110g for unhulled tahini.
My guess is that the husk of the sesame seed contains GOS, so hulled tahini has a lower GOS content (because it doesn't contain the husk).
More low FODMAP resources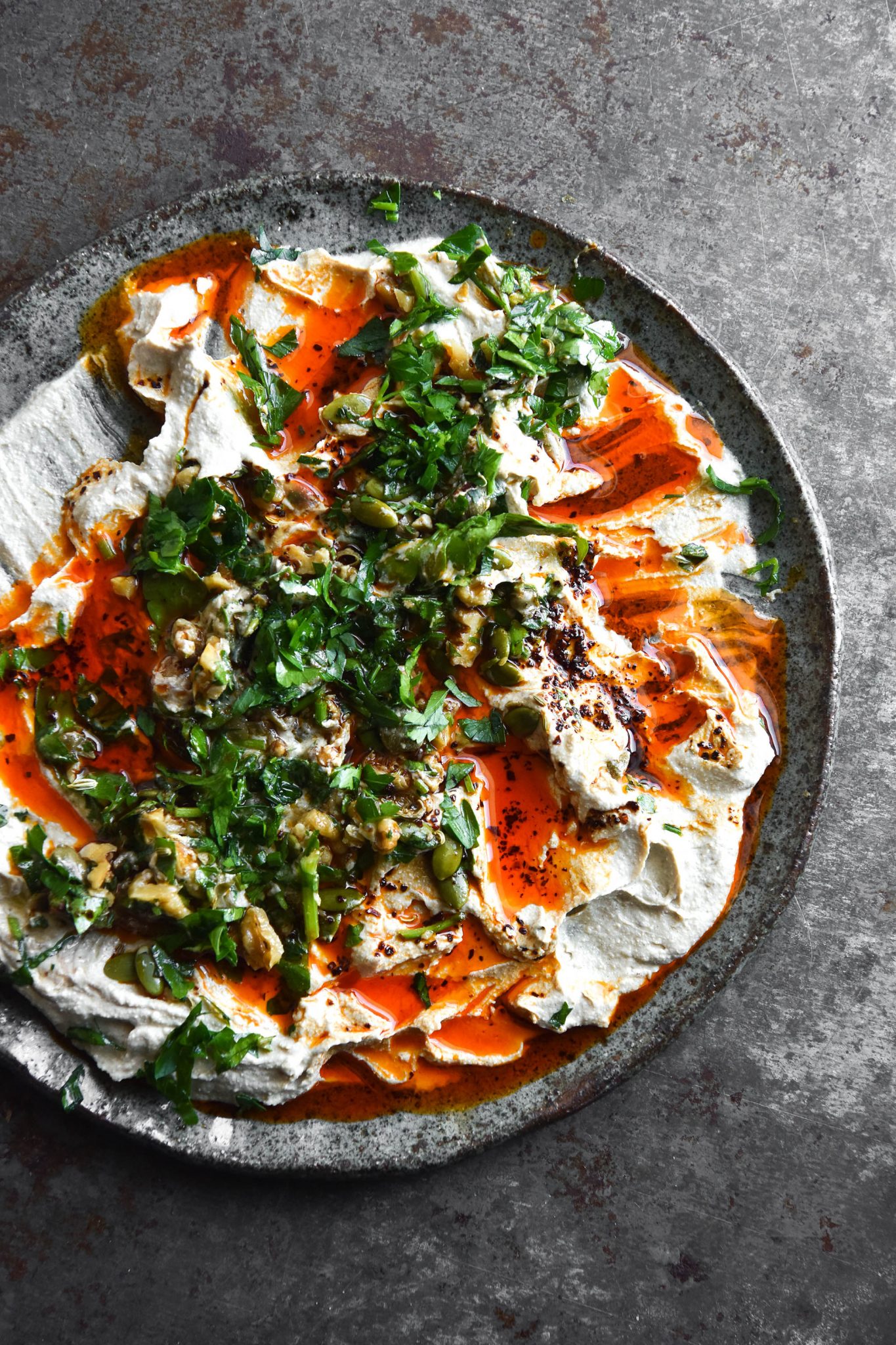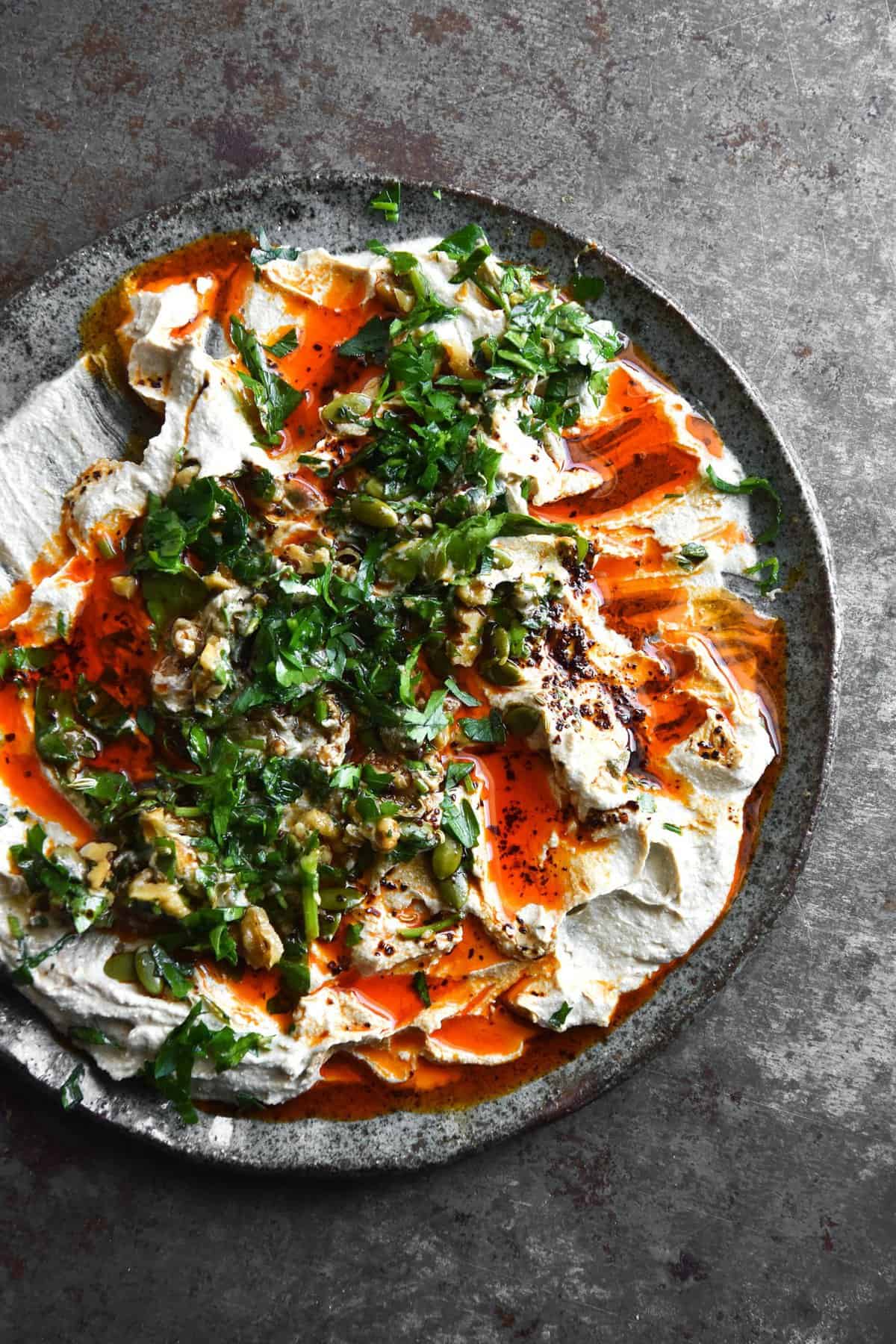 Low FODMAP tahini recipes
Tahini chocolate chip cookies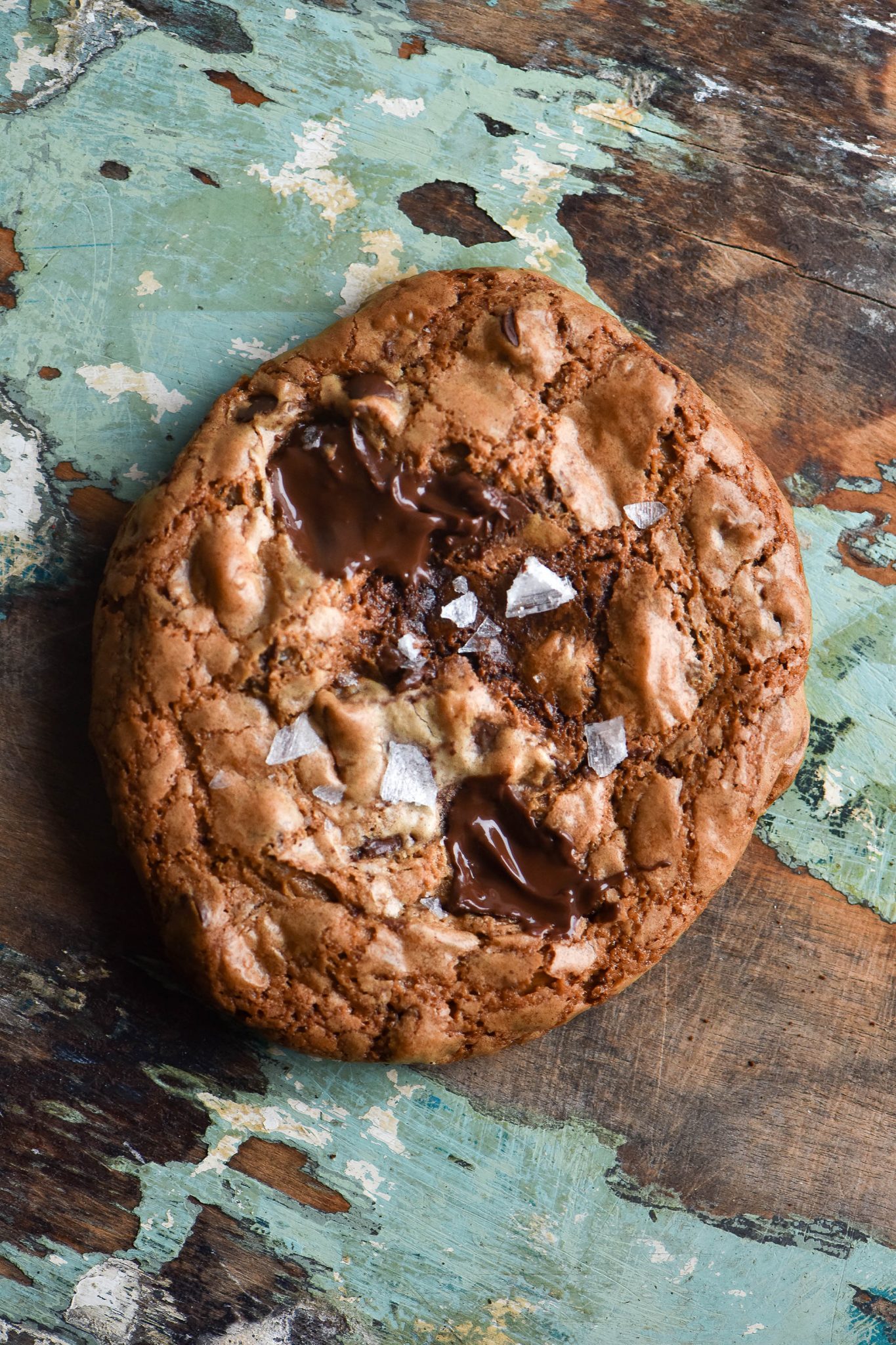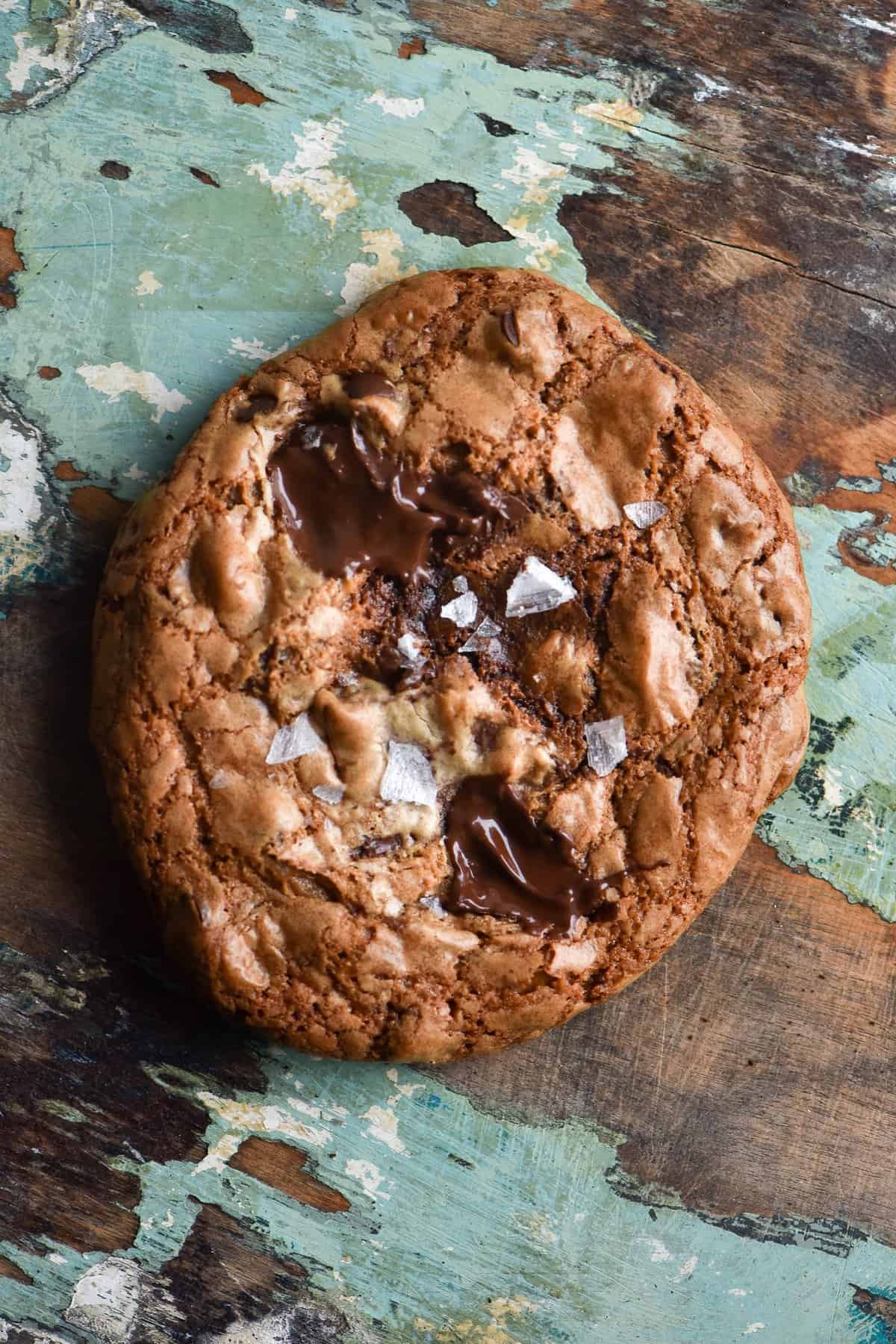 Dukkah roasted carrots with zucchini hummus and green tahini sauce
This dukkah roasted carrot dish is one of my favourite side dishes. Beautiful and layered with flavour, nobody at the table would guess it contains no onion or garlic.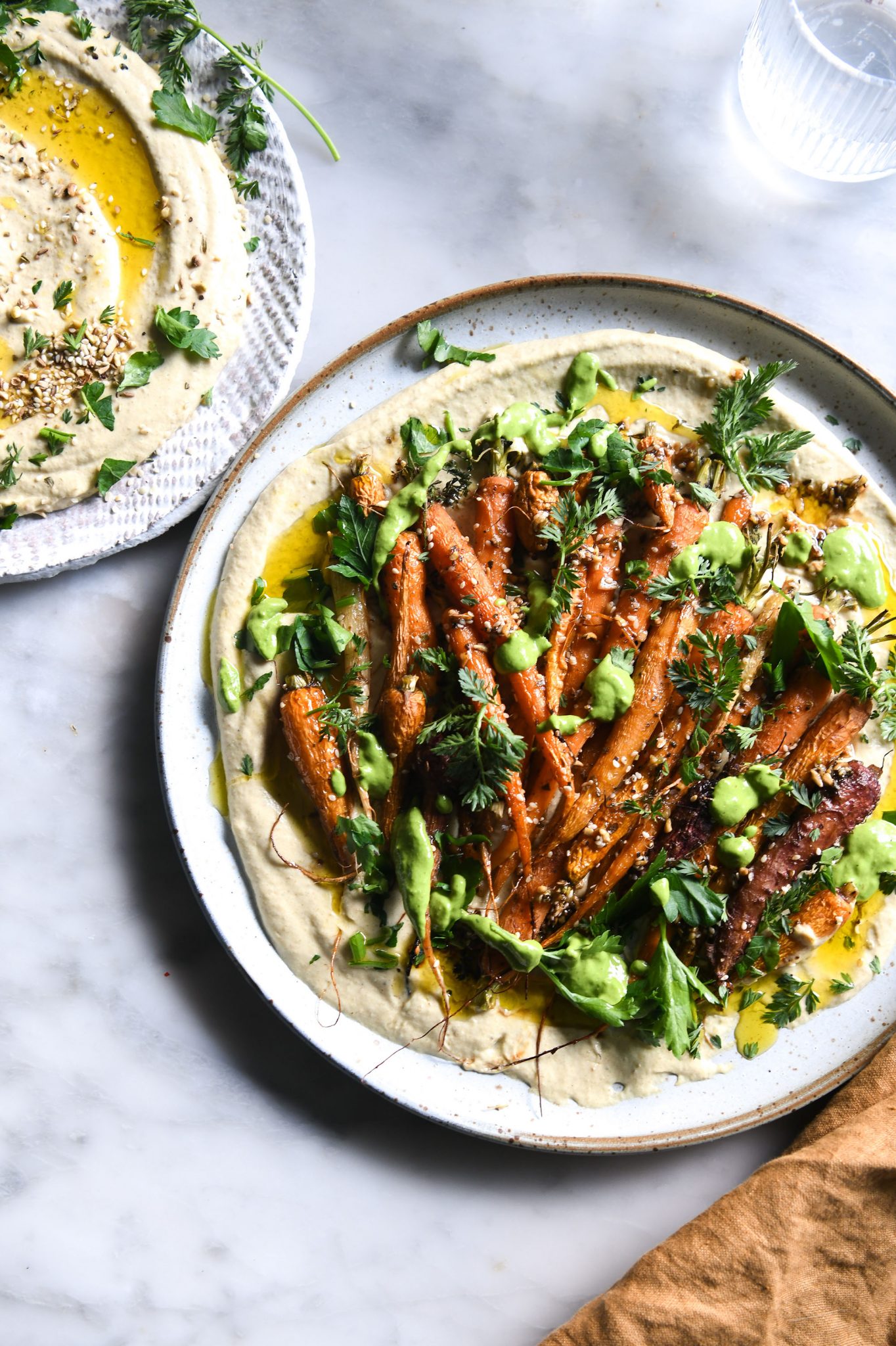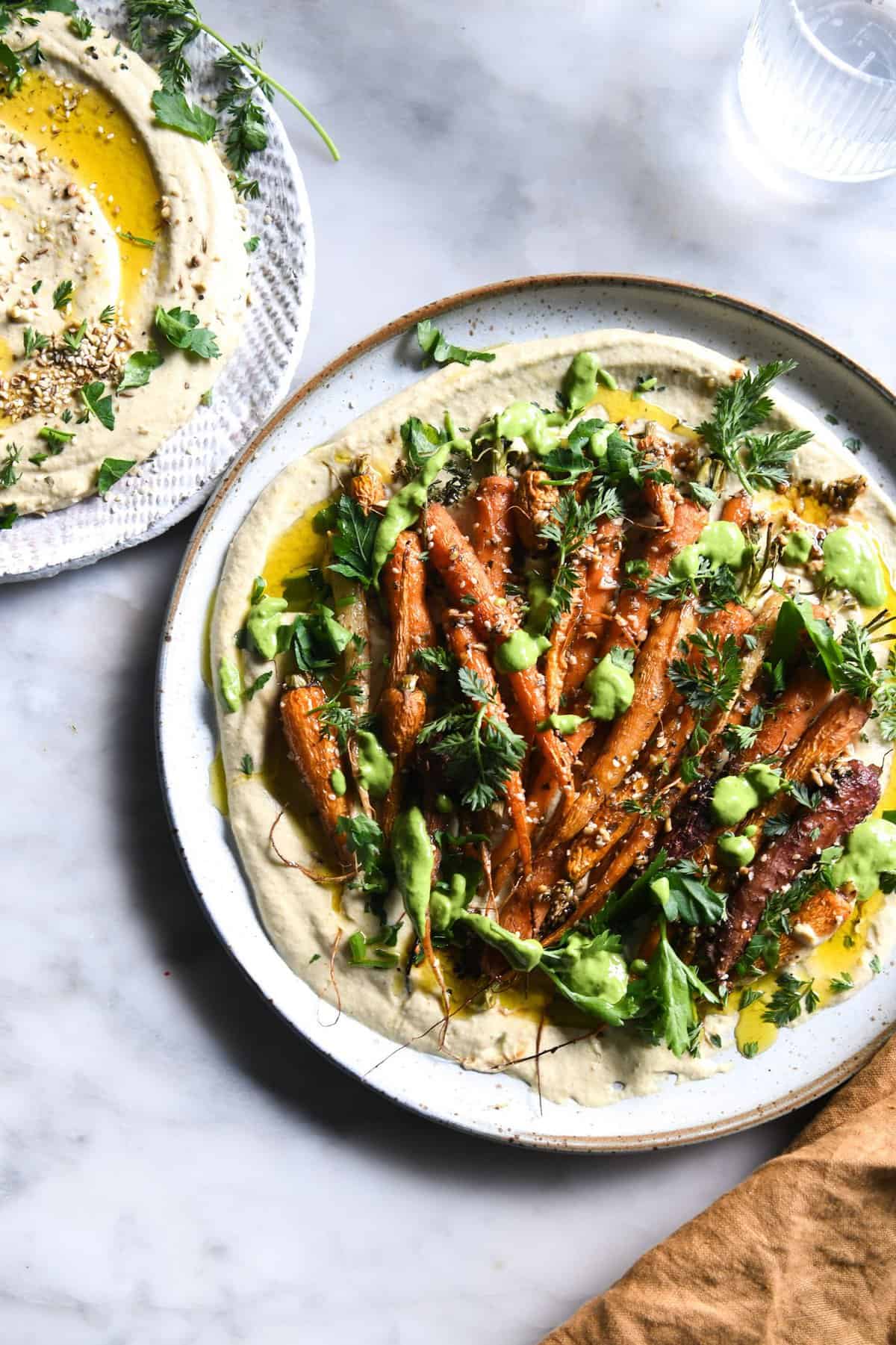 FODMAP friendly hummus without chickpeas
This low FODMAP hummus uses a surprise ingredient (tofu!) to replace chickpeas, which are higher FODMAP. It's creamy and thick, and tastes very legit thanks to the tahini and garlic infused oil.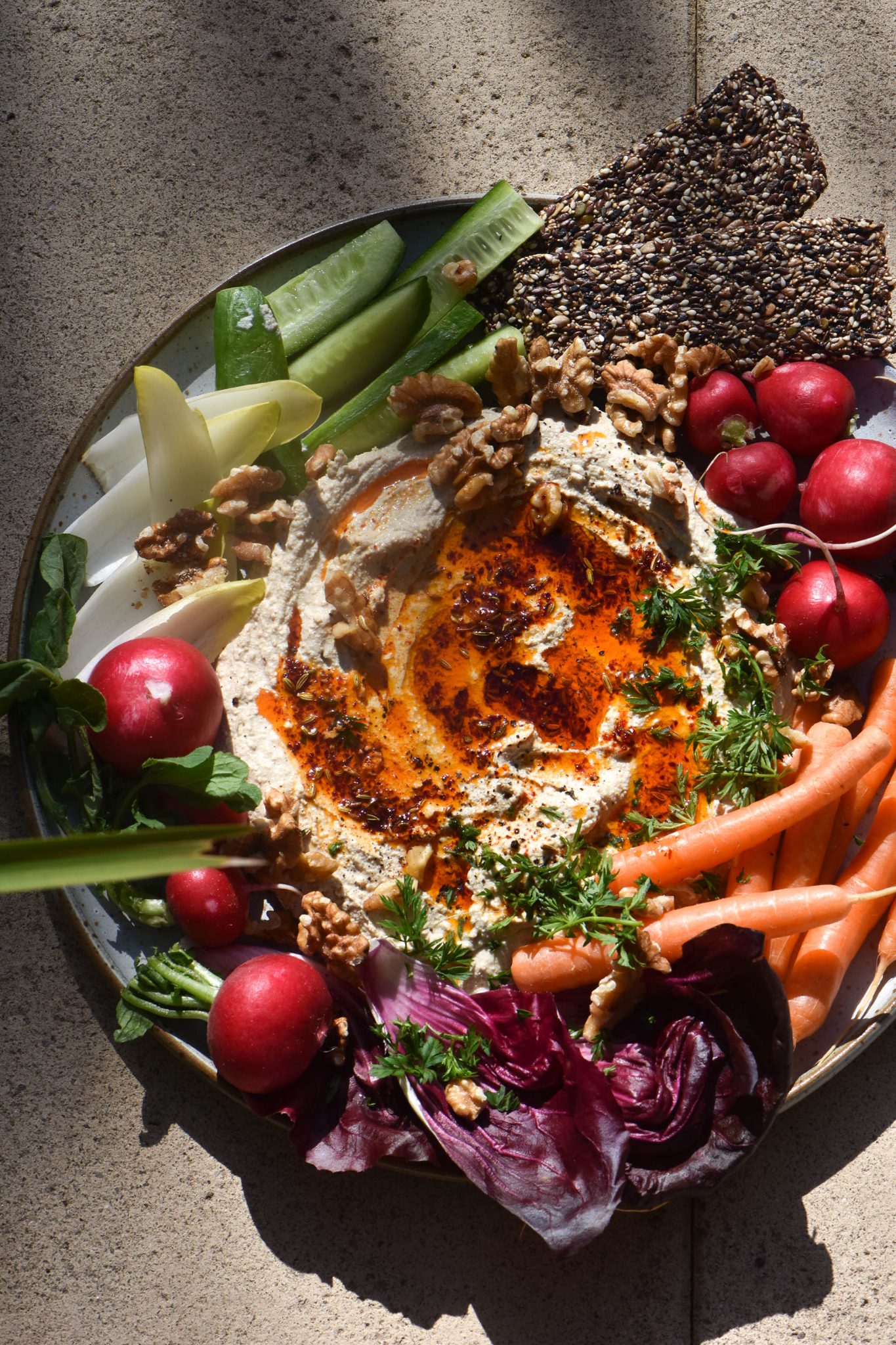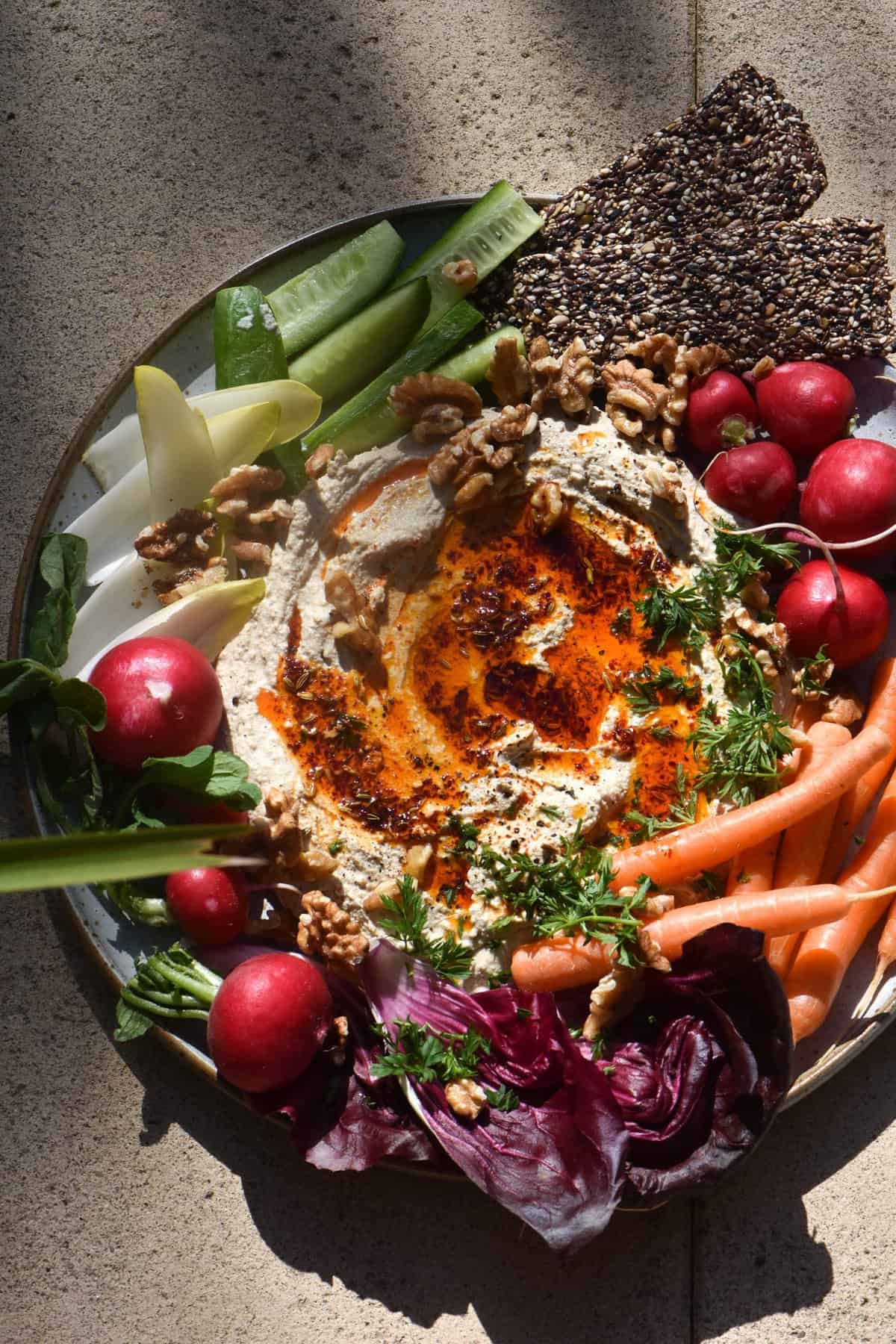 Low FODMAP chilli oil noodles
These quick and easy chilli oil noodles make it into a lot of my recipe roundups. That's because there's not a lot they can't do! They contain optional peanut butter or tahini for creaminess. It adds such a nice extra layer of contrast and flavour, though, so it's barely optional at this point.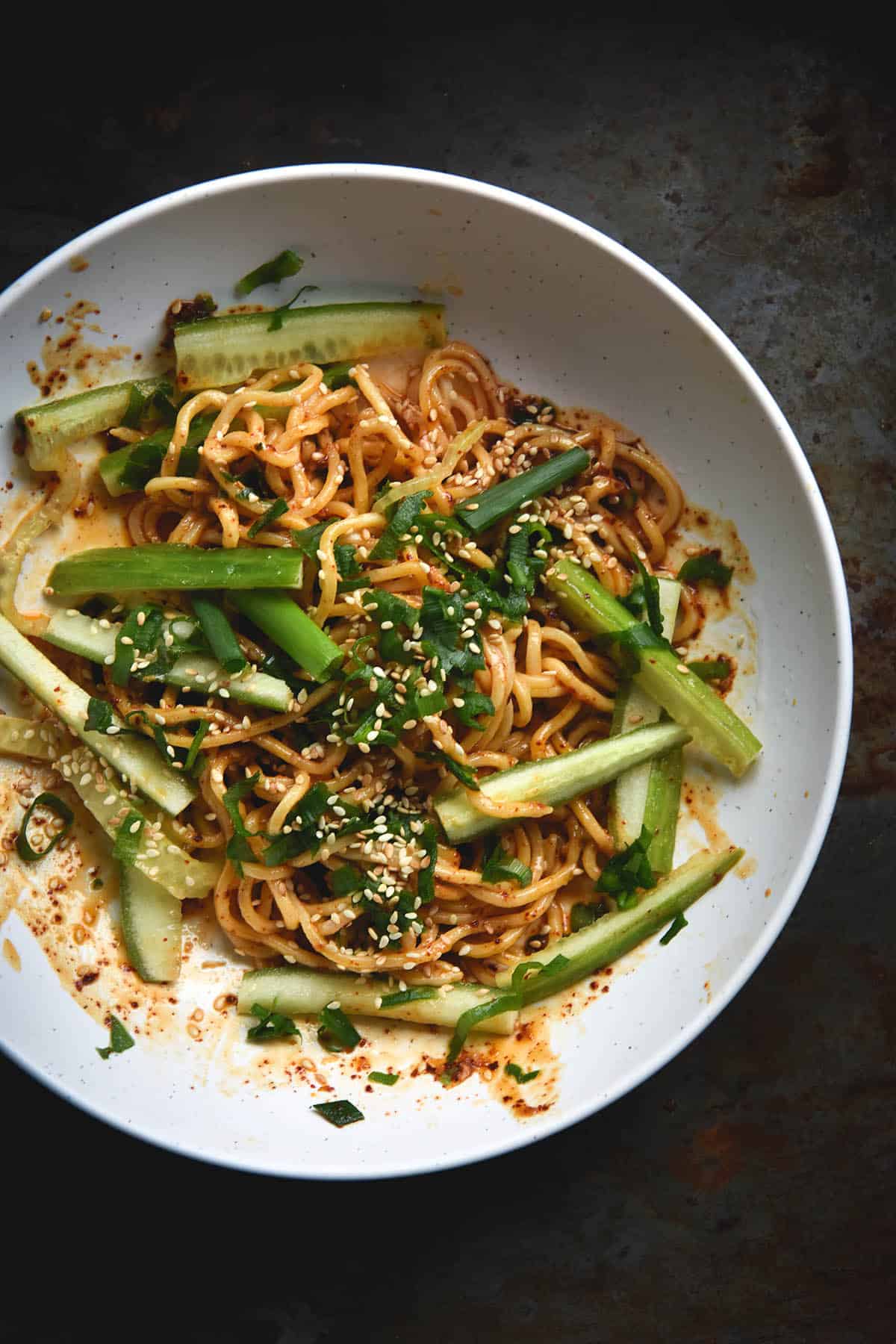 Vegetarian, low FODMAP kind of Dan Dan noodles
This vegetarian, low FODMAP and gluten free take on Dan Dan noodles is from my cookbook, Intolerance Friendly Kitchen. They use tahini or peanut butter for a creamy alternative to Chinese sesame paste, which can be harder to find in Australia.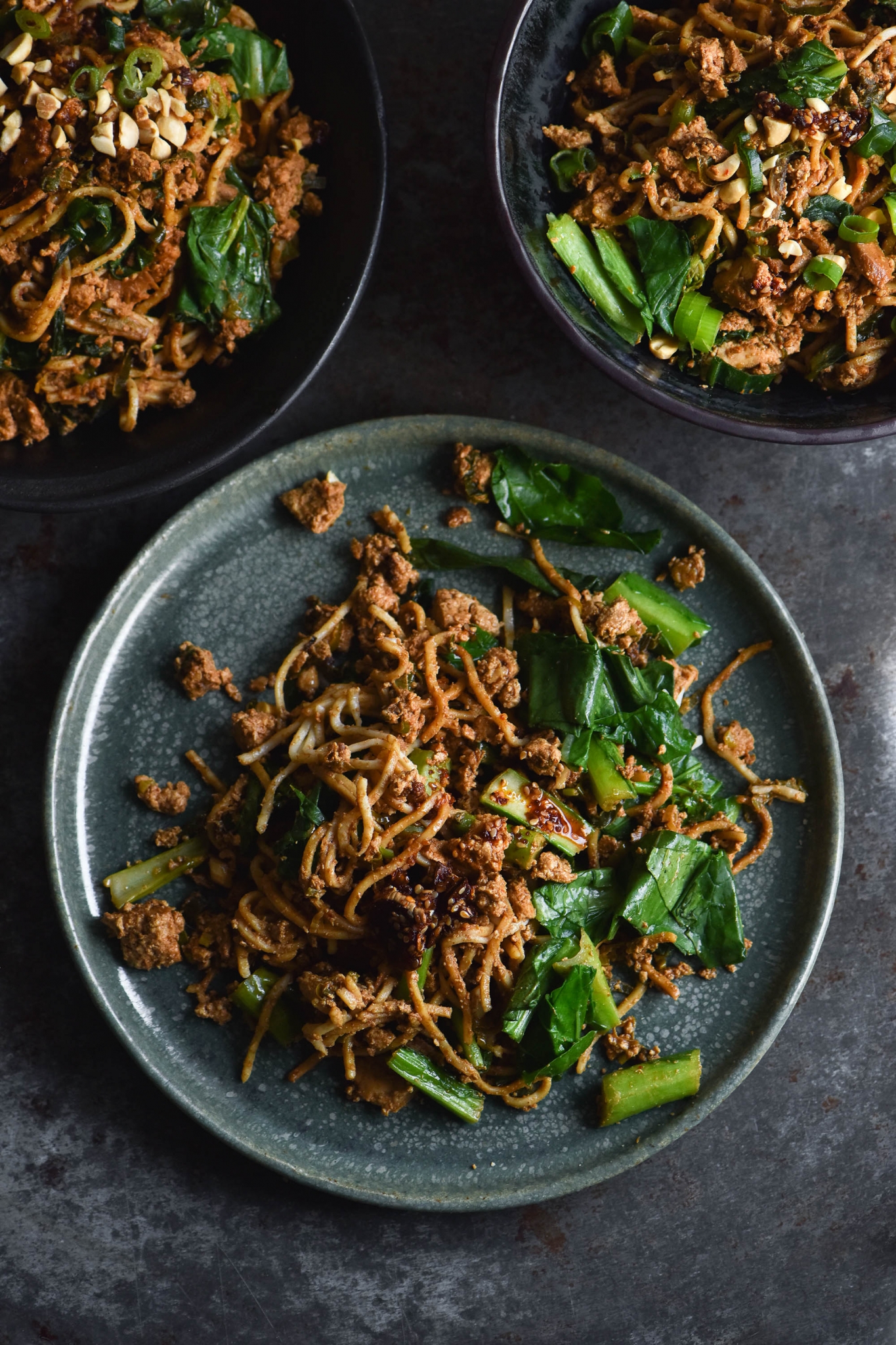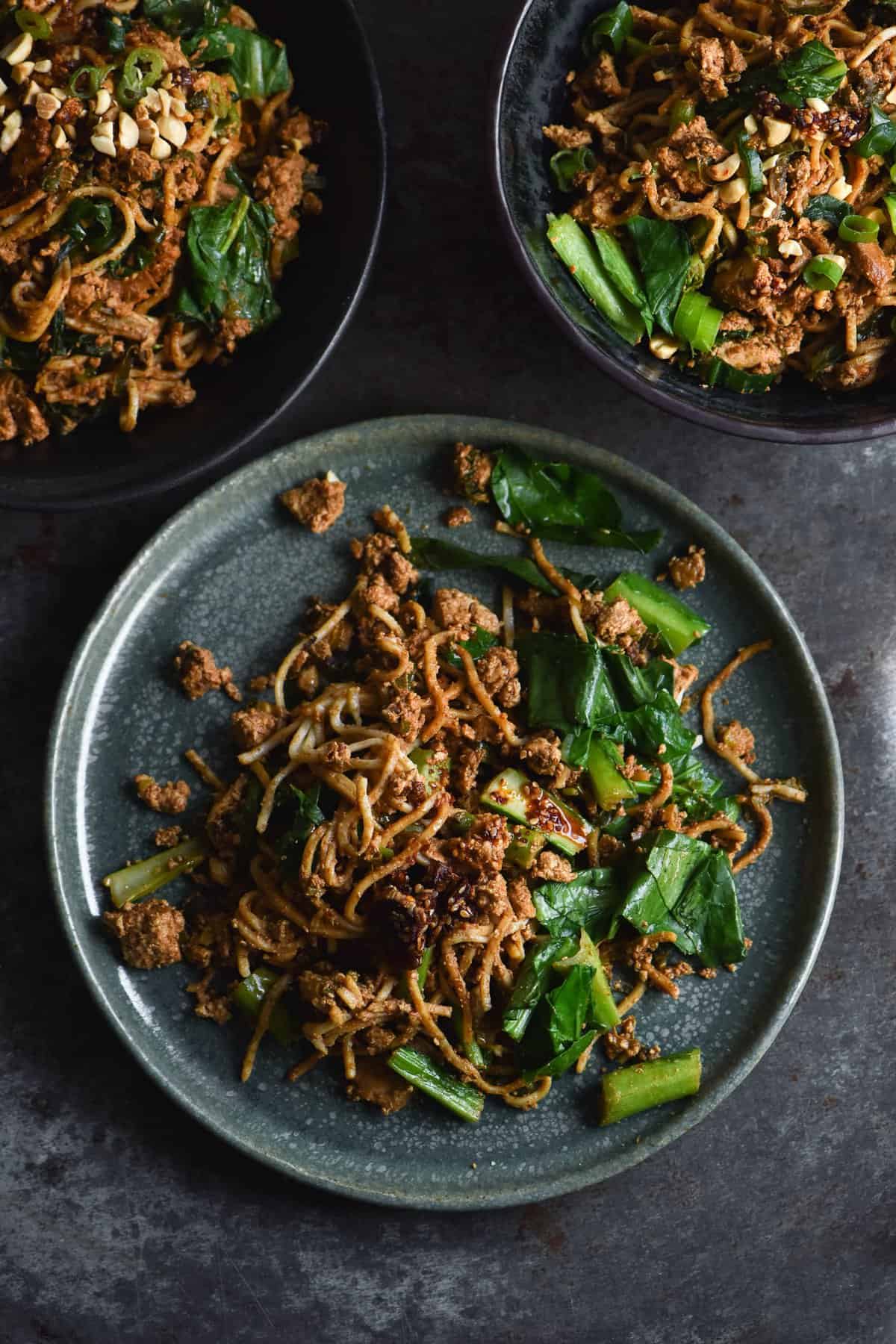 Banana protein pancakes
These gluten free banana protein pancakes are an easy, high protein breakfast that can be made from a number of protein powders and nut butters. Tahini makes an excellent nutty pancake and is perfection when paired with banana. You can also use tahini in my vegan, gluten free protein mug cake and vegan, gluten free protein pancakes.