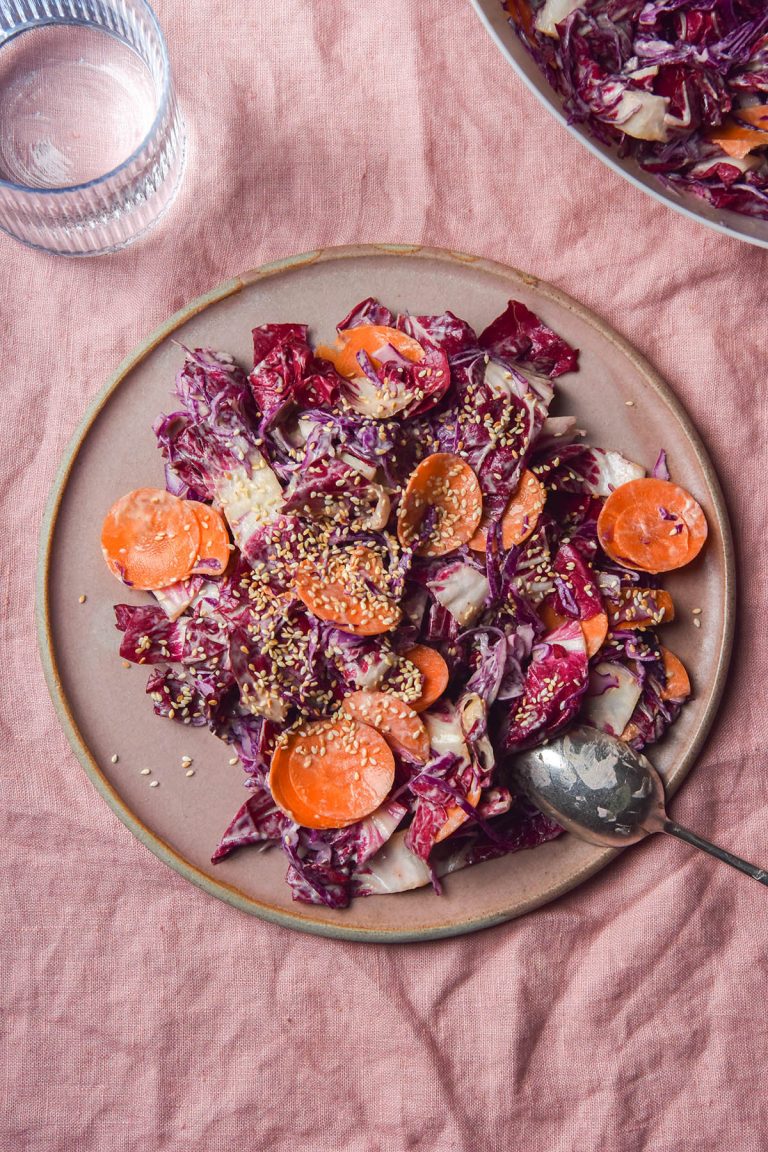 This tahini coleslaw is inspired by a version that my Mum used to make when we were kids. It's a fresh and zingy take on coleslaw with the delicious nuttiness of tahini, the sourness of lemon and the sweet of maple syrup. The dressing is perfectly balanced for a punchy side dish that everyone will enjoy.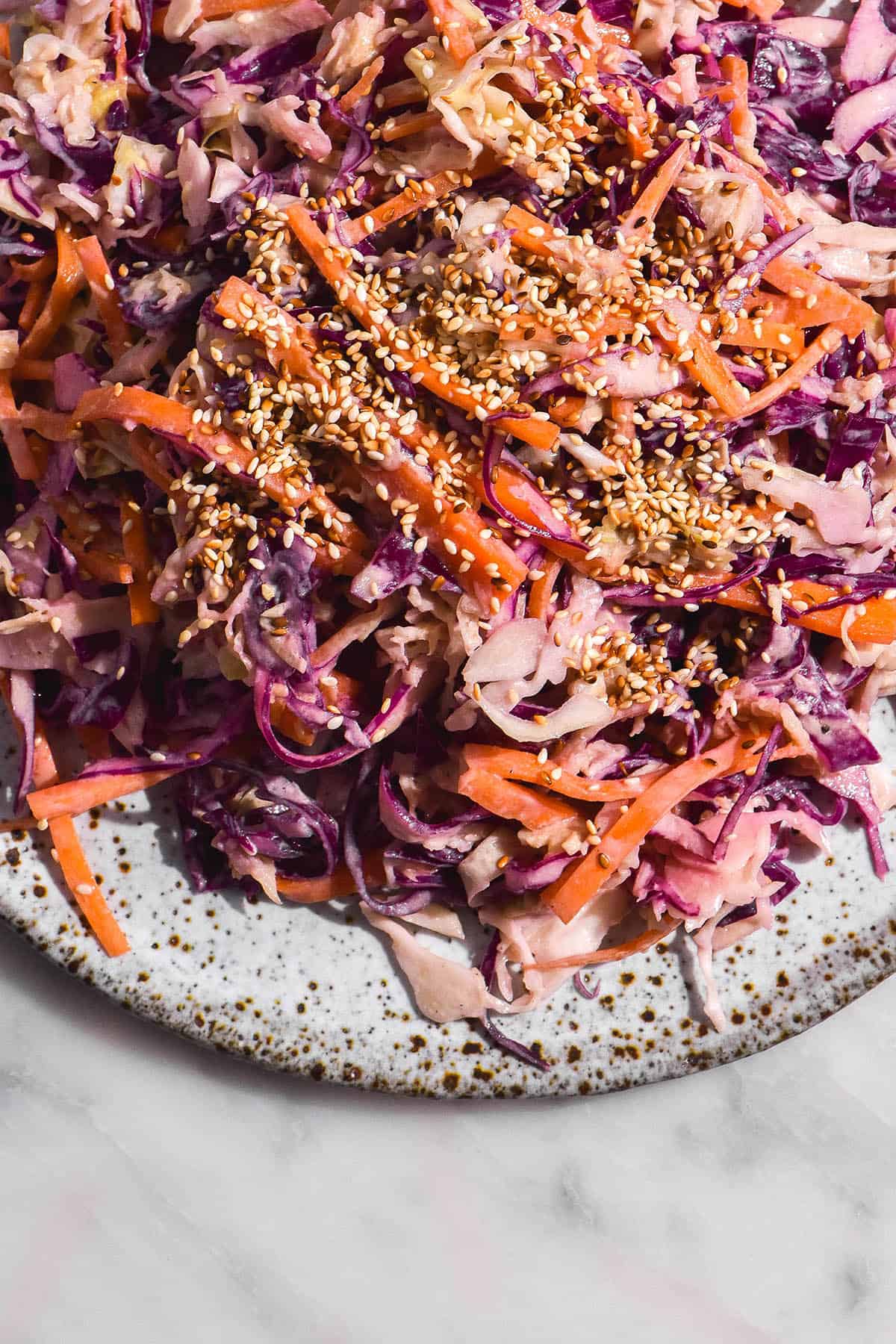 Tahini coleslaw
This coleslaw is naturally gluten free and vegan. It contains no onion or garlic, so there is a FODMAP appropriate threshold, too. Tahini is made with sesame seeds, so this coleslaw is nut free. It is also egg free and dairy free. All in all, it's the perfect dish to bring when there are a number of dietaries at the table.
The dressing is made with a combination of tahini, maple syrup, lemon juice, toasted sesame oil and dijon mustard. Once whisked to combine, the sauce is thinned out with water and seasoned with salt and pepper.
The coleslaw itself is made with a simple mix of finely sliced common cabbage and red cabbage, along with matchstick carrots. Another option for something different is to use radicchio in place of the white cabbage. You could add a herb if you like, but I don't think it's strictly necessary. The dressing carries it's own without overpowering the flavours of your other dishes.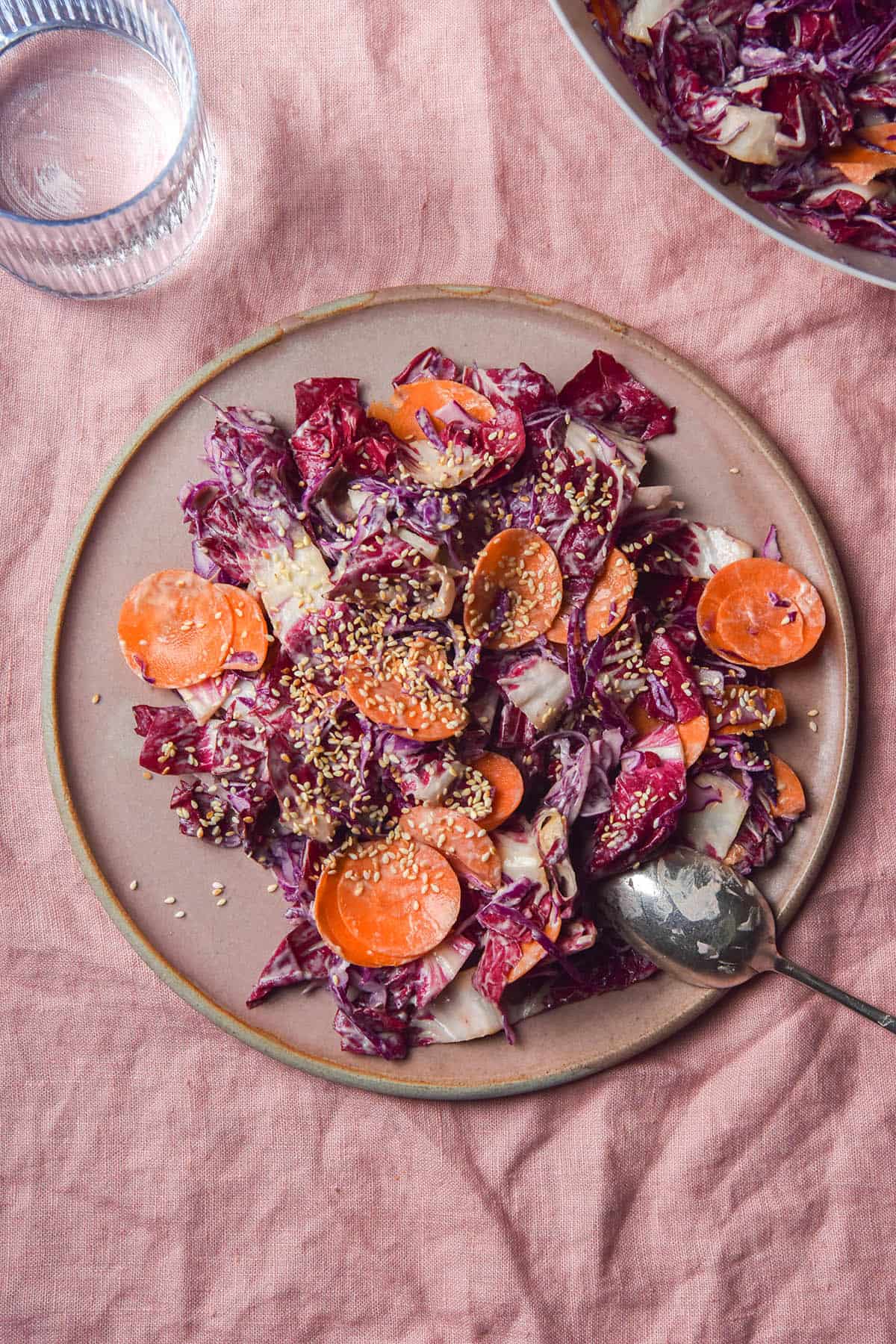 Tips for your tahini coleslaw
A mandoline makes for lovely thin slices of cabbage. Thin, wispy slices make coleslaw much more pleasant to eat than thick chunks.
Same goes for the carrots – super thin matchsticks are much more pleasant to eat. You can also use the mandoline to slice the carrots into thin circles.
This salad can be made ahead, but the red cabbage will leak a bit of colour. I do recommend leaving it for about an hour to soften slightly and let the flavours meld.
Toasted sesame oil (as opposed to un-toasted) is one of my biggest tips here. It adds so much extra flavour and really amps up the nutty sesame element. I recommend it everywhere – not just in this recipe.
Keep extra lemon juice and toasted sesame oil on hand to finish the salad. Add both to taste until you're happy with the flavour balance.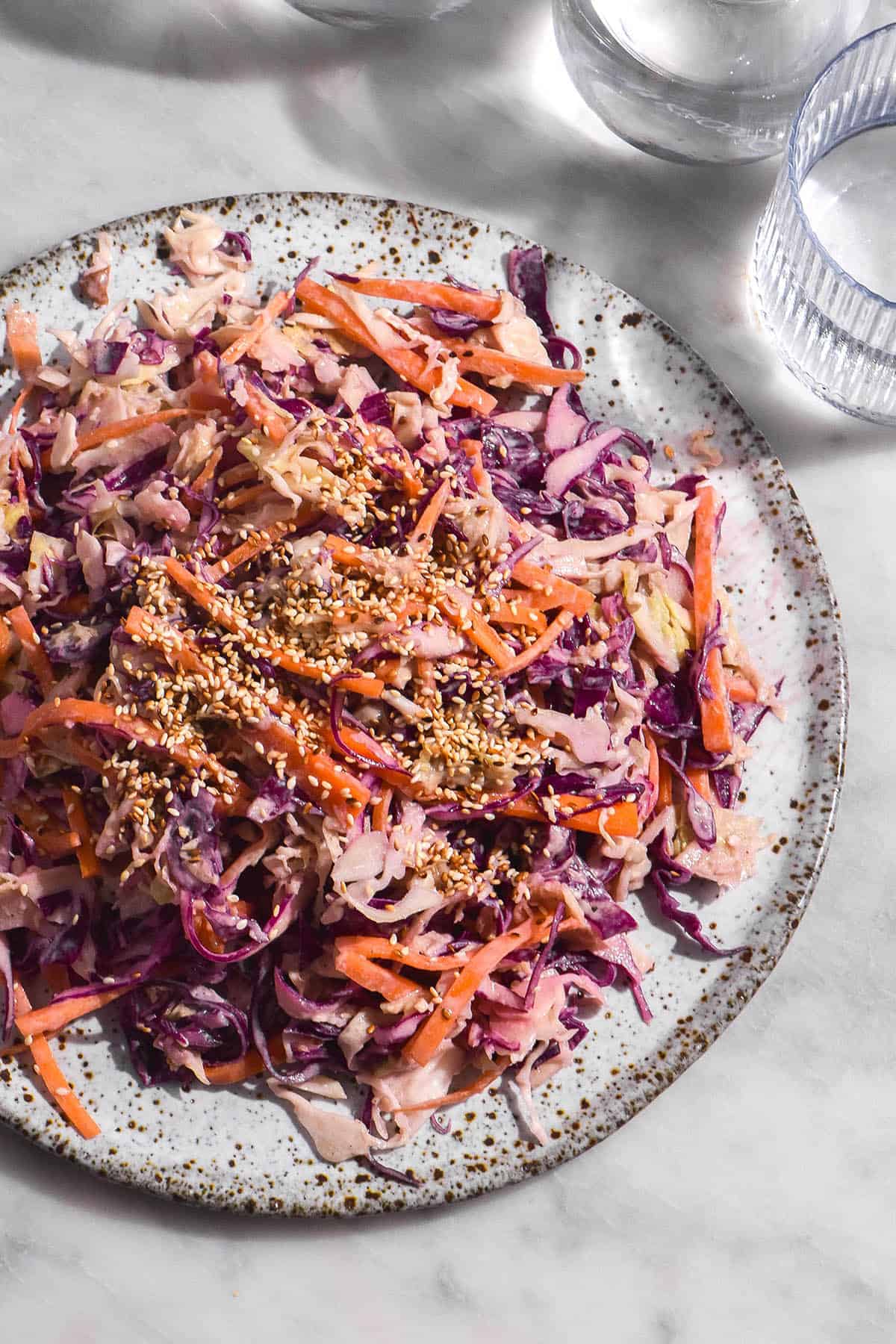 Optional additions for your tahini coleslaw
Although it's optional, I love adding toasted sesame seeds to finish. They give a lovely textural element and just look lovely.
I don't tolerate onion or garlic, which is why I haven't included any. You could add a bit of garlic in the dressing if you have no issues.
Another way to add in some colour and onion flavour is to use spring onions. For those amongst us who are low FODMAP, you can use spring onion greens instead of whites.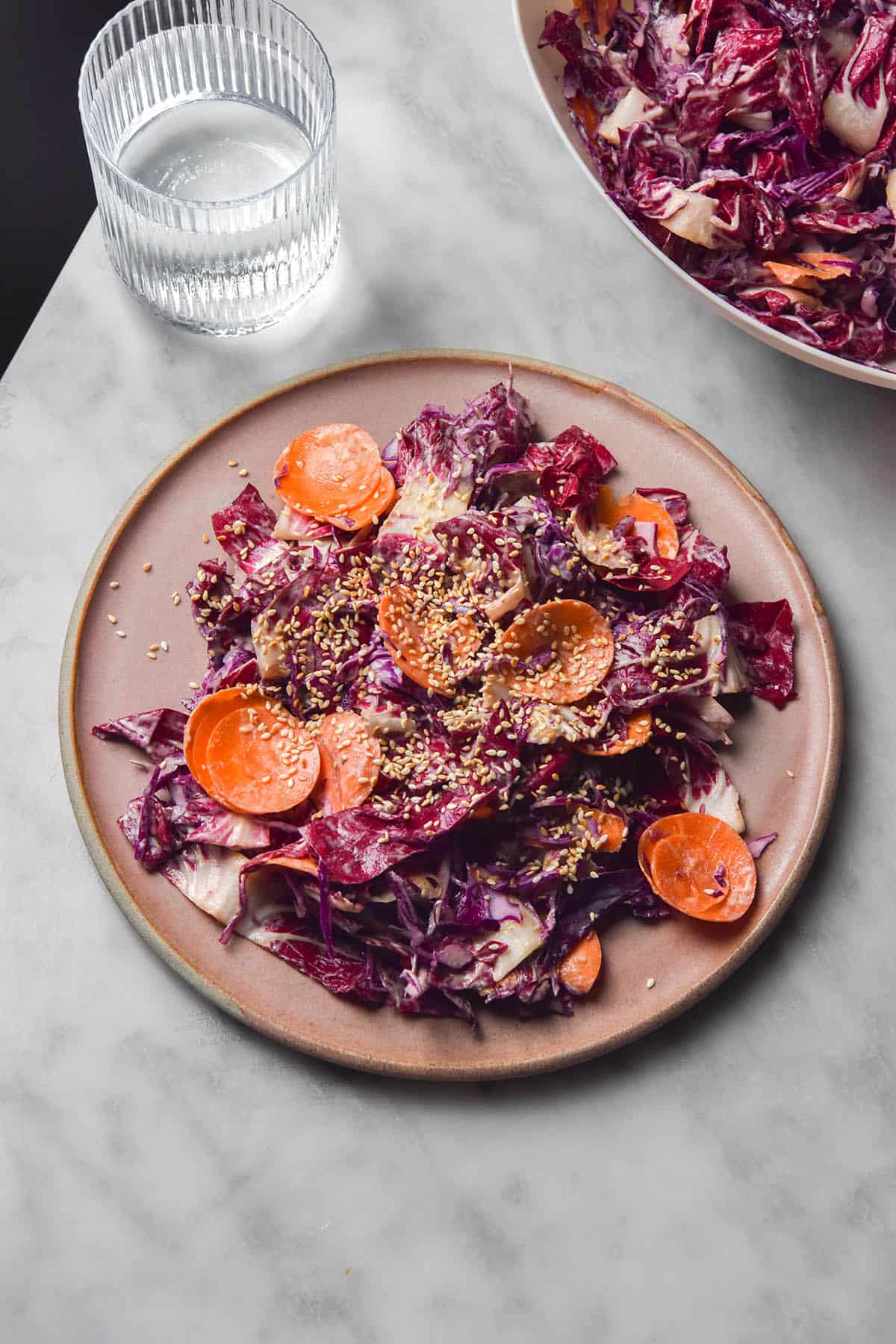 FODMAP notes
Common cabbage is low FODMAP in 75g serves per person. It becomes moderate for sorbitol at 100g, which leaves a small amount of wiggle room.
Red cabbage is low FODMAP in 75g serves per person. It becomes moderate for fructans in servings of 150g, which gives it a moderate amount of wiggle room.
Although I didn't design this recipe to be low FODMAP, It is possible. The recipe uses 200g of each variety of cabbage. You can use radicchio in place of white cabbage to lower the FODMAP content.
Because each variety of cabbage contains a different FODMAP, it is my understanding that they can be served alongside each other. I am not a dietician or doctor, though. I'd recommend assessing your own tolerance to see what works for you.
Tahini is low FODMAP in 30g serves, but moderate in 110g (unhulled tahini) or 185g (hulled tahini) serves. This suggests an individual can likely consume more than 30g tahini per sitting (dependent on their own unique intolerances). Use hulled tahini for a slightly lower FODMAP choice (see this post for more in-depth information).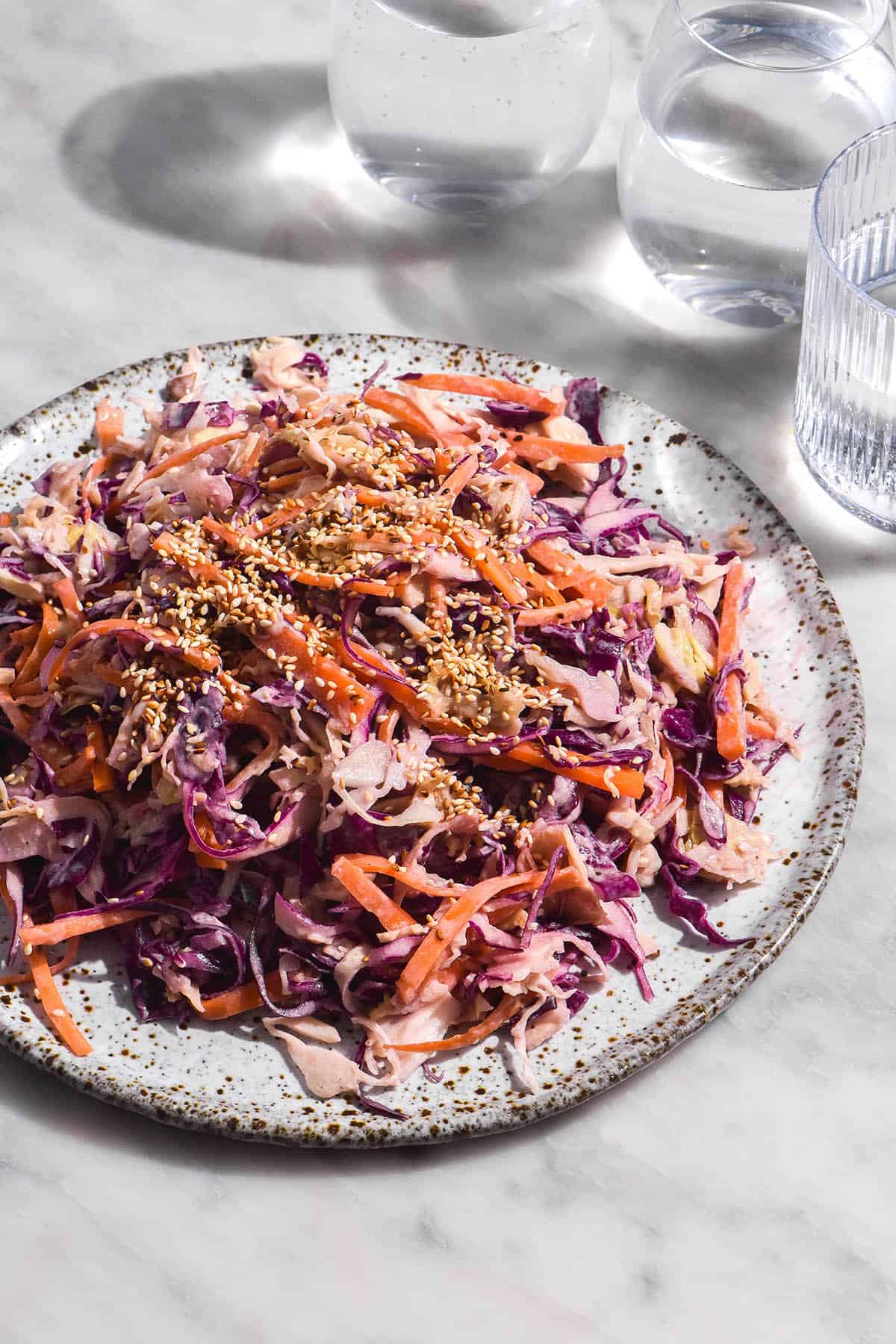 More vegetarian or vegan salad recipes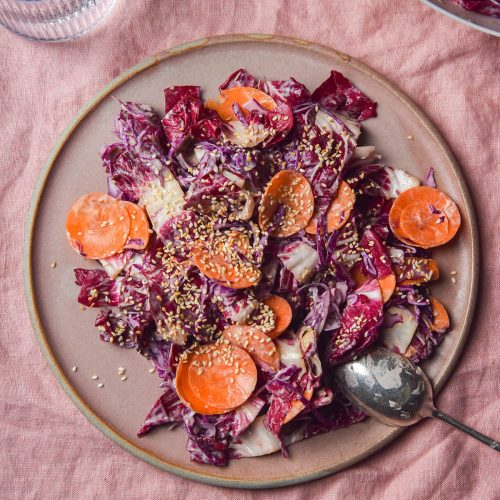 Tahini coleslaw (vegan)
Low FODMAP option, gluten free, dairy free
Serves 4 as a side
*Cups and measures are in Australian cups and measures. Use ml and gram weights for international accuracy.
Ingredients
For the dressing:
75

g

(1/4 cup)* tahini (see notes)

40

ml

(2 tablespoons)* fresh lemon juice

20-40

ml

(1-2 tablespoons)* toasted sesame oil

10-20

ml

(1/2 – 1 tablespoon)* maple syrup

10-20

g

(1/2 – 1 tablespoon) Dijon mustard (check to see it doesn't contain garlic – Maille is garlic free in Australia)

Freshly cracked pepper and fine salt

to taste

20-60

ml

(1-3 tablespoons) * cold water, to reach your desired consistency
For the coleslaw:
200

g

red cabbage/mandolined or really finely sliced

200

g

white common cabbage or radicchio

mandolined or finely sliced

100-200

g

carrot

mandolined or very finely sliced

Extra toasted sesame seed oil and lemon juice

to finish

Handful of toasted sesame seeds

to taste
Instructions
To make the dressing:
Combine all ingredients except the seasoning and water in a mixing bowl. Add the lower amount of toasted sesame oil and maple syrup first, then assess the taste. If you want more of each, add more.

Once you're happy with the flavour balance, add the seasoning and repeat. Whisk in the water until you reach your desired consistency.
To make the coleslaw:
Add all the chopped vegetables to a large mixing bowl. Add the dressing, then use your hands to massage it into the salad and disperse it evenly.

Taste the salad and add more toasted sesame oil, lemon juice and seasoning as necessary. Keeps well in an airtight container in the fridge for a couple of days.