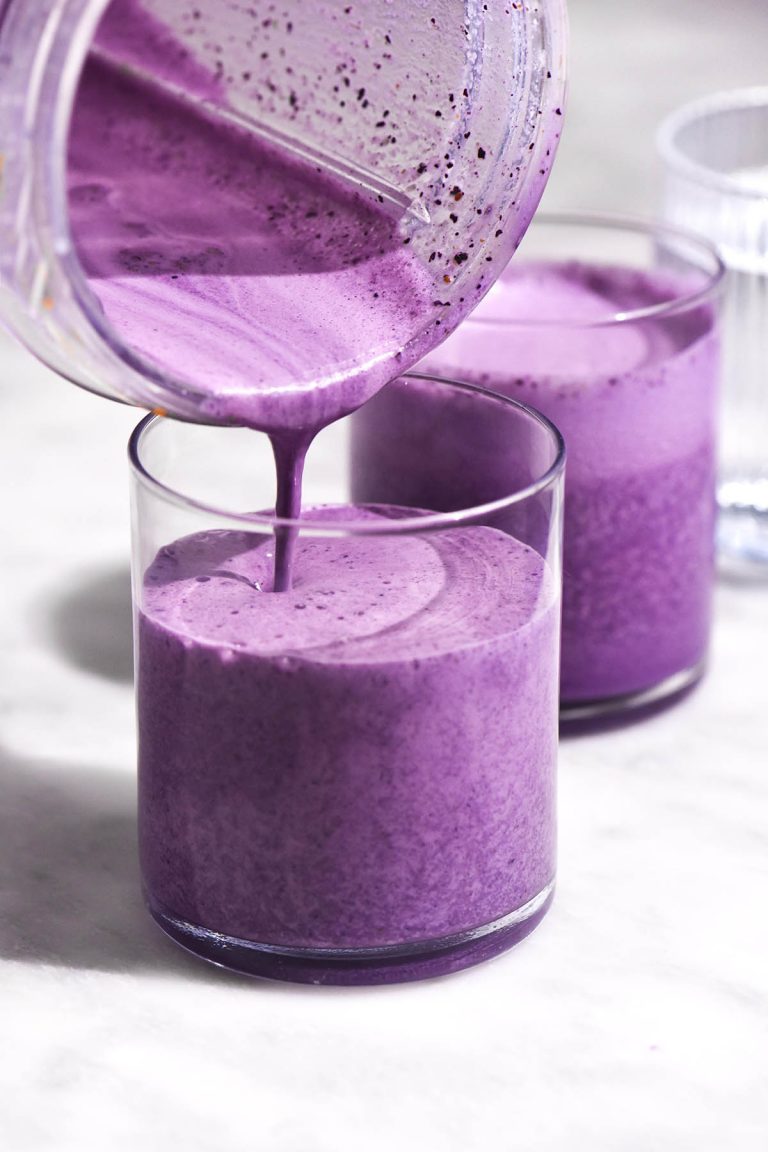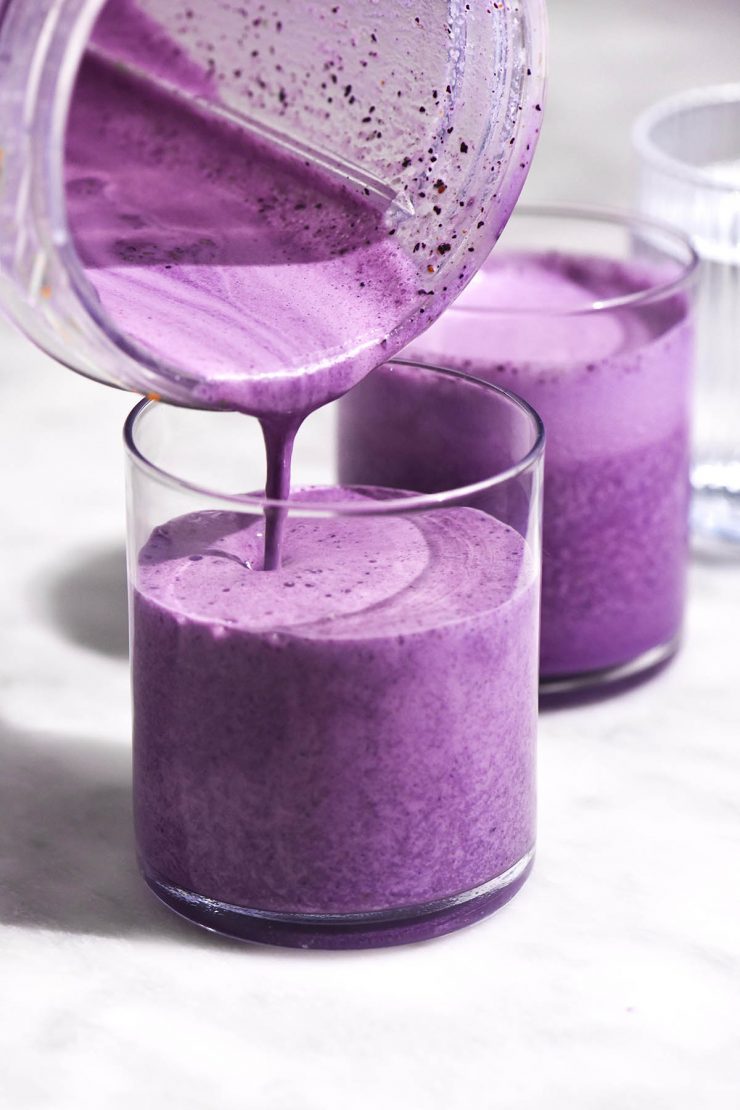 This low FODMAP smoothie is an adaptation of a SIBO friendly smoothie I've been living on recently. There's something about the flavour combination that hits just right, and it makes for a delicious low FODMAP and low fructose breakfast.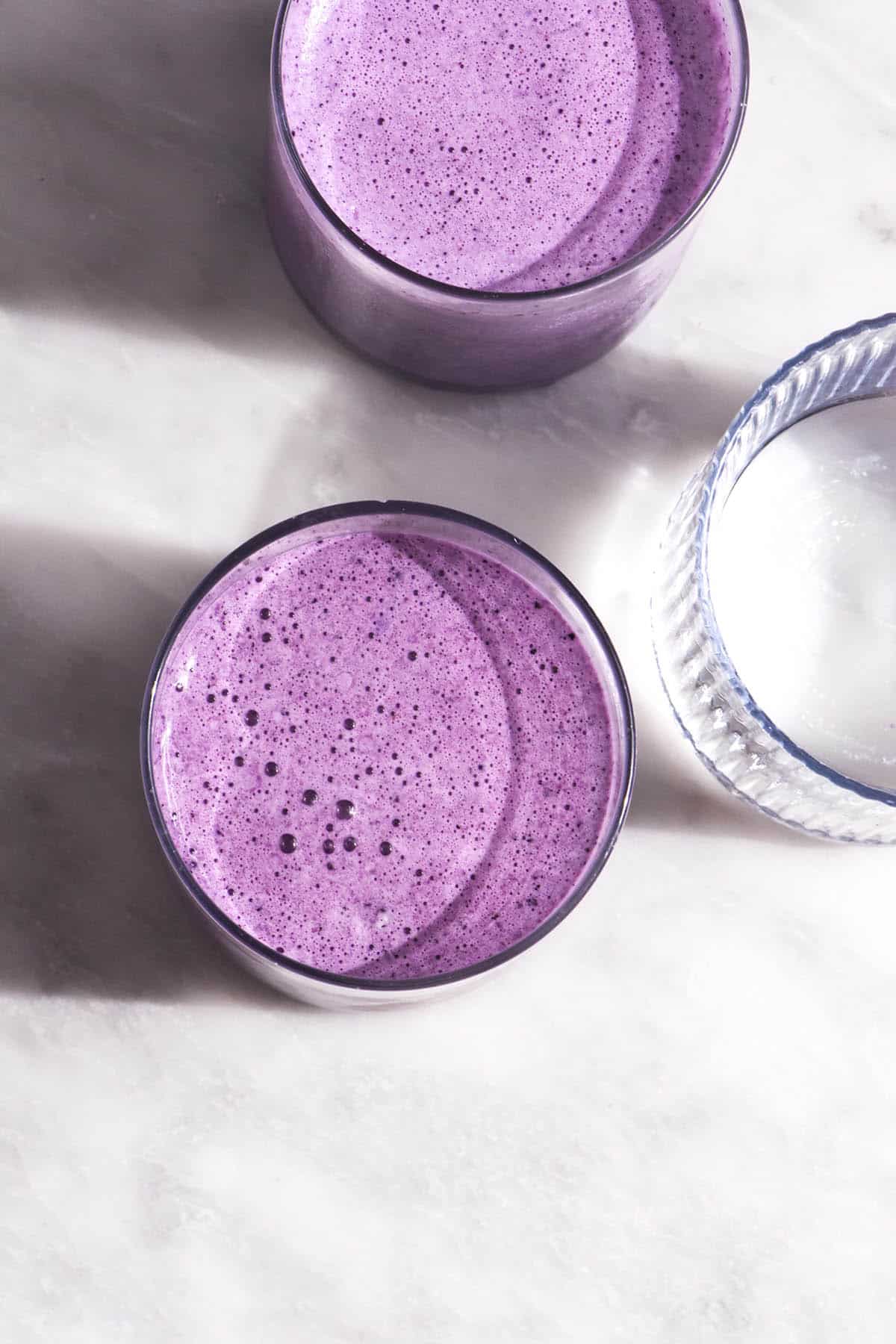 Low FODMAP smoothie
This smoothie uses frozen blueberries as the fruit and sweetness component of the smoothie. Some fat and protein content is added in the form of a nut butter (I like peanut butter here). Lactose free yoghurt provides creaminess and extra protein. There's the option to add a low FODMAP protein powder to keep you fuller for longer. Finally, the smoothie is finished off with either a low FODMAP milk or plain old water. A simple recipe, but a truly delicious one.
This is a banana free smoothie, so no bananas here. Bananas do have a low FODMAP threshold, however, so I'm working on a low FODMAP smoothie with banana.
Are blueberries low FODMAP?
Yes, blueberries are low FODMAP. At the time of writing, Monash has stated that they are low FODMAP in 125g (1 cup) serves. However, they also remain low FODMAP in servings up to 500g per person. This means you can eat an abundance of blueberries without worrying about their FODMAP content.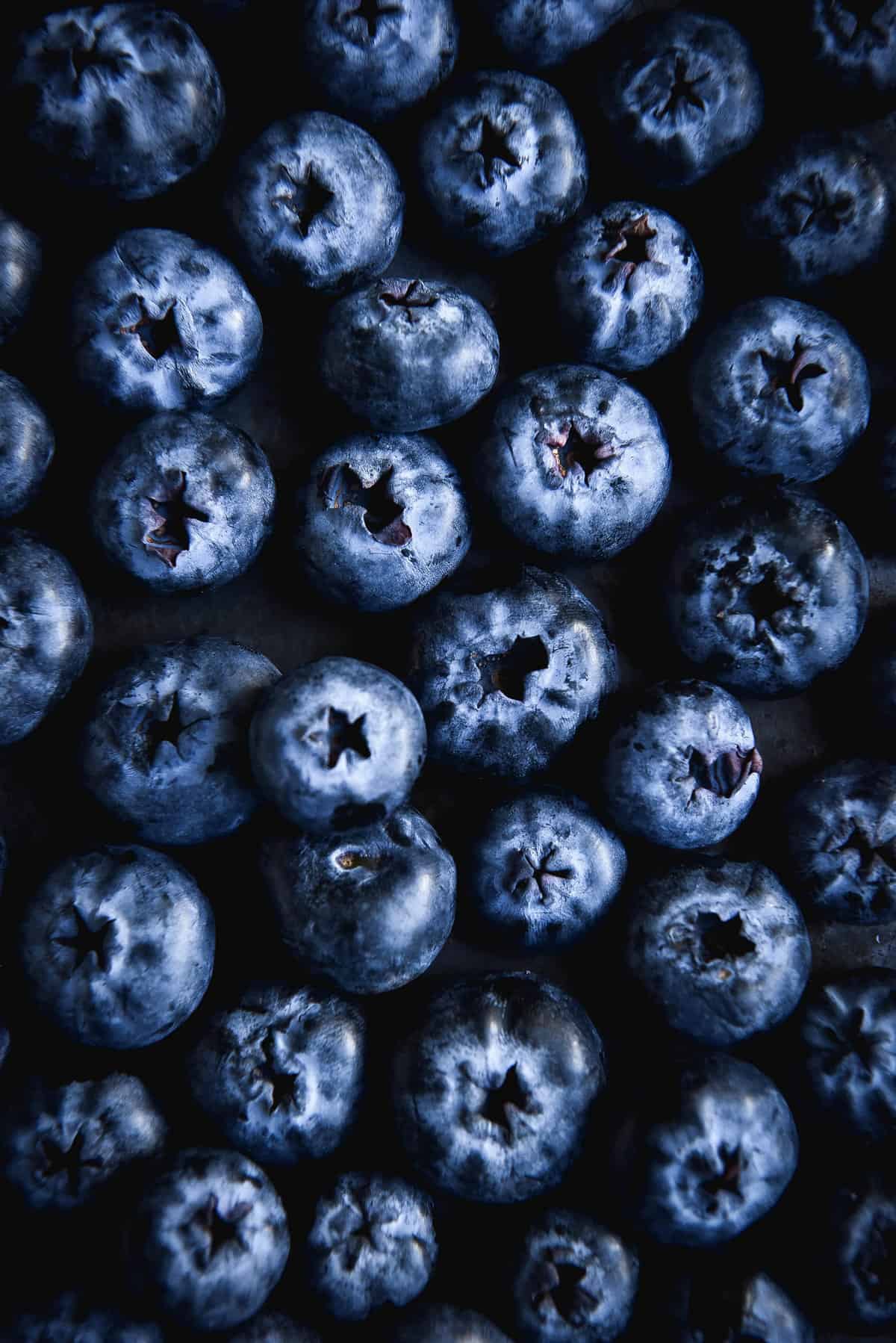 What kind of yoghurt is low FODMAP?
In Australia, I use Jalna lactose free Greek Yoghurt. It is every bit as thick and creamy as regular Greek yoghurt. The difference is that is contains lactase, which breaks down the lactose content. As such, it is a low FODMAP choice. I also happen to be obsessed with it, so I guess that helps.
I can't say for every country, but in Australia there are a number of other lactose free yoghurts on the market. Sometimes I find that they have added chicory or inulin, and some of them are quite thin. Make sure you check the label before buying any new varieties of yoghurt.
This advice stands for the plant based yoghurt offerings. They are often thickened with starches and gums, which aren't always great for sensitive tummies.
Monash has an entry for coconut yoghurt on their app, which is low FODMAP 125g serves. They don't say which brand specifically, so check those labels!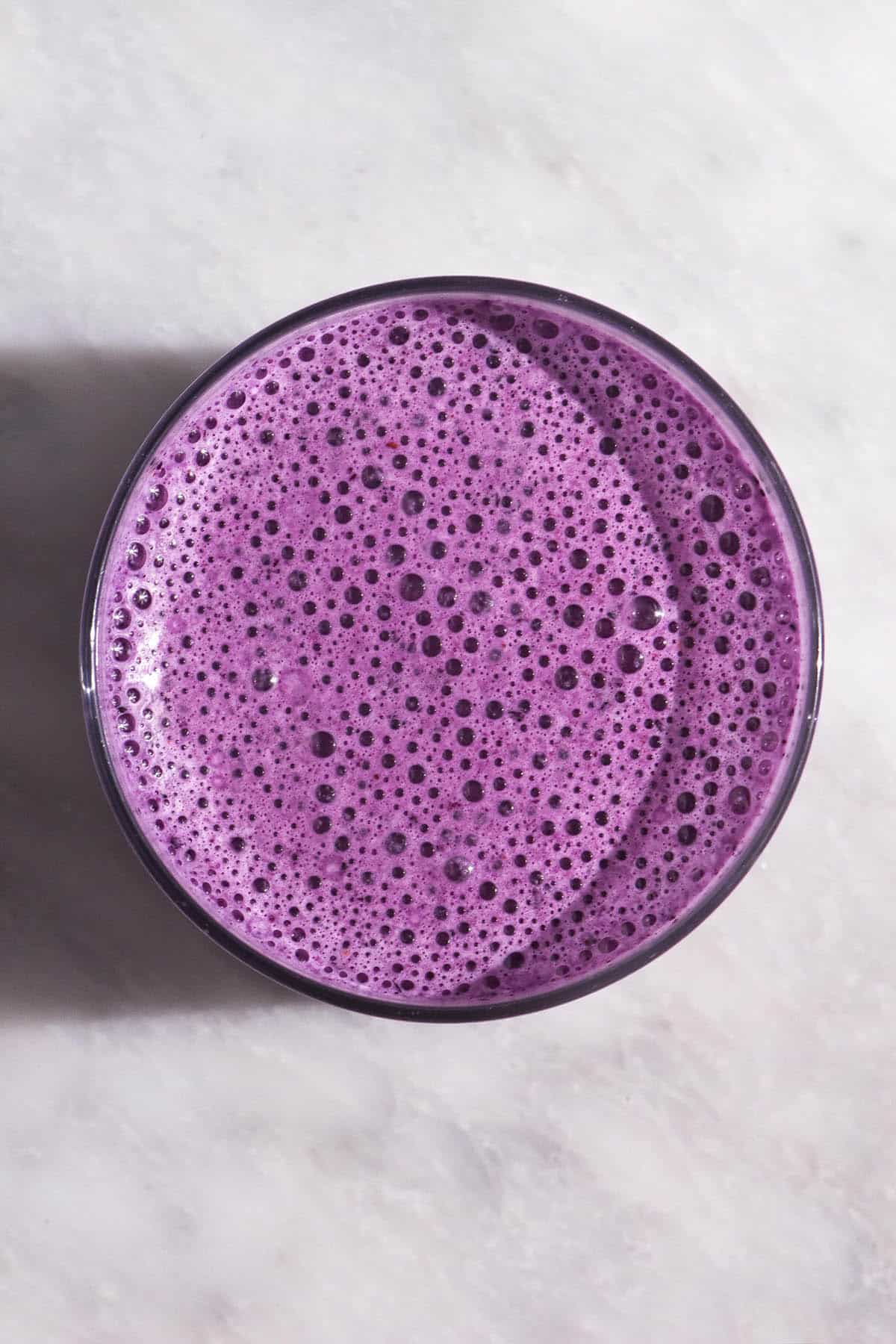 Which nut butters are low FODMAP?
Before we get into this, it's worth noting that some nut butters could contain higher FODMAP ingredients. It's best to buy a nut (or seed) butter that is just nuts and salt. All FODMAP quantities below are correct at the time of writing.
Peanut butter is low FODMAP in 50g or 2 tablespoon serves. Interestingly, US peanut butter is written up as having a lower FODMAP threshold of 32g (2 tablespoons). This might be because Australian tablespoons are bigger than US tablespoons, or because of a difference in the product.
Almond butter is low FODMAP in 20g (1 tablespoon) serves. It contains moderate GOS and fructans at 1 1/2 tablespoon serves.
Macadamias are a low FODMAP nut. Although Monash don't have a listing for macadamia nut butter specifically, 1-2 tablespoons should be a low FODMAP serve.
Pumpkin seeds (or pepitas) are low FODMAP in 23g (2 tablespoon) servings. I don't know the science around how many seeds make it into 1 tablespoon of nut butter, but I daresay 1 tablespoon of pumpkin seed butter would be low FODMAP.
I have written up a whole post on low FODMAP nuts and seeds here.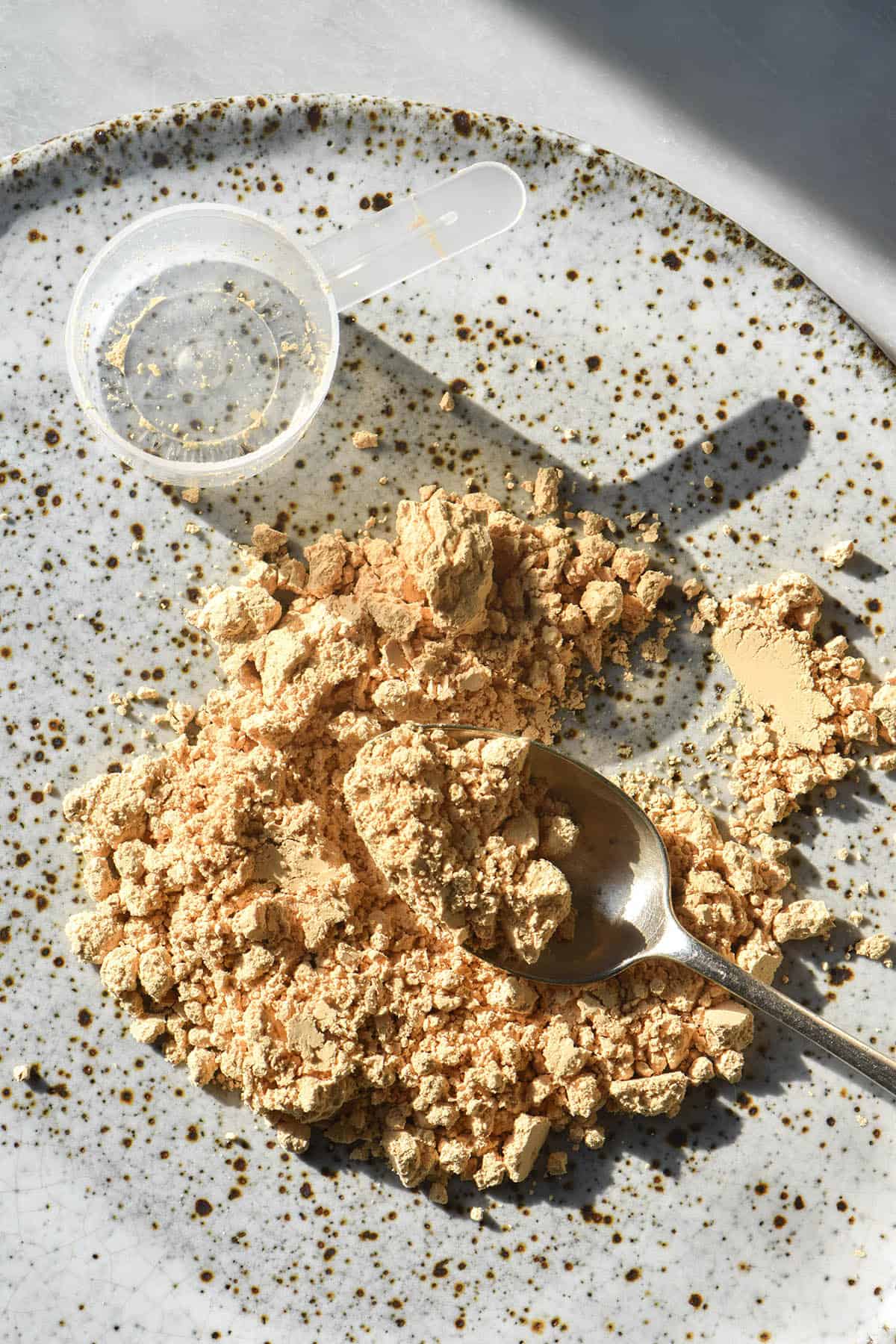 Substitutions for your low FODMAP smoothie
You can use frozen strawberries in place of the blueberries, if you'd prefer. Strawberries are low FODMAP in 65g or 5 medium strawberry serves. I don't think they make for as creamy of a smoothie as blueberries, but they are an option.
Any low FODMAP nut or seed butter is appropriate here. They all have different flavours and will bring a new element to the smoothie. See the section above on low FODMAP nut butters.
If you're vegan or have a preferred dairy free brand of yoghurt or milk, go for it! As long as it contains low FODMAP ingredients, it will work in your low FODMAP smoothie. If your yoghurt is particularly thin, however, use a little less milk or water to compensate.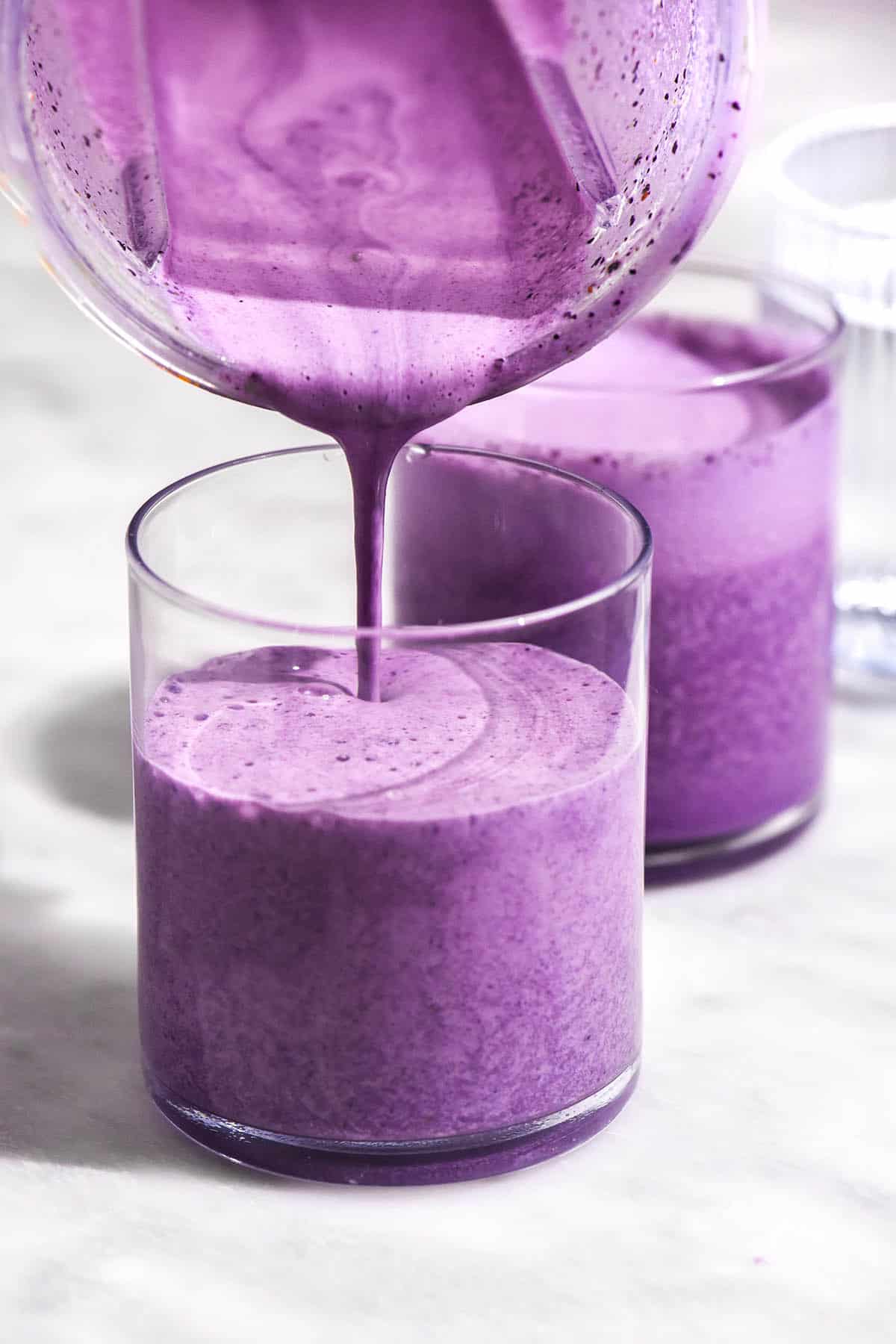 Tips for this low FODMAP smoothie
Whey protein tends to become a little fluffy as it blends. I like it, but it's just something to keep in mind.
When I use pure WPI (unflavoured) I like to add a pinch of stevia to sweeten things up a little.
Different protein powders will add different tastes. Some are sweetened, and some plant proteins have a stronger taste. To make sure you're using a low FODMAP one, see this post here.
If you like sweet smoothies, use a teaspoon or two of maple syrup. This recipe relies on the sweetness of the blueberries only.
Personally, I like a thick smoothie, so I use 125- 185ml (1/2 – 3/4 Australian cup) milk. You can use anywhere from 125-250ml.
I use Jalna lactose free Greek yoghurt in all my recipes. It's super thick and contains no thickeners, sweeteners or weird ingredients.
For a list of low FODMAP nuts, see this post here. I love peanut butter in this recipe.
A pinch of cinnamon or vanilla bean powder would be an excellent addition to this smoothie.
If you tolerate bananas, you could also use 1/2 a large (or a whole sugar banana) and 1/2 cup blueberries in this smoothie.
More low FODMAP breakfast recipes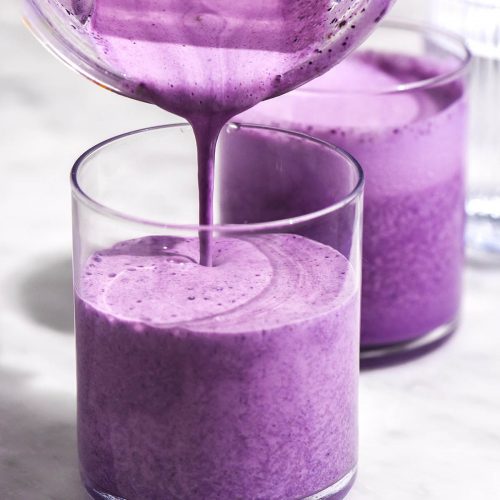 Low FODMAP smoothie
Vegan option, nut free option
Ingredients
125g

(1 cup)

frozen blueberries

20g

(1 tablespoon)

natural peanut butter or low FODMAP nut/seed butter of choice

20-30g

(1-2 tablespoons)

protein powder of choice (optional, I use whey protein isolate)

50g

(2 tablespoons)

lactose free Greek yoghurt or low FODMAP alternative

125-250ml

(1/2 – 1 cup)

low FODMAP milk of choice
Optional additions
1-2

tsp

maple syrup, to sweeten

3-4

tsp

hemp seeds, for extra protein

Pinch of cinnamon
Instructions
Blend ingredients together in a high powered blender. For the bright purple look, allow the blueberries to sit in the milk for 5 minutes before adding the remaining ingredients. Serve immediately.
Notes
This smoothie serves 1-2. How much smoothie a person can drink is a very individual thing. I could get through this whole smoothie at breakfast, but not after that.
See the body of the post for FODMAP contents and tips.
You can use 1/2 a medium banana and 1/2 cup blueberries if you tolerate banana.
To make this smoothie vegan, use low FODMAP vegan yoghurt and a low FODMAP milk or water.