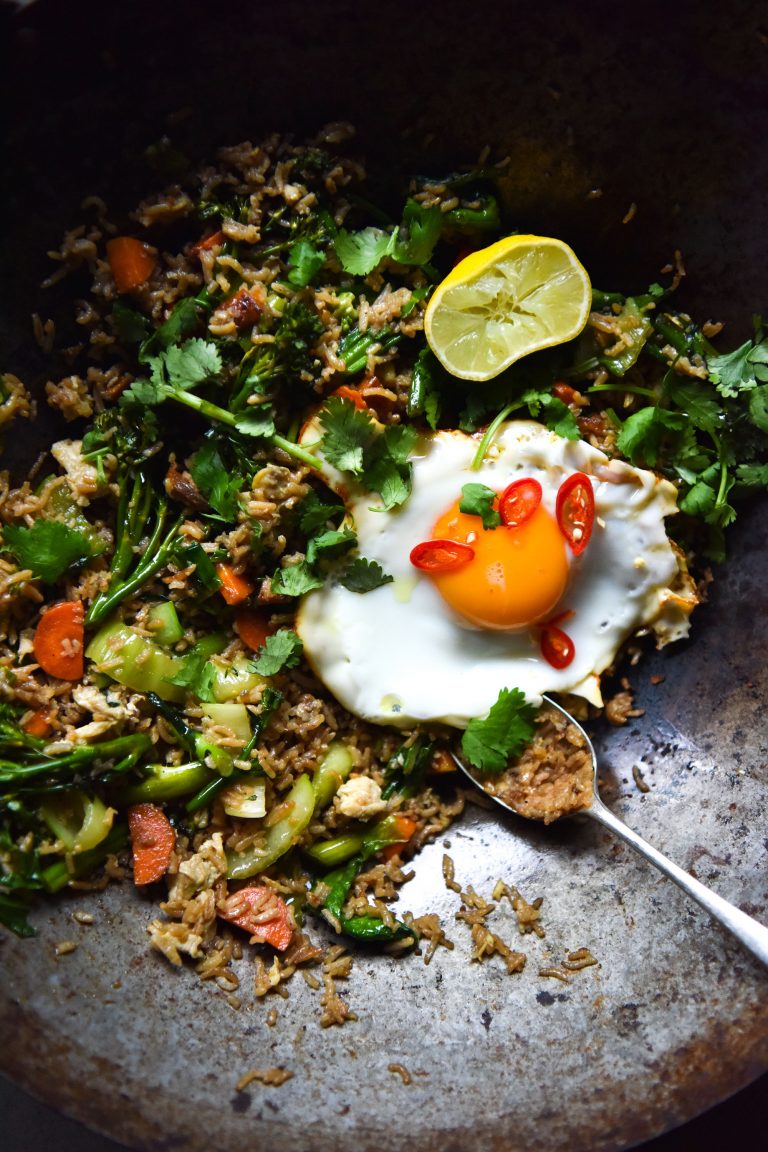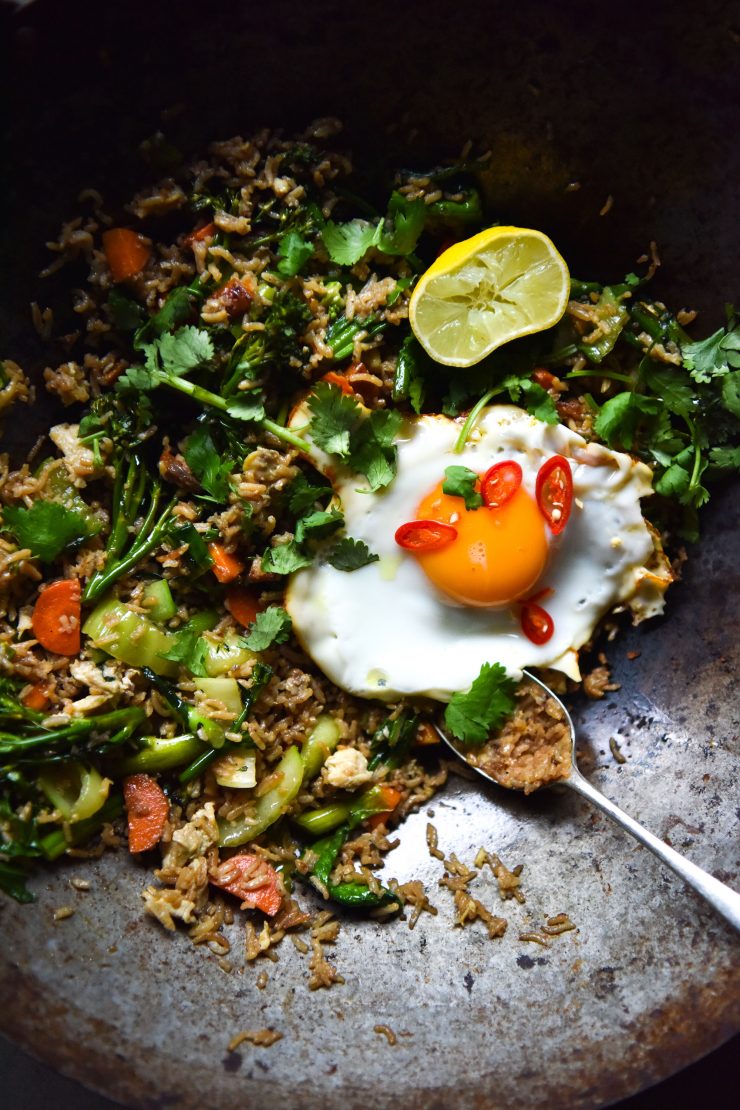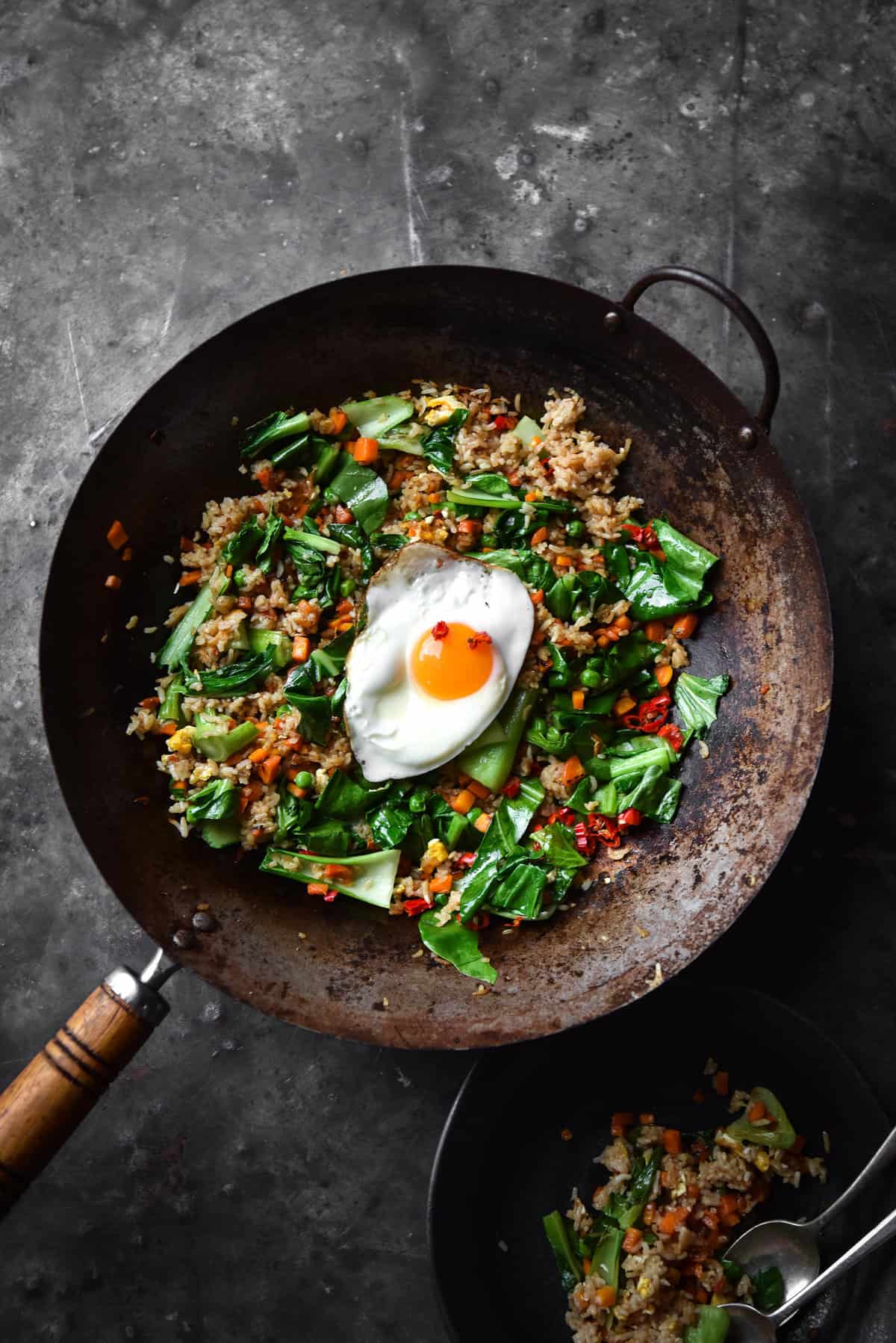 If you're familiar with my Instagram account, the picture component of this FODMAP friendly fried rice recipe is something you will already have seen. Numerous times in different bowls and on different backdrops. One such backdrop was a Japanese newspaper which was, as it turns out, advertising male prostitution. They say all publicity is good publicity, so I feel I've still come out a winner. And perhaps so has the Japanese male prostitute industry.
This is a dead simple recipe for a gluten free, vegetarian FODMAP friendly fried rice. Add vegetables, condiments, fancy toppings as you see fit. Would go nicely with a few salt and pepper tofu cubes, if you're into ~fusion food~
FODMAP FRIENDLY FRIED RICE FODMAP NOTES
Make sure you use gluten free soy sauce (tamari) if the dish needs to be gluten free
You can use whatever vegetables you have on hand to make this fried rice (as long as they're thematic.) I've kept to the basics – ginger, carrots, bok and pak choi, frozen peas and chilli.
Frozen peas are considered FODMAP friendly in servings of 1/4 cup per person per serve. I only used about 1/3 cup in total for this dish because I couldn't be bothered defrosting a block of peas.
Aside from that, we're golden!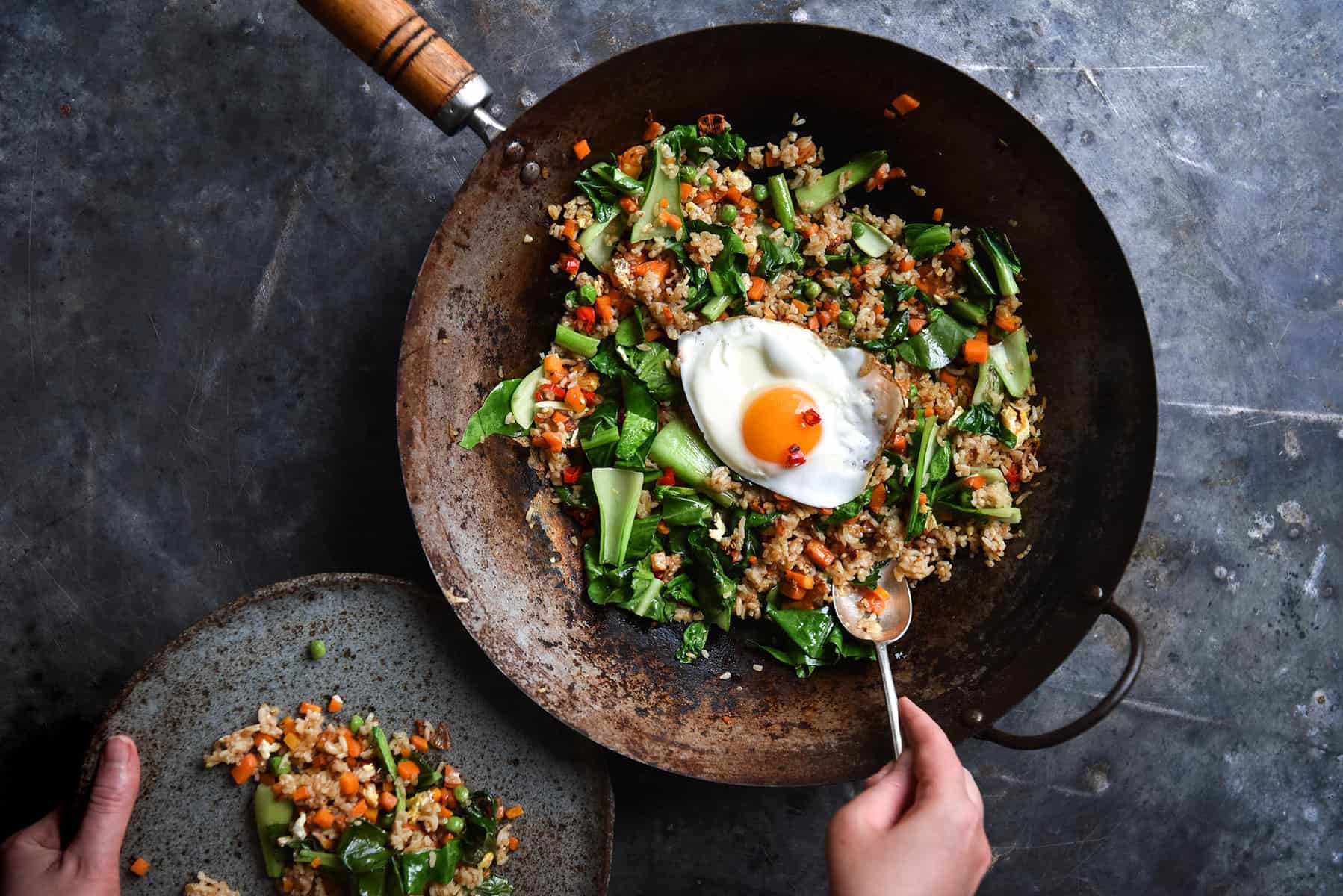 FODMAP FRIENDLY FRIED RICE RECIPE NOTES
If you don't need this to be vegetarian, feel free to add a protein of choice. If you'd like to make this vegan, use cubed tofu that has been cooked in the wok prior to starting the fried rice.
Honestly, everything I (recently aka today) have learnt about fried rice, I learnt from this Serious Eats article. Personally, I found the trick of adding a scant amount of Tamari and then fine salt to taste an absolute winner. It tastes WAY MORE LIKE FRIED RICE while still being perfectly seasoned.
STEPS TO FRIED RICE SUCCESS
I'm not a fried rice expert, but these are the tips and tricks I have learnt from my humble forays into the making of the delicacy.
Don't use 'wet' rice. As the Serious Eats article says, anything with some sog to it will add sog to the end product. You can use rice you've cooked recently, (although a lot of people suggest to use old rice) but make sure it has dried out first.
To that end, once your rice has cooled enough to handle, lay it out on a lined baking sheet to dry out a little. Be careful because rice is one of those things that is prone to going bad. Don't keep it out of the fridge for longer than an hour or so.
Ideally, you're using a wok and a gas burner. Again to quote the Serious Eats Article, use a flat pan and work in batches if you have an electric stovetop – you need flames to be going up the edges of a wok for it to be an effective cooking tool.
Cook your carrot first before decanting it and starting on the rice. The pan should be lightly oiled and FLAMIN HOT.
Add only just enough Tamari to very very lightly colour the rice. Then, use a fine salt to season it to perfection. This is probably my most important tip to getting that fried rice flavour.
Move the rice around the the pan continually and allow some grains to get a little crispy. Add the green veg last.

FODMAP friendly vegetarian fried rice
FODMAP friendly, gluten free, vegetarian
Ingredients
FOR THE FODMAP FRIENDLY FRIED RICE (serves 2-4 depending on appetite):
1

cup

white rice

2-3

tablespoons peanut oil

15-20

g

freshly grated ginger

1/2-1

tablespoon

Tamari

2

medium carrots

1

bunch bok choi

1

bunche pak choi

1/4 - 1/2

cup frozen peas, defrosted (optional)

1

egg per person

Salt and pepper

I like to use white pepper in this instance
OPTIONALS:
Fresh red chilli

Lime pieces

An extra fried egg
Instructions
METHOD
Fill a large pot with water, and then bring it to the boil. Once boiling, add your rice, and continue to cook, turning down the heat slightly until the rice is done. You can use the absorption method if you desire, but I tend to fuse my pot and rice together whenever I try.

Once the rice has cooled enough to handle, lay it out on a baking sheet to dry out a bit. Break up any clumps with your hands.

Add a splash of oil to a wok or pan (see notes) over a super high heat. Add 1-2 tablespoons of peanut oil, and fry your carrot until golden and crispy. If you're using any other hard vegetables, add them here.

Add a splash more of peanut oil and the grated ginger. You can add a teaspoon of sugar here if you fancy. Once it is fragrant, add the rice and use a spatula to keep it moving over the high heat.

Add the tamari - just enough to lightly colour the rice. Add a pinch of fine salt, and adjust for taste (remembering there will be added vegetables.) Add the vegetables in, one variety at a time, stirring continuously as you work.

If you're using eggs, move the fried rice to the side of the wok and add a dash of extra oil. Crack the egg into the middle of the wok (without getting too much rice in it) and use the spatula or a fork to roughly scramble the egg. Move it around the wok until it begins to set up, then use the spatula to break it into small pieces and stir it through the rice. You can also add an egg on top, if you'd prefer (I do both!)

Serve with some red chilli and condiments of choice. Can be frozen, but take care to reheat it adequately.