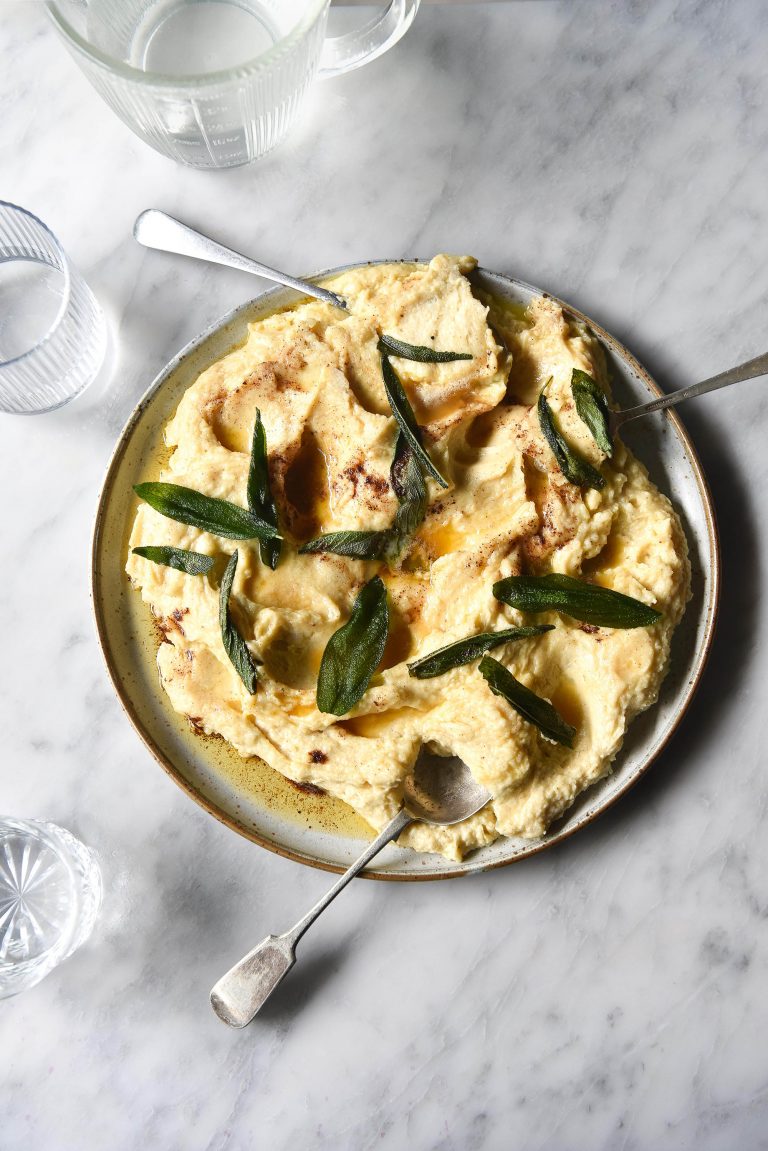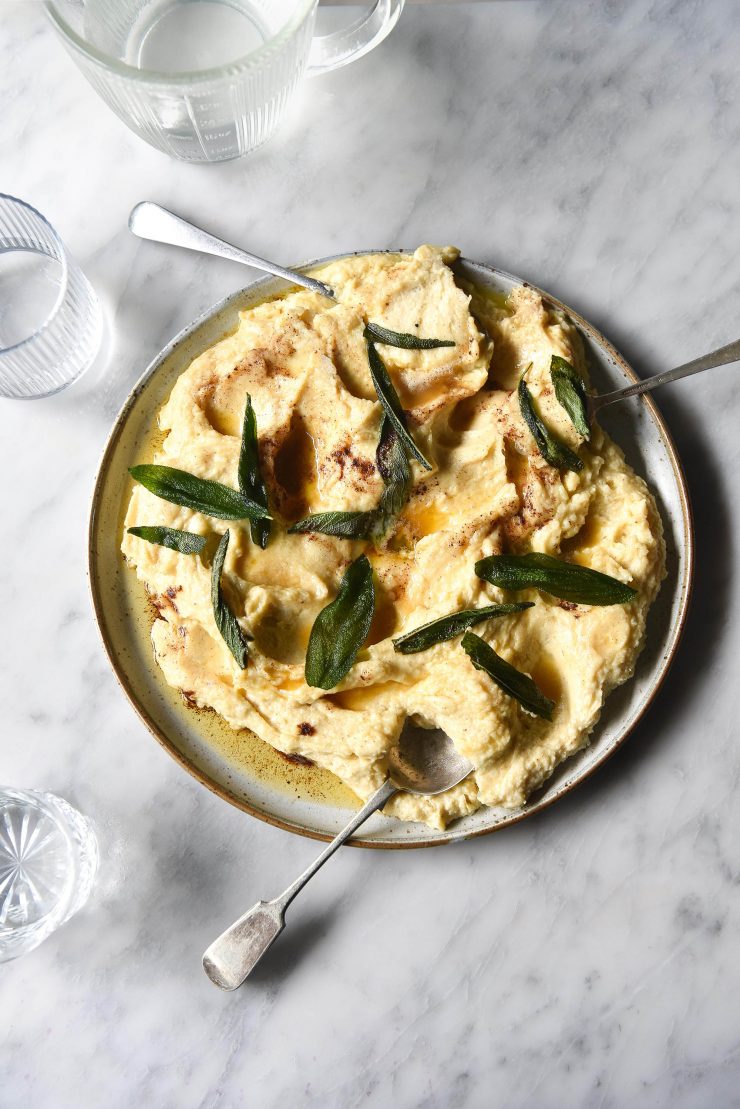 Obviously, we all love mash. I'm here today with a variety that bests all other varieties – brown butter mashed potatoes.
I've developed this recipe and guide to mash in time for the festive season. Please note that I wrote that sentence in early November and I'm publishing late December, so… (Now, please note that it is August of the following year. Does that give you any indication of how many draft posts I forget to publish?)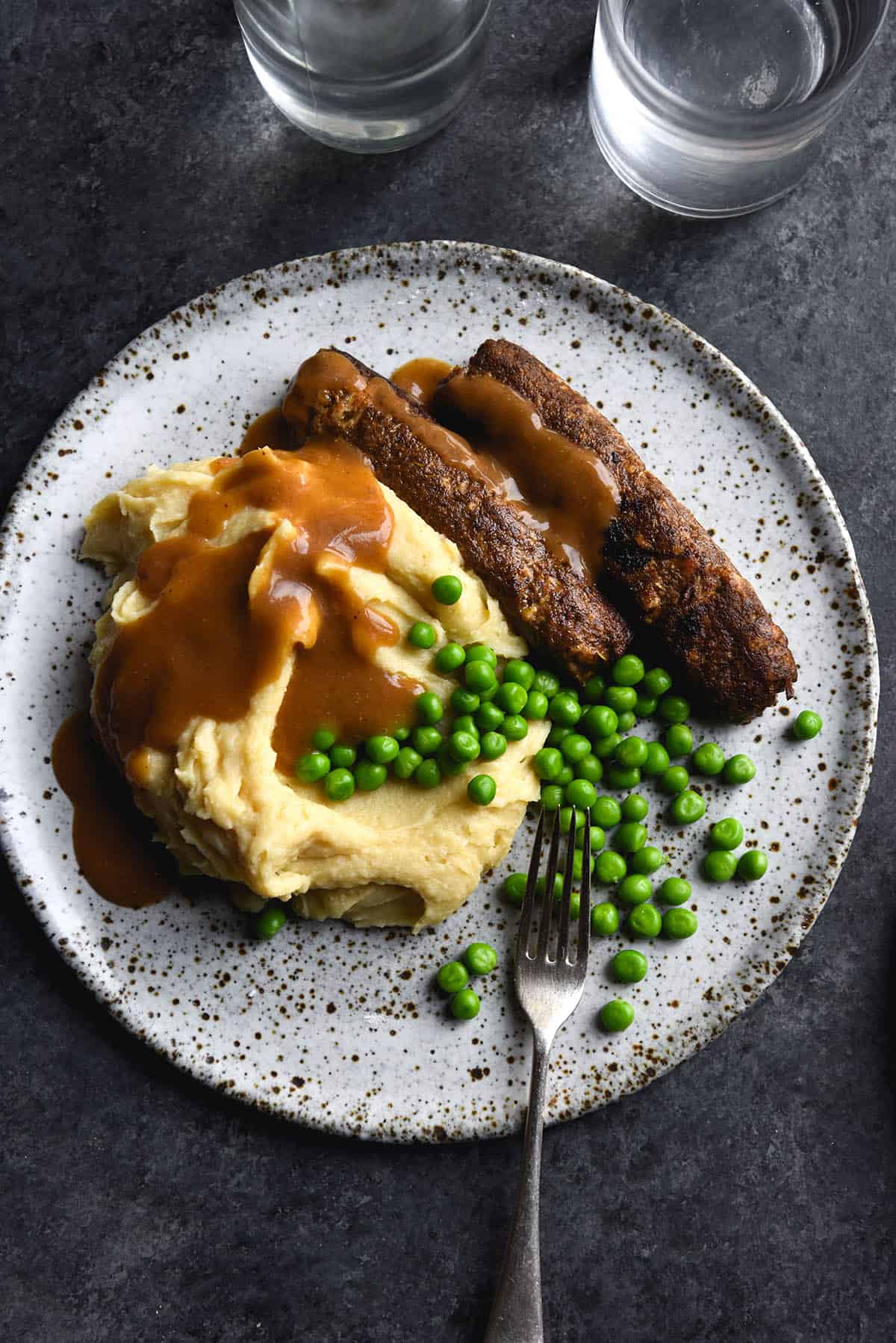 Anyway, this whole thing is a convenient guise under which I can consume a lot of mash. I have previously developed a number of other festive recipes, which I shall link here for your easy perusal. Keep your eyes peeled, too, for a FODMAP friendly festive recipe roundup.
Vegan, gluten free AND FODMAP friends? Try this stuffing recipe that covers all bases.
A FODMAP friendly vegetarian nut loaf for your vego pals.
Are you a double potato kind of person? (obviously yes) – put some super crispy salt and vinegar potatoes on the table. Nobody will be sad about it.
To complete the full circle I must link back to my potato recipe roundup. Doctor's orders, or something.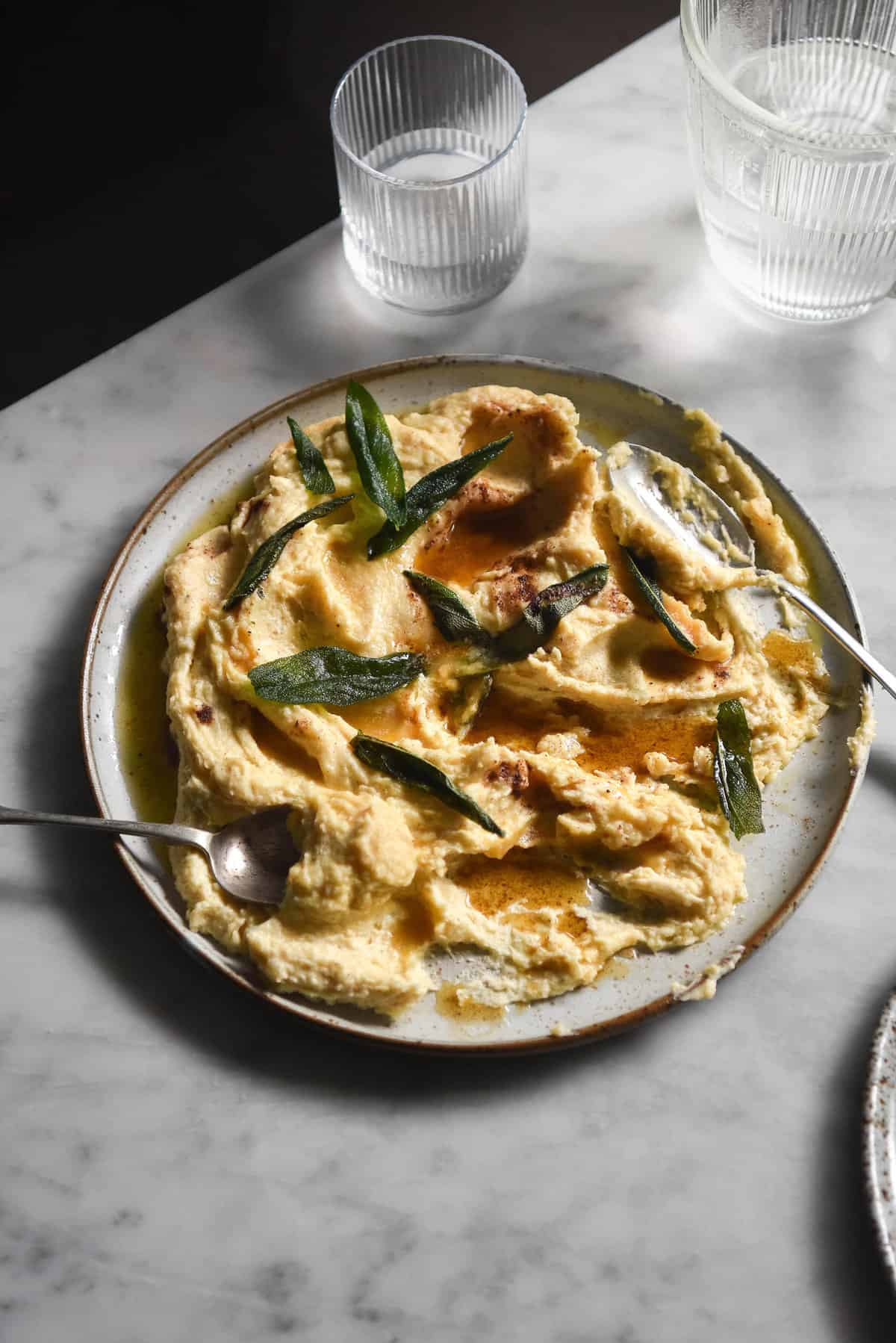 Brown butter mashed potatoes – FODMAP notes
Let's chat FODMAP, shall we? The only real issue in this recipe is the cream, sour cream or creme fraiche. Butter is incredibly low lactose, so in terms of FODMAPs it does not present an issue. Cream, however, can contain considerable amounts of lactose. The solution? Buy a lactose free variety. In Australia there seem to be new lactose free dairy products popping up every day – Zymil does a lactose free cream (although it does contain gelatin) and Pauls do a lactose free sour cream.
If you've added lactose free cream and you'd like to lower the lactose even further, consider making your brown butter into ghee. Ghee is basically butter with all the milk solids cooked and strained out. I once had it described to me as 'oil of milk' which I quite like. Anyway, you can simply strain the caramelised milk solids out of the brown butter and the result is browned ghee. The milk solids are where the flavour is at, but it is an option if you need it.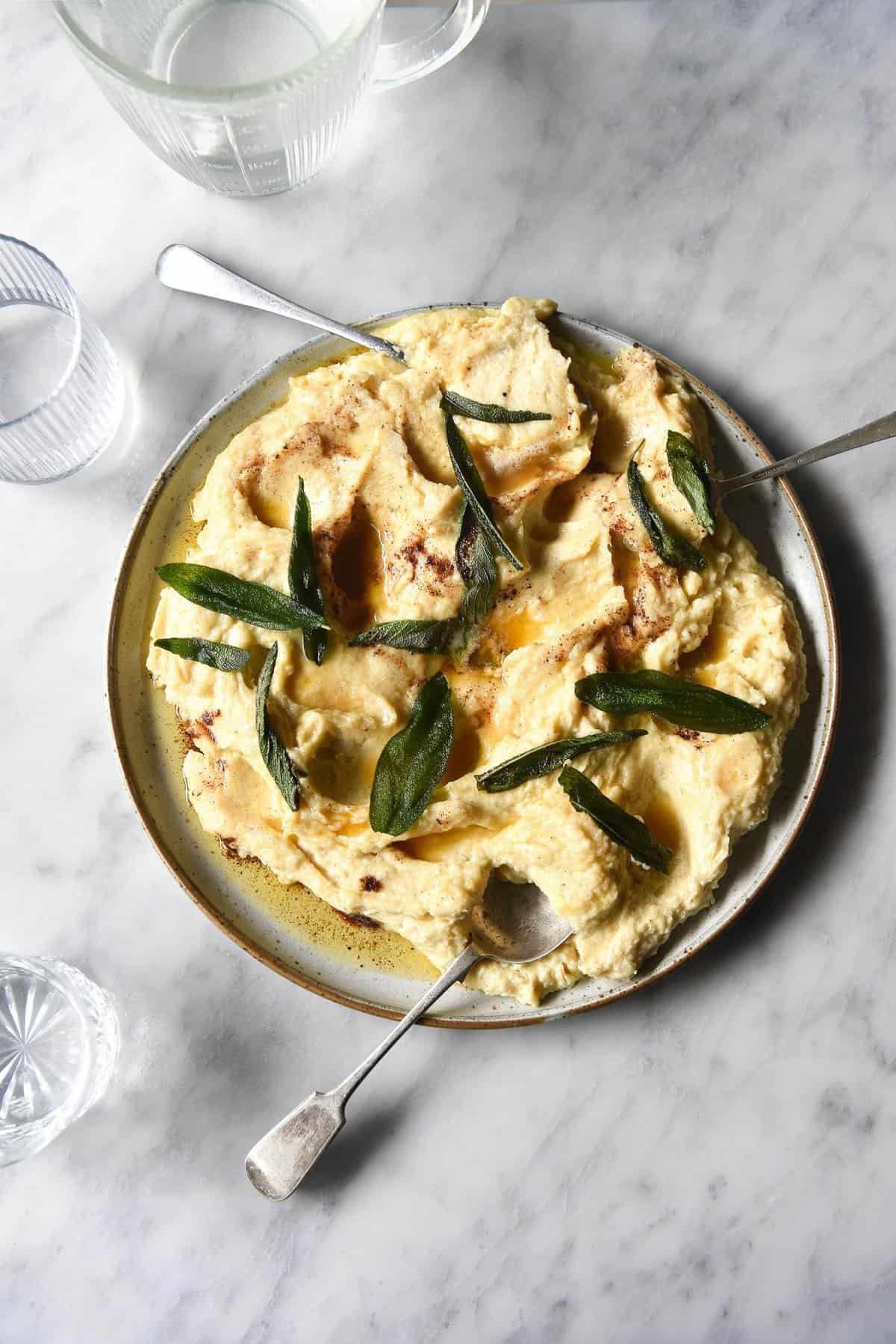 Tips for great mashed potatoes
Start by choosing the right variety of potato and cooking it properly.
Process your potatoes while they are still hot for ultimate smoothness. DO NOT ever blend mashed potatoes – they will become goop. Been there.
Add your warm brown butter before any other dairy.
Then, warm your dairy before adding it to the potatoes. Add it in batches so the starches have a chance to absorb the liquid.
For bonus points, add an aromatic (sage or rosemary) to the dairy while you're warming it.
Make the mash for you, and be prepared to have a bit of initiative. Do you like a very firm mash or a less firm one? Add liquids as you see fit.
On the note of liquids, cream and sour cream are preferable taste-wise to milk. This is the festive season, you know? However, milk is always an option if you want to thin the potatoes out a little.
Check for seasoning at the end, and continue tasting until it's perfect.
Mashed potatoes are best made on the day of. If you need to store them for a little while, you can place them in a heatproof bowl, covered, over a pot of water on a low heat. Make sure the water doesn't touch the bottom of the pot – same as when you're melting chocolate.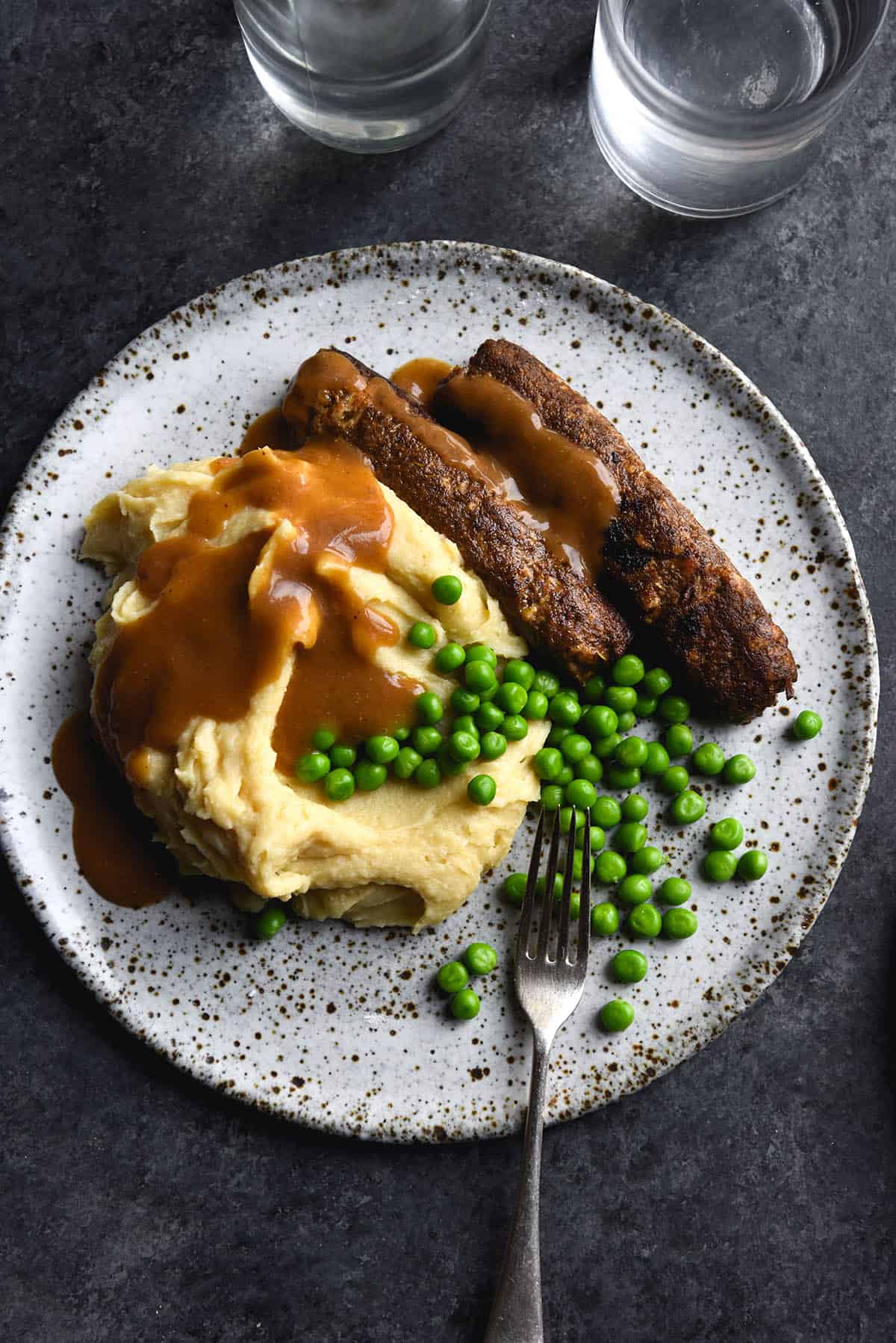 Which potatoes should I buy?
Australians, comparative to other countries, are not blessed with plentiful potato varieties. We don't have nearly as many to choose from, and we also don't have some of the more popular varieties that other countries do. So, today we're strictly discussing Australian potatoes because I'm selfish. You can easily google the best variety of potatoes for mash, relative to where you are.
I have used both Dutch Cream and Sebago for this recipe. That said, Sebago is which is quickly becoming my favourite variety, both for ease of purchase and flexibility of use. Apparently they're common in supermarkets, although I will say that both Coles and Woolworths are no good at labelling the potato variety. This is why I buy mine elsewhere – the greengrocer, the health food store or the farmers market. You're more likely to stumble on named varieties, more interesting varieties, and/or fresher potatoes. On the note of freshness – buy them dirty. I know it's annoying but they keep for much longer and I like to think a bit of dirt is doing me good.
Sebago potatoes are an all rounder variety that have a good balance of fluffiness (inherent to starchy potatoes) and waxiness (lower moisture content and less starch.) They are the perfect middle ground, combining the best of both worlds. This is why you can use them for so many things.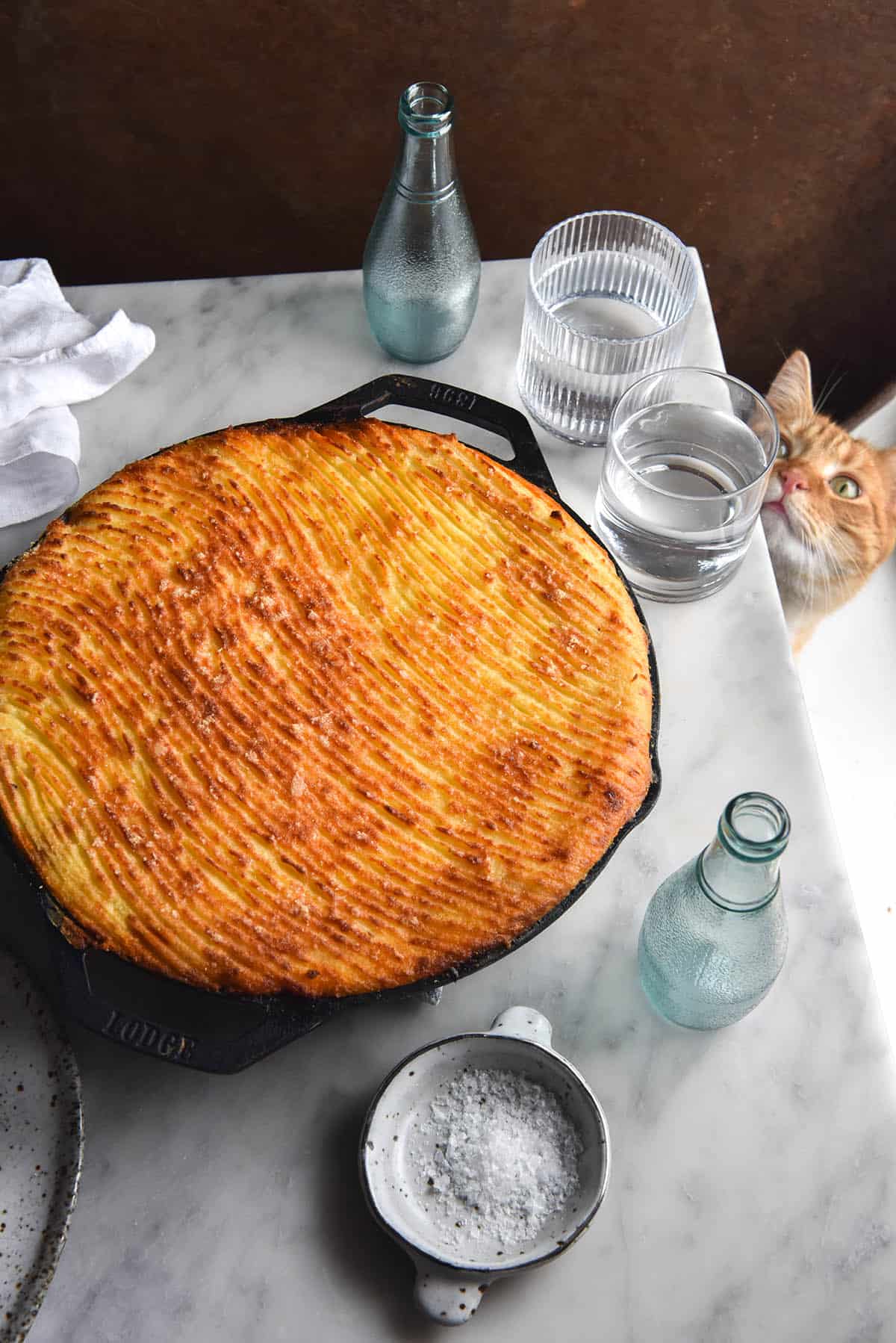 How do I make sure my mashed potatoes are smooth and fluffy?
Choose the right variety – this is KEY to avoiding either lumpy potatoes or gluey ones. See the section above, or google 'best potatoes for mash' in whichever area you live.
Make sure the potatoes are FULLY cooked, all the way through, completely. Recipe cooking time estimates for potatoes are just that – estimates. Are your potatoes big or small? What is your definition of medium-high heat? Gas or stovetop? You feel me? Cook the potatoes completely through (without reducing them to a slush) to avoid lumps in your potatoes.
Make them on the day. Sad but true, they cannot be made too far in advance or they'll lose the fluff and general deliciousness.
How do I make mashed potatoes without a potato ricer?
I am glad you asked! Firstly, this tip changed my life. Secondly, I hope it changes yours. While not everybody has a stand mixer, this recipe suggests that mashed potatoes can absolutely be done in one. I like to think that more people have a hand mixer (photos here to avoid any confusion) and THIS is your special ingredient to achieving smooth and fluffy potatoes without a masher.
Don't have a hand beater OR a stand mixer? You could use A) a fork, B) gloved hands or C) a slotted spatula. Whatever it takes to get the job done, you know? Just know that you make great mashed potatoes with or without a potato ricer.
I have another tip I discovered while making vegan shepherd's pie recently. If you have a sturdy sieve (mine is hard metal and I'm pretty sure I bought it at Kmart) you can push the potato through the sieve for the ultimate smoothness. It takes a bit of elbow grease and you'll probably need to warm it up again afterwards (bain marie style) but it works an absolute charm.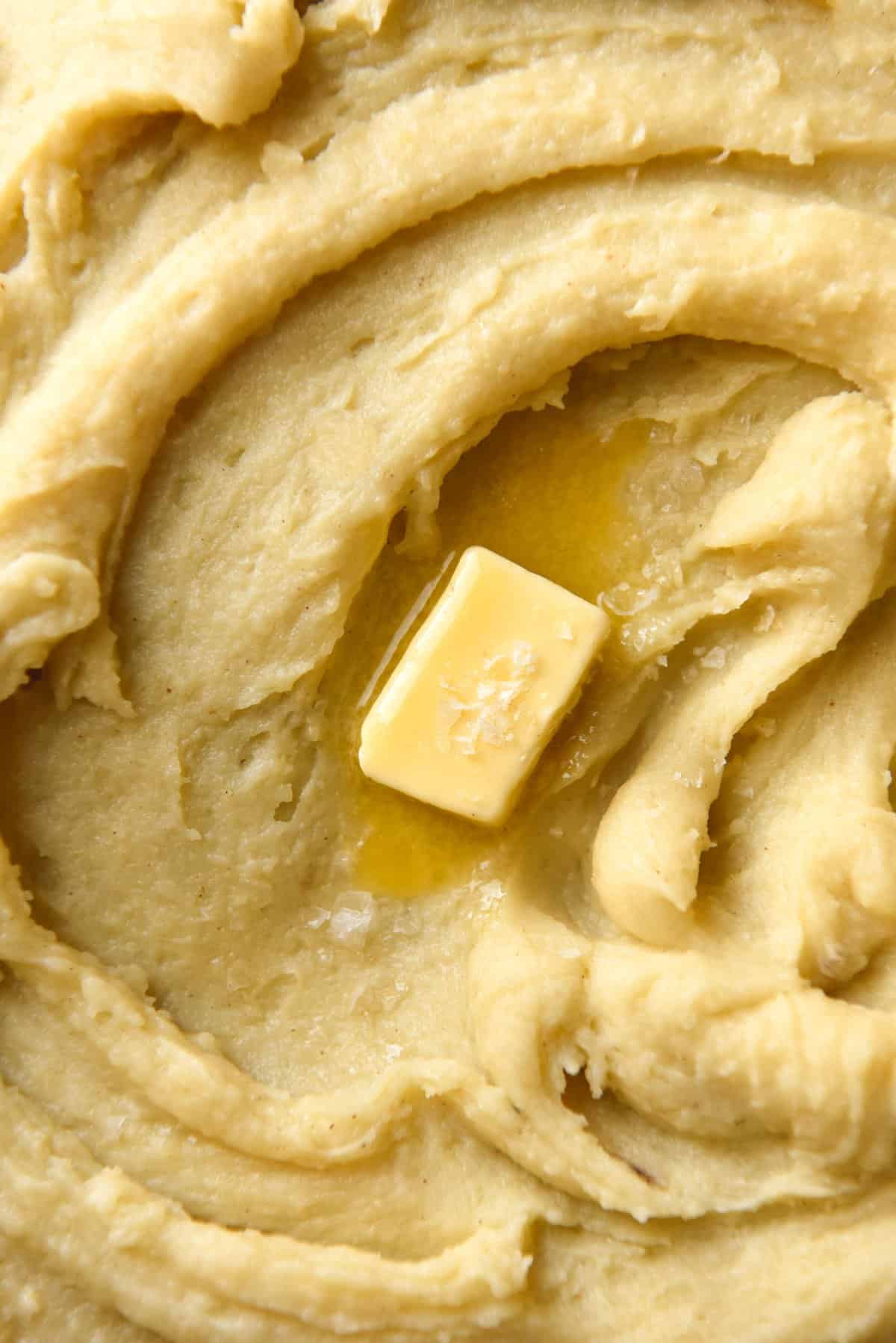 What does brown butter add to mashed potatoes?
Oh boy! It adds everything. It adds creaminess and a subtle nutty flavour, drama, flecks of colour and a golden top. Brown butter also pairs perfectly with a bit of crispy sage.
On the note of butter, make sure you get the best variety you can afford. Given the recipe has only a few ingredients, the taste of a good butter really shines through. There are plenty of decent butter varieties on the market – I like Lurpak, Kerrygold and West. You could also use cultured butter if you want to be a little fancy – St David's Dairy in Melbourne make a great one (for the local followers).
How do I make these mashed potatoes vegan?
Yes! You absolutely can. To make them vegan, simply substitute 100-130g of good quality vegan butter for the brown butter. Vegan butter doesn't brown, so you use a little less to account for the liquid lost in the browning process.
As for the liquid, I generally use soy milk regardless because it's what I always have on hand. So, you can use any plant based milk that you fancy. That said, a creamier one is ideal for a bit of richness.
General mashed potato links
This Good Housekeeping article has some good tips and tricks.
I like the idea of using half and half potato varieties (waxy potatoes tend to be more flavourful) in this article.
I was always going to link a Bon Appetit article. Main takeaways – mash your potatoes while lot, add your dairy warm, and add aromatics (rosemary or sage) to said dairy.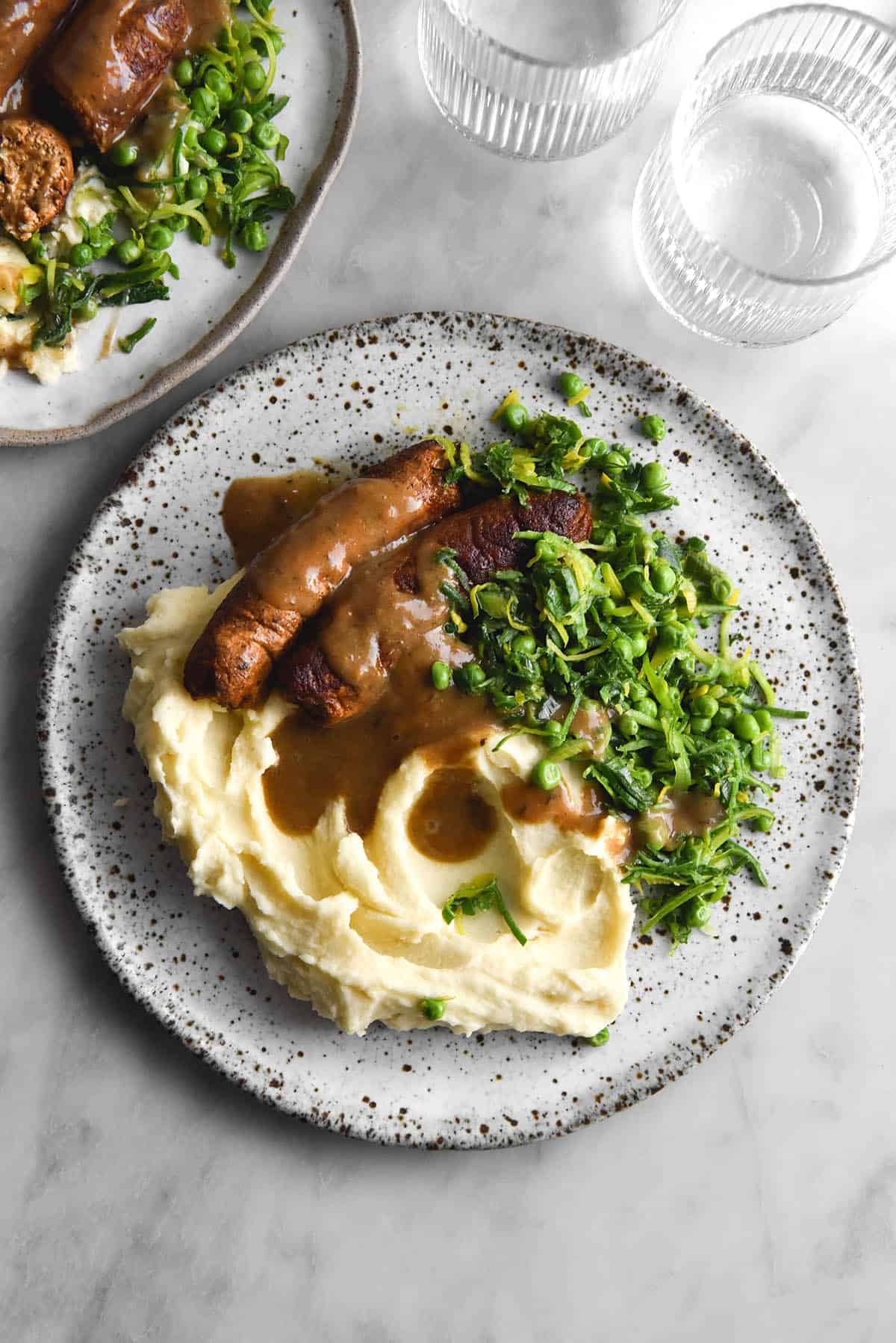 How to serve these brown butter mashed potatoes
Eat them straight out of the bowl. Obviously.
Make my vegan Shepherd's pie and top it with the vegan version for vegans, or the OG brown butter version for vegetarians.
Make bangers and mash with my vegan sausage recipe and vegan gravy recipe.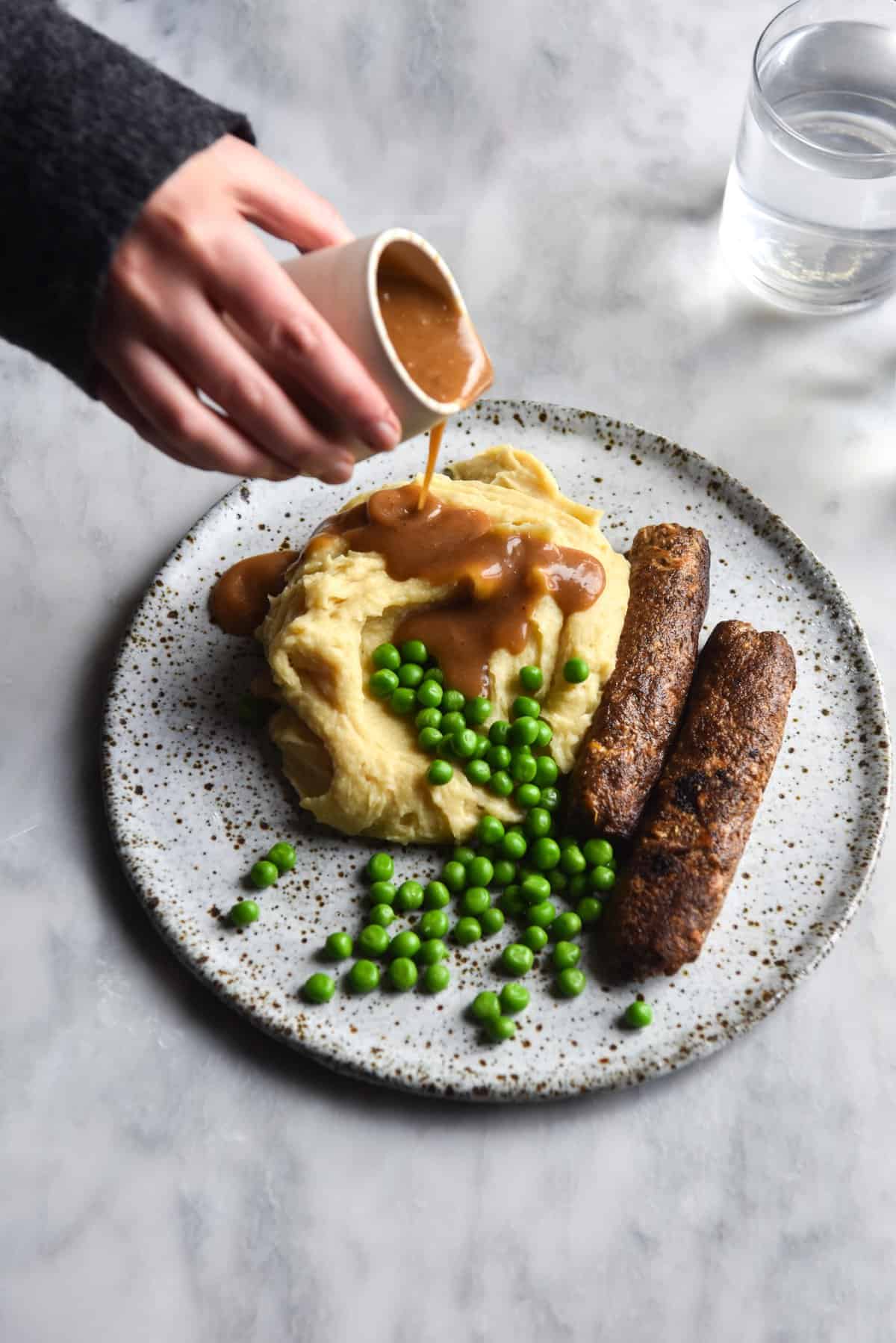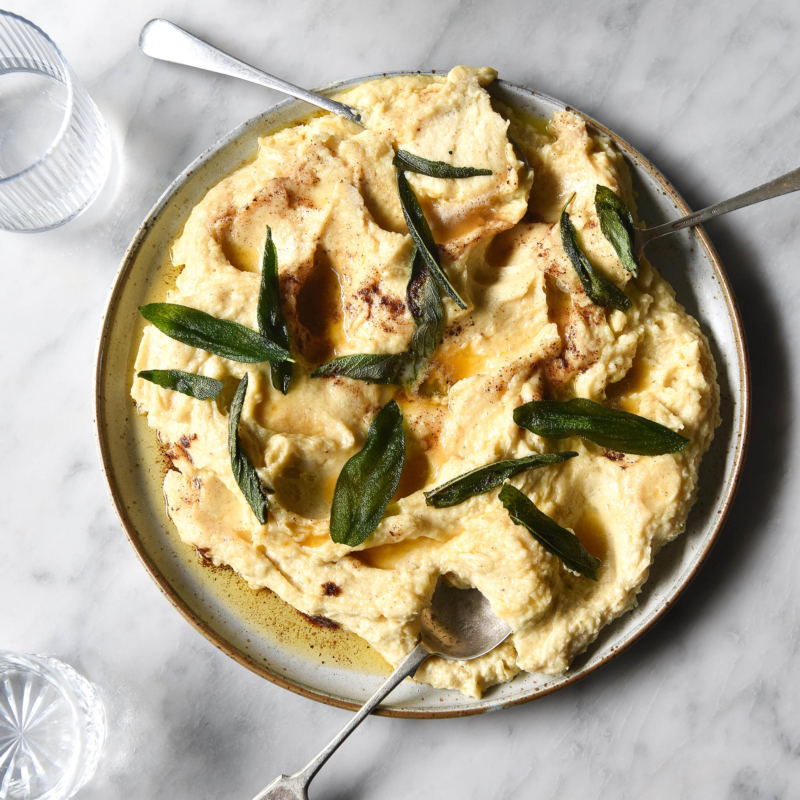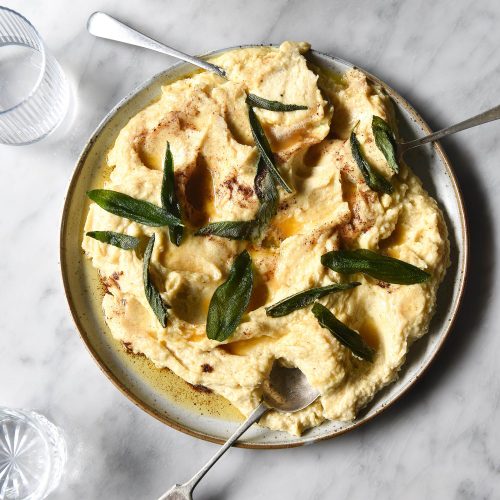 Brown butter mashed potatoes (vegan option)
FODMAP friendly, gluten free, nut free, vegan adaptable
Ingredients
1.5

kg

Dutch cream or Sebago potatoes

see notes

150

g

butter

deep browned (or 100-130g vegan butter substitute)

125ml

+

milk of choice

I have used soy and lactose free full cream milk

Any aromatics or flavourings you fancy

see notes

Salt

to taste
Instructions
Salt a large pot of water and add the potatoes, whole and in their skins. Place over a medium high heat, pop the lid on, and cook for 20-30 minutes (size dependent) until the potatoes are completely cooked. This is super important for a smooth mash – any uncooked bits of potato will leave lumps.

Once the potatoes are completely cooked, remove them from the water and allow them to steam dry for 5-10 minutes.

While you're waiting, brown the butter in a small saucepan over a low medium heat. It should reach a chocolate brown colour and be full of dark flecks. It should smell nutty and toasty, not burnt. Once browned, set aside.

Use gloves to peel the skins off each potato. They should slip off easily, but you can use a pairing knife to help. You can fry up the skins in some oil or butter for a crunchy no waste snack.

Place each skinned potato in a large bowl. If you're using a potato ricer, go for gold. If you're using a hand beater, mash the potatoes up with a large spoon first before going in with the hand beater.

Add the butter in increments so it has time to absorb into the potatoes. Then, using the butter saucepan, place the milk on the stove to warm for a couple of minutes. You can add some rosemary or sage to the milk to infuse it, if you're feeling fancy.

Continue mashing the potatoes while you incrementally add the milk, allowing time for absorption.

Once the potatoes are completely mashed and smooth, add salt to taste (I generally use around 1 teaspoon, but add it incrementally because you can't undo salt!)

If the potatoes need to be reheated, place them (in a heatproof bowl) over a small pot of water on a medium heat. Stir until heated through and serve.