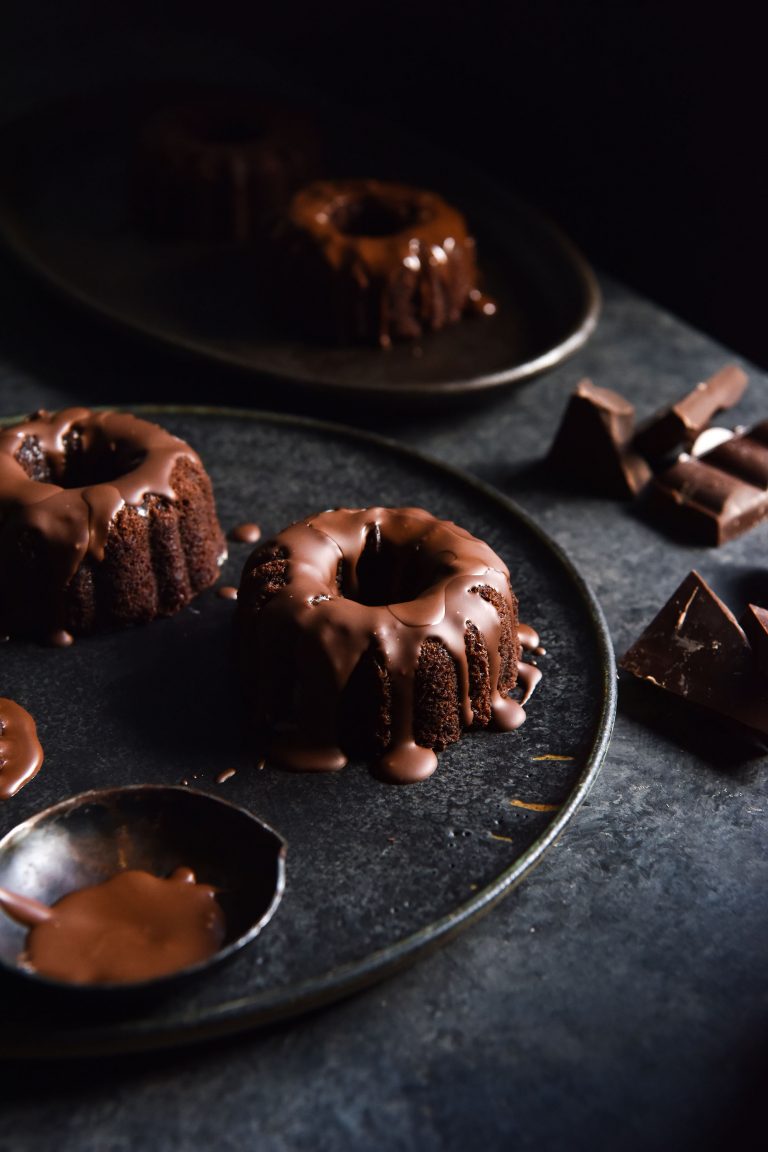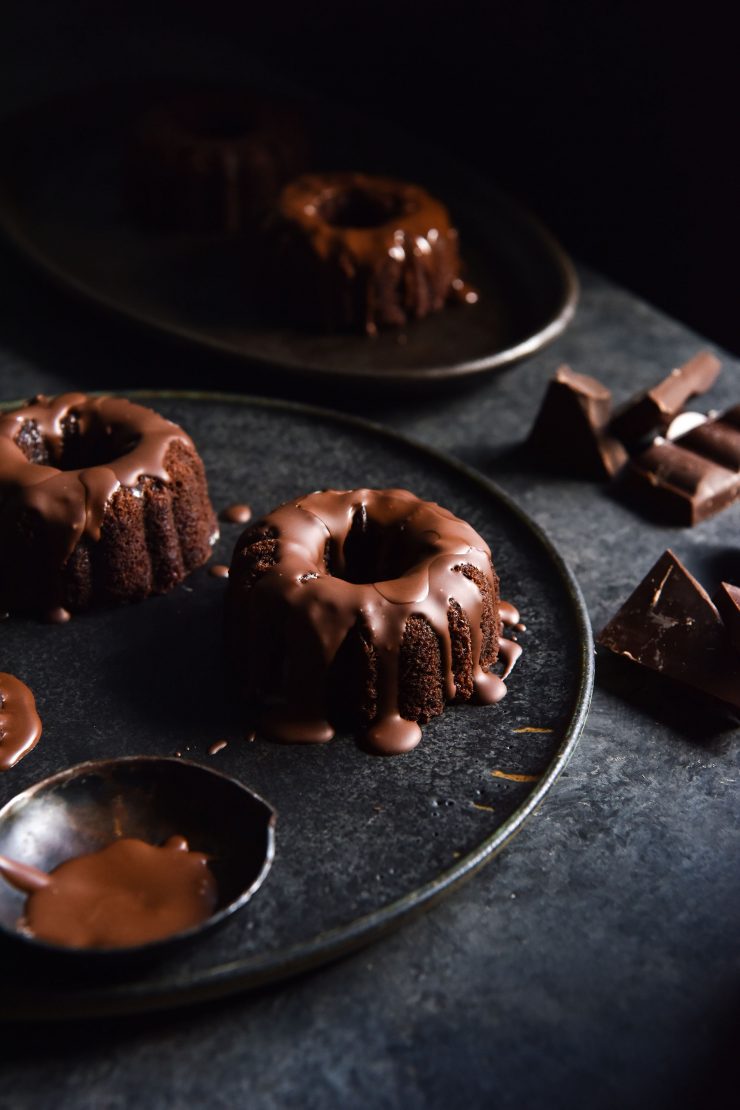 These flourless chocolate rum bundt cakes that I made for Williams Sonoma Australia seem like a fitting recipe to post on my last day in London. The trip theme, inadvertently, seems to have been 'indulgence to the point of absurdity' which is why I conclude that rich, boozy chocolate bundt cakes are so very appropriate.
Flourless chocolate Bundt cakes
In the effort of keeping it short and sweet (literally, I have one last Ottolenghi bakery stop planned today) let me just say this. These bundts are gluten free, grain free, low in dairy (butter doesn't contain much dairy, but you can use a butter substitute if you're concerned) and outrageously delicious. Why not bring a little absurd indulgence to your own life?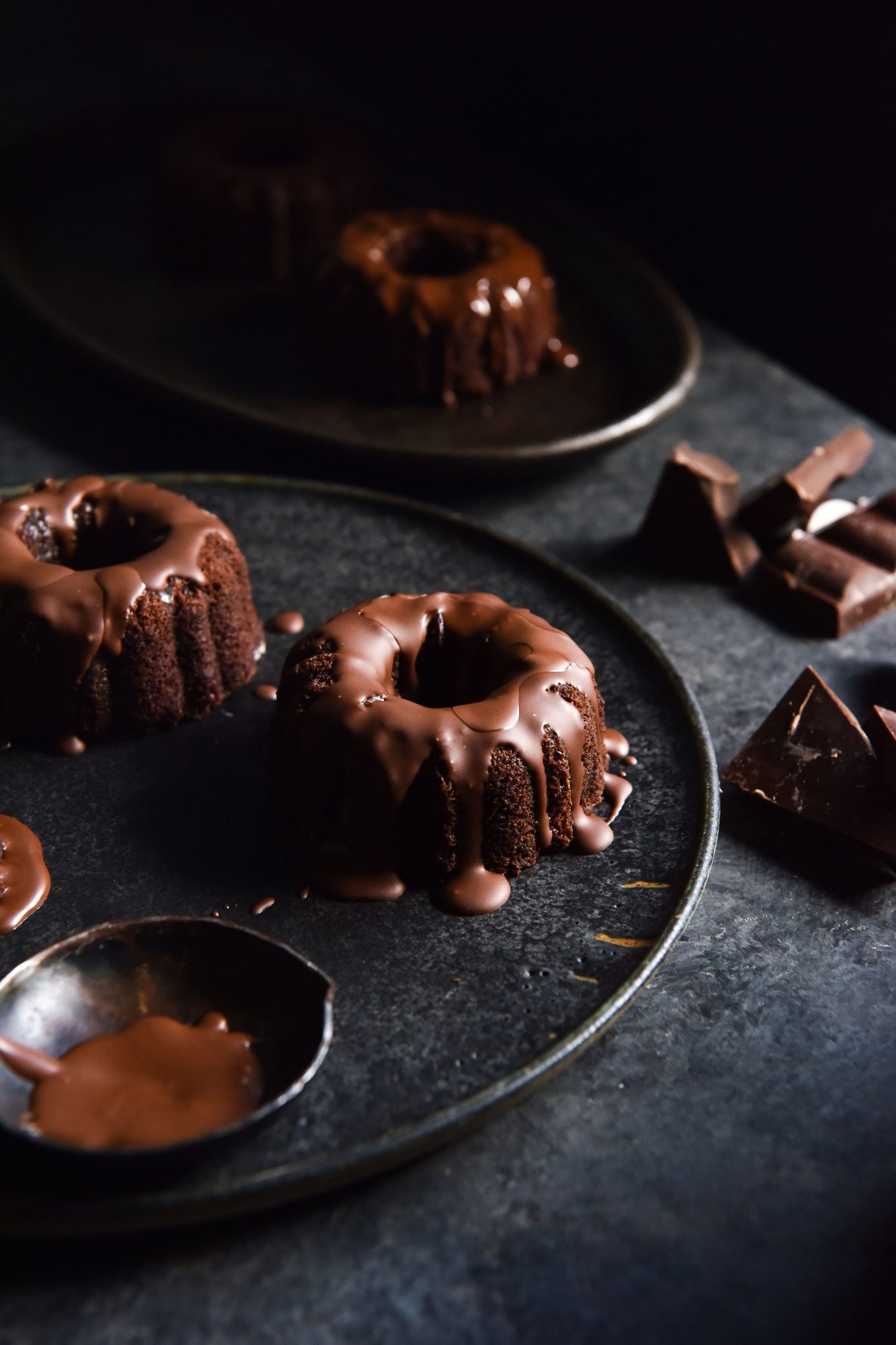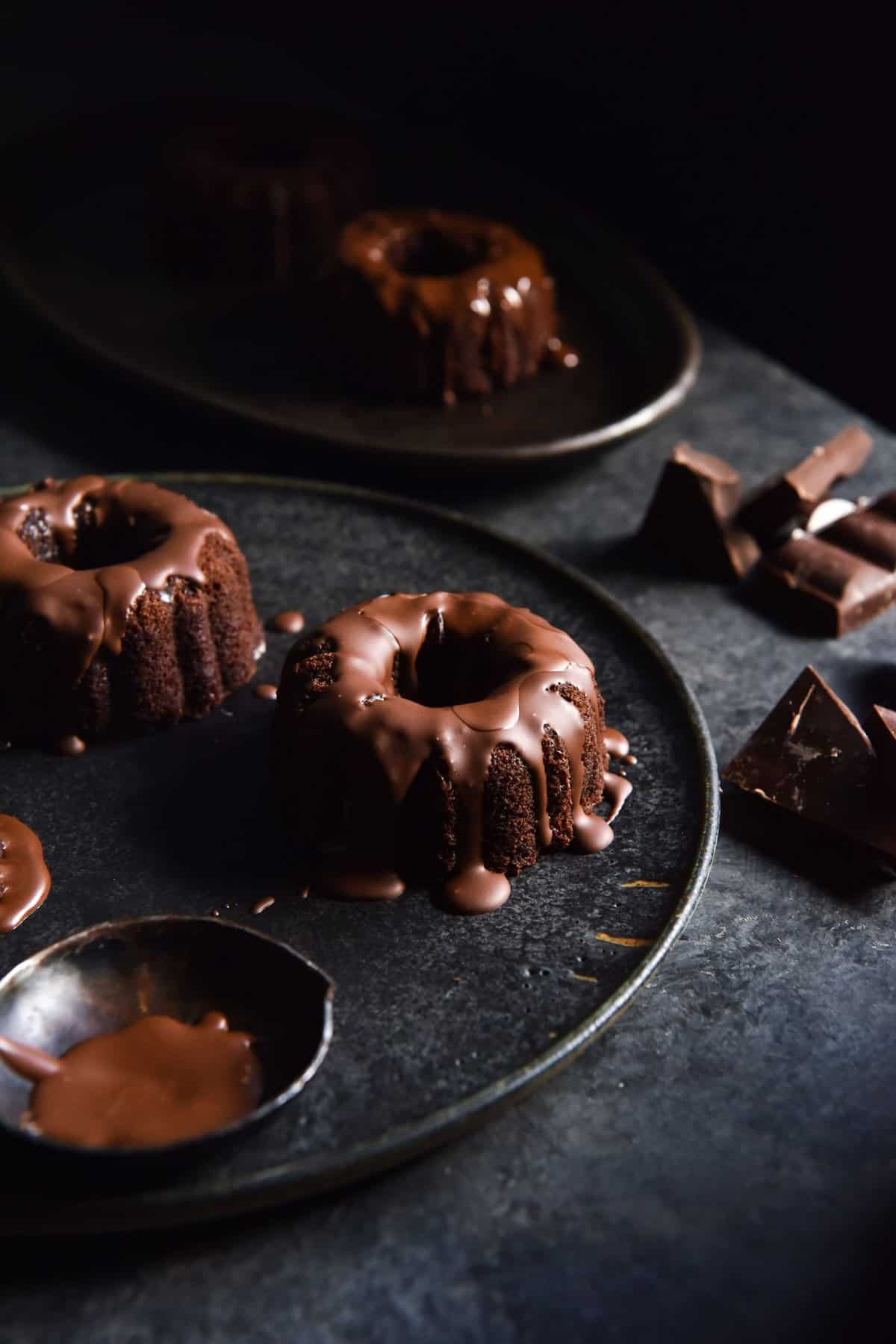 More gluten free chocolate recipes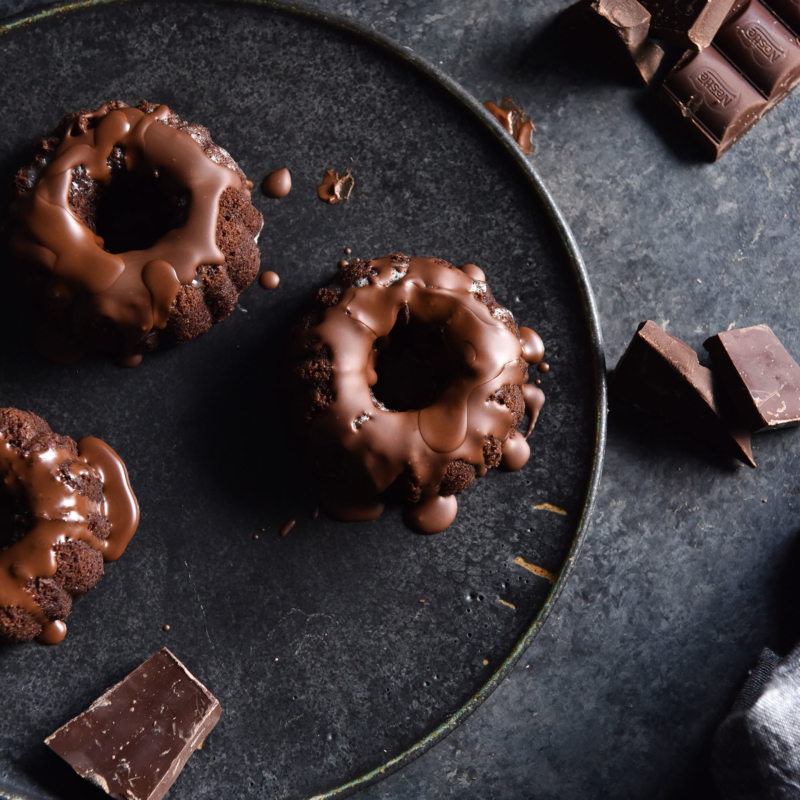 Flourless chocolate and rum bundt cakes
Gluten free, grain free, FODMAP friendly
Ingredients
for the Bundt cakes:
150

g

dark cooking chocolate

100

g

butter

110g (1/2

cup)

caster sugar

1/4

cup

good quality cocoa powder

50g (1/2

cup)

almond meal

40ml (2

tablespoons)

rum

I used white rum

40ml (2

tablespoons)

freshly brewed coffee

you could also use black brewed instant coffee

1

teaspoon

sea salt

1

teaspoon

vanilla bean paste

3

extra large eggs

eggs

beaten until fluffy and pale
for the spiked cream:
125ml (1/2

cup)

full cream

lactose free also works well

1-2

tablespoons

powdered sugar

adjust to your taste

40-40ml( 1-2

tablespoons)

rum

adjust to your taste
To finish:
50

g

melted dark chocolate

optional
Instructions
Preheat the oven to 180C/356F and lightly grease your bundt pan with butter.

Using the double boiler method, melt the chocolate and butter over a low-medium heat. Once they have melted, sieve in the caster sugar, cocoa powder and almond meal, all at the same time. Sieving the cocoa in with other ingredients discourages it from clumping together, meaning a smoother batter with less cocoa chunks.

Once the sugar granules have dissolved, take the mixture off the heat (be careful of the steam when removing the metal bowl from the saucepan) and add the coffee, rum, vanilla bean paste and sea salt. The sea salt and coffee work wonders in deepening the coffee flavour – I don't recommend omitting them.

In a clean bowl, beat the eggs on a high speed, until they are fluffy and pale in colour.

Transfer the chocolate mixture to a large clean bowl. Use a spatula to gently fold a quarter or so of the fluffy egg mixture into the chocolate mixture at a time. The aim is to fully incorporate the egg mixture, while still retaining the air bubbles it provides. Slow and steady.

Once the mixture is fully incorporated, place the greased bundt pan on a flat tray, and divide the chocolate mixture between the moulds. Transfer to the oven for 15 minutes.
TO FINISH:
While the bundts are cooking, mix together the cream, rum and powdered sugar.

Once cooked, remove the bundts from the oven, and allow them to cool slightly. Gently run a knife around the edge of each bundt, and then carefully turn the tin upside down, holding a cool oven tray over the top, to catch the bundts. Gently bang on the base of each bundt – they should fall out easily, and hold their form.

Gently place each bundt on a serving plate, and top with the rum spiked cream, and melted chocolate, if you're using it. Serve warm.