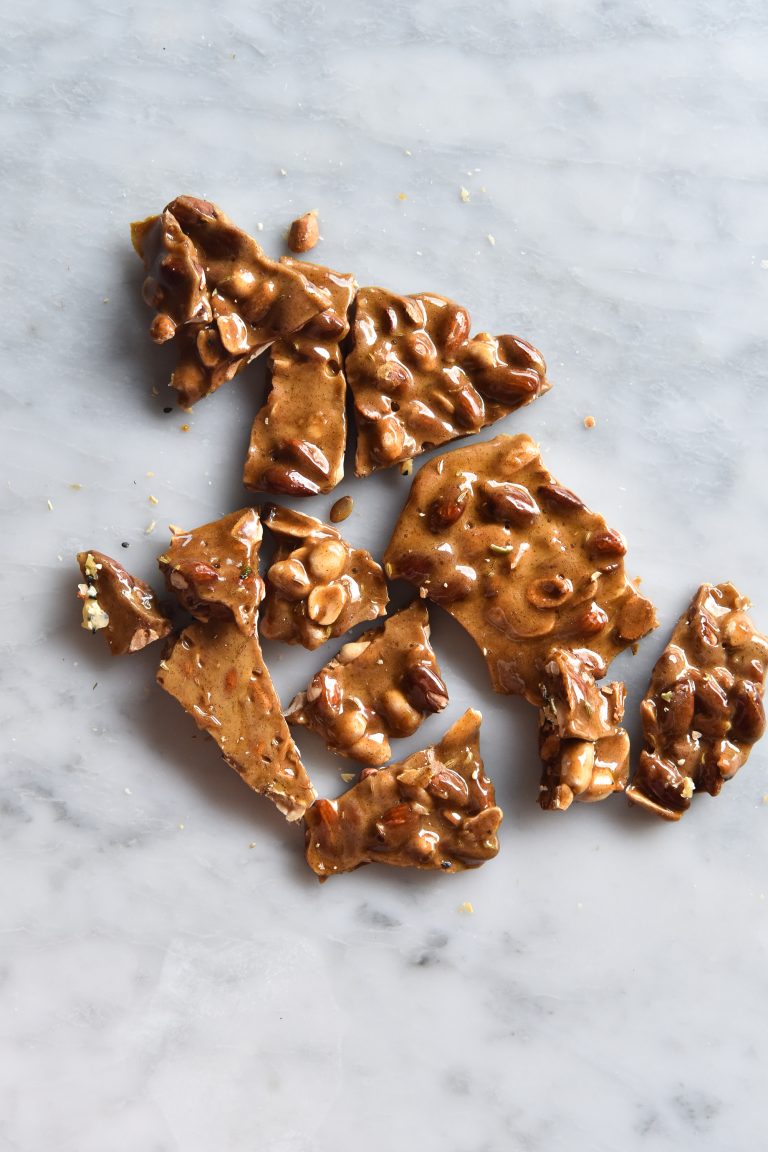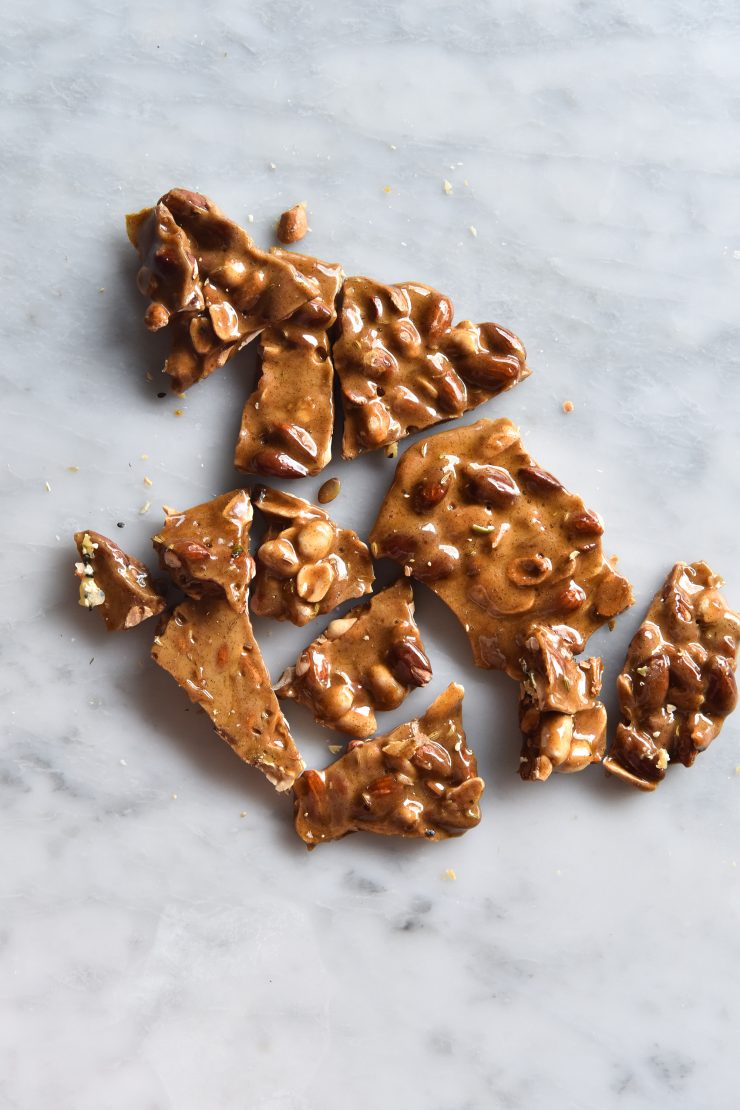 This recipe for brown butter nut brittle without corn syrup was one from my early days of blogging. I had no idea how to structure a recipe and my directions needed a little (read: a lot) work. Now that I know these things, it was time for a nut brittle glow up.
This nut brittle is gluten free, low lactose and can be nut free, if needed. It's a delicious festive treat that everyone will love.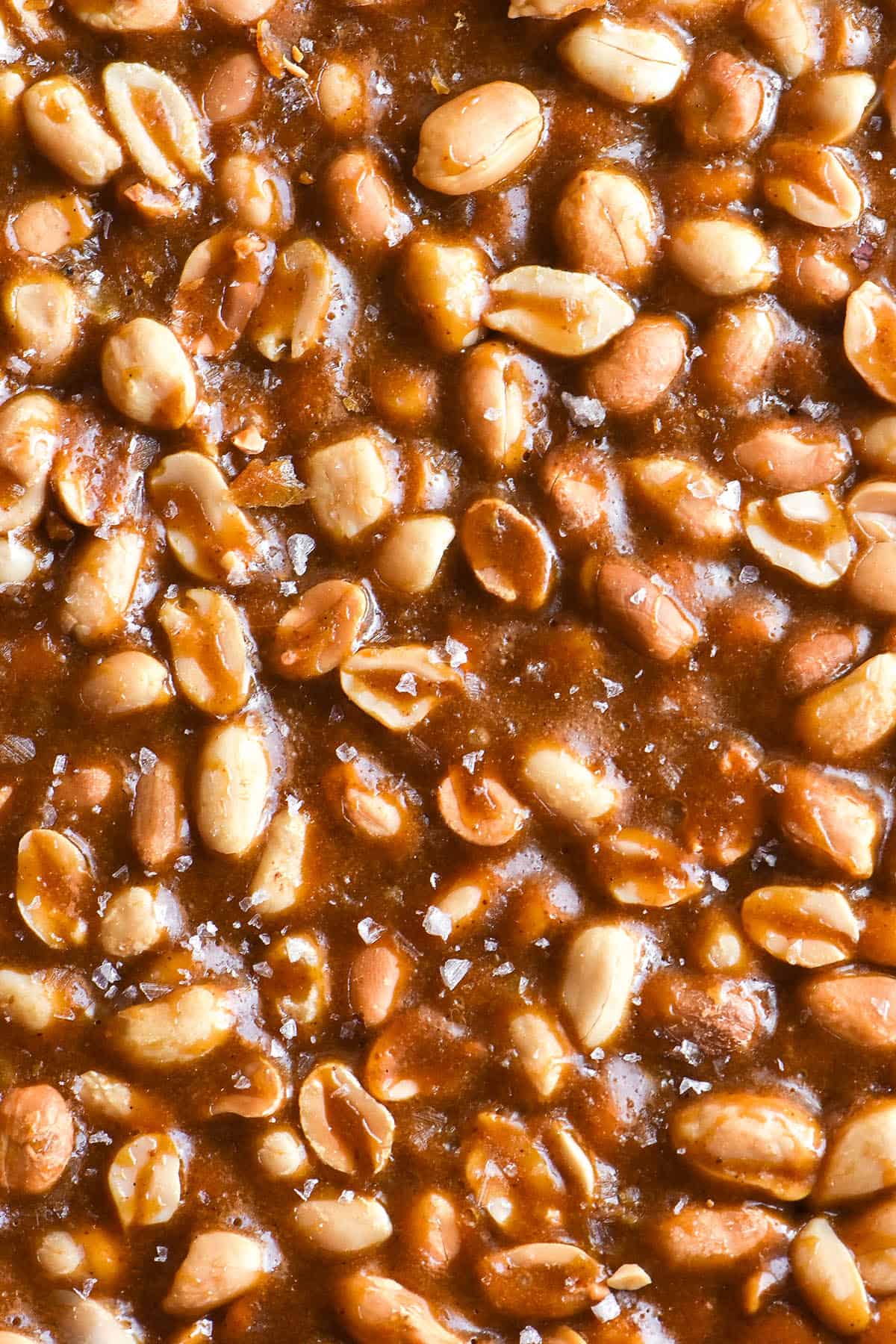 Brown butter nut brittle without corn syrup
I chose to make this nut brittle with rice malt syrup, because corn syrup is not common here in Australia. Mistakenly believing corn syrup and high fructose corn syrup were the same thing, I didn't want to use corn syrup anyway.
This brown butter brittle uses light brown sugar, rice malt syrup, maple syrup and brown butter to form a delicious and rich nut brittle without corn syrup. It is gluten free and has a number of low FODMAP options, which we will go into below. The brittle can be made nut free by using seeds instead of nuts.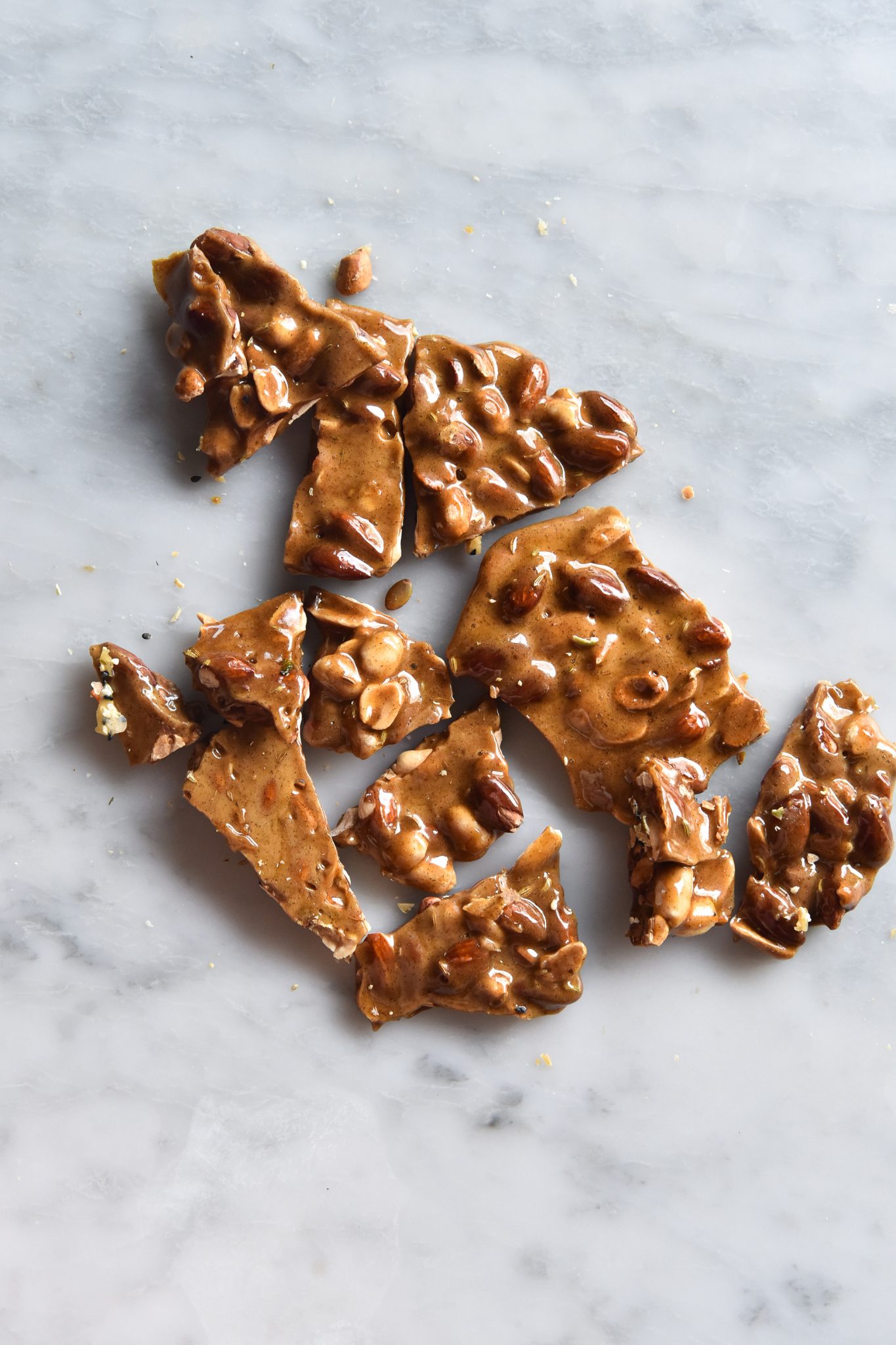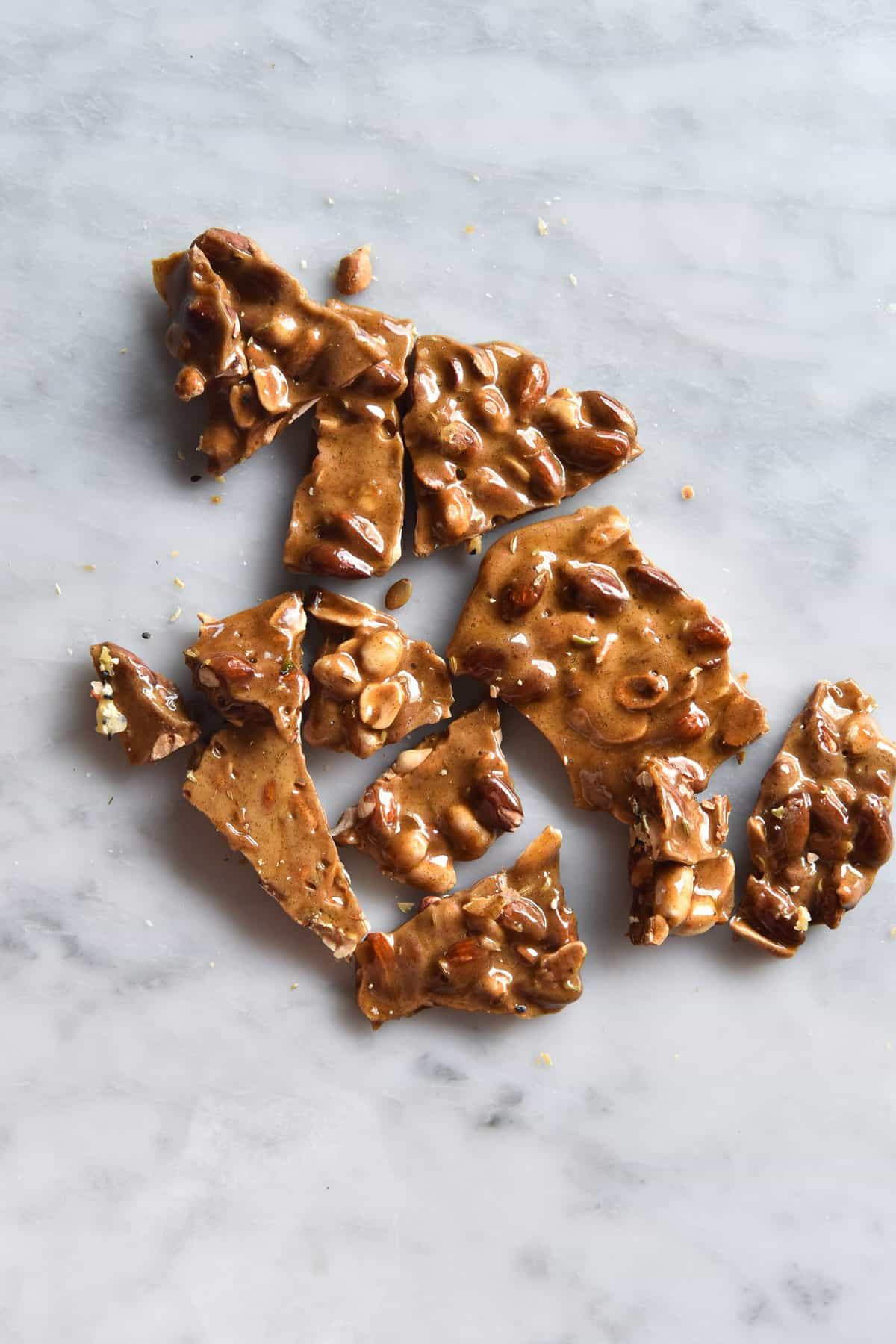 Is it possible to make brittle without corn syrup?
Yes! It is very easy to make a delicious nut brittle without corn syrup. Excellent news for those of us who don't have easy access to corn syrup.
Rice malt syrup is the substitute for corn syrup in these recipe. In Australia, rice malt syrup is generally easy to purchase at the main supermarkets. It is normally either found in the health food section or the baking section.
Why use maple syrup AND rice malt syrup?
I used maple syrup and rice malt syrup in this recipe because I like the stability and thickness of rice malt syrup, but I find the flavour too plain. It isn't as sweet as maple syrup, and I found that brittle made with rice malt syrup only lacked a little of complexity.
The version made with 1/2 cup maple syrup is delicious and has a sweeter, more complex flavour, but it makes a thinner brittle. All in all, it really depends what you prefer.
That said, you can absolutely make this brittle with a single liquid sugar. If you have a sweet tooth, you can use all maple syrup.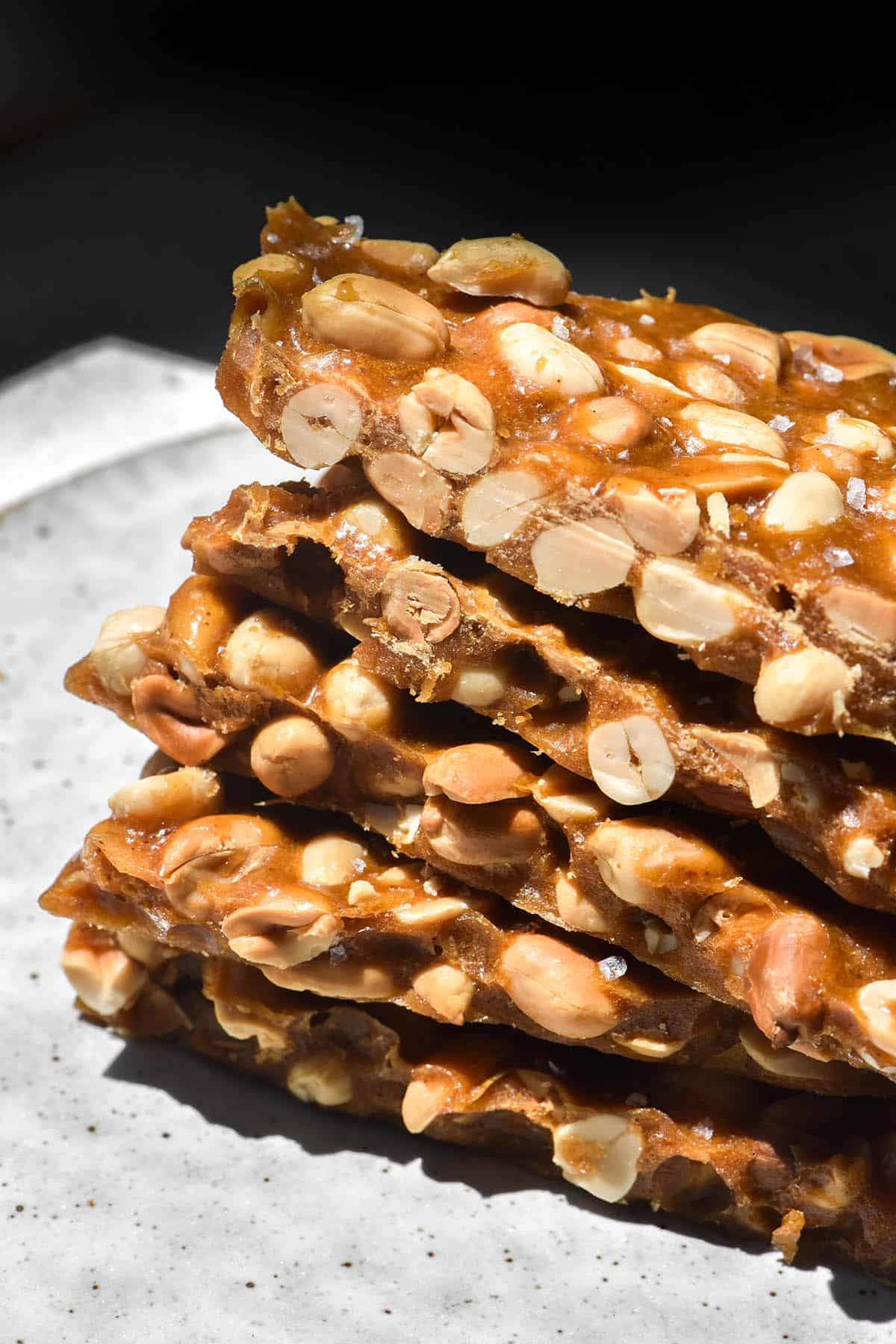 How to make brown butter nut brittle without corn syrup
To prepare for the brittle, place your nuts in the oven to gently roast and heat up. Adding cool nuts to the hot caramel causes the caramel to seize up and the temperature to lower. We need the caramel to be at 149C/300F in order to reach hard crack stage and have that lovely snap.
Next, brown the butter in a large pot – ideally a dutch oven or something heavy bottomed. The caramel will bubble up when the baking soda is added at the end, so it's best to be overly cautious. Nobody wants to clean hot sugar off their stovetop.
Once the butter is browned, add the remaining ingredients and stir to combine over a low heat. The mixture will gradually begin to bubble.
Continue cooking the mixture until it reaches 149C/300F on a thermometer. See the section below on making this brittle without a thermometer.
Be patient in allowing the candy to come up to temperature. If you are using a Thermapen or hand held thermometer, don't measure the temperature of the bottom of the pan. This will not give you an accurate reading of the brittle itself, so make sure it hovers in the mixture.
Once the mixture has reached temperature, sprinkle over the baking soda and stir to incorporate. The mixture will puff up and form lots of little bubbles. It will also lighten the colour of the caramel a bit, too.
Working quickly and carefully, add the hot nuts to the brittle mixture and stir to incorporate, before quickly pouring the mixture onto a large baking sheet. You might need to use a spoon to spread it out. Don't worry too much if it's a little thick, as you can pull the caramel a little (with gloved hands) once it cools.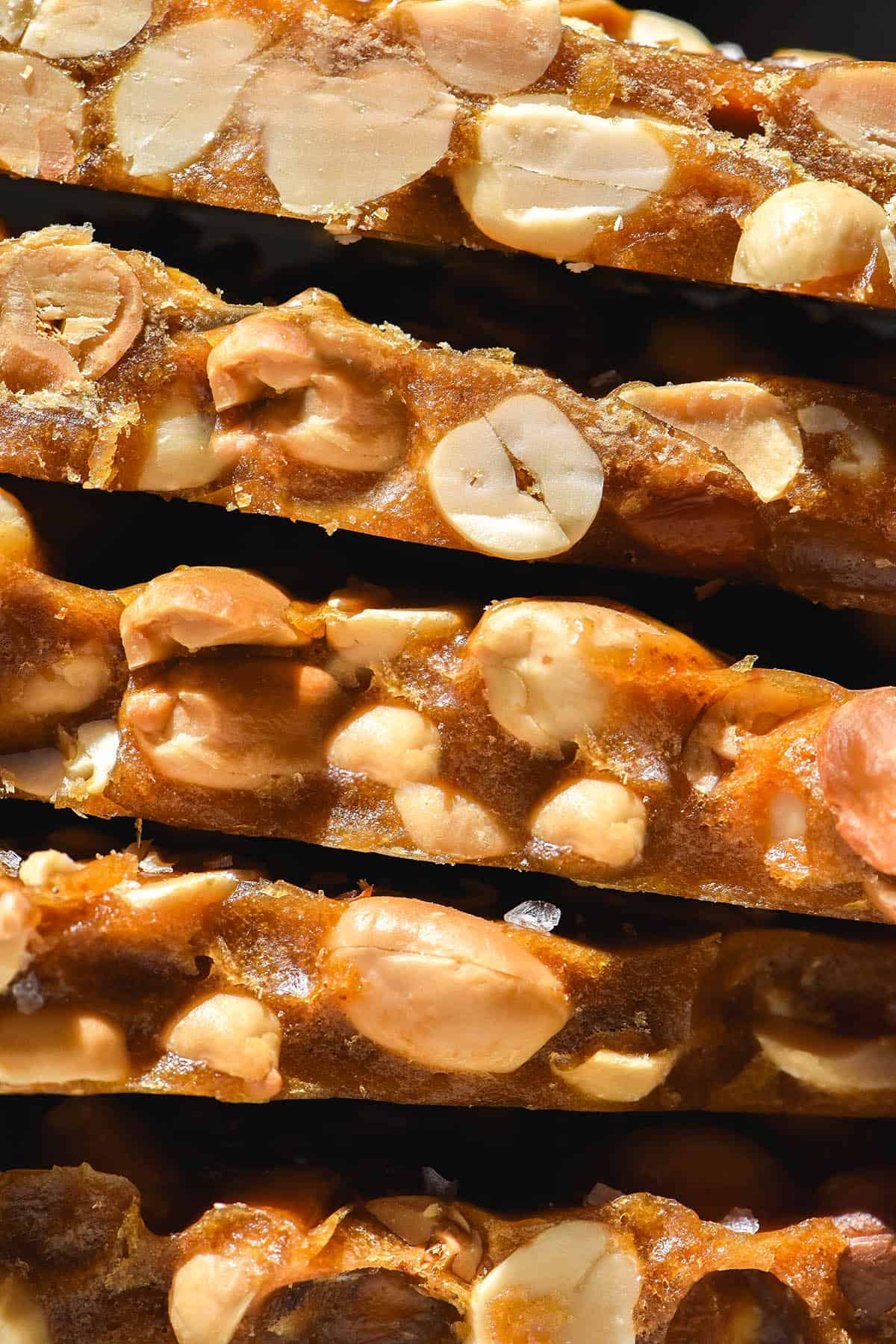 Tips for your nut brittle
Heating the nuts in the oven while you make the candy ensures they won't cool the candy too much when you add them. Cooled candy will not set up firmly – it needs to reach 149C or 300F to reach hard crack stage.
There is no point rushing the process here. If your candy isn't at the hard crack stage, you will be wasting all those nuts. The candy will be soft, bendable and chewy.
A thermometer really helps, but you can make this brittle without one. I have a Thermapen these days and I am obsessed.
I found that making this brittle in a dutch oven was much quicker and more seamless than making it in my steel soup pot. I assume this has something to do with how well it conducts heat.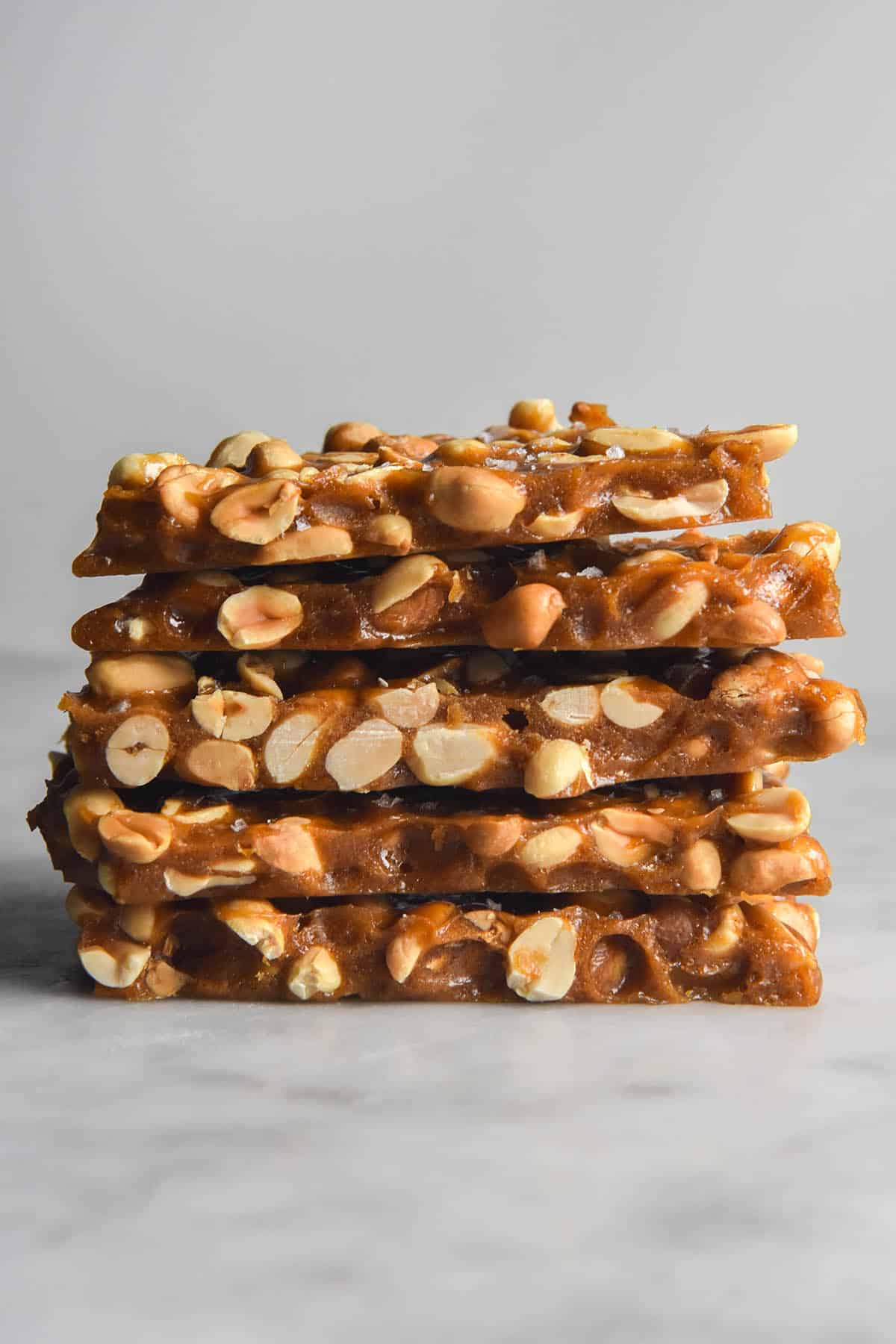 Can I make this brittle without a thermometer?
Yes, you can, but with a few caveats. Firstly, it's a bit trickier to make brittle without a thermometer, because you don't have that super accurate information to aid you. This makes it more likely (but not a given) that you will end up with chewy, undercooked or overcooked brittle.
Some brittle recipes can be made in the microwave, which is really cool. I have not tested this recipe in the microwave yet, but I will update the post when I do.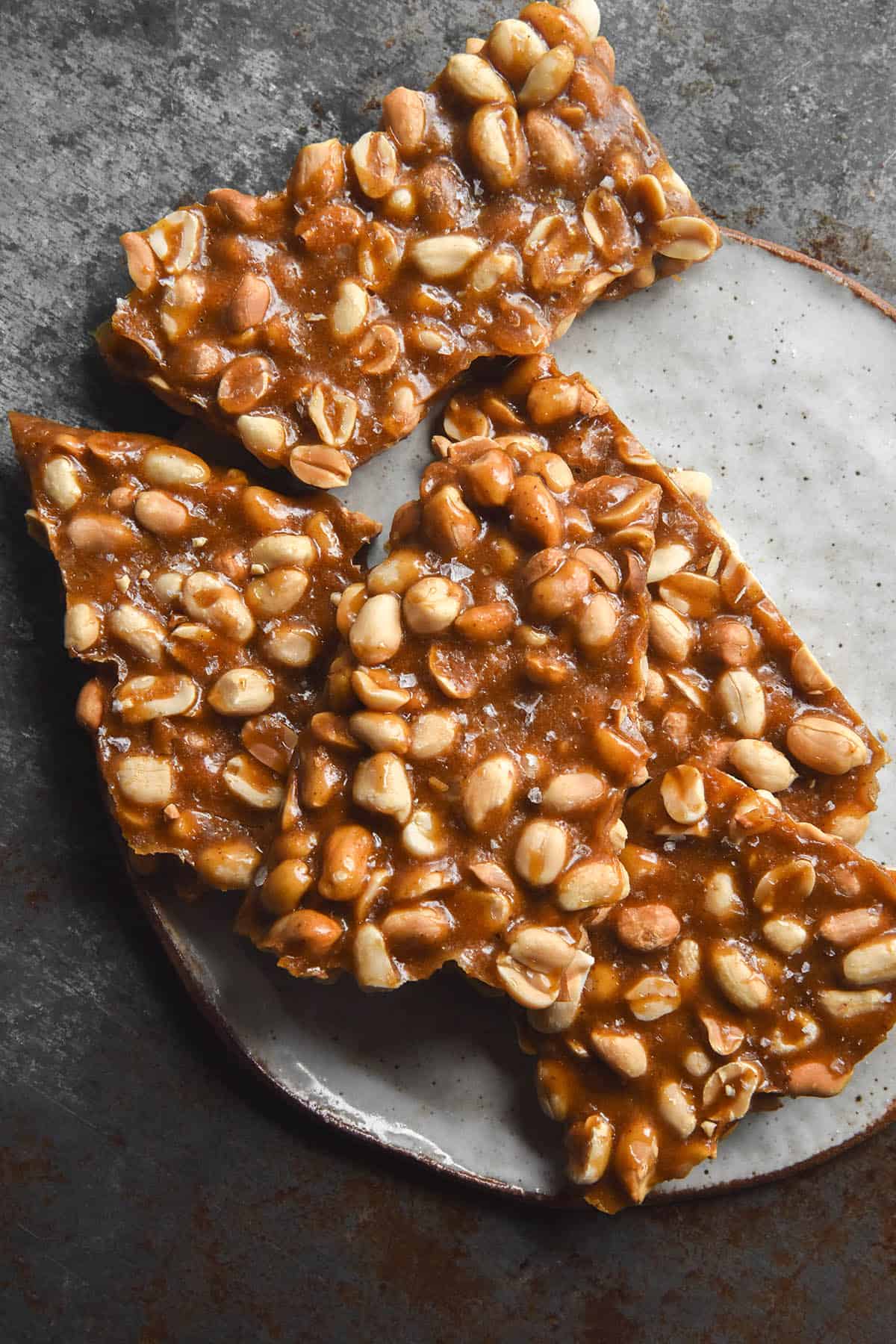 Cold water test
To make this nut brittle without corn syrup without a thermometer, we need a bowl of iced water and a spoon. As the caramel cooks, intermittently drop a small amount of caramel into the ice water. Hard crack stage is when the caramel (surprise surprise) hardens and cracks immediately as it enters the water. It will likely form spindly, brittle threads as it drops down. This indicates the caramel is roughly at hard crack stage, which means we are ready to proceed to adding the baking soda.
This article from Spruce Eats has an incredibly handy chart that identifies the stage and approximate temperature for different results of the cold water test. I'd recommend having a read if you plan to make this brittle without a thermometer.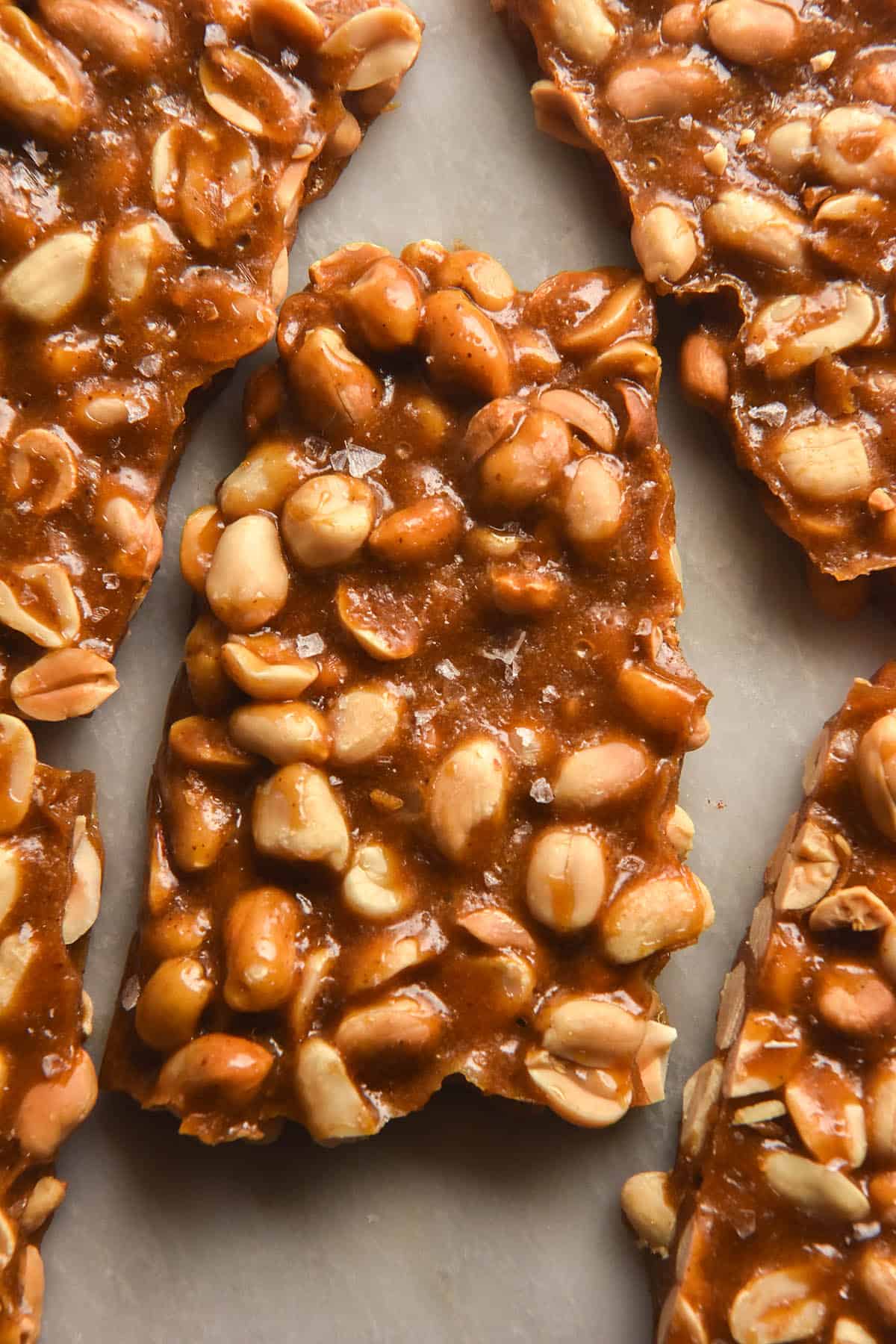 More festive dessert recipes
Brown butter nut brittle without corn syrup
Australian cups and teaspoons are specified, use gram weights for international accuracy
Ingredients
100g

salted butter

300g

nuts of choice, ideally roasted

220g

(1 cup)

light brown sugar

1/4

cup (60ml)

maple syrup

see notes

1/4

cup (60ml)

rice malt syrup

see notes

1/2

tsp

fine salt

1

tsp

vanilla bean paste

2.5g

( 1 tsp)

baking soda
Instructions
Preheat the oven to 170C/338F. Place the nuts on a baking sheet and into the oven. The aim is to roast them, but also to keep them hot. Cold nuts will cause the brittle to seize up if you add them to the hot caramel, which is why we want them to be warm. If your nuts are already roasted or getting too brown, turn the oven right down or cover them with foil.

Place the butter in a dutch oven or large heavy bottomed pan over a low, even heat. Cook the butter until it is golden, nutty and brown, 3-5 minutes.

Add the remaining ingredients and stir to combine. The mixture should gradually begin to bubble up and keep an even keel of bubbles for the remainder of the cooking time. Stir intermittently using a spatula to keep the sugar moving.

Cook the mixture for 10-15 minutes or until a thermometer reaches 149C/300F. The mixture should be caramel in colour and not darkened. Watch it very carefully in the last 5-7 minutes of cooking, as it can progress from undercooked to burnt very quickly. It should absolutely not smell burnt – get it off the minute you smell burnt sugar.

Sprinkle over the baking soda and stir to combine. The mixture should begin to bubble up like honeycomb. Add the hot nuts and stir to combine, before quickly (and VERY carefully) pouring the mixture onto a baking sheet. I find there's no need to grease or line the tray as the caramel sets and can be pulled away from the tray, but you can if you prefer.

Allow the brittle to harden and set for up to 1 hour until it snaps easily. Store in an airtight container on the bench.
Notes
I like the sweetness and stability of half rice malt syrup and half maple syrup. For me personally, it's the perfect level of sweetness. You can also use all rice malt syrup (1/2 cup or 125ml) or all maple syrup. 
See the body of the post for making this nut brittle without a thermometer.
You can use any nuts you like for this brittle. I really enjoy peanuts.
For an added bonus, you can add some peanut butter or nut butter of choice to your brittle. Think of it like a butterfinger crossed with nut brittle.