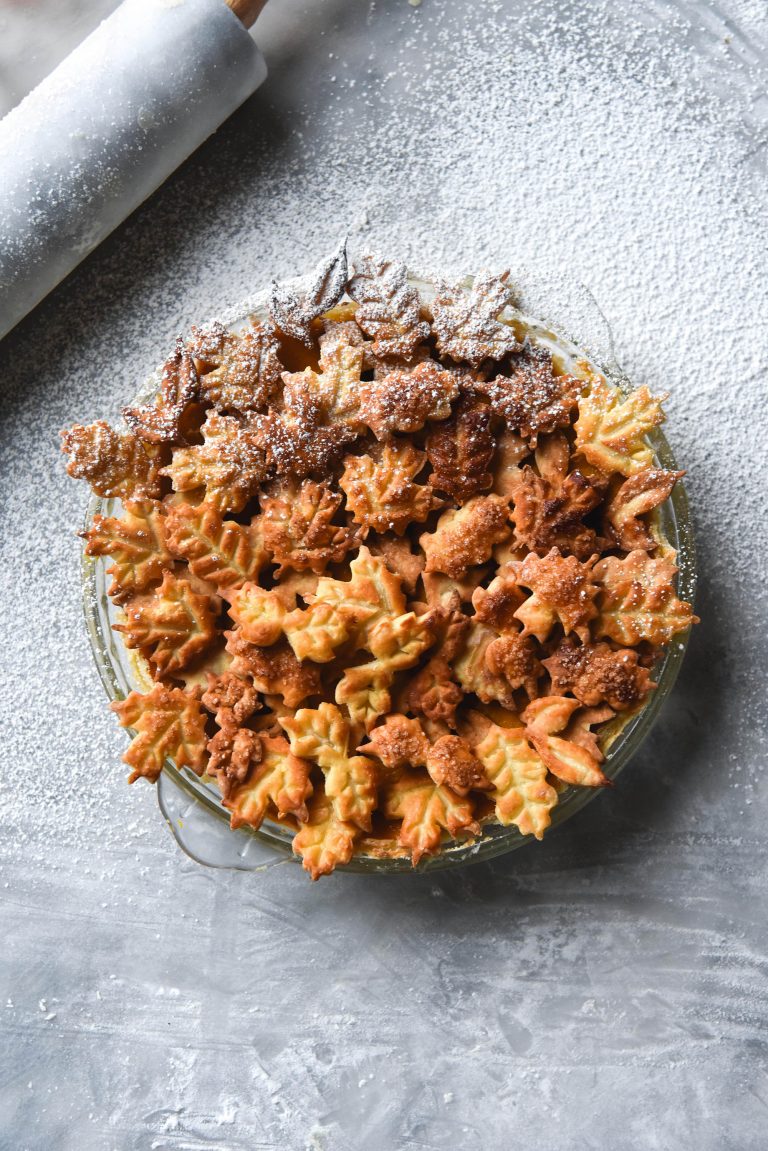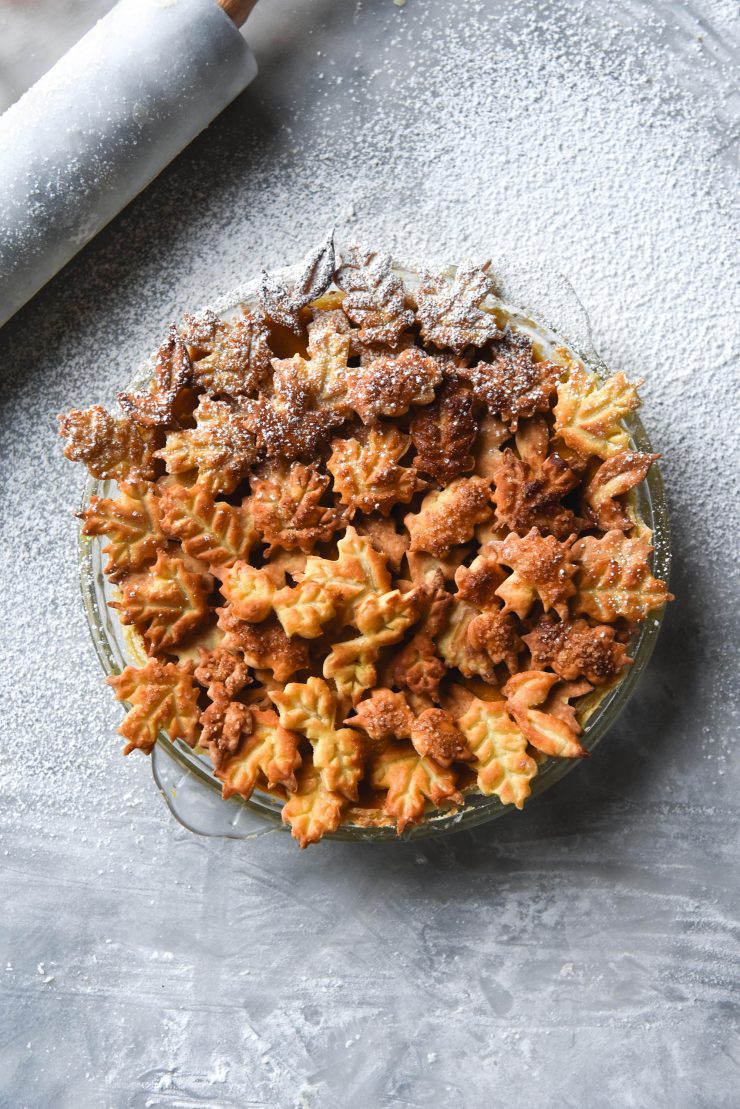 There are a few Everests in the gluten free baking world – cinnamon rolls, sourdough, croissants and pastry. Today we're tackling pastry – specifically, easy gluten-free pastry. It uses an easy to find combination of flours to create a foolproof, flaky and all round delicious gluten free experience.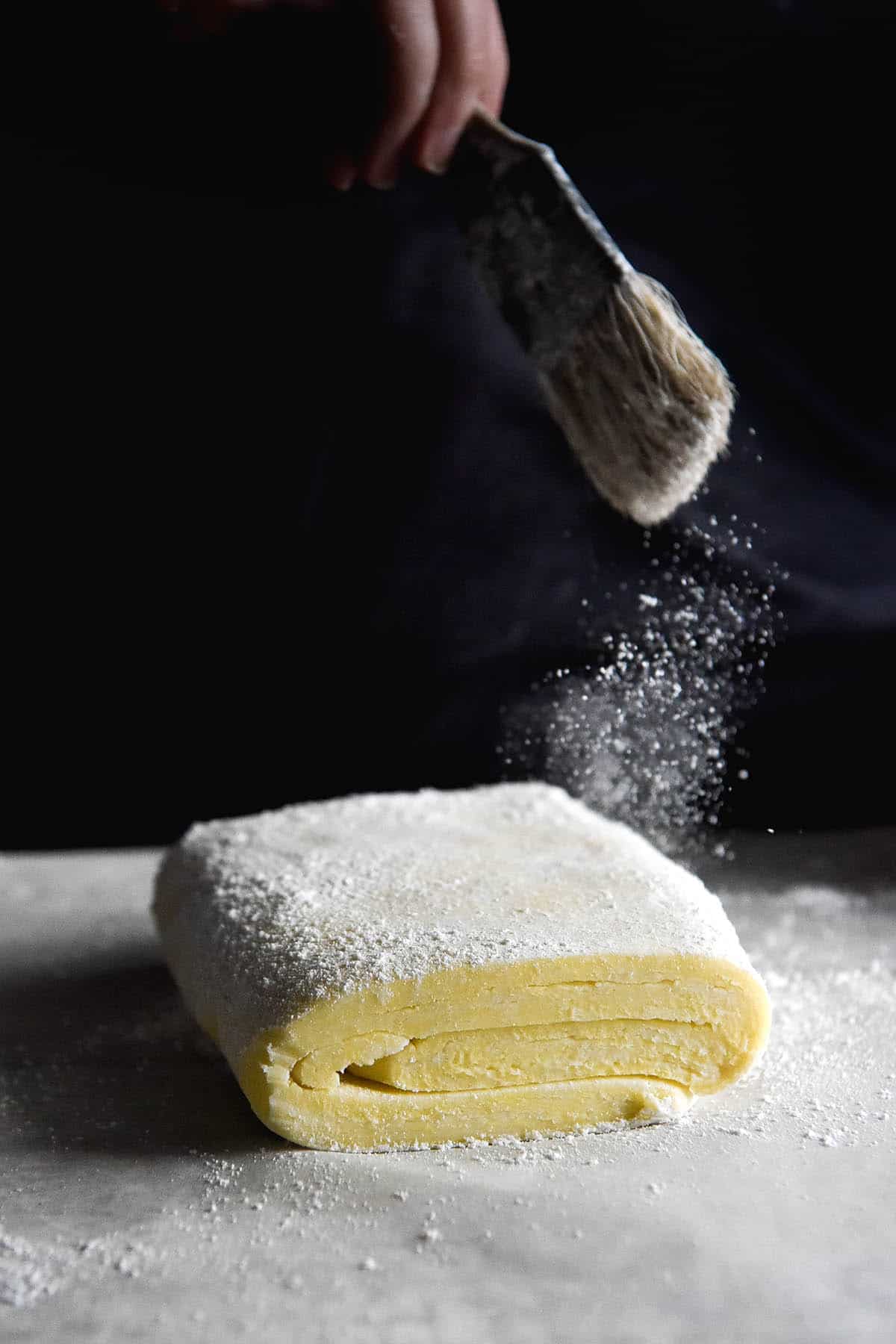 Easy gluten-free pastry recipe
This easy, buttery and delicious pastry is made from a simple mix of rice flour and tapioca flour. Butter and sour cream provide the rich mouthfeel and moisture, while ice water brings the dough together.
This pastry is obviously gluten free, but also nut free and FODMAP friendly (in measured serves, as we'll discuss). You can make it for same day use, keep it in the fridge overnight, or cover it and freeze it for future pastry needs. Consider it an intolerance/allergy friendly version of the packet pastry from the shops.
Sweet applications for your gluten free pastry
Pumpkin pie. A festive treat with a delicious pumpkin custard filling, this pastry was originally developed for my pumpkin pie recipe. You could also use the pastry to make a fruit pie, if that's your preference.
If you'd like to decorate the top, I recommend making two batches of pastry. You could most likely make a double batch and then just divide the pastry into two. This will prevent it becoming unwieldy and the butter melting.
For leftover pastry scraps: roll them out and sprinkle them with light brown sugar and cinnamon. Roll them up as you could a cinnamon scroll and bake until crispy and golden.
This pastry would also be suitable for a lemon/lime curd tart (my lime curd tart recipe is here) or a custard tart. So many options!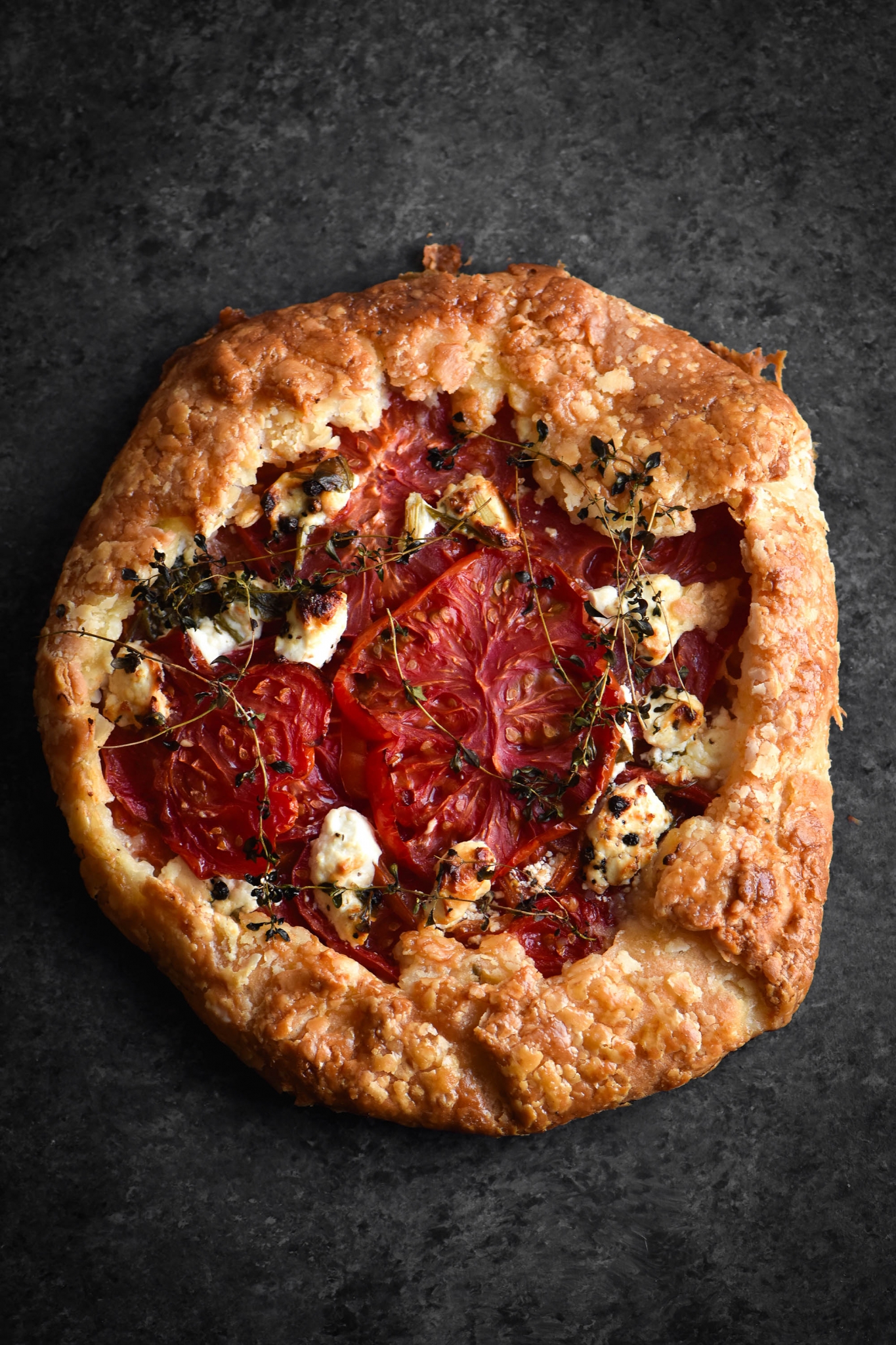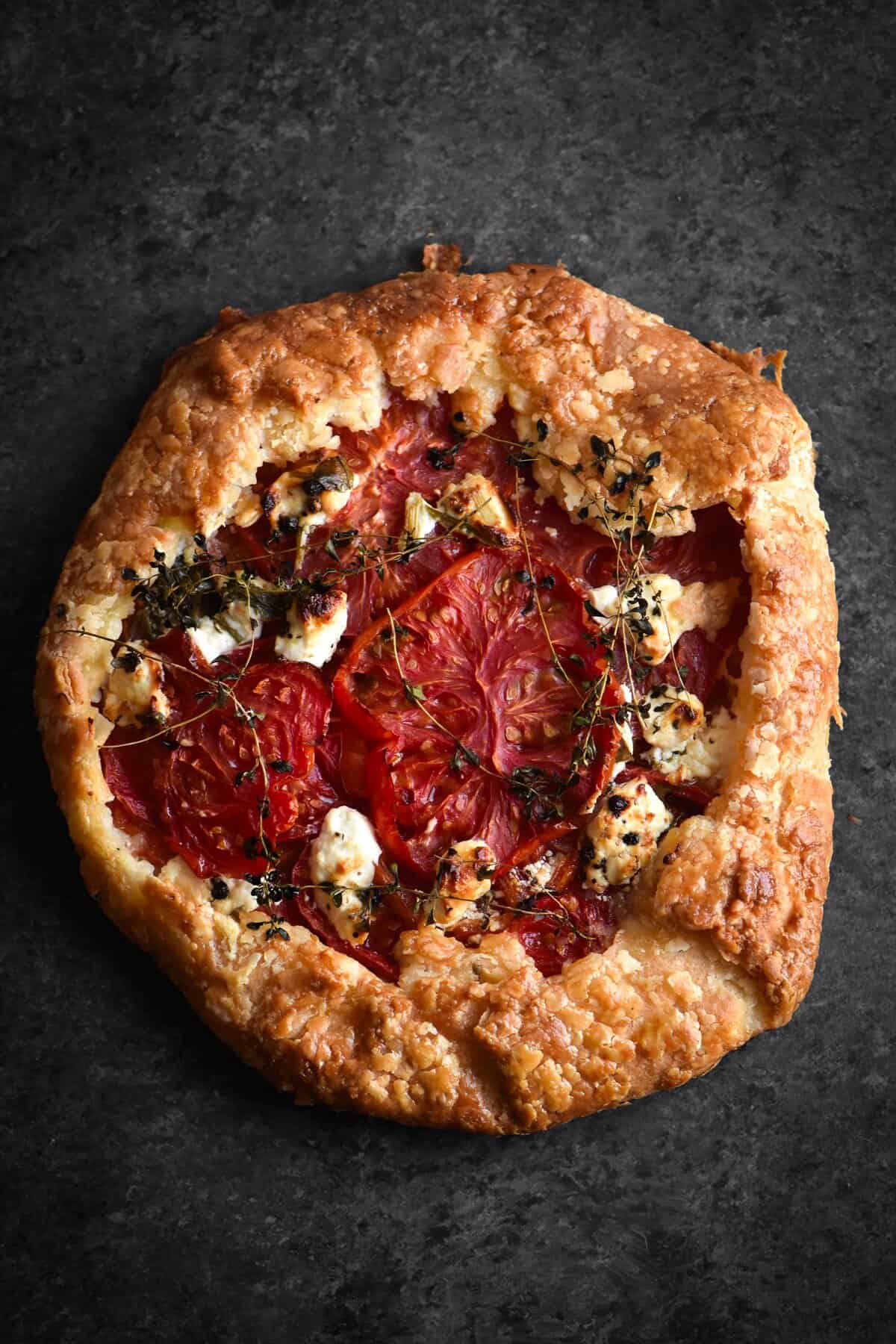 Savoury applications for your gluten free pastry
A tomato, pesto and pecorino tart. Alternatively, choose whatever filling is in season! Whatever you like!
I have also used the savoury version of this pastry to make a brie and cranberry wreath. 
Use the pastry to make a galette.
Make a hearty vegetable pie with seasonable roast vegetables. For a pastry base and a lid, I'd recommend 1 1/2 -2 batches of pastry.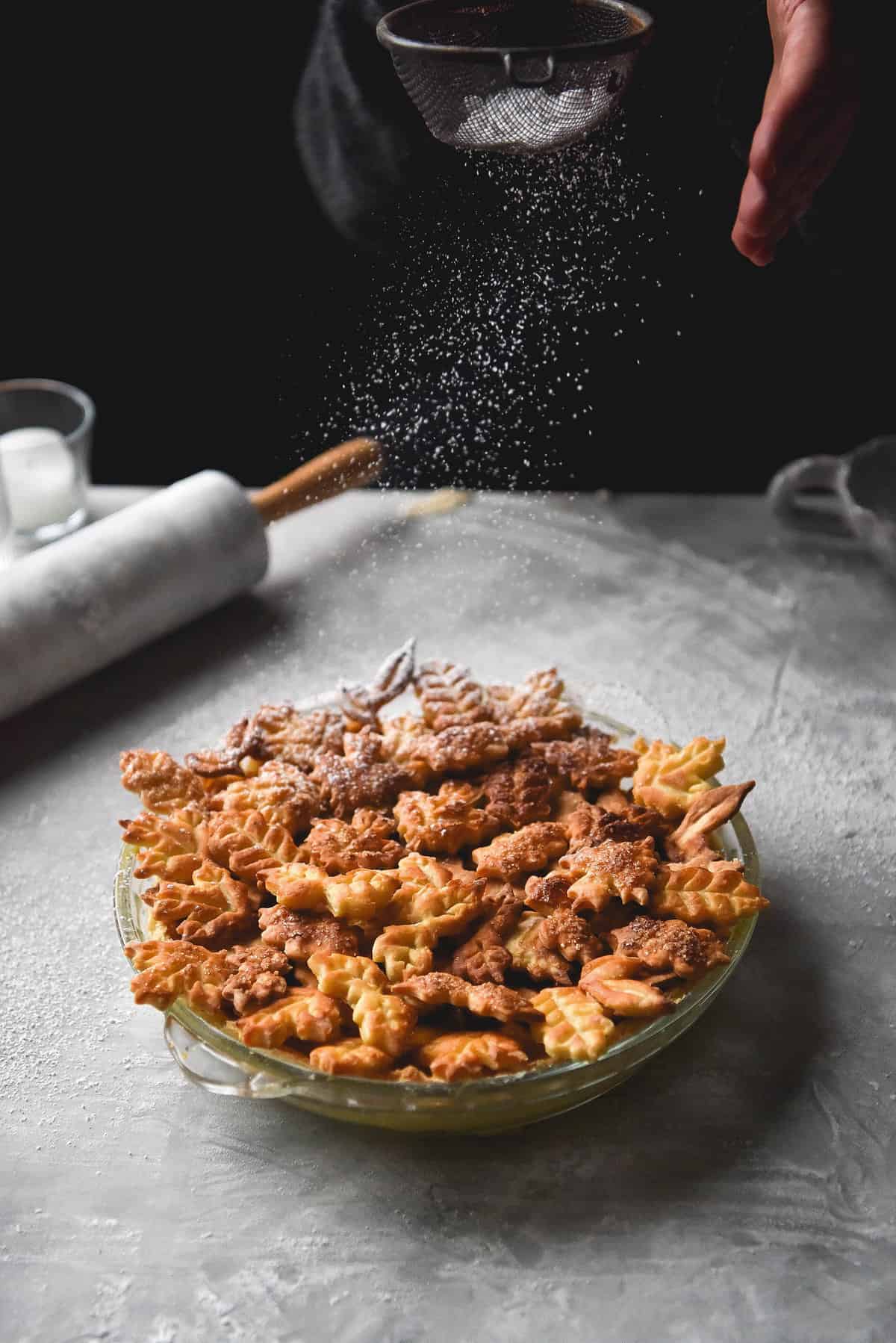 Easy gluten-free pastry ingredients
This gluten free pastry recipe is made from scratch. It uses two flours that are available at the supermarket – white rice flour and tapioca flour. Both flour serves a distinct purpose in this recipe. White rice flour is the workhorse – a mild tasting, reliable wholegrain flour that is the backbone of the pastry. Tapioca flour provides lightness and a bit of elasticity to the pastry. If you'd like more information on the flours, see my guide to gluten free flour for more.
Sour cream
Our magic ingredient is of course sour cream. Preferably full fat, maybe lactose free. Firstly, let me start by saying that you need only buy lactose free sour cream if you have a lactose intolerance. Divided between 8-10 slices of pie, 100g of lactose should be doable for most people. Monash FODMAP app says that 1 serve (40g) of full fat cream gets the green light, so approximately 10g per serve is negligible. You can, if you must, use lactose free sour cream, although in Australia we only seem to have a 'light' variety. Because there's more liquid vs fat in light version, the pastry won't be nearly as rich and flaky.
The sour cream in this recipe replaces the traditionally used ice water in pastry making. It prevents the dreaded crumbly, dry and choke-worthy pastry result, while also making the dough more supple and easy to work with. It provides a real richness to the pastry that compensates for the 'gluten-free-ness' of the recipe.
Xanthan gum
This recipe was originally developed without xanthan gum, so I can attest to the fact that it works either way. While it is a lot harder to work with without xanthan gum, it's certainly not impossible.
As you know, I don't advocate for xanthan gum when it's not truly necessary. I do believe, however, that pastry is one of those instances that xanthan is incredibly helpful.
Are there specific times I would recommend xanthan gum for pastry? Why yes, thanks for asking. Firstly, I'd recommend it if the weather where you live is particularly warm or humid. Because xanthan gives the pastry elasticity, you'll be able to roll it out much faster. This is important because we don't want the butter in the pastry to melt – it's what gives pastry flaky layers.
Secondly, I'd recommend using xanthan gum if you plan to cut out intricate shapes or do lattice work. It will make your life so much easier, I cannot even tell you.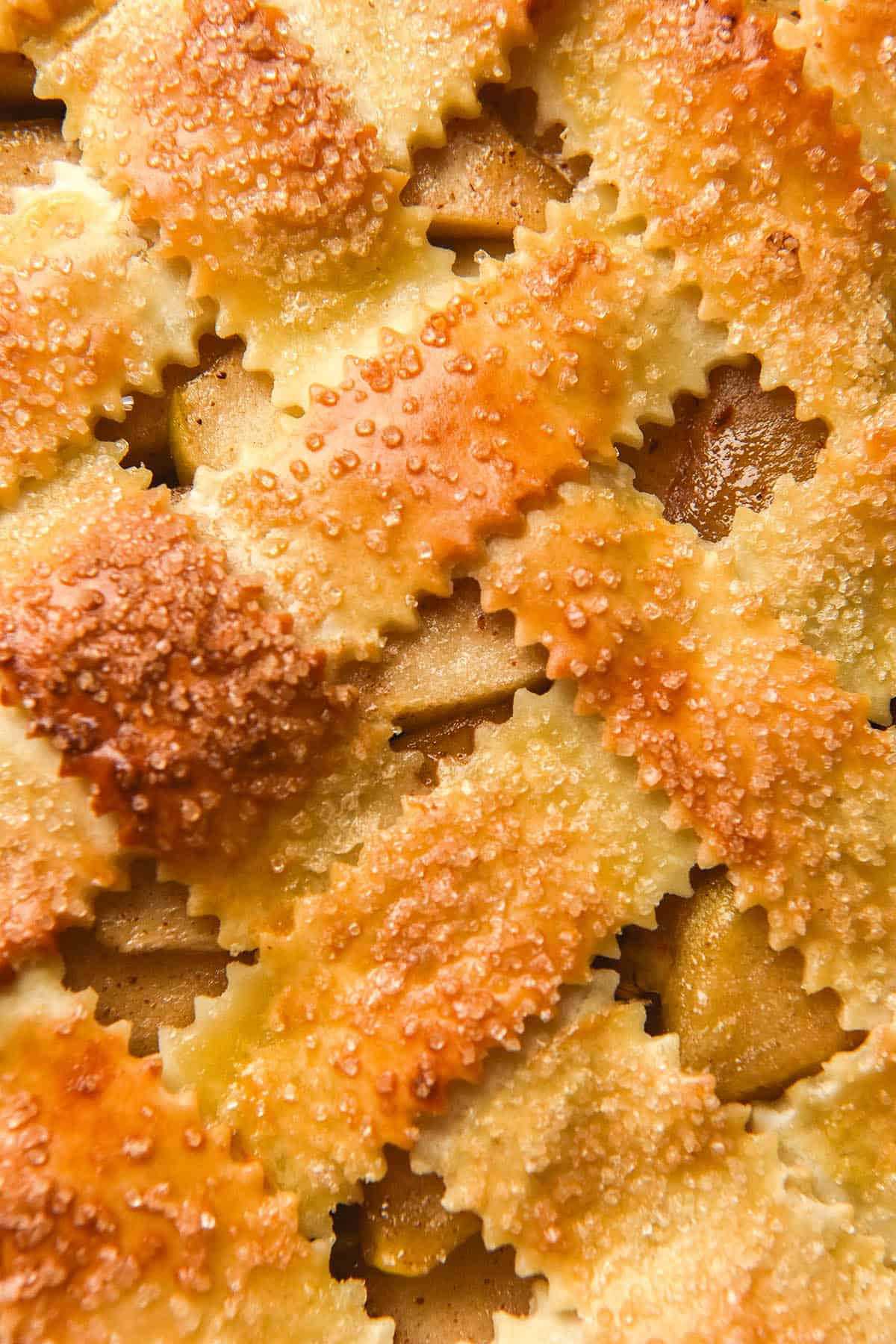 Which gluten free flours can I use in this pastry?
This gluten free pastry recipe has a little bit of flexibility in the flours you use, particularly the wholegrain ones. The original version called for tapioca and glutinous rice flour, although I have discovered that you can just use tapioca flour to simplify the ingredients.
In terms of wholegrain choices, I have successfully used white rice flour, brown rice flour and white sorghum flour. These tend to be the plainest in flavour of the wholegrains. They're also quite predictable in their function and liquid absorption.
If you would like to use a different gluten free wholegrain (millet, buckwheat, teff etc) I would recommend using half and half. That is to say, half rice flour and and half your wholegrain flour of choice. We want your easy gluten-free butter pastry to be as successful as possible, and this will help ensure that. Of course, feel free to experiment if that's your thing.
I will also experiment in due course, and update this post with any combinations I find that work well. At the moment I'm enjoying adding 10g or so of buckwheat flour to baked goods – I think it has a nice stretchy quality when added in small doses.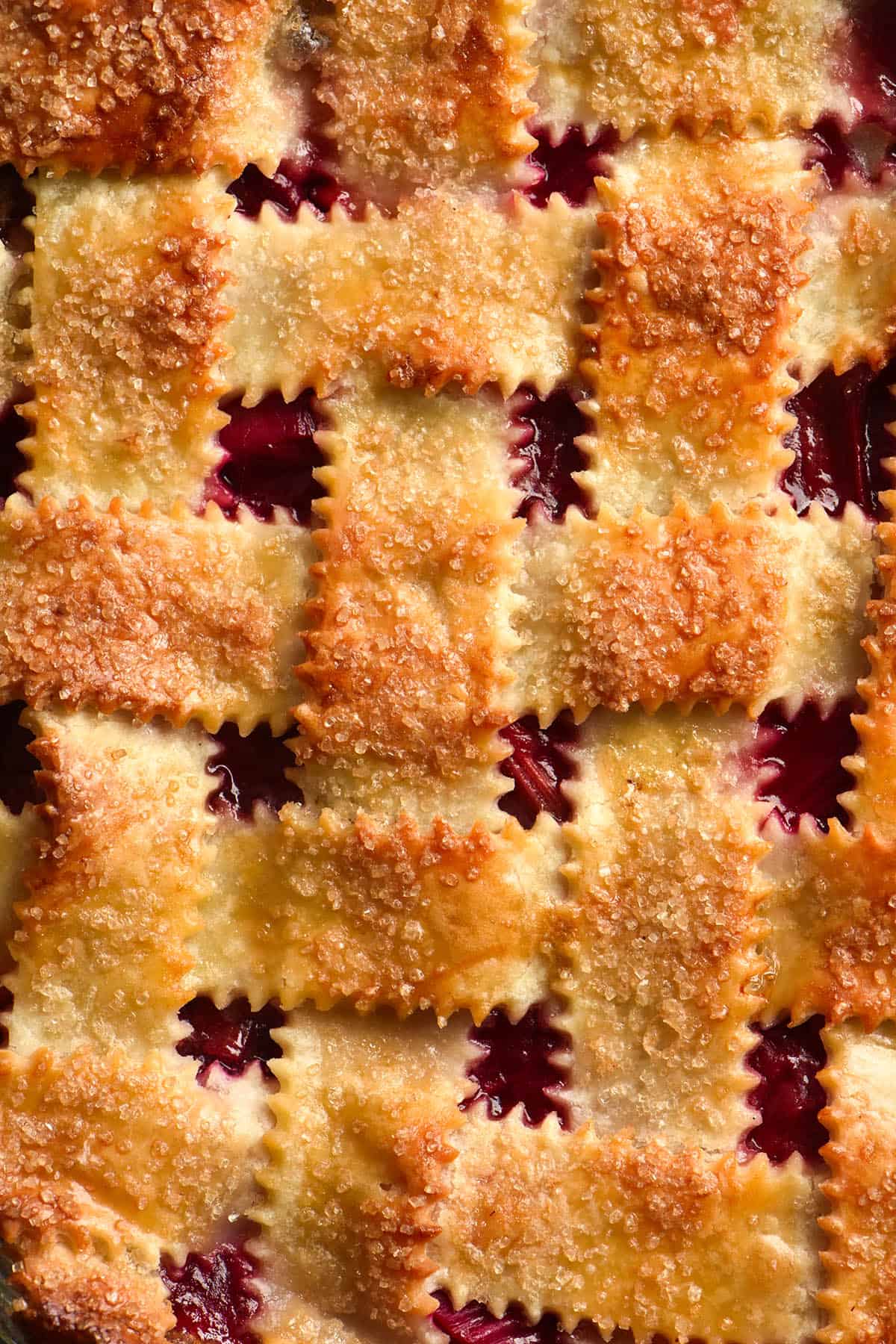 Important tips for gluten free pastry success
Always use cold butter (and cold sour cream, in this case). If the butter melts, so too do your chances of a flaky pastry. I recommend cutting the weighed butter into small cubes and freezing for 15-20 minutes. If the butter was at room temperature beforehand, you might need to freeze for longer.
On the note of sour cream – PLEASE use full fat. It is a lower water content than low fat, so it moistens and elasticises the pastry without making it soggy. 
I haven't tried this pastry with vegan alternatives, so I have no suggestions. One day!
I have used both brown rice flour and white rice flour in the pastry with great results. You could also try sorghum or millet. I'm hesitant to recommend buckwheat – I think you would need to mix it with another flour to mellow the taste and the affect on hydration.
If you want to experiment with gluten free flours, keep the starches the same (50g total per batch) and use 2 different flours to make up the remaining content. Let me know how it goes!
If you're cutting out pastry shapes and plan to re-roll it, don't just scrunch all the leftover pieces up in a ball. Where possible, fold the pieces on top of each other or stack them up before rolling out. This will prevent you squashing up all the butter layers you incorporated by rubbing the butter in. 
Should I laminate my gluten free pastry?
For our purposes, laminating this dough involves 'turning' the existing dough to create layers of butter. Because this recipe doesn't involve a butter packet (beurrage) it would be considered rough puff pastry. It's flakier than shortcrust, but not quite as flaky (or traditionally made) as puff pastry.
If you're in a rush or not particularly interested in super flaky pastry, there's no need to laminate the dough. The tomato tart, pumpkin pie and cranberry wreath were all made without laminating the dough. It will still come out flaky, buttery and delicious.
However, if you're interested in learning a little about basic lamination (basic because my lamination skills are basic) then read on. Working with a sour cream rough puff pastry (with xanthan gum) is honestly the perfect way to ease yourself into lamination.
The basics of laminating gluten free pastry
Take the pastry out of the fridge and allow it to warm up just enough so that it's pliable. If there is butter leaking out at any point, place it in the fridge or freezer until it hardens again.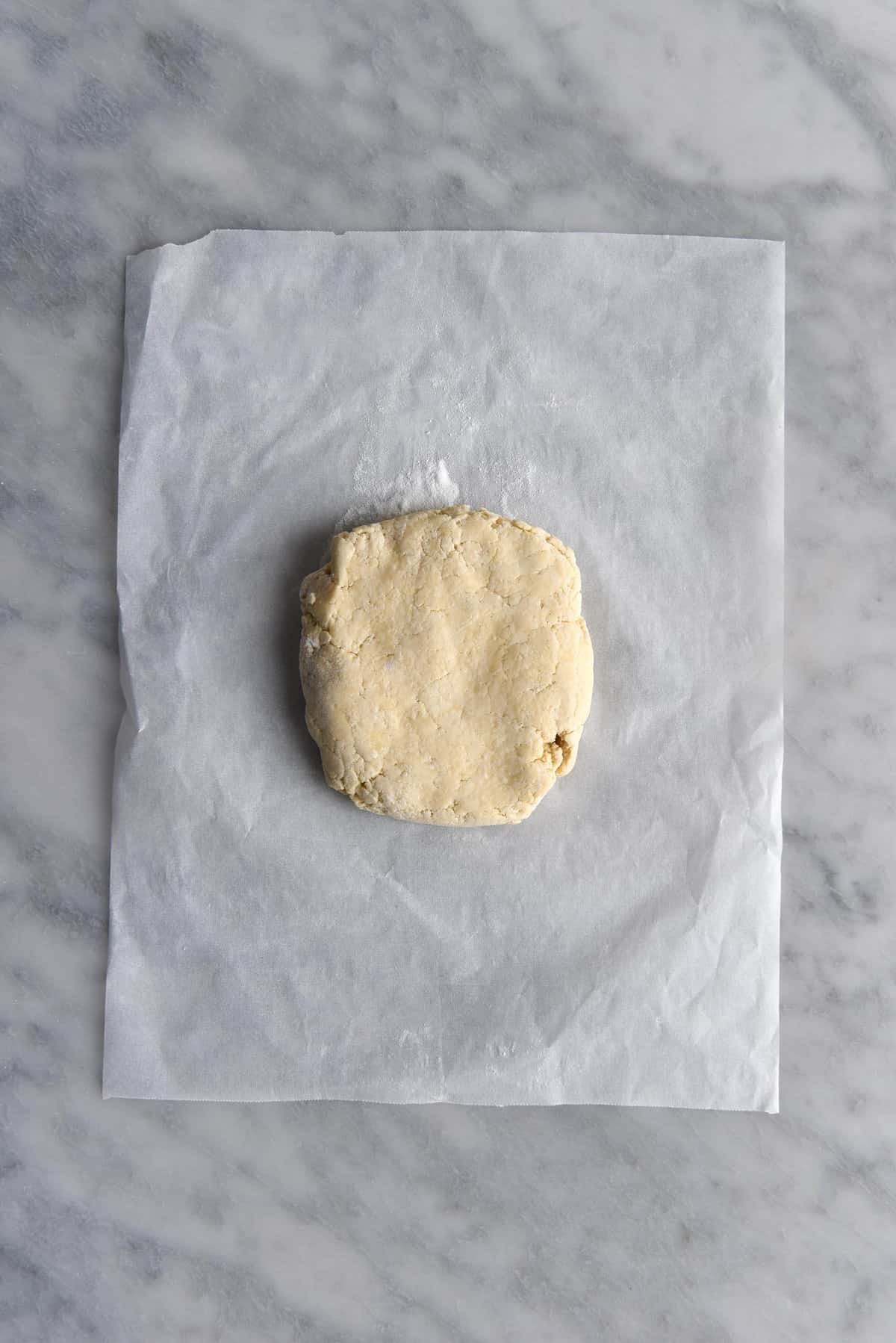 Place the pastry on a floured sheet of baking paper, skinny side facing you. Use your rolling pin to lightly press down on the pastry.
Using smooth, full movements (not see-sawing back and forth) roll the pastry into a long rectangle of even width. It should be around 40cm, but I don't worry much too much about the length. It's ok if the pastry is uneven and a little craggy. It's also OK if it cracks, just patch it up lightly with your hands.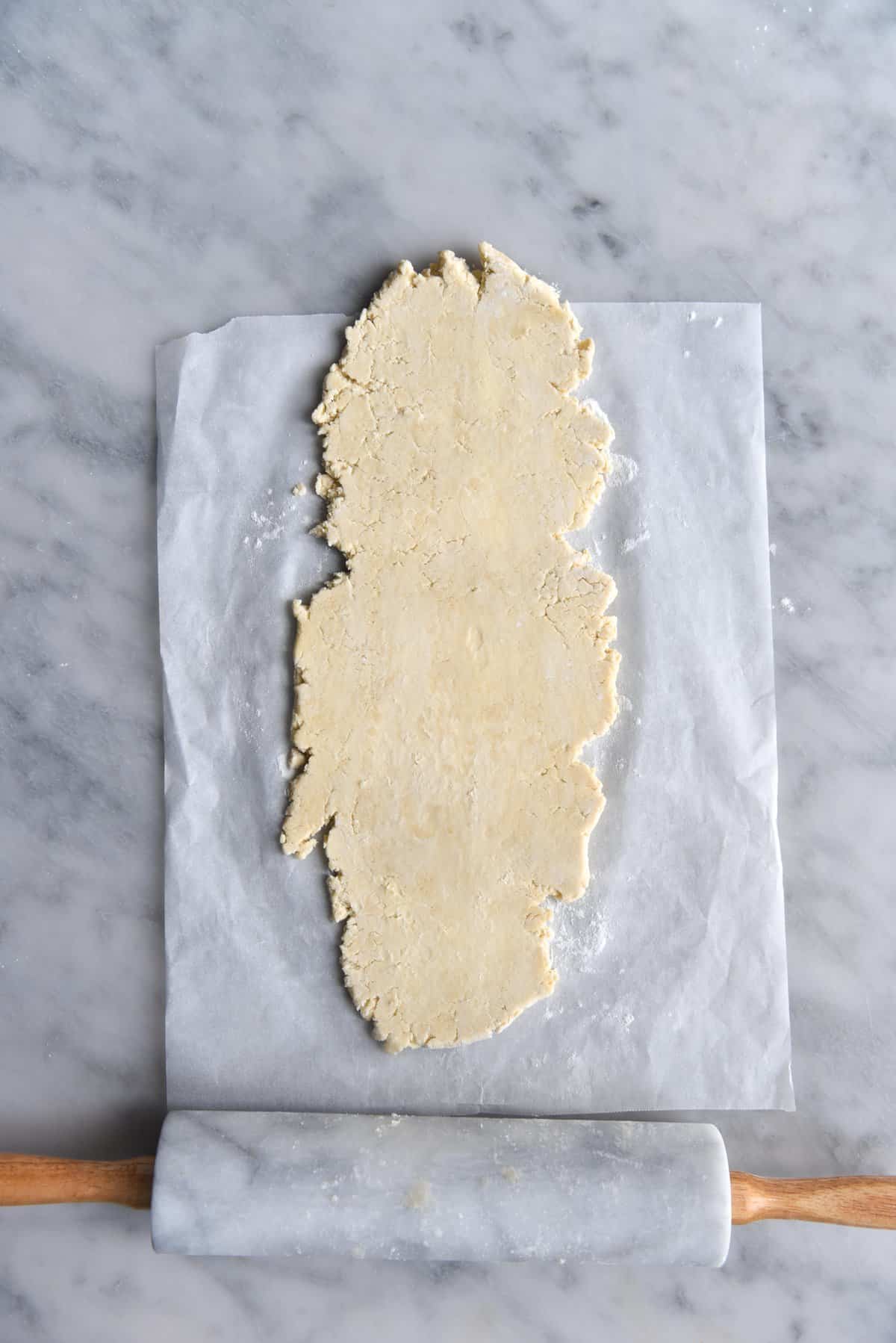 Fold the bottom third of the pastry up into the middle. Brush any excess flour off the bottom. Fold the top third onto the bottom third, brush off the flour and use your hands to gently secure. Lift the pastry up to check that it hasn't stuck. Turn it so that the skinny side is facing you again. Repeat this process. Once you have repeated this, you have completed 2 turns.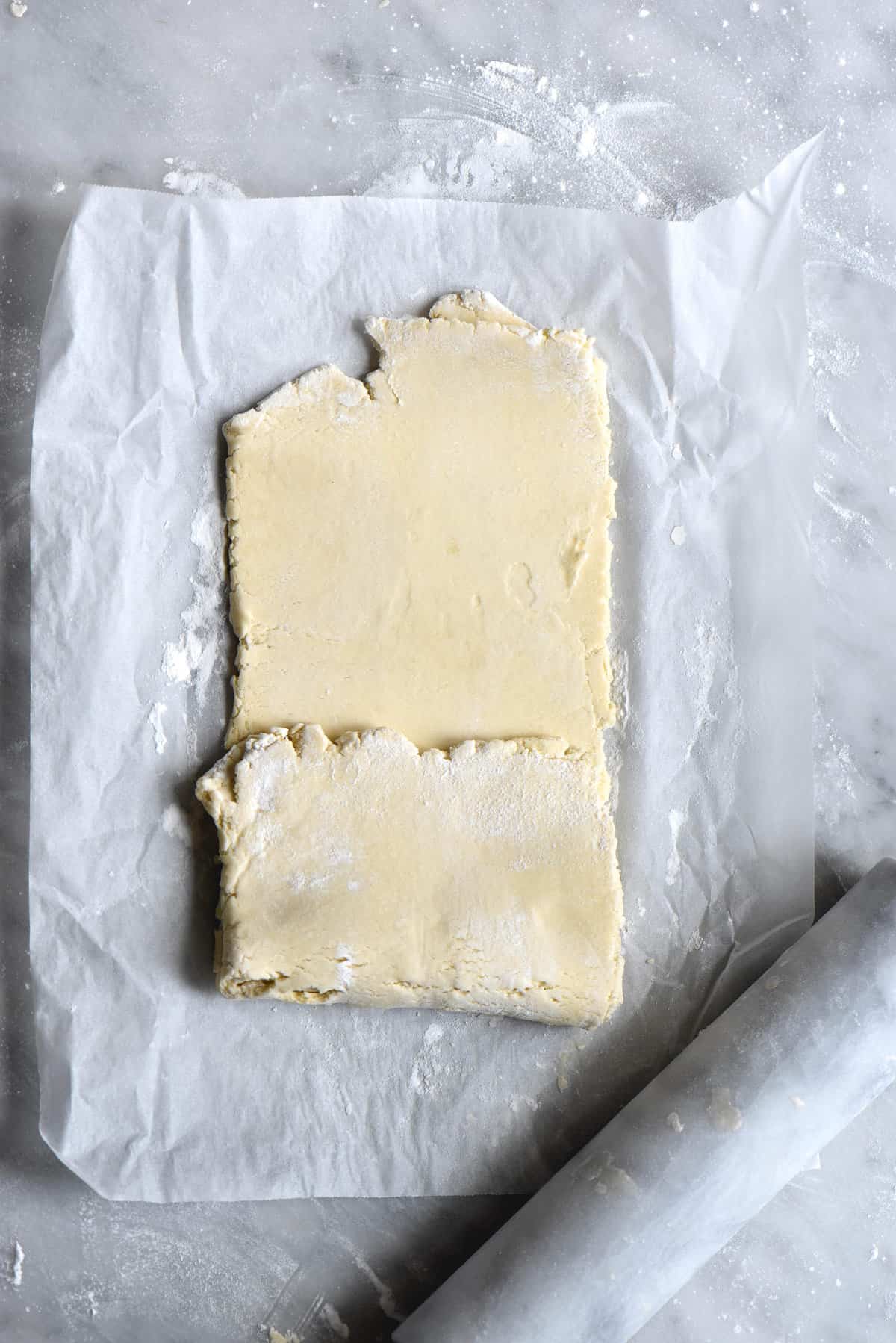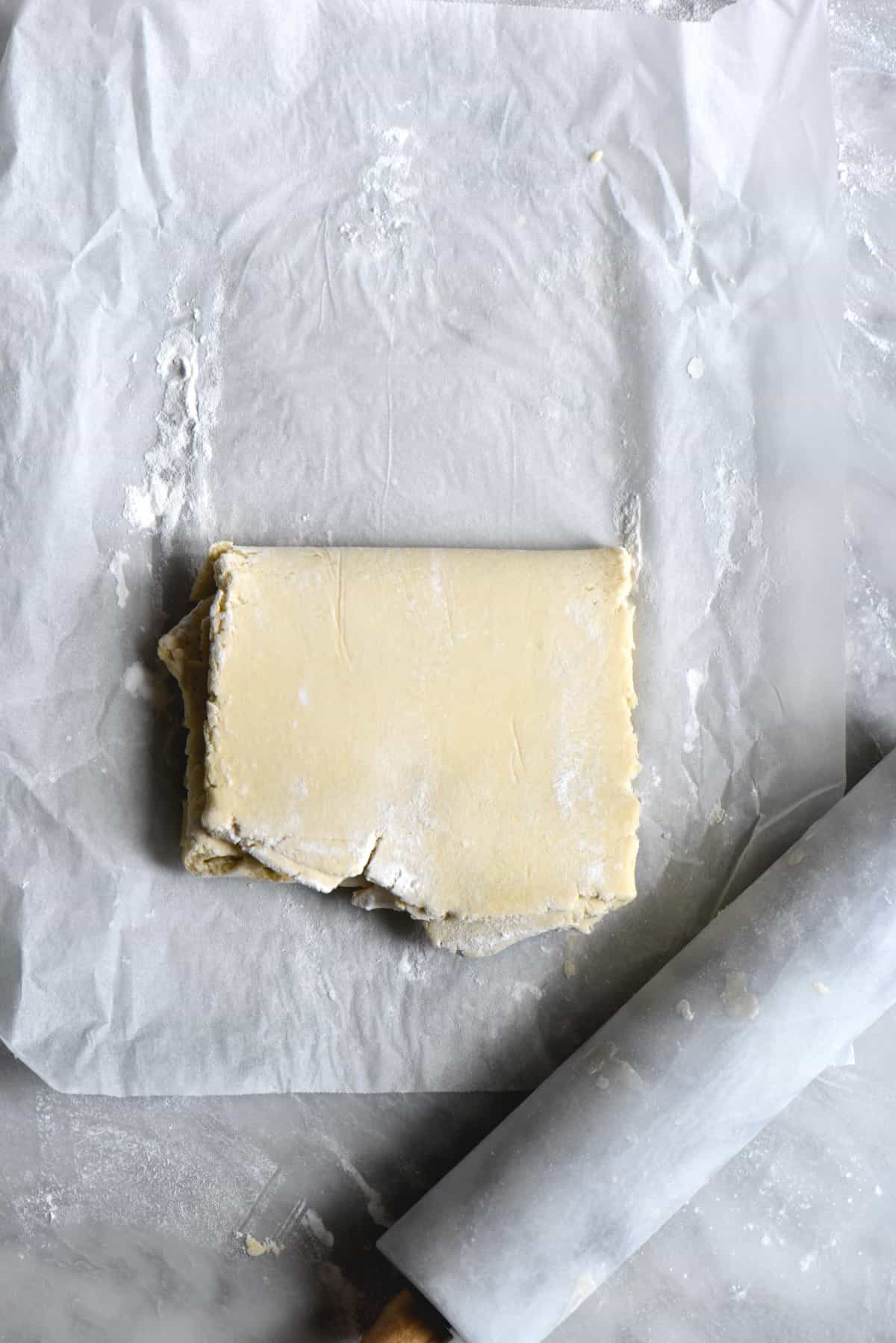 Wrap the pastry up again and place in the fridge for 30 minutes to an hour. If it's hot where you are, make it an hour.
Repeat the process of doing two turns of the pastry. Once you have completed 4 turns, place the pastry back in it's wrapping in the fridge.
Allow it to cool for 30 minutes or so before rolling it out to use. For the tart, roll the pastry out to a significantly wider width than your fluted tart tin.
Lower the sheet of pastry into your tart tin without stretching it.
Use your hand to gently adhere the pastry to the sides of tart tin. Prick the bottom of the pastry with a fork and return it to the fridge.
From here, you can blind bake the pastry, or fill it and bake as is.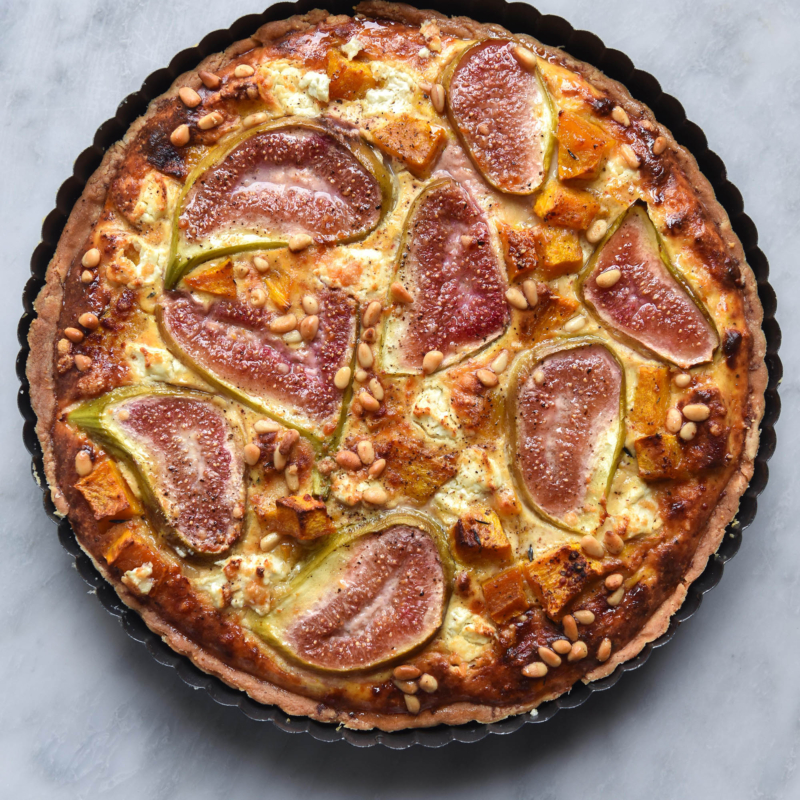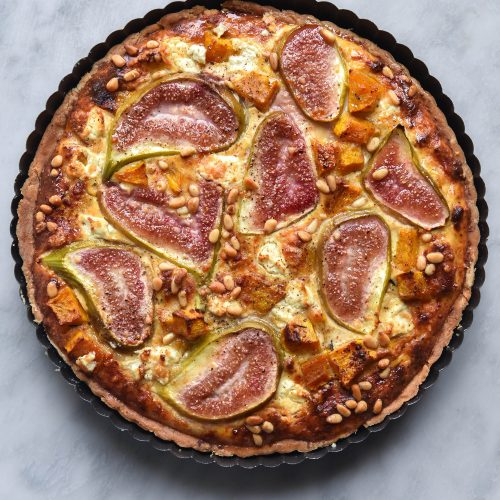 Gluten free flaky pastry
Nut free, gluten free
Makes enough for 1 large pie or tart with some ornamental pastry toppings
Ingredients
For the flaky pastry:
160

g

(1 cup) white or brown rice flour (see flour notes for alternatives)

60

g

(1/2 cup) tapioca flour

1

teaspoon

xanthan gum

125

g

good quality butter

cubed and chilled

75

g

full fat sour cream

chilled

Ice water

only as necessary
For a sweet or savoury pastry:
1

teaspoon

fine salt for a savoury option OR

40-60

g

2-3 tablespoons of caster sugar or icing sugar for a sweet option
Instructions
Start by ensuring that all your liquid ingredients are super cold. Put the butter and sour cream in the freezer, and put ice in your water ahead of using it.

Mix the flours, xanthan gum and salt together in a large mixing bowl. Add the cubes of cold butter and coat them with the flour mix. Use your fingertips to gently rub the butter into the flour mixture. At first it might be slow and difficult if the butter is very cold, but gradually you'll warm it with the heat of your hands and it will start to be more flexible. You don't want to completely melt the butter – just rub it into the flour in little sheets. This is what makes the pastry puffy and flaky. Think of the hand motion as being the same as the one you make to signal someone is rich.

Once the butter has been rubbed into the flour mixture, it should have visible butter chunks but look dry on the whole.

Add the sour cream in dollops and use a spoon or your hard to incorporate it. It will get a little messy.

Once most of the sour cream has been incorporated, use your hands to gently bring the dough together without smushing the butter bits.

Add the ice water, a tablespoon at a time. Use your hands to bring the dough together between each teaspoon, and stop as soon as the dough is smooth. I've found this dough can take anywhere from 3 1/2 – 5 tablespoons of water. Yours might be different, but go by feel and stop as soon as it forms a ball with no dry flour bits.

Tightly wrap the dough in a beeswax wrap or cling film and place in the fridge for 30 minutes to an hour. Your pastry is then ready to roll out and use!

You can freeze the pastry, well wrapped in an airtight container. Allow to come to temperature before attempting to roll out.