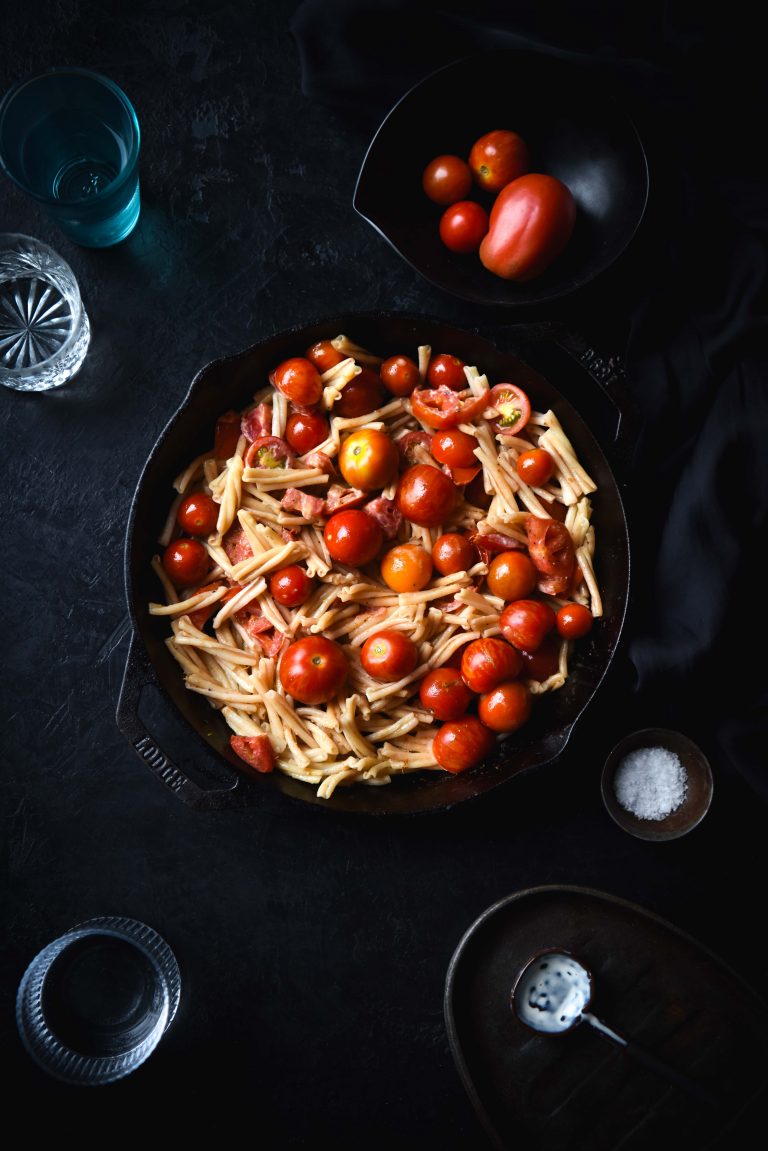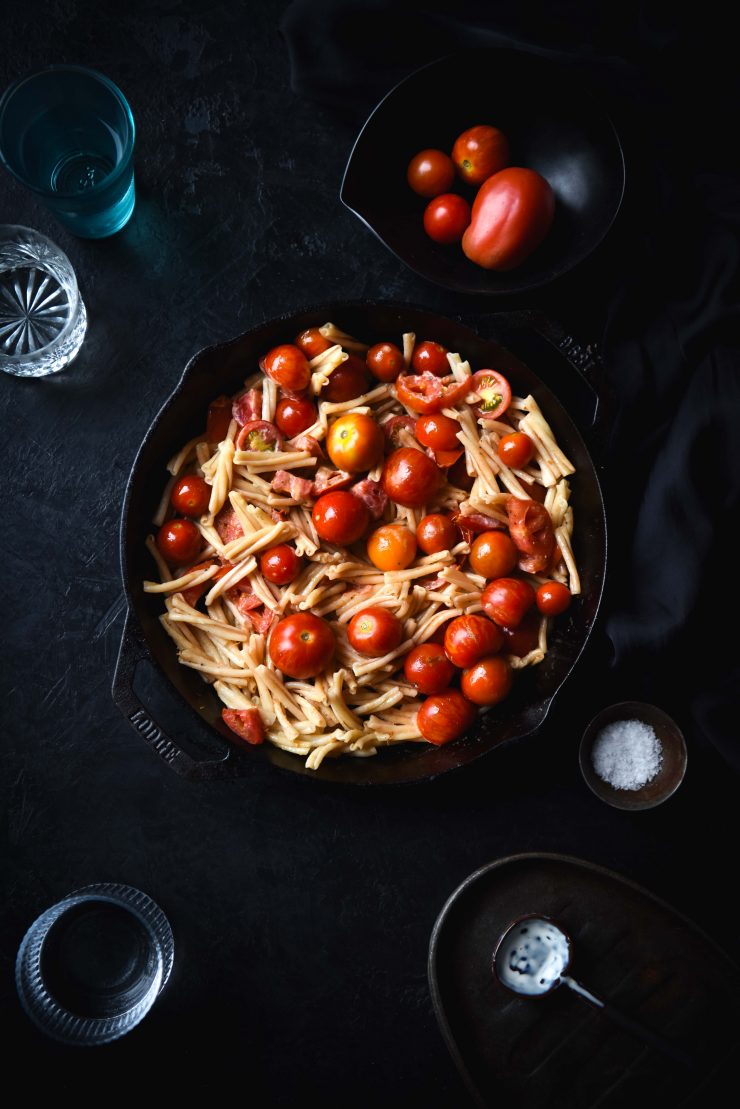 I have a well documented penchant for buying a frivolous amount of pretty tomatoes at the farmers market. Summer tomatoes, particularly in their rainbow form at my local farmers market, are my achilles heel. Last weekend, as always, I went particularly overboard on the tomato front. When I returned home, I had to ask myself: what will I do all these tomatoes? The answer: make this summer tomato, lemon and mascarpone pasta. It is a simple summer vegetarian dish that can be whipped up in 15 minutes.
The two aspects of this pasta sauce are so delicious together that they extend well beyond use in this recipe only. If it's winter where you are, add some roasted pumpkin and bitter greens. Don't like tomatoes? Use a summer vegetable you do like! The sauce will go perfectly with just about any vegetable – it's creamy yet sharp and zingy at the same time. It also accompanies any pasta shape you fancy, so you can mix it up as you see fit.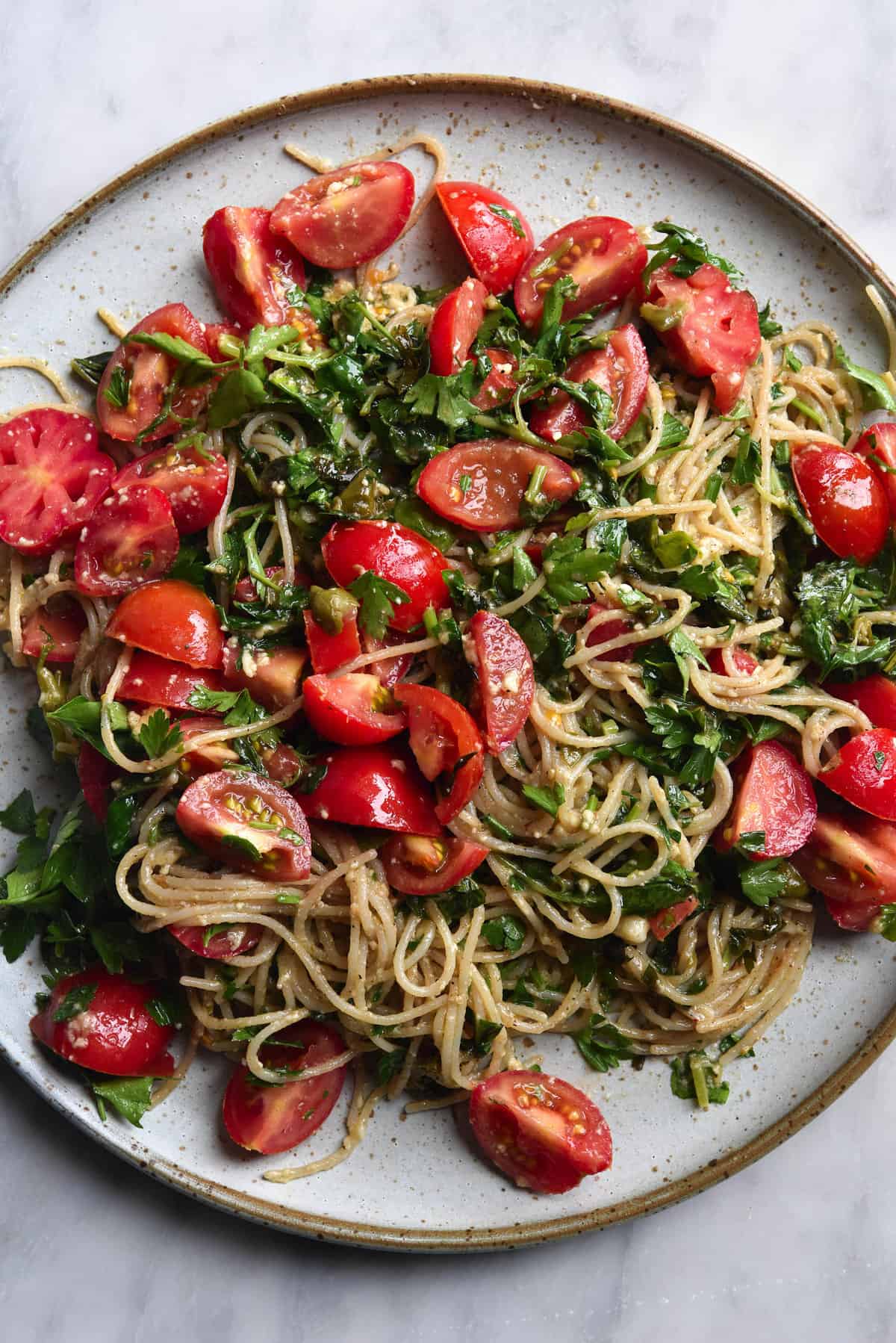 FODMAP notes for this pasta dish
Taking inspiration from the lactose free mascarpone in my gluten free tiramisu, I use lactose free cream to create a quick and easy lactose free mascarpone.
While the dish also includes a bit of freshly grated parmesan, this is a very low lactose cheese. You can omit this to keep the dish completely lactose free, but the lactose content for parmesan is negligible.
I use gluten free pasta for this recipe. My preferred brands are, as always, Green Olive Organics and Barilla. However, I ended up using Garofalo brand for this recipe because I liked the shape.
Cherry tomatoes have a higher FODMAP content than regular. They contain an intermediate level of fructans at 220g (around 26 cherry tomatoes) per serve per person. This pasta serves 4-6, so it shouldn't be an issue. However, I like to use some cherry tomatoes and some regular to lighten the load.
Common tomatoes, according to Monash, did not have FODMAPs detected in them. So basically it's a wise decision to use mostly common tomatoes if fructans are an issue for you.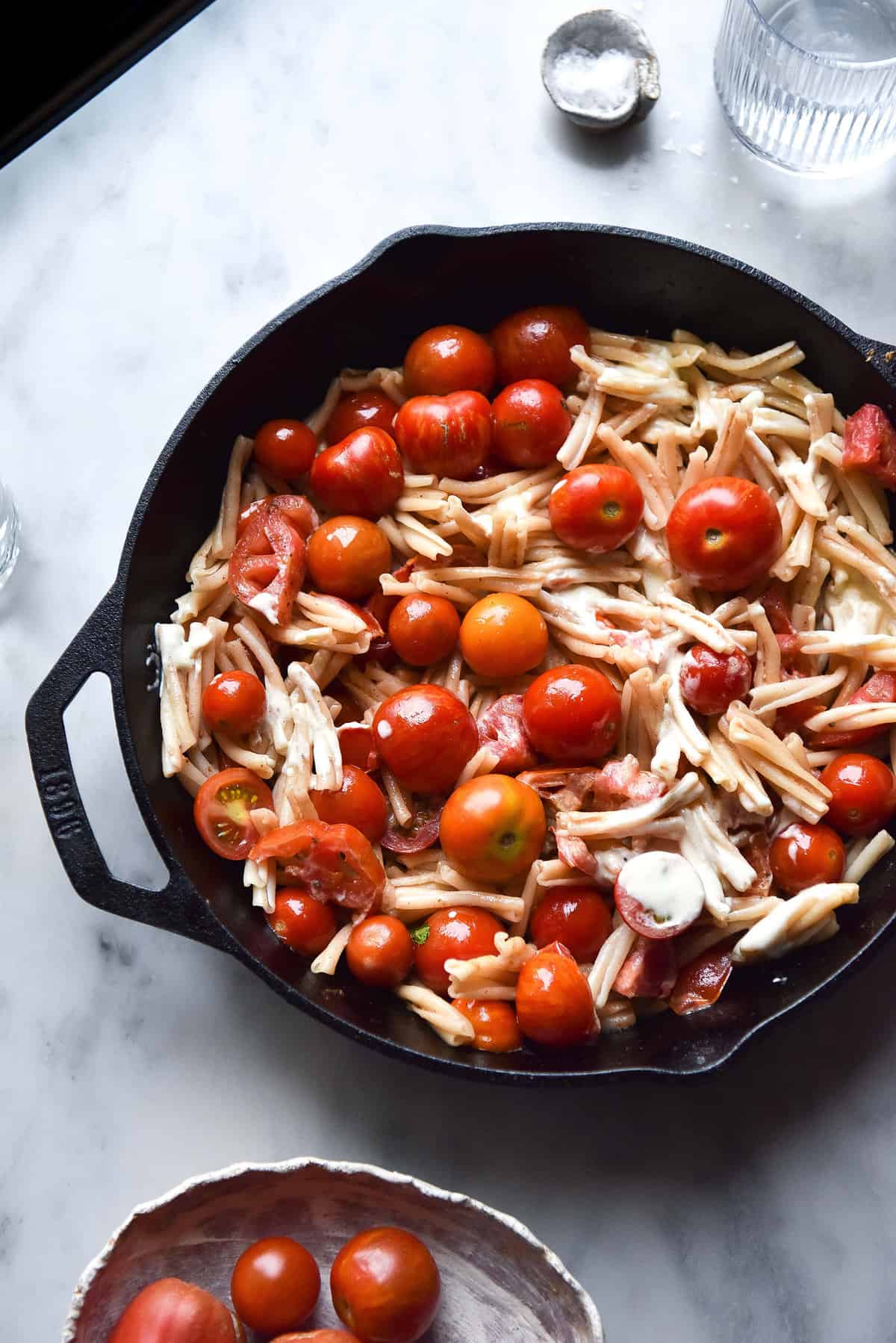 Recipe notes
This dish really needs beautiful summer tomatoes. Because they are the focus of the dish, it will make a huge impact on the final flavour. I HIGHLY recommend saving this dish for some farmers market tomatoes. If you're using winter or supermarket tomatoes, I recommend a roasted tomato pasta instead.
Cooking the pasta al dente is important here. The pasta will continue to cook for a tiny bit in the tomato sauce.
Draining the pasta will is another important step in this dish. Because the pasta sauce is 'moist' you will end up with soggy pasta if it's not properly drained. The pasta itself will absorb a lot of the tomato sauce, so cooking al dente and draining well work in tandem here to avoid your pasta breaking down.
I like to have all different sized pieces of tomato in this sauce. This is because I think the textural variation adds a really nice and interesting touch. Another thing I like to do? Reserve some of the tomatoes to stir through at the end, totally uncooked.
See the below on notes for the mascarpone. If you're low on time or can't be bothered, I actually think I prefer using the cream mixture heated on low and flavoured with the salt and lemon. It doesn't curdle to become mascarpone (high heats are necessary for that.) However, the cream mixture is exceptional in creating a smooth, lemony and silky sauce. The mascarpone, on the other hand, becomes a thicker and slightly more textural sauce. Both are great.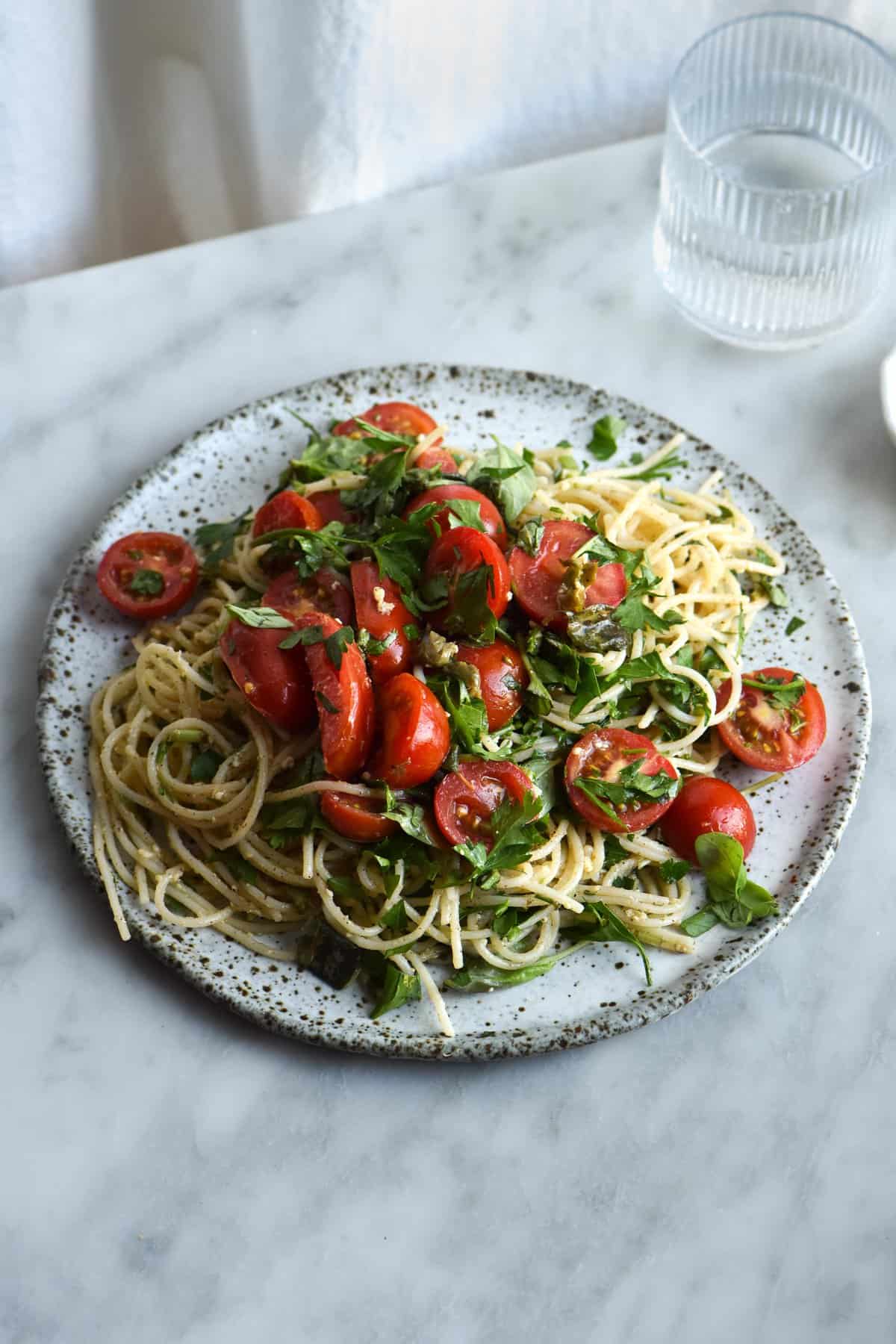 How to make lactose free mascarpone
Firstly, let's preface this by saying that this is a cheat's mascarpone. I'm not a cheese whizz and I have no intention of being one. I'm a whizz at eating cheese, but that is somewhat irrelevant here.
This cheater's lactose free mascarpone is made by cooking full fat lactose free cream and adding lemon juice. The result is a curdled cream mixture that is then strained, separating the whey from the rest. You can drain the mascarpone for as long as you fancy – for this purpose I recommend about 15 minutes.
PLEASE NOTE: This is not an airtight method. Whether you haven't heated the cream succinctly (or you've heated it too much) will have an impact on the final product. If you've overheated it, the mascarpone will become very thick and chunky. When underheated, the cream remains quite liquid in consistency. However, please also note: there is no need to stress! This recipe is almost better when the mascarpone doesn't work (in my humble opinion.) The cream is great at coating pasta and carrying lemon flavour.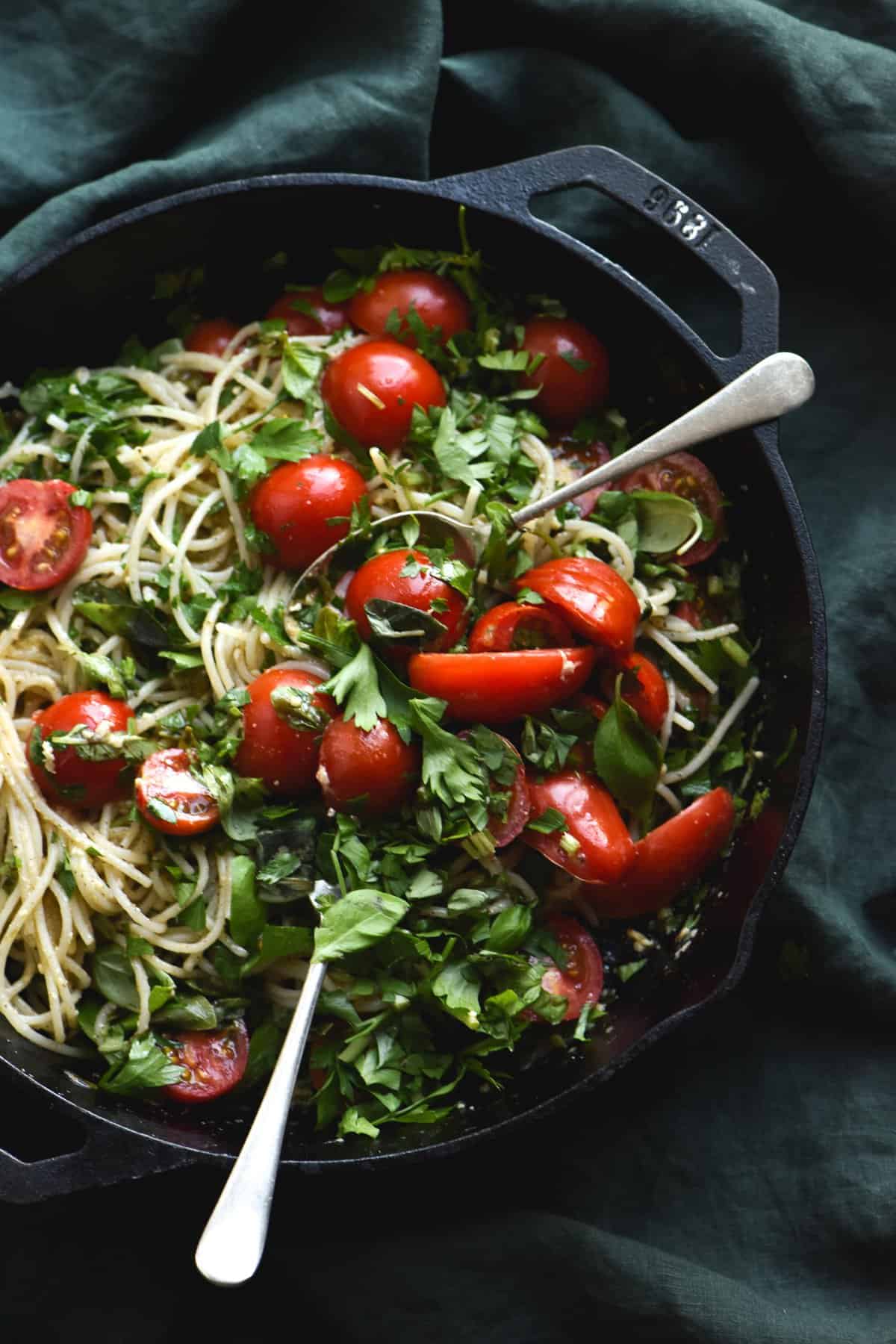 To make a vegan version
There are a few ways to make this summer tomato, lemon and mascarpone pasta vegan. Firstly, you can simply omit the cream, and add the extra flavours from the cream (lemon juice and salt, to taste) to the balsamic sauce. Secondly, you could use your preferred vegan cream substitute in place of the cream. Personally I wouldn't recommend a coconut flavoured variety – I think the flavours would be confounding together. You could potentially try a vegan cashew cream made with activated cashew nuts – they're lower in FODMAP content than their non activated counterparts. Stay tuned for a recipe there.
More pasta recipes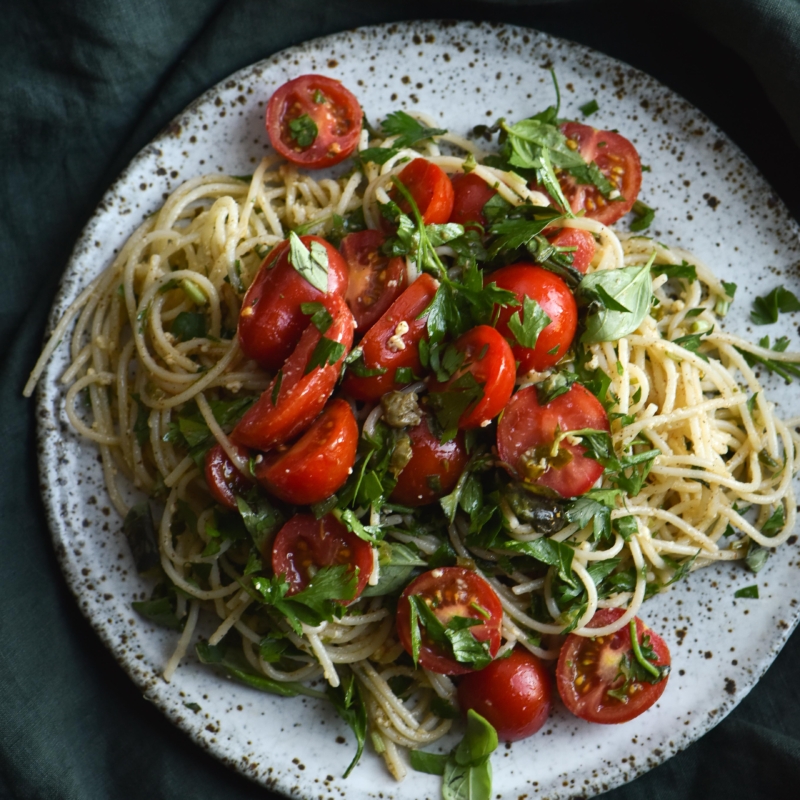 Summer tomato, lemon and mascarpone pasta
Gluten free, lactose free, FODMAP friendly, vegan adaptable
Ingredients
FOR THE LACTOSE FREE MASCARPONE:
250

g

lactose free full cream

20-40ml(1-2

tablespoons)

lemon juice

extracted after using the lemon zest, it's much easier to zest a whole lemon

1/4- 1/2

teaspoon

fine salt

to taste
FOR THE PASTA SAUCE BASE:
40ml

(2 tablespoons)

good quality balsamic vinegar

40ml

(2 tablespoons)

good quality olive oil

Zest of 1 large lemon

Salt and pepper

to taste
TO FINISH:
500-750

g

fresh summer tomatoes

see FODMAP notes some chopped and some whole

250

g

gluten free pasta

in the shape of your choice

Freshly cracked pepper

to finish

Basil leaves

to finish (optional)
Instructions
TO MAKE THE PASTA SAUCE BASE:
I like to start this process first so as to allow the flavours to meld. In a large heavy bottomed pan or skillet, add the balsamic vinegar, olive oil, lemon zest and seasoning. Stir to combine and set aside to meld together.
TO MAKE THE LACTOSE FREE MASCARPONE:
Place the 250ml tub of cream in a saucepan, and place over a medium high heat. Stir intermittently. Once the cream starts to bubble, allow it to cook for a couple more minutes, before adding the lemon juice. Allow to cook for a couple more minutes again.

If nothing happens after all this (no textural changes) then take the cream off the heat and continue on with the recipe.

If the cream becomes textural, slightly gritty and thick, allow it to sit for 15 minutes before draining through a fine meshed sieve or muslin cloth. Don't worry either way – both are delicious, so it's stuff to stuff up. Either way, set aside to coat the pasta.
TO MAKE THE PASTA:
Heat a pot of well salted water over a medium high heat. Once boiling, add the pasta. Stir to separate the pieces, and cook to al-dente – 1-2 minutes shy of the cooking time specified on the packet. Gluten free pasta has a tendency to go mushy, so keep a really close eye on it.
TO ASSEMBLE:
Just before the pasta has cooked, place the balsamic lemon zest vinegar over a low-medium heat. Allow it to cook for a couple of minutes, watching that the zest doesn't burn. Drain the pasta once it reaches al dente and set aside.

Add 3/4 of the tomatoes, some chopped and some whole, to the pan. Stir thoroughly to coat in the flavours, and allow to cook for 2-3 minutes until the tomatoes just begin to soften.

Add the pasta to the pan and stir gently to combine. Once all the pasta has been coated in the balsamic, pour/spoon in the cream/mascarpone mixture, a little at a time, until you've reached your desired sauciness. I generally use the whole lot, but you might like it a little less saucy.

Taste for seasoning, and plate up on a serving dish or individual plates. Top with the remaining fresh tomatoes, some freshly cracked pepper and some basil leaves, if you're using them.
Notes
UPDATE:
Monash has recently updated the FODMAP friendly quantity of common tomatoes to 1/2 a tomato per serve if you have issues with fructose. Similarly, the new safe limit of cherry tomatoes is 3 tomatoes per serve. Please keep this in mind if you have previously reacted to tomatoes. If not, business as usual!