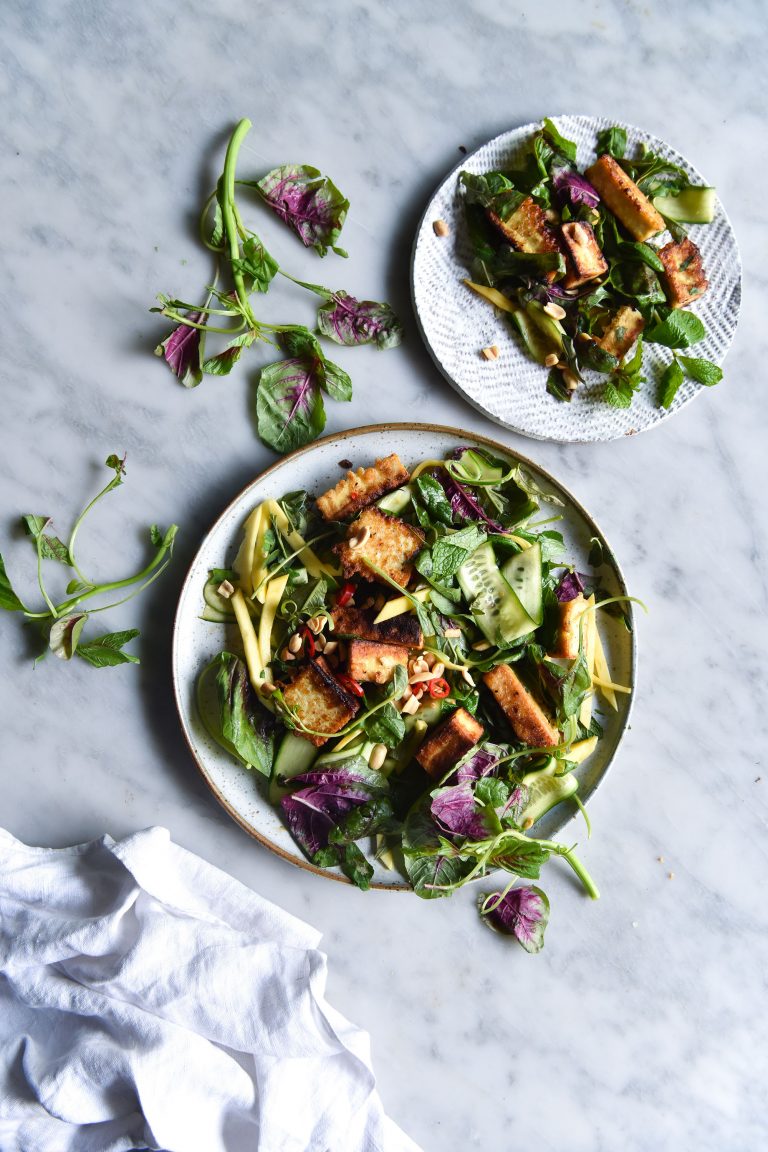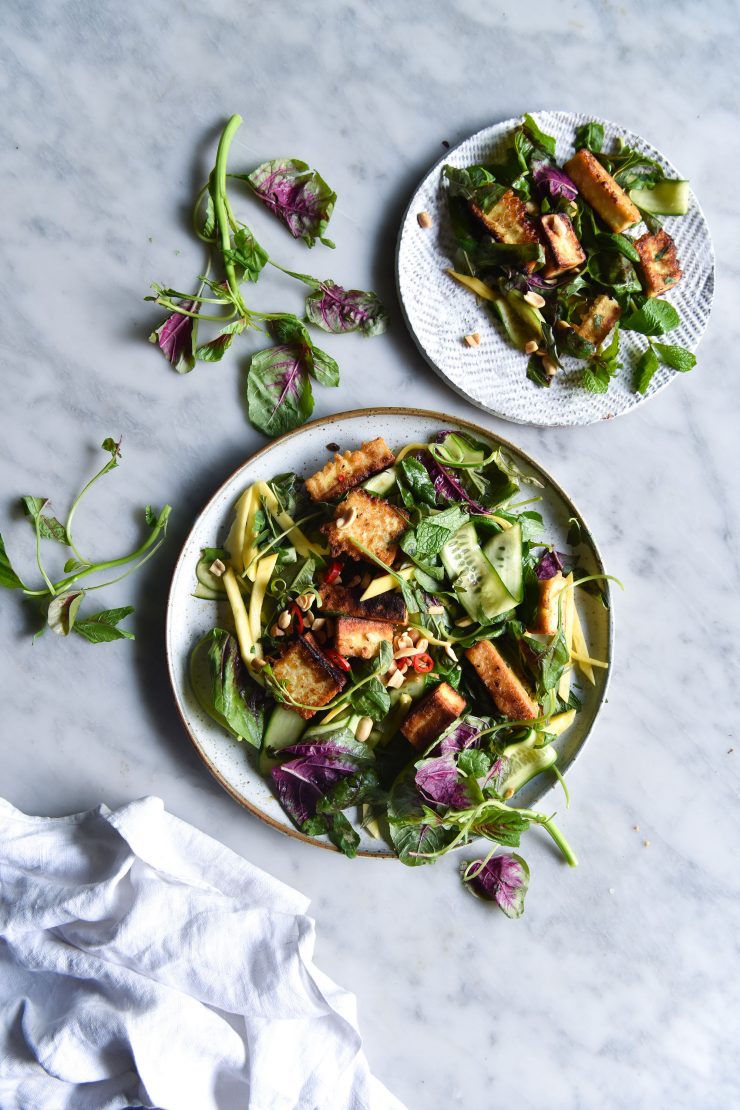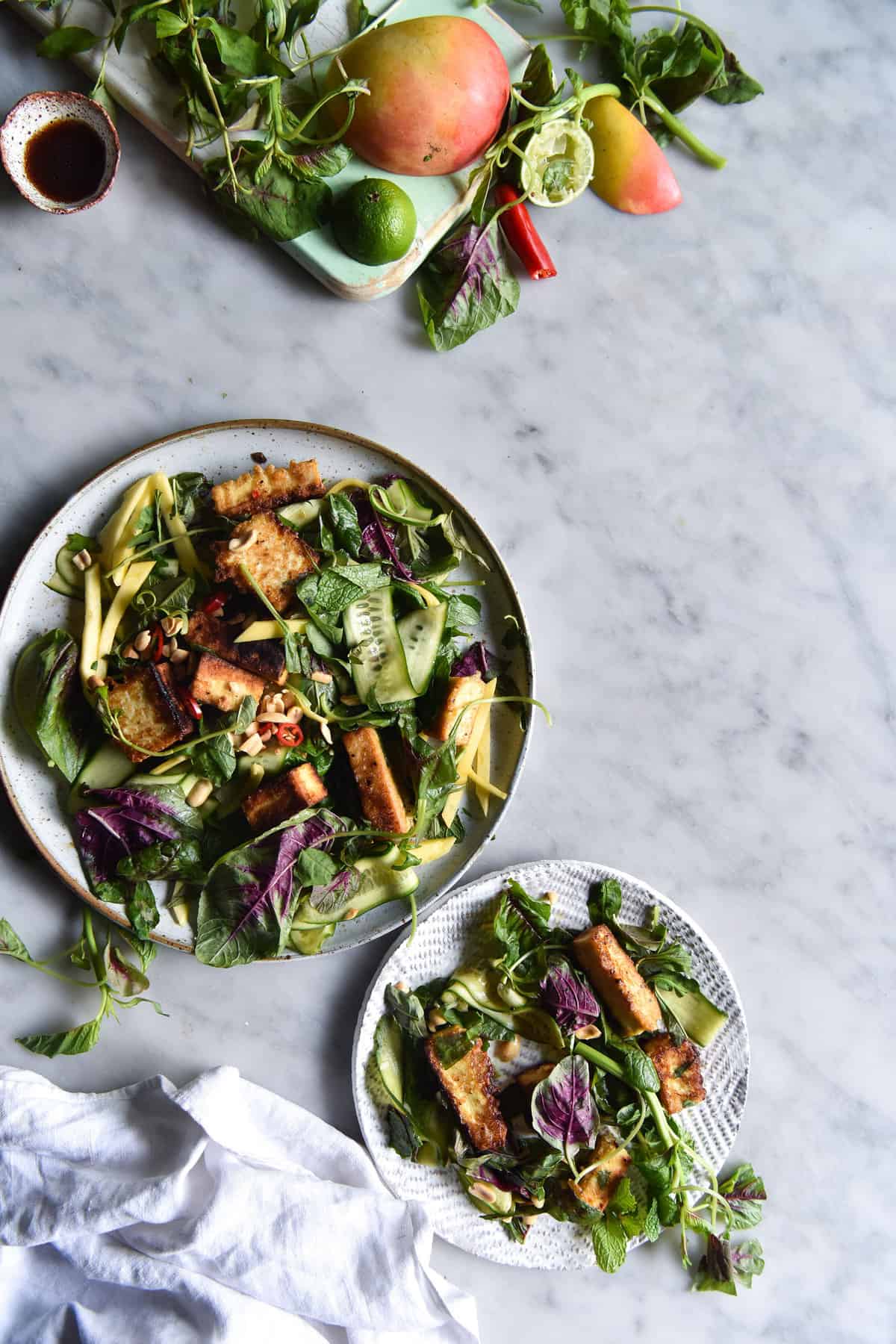 I'd love to say that my favourite part of Vietnam was the people or the landscape or the culture. What I will say instead is that my favourite part of Vietnam was eating pho every morning. Honesty is the best policy, etc. Vegan Vietnamese salt and pepper tofu is the second best policy.
Salt and pepper tofu salad
On the honesty note, I'd love to say that I created this recipe after being inspired by the beautiful country that is Vietnam. I actually just felt like some salt and pepper tofu.  I've shared a recipe for a fennel and satay version before, but I was in the mood for a super simple, light and fresh variety. So I made a vegan Vietnamese style variety, and here it is.
Before you curse my name for including mango in this recipe: hold up. Mango, in servings of 1/5 of a cup or less, is considered FODMAP friendly, namely fructose friendly. You can omit it if you'd prefer, but I personally found it really exciting to eat some mango, however small an amount. A level of excitement I never deemed imaginable from something as basic as eating fruit. I'm sure you fructose malabsorbers can relate.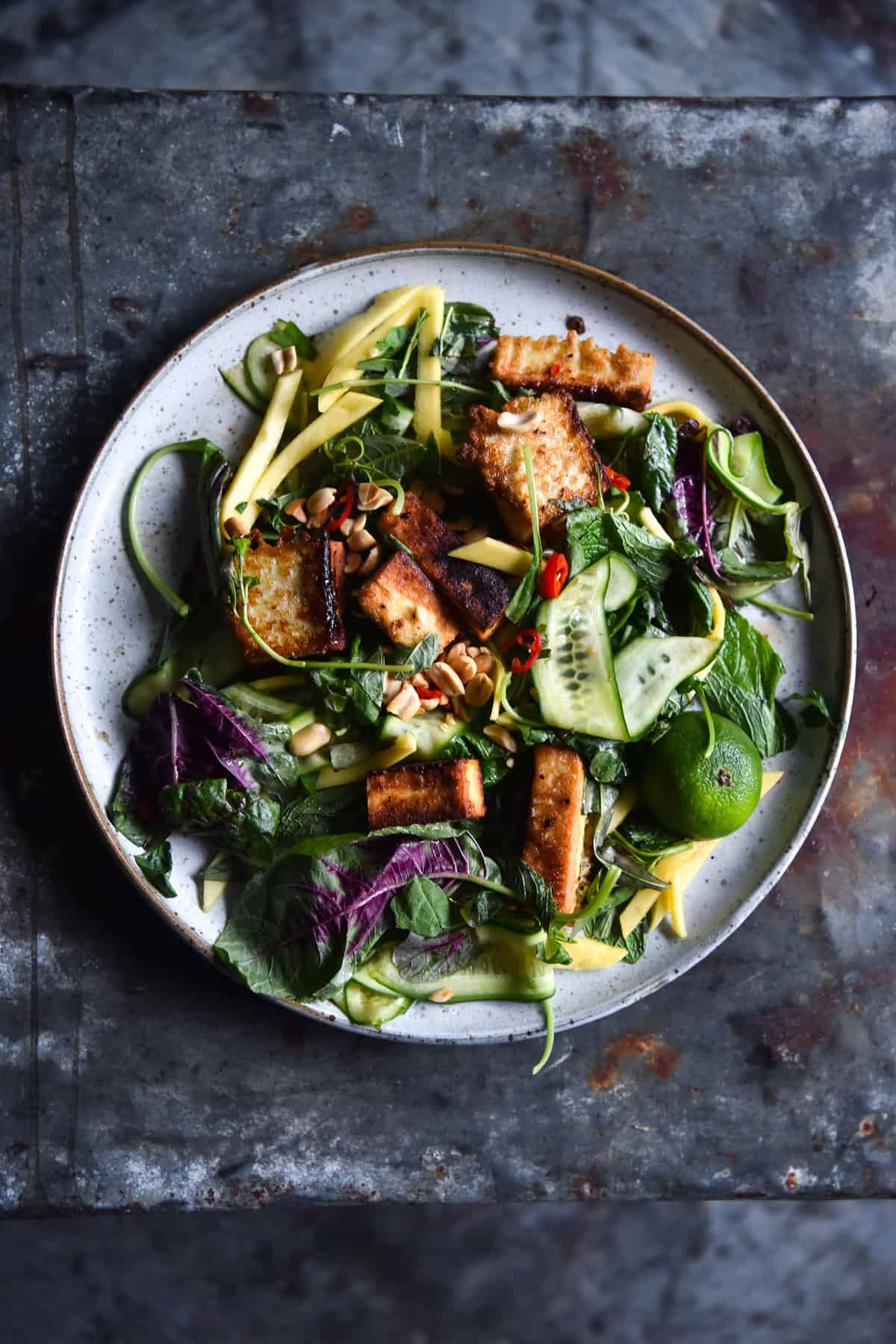 Recipe notes for your salt and pepper tofu salad
Find the recipe for my original salt and pepper tofu (with options) here.
For some tips and tricks on using tofu, have a read of my crispiest ever tofu guide. If you're into pan frying, I also have a recipe for an oven baked variety.
To continually link my own content, I also have a recipe for vegan, FODMAP friendly tofu laksa here, or a salt and pepper 'crouton' vegetarian Caesar here.
If you need a quick refresher on freezing tofu, have a read of this Food 52 article. Freezing tofu is probably my favourite party trick to date.
Kaffir limes are available in a relatively short fresh season over summer in Australia. However, they're often sold in the frozen section of Asian grocers well beyond that. I recommend buying them whenever you see them and keeping them in the freezer. The flavour they add to dishes is out of this world, in my biased opinion.
The best substitution option for Vietnamese mint and Thai Basil, in my opinion, is regular mint. It doesn't taste remotely similar to either, but it has the same sort of fresh, pungent taste that the former herbs offer. Please don't use regular basil!
I always recommend using Lebanese cucumbers. Not only are they juicier, but they're not wrapped in totally unnecessary plastic like the continental variety.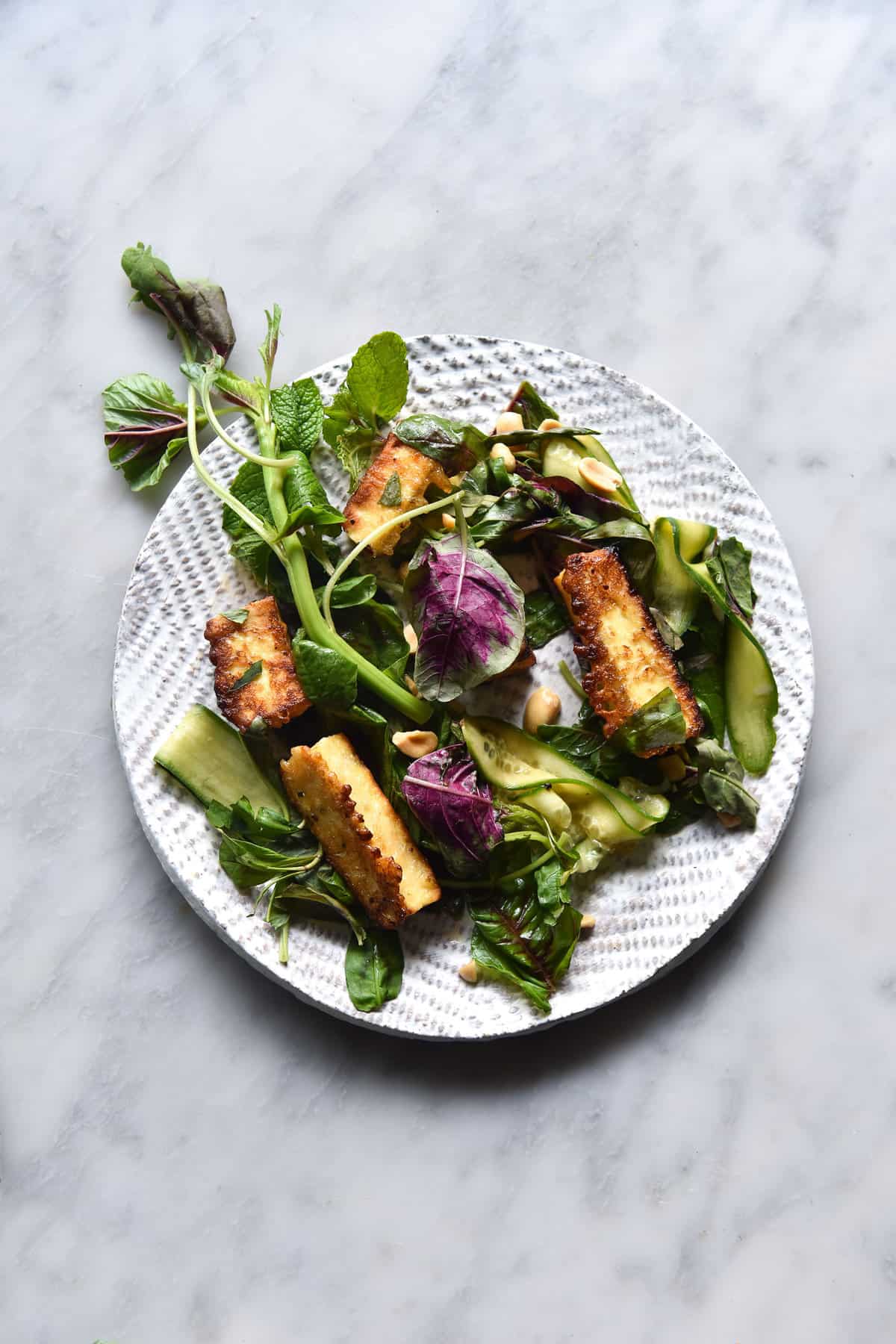 More gluten free tofu recipes
Salt and pepper tofu salad (gluten free)
serves 2-4, depending how hungry you are
Ingredients
For the salt and pepper tofu:
500g

firm tofu

2 

tbsp

vodka

(make sure it's gluten free if cooking for a coeliac)

1 

tbsp

water

(plus extra if necessary)

3 

tbsp

gluten free cornflour

2 

tsp

sea salt flakes (halve that amount if using table salt)

2 

tsp

freshly ground white pepper

(I buy white peppercorns at my local Asian grocer but I think you can get them at the supermarket too)
For the sauce:
makrut lime zest

to taste (optional but delicious)

1 1/2

tablespoons

brown sugar

1

tablespoon

Tamari

2

tablespoons

lime juice

1

tablespoon

rice wine vinegar

1/2

teaspoon

tamarind paste

optional

Pinch

of sea salt flakes

Chilli flakes or fresh chilli

to taste
For the salad:
2

large bunches Asian salad greens of choice

1

bunch of Vietnamese mint

1

bunch of Thai basil

or regular mint

Red chilli

chopped (optional)

1/4 – 1/2

cup

toasted peanuts

chopped (optional but not really)

1/2 – 1

mango

finely slice (optional but remember the above re: fructose)

1-2

Lebanese cucumbers

mandolined or finely sliced
Instructions
To make the tofu:
Remove your tofu from the packet and slice it lengthways down the middle. Put down some paper towel (I normally do a folded couple of layers on the bottom and one on the top) and lay the tofu on top. It should take less time to drain now that it's halved. Lay the next piece of paper towel on top, and place something heavy on top of that. I use a big saucepan with cans in it. Allow this to drain for 30 odd minutes, remove the paper, and repeat.

Once the tofu is dry, take the paper off and cut the tofu into bite sized chunks on a dry board.

Mix together the cornflour, sea salt flakes and pepper in a large mixing bowl. Once combined, add the tofu chunks and toss them evenly to coat. Gently shake individual pieces of tofu off and transfer them to a plate. Mix the vodka and water into the flour and salt mixture that is left over, and stir thoroughly to combine. Sometimes a whisk helps with cornflour.

Heat a saucepan over a high heat with a high smoke point oil. Peanut oil is my preference for Asian inspired dishes. Throw the tofu pieces back into the wet vodka flour mixture, gently and thoroughly coating each piece in the batter. Transfer each piece (I use my hands, it makes it easier to coat and transfer) gently into the hot oil. Make sure not to overcrowd the pan – batch cooking is your best m8 in the search for crispiness. I cook about 8 pieces at a time, but that will depend on the size of your pan.

Adjusting the heat as you go, turn the tofu as you start the see the sides going golden at the bottom. This won't take long. I like to create a system where I turn them all the same way so I don't miss a side. Make sure all 4 sides of the tofu are cooked, before transferring them to a paper towel to blot dry.

Prepare the tofu as per the instructions.
To finish the salad:
To make the dressing, simply whisk all the ingredients together and adjust for kaffir and sugar as you see fit.

To assemble the salad, mix everything together in a large salad bowl, tossing well to coat all the ingredients in the dressing. Serve while the tofu is warm.