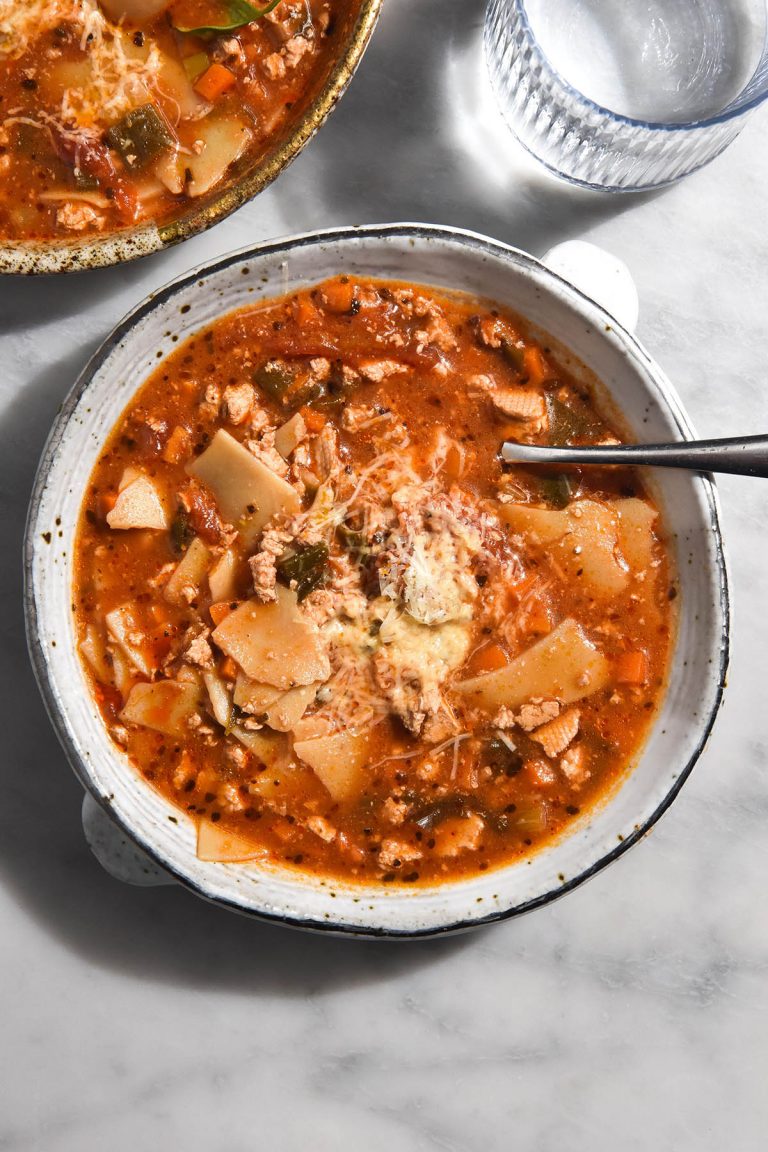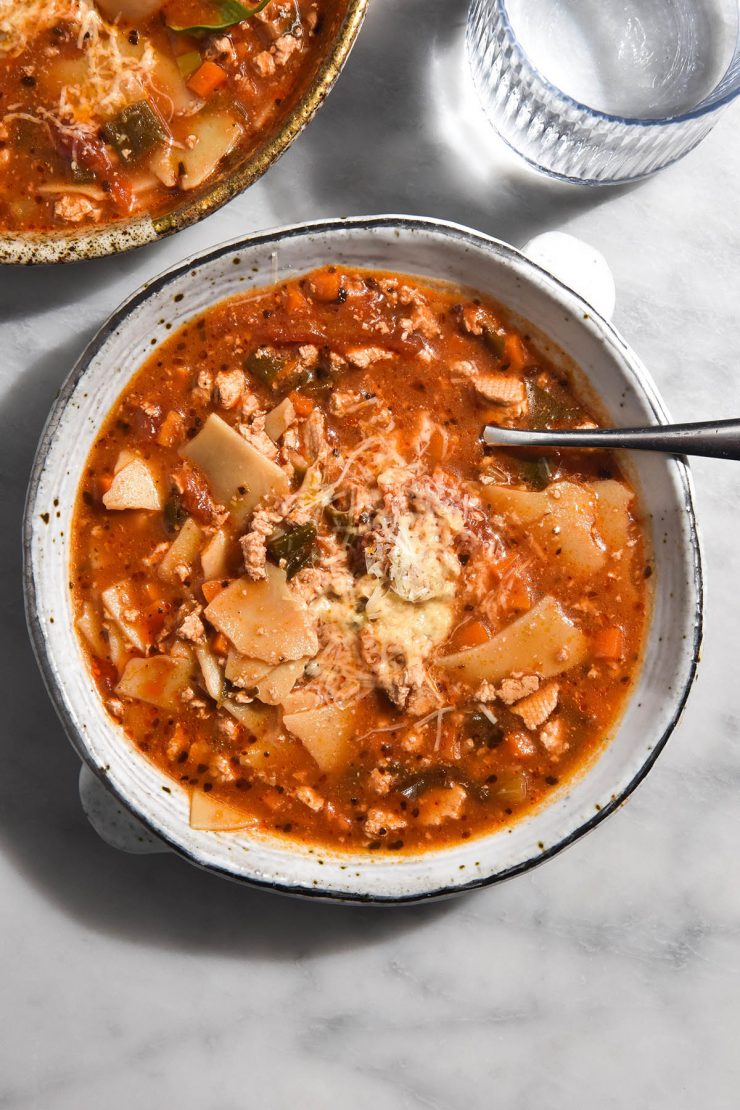 Lasagne soup has been doing the rounds on Tiktok recently. Not one to miss out, I decided to develop this low FODMAP vegetarian lasagne soup. It's comfort food to the max, and heavenly with a good grating of vegetarian parmesan on top.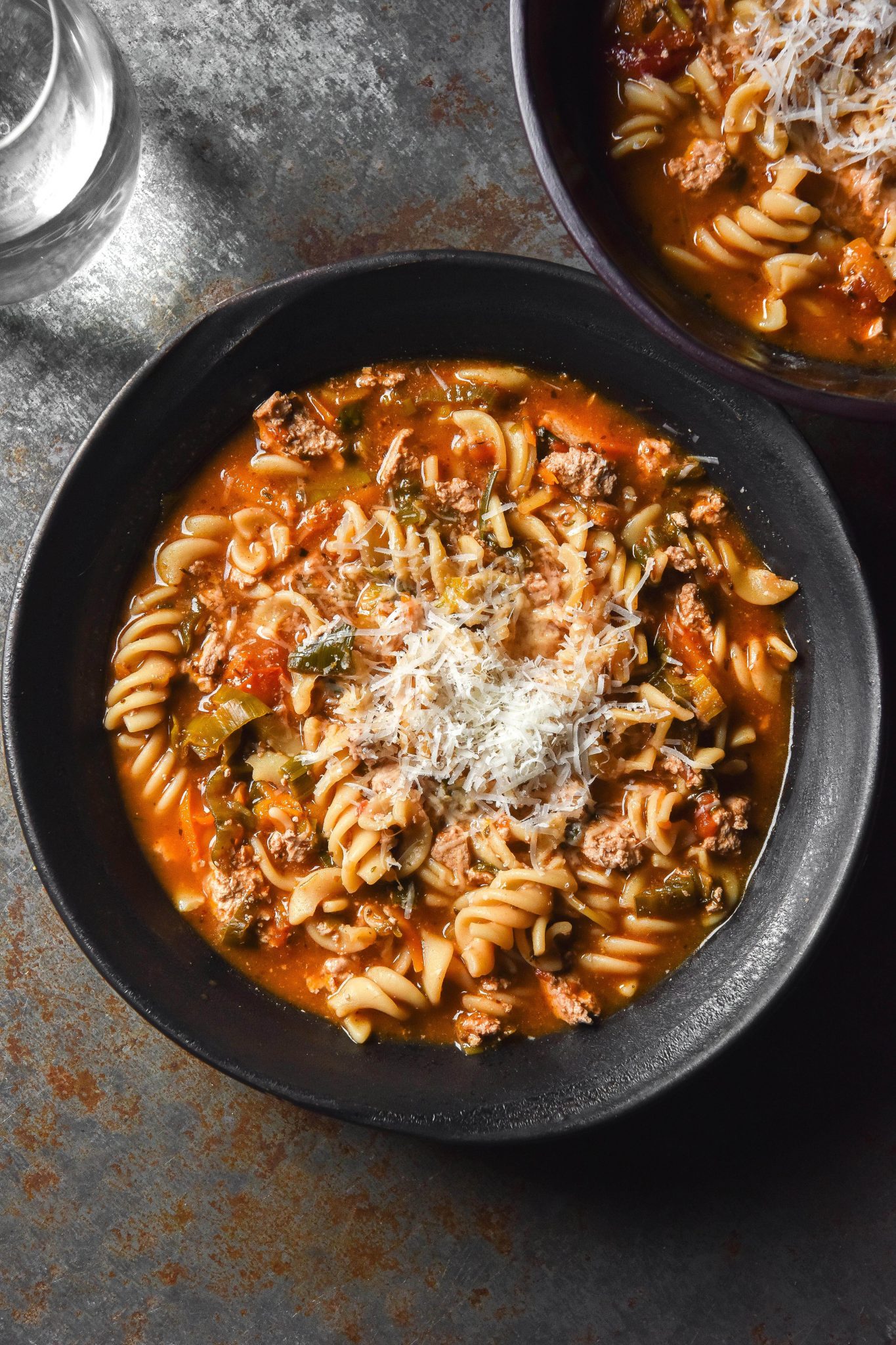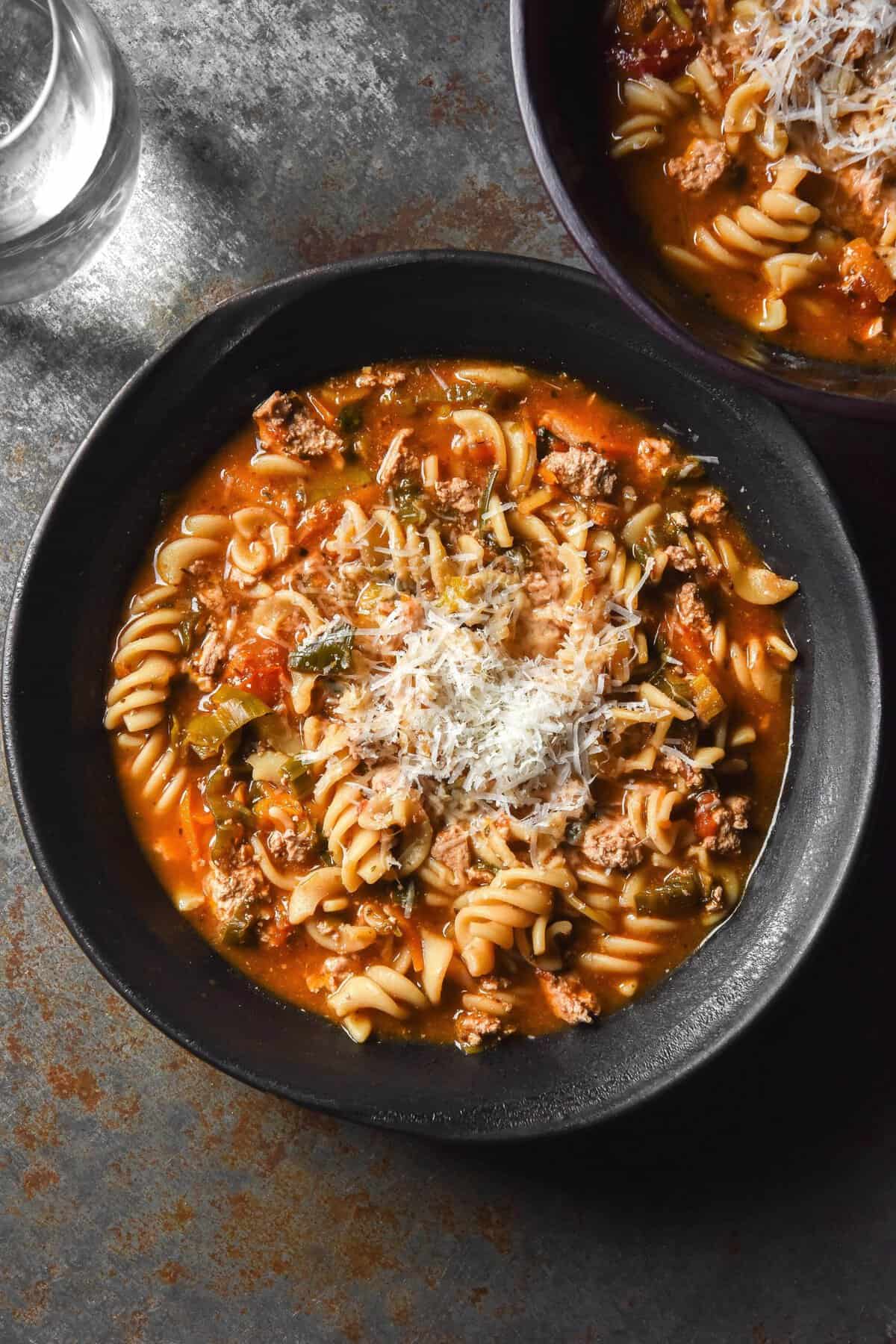 Low FODMAP vegetarian lasagne soup
This lasagne soup takes the tofu mince from my low FODMAP vegan bolognese recipe and adds stock, basically. It uses garlic infused ghee or oil cooked with spring onion greens as the base, and has added carrot for bulk.
We build that lasagne flavour profile by adding tinned tomatoes (or my Nomato) and some tomato paste, Tamari and maple syrup. We load up on dried sage and oregano and finish with red wine for that deep, hearty and rich umami that lasagne is known for.
The soup is low FODMAP, very easily vegan, and can be adapted to basically any dietary requirements. If you're not FODMAP, you could even throw in some beans and garlic or onion.
You can throw in any extra vegetables you like – I love adding some Tuscan kale and finely chopped leek greens.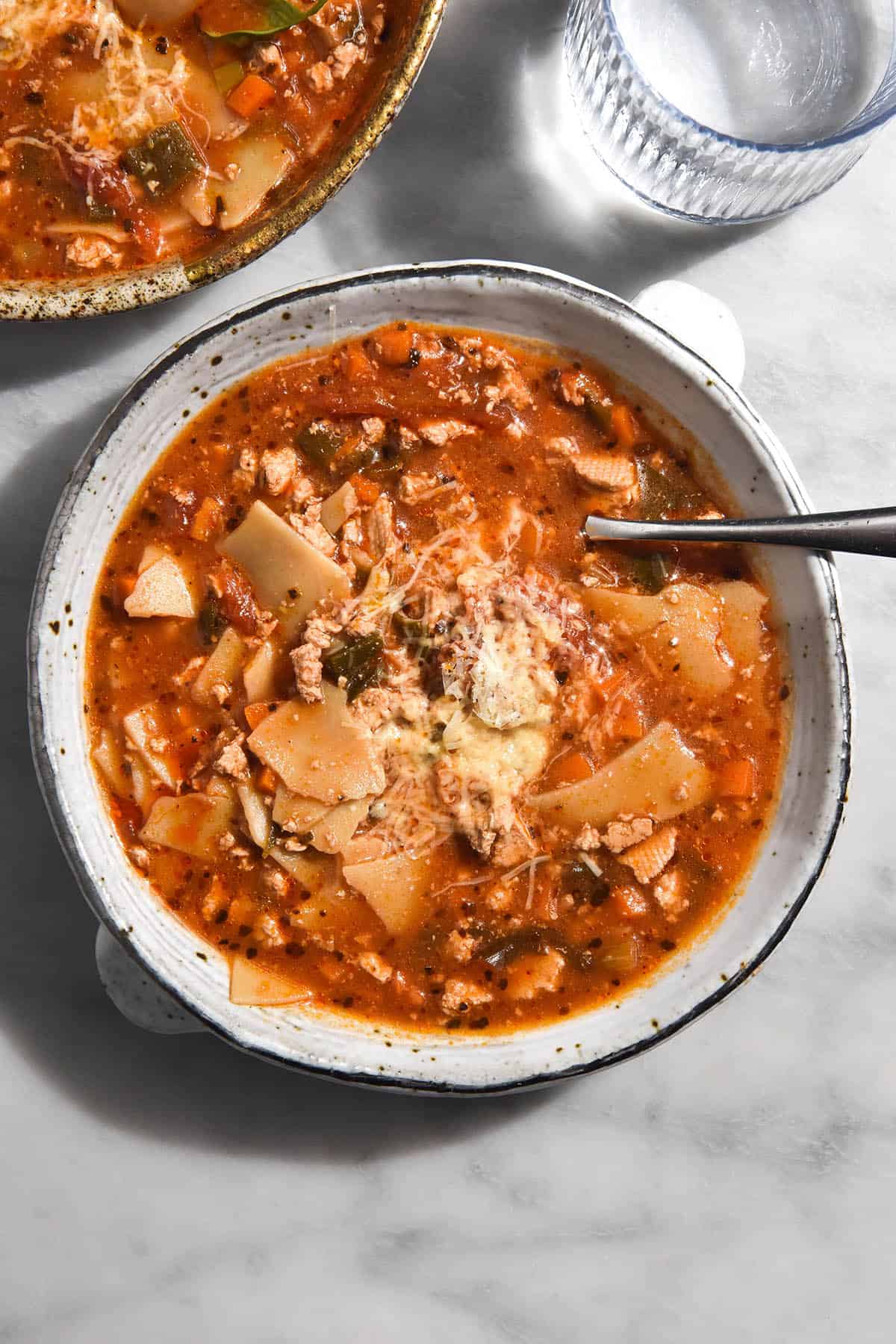 FODMAP notes
I use gluten free pasta to keep the FODMAP content down. You can use whatever sort of pasta works well for you.
Although tinned tomatoes are the quickest and easiest, I also have a recipe for low FODMAP Nomato sauce. This is a low fructose, tomato free passata that would work brilliantly here.
Tinned tomatoes are low FODMAP in 100g serves per person, according to Monash. This recipe uses 1 x 400g can of tomatoes, which puts it well within the FODMAP content per serve.
Firm tofu is low FODMAP in 170g serves per person. This recipe uses 450-500g, so this is also well within a low FODMAP serve.
The red wine is optional, but it does add a lovely depth of flavour. You can replace it with low FODMAP stock and add a little extra vinegar or tomato paste to compensate.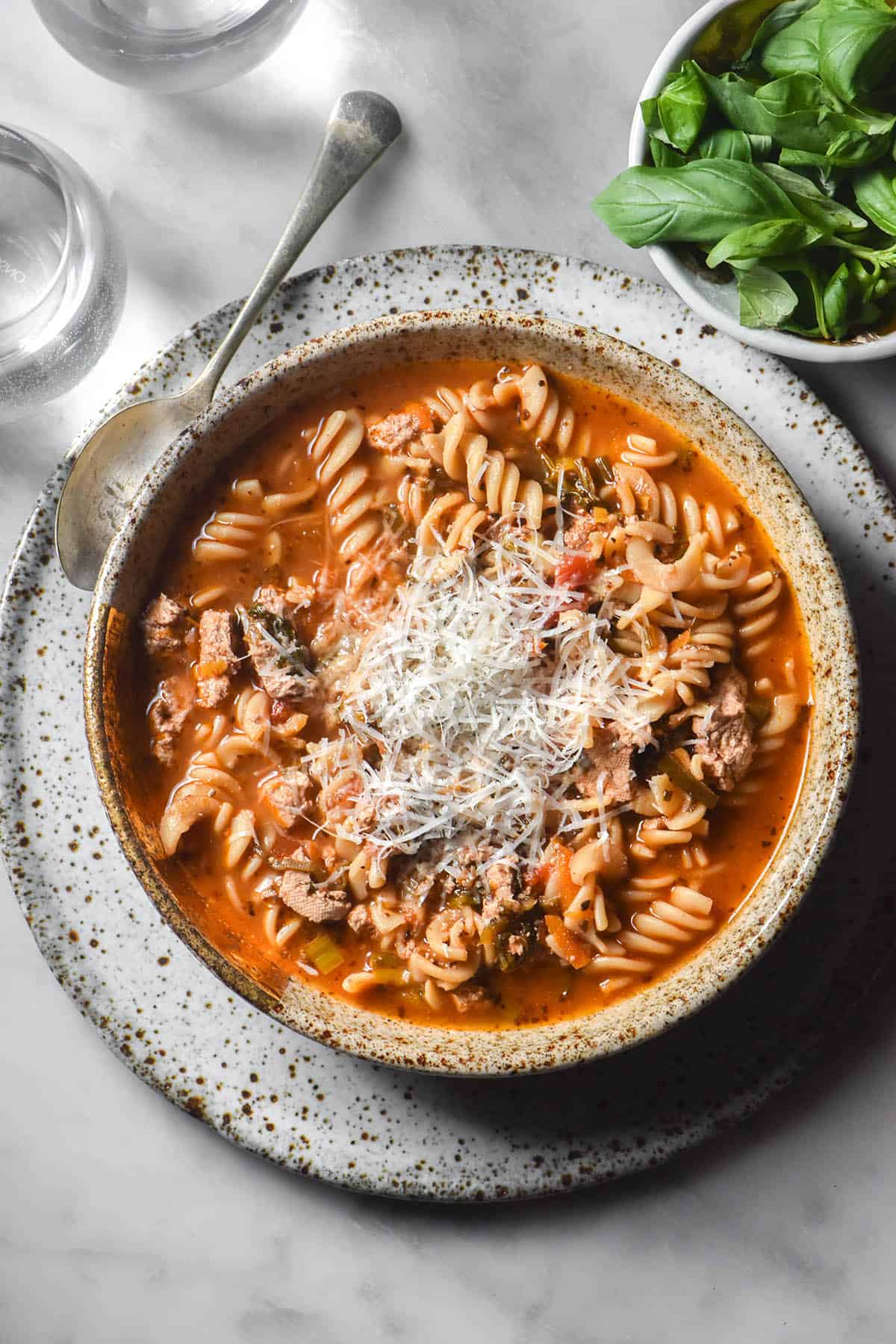 Recipe tips for your low FODMAP vegetarian lasagne soup
During testing, I actually found that snapped up lasagne sheets were annoying to eat. I know that they fit with the lasagne theme, but they're just irritating to scarf up. As such, I recommend using a small pasta shape like macaroni. Think minestrone vibes.
If you have the time and wherewithal, frozen and defrosted tofu is extra bouncy and meaty in texture. A great way to fool unsuspecting tofu haters.
As I mentioned before, you can add any extra vegetables you see fit here. I recommend adding some Tuscan kale and basil, but some grated pumpkin or zucchini would amp up the vegetable content too.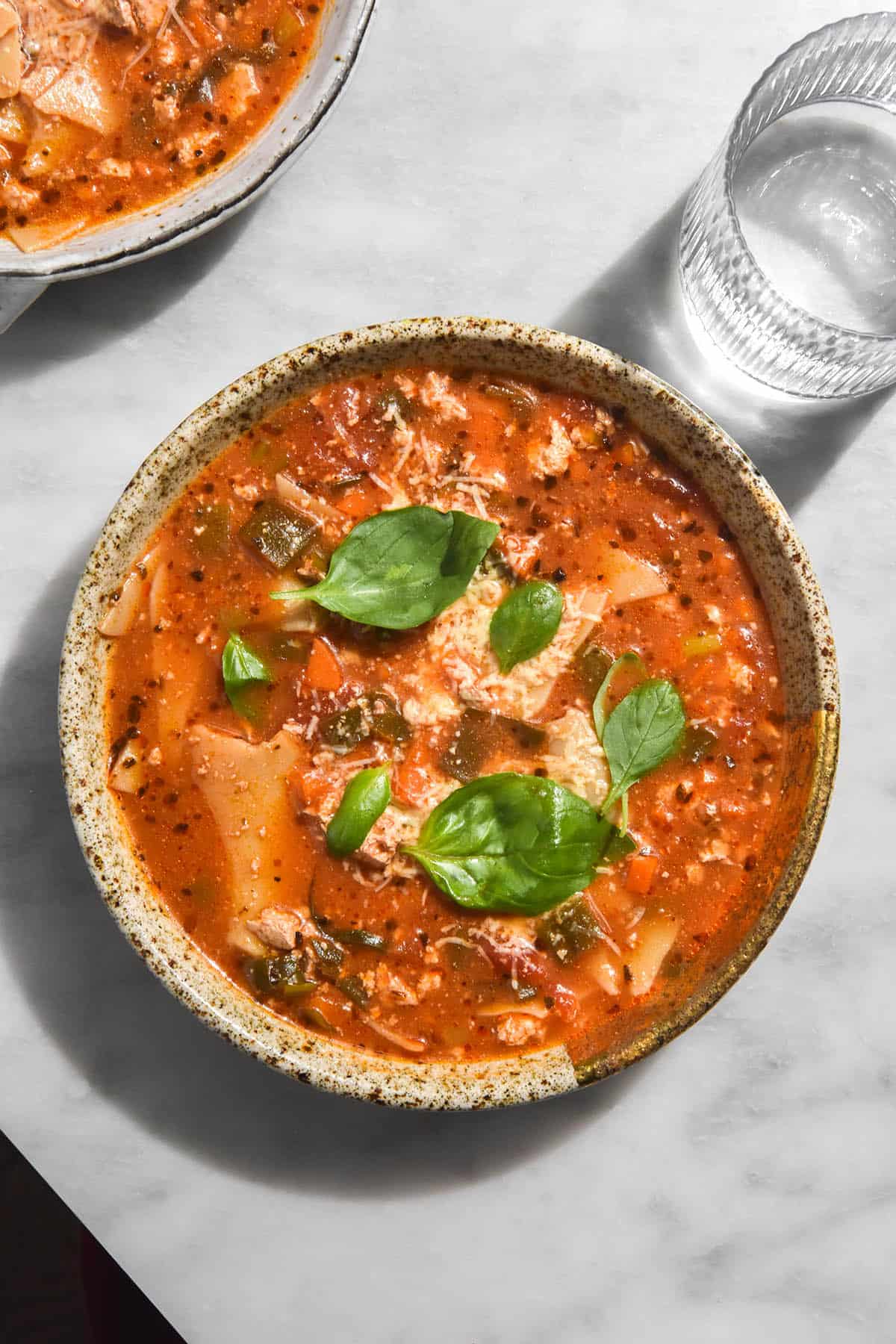 Vegetarian and vegan parmesan options
Every time I write something about it, it's up for fierce debate. Whether or not vegetarian parmesan 'can' exist as per the Italian guidelines, it does. Sometimes it's straight up called vegetarian parmesan. Other times, it is sold under the name Gran Kinara. Rest assured that Gran Kinara tastes exactly the same as 'normal' parmesan.
In terms of a vegan option, I have recently come across Green Vie brand 'parveggio'. It is the closest I have found in terms of flavour. It's also gluten free and made from coconut oil, which is great for a low FODMAP gal like myself.
More low FODMAP soup recipes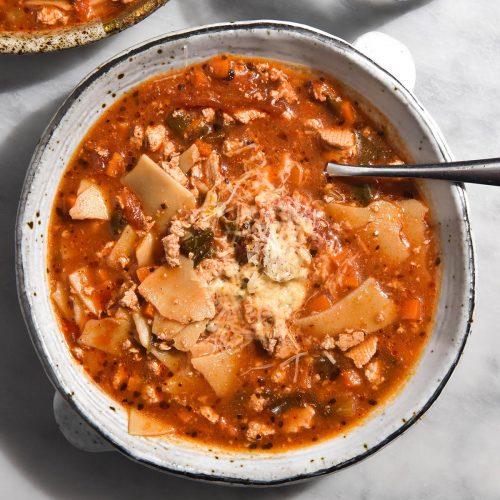 Low FODMAP vegetarian lasagne soup
Gluten free, egg free, vegan option
*Measures are in Australian cups and tablespoons. Use gram weights for international accuracy.
Serves 4-6 people
Ingredients
60

ml

(3 tablespoons) * garlic infused ghee or oil

1

bunch spring onion greens

washed and chopped

Greens of 1 leek

washed and finely slice (optional)

1

bunch of basil

half chopped and half reserved for garnish

2

extra-large carrots

grated

1

x 400g can plain tomatoes

40ml

(2 tablespoons)*

tamari or gluten free soy sauce

US, Canada and NZ: 2 1/2 tablespoons

1

tablespoon*

maple syrup

US, Canada and NZ: use 4 teaspoons

1

tablespoon*

tomato paste

US, Canada and NZ: use 4 teaspoons

1-2

tablespoons*

dried sage

US, Canada and NZ: use 4-8 teaspoons

1-2

tablespoons*

dried oregano

US, Canada and NZ: use 4-8 teaspoons

400-500

g

tofu

180-250

ml

3/4 – 1 cup red wine (see notes)

1500-2000

ml

1 1/2 – 2 litres water

250

g

pasta of choice

see notes

Seasoning

to taste

Generous parmesan

to serve

Remaining basil

to serve
Instructions
Place a large pot over a medium heat and add the ghee or oil. Once warmed and shimmery, add the spring onion greens and optional leek greens. Cook for 2-3 minutes or until softened, adding a splash of water whenever necessary.

Add the chopped basil and carrot and stir to combine. Add the tinned tomatoes, Tamari, maple syrup, tomato paste and spices and stir well.

Add the tofu, red wine and 1 litre of water. Stir well, then place the lid on and allow the soup to cook for 10-15 minutes. It should be a deep red colour once cooked.

Add the pasta and some extra water if necessary. Place the lid back on and cook for additional 10 or so minutes or until the pasta is al dente.

Remove from the heat, season well and serve with some freshly grated parmesan and the remaining basil.
Notes
If you can't have wine, you can replace it with some low FODMAP stock and a little extra tomato paste or a dash of red wine vinegar (or both).
Make sure you use a brand of gluten free pasta you trust. Some brands turn into mush when cooked straight in a soup.
If you're making this for meal prep, I'd recommend cooking the pasta separately. The pasta can turn into mush when left for long periods of time, so this saves that hassle. However, you will need to add less water to the soup to compensate. Cooking pasta in the soup retains the starchy pasta water, which thickens. You will need to account for this when adding liquid.