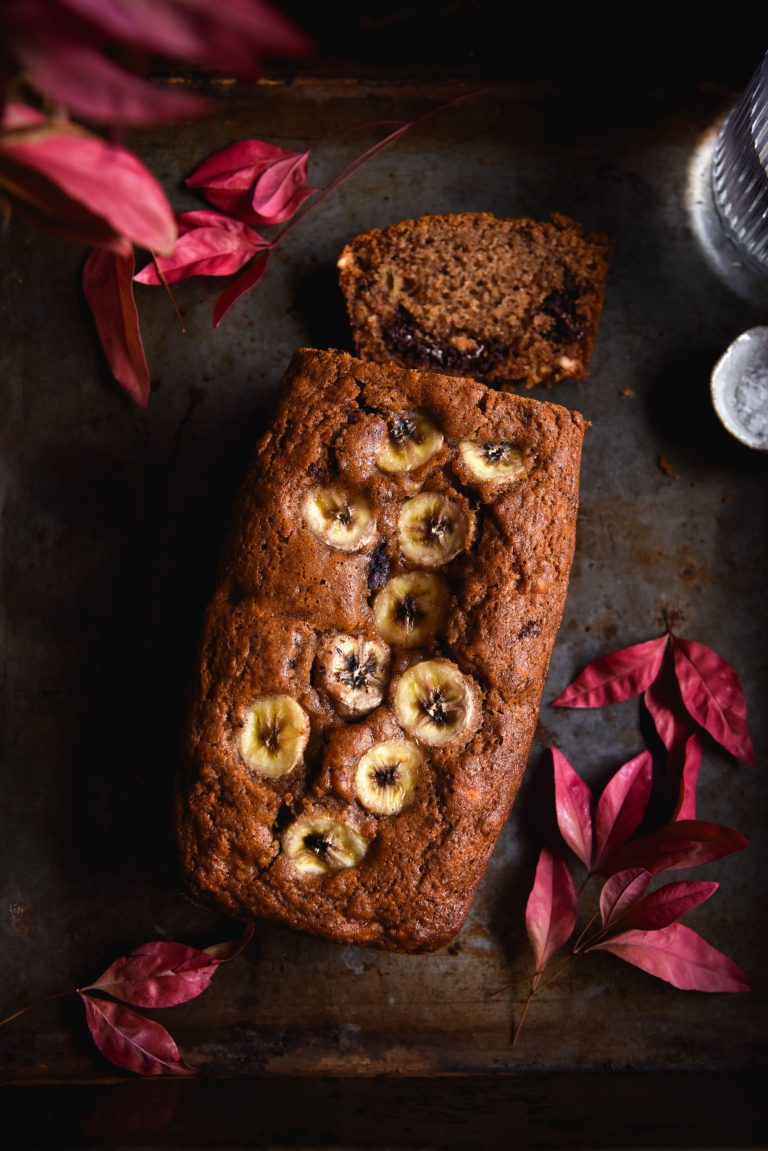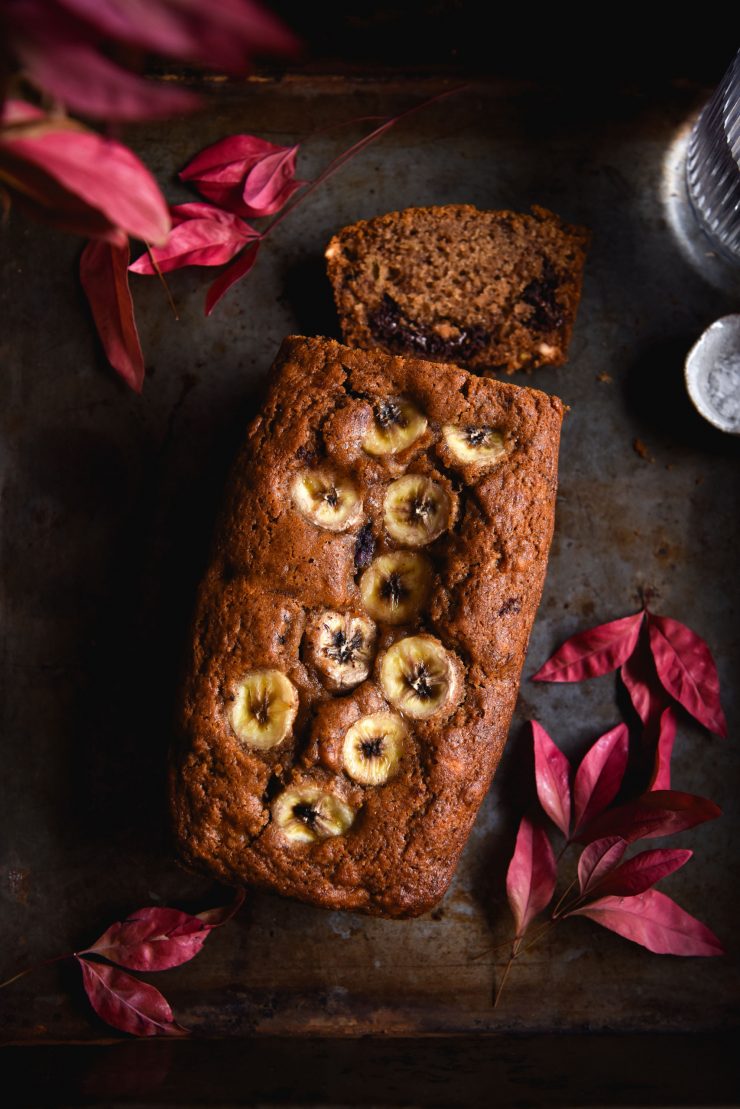 It's a mouthful (figuratively and literally) but today we're talking gluten free chocolate chip banana bread. Although there are millions of banana bread recipes floating around (including one in my own cookbook) the limit does not exist, as far as I'm concerned. There are so many variations and so many different diets to cater for. Recipe developers could be kept in the job solely with banana bread, and that would be totally fine by me.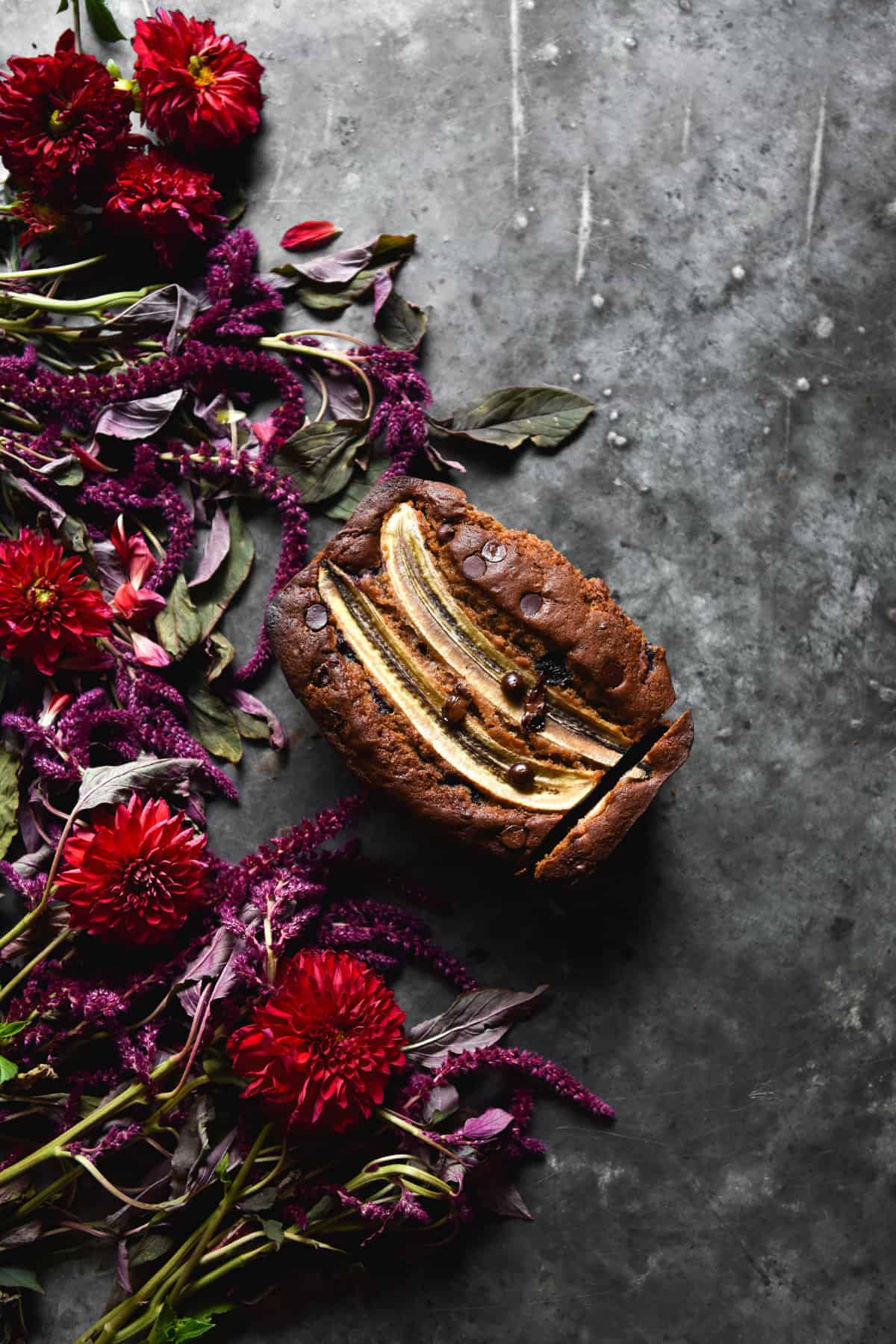 FODMAP notes for your gluten free chocolate chip banana bread
This banana bread is gluten free, nut free, FODMAP friendly and refined sugar free. It has a beautiful nutty richness from the brown butter, and a caramel sweetness from the maple syrup.
Most importantly, bananas! Bananas aren't overtly FODMAP friendly, but this depends on the banana. If you're particularly intolerant to fructans, I'd suggest using just under-ripe bananas. While the flavour won't be quite as banana-y, they are considered FODMAP friendly in servings of 1 medium banana. If you're ok with our yellow friend, use ripe bananas. The quantity of bananas in the recipe vs the serving size of the loaf makes it totally within acceptable limits.
Butter is very low in lactose and thus considered FODMAP friendly. Unfortunately in this instance there is no substitute. The brown butter is responsible for a lot of the nutty flavour in the loaf. Because browning butter alters it's liquid content, I can't say for certain if you could directly substitute a butter substitute. If you try it, let me know!
Blueberries are friendly in 1/4 cup serves (40g) or less, so they are a non-issue. Maple syrup is friendly in 2 tablespoon serves per serving. You could also use rice malt syrup, which apparently doesn't have any FODMAPs detected at all.
I have kept the loaf nut free after a lot of people asked for it. Almond meal generally makes for a delightfully sweet crumb in a loaf, but is not suitable for our nut free friends. There is a recipe for a banana bread containing almond meal in the cookbook.
If you're really not feeling the banana in a loaf vibe, try the spiced pumpkin loaf with chocolate chai icing. It is v good, as a completely biased party.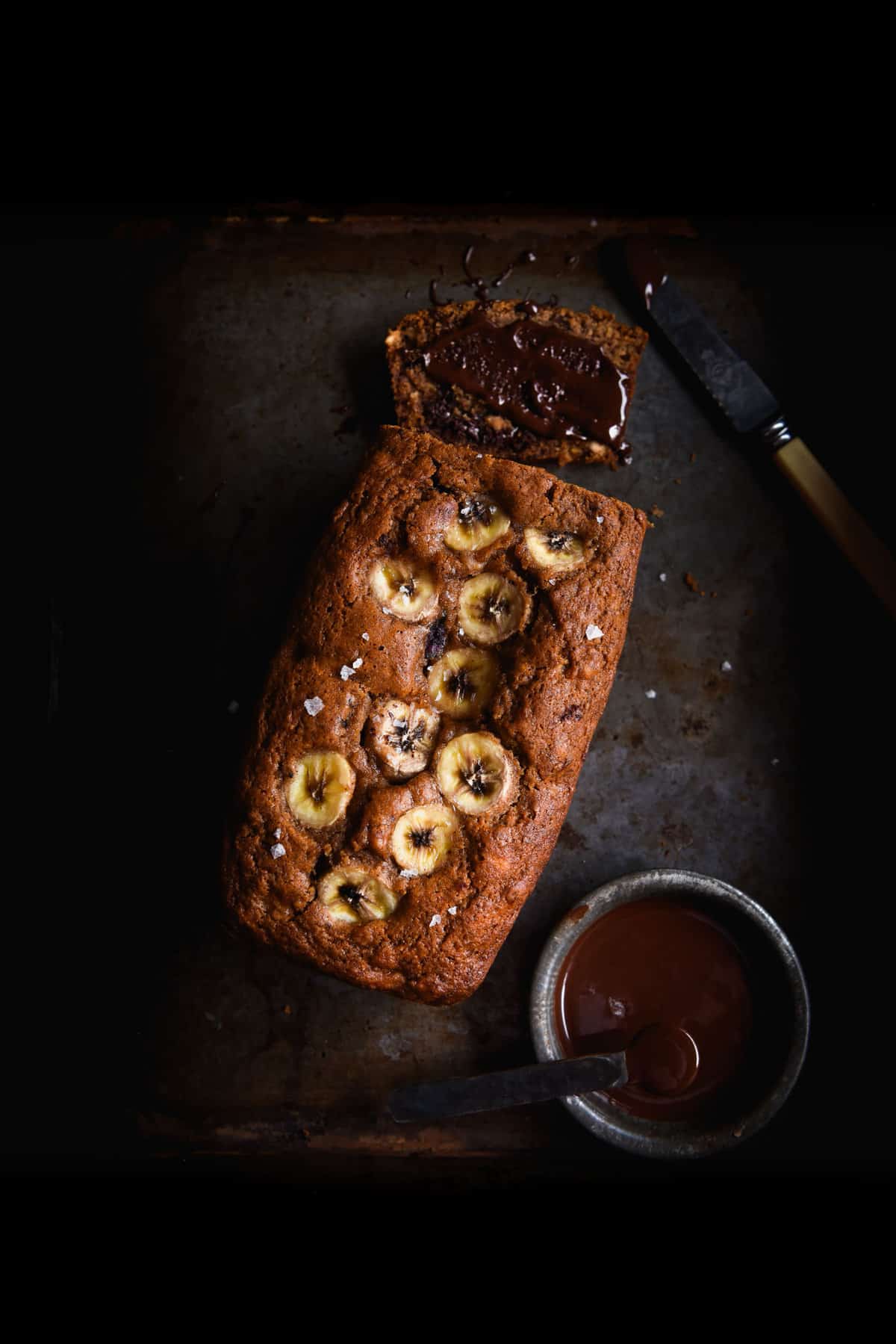 A note on the maple syrup
Firstly, let me say that I've come to believe the refined sugar free thing is a bit of a crock. The body breaks down sugar as sugar, and the additional mineral content of an unrefined sugar is absolutely negligible – it does not negate the consumption of sugar in any form. However, I do love maple syrup for it's deep caramel flavour. While caster or white sugar definitely has it's uses, it's probably my least favourite sweetener. I understand it lends great structure to baked goods, but WHERE IS THE FLAVOUR?!
So yes, we're doing a refined sugar free banana bread. There are plenty of other recipes floating around, if that isn't your jam. I'm not entirely sure how you could substitute regular sugar in this recipe, but you might be able to reverse this guide to help, if regular sugar is your thing.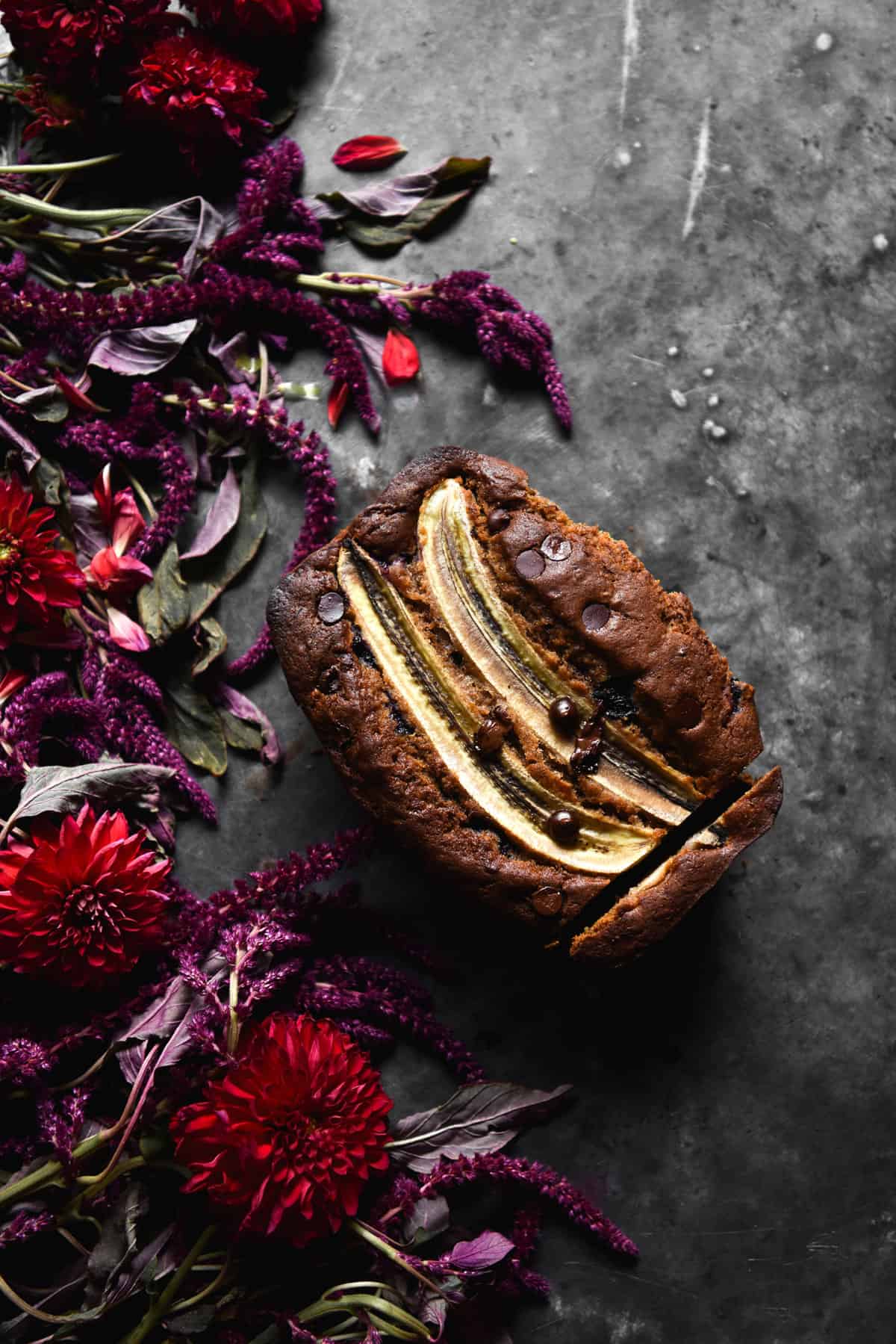 Recipe notes
Make sure you watch your brown butter carefully. We want it to be brown and caramelised, not charred.
Make sure you scrape all of the brown bits from the bottom of the butter saucepan. They are where the flavour is at.
See the above notes on bananas if you're feeling trepidatious about using them. Consider why you voluntarily clicked on a banana loaf recipe. Just kidding. Sort of.
If you want to keep the loaf entirely 'refined sugar free' use a refined sugar free chocolate. I like Hunted and Gathered, which is a local Melbourne brand.
This loaf is delicately sweet – not super mega sweet like something you'd get at a coffee chain. You can experiment with adding more coconut sugar, if you like.
I LOVE cooking the mashed banana in the browning butter with some sea salt. I think it brings out the banana flavour like nothing else, and gives you amazing bang for your FODMAP buck. 10/10 would recommend.
If you don't need to worry about fructose content, you can add an additional banana on top, if you're into it.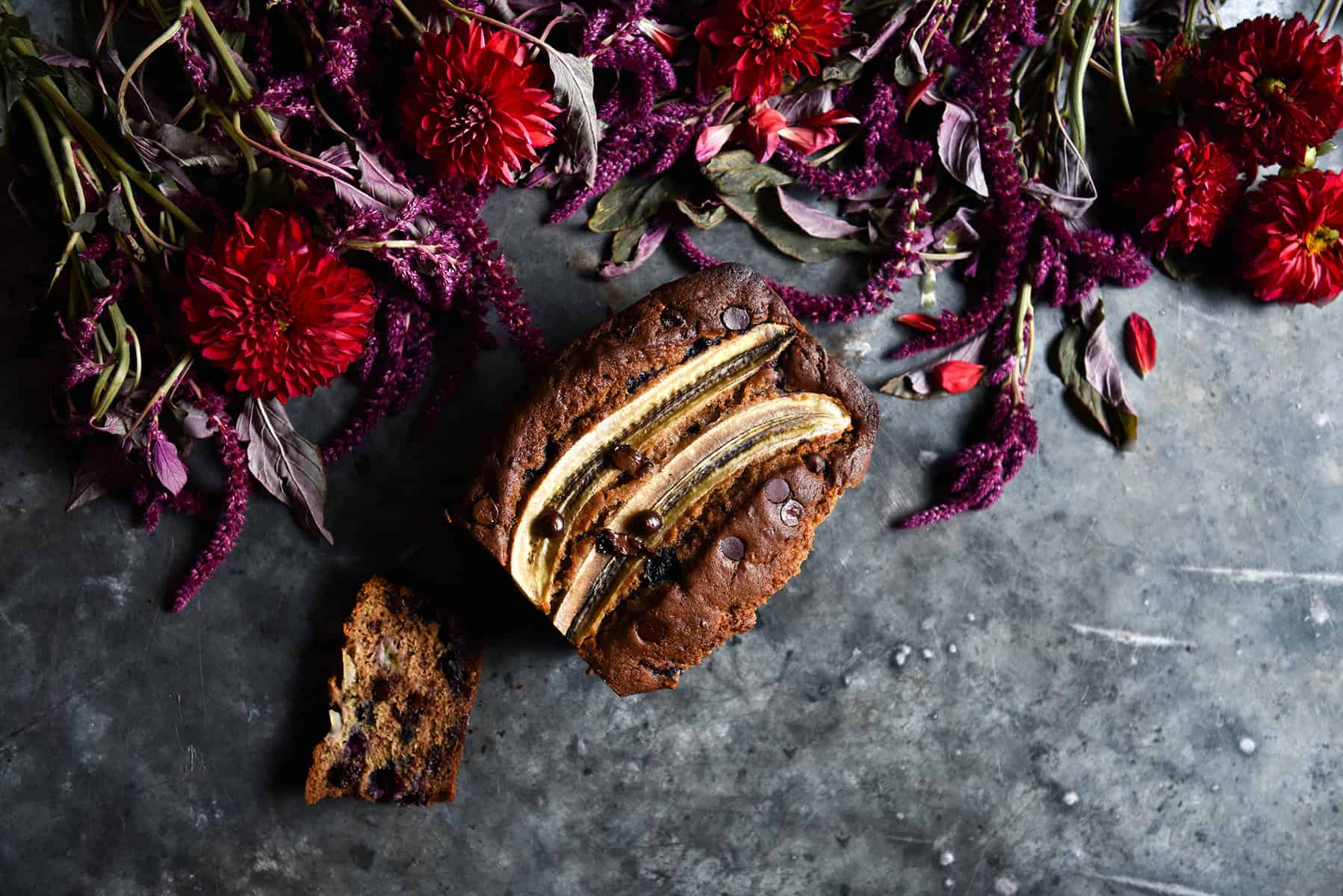 More gluten free banana recipes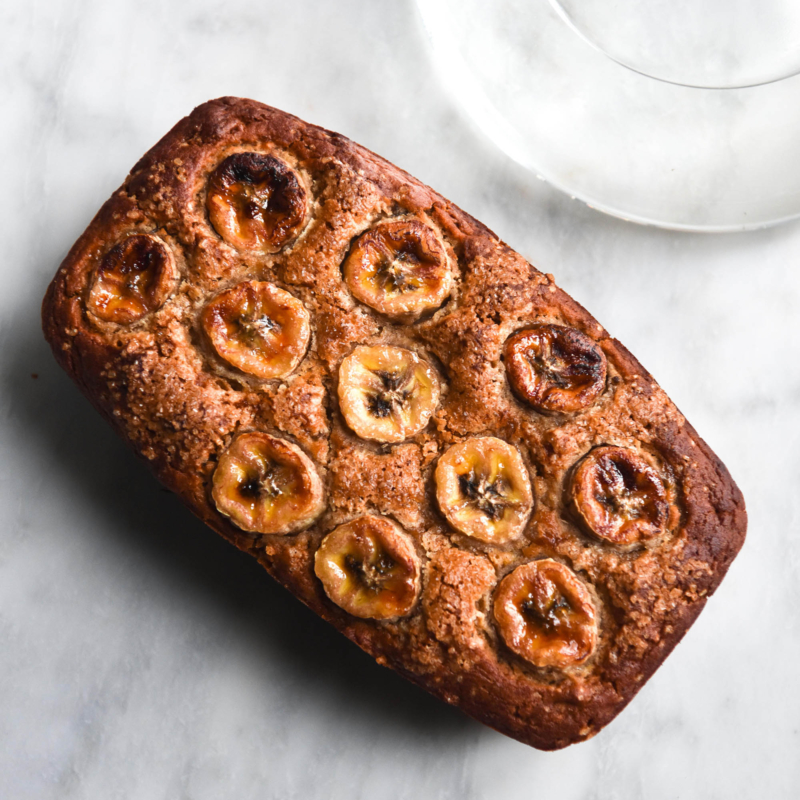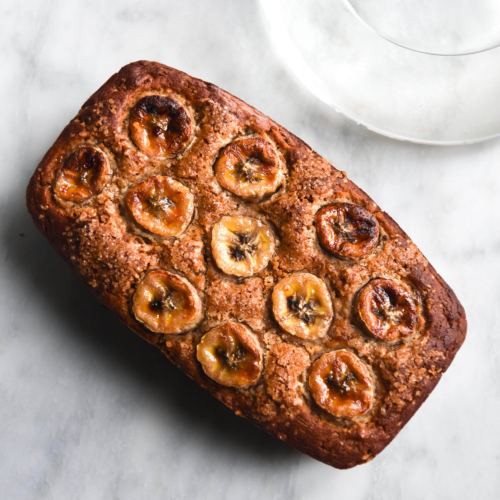 Gluten free chocolate chip banana bread
Gluten free, refined sugar free, nut free, FODMAP friendly
Ingredients
For the banana bread:
125

g

butter

300

g

ripe banana

mashed

125ml

(1/2 cup)

maple syrup

1

teaspoon

vanilla bean paste

2

extra large eggs (45-55g each, weighed out of shell)

good pinch of sea salt flakes

I promise it makes everything better!

60ml

(1/4 cup) cup

milk of choice

2

teaspoons

apple cider vinegar

160g

(1 cup)

fine white rice flour

90g

(3/4 cup)

tapioca flour

2

tablespoons

coconut sugar

or brown, but that will add a refined sugar component

1/2

teaspoon

nutmeg

1/2

teaspoon

cinnamon

4g

(1 teaspoon)

baking powder

1

teaspoon

baking soda

100

g

chocolate chips or roughly chopped chocolate

refined sugar free if you want to keep it refined sugar free
Instructions
Preheat the oven to 180C/356F.

Heat the butter over a low-medium heat for about 5 minutes or until it begins to brown. You'll know when it has browned because it will smell nutty, potentially be bubbling, and have golden flecks in the liquid. Once it has browned, add the mashed banana, and continue to cook for a few more minutes on a low heat. Once the bananas are cooked and fragrant, set aside to cool for about 5-10 minutes.

In a large bowl, add the butter banana mixture along with the maple syrup, eggs, vanilla bean paste and salt. Mix well to combine.

In a small bowl, mix the plant milk of choice and apple cider vinegar together to form buttermilk. This will help give the loaf some oomph.

Mix together the flours, baking soda and powder, spices and coconut sugar. Add this to the banana mixture, and stir thoroughly to combine.

Add the 'buttermilk' to the batter, and stir well until fully combined. Finally, add the chocolate chips (and blueberries, if you're using them) and stir through.

Pour the loaf into a greased silicon loaf pan. Apparently you don't need to grease silicon, but I don't trust gluten free baked goods, sorry bout it.

Cook the loaf for 30-40 minutes, or until the top is golden. Once it is, cover with foil, and continue to cook for an additional 30-40 minutes, until a skewer comes out clean. The loaf is a chonk, so it will take an hour to an hour and twenty to cook. Worth the wait, tbh.

Once cooked, remove from the oven and allow to cool slightly before transferring to a cooling rack. Gently slice and serve with a little butter or a drizzle of maple.

Store in an airtight container and eat within 2-3 days. You could probably slice it and freeze it, too.