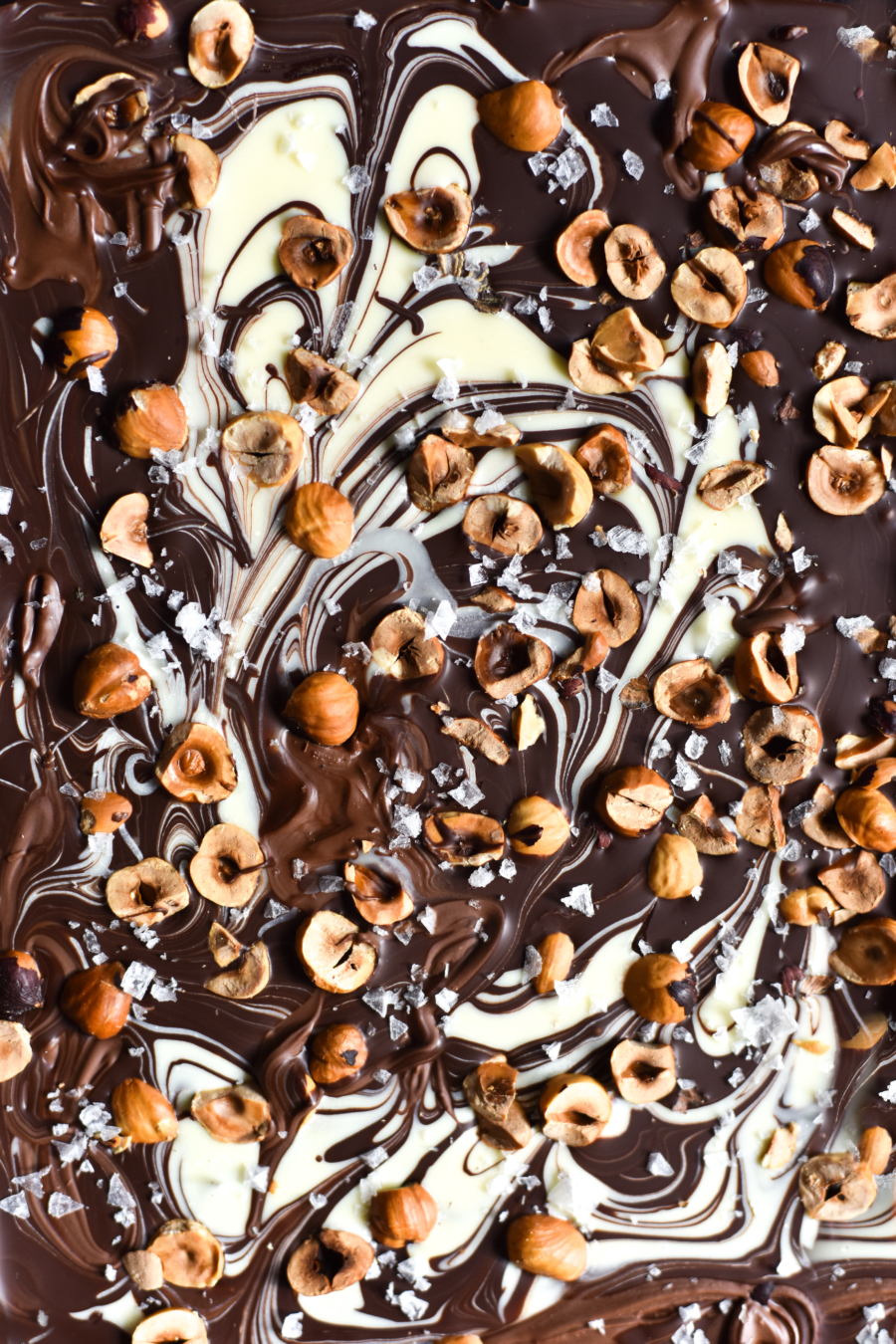 Before we begin, let's establish a fairly obvious fact: this is not a health food. Nutella is not a health food, nor are two different varieties of chocolate, nor is combining the two and sprinkling a few nuts on top.  Now that we've cleared the air, let's establish, the next, even more obvious fact. Marbled chocolate, sea salt, hazelnut, Nutella bark is life.
Marbled chocolate bark with Nutella
It struck me recently that sometimes simple, chocolate related desserts are best. I was at a Galentine's Day celebration, and despite there being a plethora of cakes and tarts, everybody was in awe of the chocolate covered strawberries. They would have taken about a quarter of the time all the other desserts did to prepare. Regardless, everybody was enamoured. Imagine your reaction if somebody presented you with a bowl full of fresh, dark and white chocolate covered strawberries. If your first thought isn't pure, unadulturated elation then you're lying.
With this in mind, I meandered off to the supermarket for some simple chocolate bark ingredients. As luck would have it, I wandered past the Nutella aisle. Low and behold, Nutella was on sale! A sign! And so it came to be: a marbled chocolate, sea salt, hazelnut and Nutella bark. All aesthetics, no fuss.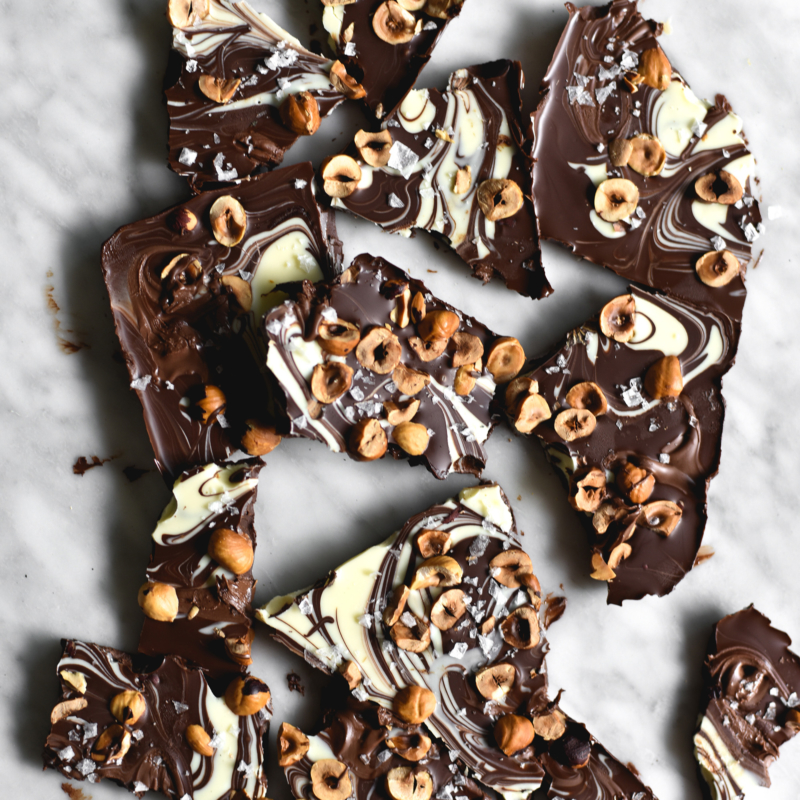 Marbled chocolate bark with Nutella
Gluten free
Ingredients
200

g

dark chocolate

100

g

white chocolate

2-3

tablespoons

Nutella

this depends on how sweet your dark chocolate is

1/2

cup

around 40g hazelnuts

Generous pinch of sea salt
Instructions
Preheat your oven to 180C/356F.

Once the oven is heated, bake your hazelnuts for around 10-15 minutes or until they are a beautiful browned colour. Don't panic if the skins look burnt – you will be removing them.

Rub the hazelnuts to remove the skins and then chop in half.

Take two small saucepans and half fill them with water. Place a heatproof bowl over each, ensuring the water doesn't touch. Gently melt the dark chocolate in one, and the white chocolate in the other.

Once the chocolate has melted, add 1-2 tablespoons of Nutella to the dark chocolate. Use 2 if you are using a bitter chocolate. Stir well.

Spray a small baking tin (mine is a 17cm x 27cm rectangular one) with olive oil, and then line with glad wrap. Pour the dark chocolate into the tray, and then the white on top. I like to pour half the white down one end, and half down the other, so the white marbling will be even.

Use a knife point or a bamboo stick to drag the chocolate around the tray, creating swirls. Be gentle, and don't cut the glad wrap, but also: now is the time for your artistic flair to shine.

Once you are happy, top the chocolate with the toasted hazelnuts and the remaining tablespoon of Nutella. Use a teaspoon to divvy it up and drop it in little blobs.

Place the chocolate in the fridge for around 10-15 minutes, or until it starts to solidify. Sprinkle the sea salt over (if you do it any earlier, the salt will melt, and any later, it won't stick) and return to the fridge until solid.

Break into pieces of your choosing, and serve. Keeps well in the fridge for at least a week, although it won't be there that long.