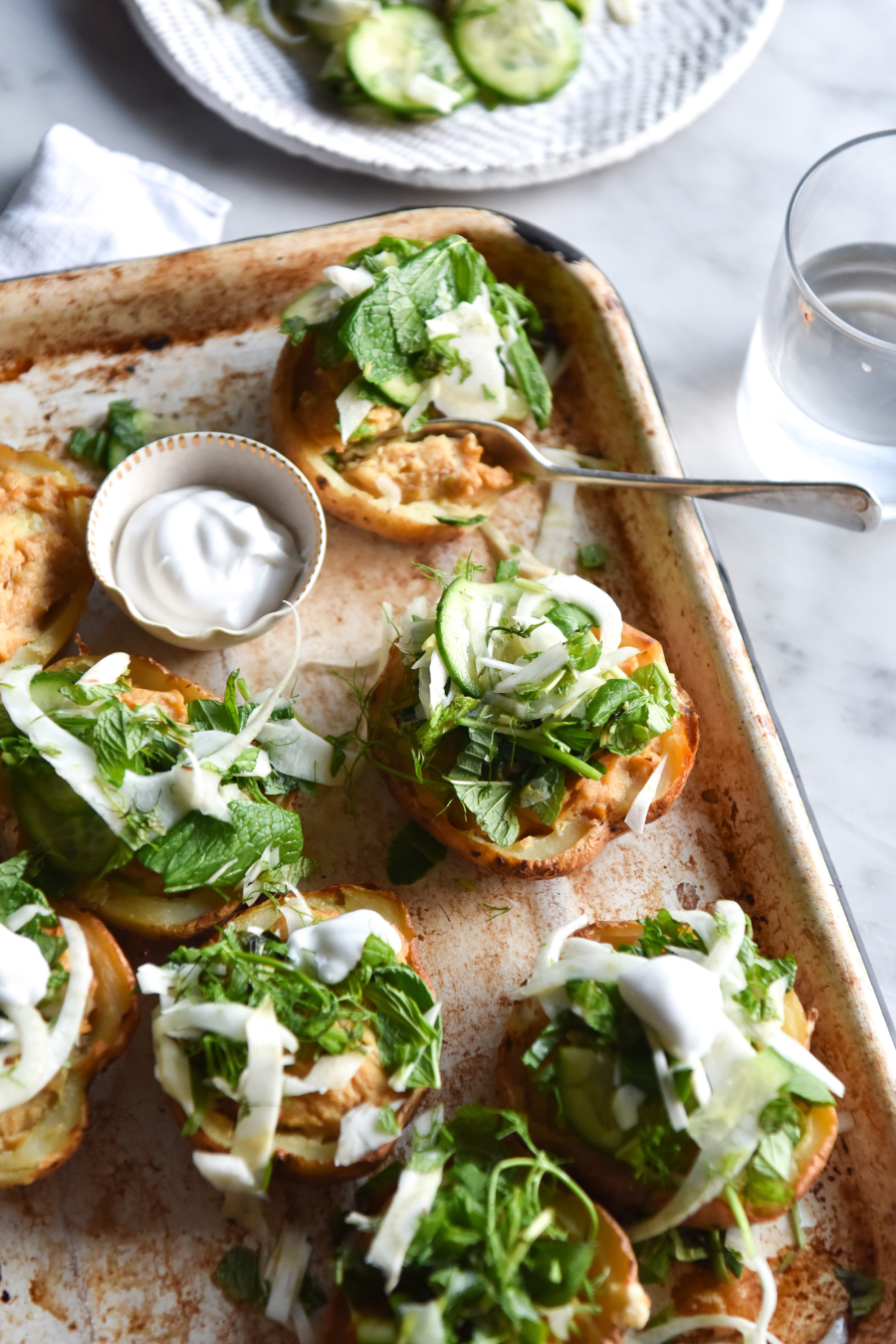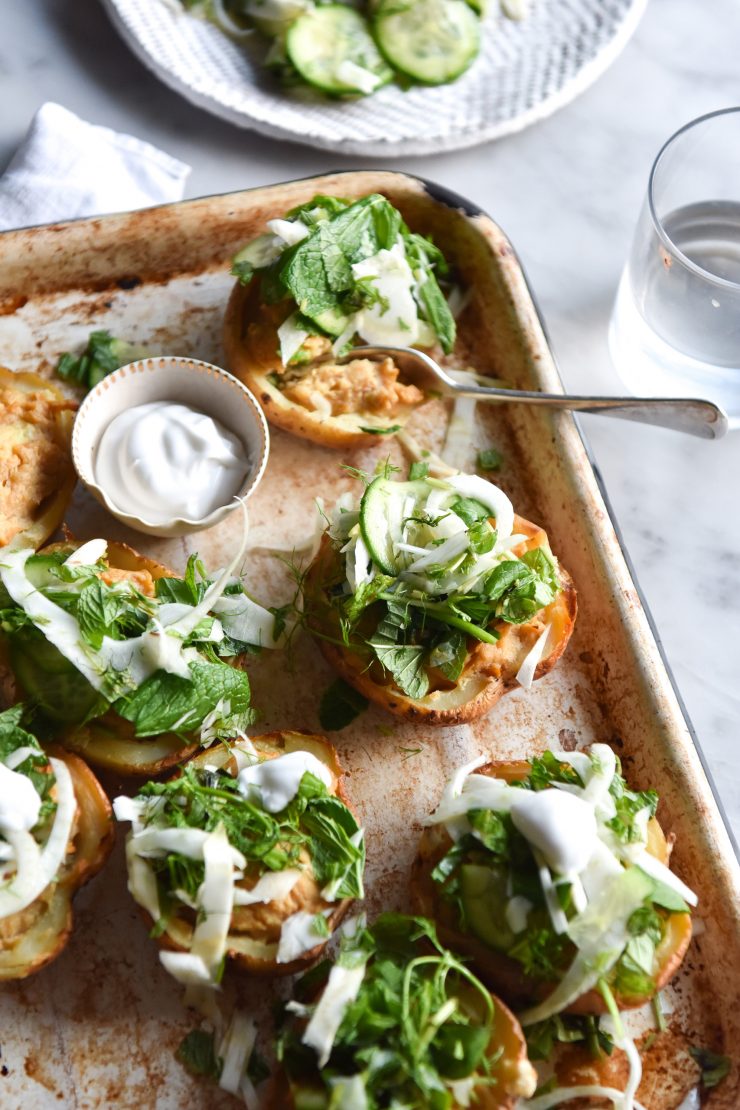 We have well and truly entered the season for baked potatoes here in Australia, and although I'm generally the number one proponent of excessive cheese and sour cream on a baked potato, today is not that day. Today we're making these comforting yet light and fresh vegan cheesy baked potatoes.
Vegan cheesy baked potatoes with fresh salsa
These baked potatoes have a cheesy, delicious filling without any vegan cheese or nuts. The combination of miso, nutritional yeast and dijon mustard has a umami piquancy that is akin to a parmesan.
This dish is comforting yet light and fresh, and looks gorgeous to boot. The salsa is really just a combination of fresh herbs and crunchy green vegetables, but it really rounds out the rich cheesy flavour of the potatoes.
This dish is gluten and grain free, vegan and dairy free, nut free and low FODMAP. A perfect weeknight meal for anyone with multiple dietary requirements.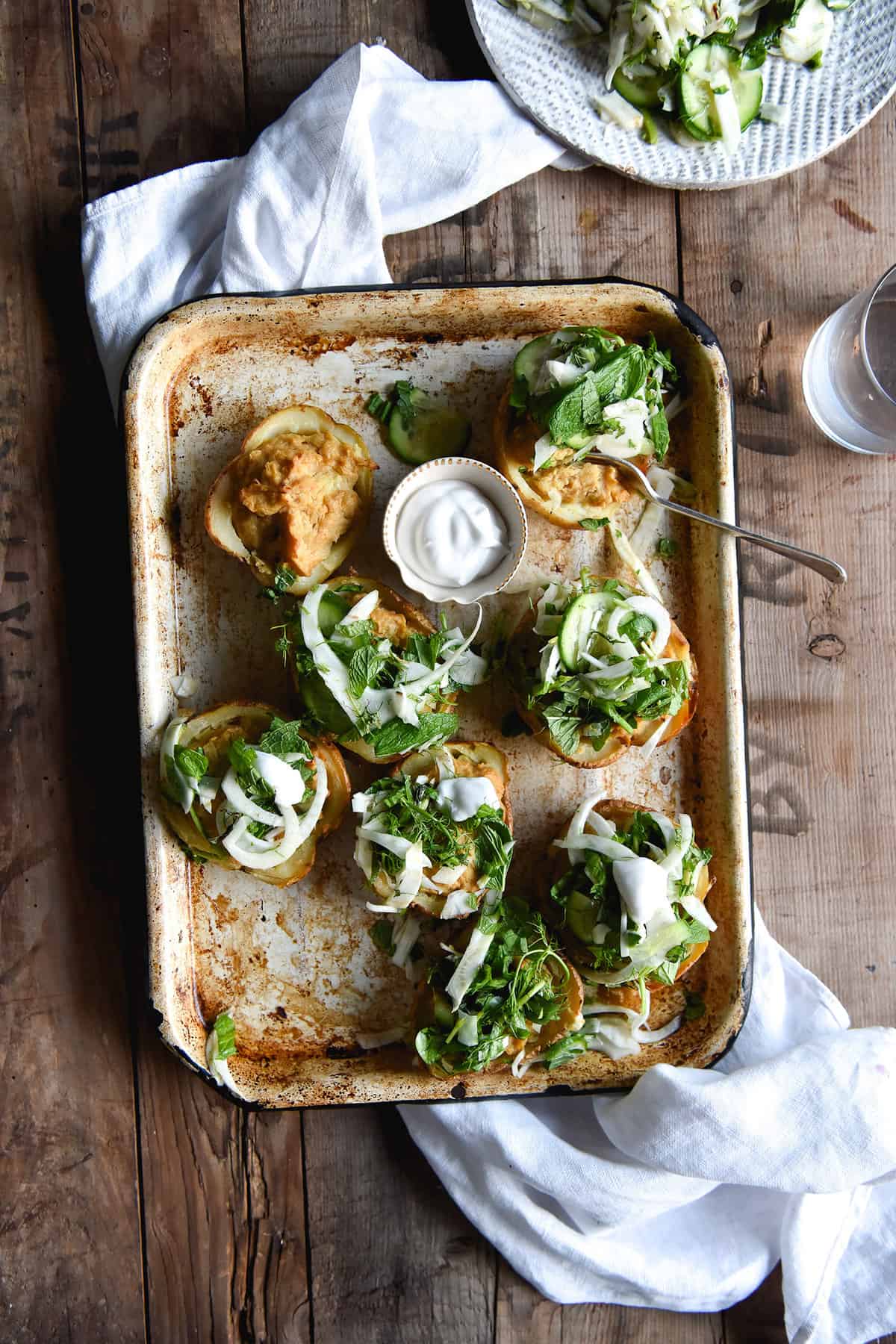 Which variety of potatoes is best for baking?
Generally speaking, the best varieties of potato for baked potatoes are starchy or all rounder varieties. This is because both varieties will bake up to have fluffy insides with a crisp outside.
The best varieties will differ based on where you live. In Australia, they include:
King Edward (starchy)
Russet (starchy)
Desiree (all rounder)
Sebago (all rounder)
Yukon gold (all rounder)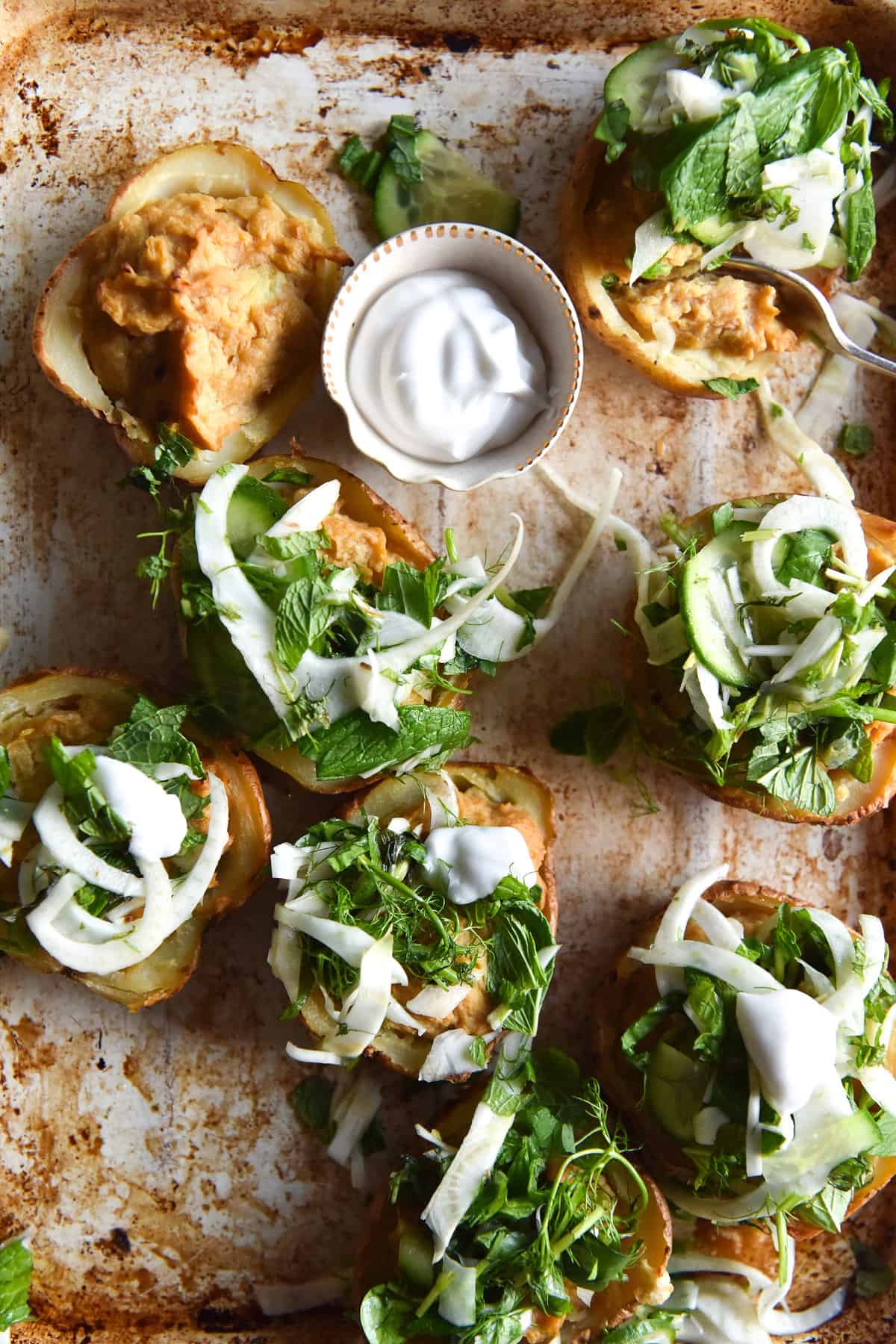 More potato recipes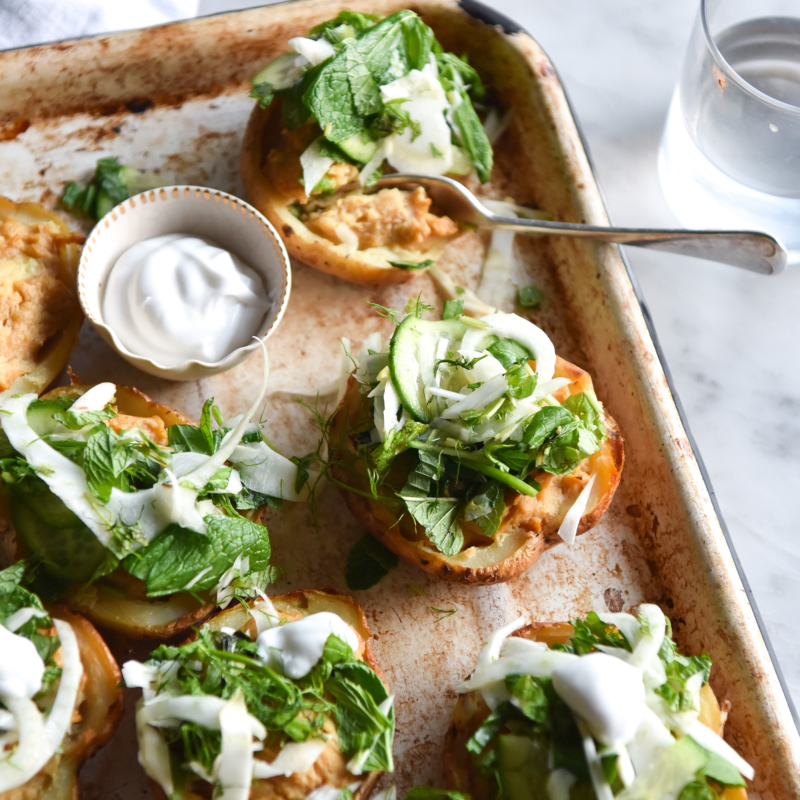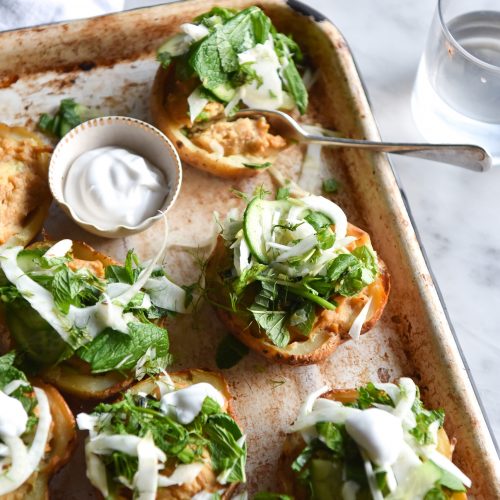 Vegan cheesy baked potatoes with fresh salsa
Ingredients
For the potatoes:
4

large potatoes

4

tablespoons

coconut yoghurt

plus extra to serve

4

tablespoons

nutritional yeast

1/4 – 1/2

teaspoon

salt

to your tastes

1 1/2

teaspoons

miso paste

I used genmai, which is a dark variety

2

teaspoons

dijon mustard

1

teaspoon

apple cider vinegar
For the salsa:
Juice of 1 lime

2

teaspoons

brown sugar

Salt and pepper

to taste

1

medium fennel bulb and it's fronds

1

medium Lebanese cucumber

1

handful of mint

or basically any herb

1/4

cup

toasted coconut flakes or almonds

optional
Instructions
Preheat the oven to 200C/400F.

Wash the potatoes and prick them with a fork a bunch of times to ensure you don't have to clean up any potato explosions. Coat the potatoes lightly with oil and season to your tastes.

Cook the potatoes from 30-45 minutes, depending on how big they are. It should be easy to insert a skewer through the potato and there should be no pushback or firmness.

Allow to cool just enough for you to be able to handle them, then slice them in half. Scoop out the flesh in the centre of the potato, leaving a little bit of flesh around the edges, so that the potato holds it's form. Place the potato flesh in a large mixing bowl, and mash it until smooth – you can use a ricer or just a fork.

Add the remaining ingredients for the potatoes, and mash/mix well to combine. Season to taste.

Spoon the mashed potato mixture back into the potato skins evenly, and give it a light spray of oil. Reduce the oven to 180C/356F and return the potatoes for an additional 15-20 minutes.

To make the salsa, combine the lime juice, brown sugar and salt in a large mixing bowl, and stir quickly to combine. Chop the vegetables as per your preference (I used a mandolin and alternate between larger and smaller pieces for a bit of texture) and mix them, together with the mint, in with the lime juice. Add the almonds or coconut flakes just prior to serving. Once the potatoes are done, add a generous serving of the salsa, and top with coconut yoghurt.