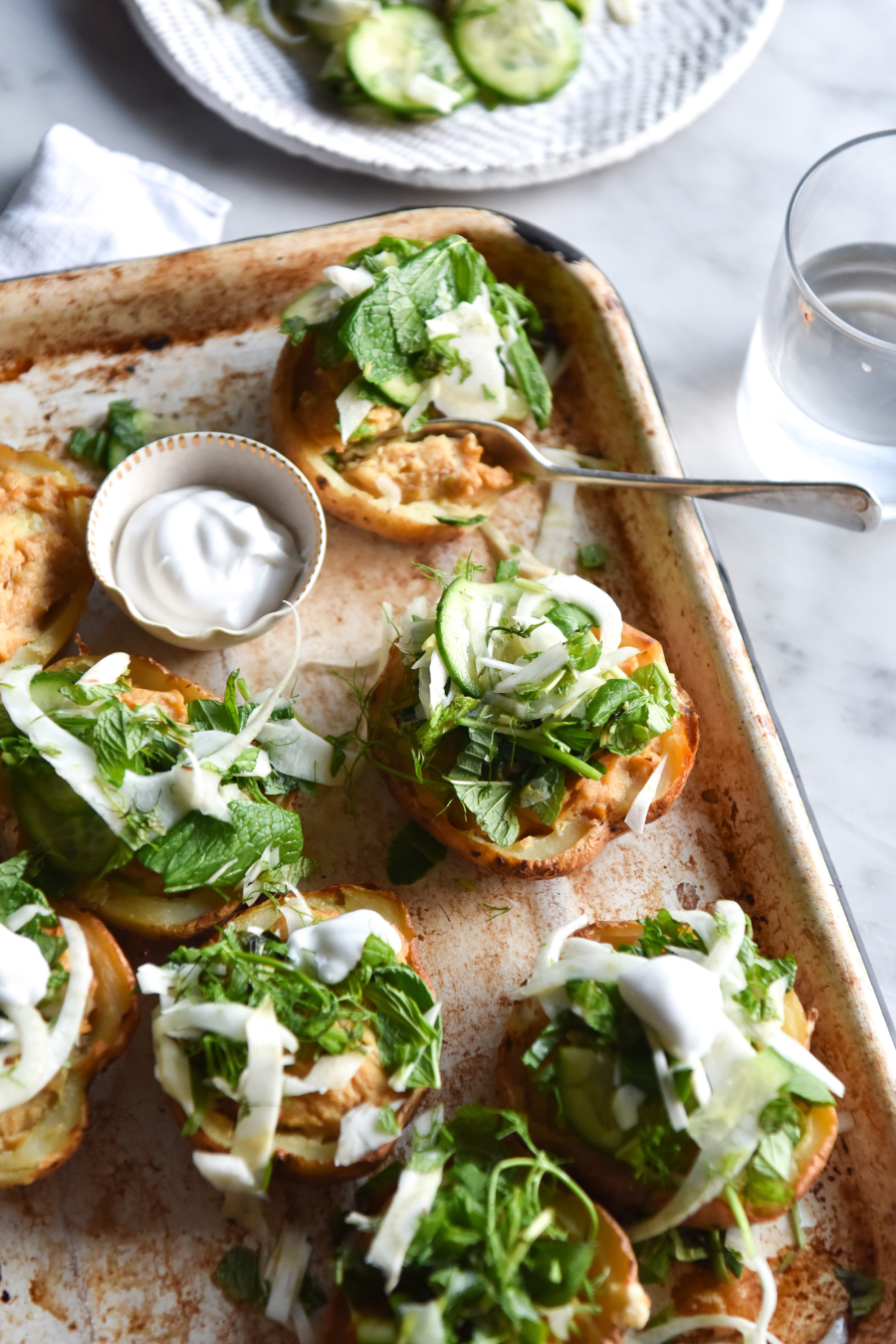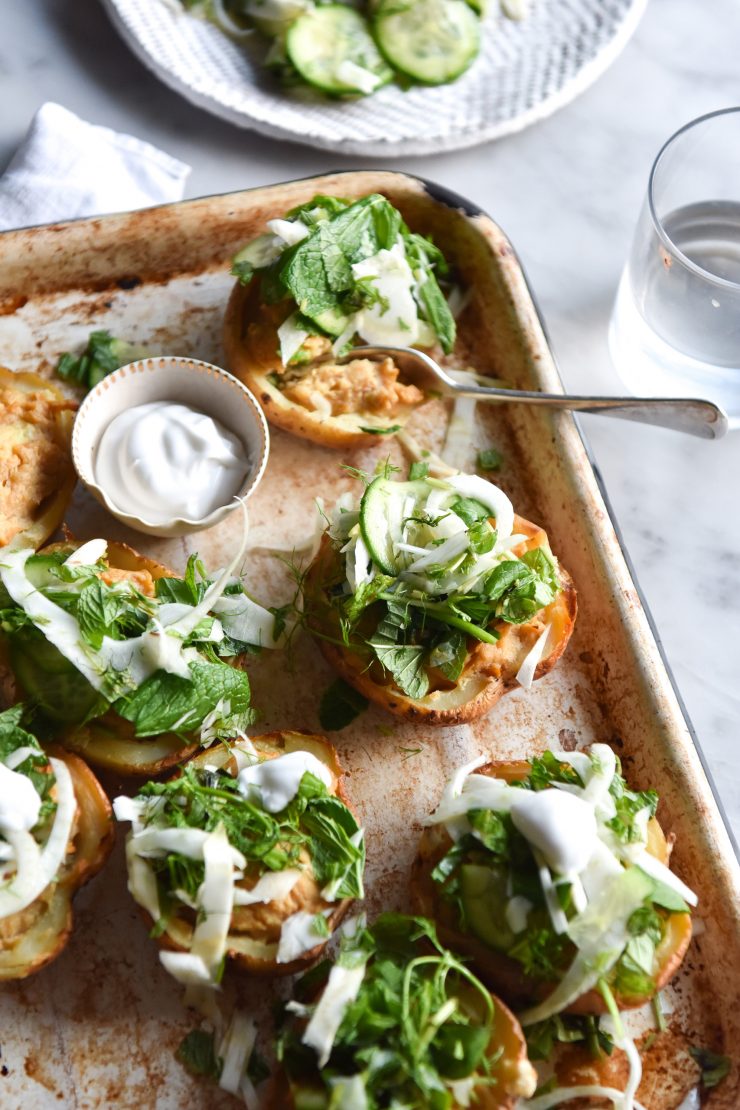 We have well and truly entered the season for baked potatoes here in Australia, and although I'm generally the number one proponent of excessive cheese and sour cream on a baked potato, today is not that day.
My latest experiment in the quest for great (or even just acceptable) gut health has been to cut right down on dairy. I don't want to say dairy free, in case I slip and post some haloumi on Instagram, but I'm becoming more aware of how much I consume and trying to limit it as much as possible. The life of a recipe developer with gut issues is not so much glamorous as it is a constant balance between needing to test recipes and needing to give your gut time to relax. Having recently finished a FODMAP friendly cookbook, I can safely say neither my gut nor my own person have had time to relax, which is potentially why we (my gut and I) find ourselves in this predicament – eating baked potatoes without cream on them. Just kidding. The predicament is my terrible digestive system, not the baked potato thing.
These baked potatoes tick all the boxes for my little gut vacation: FODMAP friendly, dairy free, vegan (are these synonymous?) gluten free, grain free (I find grains quite irritating to my system which is ultra depressing) and conveniently delicious.
FOR THE BAKED POTATOES:
4 large potatoes
4 tablespoons coconut yoghurt, plus extra to serve
4 tablespoons nutritional yeast
1/2 teaspoon sea salt
1 1/2 teaspoons miso paste (I used genmai, which is a dark variety)
2 teaspoons dijon mustard
1 teaspoon apple cider vinegar
FOR THE SALSA:
Juice of 1 lime
2 teaspoons brown or coconut sugar
1 teaspoon sea salt
1 medium fennel bulb and it's fronds
1 medium Lebanese cucumber (because they're not wrapped in plastic!)
1 handful of mint (or basically any herb)
1/4 cup toasted coconut flakes or almonds (optional)
METHOD:
Preheat the oven to 200 degrees Celsius.
Wash the potatoes and prick them with a fork a bunch of times to ensure you don't have to clean up any potato explosions. Hold each potato up and spray the whole thing with a coating of oil, top and bottom, and sprinkle each with a good pinch of fine sea salt. Cook the potatoes from 45 minutes to an hour, depending on how big they are. It should be easy to insert a skewer through the potato and there should be no pushback or firmness.
Carefully slice the potatoes in half, and allow to cool just enough for you to be able to handle them. Once they're cool, scoop out the flesh in the centre of the potato, leaving a little bit of flesh around the edges, so that the potato holds it's form.
Place the potato flesh in a large mixing bowl, and mash it until smooth – you can use a ricer or just a fork. So old school amirite.
Add the remaining ingredients for the potatoes, and mash/mix well to combine. Season to taste, and add a bit of chilli if you fancy.
Spoon the mashed potato mixture back into the potato skins evenly, and give it a light spray of oil. Reduce the oven to 180 degrees Celsius, and return the potatoes for an additional 15-20 minutes.
To make the salsa, combine the lime juice, brown sugar and salt in a large mixing bowl, and stir quickly to combine. Chop the vegetables as per your preference (I used a mandolin and alternate between larger and smaller pieces for a bit of texture) and mix them, together with the mint, in with the lime juice. Add the almonds or coconut flakes just prior to serving.
Once the potatoes are done, add a generous serving of the salsa, and top with coconut yoghurt. YUM.