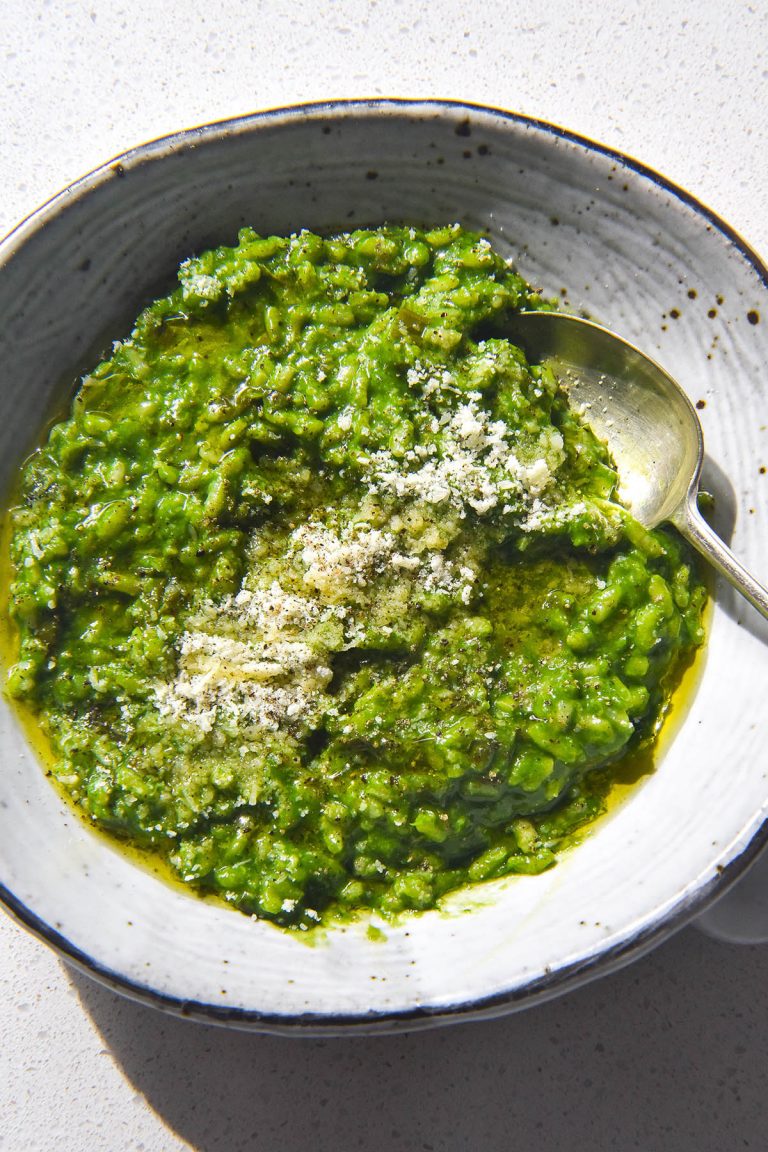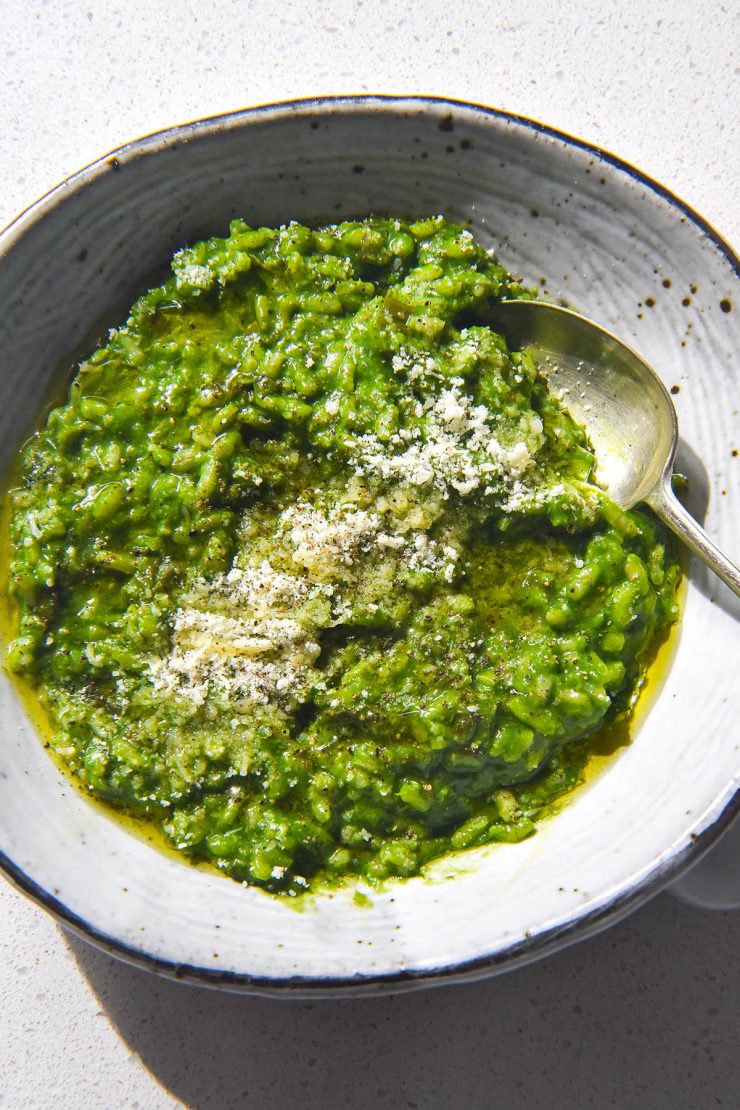 I recently went to Italy, which means, of course, that I'll be making it my whole personality for the next few months. I probably lost a few Instagram followers with my incessant Sicily content; but buckle up friends, because now the recipes start. Today I'm kicking off my low FODMAP Italian recipe binge with this low FODMAP risotto verde.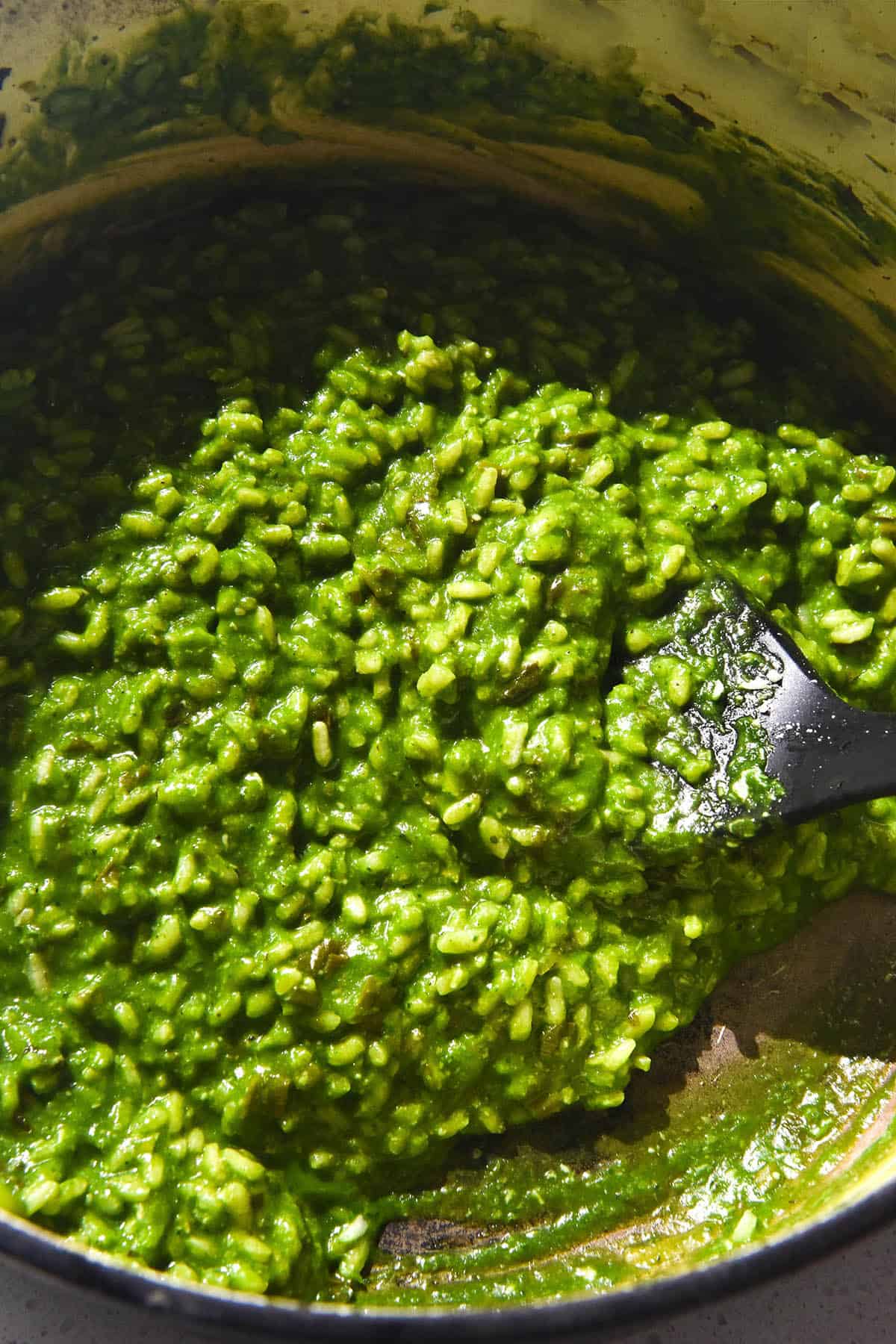 Low FODMAP risotto verde
Risotto is a bit of a time consuming dish, but well worth the effort. This risotto uses a verdant green sauce of blanched kale, blanched leek greens and basil, which is stirred into the cooked risotto. This puree is what gives the risotto it's bright green colour.
Risotto uses arborio or carnaroli rice, which is naturally gluten free. To keep this version low FODMAP, we're using leek greens, spring onion greens and low FODMAP stock. These ingredients add lots of flavour to the risotto without the FODMAP content.
The risotto is seasoned with pepper, parmesan (vegetarian if need be) and salt to taste. It is a full flavoured and delicious winter comfort dish that happens to contain a decent dose of green, too.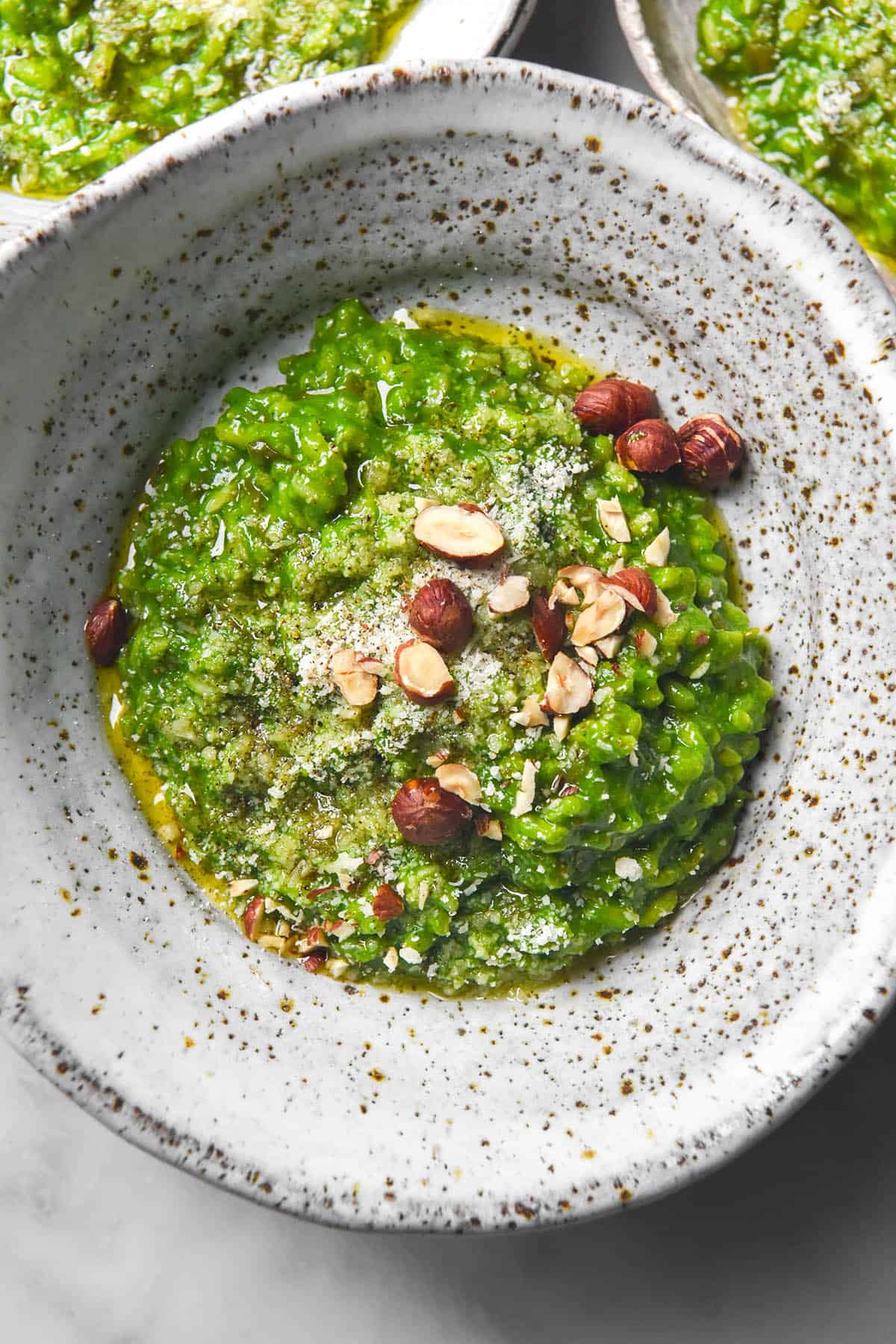 Ingredient notes for your low FODMAP risotto verde
Tuscan kale is far better here than curly leaf kale. It blends better, has a deeper flavour and a deeper colour.
Spring onion greens aren't traditional to risotto, but I promise the don't taste out of place. They simply add a layer of onion-like flavour that the risotto wouldn't have otherwise.
White wine is one of those ingredients that makes risotto taste like risotto, in my opinion. You can replace it with extra low FODMAP stock, though.
On the note of low FODMAP stock: you can make your own or use store bought. I used stock powder because I have it in hand. Massell brand in Australia has lots of low FODMAP options and also vegan 'chicken' or 'beef' low FODMAP stock powders/cubes.
Adding the parmesan at the end really brings this low FODMAP risotto verde together. Make sure you grate your own – the pre-grated kind has fillers in it which prevents it from melting. If you need a vegetarian parmesan, see my post on vegetarian cheese in Australia.
Do I have to blanch the kale and leek?
Yes. Not only does blanching make the greens easier to blend, it also sets their colour. This ensures the risotto will be a lovely bright green as opposed to a muddy green or brown.
The leek needs to be lightly cooked for texture, but also to ensure it's not too acerbic. Raw alliums tend to be quite strong and can often be overpowering. Blanching is a quick and easy step that makes this low FODMAP risotto verde as beautiful and delicious as it is.
Can I use any kind rice I already have in the pantry?
My first instinct here is to say no. Risotto is made with Arborio or Carnaroli rice because it has a high starch content and hardy grain, so it cooks up to be a creamy risotto with bite and texture. It also absorbs a lot of liquid when compared to other grains. \ However, some websites say that you can use other grains, like brown rice, to make a somewhat inauthentic risotto.
So, while you can technically make risotto with other grains, I wouldn't recommend it here. We have added a lot of liquid to this risotto prior to adding the green puree. I think that you'd end up with a sloppy mess if you tried this with basmati or some other grain.
I am in the process of developing some low FODMAP, gluten free arancini, so I promise buying a pack of arborio will be worth it.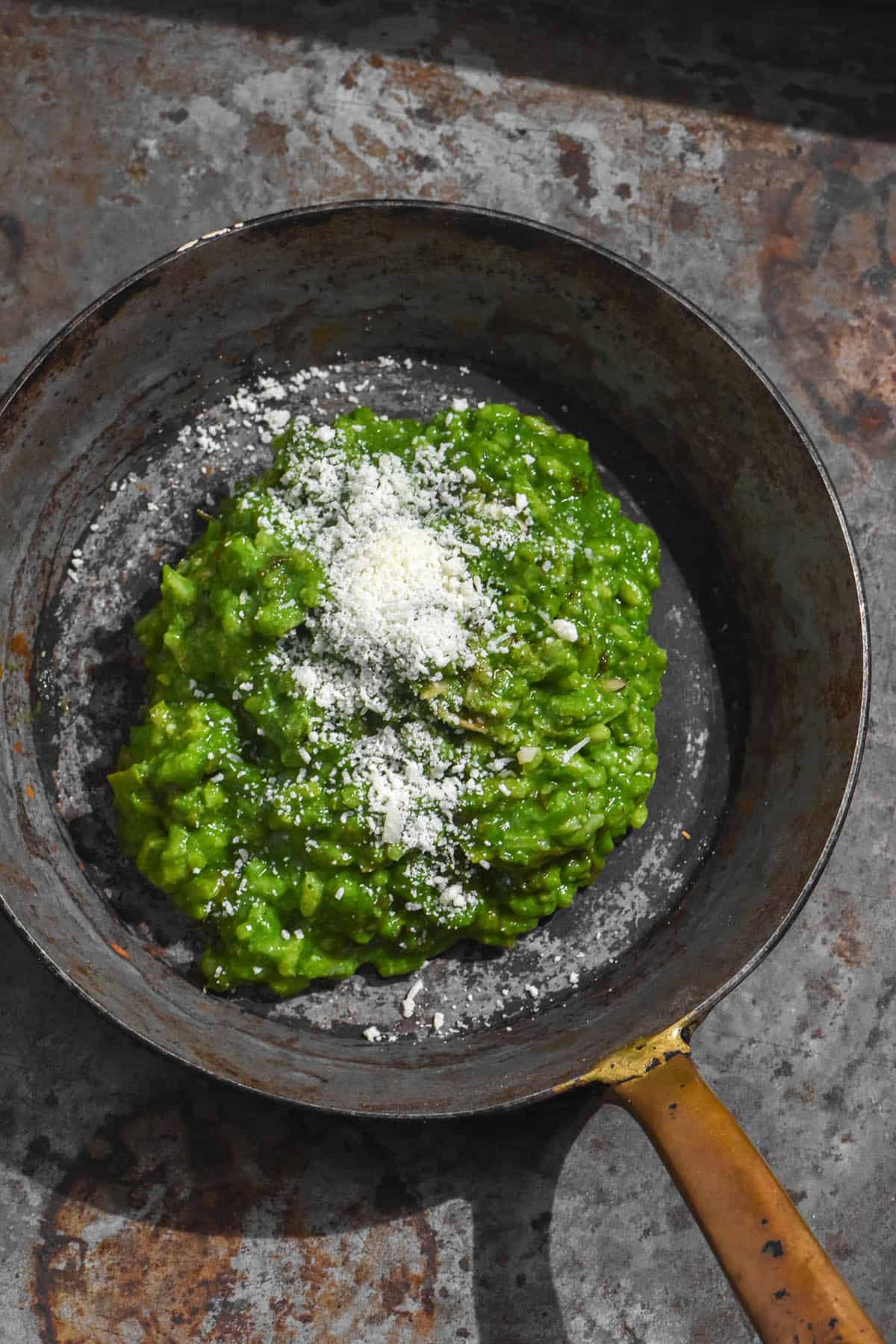 Risotto making tips
There are a few tips to ensure you're well on your way to making a delicious risotto verde. They are as follows:
Make sure you blanch the kale and leek to set the colour, take out some of the bitterness and ensure a smooth puree.
Cook the risotto grains for 3-4 minutes along with the spring onion greens. Toasting the grains without liquid first will help ensure the grains keep their shape during cooking.
Keep the stock on a very low heat in a pot alongside your risotto. Adding hot liquid encourages the starches in the rice to come out, which is what creates a creamy risotto. Further than that, cold stock will increase the cooking time. No thanks.
Add liquid to suit your risotto. No two risottos will be the same. Continue to intermittently stir, cook add liquid until the grains are cooked through but have a bit of bite. If you run out of stock, use water.
Add your final ingredients off the heat. I like to add the green puree first here, then the cheese. As you'll know if you've made cacio pepe, parmesan can overcook and become a hot mess. Adding the cold puree helps to bring the temperature down before adding the cheese.
Parmesan will help bring your risotto together. If it's looking a little runny after adding the puree, don't stress. The parmesan will create a cohesive, thick risotto that stands up in the bowl.
Taste and adjust the seasoning before plating. Pepper, salt and lemon juice are all individual preferences, so add them to yours.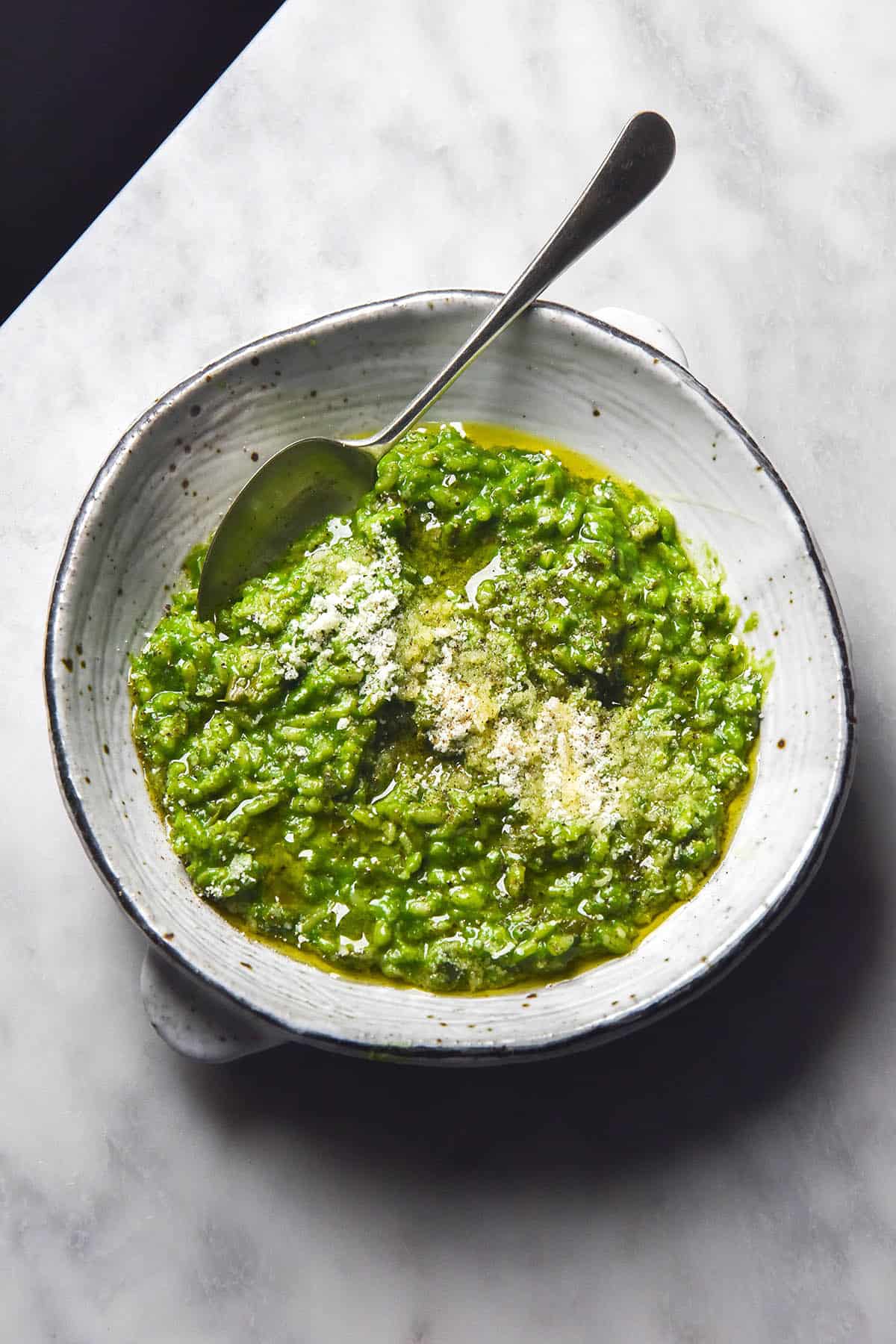 How many people does this low FODMAP risotto verde serve?
I find risotto to be quite a mystery when it comes to determining serving sizes. Portions of risotto can often look small, but be quite filling. With my appetite which is intermediate, I'd say this risotto serves 3 people, maybe 4 if you've got sides. However, if you're a hungrier person, I would say 2 people, maybe 3.
I have seen recipes online adding beans to risotto, which is something I'd be interested in trying. There are a number of canned beans such as chickpeas and cannelini beans that have low FODMAP serving sizes. Canned beans are the lower FODMAP choice because some of the FODMAP content leeches out into the canning liquid. So! If you're a hungry person, maybe consider adding some canned beans to bulk the risotto out. I haven't tried it yet, but I do intend to use my green protein sauce in a batch of risotto soon.
More low FODMAP Italian inspired recipes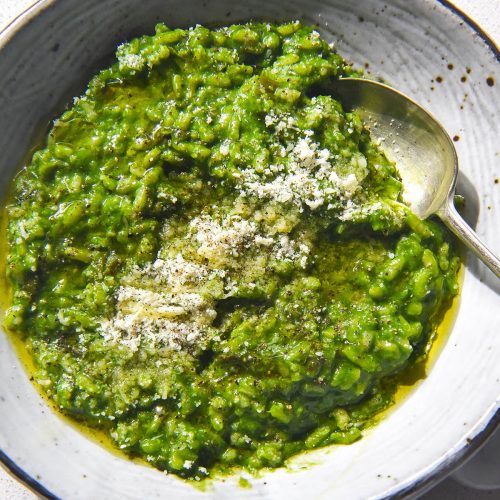 Low FODMAP risotto verde
Gluten free, low FODMAP, vegetarian option
Serves 2-4 (see body of post)
Ingredients
50

g

Tuscan kale

woody stems removed

Green part of 1 large leek

thoroughly washed and chopped

1

bunch of basil

woody stems removed

40

ml

(2 tablespoons) olive oil or ghee

1

bunch of spring onion greens

washed and finely chopped

250

g

Arborbio or Carnaroli rice

100-150

ml

white wine

see notes

750-1000

ml

low FODMAP stock of choice

see notes

Lemon juice

to taste

Salt and freshly cracked black pepper

to taste

100-150

g

freshly and finely grated parmesan

see notes

Toasted hazelnuts

to serve (optional but nice for a crunch)
Instructions
Bring a pot of water to the boil, then blanch your kale and leek for 1-2 minutes. They should still be bright green in colour, but softened. Drain and rinse with cold water, then set aside to cool.

Once the greens are cooled, add them to the blender along with the basil and 125ml (1/2 cup) of the stock. Blend until a bright green, mostly smooth puree forms.

Place a large pan or Dutch oven over a medium heat and add the oil. Once it is shimmering, add the spring onions and cook until soft and fragrant, about 3 minutes.

Place the stock in a second pot over a low heat. Keep the stock warm for the entire process.

Add the rice grains and stir to coat. Cook for 3-4 minutes or until the grains start to look a little translucent. You can add a bit of extra oil here if you need it.

Once the grains are toasted, add the white wine to the pan. Stir and allow it to be absorbed by the grains. Once it has, add a ladle full of warm stock. Stir gently and allow the stock to be absorbed by the grains. Repeat this process until you have used 750ml of stock. From here, assess: is the rice cooked but firm? Are there any undercooked grains? Does the risotto have a creamy, saucy texture without being sloppy? Add the extra, if necessary, stock to achieve this consistency.

Once you're happy with the consistency, take the risotto off the heat. Stir in the green puree, followed by the grated parmesan. Taste the risotto then add lemon juice, pepper and extra salt to your tastes.

Serve with extra parmesan and pepper, plus some good quality olive oil. Garlic infused olive oil would be great here.
Notes
White wine adds so much flavour to risotto, but it is optional. Simply replace the wine with extra stock.
I like to use 750ml stock and the rest water. This way I don't waste any extra stock that I don't use.
Vegetarian parmesan is available, even if it shouldn't be. See my post on vegetarian cheeses for vegetarian parmesan brands in Australia.
Use vegetarian stock for a vegetarian risotto.
Omit the optional toasted hazelnuts for a nut free option.