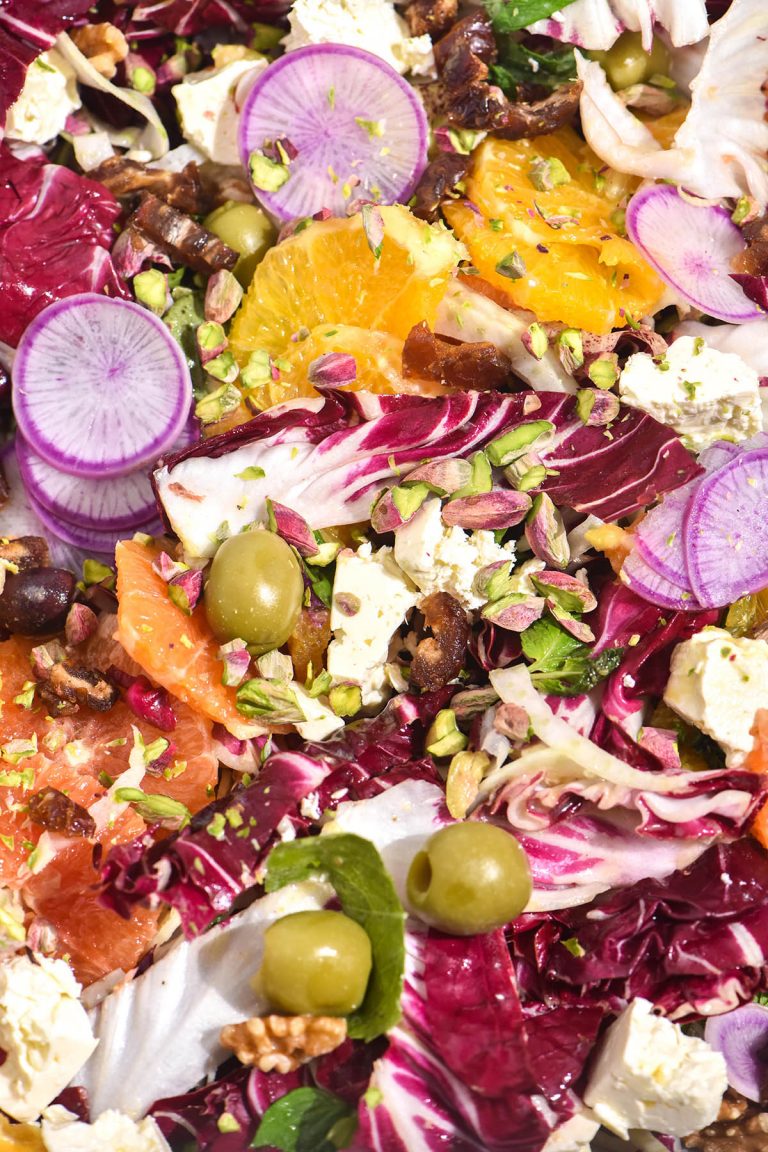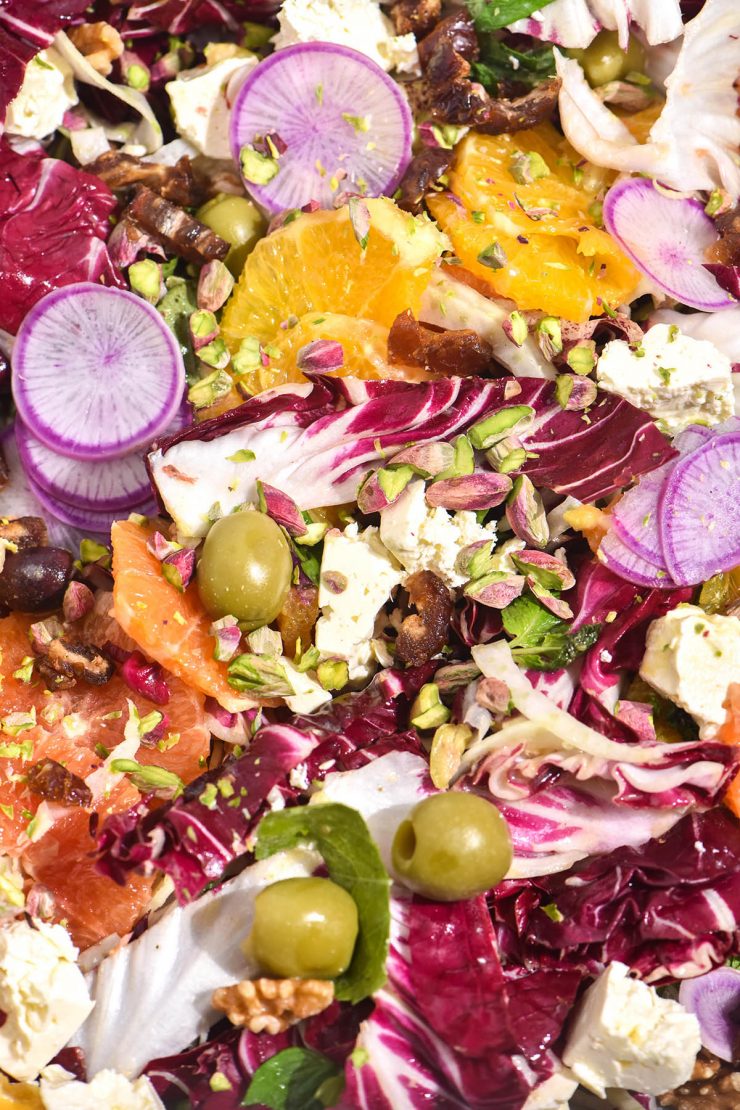 This winter citrus salad is one of my favourite ways to get my vegetables in during the colder months. It's a beautifully vibrant salad with layers of flavours and textures.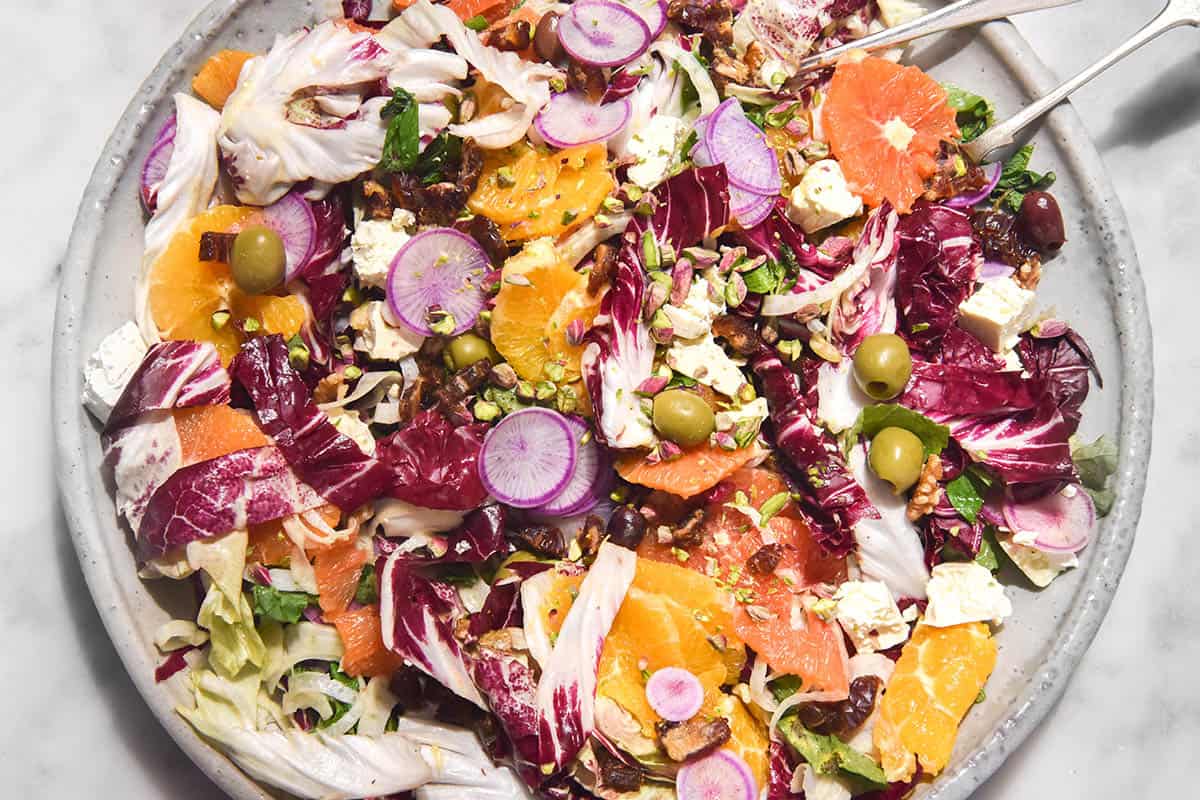 Winter citrus salad
This winter citrus salad uses a base of finely shaved fennel, radishes, radicchio and mint. Sliced oranges and some optional chopped dates add sweetness and contrast, while nuts add texture and richness. Feta or goat's cheese adds a creamy element and a bright tangy dressing completes this delicious winter salad.
The salad is gluten free, easily dairy free and easily low FODMAP. It can also be made nut free for nut allergies.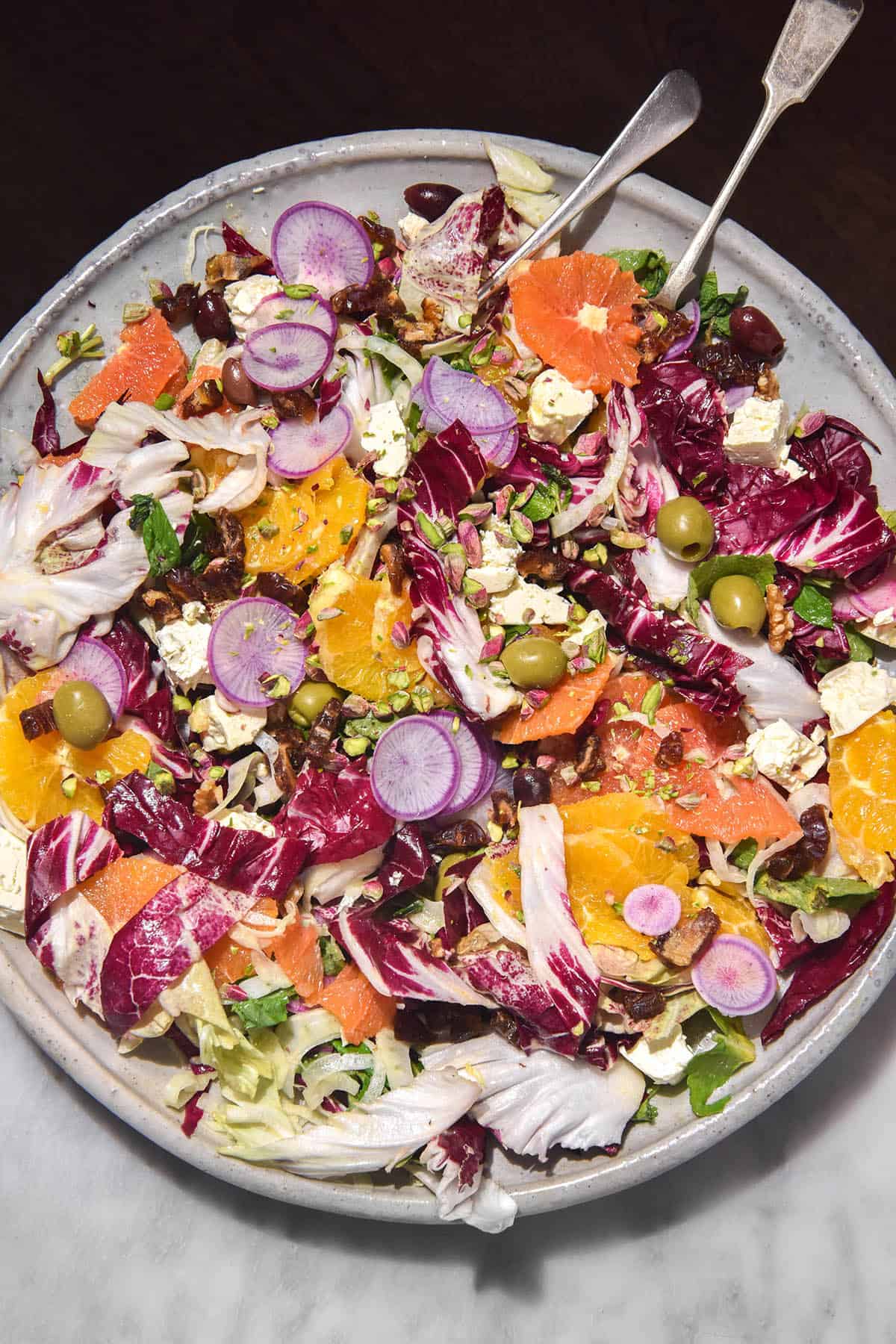 Recipe notes and substitutions
If you don't have kombucha, simply use water to thin out the dressing. You might find you don't even need to thin it out for your preferences.
Greek feta, Danish feta and goat's cheese (marinated or regular) all work here. If you use either of the latter, be sure to add them last as per the recipe card. As softer cheeses are they are prone to breaking up in the salad.
If you don't like radicchio, you can use lettuce, rocket or another soft green of your choice. I haven't tried kale, but I would probably choose lettuce here.
Not a fan of mint? Flat leaf parsley (not curly, I beg) also works well here. You can also leave the herbs out if need be.
Radish greens are edible and delicious. You can use these to add some green to the salad if you're not using herbs.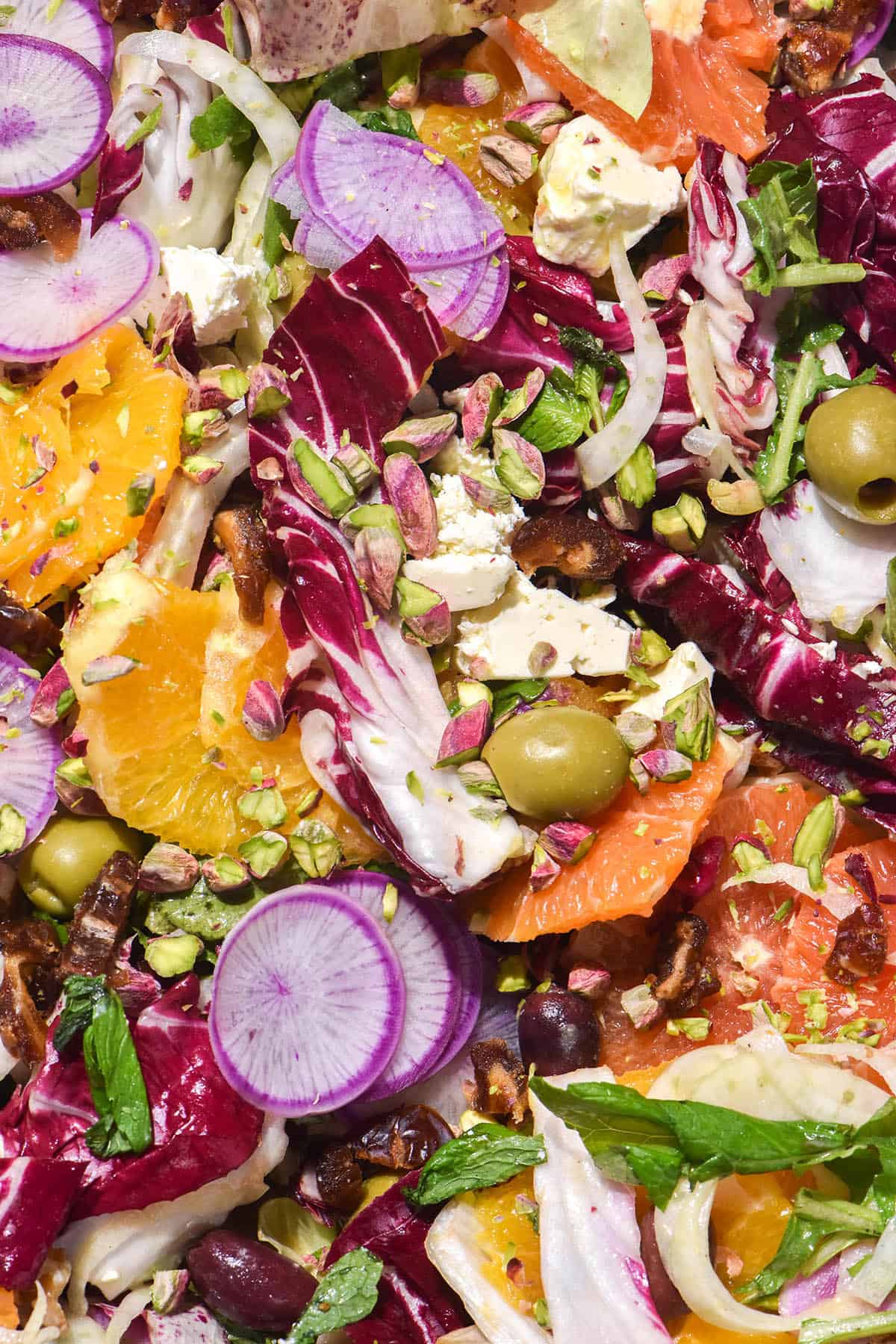 FODMAP notes for your winter citrus salad
There are a few things to discuss on the FODMAP front. This salad was not designed to be a low FODMAP recipe per se, but it is easily made low FODMAP.
Firstly, fennel is low FODMAP in 48g (1/2 cup) servings. This recipe uses 1/2 bulb and serves 4-8, so it should be within FODMAP limits. If you have issues with mannitol or sorbitol, weigh the fennel for accuracy.
Kombucha is low FODMAP in 180ml serves, and this recipe uses well under that amount. Just in case you were wondering about FODMAP and kombucha.
Unfortunately for us all, pistachios are high FODMAP in the tiny serve of 11g. Monash doesn't give a lower limit for pistachios. As always, assess your own tolerance, but leave the pistachios off if you're doing the elimination phase or react badly to them.
Finally, dates! Monash recently added Medjool dates to their app. They are low FODMAP in 1 date servings, or 20g. The salad uses 3-4 dates, which puts it in a low FODMAP threshold per serving. However, always assess your own tolerance and leave them off if need be.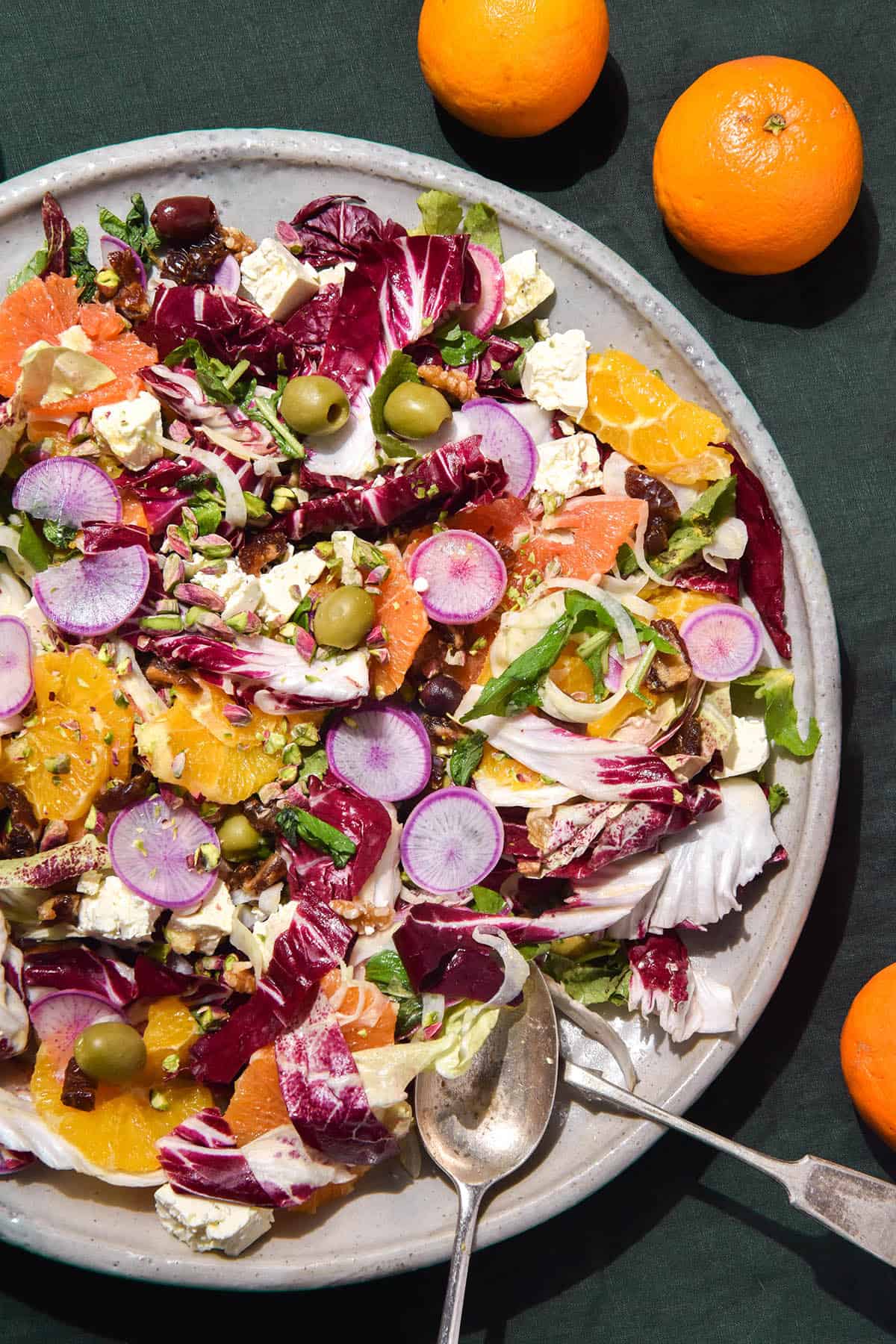 More low FODMAP salad recipes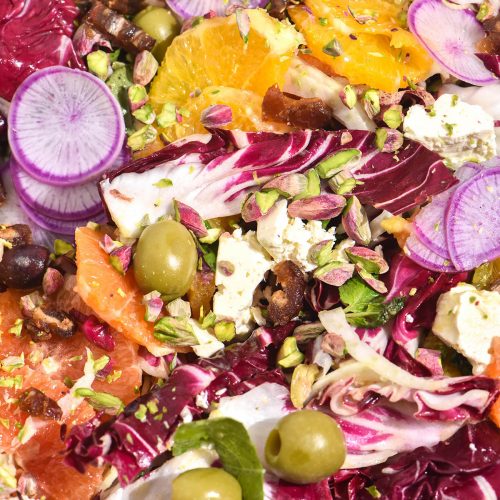 Winter citrus salad (low FODMAP)
Serves 4 as a hearty salad or 6-8 as a side
This recipe uses Australian measures. Use ml for international accuracy.
1 Australian tablespoon = roughly 4 American, New Zealand and British teaspoons
Ingredients
For the dressing:
2

tablespoons

(40ml) olive oil or oil of choice

1

tablespoon

(20ml) maple syrup

1

tablespoon

Dijon mustard

1

tablespoon

(20ml) lemon juice

1/4

(60ml) cup

(60ml) Orange Kombucha or water

Seasoning

to taste
For the salad:
1/2

– 1 head of radicchio

sliced (wash and slice the greens, too, if your radishes still have them)

1/2

large fennel

mandolined or finely sliced

3-4

watermelon or regular radishes

mandolined or finely sliced

1

bunch of mint

chopped

1/2

– 2/3 cup pitted olives

I used half Calvestrano and half Kalamata

1/2

cup

walnuts

180-200

g

feta

crumbled into small cubes (Greek or Danish both work well, see notes)

3-4

medjool dates

pip removed and finely chopped (optional)

Small handful of pistachios

to finish (optional, for colour)

3-4

large oranges

peeled and sliced
Instructions
Place all the ingredients for the dressing in a clean medium jar and gently shake to combine. The kombucha is fizzy so don't go overboard with the shaking. Taste and adjust for seasoning, then set aside.

Arrange all the ingredients except for the oranges (and Danish feta or goat's cheese, if you're using it) on a large serving platter. Pour over most of the dressing and toss to combine and coat.

Orange slices, Danish feta and goat's cheese are all prone to breaking up in the salad if tossed excessively, which is why we add them last. Greek feta is harder and can easily withstand being tossed in salad.

Add the orange and cheese if you're using Danish or goat, then toss very gently to combine. Finish with the leftover dressing and some extra seasoning and serve.